One of the best parts of wedding planning is not only deciding who your bridesmaids will be, but also deciding what they'll wear. Choosing their dresses can be just as much fun as choosing your own, because it's almost like your bridesmaids are your personal little dolls, right? Thinking about color and style and how everything will go with the rest of your wedding vision is the stuff wedding planning is made of.
A trend that began a few years ago that's still going very strong is mix and match bridesmaid dresses. Many brides want to steer away from the "one dress for them all" mentality in favor of this much more creative and comfortable idea. Mix and match bridesmaid dresses is a fantastic solution when you're dealing with a lot of different body types and tastes. And while lots of brides want a consistent look for their bridesmaids, there are ways to still have that consistency while still allowing your bridesmaids to feel like themselves and wear something that matches their personality. And after all, isn't their personality why you love them?
8 Tips for Mix and Match Bridesmaid Dresses Right
So, if you're considering little variety amongst your bridesmaid dresses instead of a group of bridesmaid clones, here is some great inspiration for mix and match bridesmaid styles, put together by the wedding planning experts at Platinum, one of the best wedding venues in Los Angeles.
1. Separates
This very modern look is both youthful and unique. It also has the advantage of keeping your bridesmaids comfortable during the day, and this style can be dressed more up or down to suit the tone of your wedding—whether it's a boho skirt with a colorful camisole, a pencil skirt with a silk top, tutus, skirts with crinolines, whatever you like. With this choice, you can have your bridesmaids all wear the same thing, or you can mix it up. Either way, this is an easy and beautifully feminine style that they will love you for.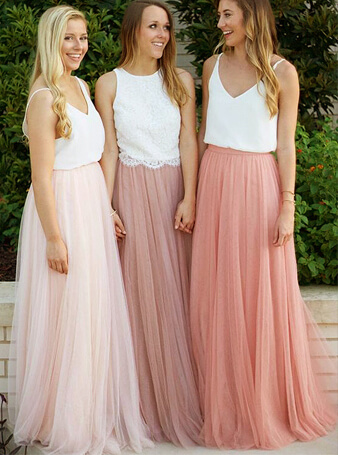 2. Mixed Florals
For a colorfully splashy and fun bridesmaid look, check out the many ideas for mixed florals. This is one that, again, you can dress up or down—and yet again, one that will allow your bridesmaids to be very comfortable during the ceremony and reception. The key here is to ask your girls to have a set length so that the look doesn't get too busy. The colors will look bold and very complimentary against your white dress (if you choose to wear white), and you can even incorporate a pop of color for yourself that will tie you to your bridal parties, such as bright heels or a sash at your waist.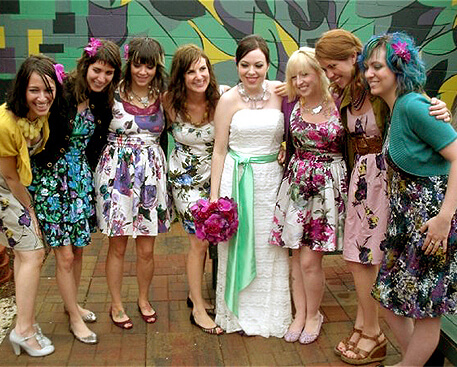 3. Traditional Mix and Match
For those of you who love the idea of individual styles for bridesmaid dresses but prefer to stick to a cohesive plan, you'll be happy to know that there are plenty of choices when it comes to bridal apparel lines who offer "matching but not matching" bridesmaid dresses. This means that you can have your girls wear different styles, but can rest assured that their dresses are all the same material and/or color. The Dessy Group (https://dessy.com/in-stock/bridesmaid-dresses/) is a helpful favorite for this look.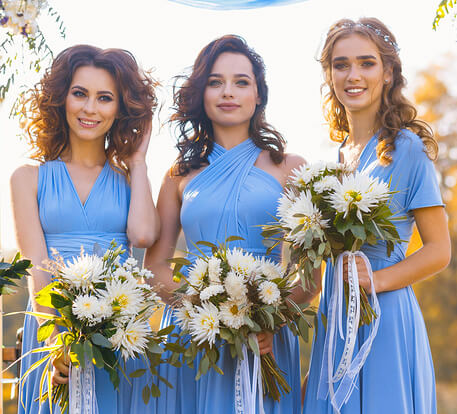 4. A Common Accessory
Another way to allow your bridesmaids individuality while making it clear that they're your bridesmaids is to have them each choose their own dress but to have them all wear a common accessory, such as matching statement belts, white stilettos, vintage-style hats, or parasols. It could even be as simple as each bridesmaid wearing a pretty flower halo in her hair. This is an area where you can be very creative. There are countless accessories you can choose from for this unique style. This is a trend that is quickly gaining popularity.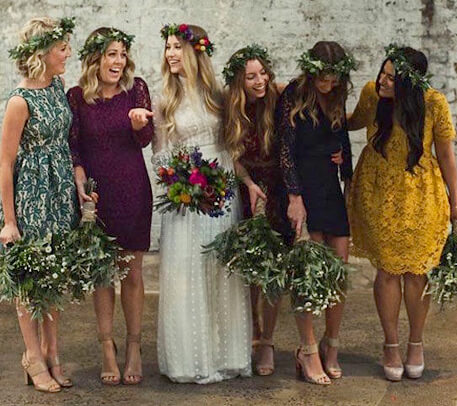 5. Candy-Colored
For a fun pop of color to stand out against your white dress (again, if you're wearing white), go for bright, romance-inspired colors for your bridesmaid dresses. This shakes up the "same dress" image while keeping your ladies labeled clearly as bridesmaids—all while making them look like beautiful pieces of candy. You can choose colors that are as bright or subtle as you want, and having multi-colored bridesmaid dresses adds to the festive party atmosphere of any wedding beautifully.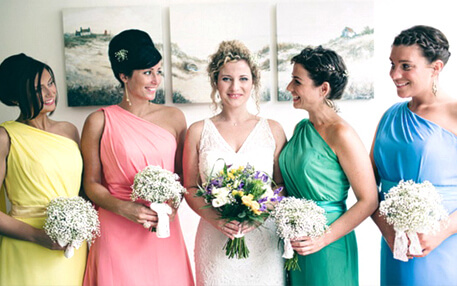 6. Mixed Metallics
Want your bridesmaids to look like princesses, but not cookie-cutter princesses? Let them sparkle in mixed metallics. This provides a dazzling and formal uniform look without being too stiff. If you want contrast, it can come in the form of the different dress styles, different colors, or both. There's nothing like a little glitz and glam on your wedding day!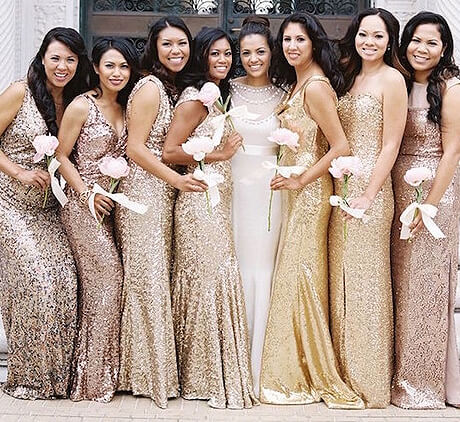 7. All White
Sometimes the simplest decision can also be the most stylish. By telling your bridesmaids to choose any dress they want, as long as it's white—not eggshell, not cream, but white—you won't have to worry about the headache of dealing with all the details and issues that come with the bridesmaid dress process. In addition, all white for bridesmaid dresses is notoriously chic. Just ask Kim Kardashian, Lauren Conrad, or Kate Middleton. This look has become a favorite of brides over the past several years due to how sweet, easy, and beautiful it is.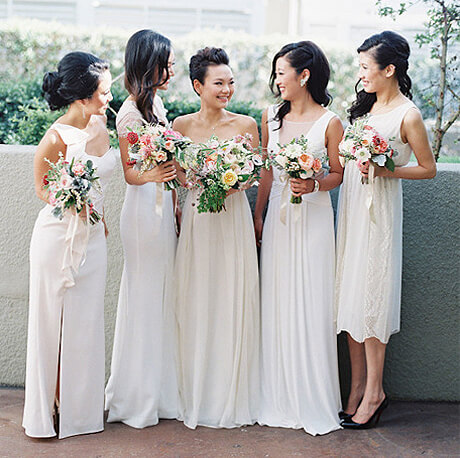 8. A Bit of Everything
After reading through these suggestions, you may find that you'd like to take a little from quite a few of them—such as mixing together separates, a common accessory, metallics, florals, and different colors (maybe with white thrown in). This is a fantastic and very eye-pleasing idea, and we say go for it. The point of planning your bridesmaid dresses is to do what you like, and you may like to be extra creative!
An added bonus to many of these mix and match options is that your bridesmaids will be able to wear their dresses after your wedding day—and they will love you for this.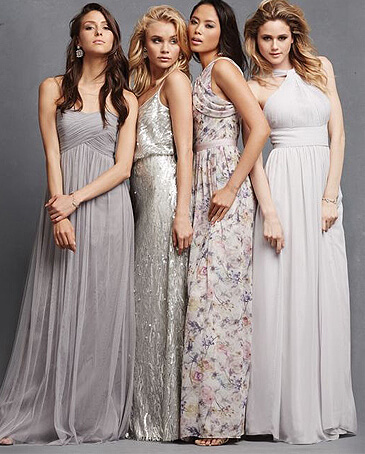 Conclusion
Remember, it's your wedding, and you call the shots. You could literally get married in your PJ's if you felt like it. (This isn't recommended…but you could.) While sometimes it may seem like everyone has an opinion about how to plan your wedding, there are no concrete rules when it comes to how your bridesmaids should be dressed. It's up to you and your vision for your own ceremony.
Have fun with considering this different mix and match bridesmaid dress styles to keep your ladies individual but still uniform!