Clip-ins, beaded weft, tape-in extensions…they all have a distinct difference from one another. This is why you need to perfect your hair care knowledge if you wish to find a solution that will meet and satisfy your need. Tape-in has become famous in the hair community. This is why we decided to find out more about them and share our amazing findings with you.
Affordable styling options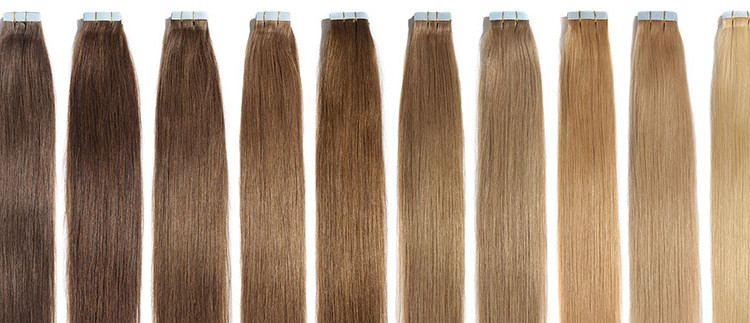 Many have said beauty is costly and painful. Even though a genuine hairpiece may not be at your local hair store, this does not mean you have to break the bank to access genuine human hair. Tape-in extensions provide an affordable solution. You simply need to tape them in for you to achieve the stunning look you have always wanted.
Be Flawless!
Wake up looking and feeling flawless with tape-in extensions! Not only do they feel natural, but they also look natural too. Nothing beats confidence when a sexy natural look is desired.
Add a fine touch to your swimming
Yes, you read that right! Whether you are working out in the gym or a swimmer, you don't have to worry about getting rid of your flawless look! Glow your way in the gym without feeling itchy or fearing that they will fall off.
Control hair loss
Hair loss affects both men and women. It is even worse if you have not been taking good care of your tresses for a while. Tape in extensions helps with hair losses they provide an option of not subjecting your scalp to further stress. Instead of covering your hair loss and just worsening it, tape in your extensions and achieve an awesome look while safeguarding your hair.
Beauty in one hour!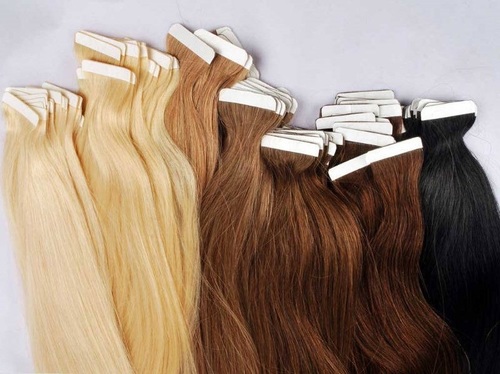 Dreading the long hours in the salon just to have your hair made? Achieve voluminous hair in less than an hour with tape in extensions. To make it even better, you can do it by yourself and get to save those coins!
Up or down-it is your choice!
When talking about beauty, we cannot afford to mention the importance of variance. Tapes in extensions do not limit you to one style as you are free to either wear your hair your hair up or down. What's even better, there's no worry about your hair peeking through.
Say goodbye to a maintenance headache
If caring for your hair extensions seems more of a punishment than a hobby, it's high time you got tape ins. They can be washed, blow dried and styled as many times as you desire. Just be sure to wash them with a hydrating shampoo.
No Slip
Delighted to see this? You should be! This is one benefit of tape ins that we can't go without mentioning. It is a major bonus as it encompasses comfort, a natural look and ultimate confidence.
Tape ins are the go to solution for anyone aiming to save a few backs while maintaining a stunningly beautiful look.
Long Lasting
Because Tape Ins don't have to be worn every day, they tend to last longer than traditional hair extensions. Often times women have 3 or even 4 tapes in sets that differ in length or curl and change them at will, which allows for the tape in hair extensions (which already have great endurance) to last even longer. Where a traditional virgin hair extension bundle can last 1- 2 years with proper care, Tape in hair extensions often last 3 to 4 years.
Quick and Easy Style Change
Never before has changed your hair from straight to voluminous curls been so easy without a stylist. If you are like Beyoncé and you have a professional stylist on standby 24 hours a day, then this isn't for you. However, if you are a girl on the go with a career, kids, working and furthering your education at the same time, listen up. Tape in Extensions will keep you looking good while juggling work, school, soccer/football practice and late-night homework (for both you and the kids).
Simple to Install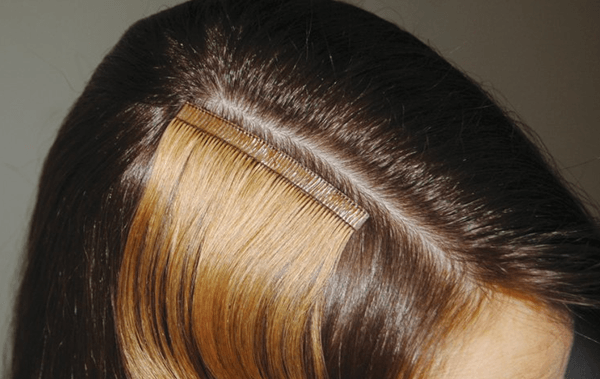 I actually don't like the word "install" when it comes to tape in hair extensions because it implies that you need to be a professional to complete "installation". Many consider clip ins and Tape is to be a sort of DIY of hair extensions. If you can apply your own makeup, trust me you can apply tape in extensions to your own hair. The steps are so simplistic. Make sure your hair is washed and clean and fully dry, then part your hair horizontally starting from the back of your neck, while pulling all the hair that is above the part forward and into a very high ponytail to keep it out of your way. Lastly, apply the tape ins by peeling away the backing and lining the adhesive on the hair extensions along the hair that is underneath the part. Blow dry if you want to keep them in long-term, but otherwise, you're done. Just repeat until you're satisfied and style/cut your hair as if you grew it naturally.
Instant Volume
This is the number #1 reason women are attracted to tape in extensions (number #2 is easy to install), Instant Volume. Most women love their hair but would love to get a super volume look without having to maintain the super volume hair or the super volume shampoo & conditioner bill that comes with that hair. Whether it's a homecoming event, a special date, a birthday celebration or an anniversary. A girl just wants to be able to show up in heels, dressed in something black and slinky with the kind of hair that makes a man rethink not being a gentleman when he had the chance to (and yes hair can have that effect on men says a 2017 poll on the 10 things that attract men to women). When adding Tape ins for volume remember to consider the size of your volume and the desired effect you are looking for with that volume. Give the guys a fighting chance ladies.
---
About the Author
Candice Hall is the Marketing Manager of Dynasty Goddess Hair, with a factory in Thailand & Office and Shipping Center in West Palm Beach, Florida, they are one of the top retailers in Virgin Remy Hair Extensions in the USA.