Such unit as the pedicure chair can complement the interior of the salon and guarantee convenience to a client. Pedicure chairs are made of different materials, but units particularly of wood and leather are more preferable. People often suffer from allergies to low-quality materials, so it is necessary to ensure that the chair you are choosing is made of eco-friendly and environmentally safe materials.
Choose Between Pedicure Chairs for Sale
The hydraulic pedicure chair is a functional unit, so it can be adjusted and raised to the demanded height creating comfortable conditions for work. Such elite pedicure chair can have adjustable headrests and armrests.


Most nail artist pay much attention to the style and design of the salon pedicure chairs, and not in vain. If you are a worker of the prestigious beauty salon, your equipment must match the luxurious salon interior. In this case, don't forget of paying more attention to the color of your new chair as it must match the color palette of the salon itself.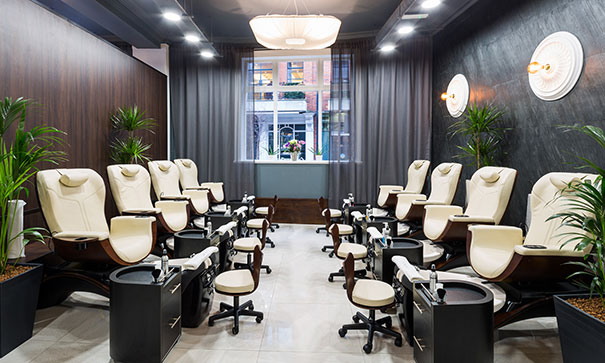 As a rule, nail artists changing their workplaces several times a day prefer chairs on wheels to be able to transport it to another place if necessary. Also, there are pedicure units with electric drive. If you choose between non-transportable and portable pedicure chairs, take into account that the chair on wheels is more advantageous as it will be easier to remove all remains under it after the pedicure procedure. Despite the fact that the chair is covered with disposable cloth when a new client comes, the hygiene under the chair has not been canceled.


Aqua Spa pedicure chairs are growing in popularity now. It is connected with their functionality. Sitting in such chair, the client can enjoy hydromassage, and time spent on pedicure passes much faster. Such luxury pedicure chairs are more expensive than standard ones, but the client will leave the salon satisfied and rested and will want visit your beauty salon again and again.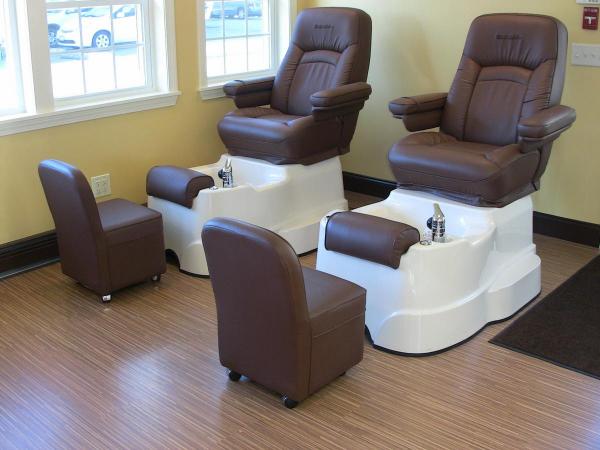 No matter what chair you choose for work, you should understand that the most important thing in not the chair's appearance but how comfortable it is for you and your clients.
Comfortable and Stylish Pedicure Massage Chair
The pedicure procedure has taken up strong positions in the list of services of beauty salons. Hardware and spa pedicure has already grown in popularity too. When choosing the salon, the client pay much attention to convenience and comfort during the procedure. As the pedicure process takes an hour and a half or even two hours, at least, the super relax cheap pedicure chair in which the client sits must be as comfortable and functional, as possible.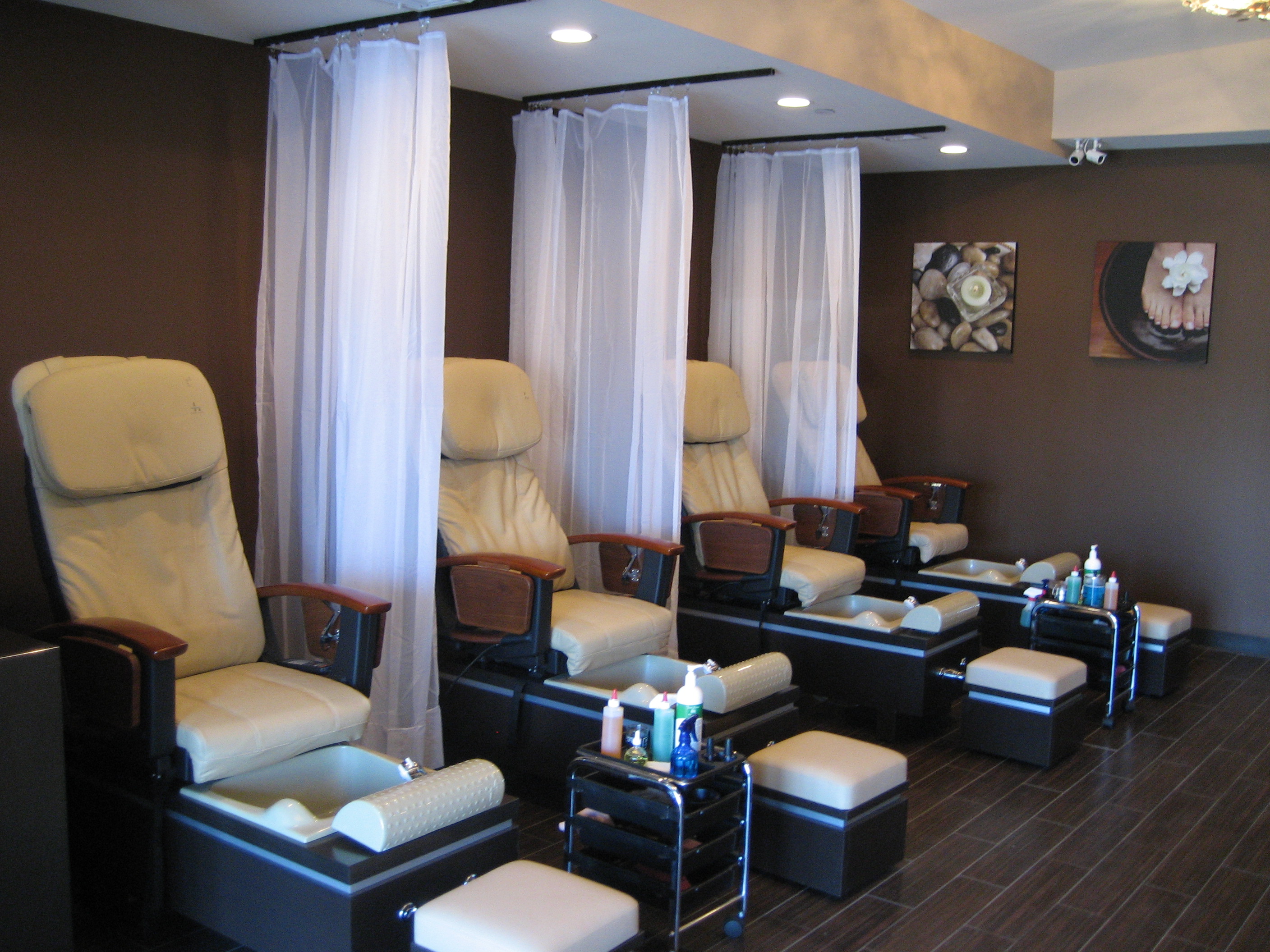 Our shop presents different models of manicure chairs, from simple cheap to spa pedicure comfortable units, as well as stands for the baths and for the client's feet.
Best Pedicure Chairs with Reviews
The client's opinion on the procedure and your salon and wish to visit you again depends on how comfortable the client feels sitting in the professional pedicure chairs. So, when choosing top rated pedicure chairs is very important to pay attention to its quality, modern exterior design and its structure.


You can choose from aqua pedicure chairs equipped with pneumatic or hydraulic jack. There are chairs with a high backrest, soft pads, armrests. Some chairs are equipped with a double stand for the client's feet that lets the client keep the foot in a comfortable position. Client's legs can be raised to the horizontal positions or to the necessary angle.
Where to Buy Mona Lisa Pedicure Chairs at Best Price?
Some pedicure massage chair for sale are also equipped with stands for the baths and for the client's feet.
Client won't leave your salon indifferent after sitting in such chair with roller massage unit during the spa pedicure procedure. The spa pedicure unit also allows to perform express manicure and pedicure procedures at the same time, which can become a "business card" of your salon.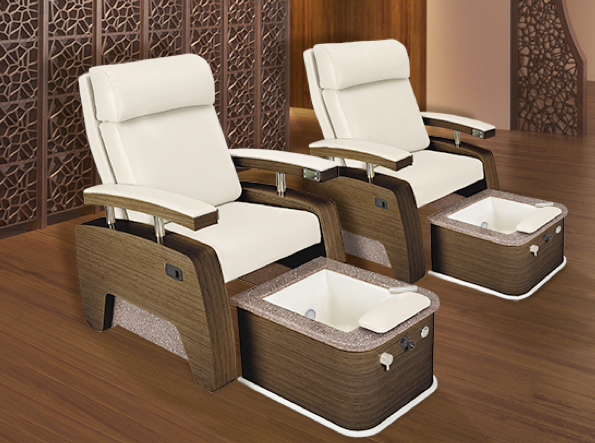 Special armrests are designed in accordance with the techniques of manicure procedures. The adjustable roller for feet create additional convenience. The scope of spa pedicure chair also includes a chair for the nail master. All functions are regulated with electric drive.
Spa Black Pedicure Chair
At present every woman want to be groomed and beautiful, so they spend much money on such procedures with pleasure. The pedicure chair is considered to be an integral and necessary part of the each beauty salon. When choosing it consider its design, functionality, quality and how it matches the interior. In the past the cut manicure was performed, and this didn't take the master much time. Now spa methods taking 2 hours, at least, are used. You should take care of the convenience of the cliend and master at the same time.


The table also must be always clean. Use solvents that don't damage the upholstery. It should match the general room's design and be pleasant to the tough not to provoke clients' negative emotions.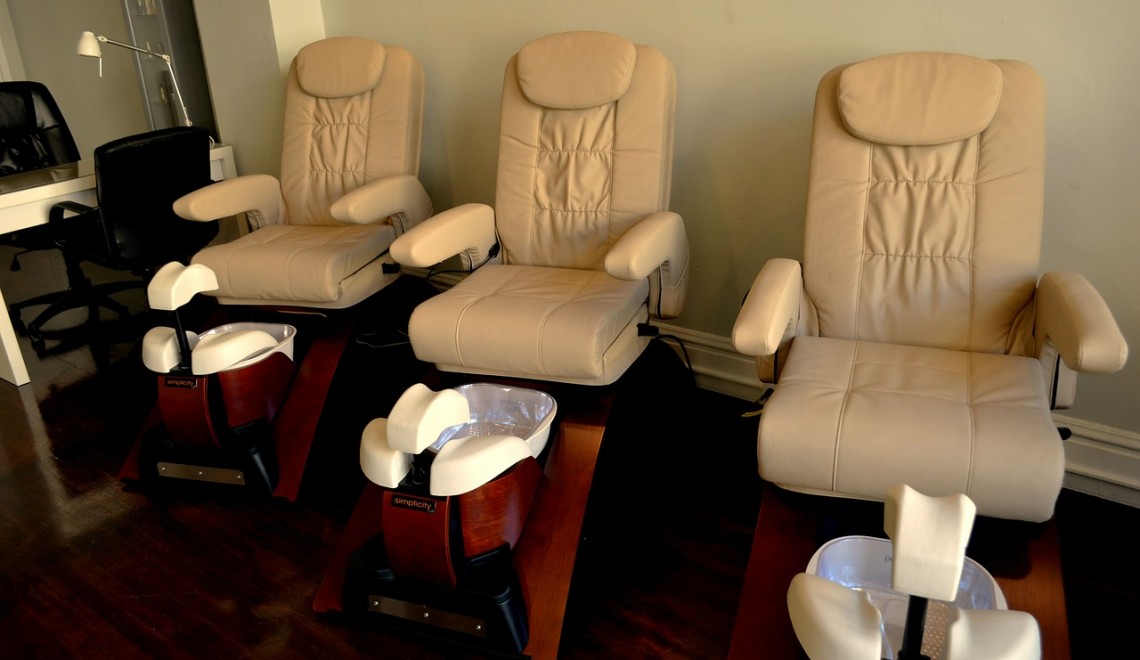 The chair for pedicure must be stable, you will often need to regulate the height depending on the features of the client and nail artist. Define what type of pedicure is to be performed when the client sits in this chair. The chair with a retractable stand for feet and adjusted backrest is suitable for the hardware pedicure. Chairs with electric drive are cheaper and easier to use.
How Much Does a Pedicure Chair Cost?
Average cost of pedicure chair fluctuates between 40-1500$. Besides these chairs you can find many different models and select the most suitable one. Multifunctional chairs are of great demand now. They are equipped an electric drive, pump hydraulic drive and a lifting mechanism. They are also can be adjusted manually.


Despite its cost, they pay for themselves quickly, as they are even can be used for massage and epilation procedures. This is possible if you set the chair to the horizontal position at a needed height.