Makeup for brown eyes are simply stunning, yet really understated. The best thing about brown colored eyes is that you can rock any combination of makeup!
From dark eye makeup to bright shades, you can pretty much wear any and every color.
Makeup Ideas for Brown Eyes
From dark smokey eye looks to sexy shimmers, we have them all!


1. Green Glitter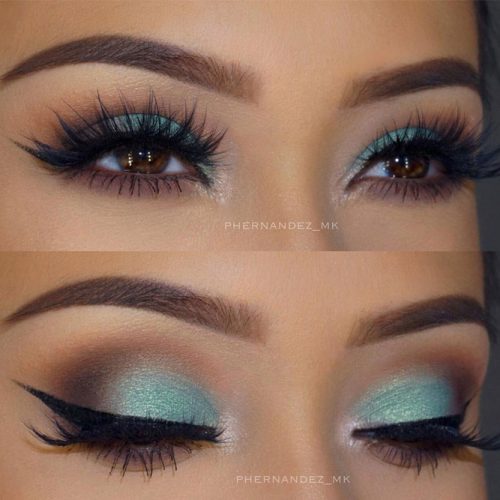 Green eye shadow is stunning on those with brown eyes. While you might be hesitant to try such a bold color, it looks quite pretty with thick black liner.


2. Glimmery Gold and Black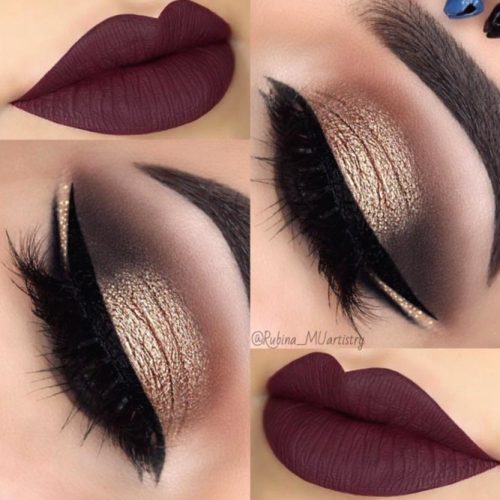 The black eye-liner in this look really contours the eye, while the gold shadow helps emphasize the size and shape of your beautiful eyes. This combo is especially beautiful with deep red matte lipstick.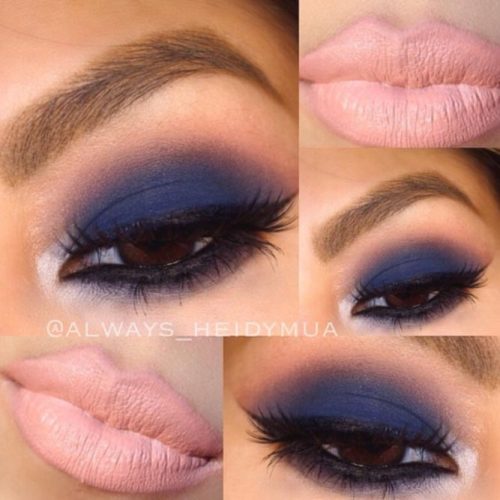 This look is great for a night out on the town. Blue eye shadow looks best when paired with neutral tones. To achieve this look, apply a matte neutral shade to the crease and then apply matte navy-blue eye shadow over the entire eyelid and blend with a brush. Use smokey gray liner to complete the look.


4. Cranberry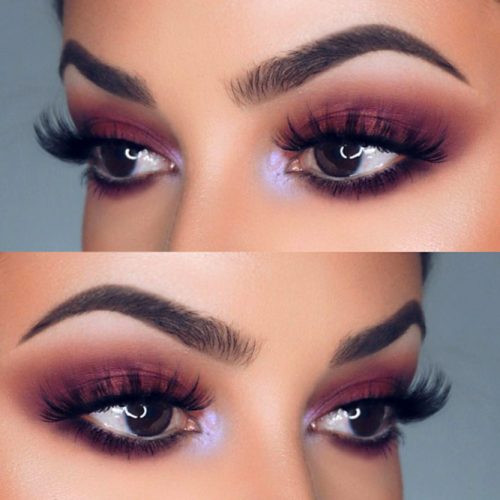 This look is perfect for those who don't like heavy eye-liner (or any at all). This stunning shade of cranberry will really bring out your gorgeous eyes!


5. Smokey Purple Matte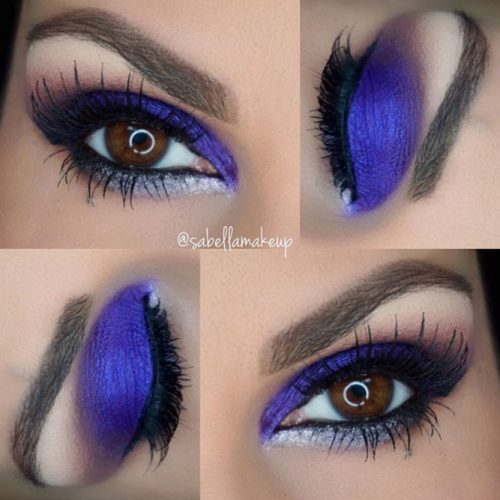 Purple is especially stunning on brown eyes! This dark matte purple on the eyelids is paired with silver liner for a perfectly sultry and smokey effect.


6. Brown and Black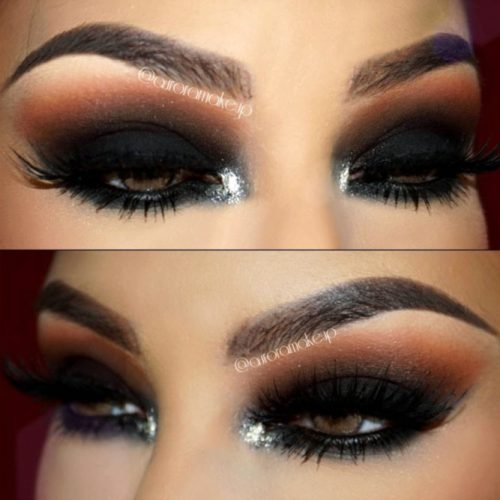 If you are going for a dark and edgy look, try this black and brown combo. Pair it with black matte lipstick, and you are ready to rock!


7. Purple, Green & Gold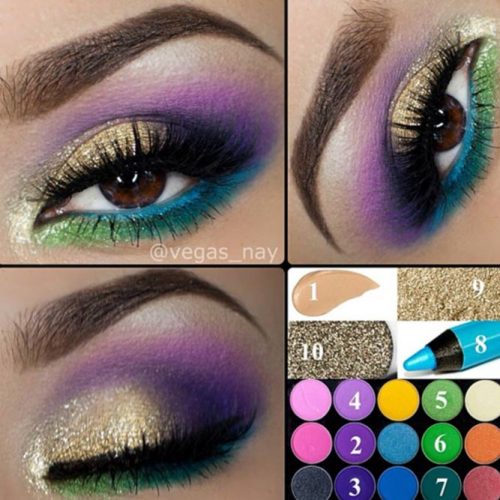 We love glittery eye-shadow and this cute combo of sparkly lavender, pretty pink, and gold. Makeup for brown eyes is ideal for those hot summer nights!


8. Dark Brown Smokey Eyes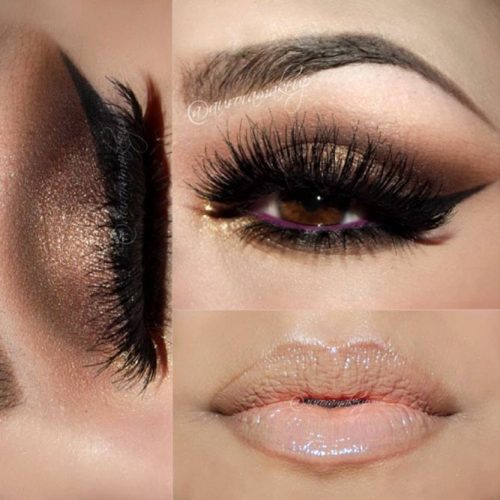 This look with dark brown lower lids and a slightly lighter shade of brown on the upper lid and dark black liner takes a steady hand and a bit of practice. But we promise it's worth the effort!


9. Double Winged Liner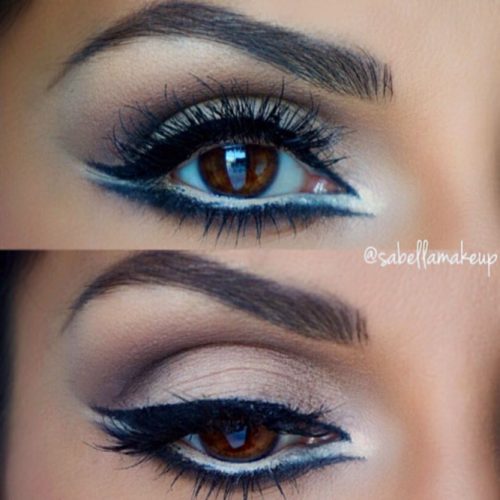 This look is so simple yet so amazing. Simply pair dark brown or black double winged eye-liner with a white waterline to emphasize the size, color, and shape of your eyes.


10. Dark Blue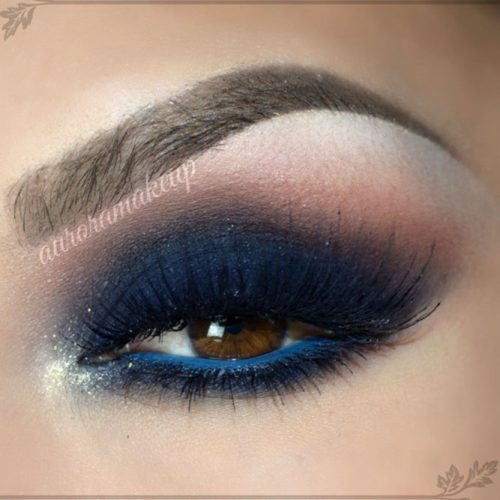 This dark blue eye-shadow is fabulous on its own, but when paired with dark blue liner with turquoise sparkles on the inner corner, it really pops!


11. Pink Glitter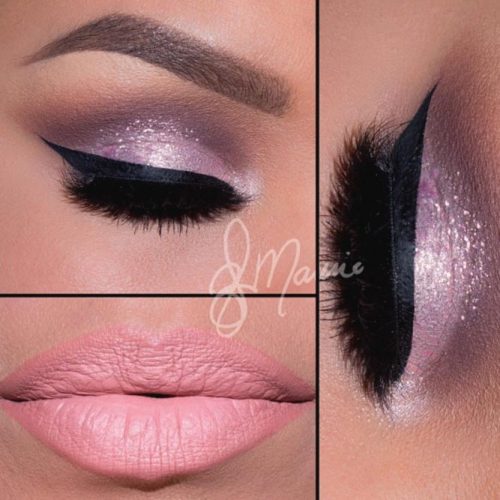 This gorgeous pink glittery eye-shadow and matte black liner pair perfectly with rose matte lipstick for a fun and flirty vibe.


12. Burgundy, Gold, and Black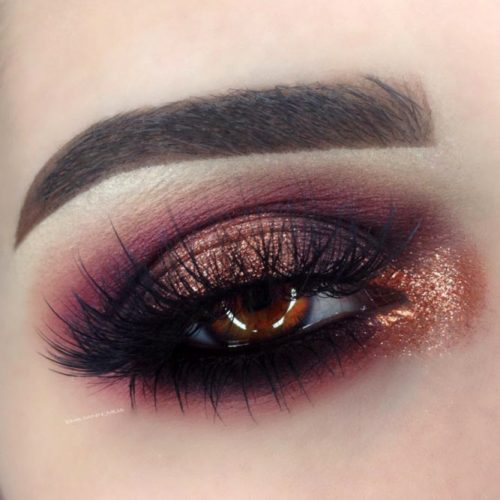 We love this combo of shimmery brown shadow on the lower lid with pink on the upper lid.


13. Silver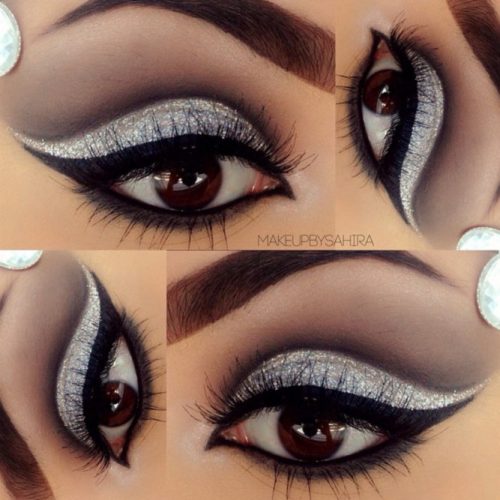 Silver glitter eye-shadow will really enhance the brown specks in your dark eyes. Apply it to the lower lid only and line your eyes with medium to thick black liner to accentuate the look.


14. Shimmery Burgundy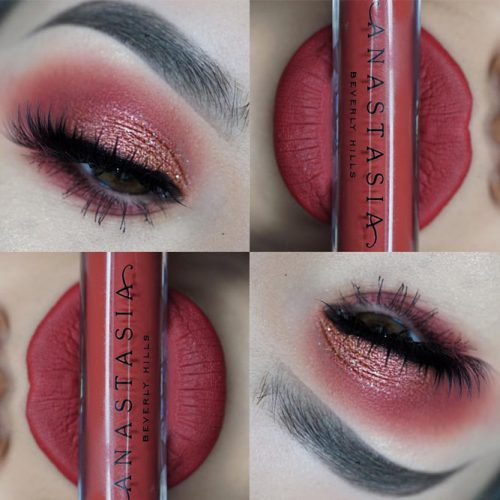 Burgundy doesn't just work well for lips, but it also brings out the brown in your eyes! This shimmery shade of burgundy eye-shadow is super sexy and sultry.


15. Red Glitter Shadow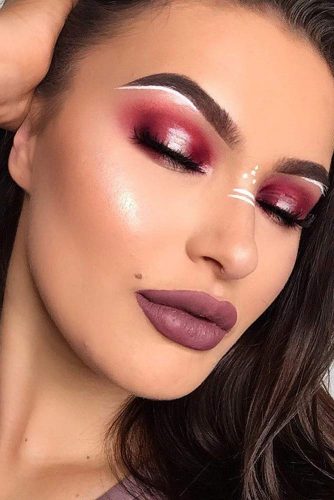 Red is always sexy, but this glittery red eye-shadow is over-the-top sexy when paired with dark black eye-liner and deep red lipstick.


16. Purple Lids and Liner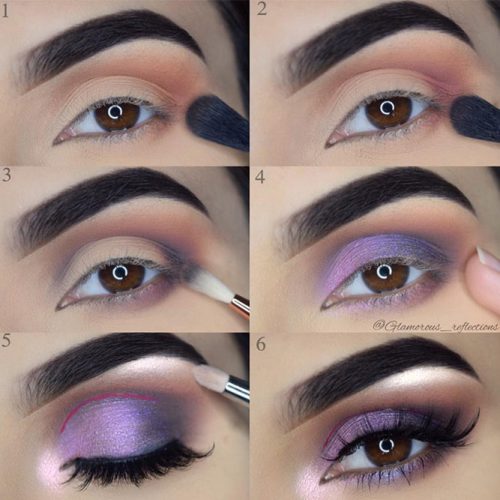 Purple really makes your beautiful browns pop! This dark purple eye-liner under the eyes is stunning but we totally dig the sparkly lilac eye-shadow that really makes this look stand out!


17. Seductive and Smokey Black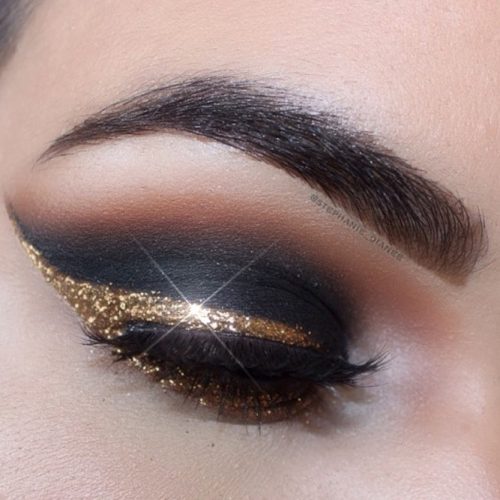 We think this matte black with a pop of gold makes the perfect smoky eye, if you are going for a seductive vibe. Remember to apply base shadow before the black matte so that it will blend more smoothly and last longer. When paired with dark matte lipstick and thick black lashes and eye-liner, this look is off the charts sexy!


18. Eye Makeup for Brown Eyes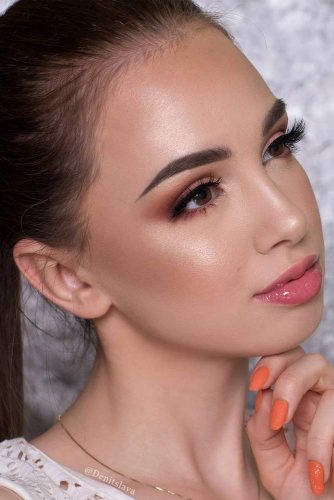 If you want an earthy look that is still sexy, you'll love this totally seductive combo of rose matte lipstick with deep brown matte eye-shadow and liner.


19. Purple Shadow and Shimmer Blue Waterline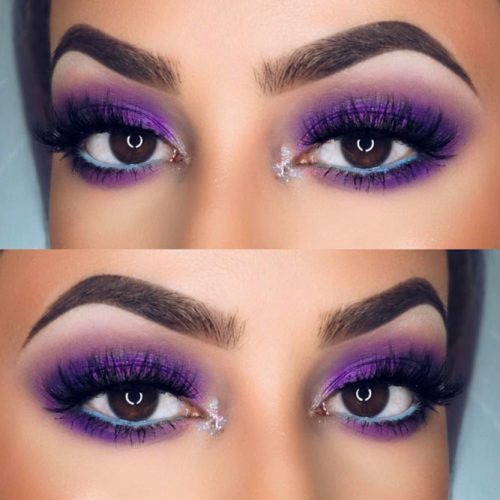 As we said before, purple is ideal for brownish eyes, but when you add this sexy, shimmery blue waterline, it makes your eyes larger and brighter.


20. Green and Brown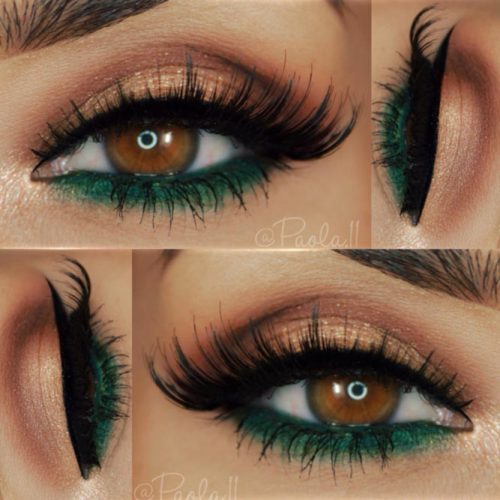 This dark green shimmery waterline under dark brown eye-shadow is especially pretty on those with brown-colored eyes.


21. Rose and Gold Eyes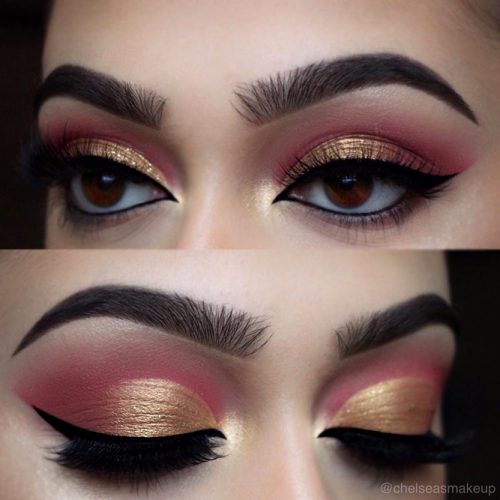 The combination of pink and gold shadow is great for both every day and special events. This look is incredible, and your eyes will be sparkling like champagne.


22. Red Smokey Eye with Gold Glitter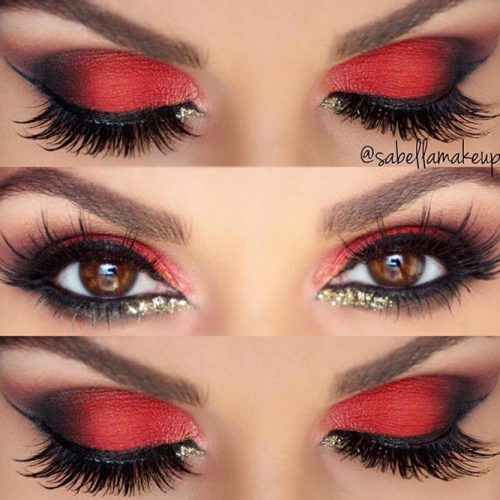 To get such a wonderful look, apply black matte eyeshadow to the outer corner. Then apply red eyeshadow to the lid. Highlight the inner corner with gold glitter eyeshadow. Do it if you want all eyes on you!


23. Rose Gold Glitter Cut Crease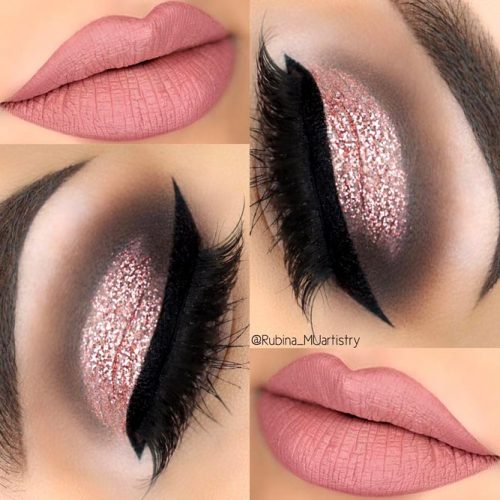 Rose gold isn't just for jewelry — it also makes for a flattering shade of eyeshadow. Apply glitter rose gold eyeshadow to the lid and brown shadow for the cut crease. Then apply black eyeliner, and your eyes will shine bright in the rays of the sun.


24. Burgundy Matte Smokey Makeup for Brown Eyes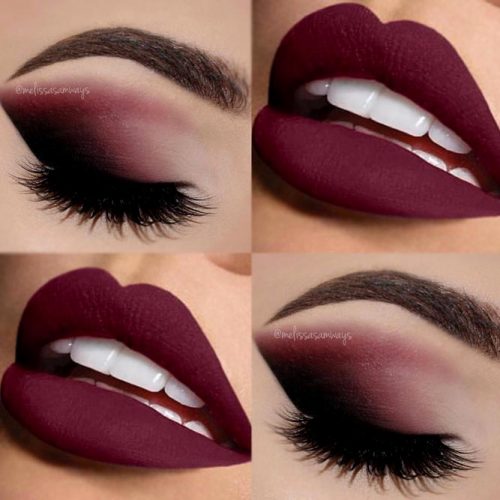 To amaze everybody, try this gorgeous burgundy matte smokey eye and lips makeup. Burgundy makeup will accentuate your beautiful eyes and make them chic. Try it today!
We hope you love these sexy makeup for brown eyes! Remember to pin your favorite looks so that you can practice them later!


Makeup for Brown Eyes: Video Tutorial




Source: Glaminati.com