Every woman takes it as her duty to treat her hair, get beautiful new years nail design and choose a stylish dress before the New Year. There are new nail trends replaced by others year after year. Some nail designs give way to others and become less popular. Nails for New Years 2023 will be special too. We'll tell you about preferred colors, fashionable styles and main nail trends. It's easy to define a trendy color of the New Year as it fits the color of the New Year symbol according to the Eastern Calendar.
New Years Nail Designs: What Color Would Approve
New Years Nail Color Ideas: How To Choose The Right?
In other cases, it's recommended to limit yourself to 1 or 2 nails painted in yellow, to add some yellow specks or to choose the golden polish that matches almost any dress.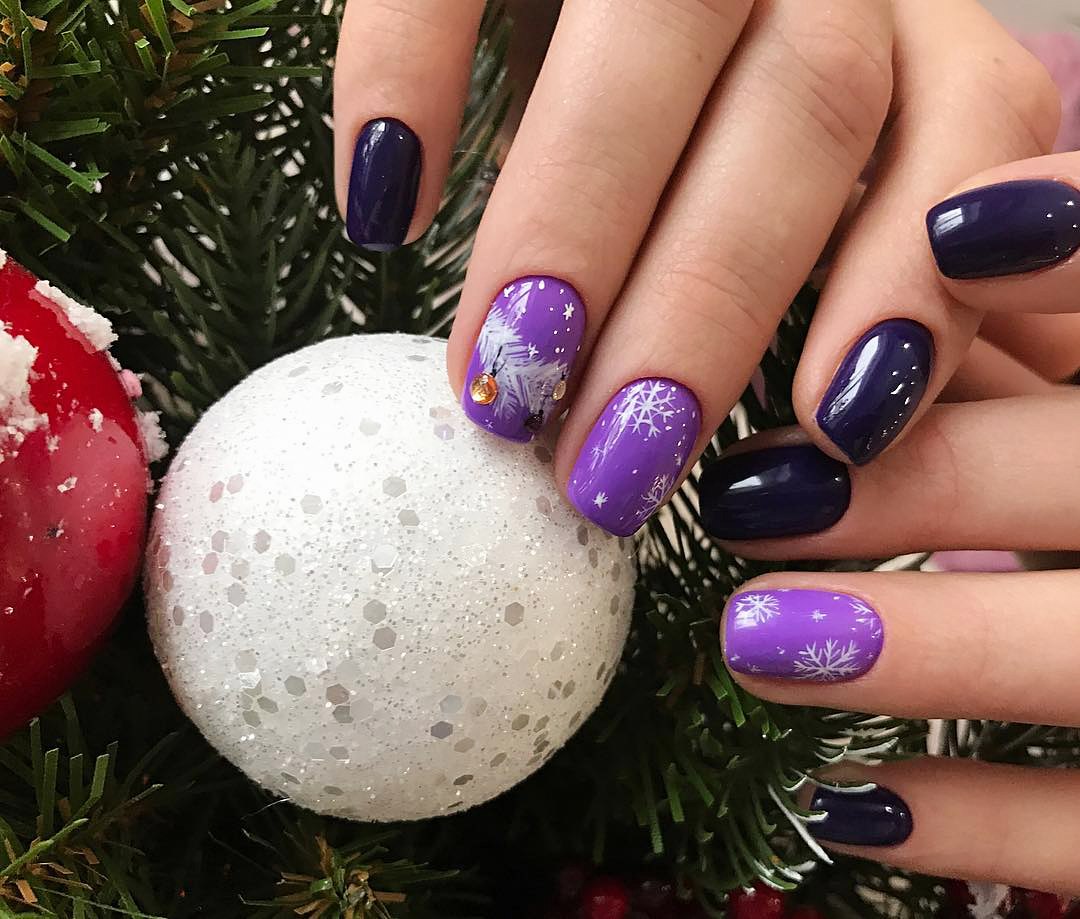 As of the brown color range, you have much of a choice, from brown turning into gray and to chocolate, beige and light with pink specks.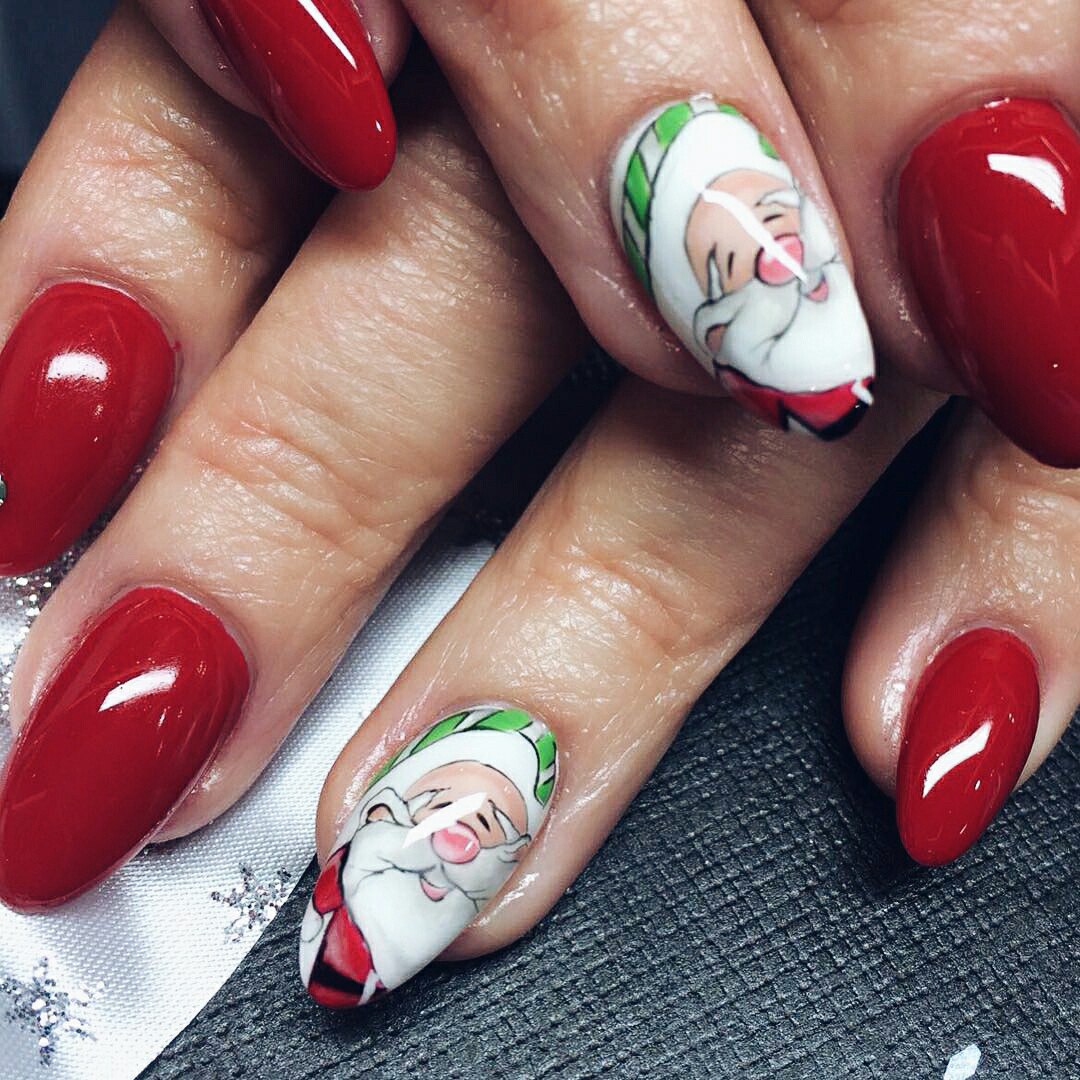 You should choose the nail color taking into account the color of your dress. If you're going to put on a blue dress, paint your nails in blue or sky blue. Give your preference to natural shades but it doesn't limit the choice as the sky as an enormous "natural blue object" can change its color from light azure on a sunny day to raven black at night.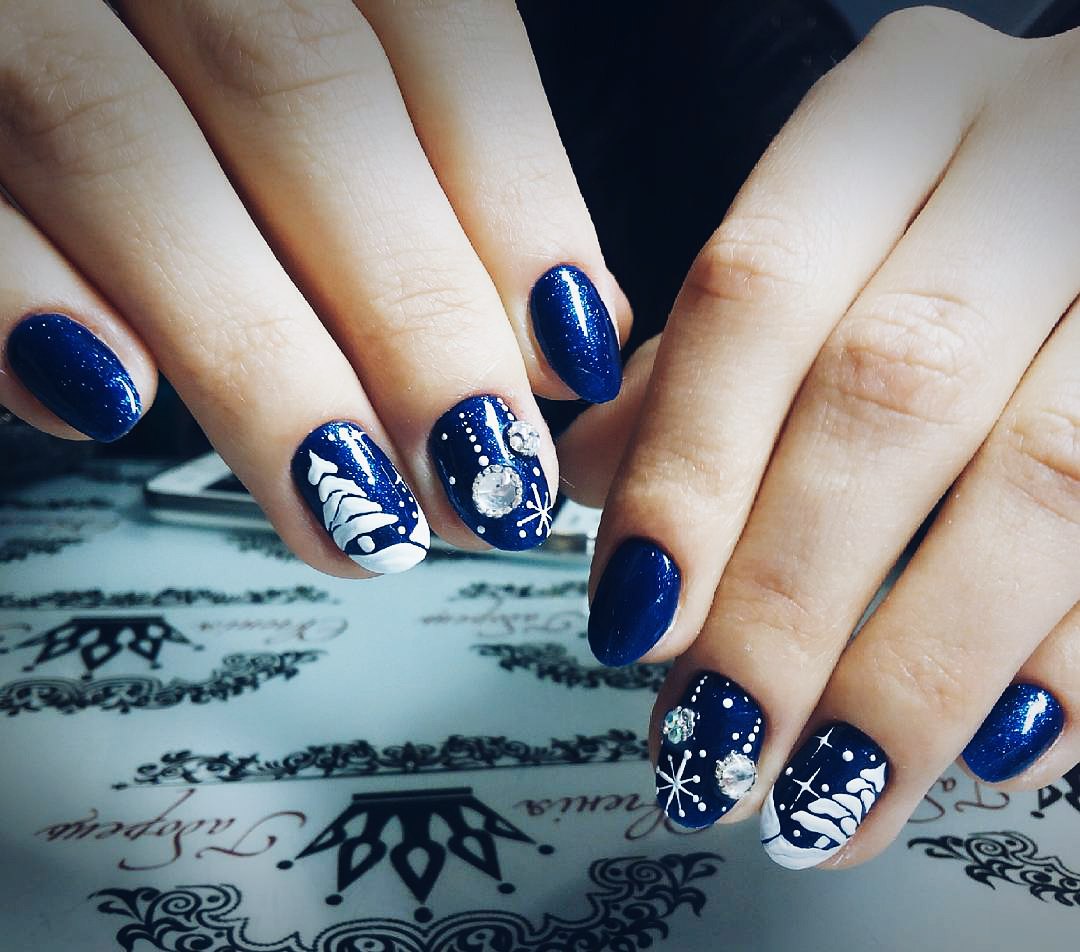 There's not as much red color in nature as blue but it's also noticeable, especially in spring and summer when different flowers bloom. Don't choose bright shades again but prefer "dimming" colors. But you can choose bright red if taking into account the fact that this is a color of the New Year. By the way, red is perfect if combined with green, golden, white or black.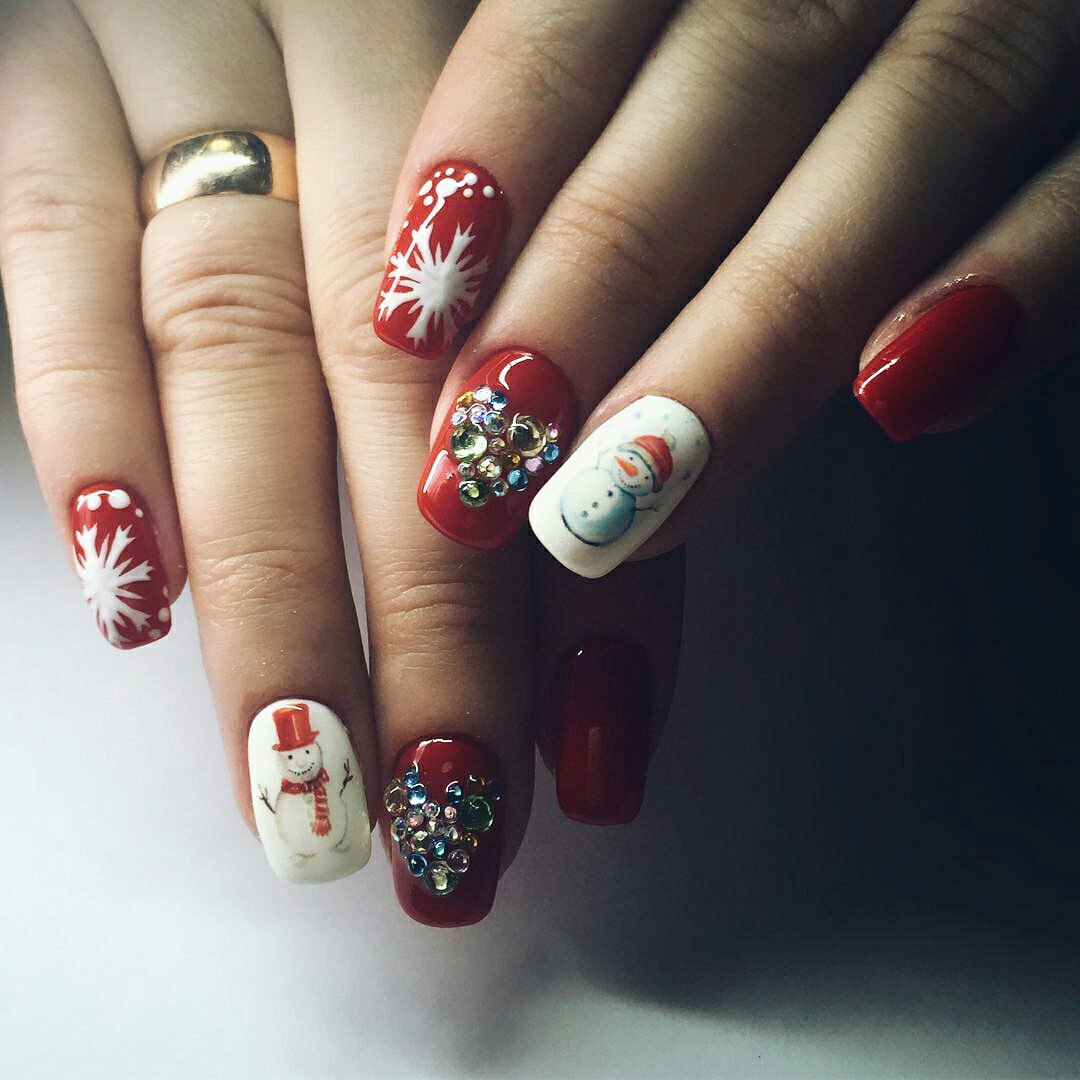 Green is a color of grass. Prefer pistachio, emerald, grass-colored or turquoise polishes. Black new year manicure will be also very popular on the New Year's Eve. They're associated with the ascetic animal, its modesty and ability to get by with little. Moreover, minimalism of such nail designs can be complemented with foil and sequins.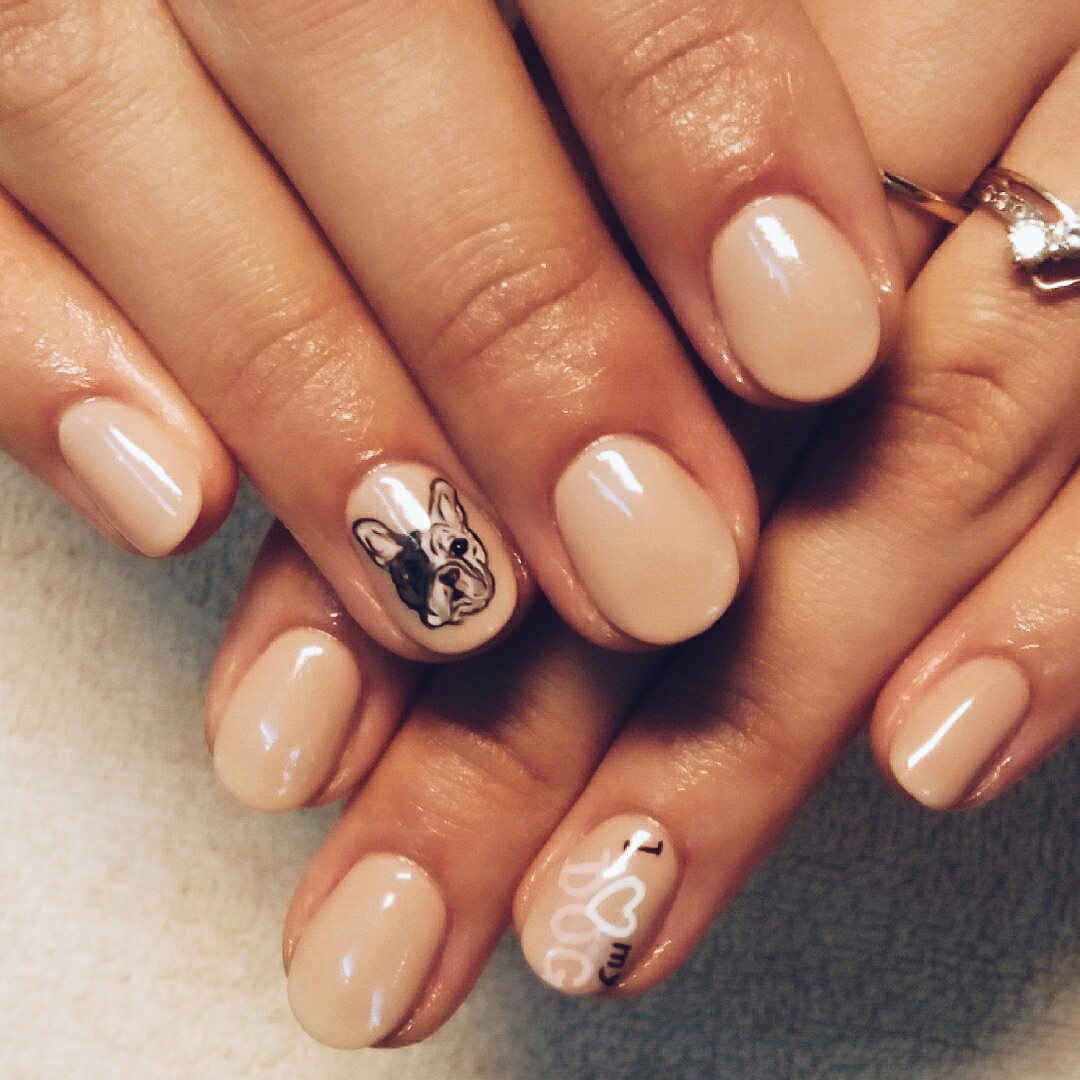 Golden and silver new year designs for nails are appropriate in 2023 too. It's recommended to cover 1-2 nails with golden polish or to use golden or silver decorative elements. It's important not to overdo this not to look provocative. Golden transitions make even the plainest design really festive.
Pictures and Patterns in New Year Nail Designs
Of course, snowflakes are the most popular patterns among New Year pictures. Yes, this is quite hackneyed but when you see how diverse the pictures on the nails can be, you'll change your opinion.
The following patterns will be also popular:
Ciphers
Christmas Trees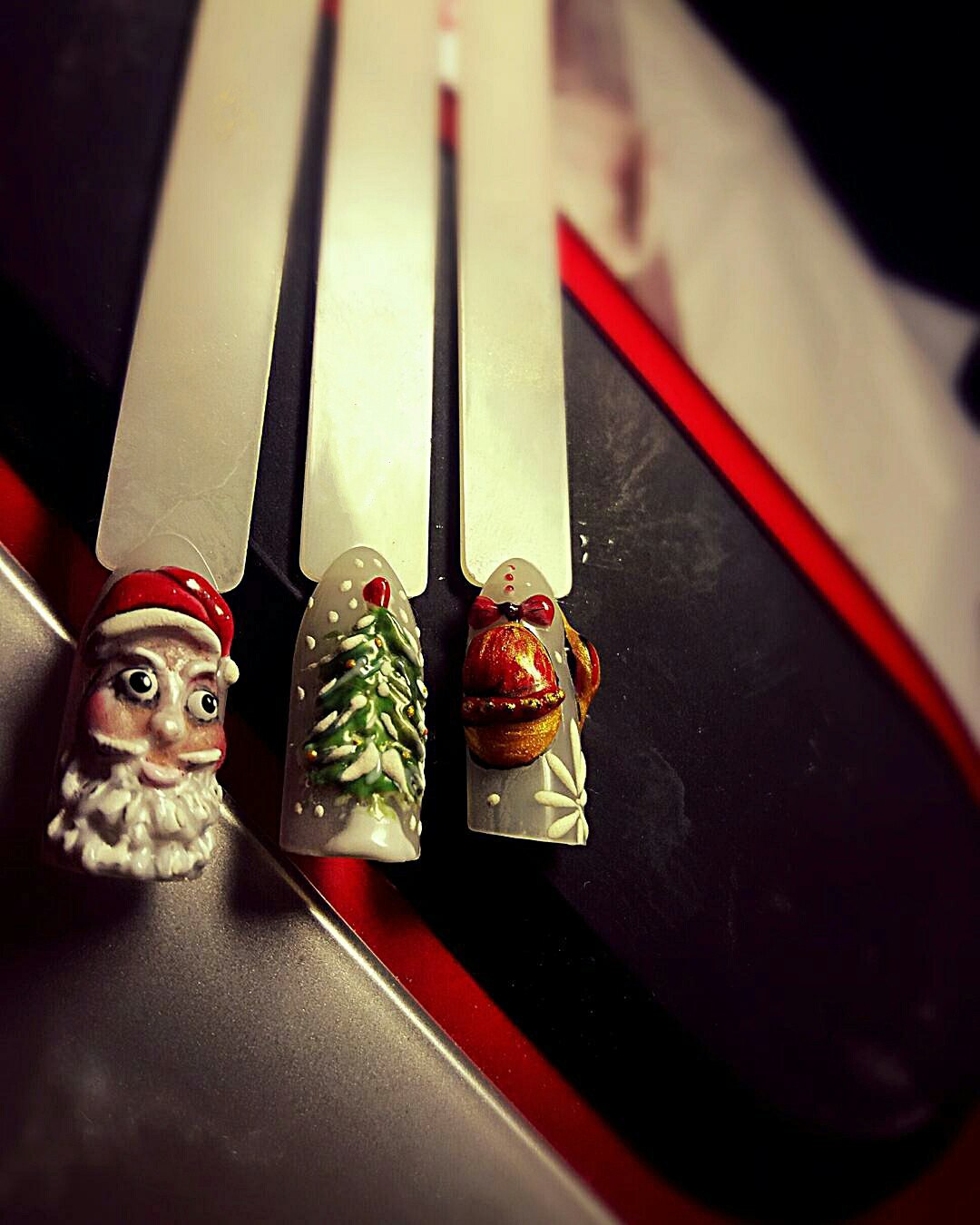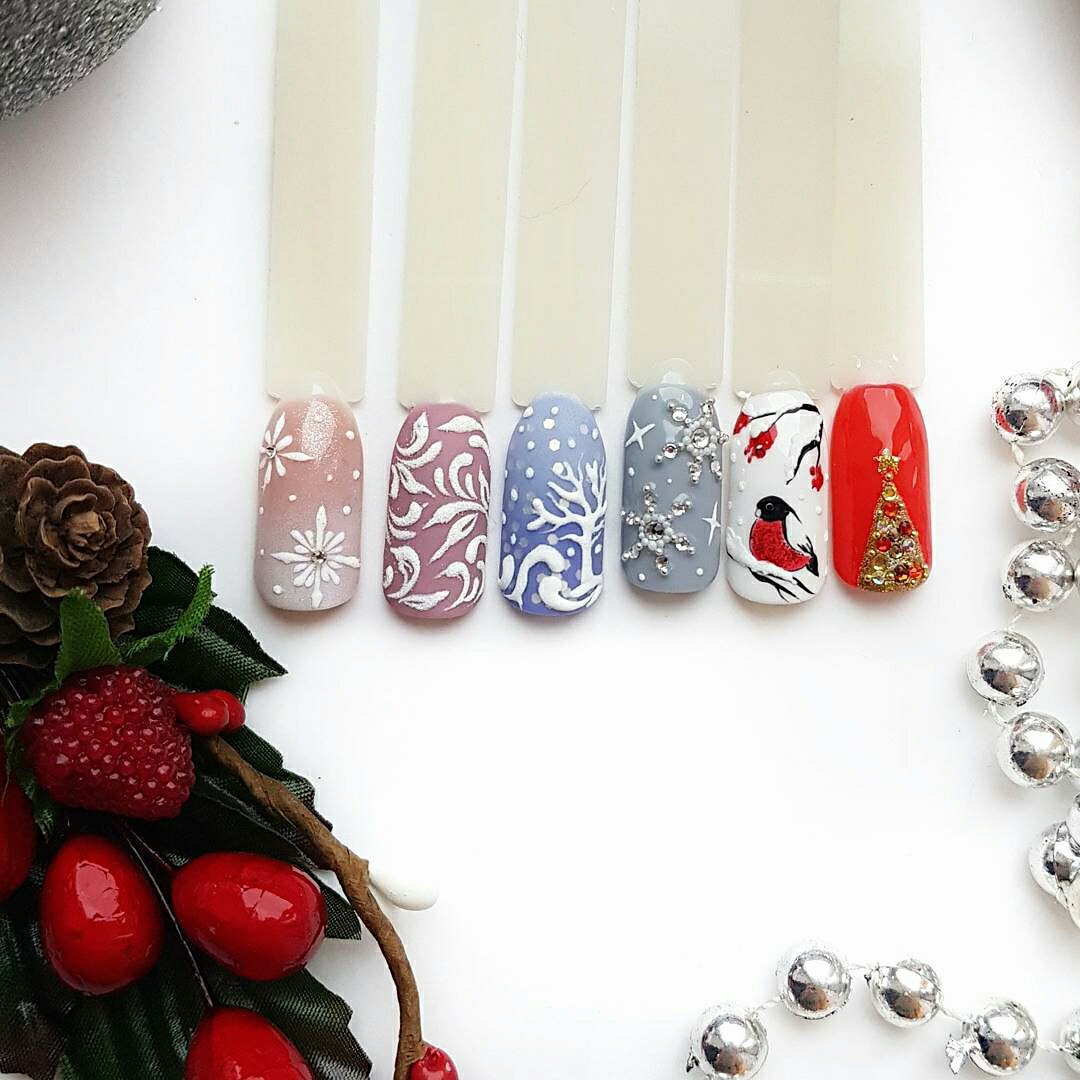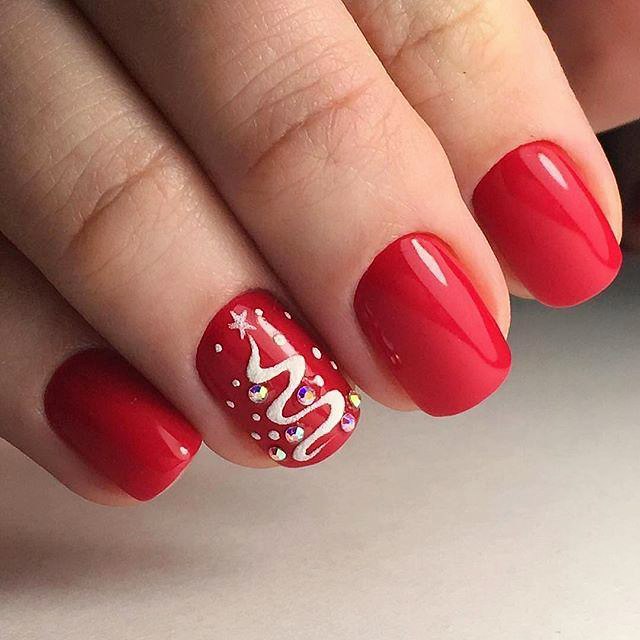 Ornament Balls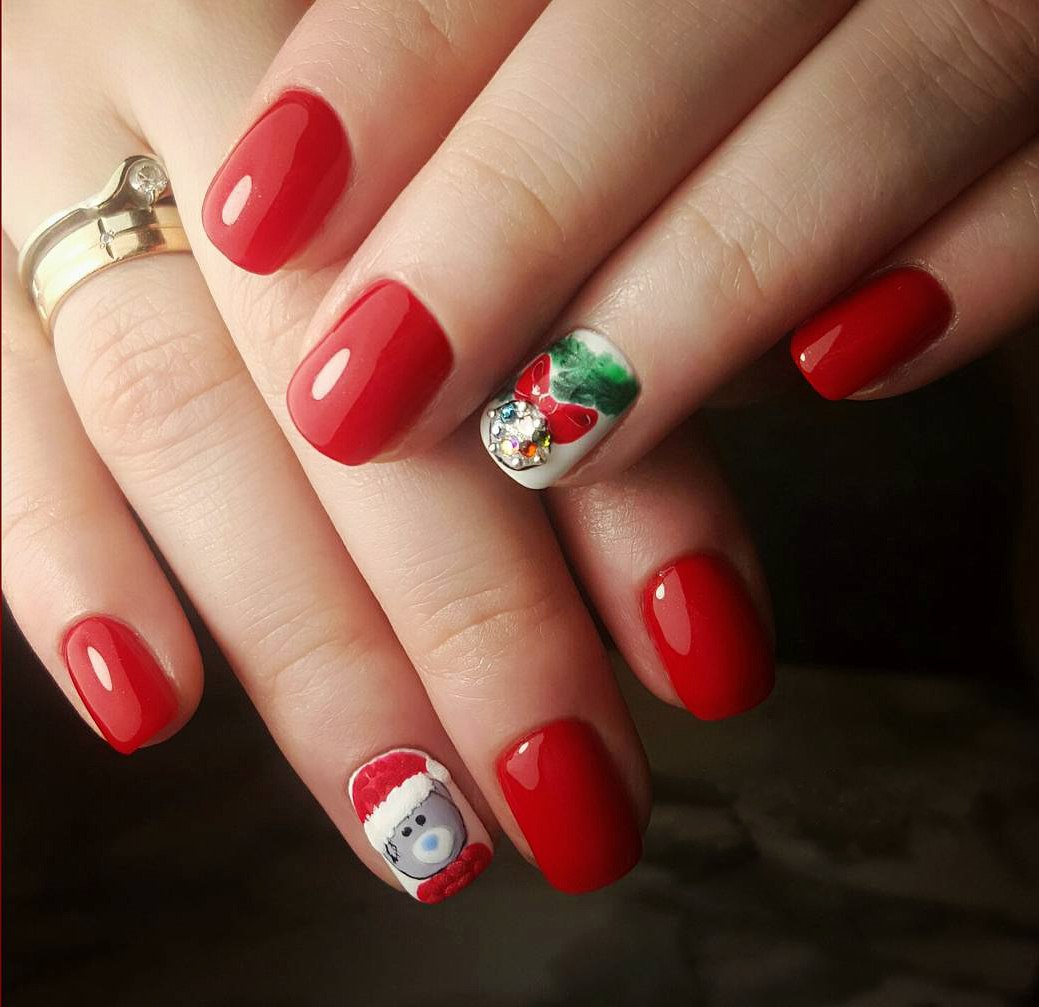 Snowmen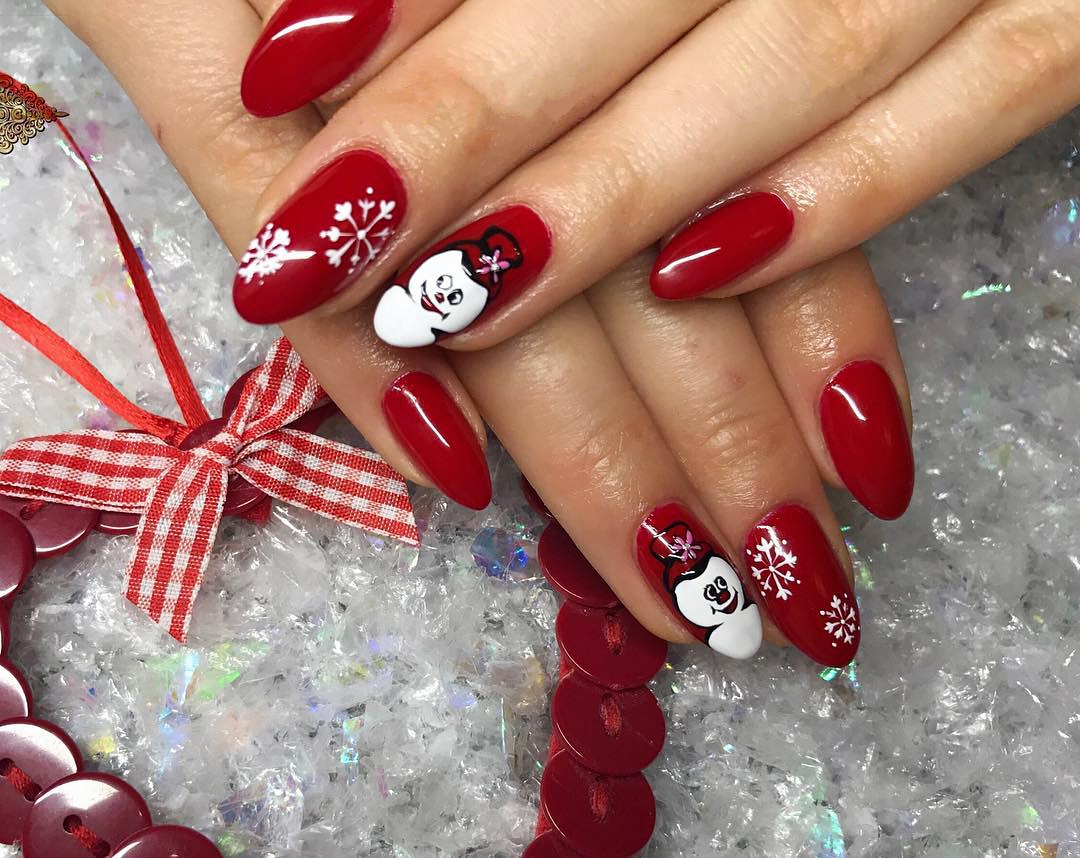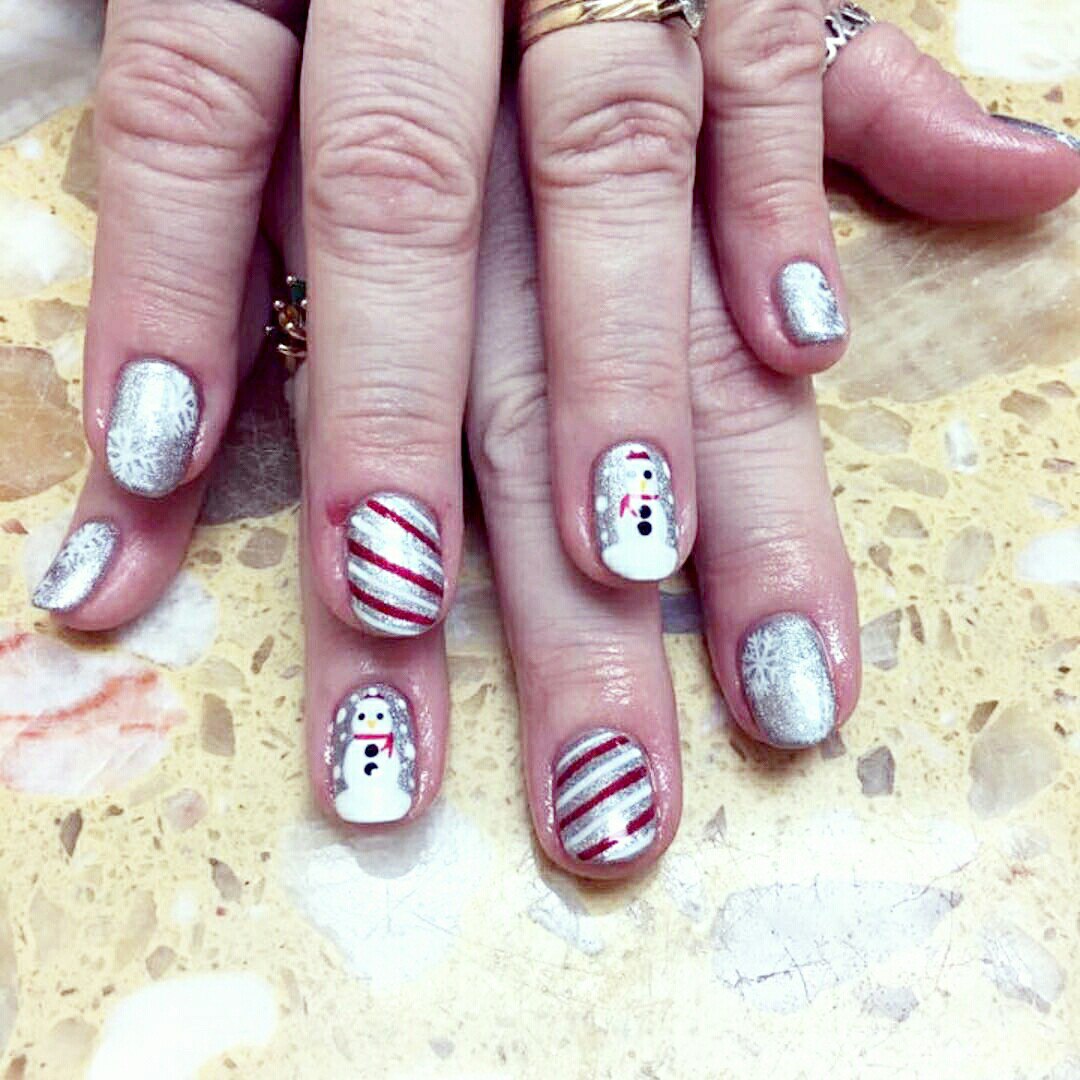 Santa Claus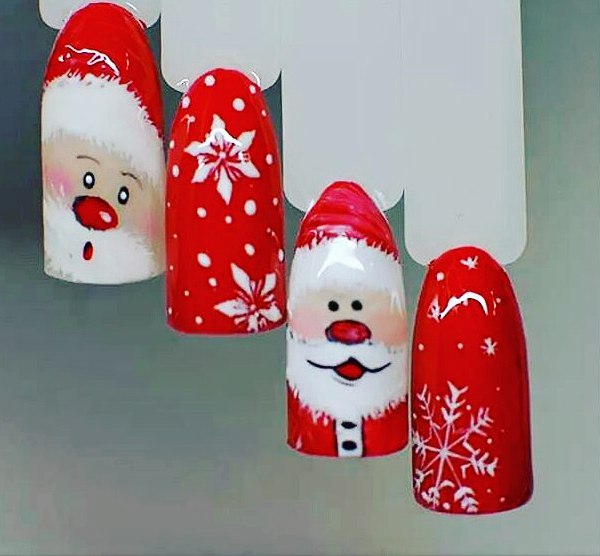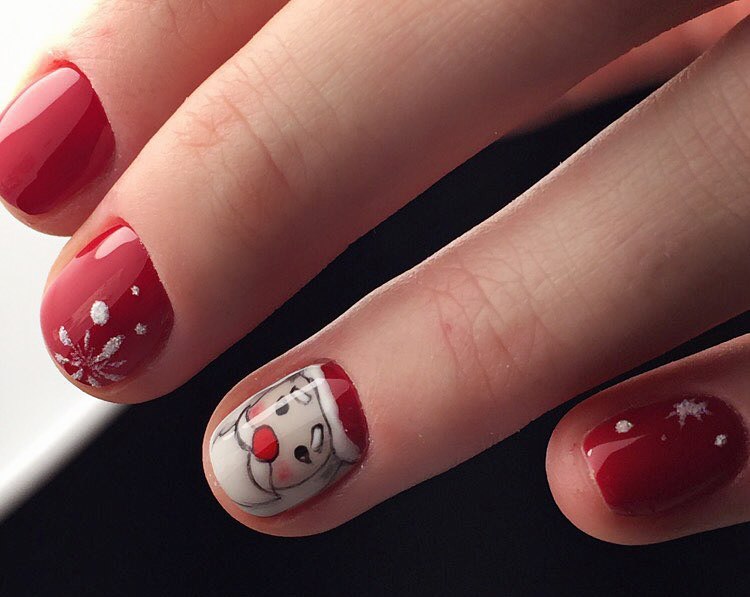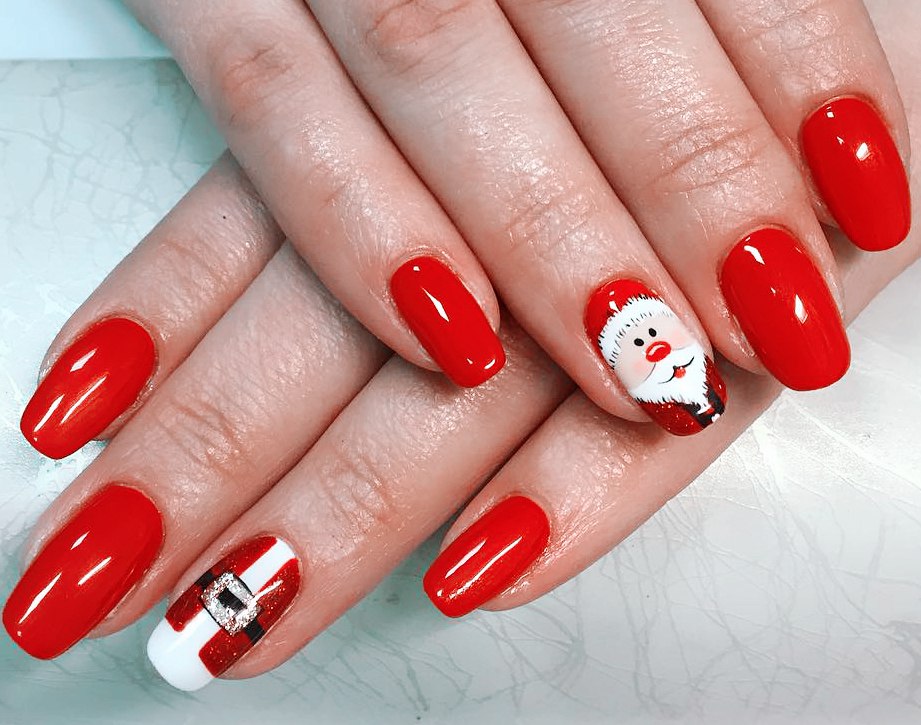 Christmas Deer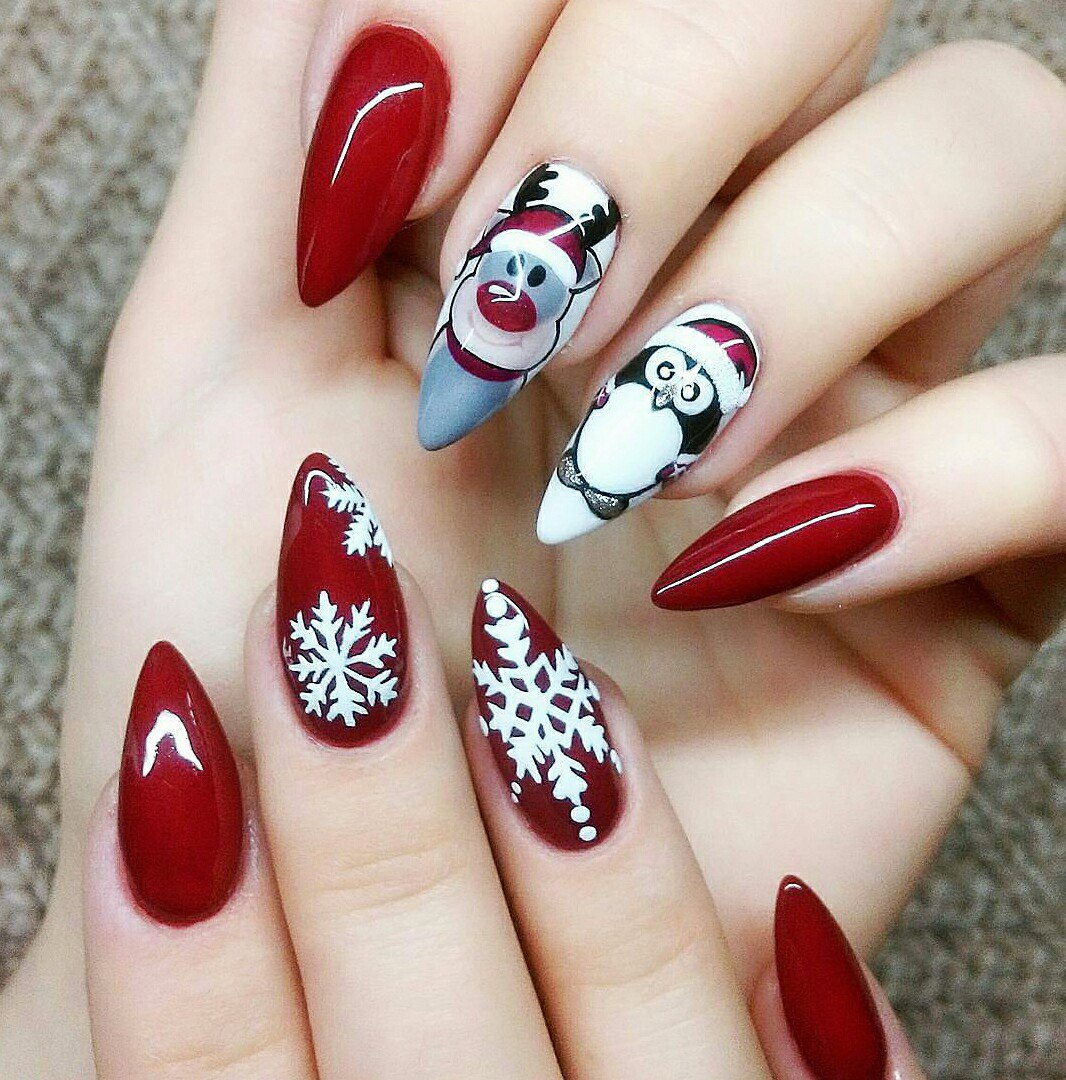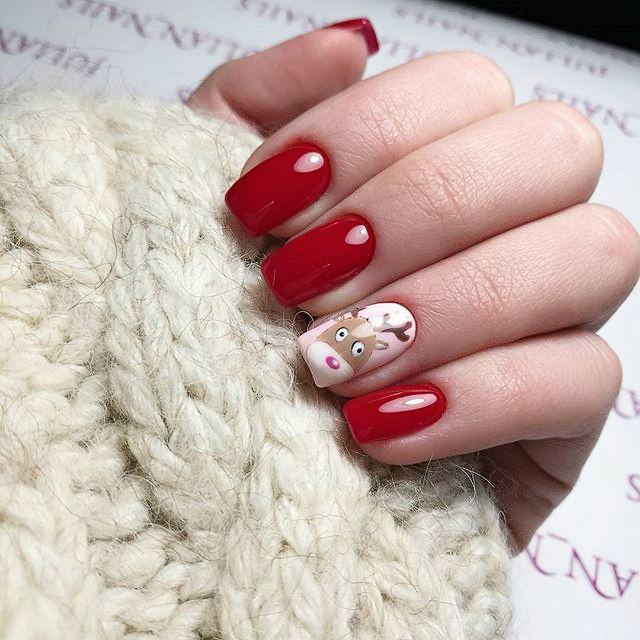 Chimes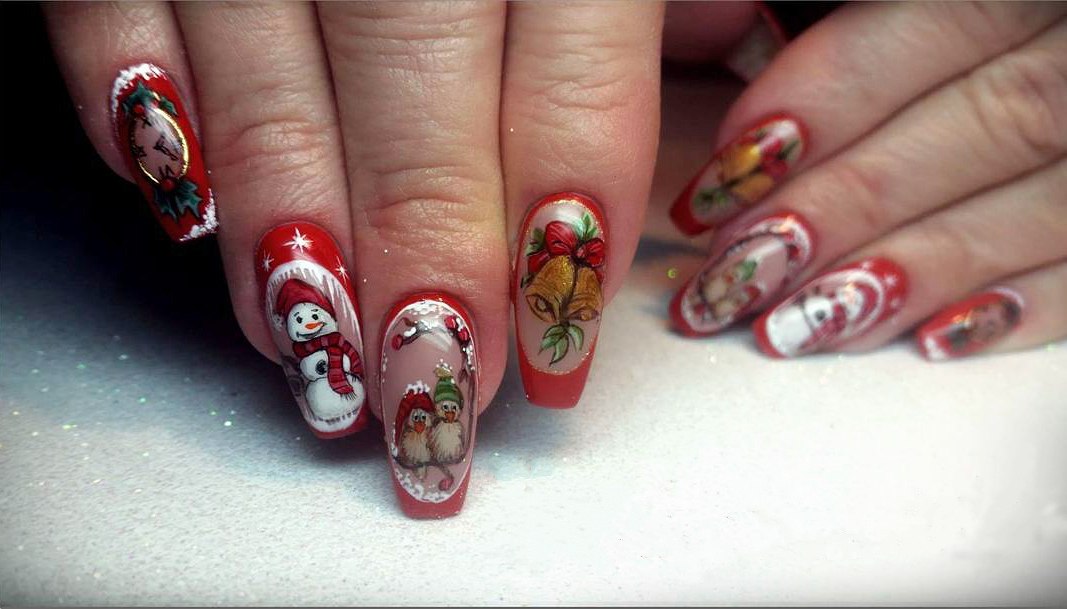 Gloves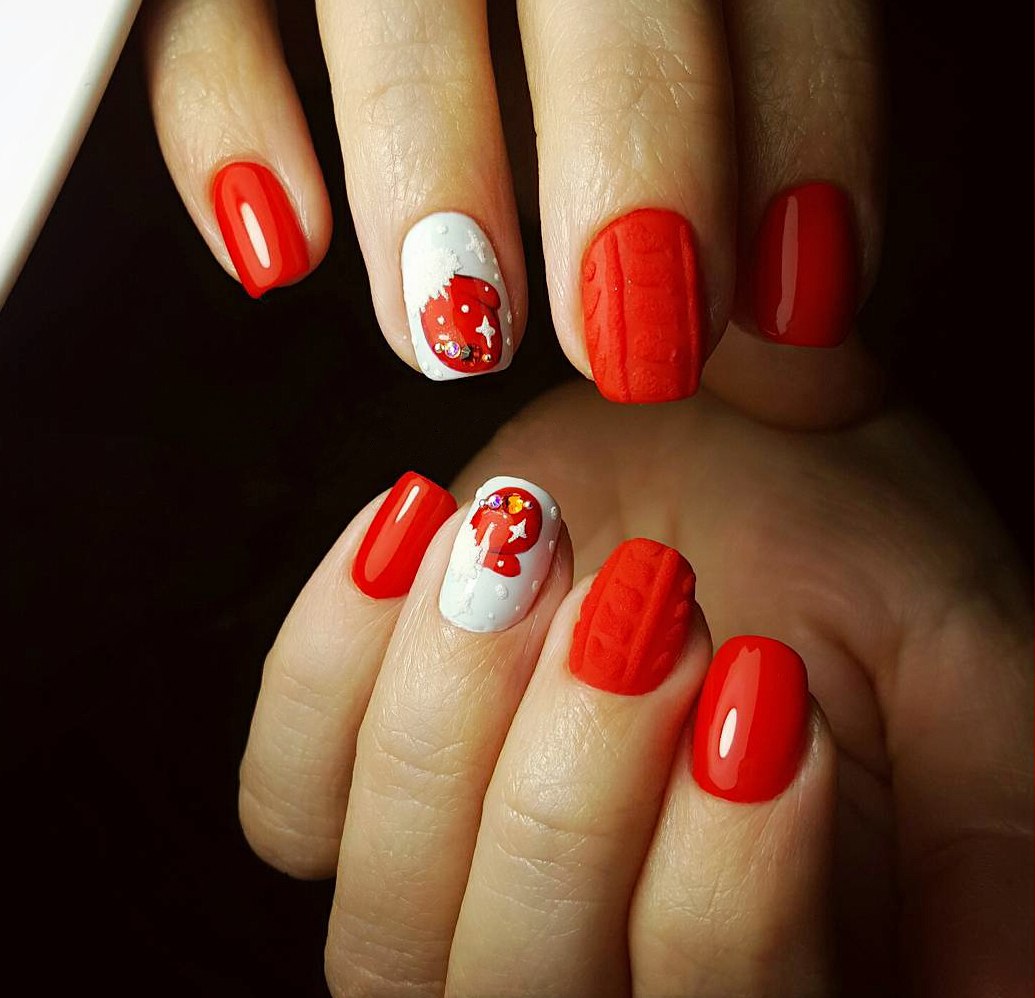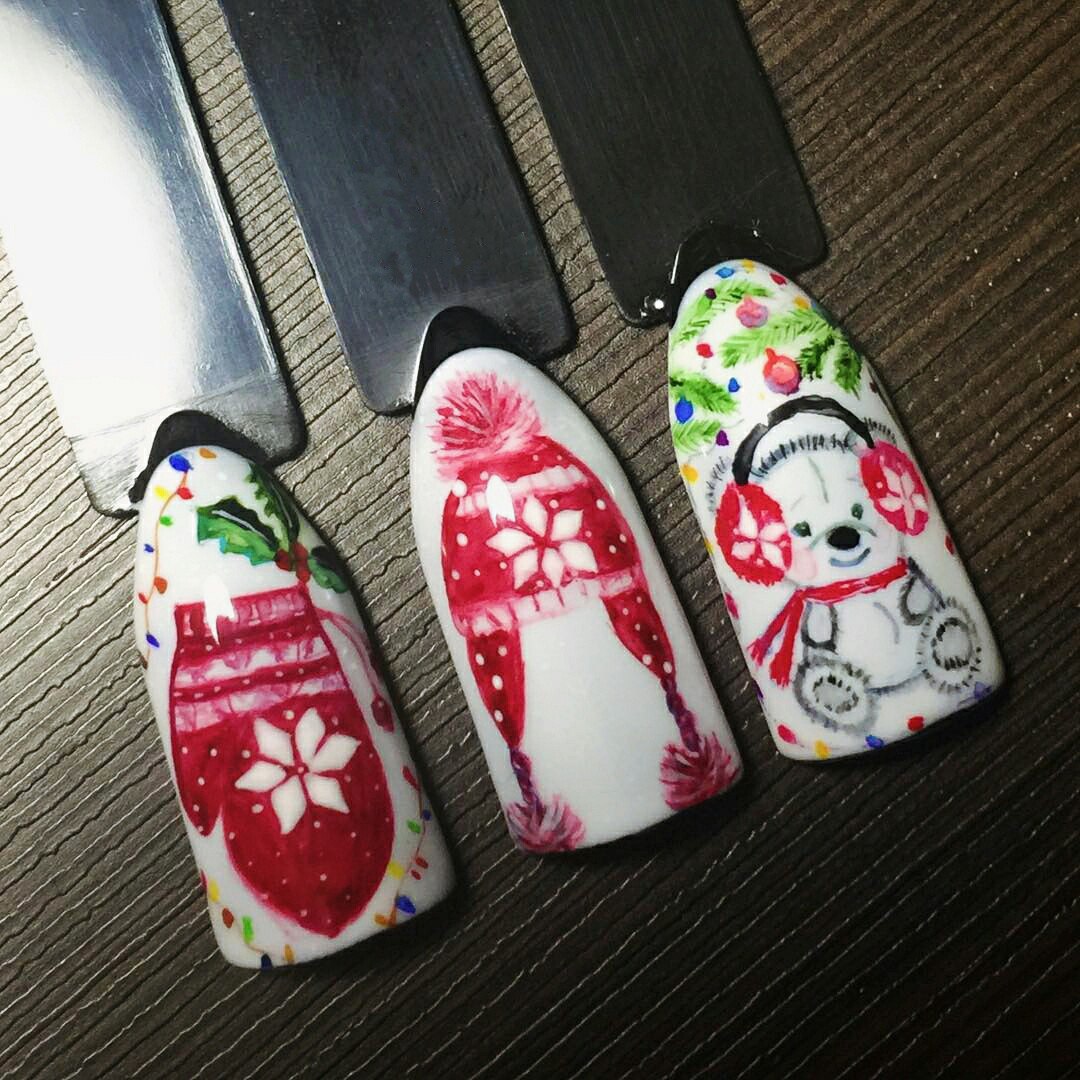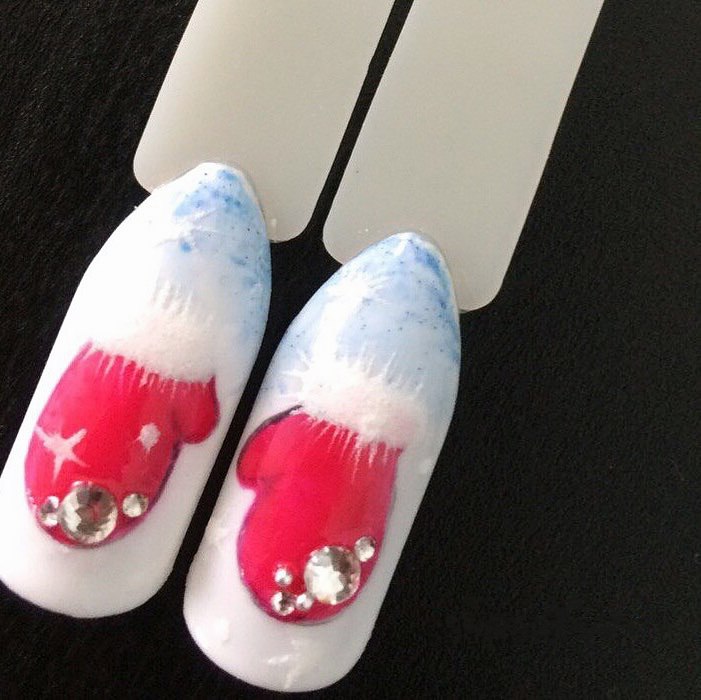 Christmas Candies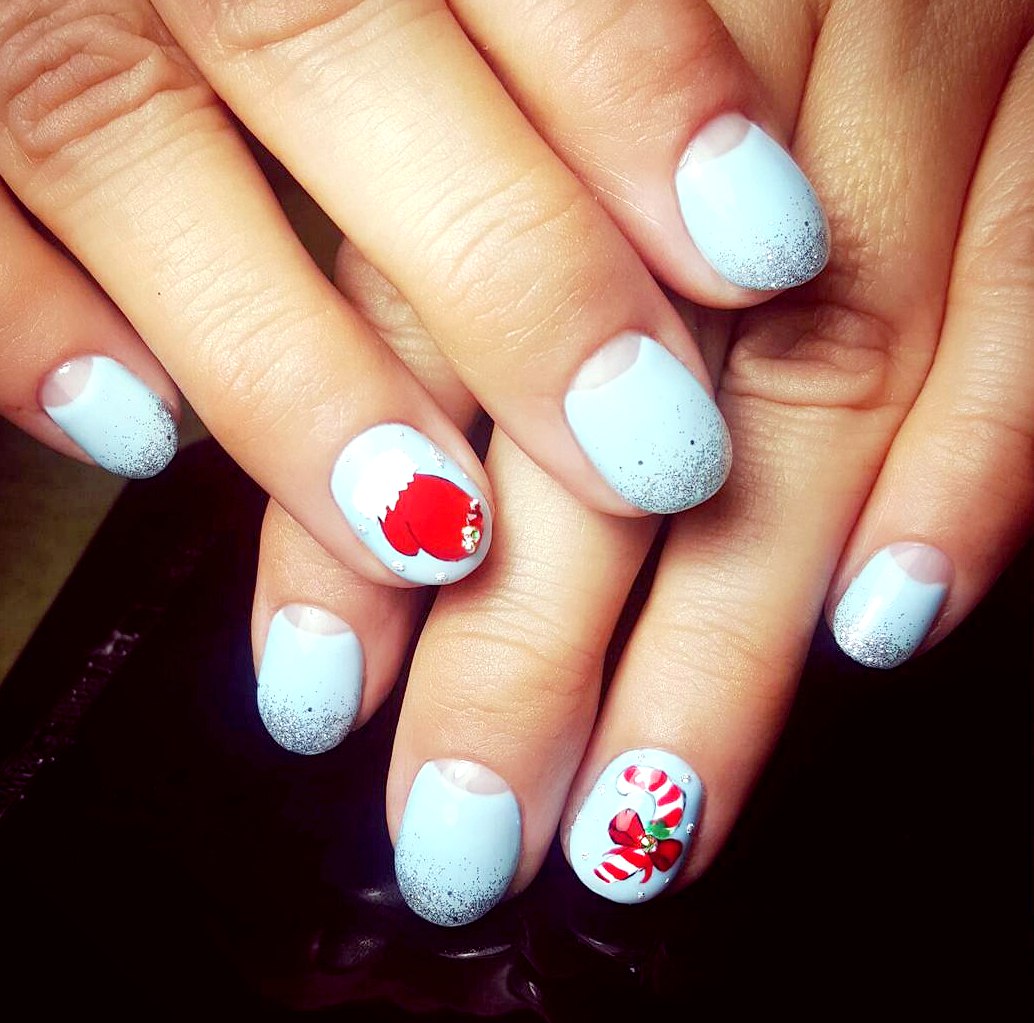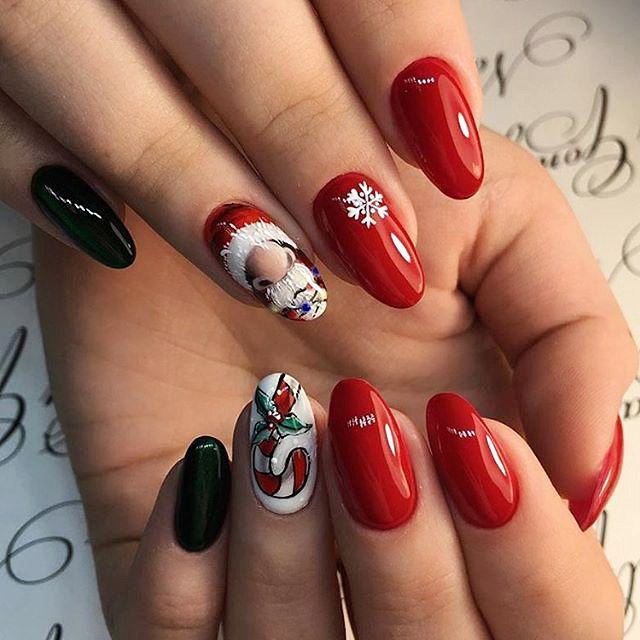 This all can be painted on the nails and become an essential part of the gel nail designs for new years. Those who can't draw straight lines or have difficulties with drawing with a left hand are recommended to focus on stickers and stamping. It's easy to use them at home. The main advantage is that there're so many versions of pictures.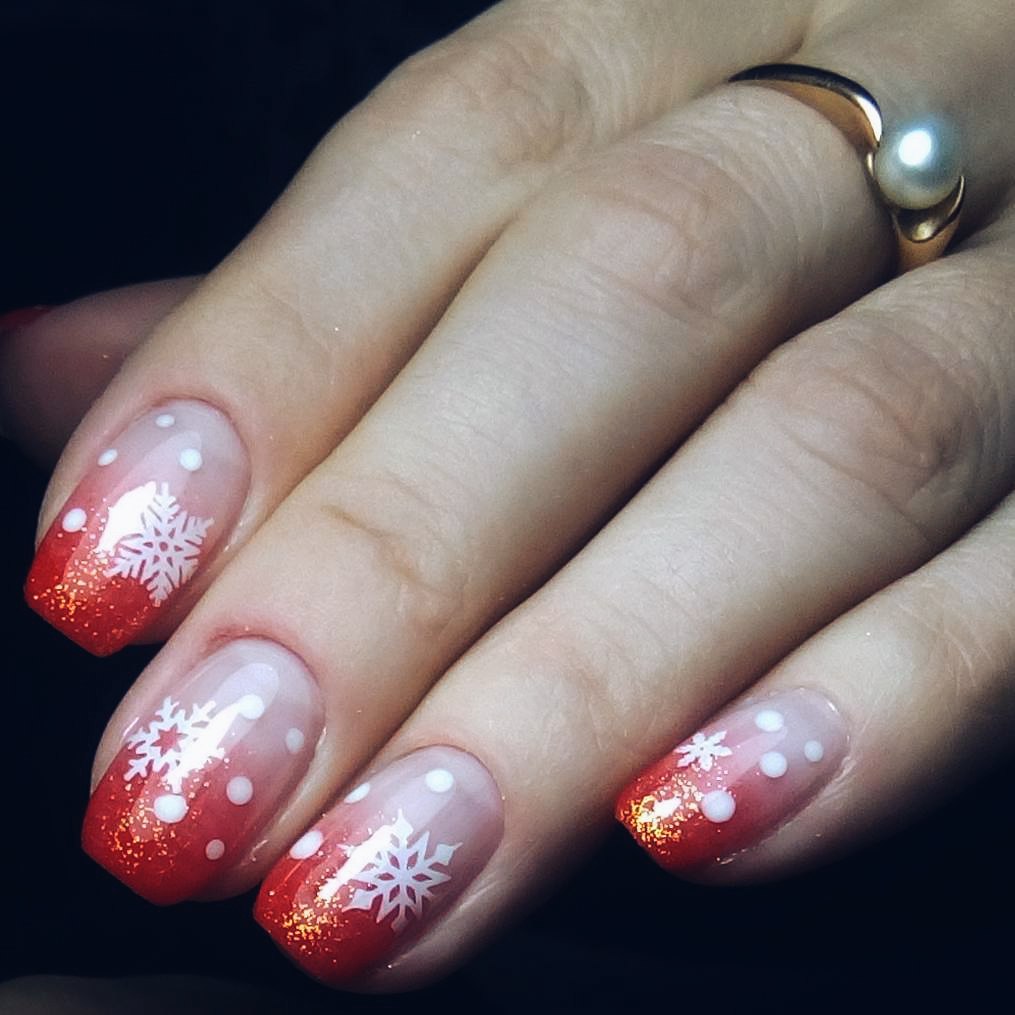 It's more comfortable to draw pictures and patterns on the long nails as the "canvas" is bigger. If you paint new years nail designs for short nails, you'll have to deal with laconic simple patterns.
Styles and New Years Nail Ideas
Now let's talk about nail design for new years. But, first of all, we should note what nail length will be trendy in the new year. Medium length that's closer to short nails will be in fashion. As for the shape, fashionistas will prefer round and almond nails. If you like square nails, it's better to file the corners making them rounder.
French Design
Even if we don't live in France, French nail art for new years hasn't long lost its popularity. Due to its laconism and elegance expressed in simple shape and plain color range.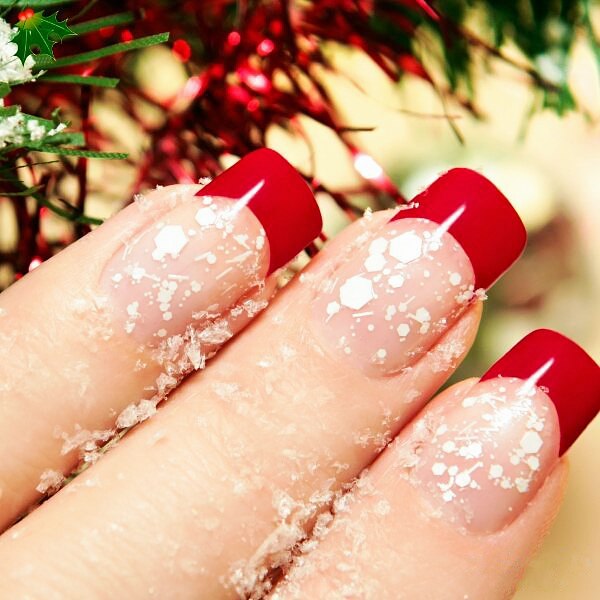 The classic French manicure is chosen by those women who love naturalness. Moreover, such design suit any nail length. It looks perfect on sharp nails. But if your nails aren't long, a thin white line on the edge will only make them visually longer. So you can boldly choose French design even if you have short nails.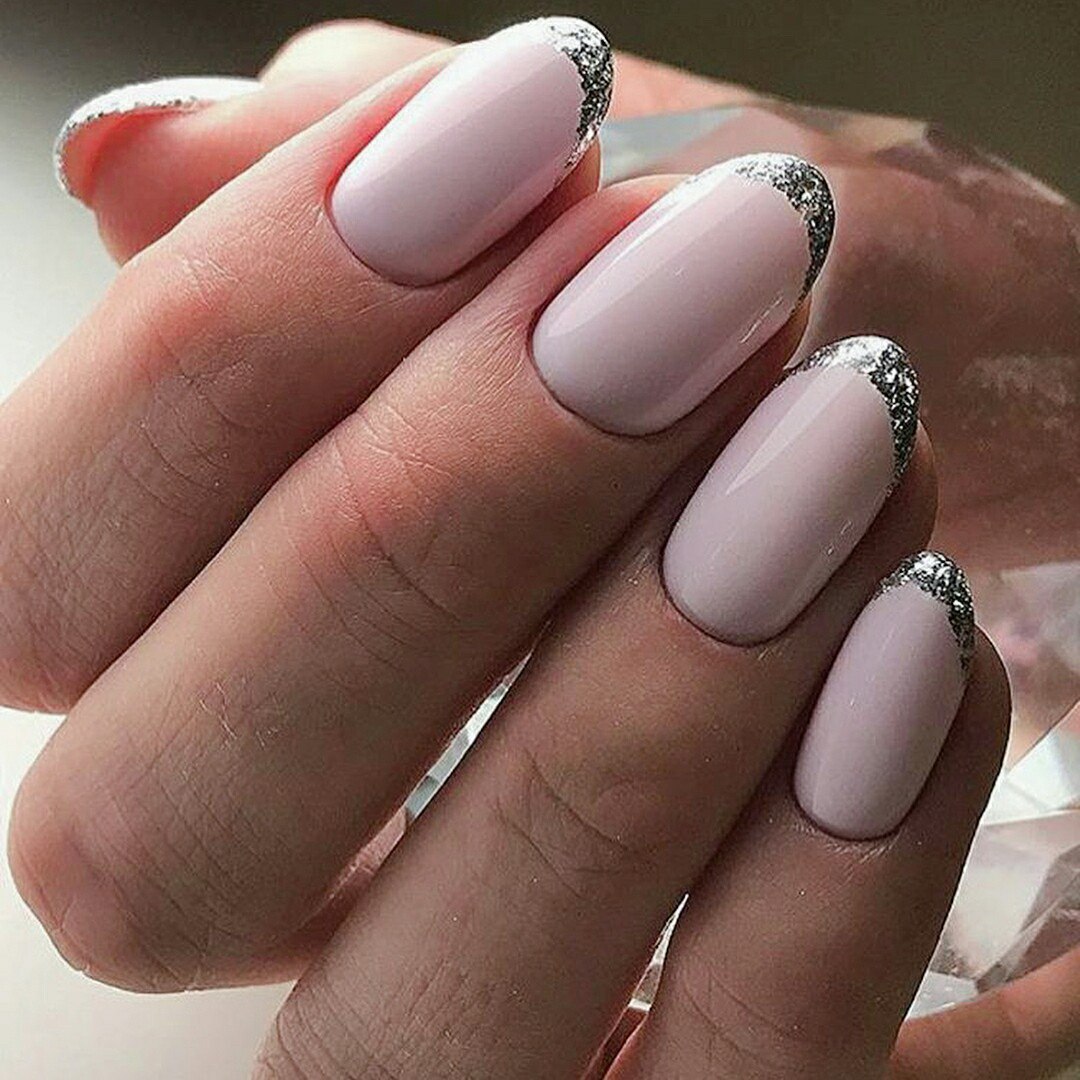 Festive manicure should be complemented with patterns painted on one or several nails or with sequins at the nail base. Some women choose a combined design: French design for 2-3 nails and traditional or moon design for the rest.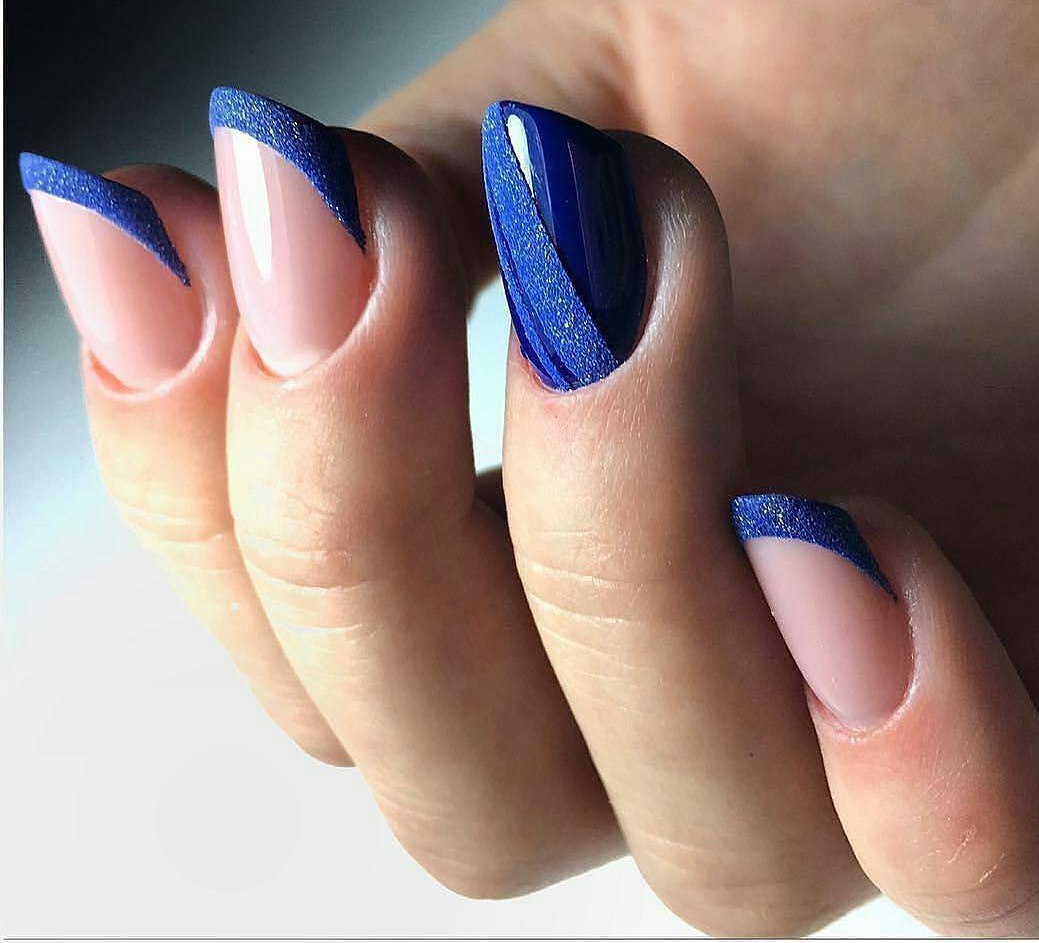 By the way, as of moon designs or, as they're often called, reverse French designs. They're as popular as classic manicure.

All designs can be performed not only in white and beige colors but in different bright shades.
Geometry: Shape Is Paramount
Another popular nail design is geometric. There are different patterns:
lines;
peas;
stripes;
polygons.
Some patterns are painted with a thin brush and for others templates are used. For instance, the "fishtail" pattern is easy to paint.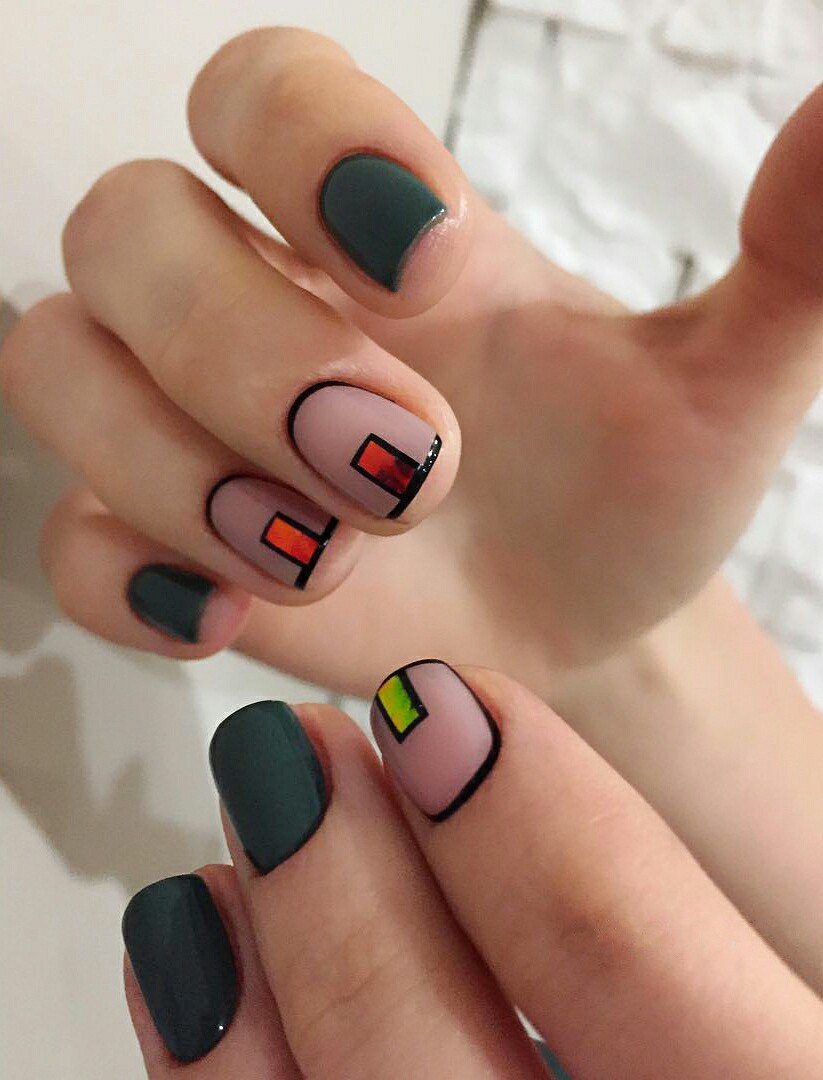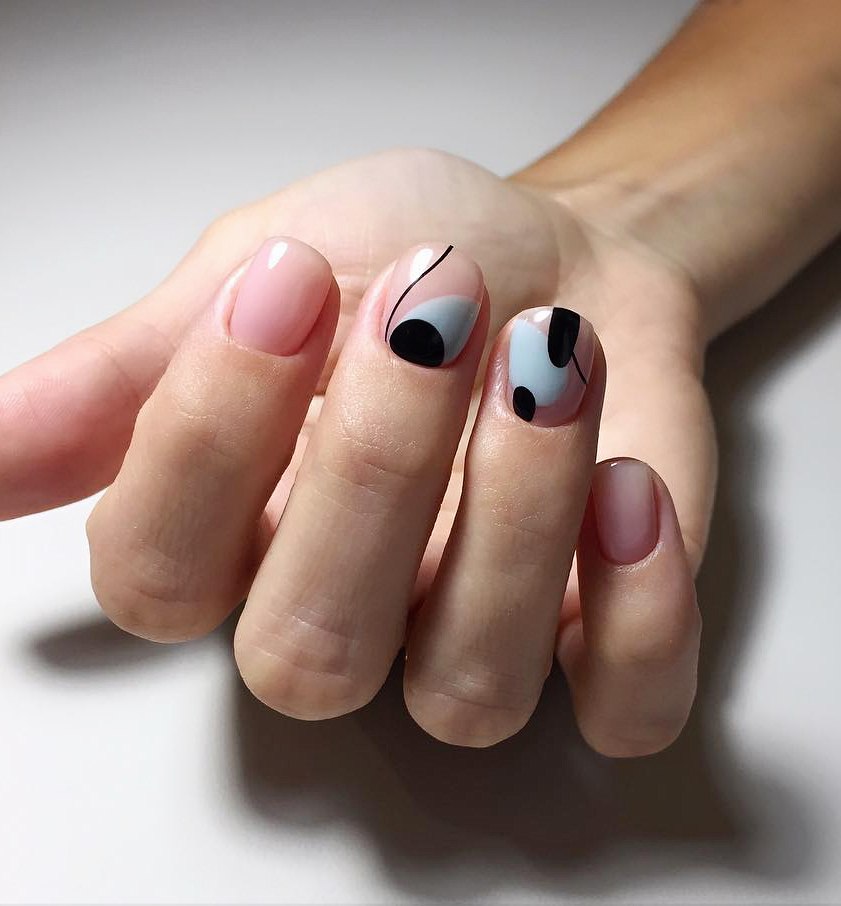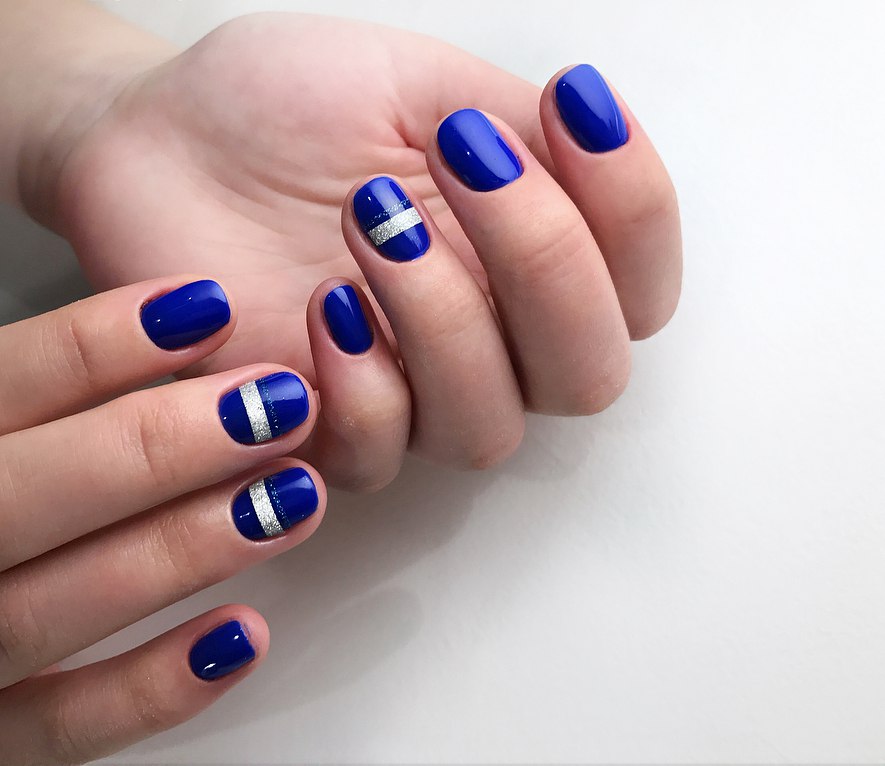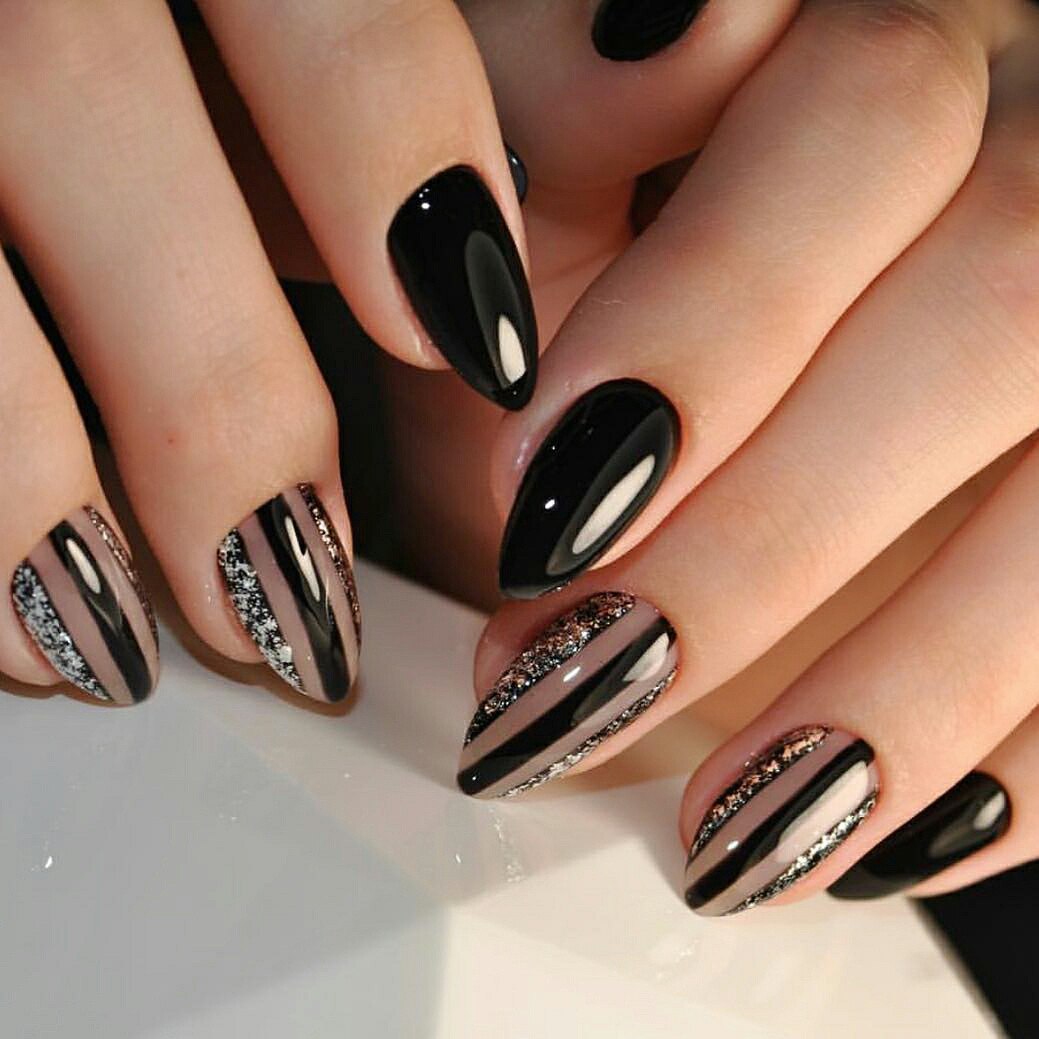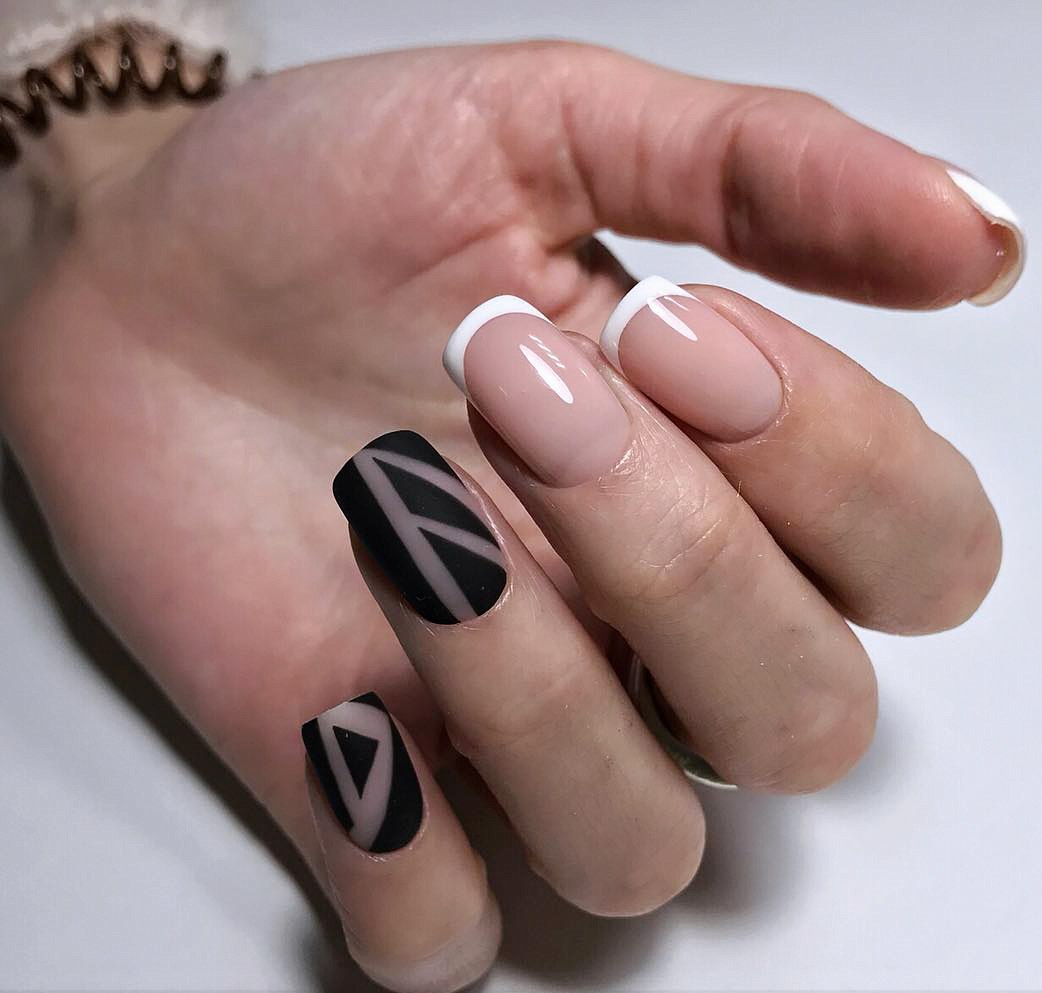 The nails designs for new years are often decorated with thin foil strips.
Wet Gel Polish
It is known that gel polish petrifies only under UV rays so you shouldn't hurry to work with this polish trying to create interesting effects. Patterns resembling watercolor are painted with a needle or a dotting tool.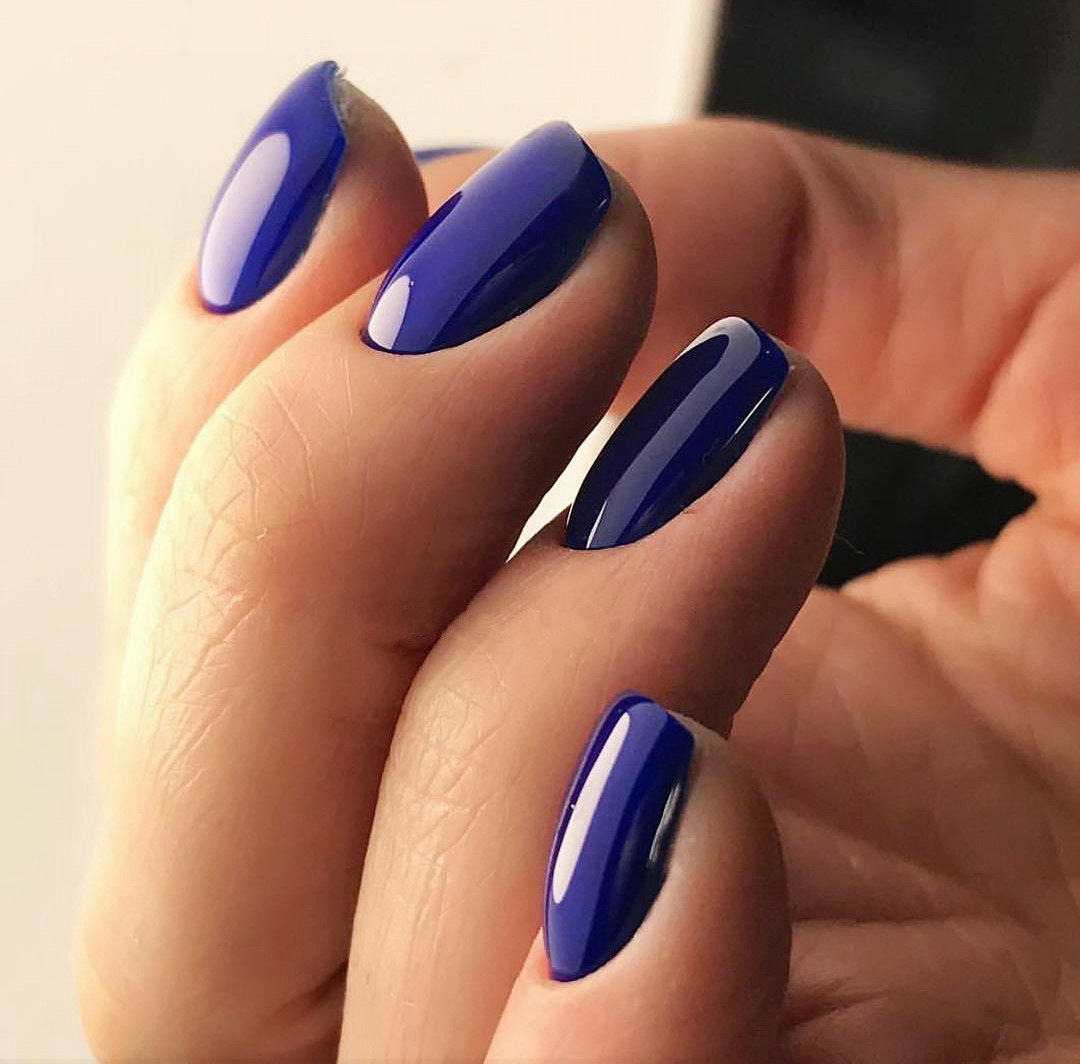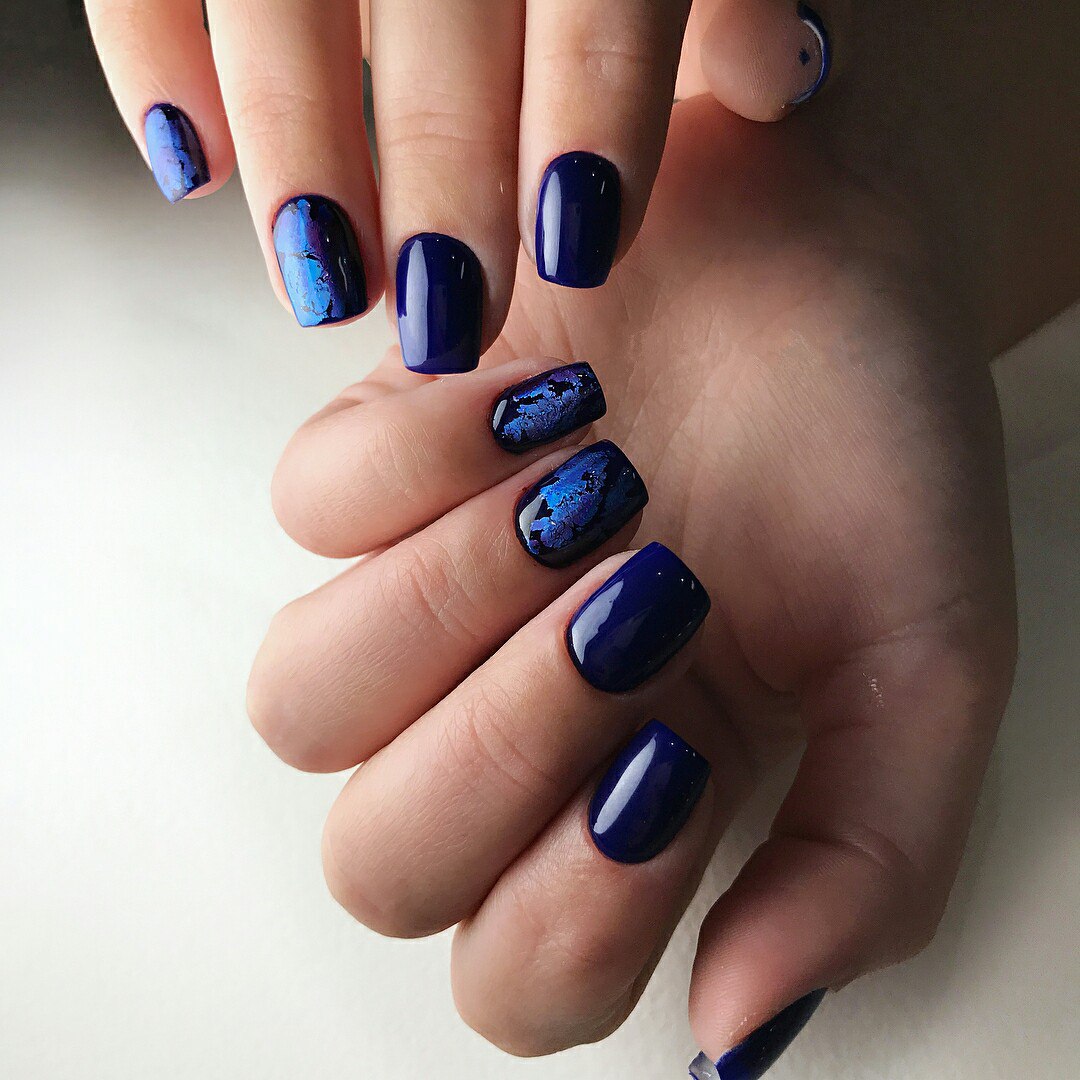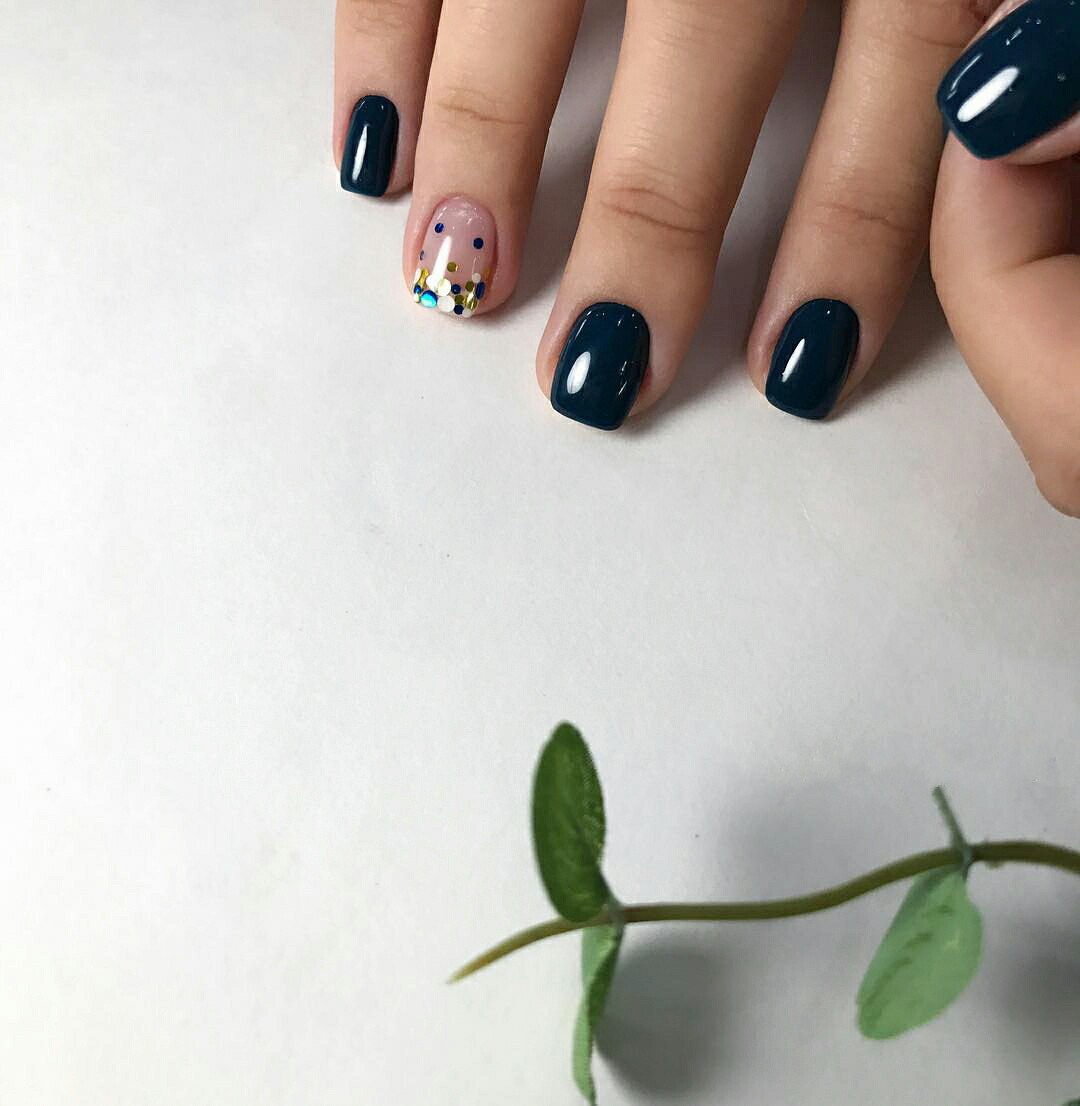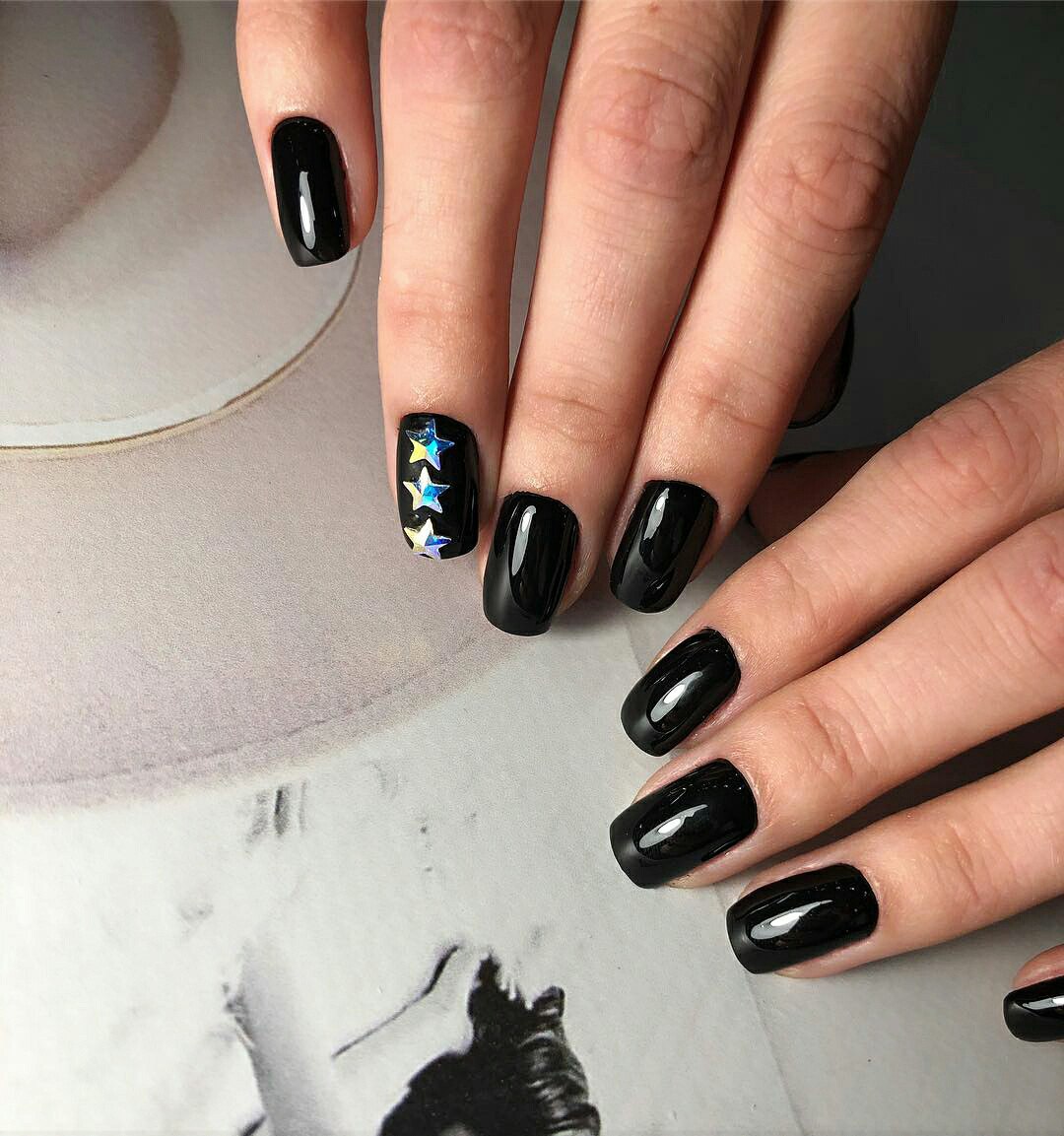 Colors slightly flow into each other but don't let them mix too much.
Cat Eye
Cat Eye design is performed with a special polish that contains magnetizable particles. As a result, you get an effect resembling this shining stone. This nail design looks festive even if it's not decorated.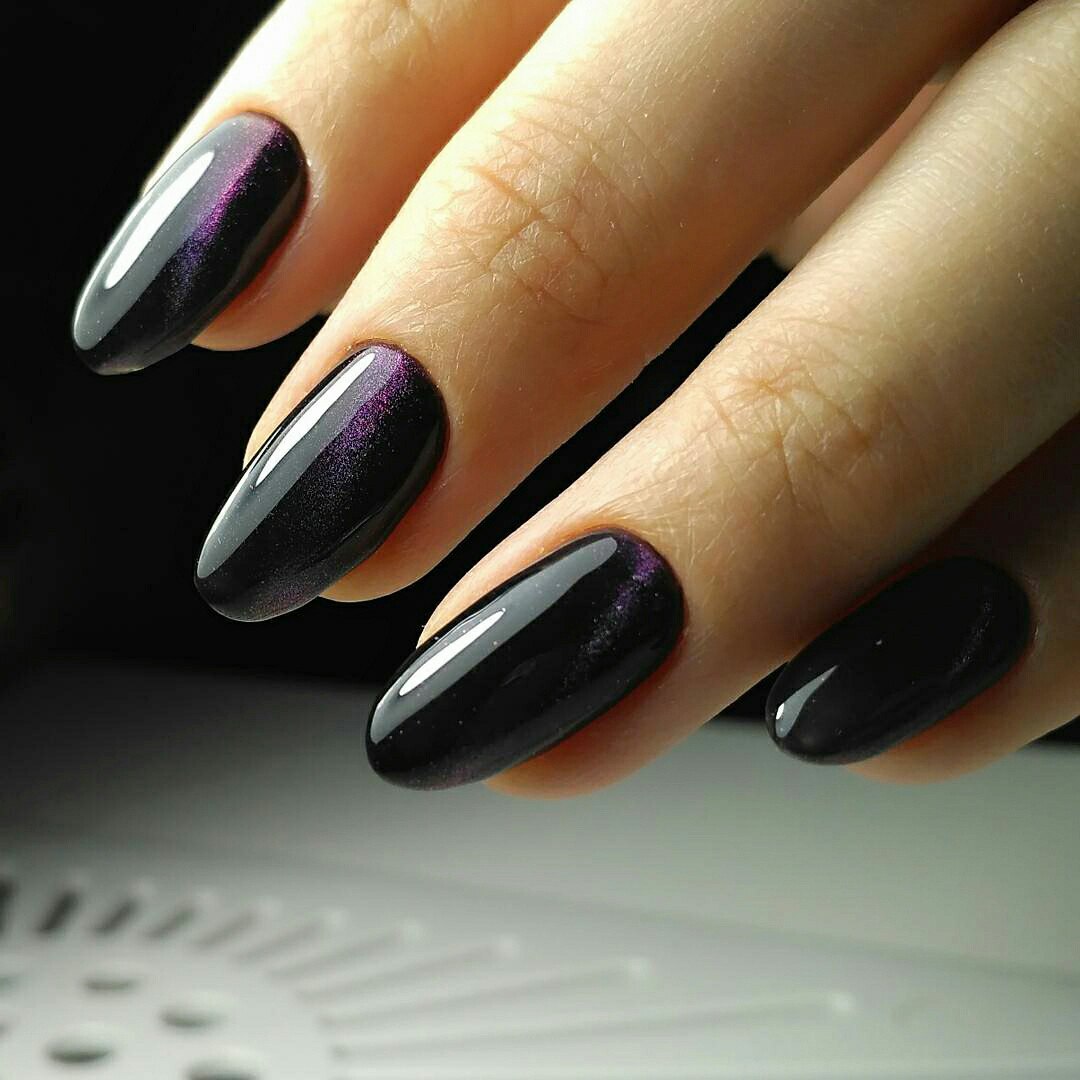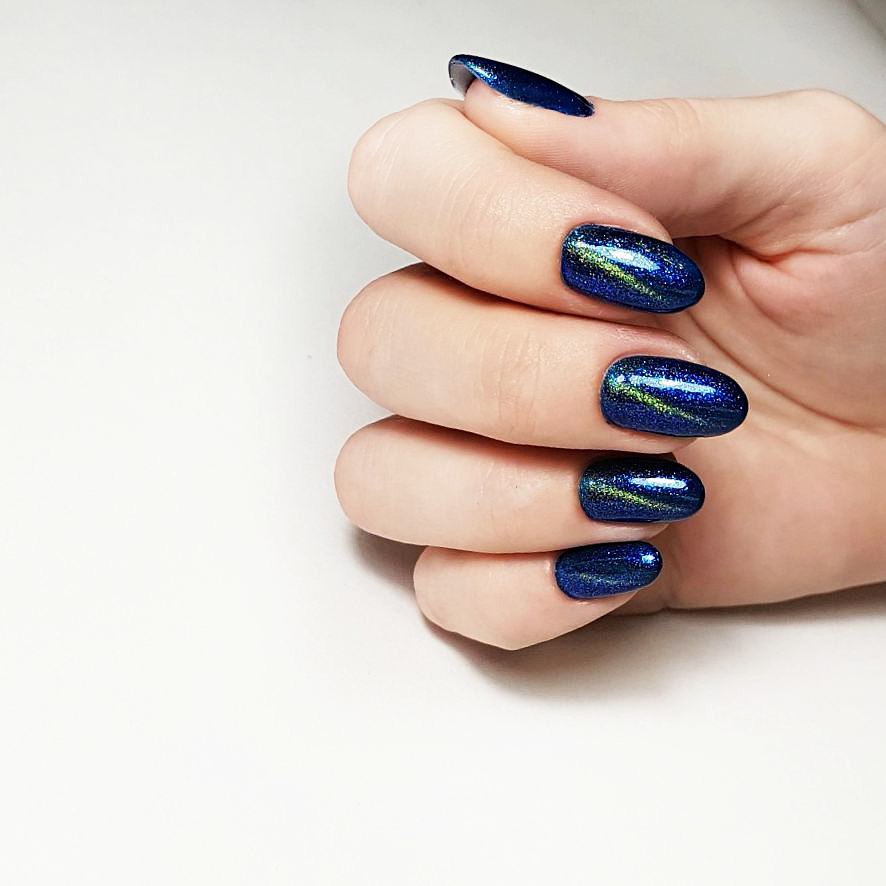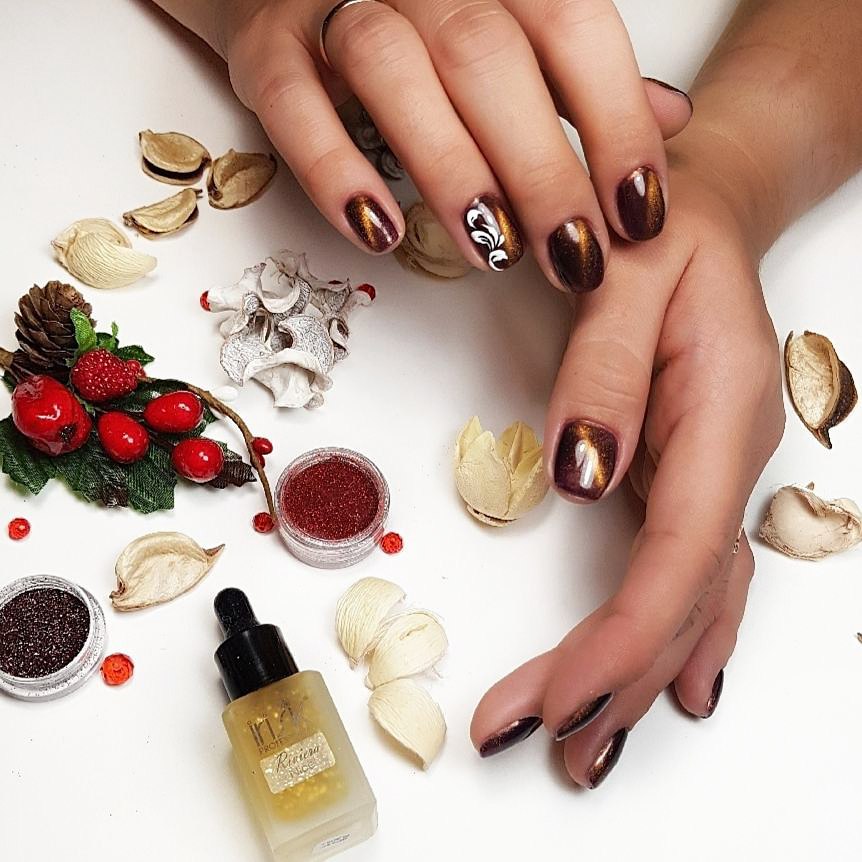 But it's worth decorating, at least, one nail for the New Year.
Shattered Glass For New Years Eve Nails
The nail design called "shattered glass" was very popular in 2017 and will be still popular on the New Year's Eve. Despite its name, the nails are decorated not with glass but with colorful cellophane. The color range is very wide. The material is not only in one color but gleams and shines. "Shattered glass" is cut into pieces or bought already cut. A pattern that is chaotic or orderly is made of these pieces.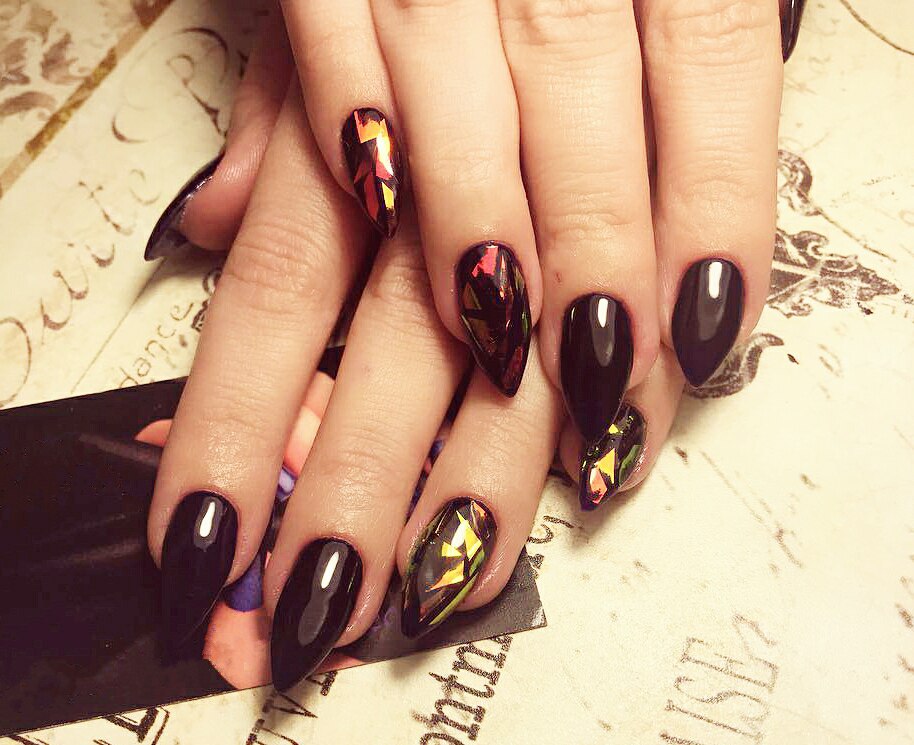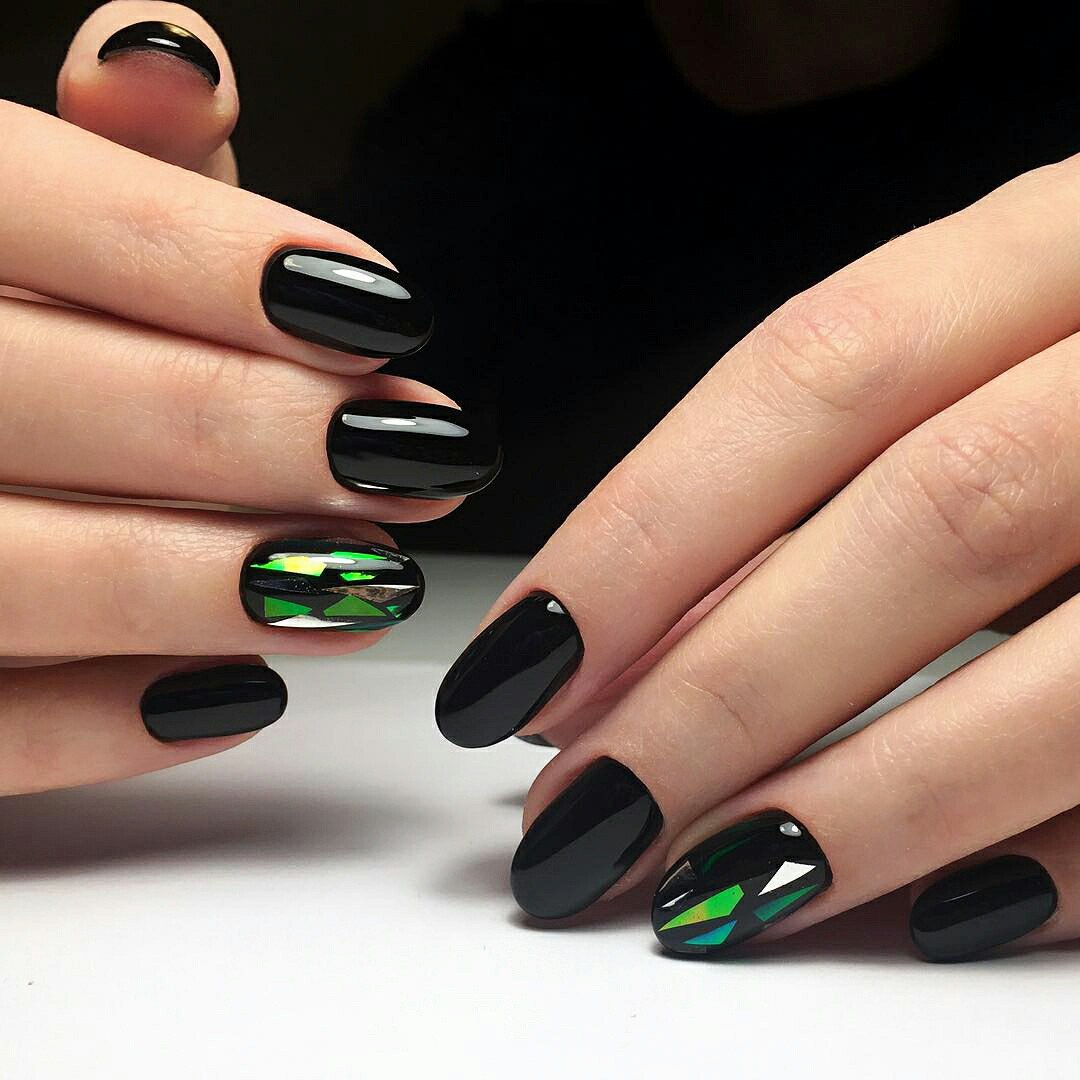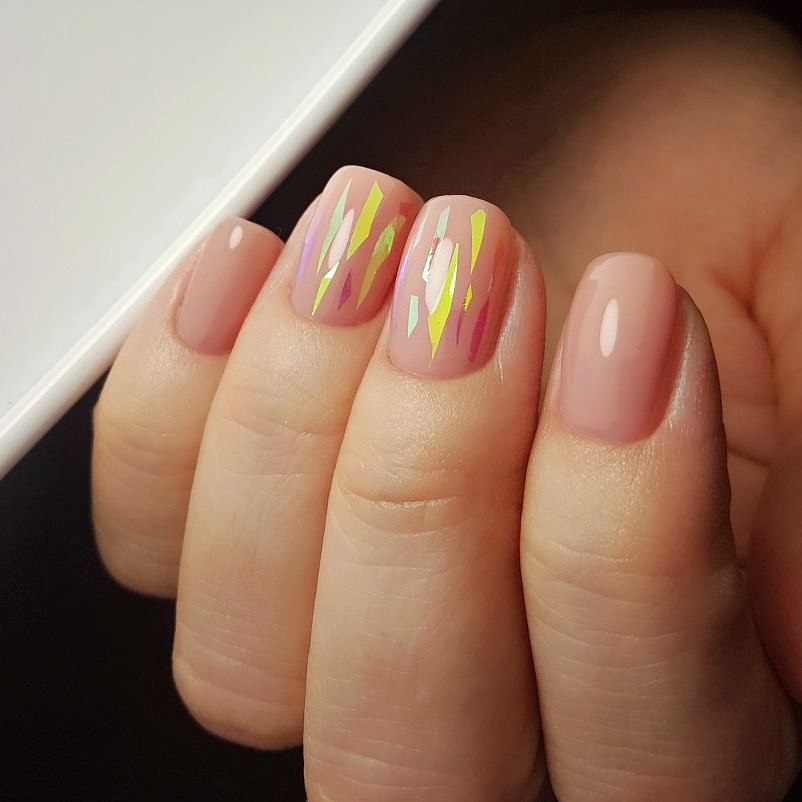 It's important to place the decorative elements carefully not to let edges stick out of the nail surface.
Chinese New Year Nail Art and Design
The Chinese New Year is a new nail design as we can celebrate the New Year according to the vivid Chinese traditions. The Chinese culture becomes trendy in nail art so you should use this idea even if not on 31 December but to celebrate the Chinese New Year. Any patterns are in vogue. "Happy cats", pictures of toy cats waving with their paws, are quite popular now.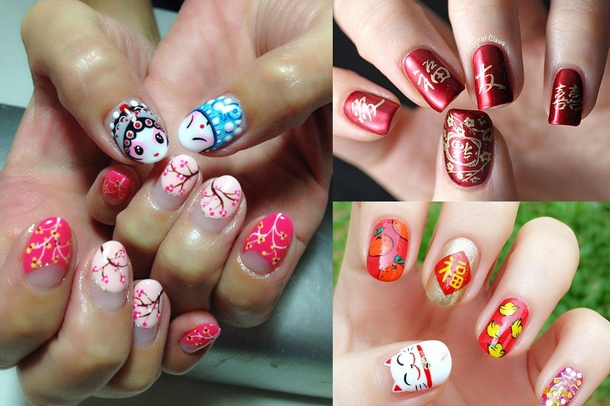 Moreover, these cats look very cute and, according to the legend, they bring good luck and prosperity in the new year. The second popular trend is, of course, dragons, the symbol of the Chinese New Year. Along with this difficult pattern, you can paint some hieroglyphs on the other nails.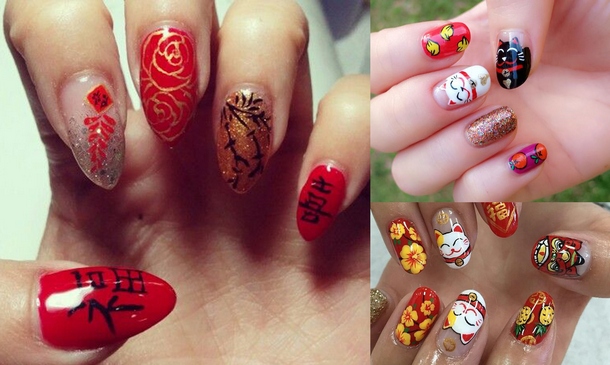 The Chinese style is not possible without red color so take it as a base for painting. Asian trends in nail art imply yellow shades, white color and much gold.
Nail Design for Chinese New Year: Video Guide
Decorative Elements for Nails: Sequins, Sand, Beads
You can decorate any nails adding some unique tints and expressing your nature. Even the plainest nail design will look in a different way if you stick 2-3 sequins or a sticker to one of the nails.
Add Glitter
The most favorite decorative elements are sequins. This is an available way to make everyday manicure festive. But don't overdo this in the Year of the animal as the symbol of 2023 doesn't like floridity.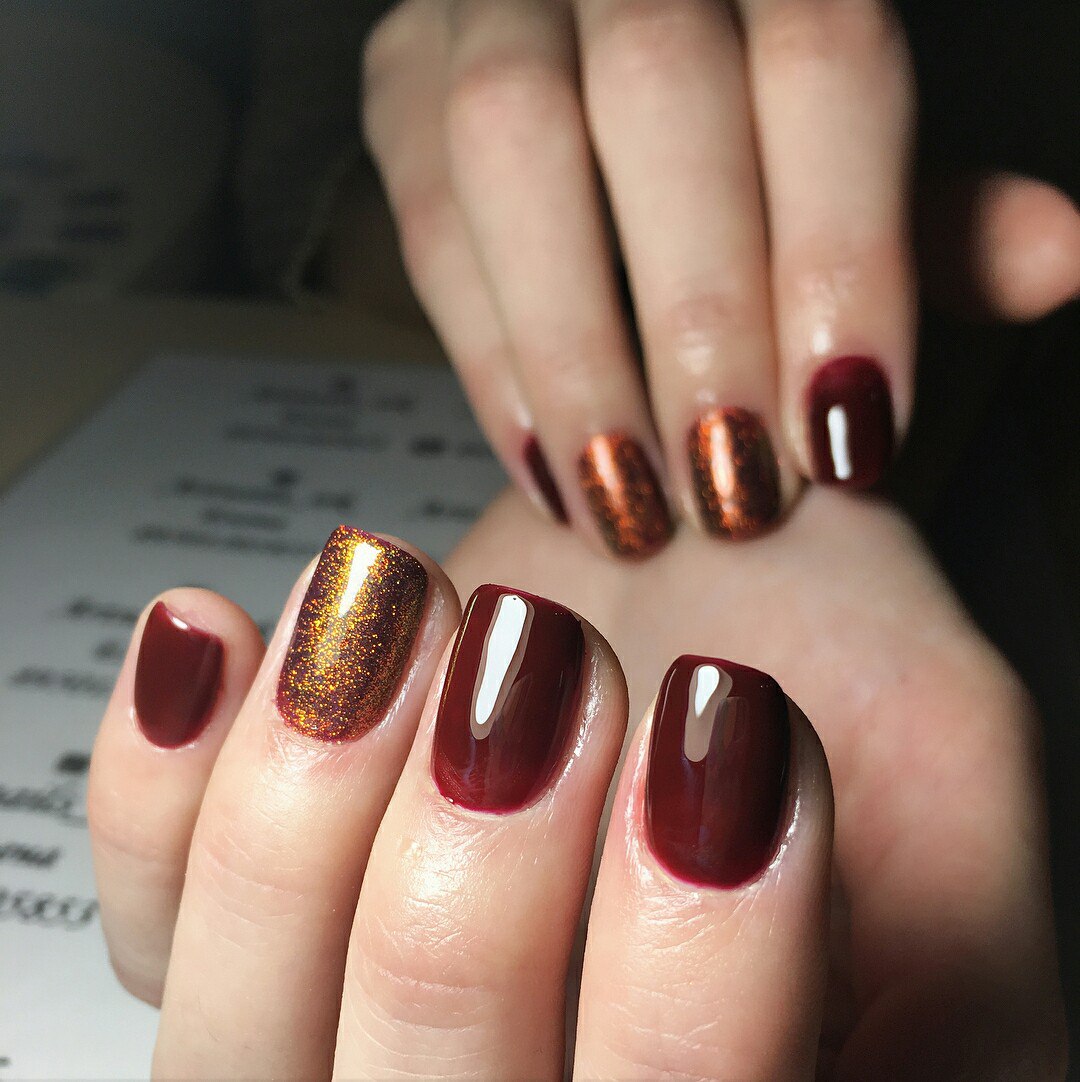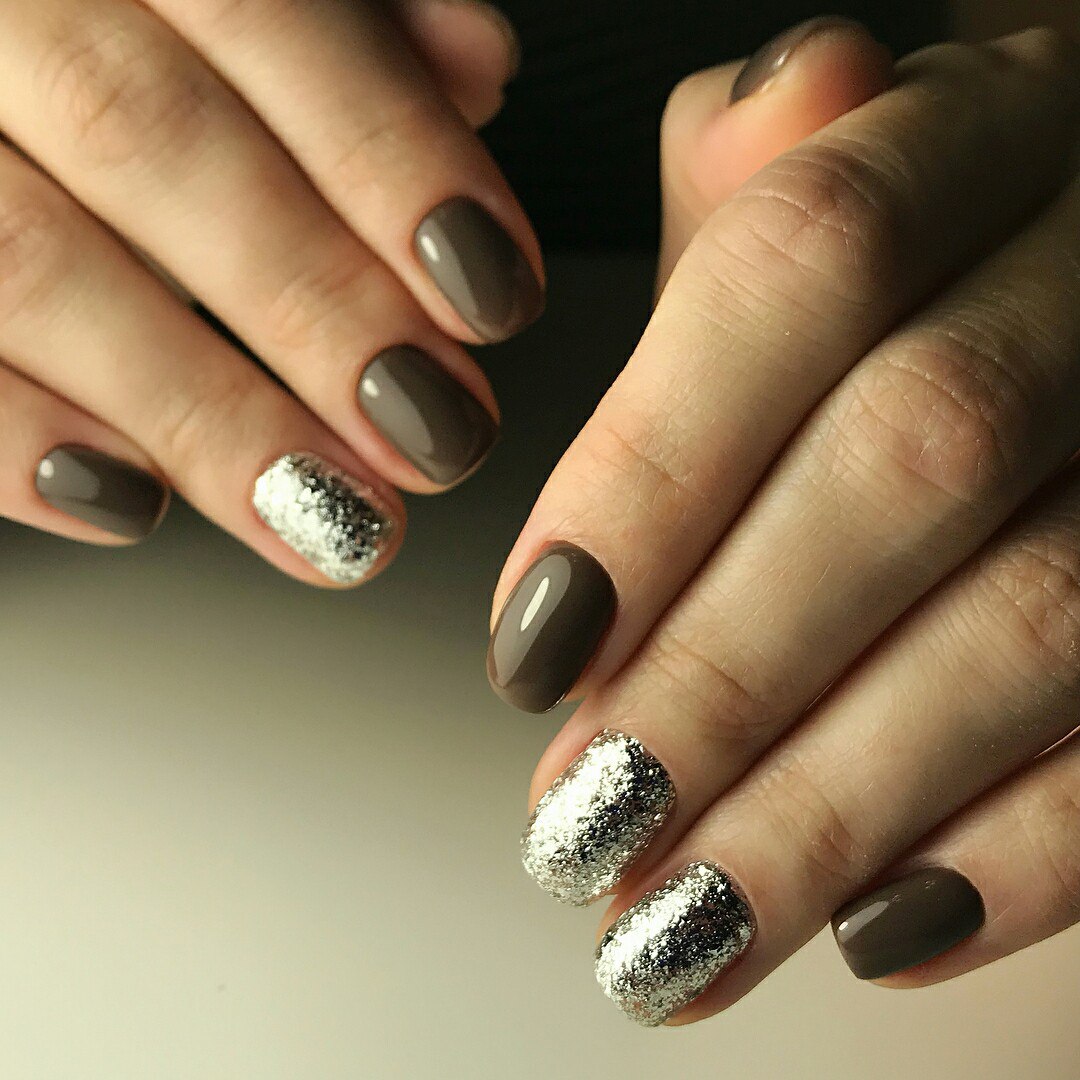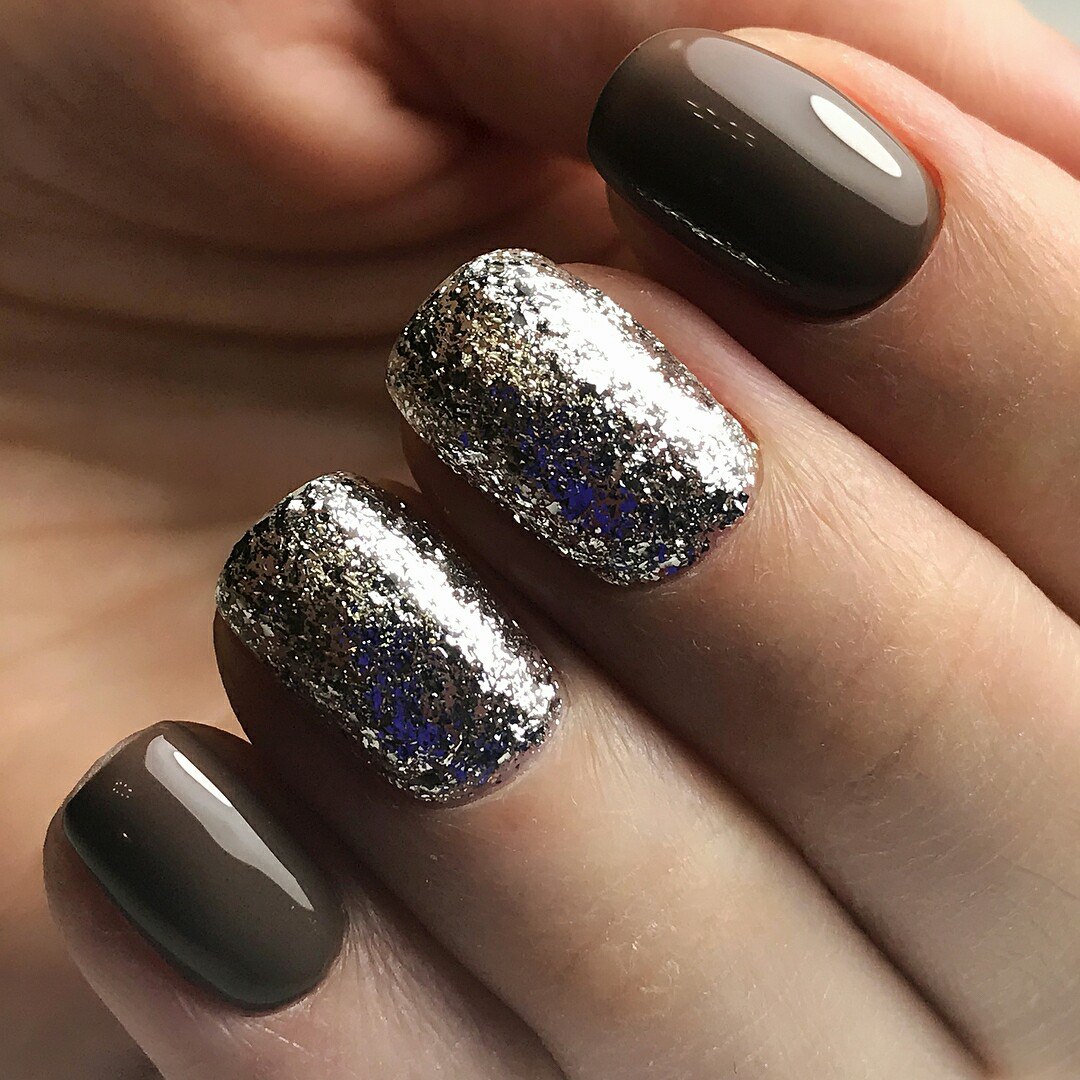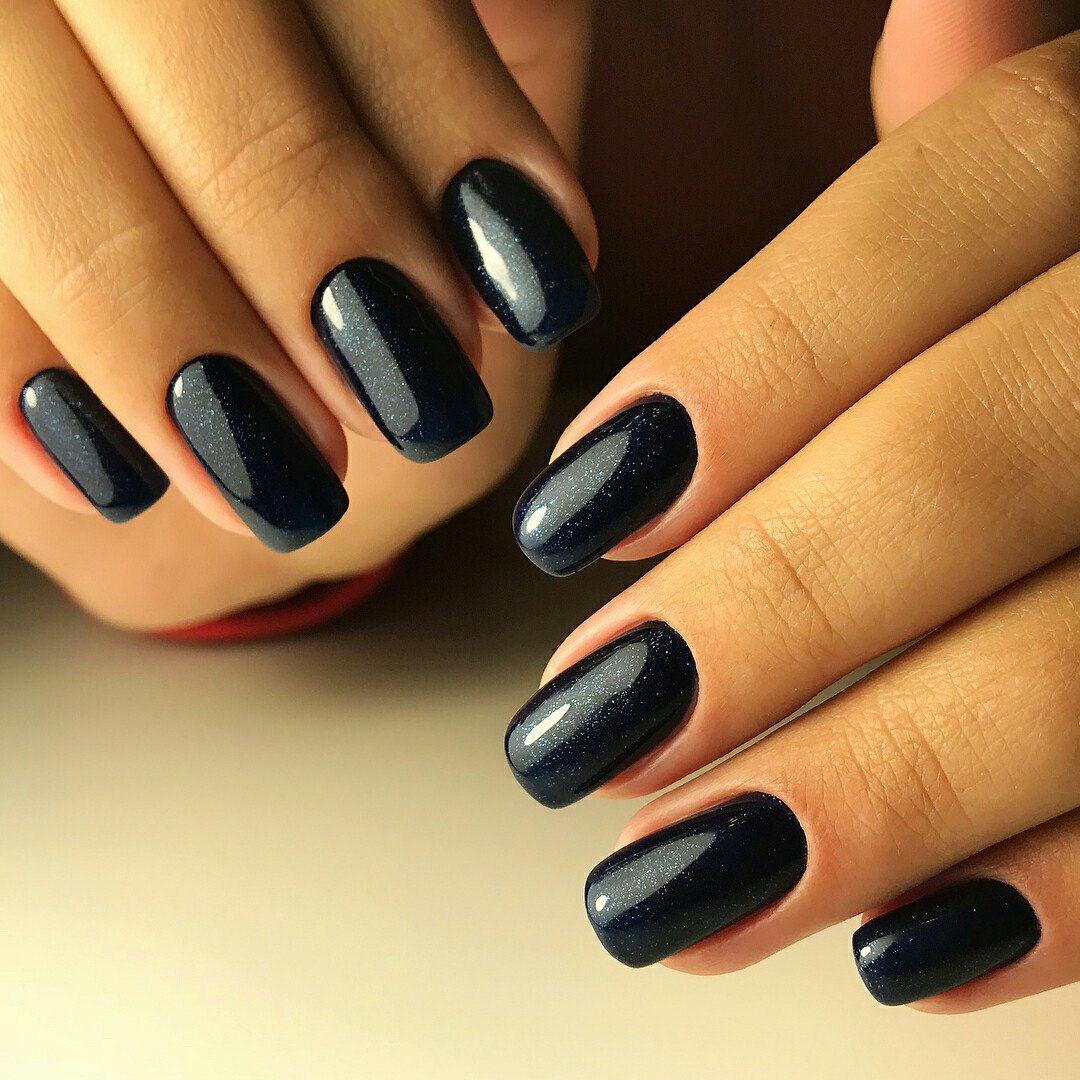 We advise you to put a big sequin on a ring finger or several tiny sequins at the each nail base.
Velvet Sand
Nail designs with velvet sand are created with special acrylic powder or special sand itself. These materials are different only in the size of particles. Before applying velvet sand or acrylic powder you should cover the nails with gel white pain or colorful gel polish.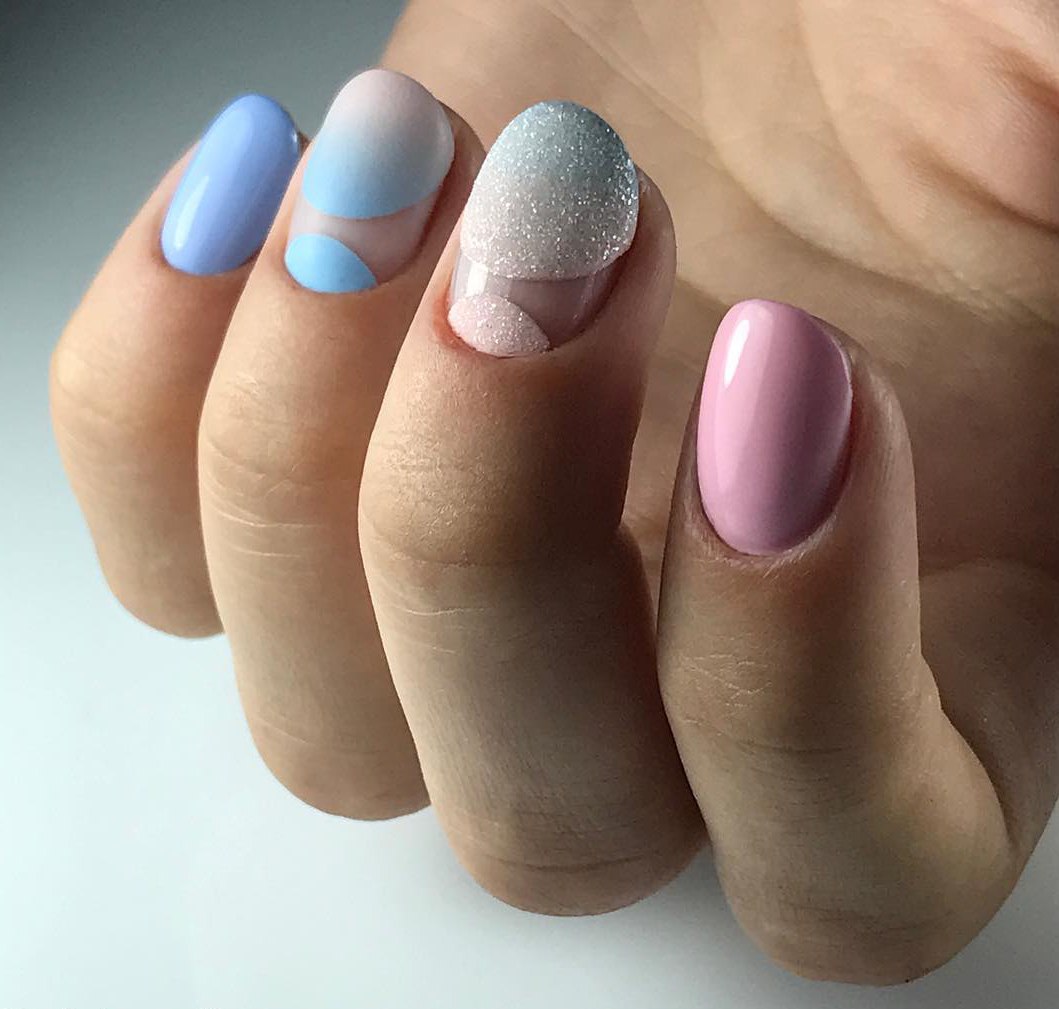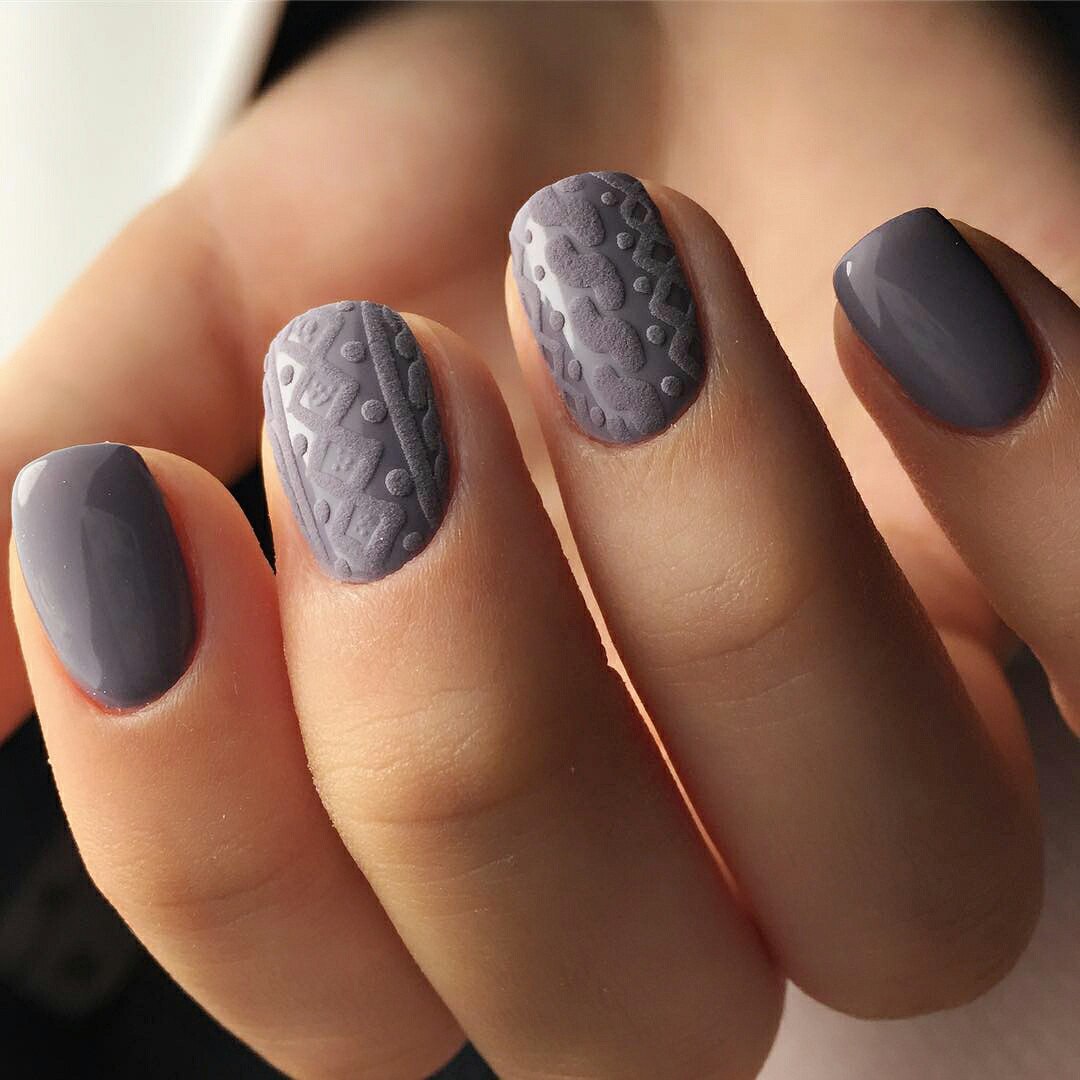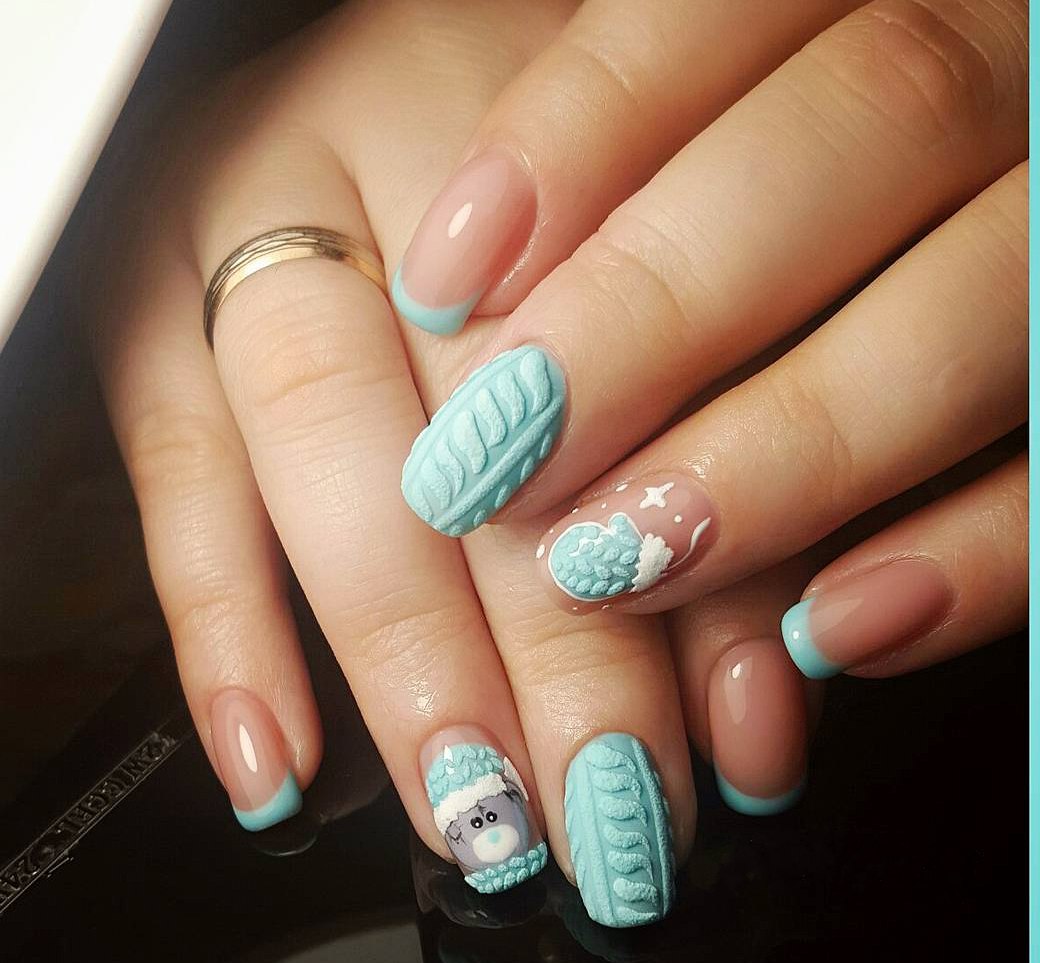 If you do the festive manicure, you should cover the entire nail plate with velvet sand or paint a pattern in the same color as gel polish (different colors are also appropriate). By the way, if there's a crack on the extended nail, you can "fix" it with velvet sand. Velvet coating thickens on its own and you don't need the UV lamp.
Japanese Kamifubuki
Japanese word "kamifubuki" is translated as "paper storm" or "confetti". They are sold as a set including confetti of three difficult colors and sizes. Kamifubuki are usually round but they also have such other shapes, as polygons, stripes and ovals. It doesn't matter what shape you will choose for the New Year.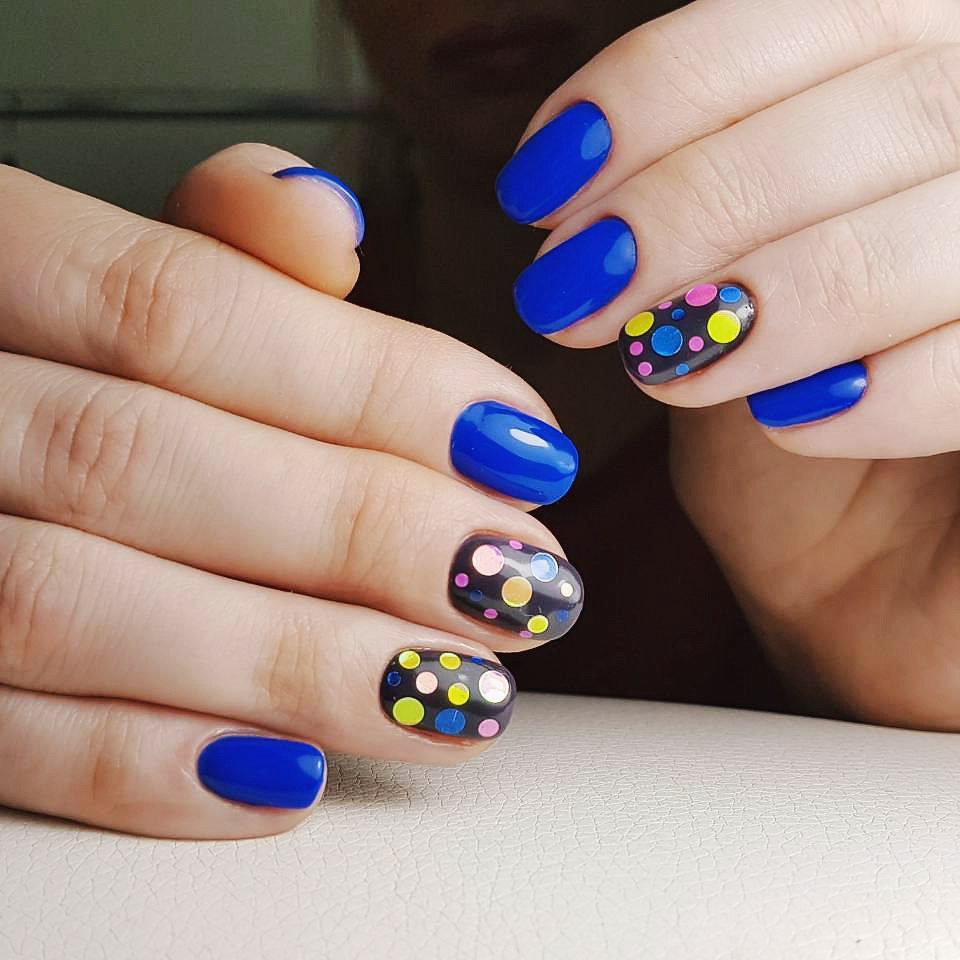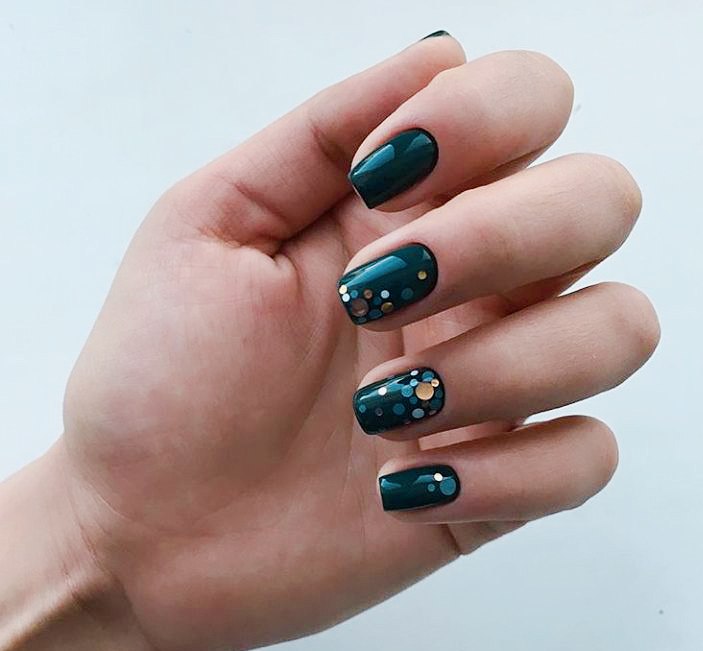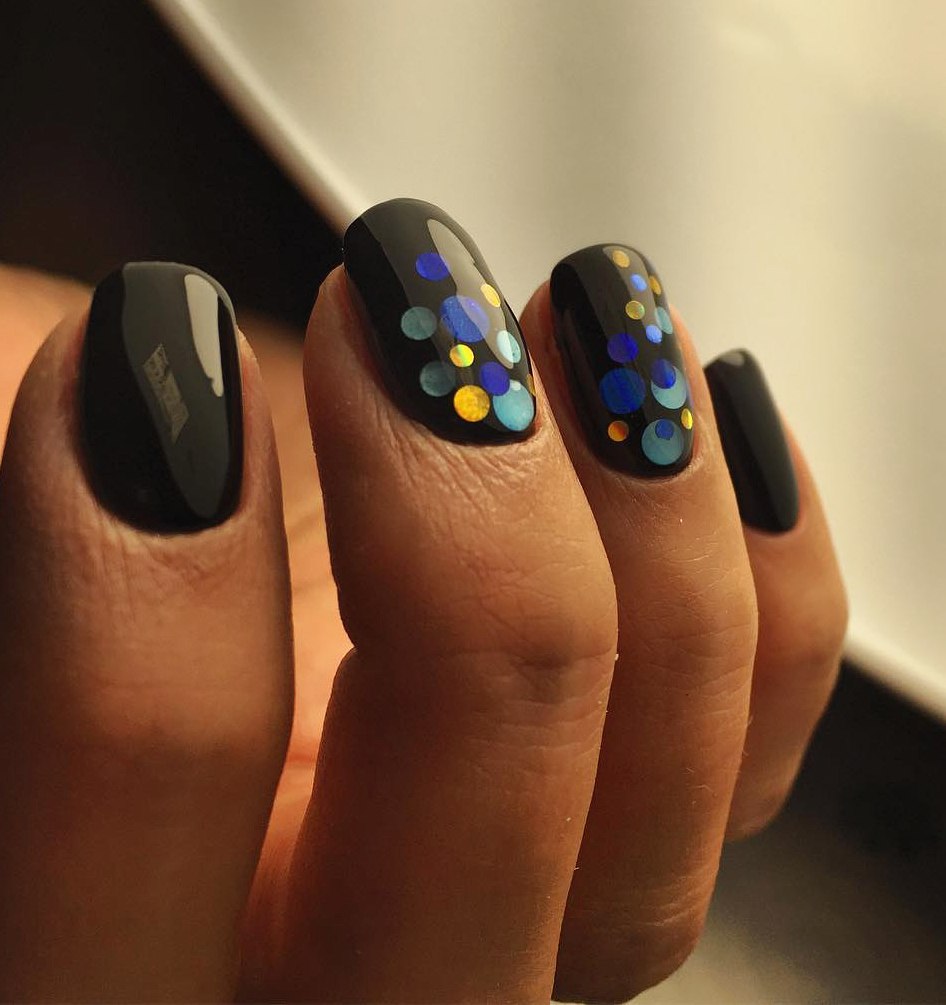 These decorative elements are successfully combined with round sequins and pea patterns. There are even polishes with kamifubuki. If you choose them, it'll save your time.
Nail Designs With Beads
Bead nail designs are created with tiny beads. They're also used in handicraft. Choose tiny beads as they look harmonious. You can take beads in one color or mix several colors or shades. Such manicure will look very festive, just like small Christmas ornament balls on the nails.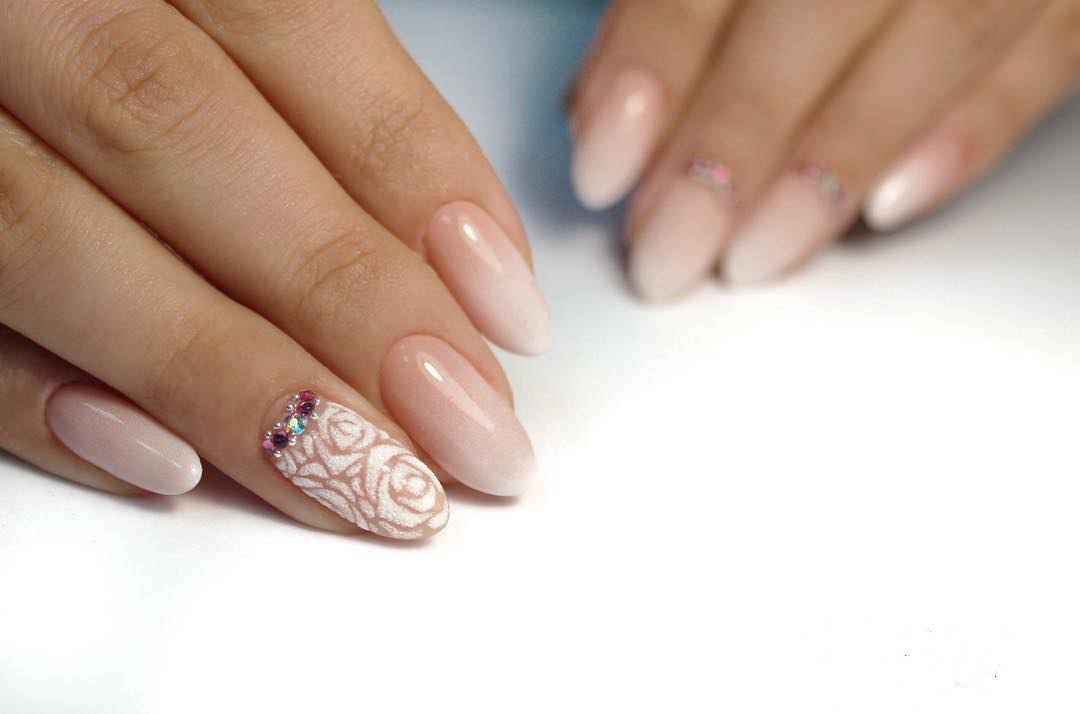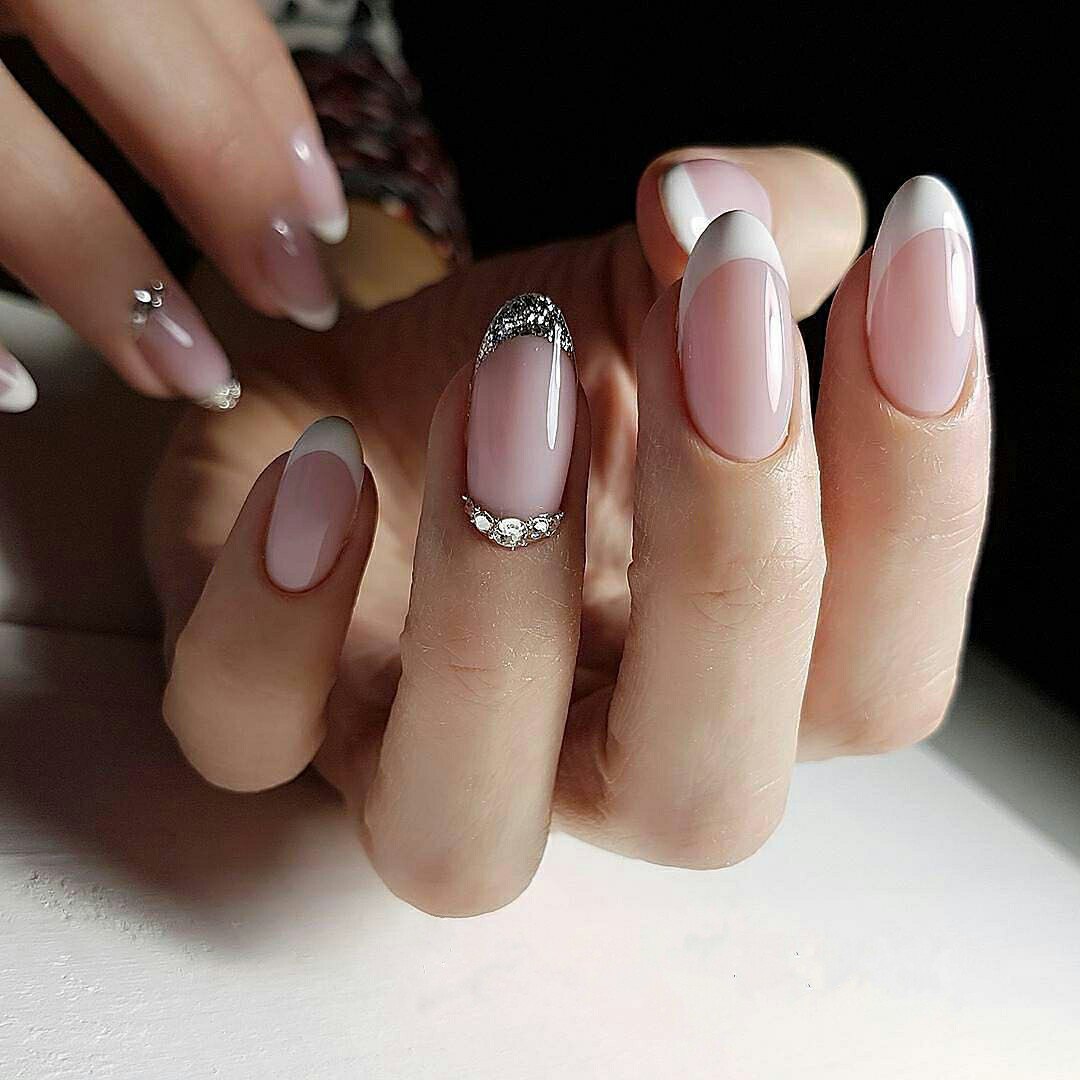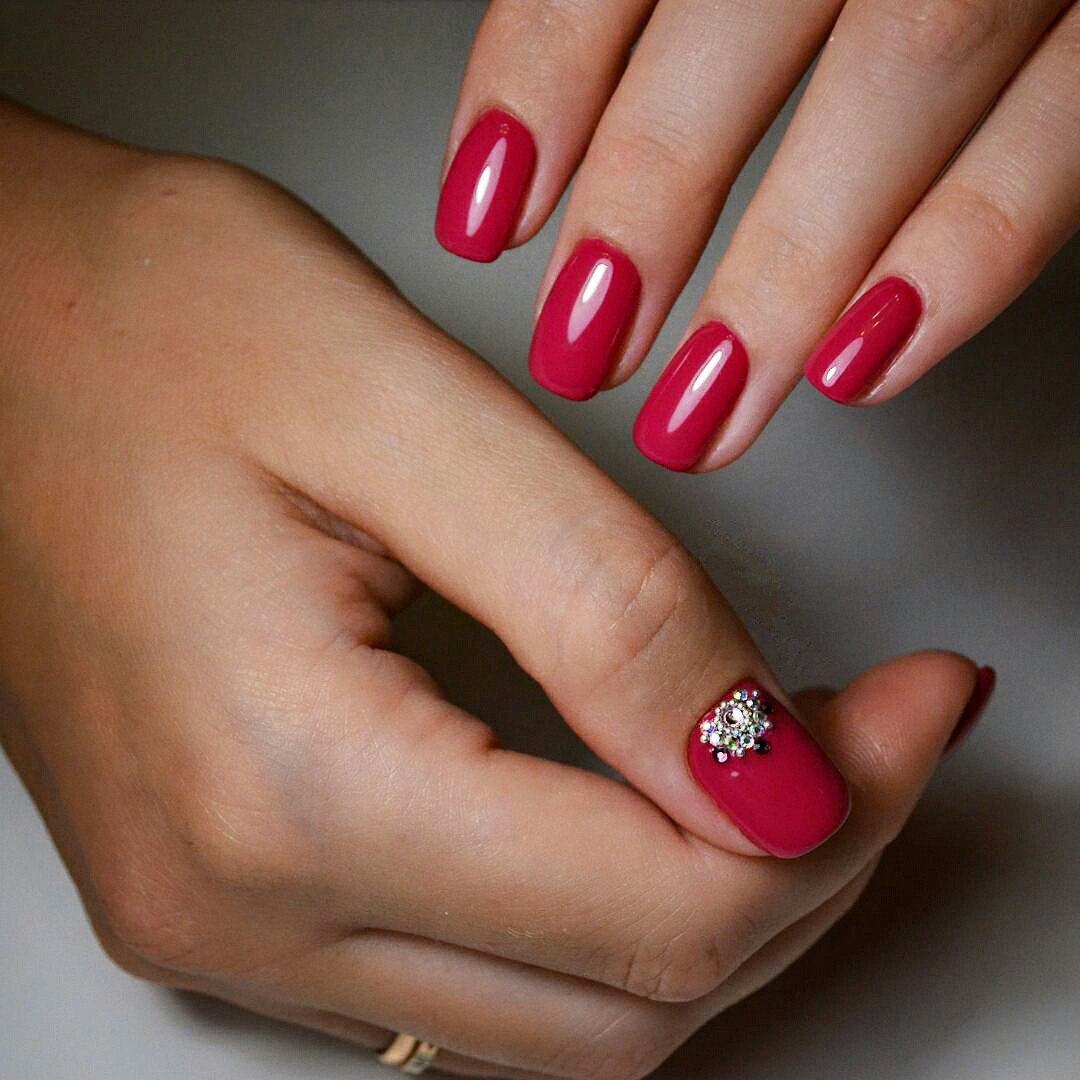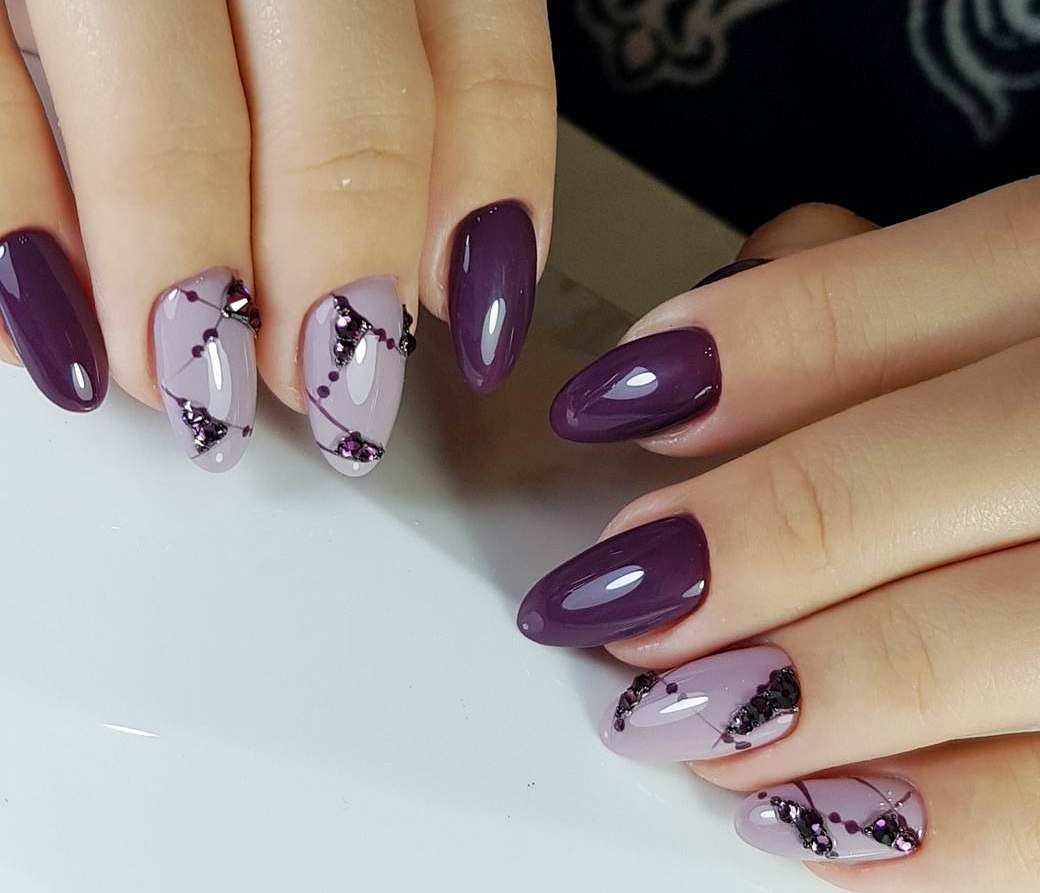 These are main trends of the New Year nails art.


We advise you to find some time before the New Year and visit a saloon or create a stylish festive design at home focusing on current directions in nail art.
How to Make a New Year Nails Design: Video Tutorial
Photos from Instagram.com