Your home is the place where you have the freedom to express your creativity. It's a personal space where you can unleash your individual style. Whether you wish to infuse a calming ambiance, a rustic vibe, or a contemporary aesthetic, your decor serves as a canvas to bring your vision to life.
The good news is that you can fashion exceptional pieces of home decor yourself. By tailoring your home decor to match your distinct taste, you can choose the room that they would best suit. From adorning your walls with art pieces to creating blankets and pillows, you can elevate your style and also cut down on expenses. To provide ample inspiration, we have curated some DIY room decor ideas for you.
Top DIY Room Decor Ideas for You
Personalized Pillows & Throws
A personalized pillow or throw are a great way to add a personal touch to your home decor. Custom printed home textiles can be printed with any image, photo, or design of your choice, making them an excellent choice for DIY interior upgrades.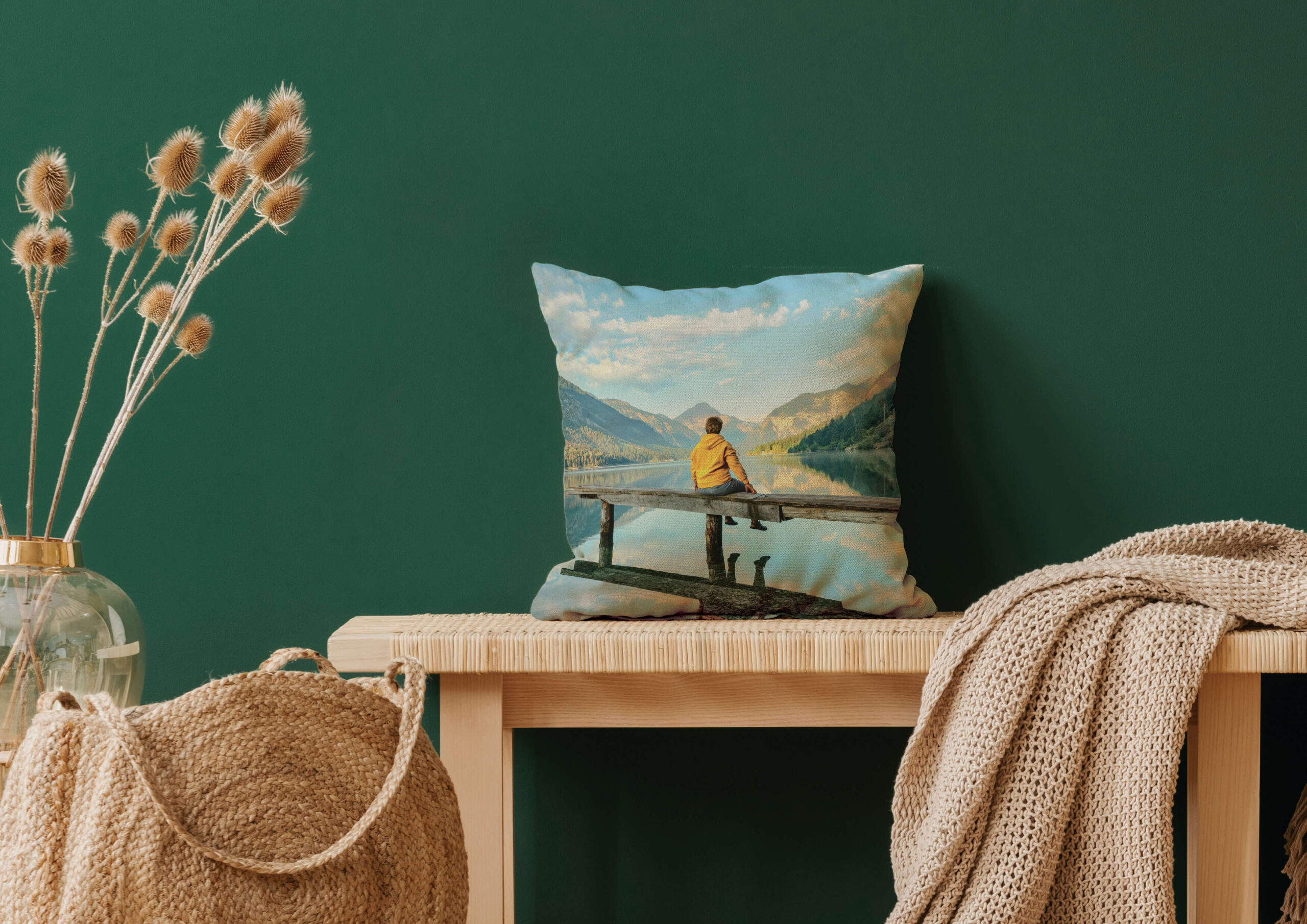 One of the biggest perks of personalized pillows and throws is that they allow you to showcase your personality and style. Whether you want to feature a favorite family photo, a beloved pet, or a cherished memory, personalized textiles are a great way to bring your own unique touch to your living space.
Another advantage of custom printed home textiles is that they can be used to tie a room together or create a cohesive color scheme. By selecting a pattern or image that complements your existing decor, you can add an extra layer of visual interest to your space and create a unified look that feels intentional and well-planned.
In addition to their decorative value, personalized pillows and throws can also be incredibly functional. They're perfect for snuggling up on the couch, adding a pop of color to a neutral bedding set, or providing extra support for your back or neck when you're lounging or working from home.
Finally, custom-printed home textiles are a relatively affordable way to make a big impact on your home decor. By selecting the right fabric and print method, you can create high-quality pillows and throws that will last for years to come, without breaking the bank.
Oversize Canvas Print with Abstract Design
When it comes to large room decor, there's no doubt that a generously-sized canvas print can make a statement like no other. While any piece of artwork can add a touch of visual interest to a room, the abstract and digital designs that are commonly featured on canvas prints work exceptionally well when displayed on a larger scale.
One reason for this is that abstract art and digital designs often feature a complex interplay of shapes, colors, and textures that can be appreciated more fully when viewed on a larger canvas. This is especially true for digital designs, which can be incredibly intricate and detailed, allowing the viewer to appreciate the nuances of the design more fully.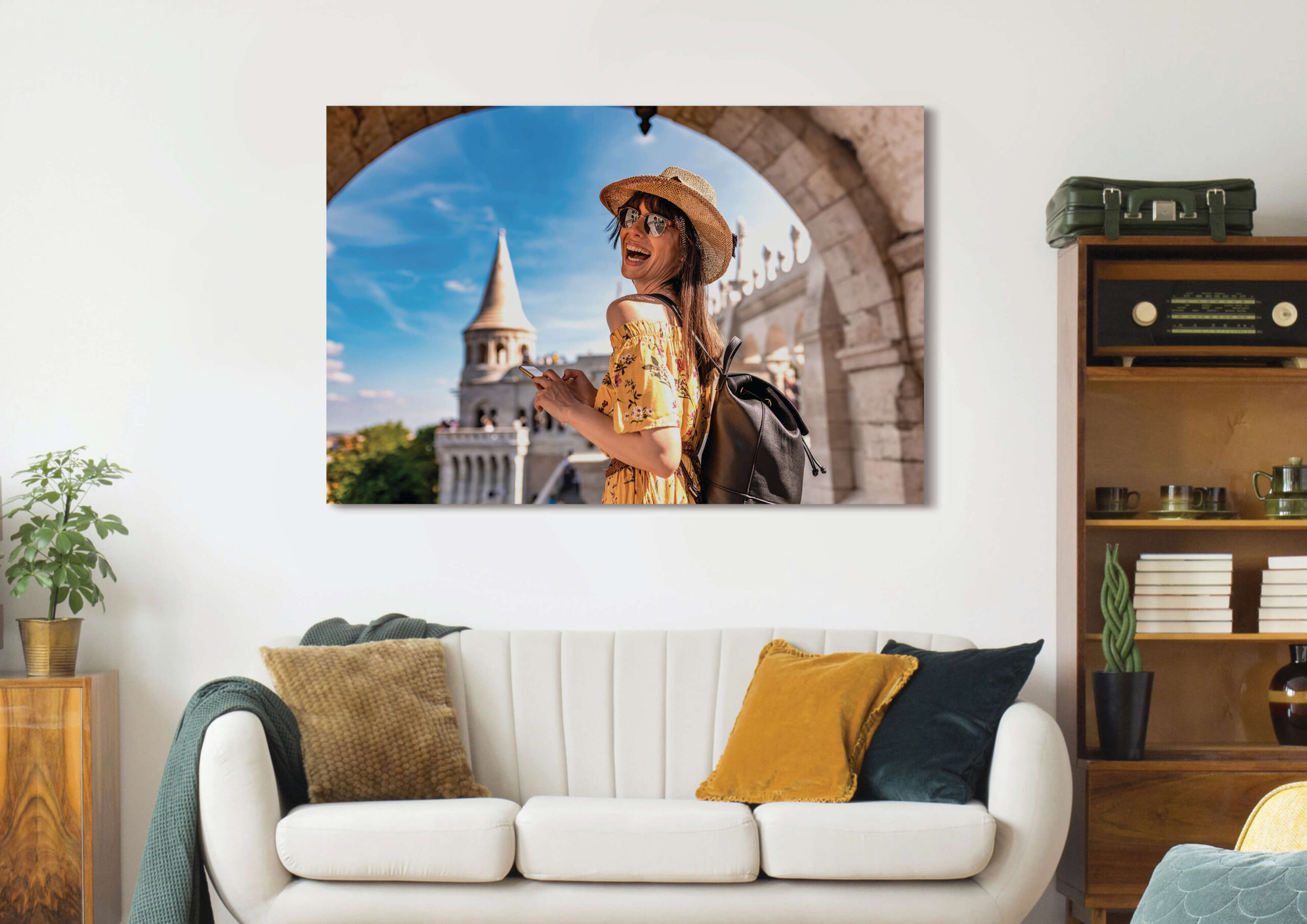 Another reason that canvas prints with abstract or digital designs work so well in ultra-large formats is that they can add a bold and eye-catching element to any room. Whether you're going for a minimalist look or a more eclectic aesthetic, a large canvas print can help tie the room together and create a focal point that draws the eye.
The best part? Installation is a breeze – simply lean it against the wall and you're good to go. If you happen to have a particularly spacious, empty wall, you could also opt to hang a canvas print to fill the space.
Travel Memories Wall Art
Vacations and adventures are memories that we cherish and want to hold on to. But often, as time goes by, these experiences fade in our memories. What if there was a way to keep these memories alive, and remind ourselves of the amazing experiences we had on our travels? One way to do this is by creating a map art piece that showcases the routes we took and the places we visited.
A great way to create a map art piece is by outlining the route you traversed with ribbon or twine on a map. Whether it's a hiking excursion, rowing adventure, or a road trip, the process is the same. All you need is a map, ribbon or twine, and a little creativity. As you work your way along the map, you can add notes or small images that represent the places you visited. For example, you could add a small photo of a mountain if you went hiking, or a tiny car if you went on a road trip.
When you're finished, you'll have a beautiful art piece that not only represents your adventure but also looks great on your wall and is 100% unique.
Mirror or Plate Wall Art
Sometimes all it takes is a few decorative pieces to transform a room from drab to fab. A great way to do this is by using an array of decorative mirrors or eye-catching plates in different sizes, shapes, and colors to create a stunning focal point on your wall.
Decorative mirrors come in a variety of styles and shapes and can be used to create a unique display on your wall. For a more eclectic look, consider using different sized mirrors with ornate frames, and arranging them in a random pattern. If you prefer a more symmetrical look, use mirrors that are all the same size and shape, and arrange them in a uniform pattern.
Another great option is to use eye-catching plates in various sizes, shapes, and colors. Plates are a versatile and affordable option for adding color and texture to your wall. You can choose plates with intricate designs, bold patterns, or bright colors to create a focal point that draws the eye.
Small but Impactful Items
When it comes to home decor, it's easy to get caught up in the big picture and overlook the smaller details. However, even the most mundane items can make a significant impact if chosen carefully. Take a mug or a desk calendar, for example. While these items may seem insignificant in the grand scheme of things, they can be the perfect finishing touch to tie together a room's overall aesthetic.
Enhancing Personal Spaces: The Appeal of a Custom Calendar
A custom calendar serves as a perfect DIY home idea due to its versatile and personalized nature. Apart from offering the practicality of date tracking, this do-it-yourself project opens the door to countless design possibilities. This allows you to add a personal touch to your home, enhancing its charm and aesthetics.
Furthermore, a custom calendar is an exceptional way to showcase cherished moments by incorporating your favorite photographs or artwork, making each glance at the date a pleasant trip down memory lane. It also serves as a unique piece of home decor, reflecting your taste and creativity to visitors. Additionally, with the flexibility to modify and update it over time, your custom calendar is a constantly evolving, uniquely personal centerpiece in your home.
DIY Room Decor Ideas: Conclusion
When selecting these smaller decor items, it's essential to consider the colors and patterns that complement the rest of the room. If you're going for a minimalist look, choose a mug or calendar with a clean and simple design. If your decor is more eclectic, don't be afraid to choose items with bold patterns or bright colors.
The key to creating a stunning focal point is to experiment with different arrangements and layouts until you find the one that works best for your space. With a little creativity and some well-placed decor, you can transform any ho-hum room into a show-stopping interior!