If a woman has beautiful hands and well-groomed nails, it is no less important than a stylish hairstyle and makeup. There are no only one direction or design among fashion nail trends. With modern tools and various design solutions, each girl can do manicure that perfectly matches her image, appearance, inner world and even occasion. Classic manicure is a multiple nail colors on one hand. You can do multi colored nails for greater brightness and expressiveness. Even a strict business lady can use this option. Despite the fact that such nails look light and carefree,with successfully chosen outfit and accessories the manicure will be a wonderful addition. The most important condition is harmonious colors of polish, clothes and style. Such kind of manicure is a good way to express your own individuality and positive energy. Multicolored manicure became popular in 2010 and even now it's still in fashion.
Appropriate Color Combination in Manicure
It is not enough to separate the nails with different colors. It is important to combine colors and textures correctly. Otherwise, the design will be vulgar but not stylish.

The most common design is two-color manicure. It seems that it is very simple, but with wrong shades, even if the most popular colors are chosen, the design will turn out to be funny but not fashionable.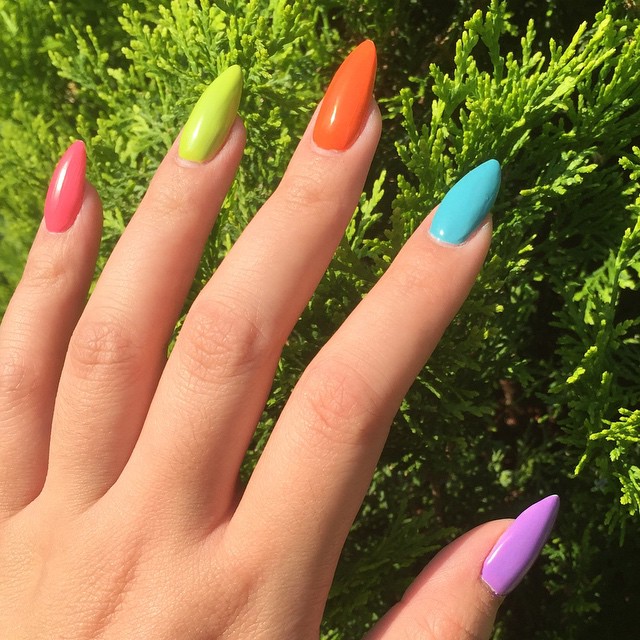 Therefore, before choosing a combination of colors, you need to know that shades are cold and warm, and it's better to choose the colors from one group. This option will be the most advantageous.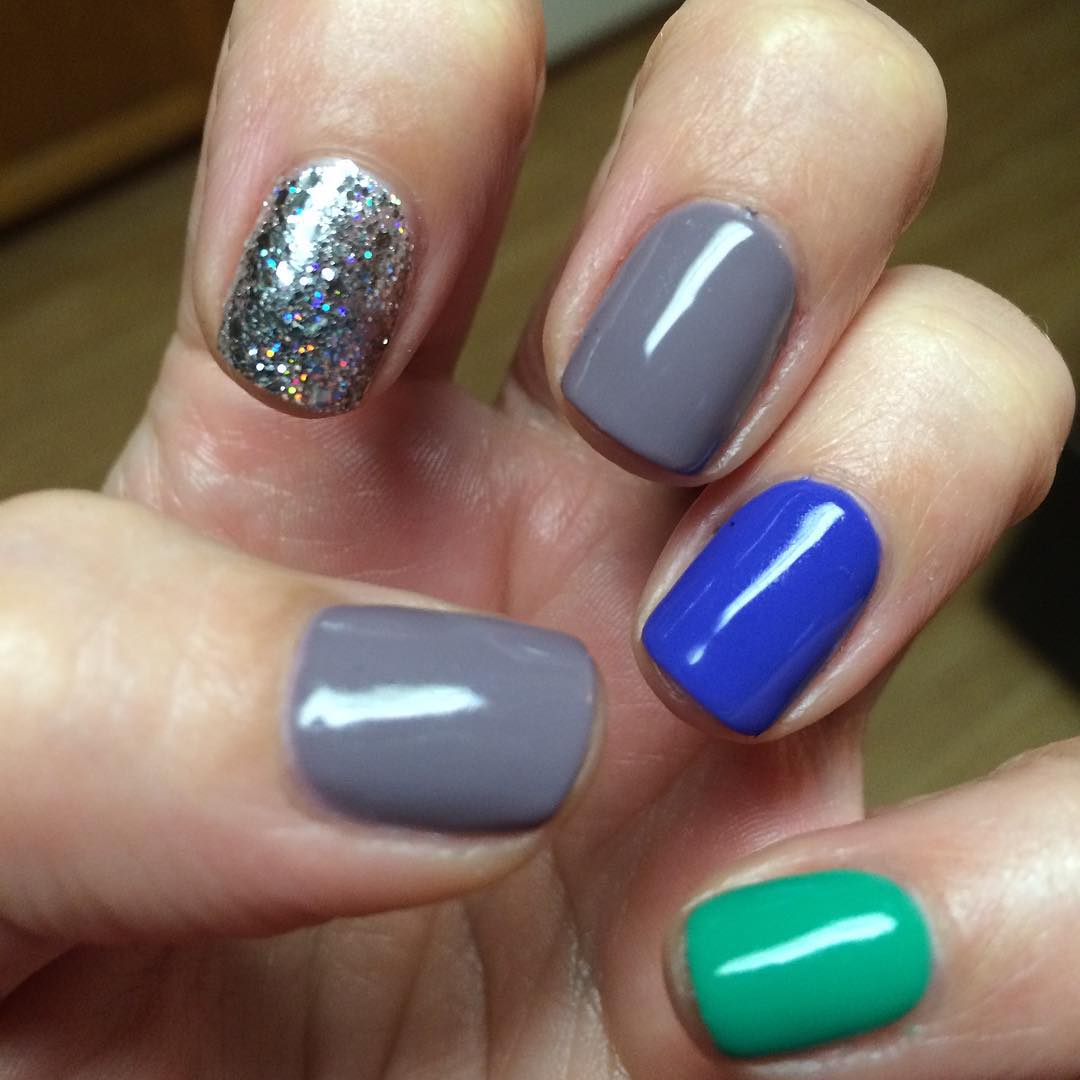 What colors are better to combine:
Blue – with sky-blue, cornflower blue, indigo or azure;
Saturated red – with burgundy, pink or coral;
Green – with mossy, emerald or light green;
Purple – with lilac, lavender or violet.
The right combination of colors in manicure allows you to take the shades to advantage correctly.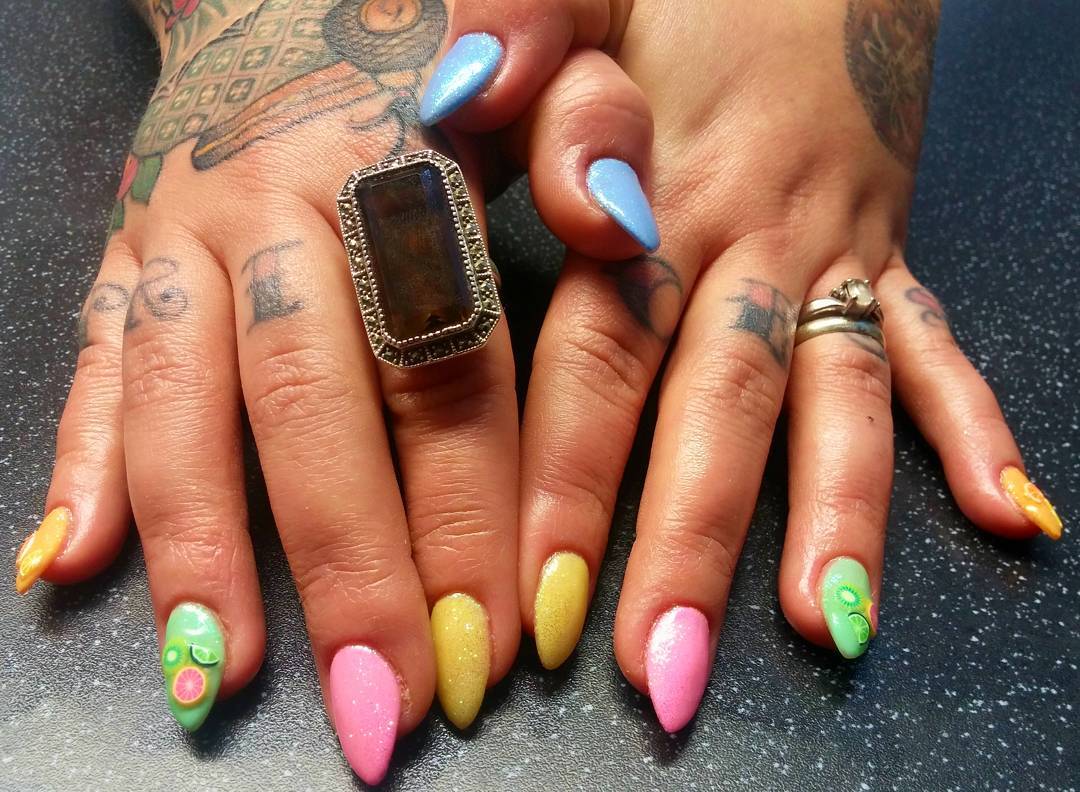 When doing classic manicure, a combination of bright colors is possible.
For example, any combination of multicolor nail polish is possible. If you're not sure about the color, it's better to use white, gray or black as a main coating, as they are combined with a large number of shades.
The classic combination of colors is black and white. Despite the fact that white and black colors are universal and match almost any shade, the best color to combine them with is red. Pastel colors also look very attractive.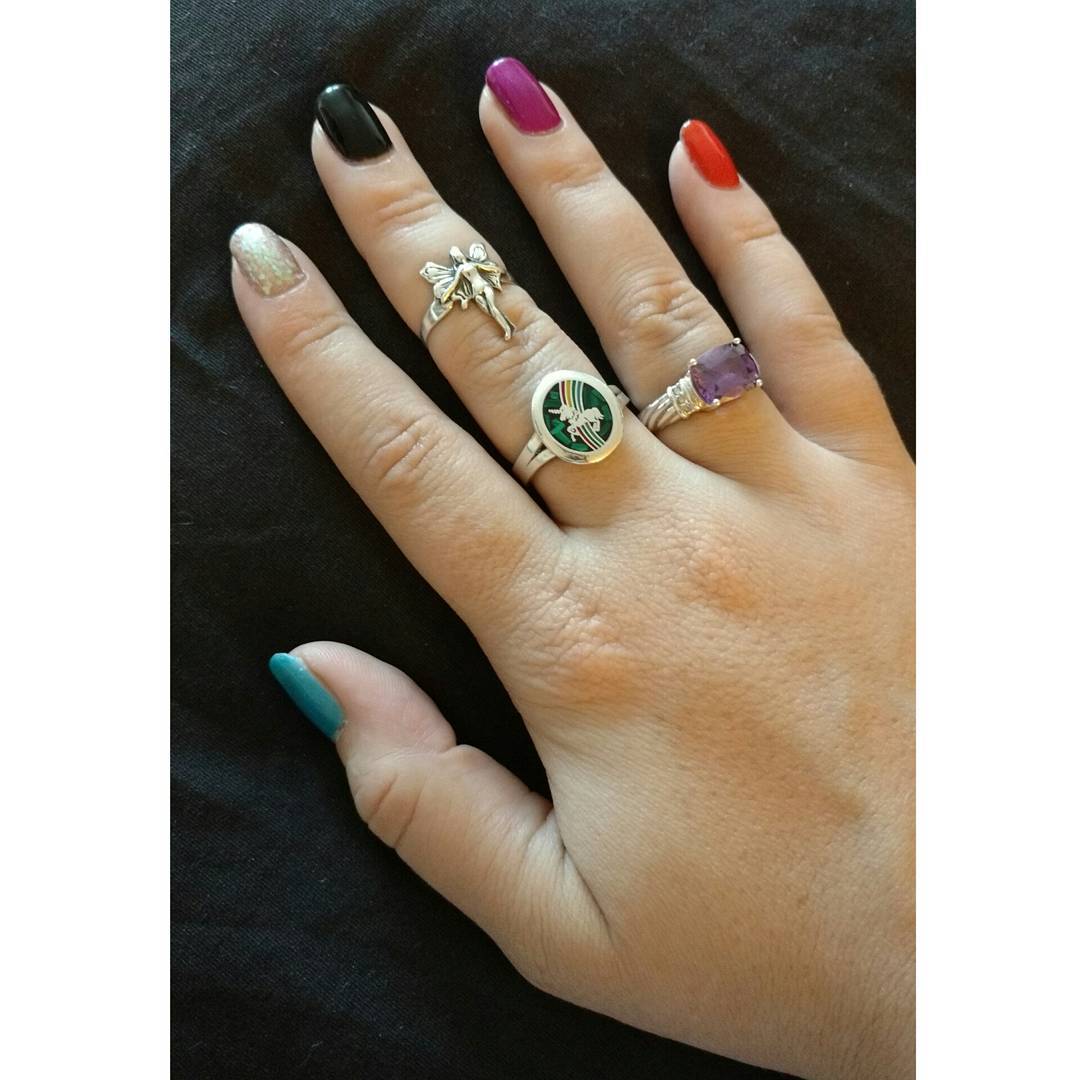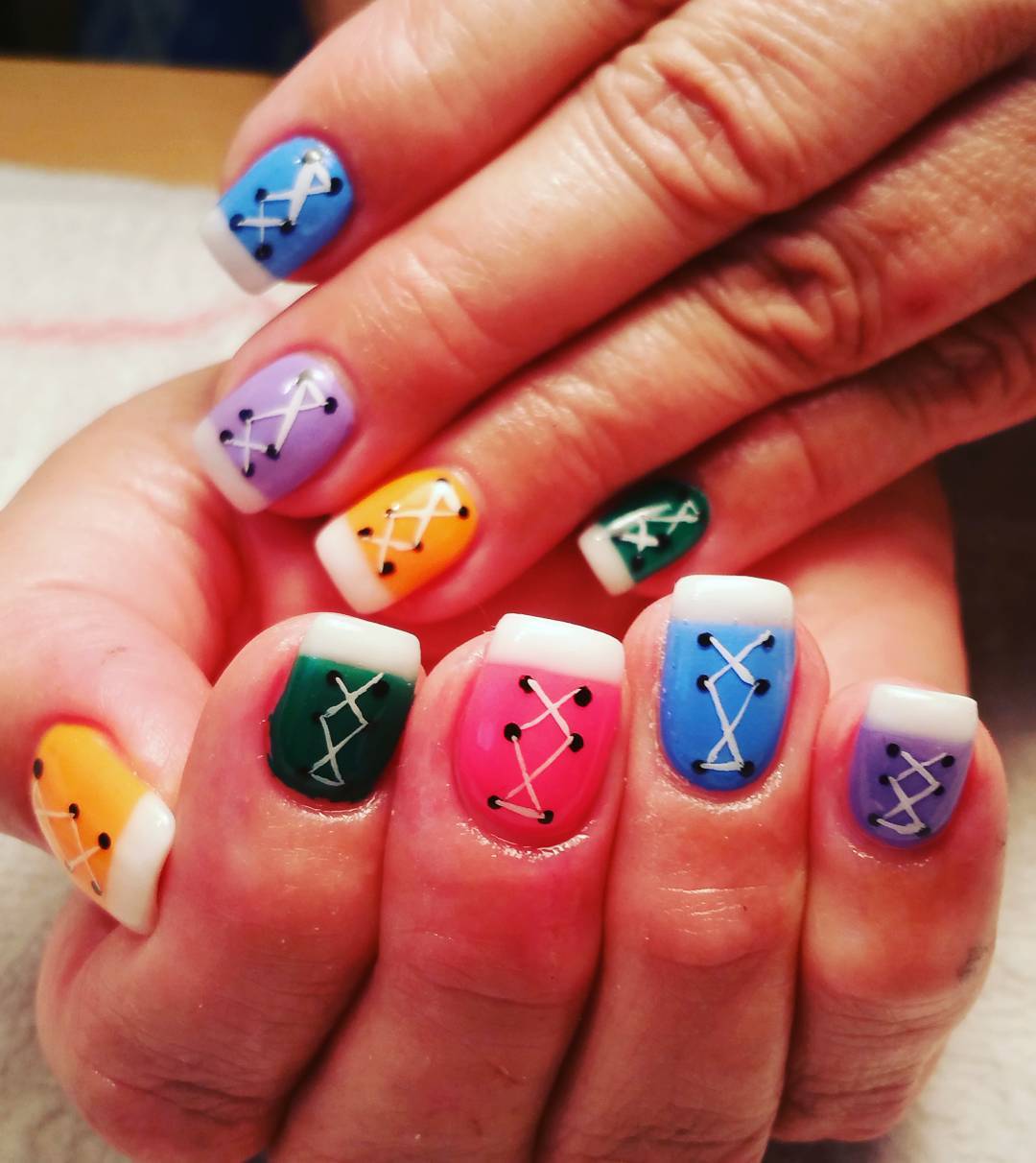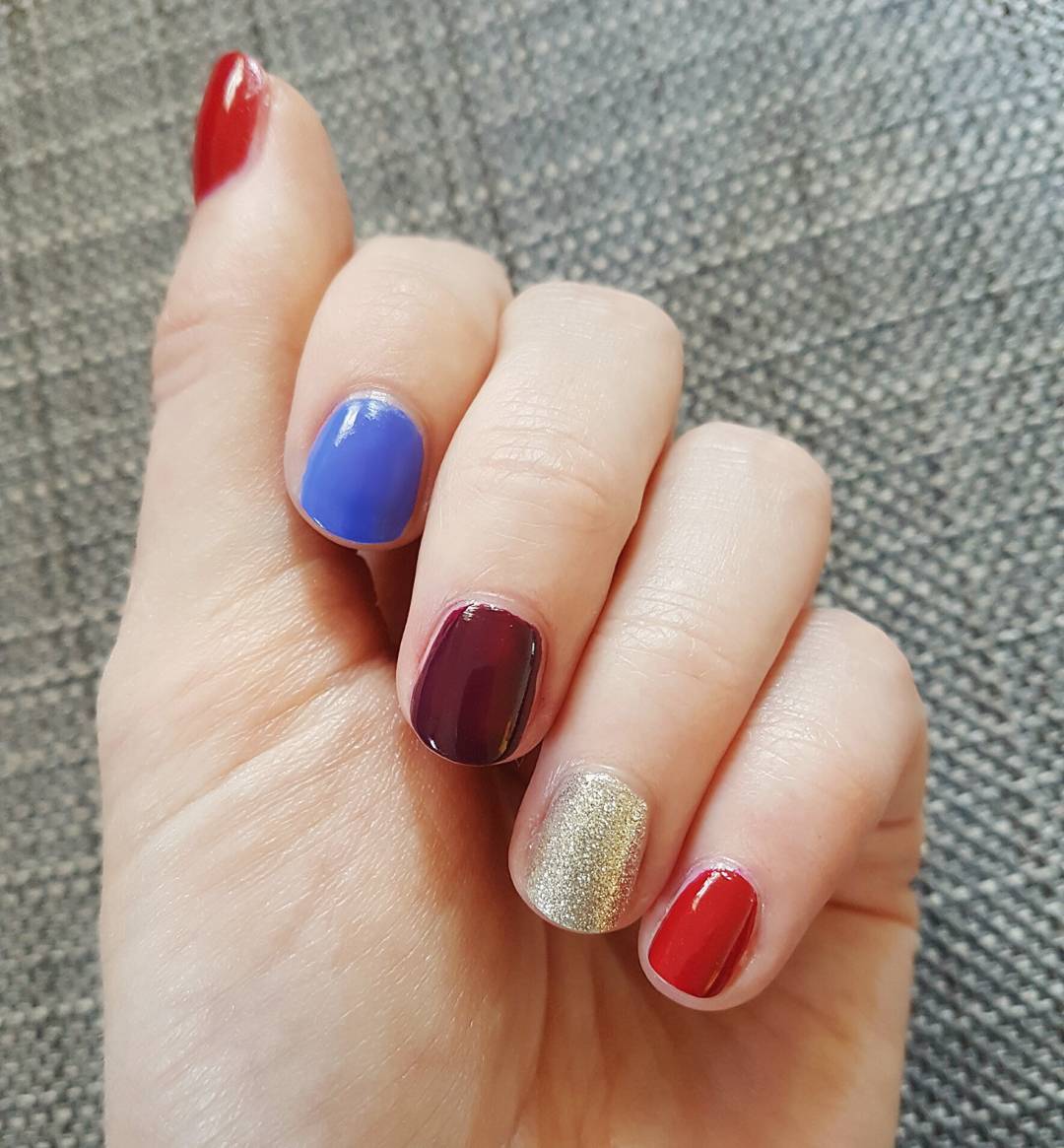 How to Do Multi Color Nails with Color Transitions
It seems that it is difficult to do manicure with a color transition, but, in fact, it can be done on your own. This multi coloured nails design is suitable for both short and long nails.
A distinctive feature of ombre manicure is a smooth transition between tones and semitones.
It looks beautiful and suitable for any event. The most important thing is to choose the one that will be most suitable for the image.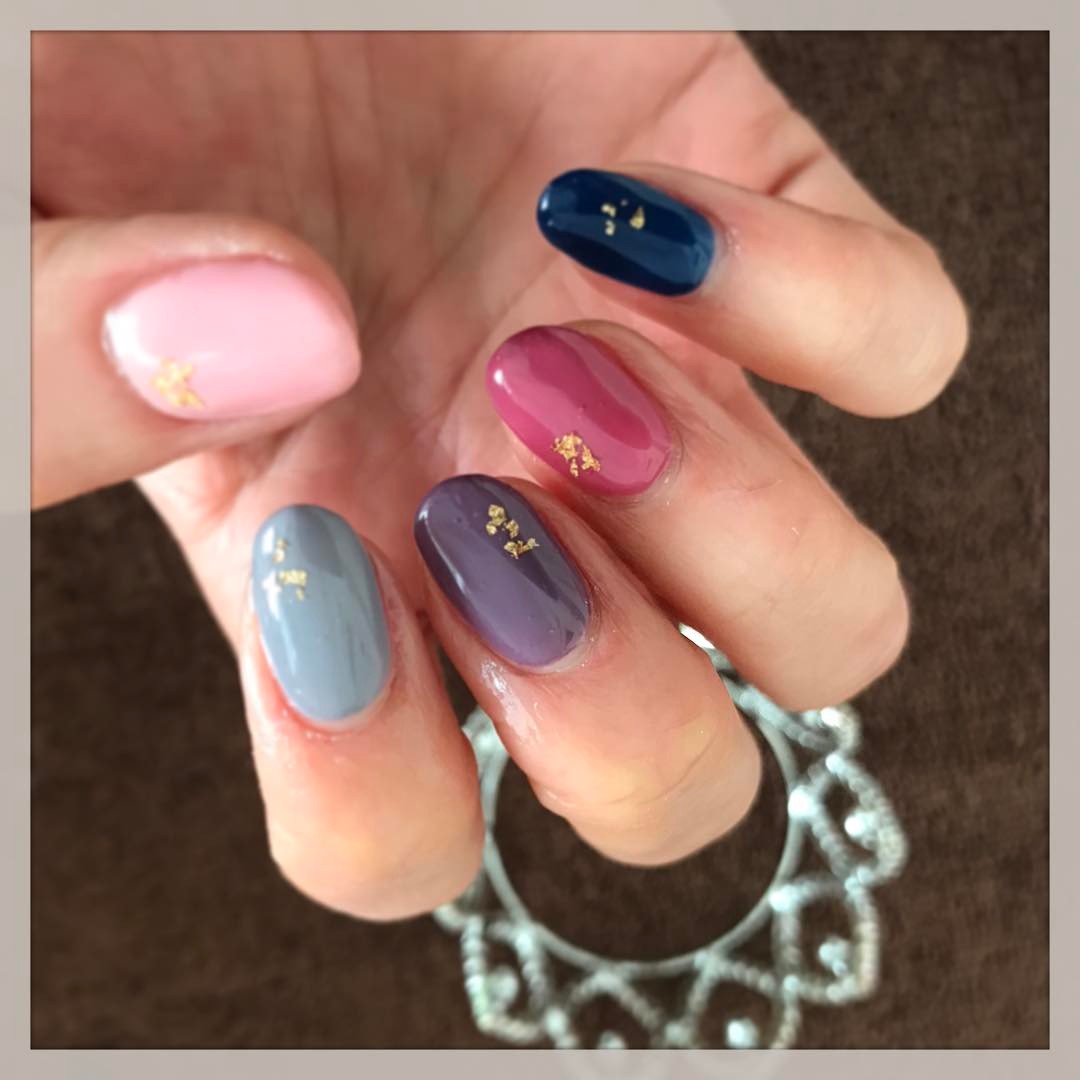 So, manicure with the transition of colors is presented in three versions:
There is a change in the degree of the color saturation.
You can use several shades, even contrasting ones. The most successful combinations of colors are: red with green, yellow with purple and orange with blue. It is common to use bright and saturated shades, fashionable colors of the season, for example, blue, emerald, turquoise and others with black or white.
Each nail has its own color. In this case, it is possible to use both bright and pastel shades, as they all look stylish and attract attention.
The most difficult version of the gradient will be a manicure with a combination of two, three or more different colored nails art with sponge. In order to make the view as effective as possible, it is necessary to focus on varnishes of contrasting colors, for example, white with orange, blue with light blue or green with gold.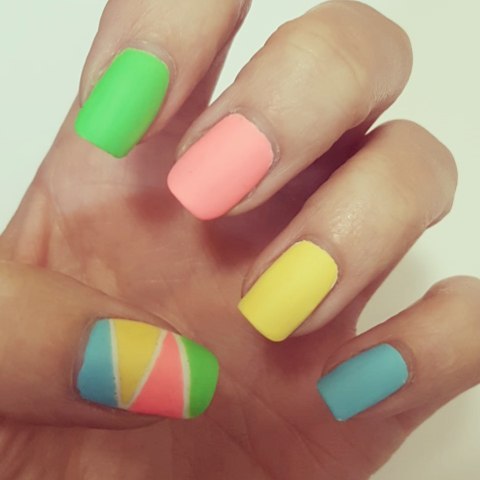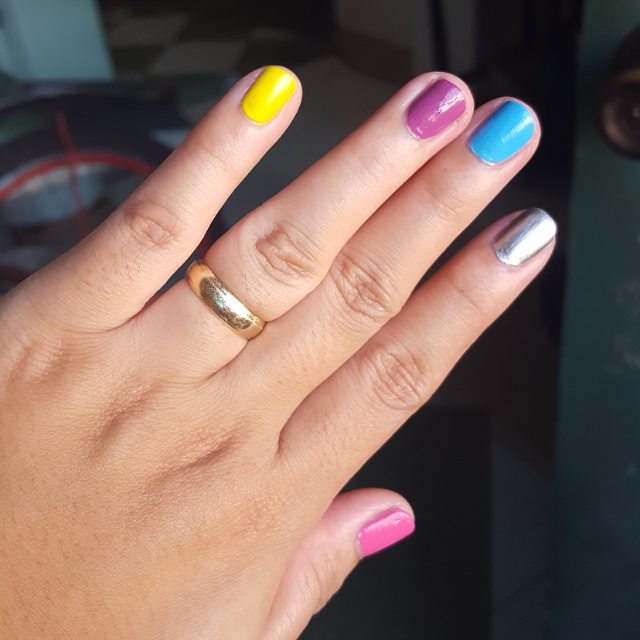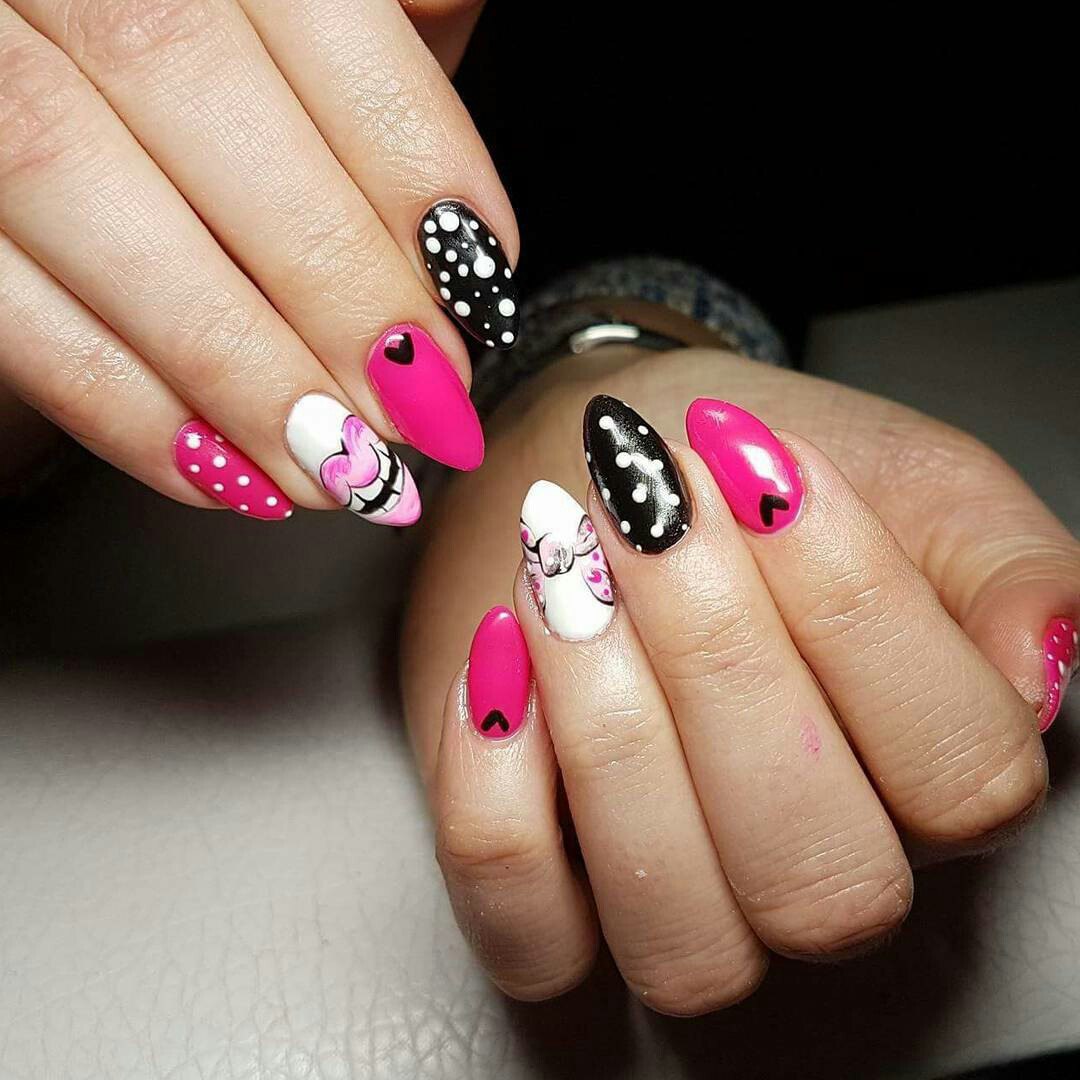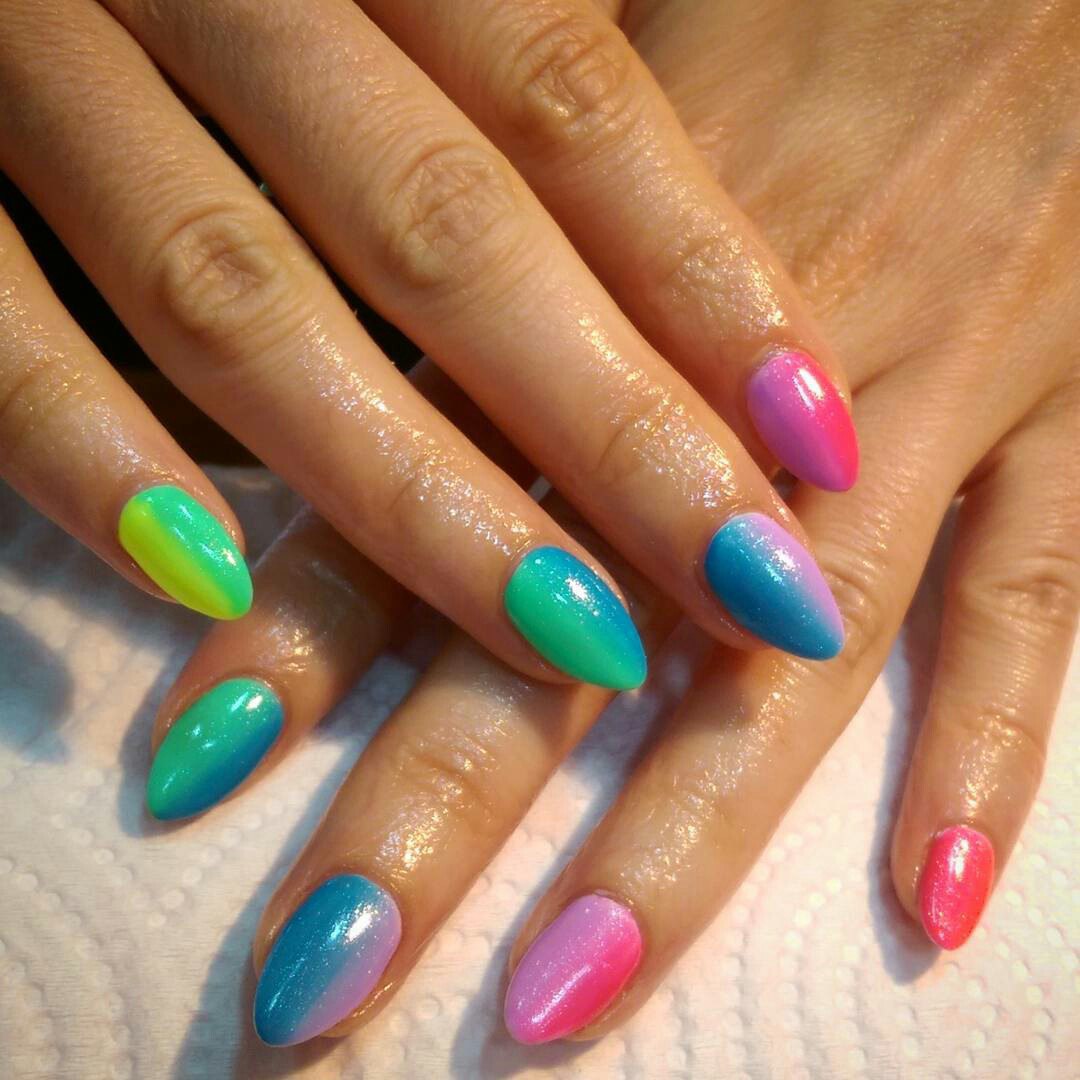 Multi Color Nail Designs: Tutorial
You can do such manicure yourself:
First of all, do usual manicure, and glue the area around the nail with adhesive tape so that the cuticle and fingers do not stain. Scotch can be replaced with petrolatum or fat cream.
Apply basic polish and a layer of the primary color on the nail plate: it will be visible near the cuticle after the manicure is finished.
After the first coating dries, a second prepared polish must be poured on a plate prepared in advance. Then a clean sponge is dipped in it and applied to the ends of the nails. The movements should be fast and short.
If more polishes are used, the previous procedure is performed several time.
The last layer is a protective coating.
The final procedure is getting rid of scotch tape. If polish is left on the skin, it is necessary to use a cotton pod with polish remover.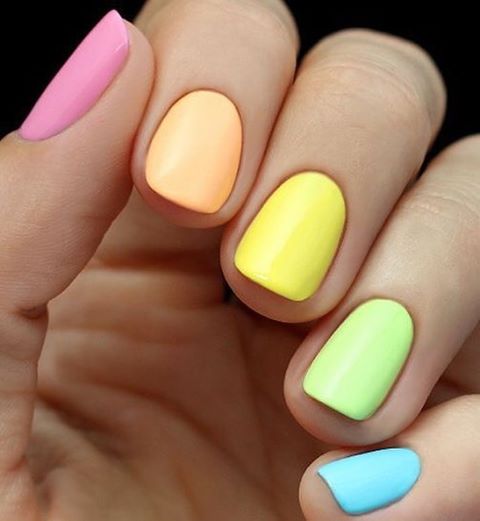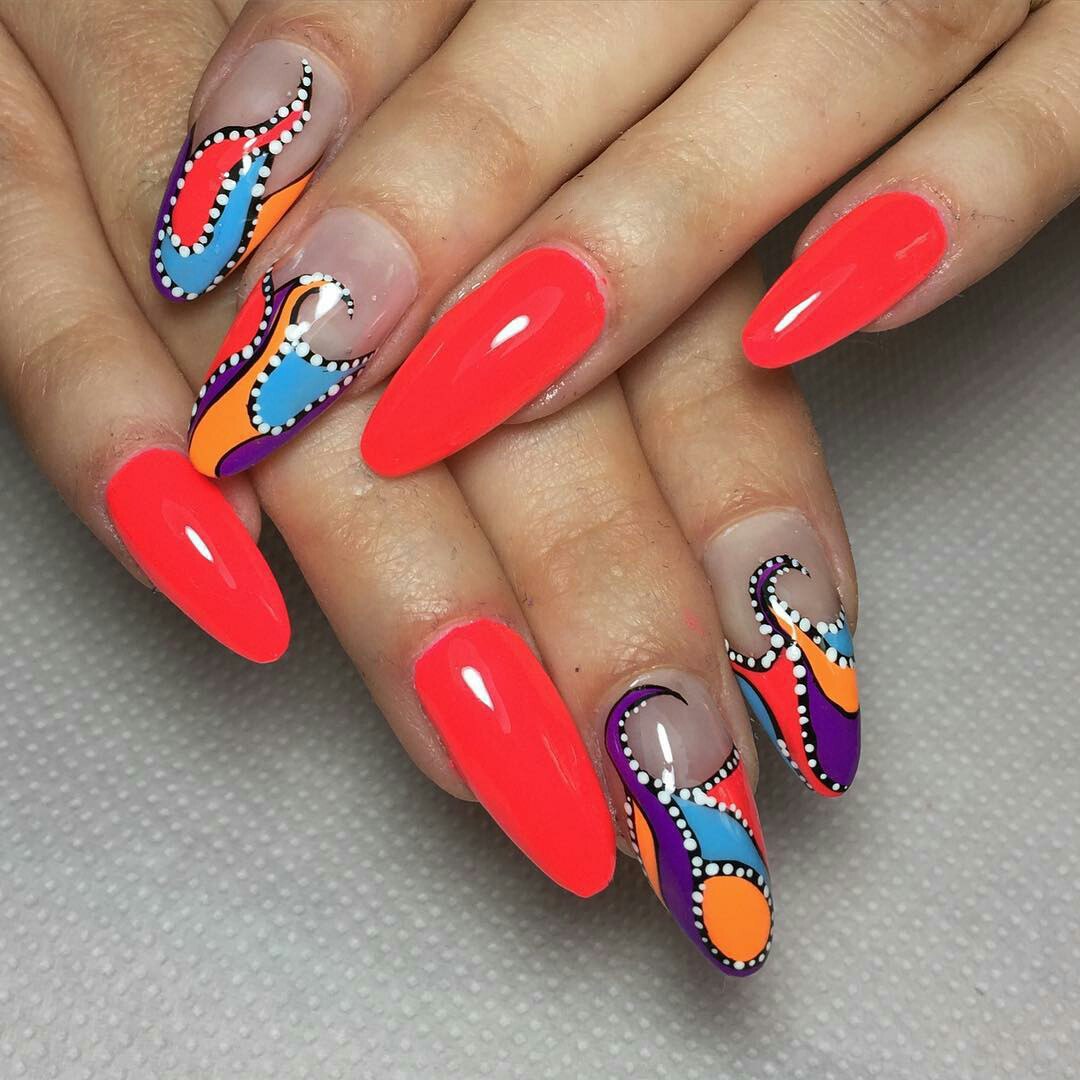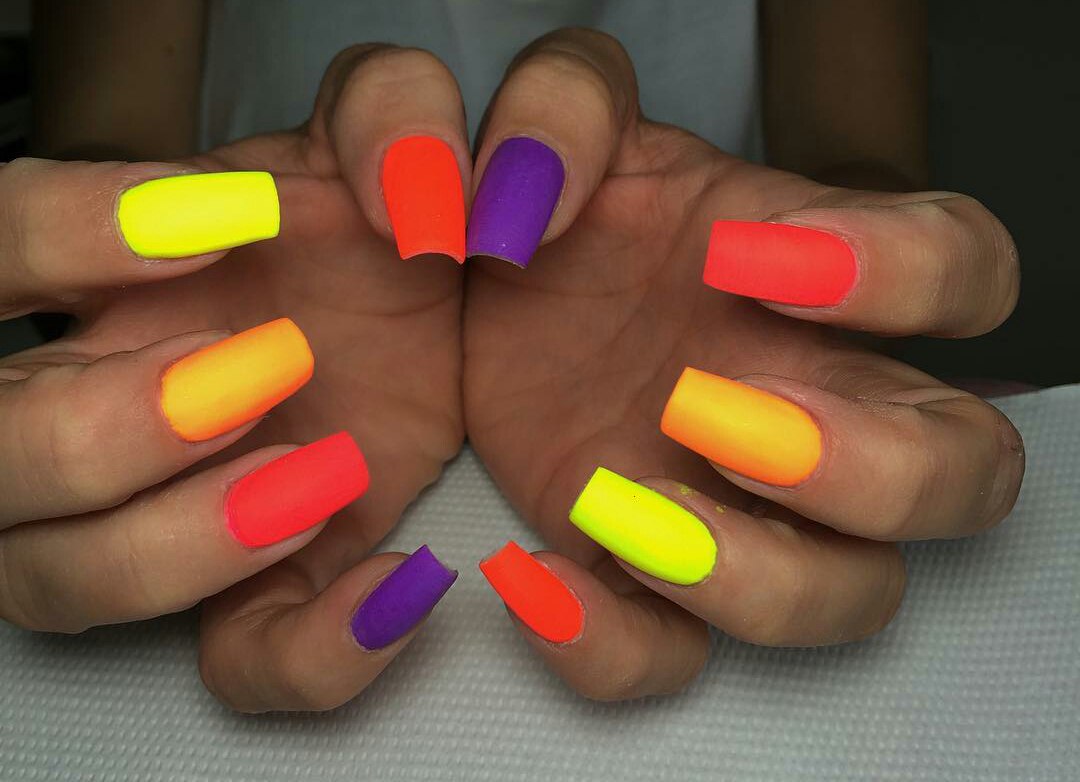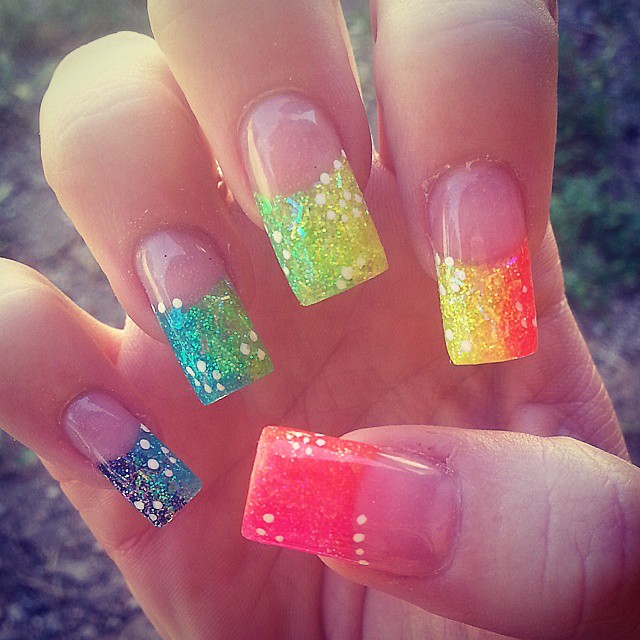 Multicolor Nails with Different Colors
Now usage of several colors in manicure is very fashionable. Variants of manicure with different colors are very diverse. It's time to experiment and create stunning designs leading to a stylish and fresh image. What are the most popular multi colored nails designs?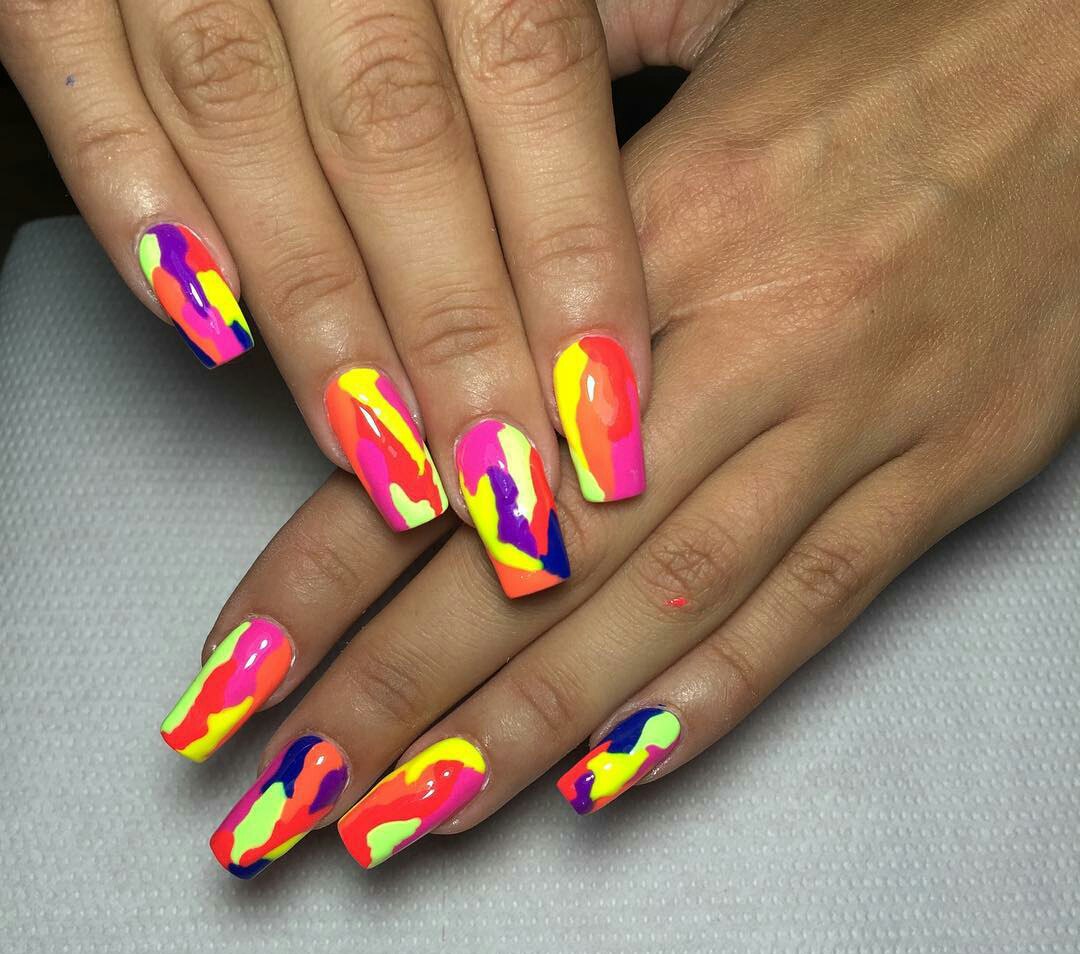 Contrasting manicure is a use of two contrasting colors. One tone is applied to the nails, and the nail on one finger is covered with polish of the other color.
A classic option is a combination of any tone and contrasting white. One of the fingers is covered with sparkles. This option can be used for an evening or festive event.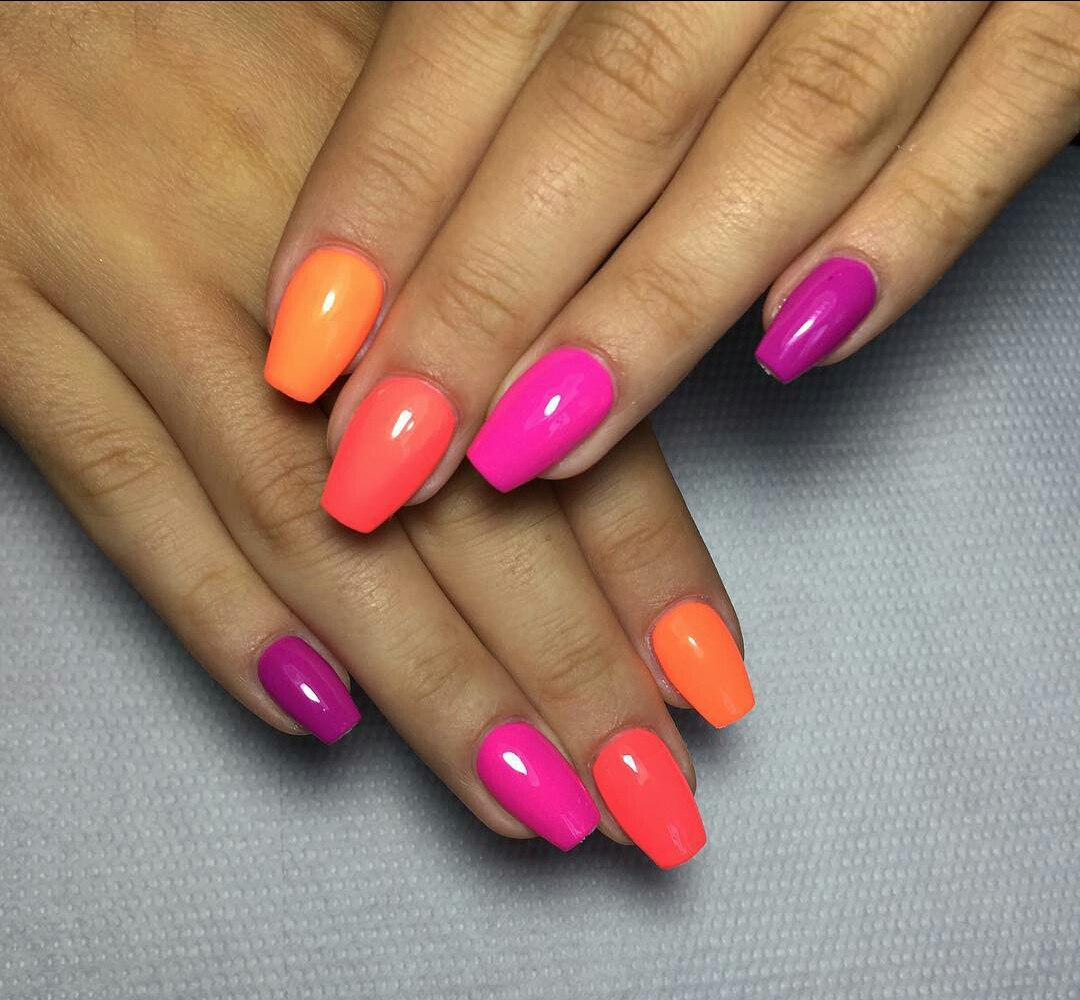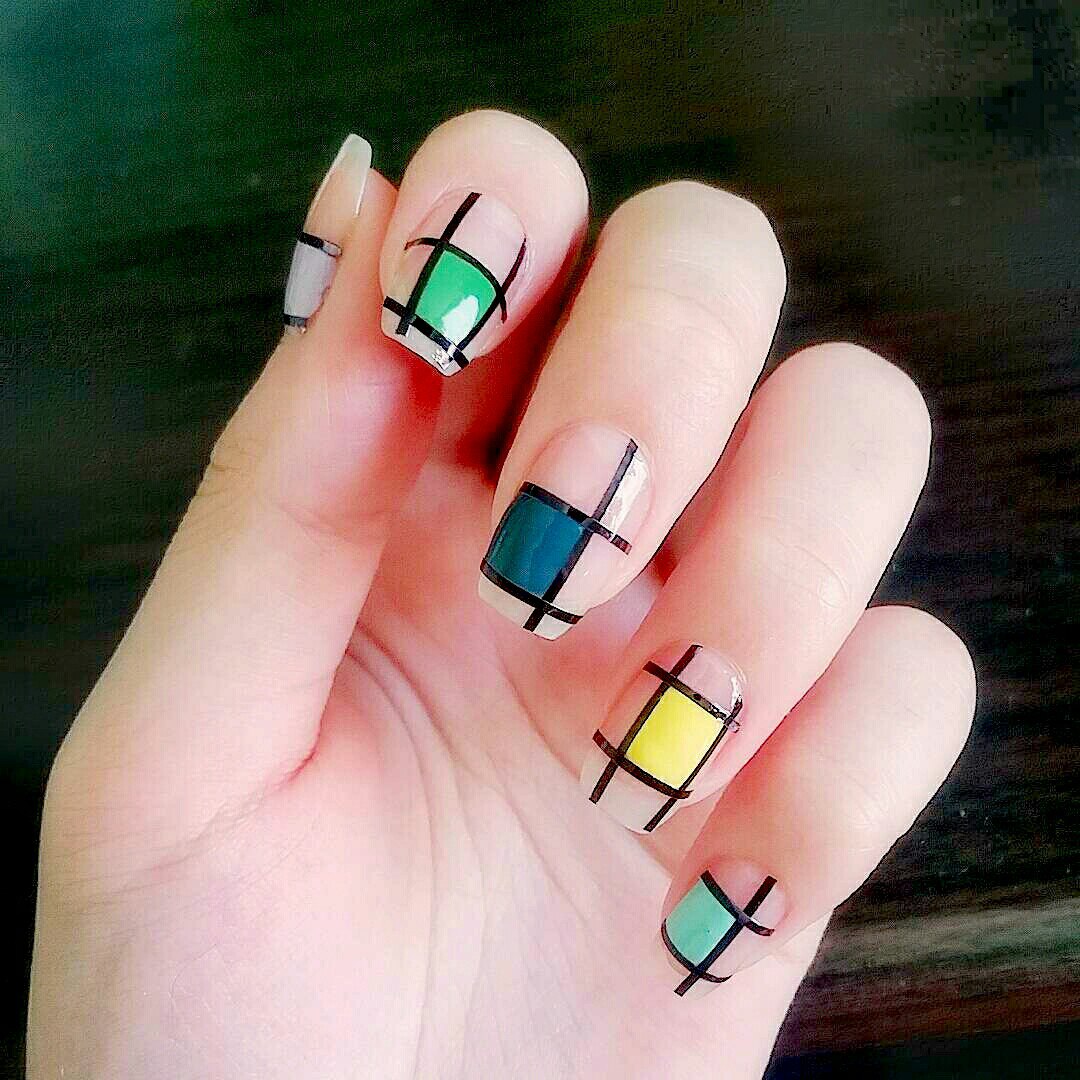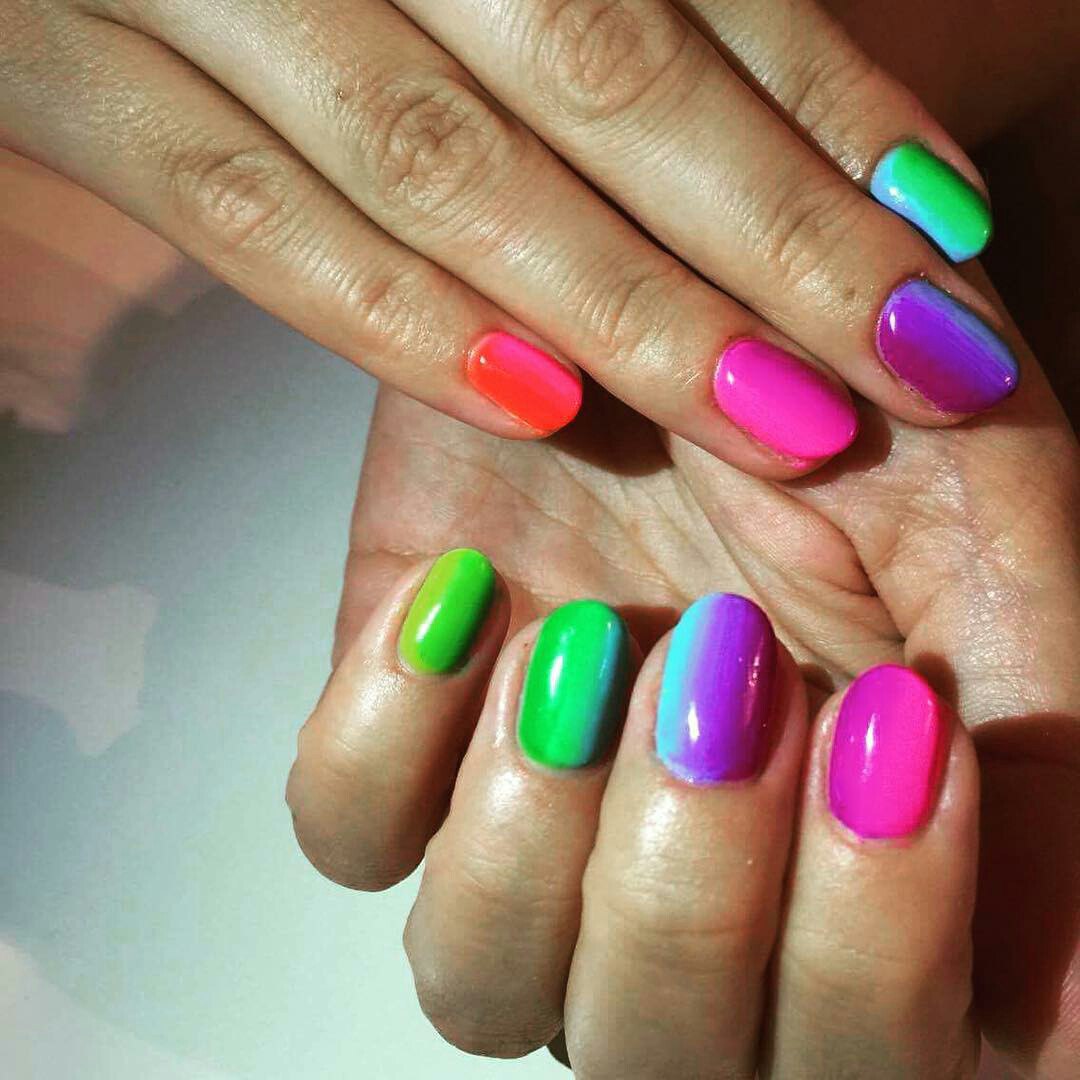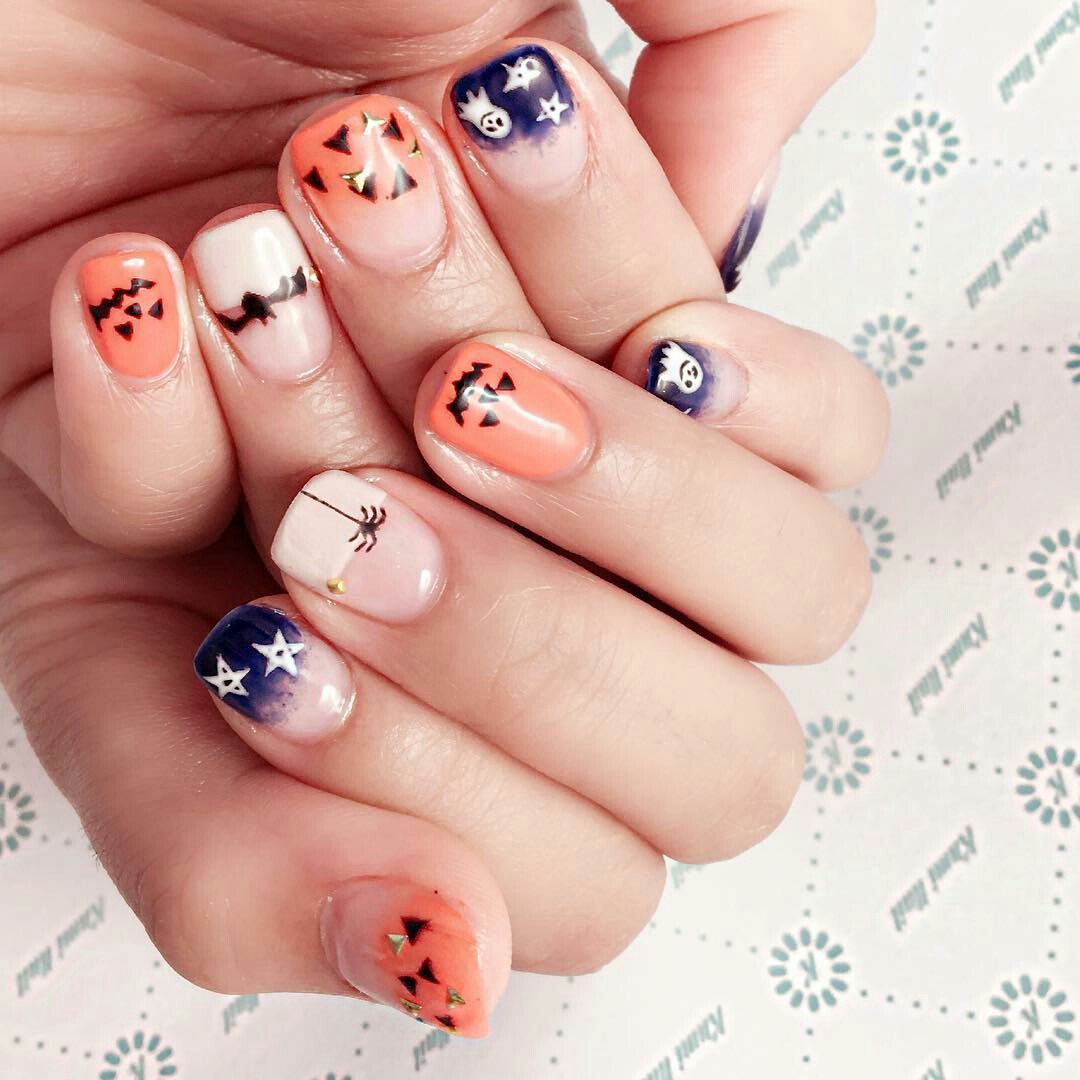 Multi Coloured Nails: Designs and Ideas
Variants of manicure with different colors also include two-color French manicure. The multi color glitter nail polish is applied just like in the classical version: another shade or color is applied to the edge of the nail plate. The only difference is the use of contrasting shades.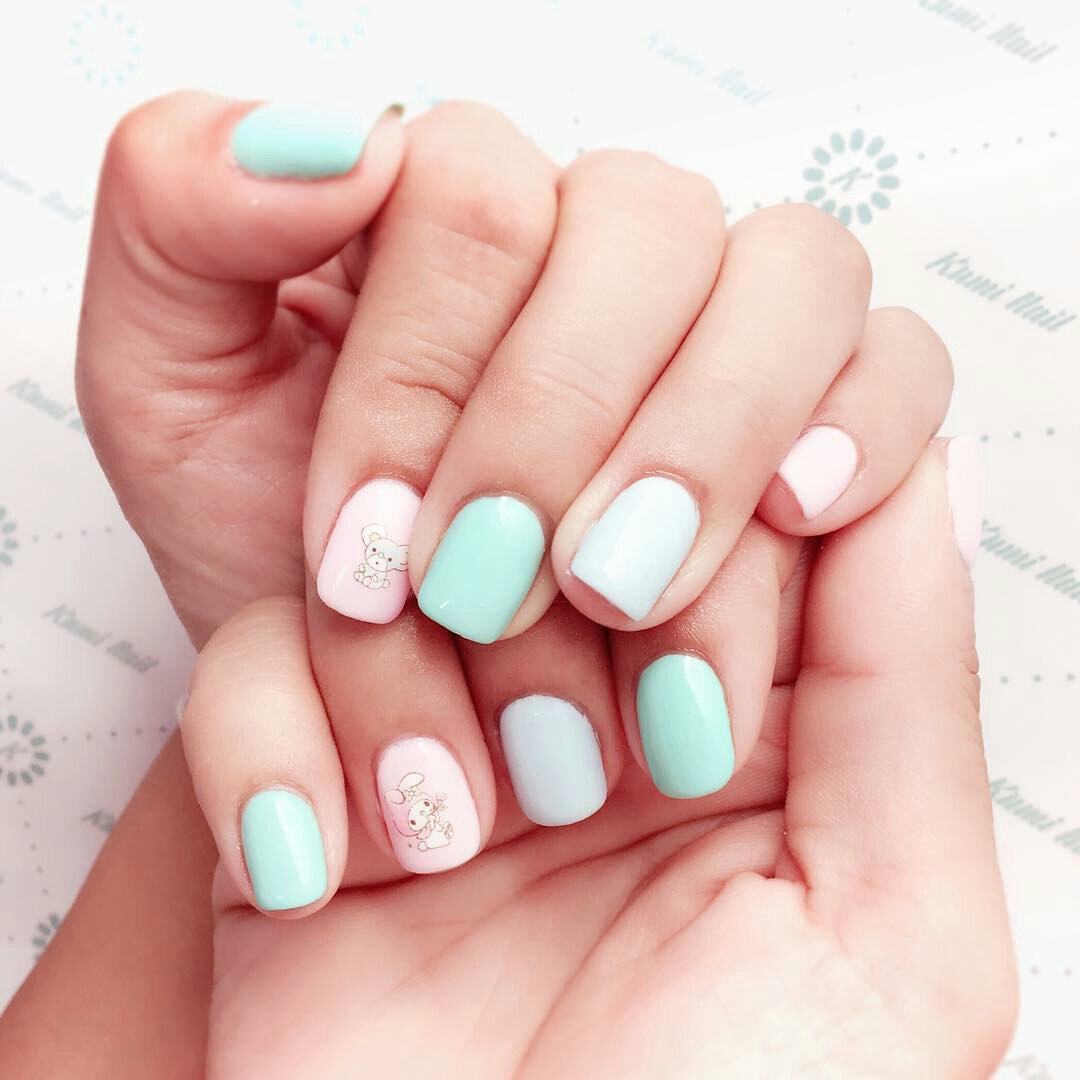 Multi colored nails design is in vogue now. The most important thing is the selection of polishes from a single color range.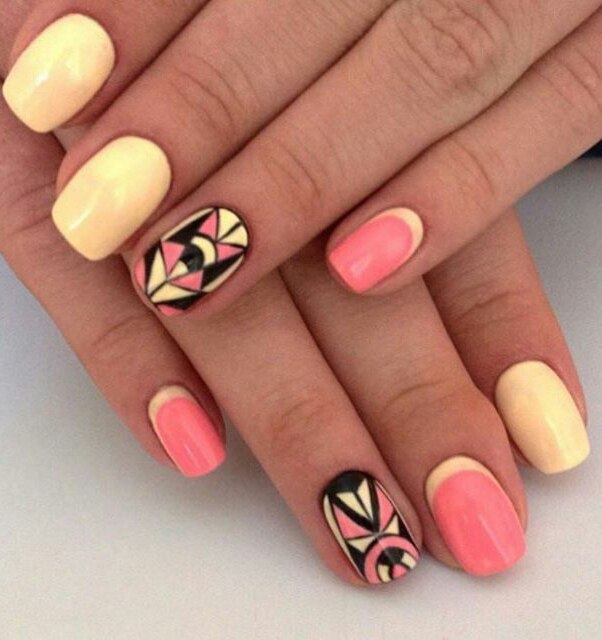 The most complex design is moon manicure, as not everyone can do it independently. In this case, the "moon" is painting nails different colors, and the rest of the nail plate – with the other.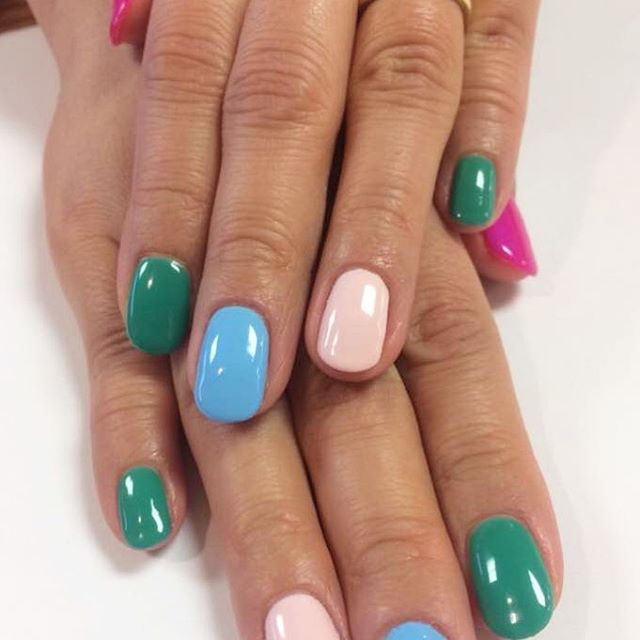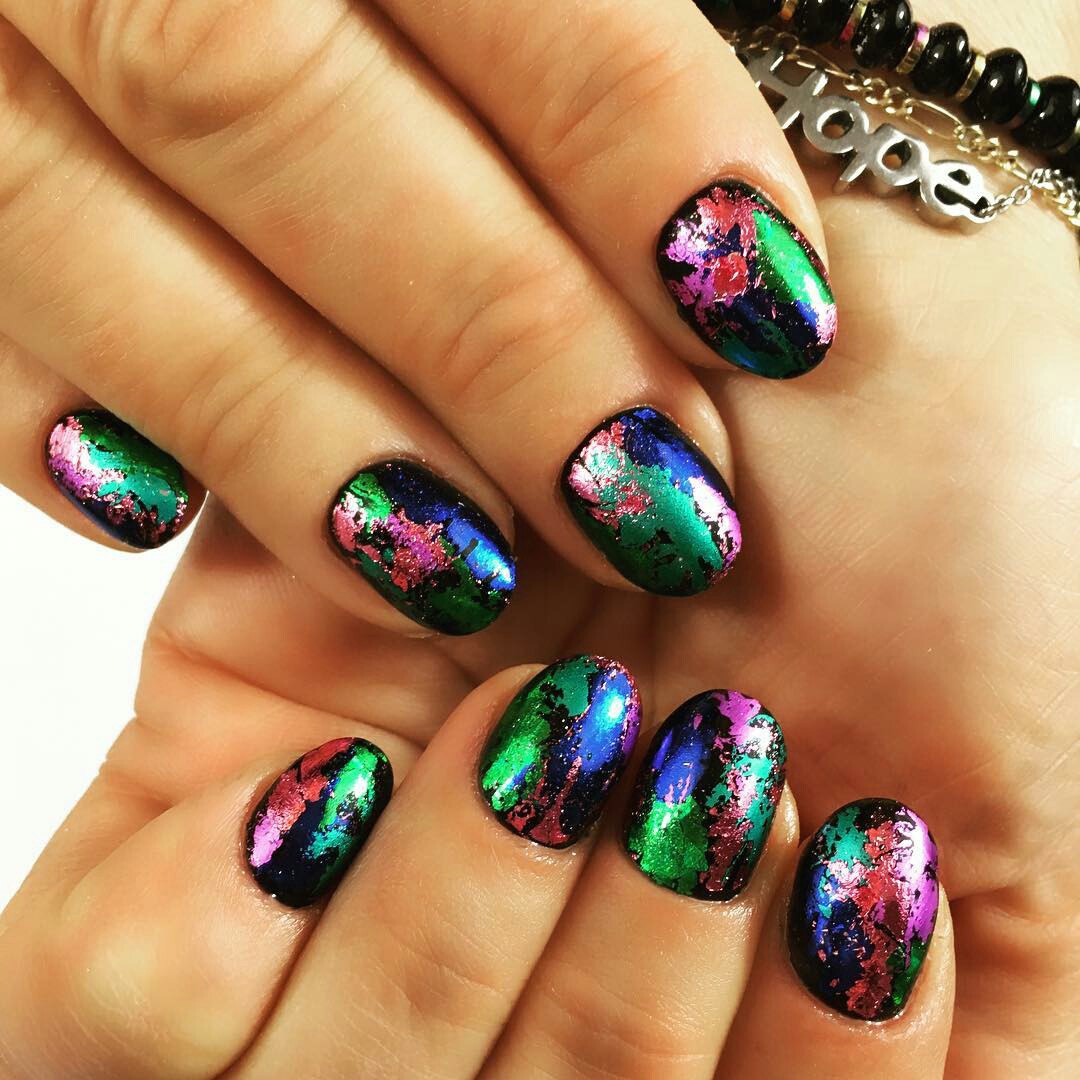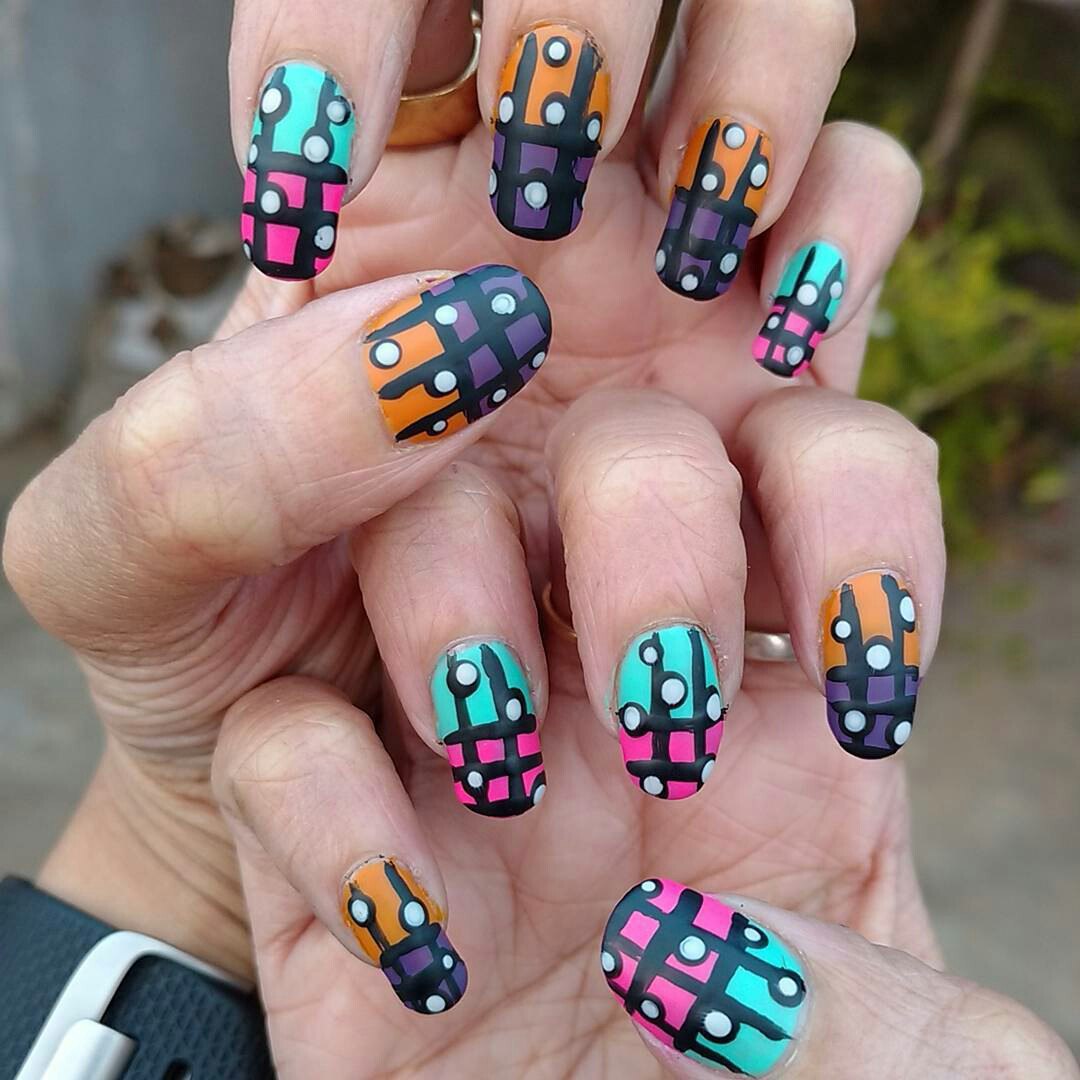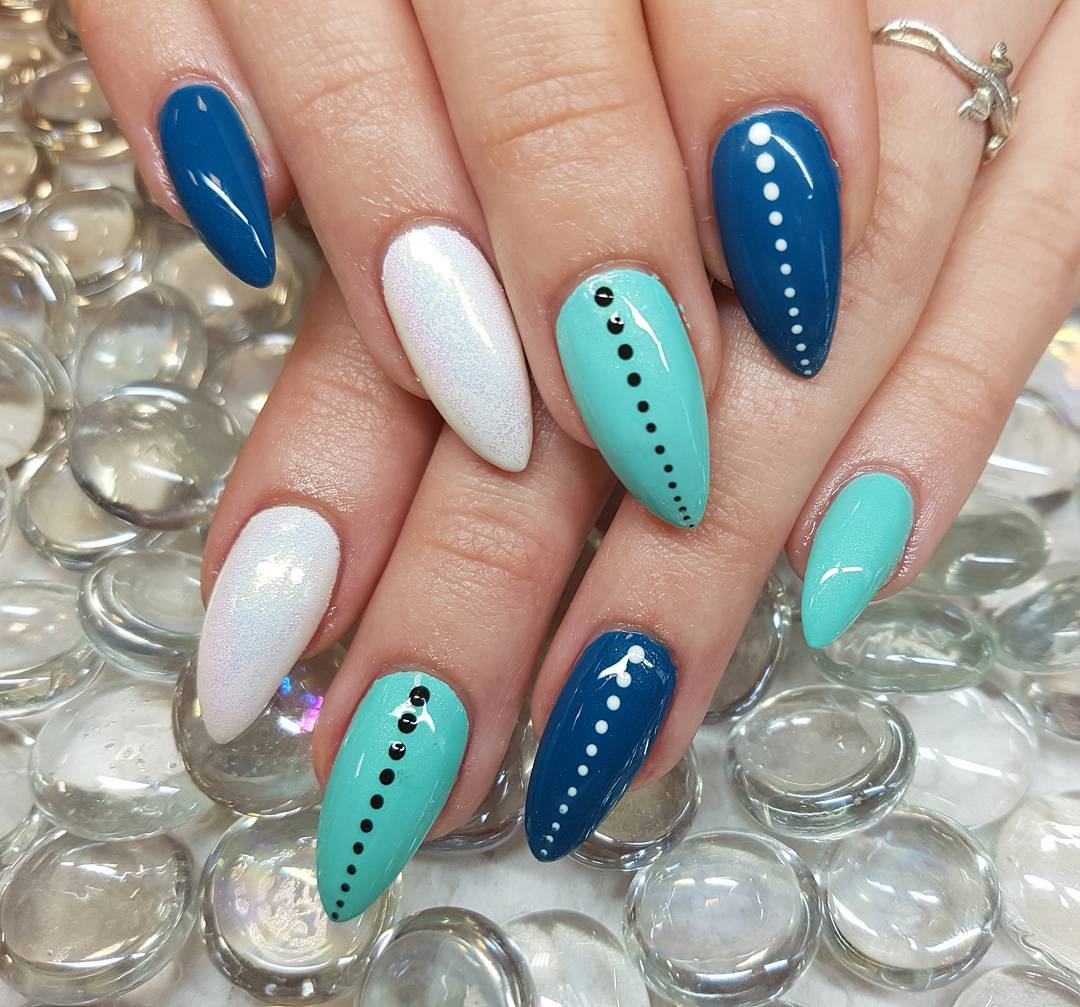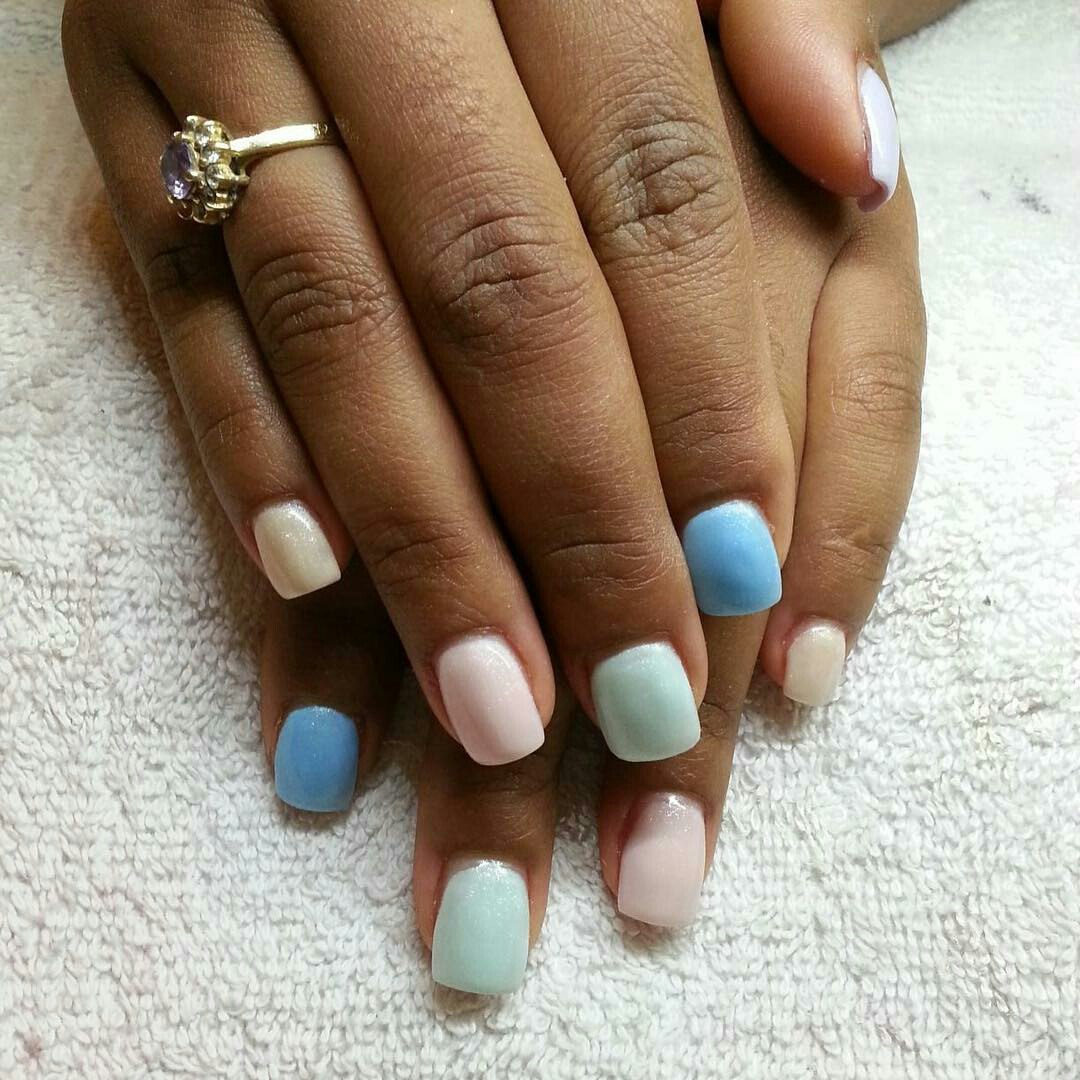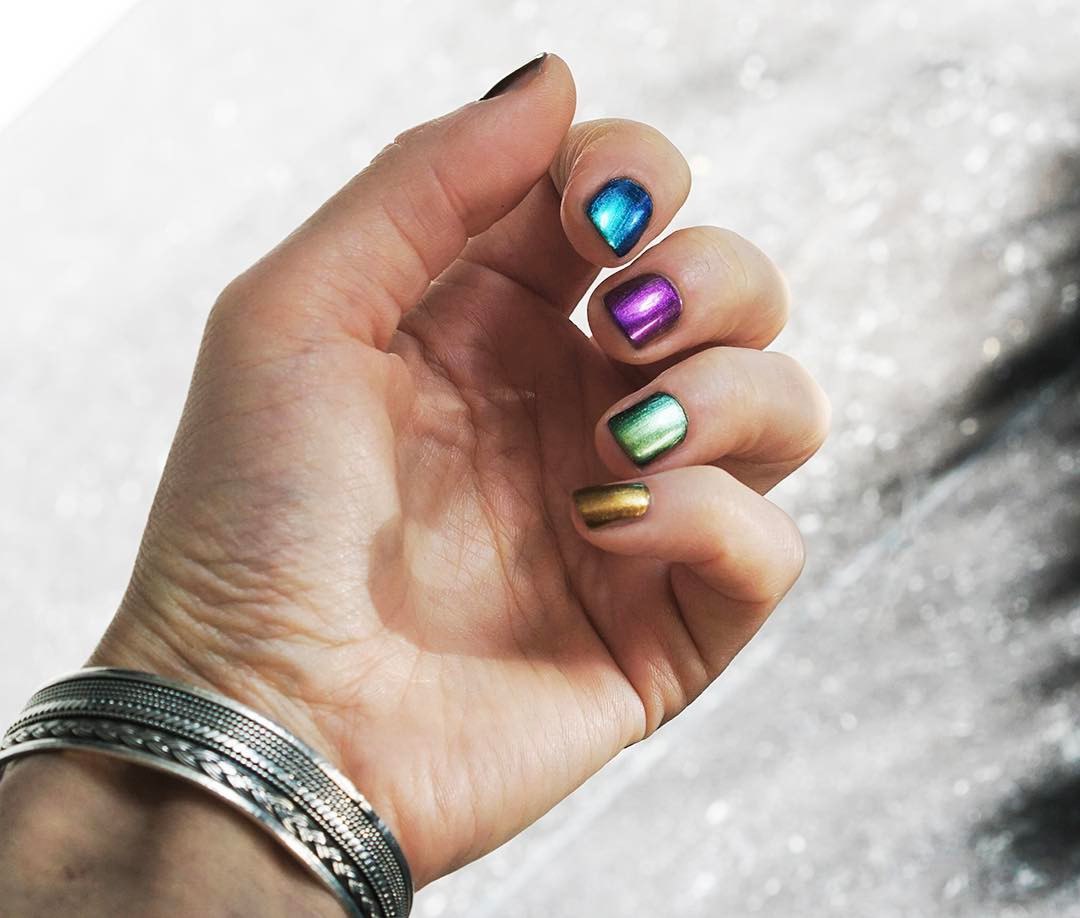 Video Multi Colored Nails Trend




Photos from Instagram.com