Tea parties evoke a sense of elegance, grace, and timeless charm, making them a delightful occasion to dress up in stylish tea party outfits. Whether you're attending a formal afternoon tea or a casual garden party, finding the perfect ensemble can be a delightful adventure.
With our curated list of over 50 ideas on what to wear to a tea party, you'll discover a myriad of outfit inspirations to suit any tea party setting or theme. From sophisticated floral dresses to chic hats, fascinators, and delicate accessories, these outfit ideas will help you create a memorable and fashion-forward look that complements the enchanting ambiance of a tea party.
What Is the Dress Code for a High Tea Party?
The dress code for a high tea party is typically more formal than a casual afternoon tea. It calls for elegant and sophisticated attire that aligns with the refined atmosphere of the event. Women are expected to wear dressy outfits such as tea-length or knee-length dresses, skirts paired with blouses, or dressy pantsuits.
Fabrics like lace, silk, or chiffon are often preferred, while colors can range from pastels to bold hues. Accessories like hats, fascinators, and gloves add an extra touch of glamour. Men are expected to wear suits or blazers with dress shirts paired with dress pants and polished shoes. The dress code for a high tea party embodies timeless elegance and class.
What to Wear to a Tea Party
Tea Party Dresses
Tea party dresses are the epitome of feminine charm and sophistication. They are characterized by delicate fabrics, like lace, chiffon, or silk, and feature flattering silhouettes like fit-and-flare or A-line cuts. These dresses often showcase beautiful floral prints, pastel colors, or soft hues that exude a romantic ambiance. Necklines can vary from sweetheart to high neck, and details like ruffles, bows, or lace accents add a touch of whimsy. Tea party dresses are the perfect choice for a graceful and stylish ensemble.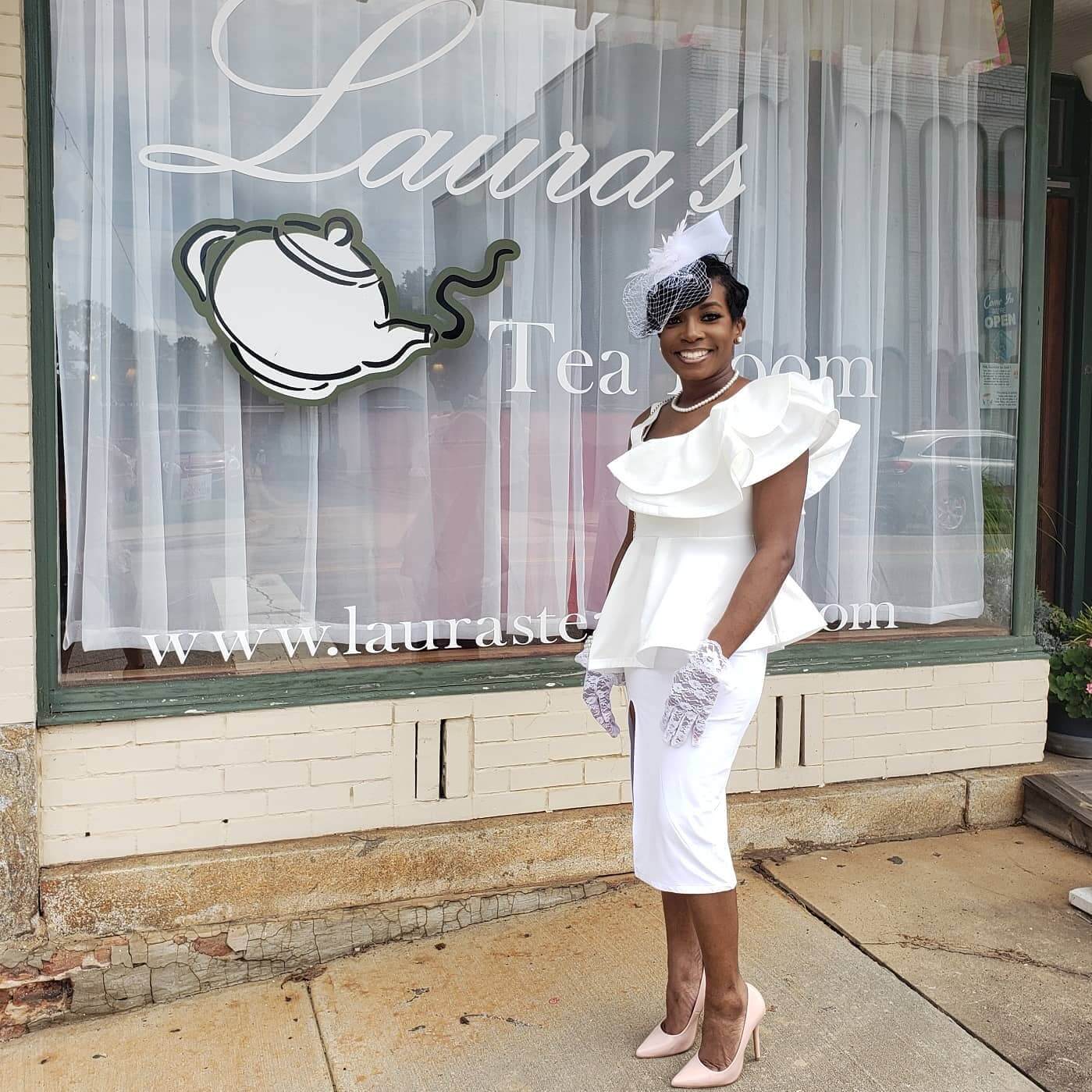 Outfits to Wear to a Tea Party with Gloves
Adding gloves to your tea party outfit instantly elevates elegance and sophistication. Opt for delicate lace gloves for a vintage touch or satin gloves for a more formal look. Coordinate the color of your gloves with your dress and accessories for a polished as well as timeless ensemble.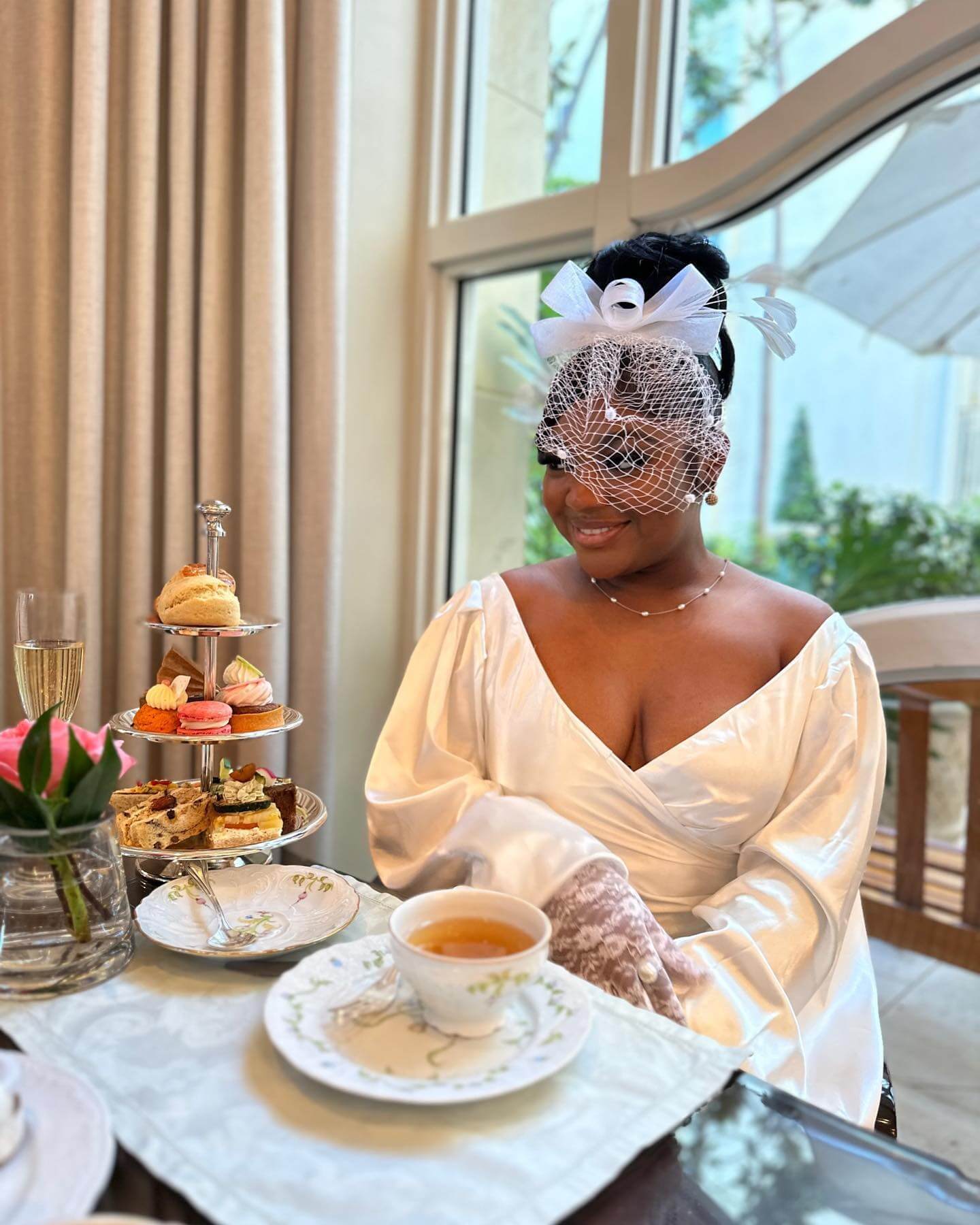 Tea Party Outfits with Hats
Complete your tea party ensemble with a chic hat that exudes charm and grace. Opt for a wide-brimmed hat for a touch of glamour or a dainty fascinator for a whimsical vibe. Coordinate the style as well as the color of your hat with your outfit for a picture-perfect tea party look.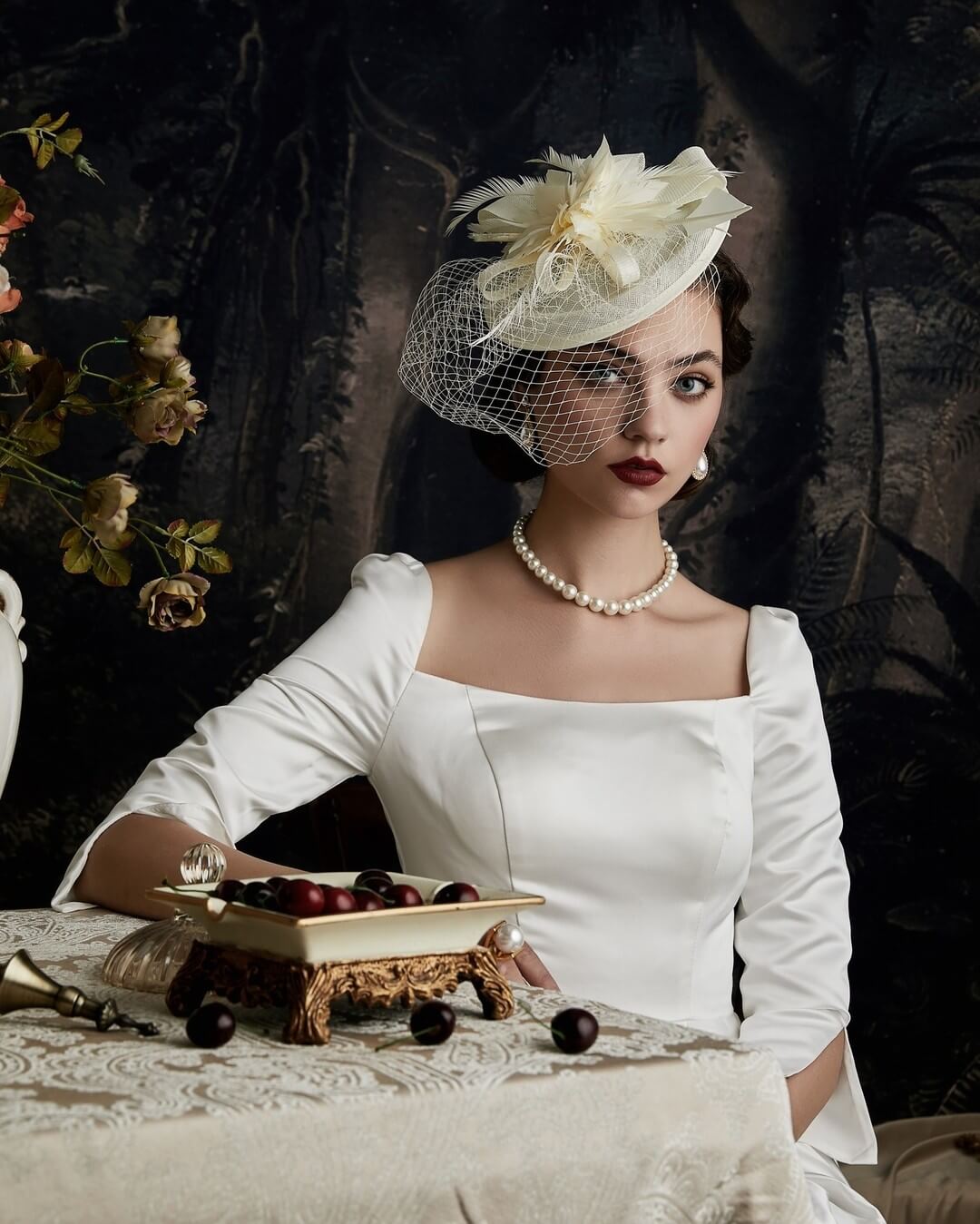 Tea Party Pants Outfits
Who says tea party outfits are limited to dresses and skirts? Embrace a chic and contemporary look with pants for your tea party attire. Choose tailored trousers or wide-leg pants in soft pastel shades or floral prints for a feminine touch. Pair them with a classy blouse or a delicate lace top. Complete your ensemble with heels or elegant flats, and accessorize with dainty jewelry for a polished and sophisticated tea party outfit that stands out from the crowd.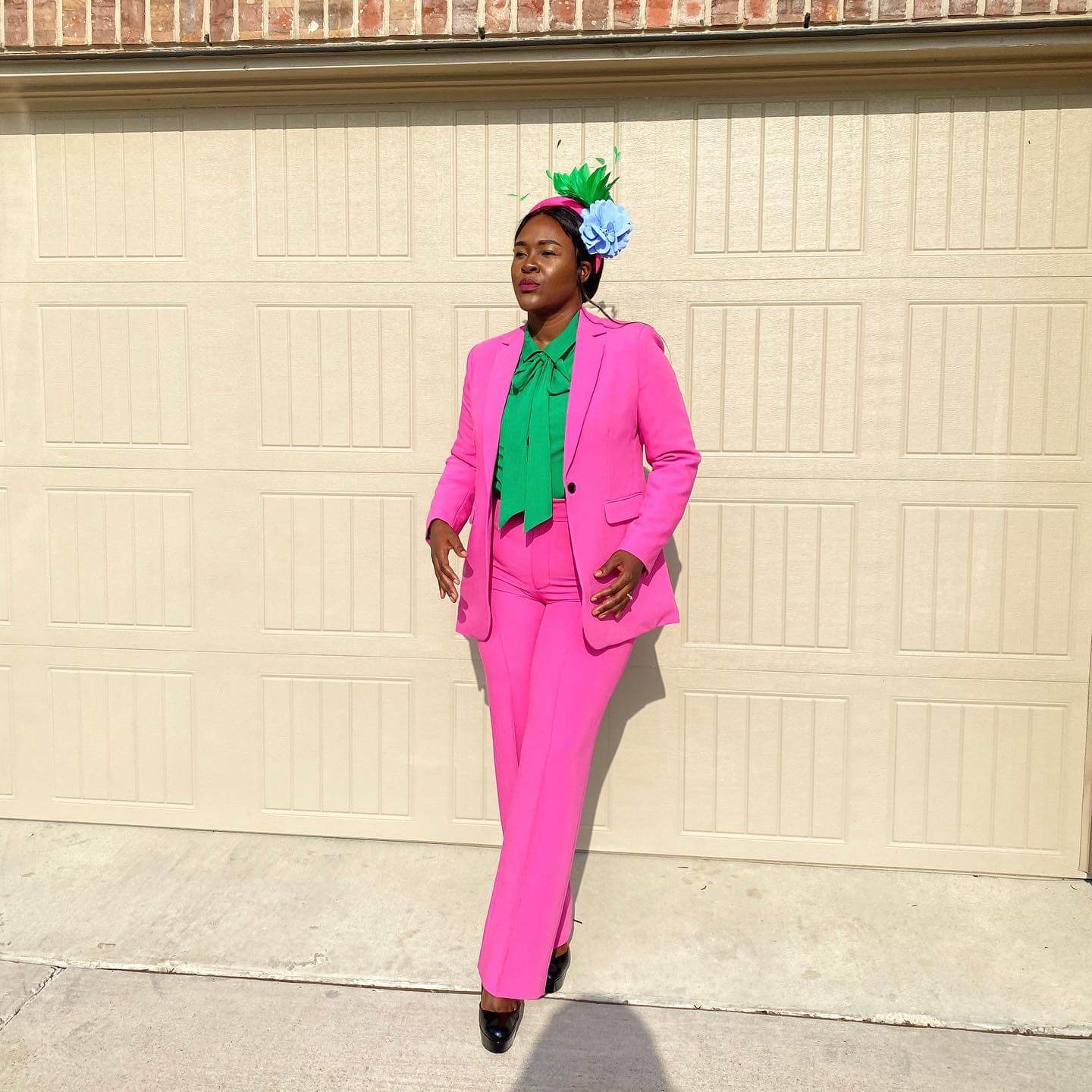 Tea Party Outfits by Different Colors and Seasons
Purple Tea Party Outfits
Make a bold statement at your tea party with purple-themed outfits. Embrace the regal allure of this color with a purple dress in shades such as lavender, lilac, or deep plum. Complete the look with coordinating accessories, which take account of a hat or clutch, for a sophisticated and eye-catching ensemble.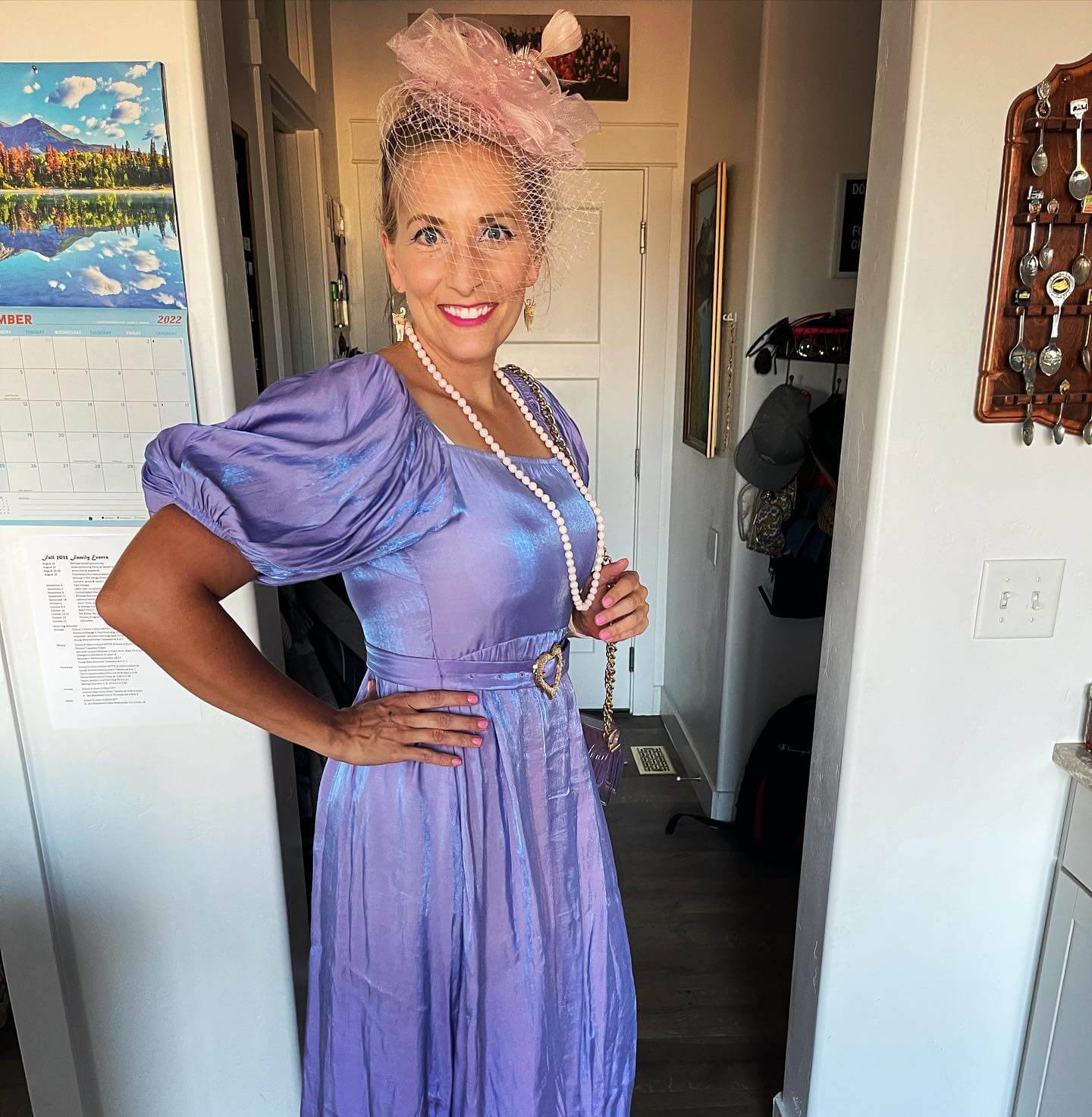 White Tea Party Outfit
For a timeless and elegant tea party look, opt for a white outfit that exudes sophistication. Choose a white lace dress or a flowy white midi skirt paired with a delicate blouse. Embrace the purity of white and accessorize with silver or gold accents for a touch of glamour. Complete the ensemble with white heels or sandals and minimalistic jewelry. A white tea party outfit radiates grace and refinement, making you stand out with effortless beauty.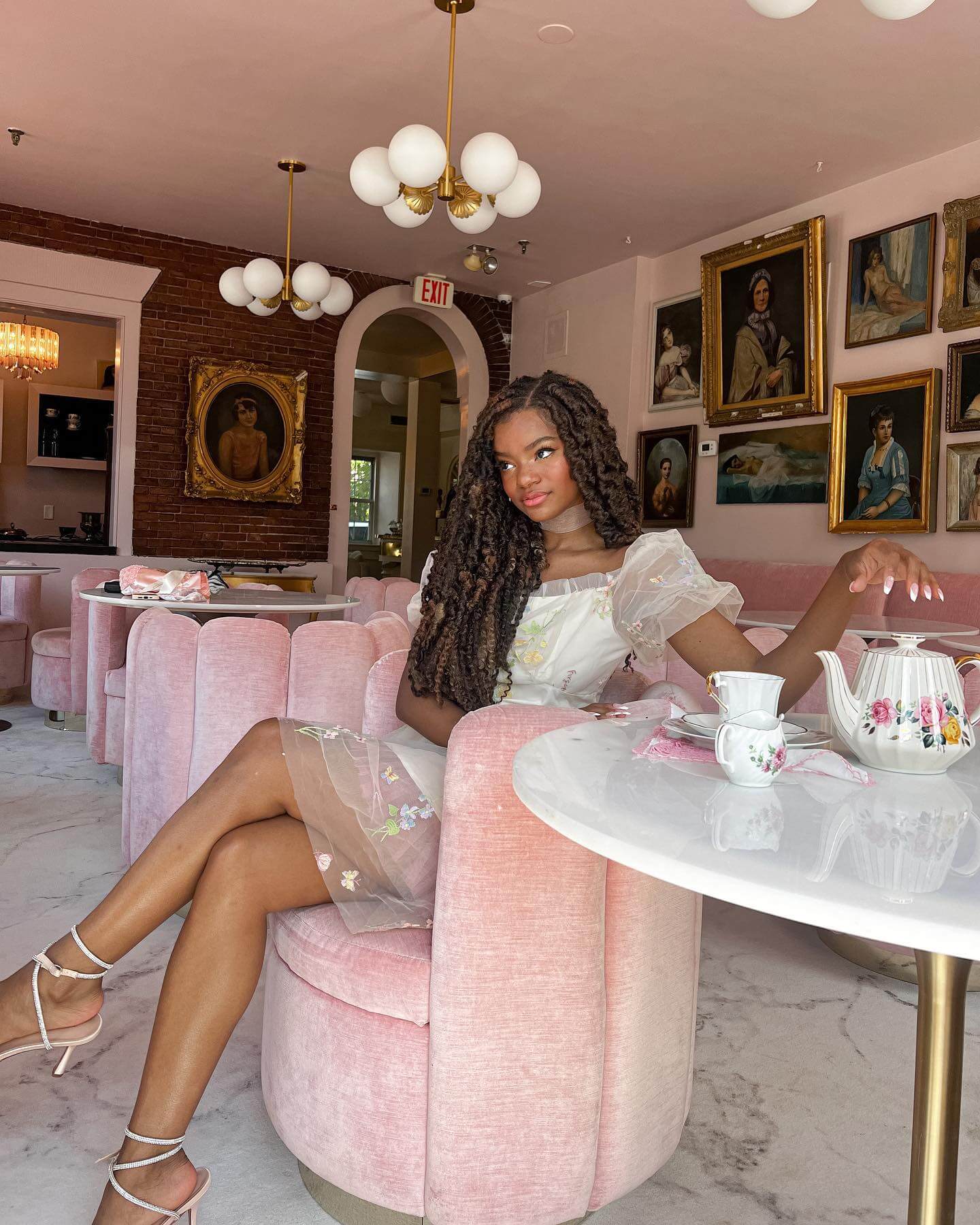 Winter Tea Party Outfits
Stay stylish and cozy at a winter tea party with chic outfit choices. Opt for a long-sleeved knit dress paired with tights and ankle boots. Layer with a tailored coat or a faux fur stole for added warmth. Complete the look with a statement hat or a sparkly accessory for a touch of winter glamour.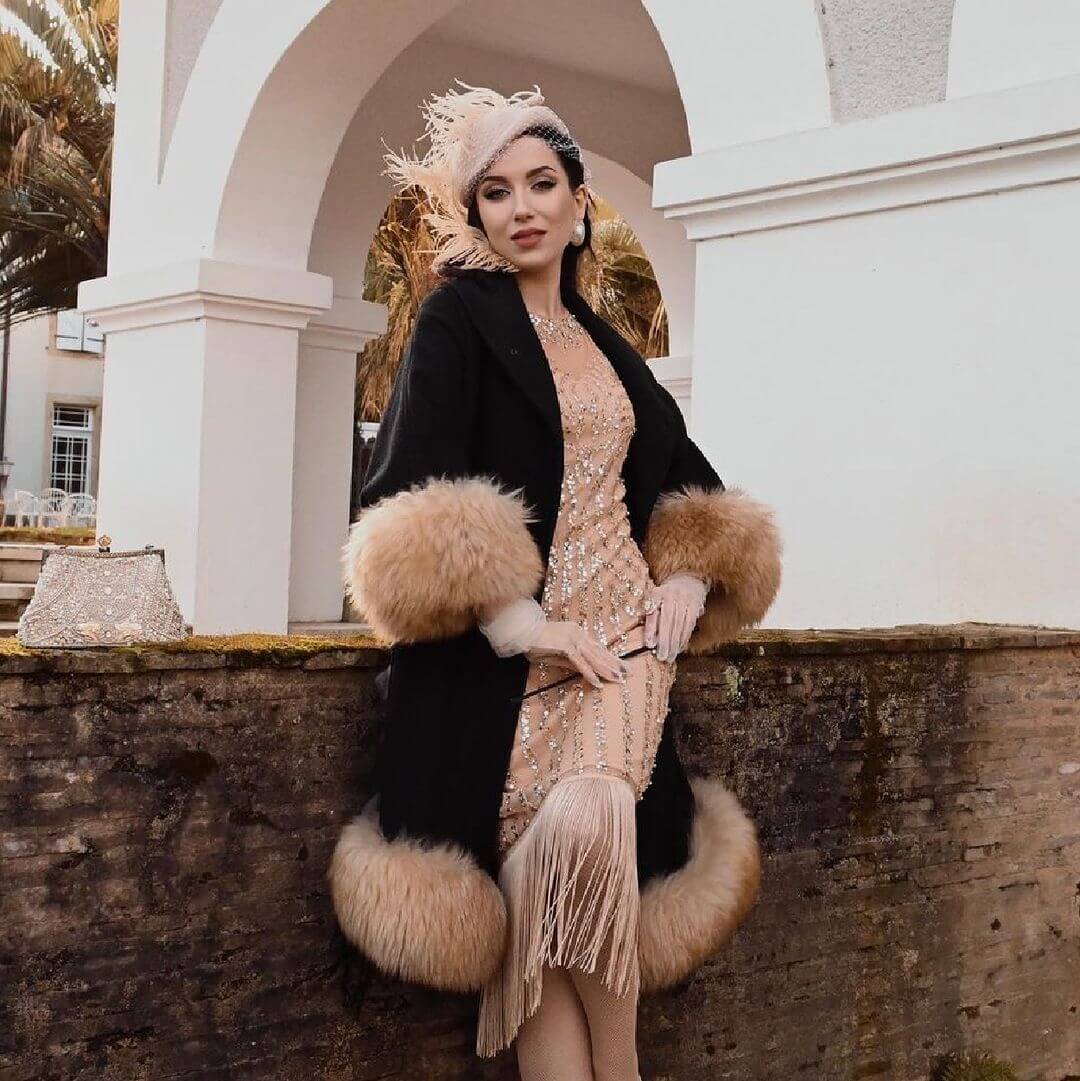 Autumn Tea Party Outfits
Embrace the beauty of autumn with enchanting tea party outfits. Opt for a midi or maxi dress in warm autumnal hues like burgundy, mustard, or olive green. Layer with a lightweight cardigan or a stylish blazer. Complete the look with ankle boots and accessorize with fall-inspired accessories like a felt hat or a statement scarf.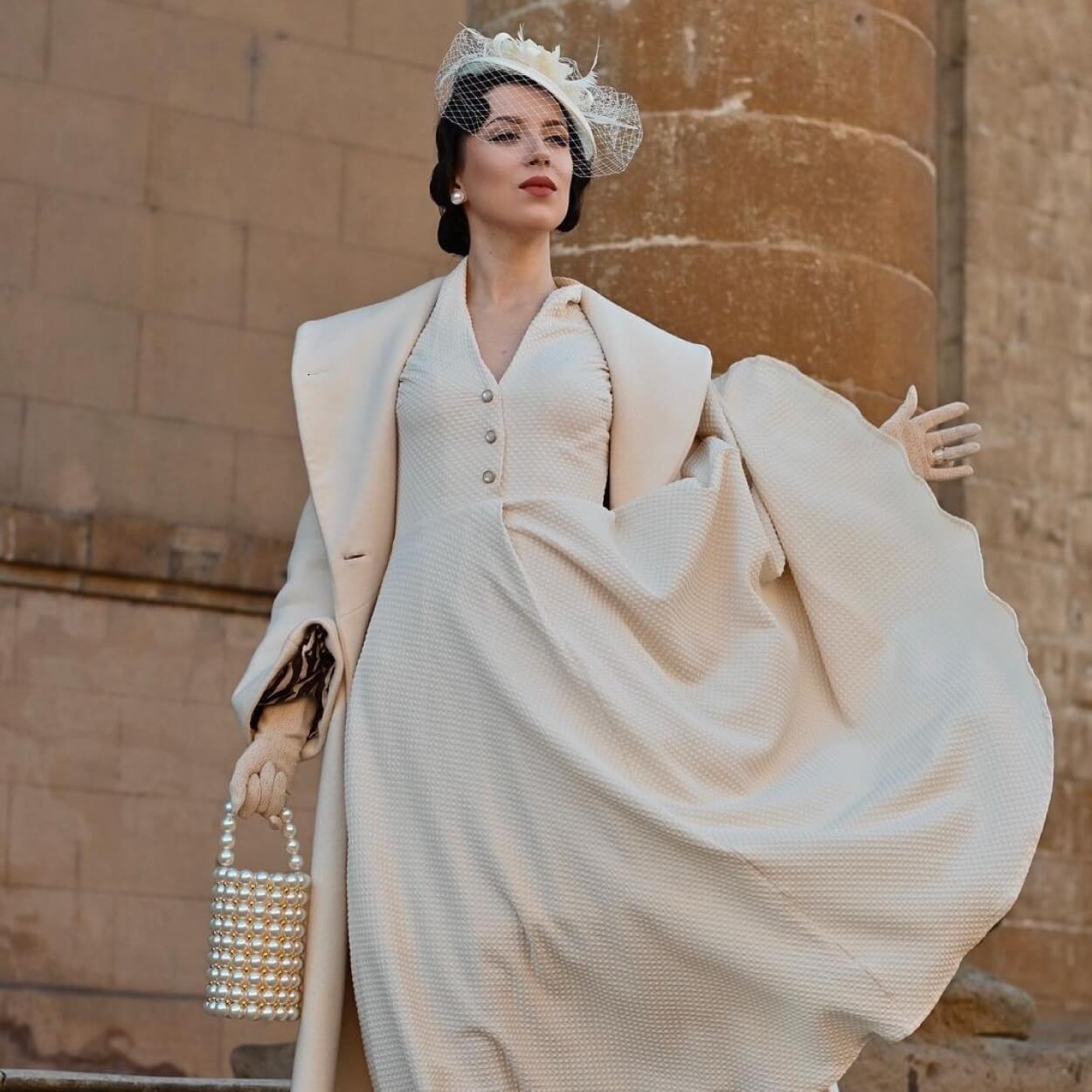 Tea Party Outfits for Adults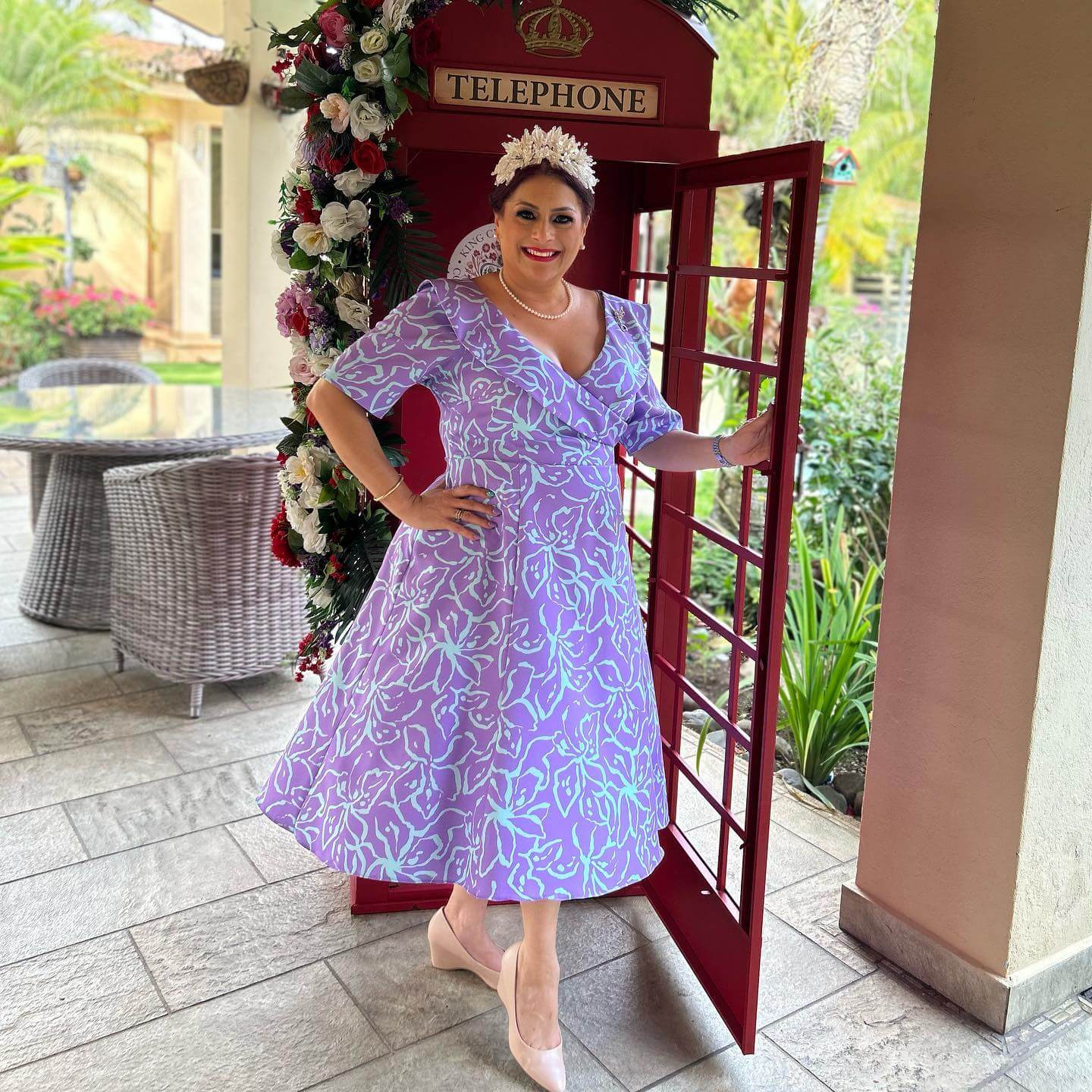 Vintage Tea Party Attires
Step back in time with vintage-inspired tea party outfits. Embrace the elegance of bygone eras with a tea-length dress adorned with lace or floral patterns. Complete the look with retro accessories like a pillbox hat, pearl necklace, and gloves to make you stand out from the rest. Channel the timeless charm of vintage fashion and make a statement at your tea party.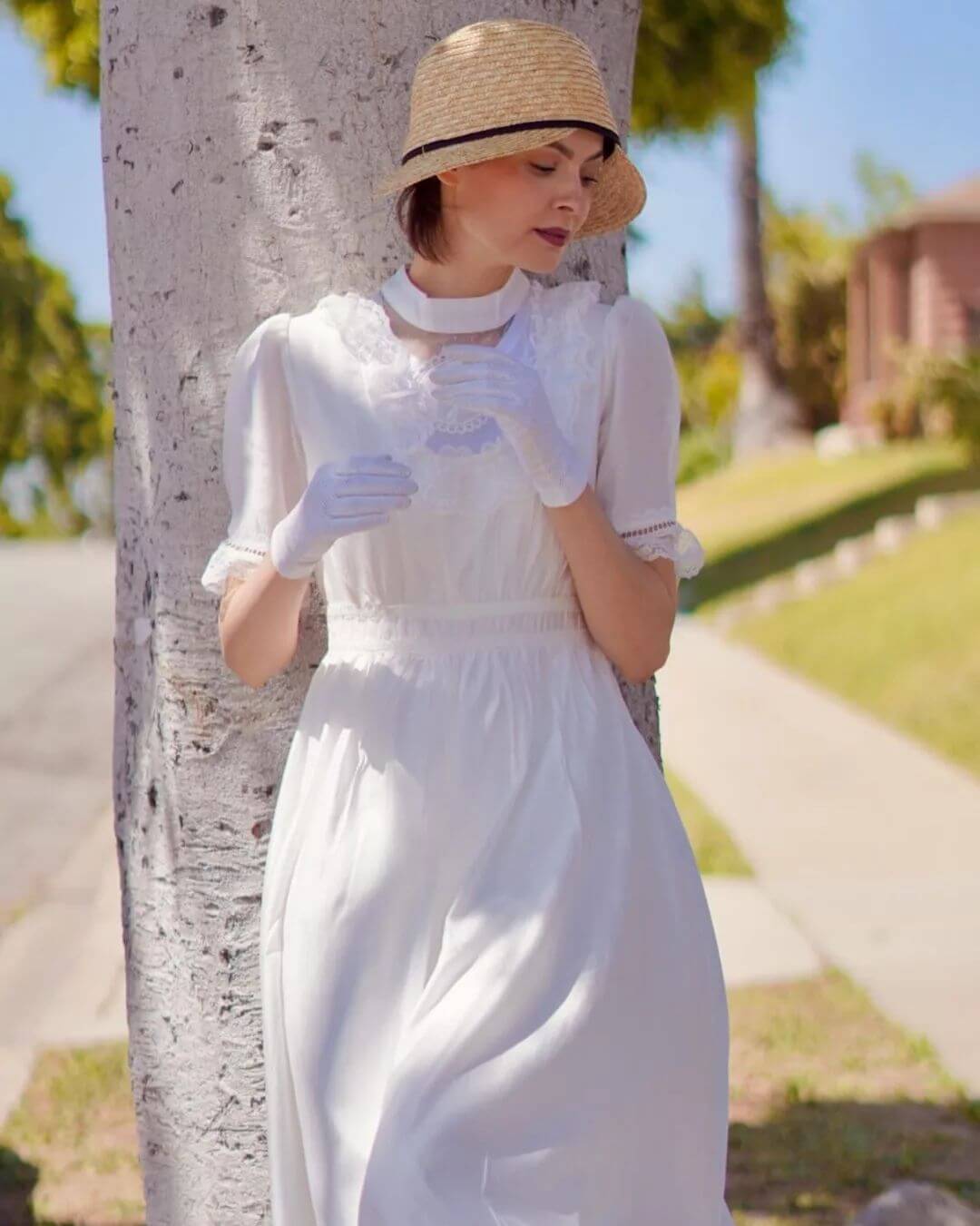 Modern Tea Party Attires
Embrace a modern twist on tea party outfits with contemporary styles and trends. Opt for a midi or maxi dress in bold colors or unique prints. Experiment with asymmetrical hemlines, statement sleeves, or cut-out details. Pair with trendy accessories like statement earrings or a sleek belt. Don't be afraid to mix and match different textures and fabrics for a fashion-forward look. Modern tea party outfits combine sophistication with a touch of edginess, creating a memorable and stylish ensemble.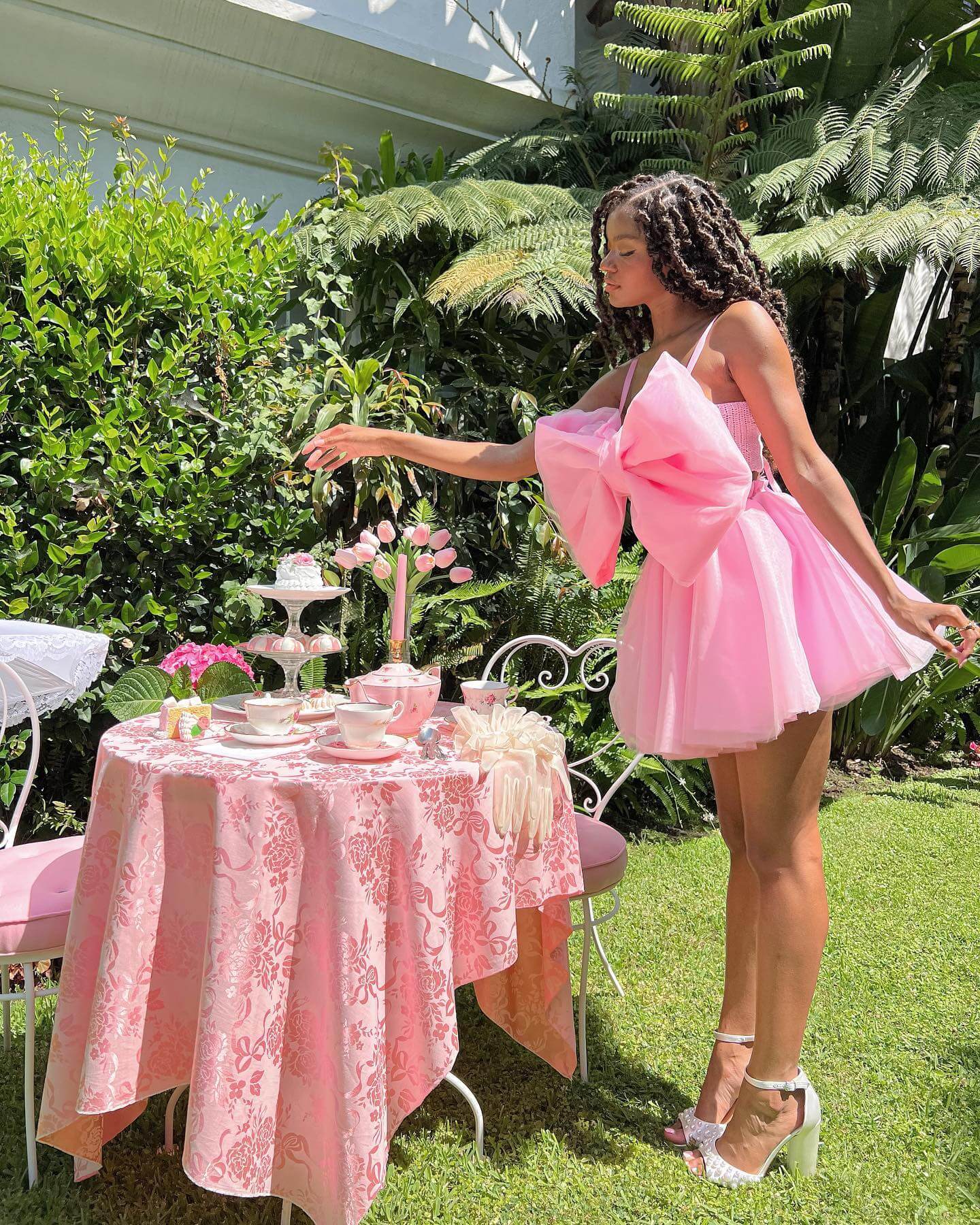 Classy Tea Party Outfits
Dress to impress with classy tea party outfits that exude timeless style and sophistication. Opt for a knee-length or tea-length dress in a flattering silhouette, such as a fit-and-flare or sheath. Choose refined fabrics like satin, silk, or chiffon in elegant colors like navy, black, or pastels. Complete the look with stylish pumps, delicate jewelry, and a chic clutch. Incorporate details like lace, bows, or ruffles for an extra touch of class. Classy tea party outfits make a lasting impression with their understated elegance.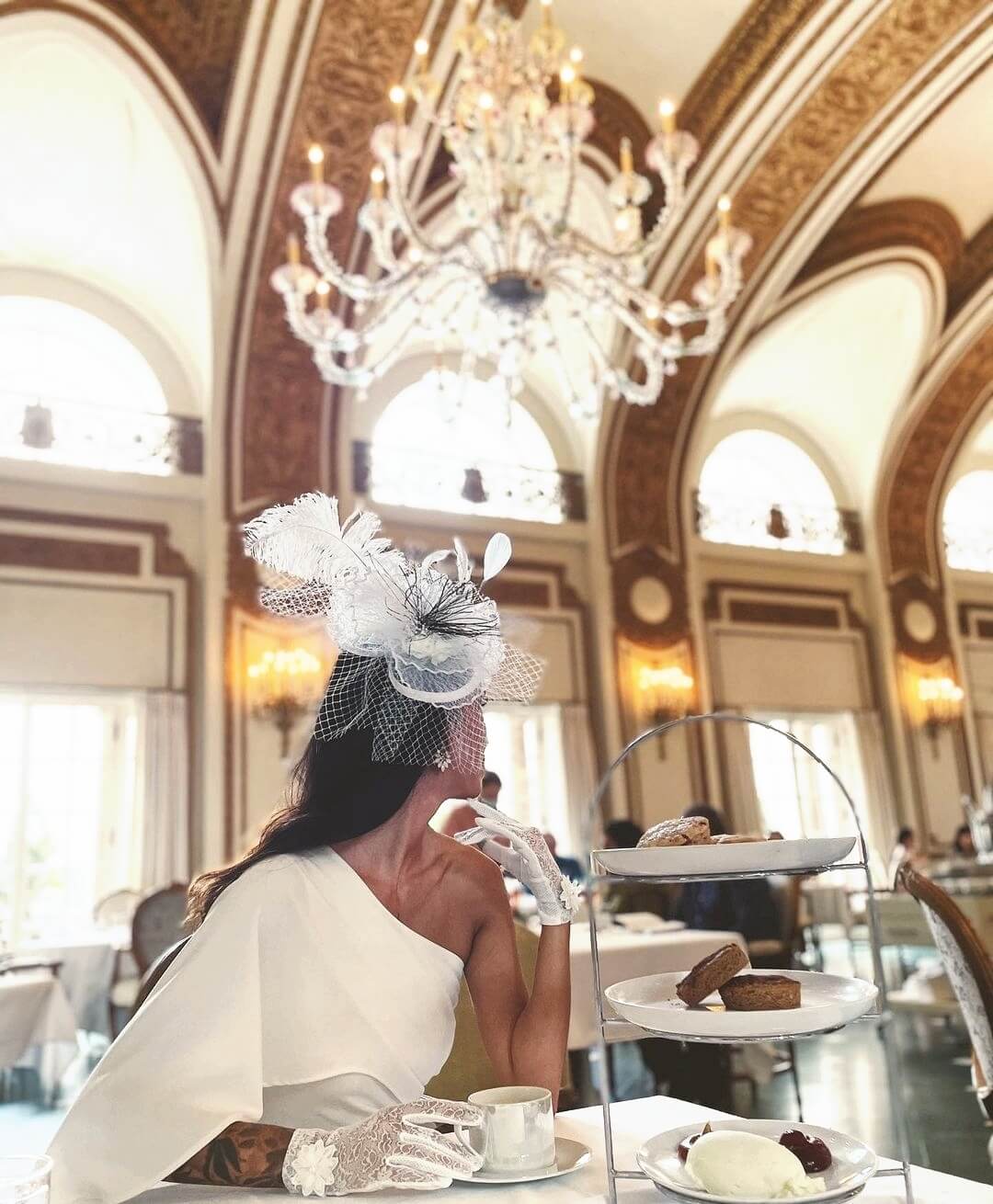 Black Girl Tea Party Outfits
Celebrate your unique style and radiate confidence with black girl tea party outfits. Embrace vibrant colors that complement your skin tone, like bold jewel tones or vibrant prints. Opt for chic dresses or jumpsuits that highlight your curves and express your personality. Accessorize with statement jewelry, stylish headwraps, or elaborate hair accessories to showcase your cultural heritage. Own your fashion choices and inspire others with your stunning tea party ensembles that celebrate your individuality.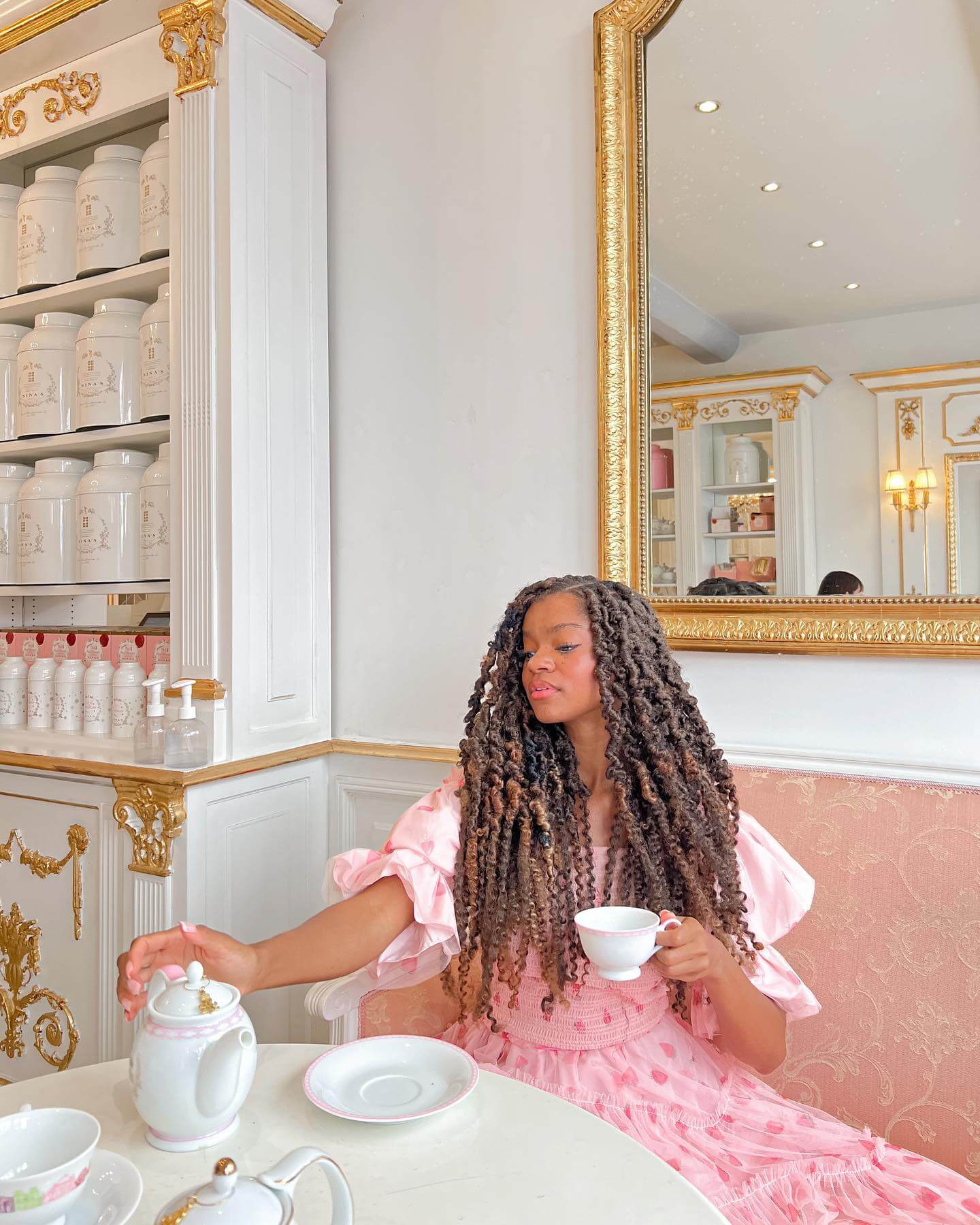 Tea Party Brunch Attires
Dress to impress at a tea party brunch with stylish and effortless outfits. Opt for a breezy floral sundress paired with wedges or sandals for a casual and feminine look. Alternatively, choose a chic jumpsuit with a statement belt for a modern twist. Layer with a light cardigan or a denim jacket for versatility. Accessorize with delicate jewelry and a sun hat for a touch of charm. Effortless and chic, these outfits are perfect for a relaxed yet fashionable tea party brunch.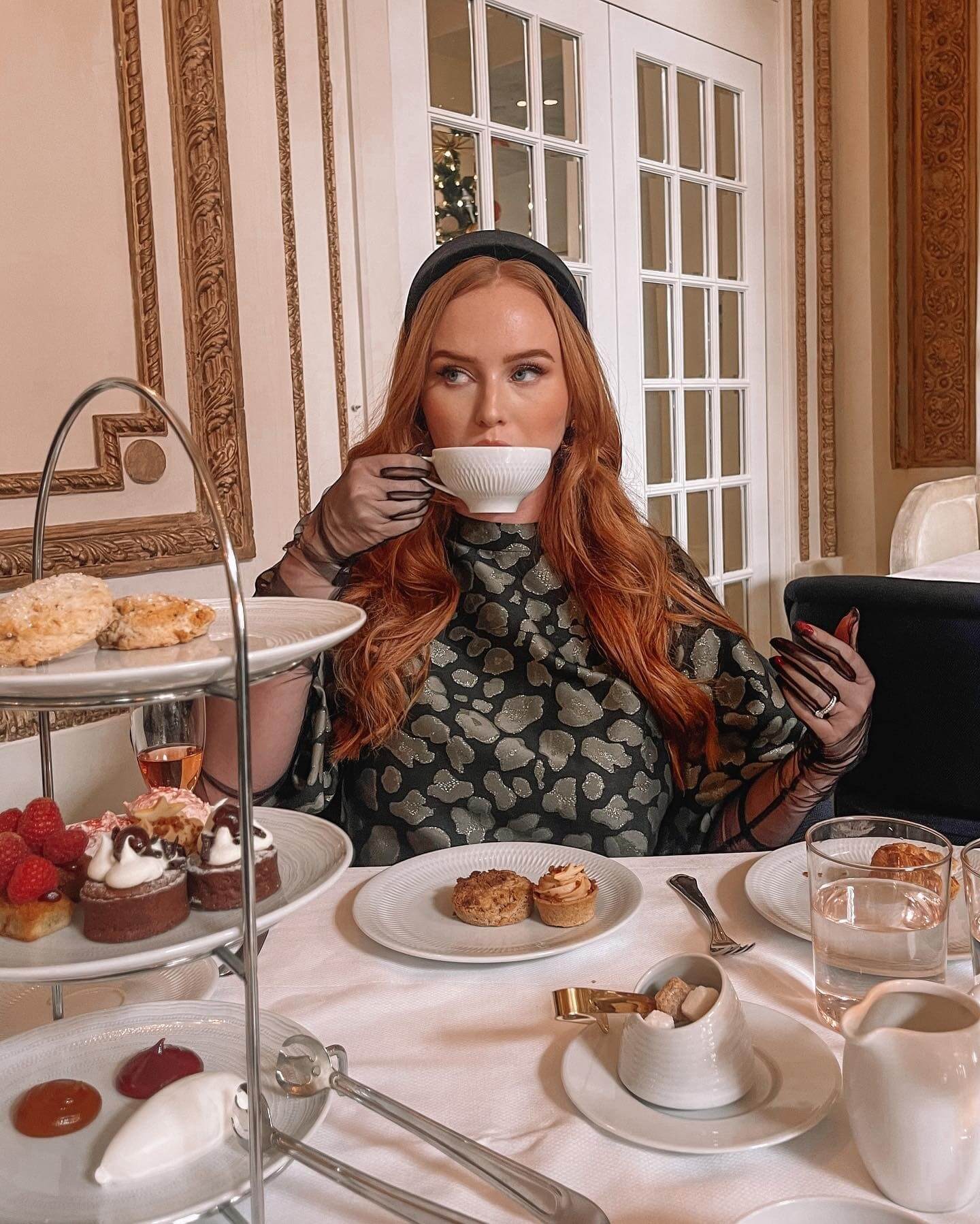 Cute Tea Party Outfits
Create an adorable and charming look with cute tea party outfits. Opt for a sweet floral-printed sundress or a playful skater dress in pastel colors. Pair it with ballet flats or Mary Jane shoes for a touch of innocence. Accessorize with a ribbon headband or a bow in your hair. Add a whimsical touch with dainty jewelry and a cute handbag. Cute tea party outfits radiate youthful charm and make you feel like a delightful breath of fresh air.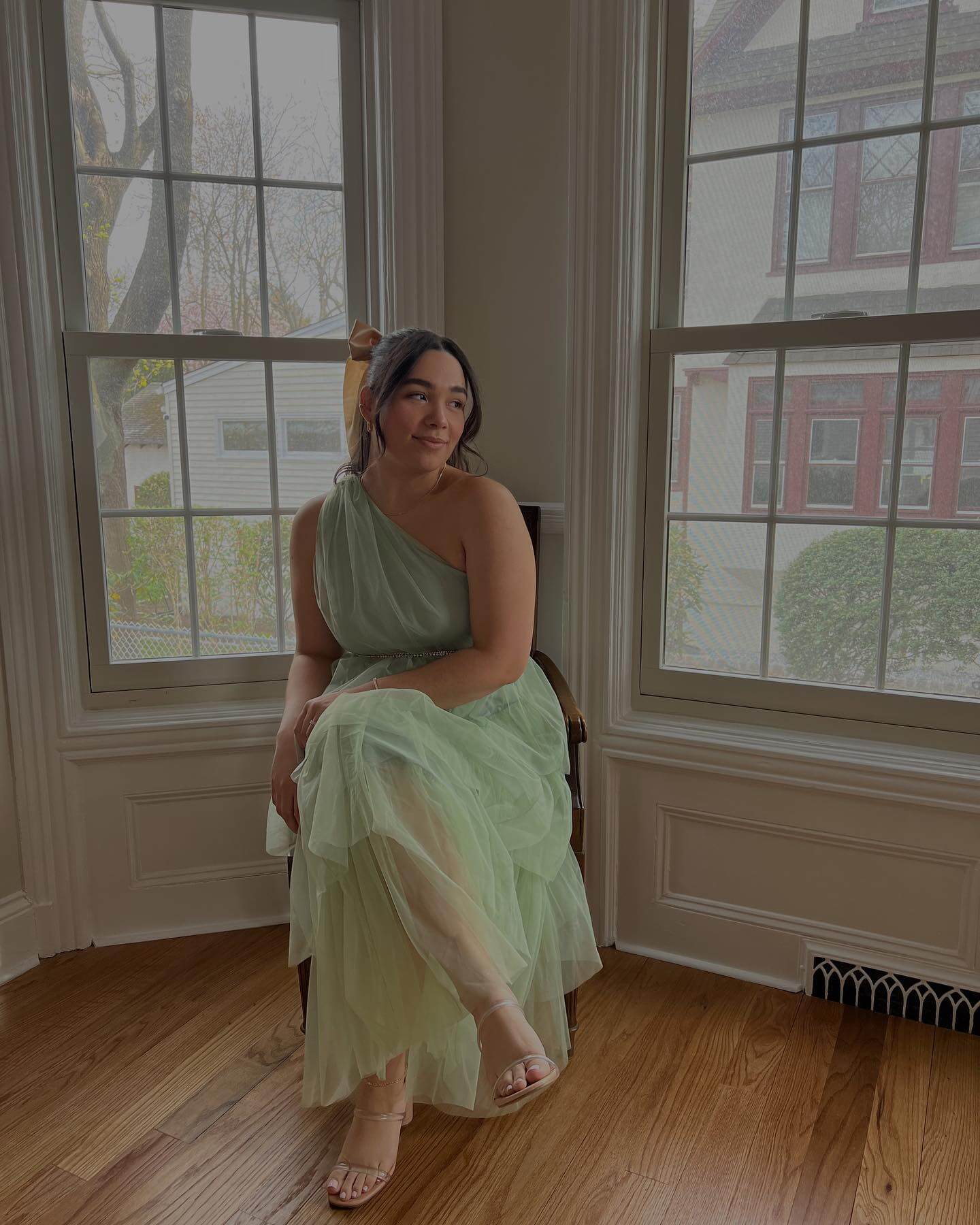 Bridal Shower Tea Party Attires
Celebrate in style at a bridal shower tea party with chic and feminine outfits. Opt for a romantic pastel-colored dress or a floral jumpsuit for a fresh and elegant look. Lace details, ruffles, or delicate embroidery add a touch of bridal charm. Pair with heels or wedges and accessorize with dainty jewelry. Consider a fascinator or a flower crown for a whimsical touch. Dress to impress and honor the bride-to-be with a memorable bridal shower tea party outfit.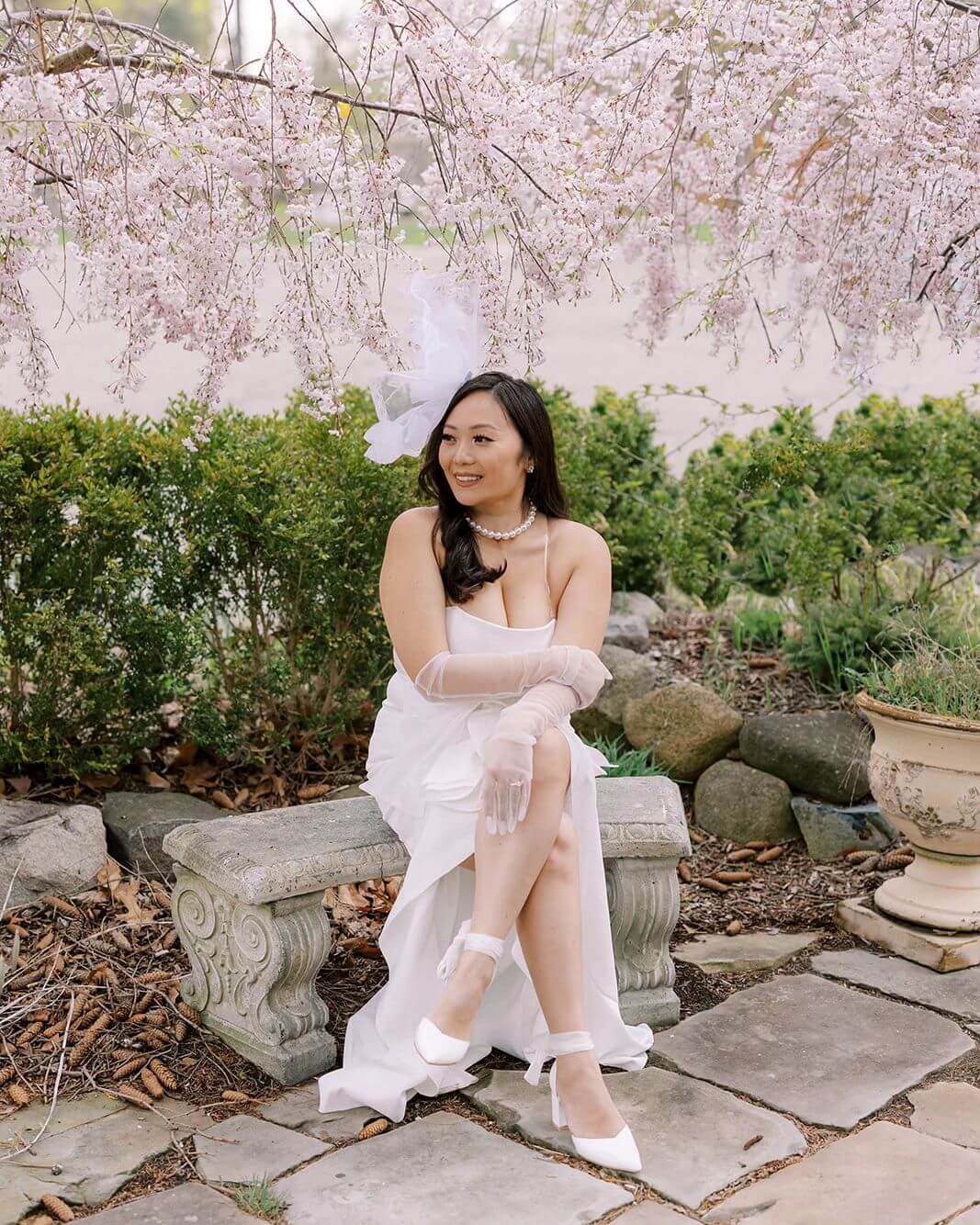 Plus Size Tea Party Outfits
Flaunt your curves and embrace your style with stunning plus-size tea party outfits. Opt for a flowy maxi dress or a knee-length A-line dress that accentuates your figure. Choose fabrics like chiffon or lace for a touch of femininity. Accessorize with a wide-brimmed hat, statement jewelry, and comfortable heels or flats. Feel confident and elegant in your tea party ensemble, showcasing your unique beauty and impeccable fashion sense.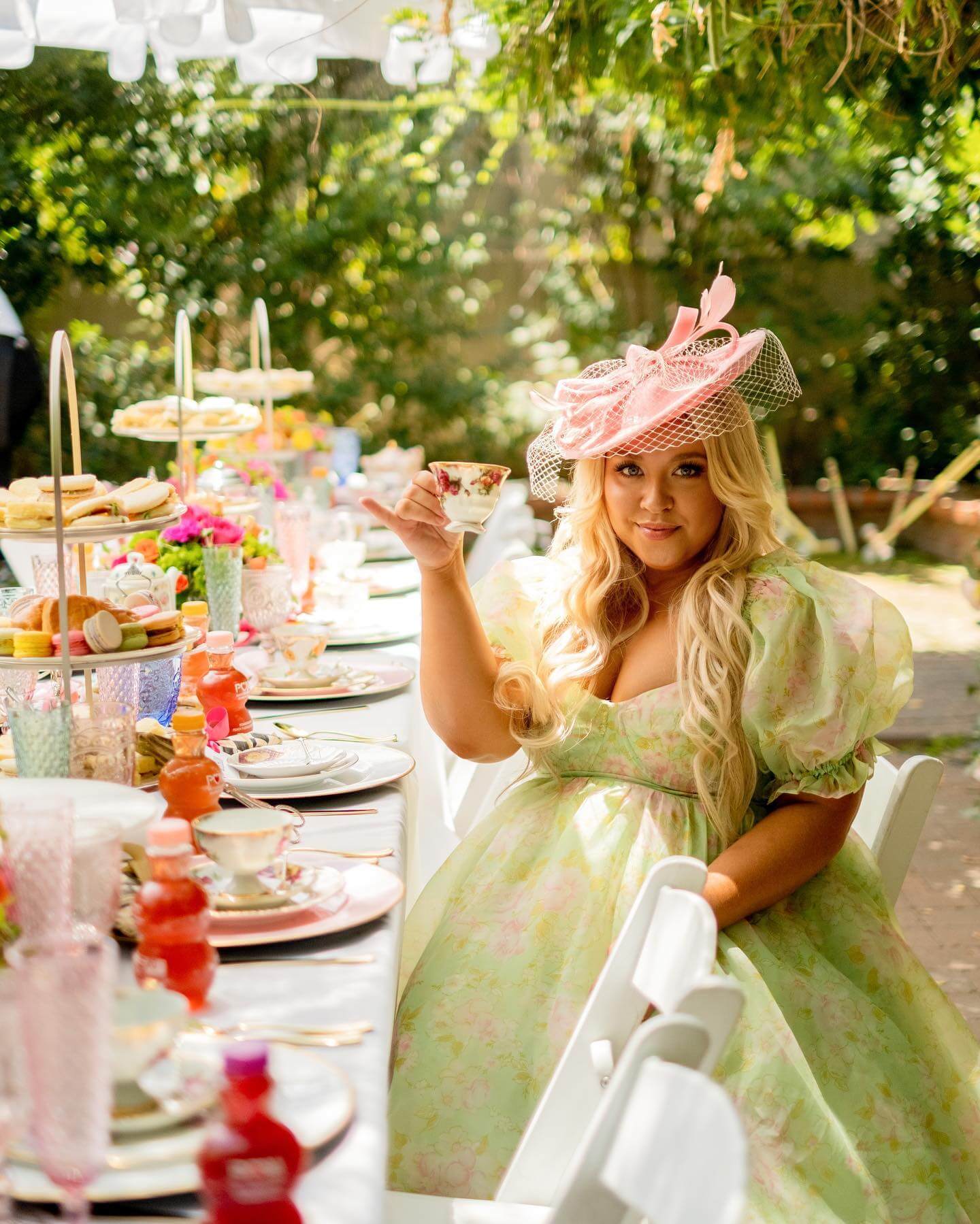 Tea Party Denim Outfits
Create a chic and casual look for a tea party with denim outfits. Opt for a tailored denim dress or a denim jumpsuit for a modern twist. Pair it with a delicate blouse or a floral top to balance the casual nature of denim. Complete the ensemble with elegant heels or ballet flats. Add some accessories like a statement necklace or a stylish hat to elevate the denim outfit for a perfect blend of comfort and style at your tea party.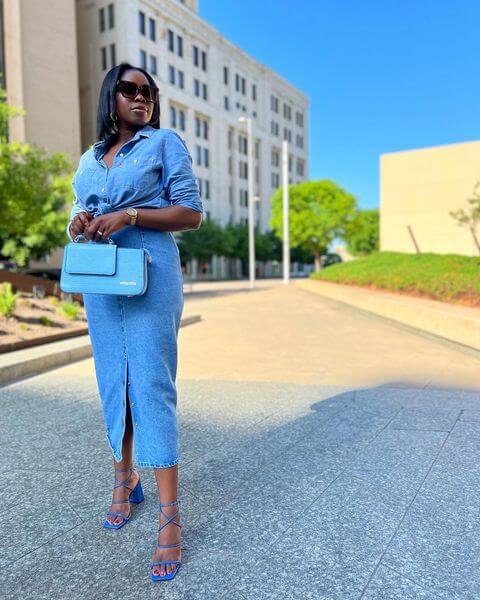 Royal Tea Party Attires
Dress like royalty for a royal tea party with exquisite outfits fit for a queen. Opt for a floor-length gown in rich jewel tones or metallic shades. Choose luxurious fabrics like silk or velvet, embellished with intricate details and beading. Complete the regal look with a statement tiara or crown, elegant gloves, and sparkling jewelry. Add a touch of glamour with a fur stole or cape. Command attention and exude majestic elegance at the royal tea party.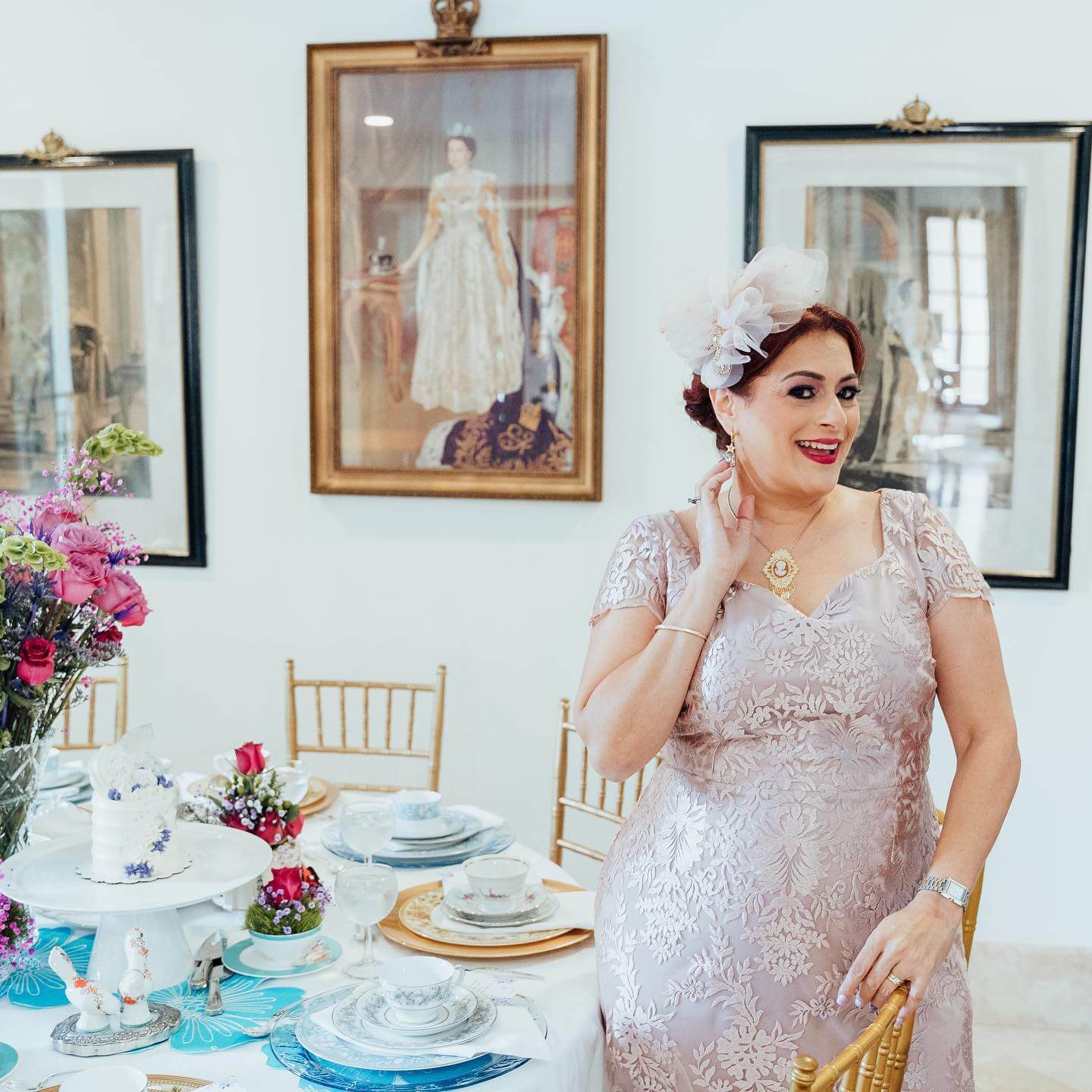 Tea Party Outfits for Couples
Coordinate your tea party look as a couple, and make a memorable impression. For him, a tailored suit in a classic color like navy or charcoal paired with a crisp dress shirt and tie. For her, a feminine tea-length dress in a complementary color or pattern. Coordinate your accessories, such as matching pocket squares or a coordinating hat and clutch. With synchronized style, you'll exude elegance and create a picture-perfect tea party couple ensemble.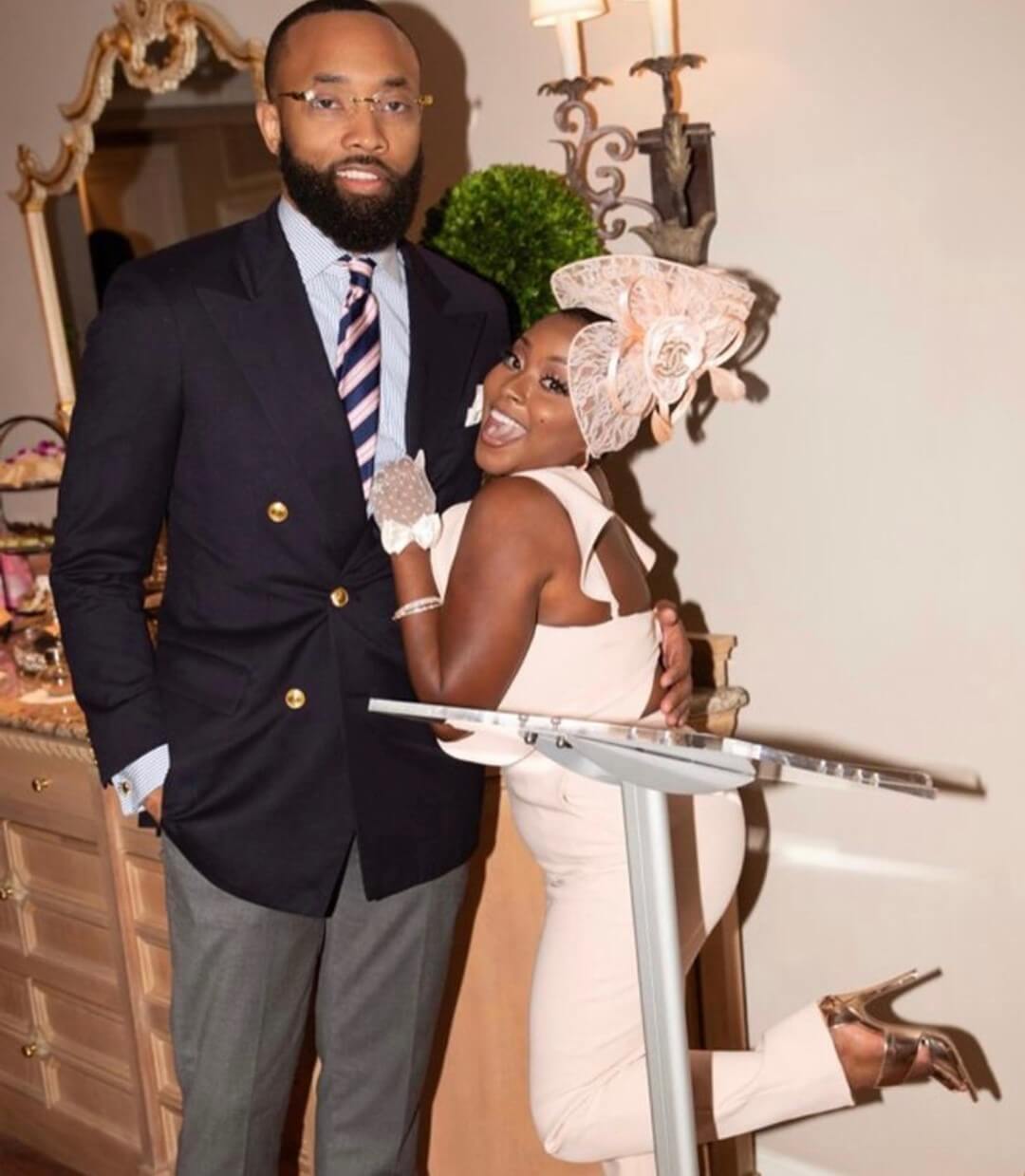 Sexy Tea Party Attires
Infuse a hint of allure into your tea party attire with sexy outfit choices. Opt for a fitted, knee-length dress with a plunging neckline or an open-back design. Choose fabrics like satin or velvet to add a touch of luxury. Experiment with bold colors or bold prints. Complete the look with statement heels and minimalistic accessories. Balance the sexiness with elegance and sophistication for a captivating tea party ensemble that turns heads.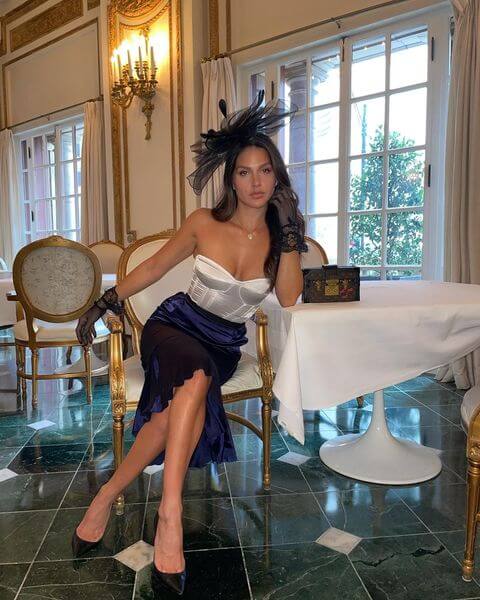 High Tea Outfits
Dress to impress at a high tea with sophisticated and refined outfits. Opt for a knee-length or tea-length dress in elegant fabrics like silk or chiffon. Choose classic colors such as black, navy, or pastel shades. Pair with stylish heels and accessorize with pearl jewelry for a touch of elegance. Consider adding a fascinator or a stylish hat for a glamorous touch. High-tea outfits exude timeless charm and ensure you stand out as a fashion-forward attendee.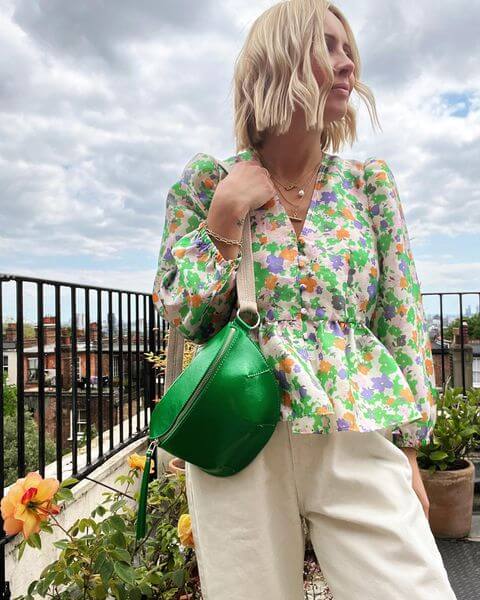 Crazy Tea Party Attires
Unleash your creativity and make a statement with crazy tea party outfits. Embrace bold colors, exaggerated patterns, and whimsical accessories. Mix and match vibrant prints, layer unconventional pieces, and experiment with unique textures. Think oversized hats, mismatched socks, and colorful tights. Let your imagination run wild with unconventional combinations and unexpected details. The goal is to have fun, stand out, and express your individuality in a truly eccentric and memorable way at the tea party.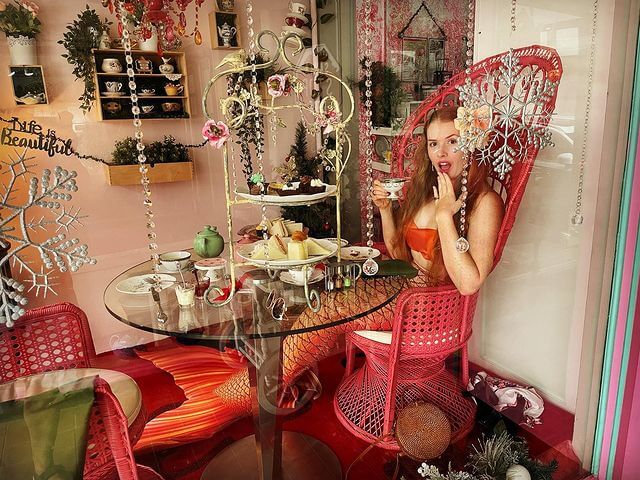 Casual Tea Party Outfit
Achieve effortless elegance with a casual tea party outfit. Opt for a flowy maxi dress in a relaxed silhouette or a breezy midi skirt paired with a simple blouse. Choose soft, pastel colors or playful prints for a laid-back vibe. Complete the look with comfortable sandals or flats. Keep accessories minimal with delicate jewelry or a straw hat. A casual tea party outfit strikes the perfect balance between comfort and style for a relaxed and charming gathering.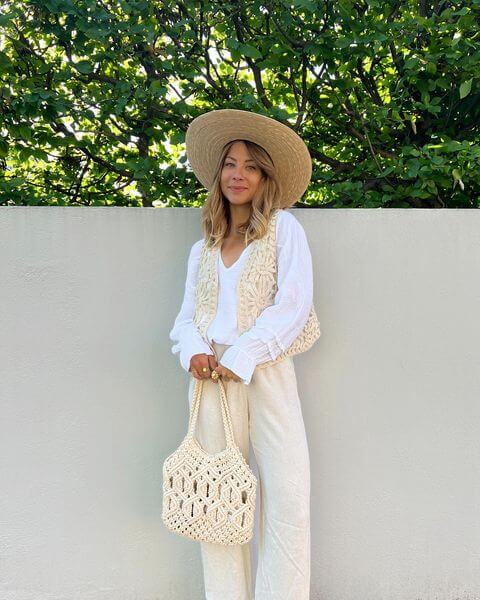 Conclusion
In conclusion, dressing appropriately for a tea party adds an extra touch of charm and sophistication to the overall experience. Whether you're opting for tea party dresses, attire with hats or gloves, or exploring themed color choices, the key is to embrace elegance and showcase your personal style. Remember to consider the occasion, season, and desired level of formality.
To further explore a wide range of tea party outfit ideas, I recommend checking out other articles and visiting Pinterest accounts dedicated to tea party fashion. Let your creativity and fashion sense shine as you curate the perfect ensemble for your next tea party gathering.
FAQ
What Should I Wear to a Tea Party?
When attending a tea party, it's best to opt for elegant and sophisticated attire. A classic choice is a beautiful tea party dress, such as a floral or pastel-colored dress with a feminine silhouette. Find fabulous outfit ideas, from elegant dresses to sophisticated ensembles, to help you dress for the occasion on our website.
How Can I Create a Stylish Tea Party Outfit?
To create a stylish outfit, start by choosing a chic and feminine dress in a flattering silhouette. Opt for delicate details like lace, ruffles, or floral prints. If you prefer separates, pair a skirt or tailored pants with a blouse or a fitted top. Add sophistication with accessories such as a wide-brimmed hat, a statement necklace, and elegant gloves.
What Is Appropriate Attire for a Tea Party?
Appropriate attire for a tea party typically includes elegant and sophisticated outfits. Women often opt for dresses or skirts paired with blouses. Choose feminine designs with delicate patterns or pastel colors.
Can You Provide Some Tea Party Outfit Ideas for Adults?
There are a variety of tea party outfit ideas suitable for adults, including chic dresses, smart separates, and stylish accessories.
Where Can I Find Tea Party Clothes for Females?
Discover a curated collection of tea party attire for females, along with fashion tips and recommendations, by visiting our website and exploring our wide range of options.