Running out of ways to style your long layered hair? Long haircuts are always in style, but sometimes you get bored of simply braiding your hair or pulling it back in a bun or ponytail. There are plenty of easy hairstyles for long hair that just take a few minutes, but will leave you feeling chic and stylish.
Long, layered hair can be quite cumbersome at times. Try these easy quick hairstyles for long hair, and you will find fun and creative ways to style your long layered hair. We have compiled a list of our favorite easy hairstyles for long hair that are simple, sleek and stylish.
Braided Cute Hairstyles for Long, Layered Hair
1. Simple Braid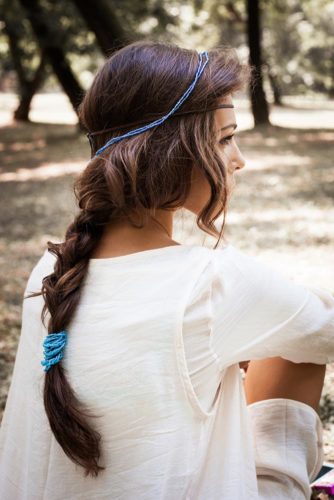 To have gorgeous, thick long hair, check out how to make your hair grow faster. And when you do have such hair, a braid is a great way to style it. Start off with a classic, simple braid and weave in some ribbons or add a flower clip. This takes the classic braid to a whole new style of elegance. Simple braids are fun and easy and perfect for those hot summer days. Twist the braid in a simple bun and pin it up with a cute, decorative clip. Braids are a classy look for any occasion and one of the most popular easy hairstyles for long hair.


2. French Braid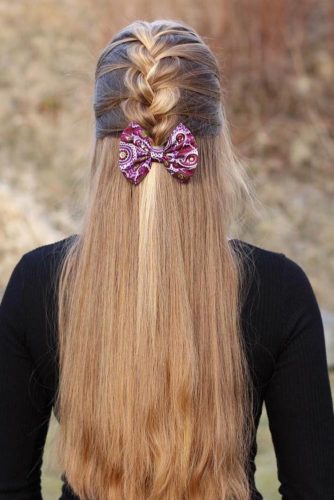 French braids are an elegant, timeless style for those with long haircuts. It's much easier to French braid your hair than you would think. Simply watch one of the many tutorial videos you can easily find online. Again, to add some flair, you can weave a ribbon (or ribbons) into your braid, add some fun accessories or come up with a creative variation such as the reverse French braid.


3. Fishtail Braid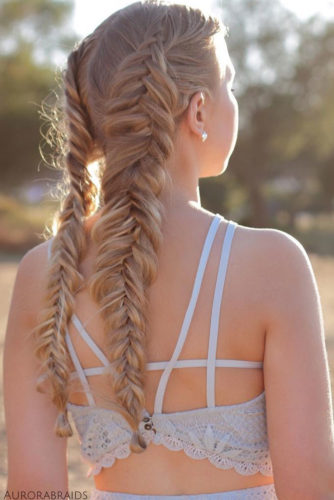 You might think a fishtail braid is complicated, but it is really quite simple. It is also one of the best braids for those with really long hair. Simply divide your hair into two sections, then take a thin strand of hair from the outer section to the inner section and pull it over the first part, then add to the other side of the second section. Repeat this process, alternating sides and watch as the fishtail braid starts to form. Word of advice: if you want a more intricate braid, use thinner strands. The good thing about this style is that it looks great neat or messy!


4. Waterfall Braid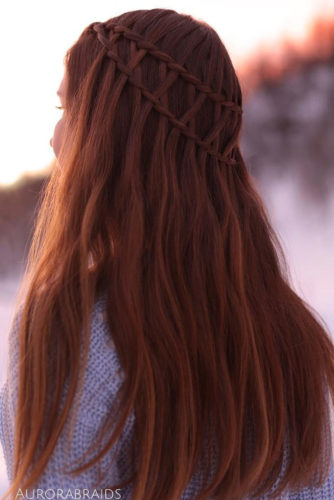 The waterfall braid is essentially a loose French braid that twists around the back of your head. This braid is also much easier than it seems, it just takes a bit of practice. Again, there are plenty of video tutorials available online. Once you are finished, make sure to spray it with a little hairspray to hold it in place. You can add some flair with a cute flower clip or any other fun hair accessory to add some style!


5. Boho Braid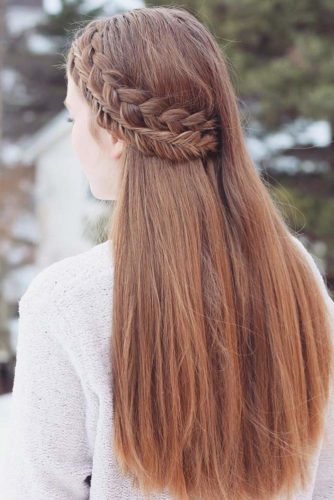 The boho braid is stylish, creative and fun. Simply take a small section from your temple, make a neat braid and flip it over and secure it with a bobby pin. You can make as many braids as you want or braid three smaller braids into one large braid. Then add a flower or hippie headband for that Boho Chic flair!


Fun and Easy Hairstyles for Long Hair
1. Knotted Ponytail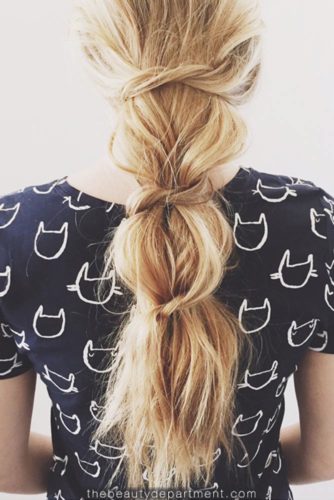 Having a bad hair day? A knotted ponytail can save the day with style and flair! Start by applying a light hold mousse, and then separate your hair into two even sections. Take the back section forward and then down. Tie the ends together into simple knot and use clear elastic to secure the ends together. Slide the ends up and underneath the knot and there, a simple and cute ponytail and you're on your way!


2. Perky Side Pony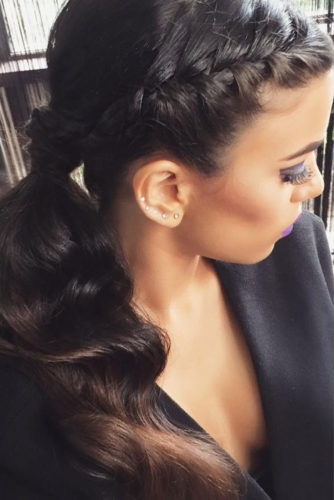 Side ponytails were all the rage in the 80's and they are making a huge comeback! Simply sweep your hair into a side pony, secure it with elastic, then tease the top to get it to "pouf." Spritz it with a little spray and there you go! A cute and stylish ponytail that, in my opinion, should never go out of style!


3. Flirty Ponytail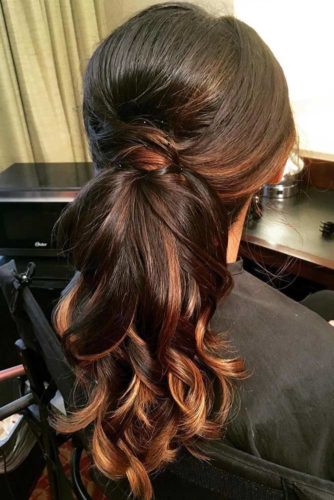 Going out on a hot date or fun nights out with the girls, but running short of time? You need a flirty yet easy hairstyle for long hair. The flirty ponytail is a sexy and easy fix! Simply take a teasing comb to the roots around your crown to give your hair a lift before pulling it back into a ponytail. Then comb it gently with a paddle brush and fluff up the ponytail itself for some added volume! There you go, simple yet seductive!


Curly Easy Styles for Long Hair
1. Finger Waves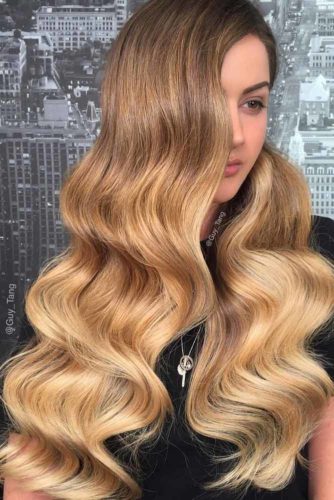 If you love the vintage look, you will love this fun and easy hairstyles for long hair. There are plenty of simple tutorial videos online. You can style your hair anyway you like once you have mastered the art of the finger wave. Pull it up with loose, wavy tendrils softly framing your face. This 1920's look is timeless and elegant and you'll feel sexy and sophisticated sporting these sexy curls.


2. Voluminous Curls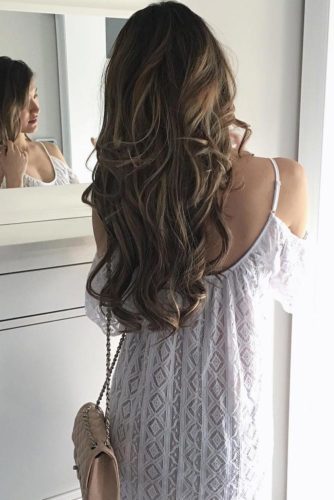 To achieve these gorgeous curls, all you need is some flexi rods and a paddle brush. Divide your hair down the middle and start with the back sections first. Twist each section around the rod, from top to bottom. Twist and secure. Tie your head with a silk scarf and leave it overnight.
In the morning, gently remove the rods, run your fingers through your curls until you have the desired effect. Remember, if you want looser curls, use bigger rods and smaller rods for tighter curls.


3. Sock Bun Curls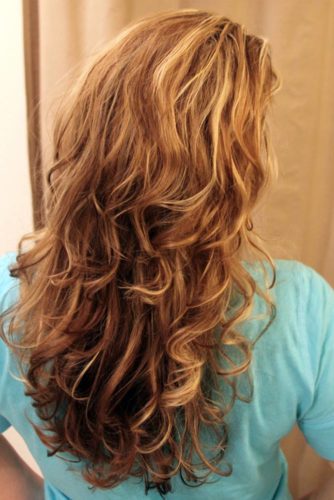 These curls are simple and easy! The only thing you need is a bunch of clean socks! Simply dampen your hair, and wrap small sections around each sock and tie it with a knot. When you wake up in the morning you will have perfect curls without heat or hassle!


Easy Hairstyles for Long Hair: Video Ideas
Source:
Glaminati.com