Ireland Baldwin, Kelly Osbourne, Nicole Richie and other Hollywood celebrities struck their followers in Instagram with selfie of them with purple hair. Unusual color looked so extravagant that ordinary girls following the stars began to experiment with their hair. Until now, purple strands are among the main trends of hairdressing. We offer you to enter the new season with purple hair!
Dark Purple Hair Color: Photos of Girls with Purple Hair
If you decide to change the hair color and make it so bright and eye-catching, the first thing to do is to look photos on the Internet and to read reviews. Your type should coincide with the type of girls in photos. Due to photos you'll see whether such color fits you.
With high-quality dyeing you can achieve different shades, from dusty pink to blue-black. The trend of the autumn/winter season 2017 is ashy lavender color. It looks impressive no matter short or long hair you have. Well, if you are not internally ready for such radical changes, try highlighting. Thin bright strands will make the image stylish and extraordinary.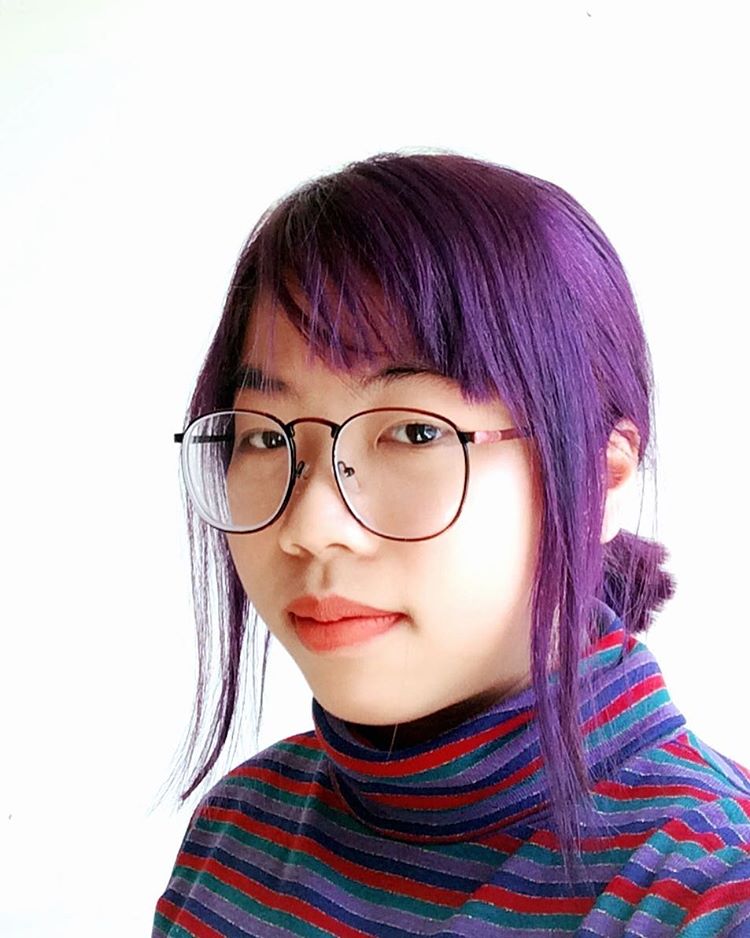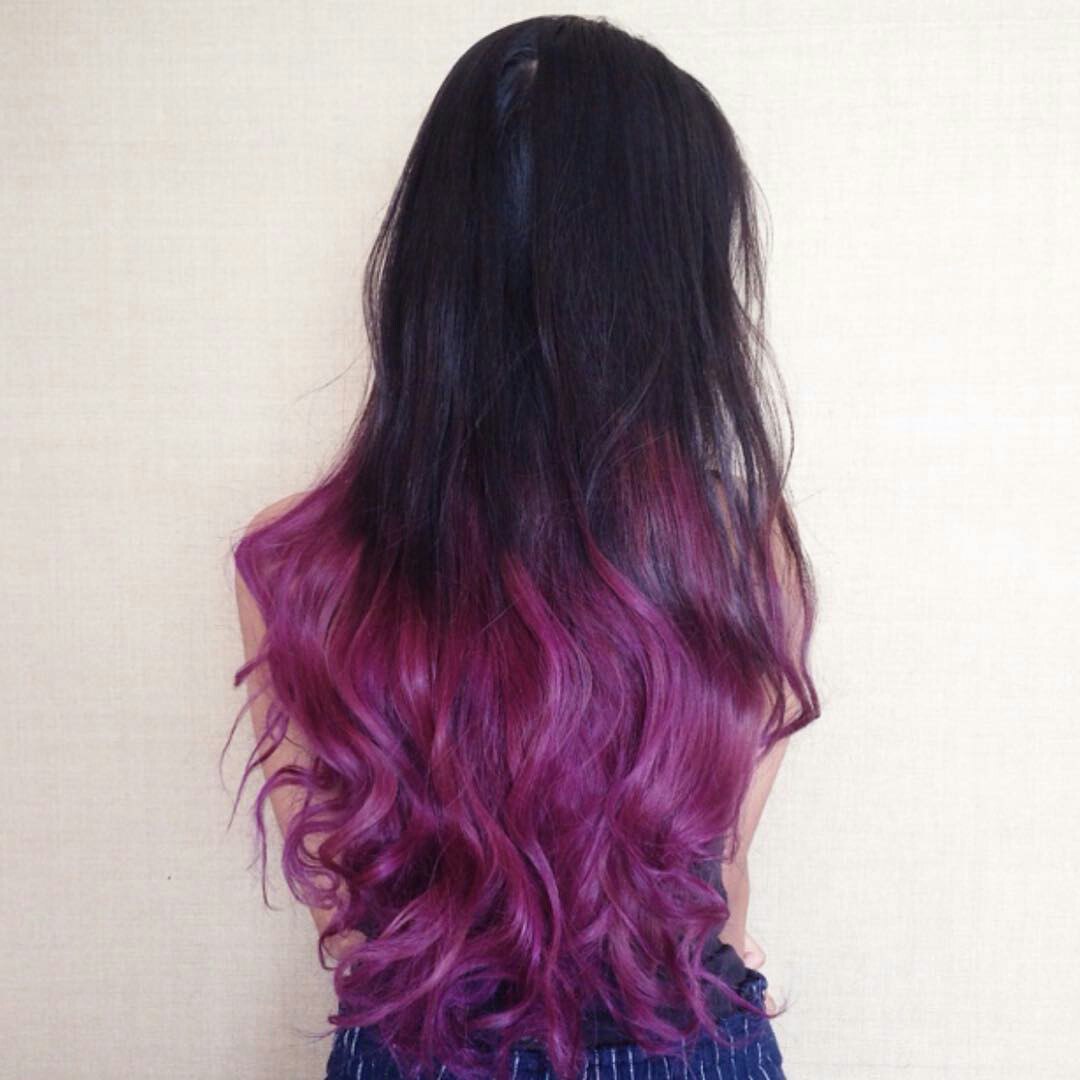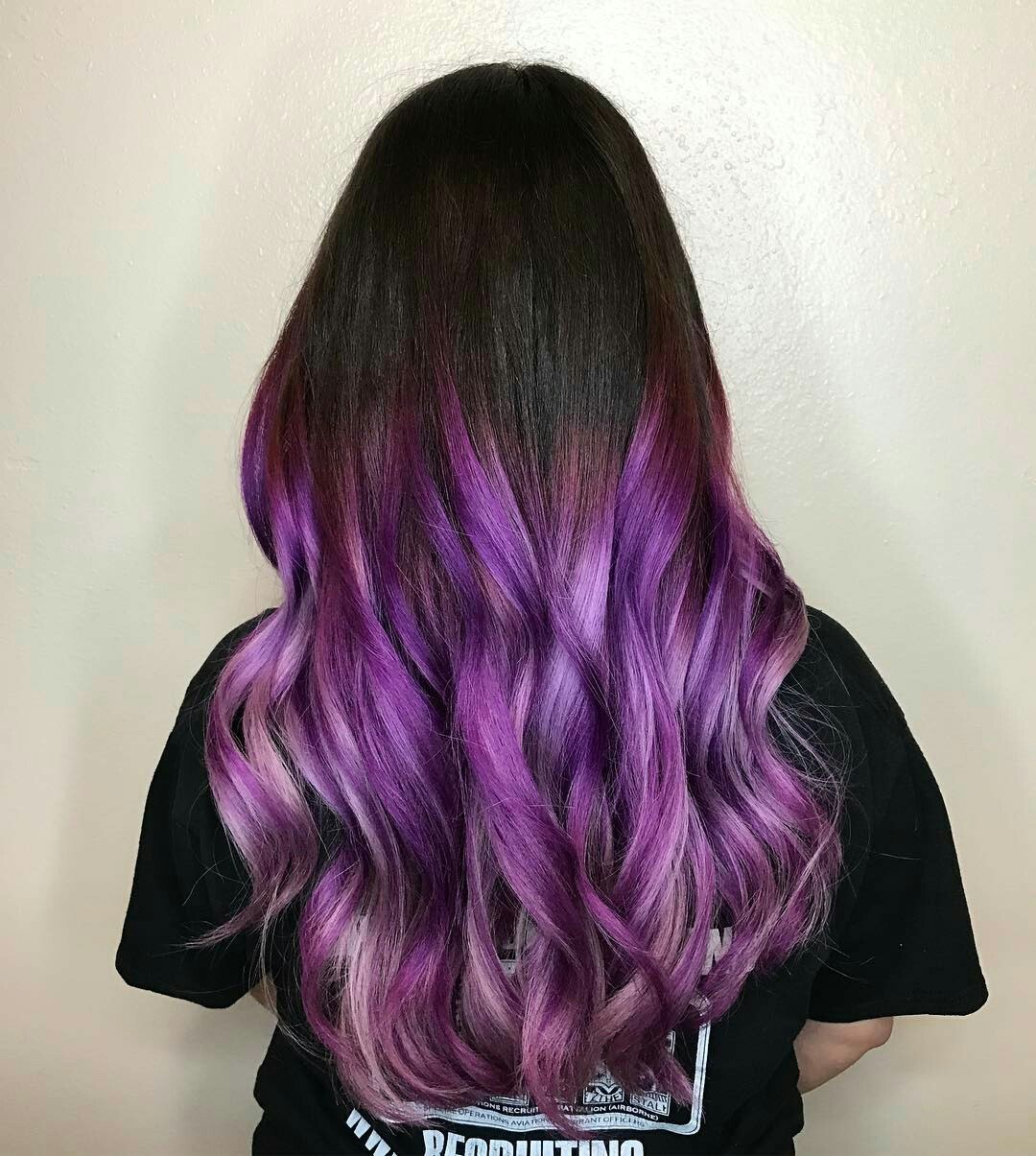 Short Purple Hair
This year the blunt bob haircut is at the peak of popularity. And if you paint short strands in purple, they will look fashionable and trendy. Such experiments are not suitable for women occupying the senior positions or working in office with a business dress code. But representatives of creative professions, students or freelancers can easily change the hair color.
A girl with short hair of dark purple color can emphasize the image with a leather black jacket, a black turtleneck, torn jeans and boots with laces and a thick heel. Stylish accessories, such as round glasses, urban backpacks and chokers, can complement the trendy look. For inspiration, look at photos of anime girls with purple eyes and purple hair: mysterious chans and their haircut will strike you with cosmic images!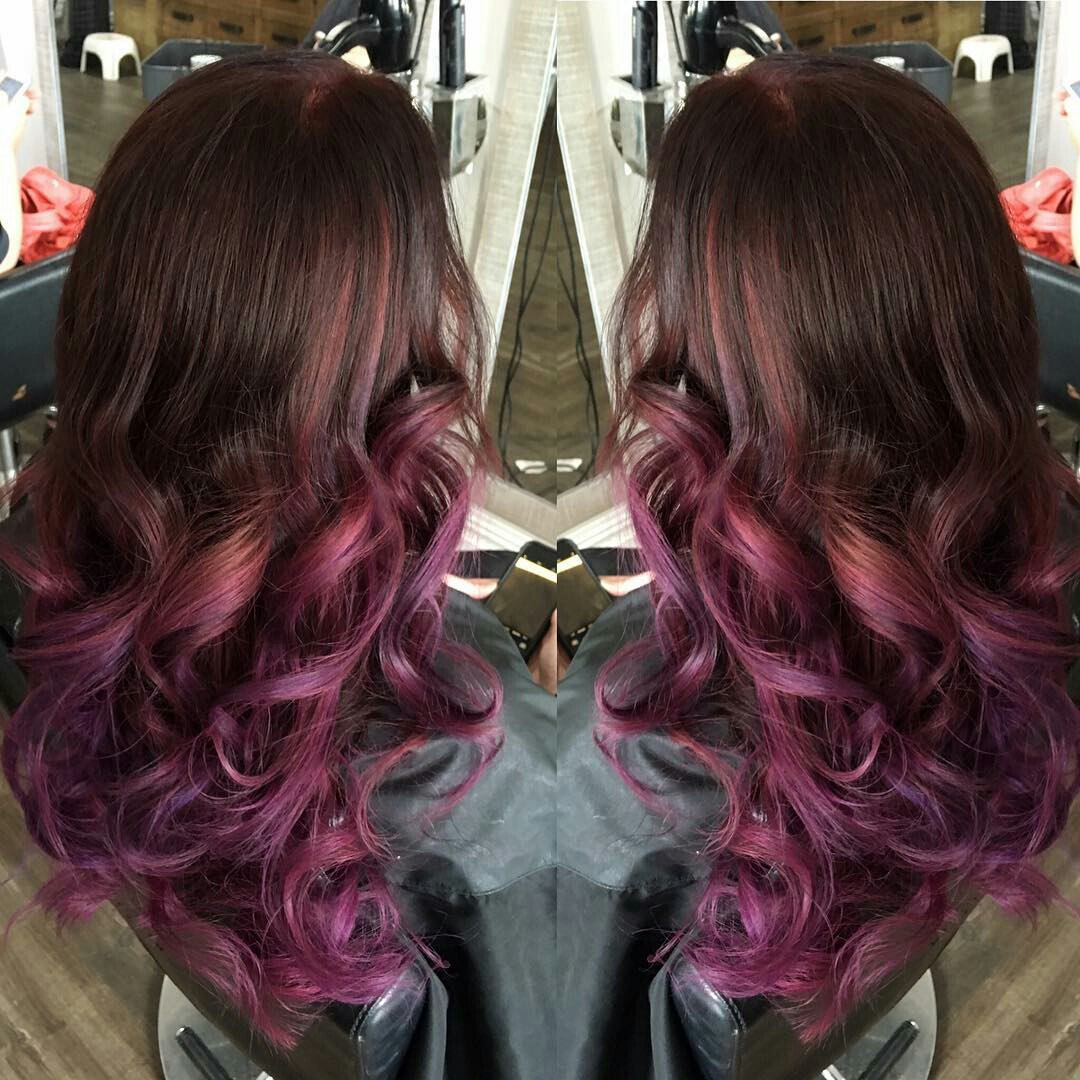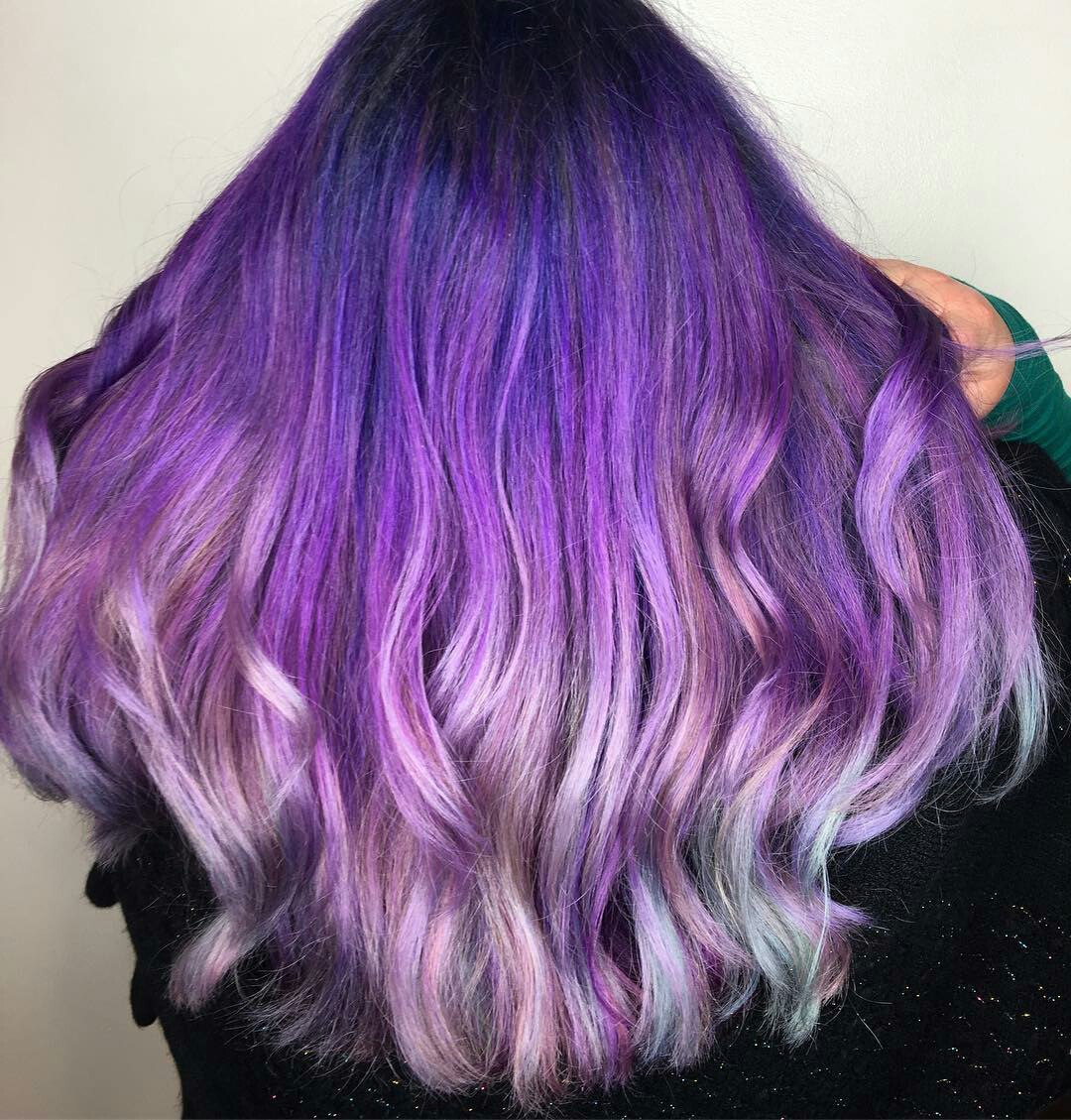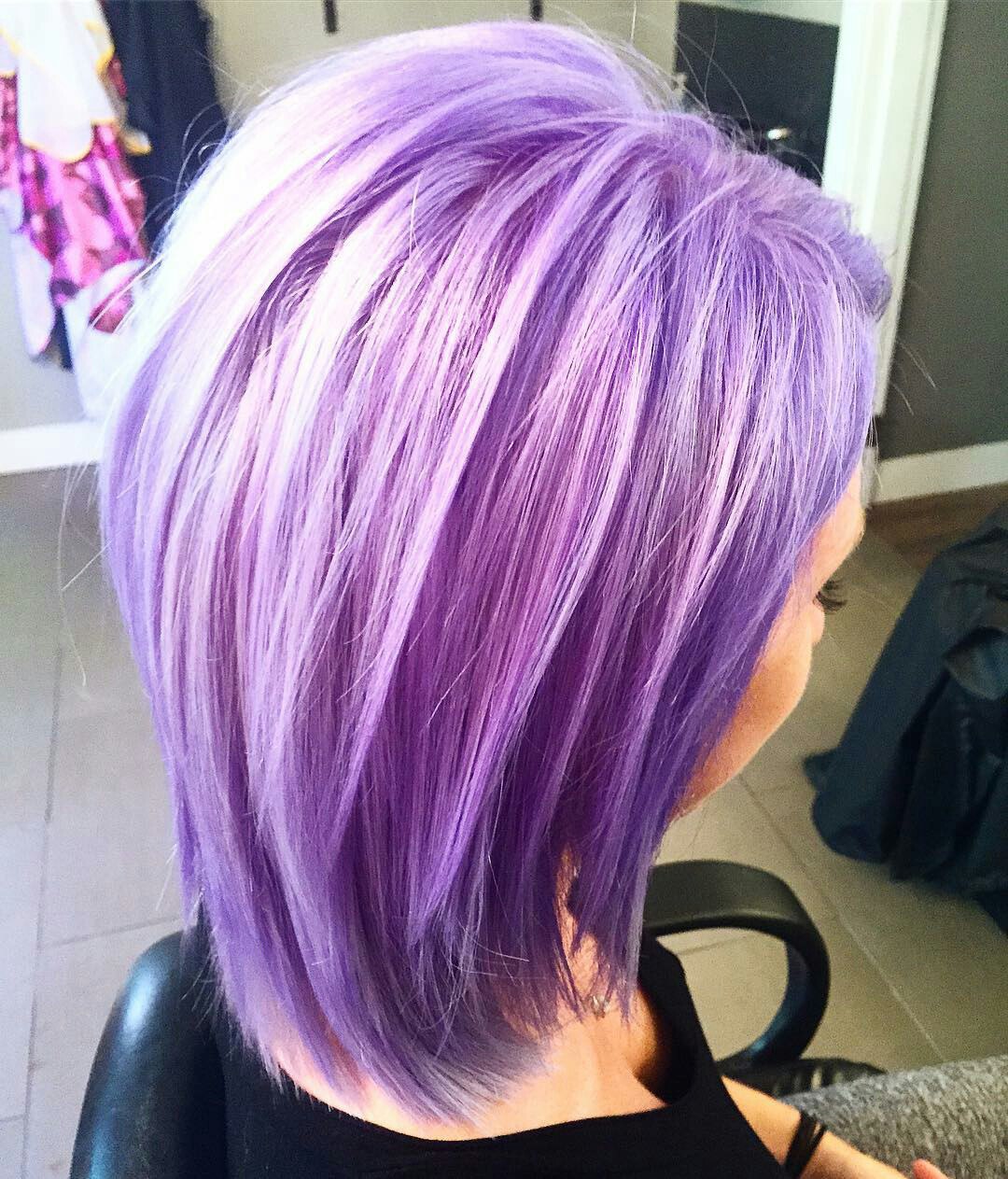 Light Purple Hair
Purple hair with black shimmer looks luxurious with long curls. Dark curls will not look too provocative, on the contrary, they'll give the image some romance. Beautiful long curls can be done in a beauty salon or at home with wavers or a curling iron. A girl with curls can emphasize the romantic image with a dress of the baby-doll silhouette, neat pumps and a small handbag.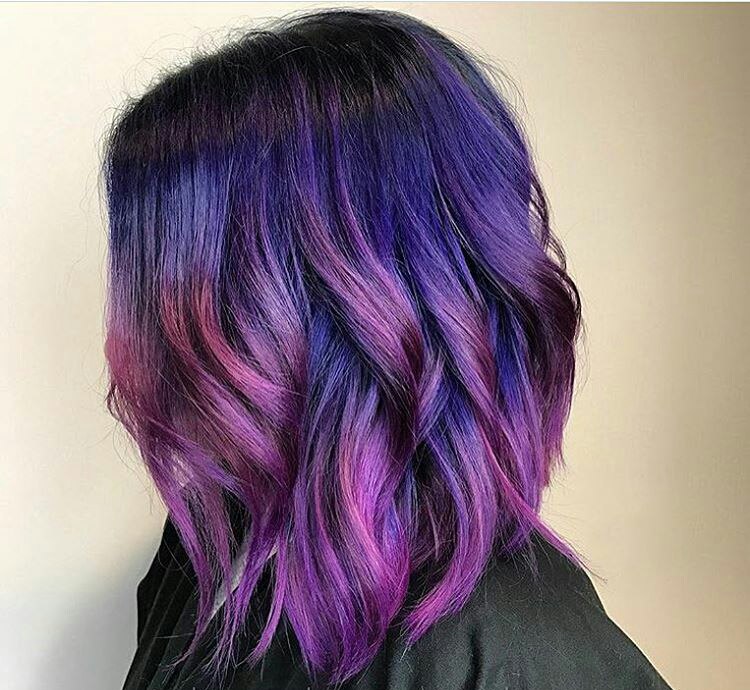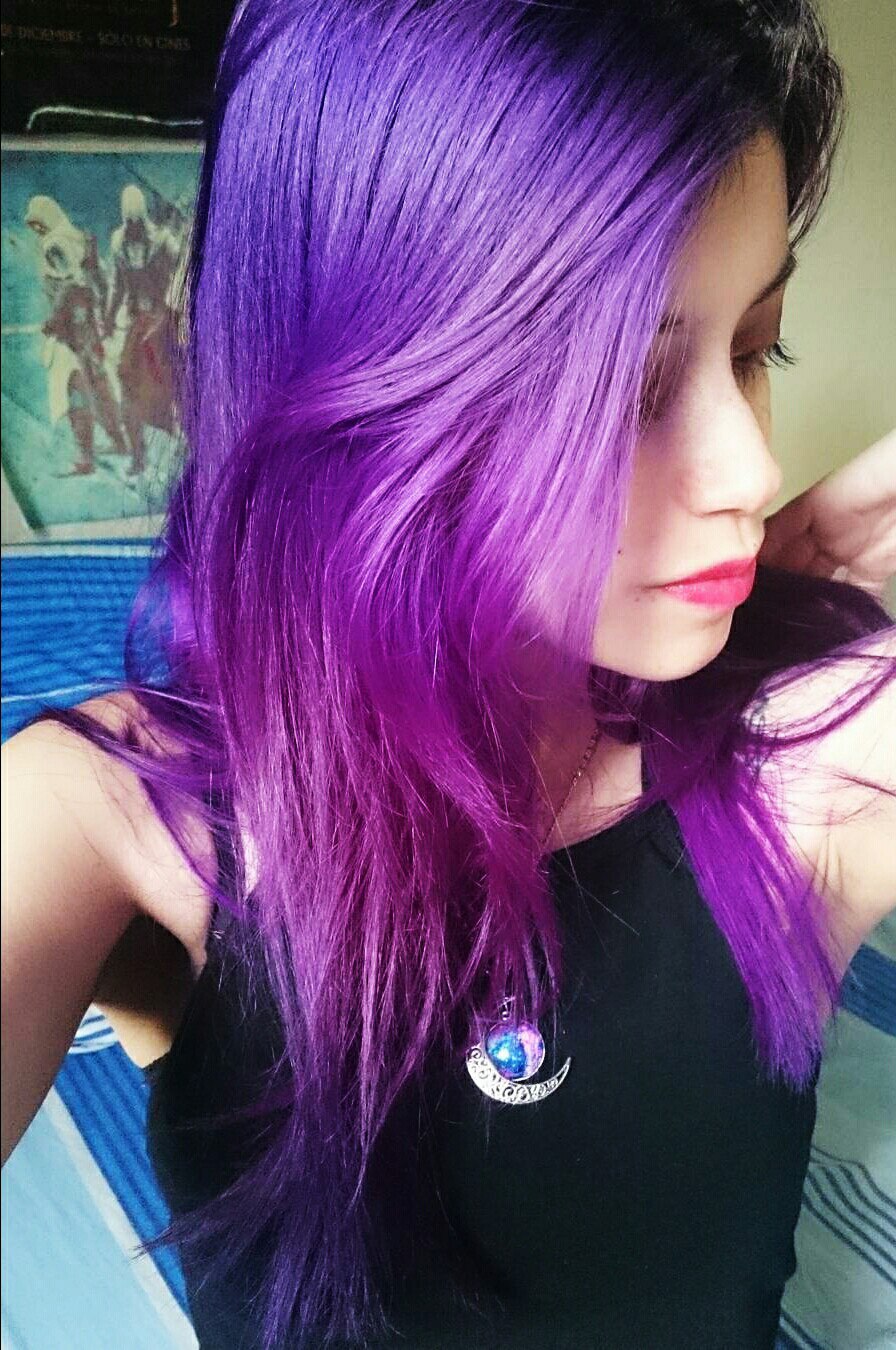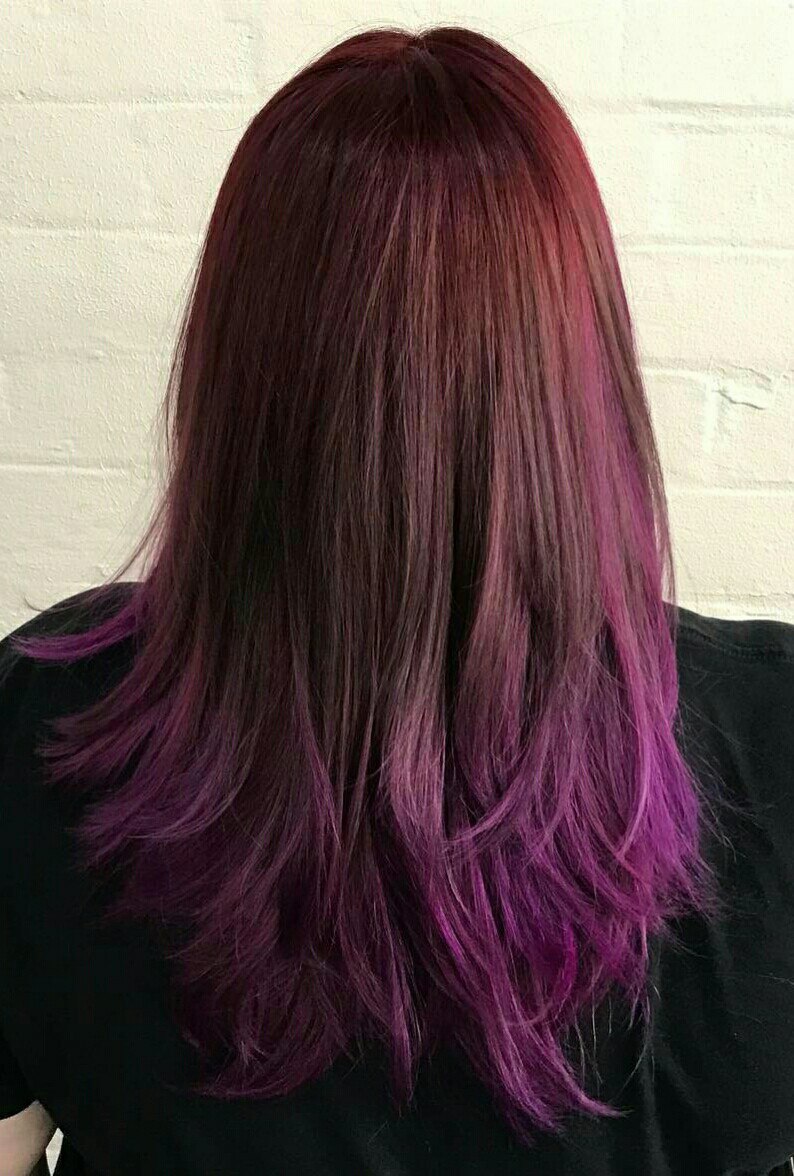 Beautiful Purple Ombre Hair
A girl with purple hair in a beautiful dress is a popular Japanese anime character. Men lose their minds because of their unearthly beauty. Incidentally, this hairstyle is often met in modern porn.
But in ordinary life it's not necessary to paint the hair in bright colors, as it's enough just to to gentle Ombre. Pink or purple tips look beautiful in light strands. A brunette can have dark purple or blue-black tips. A red-haired woman has to lighten her strands before changing the color.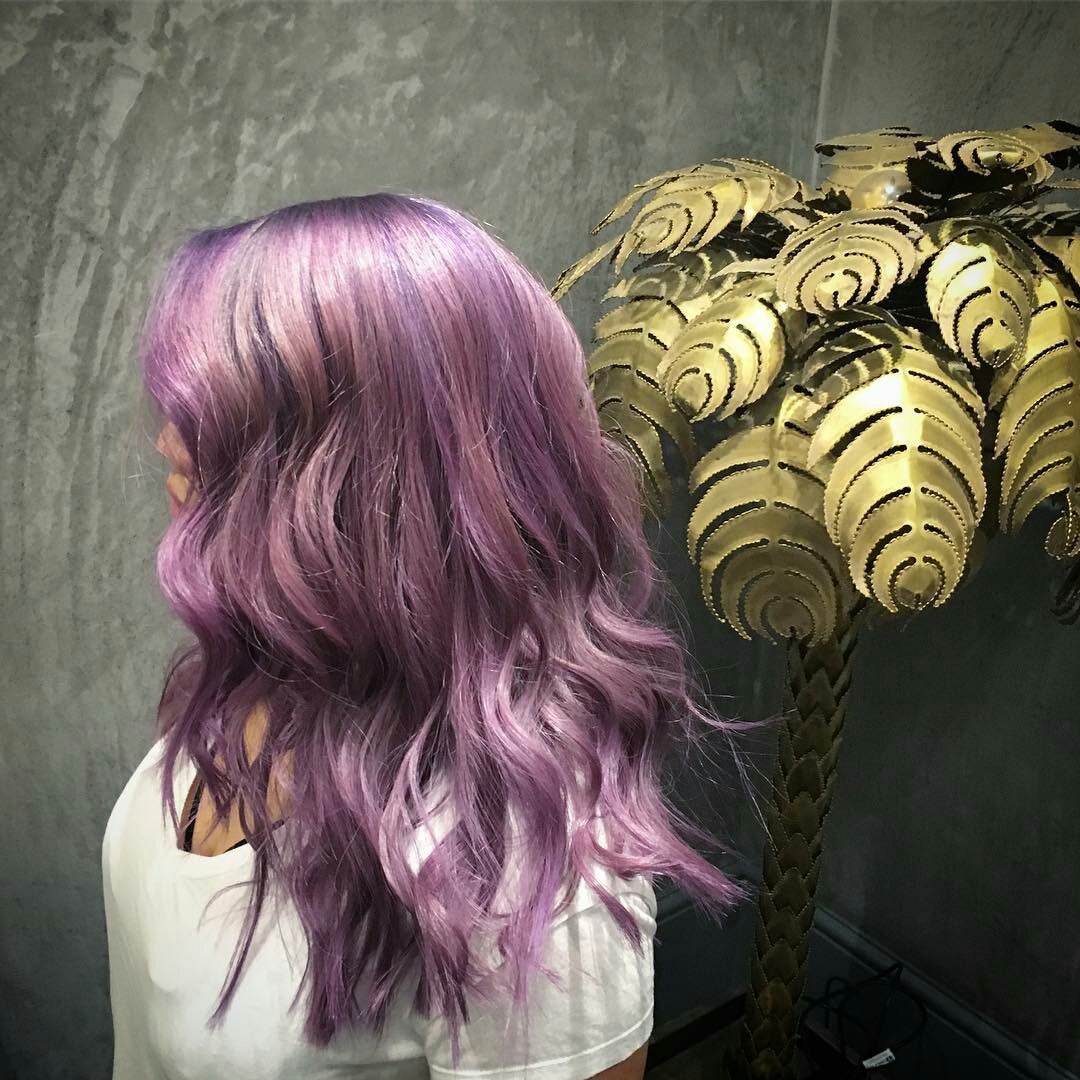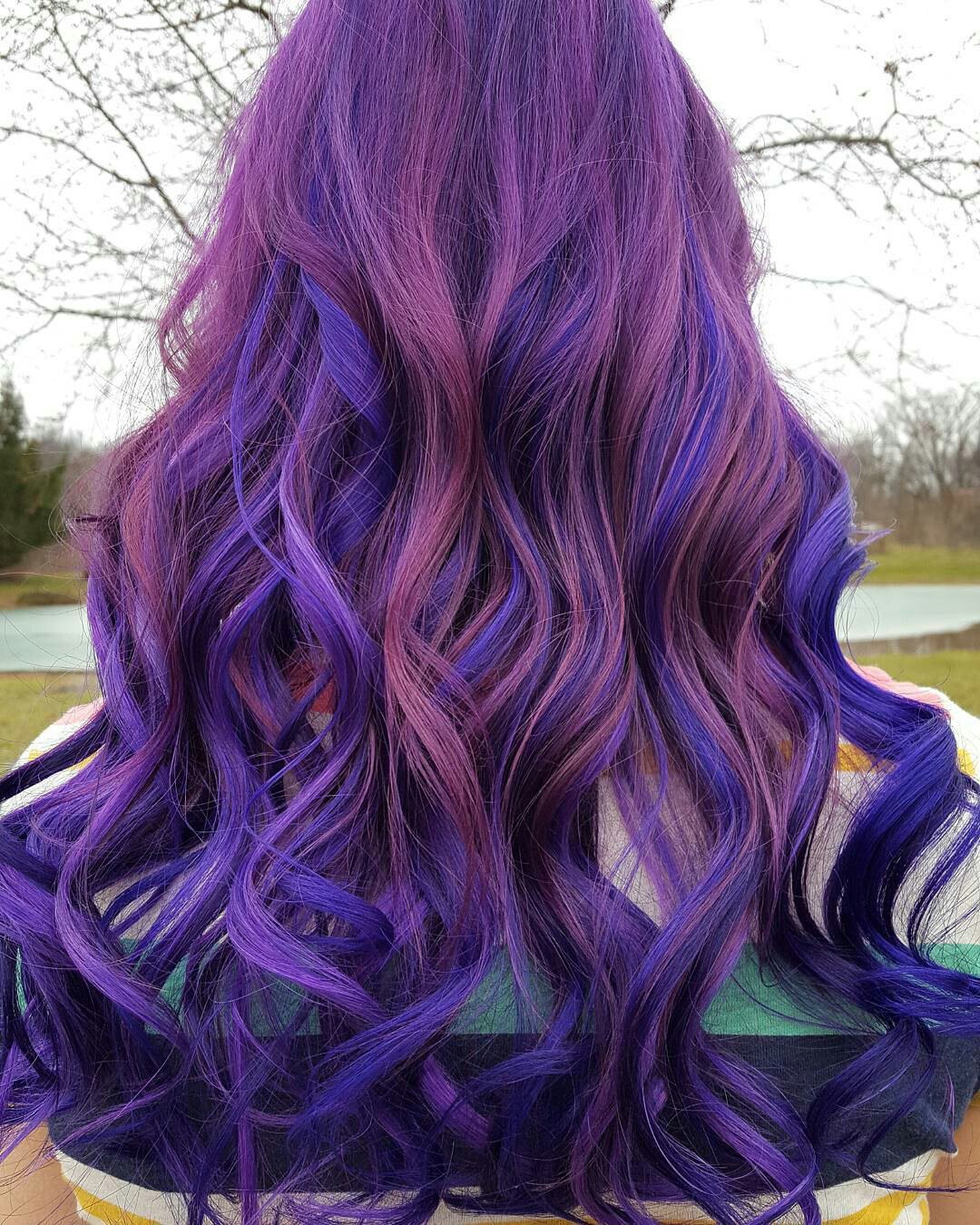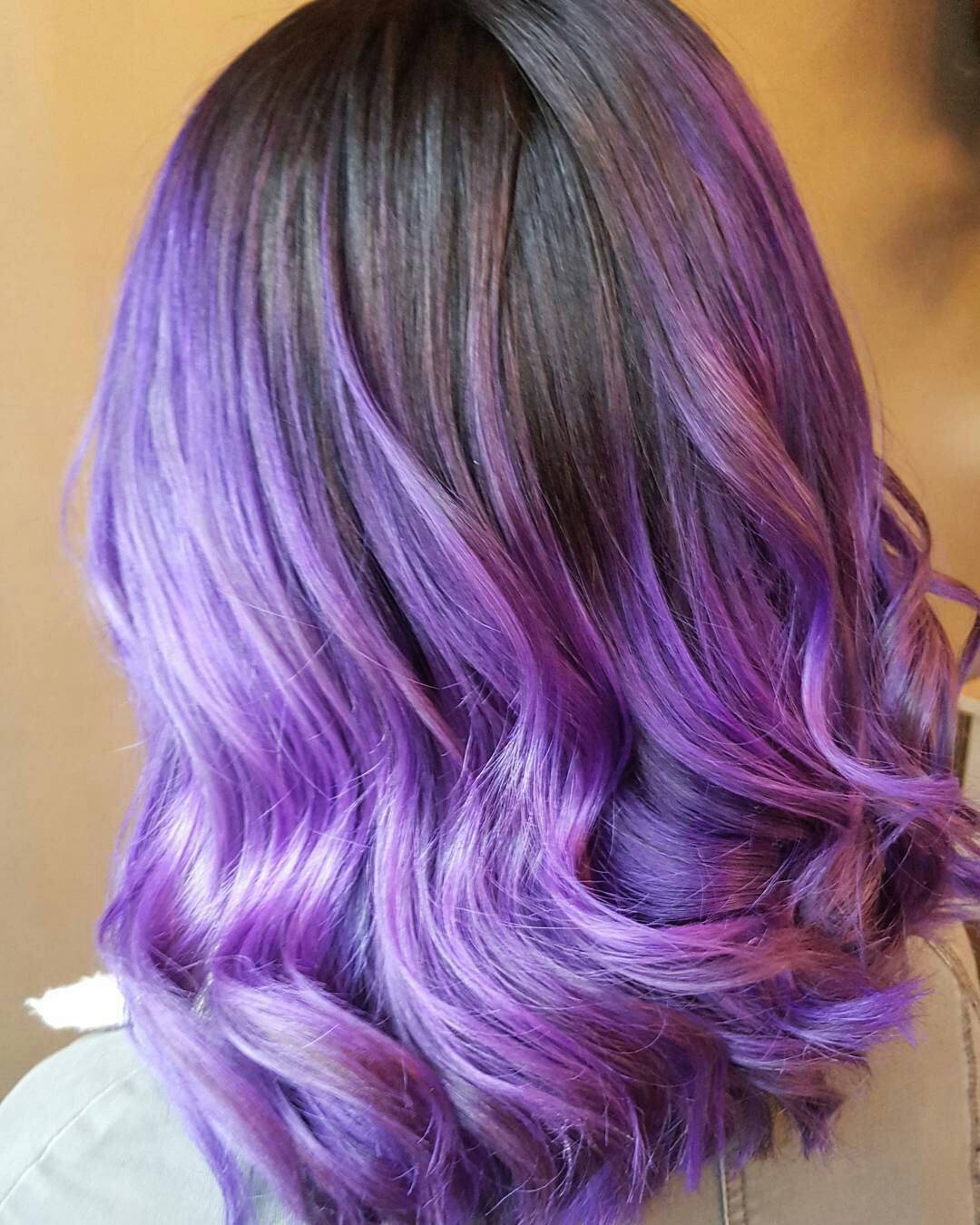 How to Dye Your Hair Purple at Home?
Buy the most gentle paint with nutrients, as the hair must remain shiny and healthy after dyeing.
First, the paint is applied on one strand and held for a period mentioned on the insert. So you will understand what color will occur, as a result.
If you are satisfied with the color, start complete dyeing, moving from bottom to top. Take into account that on white curls the paint will be brighter.
Wash your hair only with cold water, because hot water can turn your dark curls into light aubergine purple hair. Wash the hair again with shampoo to remove the paint from the head. Remains of color on the skin can be hidden with a concealer.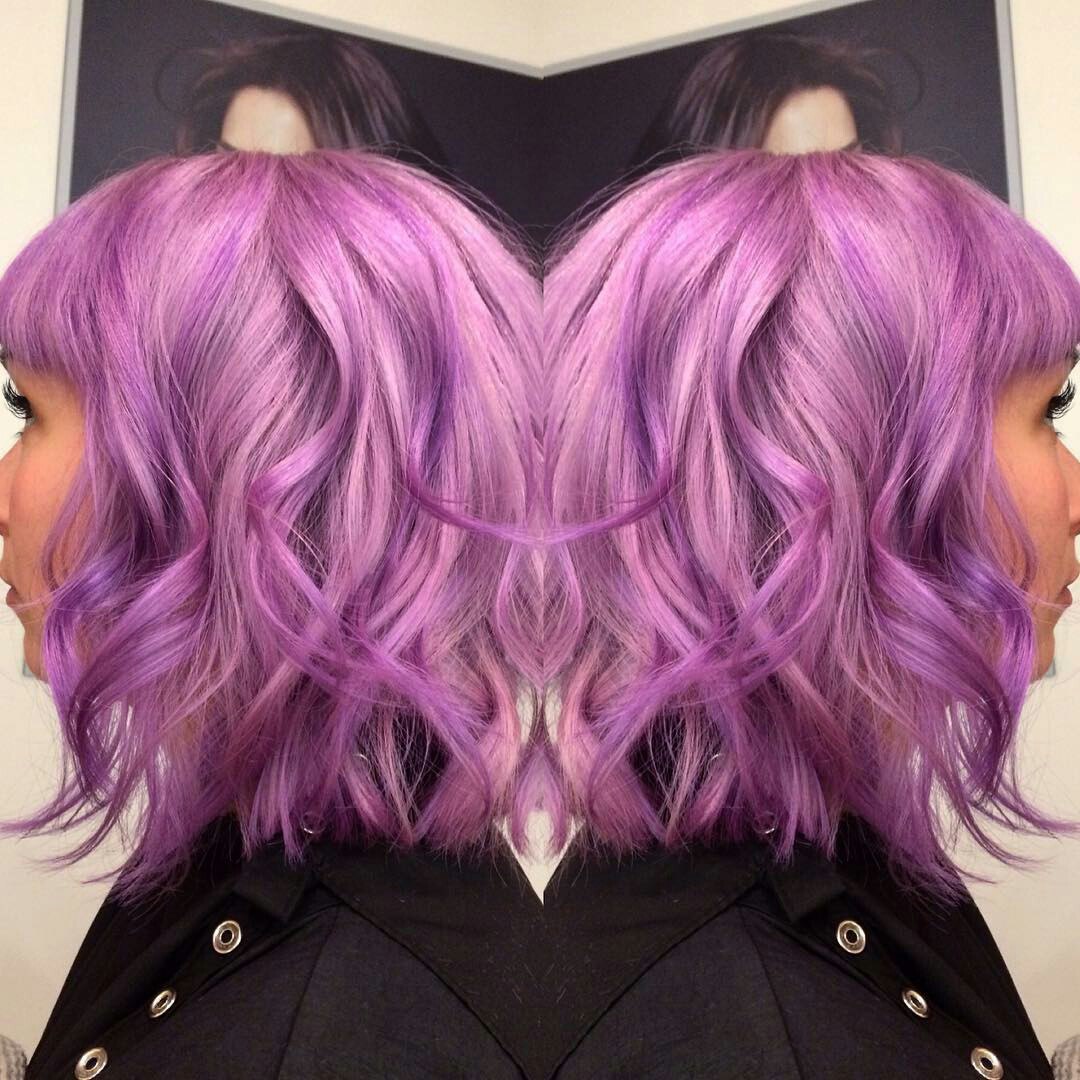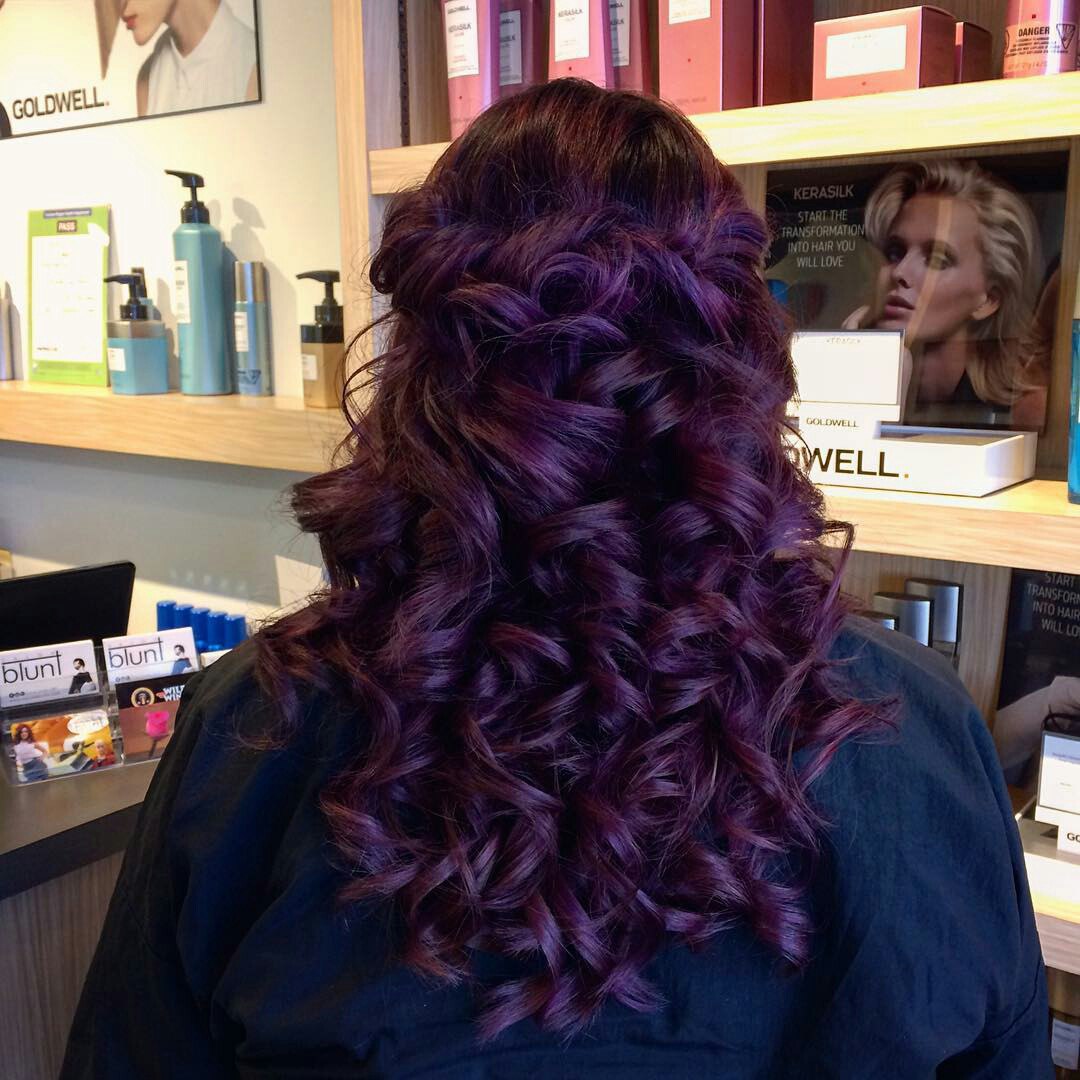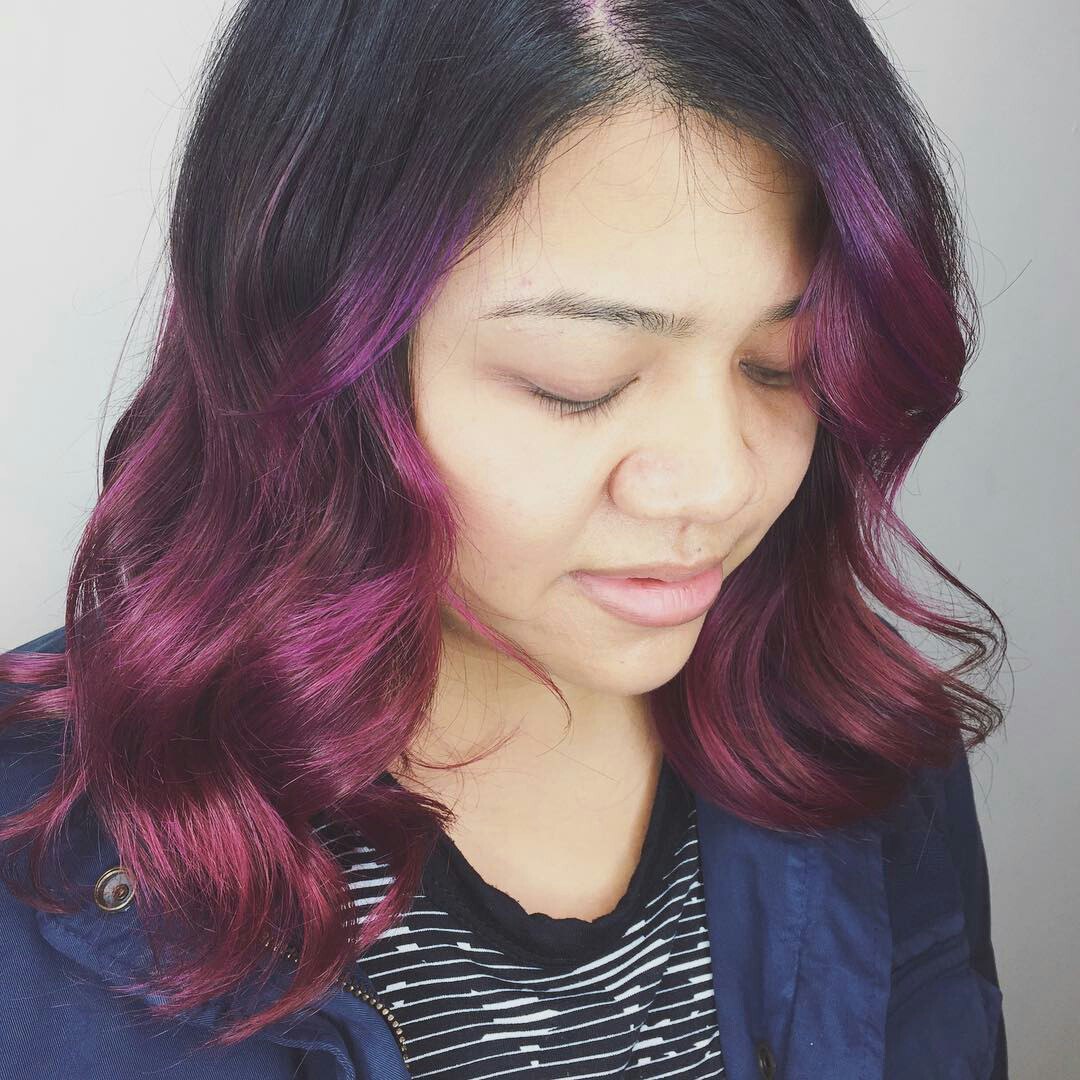 Purple Hair Dye: What to Choose?
For looking stylish it is important to choose the right paint color, starting from the raw data:
A woman with blonde curls and fair skin should not choose too deep colors that will make her face pale. It is better to dye the hair in purple or gray-pink.
Brunettes can play with a few shades and make colorful strands. In combination great red, blue and purple looks amazing. A girl with brown black curls should definitely try such coloring.
Fair hair will decorate purple locks, and darker shades of purple paint will complement black shades.
And most importantly, the dye should be of high quality and include as many useful components as possible not to turn the natural image into an artificial one.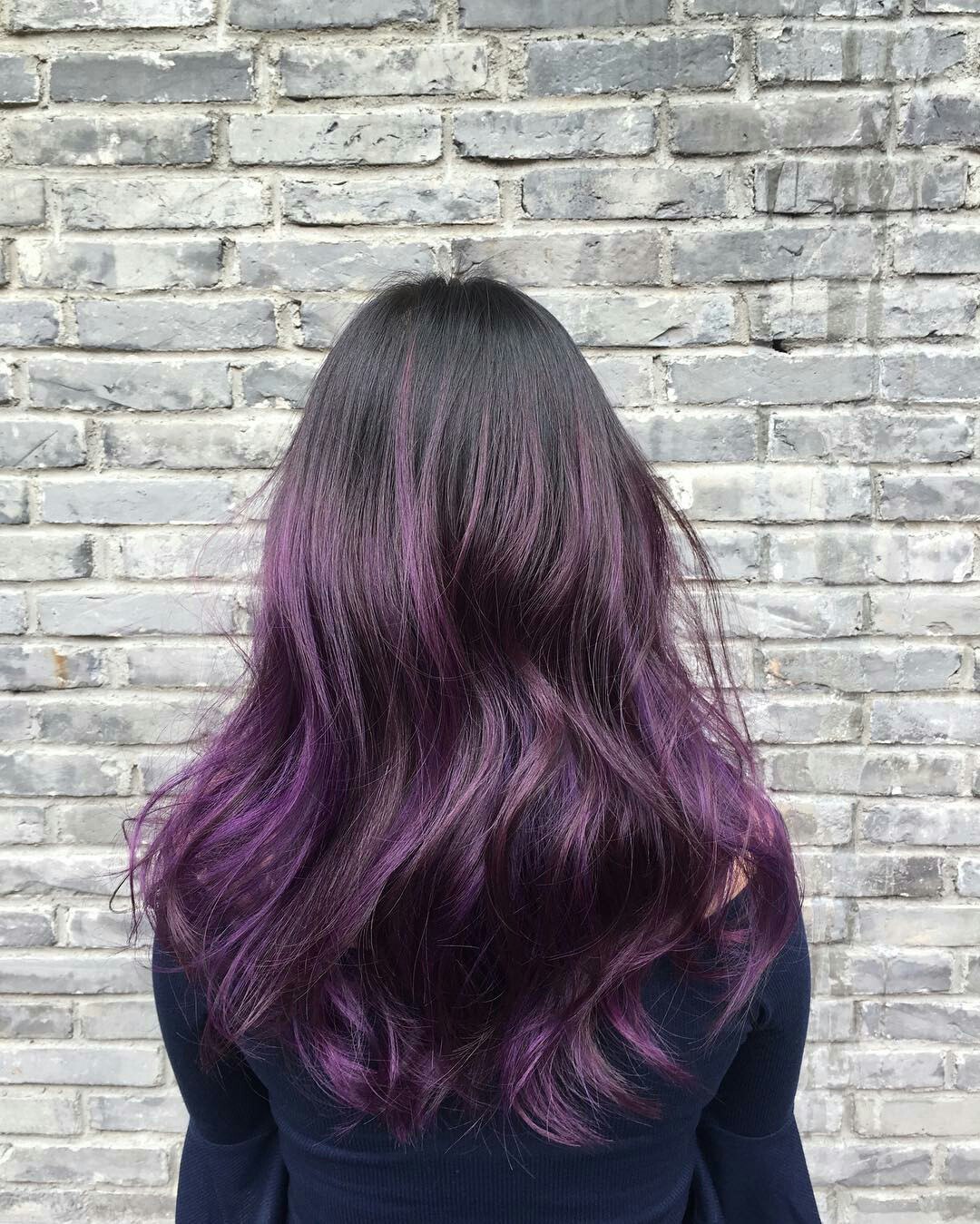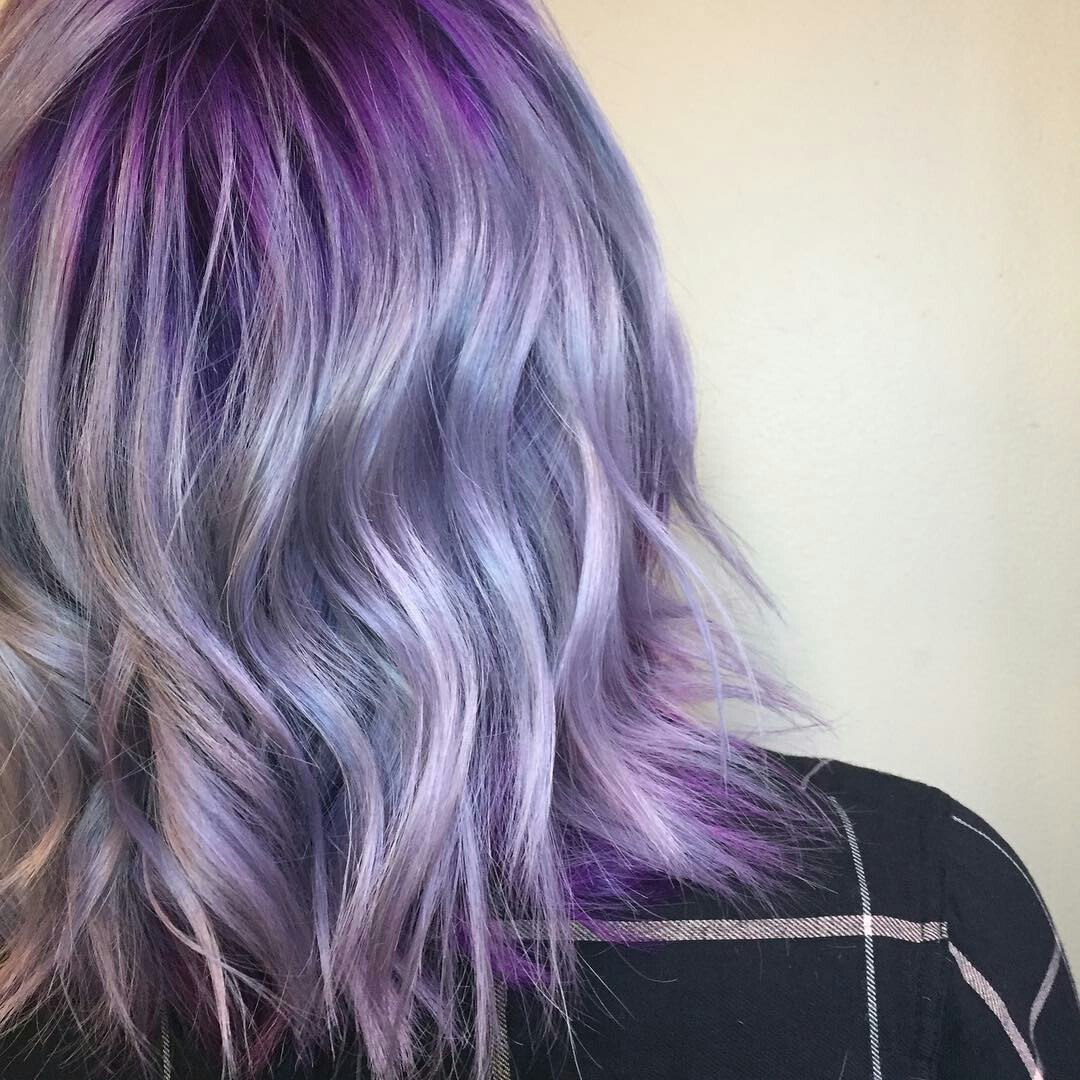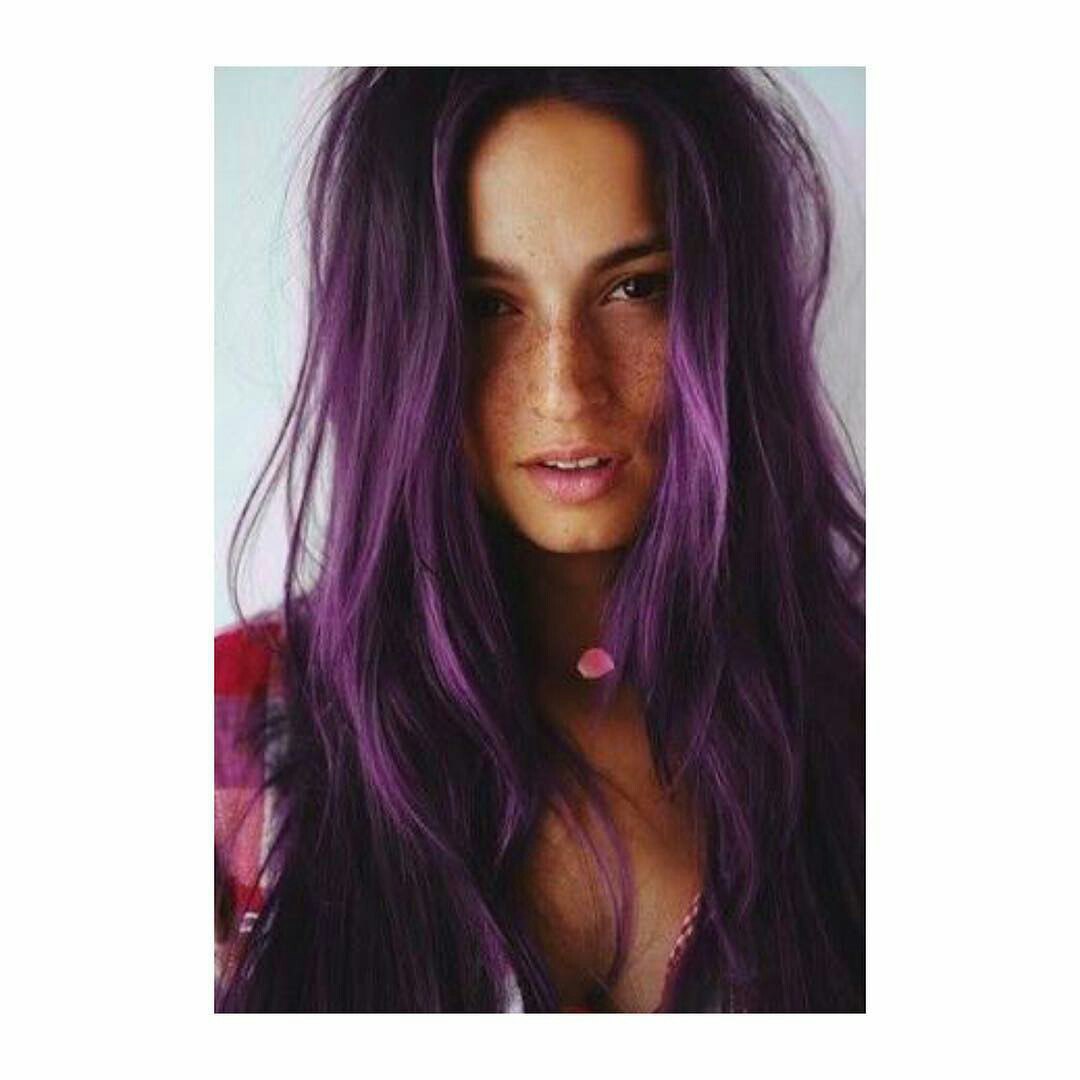 How to Choose Best Purple Hair Dye: Tonic?
If a girl has decided to dye her hair at home, a tonic can help. With it you'll get the desired color that is easy to wash off with shampoo if necessary quickly and easily. Any girl can experiment with tonic and become a heroine of the anime.
When choosing a product pay attention to its structure and the detailed instruction. The more nutrients a tonic contains, the less stress your hair feels.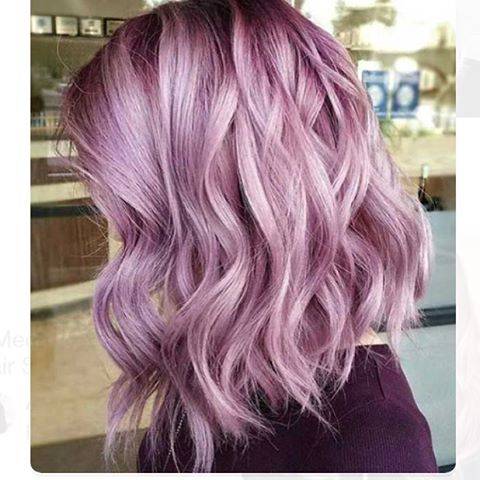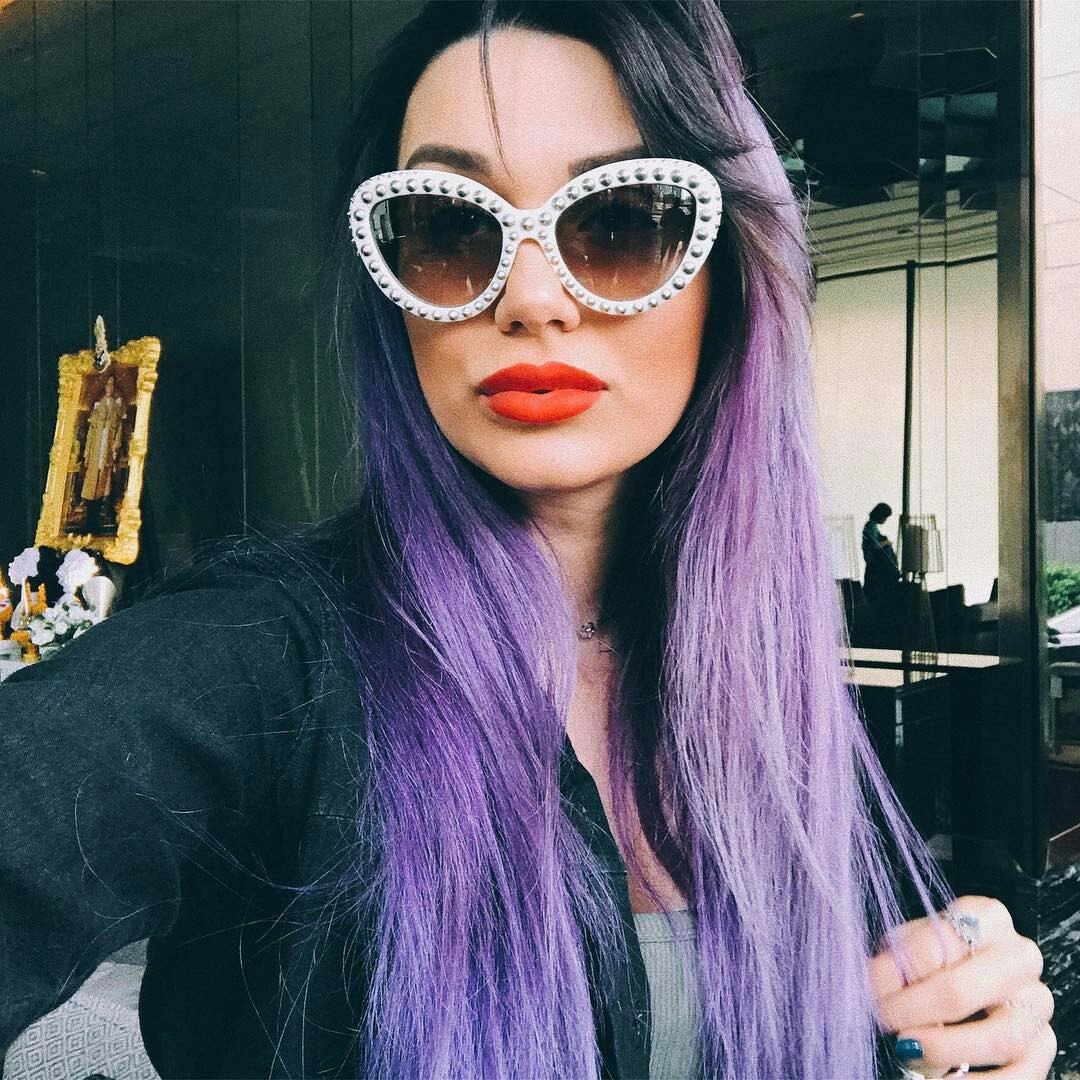 Hair Dyeing in Purple at Home:
You will need:
Dye or tonic;
Brush;
Disposable gloves;
Plastic bowl.
For convenience, make 4 identical tails.
Apply fat cream on temples and the forehead not to let the dye stain skin.
Start the coloring process from the nape.
After the time indicated on the package, wash off the paint.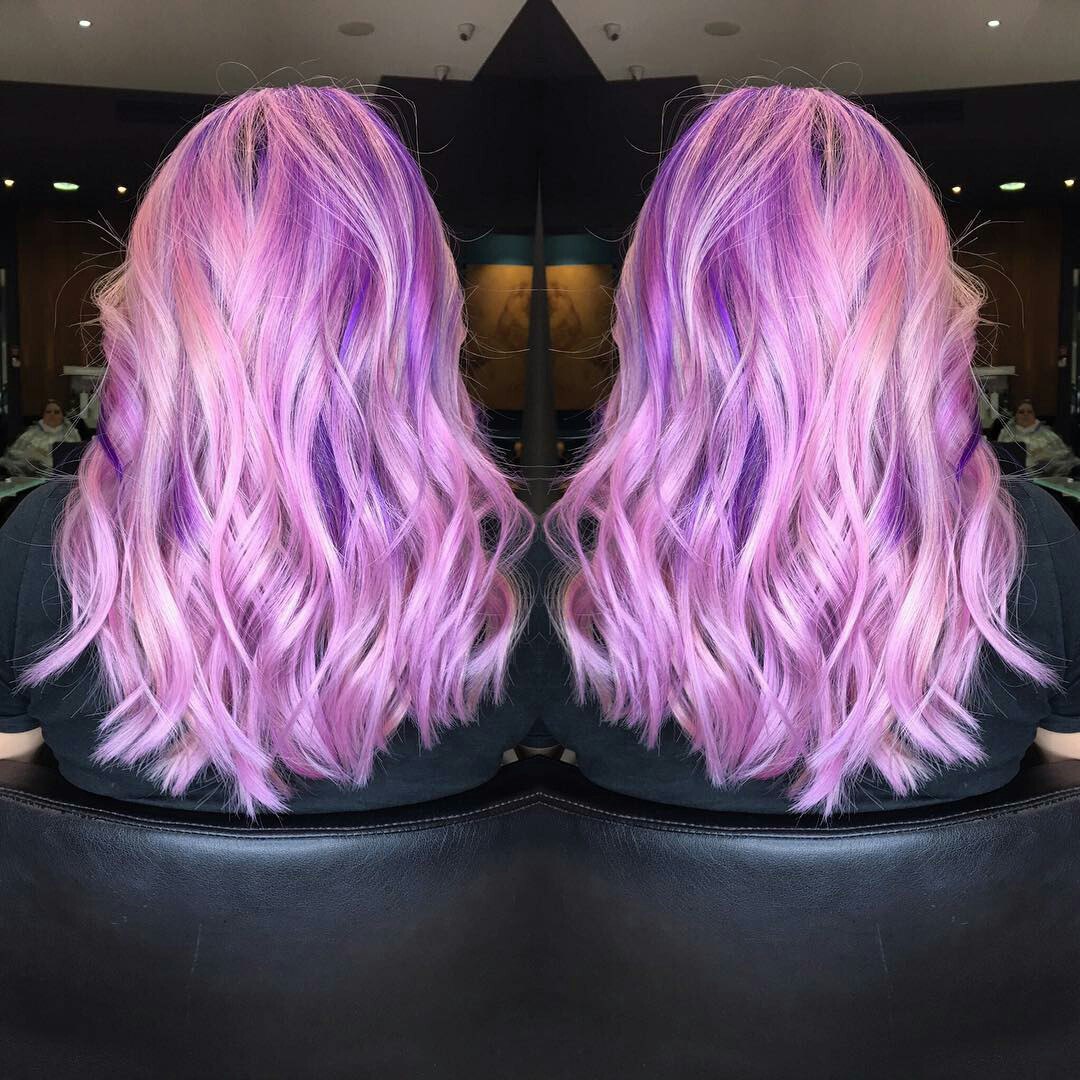 How to Make Purple Ends: Purple Hair Ideas
Take a few tails.
Apply a toner or dye on the tips, selecting the desired shade.
Wrap the ends with foil.
After a while, wash off the dye with water and wash the whole head with shampoo.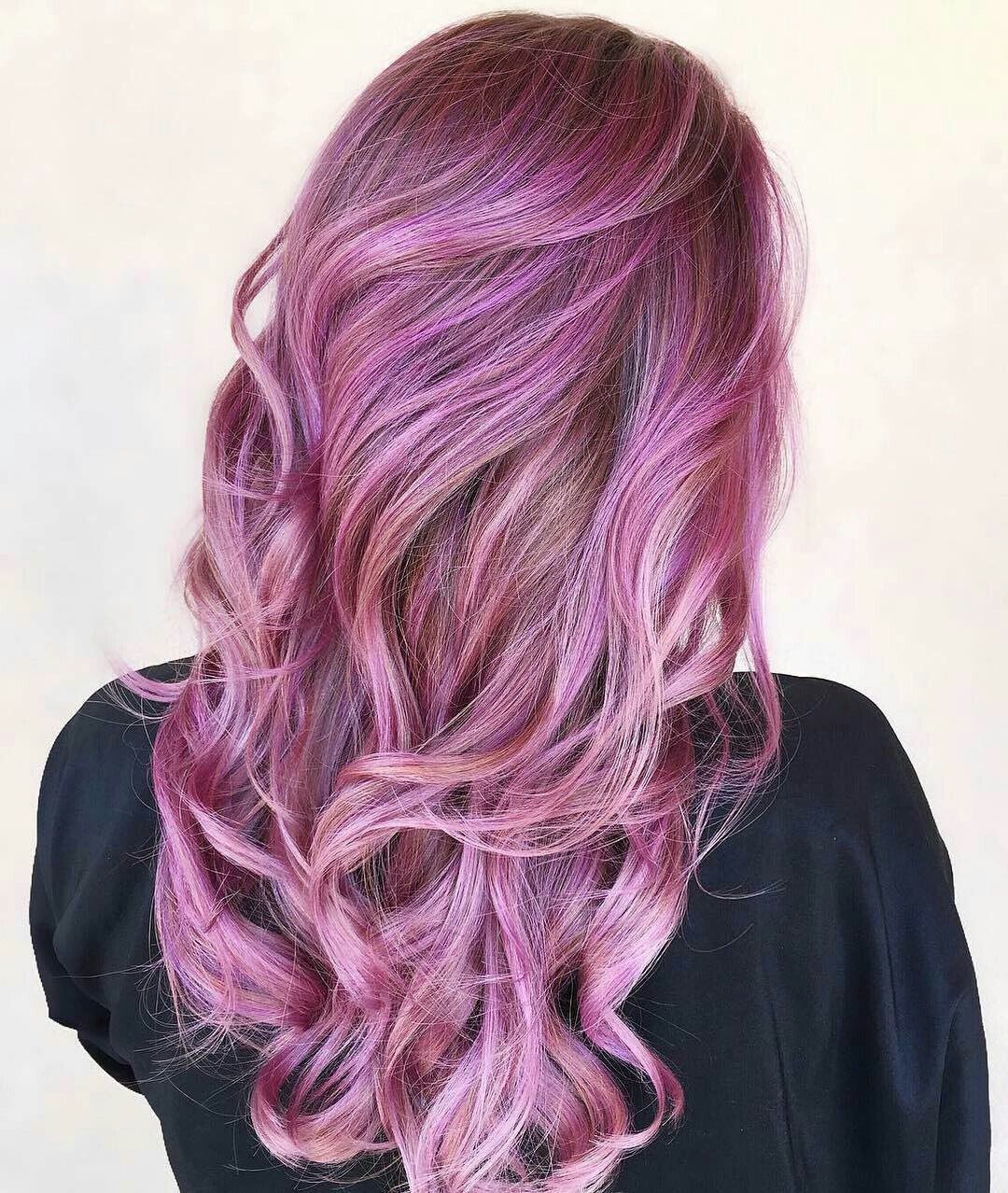 Purple Hair Tips: How to Remove at Home?
If purple strands began to annoy you or they just do not fit, you can always remove the boring color. Hair color balm is completely washed off after 5-6 times. But if it is a dye, it will be more difficult to wash it. There are several ways to do it:
Make a mixture of two tablespoons of oil, a glass of water and two egg yolks. Apply the mixture for 15 minutes and wrap the head with a towel. Wash it off with shampoo and repeat it 4 times.
Pour 10 tablespoons of baking soda and half spoon of salt with warm water. Apply the mixture on the strands and an hour later wash it off with water, then with shampoo.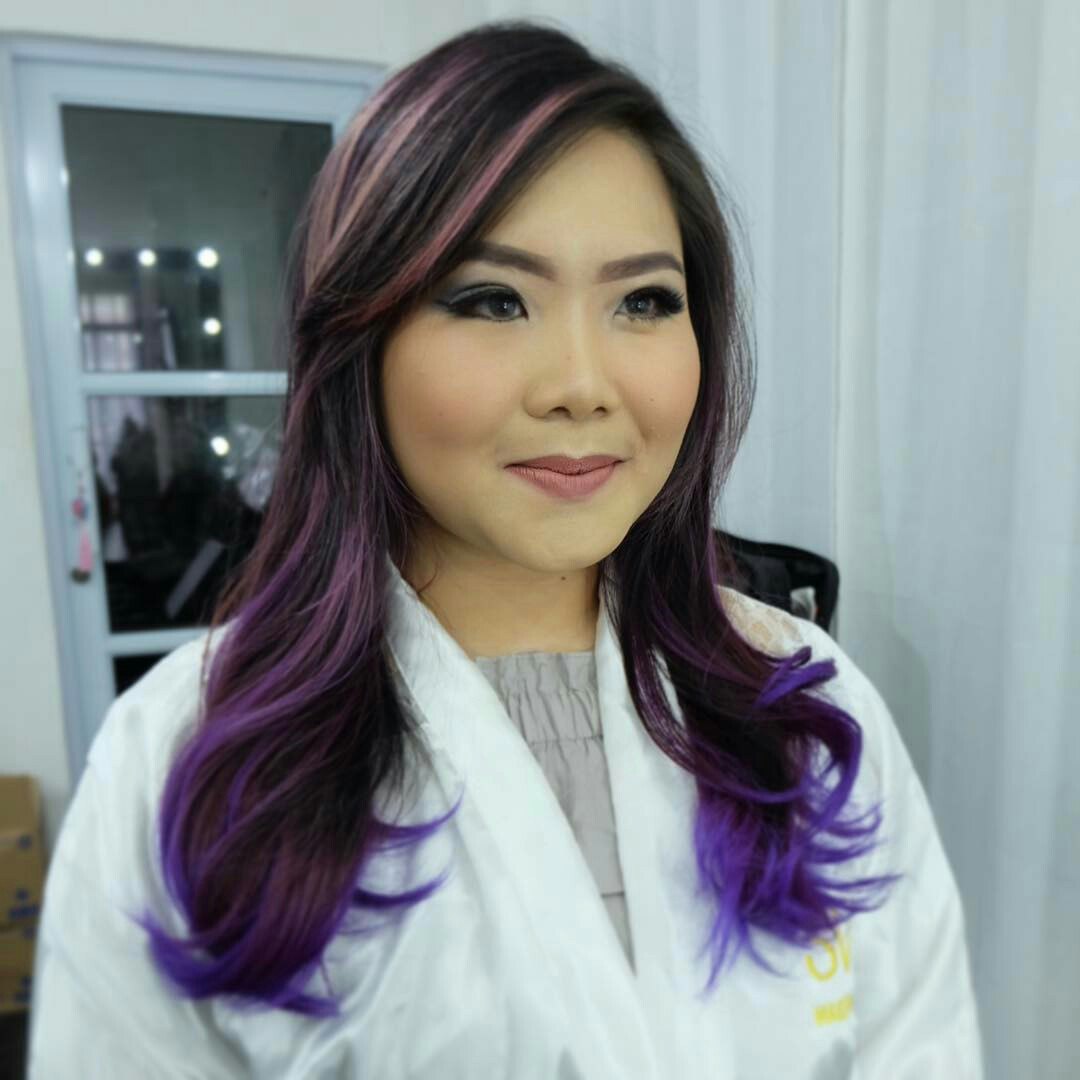 Purple hair and cheeky haircut is the most creative trends of the autumn/winter season 2017/2018 that will suit most of women. If you are a brave girl and want to be like a heroine of the anime with big eyes, it is worth, at least, paint curls in such an unusual color. See pictures and inspire a new image and color!

Photos from Instagram.com