Green eyes are stunning, and if you're blessed with them, consider yourself extremely lucky! You might think that you are very limited to makeup for green eyes, but that is quite untrue. There are plenty of gorgeous options for you! From golds to purples to sexy smokey eyes, the positives are limitless.
You can find dozens of makeup tutorials for emerald eyes. Whether you are looking for a simple everyday natural look or a sexy look for a girls' night out or a hot date, you'll surely be able to find a green eye makeup look that will show off your gorgeous greens!
1. Sparkly Lilac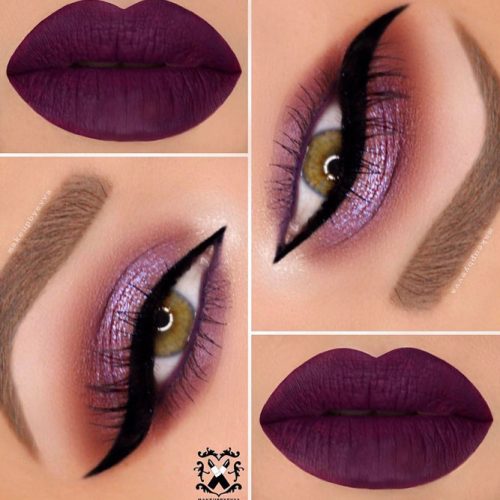 This look is chic and glamorous. Apply pretty light shimmery purple eye-shadow to your eyelid with matte purple on the crease and lower half of the top lid. Blend in the perfect purple and add some white to the corners of your eyes. Line your lower lid with deep matte purple and apply gorgeous matte plum lipstick to really pull this look together.


2. Smokey Dark Green and Pink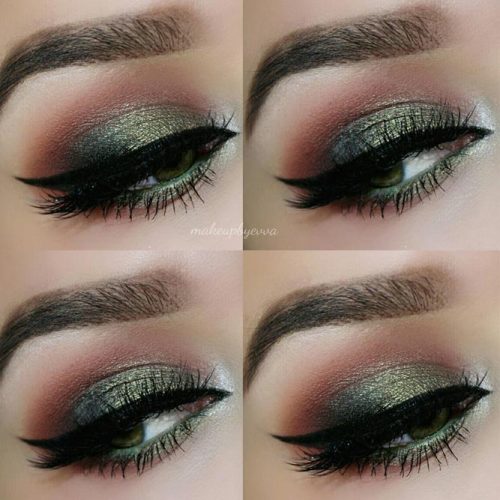 This look is perfect for a night out on the town. You can really play up this look with a sparkly shade of pink lip gloss. Apply shimmery light green shadow to your lower lid and waterline. Next, apply shimmery light pink to your upper lid. Finally, add a thin black eyeliner for a look that's both sexy and chic.


3. Golden Elegance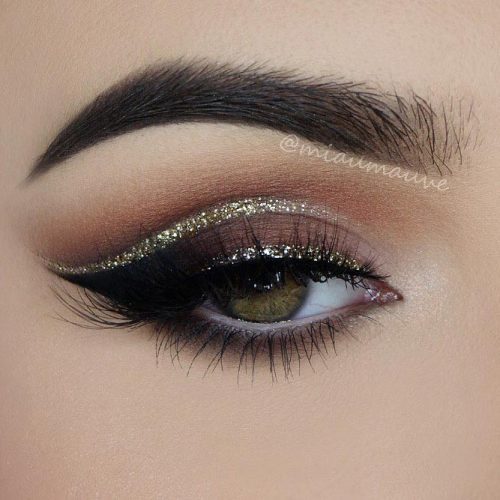 This sultry look is also perfect for an evening affair. Apply glittery gold to your eyelid and then blend dark gray and nude shadow on the upper lid. Apply gold line under the eye and then smear it for a slightly sultry look. Add some heavy black mascara and sexy dark red lipstick.


4. Dramatic Evening Eyes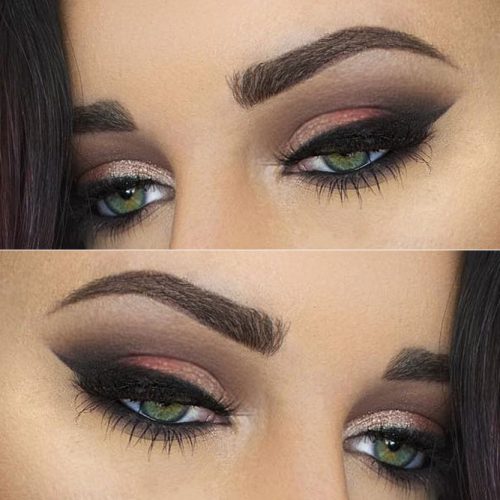 This is another seductive look for those hot summer nights. Apply dark black mare and go heavy on the black eye-liner, continuing to the outer edge of your lids, completing the look with a winged tip. Apply a shimmery shade of pink, peach or gold to your eyelids and then line your waterline with black, smudging for a sultry, dramatic flair.


5. Coppery Red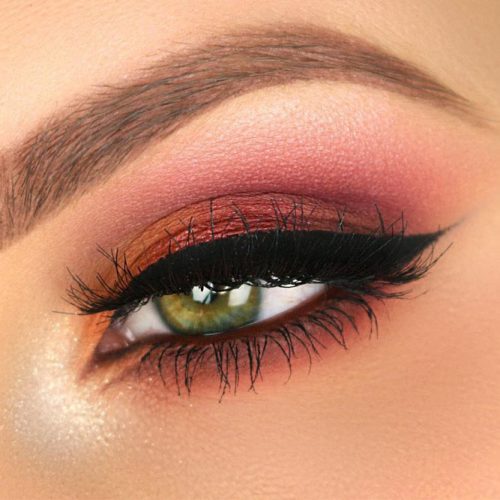 Copper eye-shadow is totally all the rage right now and when blended with this sexy red, it will really make your emerald eyes pop. This look is so dramatic already that you'll want to just a thin dark line under your eyes and blend it. Finish this look off with copper lipstick or dark red lipstick.


6. Smokey Black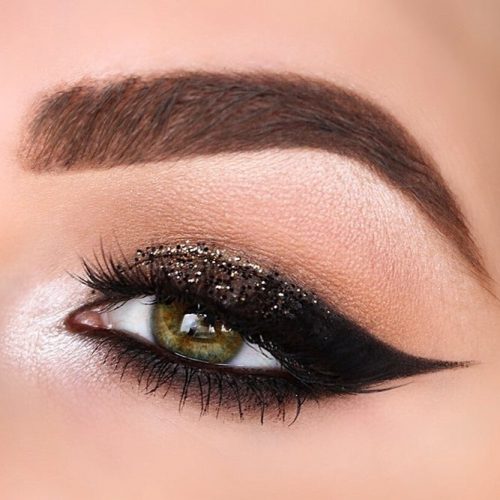 This sexy black smokey eye is stunning. Apply black matte shadow to your bottom lid and go heavy on the liner and mascara. Add gray to your upper lids and blend it with some silver for a sultry smokey look. Complete this look with dark mauve lipstick.


7. Smokey Brown and Gold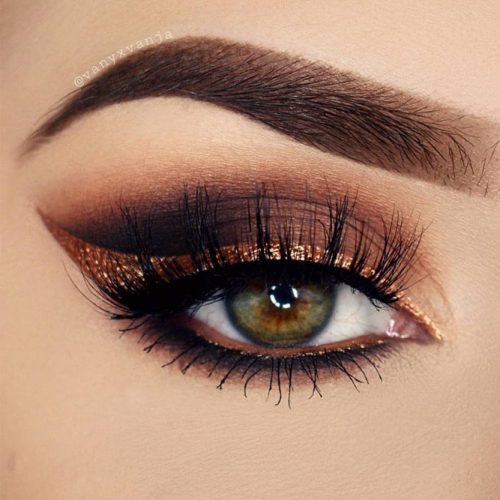 Gold and brown look fabulous with green eyes! Apply gold shadow on your lips and waterline. For the top lids and eye-liner, you can choose any shade of brown or copper and blend for a sexy, smokey look that will make your eyes pop!


8. Gold and Peach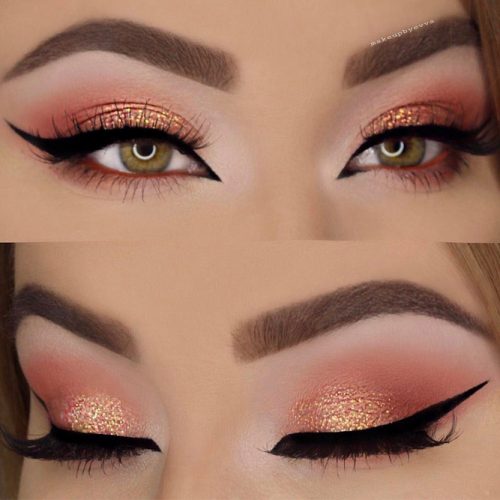 This look is perfect for summertime and transitions perfectly from day to evening. The shimmery gold eye-shadow is applied to the lower lid and waterline. Then blend pretty pale peach shadow on your top lids. When paired with coral lipstick, this look is positively stunning!


9. Green and Gold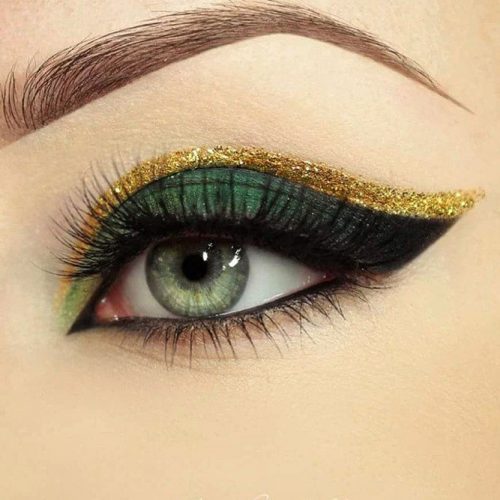 This look will really make your gorgeous greens sparkle! Apply a pretty shade of green to your lids and then line both the top and bottom of your lids with a glittery gold eye-liner making sure to wing it out at the ends.


10. Purple and Gold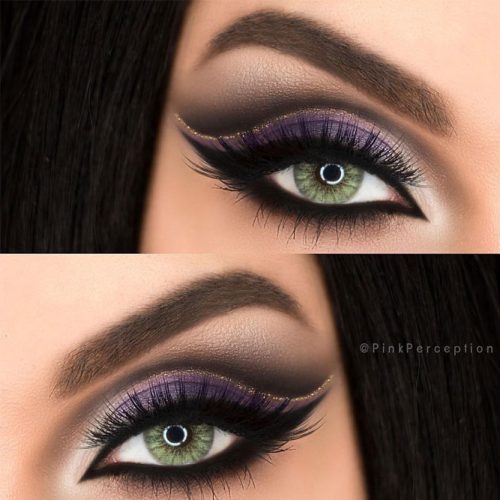 This look is a bit edgy but totally sexy! Apply a pretty deep shade of purple to your lids and then use slightly darker glittery purple on the waterline. Add some shimmery gold to the inside corners of your eyes to pull this seductive look together!


11. Smoky Green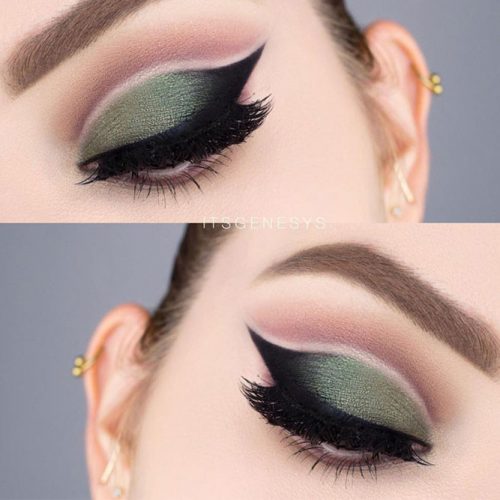 Smokey makeup for green eyes are just stunning! Choose a darker shade and blend as you add the dark black liner. If you wish to widen your eyes, apply white eyeliner to your waterline. This look is smoking hot!


12. Peach Makeup for Green Eyes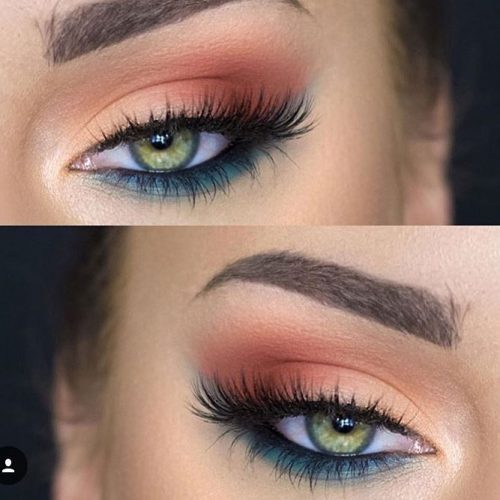 This look is perfect for summer as it is soft and playful! Apply pretty peach to your lids and then finish it off with a dark green shadow at the waterline! Apply pretty peach or coral lipstick.


13. Copper and Brown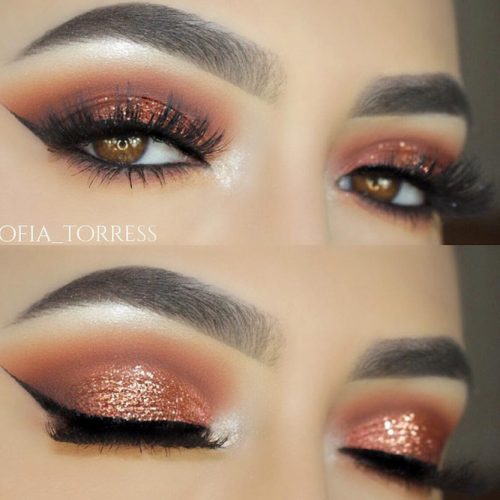 This shimmery copper is stunning. Apply it to both the eyelids and waterline. However, instead of your usual black liner, try a dark brown liner for a warmer look that will really highlight your gorgeous greens.


14. Pale Pink with Winged Liner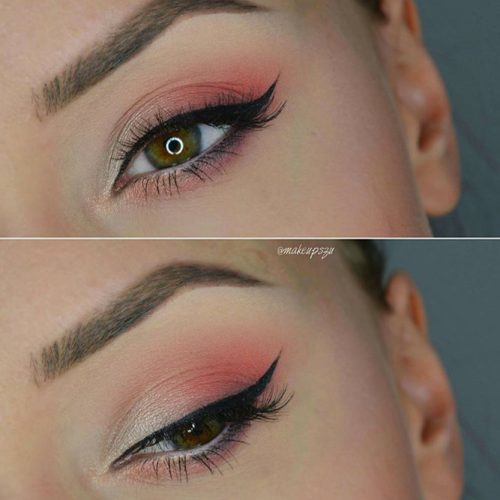 If you want a look that's totally fem and chic, try this cat's eye with delicate matte pink. Simply outline your eyelids like a cat's eye, extending the outward tip slightly and then use pale matte pink on your lids and waterline. Pair with pale pink lipstick and you'll be the belle of any ball!


15. Au Natural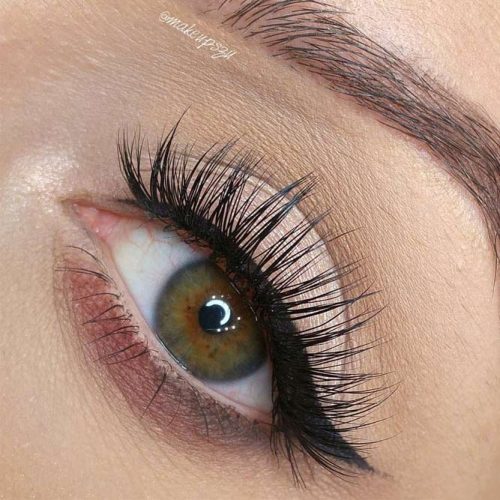 If you prefer a more natural look, try this pretty champagne shadow on your lids and just a thin black or brown line under your eyes. Use an earthy shade of lipstick such as brown or mauve for a natural look to simply enhance your beautiful natural features!


16. Grey and Rose Smokey Eyes Makeup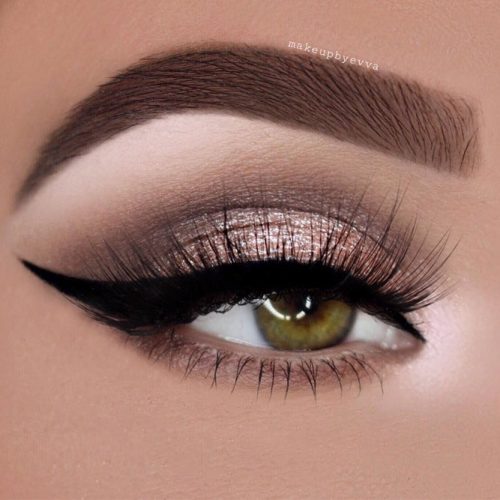 Try to blend grey and rose eyeshadows and accent your eyes with black waterproof eyeliner. Your makeup for green eyes will be perfect!


17. Amazing Green Eyes Makeup Idea with Liquid Eyeliner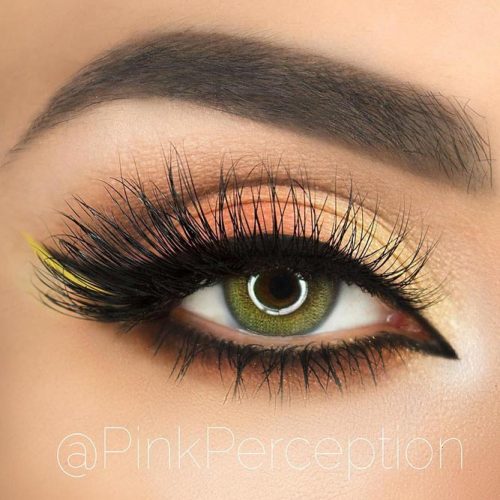 Choose winged liner brush to create your eyeliner, and make perfect inner corner. Is a super easy task when you will using liner brush.


18. Bright Color Green Eyes Makeup Look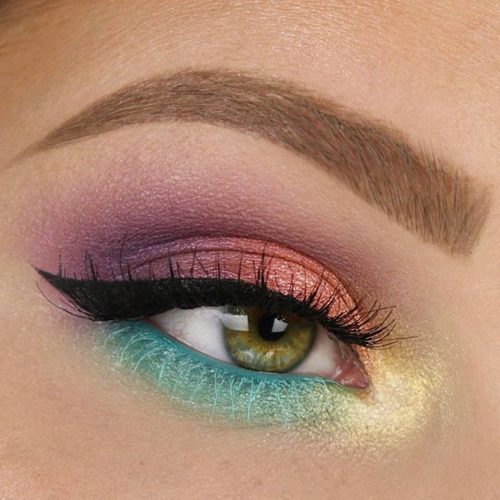 We absolutely love this bright summer look. Blend purple, rose gold, blue and gold eyeshadows and finish your look with black liner.


19. Glitter Cut Crease Makeup for Green Eyes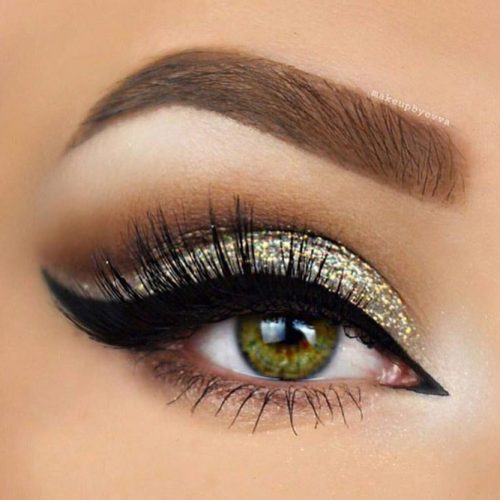 Gold glittery eyeshadow looks super stunning when combined with black eyeliner.


Perfect Smokey Eyes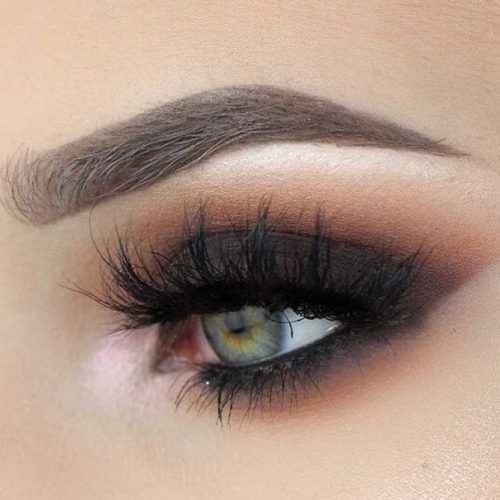 This smokey eye look involves warm hues. Don't forget to highlight the inner corner of your eyes.


Perfect Color Combination for Green Eyes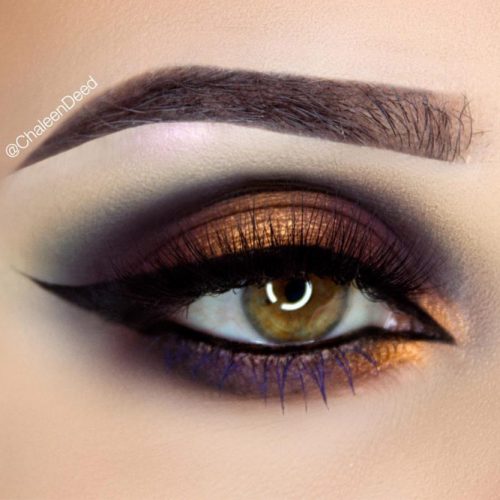 This look is quite extraordinary because it includes a combination of warm, shimmery copper eyeshadow and violet mascara applied to the lower eyelashes.


Makeup for Green Eyes: Video Tutorial




Source: Glaminati.com