Medium length hairstyles can look amazingly beautiful on every woman. They are especially suitable for the women with thick hair, – and if chosen and styled properly such haircut will add a spark to your appearance becoming the catcher of the delighted looks from all around.
List below to find great options in the gallery of classic pixie cuts, traditional bobs and trendy shag haircuts for those with long thick hair.
1. Careless Hairstyle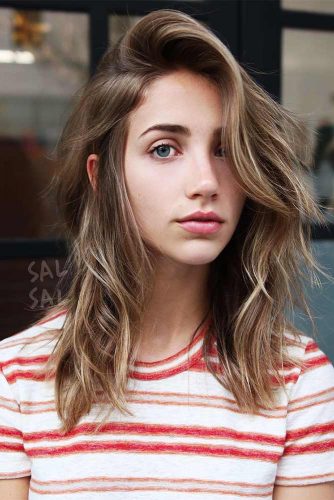 Let your hair be not too ideal and flow carelessly. Let the whole world see your wild and adventurous nature. You can wear it with or without bangs! Go for a walk and let the wind create even more mess with your hair!


2. Balayage Sexy Hairstyle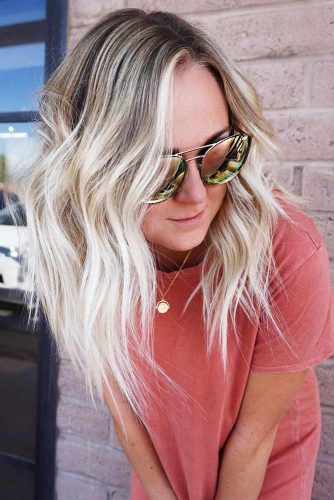 Combine your mid-length hair with balayage, and you are ready to have a summer rest. It looks cute and sexy. Go to the beach, party or a restaurant, – your hair will look incredible!


3. Bright Balayage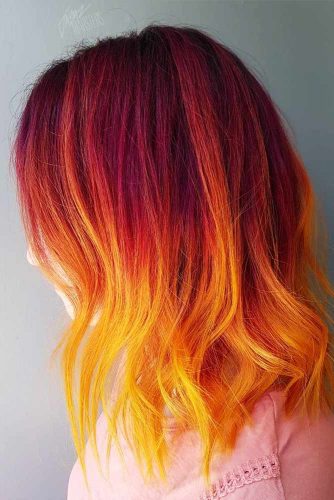 When the summer comes, everyone looks for some brighter colors, so why not dye your hair with some brighter colors for a stunning summer look? Choose your favorite bright colors and let your hair shine in the sun!


4. Asymmetrical Bob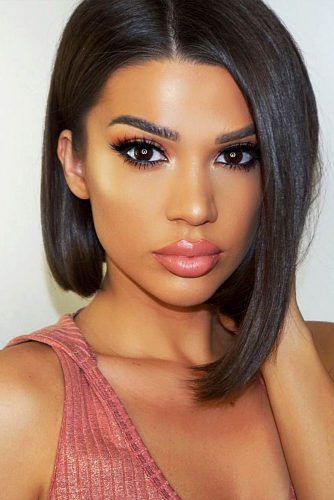 Want to experiment with your hairstyle? Then why not try asymmetrical bob to show off your experimental and adventurous nature? This kind of hairstyle gives a lot of room for variety and can be worn slightly differently every day.
5. Trendy Undercut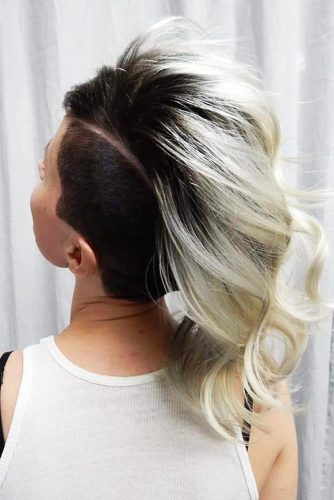 Undercuts are very popular this year. You can change your image according to the mood. To do this, just part the hair or gather it in a top knot.
6. Sweet Colored Waves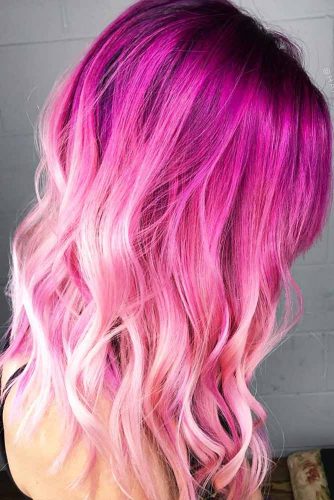 Soft pink shades will help you create a cute but bright look. Ideal for more daring ladies.
7. Medium Blonde Bob With Longer Side Parts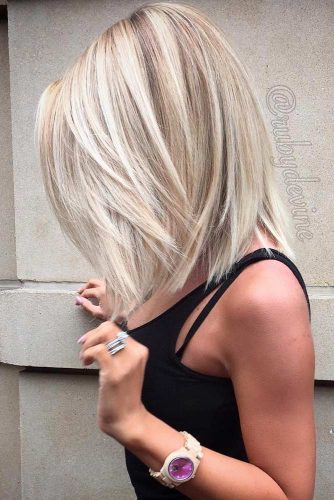 If you are bold and like experimenting with your hair, then get the haircut with longer side parts to achieve a trendy look. If you have blonde hair, you might want to add some highlights or lowlights for a more dramatic effect. This look is perfect for those who would like to achieve a somewhat messy look. With some minor styling, the hair can be made into a more refined look.
8. Angled Long Bob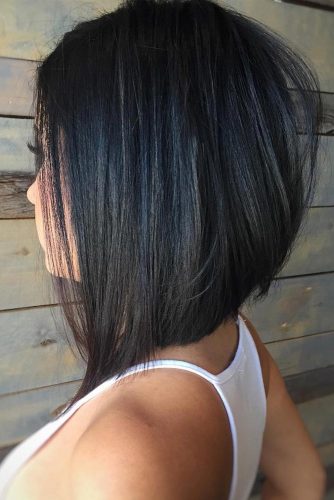 Whether you have curly or straight hair, you will look fashionable with a long bob. Making this hairstyle more angled will add some peculiarity to the overall image. This is a 'blow- and-go' kind of hairstyle requiring no styling efforts at all. Just walk and enjoy your look!
9. Fluffy Ends On Medium Length Haircut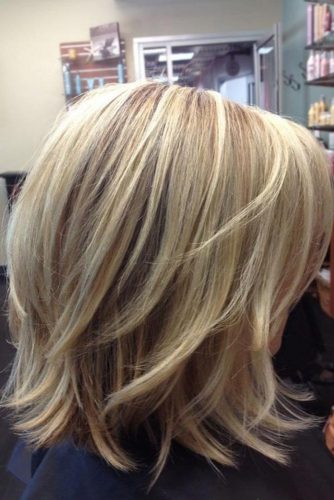 Leaving some fluffy ends on this type of medium length hairstyle will add casualness to the image. It requires minimum styling efforts and will look gorgeous during any type of weather. It's suitable for women of all ages.
10. Shoulder-Length Layered Lob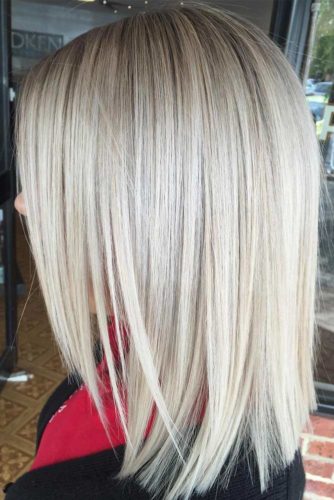 For those who prefer still longer haircut, there's a nice alternative, – long bob (lob). The shoulder-length haircut looks especially beautiful if you have thick straight hair. Such hairstyle looks classy and beautiful and can be worn on all the occasions. Add some layers for a more sophisticated look.
11. Shaggy Medium Length Haircut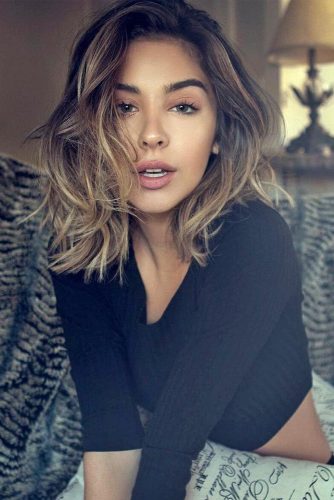 Shaggy haircuts always look natural and trendy. This might be a favorite hairstyle for women with thick hair who are struggling to achieve the all natural, careless, yet beautiful look.
12. Wavy Shoulder Length Bob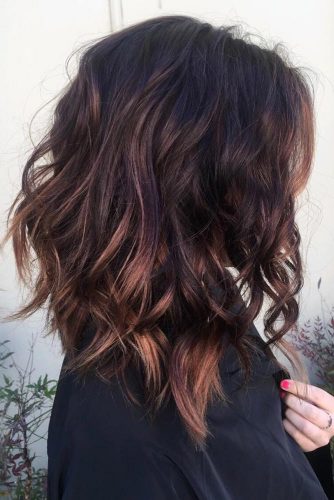 Slight waves will make your shoulder-length bob look gorgeous. If you have natural wavy hair, you should definitely try this style. For those with straight hair, there's always an option of using a curling iron.
13. Medium Length Style With Layered Edges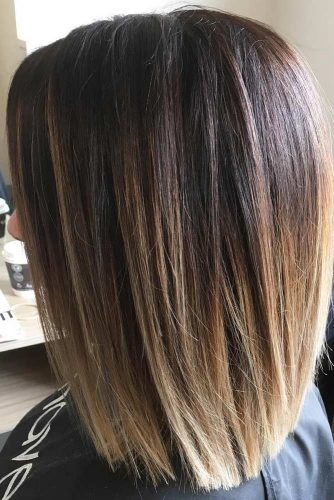 If you have straight hair and long for a more classy-looking hairstyle, you can always add some highlights to the edges of your hair to achieve a more vigorous and dramatic look. Experiment with different color shades and create the look that will reveal your personality!
14. Edgy A-line Bob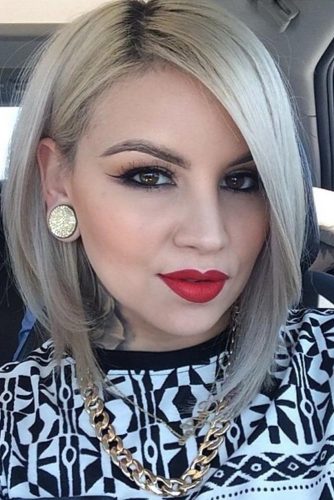 This look will especially suit the women with a round or square face as it creates an oval silhouette and adds overall cuteness. This cut can be styled in different ways leaving a lot of room for experimentation.
15. Hairstyle With Edge Layers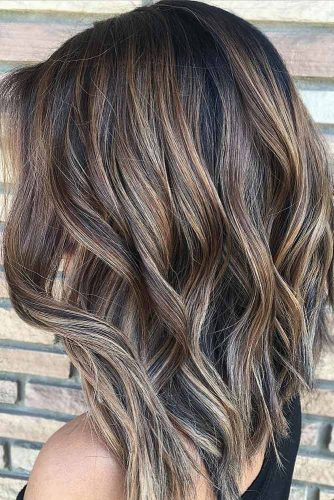 This hairstyle will make your hair look more voluminous, so that it can appear even thicker. This look requires minimum efforts and will look amazing. With some highlights on the hair edges, you achieve a 'free-spirited edgy' look.
16. Sexy Look With Side Swept Bangs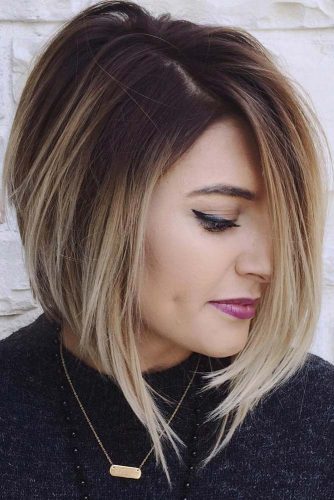 Side swept long bangs create an asymmetrical effect that gives you a sexy and irresistible look. With some bold makeup added, you will definitely rock the scene.
17. Hairstyle With Swoopy Layers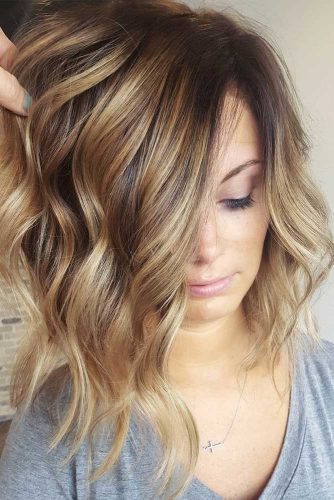 Add swoopy layers to your bob if you want to have a more dynamic look. Depending on your hair color, add some highlights or lowlights to add the texture to your hair. Such hairstyle looks interesting and adds a spice to your overall image.
18. Wavy, Shoulder Length Cut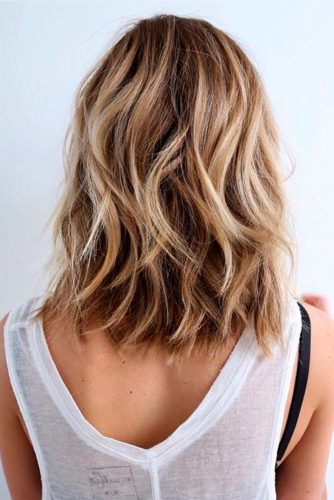 Shoulder length bob looks especially gorgeous with the wavy hair. Let your waves fall restlessly from the mane to the shoulders and create careless, yet sophisticated look. Such a look creates a retro vibe and is especially good for women who enjoy 1940's style.
19. Medium Haircut For Curly, Thick Hair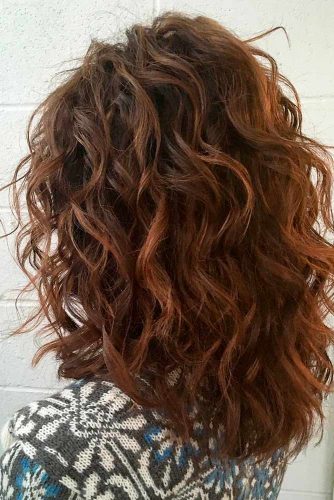 Women with naturally curly hair can achieve a stunning look by adding proper layers to shape and define shoulder length hair. If you want to give more dimension to your hair, you could try some bold color, for example, a cherry red with darker roots, a honey blonde to frame your face or any other color.
20. Classic Lob With Bangs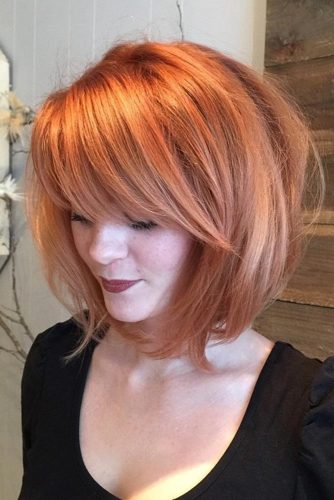 If you love bangs, go for it. Bangs look especially beautiful with classic long bob. And if you are ready for some small experiments, you can have a cut with subtle elongation towards the front, which is both practical and easy to manage.
21. Graded Mid-Length Cut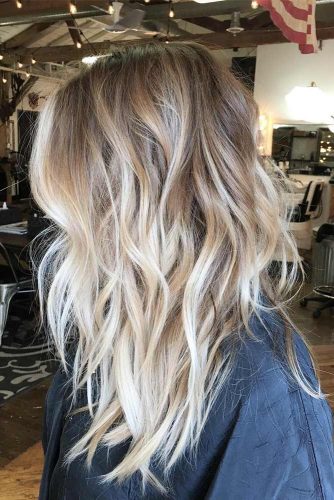 Color gradation creates enormously beautiful effect, especially on shoulder length haircuts. Such an effect is relatively easy to achieve and will look great no matter whether you have blonde or darker hair.
22. Blonde Shoulder Length Bob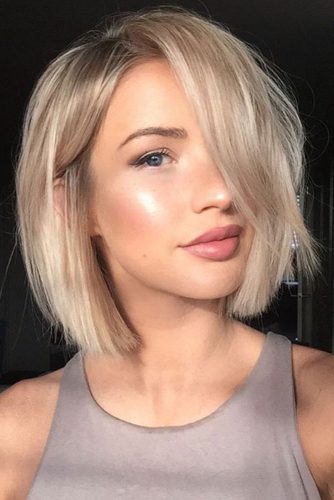 If you have natural blonde hair, bob haircut is a perfect one to showcase your beautiful hair color. Such hairstyle is extremely easy to maintain and will look beautiful on every occasion. You could add some balayage to make your hairstyle stand out even more.
23. Ombre Medium Hairstyle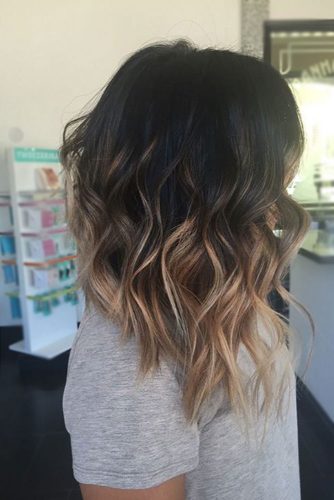 Changing hair color is one of the ways of breaking up the density of thick hair. Ombre can create an airy effect, as it gets gradually lighter towards the hair ends. Depending on your natural hair color, you could experiment with different shades of color, from pink to a green one.
24. Bob With Highlights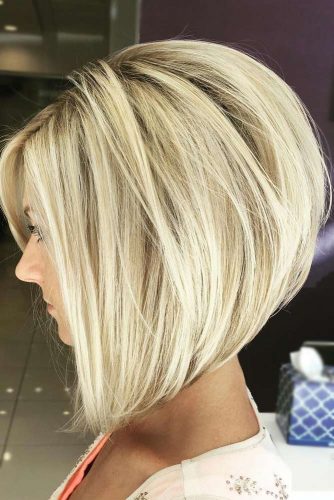 Highlights add extra volume to the classic bob. It's perfect for women with different types of hair and different color shades. Such hairstyle will always be in trend.
25. Outgrown Bob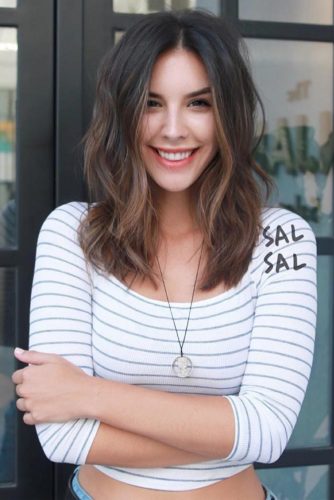 This style adds quite a deal of volume with loose and extra large waves. It's an effortless, yet modern, style, with its long bangs, sunkissed color and shaggy ends.
26. Straight Layered Haircut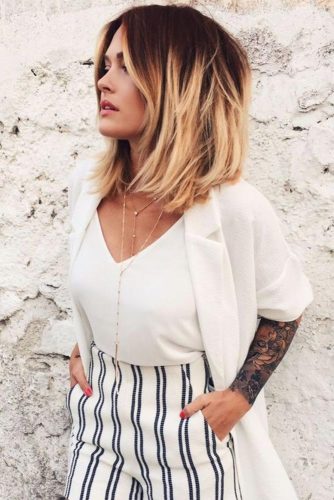 If you like having slightly longer hair, this style is perfect for you. The hair falls naturally over the shoulders creating the effect of outgrown bob. Medium length hairstyles can be worn either loose or put into an updo leaving the room for variations.
27. Hairstyle With Long Bangs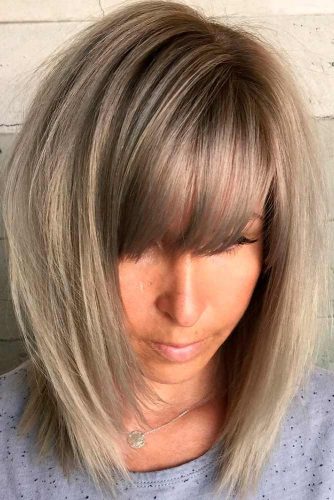 This hairstyle is suitable for women with thick hair who also like bangs. Try wearing long bangs, – in such a way you'll get all the attention on your eyes and beautiful face shape. You can wear such bangs either straight or sideways.
28. Shoulder Length Shaggy Waves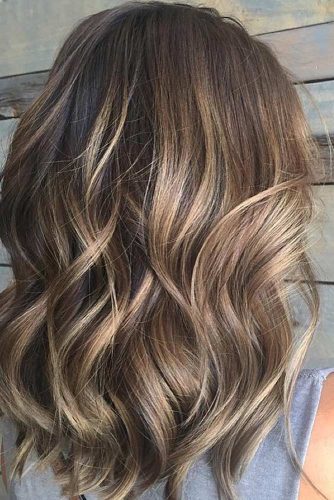 Shaggy waves effect can be achieved by leaving the ends of your hair disconnected while styling it. It creates very casual free look. Go for it if you feel like revealing your free-spirited nature.
29. Bouncy, Mid-Length Layers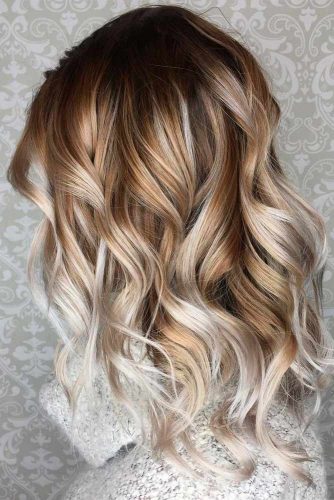 Creating soft transition of hair color will help achieve the romantic look. Use a round hairbrush and hairdryer to give your hair a natural bounce and highlight your gorgeously layered locks to look like a princess.
30. Layered "U" Cut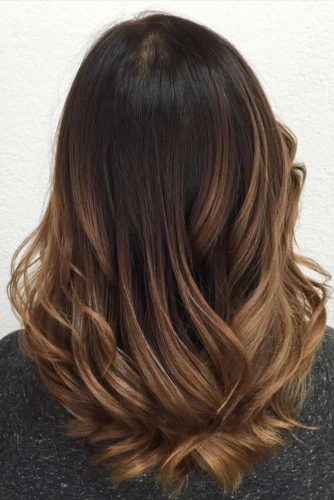 This type of haircut will show off the gradual change in length, as it's longer in the middle and somewhat shorter on the sides. No matter what type of hair you have, this haircut will add a little spice to your image.
31. Copper Shoulder-Length Layers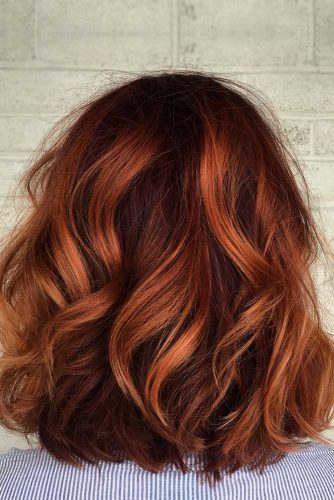 Pay attention to styling the ends of this hair cut. Make them either tamed or disconnected, depending on the desirable look.
32. Two-Toned Haircut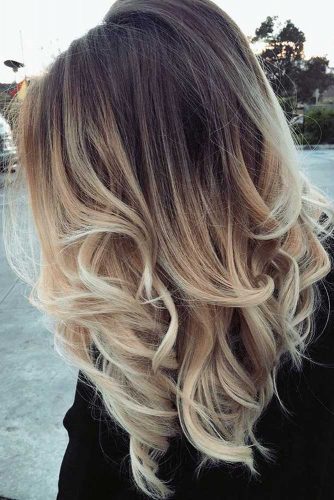 Are you longing for a really dramatic look? Dye your hair with two different colors, – get bold and experimental! You can either slightly curl your hair or leave it straight, and no matter what you choose, your two-toned haircut will definitely be eye-catching!
33. Shaggy Haircut With Bangs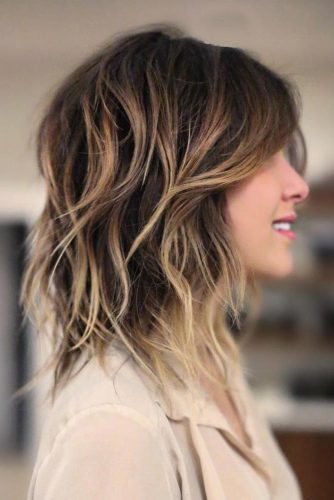 This hairstyle is reminiscent that of the 1970s, which can be a great addition to the way you dress. It creates a messy and careless look, which is definitely worth trying, especially if you want to emphasize your carefree nature.
34. Haircut With Thick Straight Bangs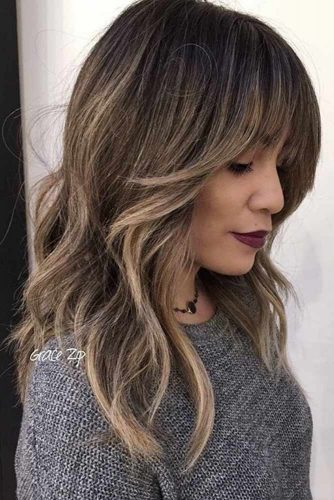 If you love wearing bangs, make it thick and straight, so that it becomes the attention grabber. Combined with classy-looking medium length hairstyle, it will add some sparks to your image!
35. Medium Length Haircuts for Thin Hair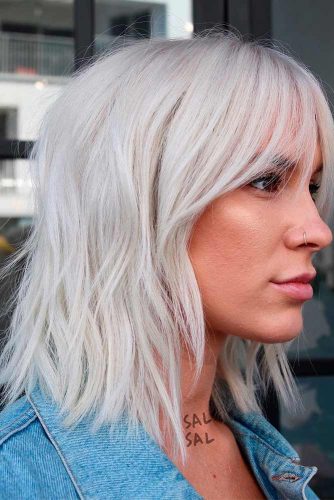 If you have thin hair, don't worry. Go for a hairstyle that help create volume and requires minimum efforts in styling. You can either have bangs or go without it, you can slightly wave your hair or leave it sleek or you can change your look every day!
36. Wavy Layered Haircut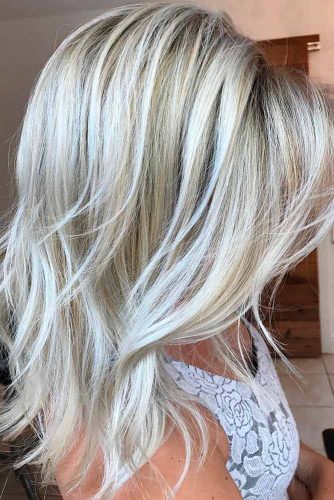 If you are lucky to have wavy hair, take full advantage of it and try different options. You can style your hair in a variety of ways and wear it either sideways or let your waves fall carelessly. You can also create more twisted waves for a more sophisticated look.
37. Grunge Haircut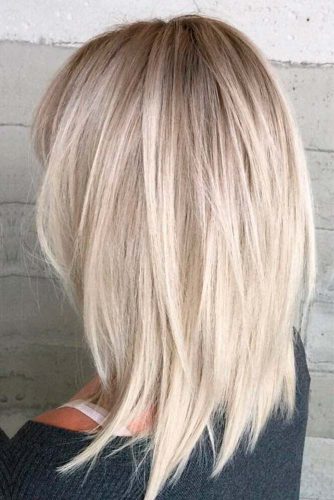 This messy hairstyle creates a unique disheveled-chic aura. This aura is one of the main reasons why this look is so popular among style icons. Go for it if you want to feel like a star.
38. Ice Blonde Layers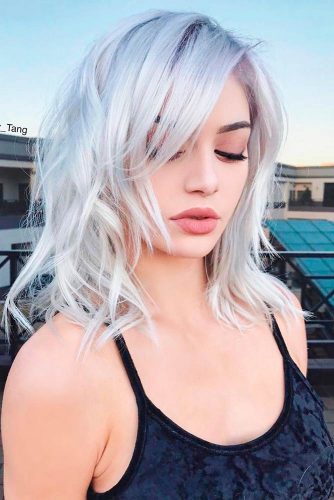 Ice blonde color itself adds a lot of mystery to the image. Do some small styling and add dimension to the hair to achieve even more mysterious and dramatic look! No one will be able to take eyes off you!
39. Slightly Wavy Lob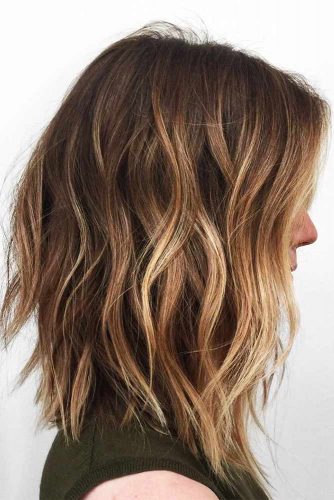 Slightly wavy lob is a fresh and youthful hairstyle that can flatter literally everyone. Go for medium length hairstyles, and you won't regret it, as you will always look young and full of energy!
40. Blonde Tousled Bob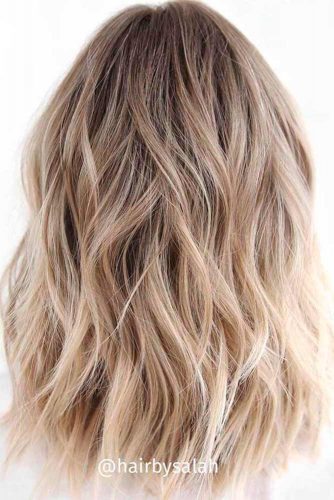 Blonde color and beach waves are perfect if you aim for an effortless look. Keep your locks tousled to have that beach charm and make everyone envy you! No makeup is needed when you have such medium length hairstyles.
41. Brunette Lob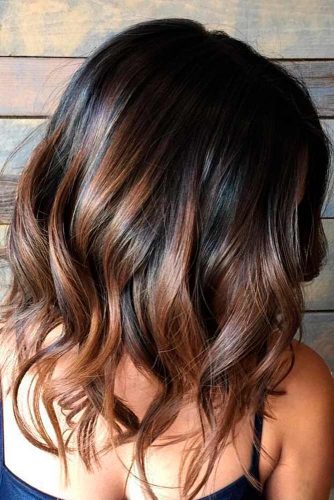 Lobs are very versatile and look beautiful with every hair color. If you are brunette you can have the lob and add some waves for a more romantic look. Highlight your waves with slightly different color and simply enjoy your new look!
42. Choppy Haircut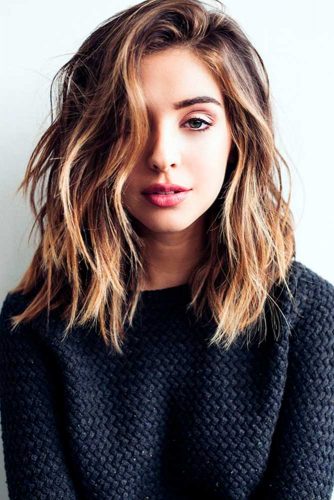 If your hair is too thick, go for a trendy choppy haircut that will frame your face in the best possible way. In addition, the multitude of layers will give you a fashionable look no matter if you choose a standard bob or slightly over the shoulder lob.
43. Sleek Lob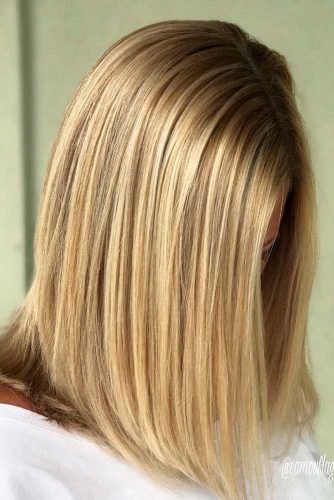 This simple long bob looks stylish and elegant. Plus, you'll have more styling options.


Medium Length Hairstyles for Women: Video
No matter what type of face or hair you have, you can always choose the medium length hairstyle that will look amazing and will highlight your true nature.



Photos from Instagram.com
Source: Glaminati.com