Long layered haircuts are always in style and so versatile. You may find yourself growing wary of your long hair as you run out of new and fun ways to style it. Also, not everyone can rock longer lengths, but if you are one of those women whose hair texture is appropriate for it, there are plenty of styles available.
We have composed a list of some of our favorite hairstyles for long hair. Have fun and choose the one that best suits your style and features. Be bold and try something new and daring!


1. Textured Long Layers Haircut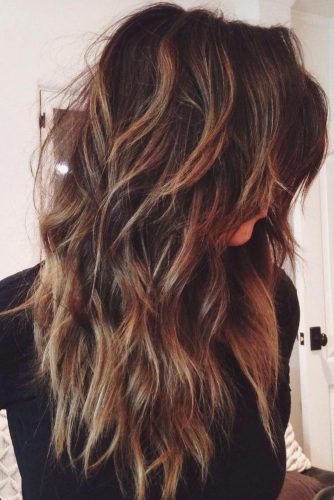 If you have naturally wavy hair, you can totally rock this style. Regardless of your length, these layers instantly give you those beach waves that everyone is dying for. If you want this look and aren't blessed with natural locks, all you have to do is spray saltwater spray on your hair while still wet and let it air dry naturally to easily achieve those sexy beach waves!


2. Two Tier Style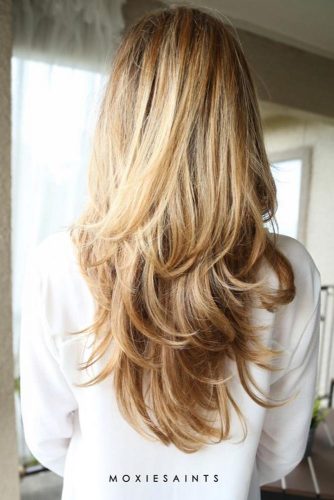 This style may seem a bit drastic, but it is really flattering with its dramatic layers. You can surely rock this style with half updos, elongated, full ponytails or even milkmaid braids.
Ask for long windswept layers cut into a U or V-shaped and shorter layers about halfway up. What's best about this style is that it adds more volume and texture to your hair. Ask for a two-toned style as well. Balayage tiered layers will add a ton of depth and dimension to your tresses. Or go for a brilliant ombre fade with bright colors such as pinks and reds. For a more subtle look, opt for soft blonde shades like the ones pictured here. The perfect blend of dirty blonde, honey blonde and platinum hues in long layered hairstyles 2018 will give your hair a multifaceted glisten in the sunlight.


3. Long, Tousled Layers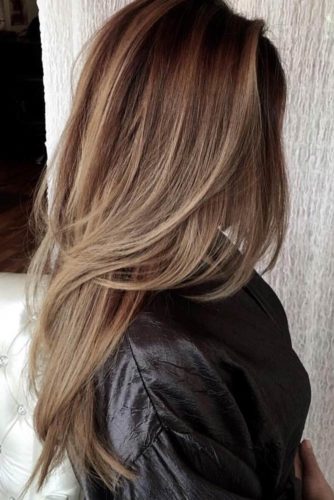 Long haircuts can be perceived as dull in a world where everyone is constantly trying to out-trend one another with daring shorter cuts. However, longer, tousled layers always look stylish and elegant. To style, simply blow dry your hair with a round brush and spray. Long, luxurious locks never go out of style!


4. U-Shaped Cut with Classic Lay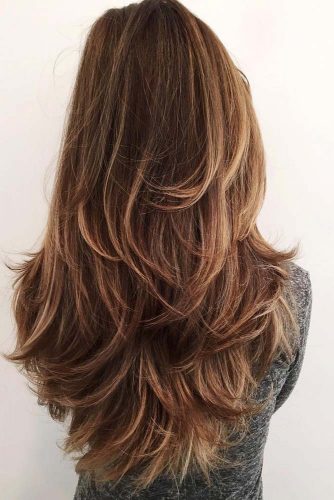 We totally understand that you may be somewhat hesitant to opt for longer layers, as they take some time to grow out and you are afraid that a blowout won't look as clean and polished as it will with your present, blunt haircut. Have no fear, with some smoothing cream and a round brush your layers will look polished and refined while adding texture and volume. This style creates a cool U-silhouette that looks elegant and stylish any time of the year.


5. Polished Ringlets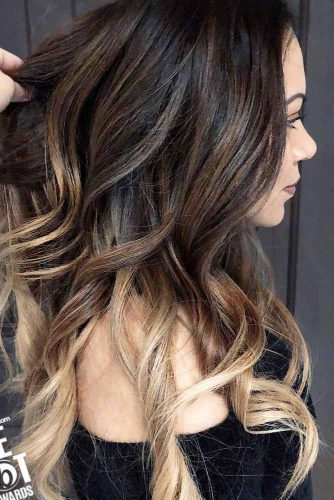 There are so many types of curls and despite the myth that curls only work on shorter styles, long haired hair 2018 can easily flaunt those gorgeous tresses! Soft, gentle, loose ringlets look chic and glamorous and never go out of style!
Long hairstyles with soft, textured layers will add a ton of dimension to your longer tresses. Something as simple as long, random layers throughout can add new life to your hair. As your hair grows, it tends to lose its lustre. Layers can help restore your hair's natural health. If you have thinner hair, layers can add more bounce and movement. Soft beachy waves like the ones shown here are sexy and carefree. All you need is some sea salt spray and you're good to go with these soft and sassy blonde beach waves!


6. Edgy V-Line Layers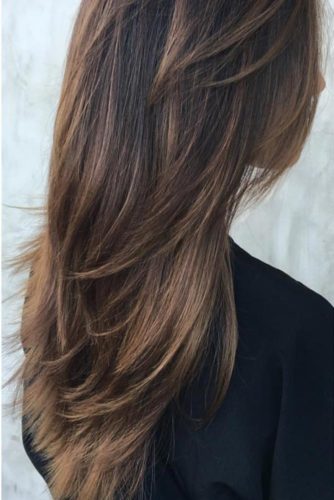 Straight layered hair might seem like a challenge to style, but it's really quite simple. This look is quite bold and edgy, contrary to the popular belief. The hair is styled with the ends towards the center to create an offbeat and edgy V-line. Layered haircuts with bangs are a great style if you want to add some softness to your face for a flirty look and feel. Ask your stylist for a V-cut with layers throughout to add some depth to this stylish cut. It looks great worn straight or with slight waves thoroughbred.
To style, blow dry straight with a round brush and then flip the layered ends back with a flat iron to add some bounce. Don't' forget the shine serum!You can soften this look by adding soft curls to the bottom with a thick curling iron.


7. Layered, Straight Hair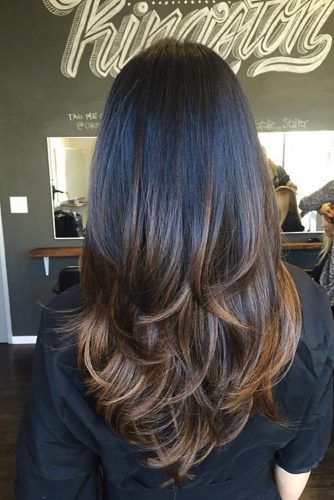 If you have little time, you can always throw your long layered hairstyle in a bun or let it hang simple and straight. However, if you do have at least 2 free minutes, take your curling iron and make the ends of your hairstyle slightly wavy. With this easy trick, your style will have a somewhat romantic flair.


8. Big Voluminous Hair with Side-Swept Bangs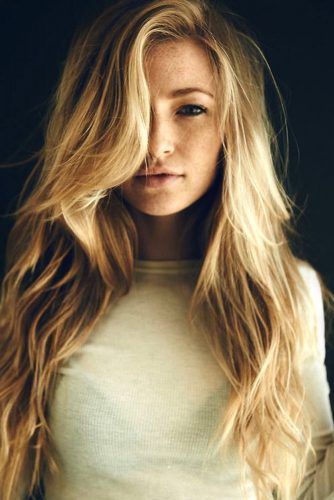 Once you get used to styling long haircuts, it becomes your second nature. This sexy hairdo will turn heads wherever you go with its added texture and bounce! This style, layered in the front, works best on those with an oval face. The view from the back is stunning. To get this style right, you will need a lot of texturizing spray and a good amount of teasing. You will want to use a rotating brush, lingering in the ends. Pay extra attention to your bangs to keep them out of your eyes, unless you want that sexy effect!


9. Deep Parting with Classic Flipped Layers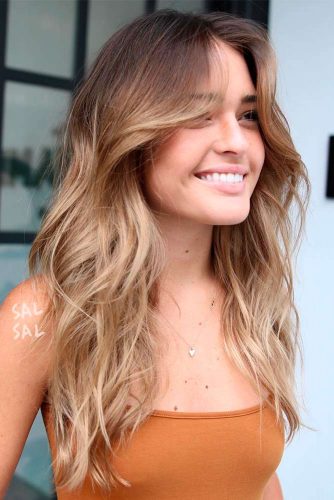 For a classy layered long hairstyle, add some bounce with this fun style that is perfect for those with wavy hair. The deep part adds more movement and volume for a sexy and chic style.
Balayage hair is very much in demand these days. So many women opting for bright and bold color choices this year. However, balayage is the better color choice for those who want a more soft and refined look and feel. Ask for dark blonde and honey blonde hues for a look that's feminine and chic. To style this layered long style, apply a volumizing product and blow dry. Then use a wide barrelled curling want to add soft and supple waves throughout.


10. Long, Layered Wavy Haircut with Cute Bangs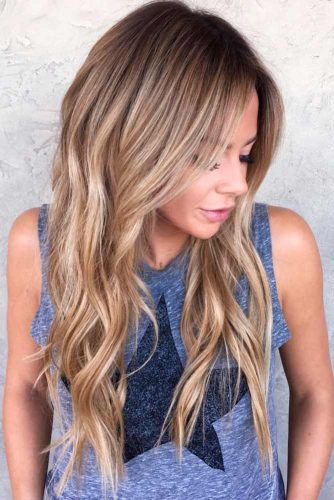 This layered style with bangs and waves will make you look irresistible in any light. This style works on both thick and thinner hair as the layers are very subtle to gently frame your face. If you want to accentuate your eyes, opt for longer straight bangs.


11. Half Updo with Loose Curls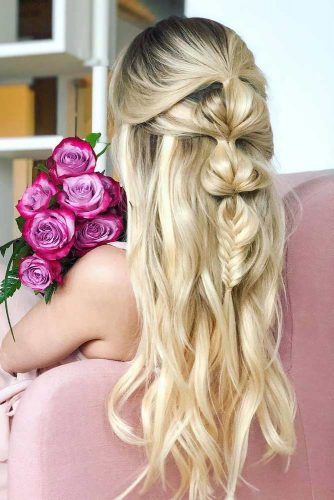 Half up half down hairstyles are extremely cute and girly. And believe it or not, they are really quite easy to pull off. Any half up hairdo can keep your hair out of your face, which is simply stunning! And they are a great way hairstyles for long hair with layers. The simplest options involve a ponytail, braids, a half-up twist at the back, and a half-up bun.
This braided half updo is just exquisite if you are going for a dainty and demure look. Yes, sometimes braids look complicated, but anyone who can French braid can do a such an updo too. There are plenty of easy tutorials online. And they look so elegant with soft waves cascading below for a soft and romantic vibe.


12. Edgy Hairstyle with Side Bangs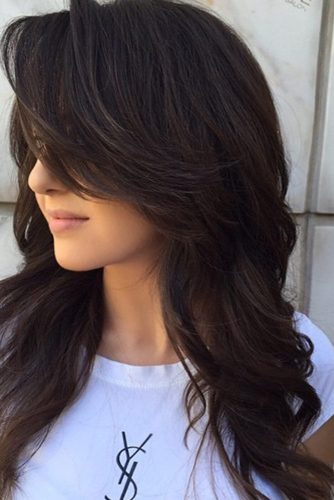 This style works great for those who want to add a burst of color. The hair is straightened with a flat iron for a sleek look to allow the colorful highlights to shine through. This daring look is flattering for mostly any face shape. Be daring and add some pink and blue steaks for a bold and edgy style that will make you stand out from the crowd!


13. Sassy Multi-Layered Hairstyle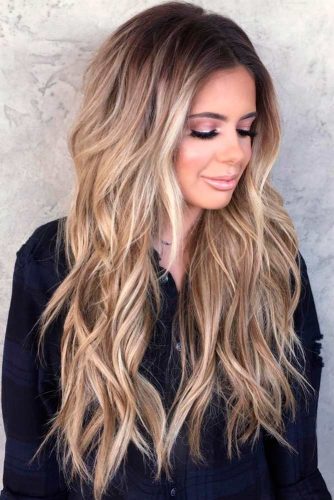 Multiple layers are the ones that make your long wavy hair look gorgeous. They allow your hair plenty of bounce and movement. Besides, such haircuts are so much fun and really easy to style!
Layered cuts for long hair will make your longer locks feel so much healthier and lighter. As well, they add a ton of volume. If you want to add even more texture and dimension to this pretty long layered haircut, as for two-toned hair. Smooth, buttery blonde highlights on top of a darker base make for a soft and playful look that will make you feel like a goddess with your soft and silky blonde waves.


14. Long Layered Chestnut Ombre Hair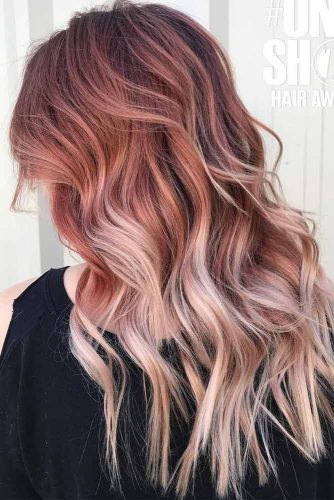 If you are looking for perfect summery ombre hair, then that is exactly what you need. A fade from rose brown to blonde with the addition of delicate waves looks fabulous. Layered cuts for long hair such as this add a ton of fullness and bounce to curly locks. Ask your stylist for a stunning blend of fiery light red, honey blonde and light blonde hues blended with chestnut brown roots for a look that resembles a sunset on a summer night.
Beach waves are one of the most popular looks for long layered hair these days. All you need to do is wet your hair, spritz it with a lot of sea spray and let it dry into soft and sexy waves that look like you spent hours on the beach!


15. Amazing Layered Haircut With a Straight Fringe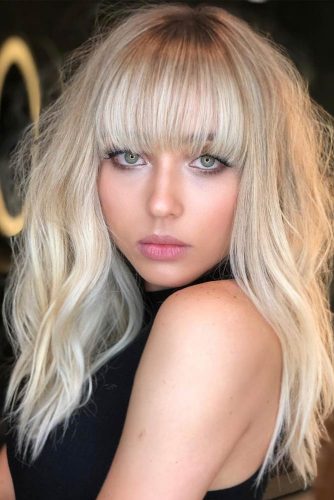 Hairstyles with bangs are making a huge comeback. And this wavy textured cut is no exception. Fringe looks very fierce and flirty when paired with dramatic makeup.
We think long layered hairstyles for women are the best way to give both you and your hair a much-needed lift! Layers can add life to your long and dull locks. Fringe cut in a perfect horizontal line will flatter ladies with high foreheads. Usually it goes with a short bob, but as we can see there are no limits for creativity. And what is prettier than a soft silver blonde with dark roots? Silver hair is so in demand right now and these soft, silky waves are very chic and feminine!


16. Layers for Blonde, Thin Hair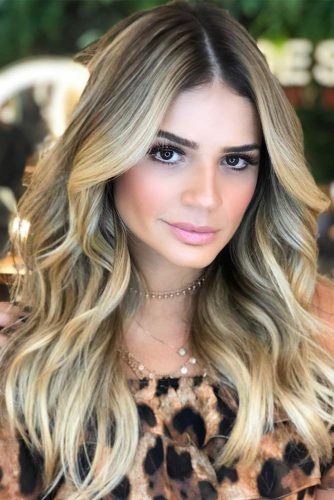 Are you tired of the same boring haircuts for thin hair? Why not add some long layers hair to add some volume and texture to those fine or thin tresses?
This curly layered hair style is so charming and glamorous. The loose sexy curls give it a playful vibe. The dark blonde is color with deep dark roots is almost angelic and will glisten like spun gold in the summer sun. The most important thing for thin hair is volume. Adding some loose and bouncy curls is the best option in this case. Layered, curly, and blonde are the factors that make you look like an angel sent straight from Heaven! If you have naturally curly hair, all you need to do is run a quality curing butter cream through your hair and let it dry. If your hair is straight, simply blow it dry and then make loose, tumbling wave with a large or medium curling wand. Then tousle those tresses and rock your gorgeous curls like a boss!


17. Layered Haircut with Long Asymmetric Bangs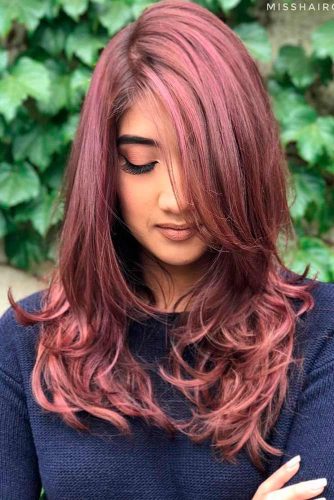 A long bang is flattering for women with any face shape. In a combination with layers, it will accentuate your beauty and hide faults.


18. Natural Color Balayage with Long Bangs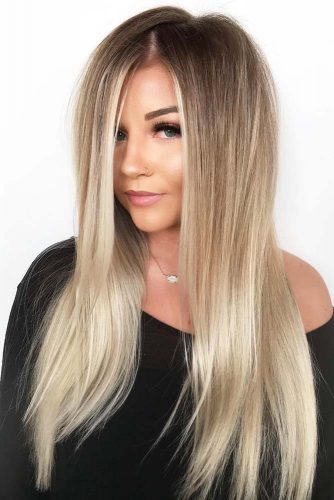 For a refined look, it is enough to ask the stylist to create balayage from your natural color to blonde. The long cascading bangs will look feminine and elegant.


19. Long Layered Hair Tips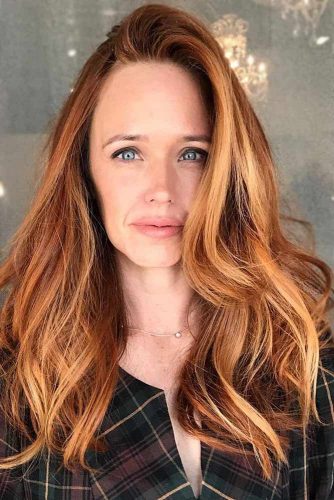 Straight long hair is beautiful on its own. Ask your hair stylist to create layers on the tips. Thus, the tips will be more light-weight.


20. Colored Ombre Long Hair with Layers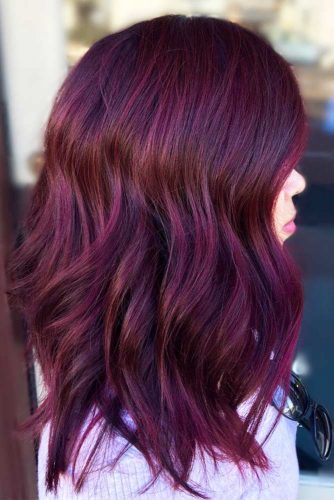 Bright colors are a hit this summer. They scream "Look at me, I'm not afraid to stand out from the crowd!"


21. Colored Long Layered Hairstyle with a Fringe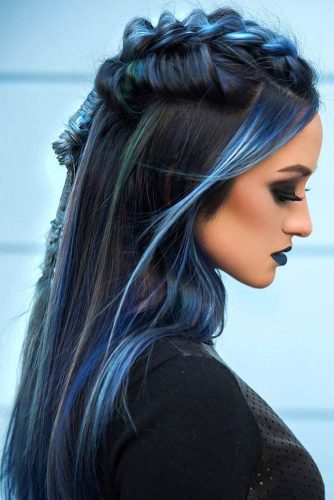 Ragged long layered hair with bangs is always popular. Use unusual colors to make your image more expressive and bright.
Also, make sure not to leave out any details or specifics when talking to your stylist about your new hairstyle. Long haircuts can be either sleek and smooth for that ultra-feminine look, or longer and shaggy for those who like the messy, unkempt look. Take the shape of your face into consideration when choosing your next long hairstyle. If you want your hair to seductively frame your face, make sure to select the most flattering feature, for example, your cheekbones or chin.


How to Style Long Layered Hair: Video Ideas
Photos from Instagram.com
Source: Glaminati.com