Thinking about options for medium layered haircuts? Every woman goes through the time when she can't decide whether or not to let her hair grow long or get it short. That's why medium length hairstyles are so popular right now. They still leave room for styling without the commitment to really long hair. And we all don't have time to deal with the knots and tangles that are peculiar to longer hairstyles.


That's why medium layered haircuts are perfect: they are not as drastic as a shorter hairstyle! We put together a list of our favorite medium layered hairstyles for 2023. Choose the one that works best for your lifestyle! And don't be afraid to experiment with different styling tools and coloring options such as bright ombre or subtle balayage. The sky's the limit when it comes to unique hairstyles as pretty much anything goes in 2023!
1. Curly Layers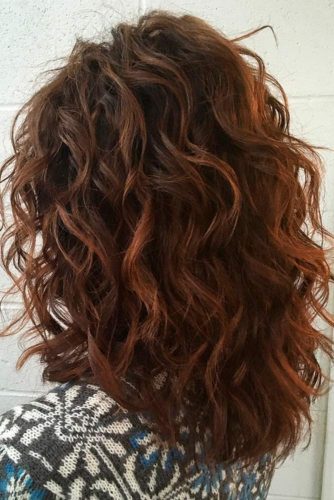 If you want to add more volume to your natural curls, layers are a must. It will not only give your hairstyle a modern touch, but it will also draw attention to your gorgeous facial features.


2. Smart and Chic Medium Length Hairstyles with Layers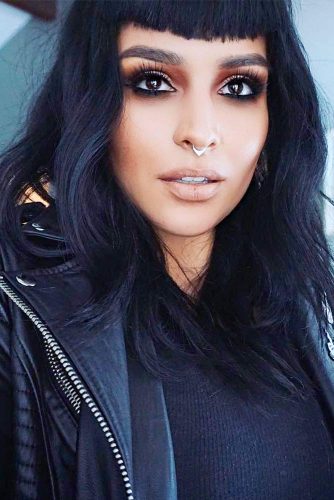 This chic style is perfect for straight, thick hair. This mid-length bob, with its blunt and heavy fringe, pays homage to Bettie Page.


3. Loose Layers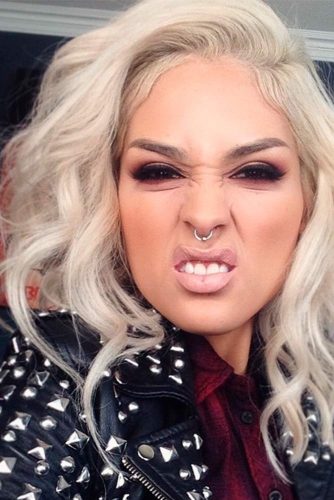 These long layers provide a lot of movement and bounce. But the best thing about this hairstyle is that it is easy to style, which is great for those ladies who have a busy lifestyle and don't want to fuss with their locks.


4. Stairsteps Hairstyles for Medium Layered Hair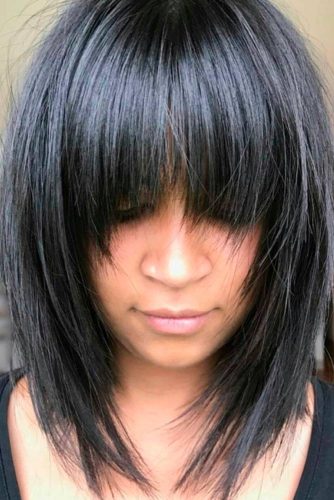 This style has long, creamy layers and "stairsteps" that perfectly frame your face for a totally feminine look.


5. Layers for Thin Hair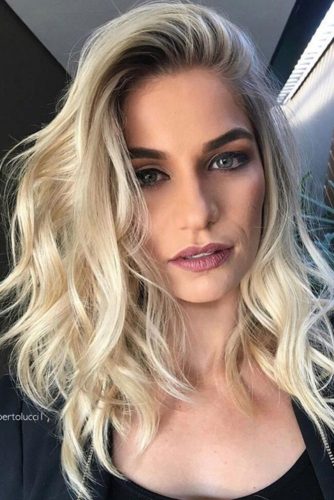 This adorable bob is a little bit longer than the classic bob. It has layers that are shorter in the front and gradually longer toward the back. To class this look up a bit, you can feather the front back slightly.


6. Layers for Thicker Hair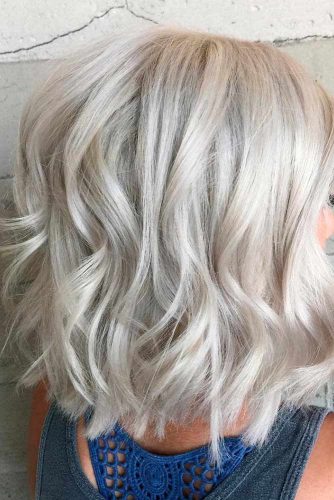 This look is perfect for those with thick hair. It has a slight wave and looks both carefree and polished. The layers will give it a ton of movement and volume.


7. Tousled Layers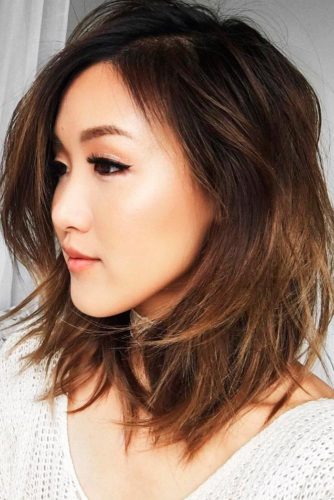 The sexy bedhead look is totally in right now and the best part of these carefree, tousled layers is that they require no effort whatsoever. Simply finger comb your hair, spritz in some sea salt spray and walk out the door!


8. 70s Retro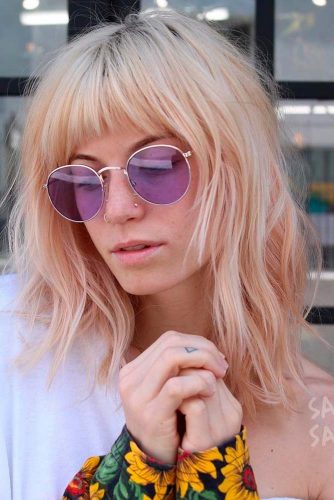 This totally hip look works wonders for fine hair! With its long tapered bangs and feathered layers, it harkens back to days of disco music and bell bottoms!


9. A-Line with Razored Tips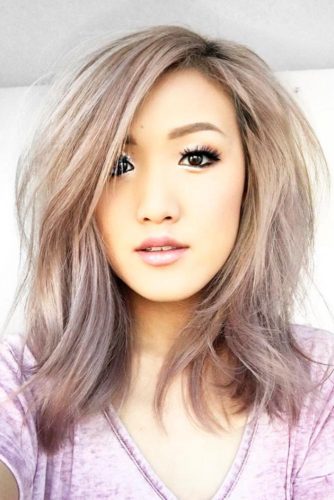 This fun take on the A-line is quite stunning. It has ragged ends and layers that softly frame the face to balance the cropped A-line cut.


10. Messy Side Sweep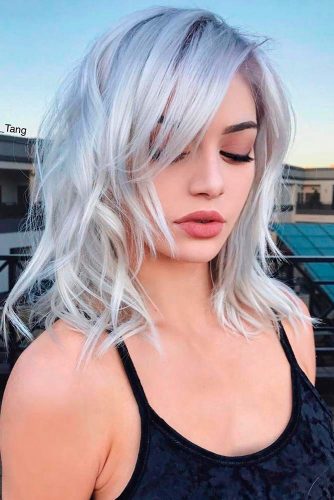 These choppy layers with jagged ends are reminiscent of the emo look of the early 2000s. The extreme side part is dramatic and will really make a statement.


11. Contrasting Layers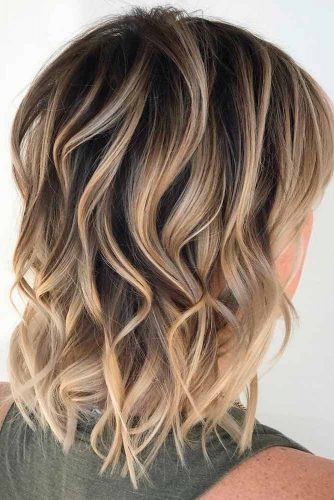 This look with its varying layers and tones is perfect for the women who can't decide! You can opt for both highlights and lowlights or a gorgeous two-toned balayage with this unique and trendy haircut!


12. Free Flowing Layers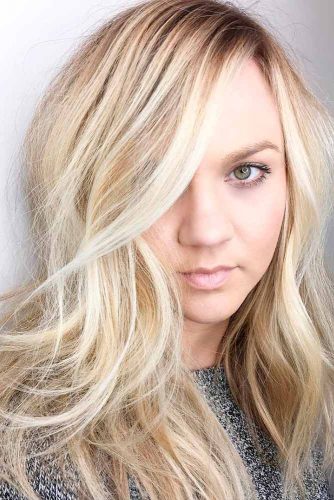 This look with its delicate layers is totally feminine. Add some dark highlights to really dress up the look.


13. Flipped Out Layers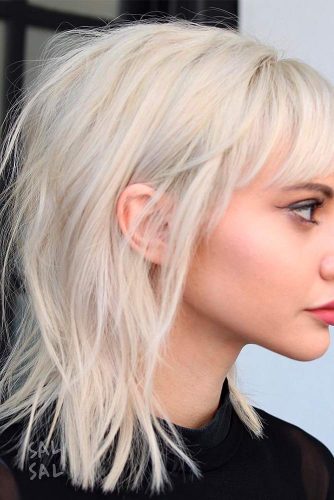 This style is perfect for those who have long hair and want to cut off a few inches without getting a drastic cut. The stacked layers add bouncy volume and movement. All you need to do is slightly flip out the ends with a curling iron, hair dryer, or flat iron.


14. Choppy Waves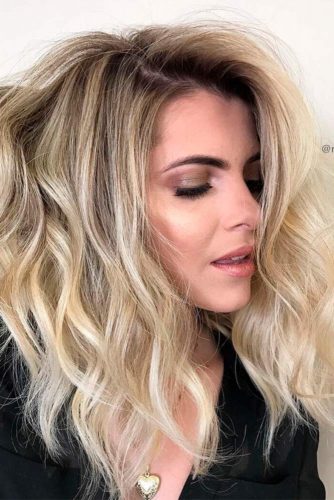 Swept over longer side bangs give these choppy layers quite a bit of height and depth. Blonde highlights will make this look even brighter!


15. Shaggy Style without Bangs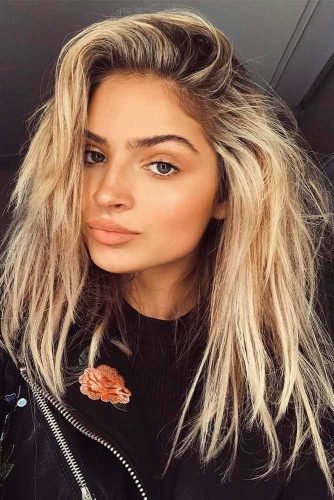 A slightly careless shaggy style is very popular this summer. This hairstyle is for those who do not want to spend a lot of time on the styling. Lightly comb the hair, giving it volume, and you are ready to conquer the world.


16. Asymmetric Medium Layered Haircuts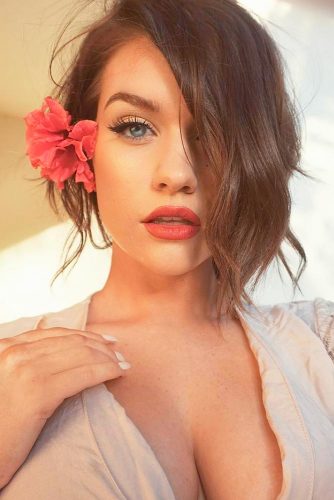 Asymmetric haircuts look very feminine and elegant on women of any age.


17. Curly Layered A-line Bob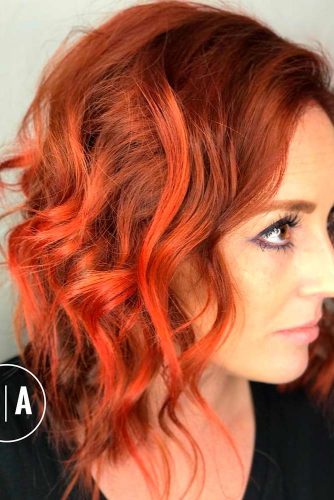 If you want to look spectacular, ask your stylist for a layered bob. This haircut is flattering for women of any age. Natural curls will make a coquettish hairdo. If you have straight hair, use a curling rod.


18. Multicolored Layered Haircuts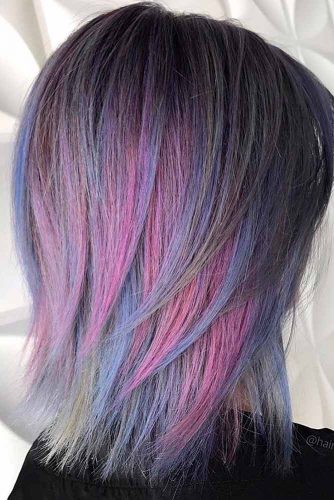 Multicolor ombre hair is a trend of the summer season. You can use blue, purple, pink colors to be more bright and stylish.


19. Medium Layered Haircuts with Bangs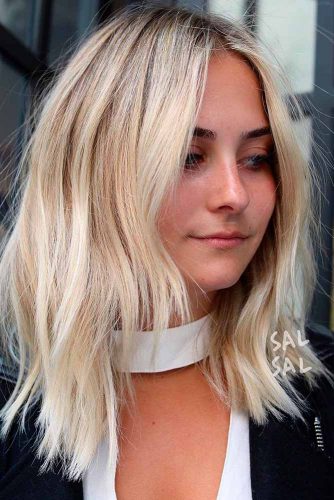 Long bangs can accentuate the face and enhance its shape, while layered tips give you an elegant look. This style will suit all women: blondes, brunettes, or brown-haired girls.


20. Swept Side Hairstyles with Bright Colored Ombre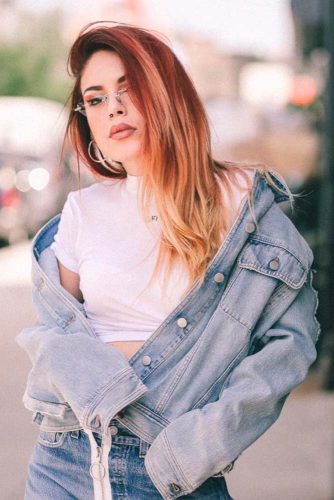 Bright reddish-brown ombre will be a wonderful hairstyle for those who are used to being in the center of attention.


21. Farrah's Back Angel Wings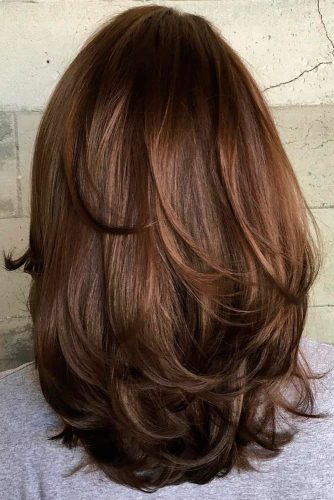 This look works great for those with thin or fine hair. This classic version is a bit longer than that classic style that was so popular in the 1970's. Have the ends feathered with scissors and style with a round brush while blow drying till you get your desired texture and look.


22. Angel Wings with Highlighted Curls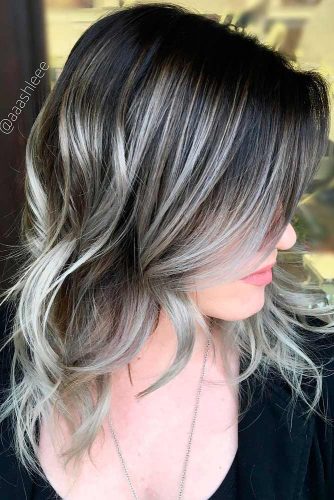 Curly hair looks great with highlights. If you have thicker hair you should get chunky, balayage highlights to compliment and accentuate your gorgeous layers, adding more color and texture to your hair.


23. Chic and Smart Medium Length Haircuts with Layers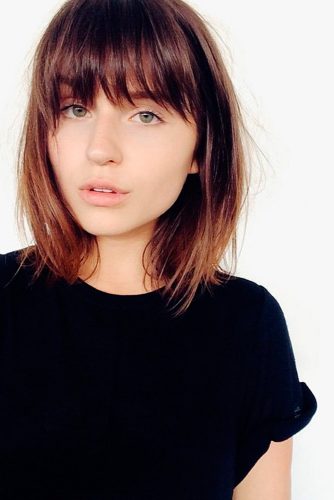 This hairstyle works great with straighter hair, with heavy cut bangs on a thick smooth hairstyle.


24. Feathered V-Layers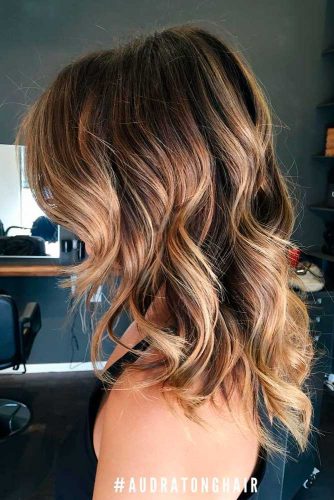 With short, feathered layers framing the face, this style is easily manageable. The eye will be drawn downward with the longer layers in the back.


25. Medium Layers with Soft, Romantic Locks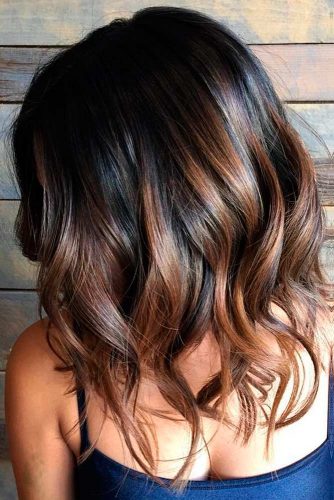 If you want to look feminine and stylish, soft bouncy curls will surely bring out that seductive look. If you want to rock these gorgeous curls, simply apply a curling foam or mousse to your locks and blow dry. Then define your curls with a curling iron to add some extra bounce!


26. Choppy, Flicked Out Hairstyle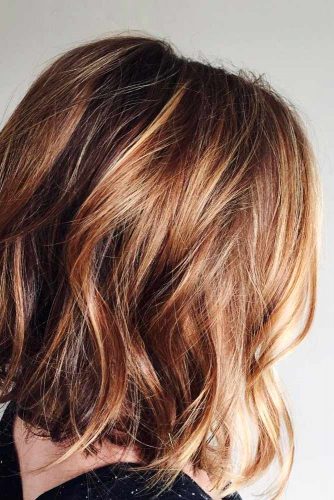 Medium layered haircuts work best for an oval-shaped face and are very easy to style. Simply apply foam to your hair and blow dry it. If you want your hair to frame your face, shape with a round brush.


27. Layered, Edgy Haircut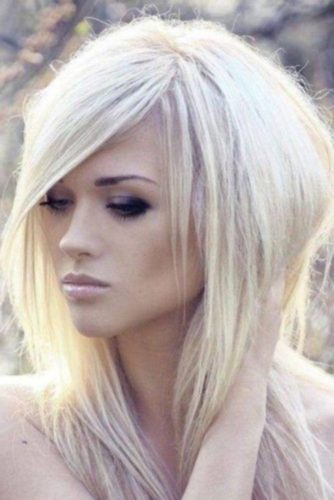 This style will both eliminate split ends and boost volume with its edgy layers, making your face look both lively and healthy. This style is low maintenance and you can totally rock the messy, casual look which is all the rage these days.


28. Medium Layers with Heavy, Straight Bangs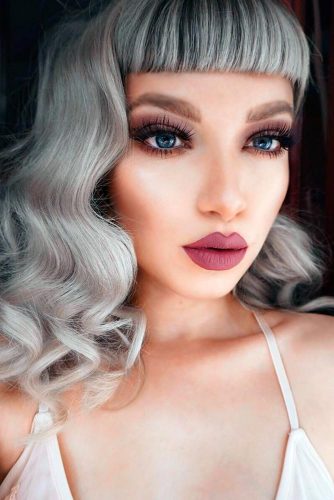 If you want to accentuate your delicate neckline and gorgeous eyes, this look is for you. However, if you have wide cheekbones, you won't want to opt for this cut as it will draw the eyes to that spot. If you have a longer, slim face, straight and heavy bangs are quite flattering.


29. Breezy Medium Length Style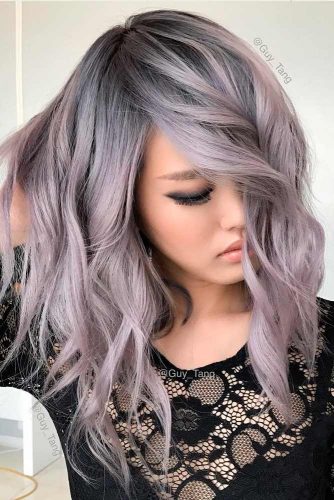 This style works great for naturally thin hair. Strategically placed layers and side-swept long bangs make this careless look very stylish, especially if you raise your hair ever-so-slightly at the roots.


30. Choppy Mid-Length Waves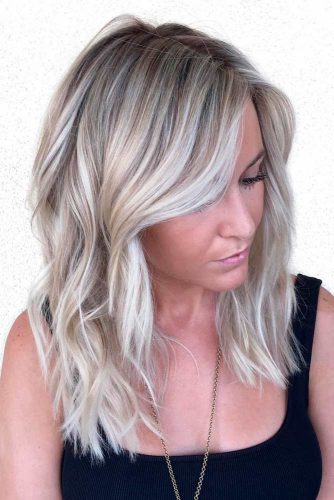 This cute layered style with longer side bangs adds more height when swept over to one side. If you want to add even more depth, add light blonde highlights.


31. Blonde Bombshell Waves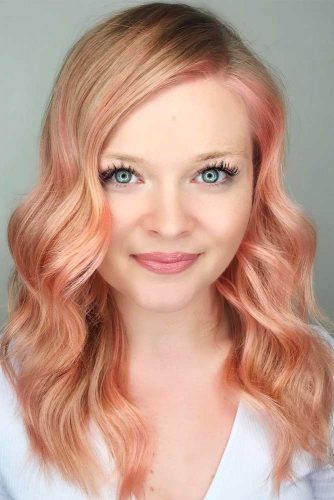 Smooth layers for either naturally curly or wavy blonde hair are always in style. Add red undertones for a more bold and dynamic look.


32. Medium Layers for Thin or Fine Hair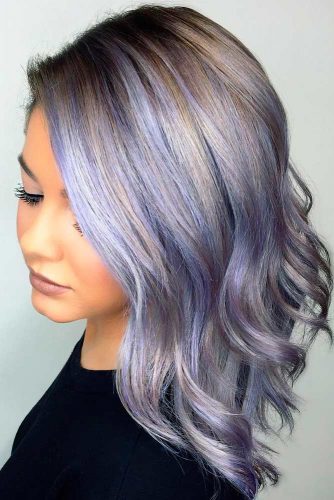 This adorable cut is longer than the classic bob cut and is a perfect style for those who wish to grow out their hair with its gradual layers that get longer toward the back, with just a subtle hint of feathers around the neck and chin.


33. Chestnut Medium Hairstyles with Layers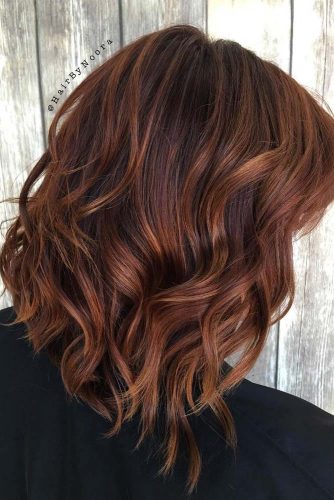 Dark chocolate waves with subtle chestnut highlights will boost the volume of this medium haircut with layers. A random fringe makes a look fuller.


34. Feathered Layered with Streaks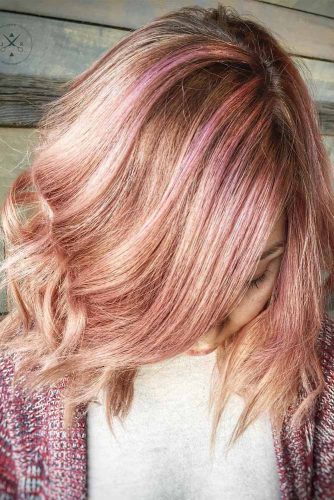 Multicolored highlights are all the rage. This adorable cut with red, brown and blonde streaks toward the base of the neck add dimension and style to this straight, sleek style.


35. Medium Shag Cut with Bangs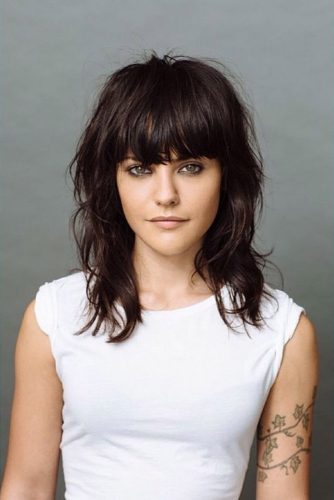 This edgy look is flirty and fun. With thin light layers around the back and sides and combed down bangs, this look is bold and daring.


36. Free yet Formal Mid-Length Layered Cut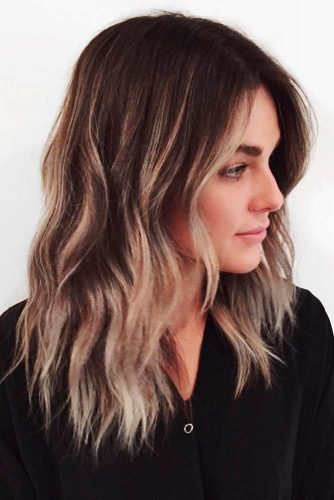 With its soft and delicate layers, this look is perfect for medium thickness. Add mid-tone brown high and lowlights to rock this style on any occasion.


37. Medium Layers with Heavy Ends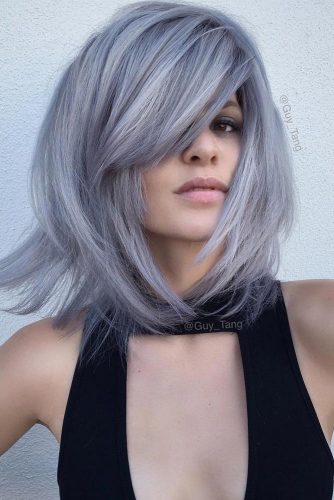 This style rocks three symmetrical layers and blunt cut bangs. And the heavy ends will bring out the natural beauty and thickness of your hair.


38. Medium Layered Haircuts with Stairsteps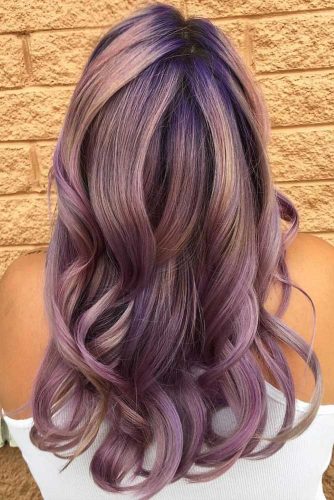 If you prefer longer "creamy" layers with stair steps for your curly hair, this style will work great as your gorgeous tresses will be cut and styled to softly frame your face.


39. Deep Dark Roots with Layers for Finer Hair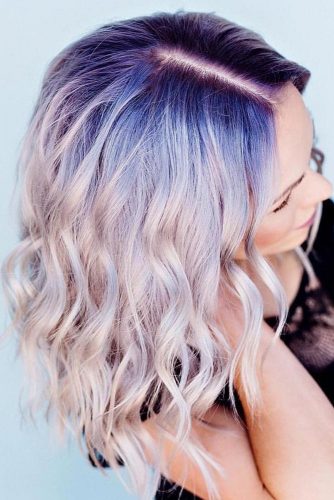 These deep roots will add volume and texture to those with finer hair. The soft bangs can be worn in either a center or side-part.


40. Mid Length Asymmetrical Graded Cut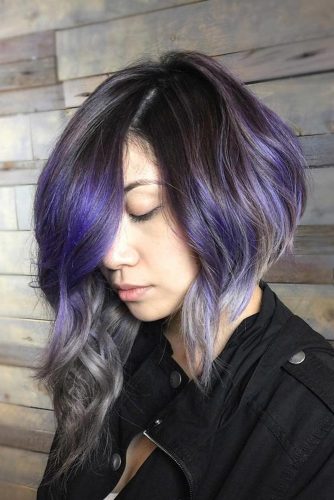 This stylish cut works great for straight hair and is low maintenance with its graded asymmetrical style.
These are the trendiest medium layered haircuts. We are sure that you can -choose a flattering haircut to sport this season.


Medium Layered Haircuts 2023: Video Ideas
Photos from Instagram.com
Source: Glaminati.com