Are you looking for coffin nail ideas? Do you want a trendy look for your nails? Then, this post gives you popular coffin nail designs, from minimal to absolutely extra.
While coffin nails sound spooky, the manicure is actually named for its uncanny shape resembling a coffin. The long, tapered nails have a sharp square tip.
The coffin shape is unique since the nail bed and tip are kept to a similar width, while the nail's middle part is shaped wider. With this narrow-wide-narrow shape, you can achieve an illusion of slim fingers and narrow nail beds.
If you need something stylish and edgy for your next manicure, here are the best coffin nail designs you should not miss in 2023!
Colored Coffin Nails Designs
Perhaps the best thing about coffin nails is that they work well with colors. There are plenty of fantastic options, and here are some colored nail designs to try:
Purple Coffin Nails
Who would not love purple nails? Besides being associated with power and royalty, this color gives nails a luxurious look.
You can choose from a variety of shades, depending on your mood or preference. You can opt for lighter colors if you want easy to wear and a pretty appearance. But if you wish to create a softer look or make a statement, go for rich hues.
Coffin nails let you play around with various effects, like marbled or ombre techniques. Then, you can add nail art, including butterflies.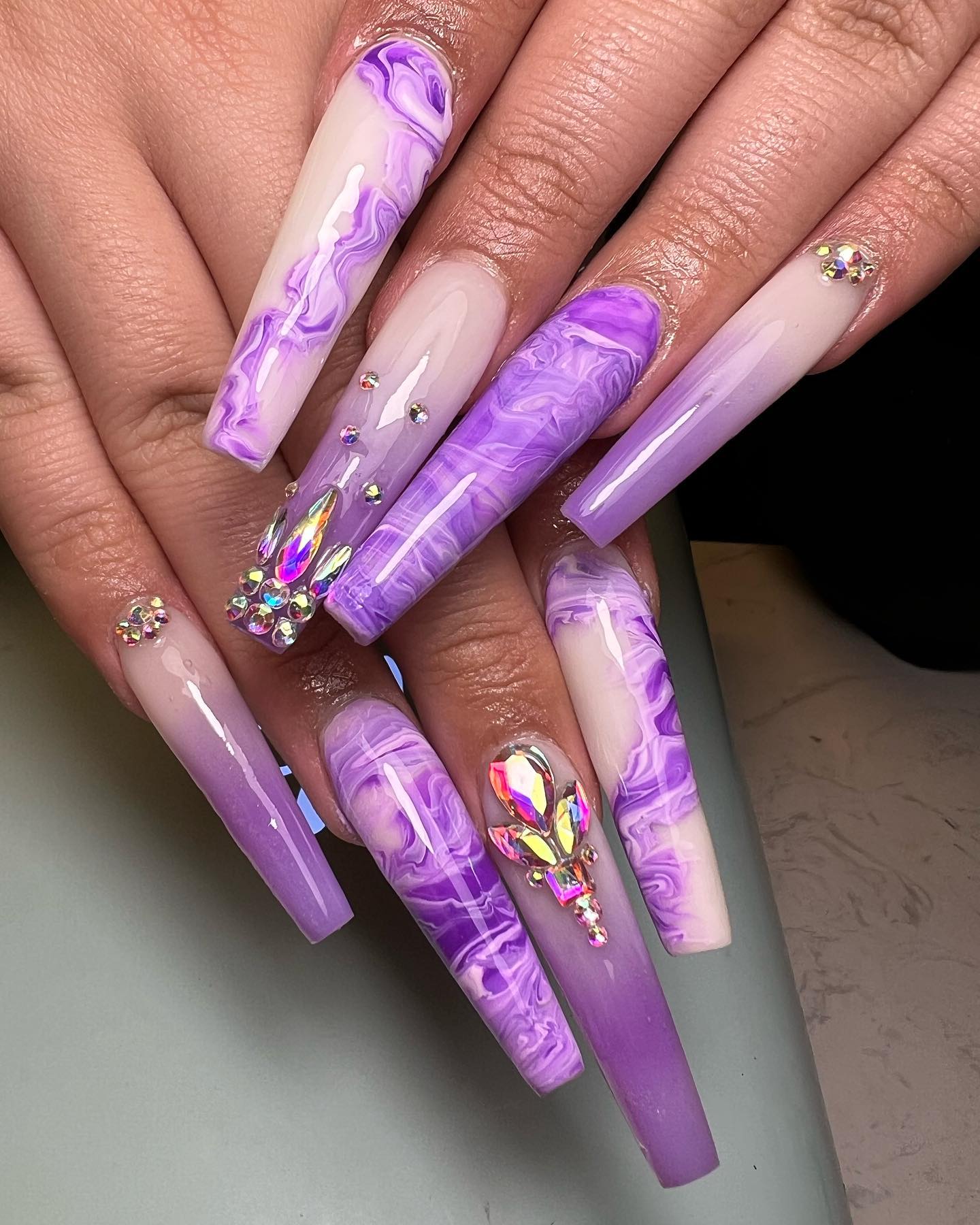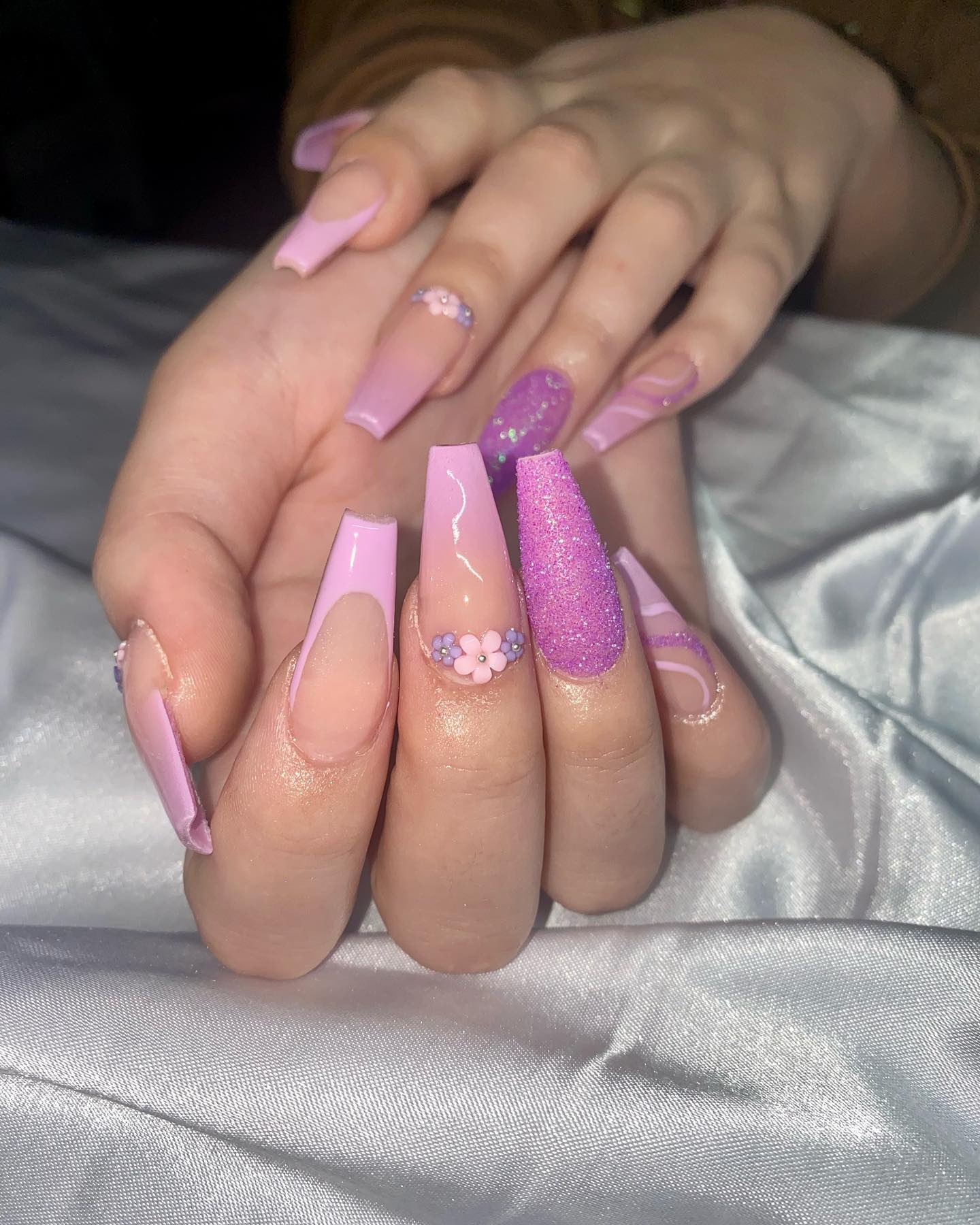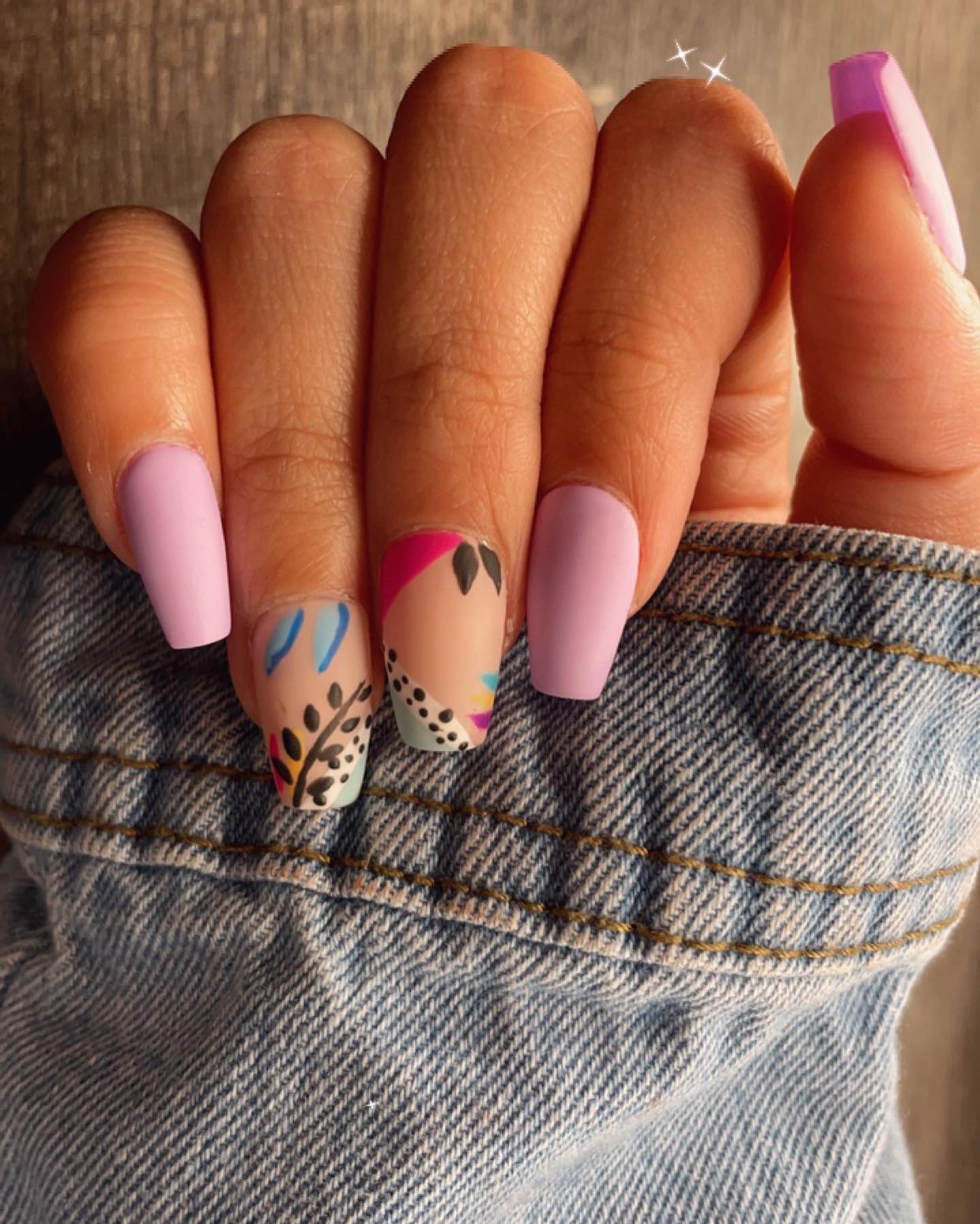 Yellow Coffin Nails
Yellow is often associated with hope, positivity, and happiness. With yellow coffin nail designs, you can make a statement. After all, this vibrant color can instantly draw attention.
While this shade demands attention to the nail shape because of its boldness, you can pair it with other shades. You can achieve a stunning, feminine appearance by pairing your chic yellow nails with lively daisy flower art. Also, you can incorporate smiley faces or slogans to have fun with your yellow coffin nails.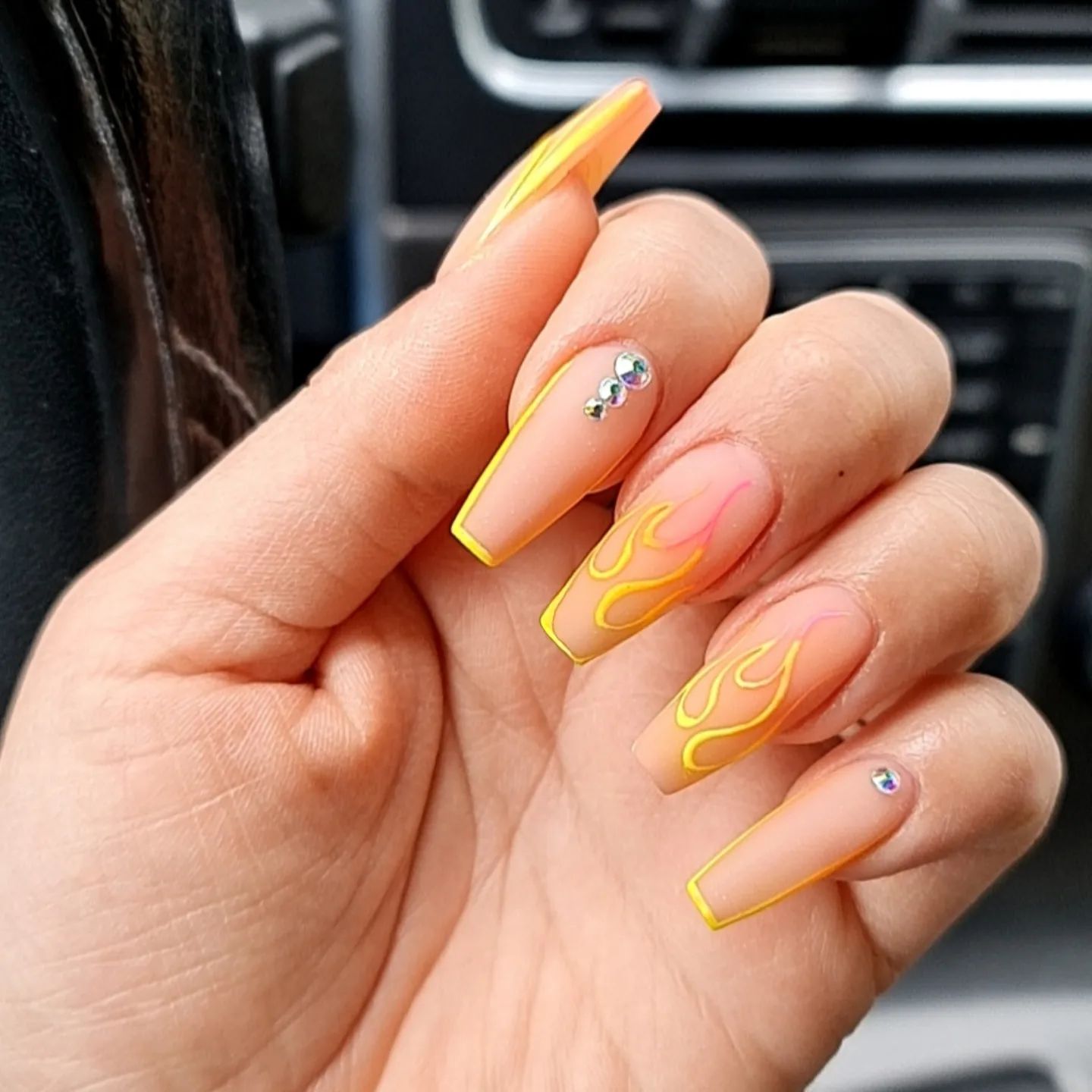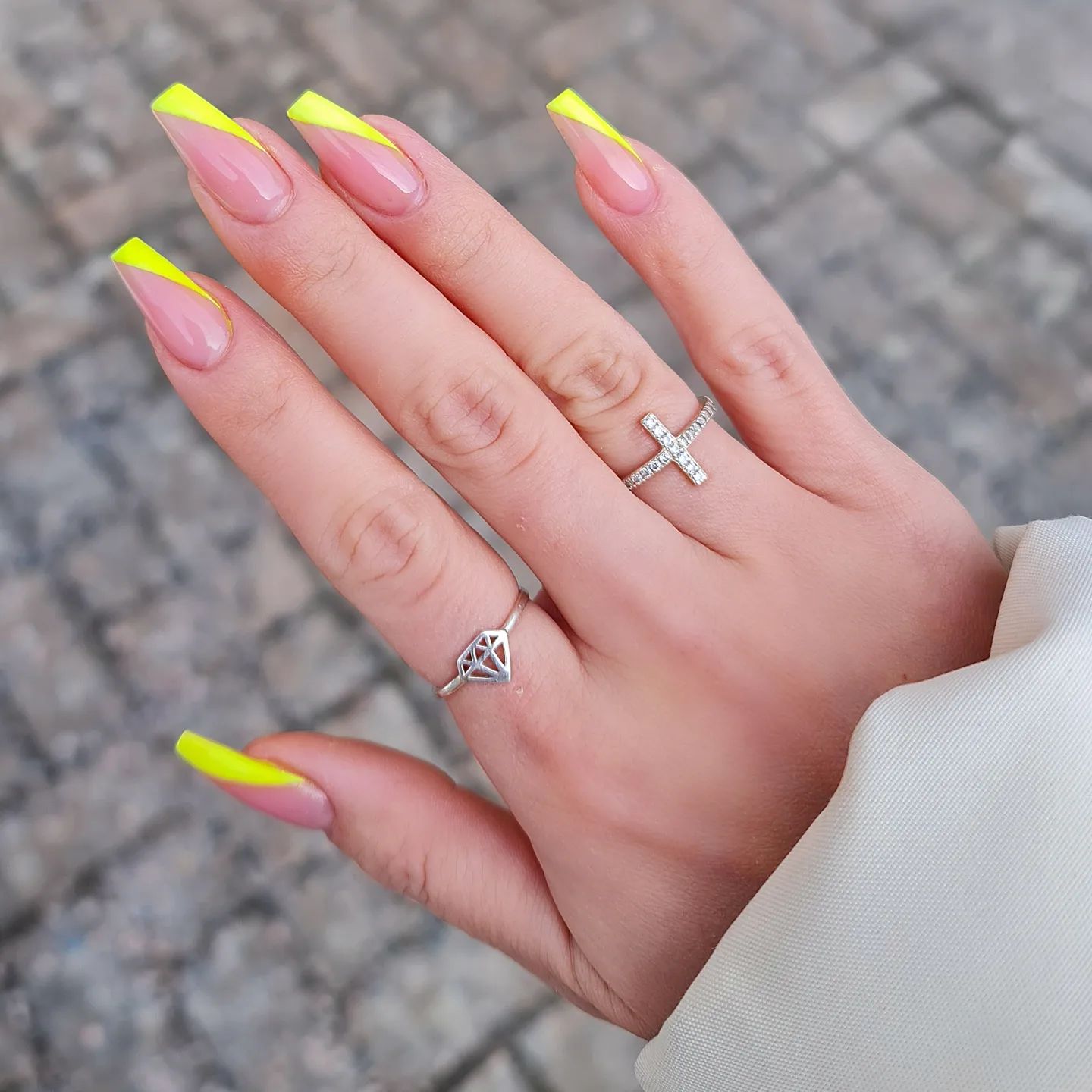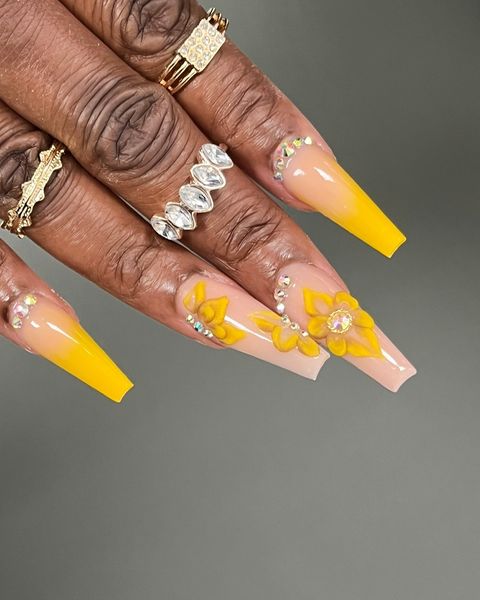 Blue Coffin Nails
For a daring nail design, blue coffin nails are a perfect choice. This colored coffin nail design will give you bold fingertips.
Go for a bright blue hue if you want to create a stunning look in summer. But if you wish to rock a winter look, choose a deeper shade like midnight blue or cobalt. Royal blue coffin nails can easily catch attention because of their rich hues. This color is associated with wealth and luxury, making it fantastic for different nail designs.
Light blue can be a stunning color for your next coffin nail design. This color is easy to wear and complements a variety of skin tones. It is a color often associated with tranquility and calmness. Achieve a more detailed design by pairing light blue with pastel shades.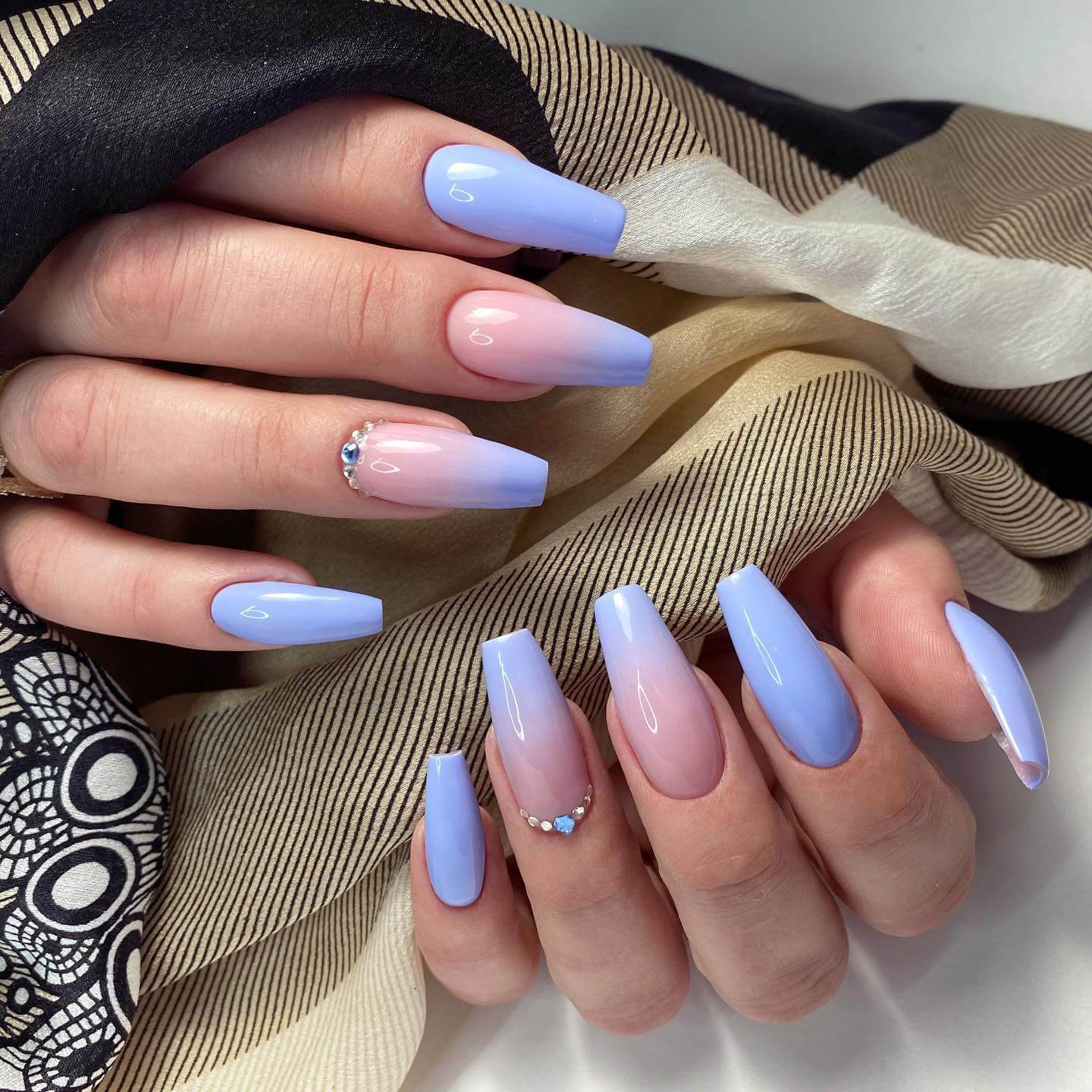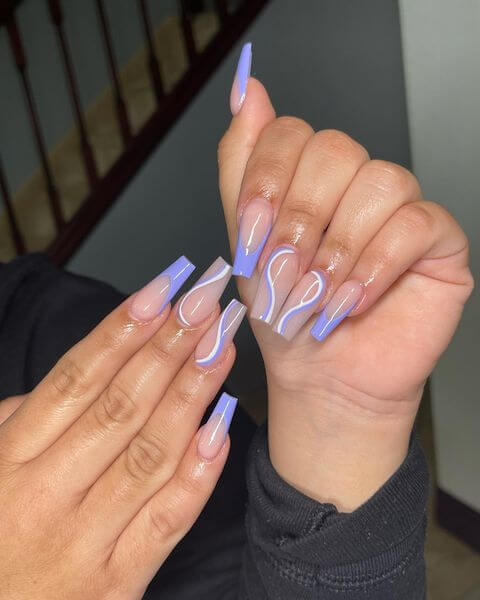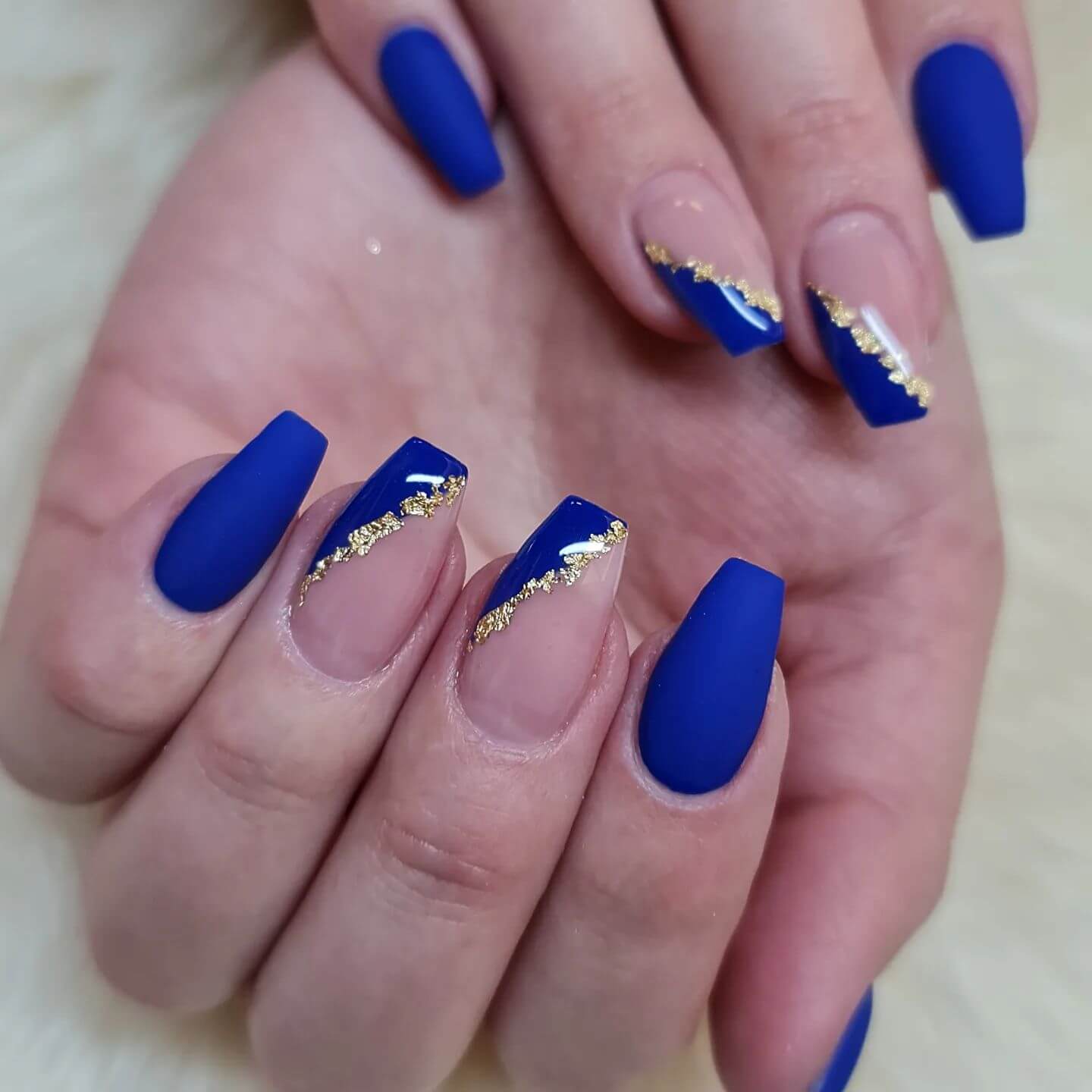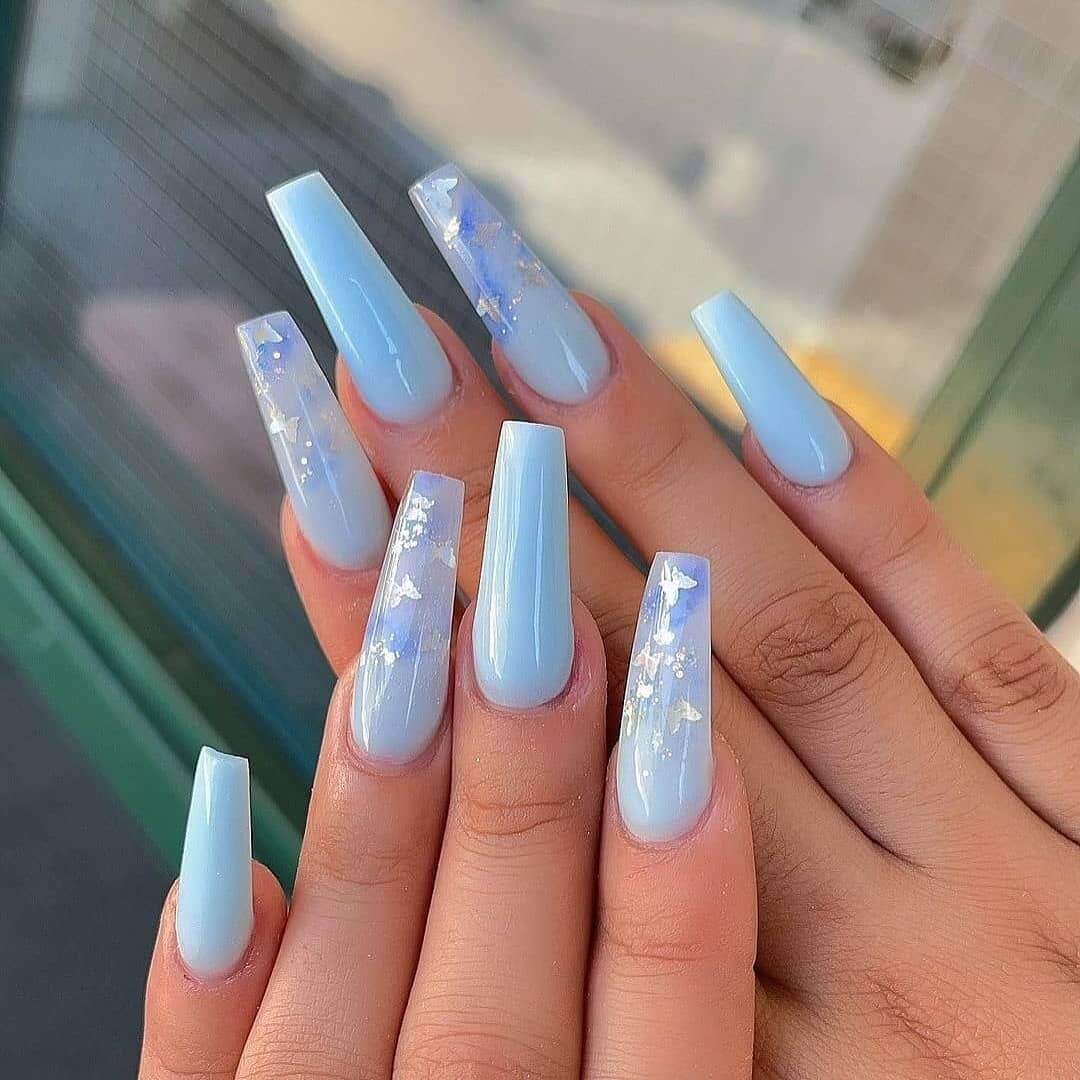 Black Coffin Nails
Do you want some boldness and an edgy look on your nails? Then, you should not miss black coffin nails. These dark nails are not only chic but also striking.
Black coffin nails look great with shiny or matte finishes. You can also top them with metallic details. Putting a gloss on these nails can exude a stylish aura and sophistication. This coffin nail style is best for ladies who love night parties and being under a disco ball.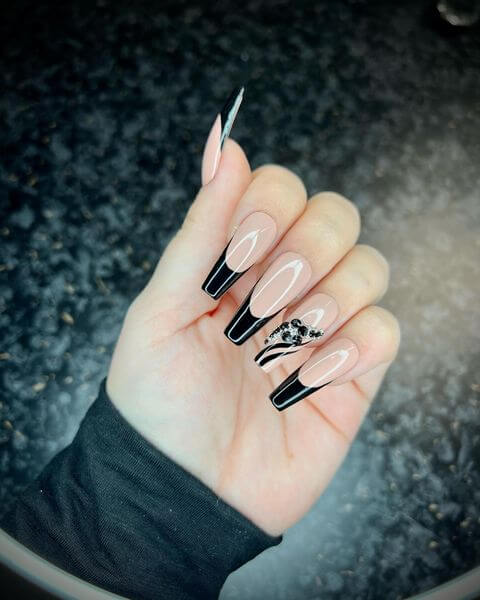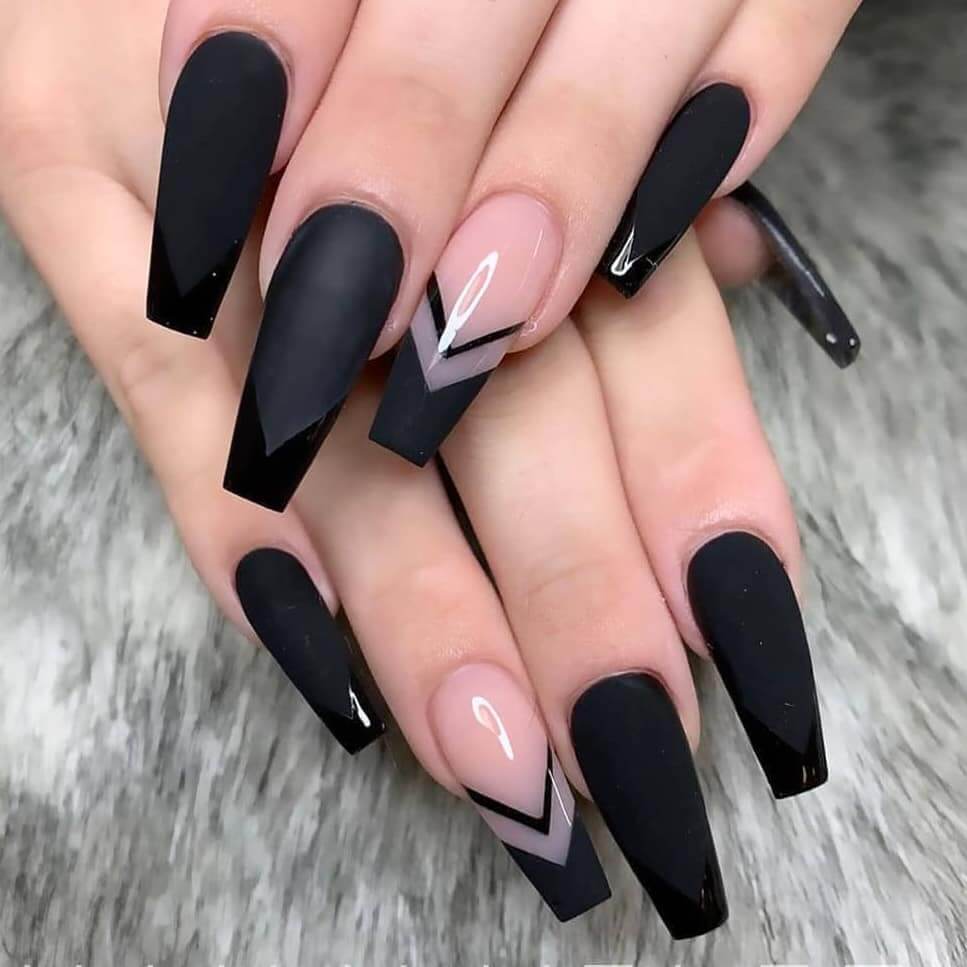 White Coffin Nails
White is a color that offers style and versatility. This nail color looks incredible on women of all ages. You can add this color to nails of all lengths and shapes.
While you can enjoy the simplicity and beauty of white coffin nails alone, you can bring this nail design to the next level—experiment with this fun nail design by adding glitter swirl designs. Also, you can pair your white nails with bits of crushed crystals.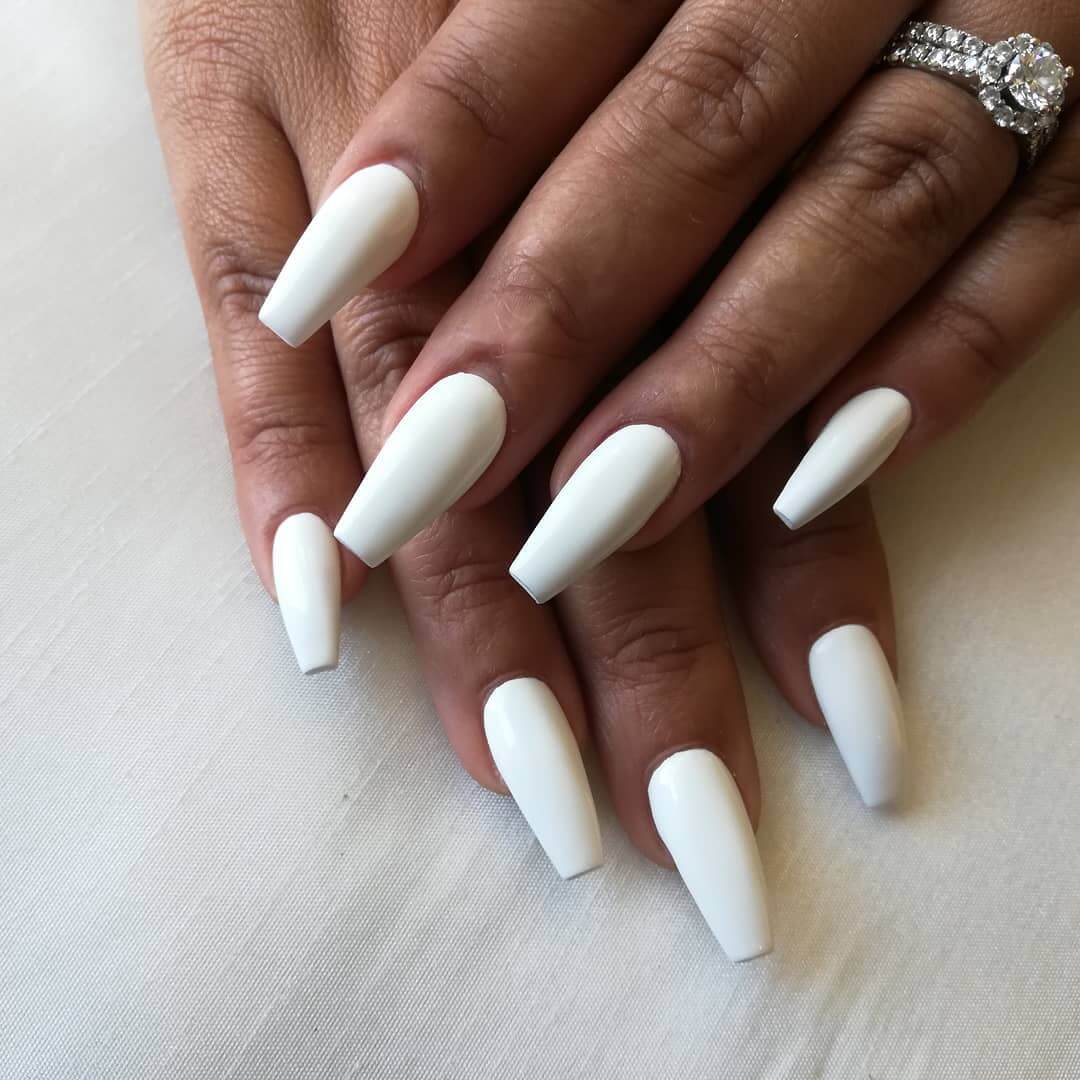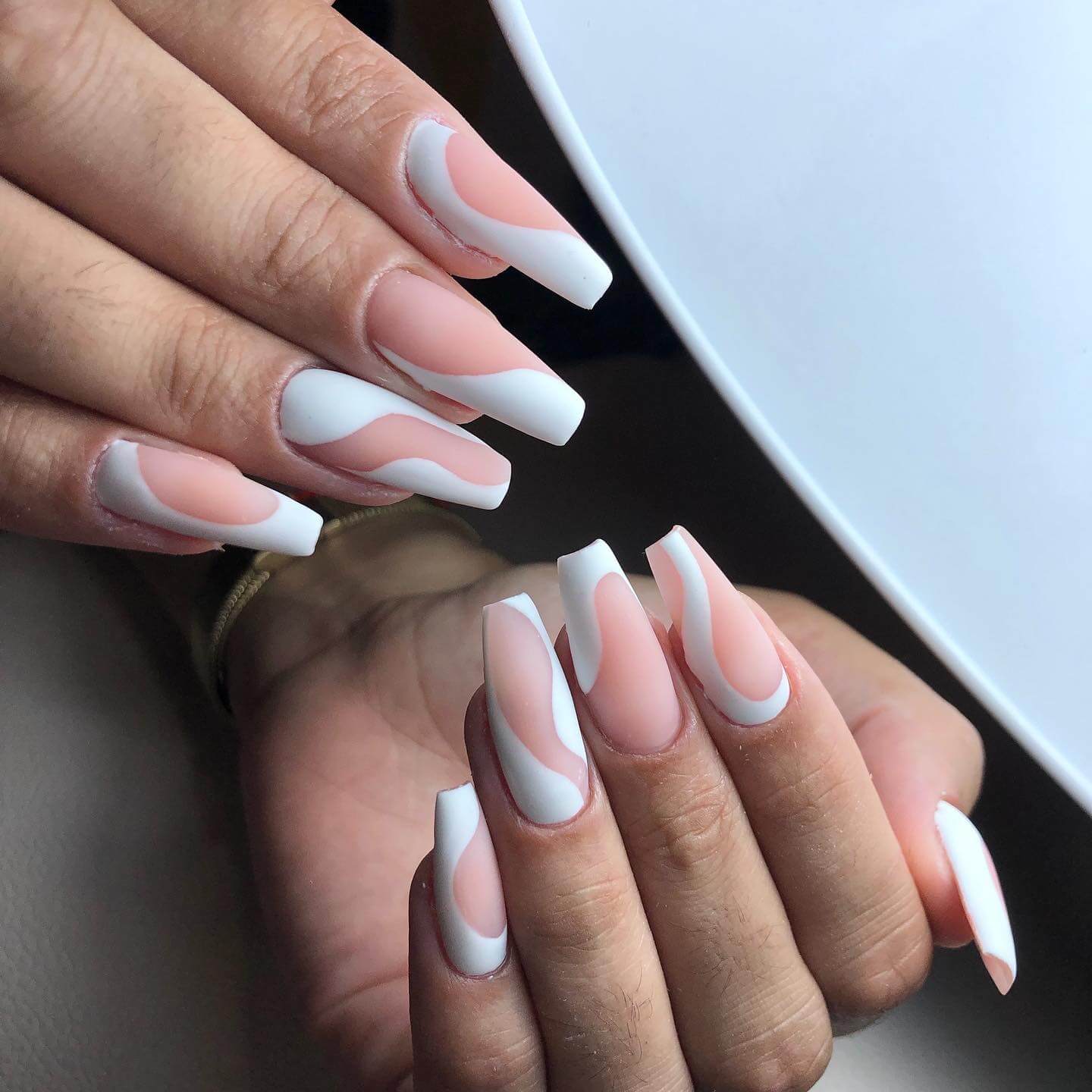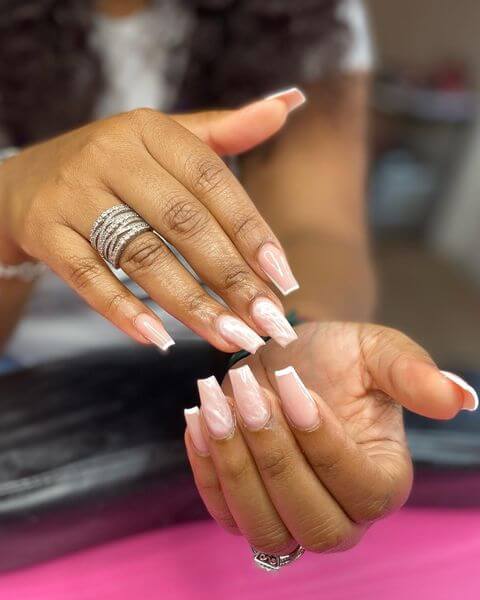 Pink Coffin Nails
If you wish to lessen the edginess of coffin nails, you can paint them baby pink or glossy light pink. This gives you a more feminine shade.
You can balance out the shape's boldness with the light pink shade. As a result, your nails become less edgy. Since this color is frequently associated with Barbie and little girls, it can make your hands and nails look more innocent and younger.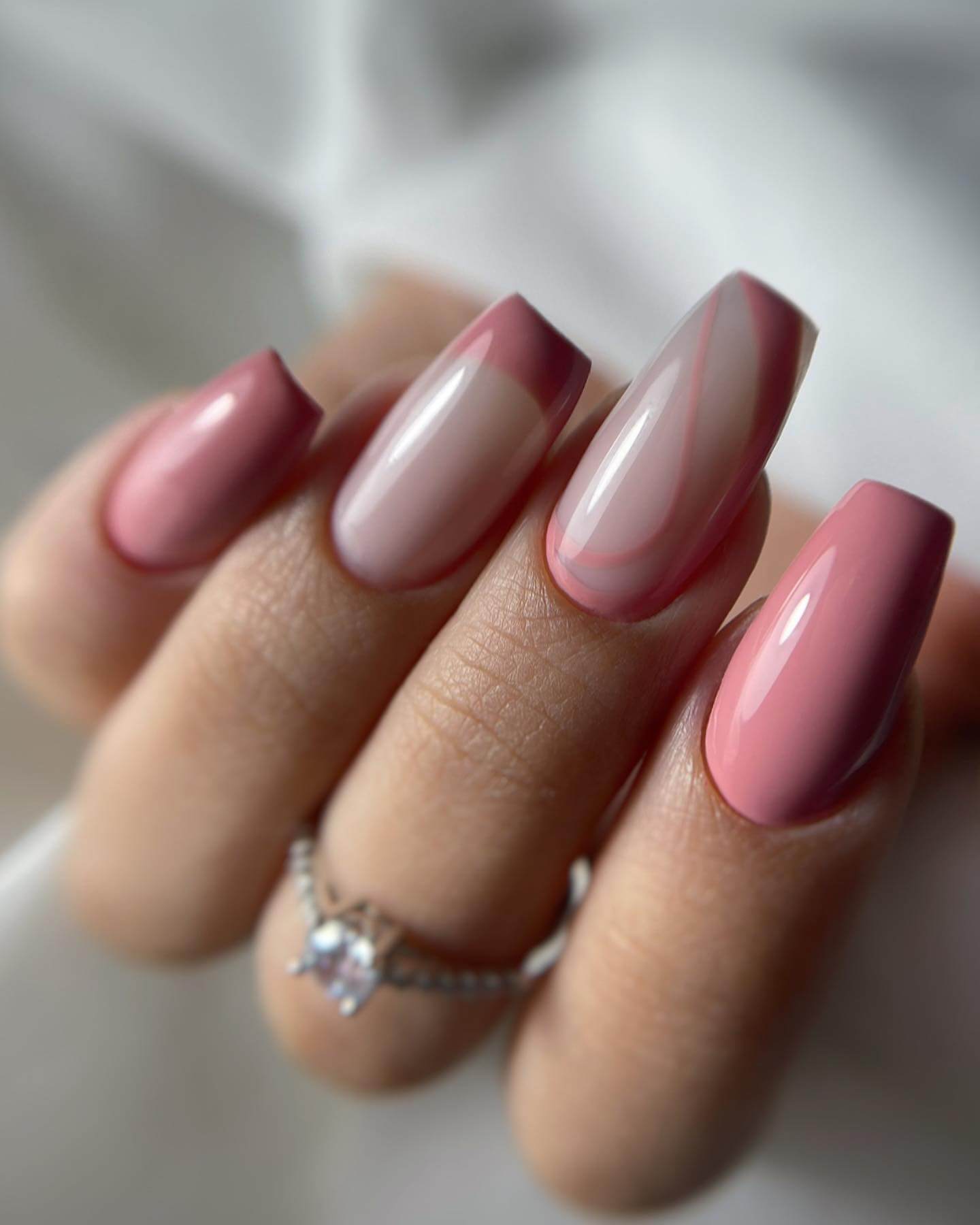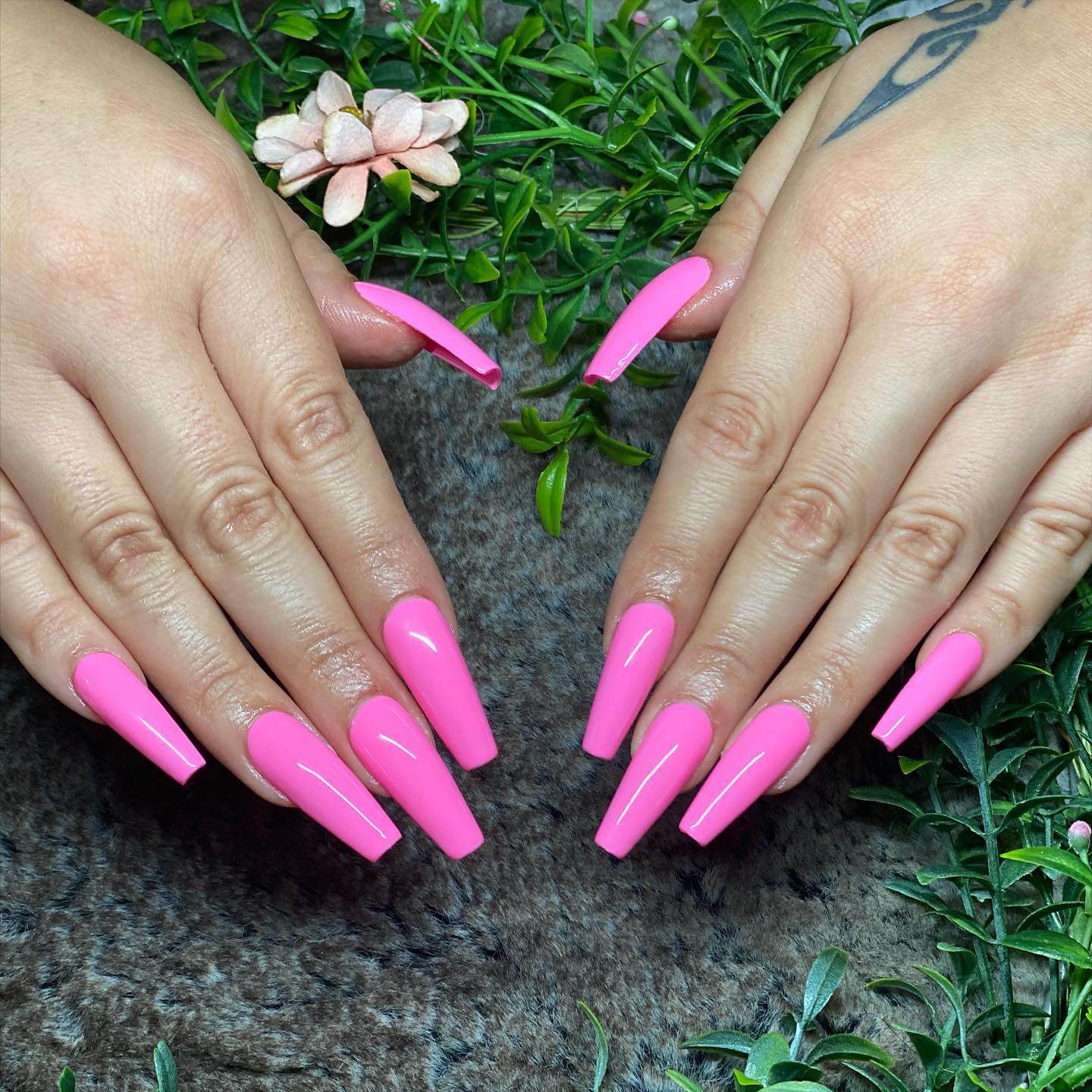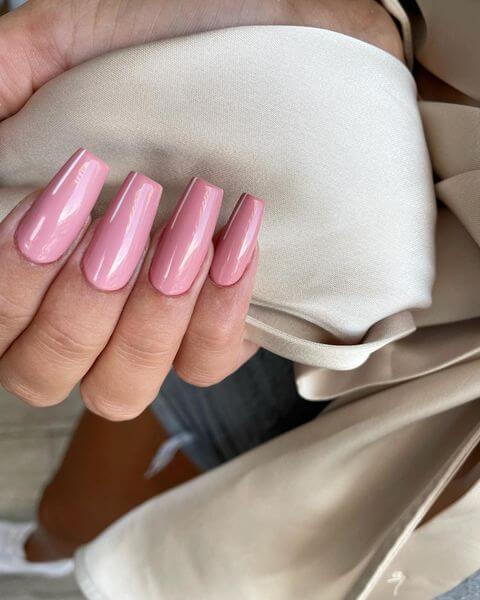 Red Coffin Nails
Red nails can make you feel sexy and powerful at the same time. You can also look hot with your bloody and glossy red, long coffin nails.
These fierce nails can attract a lot of admirers. They can give you a dramatic and sexy look, perfect for a romantic date night. You can also wear them on a girls' night out. Regardless of the event, your attractive red coffin nails will not fail you.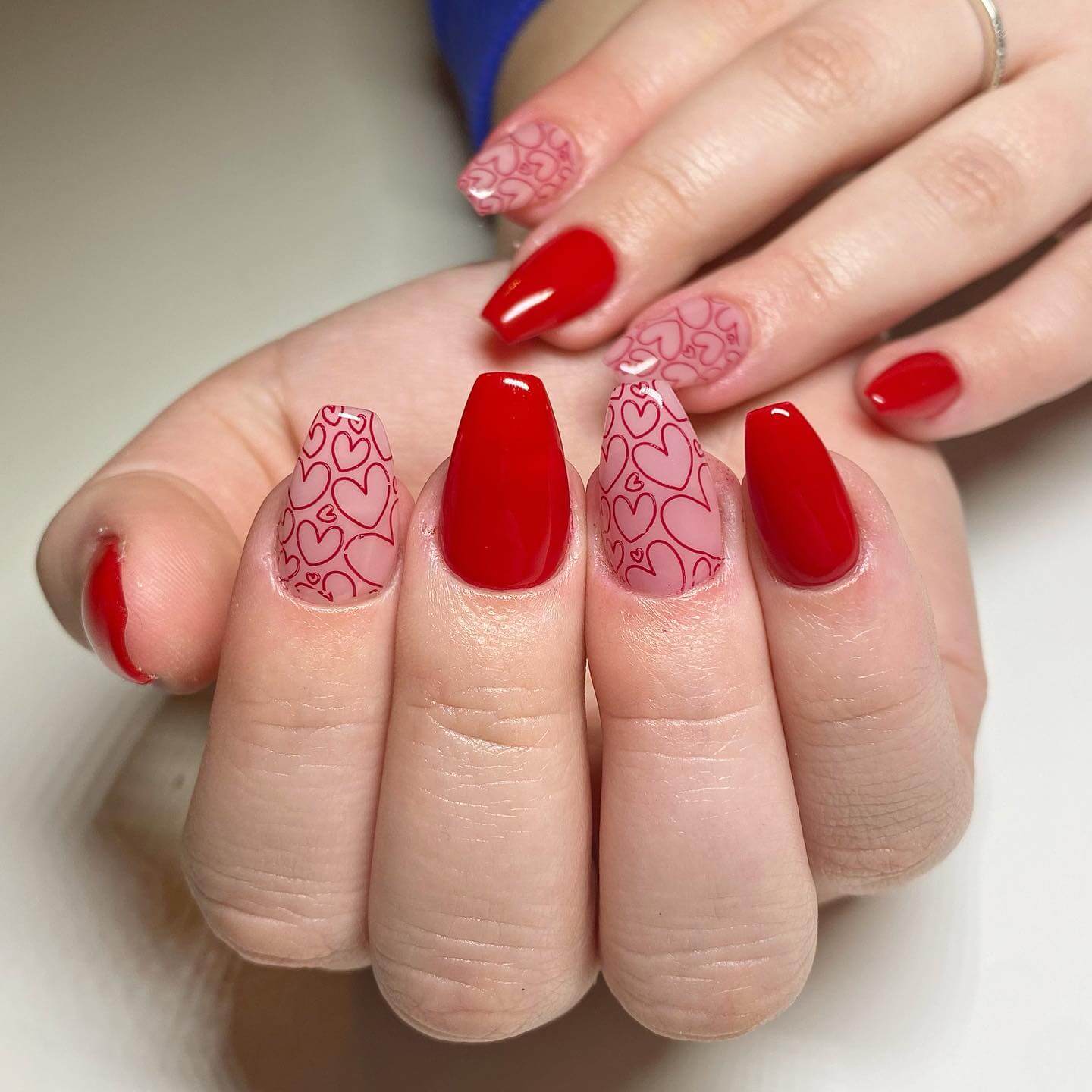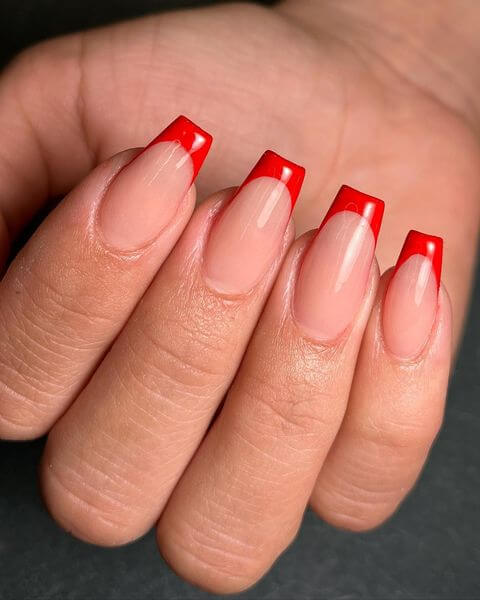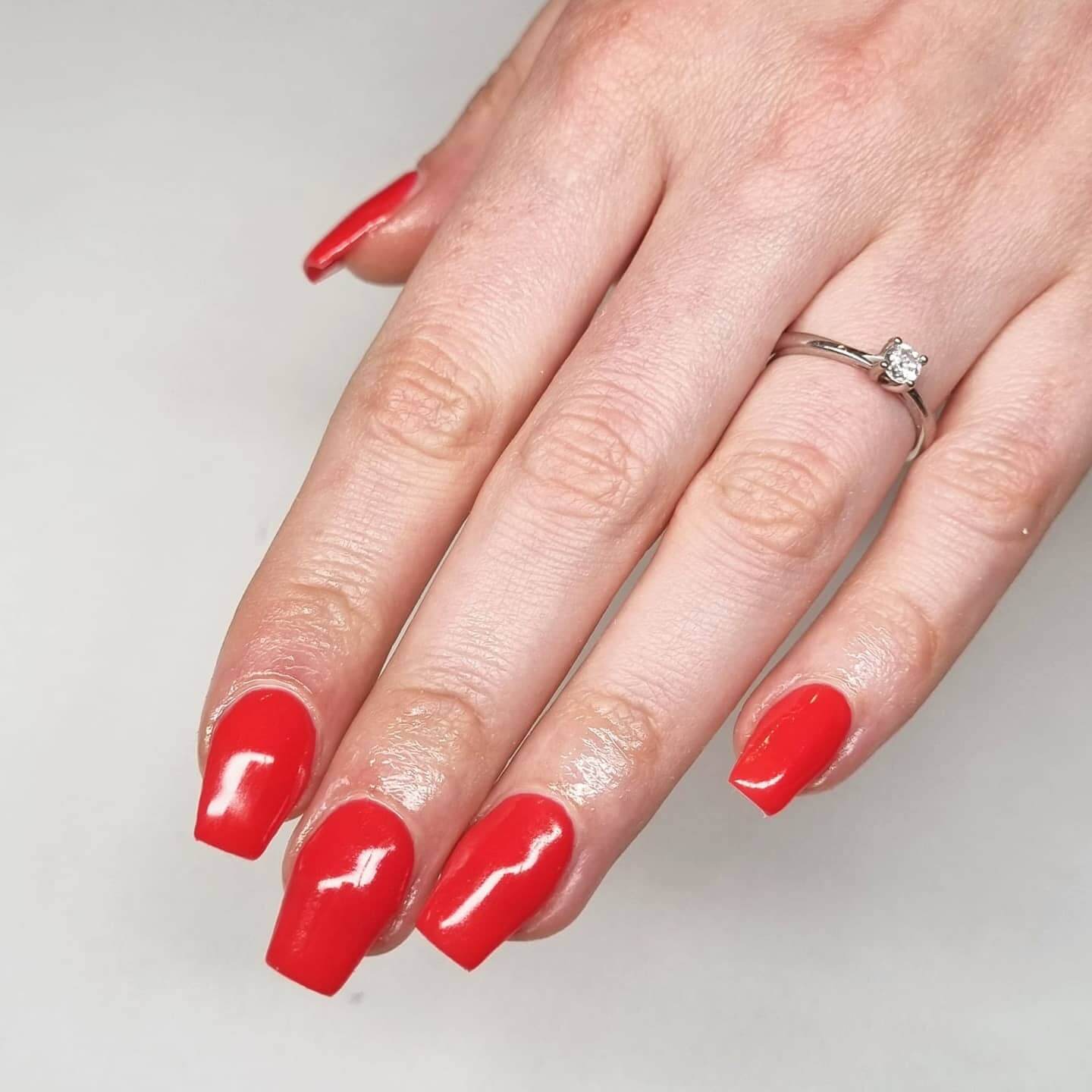 Gold Coffin Nails
Gold nails are one of the most stylish coffin nail designs, and they scream elegance and luxury. Depending on your desired finish, you can combine gold with other colors.
You can have a black base coat and add gold flakes to it. Also, you can try geometric designs or experiment with fun angles.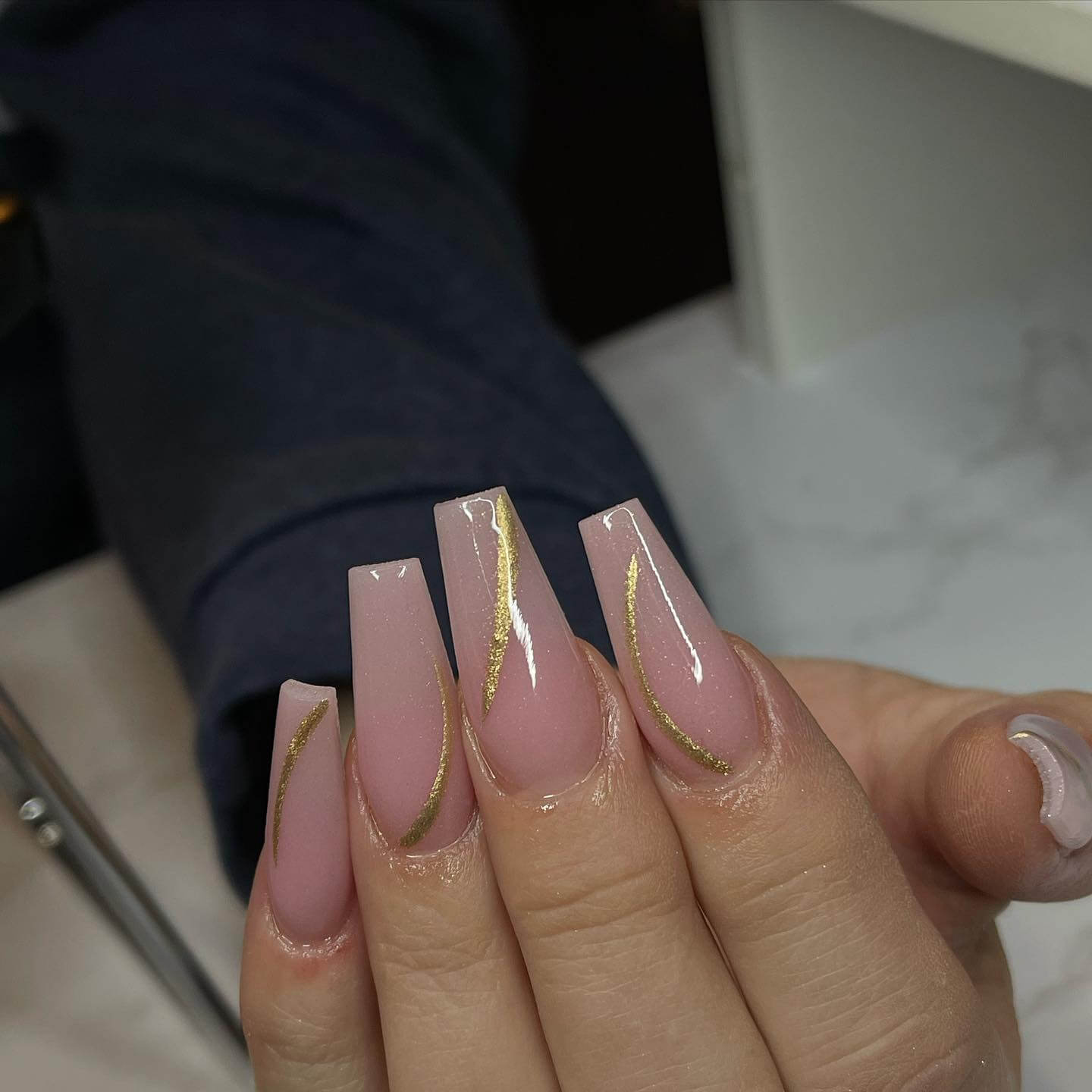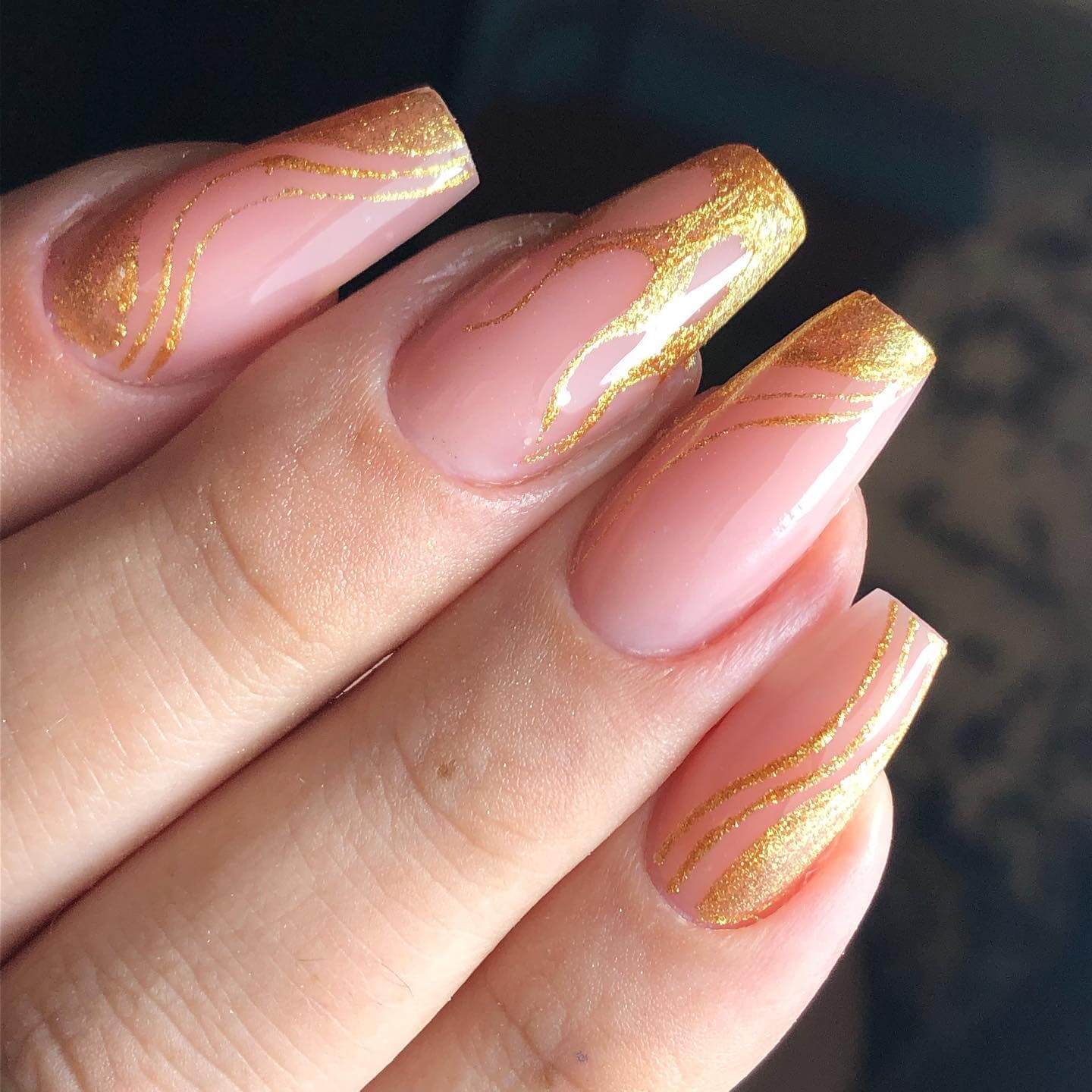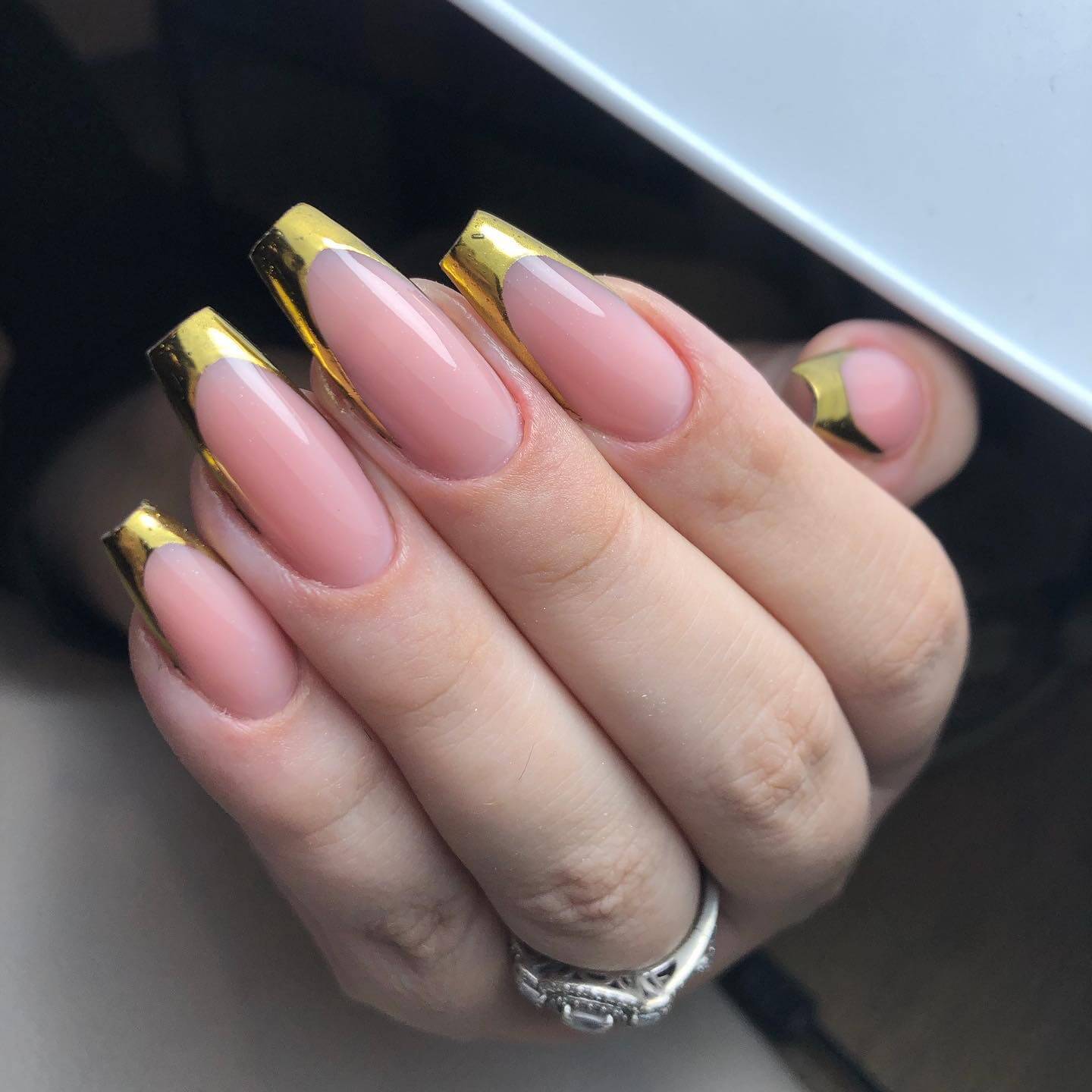 Different Length Coffin Nail Designs
What is great about coffin nail designs is that you actually don't have to get super long nails. The coffin nail style looks great on short, medium, or long nails. You can achieve the coffin nail design whatever nail length you have.
Short Coffin Nails
Even if your nails are short, you can still rock different short coffin nail designs. Extend your nails a little past your fingertips to create the right tapered shape.
Paint your nails light and neutral with white pain strobes for a classy short coffin nail style. This style gives you a classier and chicer look. Also, this style is a perfect option for a casual and formal look. But feel free to experiment with bold and bright colors.
Here are some short coffin nail ideas to choose from:
Flower coffin nails
Accent coffin nails
Marble coffin nails
Outline coffin nails
Colorful French coffin nails
Glitter coffin nails
Shiny green coffin nails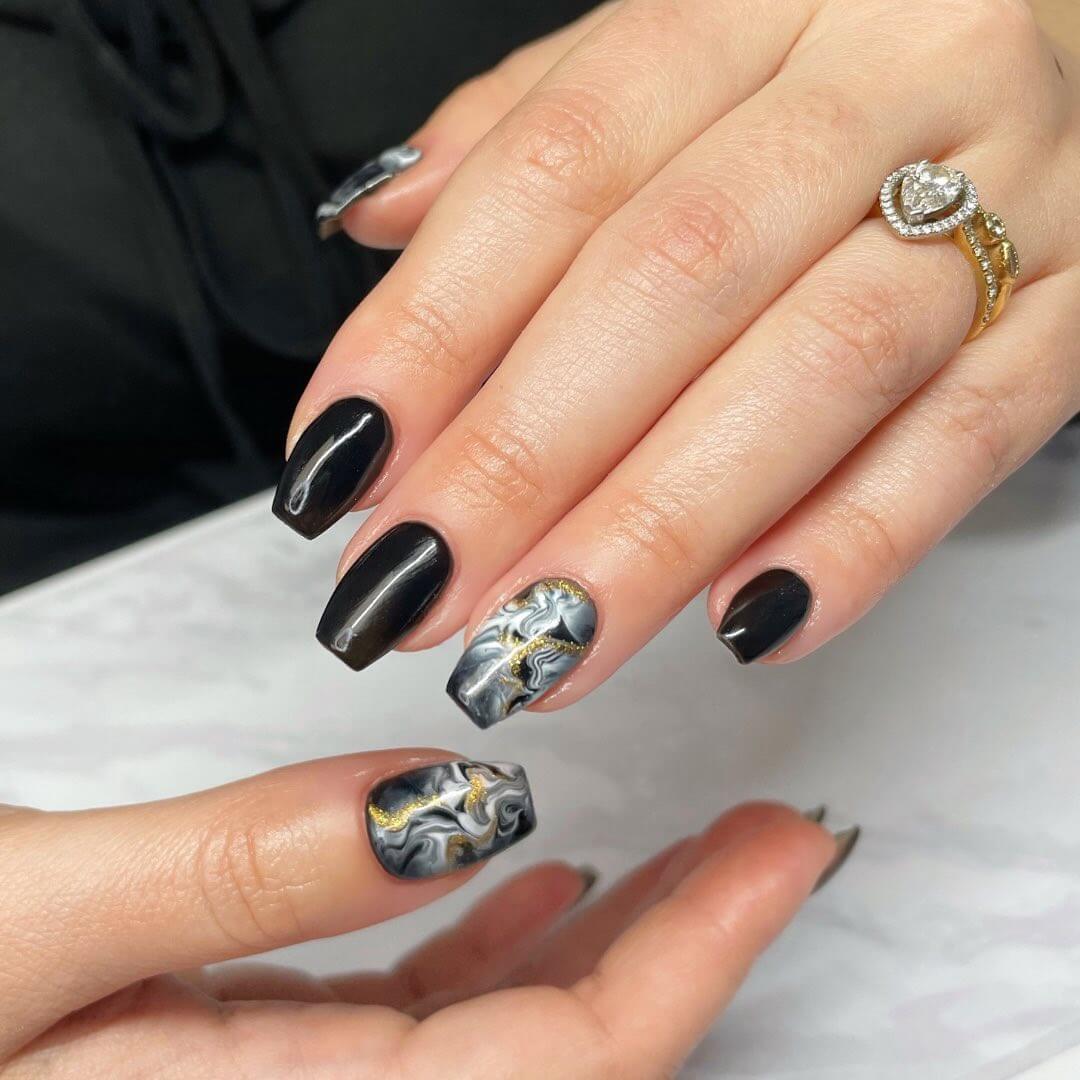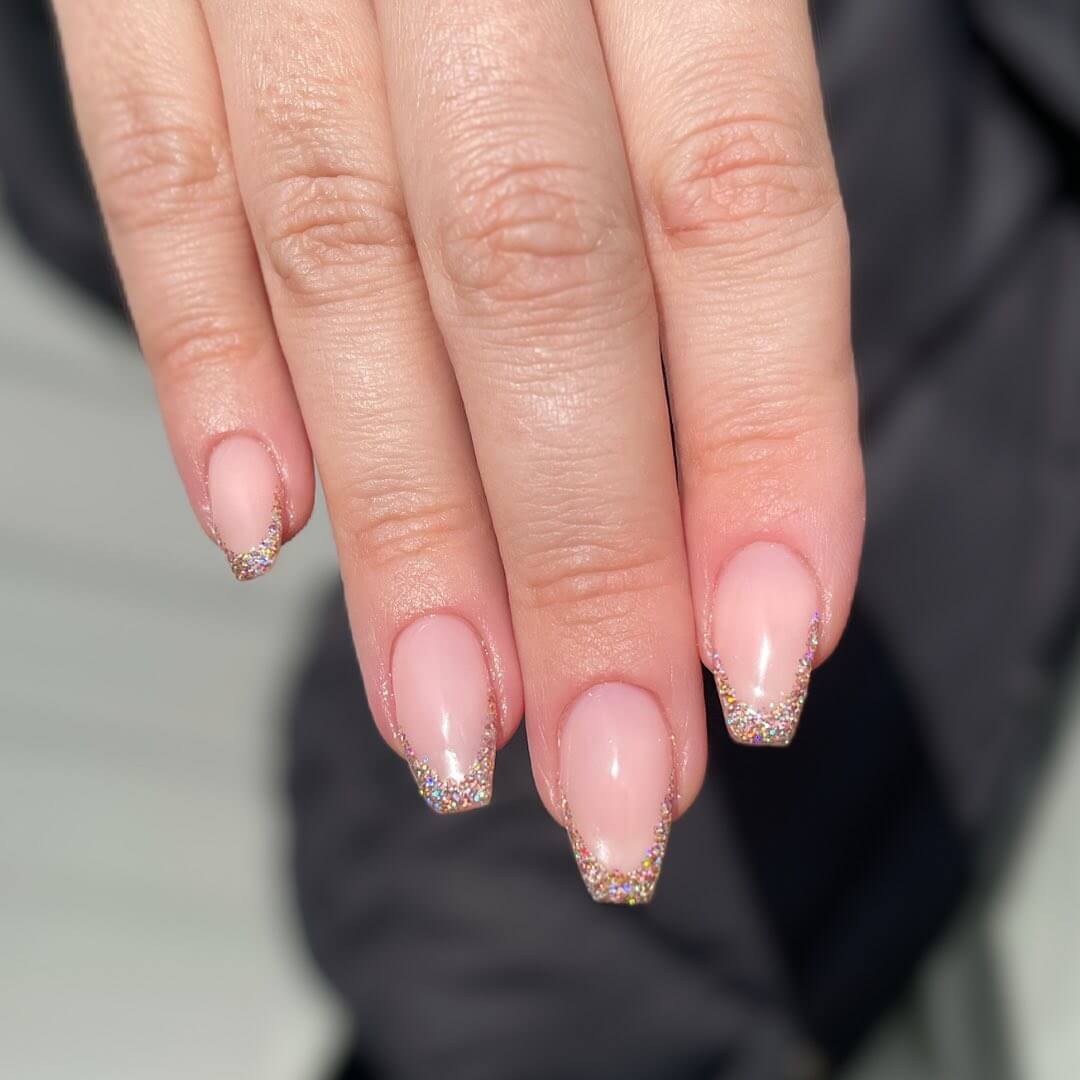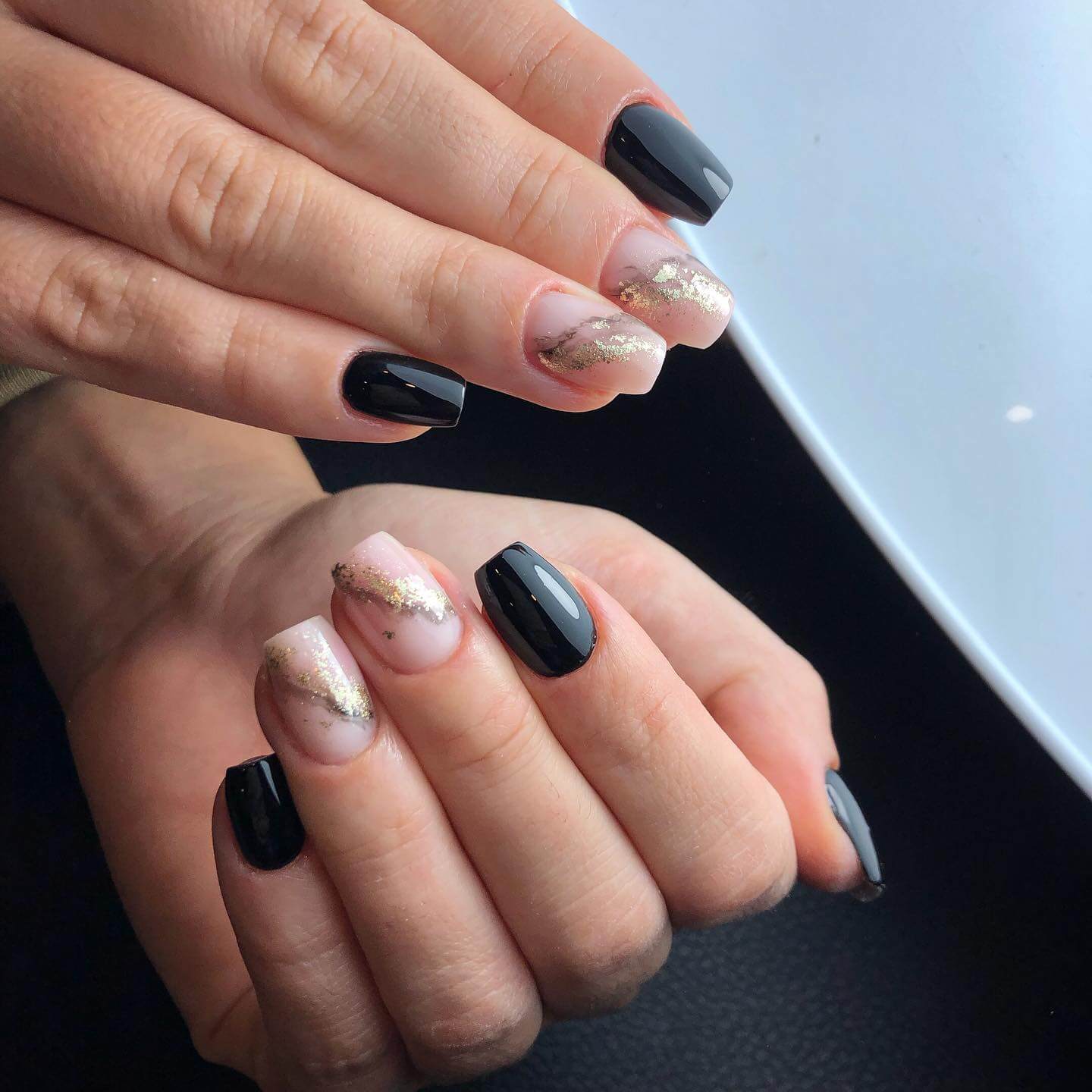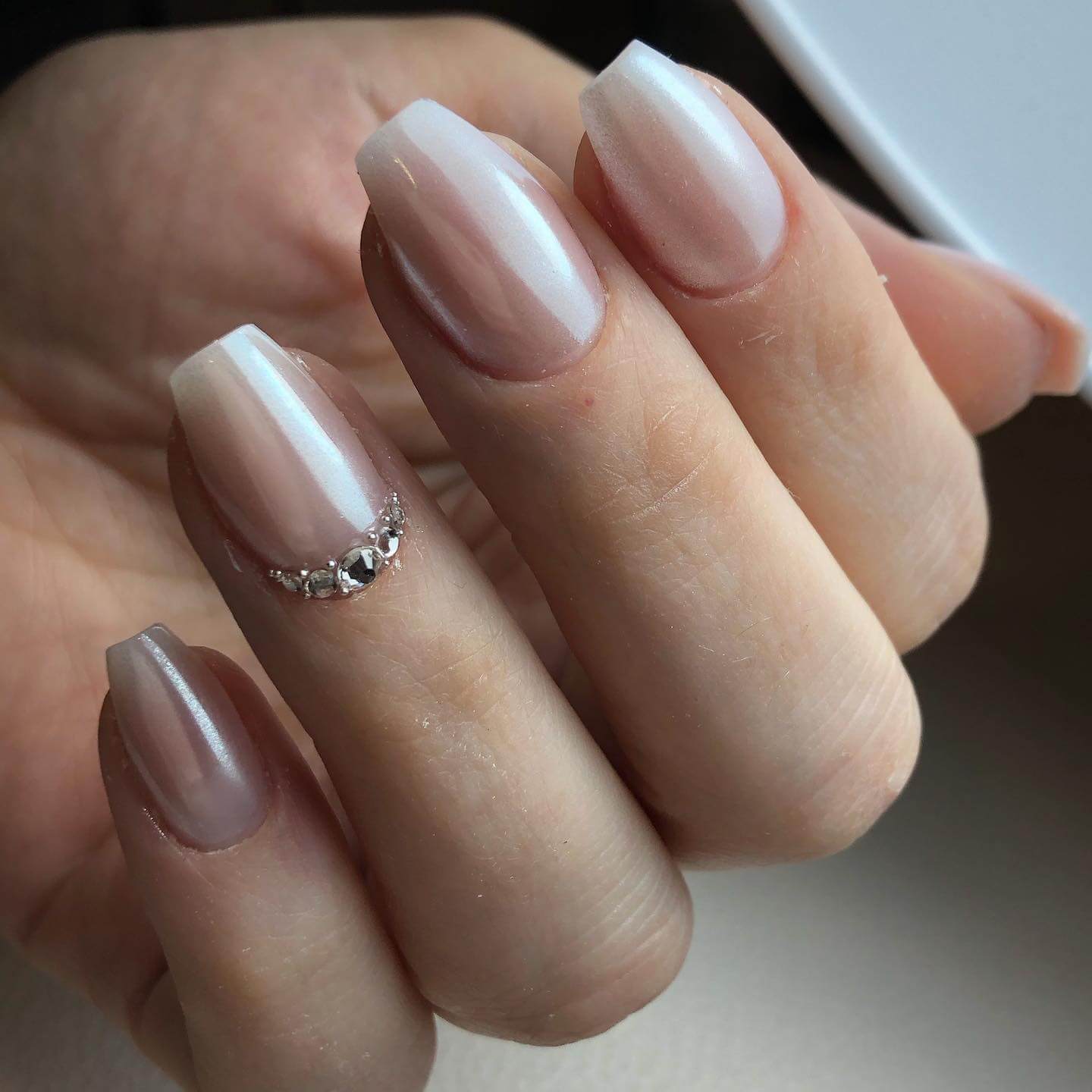 Medium Coffin Nails
Although coffin nails can be created at any length, medium to longer-length nails are perfect for the nail shape.
Medium coffin nails are stylish and bold but still easy to manage. This coffin nail length is a safe zone for those who think long coffin nails are too much, but short ones seem a bit too little. You can paint your nails with rich nude color. On top of it, draw swirls of white nail polish.
Below are some medium coffin nail ideas to try for your next nail salon sessions:
Coffin black acrylic nail style
Nude coffin nail design
Nude and hot pink swirl coffin nails
Rhinestone coffin nails
Flame coffin nails
Glitter coffin nails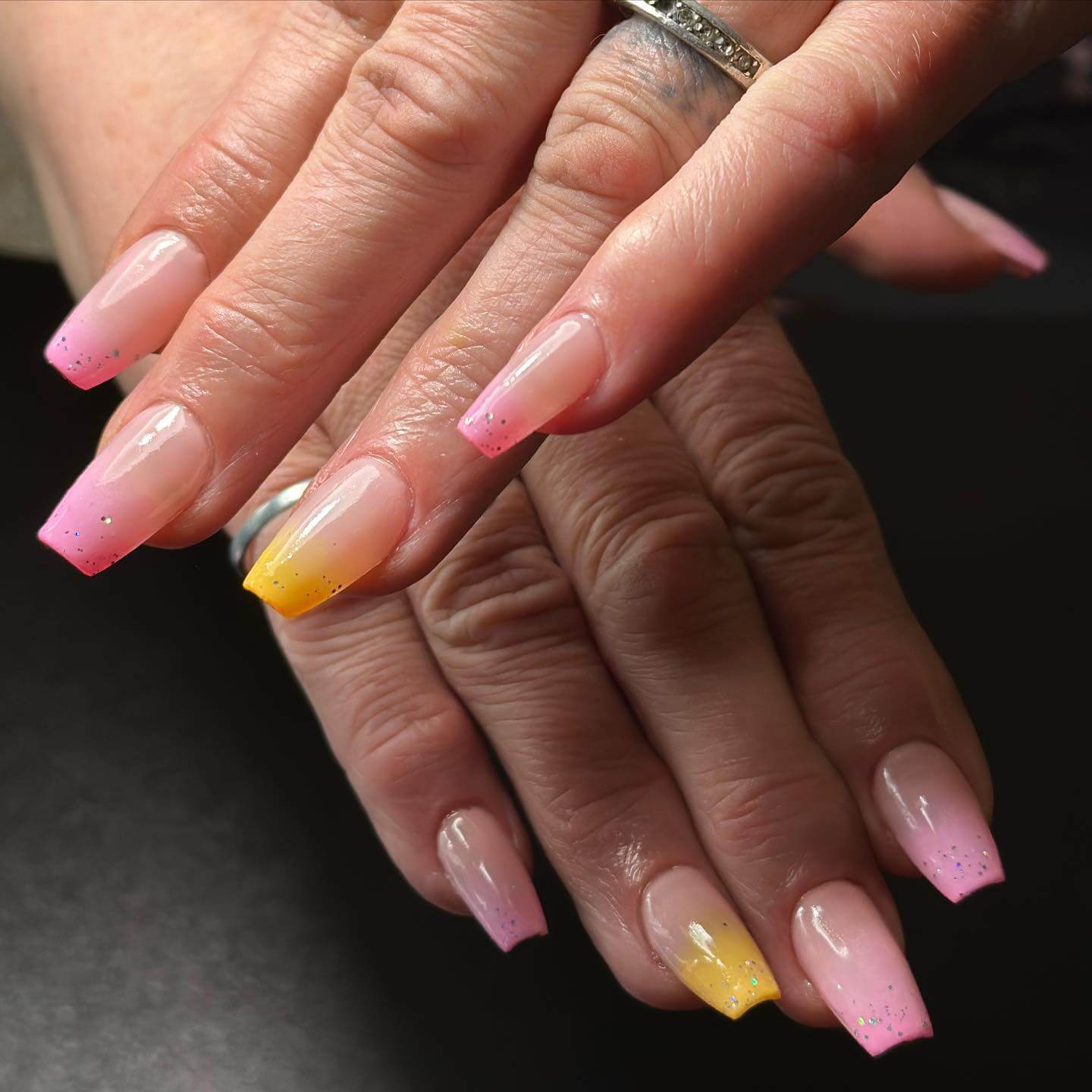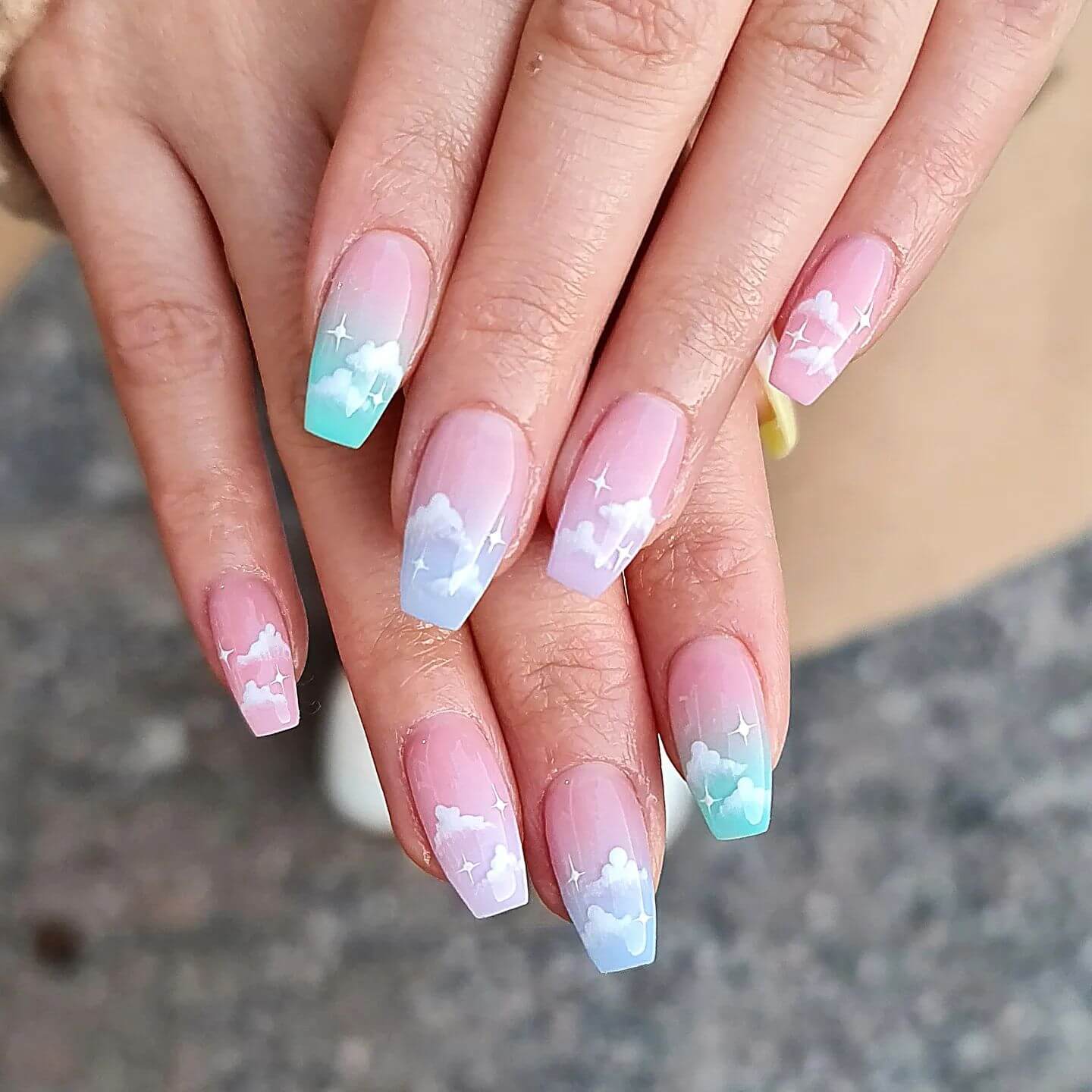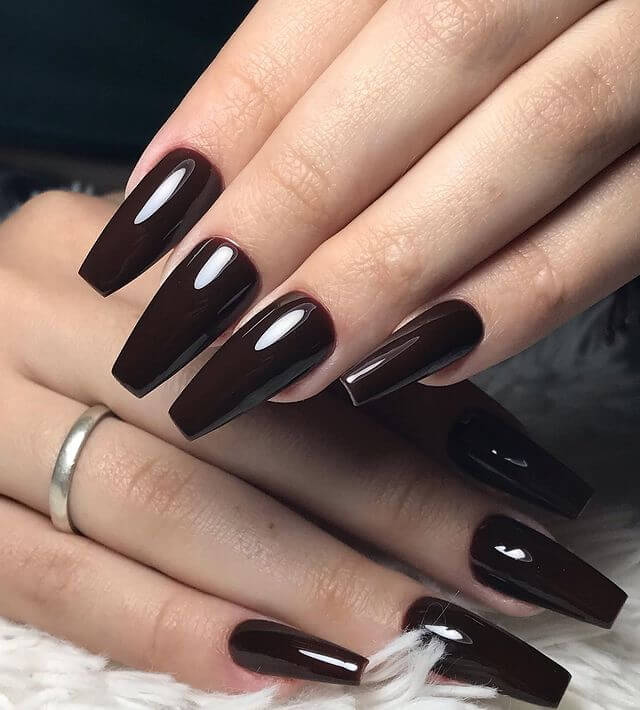 Long Coffin Nails
For devoted coffin nail lovers, long nails are a perfect option to experiment and try different designs. Long nails provide a larger art canvas. They deliver an edgier and more striking appearance.
You can style your long coffin nails with iridescent blue glitters fixed inside the acrylic nails. Don't forget to add stunning rhinestones of various sizes.
If you love trying different styles for your long coffin nails, here are some designs you might love:
Sassy long red coffin nails
Coffin nails with diamond accents
Leopard French tip coffin nails
Rainbow coffin nails
Fruit coffin nails
Butterfly coffin nails
Gradient French tip coffin nails
Black and pink coffin nails
Fairy coffin nails
Heart coffin nails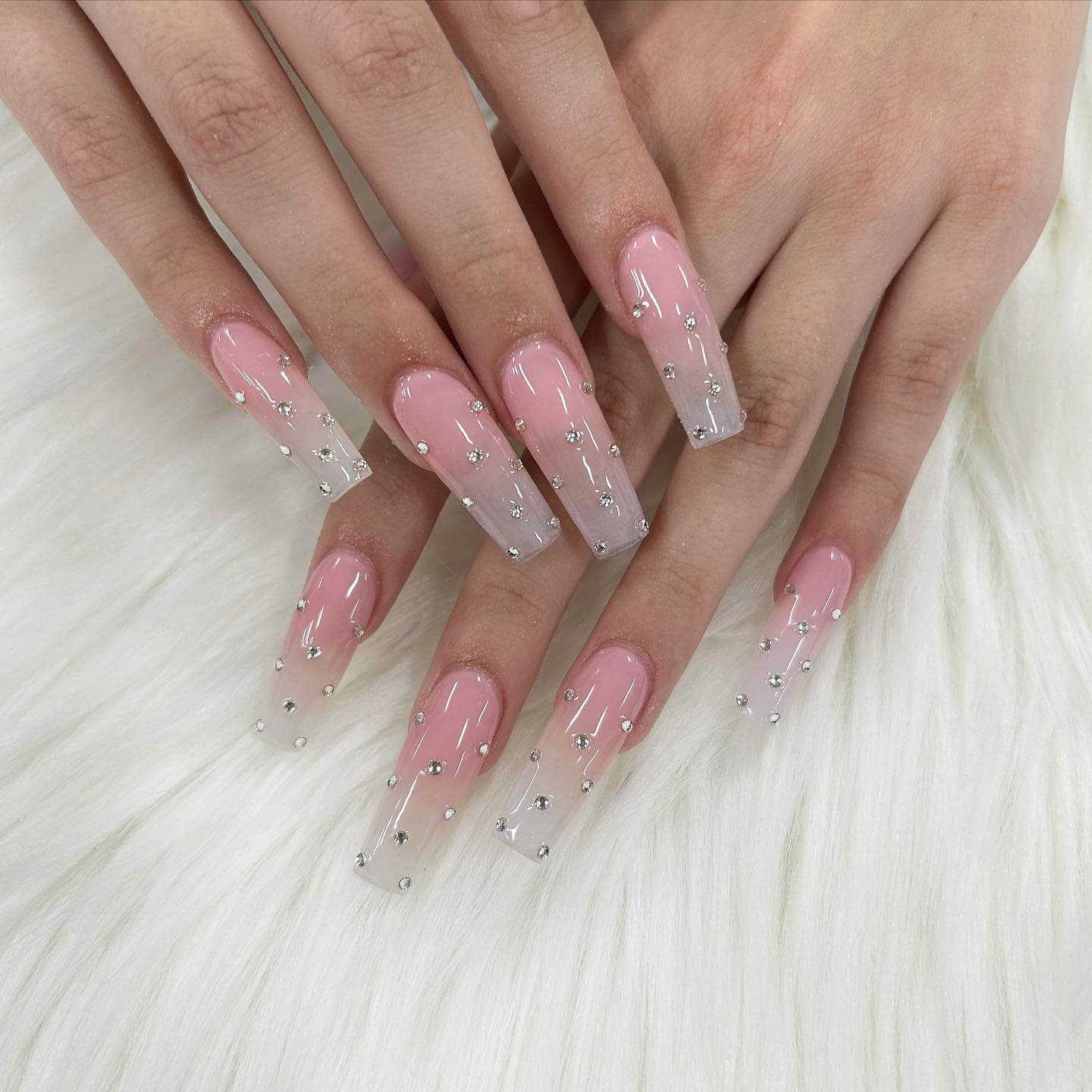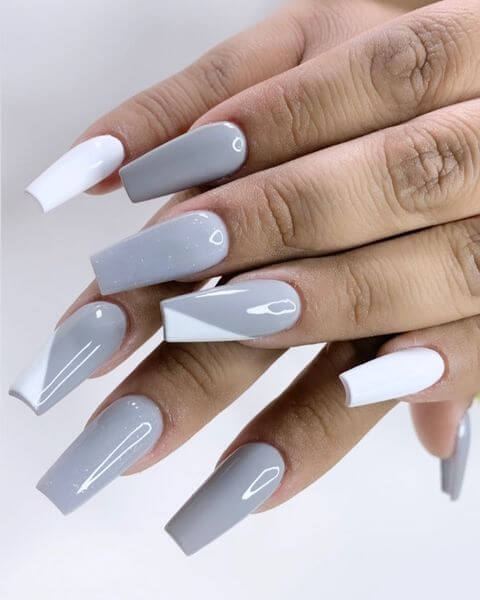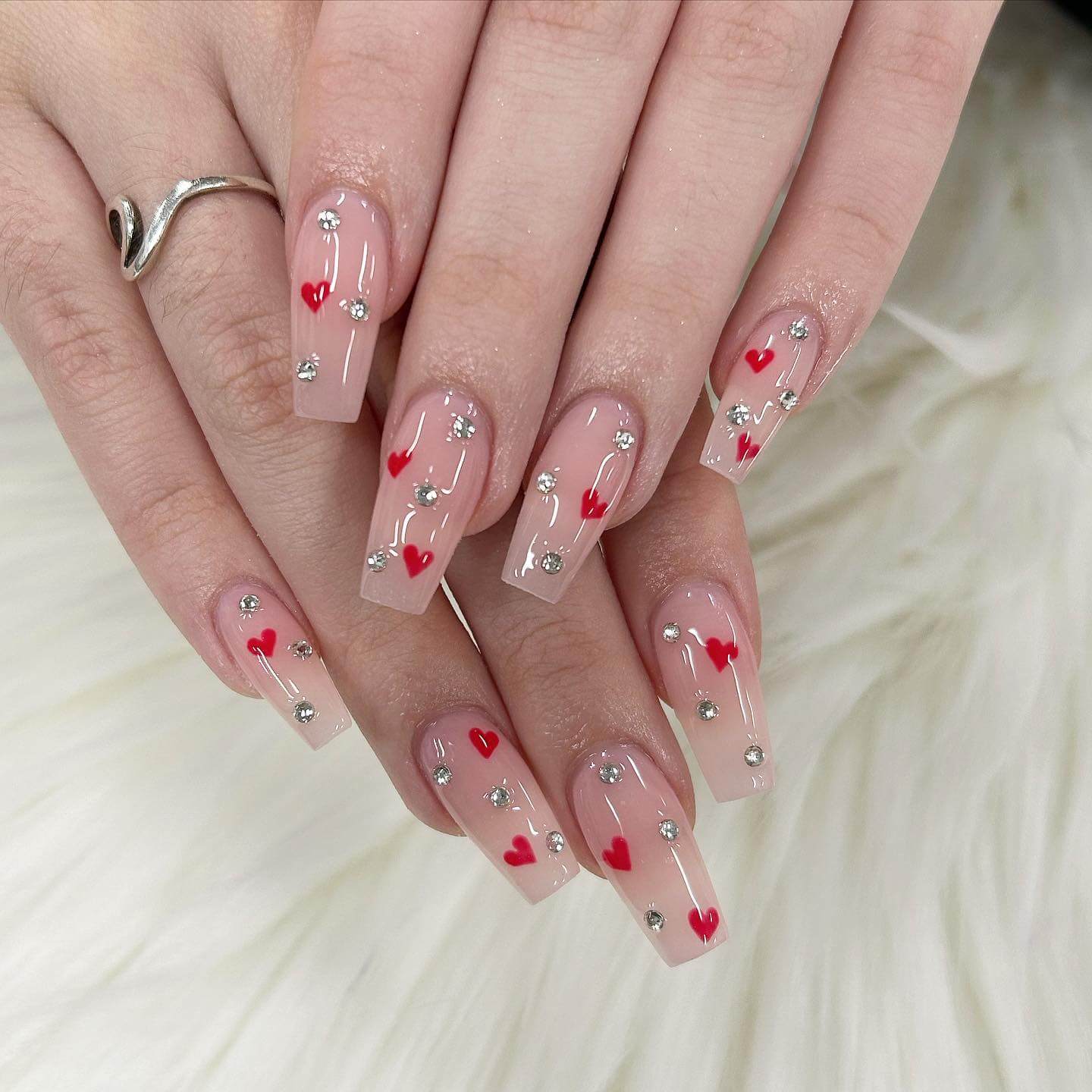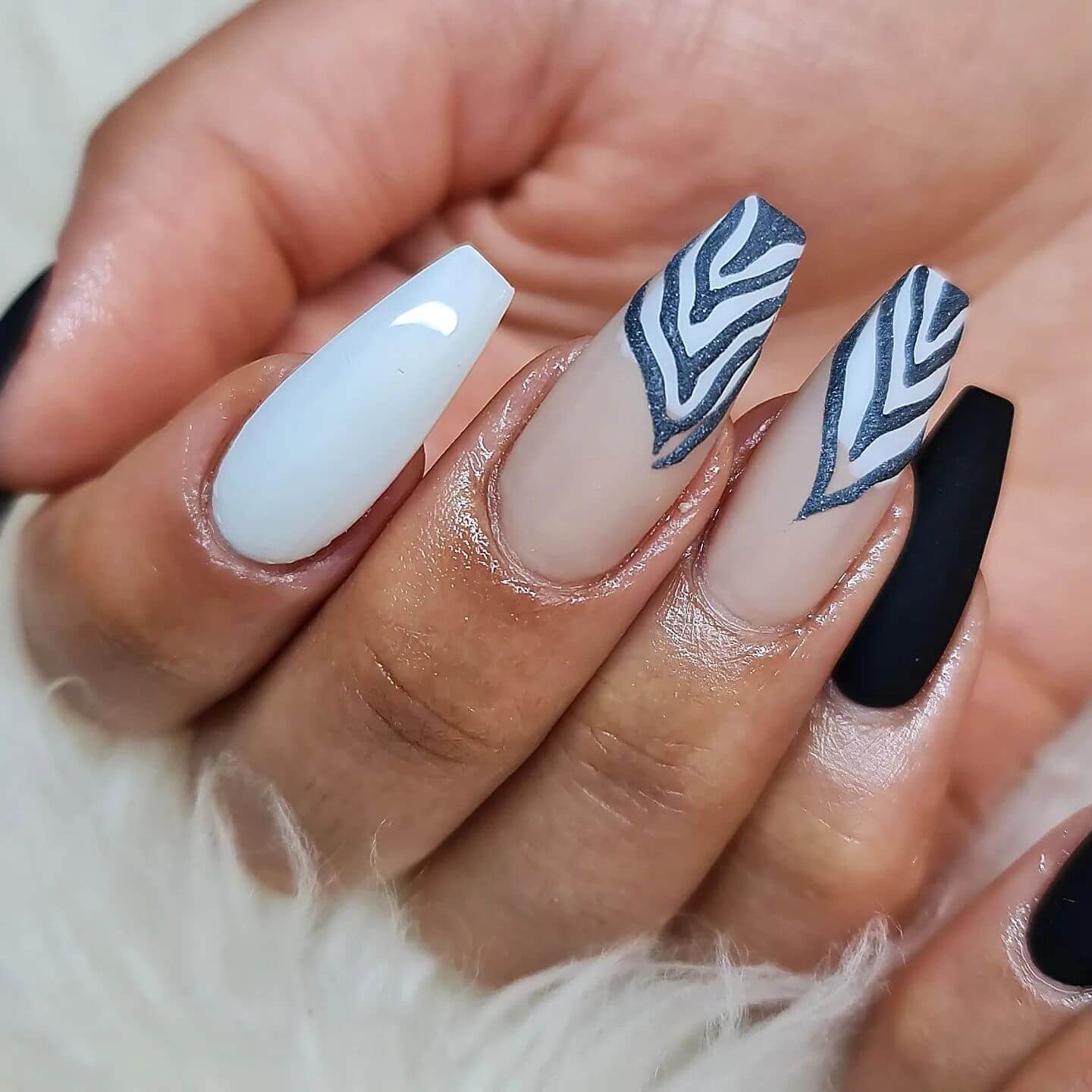 Coffin Nails Art for Each Season
Do you want to try different coffin nail designs for each season? Not a problem!
Here are some fun and exciting nail ideas to slay coffin nails each season:
Spring Coffin Nails Designs
When we say spring, never skip the flowers. These lovely blooms best represent the beauty of spring. And one of the best things about coffin nails is that they let you place spring in your hands.
Splash your nail beds with blue-green and lilac. Make sure to paint flowers and add a lot of glitters to bring out the sass. 
As springtime gets closer, get ready to choose from the following spring coffin nail designs:
Happy Yellow Acrylic Coffin Nails
Paint your nails yellow to create a gorgeous spring-inspired coffin nail design. Then, add smiley faces to it to give more detail. You can choose from different shades of yellow, including pastels for a softer dreamy look and neon for saturated hues.
Dreamy Cherry Blossom Coffin Nails
Cherry blossoms bloom for only a short period, reminding us to appreciate life's beautiful things. And these tiny pink flowers are a gorgeous addition to your manicure. This coffin nail design looks best against a white base color as it allows the pink color to pop. Add several flowers to each fingernail or paint them only around the tips.
Baby Blue Coffin Nails with Daisy Accent
Baby blue works well with soft and neutral shades. But also look great with nail art, from simple patterns to attractive flower designs. You can try adding daisies to create a simple yet symbolic design. Your nails will reflect innocence, joy, and happiness.
Here are other spring-inspired coffin nail designs:
Florals and rainbows
Cute cacti coffin nails
Delicious ice cream coffin nail art
Fresh green coffin nails
Fruity color pop coffin nails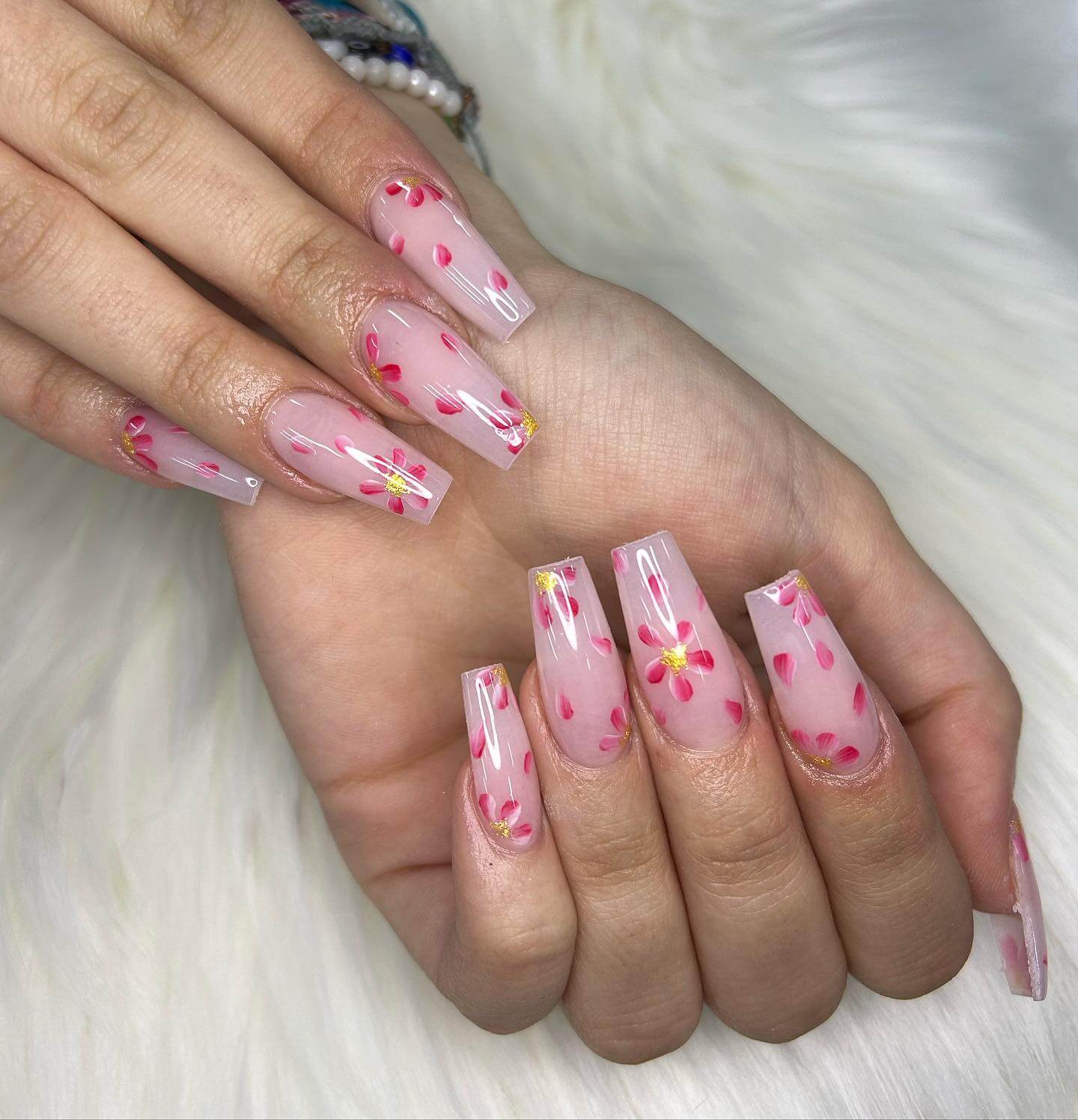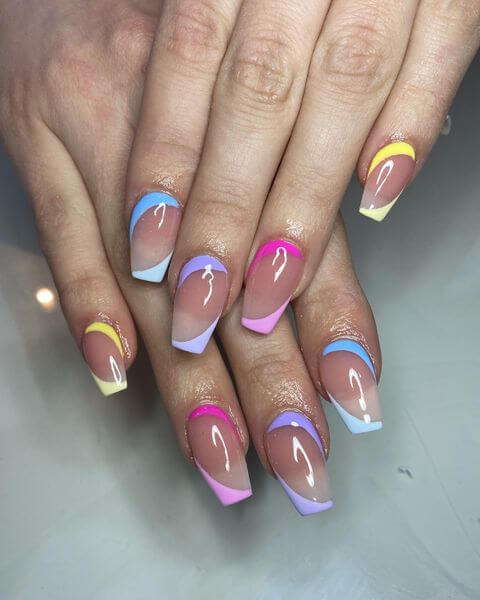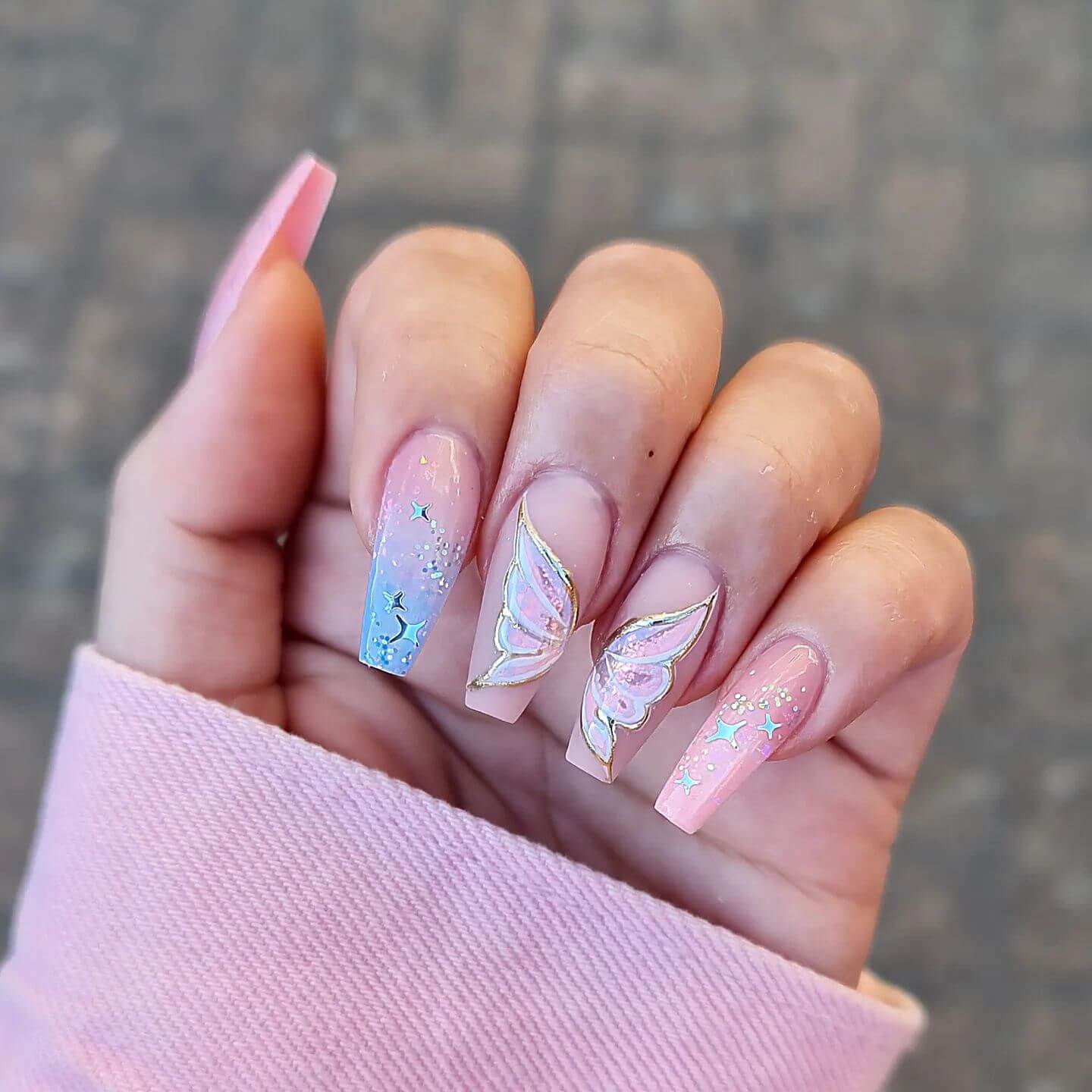 Summer Coffin Nails Designs
Summer is associated with happiness and warmth. And if you incorporate this season into your coffin nail designs, you'll never get wrong with bright colors. While you can pick only one color, you don't need to limit yourself. You can combine your favorites, like yellow, green, and spearmint.
Check out the summer coffin nail designs below, and make a statement this season:
Get these eye-catching summer-inspired nails. Use orange for a perfect summer ombre design.
Having this adorable sky scene on your nail beds lets you celebrate the summer's crystal-clear blue skies. All you need is hand-drawn white clouds over the royal blue base.
Turquoise is considered one of the trendiest nail colors for summer. You can have this playful hue for your coffin nails, and don't forget the chrome finish.
Mermaid-Inspired Coffin Nails
Let's go deep down the ocean with mermaid-inspired coffin nails. This nail design channels the mermaid vibes with sheer turquoise adorned with sea-inspired 3D gems and glitters.
Need more? Here are other coffin nail ideas for a summer-inspired look:
Lilac vibes
Sunny saffron
Skittle styles
Fruit platter coffin nails
Milky mood with a sprinkle of jewels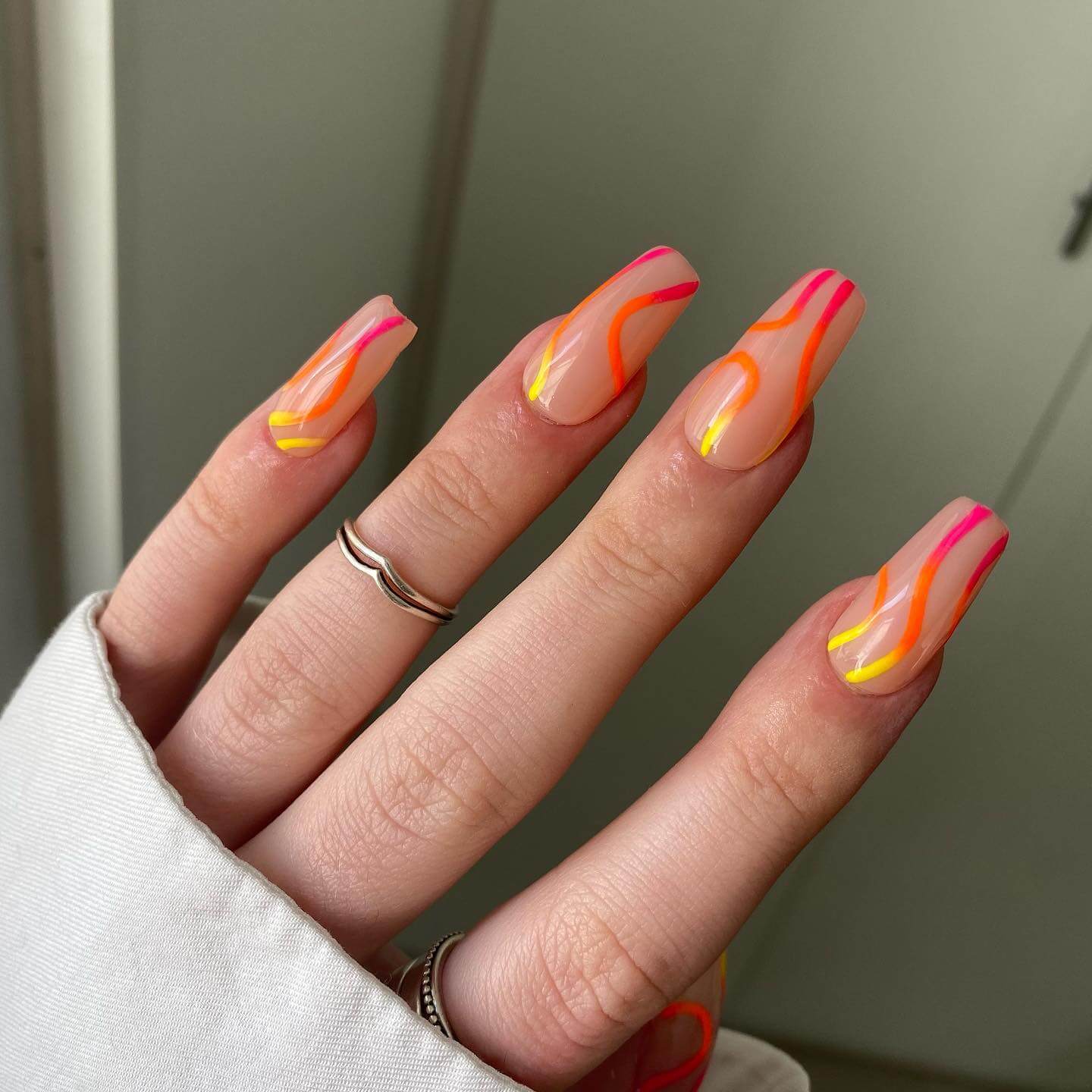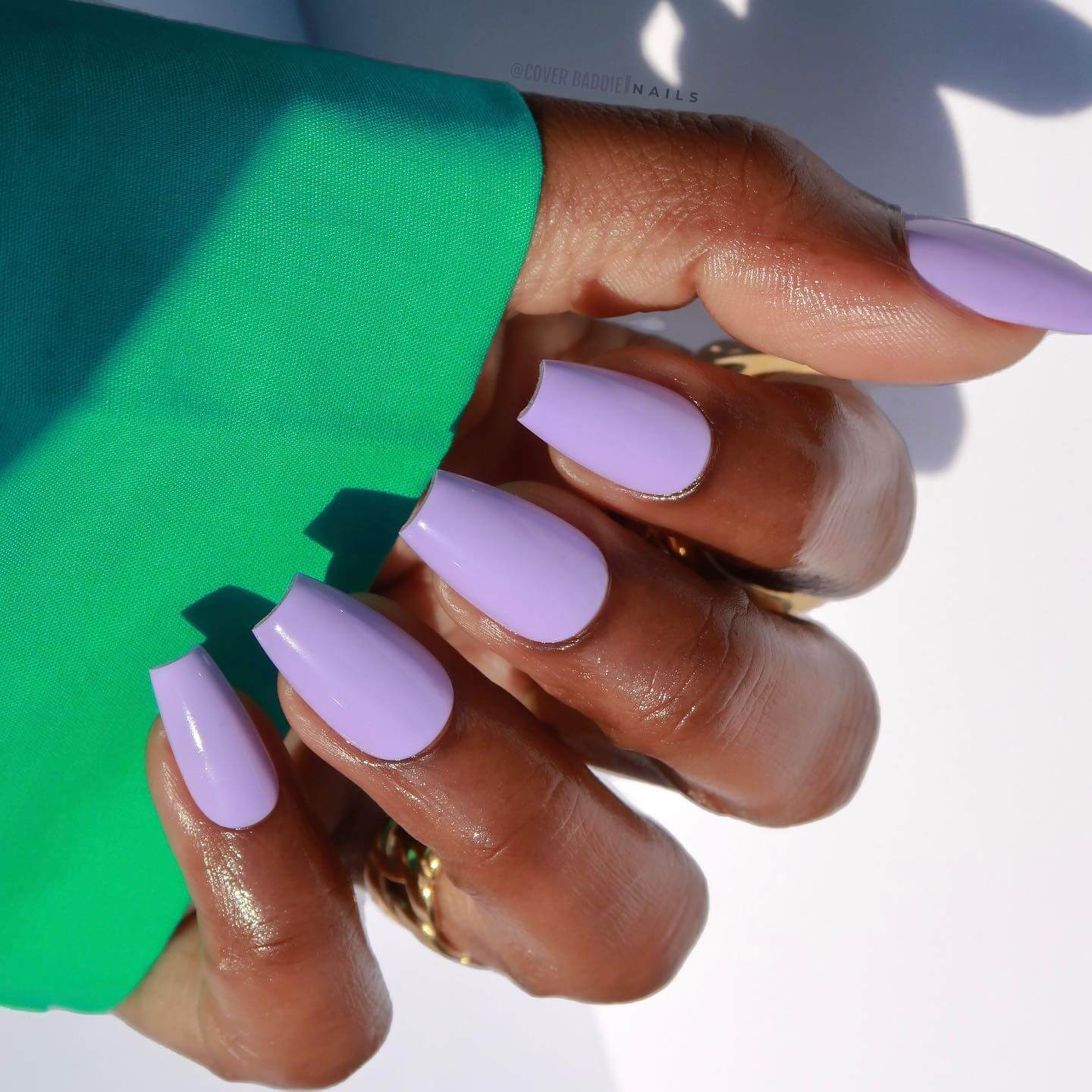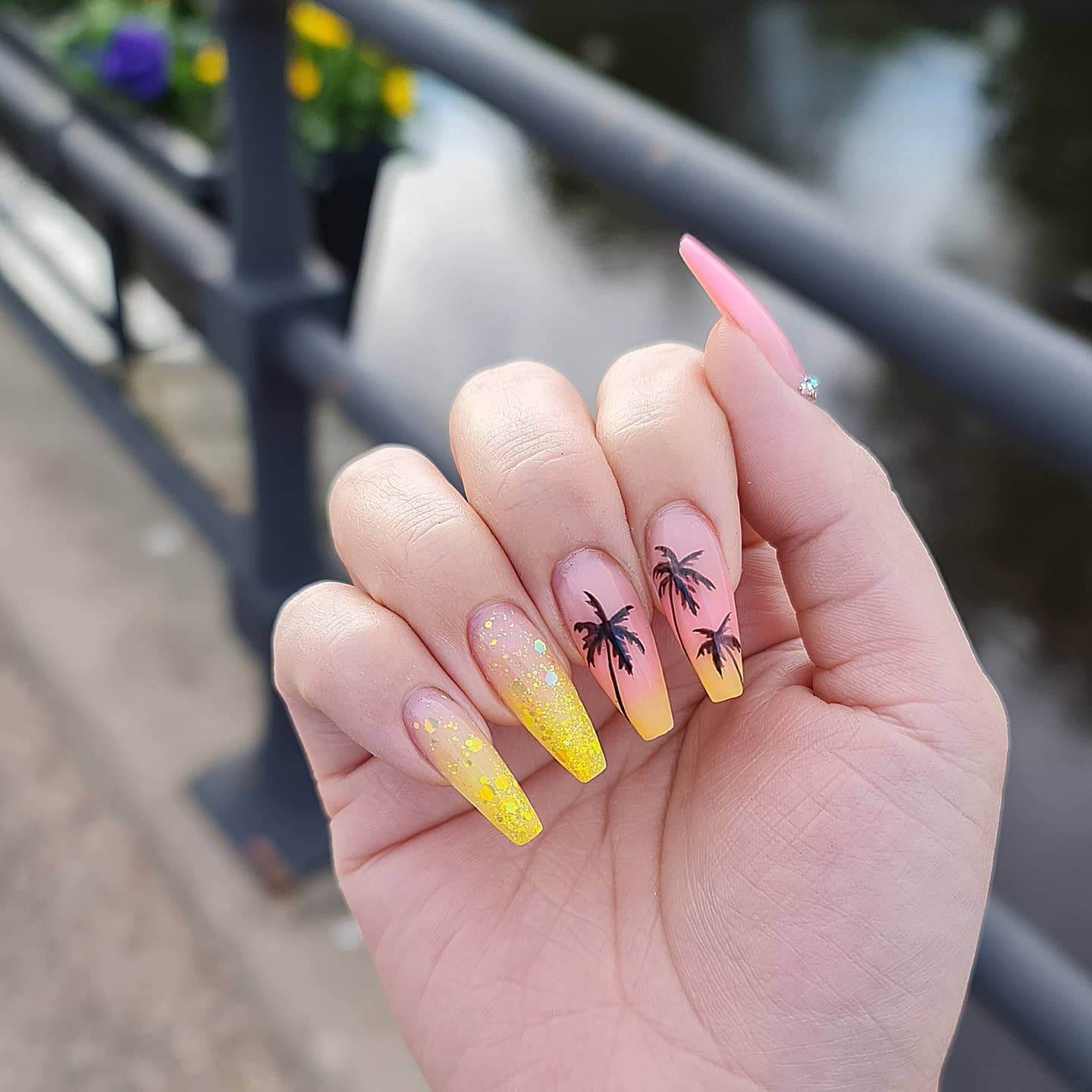 Fall Coffin Nails Designs
To get autumn-inspired coffin nails, the colors must have the right combination of rich and neutral colors. These shades are aesthetically pleasing and warm, just like the color of fall leaves. You can paint your nails burgundy, burnt red, nude, and brown.
If you are excited to try different fall coffin nail designs, here are some favorites:
The creative splatters of white and orange on this manicure give pumpkin spice latter vibes. Of course, you can play with glitters.
Deep Purple and Spiderwebs
Bring the Halloween vibe with your coffin nails by featuring chic yet spooky spiderwebs over the purple glitter nail polish.
This fall coffin nail design features Y2K-inspired psychedelic hearts. Then, combined with matte shades of mocha and cream to achieve super groovy nails.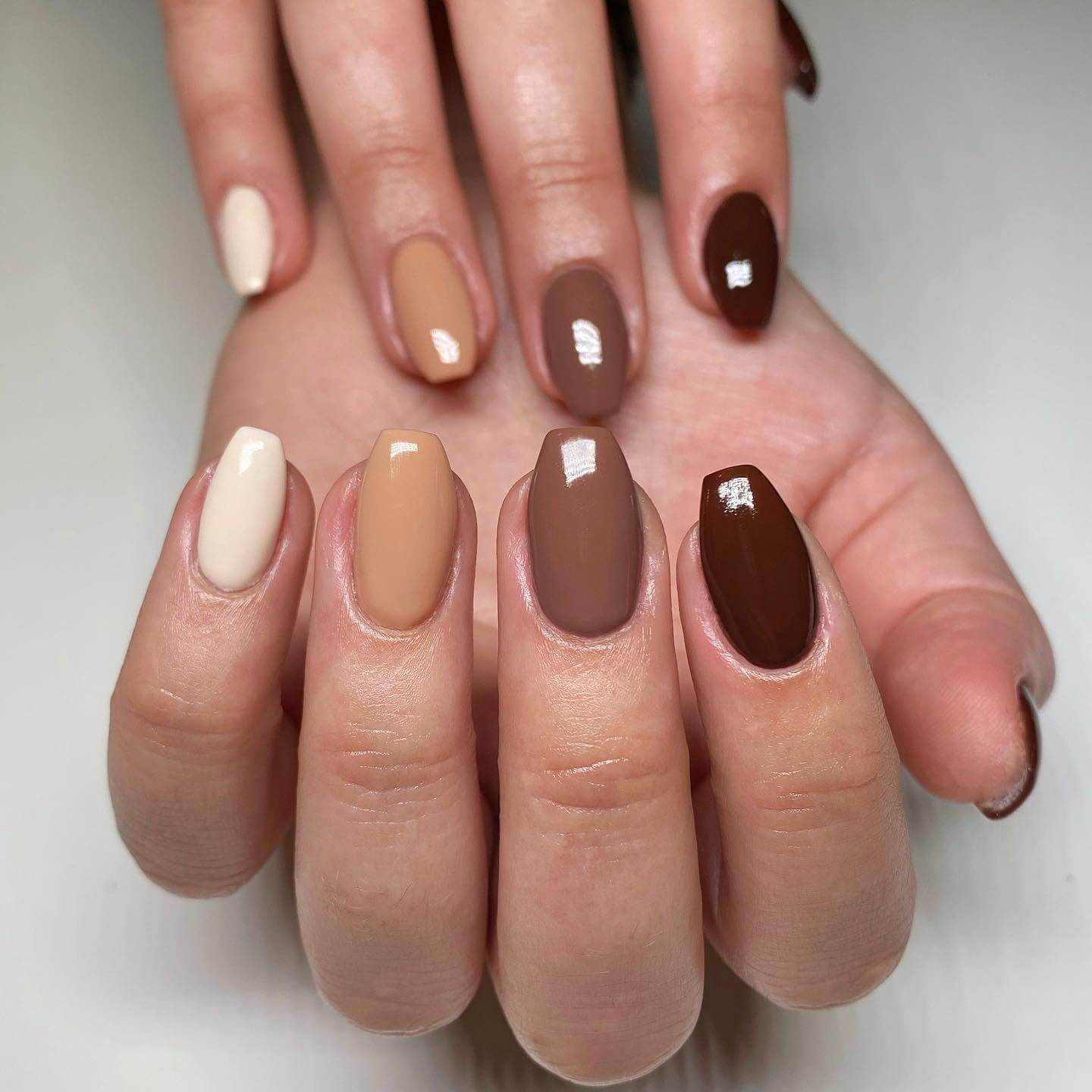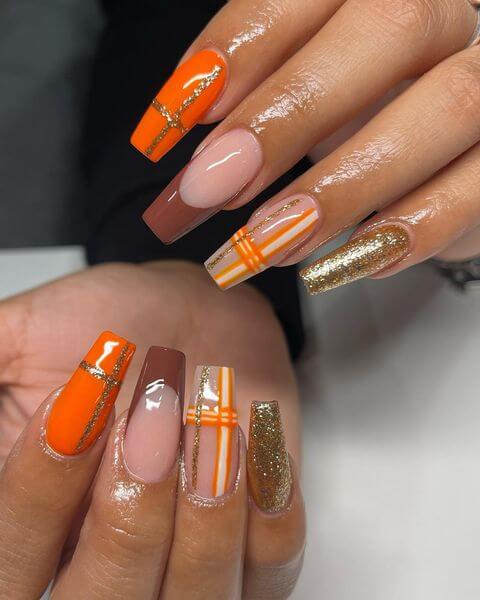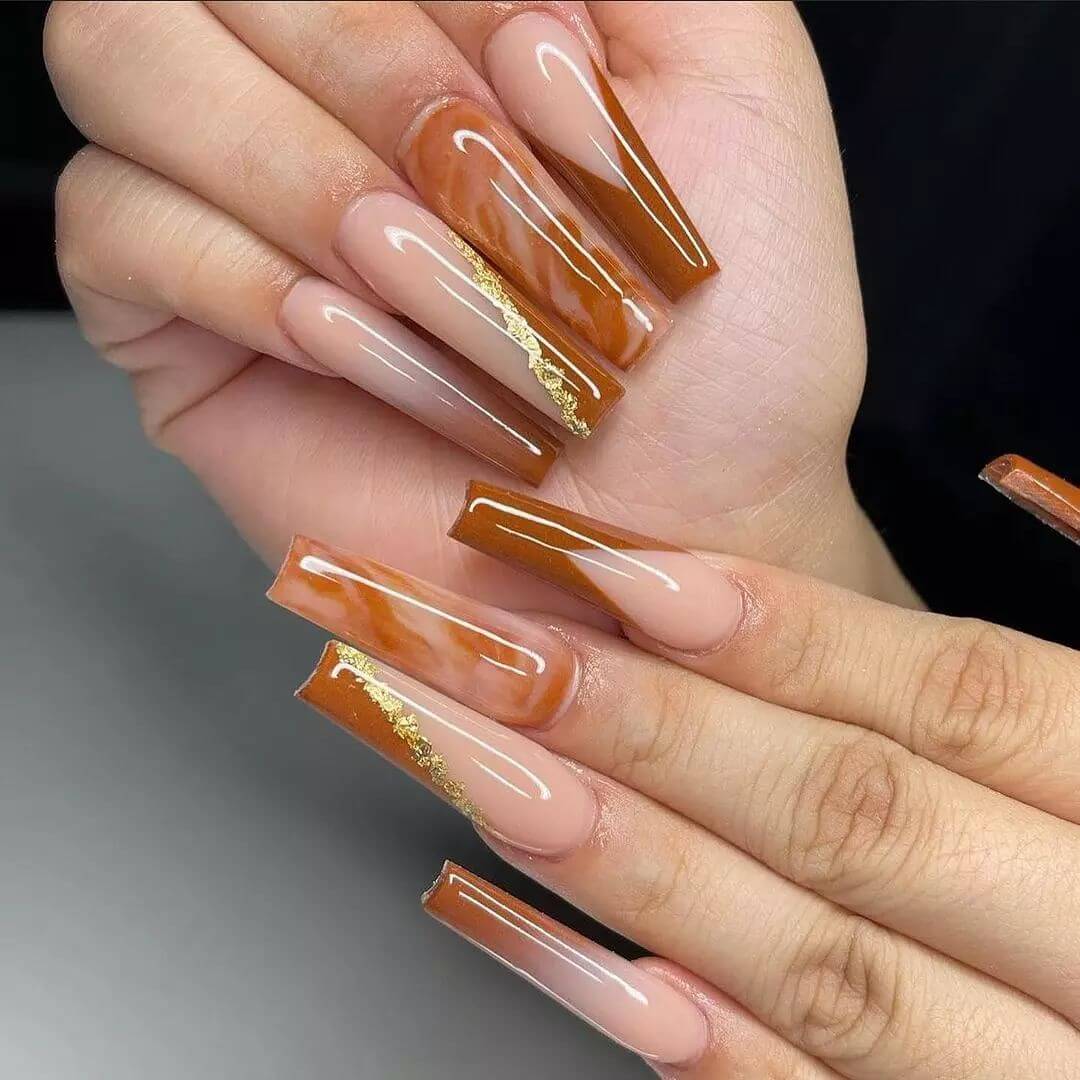 Winter Coffin Nails Designs
Opt for pale pink or white with sparkling details to achieve a chick, wintery look. You can add snowflakes, but you can also try rhinestones or glitter.
If you prefer coating your nail beds with a thin layer of glossy white polish, ensure to add white and silver glitter to imitate snow. On the plain nails, add some rhinestones near your nail folds.
Here are some fun and creative winter coffin nail art designs to try:
This sparkly, 3D snowflake-covered coffin nail design can lift your mood every time you take a look at your hands.
These winter-inspired coffin nails are reminiscent of your favorite cozy patterned sweater. The blunt square tips and matte black finish offer an edgy look. Then, complete the look with a few strokes of a mattifying top coat.
Keep the designs of your winter coffin nails to a minimum with this holographic design. These nails are simple, but you won't get tired of them.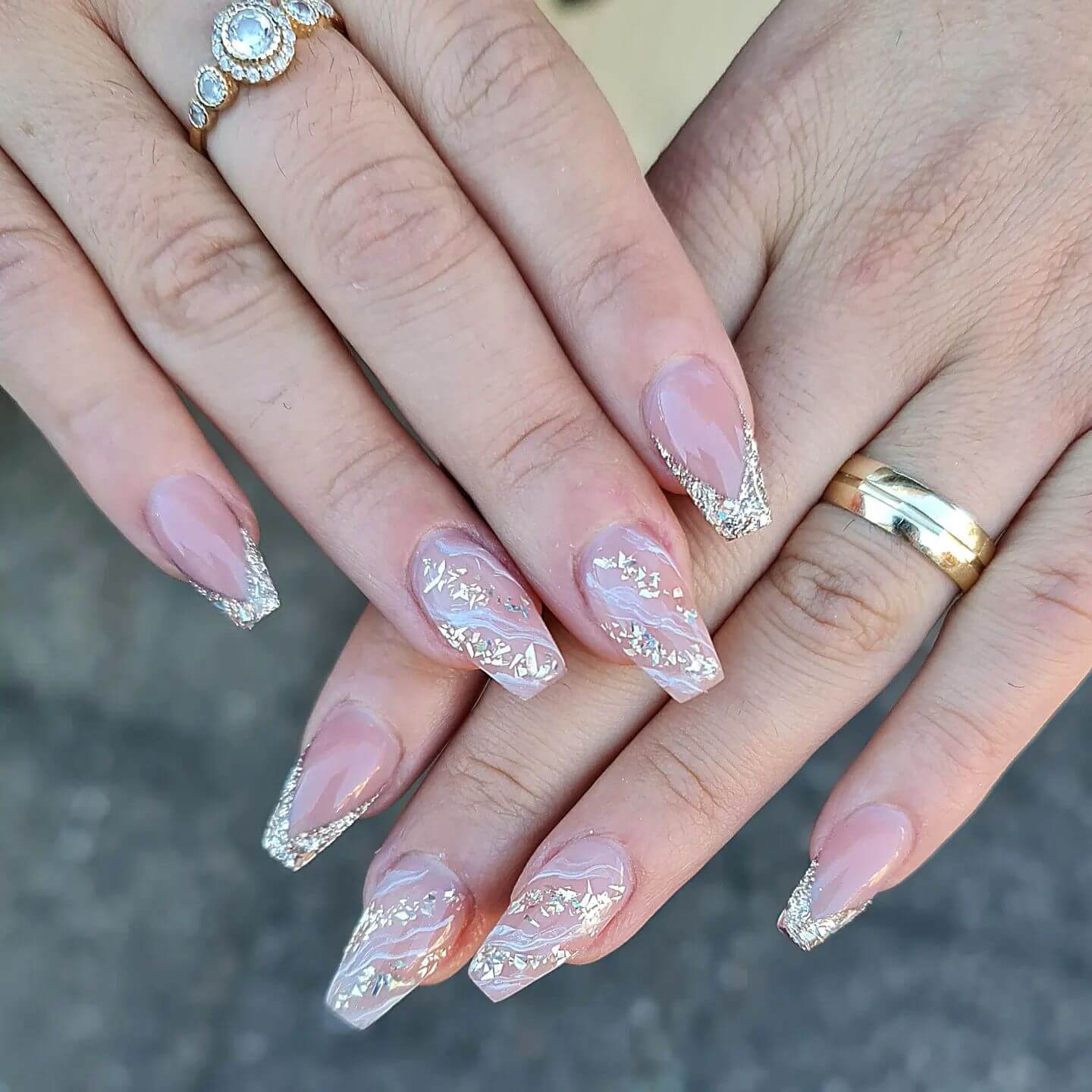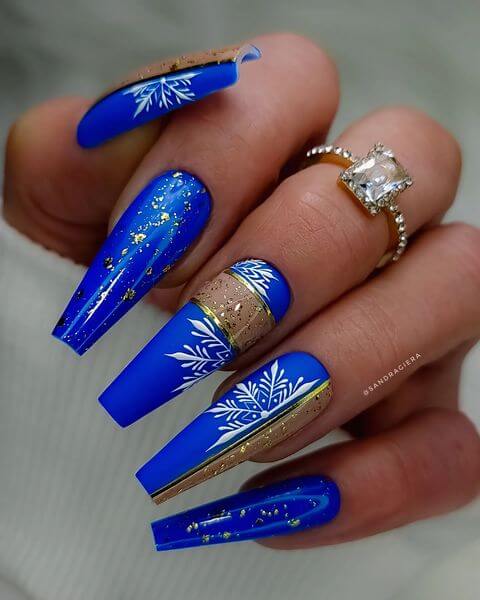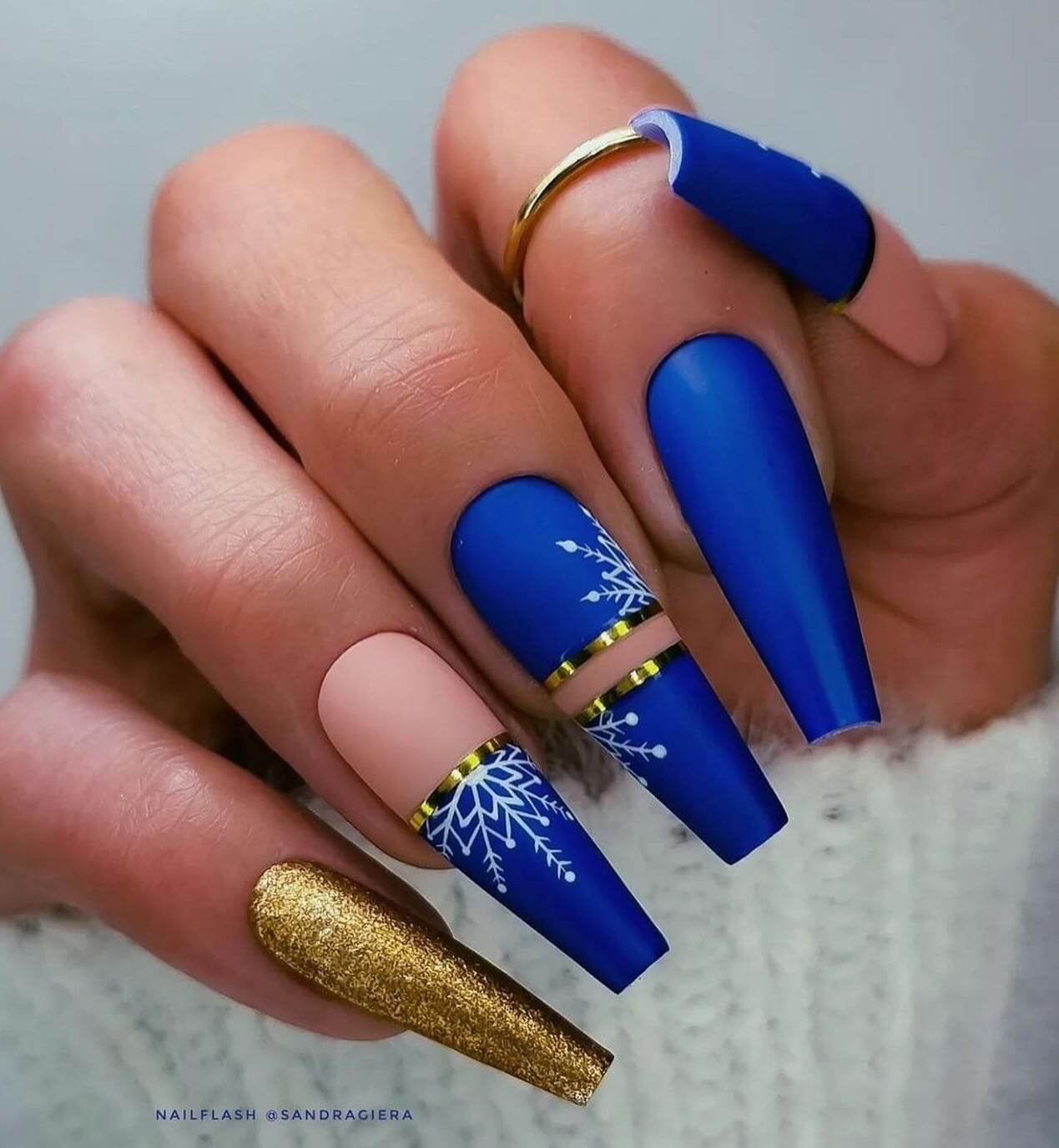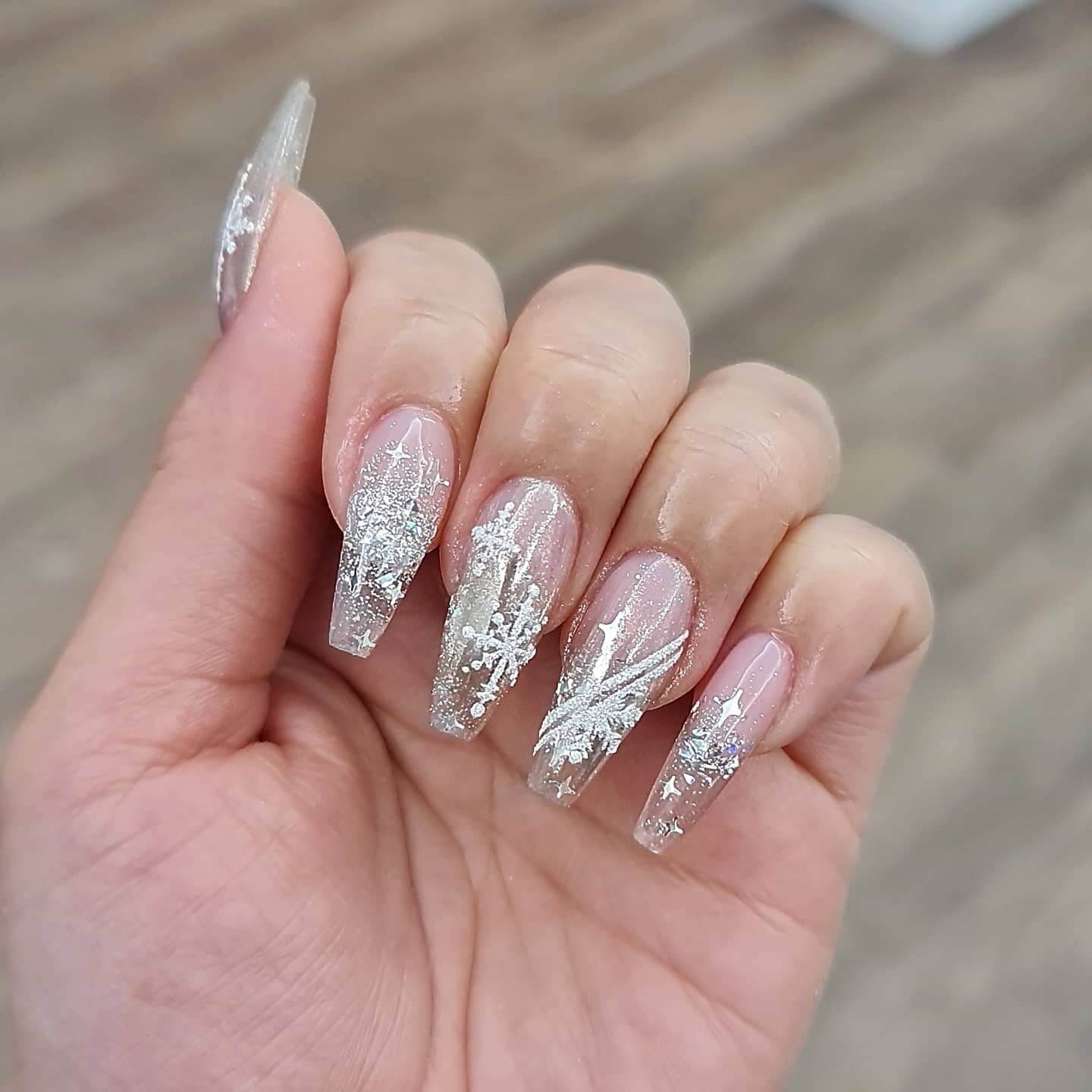 French Coffin Nails Ideas
French tips are a classic nail design that is not only popular but also easy to wear. The nail design often features a pink or nude base color with striking white tips.
Like other nail trends, French tips have new versions, including coffin nails. Whether you want to stay minimal or wish to combine glamor and glitz, you can easily wear French coffin nail designs. Here are some ideas to try:
Nude French tip coffin nails
French coffin nails with butterflies
French V tips
Glitter-tip coffin nails
French ombre nail design
French tips with hearts
French V tips with rhinestones
Bold blue tips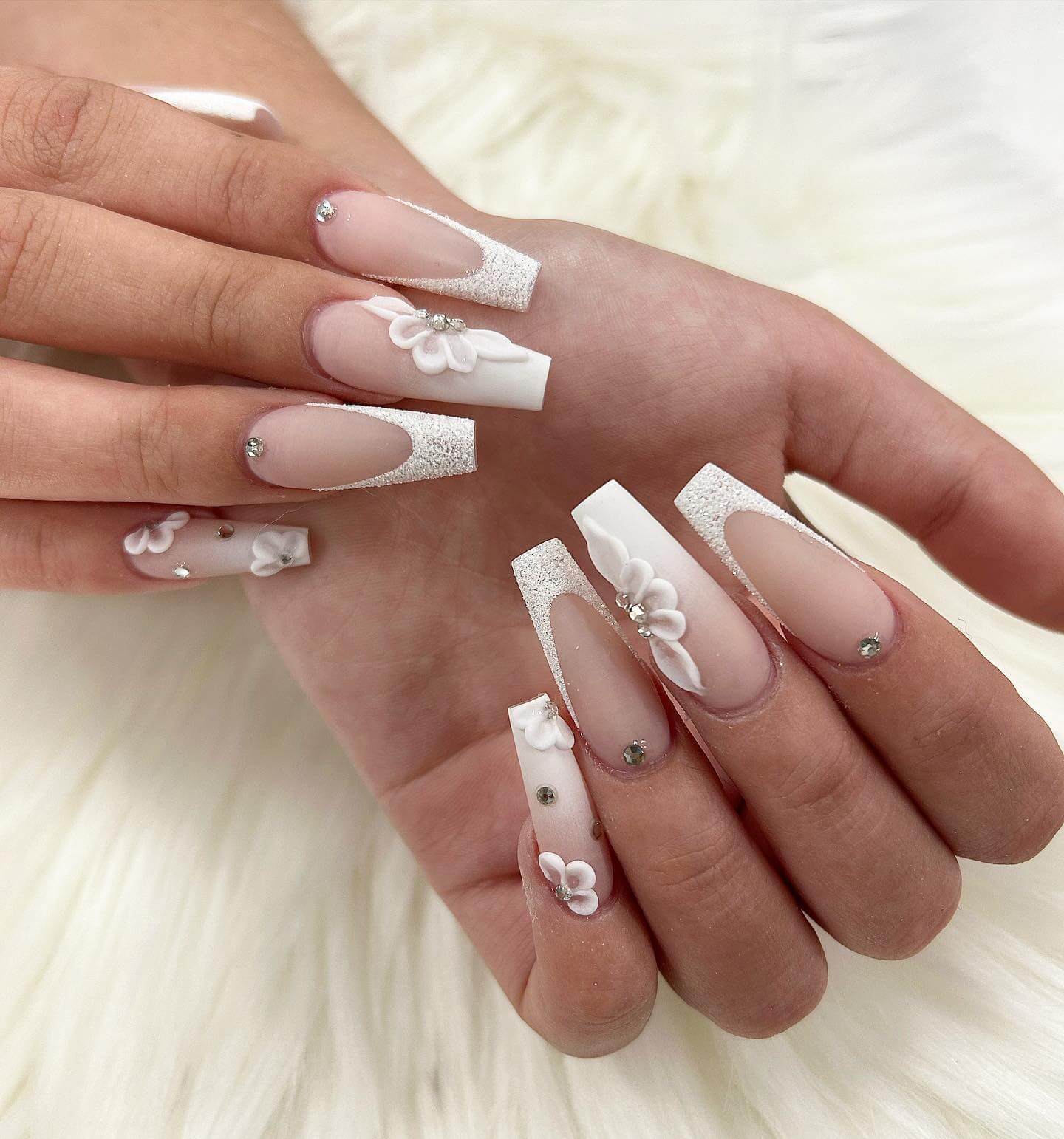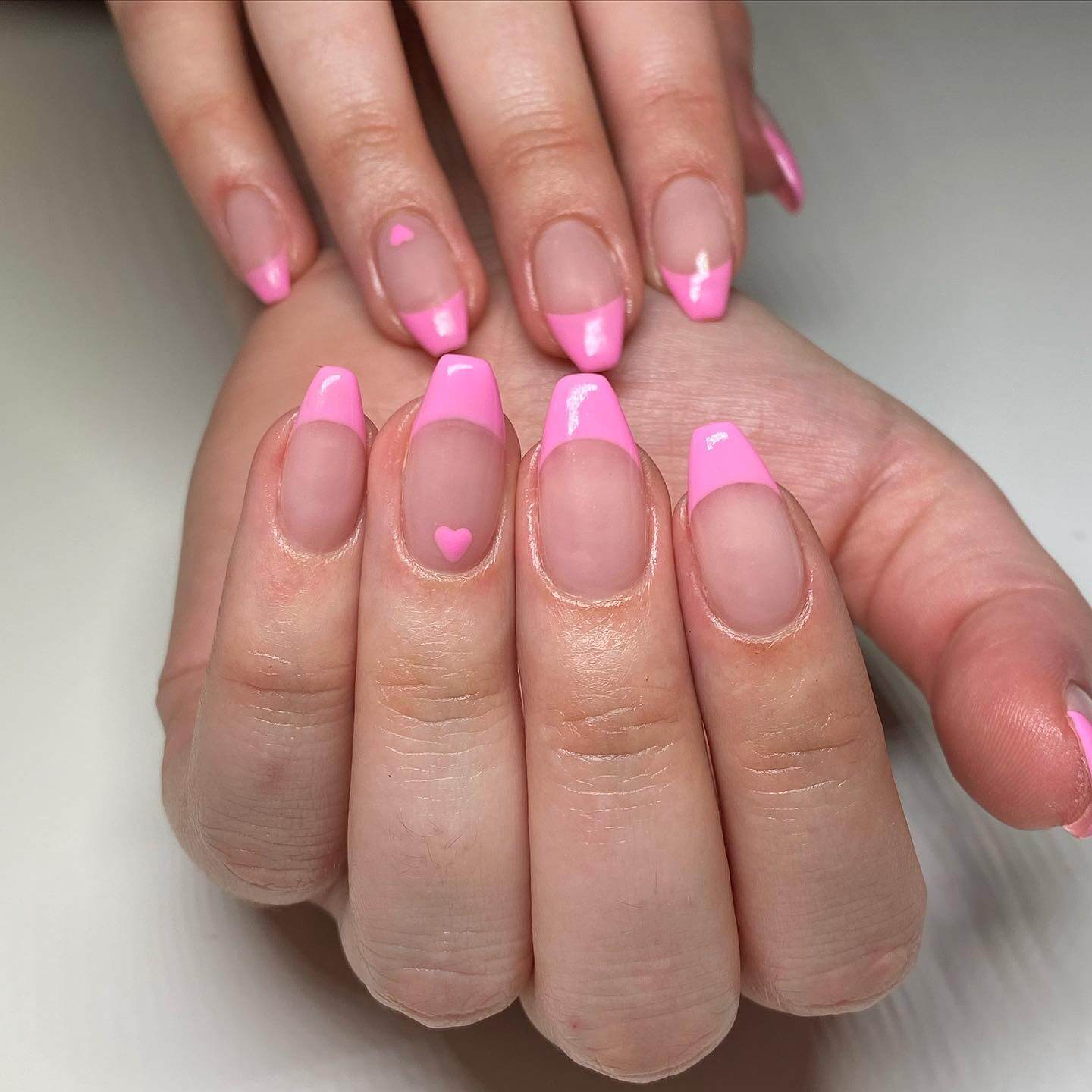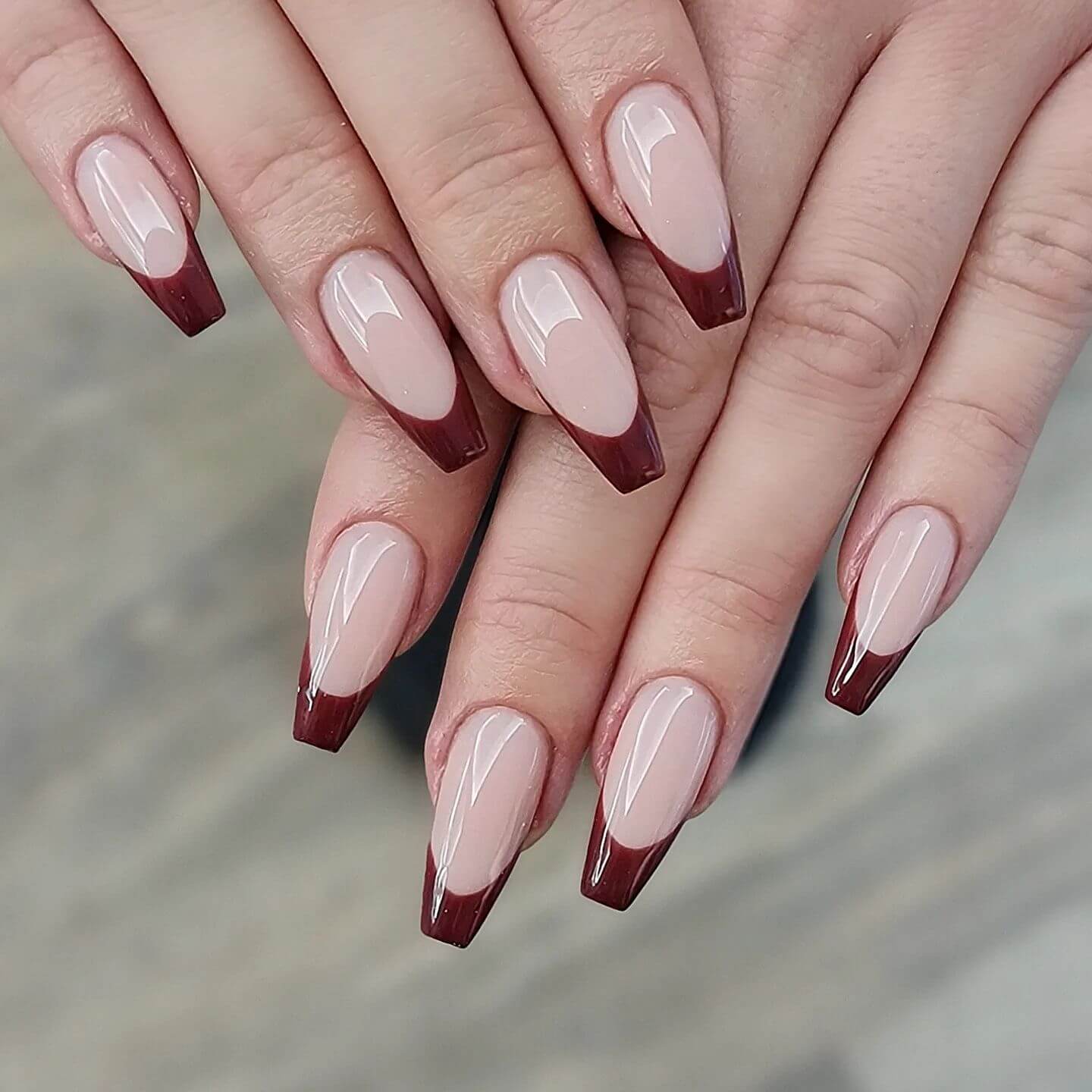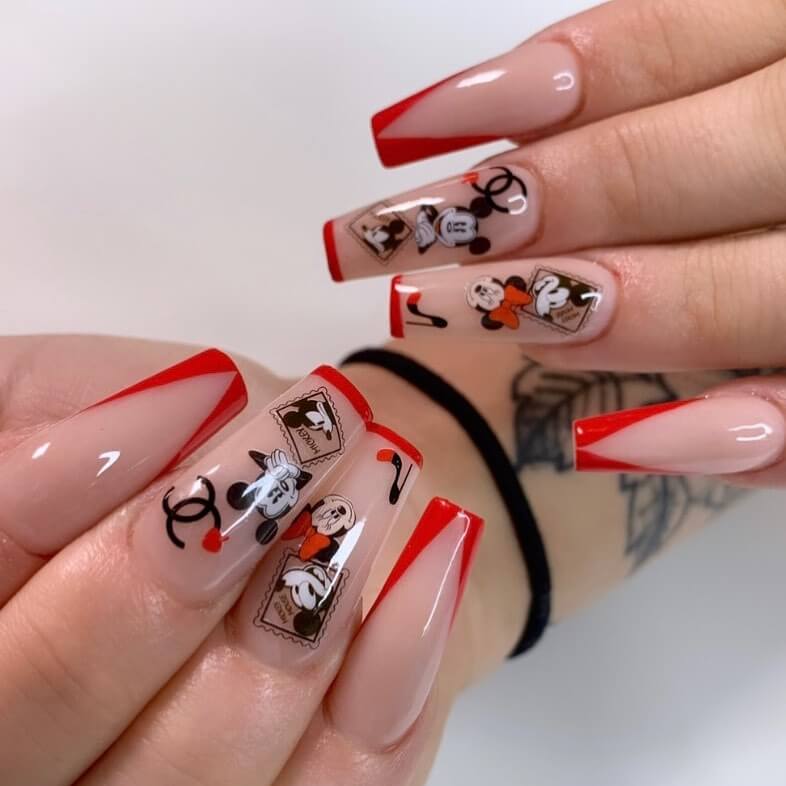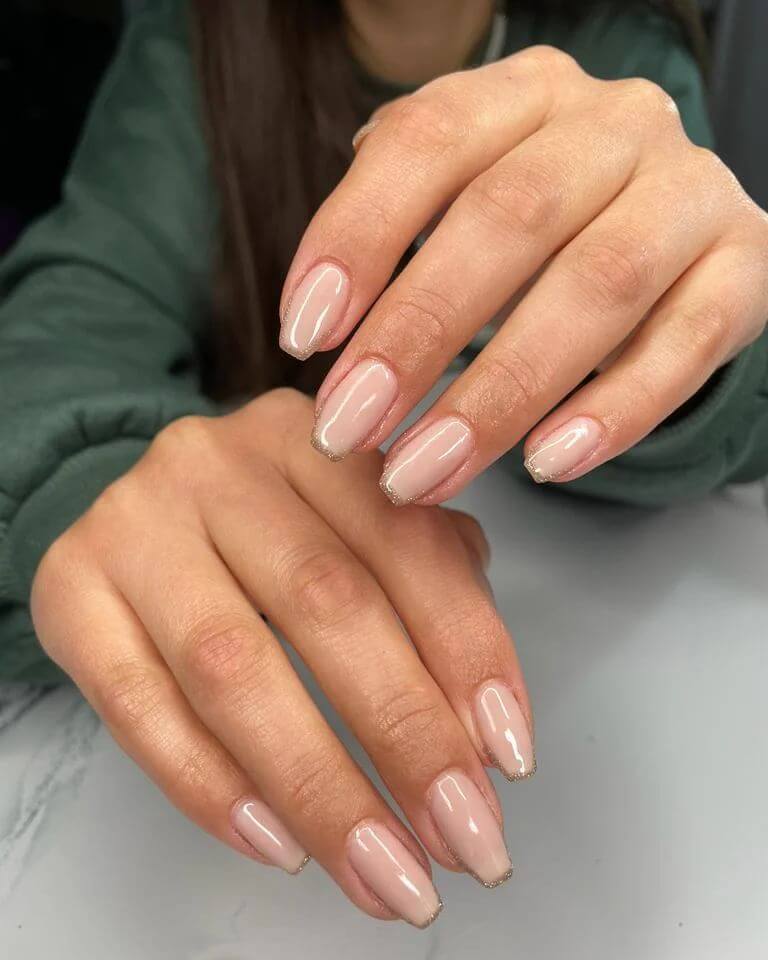 Glitter Coffin Nail Ideas
Glitter is considered a universal touch of brightness and fun. If you are looking for a coffin nail art design that is fun to wear, you can't go wrong with glitter coffin nails.
If you want to add glitter to your coffin nails, here are the popular design options:
Holographic lavender glitter coffin nails
Light pink sugary coffin nails
Stylish black glitter coffin nails
Neutral cream with peach glitter accents
Tiny red gemstones
Gold glitz and glam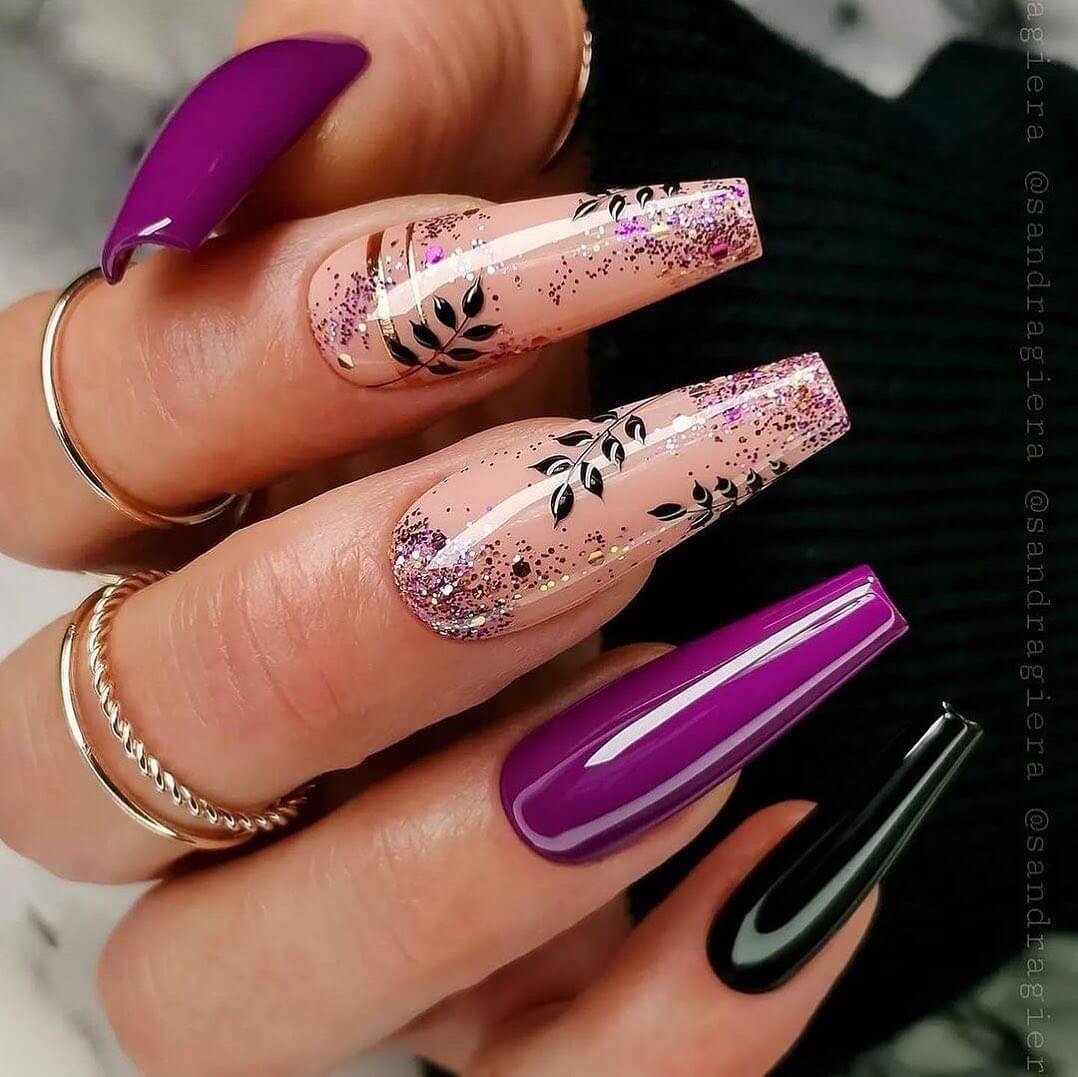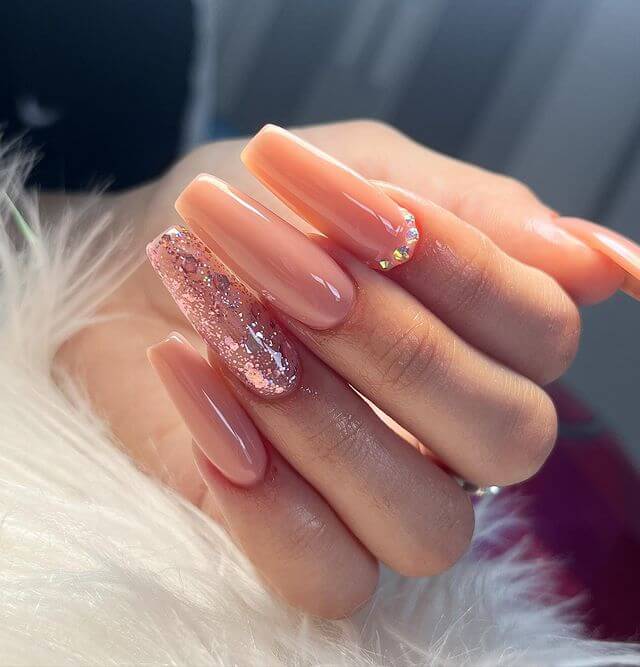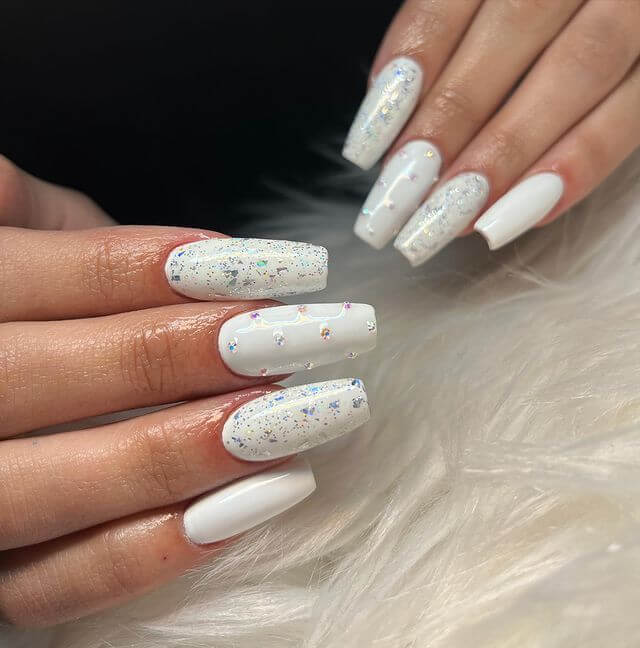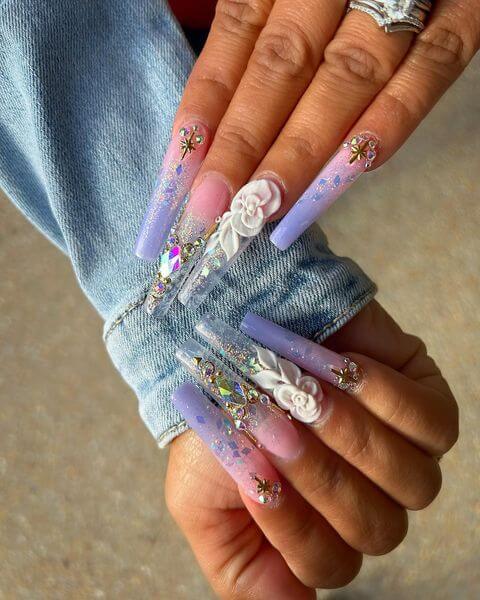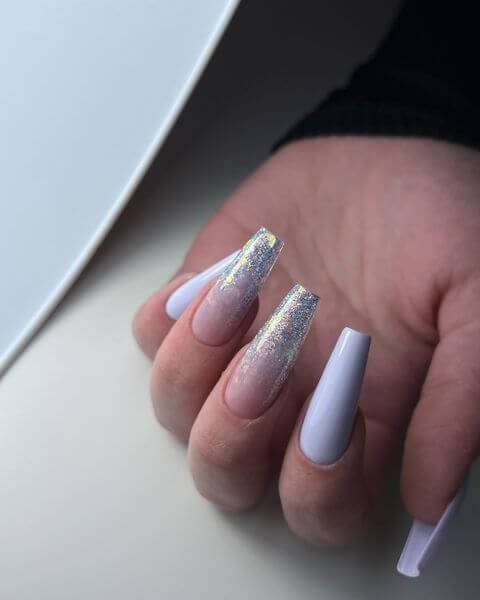 Matte Coffin Nail Designs
Matte and coffin shapes are two significant nail trends. Each style looks stylish, but when together, expect a head-turning look. Whether you want bold colors or sparkly glitters, the matte coffin nail ideas are limitless.
Below are some of the popular matte coffin nail designs:
Bold blue matte coffin nails with rhinestones
Black matte coffin nails while floral accents
Ombre matte coffin nails
Nude matte coffin nails with gems
Soft punk nails with glitter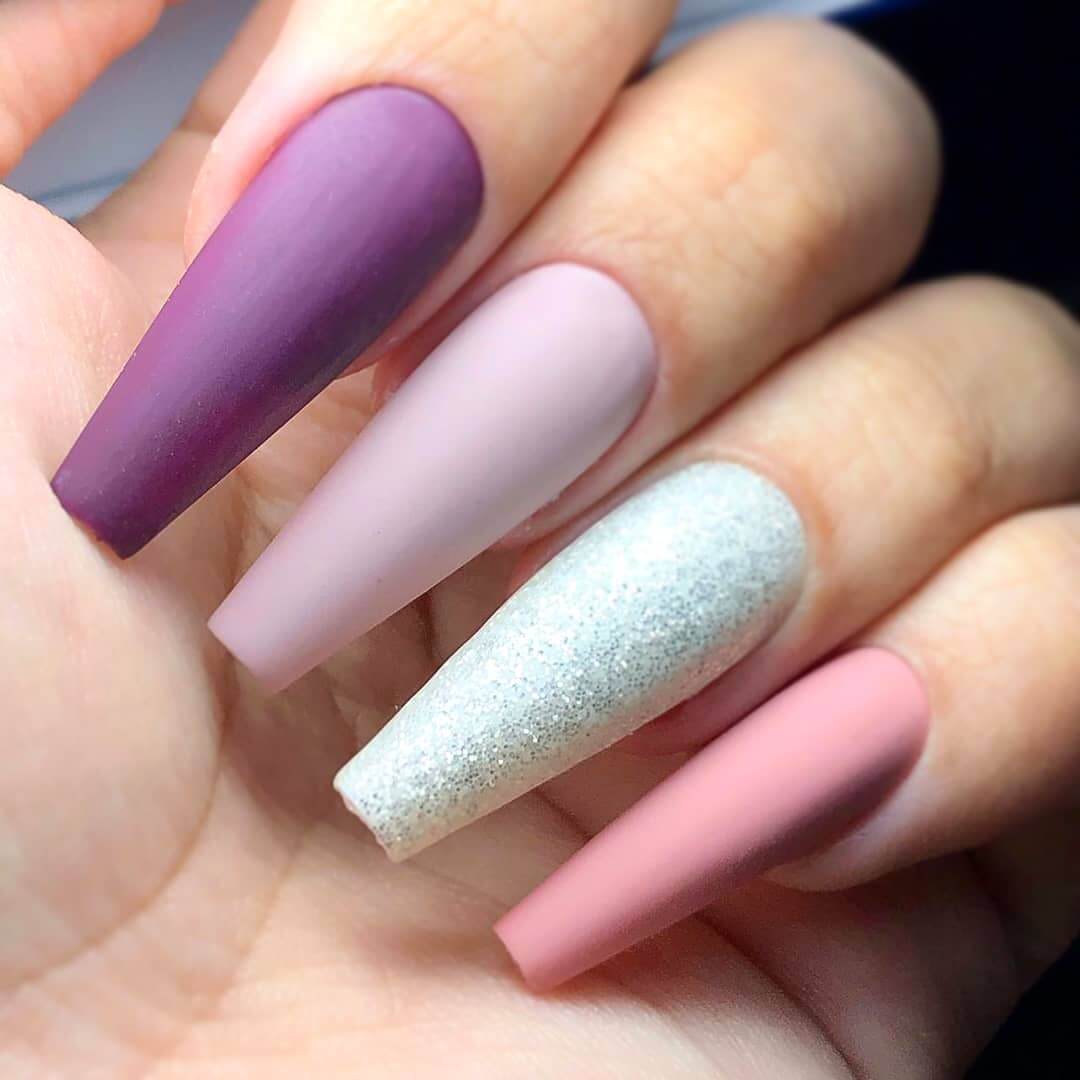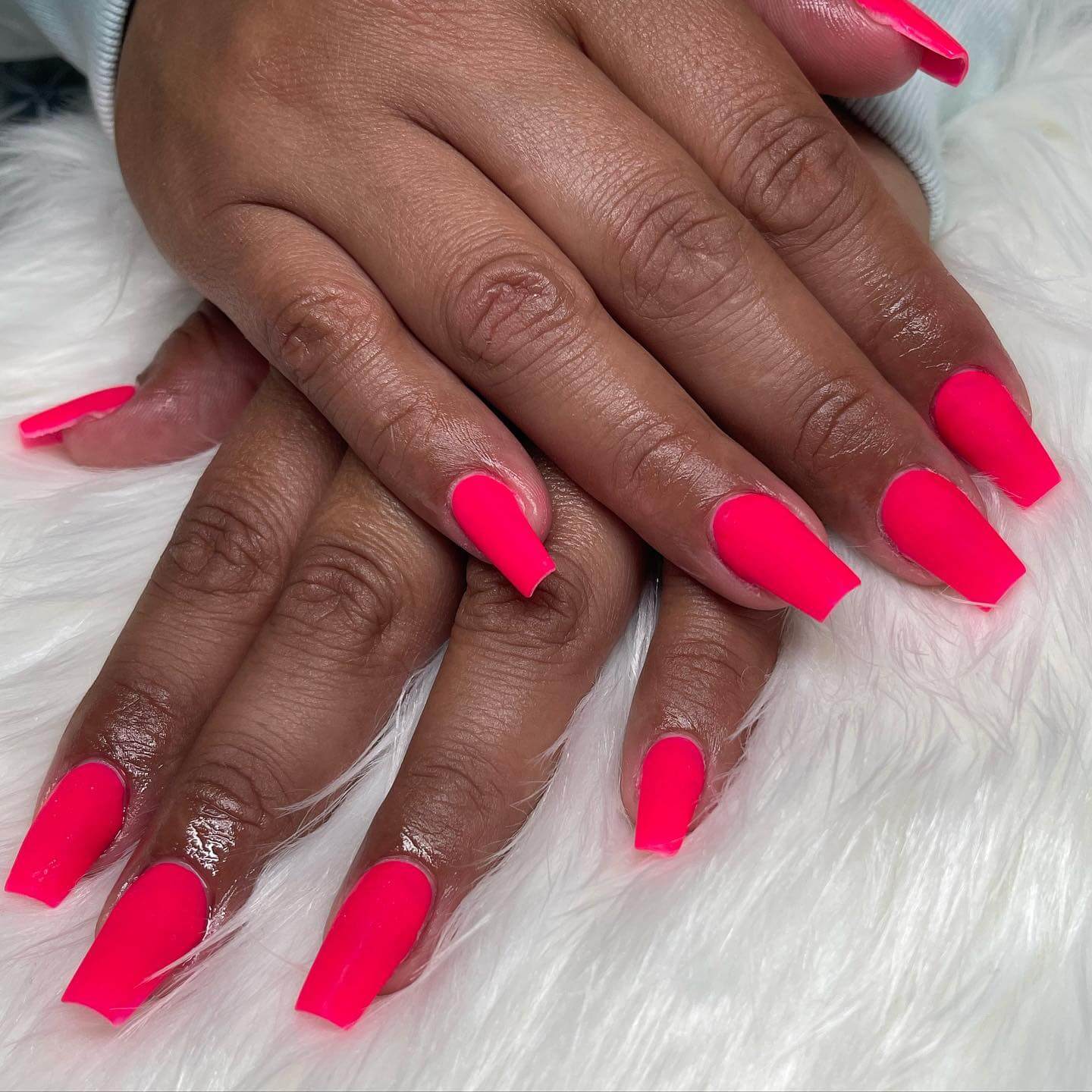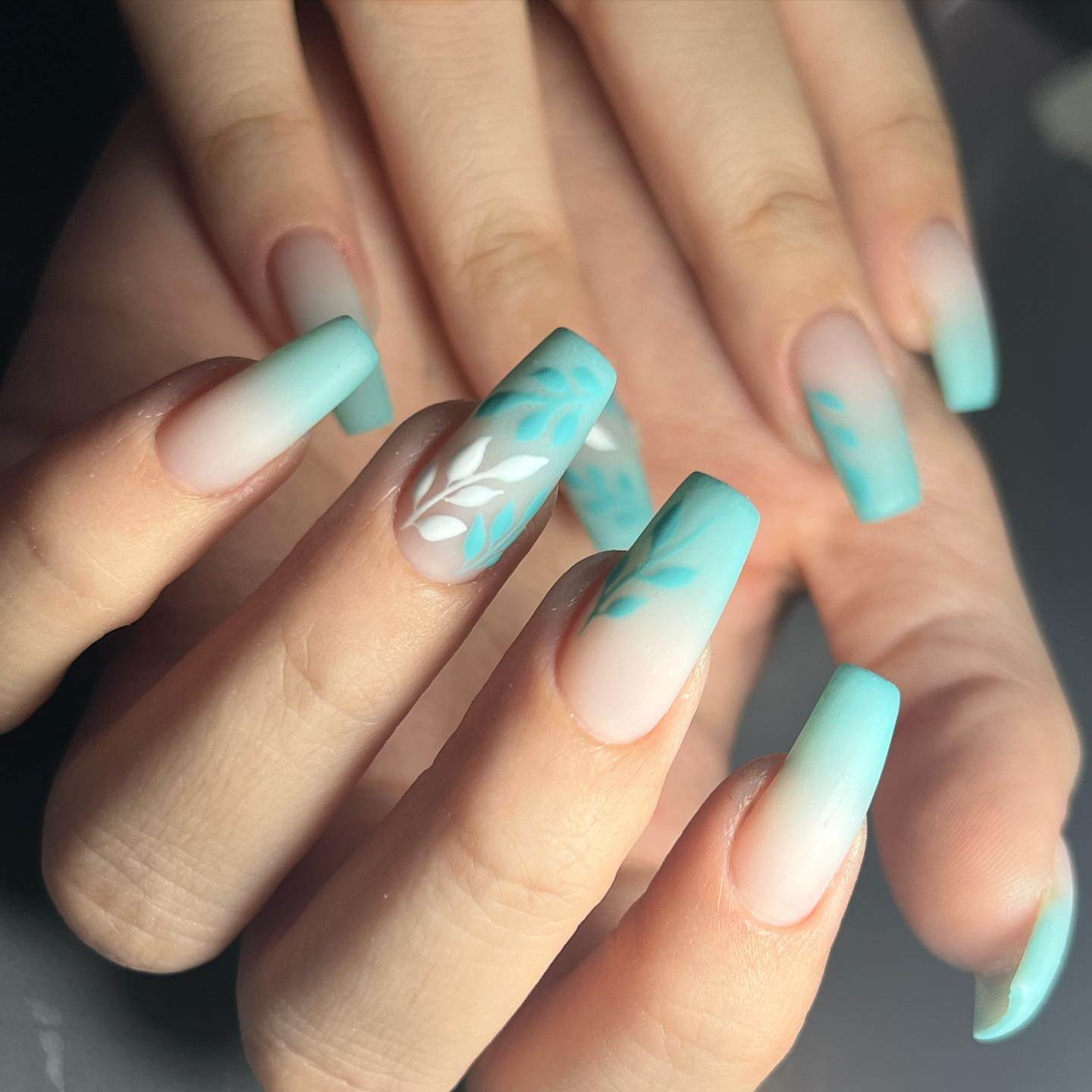 Conclusion
Coffin nail design is loved by style icons and celebrities. The shape can be created with acrylics or your natural nails. This style is perfect for those who want fabulous nails with a modern and versatile look. Depending on your preference, moor, or statement you want to make, there is a perfect coffin nail design for you.
FAQ
What Are Coffin Nails Perfect For?
Coffin nails are a perfect option if you need something less fragile but with a dramatic look. You can keep them with minimal design or add rhinestones, glitter, or gems. 
What Do Coffin Nails Look Like?
Coffin nails are famous for their curve edges, similar to almond or oval nails, but come with squared-off tips. This is where they get their name due to their resemblance to the coffin's shape. 
Why Are Coffin Nail Designs So Popular Now?
Coffin nails have gained popularity because of improved accessibility and ease. The beauty industry offers various coffin nail products, taking less time and tools to create the desired look. 
Are Coffin Nails And Ballerina's Nail Designs The Same?
Coffin nails are often confused with another popular nail design, ballerina's nails. This nail style is named for its likeliness to slippers. The major difference between the two nail designs is that the sides of the ballerina are softly curved into a narrow square tip, while the coffin's sides are cut to a sharp, defined edge forming a square tip. 

How Long Are Coffin Nails?
Ideally, coffin nails must be medium- to long-length to get the desired elegant, tapered shape. But you can still enjoy different coffin nail designs with short nails.