Professional lash artists are always shopping for new tweezers. A high-quality pair of tweezers will not only help you save time, but they will also allow you to achieve stunning results quickly. However, even the best eyelash tweezers require regular maintenance, including cleaning and sharpening.
The temptation to toss out and replace worn or stained items may be strong. In case your tweezers have seen better days, there are methods to restore them to working order.
If you want your eyelash tweezers to look as good as new, Flawless Lashes by Loreta has some advice for you.
How to Clean Your Lash Tweezers: Main Steps to Know
When switching between clients, a lash artist should always use clean tools.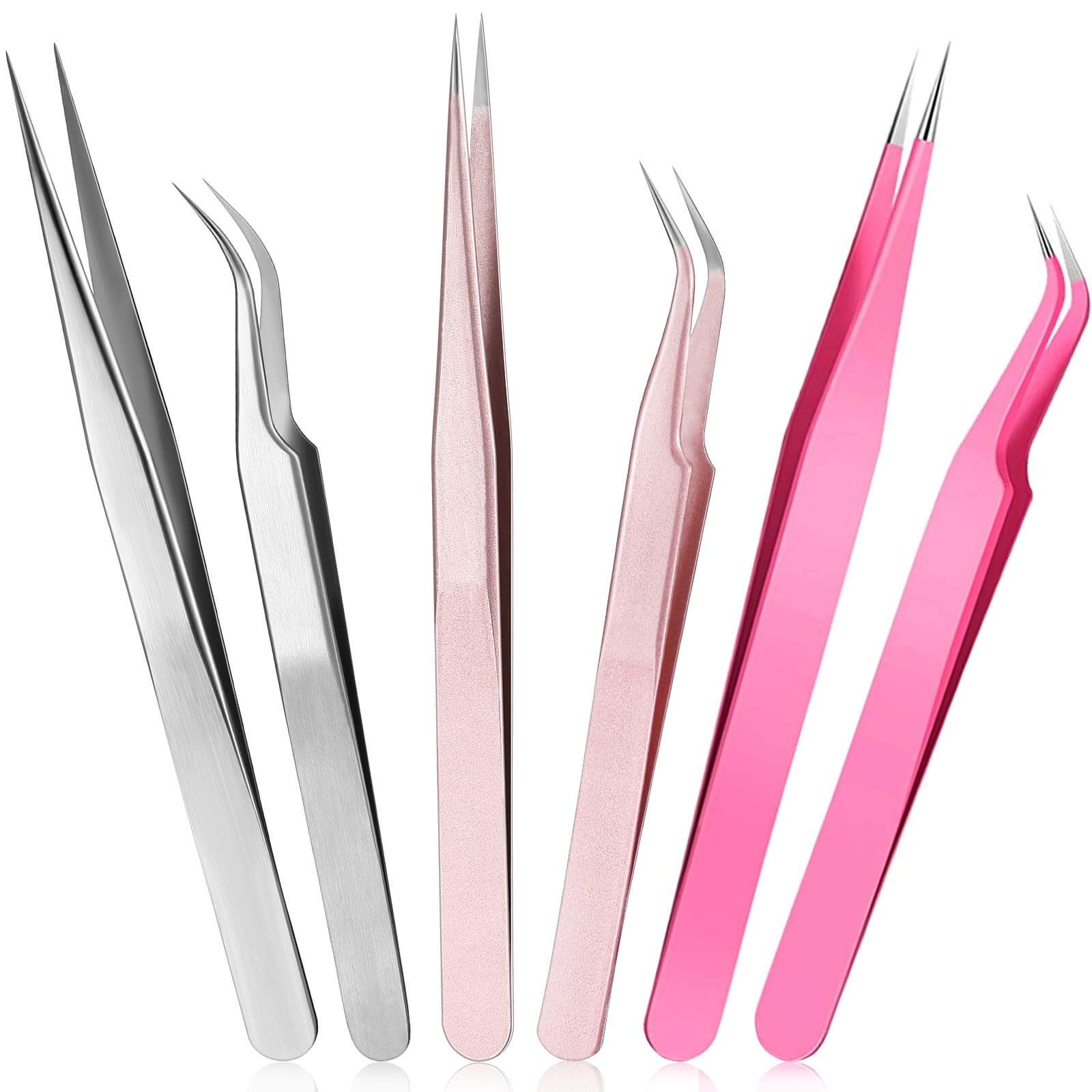 Follow these simple steps to disinfect your lash tweezers:
Scrape off any excess glue that might be on the tweezers. Try not to scratch or nick your tweezers by using other metal tools to remove lash glue residue.
Use soap and running water to thoroughly wash the tweezers after each use on the client.
Place a small cotton pad in the bottom of the jar to shield the tweezers' tips from the barbicide before soaking them. Marinating the barbicide for at least half an hour is recommended.
Drain them from the barbicide, run them under the faucet, and set them out to dry.
Sterilize the tweezers by putting them in an autoclave or a UV sanitizer.
Your eyelash tweezers are now clean and ready for use on other customers.
The Importance of Keeping Eyelash Tweezers Clean
You should only use the highest quality eyelash tweezers on the market to ensure the health and safety of your lash extension customers. However, you must ensure that they have been sterilized before using them on customers.
It is possible to reduce the risk of spreading an infection from one patient to another by using either disposable tools or sterilizing used ones between patients. Professional lash artists need to stock up on a variety of eyelash tweezers, including isolating, classic pick-up, and volume tweezers. The law regarding beauty hygiene and health and safety mandates that you use clean or new tweezers on each client.
This is why:
In order to stop the spread of disease, you should make sure your clients' eyelashes are spotless and germ-free. That way, neither you nor your client will be exposed to any germs.
This is excellent for company profits. Clean your tweezers so you can keep your customers happy. Using unclean tweezers can spread bacteria from one customer to the next. This can cause customers to become infected and spread germs, which is bad for business.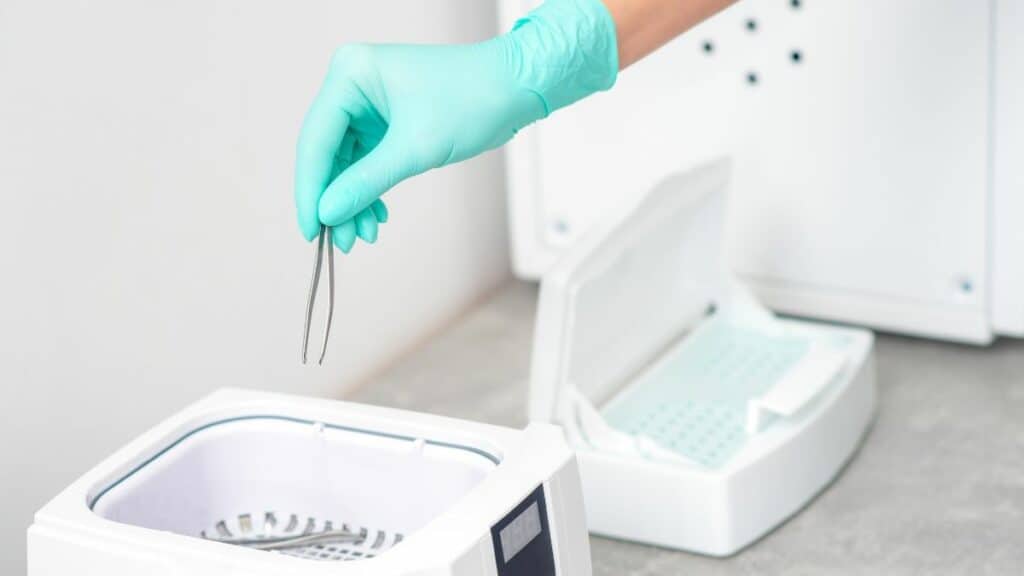 Integrity. Safety in the hands of your customers is not the only reason to regularly sterilize your eyelash tweezers. In case something goes wrong, it is essential to shield yourself from legal responsibility. Essentially, you are a name brand. Maintain your good name.
How to Preserve Your Eye Tweezers
A professional lash artist must have professional-grade tools. Among the most useful tools is a pair of tweezers designed specifically for applying for eyelash extensions. In order to maximize their longevity, they should be cared for as though they were an investment and maintained on a regular basis. Preserving the quality of your tweezers is a smart move.
Any eye makeup application can be ruined by dropping your favorite lash tweezers, especially volume lash tweezers, or banging the tips on your lash tile. The delicate stainless-steel tips of your eyelash extension tweezers will ding and bend if you do not treat them with care.
Purchase a suitable container in which to keep your eyelash tweezers. They require a safe place to be kept when not in use. Many different cases exist for stowing away tweezers, but you should select one that does not close too securely and bend the pointers.
You need multiple pairs of tweezers. There are many obstacles that can be avoided if you keep a clean pair of tweezers on hand.
How Many Times Should Eyelash Tweezers Be Cleaned?
For example, bacteria and other debris that accumulate on the tweezers can cause infections and irritations, making them uncomfortable for clients. This can also compromise the integrity of the lashes and result in breakage, making the lash application process much more difficult and time-consuming.
Cleaning your eyelash tweezers should be a routine part of your aftercare regimen. After each use, it is important to wipe down the tweezers with an alcohol-based solution to remove any residue from the eyelashes or any other debris that may have accumulated.
In conclusion, eyelash tweezers should be cleaned after each use, and it is also recommended to soak them in an antiseptic solution once a week. This simple step will not only protect the health of your clients, but it will also keep your tweezers working well and help them last longer.
Is It Possible To Clean Eyelash Tweezers With Alcohol
Yes. But even so, the very first thing you need to keep in mind when it comes to making use of alcohol is that it is not a replacement for the comprehensive cleaning routine that you have established for yourself.
It should only be used as a part of your regular routine but if, while going through treatment, you unintentionally dipped tweezers in lash adhesive or slipped them on the ground. In either of these scenarios, alcohol should be used to clean the tweezers before continuing with your treatment. In either of these two cases, cleaning the tweezers with alcohol is the best course of action.
The Consequences of Ignoring the Need to Clean Tweezers
In addition to the health risks, not cleaning your tweezers can also impact their performance and longevity. Dirt and bacteria can clog the tips and make it difficult to pick up lashes or perform the extension application. This can result in an inconsistent lash look and take more time to complete the application.
In order to avoid these risks, it is essential to follow proper cleaning and sterilization protocols after each use. This involves wiping down the tweezers with an alcohol-based solution to remove any residue and then soaking them in an antiseptic solution for a specified period of time to kill any bacteria.
It is also important to use only high-quality tweezers that are made with durable materials and are easy to clean and sterilize. Using tweezers that are prone to rusting or breaking can put your client's health at risk, as well as make it more difficult for you to perform your job to the best of your abilities.
By taking the time to properly clean and sterilize your tweezers, you are demonstrating your commitment to providing a safe and professional service to your clients. It is an essential part of the lash extension process and should not be overlooked.