When winter arrives, leather jackets are the perfect clothing item. A leather jacket for women is really stylish, looks classy, does not let the cold get to you, thus one of the most favorite items of women. Tis' the season, thus parties are going to require you to dress in the best way possible, so do not miss out on styling your bomber jacket, especially with a blouson dress.
Talking about blouson dresses, most of you must know what they actually are, for those who do not know, let us tell you. Blouson dresses are those that have a gathered waist, with a baggy bodice and from the cinched waist a flowy skirt.
Every woman is known to have a blouson dress in her wardrobe as they are beautiful, easy to carry, and do not need a lot of effort to wear or style. You can wear it almost anywhere, to any event, or occasion with a women's bomber leather jacket. Blouson dresses have their own charm and there is no need to overthink it, however, we can style them differently too. Today we are going to talk about how you can style the bomber jacket with your blouson dress. So let us hop right into it.
6 Best Ideas How to Wear Bomber Jacket with a Blouson Dress
1. Bomber Jacket with Floral Blouson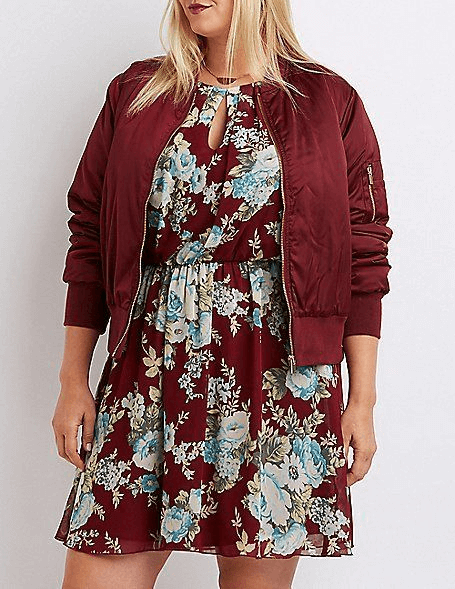 Make a solid colored bomber jacket complement something coloful and floral. How about pairing your bomber jacket with a floral blouson dress? This look can be worn for a picnic or a cool summer evening. Your bomber jacket will give the warmth you need without hindering your style. While your floral printed blouson dress will add that classic vibe. You can also accessorize this look any way you want. So, let your hair down and add small studs to your ears. If it really is a picnic day then do not forget to wear a hat and sunglasses along with your trainers. However, if it is just an evening hang out with friends then you can wear some strappy heels. Wear some neck chains and put on a nude lip color, you'll be good to go.
2. Party Bomber Look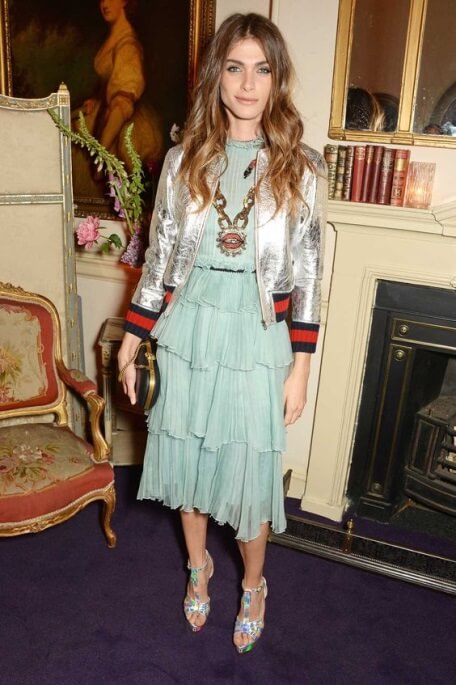 Getting ready for a party? Let us help you in styling your favourite bomber jacket. Here again, a glam looking blouson dress can be used. Whether it is something chic and subtle or something flashy, your bomber jacket can work well to either highlight or blend in, with your blouson dress. However, if your bomber is the glam element, pair your flashy bomber jacket with a light colored blouson dress. The bomber jacket is going to enhance your look and help you standout in a crowd. Match your heels with your bomber jacket and pick up your embellished clutch. To tie your entire look together, go for a statement necklace. Let your hair down and add beach wave curls. Voila, you just have a party standout look.
3. All Black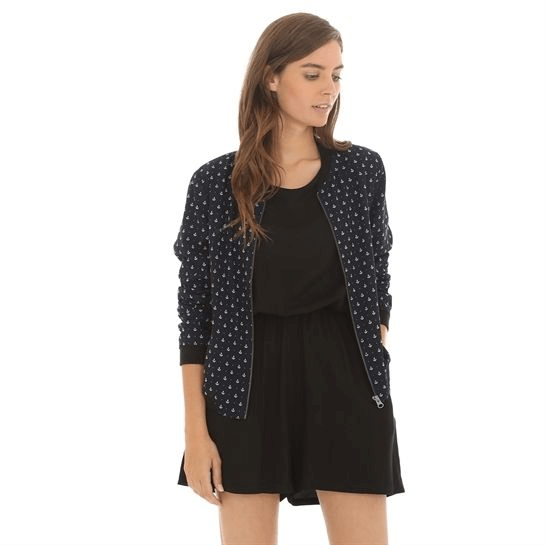 Some people are absolutely obsessed with wearing bomber jackets. They tend to wear it everyday and on every occasion. If you are confused with what you want to wear on a particular day pick a black bomber and a black outfit as black is never out of fashion. The bomber jacket will help to add character to your outfit and will give you the exact look you want. If you are wearing your black blouson dress, slip on your black bomber jacket or another dark colored bomber jacket. Add a watch to your wrist, wear black trainers or sneakers. Ta-da you have your desired look. Simple yet classy.
4. That Boho Look

If you are more into bomber jackets and would like a bohemian look, you can easily pair up things together to achieve exactly that. Are you going out to lunch with friends on a cool summer day? We know exactly what you can wear. As oversized bomber jackets seem to be women's favorite you should not ignore the fact that if you pair it with your boho-styled blouson dress, you are going to slay the look for sure. With your oversized bomber jacket you can wear a boho-styled blouson dress of any length or print. Again, a solid colored bomber jacket is going to give your outfit added character and style. You are going to look stylish and inspirational at the same time. For your shoes, wear women's oxfords and add a cross-body bag along your shoulder. You can make a high bun or let your hair down, or even go for a french braid, all three hairstyles are going to suit this look.
5. The Enhanced Bomber Jacket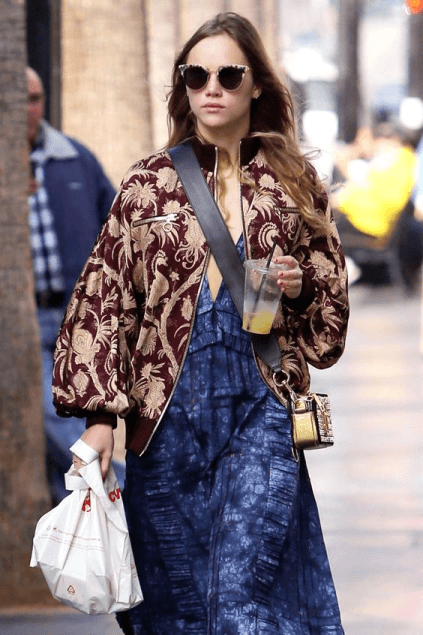 Sometimes most women do not know how to wear their flashy floral bomber jacket with so much gold and silver, thus it just rests in their wardrobe doing nothing. It is all about risking your look and getting out of your comfort zone, and you never know what suits you best. So, we know exactly what you can do. To tone down your bomber jacket, pair it with a single, solid colored blouson dress. If you are going out with friends, you can wear heels with them, or if it is just a random movie night then you can even match sneakers with your look. Go low with your makeup, wear your hair up, or down, and add tiny studs to your ears.
6. Floral Bomber with Plain Blouson

Printed bomber jackets look the best when they are styled with solid colored clothing, such types of bomber jackets already speak for themselves. With your cute floral bomber jacket go for a plain white blouson dress or pick one of the secondary colors from your bomber jacket to match your dress with. You can, maybe pick pink or light blue, that would also work well with your printed bomber jacket. If you are going on a date, wear stilettos with your outfit, add statement earrings to your ears and a delicate chain around your neck. Straighten down your hair, add a dark lip color and you are ready to roll.
Conclusion
That was all from our style guide on pairing your bomber jacket with a blouson dress. Well, now we know that nothing is impossible for you to pair up if you really like it. You can slay the blouson dress with the bomber jacket on top.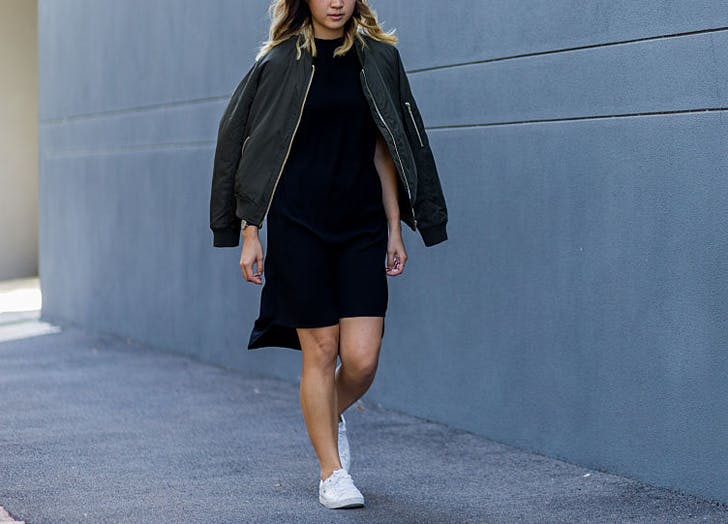 You surely must have a lot of clothing items that are sitting in your closet, ready to be paired but you are unsure about them. Take them out, spread them on your bed and start thinking of what you can do with all those clothes. You might be missing out on a great look or more. If your clothing items are too flashy, try toning them down as you pair them up with solid colors. However, if your clothing items seem boring, then wear jewelry and other pieces that enhance your look.