Brown nails are the perfect way to add a subtle yet chic touch to your look. Whether you prefer a glossy or matte finish, brown nail designs offer a timeless look that can be dressed up or down. From deep mahogany shades to light tan hues, there's a brown nail color for everyone.
Brown nails may be utilized to create a number of appearances, whether you want to keep it subtle or make a statement. Additionally, it's a fantastic technique to give your style a touch of coziness. Classic brown hues go well with any outfit if you're going for a more conventional look. Try mixing dark brown with a vivid hue or adding some sparkle to your manicure for a more contemporary edge.
A fashionable and classy approach to displaying your sense of style is classy brown nail art. You may get gorgeous brown nail designs to meet any occasion in a range of tones, from soft and subdued to bold and adventurous.
Brown French Tip Nails
The newest trend in nails is brown French tip nails. This gorgeous new color combination is perfect for the fashion-forward girl looking for a unique and eye-catching look. The classic look of French tips is instantly elevated with this new and unexpected color. The deep, earthy tones of brown look stunning against the lighter beige tips, creating a perfect balance of color.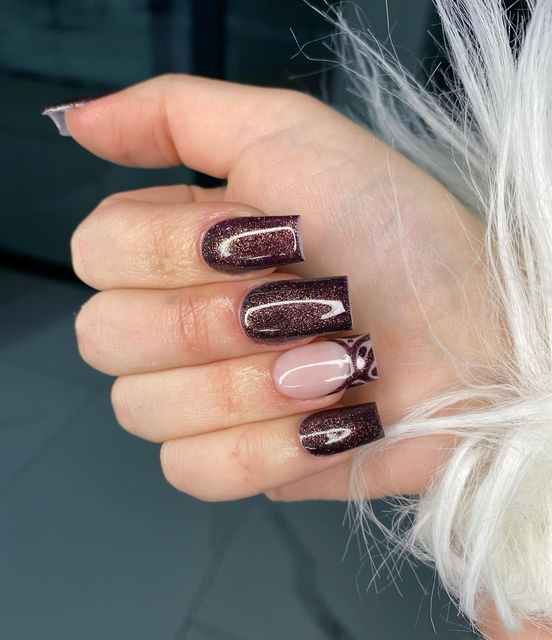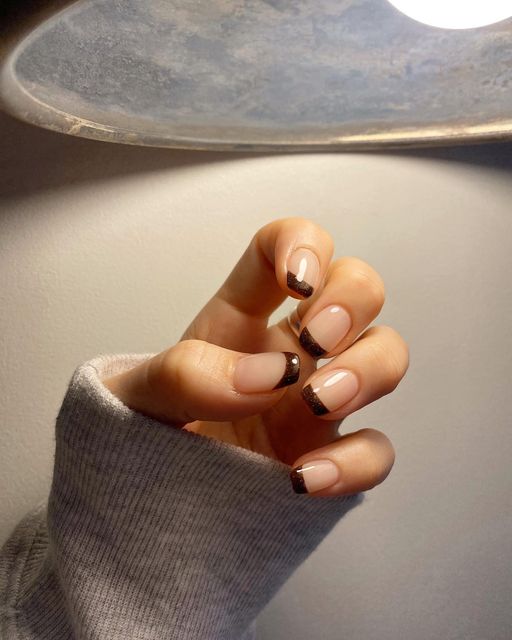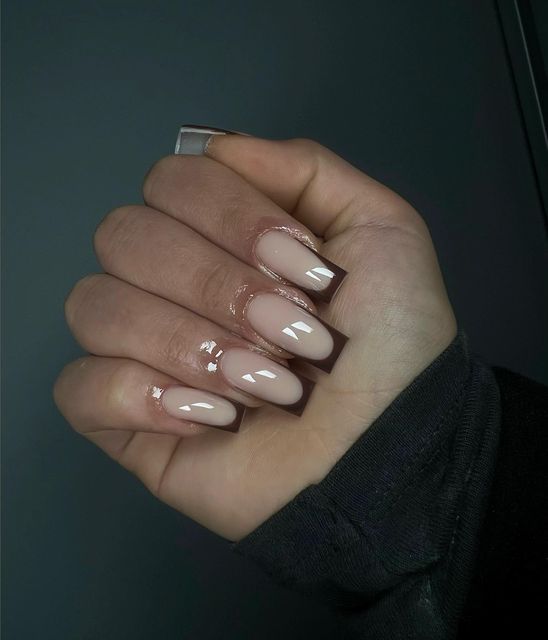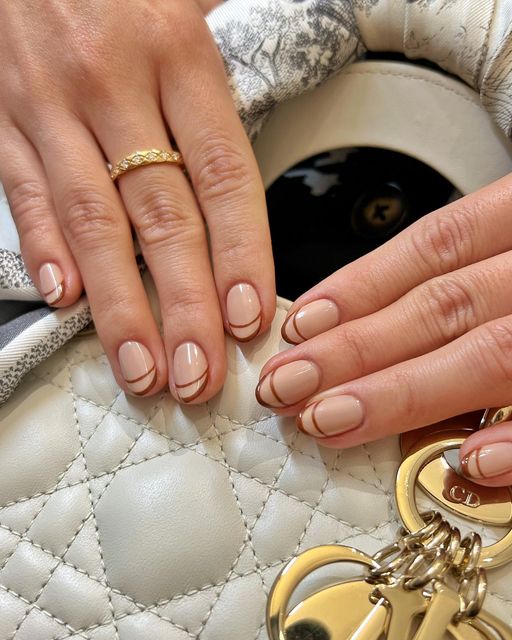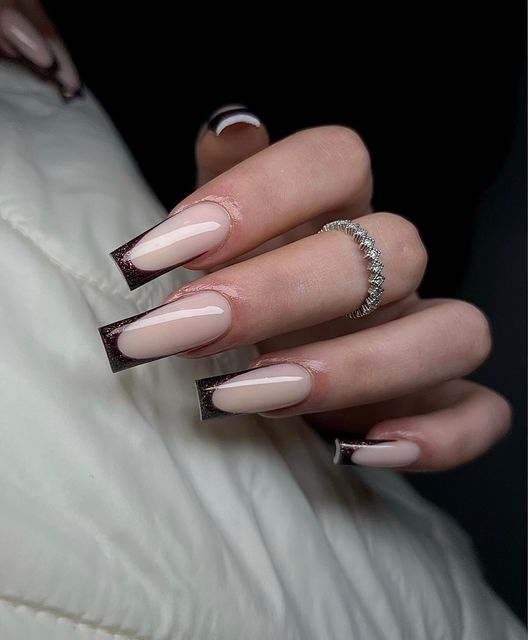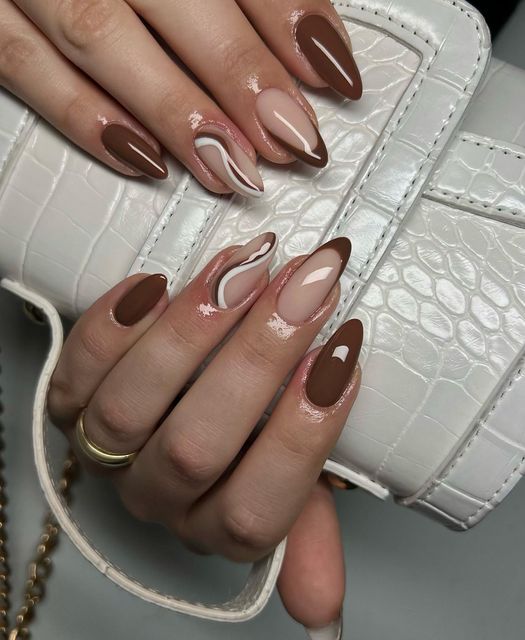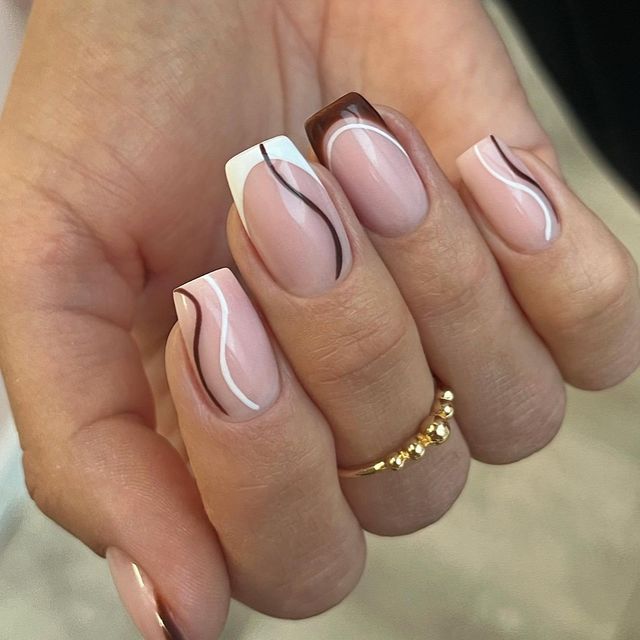 Brown French tip nails are the perfect way to update your look without making a drastic change. Whether you're headed to a party or just want to look polished for the office, these nails are sure to turn heads.
Different Shades of Brown Nails
Brown is the color of warmth and comfort, and it's no surprise that it's a popular color for nails! From deep chocolate to soft tan shades and everything in between, there are so many different shades of brown to choose from.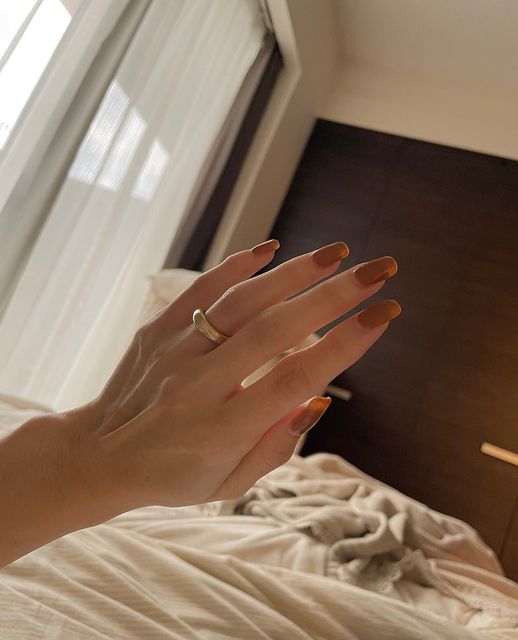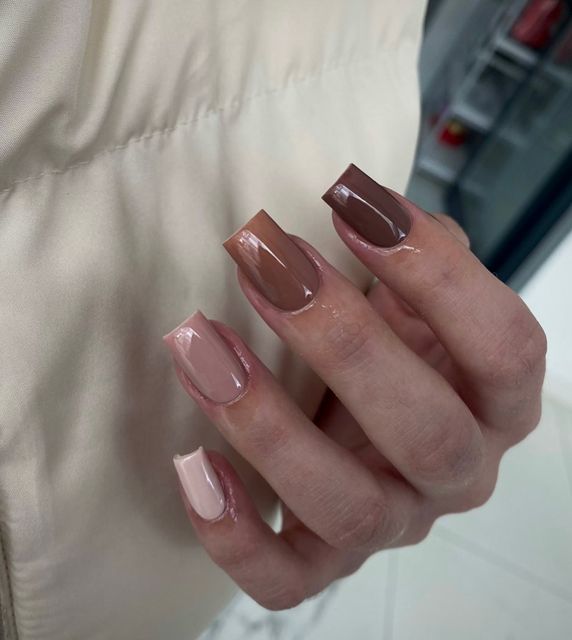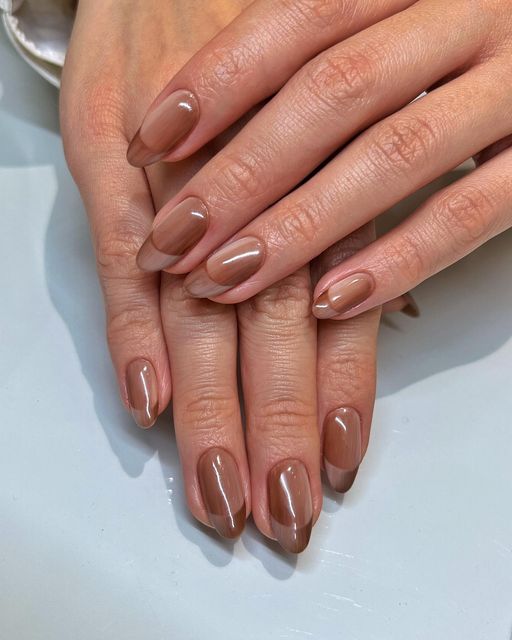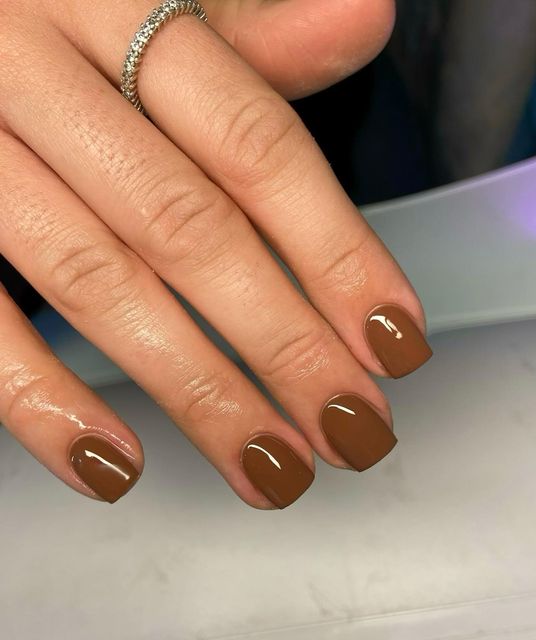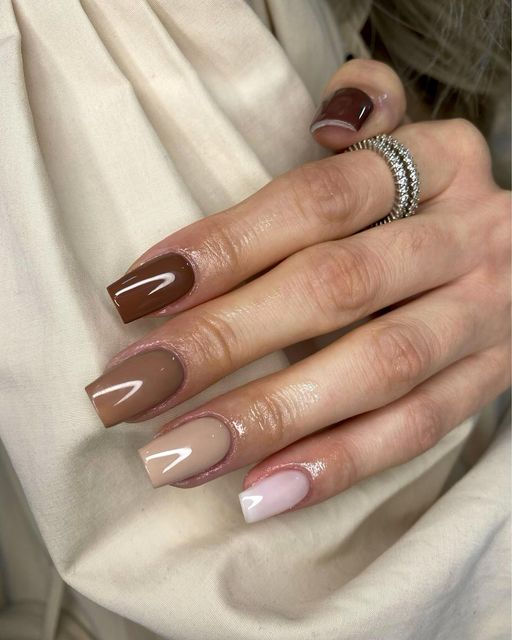 Nude Brown Nails
Nude brown nails are the ultimate classic style. They're perfect for any season and look gorgeous with any outfit. They're subtle yet stylish and are a great way to add a classy touch to any ensemble. Nude browns are great for an everyday look, as they're light and neutral enough to go with both casual and formal attire. For the perfect nude brown nail look, choose an earthy hue that is close to your natural skin tone for an elegant, timeless look.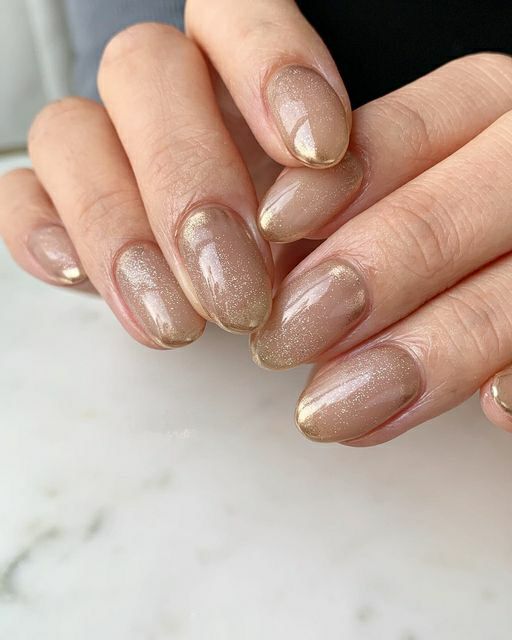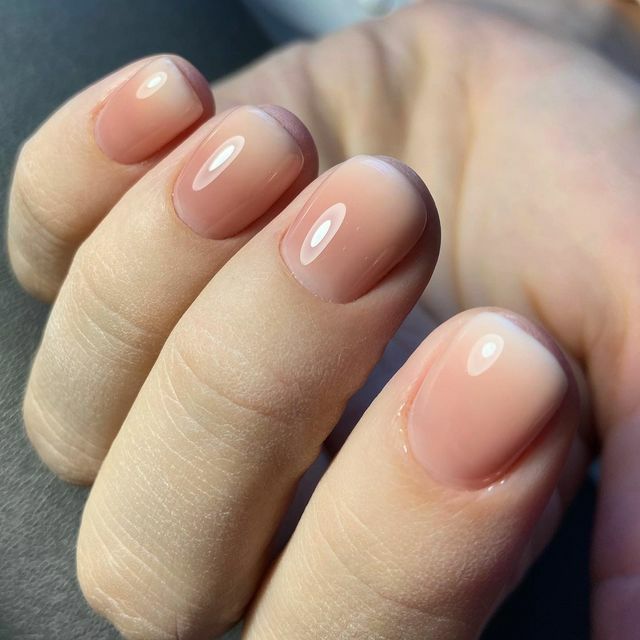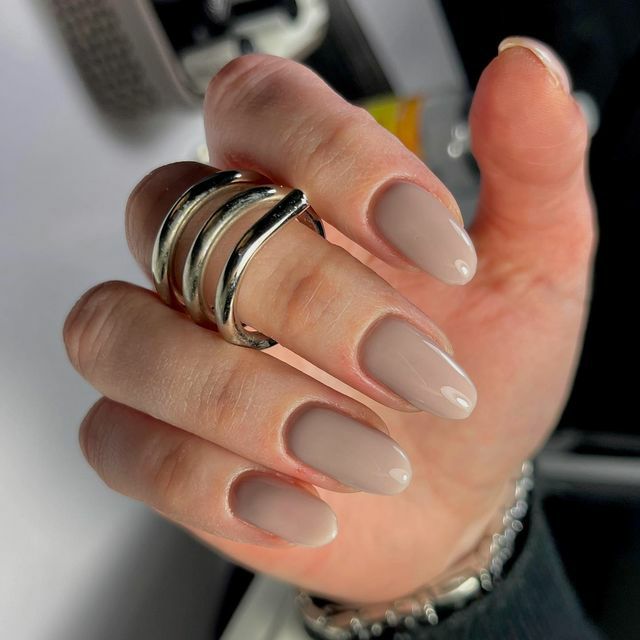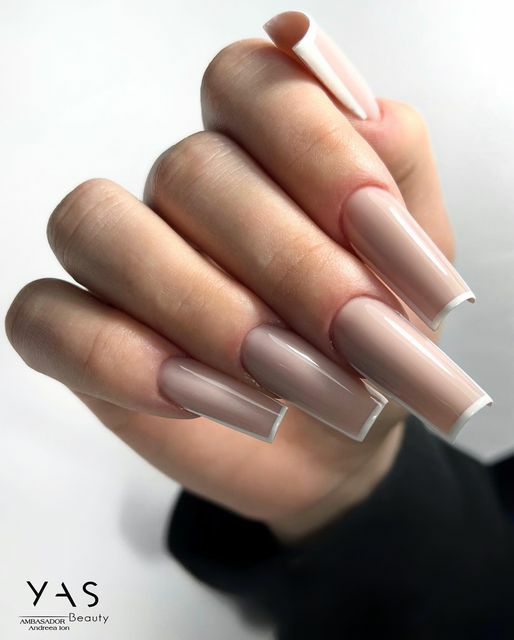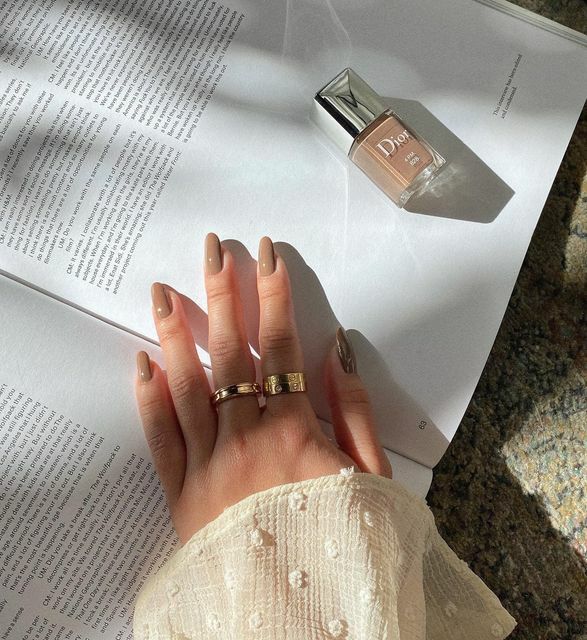 Light Brown Nails Designs
If you want to appear your best, whether you're suited up for a formal occasion or just want something a little more casual, light brown nails can assist. Because it is a delicate and versatile color that allows you to express yourself without being dominating, light brown is the perfect match for every skin tone. Matching light brown nails with pale pink, beige, or even glossy white is a great way to give a touch of understated glitter to your appearance.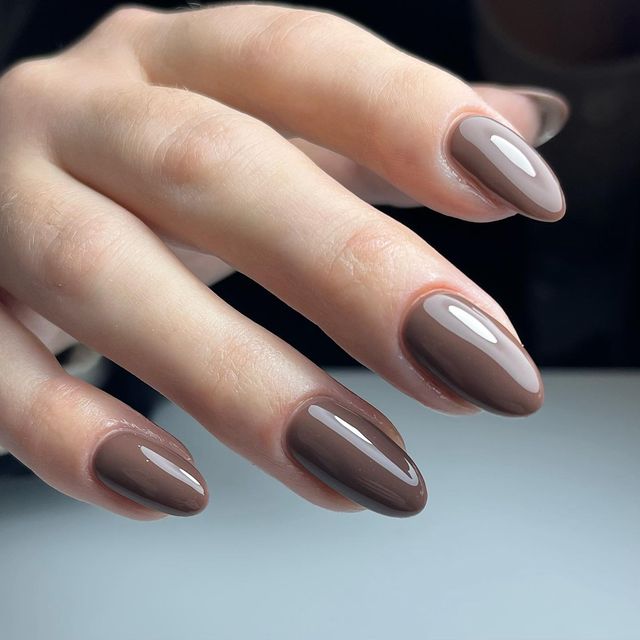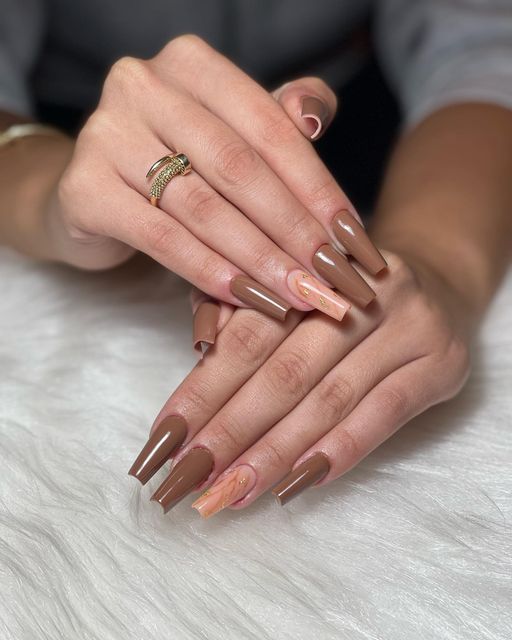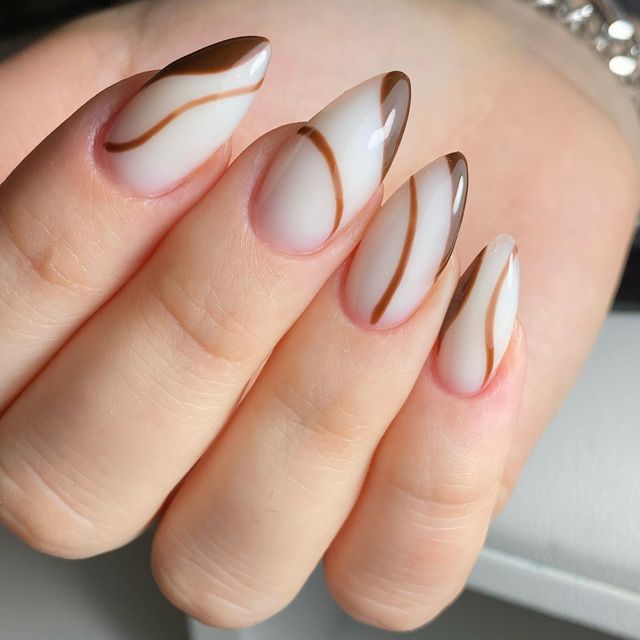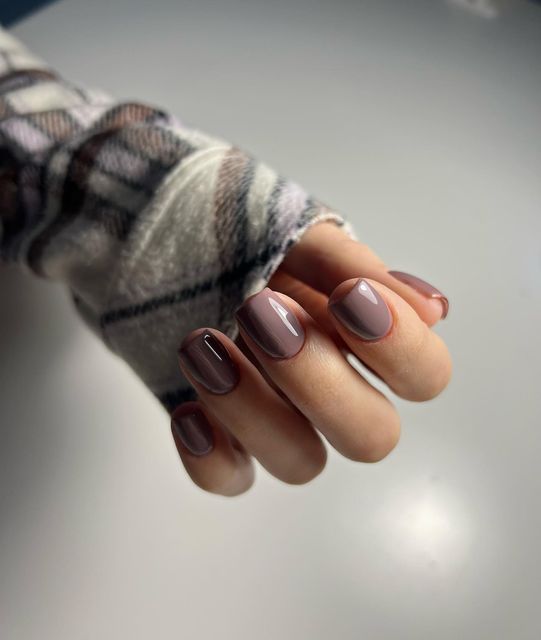 Dark Brown Nail Shades
The versatility of this color makes it a great option in any season. Dark browns look especially stunning against pale skin tones and can be dressed up with glitter and rhinestones for a glamorous night out. For a more subtle look, try pairing dark brown polish with nude tones for a chic, elegant finish.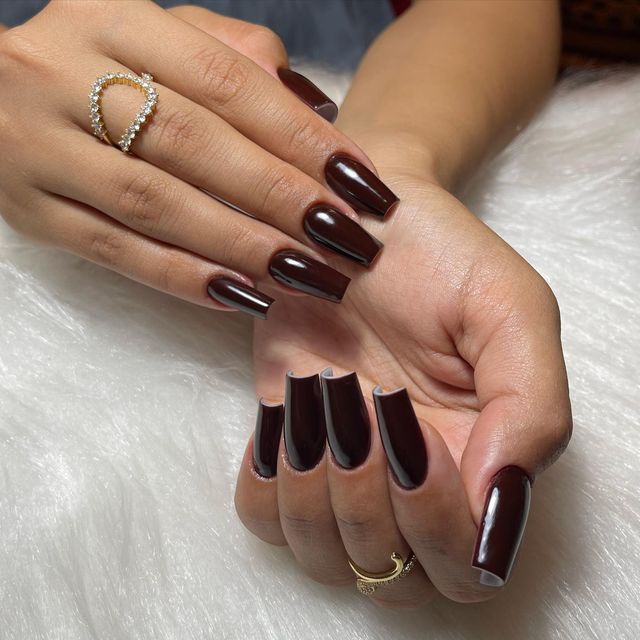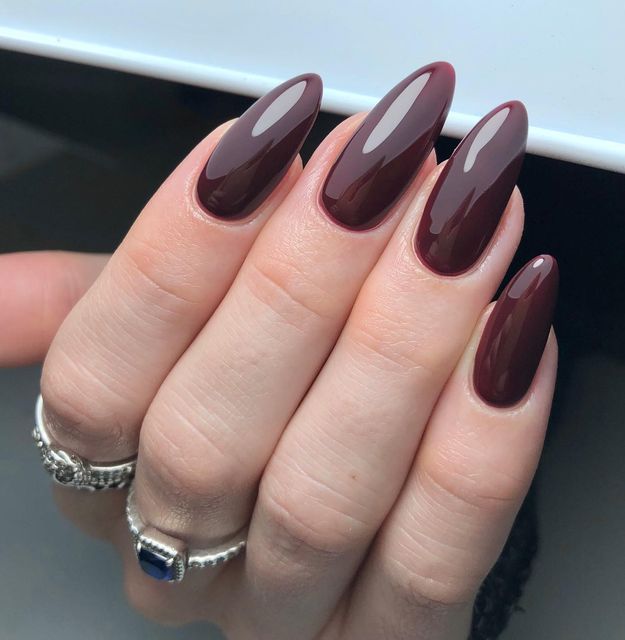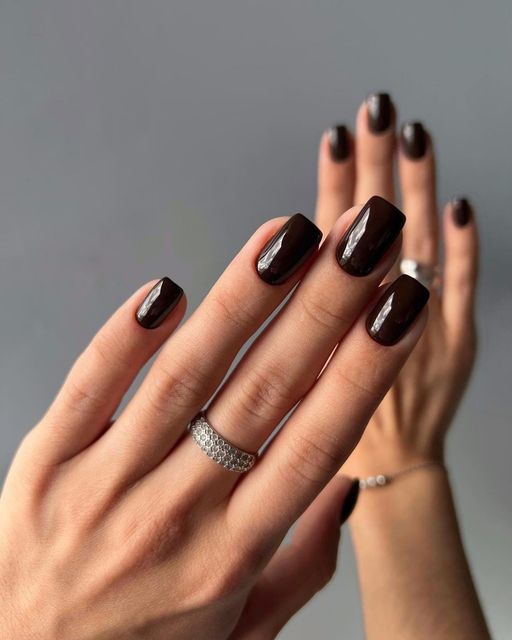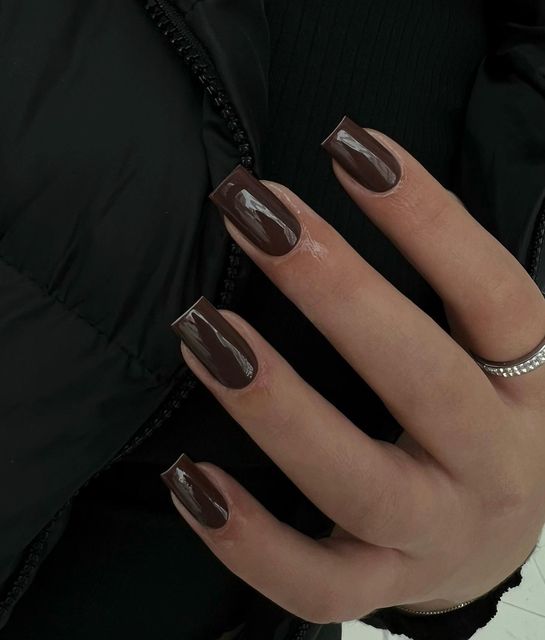 Metallic Brown Nail Shades
Metallic brown nail shades, like gold and bronze, can add a touch of luxury to your look. These shimmery, bronze-toned polishes can give your nails a warm, sophisticated appearance. They look especially good against a tan or olive skin tone and can be paired with any outfit. They're a great way to add a little bit of sparkle to your ensemble without going too crazy.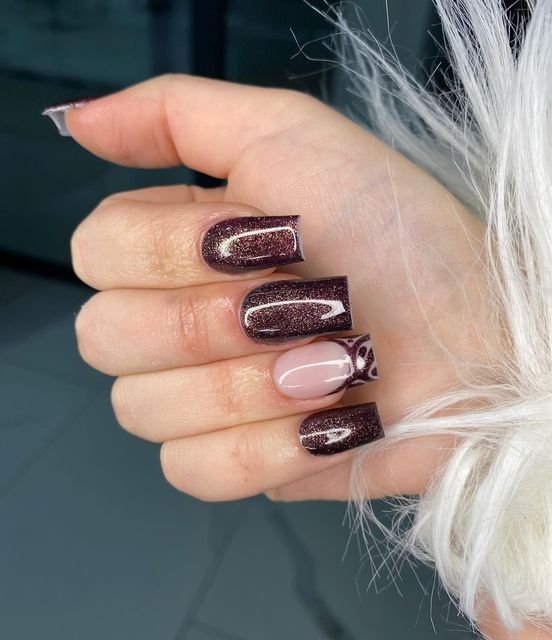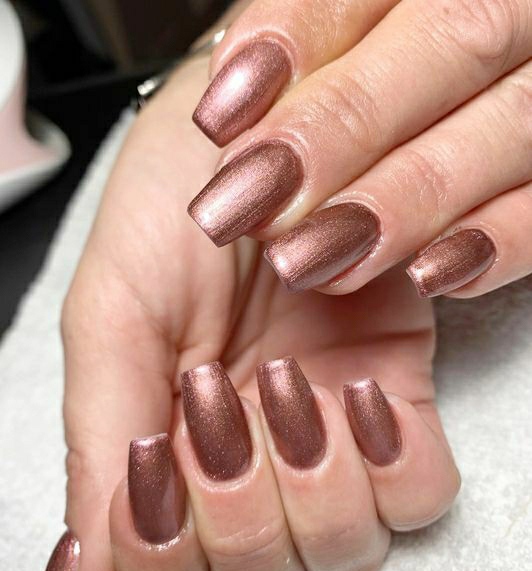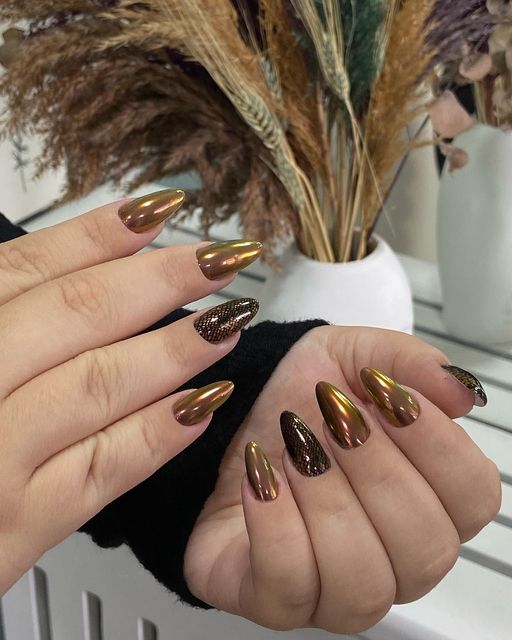 Brown Nail Designs with Glitter
They offer a classic and timeless look that can be dressed up or down, depending on your preference. The glitter particles reflect the light beautifully, giving you a subtle sparkle that adds an extra level of glamour. Whether you opt for a light champagne shade or a more dramatic gunmetal hue, these glittery brown nail shades are sure to make an impact. For an especially unique look, try combining multiple shades of glitter for a beautiful, multi-dimensional effect.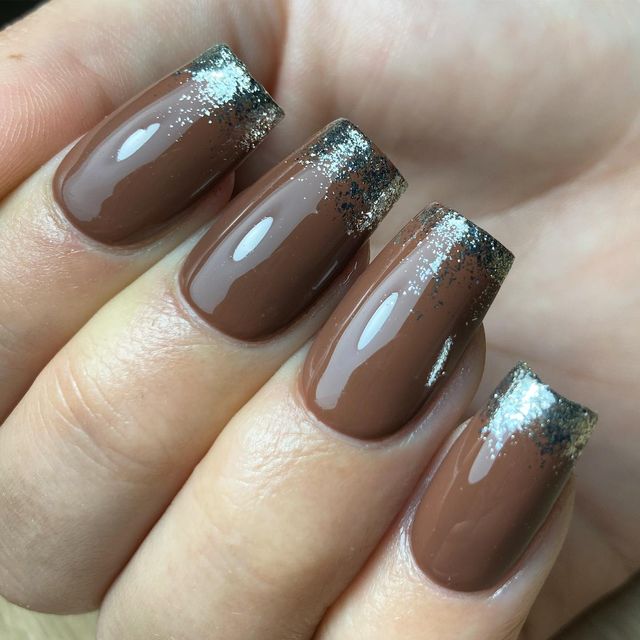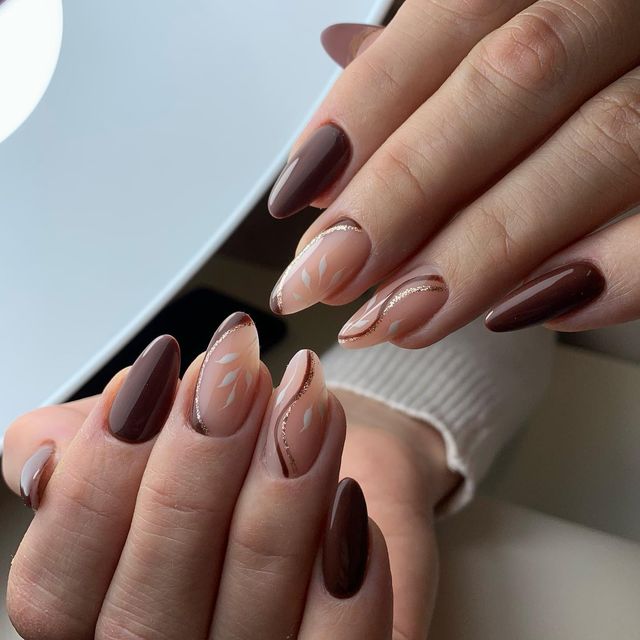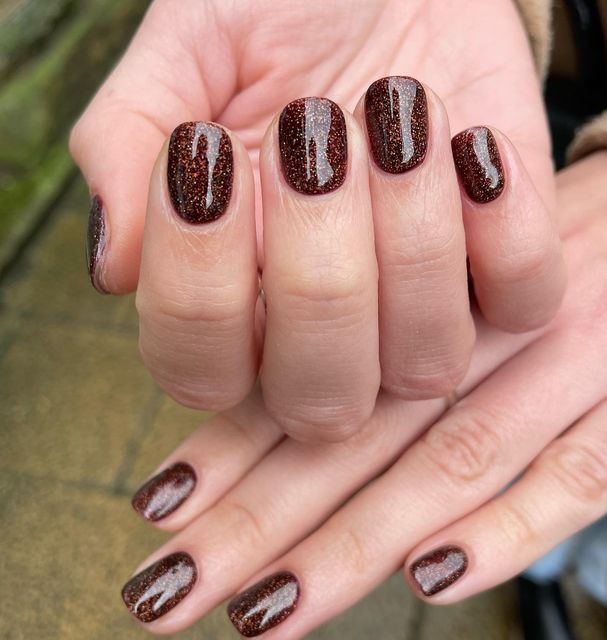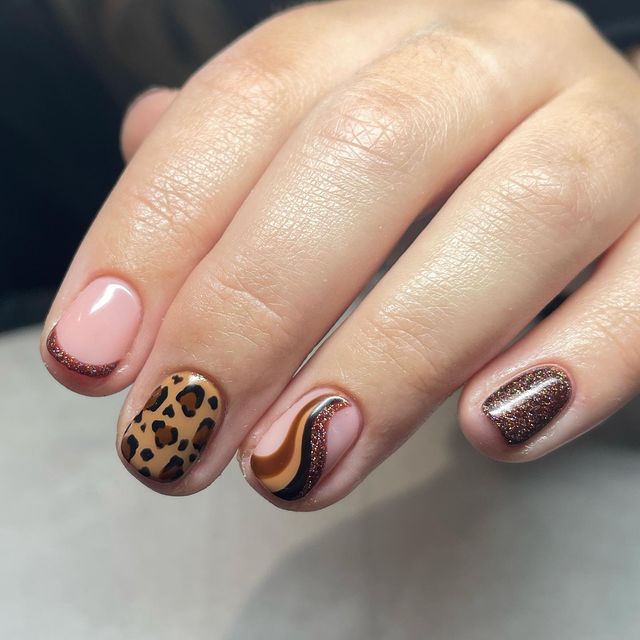 Matte Brown Nails
Matte Brown Designs for Nails are the perfect way to make a fashion statement without saying a word! Whether you opt for a bold statement nail or a subtle accent, matte brown designs have a timeless sophistication that will elevate any look.
Create a minimalistic look with a single matte brown accent nail, or go full glam with an intricate design featuring intricate swirls, abstract shapes, and geometric lines. Don't forget to add a bit of sparkle for a subtle hint of glitz! With matte brown, the possibilities are truly endless. So go ahead, show off your stylish nails, and make a lasting impression with matte brown designs for nails.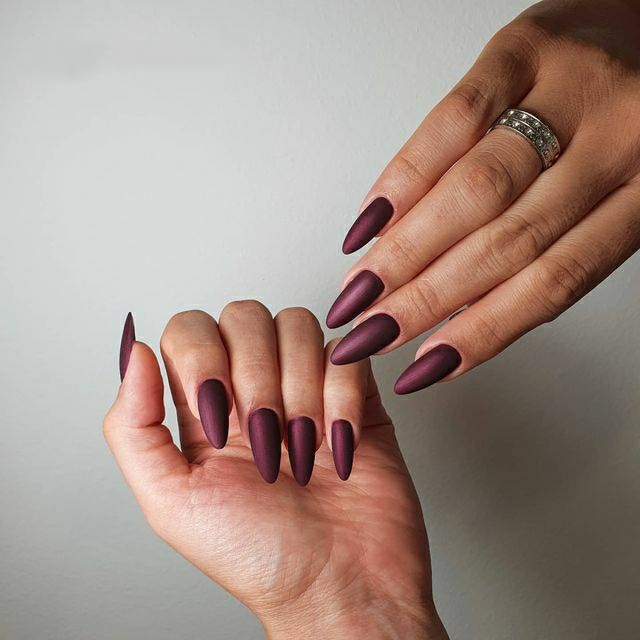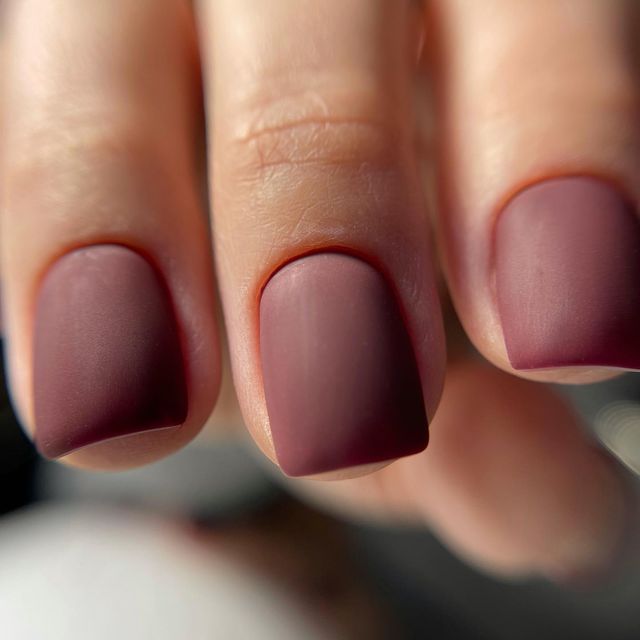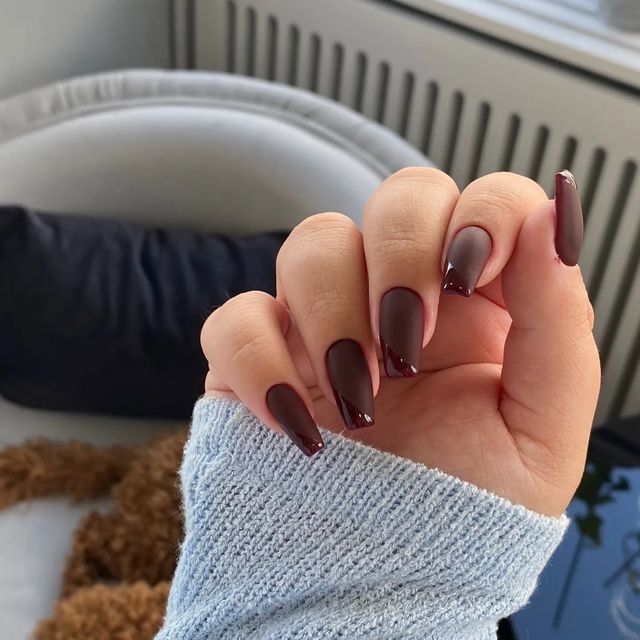 Fall Nails Brown
Fall is the perfect time to switch up your nail look. From warm oranges and reds to cool browns and taupes, this fall nail art trend is sure to make a statement. Brown nails instantly evoke a sense of warmth and elegance and can be easily dressed up or down with the right art. Whether you're looking for something subtle or a more daring design, there's an option out there for everyone.
As the leaves start to change and the temperature begins to drop, it's time to start planning out your autumn-inspired nail art. From rich browns to warm oranges and reds, there are so many ways to get creative with your autumn nail designs. Here are the totally unique brown nail designs with fall art that are sure to turn heads.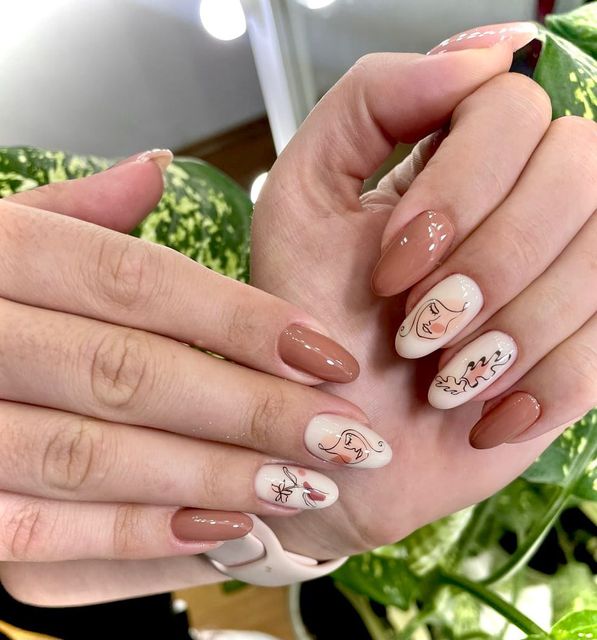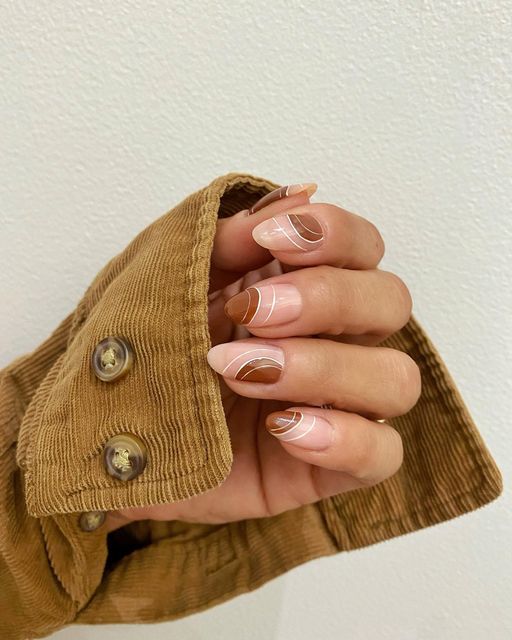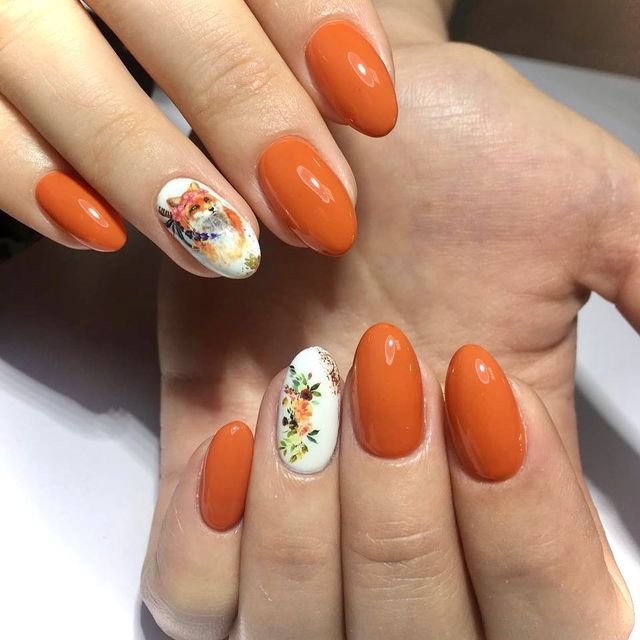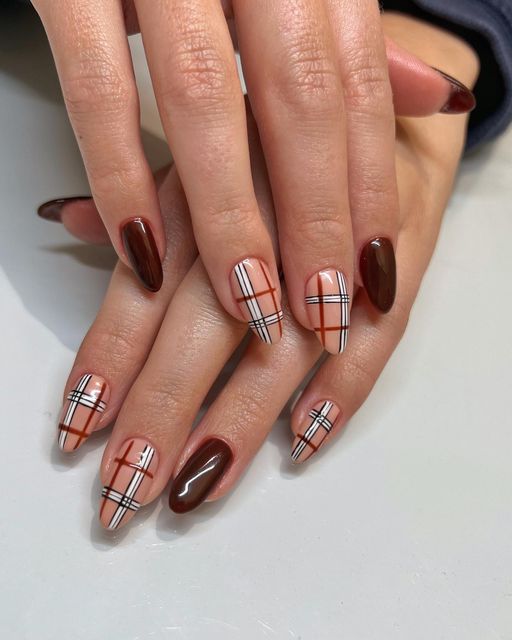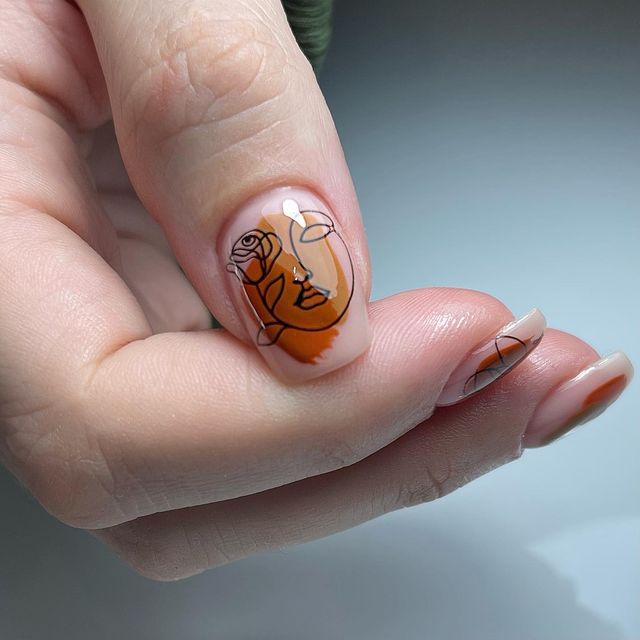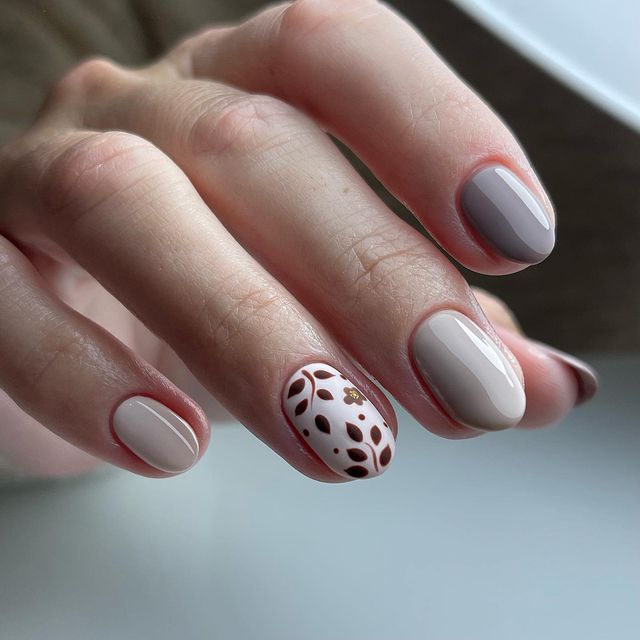 Dark Brown with Gold Leaf Accents
Your timeless look will last all the way through the fall months with the help of this timeless combination. To add a more elaborate touch, paint the base of your nails a rich brown color and then add gold leaf embellishments. If you want a more long-lasting pattern, use adhesive gold leaf; if you want something more transient, use water-based paint. You can prepare in style for the season by adding some sparkle with a few gold stones.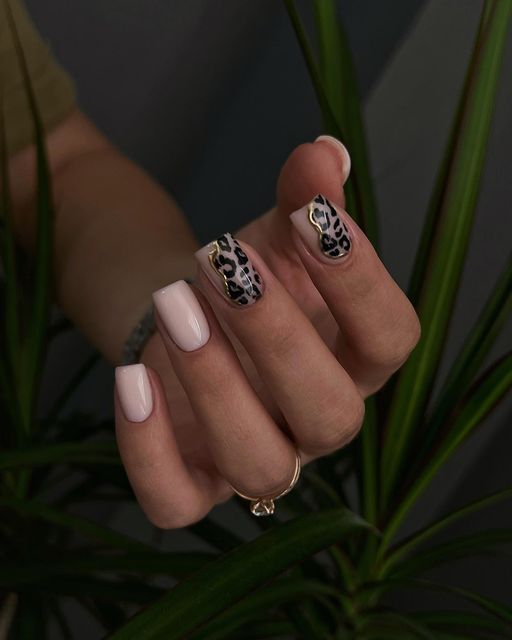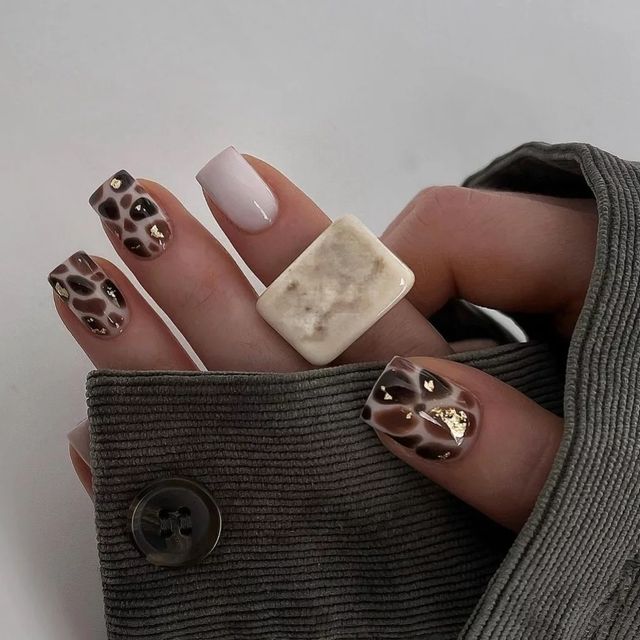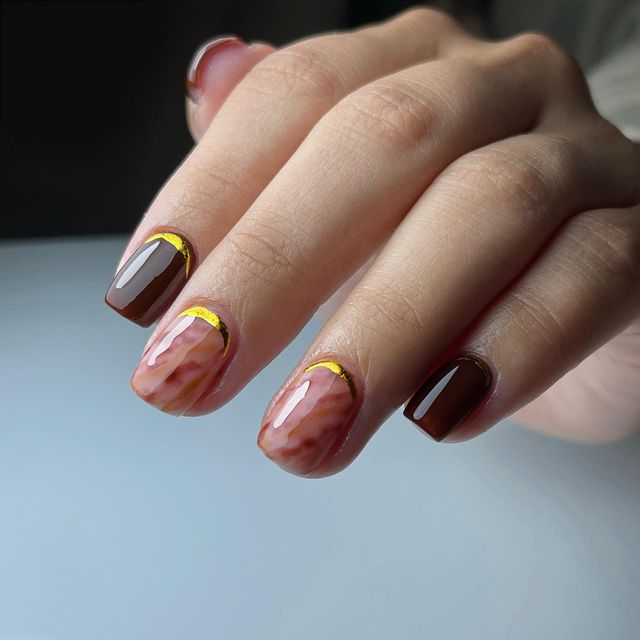 Burnt Orange with Glitter Stripes
Try a burnt orange base with glitter stripes for a fun take on the classic fall color. The glitter stripes will add a special touch to your manicure and will be sure to turn heads when you're out and about. The colors blend perfectly together and will add a subtle hint of glamour to any look. Whether you're going out for dinner or just having a night in, this colorful nail combination is sure to make you stand out from the crowd.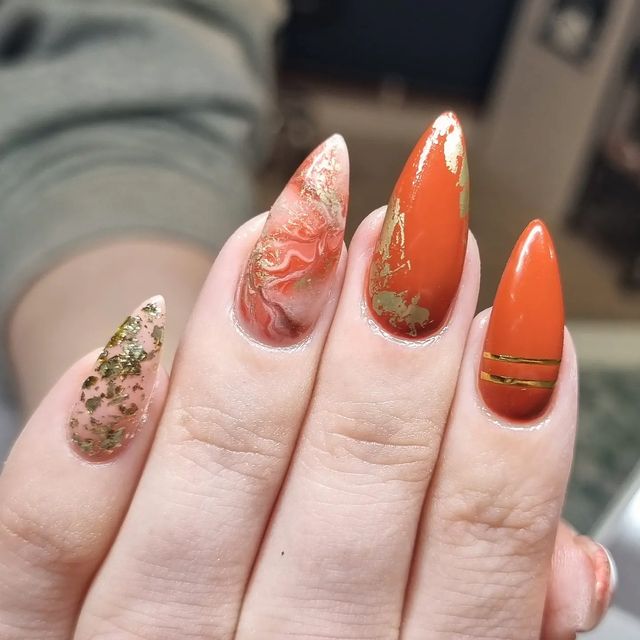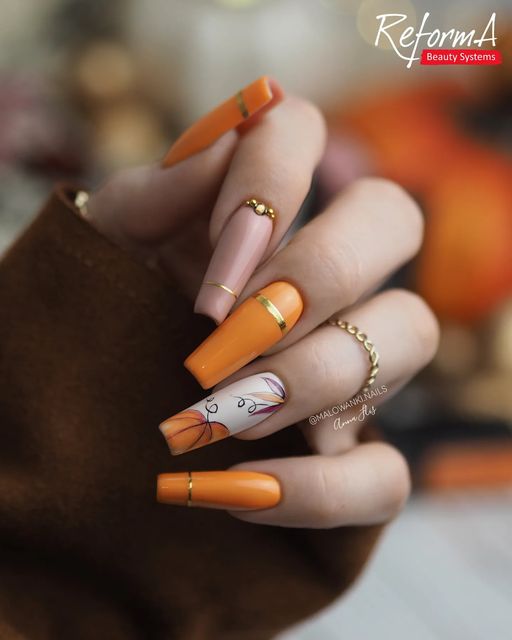 Light Brown with Leopard Print
With this chic pairing of light brown and leopard print, make a statement! Your nails will undoubtedly become a little bit wilder with this style, and the light brown color serves as a delicate yet stunning backdrop. Use your creativity to add various colors and highlight particular regions of the leopard pattern. This look will make you feel furious whether you choose a slight touch or something a little more dramatic.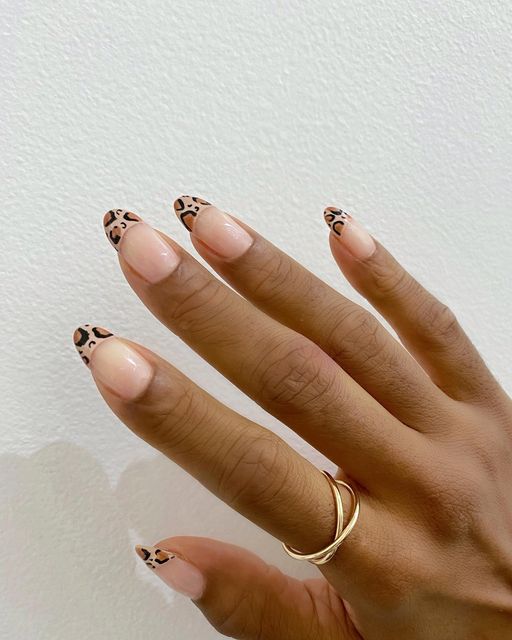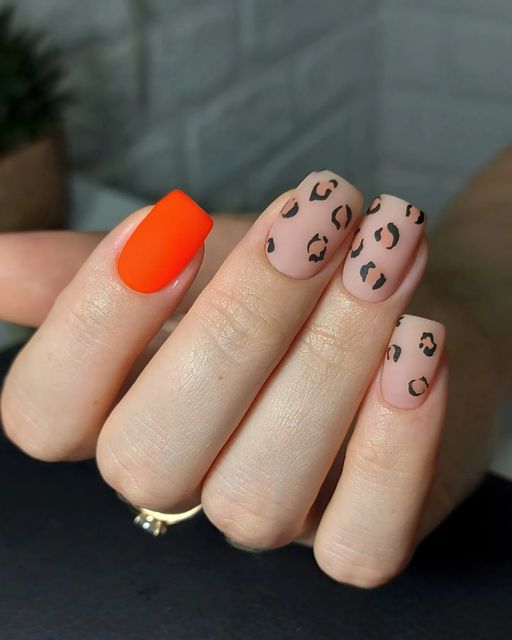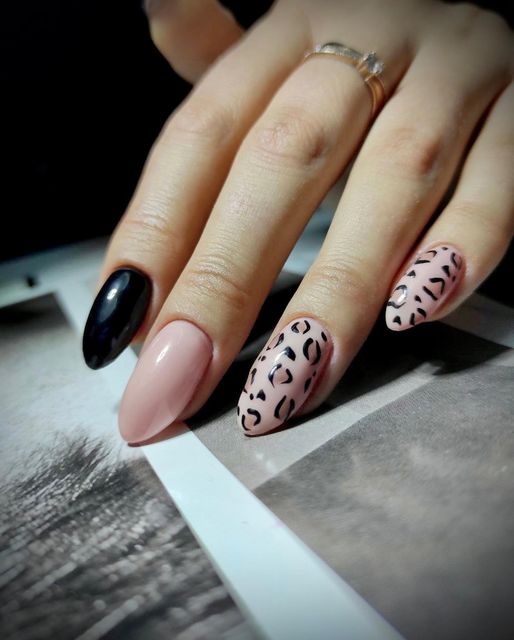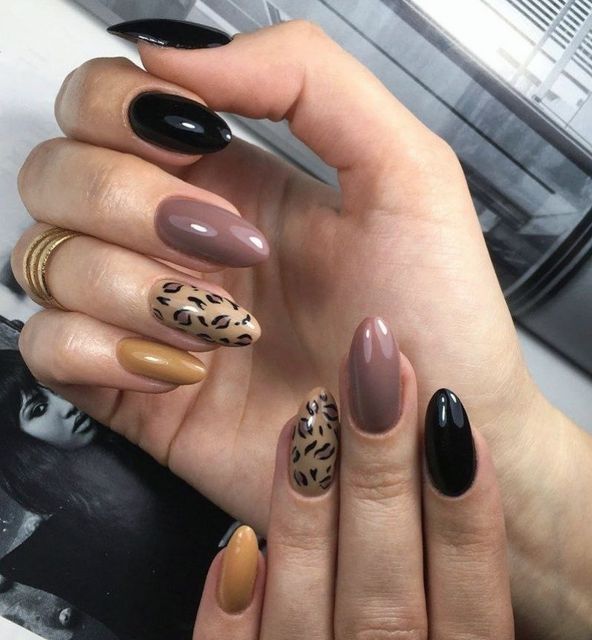 Chocolate Brown nail designs with Floral Art
Get ready to give your nails a luxe touch with this beautiful look. Start by selecting a rich and creamy chocolate brown polish. Once your base colors are applied, let it dry before adding a unique floral art design with a few of your favorite colors. This combination of colors and design will be sure to make a statement this fall.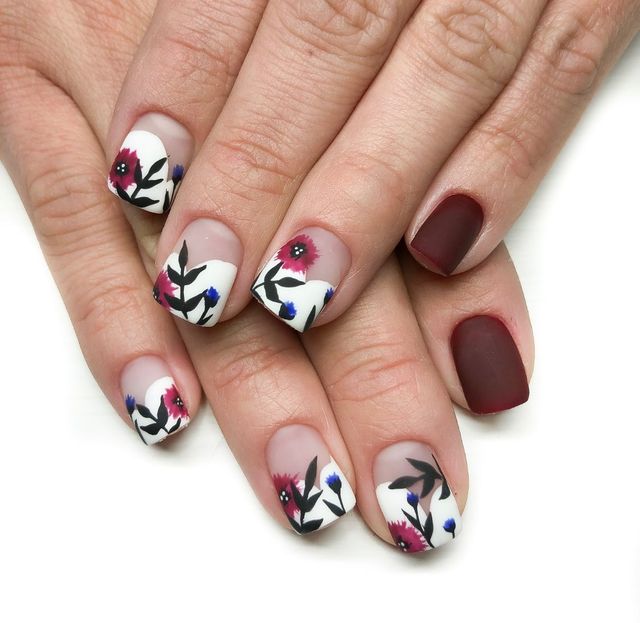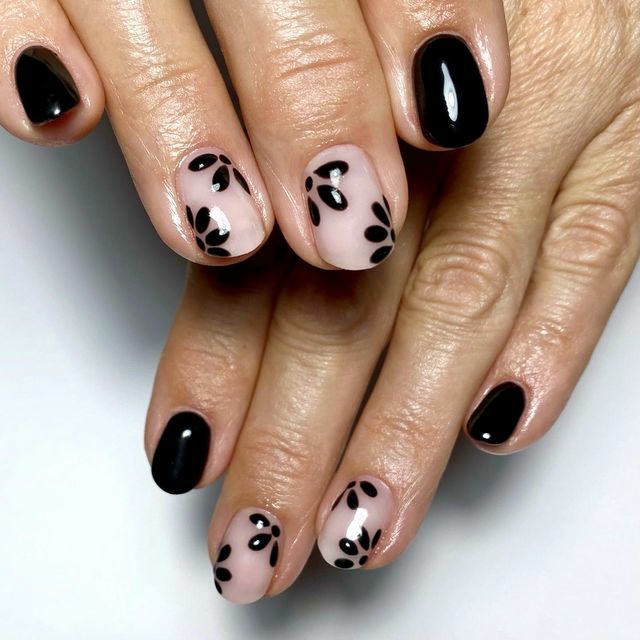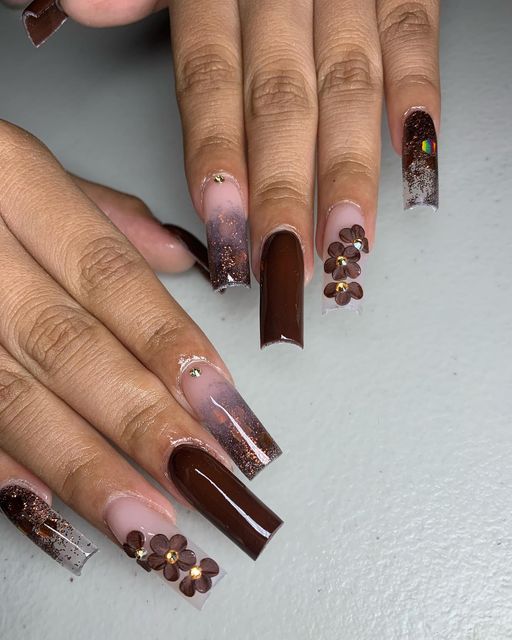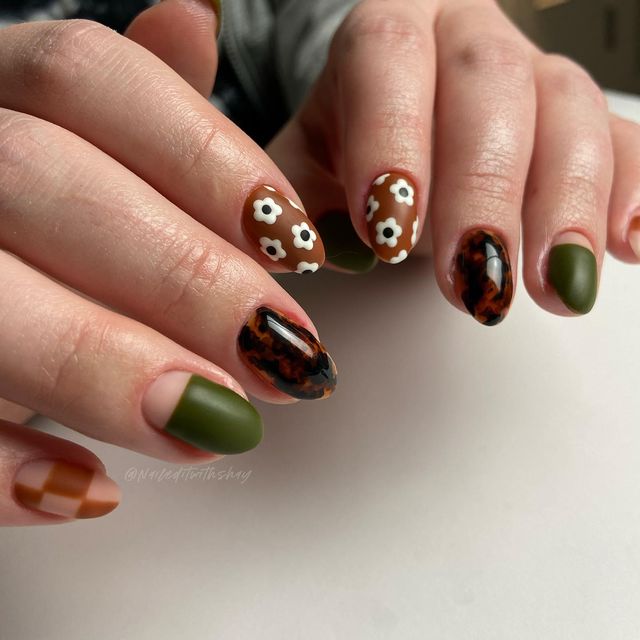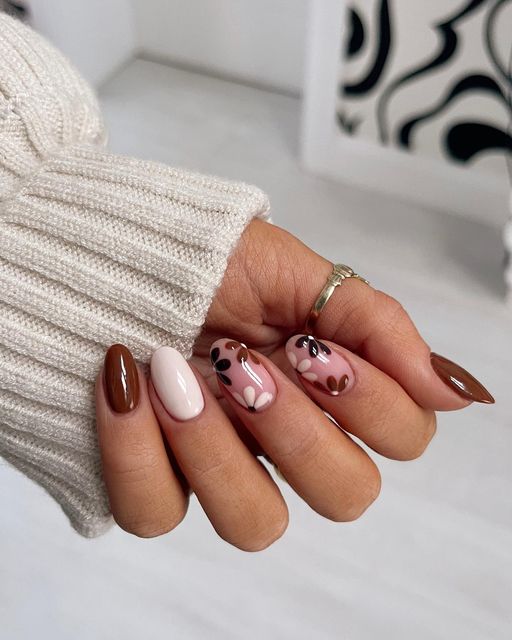 Dark Brown with Metallic Splatter
For the daring diva looking to stand out, this look is sure to please! The deep, dark brown hue provides a classic foundation, while the metallic splatter art is a modern and edgy touch. This look is perfect for any fall occasion, from a night out with friends to a formal dinner. For an extra touch of glamour, complete the look with a sparkly top coat for an extra glamorous finish.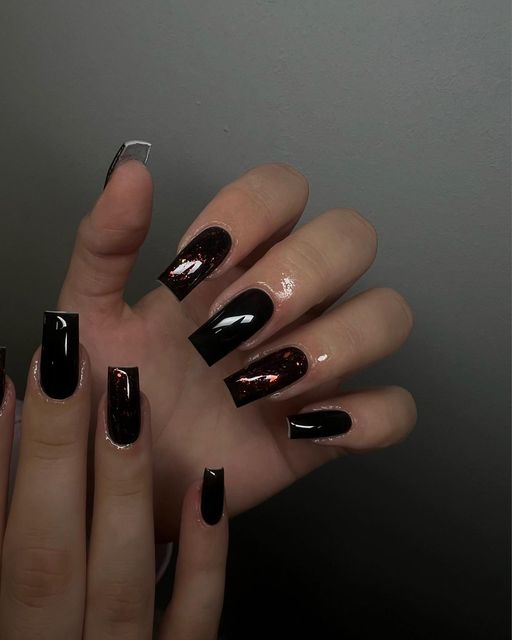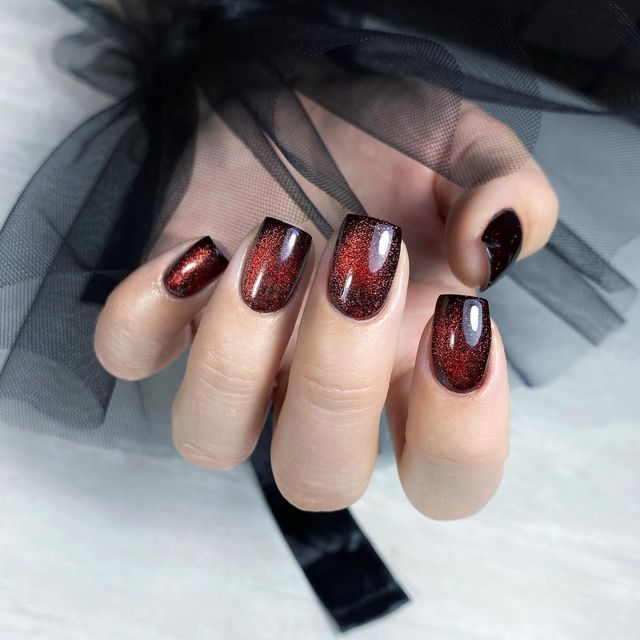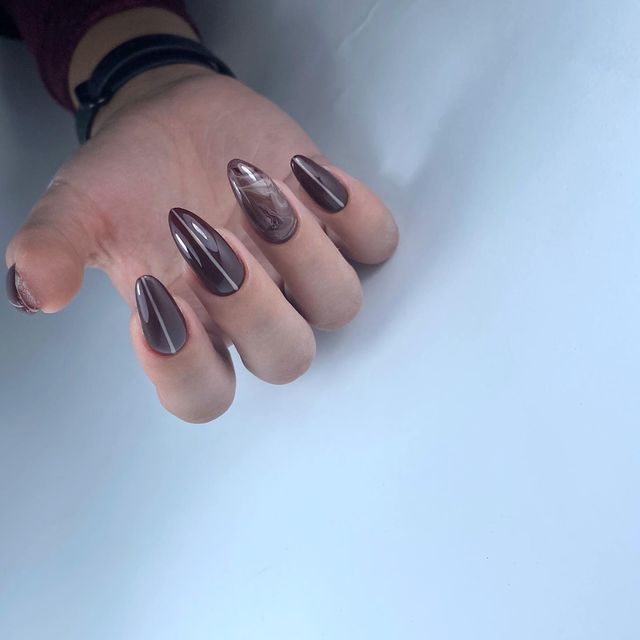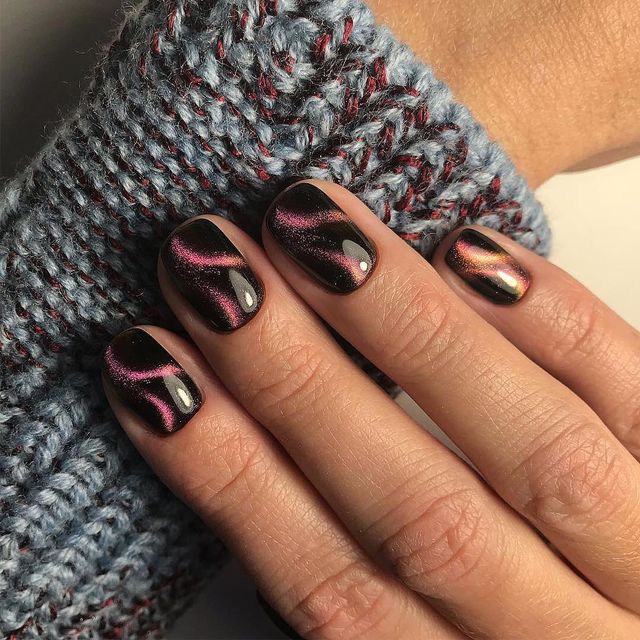 Brown Nail Designs with Animal Prints
Animal print nails are always in style, and they are especially popular during the warmer months when we're all feeling a bit wilder and free. If you're looking to express your animalistic side this summer, here are some creative brown nail ideas with animal prints that you'll want to try out.
Leopard Print Nails
This manicure can be achieved with the help of some brown and black nail polish and a thin nail art brush. Start by painting the base of your nail with a light brown. Then use the black polish to create the leopard spots by dabbing on the polish with the thin brush.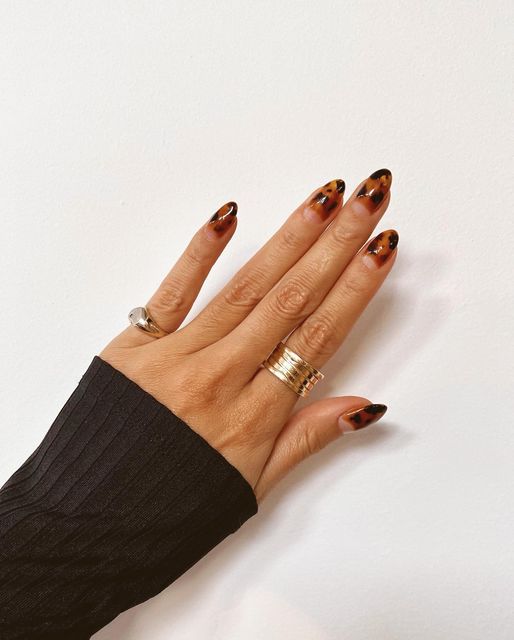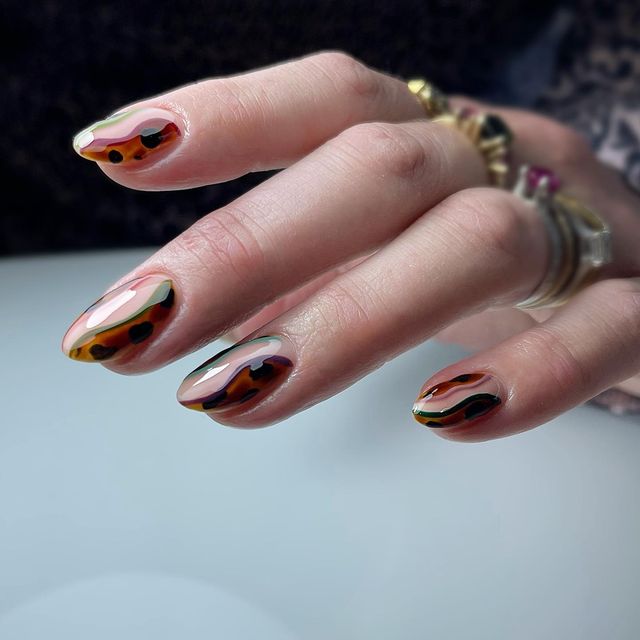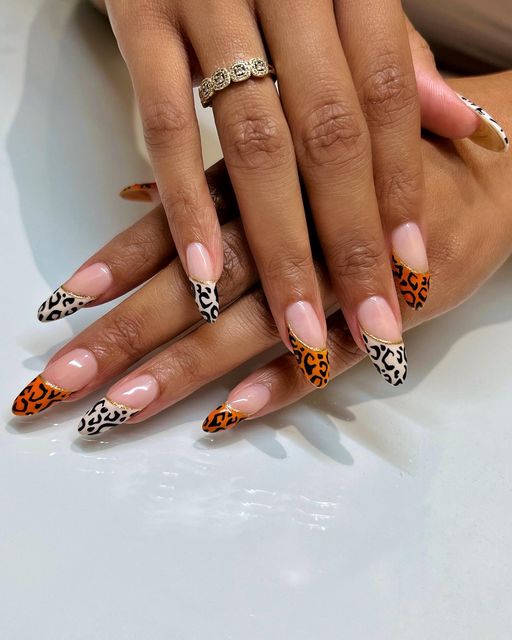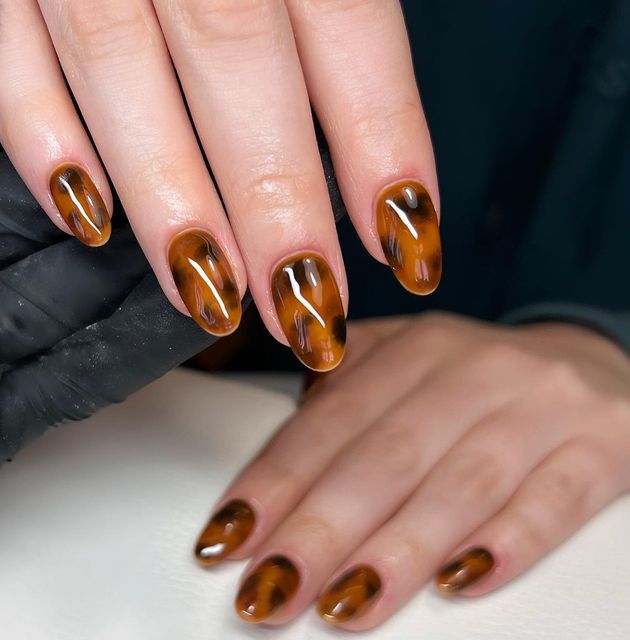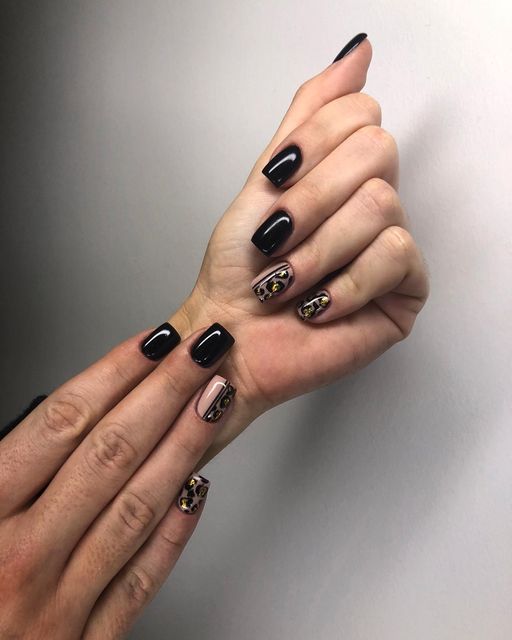 Zebra Striped Nails
Zebra stripes are a timeless design for nails and will make for a bold statement. Use a combination of black and white polishes to create the iconic pattern, and finish off your look with a glossy top coat for added shine. Whether you go for a full set of zebra stripes or just a few accent nails, you're sure to get plenty of compliments.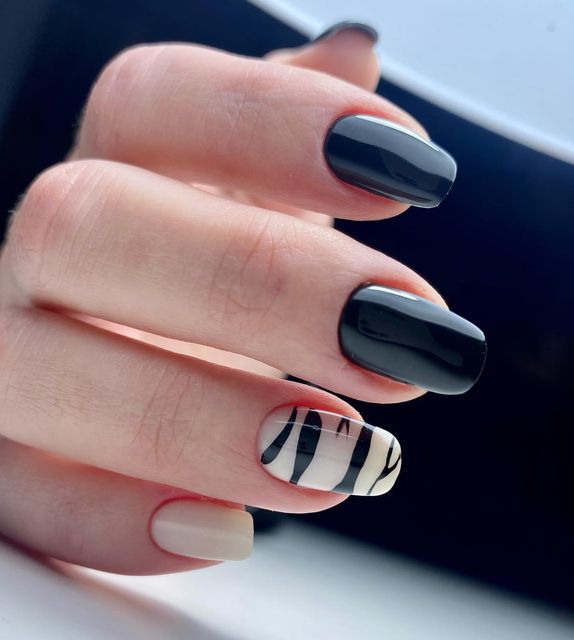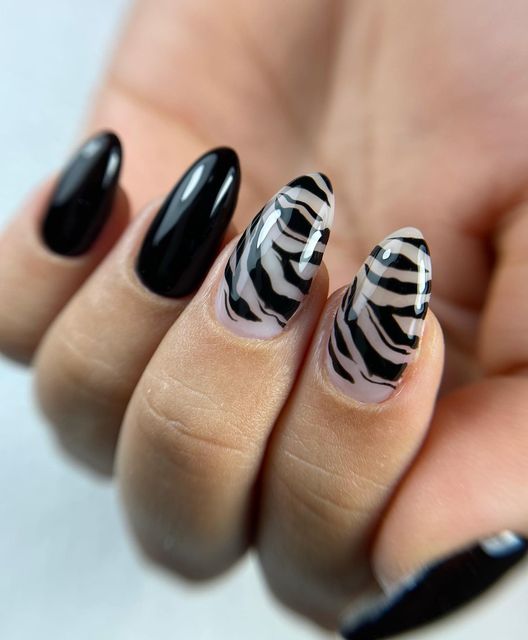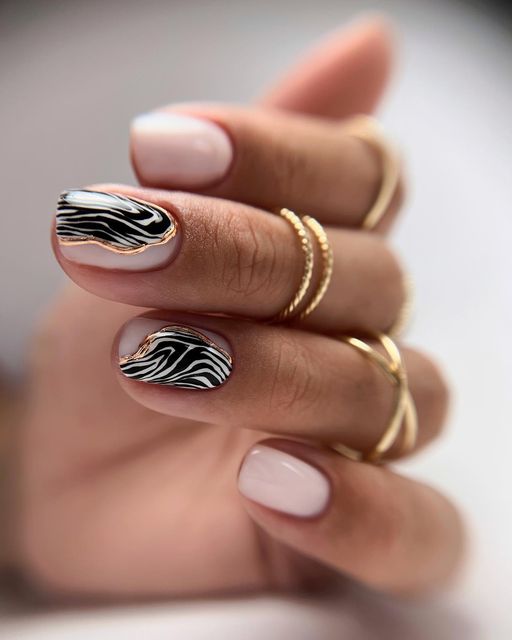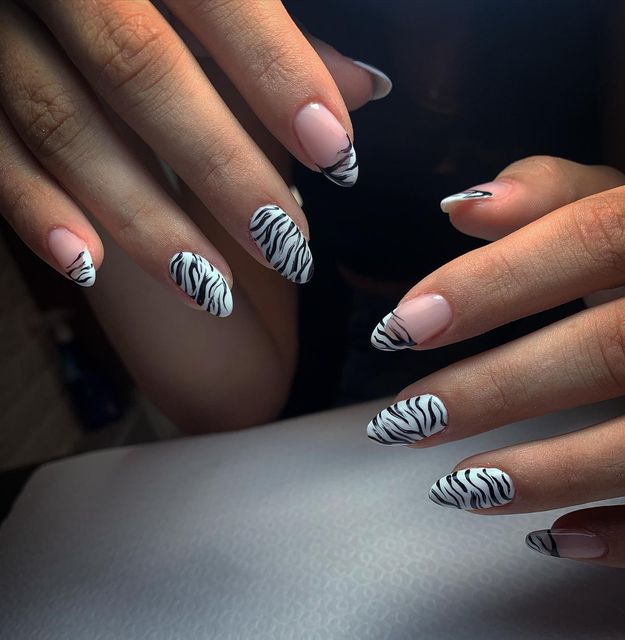 Tiger Print Nails
They're bold yet subtle and can be done in various shades of brown, depending on your individual style. To create this look, start with a base coat of brown and then use a thin brush to create the tiger stripes. You can use a small dotting tool to create the rosette designs, and if you want to customize it further, add some tiny gems or crystals in between the stripes.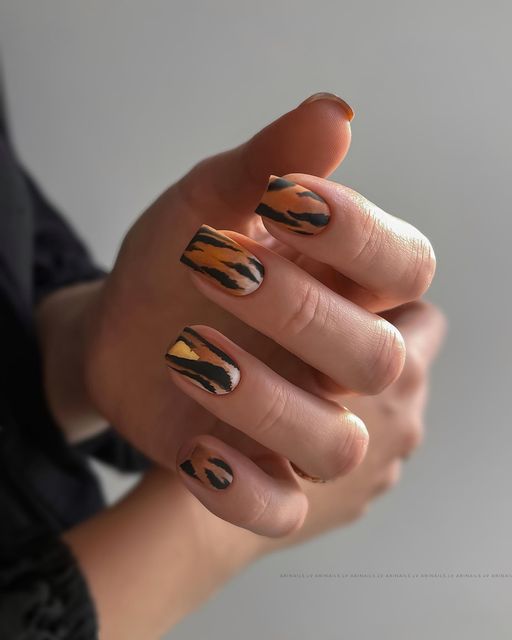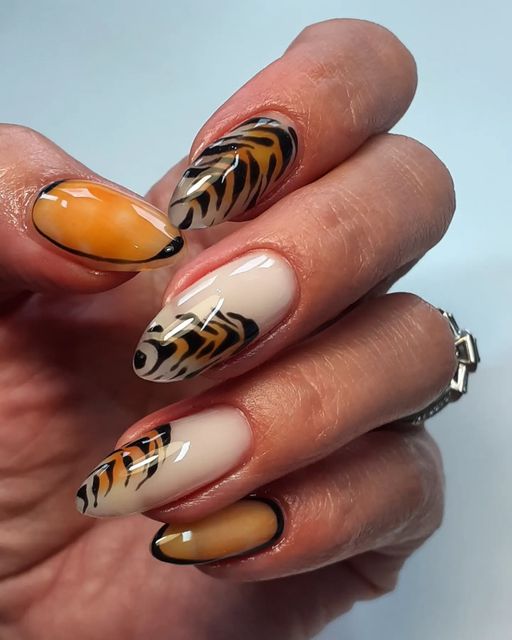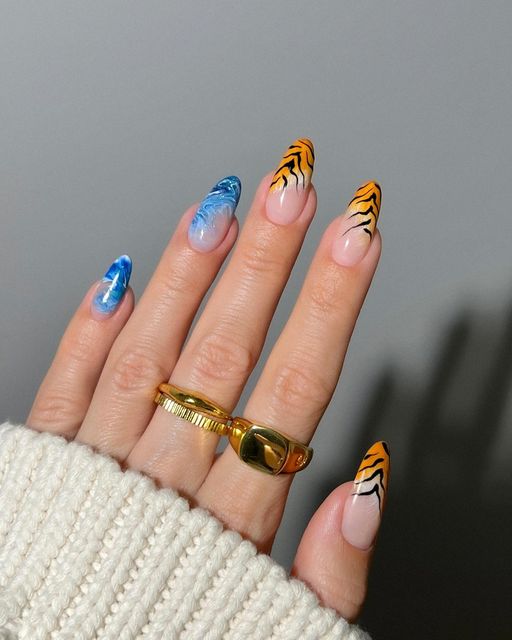 Snake Print Nails
Snake Print Nails are a great way to show your wild side. Get creative with different colors of brown and black to create a realistic snake print pattern. Add a little glitter to the tips to make them stand out even more. Experiment with different shapes and sizes of your nails, as this will create a unique snake print design.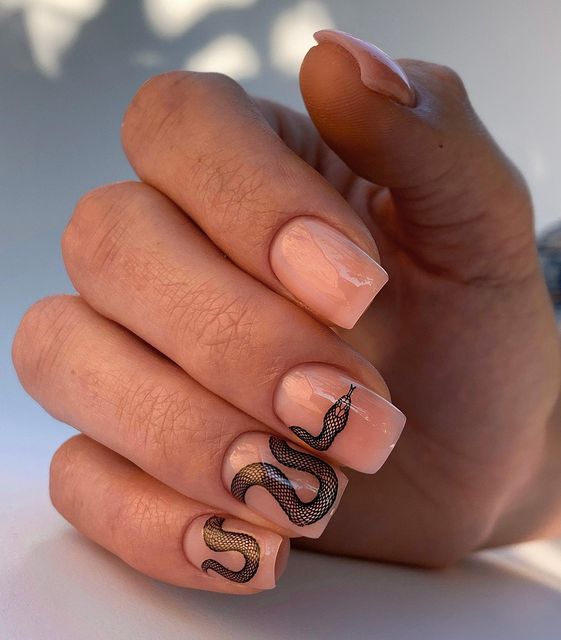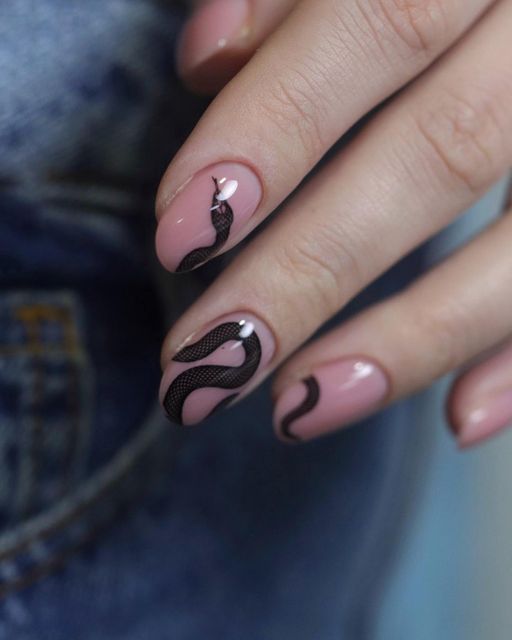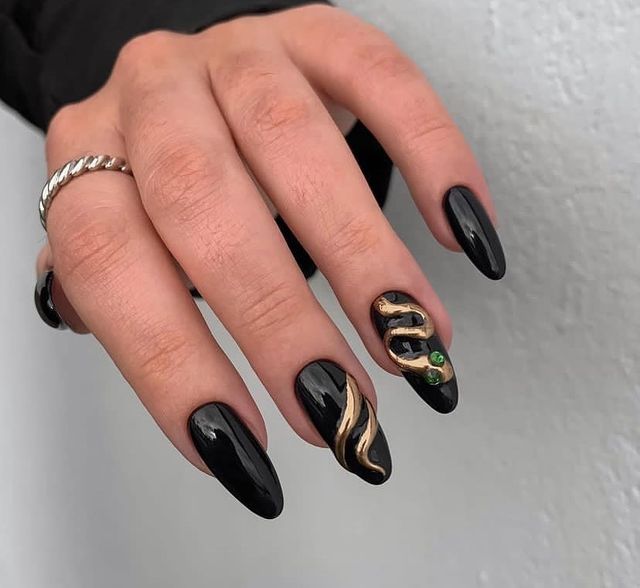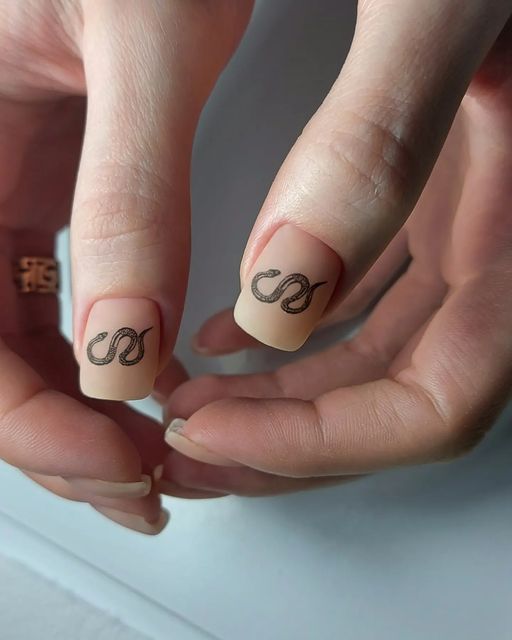 Giraffe Print Nails
For a subtle giraffe print, you can use brown nail polish to create thin, curved lines that mimic the animal's spotted pattern. If you're feeling bold, you can also use black polish to create the same lines for a more dramatic look. To finish off the design, use a top coat to keep the lines crisp and vibrant. The finished look gives off a chic and adventurous vibe that is sure to turn heads.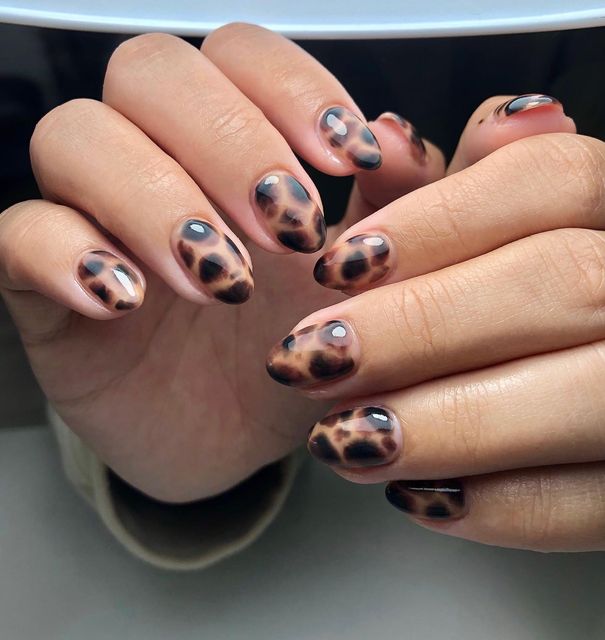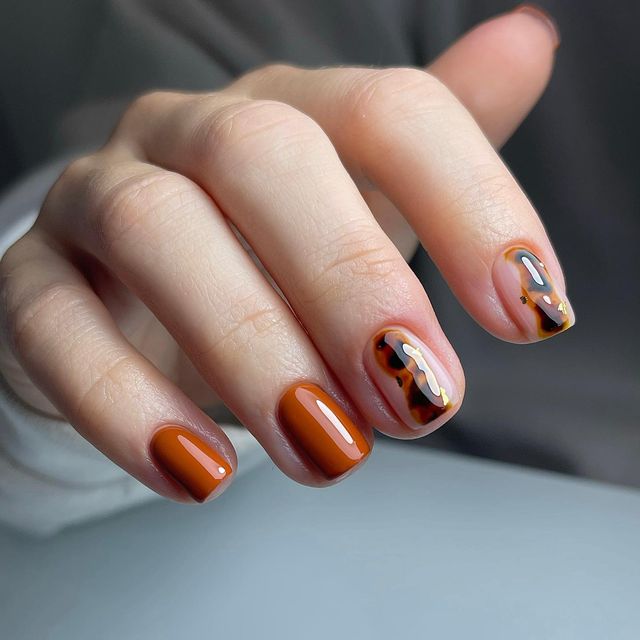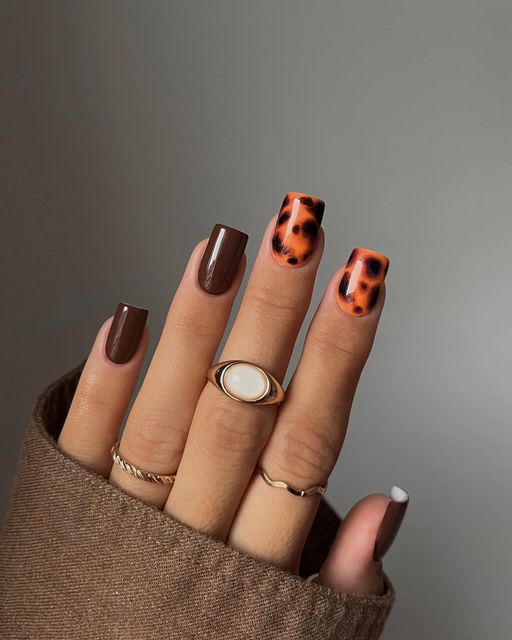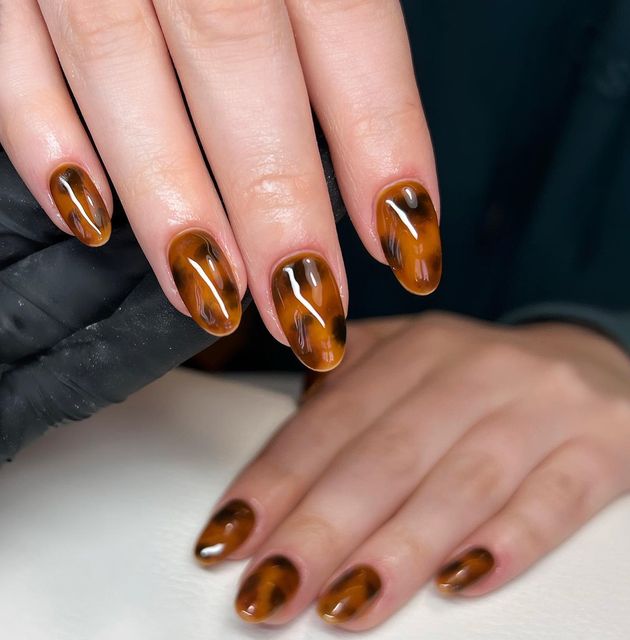 Brown Acrylic Nails Designs
Brown acrylic nail designs are a popular and stylish choice for many people. They create a classic and timeless look that can be accessorized for any occasion. Whether you're looking for something subtle and chic or something bold and dramatic, there's a brown acrylic nail design that's perfect for you.
Whether you're looking for a subtle, neutral hue or something more daring, there are a variety of shades of brown acrylic nails to choose from. From classic chocolate brown to bronze glitter, here are the different shades of brown acrylic nails that are sure to elevate your look this season.
Chocolate Brown Nails
This rich, deep color is a timeless option that will never go out of style. It's a neutral, warm color that is perfect for an everyday look. For an extra touch of elegance, try pairing chocolate brown nails with gold jewelry to create a sophisticated and timeless look.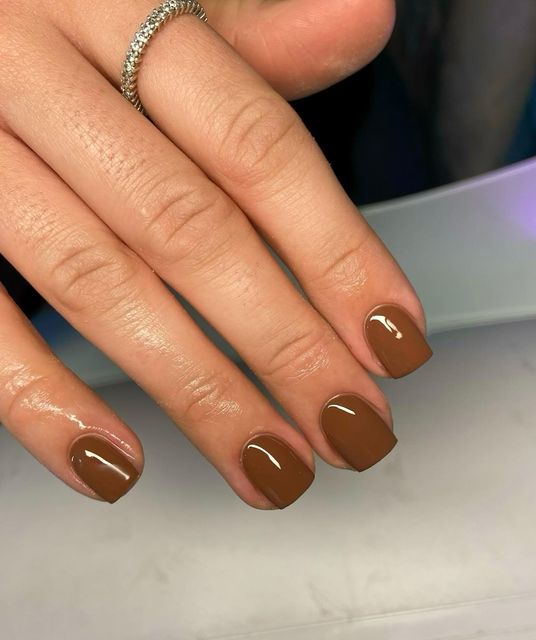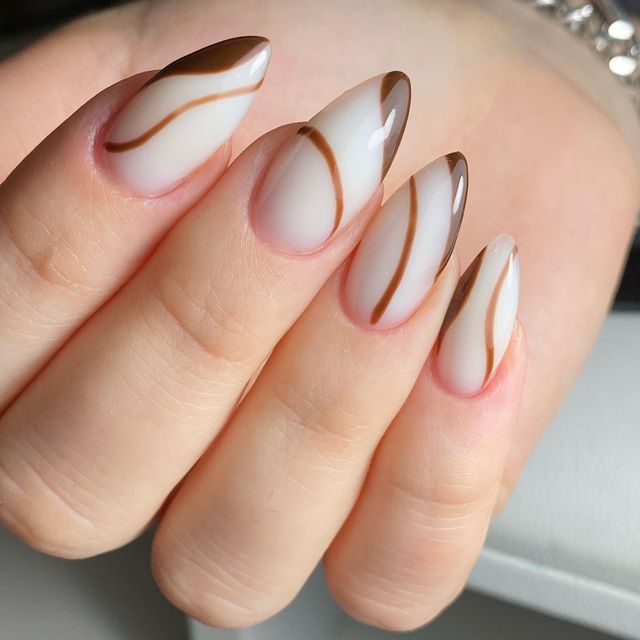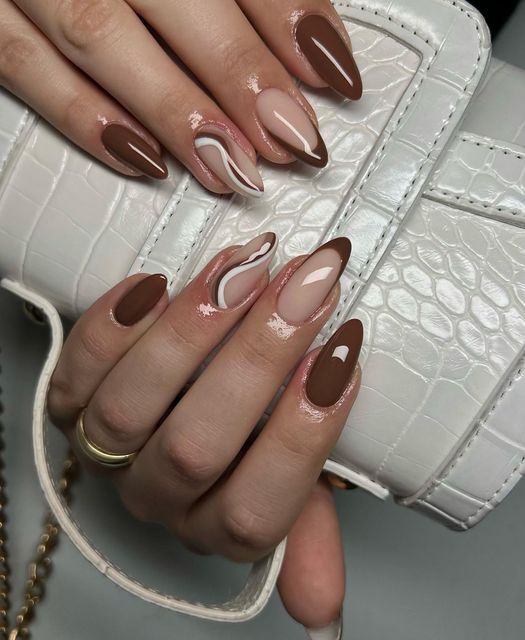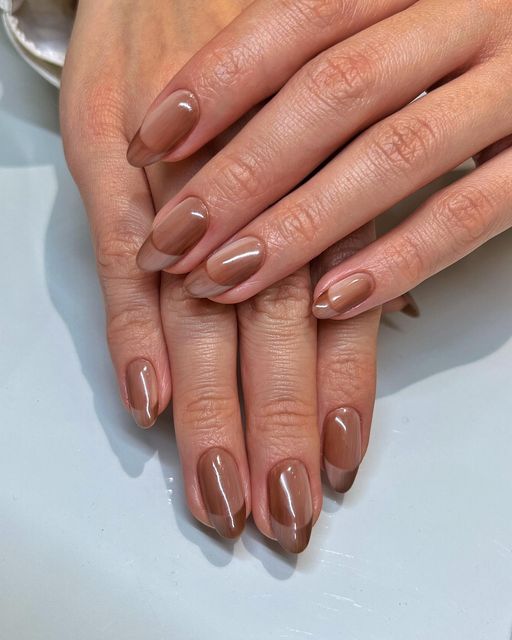 Espresso Brown
Espresso brown is a deep, dark shade of brown that is perfect for those looking to make a bold fashion statement with their nails. This color looks great on all skin tones, from fair to dark, and stands out for its striking depth and richness. It pairs well with both neutral and vibrant shades, making it an ideal choice for those who want to experiment with color combinations.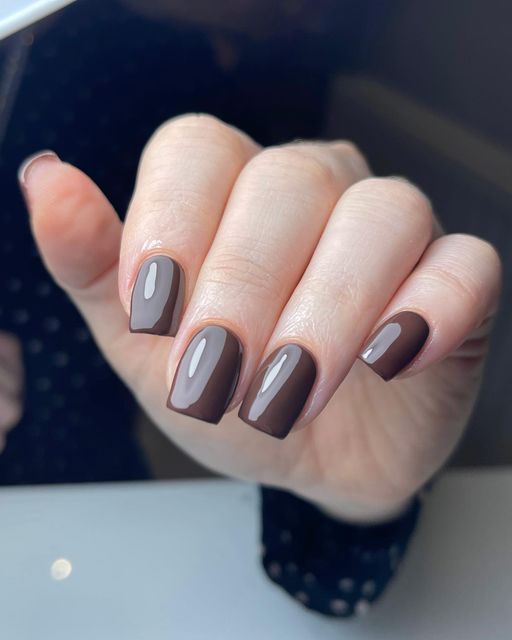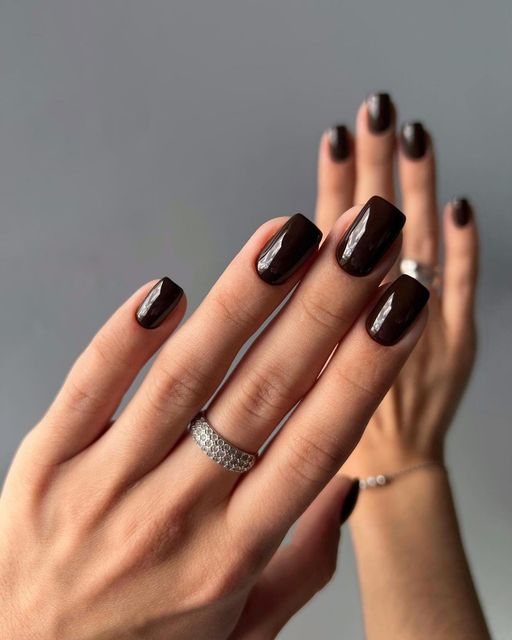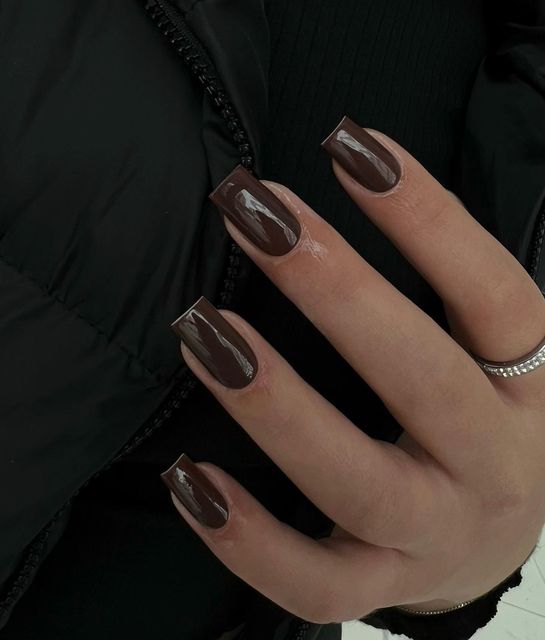 Reddish Brown Acrylic Nails
This warm hue is perfect for those who want to add a bit of color to their nails without being too over the top. A reddish-brown hue is also great for those who prefer warm tones, as it pairs well with other earthy colors. With a stunning combination of red and brown, Reddish Brown Acrylic Nails can be worn casually or dressed up for a more formal occasion.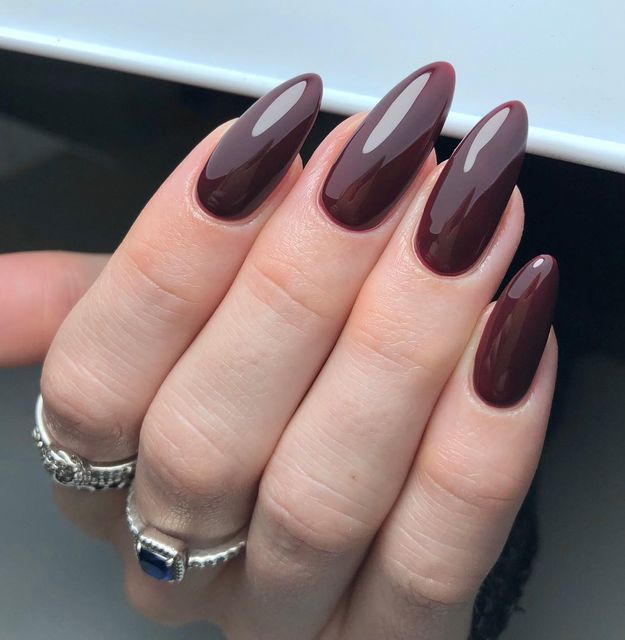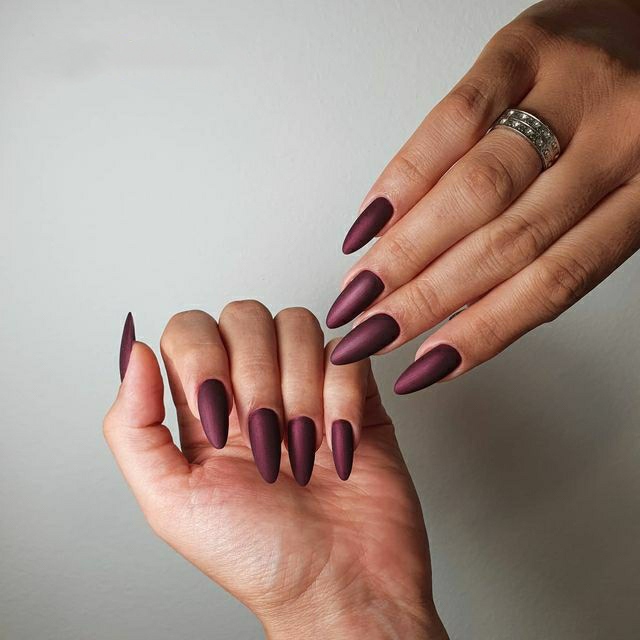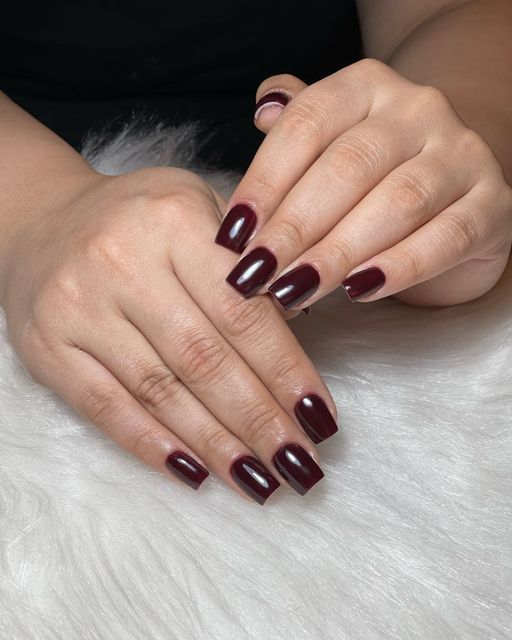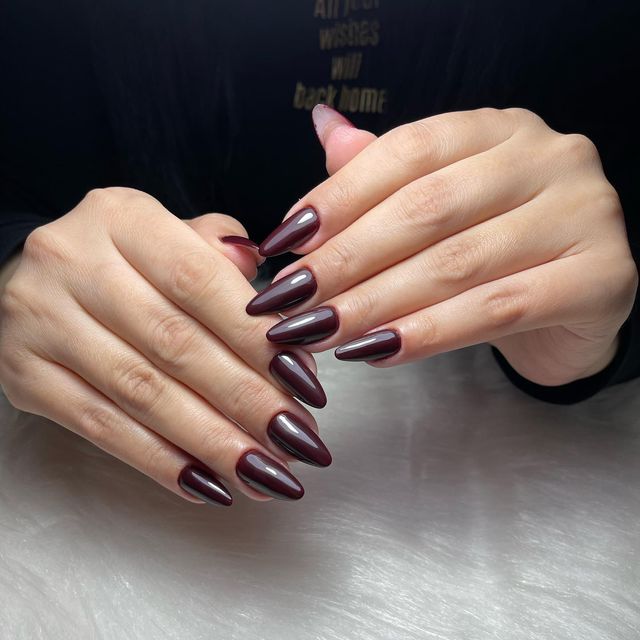 Brown Nail Designs with Glitter
Brown nail designs are perfect for making a bold statement and adding some sparkle to your look. Anything may look immediately more glam and fashionable by adding glitter. Brown nails with glitter are the way to go whether you want to add some shine to your regular outfits or stand out at a special event.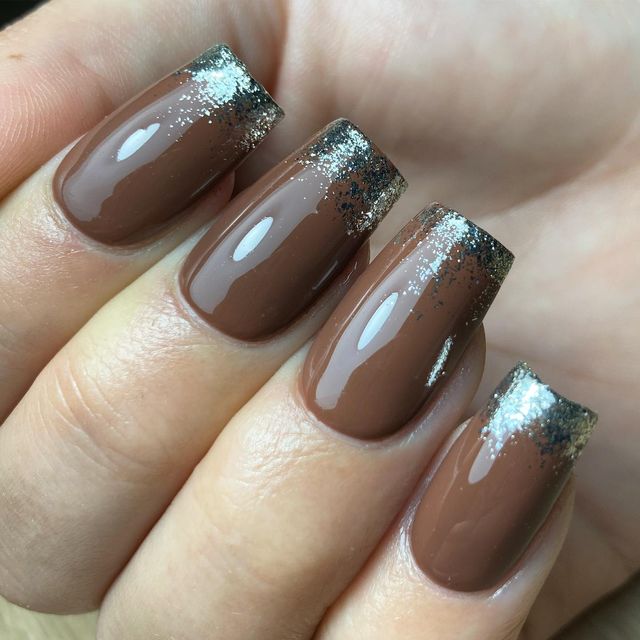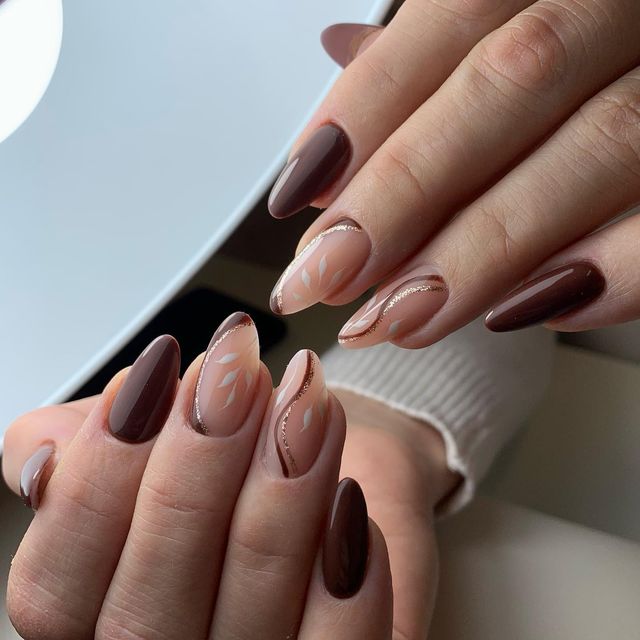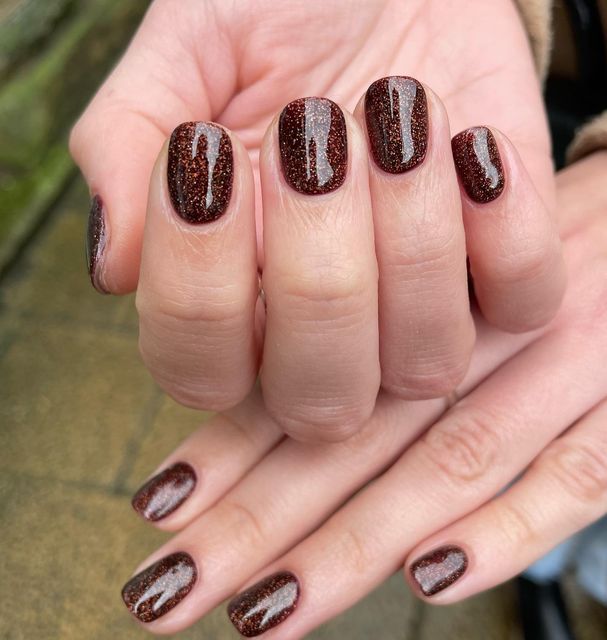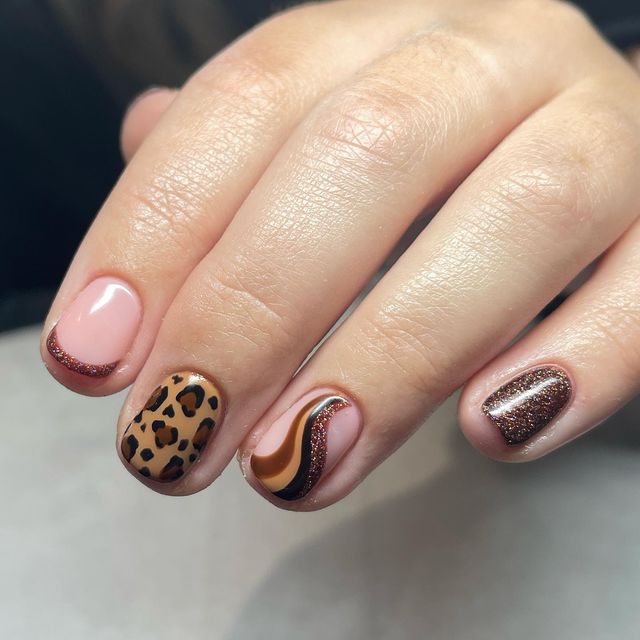 Brown and sparkle go together perfectly to make a statement, whether it is with subtly added glitter or a full-on glitter manicure. Try some gorgeous ombre glitter designs on brown nails this season, or opt for a gaudy French manicure with glitter. The easiest way to design a distinctive and eye-catching look with glitter is to experiment with various colors and combinations.
More Brown Nail Designs Ideas for Your Inspiration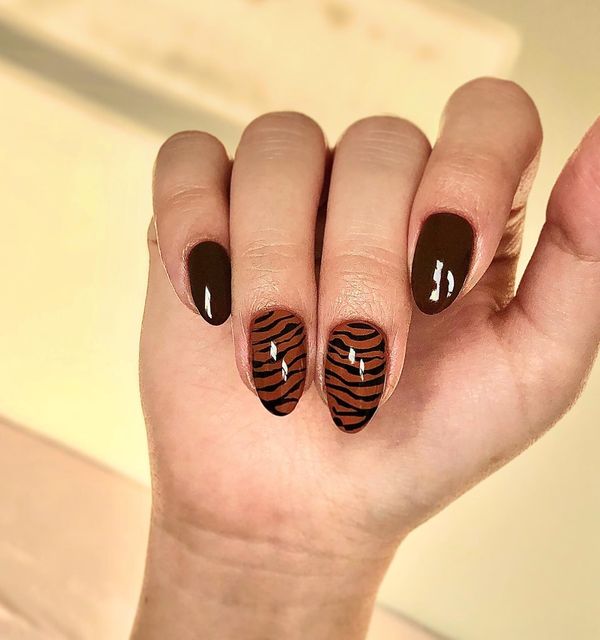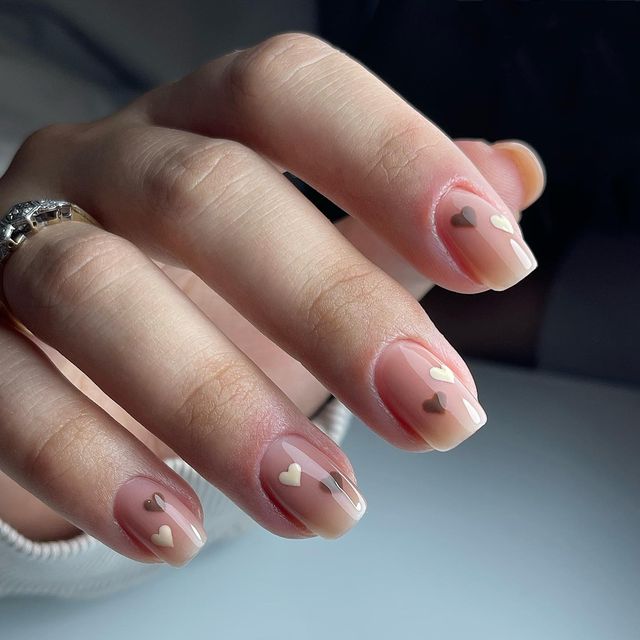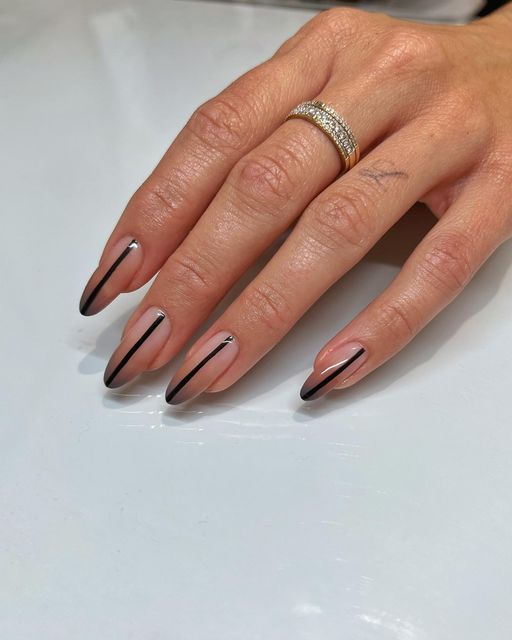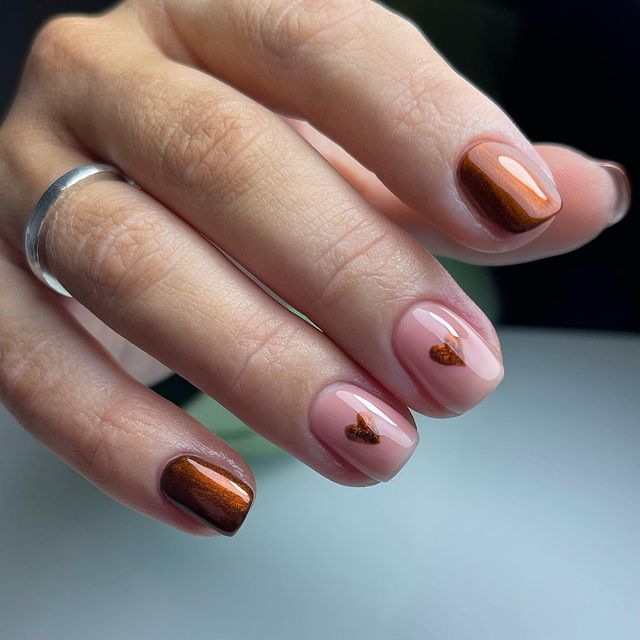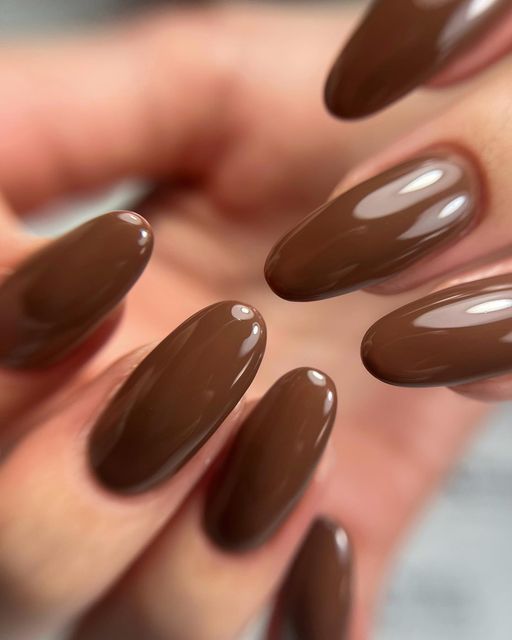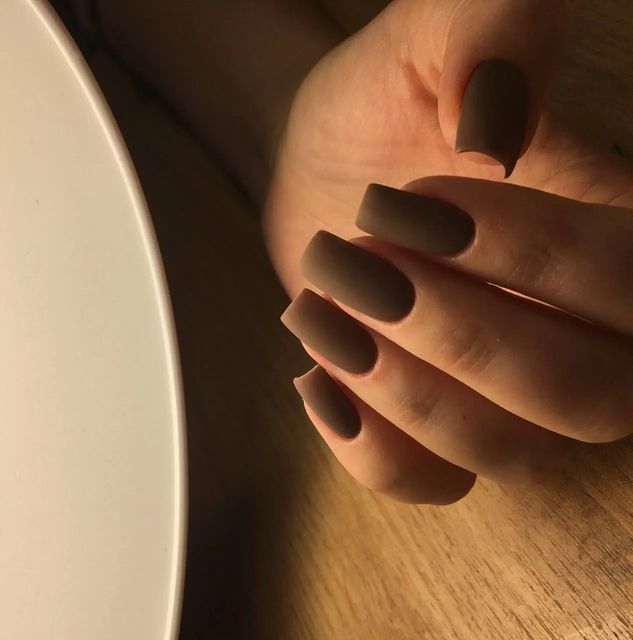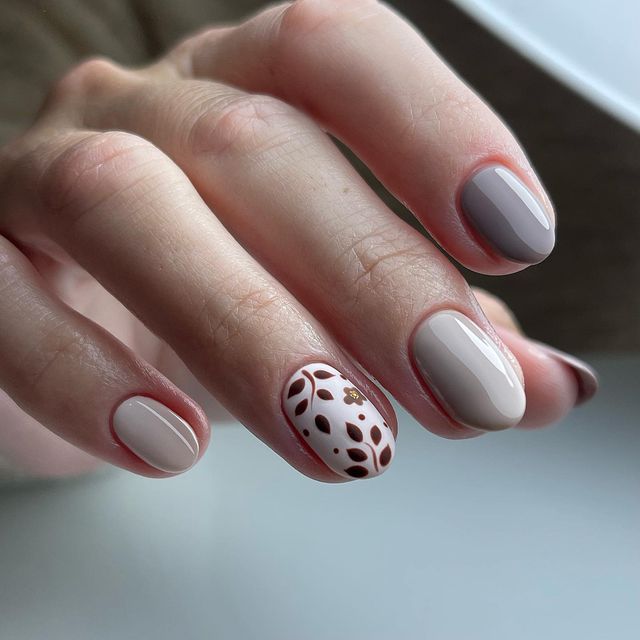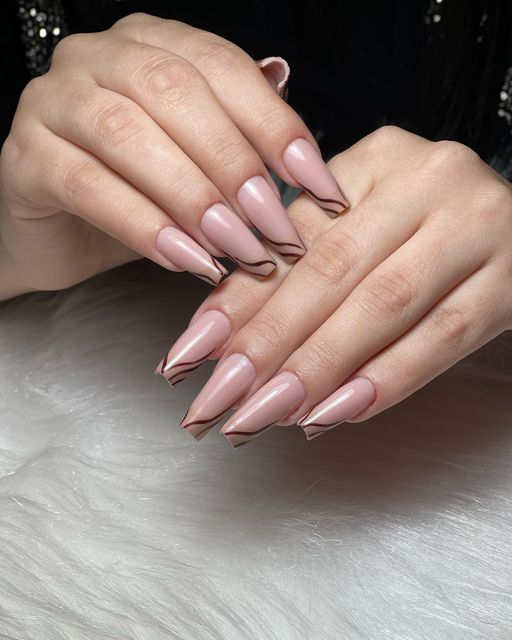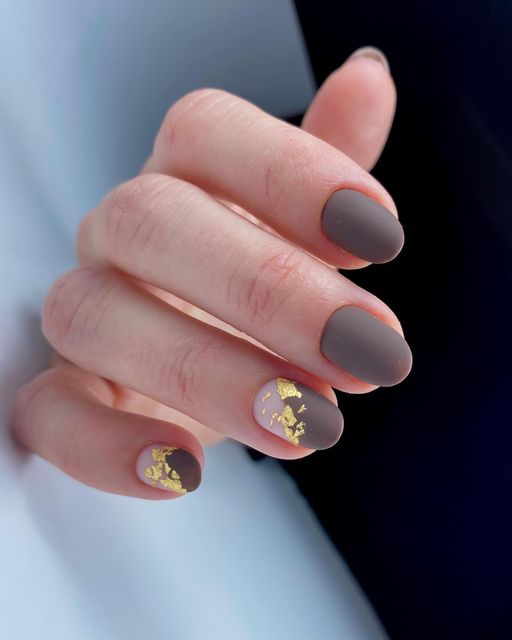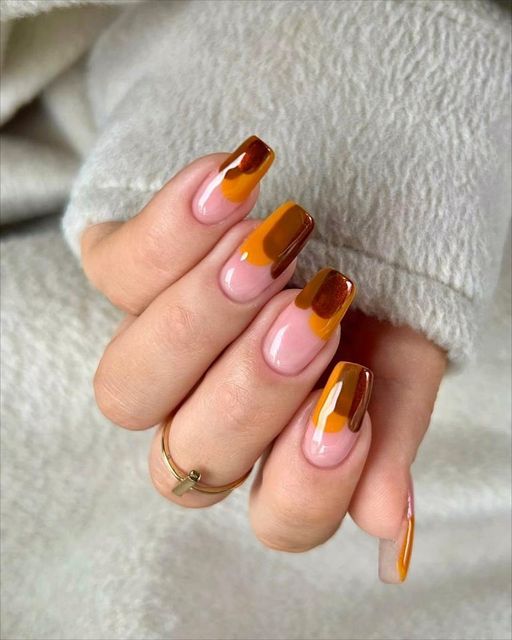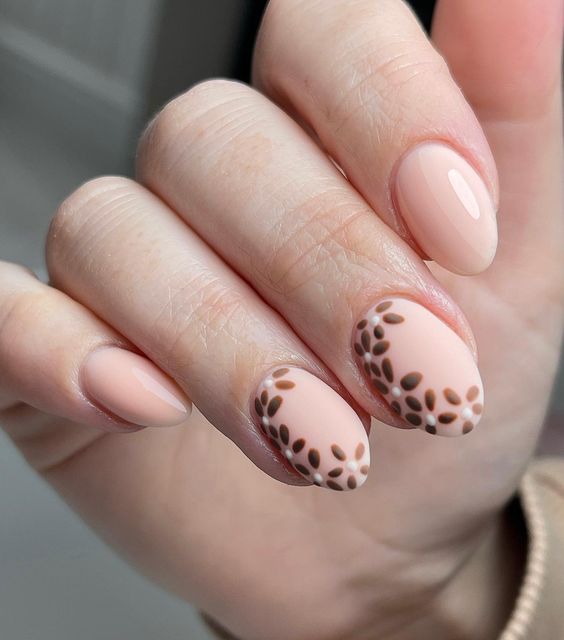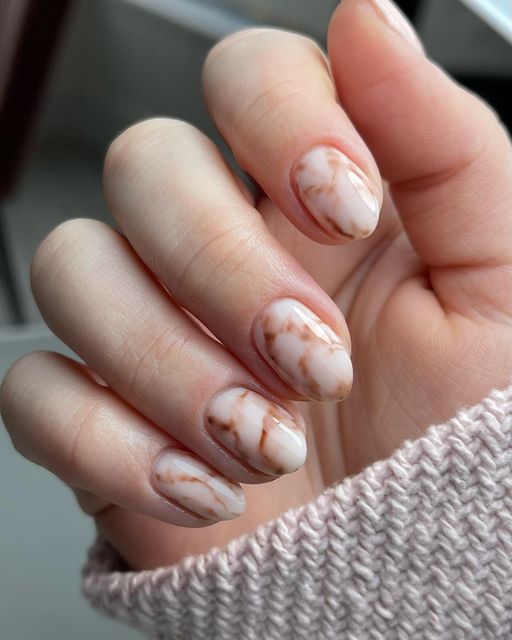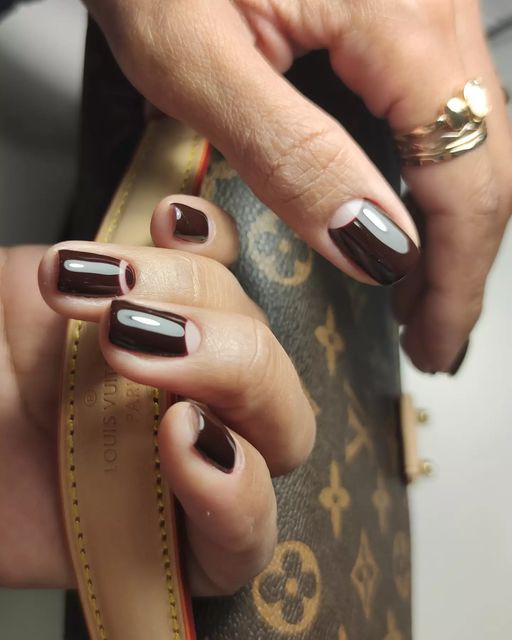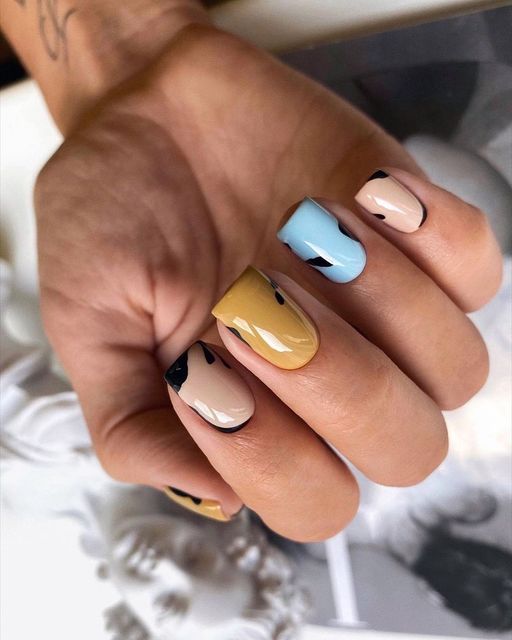 Photos from Instagram.com