What is olive skin? how to make an olive skin tone makeup? how to differentiate this skin tone? This complexion involves a combination of green and brown tinges. Olive complexion ranges from pale to dark.
People with olive skin tones tend to have some brown hues in their skin tone. However, these complexions are neither cool nor warm-toned. Instead, they are neutral-toned.
But how to find flattering makeup for your olive skin tone? That's what we're going to discuss today. We will help you to pick the shades of foundation, blush, eyeshadow, and lipstick that are true to you. Let's go!
How To Determinate Your Skin Tone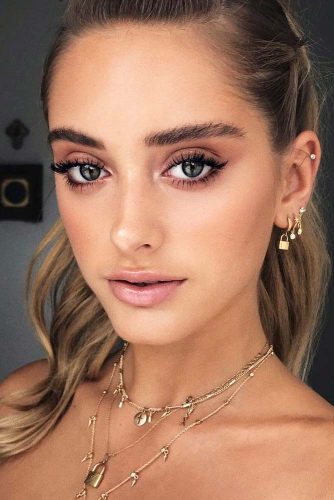 If you have an olive skin tone, it is important to understand which types of makeup you should use. It is easy to confuse olive toned skin with golden tanned skin. The distinguishing difference is the green tinge that is present only in olive skin tones. A natural nude is a good place to start when determining which shade of makeup you should use. Below we will list 10 ways how you can determine what your skin tone is.
The vein color – Look at the underside of your wrist. If your veins are bluish-purple, you are cool toned. If they are green tinged, you're warm. If they're bluish green, then you're neutral.
Do you take a tan or burn? – if you take a tan, you're warm toned; if you burn, you're cool.
Do you blush easily? – If you do, then you are cool toned.
What are your colors? – If you look great with any color on, you're neutral, but if red and orange are your colors, you are warm. On the other hand, if you look good with purple and green on, you are cool toned.
White paper test – Place a piece of white paper next to your clean, dry face. If your complexion appears dull, you are warm-toned. If your face looks good, you're cool toned, but if it looks the same, then you're neutral.
Gold or silver Jewelry? – Silver shines on cool toned skin and gold absolutely glows on warm skin tones. If you look great with two-toned jewelry on, then you're neutral.
Eye color – light brown, green and hazel eyes are typically warm-toned. Deep brown, black and steel blue eyes are cool toned.
Check behind your ears – yellow indicates warm, pink indicates cool. And if you can't quite decide, then you have a neutral skin tone.
Basic colors – If you look best with black and white on, you have a cool skin tone. Off-whites and tans are peculiar to warm tones.
Who do you look like? – Check out Hollywood stars and determine which one you resemble. Then relate to their skin tone to decide which one you have.
Olive Skin Tone Makeup Tips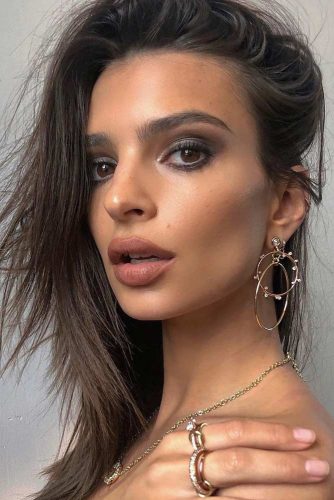 If you have olive toned skin, you will find yourself questioning which makeup is for olive skin? There are some cosmetic products that you should steer clear of if you have an olive skin tone makeup. You have to determine if you have a warm or a cool skin tone before you can find the correct skin color palette that you should use. There are several makeup tips that you can help with your color choices.


Best Hair Color For Olive Skin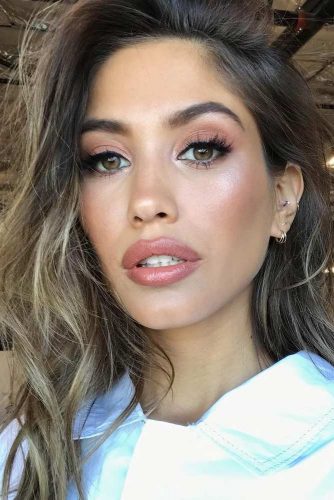 Do you know that there is even the best hair color for olive toned skin? There really is! This doesn't mean you are tied to that color, just that it looks best with that skin tone. If you have an olive complexion, determine which end of the spectrum you fall under – warm, cool or neutral. This will help determine which shade you can pull off best.


The Right Foundation For Your Olive Skin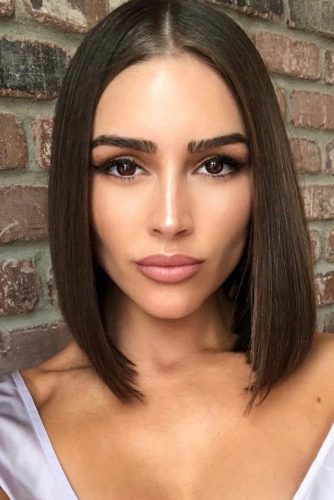 For you to choose the right olive skin foundation, you have to first understand some intricacies of your skin. Are you a warm-toned, cool toned or neutral toned individual? Making this determination will help you find the right shade for your olive complexion. Most olive-skinned women have a mixture of skin undertones that fall between warm and cool.


Lipstick For Olive Skin Tone Makeup
Even your lipstick color is unique when it comes to olive-toned skin. If you are olive skinned, then there is a particular color palette that you should follow to prevent any makeup mishaps. In order to determine your best red lipstick color, consider your eye color and skin tones to help determine the perfect shade of red for you.


Blush For Olive Skin Tones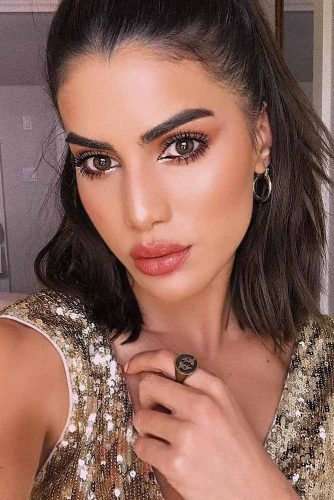 Next, let's move on to the best blush for an olive skin tone makeup. Rosy pink and warm peach colors tend to really pop in this complexion. You could even go for bronze for your olive toned skin if you are chasing a bohemian look. Take care not to go too light, or the color won't even show up. If you go too dark, it will cause your bronze skin to look too muddled.


Makeup Tutorial For Olive Skin

For an everyday look, we should not use foundation due to its heaviness, we will instead use mask. Apply the primer and then apply the matte skin tint and stipple it onto your skin using a blender applicator. Use concealer to cover up any dark areas that remain and blend these areas before proceeding. Use translucent setting powder to go over the areas where the concealer was applied. Lightly dust your desired color of blush onto your cheeks to add a splash of color.
Next, apply luminizer all over the face with a brush. For an added highlight, add a little luminizer to the brow bone, cheekbone, and nose for a bit of brightness.
Next, for the eyeshadow, apply a base color all over the lids before moving to the following shade to accentuate the color in the corners and crease of the eyelid. Concentrate most of this color on the outer corner of the lower eyelid. Proceed on to the eyeliner and apply to the corner of the eye for the cat eye effect and blend slightly with a brush.
When applying the mascara, apply more to the outer lashes and less to the inner lashes to prevent a caked-up look. Continue to the eyebrows and pencil in any areas that need to be filled in.
Finally, we will add light pink gloss to complete this everyday look. We don't want to overpower the everyday look by adding a bold color to the lips.


Make A Choice Of The Appropriate Foundation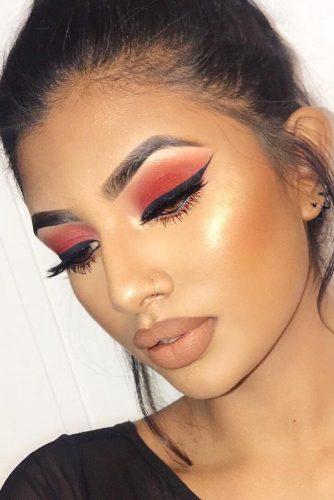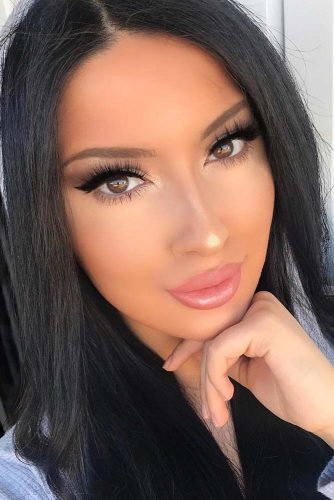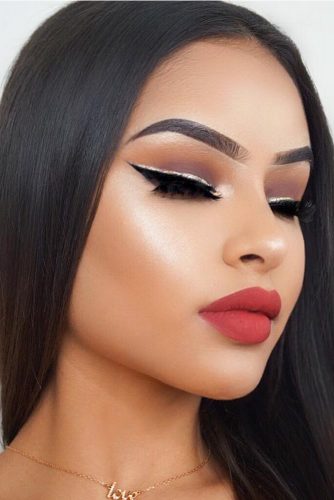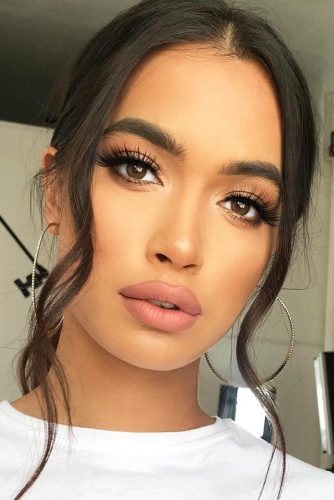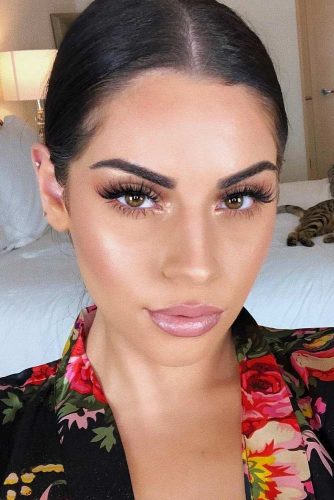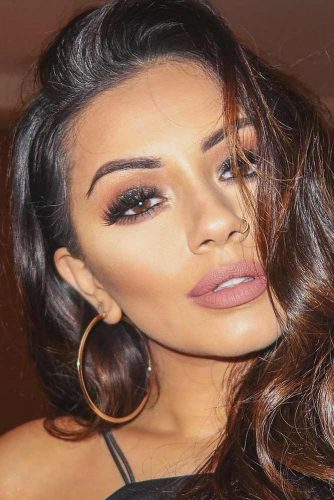 Foundation is supposed to even out the complexion and fade away redness, discoloration, and blemishes. It is also a kind of blank canvas, something to start with when you apply your makeup.


Top Blushes For Olive Skin Color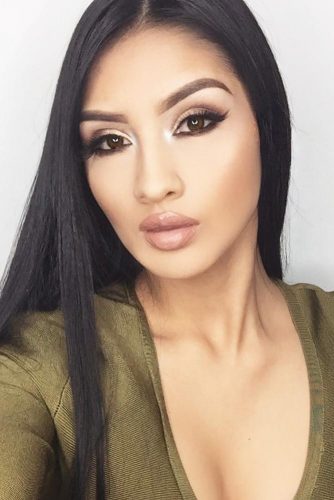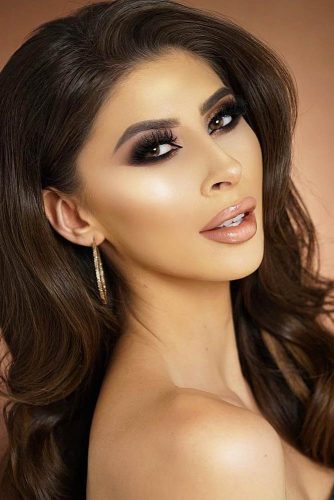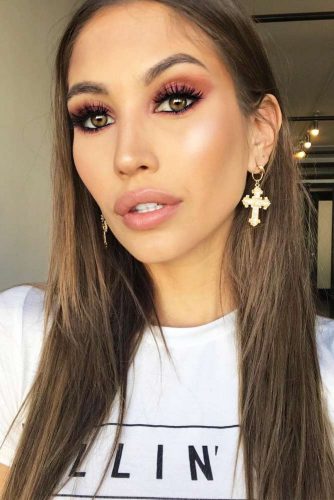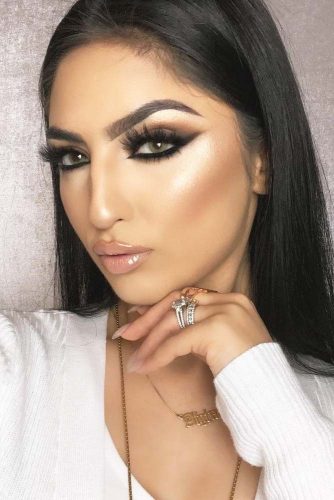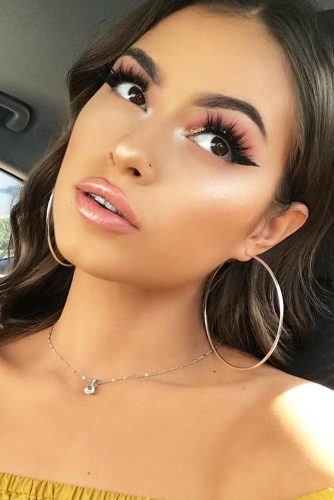 Finding the right blush is quite challenging, disregarding your skin tone. As a general rule, blush is supposed to add some definition to the cheekbones, give the skin some healthy glow.


Perfect Eyeshadows Shades For Dark Olive Skin Tone Makeup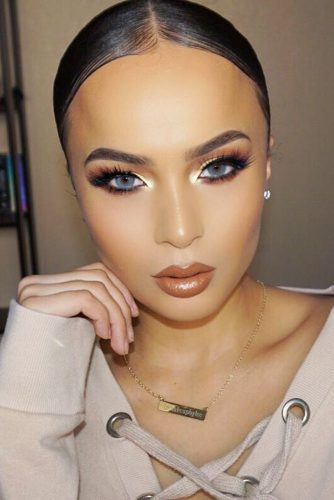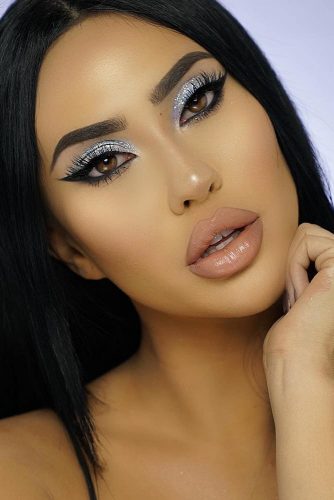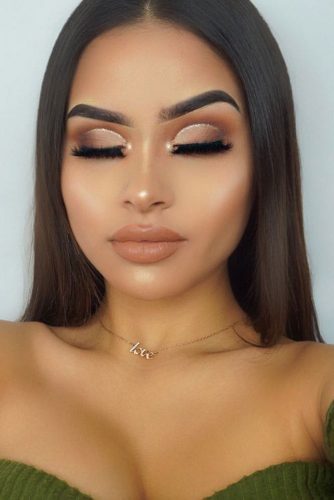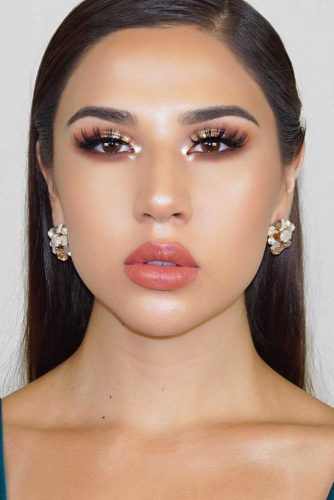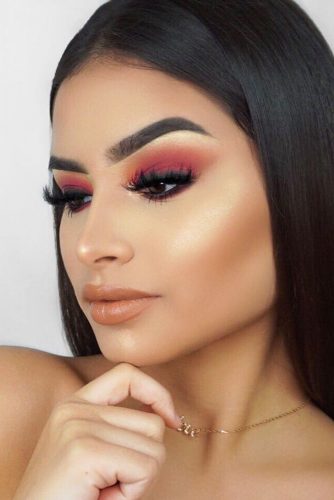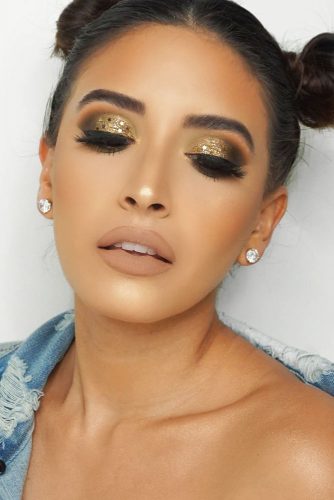 In a few words, when it comes to the most flattering eyeshadow shades for olive skin tone makeup, you can go bright, or you can go neutral. Each choice will be quite complimenting.


Choose Right Lipsticks Shades For Olive Skin Tone Makeup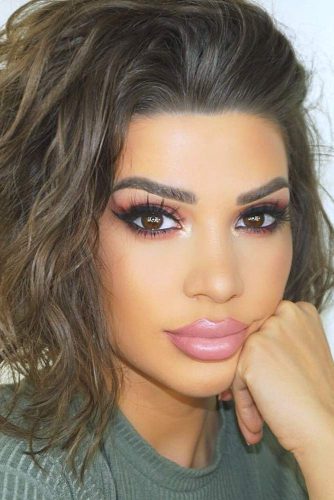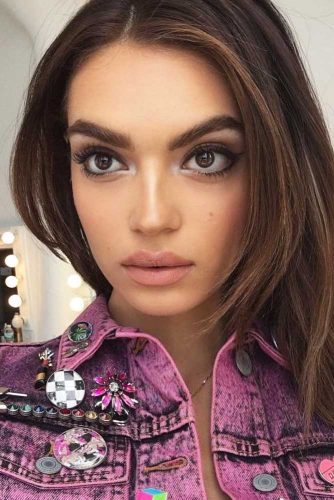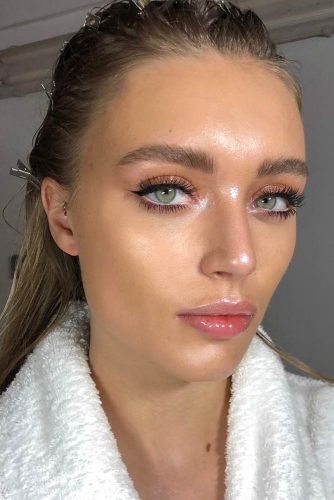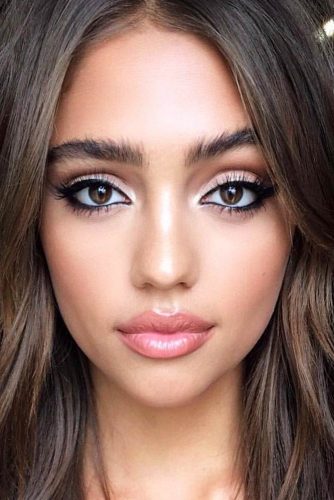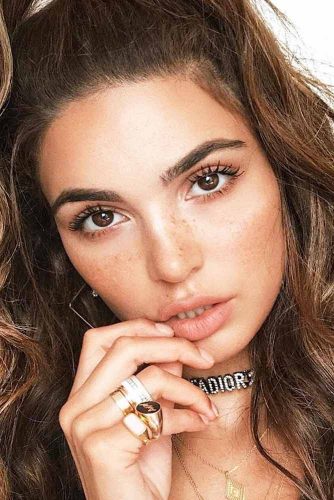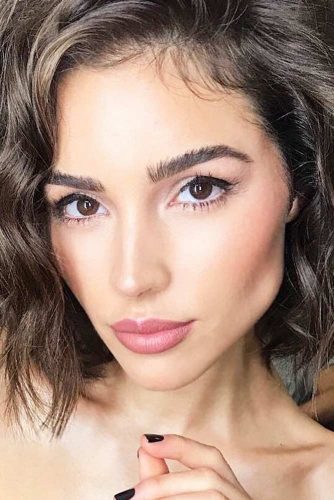 Well, what can we say, lipstick is pretty important when it comes to your overall look. Pick the wrong shade, and it will instantly sabotage your efforts. Here you can observe the shades that won't let you down.


Awesome Makeup Ideas For Olive Skin Tone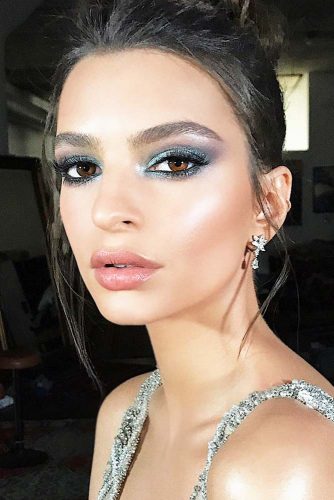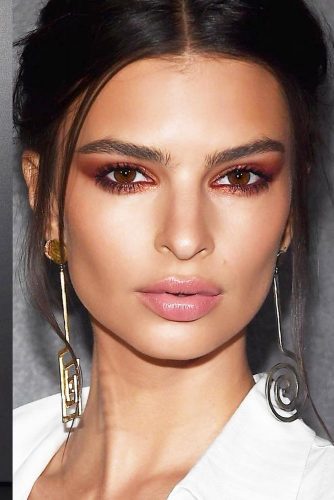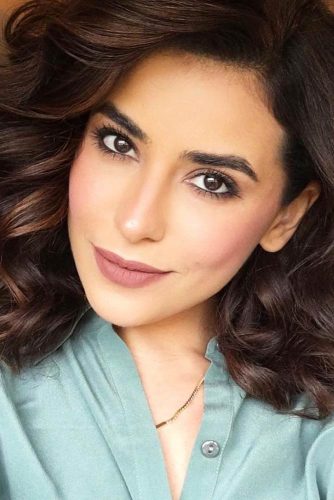 In the end don't forget about your eyebrows. When it comes to brows and brow coloring, you should choose a shade that's one step lighter than your natural coloring.


How to Get Olive Skin Tone Makeup: Video Tips for Olive Skin




Source: Glaminati.com