Eye makeup for blue eyes is so beautiful and sexy. There are so many ways to play up those gorgeous baby blues. From choosing the perfect liner to the right blend of shadow, there are dozens of looks to help accentuate those sparkling eyes of blue!
Eye Makeup Looks for Beautiful Blue Eyes
You can find plenty of makeup tutorials online to help you choose the right color combo for your eyes. However, a lot of women these days tend to go for the latest makeup trends without even taking their eye color into consideration. The purpose of eye makeup is to draw attention to your eyes. It is important to choose colors that will help enhance the natural shape and color of your beautiful eyes.


From blue to green to grey eyes, the possibilities for eye makeup are endless! The right eye makeup for blue eyes can not only bring out your eyes, it can help make you feel sexy and confident. And it can set the mood for the occasion or match your outfit.
1. Metallic Silver
If you are looking for a fun party look, this shiny silver eye makeup is sexy and fun! The shimmery silver shadow looks almost iridescent. Apply a very thin dark black line under your eyes with a slightly thicker line above your eyes. Then end the look with a shimmer waterline for a totally seductive look.


2. Smokey Purple and Blue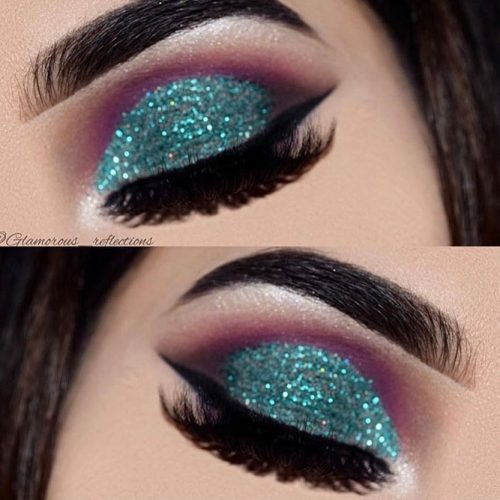 This look is perfect for those sultry summer evenings. The sparkly light blue shadow with lilac shimmery shadow in the crease of the eyes is just stunning. Heavy black liner under the eyes will make your baby blues sparkle in the sunlight.


3. Green Glitter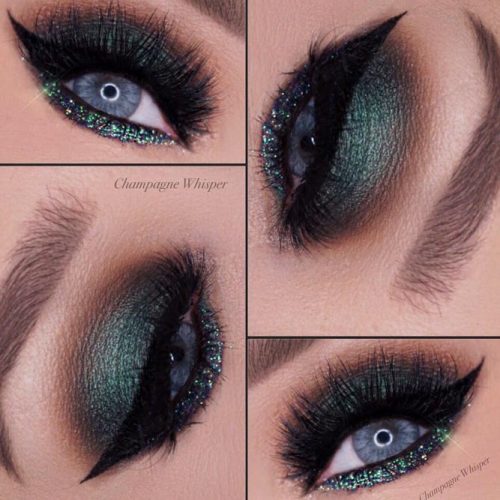 This combo with shimmery green glitter shadow and liner is absolutely glamorous. If you want to widen your eyes a bit, add some white to the corners of your eyes. Pair this eye makeup for blue eyes with light pink lipstick for a totally flirty look.


4. White and Black Lined Eyes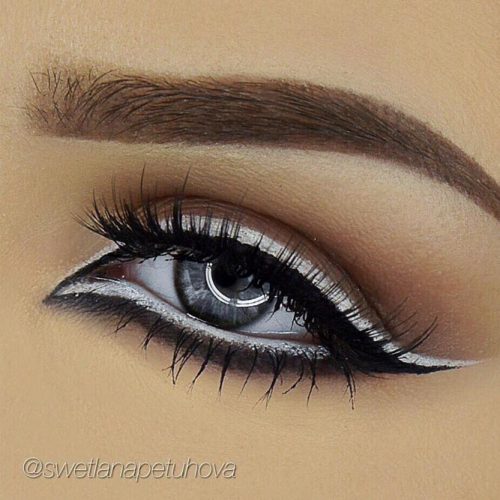 This elegant look is perfect for a formal event such as a wedding. The shimmery white eye-liner underneath the eye and the sleek black on the top meet at the corner for the perfect blend of style and sophistication. The white liner will really open up your eyes to make them stand out!


5. Rose Gold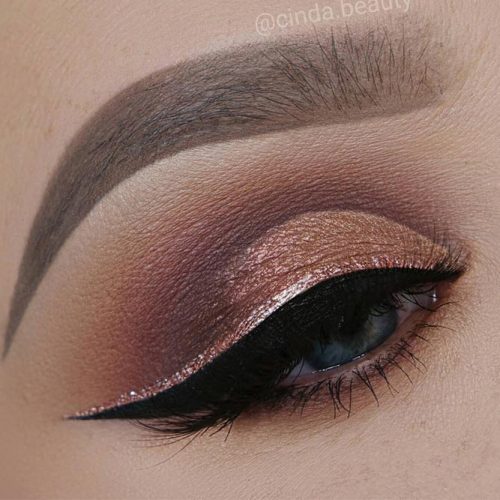 This girly combo of golden eye-shadow and rose gold eye-liner is totally feminine and chic! It's perfect if you are going for a soft sultry look that will also make your eyes glisten.


6. Neutral Tones for a Natural Look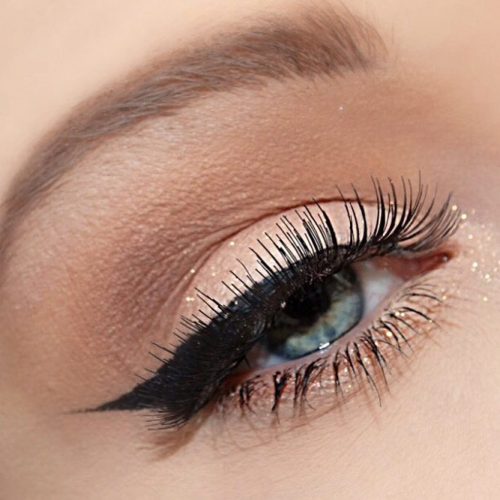 If you prefer a more natural look, try this eye makeup for blue eyes. You don't always have to play up your eyes with bright colors or dark hues. Earthy tones are just as stunning. This simple look will let your gorgeous eyes shine just as they are. If you add a sexy shade of red to your lips, you can totally rock this natural look!


7. Purple and Pink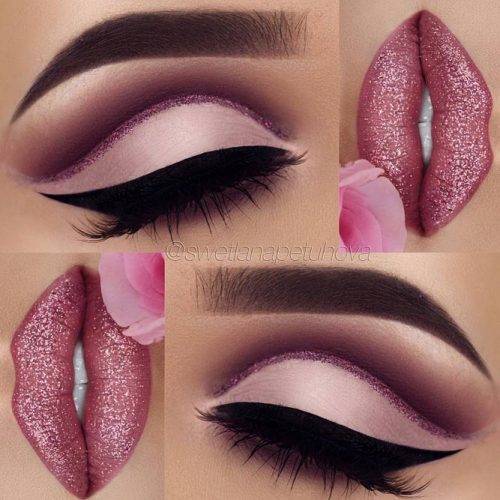 This pretty combo of pale matte pink eye-shadow on the lower eyelid with gorgeous thin purple glittery eye-liner just in the crease of the eyes is totally fabulous.


8. Golden Glitter Glam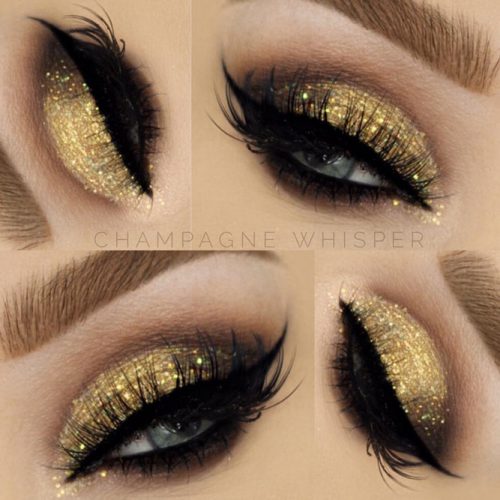 Gold color really makes blue eyes shine! Apply glittery gold shadow to your eyelids and then use a matte black liner under your eyes. You will want to use a more neutral or pale lip color with this look as the focus will be on your eyes.


9. Cat's Eyes
This take on the sexy cat's eye look is flirty and fem! We love the dark black liner to achieve the dramatic cat eye effect, but the pretty pink under the eyelids makes this look bold and sexy! Add gorgeous purple matte lipstick to complete this totally seductive look!


10. Gold and Peach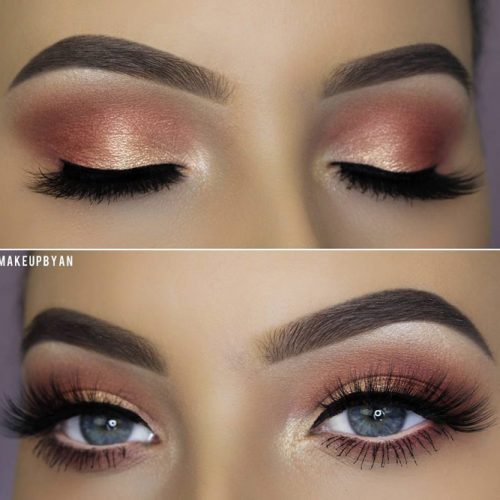 This pretty combination will widen your eyes drastically. Use peach liner on your waterline and pair it with peach eye-shadow on your eyelids. Try to choose a peach color combo that is more pink than orange for a soft and feminine look that will really make your eyes pop!


11. Smokey Copper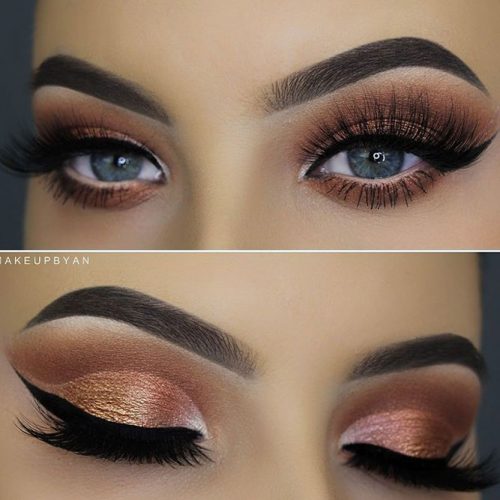 Copper eye-shadow is becoming quite trendy. The best part is that copper hues work great on eyes that are various shades of blue. First, outline your eyes with a thin layer of dark black eye-liner. Then use a shiny copper liner on your waterline and a shimmery copper on your lower eyelid. Choose a lighter tone of copper for your top lids. This is super sexy and flirty!


12. Smokey Teal Green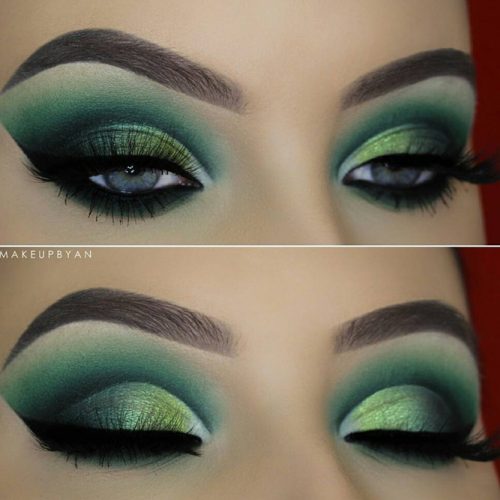 Teal green will help accentuate your baby blues! And this smokey look is ultra sexy! Outline your eyes with a dark black liner and then apply teal green to your lines and waterline. To complete this look, apply thick black mascara and sexy red lipstick.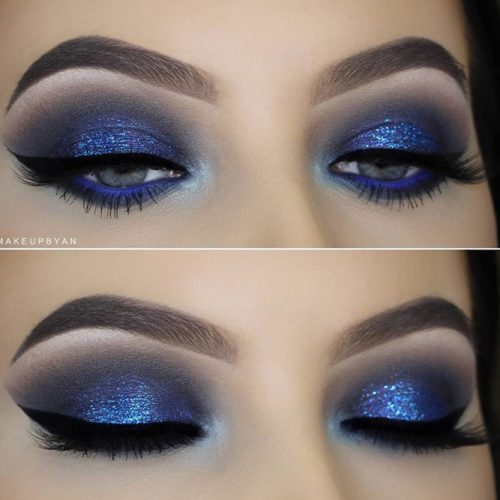 Navy blue will really bring out the various shades of blue in your eyes. This combo of navy blue liner and shadow with thick black liner along your lower lid is totally sexy. Add thick black mascara and a deep matte burgundy lip color, and you'll be one hot mama!


14. Summer Sparkle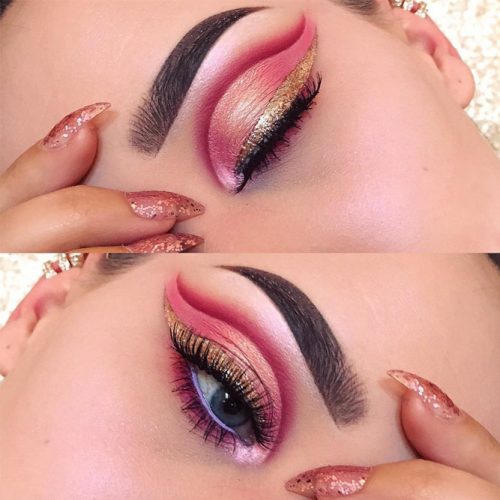 If you want a fun look for summer, this pretty combo of bright summer shades is perfect. Use this combo of brilliant coral, pale peach and pretty pink eye shadow on your lids with a sparkly gold waterline for a look that screams summer. You can play around with different color combinations to make this look your own or blend them for a softer look.


15. Purple and Champagne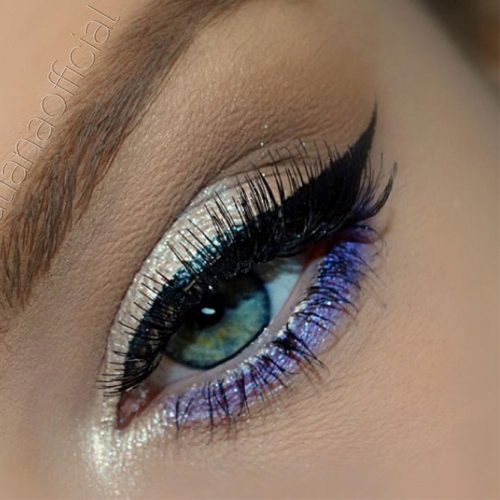 Instead of paring both purple and this sparkling champagne on the lids, why not use the sparkly lavender under your eyes and the champagne on your lower lids for a look that's bold yet sexy? To really make this look stand out, add some white to the corners of your eyes.


16. Rose Glitter Eye Makeup for Blue Eyes
A rose and glitter combination is the perfect choice for any occasion. Finish your look with black winged eyeliner on the upper lid.


17. Chic Smokey Eyes Look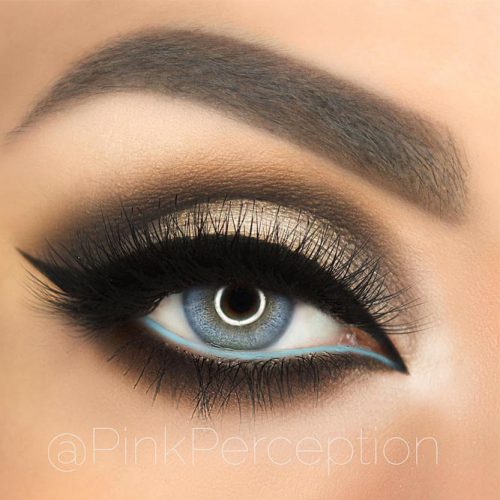 Accentuate your smokey makeup with blue eye pencil. Don't forget to shape your eyebrows in the right way, and your eyes will look so beautiful.


18. Cat Eye Makeup Ideas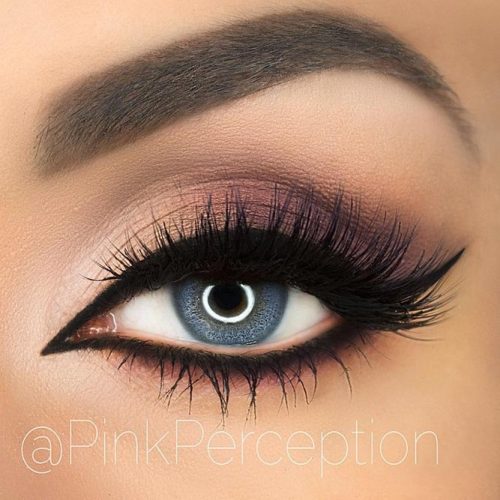 Draw a winged line on your upper eyelid. Then finish your look with a smooth black line on your lower lid. It will be a super sexy cat eye look!


19. Soft Black Smokey Eyes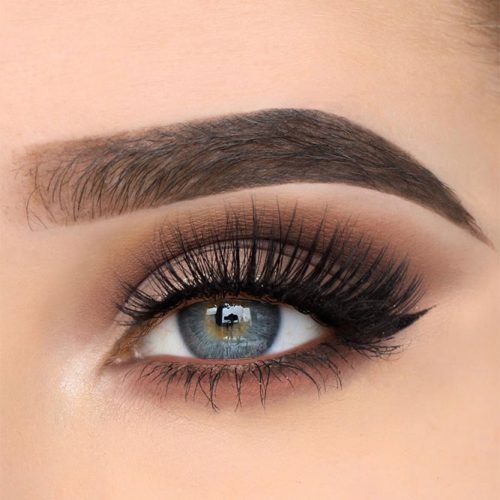 Use a brown eyeshadow palette for this look. If the shades are too soft for the occasion, add black eyeliner to make your eyes pop.


20. Perfect Color Combination for Blue Eyes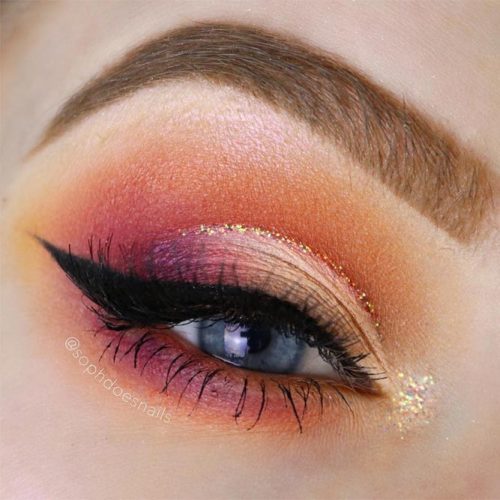 Pink and blue is a combination originated from heaven. Try shades of pink for your blue eyes to appear angelic.


21. Pretty Eye Makeup for Any Occasion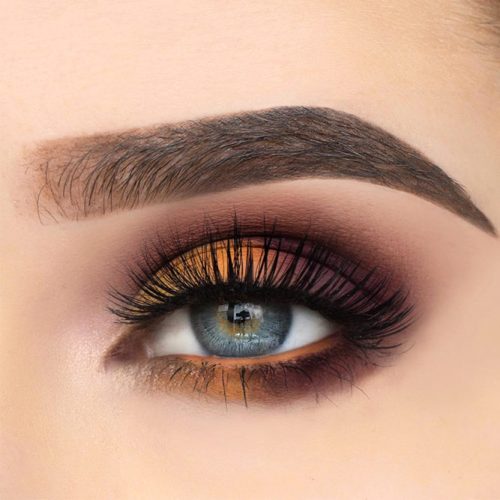 A copper eyeshadow palette might come in handy if you have blue eyes. Wet the sponge for the color to be brighter.


Eye Makeup for Blue Eyes: Video Tutorial
Source:
Glaminati.com