Picking a perfect pair of wedding shoe is a tricky task; the style and comfort are the two important factors to consider while choosing the shoe. It is good to have solid colored shoes because it can easily match the wedding dress. Consider what type of wedding you would organize, if it is going to be a formal wedding then formal shoes are better to wear. If you love to have fancy shoes then it is better to take a piece of fabric similar to the wedding dress. Suppose if you have a simple dress, then fancier shoe is a great idea to add some color and style to the wedding.


The most important thing to keep in mind while buying the wedding shoes is the comfort, make sure the shoe you wear is comfortable for you. You may wear it for the whole day so it is good to choose a right pair of shoe, it must fit your feet perfectly. Here are some of the tips to choose wedding shoes.
9 Tips to Choose Wedding Shoes for Women
1. Wear the Correct Fit Shoe
Wearing a pair of comfortable shoes is very important for enjoying the whole day comfortably and it is the best way to eliminate tired as well as the sore feet. The pointy high heels will make you uncomfortable; you should choose the shoe that fits you perfectly so it is necessary to take the exact measurements. Some of the shoes can fit your foot size, but it can end up loose or pinching your feet when you have to spend many hours.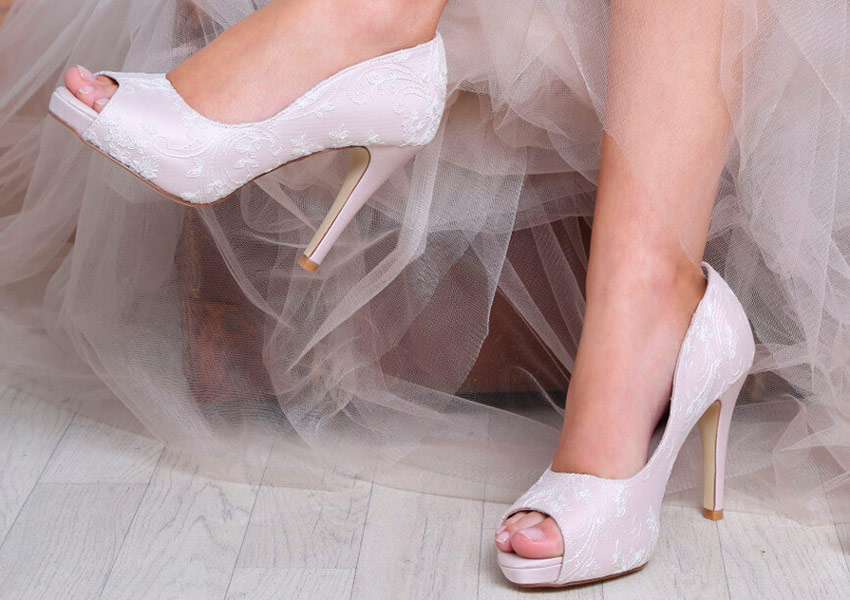 To find the right size, you should consider the feet's width and shape also verify whether it creates any lumps or protrusions while wearing it. The right size shoe will give good cushioning and it would not pinch the toes, rub the ankle bone or feel like squashing your feet. Make sure that your wedding shoe must complement the dress, choose the perfect fit shoe to look great.


2. Comfort
Your wedding shoes must look stylish meanwhile it should be comfortable for your feet to wear, by choosing the good quality material you can easily get the perfect wedding shoe. Proper wedding shoes are designed with comfort padding which gives extra support for your feet. Make sure the style of the shoe you choose fits in the overall style of your wedding.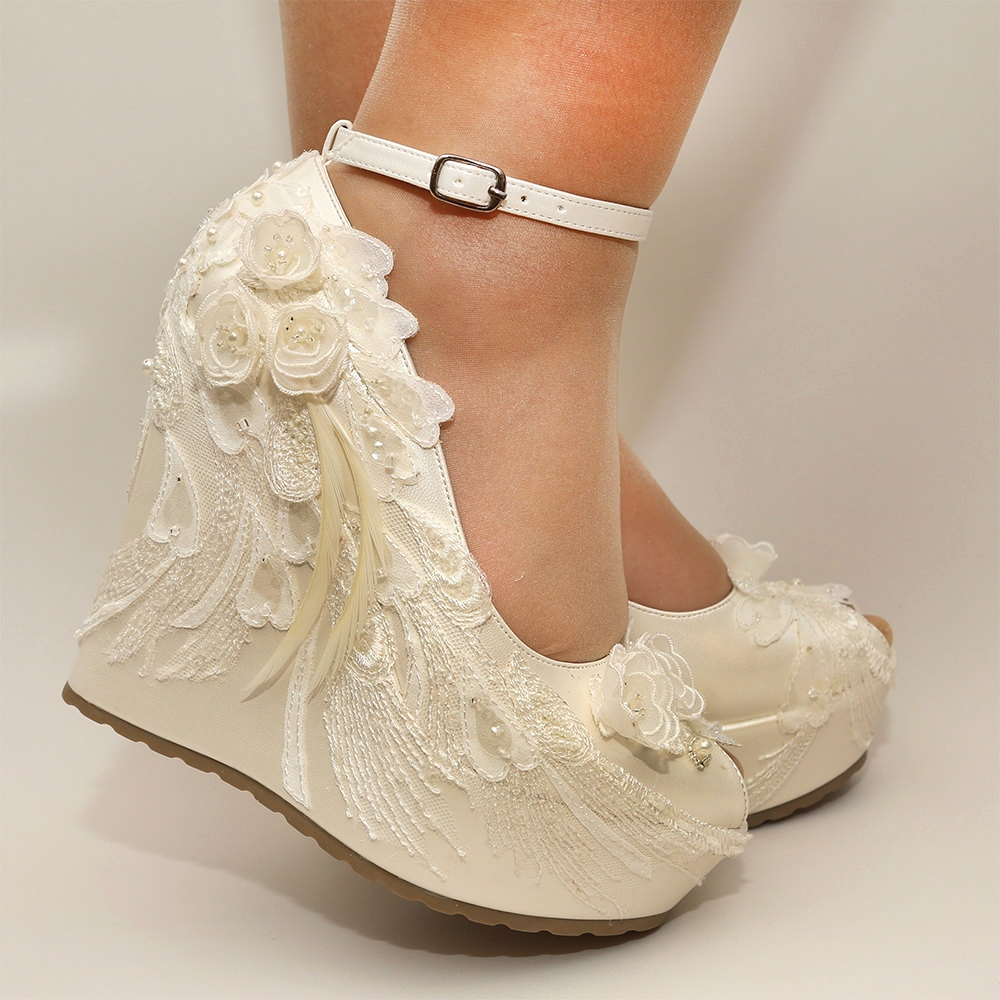 It is better to prefer open strappy shoes for the summer wedding but in winter it is good to choose a closed toe pair of court shoes which may give an elegant look. If you have a traditional white, ivory or cream gown consider choosing bright colored wedding shoe to make you attractive and comfortable. For the wedding, the comfort is the best key so wear some pointed shoes with a teeny heel because your look is very important.


3. Color
The color of your wedding shoe depends on the color of your dress and wedding theme, consider the color of your dress when buying shoes, it may be white or ivory. If you are a funky bride then you must want to have your shoes brightly colored just to match the wedding dress. You must decide whether the shoe must be matching the dress or contrasting in color, the great combination is a white or ivory dress which would look beautiful with matching shoes.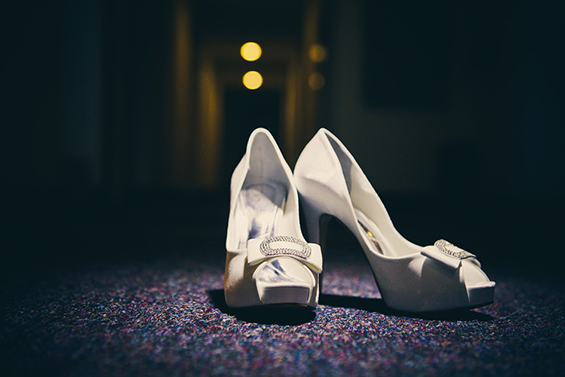 If you have chosen bolder shaded dress then it is better to consider shoes with different colors. Be aware that the color of your shoe should also compliment other accessories like bag or bouquet. Suppose if you don't get the right color then use a dye, there are plenty of options to add extra glamour to your feet. Choose the color that looks attractive and eye-catching.


4. Style
Wedding shoe wedges are convenient to wear and they are always in fashion to make the bridal costume perfect, choosing a stylish shoe will give an elegant look. The style of the shoe you choose is very important; it should match your dress, accessories, as well as the overall style of your wedding. If you love to choose bold pattern then have a look at the fun, quirky wedding shoe because it is the perfect way to add some pop and elegance to your look.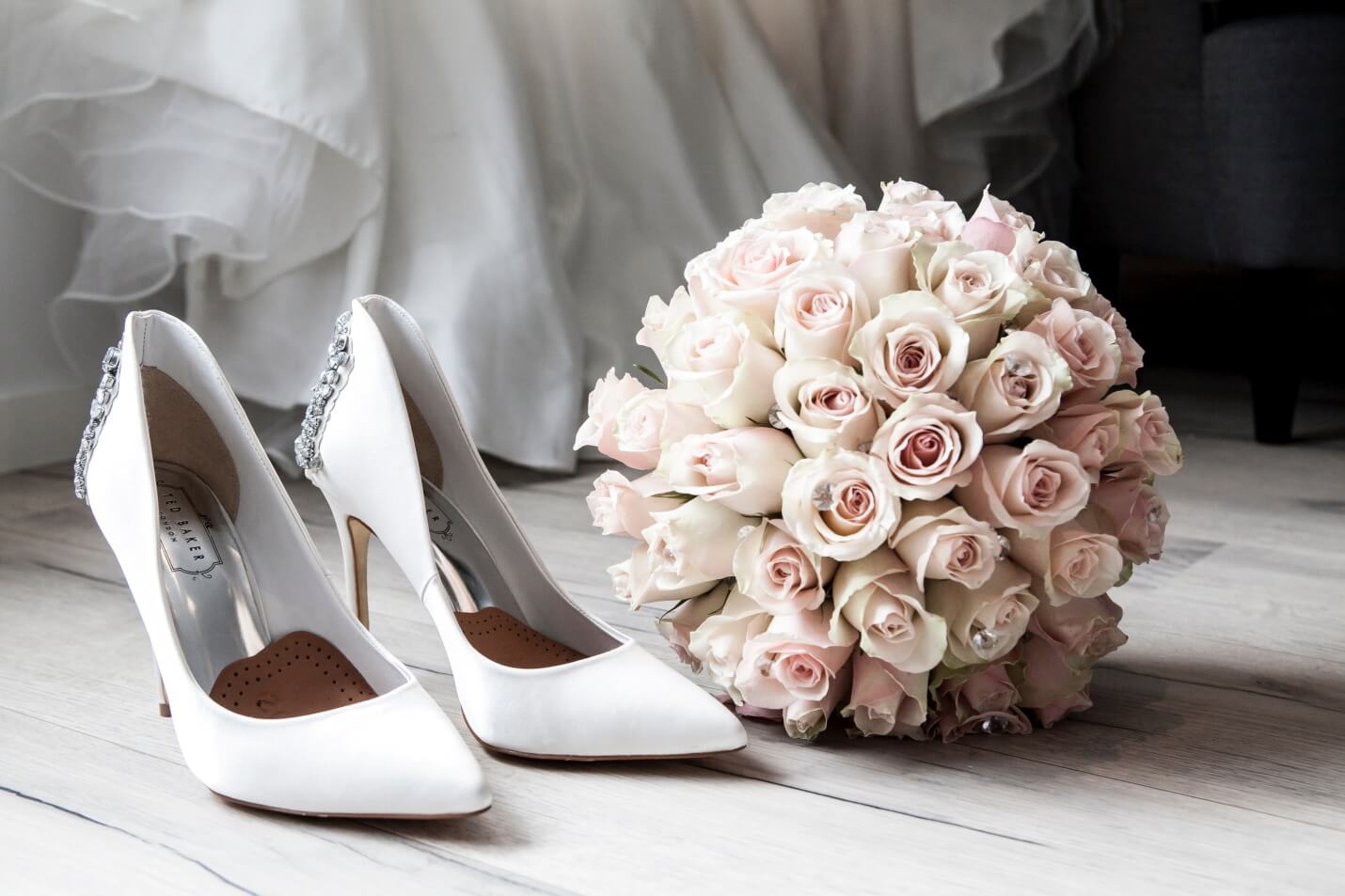 Some of the brides may like traditional colors and simple designs so it is good for them to have simple shoes to feel free. For a wedding on a beach or grass, use the narrow heels to sink into the soft ground, so choose the flat shoe or wedge style heels to walk easier. If you love to have a lot of classic traditions at your wedding then choose a white shoe with a low heel.


5. Wear Them In
When you wear a new shoe it may be notorious and causes shoe-bite, it may pinch your foot and lead to soreness from rubbing. In wedding you may take part in various activities like dancing, in that case without wearing a shoe into your foot can be torturous because you may be walking with that for the whole day. If shoe pinches then your feet may get sore which will be the bad experience for you, so as soon as you bring the shoe to home give some time to wear it occasionally.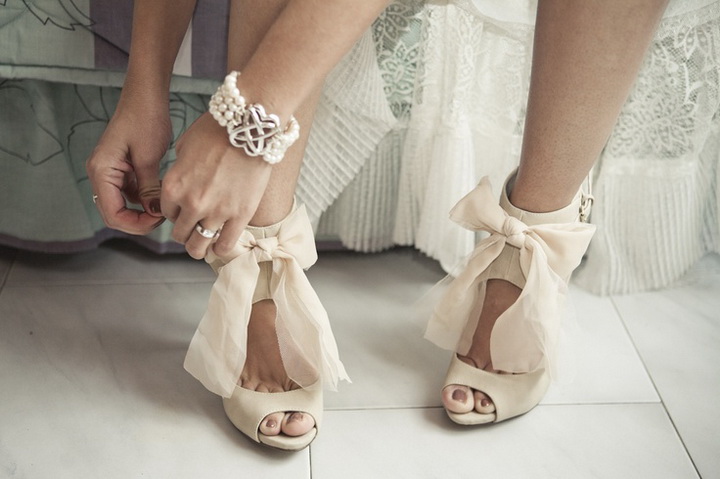 Wear the wedding shoe to your clean feet a few weeks before your wedding day and gently walk around the floor to gain a good support. This can help to find out where the shoe is causing rubbing, also give time to make any adjustments to stretch maximum. It will make you feel comfortable when moving around it especially if you have high heels while wearing the shoe practice it with the wedding dress. This may help to adjust the long and pretty gown, to walk easier.


6. Put a Strap on It
When you pick the wedding shoe to ensure that it offers a good flexibility, wear ability as well as the stability, and the best thing you can do is to choose a shoe with a perfect heel hold strap which can give a constant support and grip to your foot. Most of them would love to wear high heeled shoes than the normal shoe, so it is better to pick a shoe strap with a lot of comforts.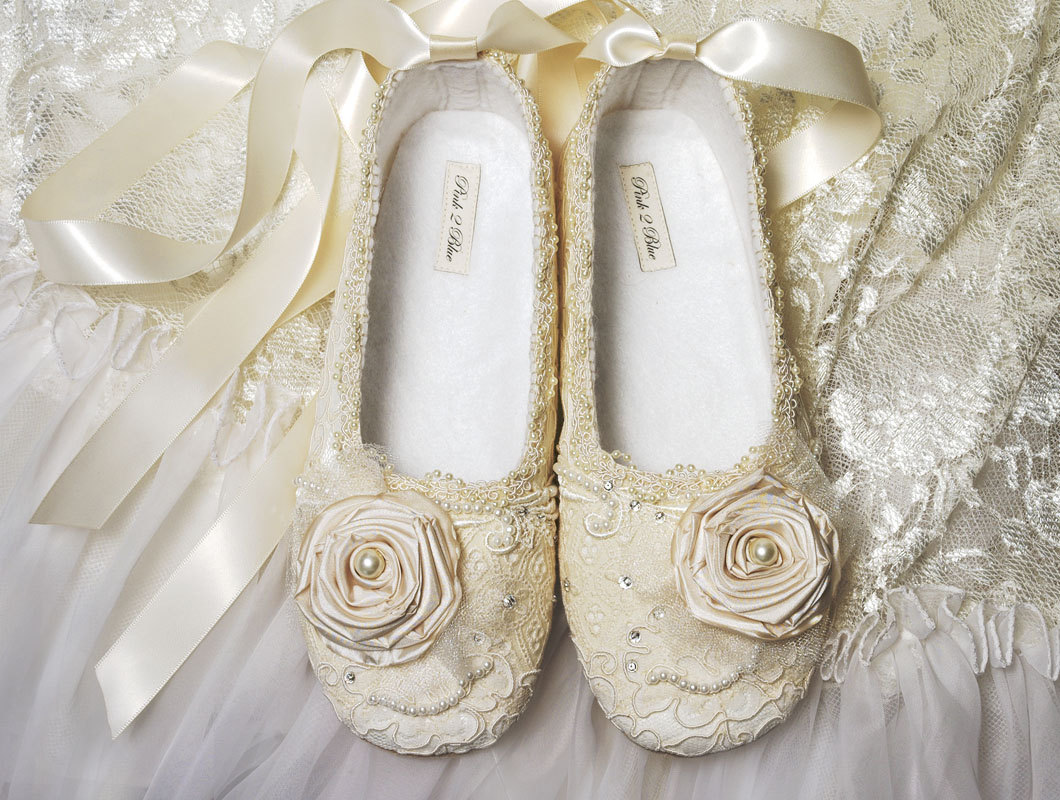 It is good to have a simple shoe if you have an elaborate wedding dress because it can help to walk or dance easily and comfortably. Dancing is the biggest part of the wedding ceremony so the strap must be tight and cozy for easily moving around it. Choose a shoe that looks beautiful and is sure that your comfort and personal style because it is the most important factors to consider when buying wedding shoes.


7. Heel Height
Choosing the right heeled shoes for a wedding is a tricky task; the first thing to consider is the heel height because it should be right for you to feel comfortable. When picking the shoes try a few pairs and wear it for some time to find whether it affects your foot or not. While walking if you feel any discomfort in the ankles or foot then it is better to choose a lower or chunkier heel.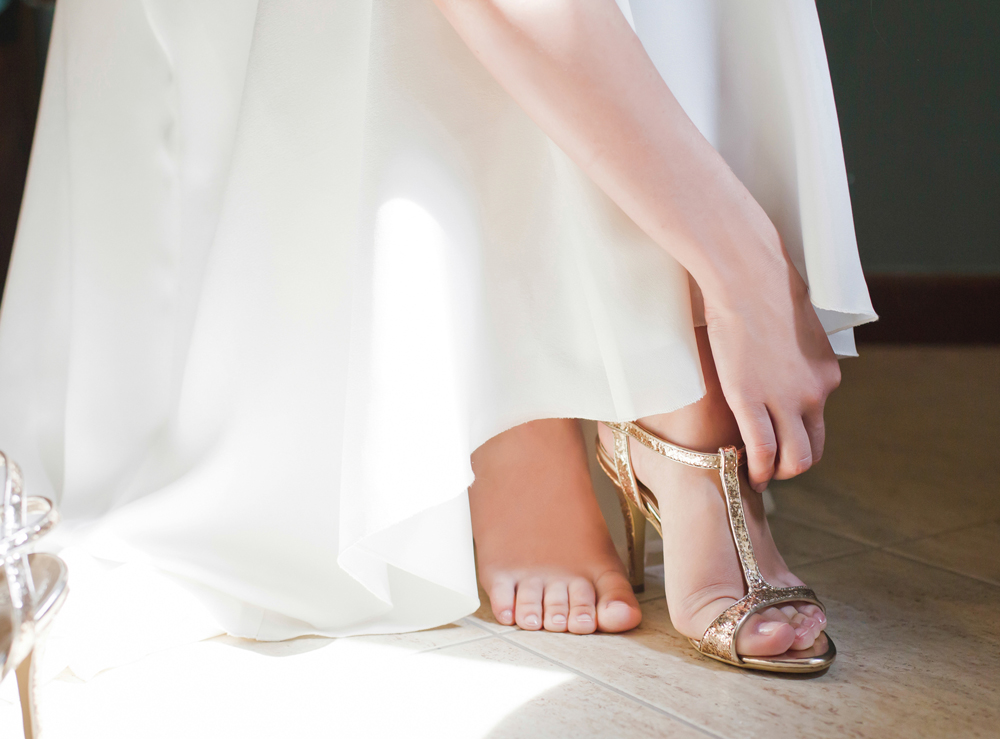 Wedding shoes with small heels are best because it gives a delicate look without putting the lot of pressure on your feet. If you prefer high heels there are some precautions to protect against fatigue and sores, buy a shoe with gel inserts on the heel. This can prevent your toes and foot from rubbing also add too much of comfort. The main things to look in a shoe is the width and ensuring enough space to move your toes, also try flip-flops or flat sandals to offer an ultimate comfort.


8. The Shoe Should Match the Wedding Dress
Once you have bought your wedding gown then find the shoe to perfectly match it, you have to choose the exact shoe for your feet. It should fit comfortably with your wedding dress, the color and style of the shoe must be suitable. It gives an elegant look if you use a white and ivory pair of shoes, handmade shoes are best to wear.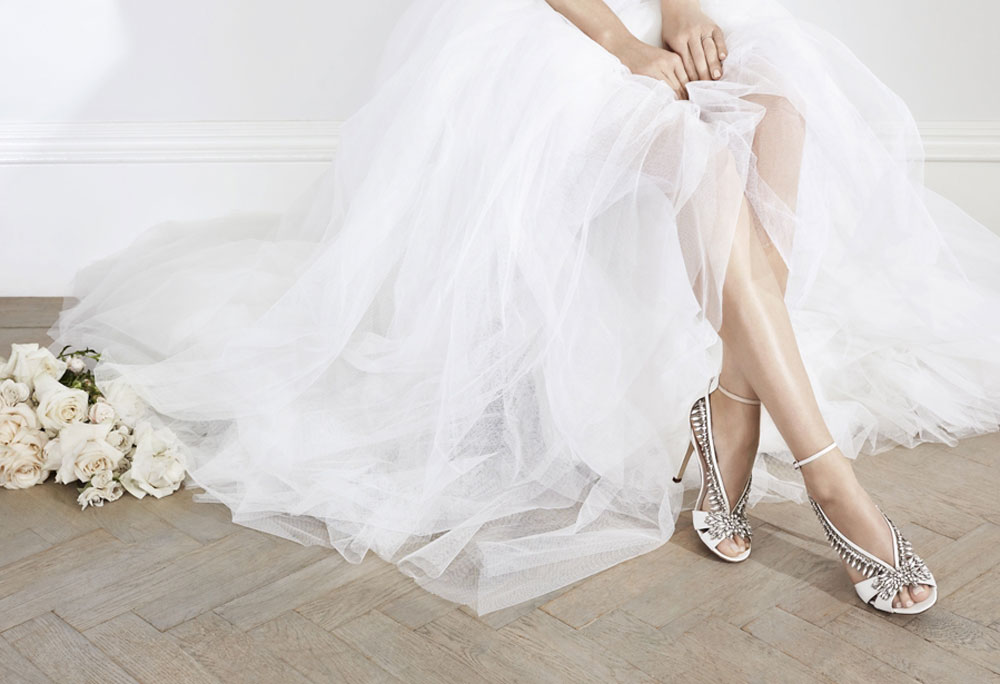 They are designed with an extra pair of cushioning material which gives a soft and smooth feel while you wear it to walk or dance. They give a unique and special feel because of its extra quality, so you may look bright and beautiful on that occasion. If the style and color of your shoe don't go well with the wedding gown then it may give bad look, ensure you can walk upright and comfortably without tripping.


9. Match the Fabric
Make sure your wedding shoe matches the dress; customized shoes allow you to suit the material of the shoe along with the fabric of your gown. If you have to wear a bright colored dress then it is possible to customize the pair in the same fabric. It is important to consider the fabric of the shoe choose whether you need silky, shiny or matte but it must complement in fabric or texture.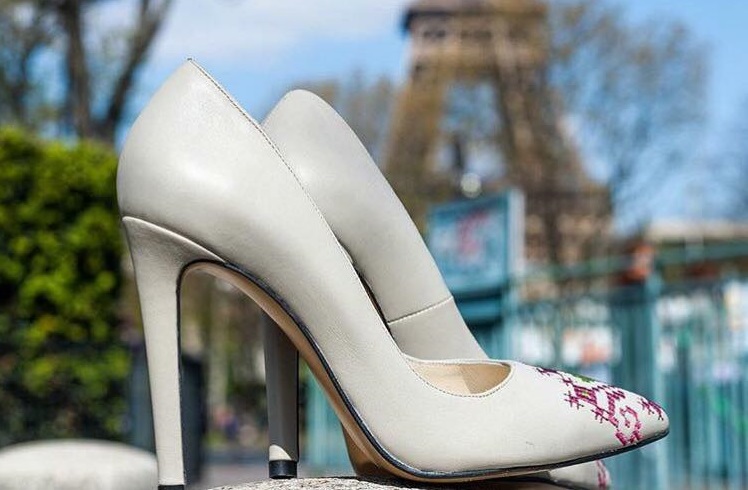 Luxe is a lesser used fabric because it does not take darker colors as well as the satin; it will look beautiful with any crepe or soft textured dress. Ultra satin is the new innovative fabric for bridal shoes it also has similar look to the high-end silk faced satin material. Each fabric has its own unique characteristics but it should blend as close to the hue and depth of the color of the wedding gown.


How to Choose Wedding Shoes? Wrapping Up!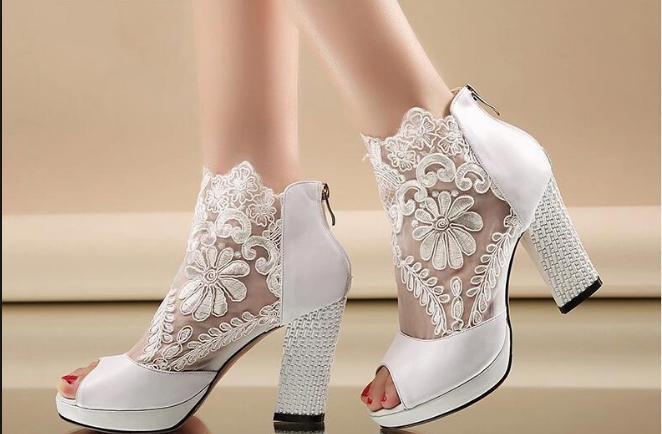 Choose a pair of wedding shoes that you love! Make sure that your wedding shoe offers a good amount of padding to keep you comfortable for the whole day.