Not all cute short hairstyles suit round faces. However, we have compiled a list of some of the most popular short hairstyles for round faces. With the summer fast approaching, we thought it was high time to include a list of short haircuts for women. The pixie cut is one of the most popular short hairstyles for round faces, but there are quite a few stylish short haircuts for women that are considered trendy. The bob has many different variations and is a really cute short haircut.


Short haircuts for women are most easily created with a blow dryer and styling gel or mousse. Short hairstyles for round faces should not cover your ears. A round face will look much thinner if your bangs are asymmetrically styled to one side or the other. For an edgy, cute short haircut for round face, you can move your fingers through your hair, adding vertical lines.
Short Haircuts for Round Faces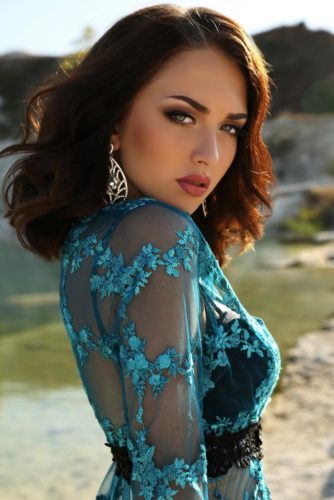 It is also true that hairstyles with rounded edges or shapes don't work well for round faces. If you want a really cute short hairstyle for round faces, you should have random tresses and defining edges. This results in an adorable, chic look which will compliment your face shape.
If you want a look that's ultra-charming, go for a shorter retro style such as a short bob with combed finger waves. You can also part your hair to the side with wavy bangs if you prefer a more dramatic look, which is perfect for theme parties and special events.
A cute short hairstyle for round faces should be above the forehead to a nice height with wispy light bangs. You can experiment with asymmetrical cuts, textures and braids for a cute and playful look.
1. Pixie Cut With Side Bangs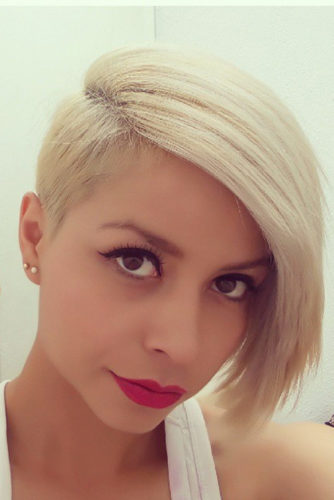 If you have a strong chin and jawline, a pixie cut with longer side bangs will compliment your features. It will work best with a side part for a stylish look.


2. Asymmetrical Cut with Temple Undercut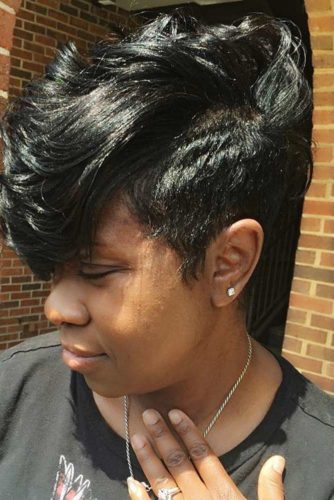 This look works great for round faces in both medium and shorter lengths. The longer asymmetrical bangs for round faces and diagonal line add a great lift, elongating your face and accenting your stunning features.


3. Playful, Short Ringlets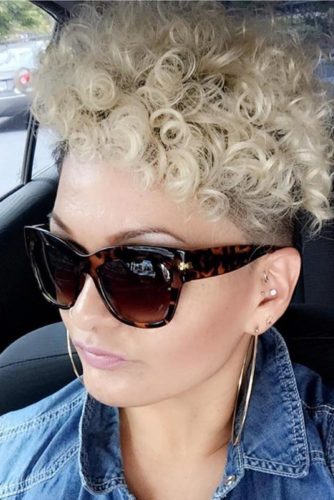 Not every round face needs to be "visually corrected" with a certain style of short haircut. Short, playful ringlets look good with any facial type or style. If you are a fan of curly hair, you can totally rock these locks!


4. Bowl Cut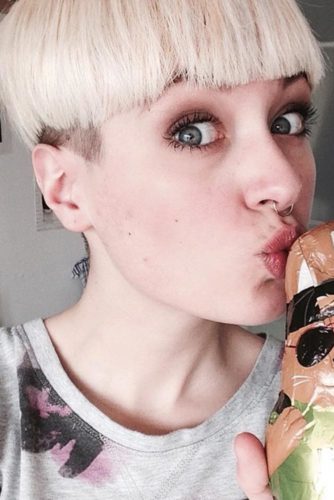 Even though this look has horizontal edges, it may be flattering for those with rounder faces as it is styled straight but has vertical streaks. To draw attention to your sparkling eyes and create the illusion of a high forehead, the deeper bands should start at the crown.


5. Retro Short Waves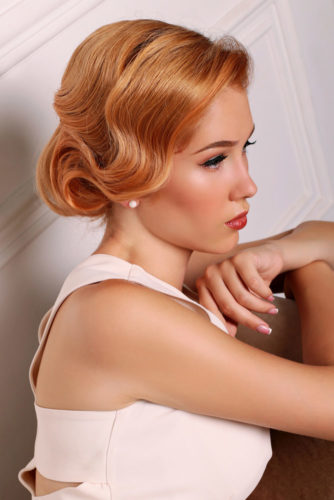 This look, inspired by the Roaring 20's, works great for those with a round face as its classic style will draw attention to your face and accentuate your features.


6. Messy Updo with Wavy Bangs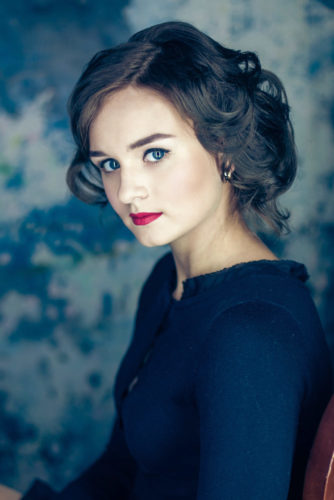 Messy updos are ultra-trendy. This cut with wispy side locks and wavy bangs is perfect for women with rounder faces who want to wear their hair in an updo this summer.


7. Asymmetrical Side Sweep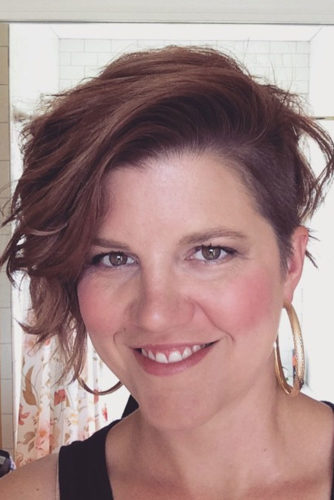 With its wavy texture, this style is soft, yet edgy. This look will lengthen your face due to the delicate side swept bangs with a bold undercut.


8. Cropped Bob with Jagged Edges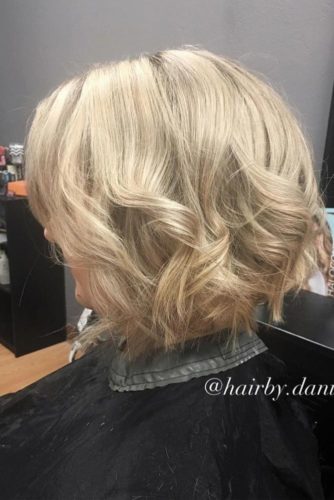 The best way to elongate a round face is to add volume to the top of your hair. A cute bob with razored edges will add a stylish flair to tousled short locks that is both chic and flattering.


9. Pixie with Tapered Sideburns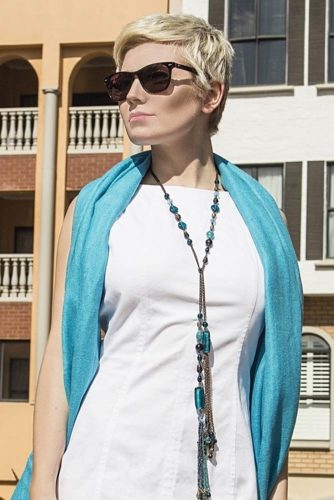 If you have a round face, sideburns are the perfect ways to frame your face. A short, flattering cut with darker roots will add length to your face.


10. Messy, Short Crop with Braided Bangs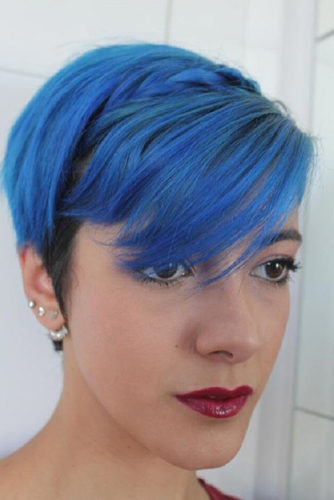 This look may not be the first that comes to our minds when we opt for a shorter hairstyle, but this cut has certain fairy-tale flair. Braided bangs and soft, romantic waves throughout the subtle layers of the haircut add a personal and sophisticated look. This style is perfect for those with rounder faces.


11. Asymmetrical, Voluminous Fusion Cut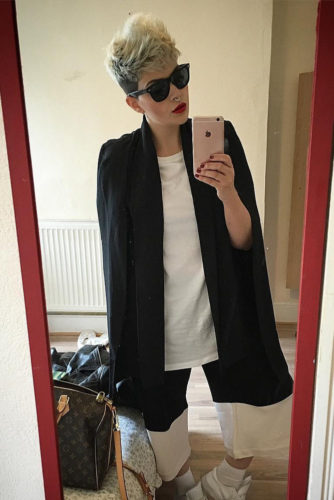 For a playful look, this cut can be worn with lush volume or you can wear it flat for a more casual style. It's youthful, trendy and a bit daring.


12. Voluminous, Long Pixie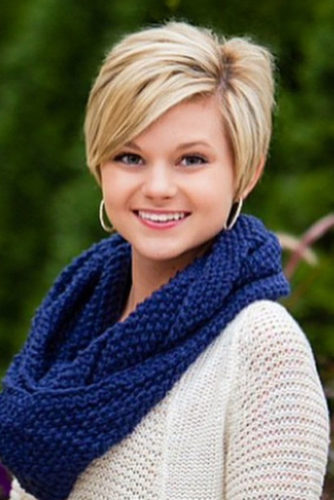 A bit longer than a classic pixie cut, this style still has that princess-like quality. It is very sophisticated and timeless, yet spunky and youthful to make you look and feel years younger.


13. Chic Bob Cut with Curly Ends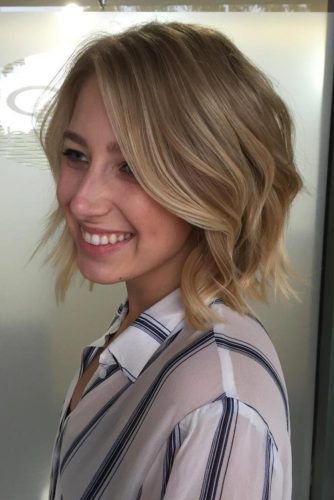 This classic Hollywood style is timeless. If you want to accentuate your features, backcomb the locks of the crown, style the bangs with a lift and don't overdo it on the volume with the curls to achieve a sassy, sophisticated look.


14. Cute Short Bob with Elongated Bangs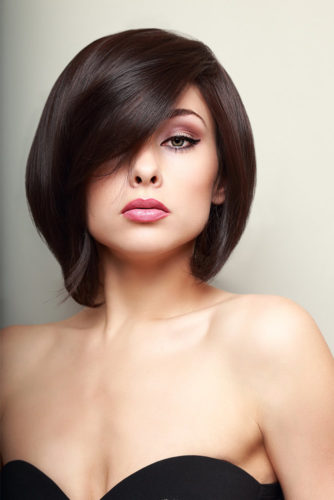 If you think you can't pull off a rounded bob with a round face, you're dead wrong. This flattering style, with ends curled inside and veillike bangs, are perfect for a rounder face.


15. Short-to-Medium Layered Cut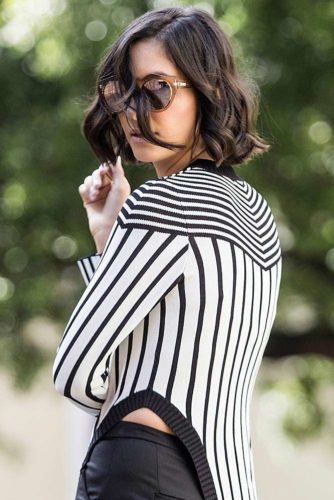 If you have thicker hair and a rounder face, this adorable cut will work great. It offers texture and vertical lines throughout the layers and you might wish to point cut the ends for extra volume and definition.


16. Short Bob Hairstyles for Round Faces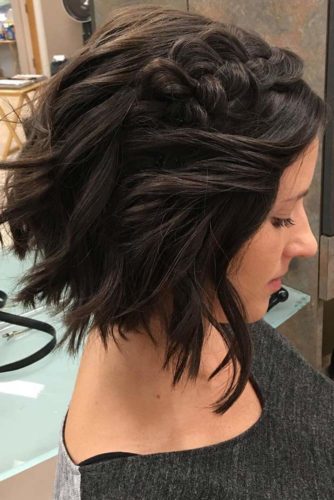 This cut is shorter in the back and longer in the front and accented with a French-braided bang. Add some blonde highlights with a youthful flair.


17. Multi-Accented Updo with Tiny Bun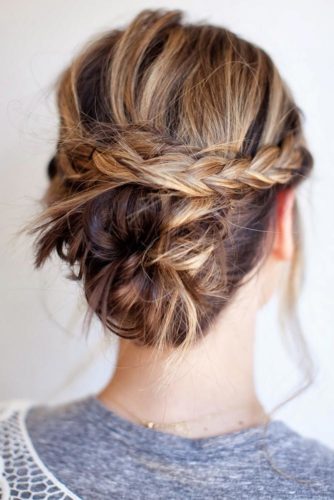 With wavy, airy tendrils, a tiny bun and a stylish side braid, this style come across as both youthful and daring.


Short Blonde Hairstyles for Round Faces
Even though it seems unbelievable, but short hairstyles for round faces are acceptable. If your face is round, you are probably used to hiding this shape instead of highlighting it. Now you can stop worrying about it because certain hairstyles can visually lengthen your round face.
Gorgeous Short Hairstyles for Round Faces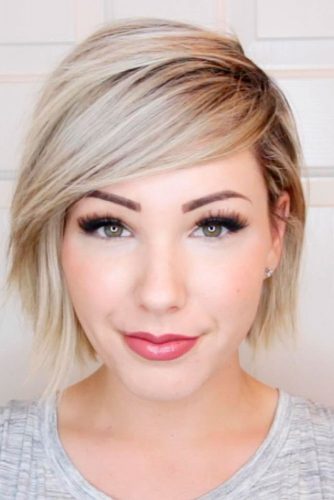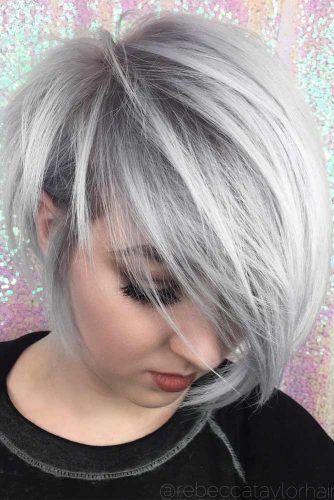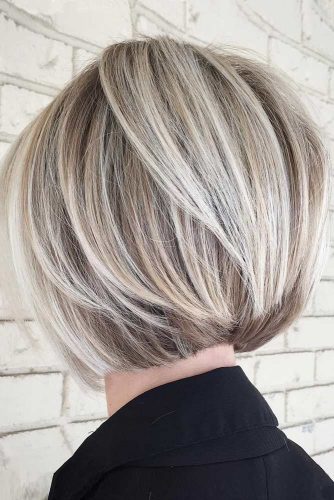 No haircut looks good if your hair is damaged, even pixie. Pixie is considered to be among the most popular short hairstyles for round faces. However, if you are sure that you can style your hair in a proper way, then you are welcome to choose the types of bobs which are even shorter. There are several rules that can help you to look fantastic.


Amazing Hairstyles for Short Hair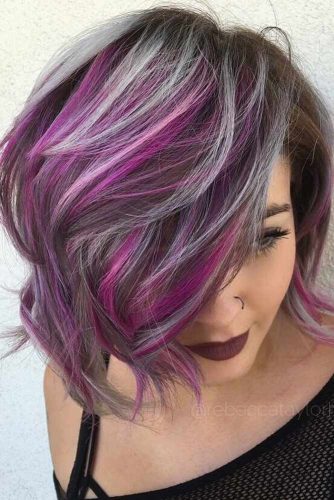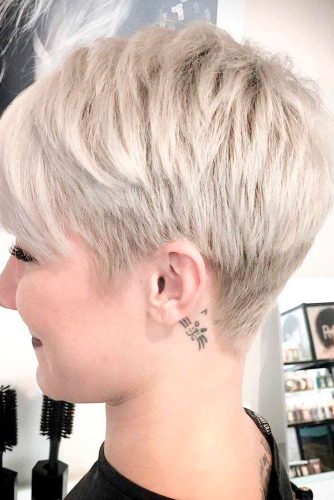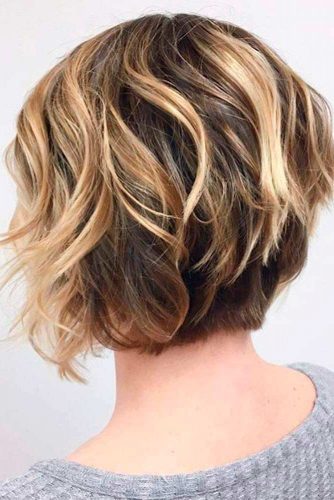 These short haircuts for round faces can make you look awesome even when you are wearing natural makeup. And don't forget to treat your dyed hair with effective hair masks like an avocado hair mask.


Cute Short Hairstyles for Round Faces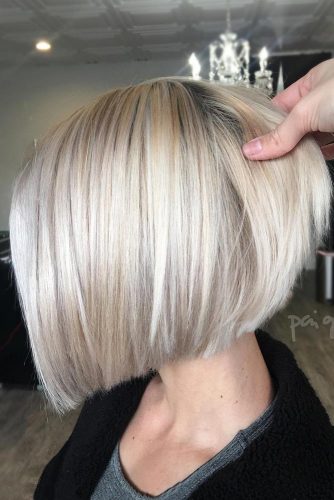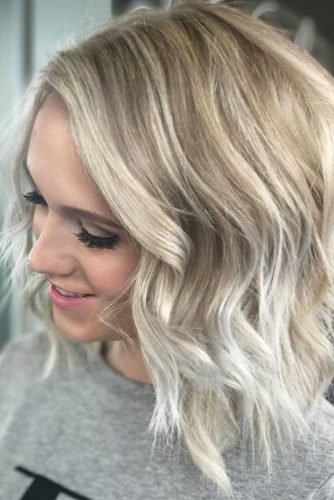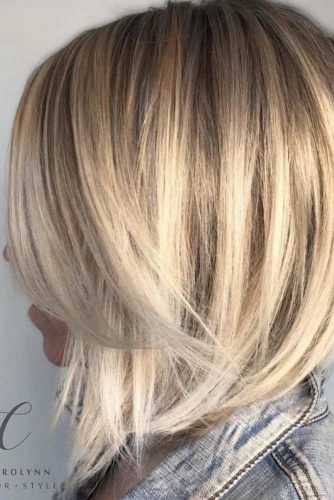 Pretty short hairstyles for round faces: is it possible? Remember that your ears should be covered by your hair, even if it is short.
A hairdryer and a mouse of your choice are really helpful in creating hairstyles for short hair. Style your hair asymmetrically either to the left or to the right, and it will seem that your round face is thinner. You can also make your hair somewhat edgier by raking through it while you are blow-drying. One of the common features of all such haircuts is that they have feathery finish. Some stylists argue that rounded shape hairstyles do not fit round faces. However, if you define edges, your hair will look chic.


Most Popular Hairstyles for Round Faces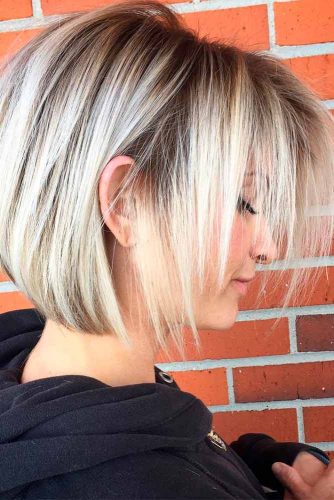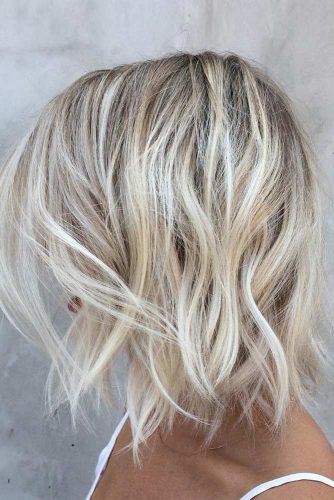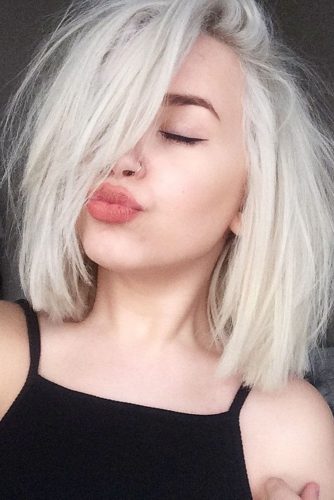 And do not be afraid to experiment with color. For example, lavender-grey is in trend this season. To achieve this effect, stylists recommend women to have their hair dyed in purple and the tips – in sea-green. Taking into account that this style is unconventional, it can fit only fine hair texture. A high or wide forehead, which is peculiar to round faces, can be diminished by making the bangs geometric. To define the ends, you should make them thin. A styling gel or mouse will be useful in this case.


Best Short Hairstyles for Round Faces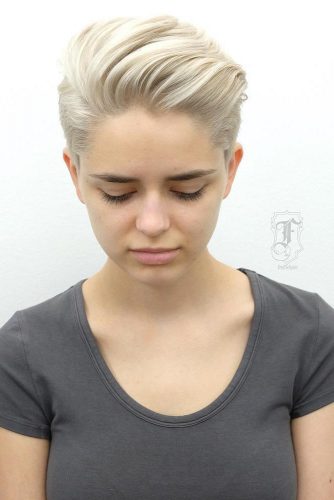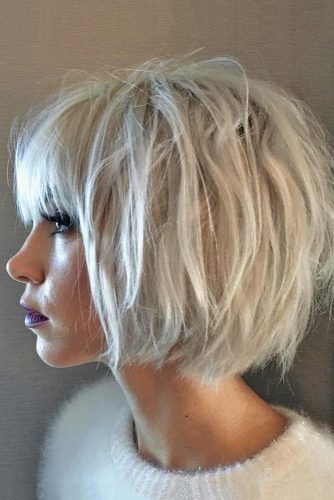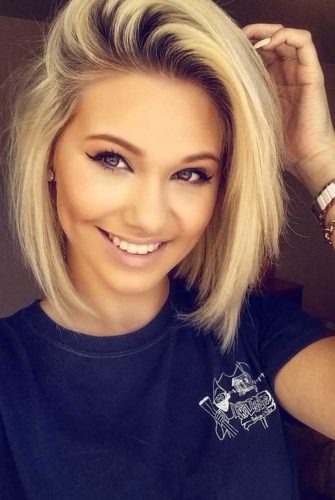 Medium bob is a great choice for short hair for round faces, and it looks exquisite when it is platinum-blonde.
Do not forget to take care of your dark roots in time. If you are a creative person, then you may consider having a multi-toned hairstyle.


Short Blonde Hairstyles for Your Trendy Look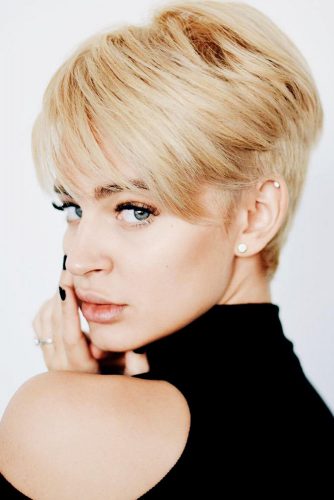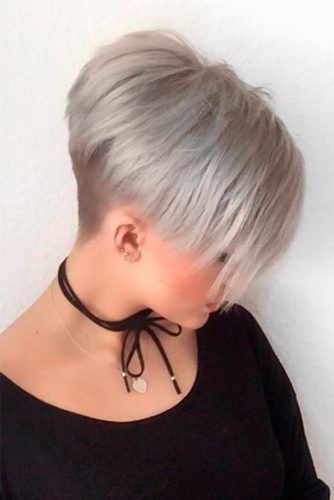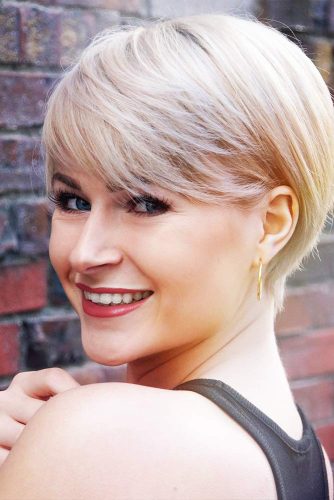 A short hairstyle looks sassy on its own, but add some color to get a totally chick look.


Stylish Hairstyles for Your Trendy Look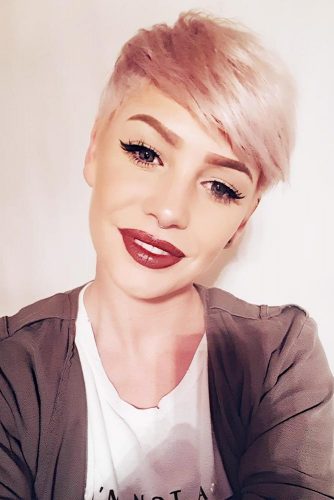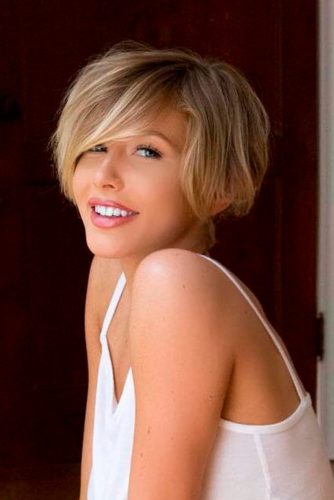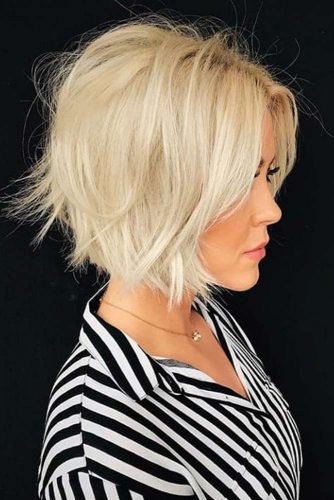 The right hairstyle will make you trendy and stylish, and also help to look younger than you are.


Beautiful Blonde Short Hairstyles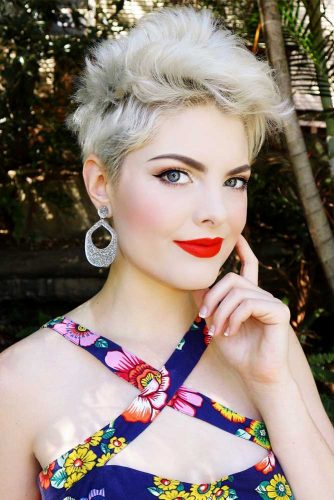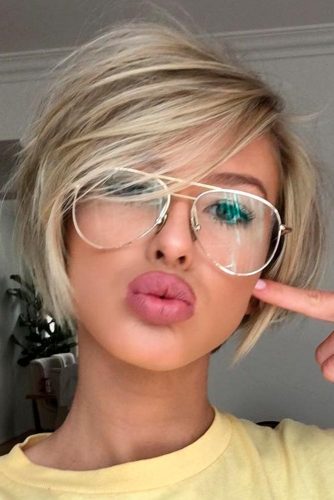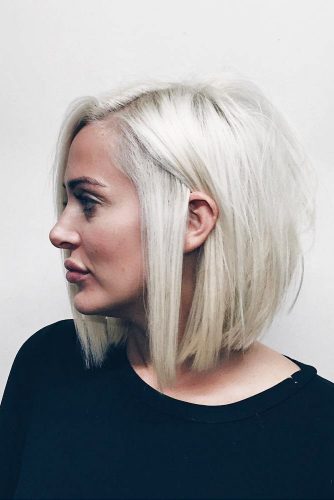 There are so many gorgeous blonde shades that can work for a shorter hairstyle.


Beautiful Blonde Short Haircuts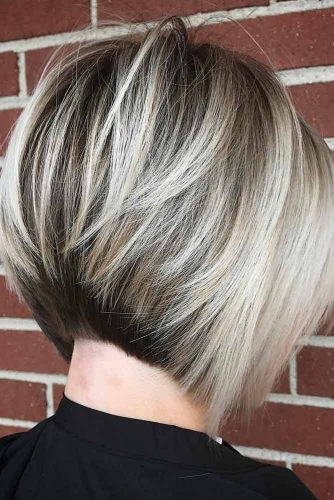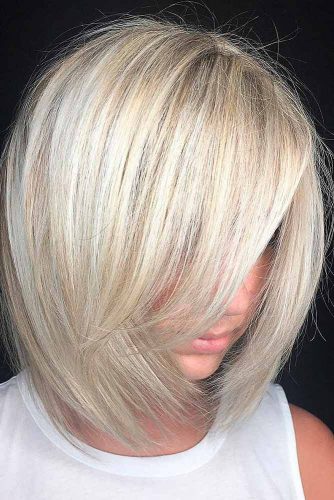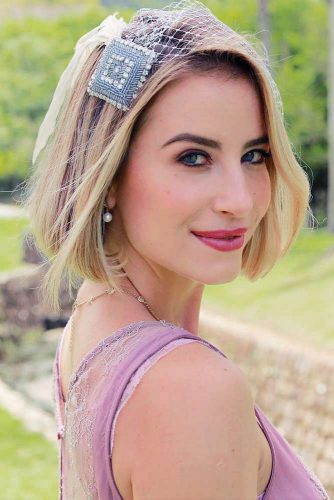 However, it will look good only if your hair is thick. At first, your stylist should dye your hair in neutral blonde. Then he or she should blend sea-green and purple shades over it to achieve an exceptional 3-D effect.
If your hair is blond, your face is round, and you have a medium bob hairstyle, then it is possible to make your look fantastic by making your hair wavy. The roundness of your forehead should be cut, and an asymmetric curve will definitely help you. Also, you might consider covering one of your cheeks at least a little. You will look awesome!


Short Hairstyles for Round Faces: Video Ideas
Source:
Glaminati.com