The nail art has been long developed and have already pleased fashionistas with so great number of interesting and extraordinary designs, that new nail artists' ideas should have dried up. However, each season gives us new surprises, and winter 2023 is no exception.  On the one hand, it is associated with cold and long nature's sleep. On the other hand, it is time for festive holidays and celebration, so stylish winter nail designs 2023 are notable for great diversity.
Fashion Winter Nails Trends For 2023
The year 2023 continues its predecessor's traditions: it is notable for restraint, elegance, femininity and comfort.

The natural nail shape, e.g. oval or almond-shaped nails, short nails, extraordinary textures and distinctive color range is trendy.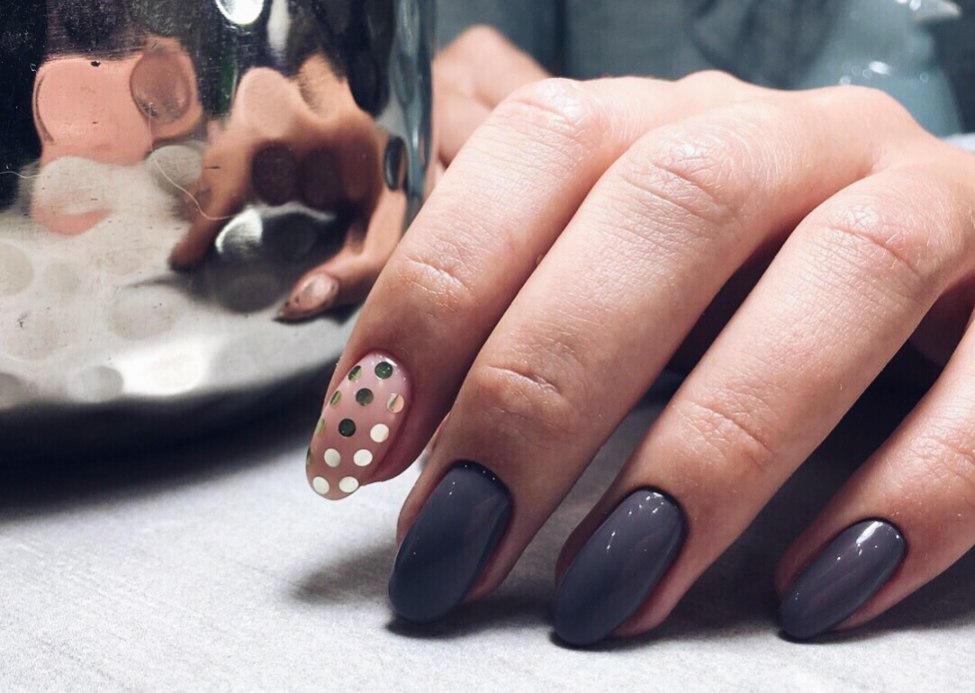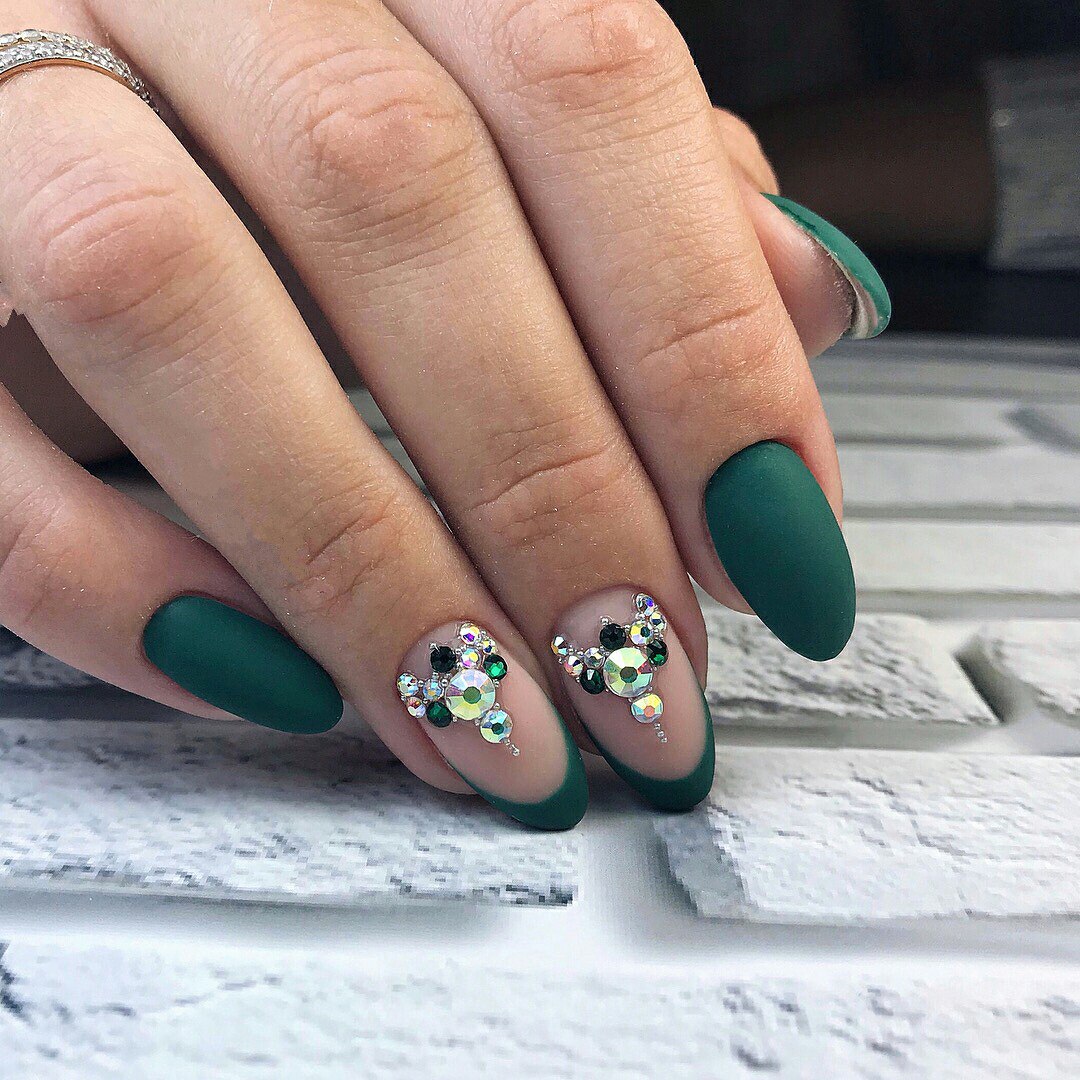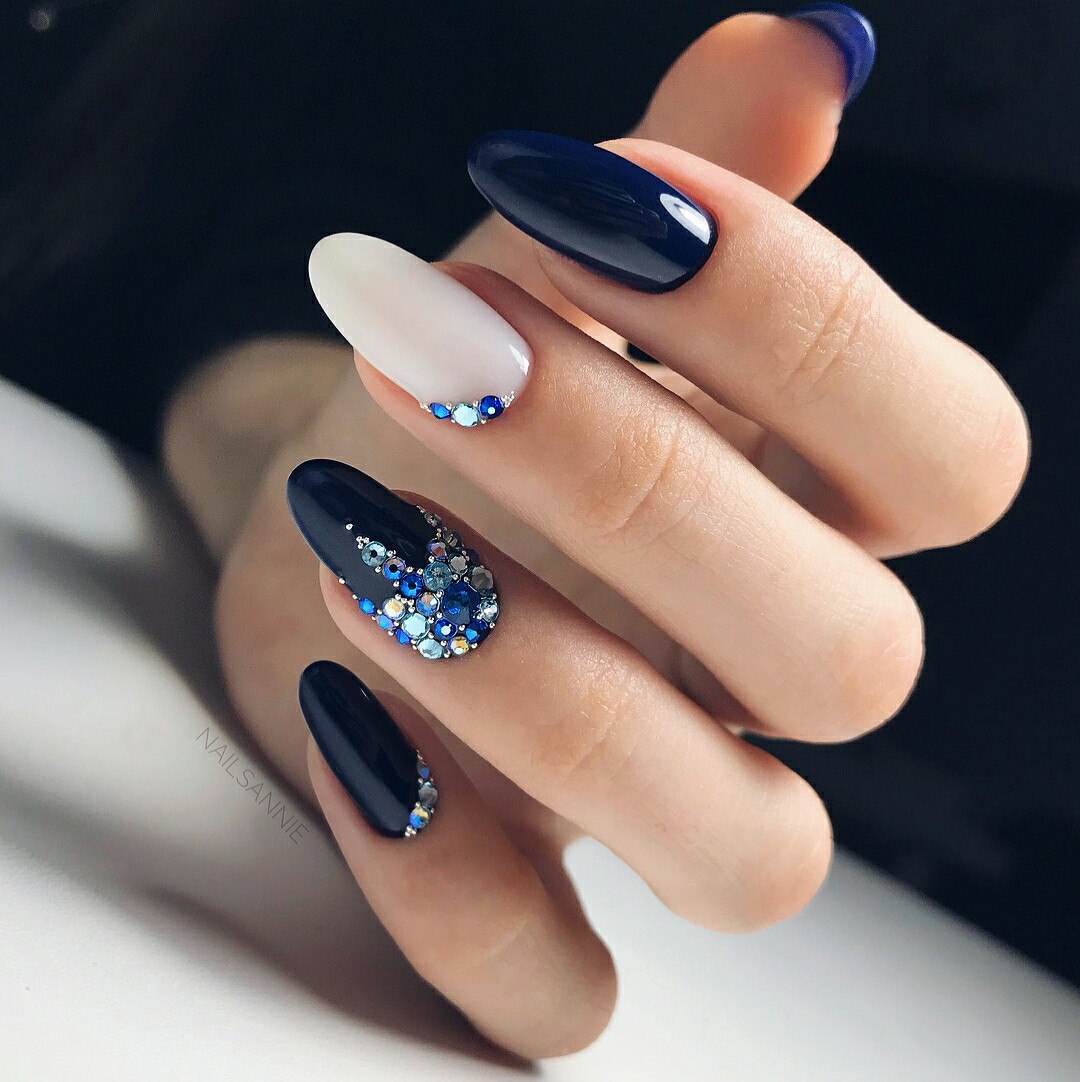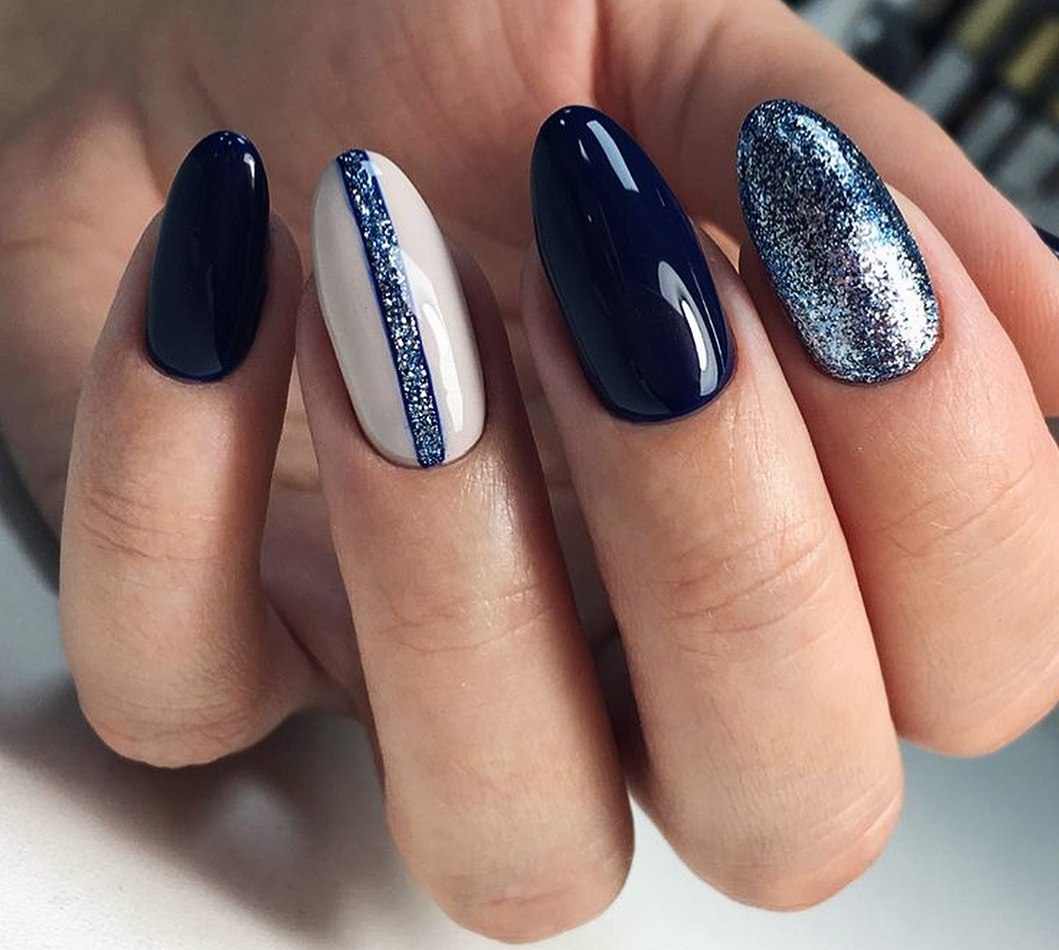 Unusual decorative elements are growing in popularity. Wire, kami fubuki (tiny sequins), holographic stickers and 3D appliques are in vogue.
Abstract strains resembling streaks of wonderful noble marble will leave anyone indifferent.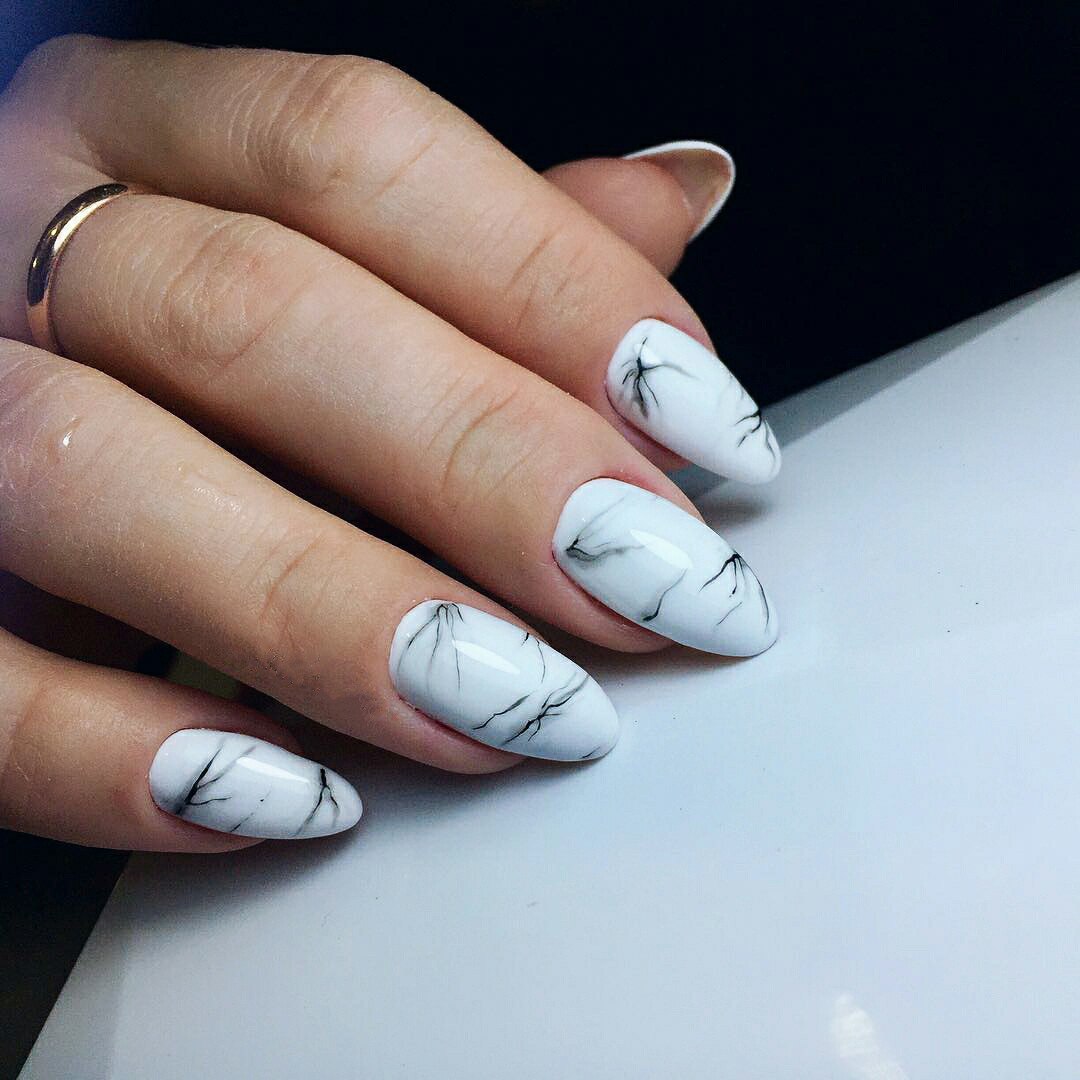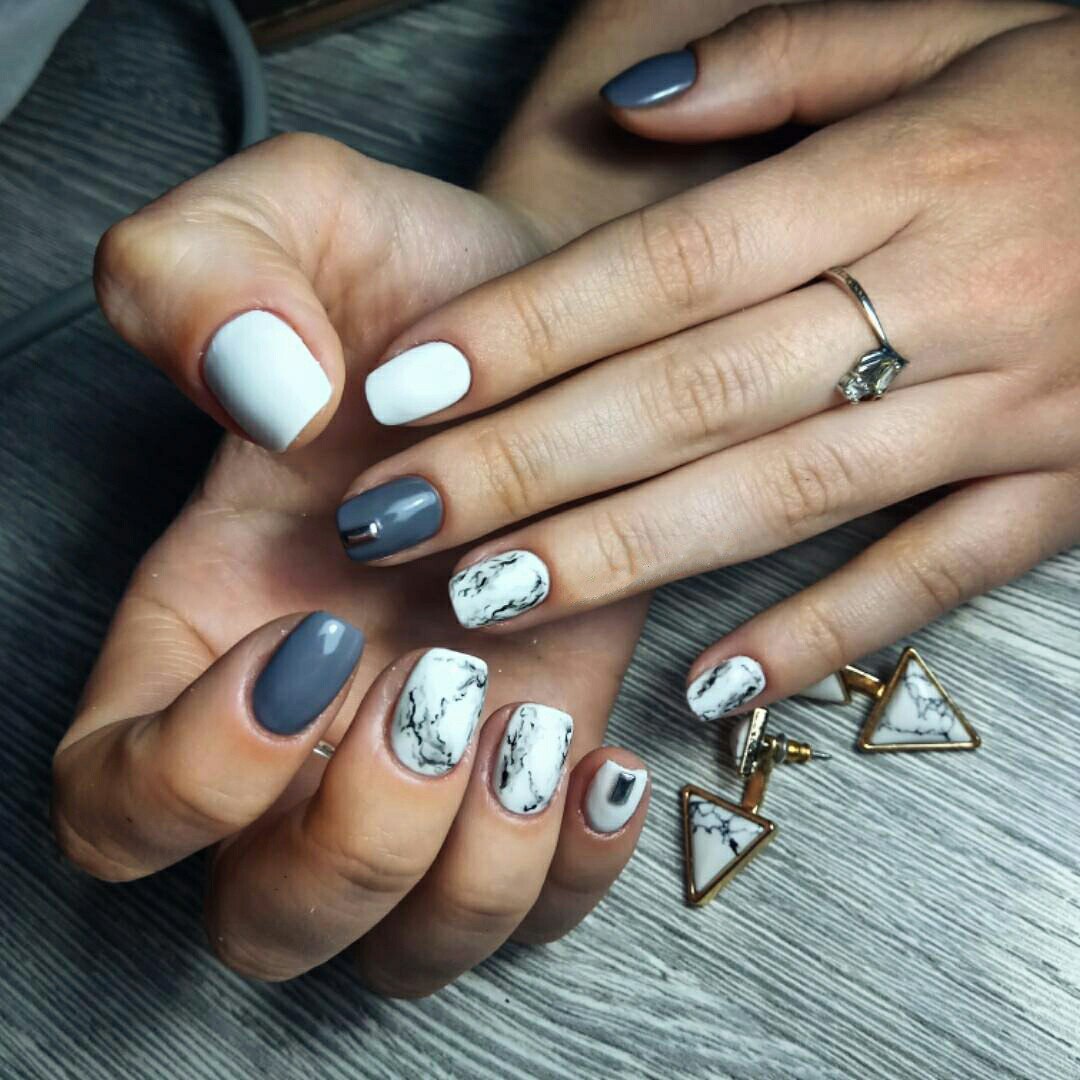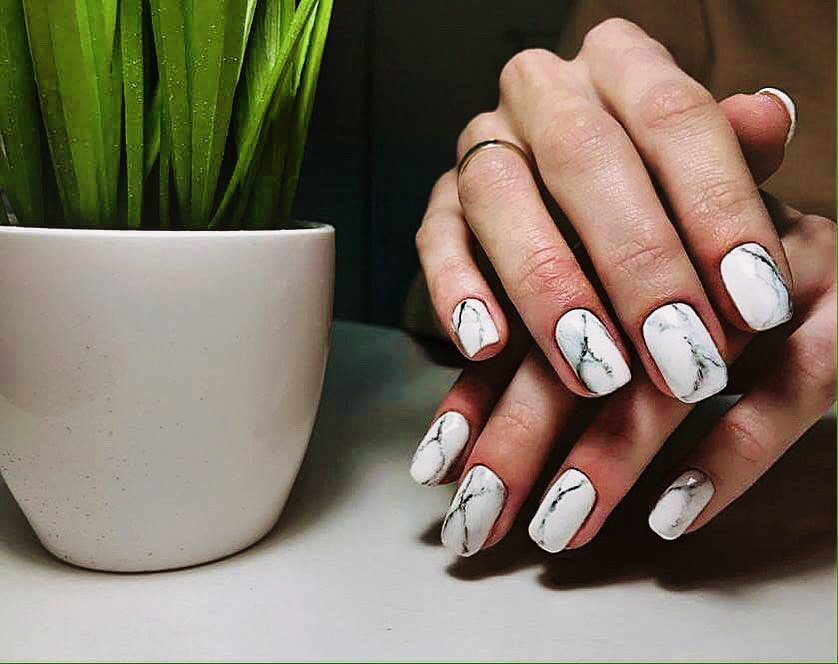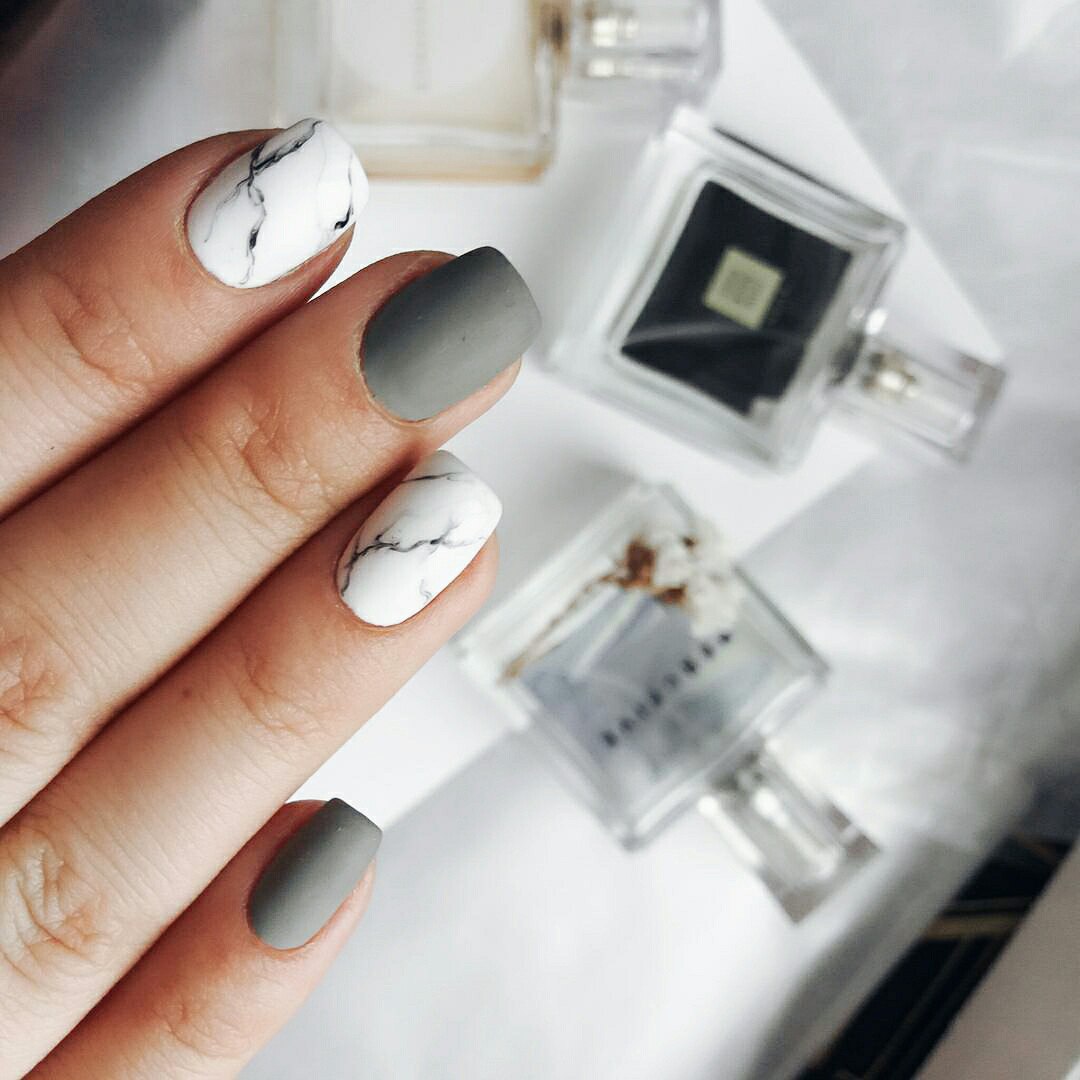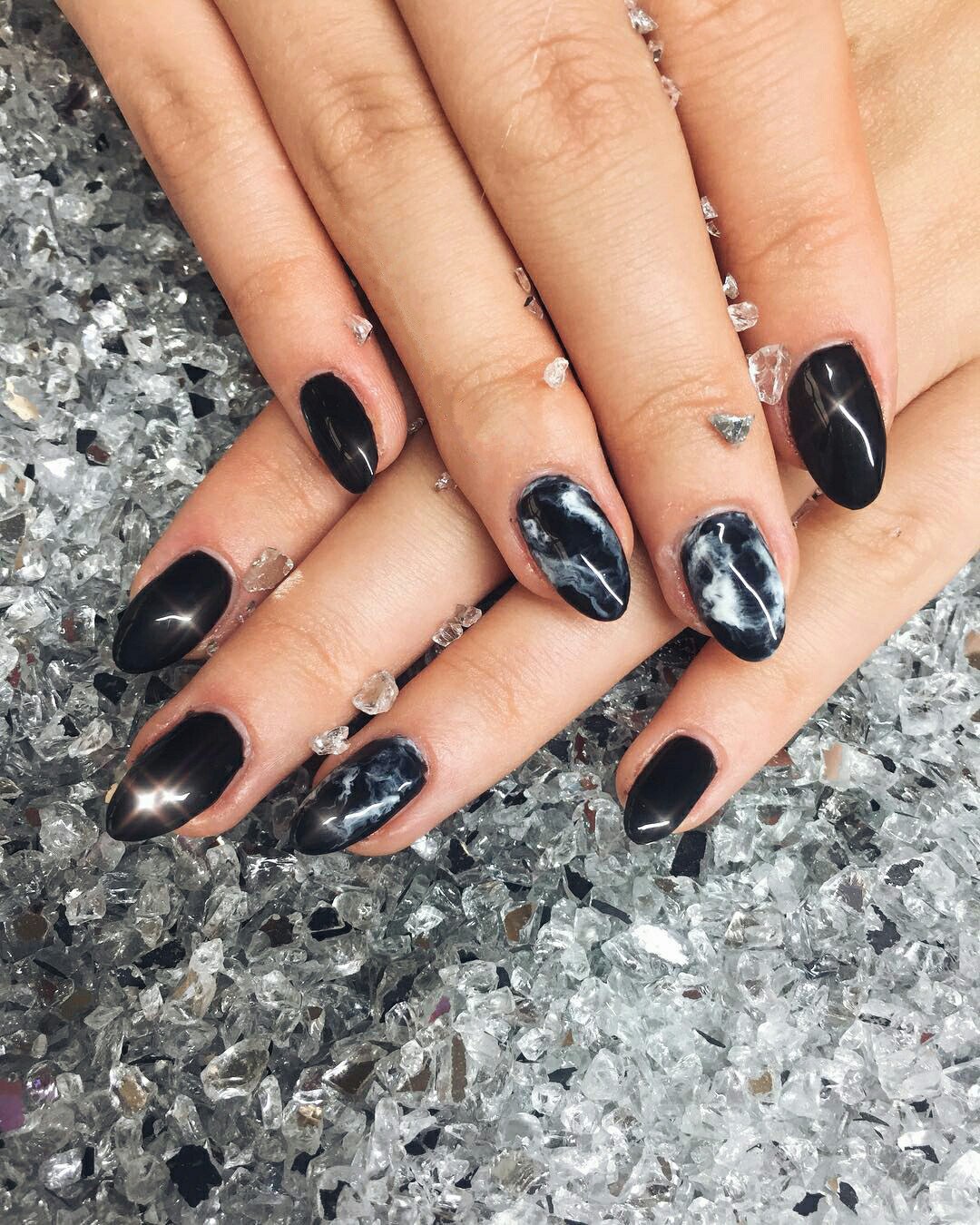 Different textures deserve to be noted. Combinations of matte and gloss surfaces or acrylic powder and sand can become a true highlight of the nail design.
Winter Nail Ideas for Your Best Manicure
Let's consider the hottest December nail art and design trends.
Easy Mirror Nail Designs For Winter
This design implies the use of polyether powder that is rubbed into the top gel layer, due to which you can get a perfect beautiful mirror surface. Depending on painting pigments and extent of the grind, powder can be mirror and shimmering. It can shine and change colors depending on lighting and viewing angle. No matter what you choose in winter, everything will suit.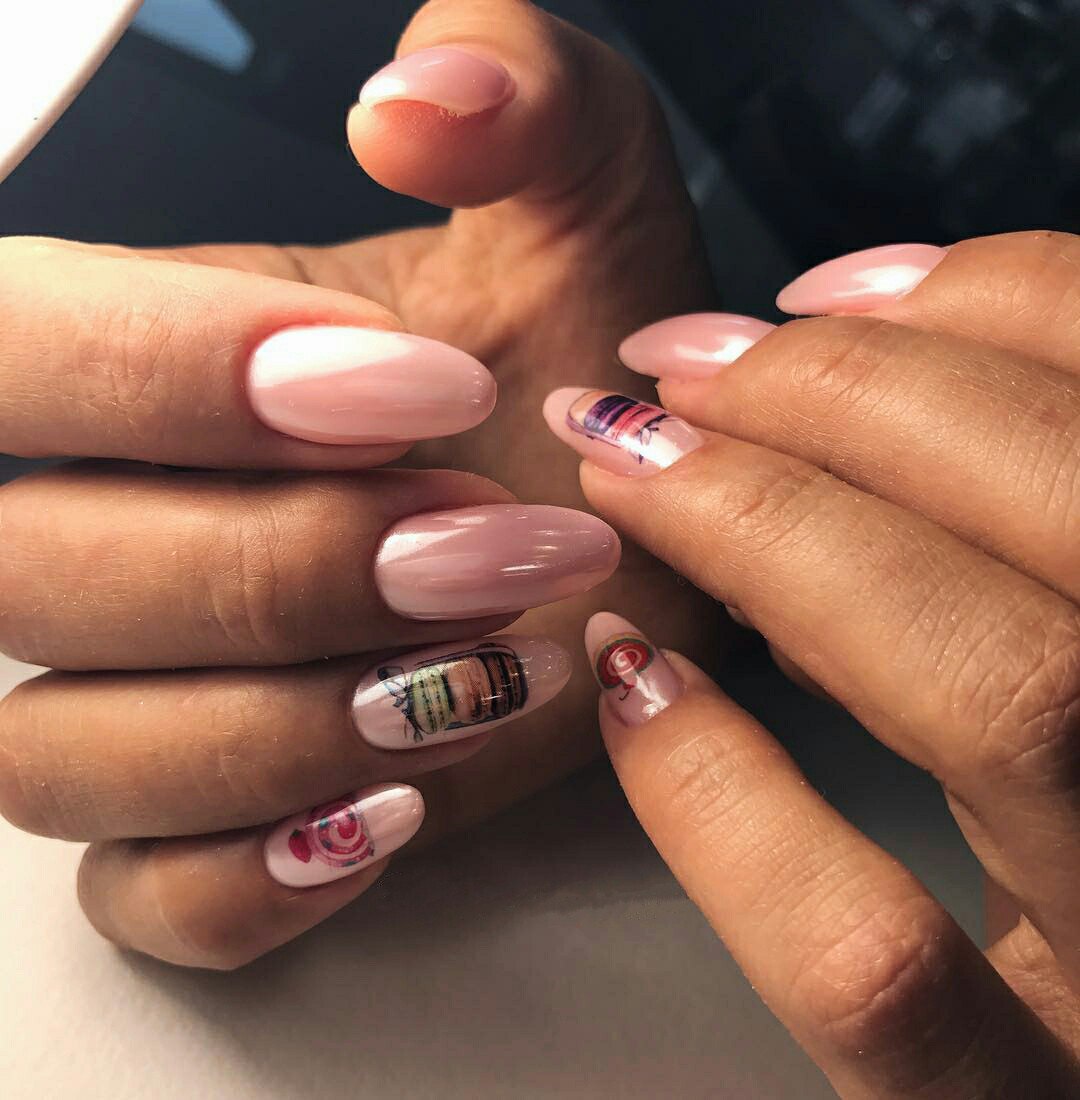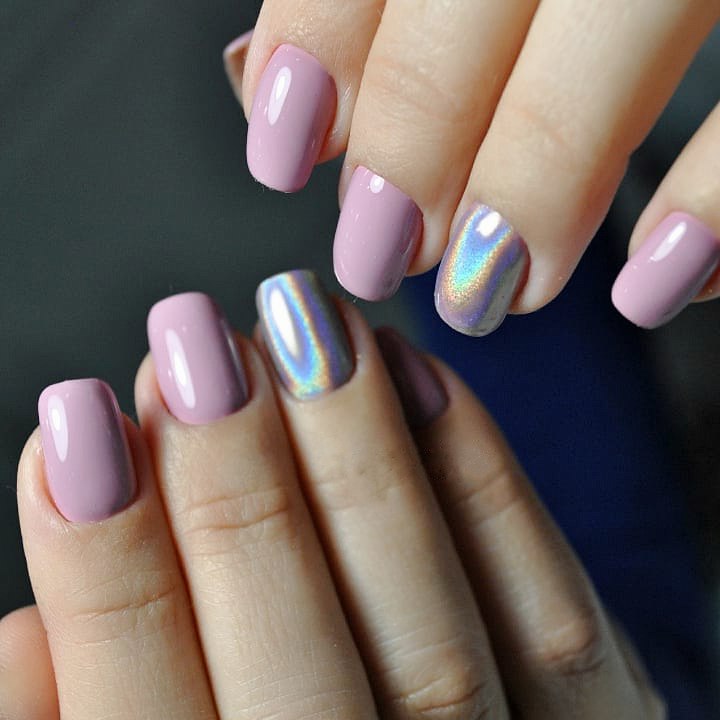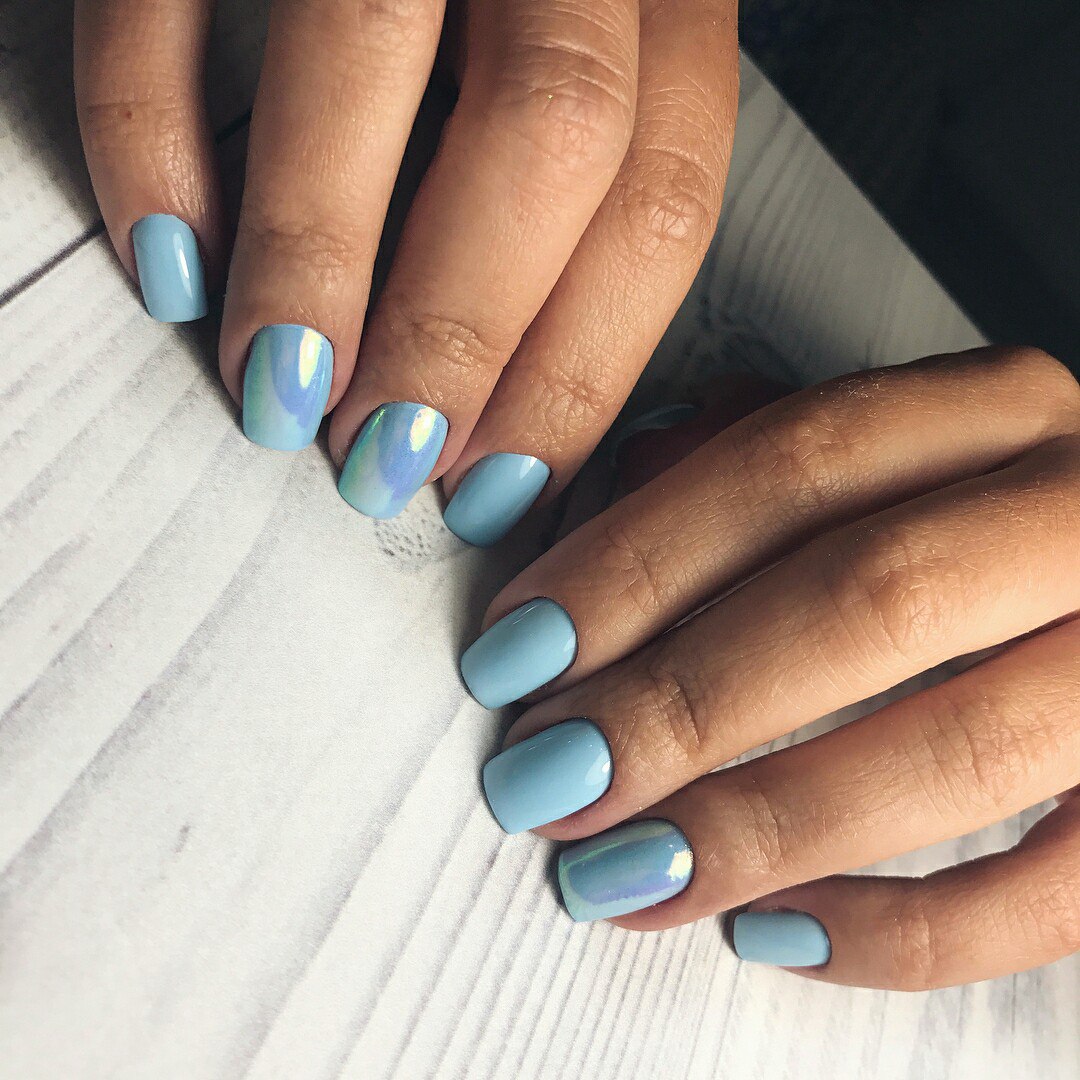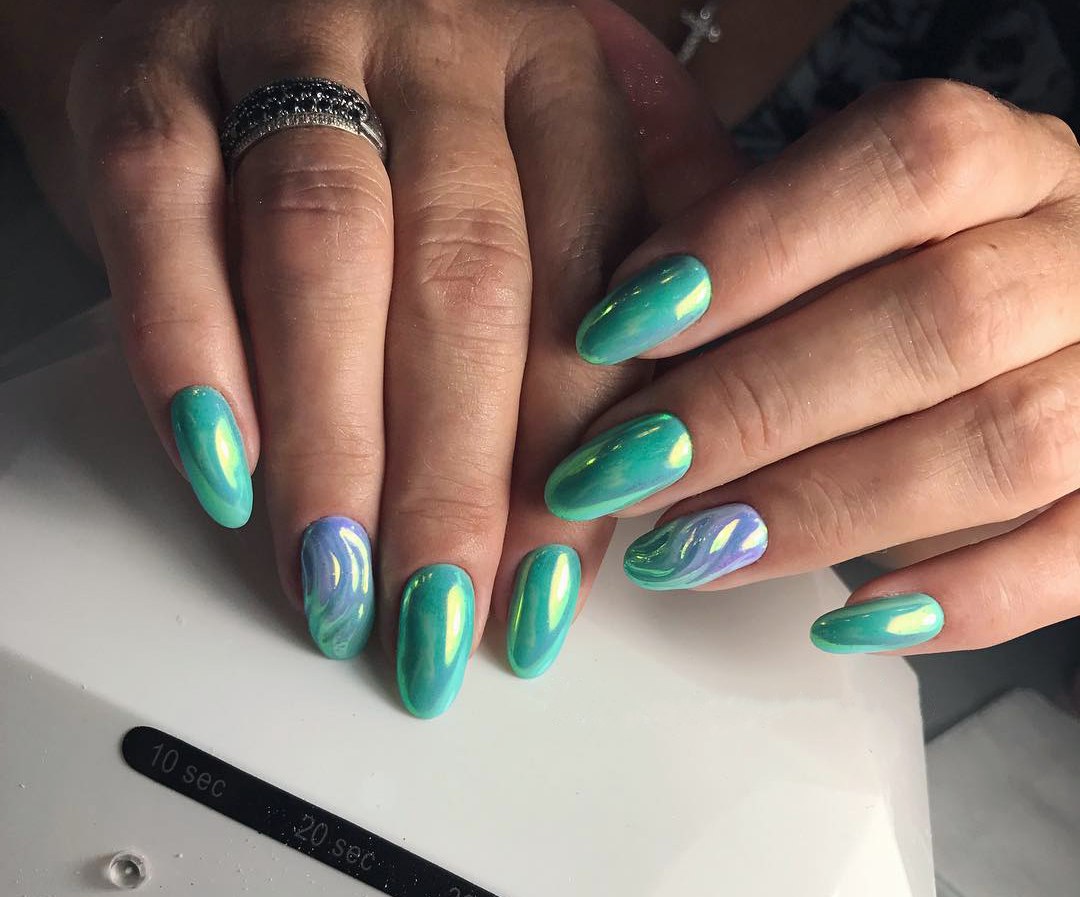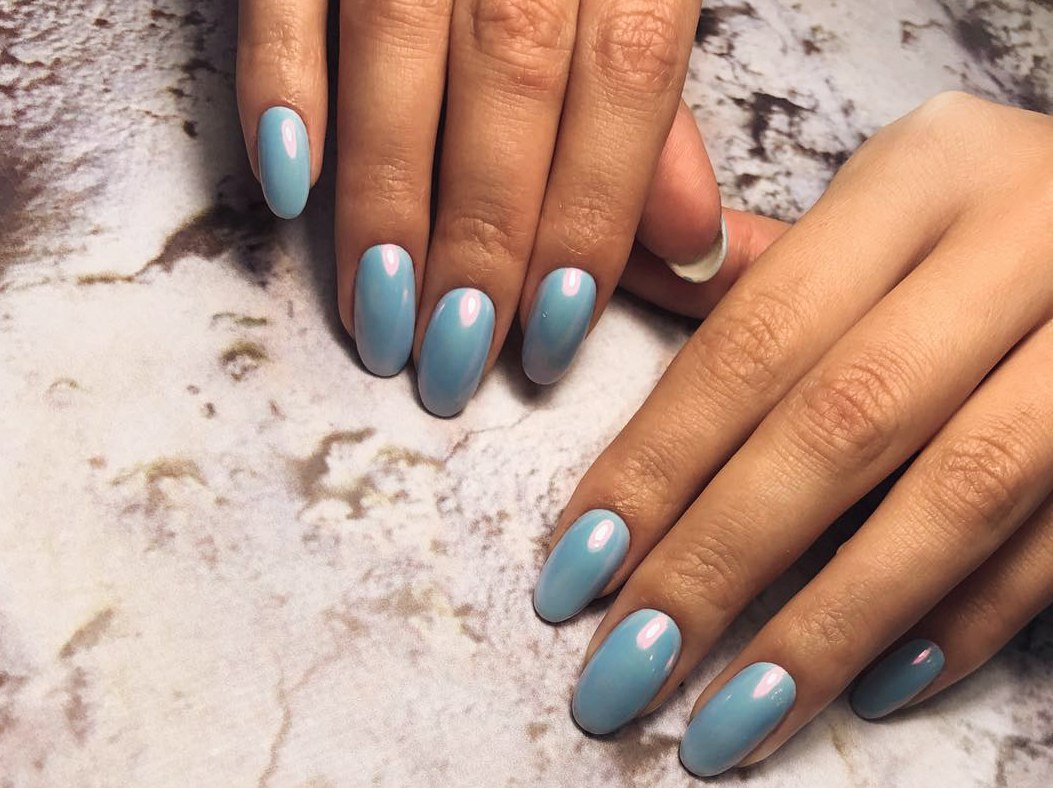 Mirror powder will look perfect without being combined with any elements, but if you wish, you can experiment.
The French design combined with mirror powder, matte nails with chromed edge or mirror surface with contrasting line of the "smile" can become a great idea and attract everyone's attention at Christmas or New Year Party.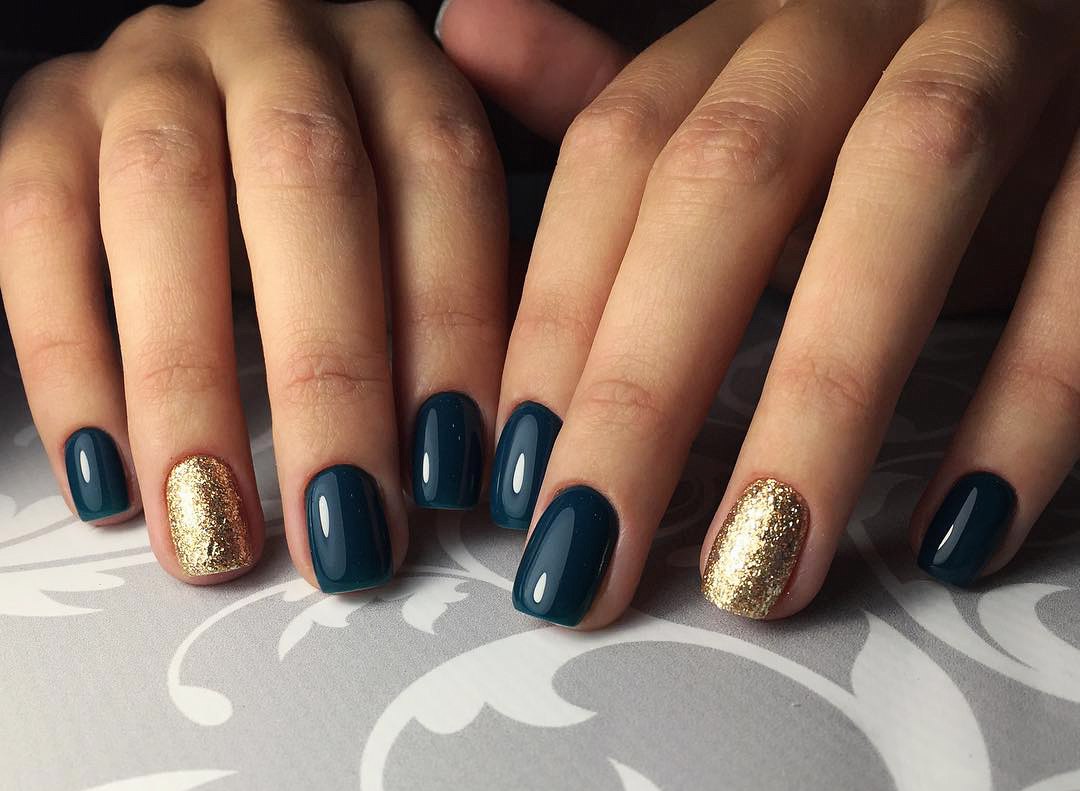 Use mirror powder as a main element as you can emphasize particular fingers or cover only a part of the nail with it.
Foil, mica. This is another way to make your nails shine and sparkle without destroying the elegance and style.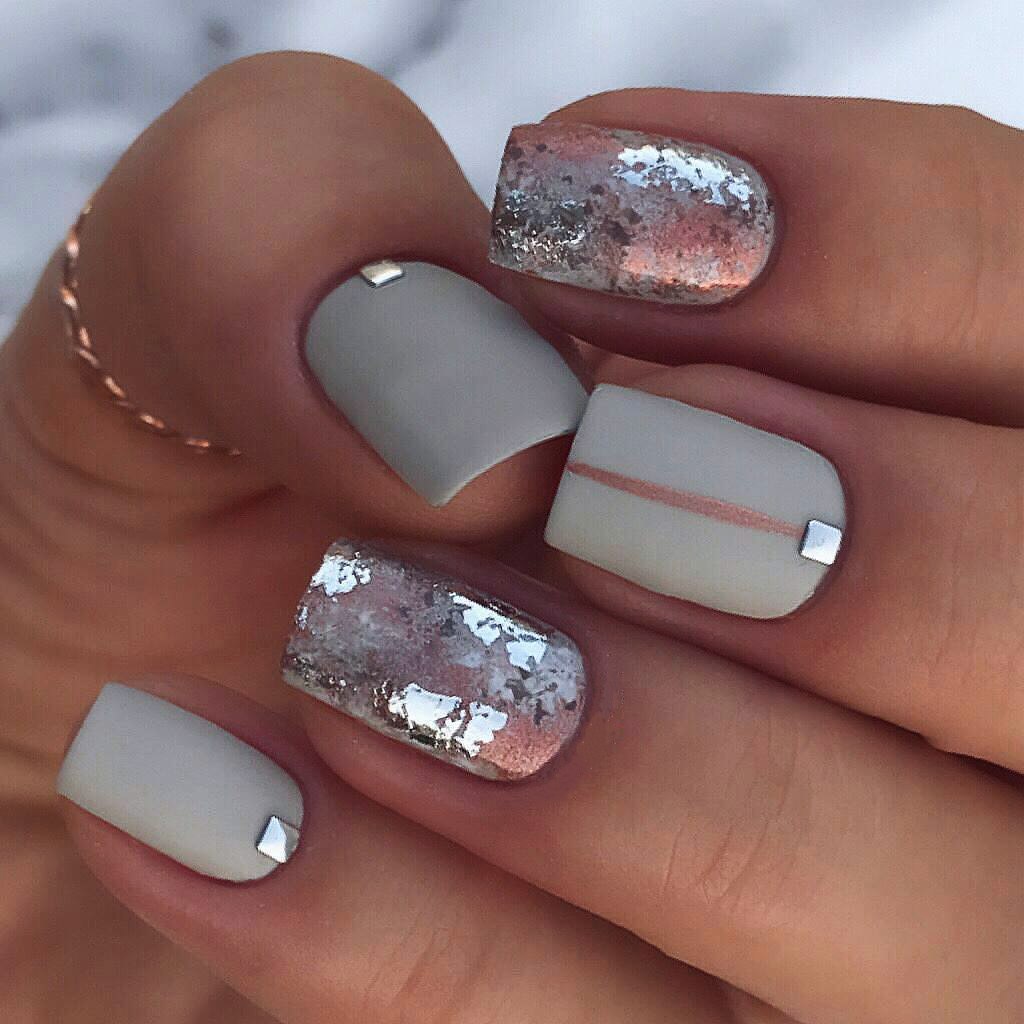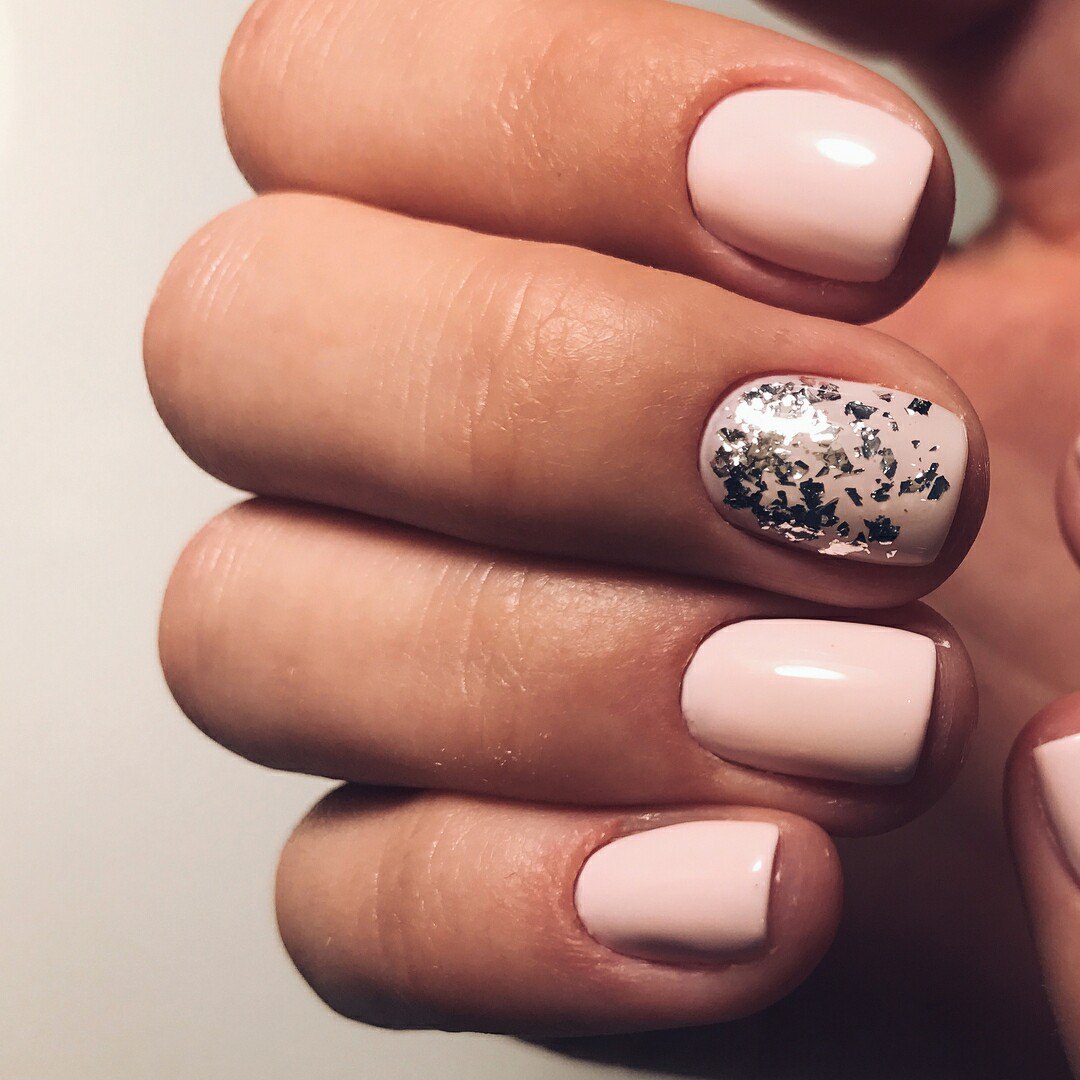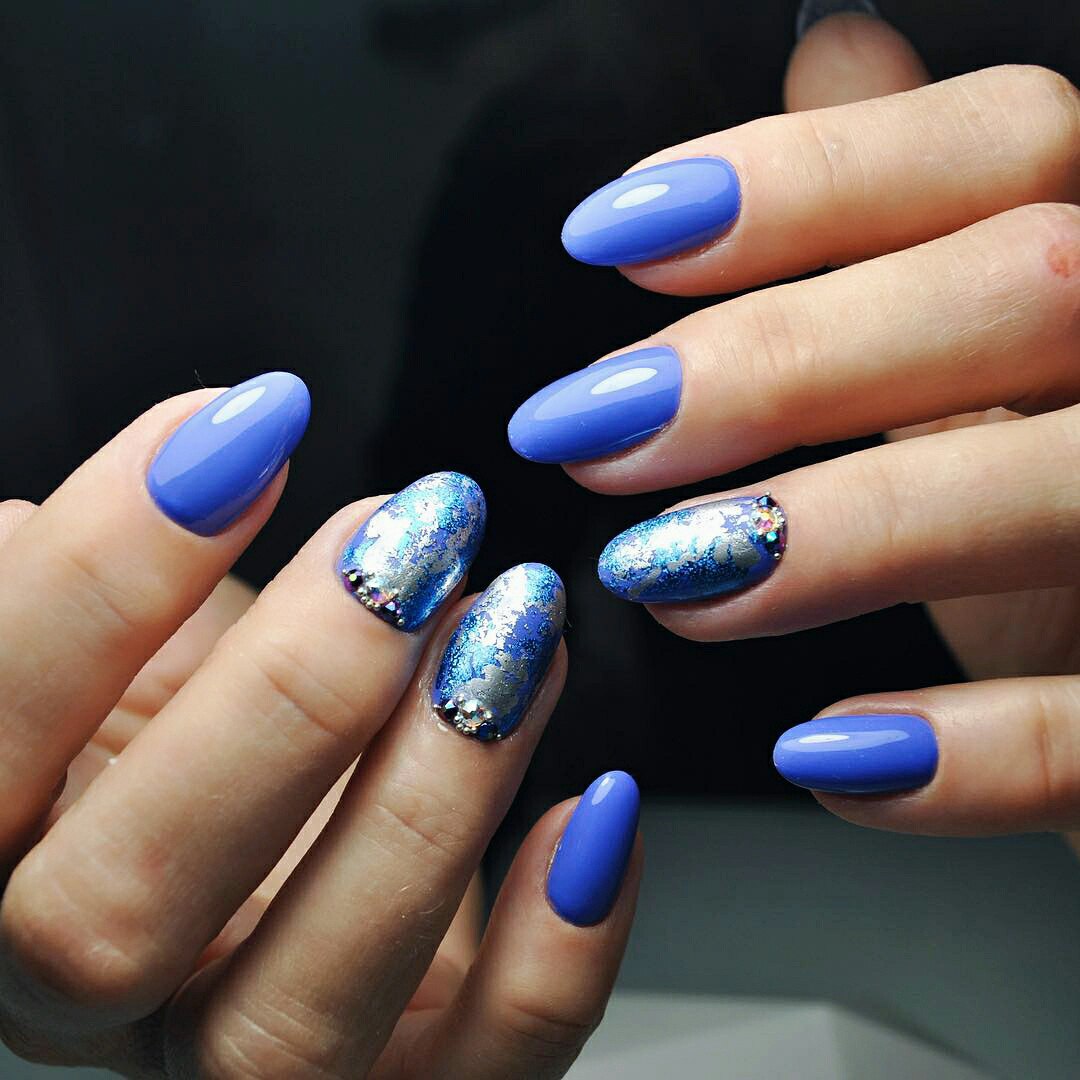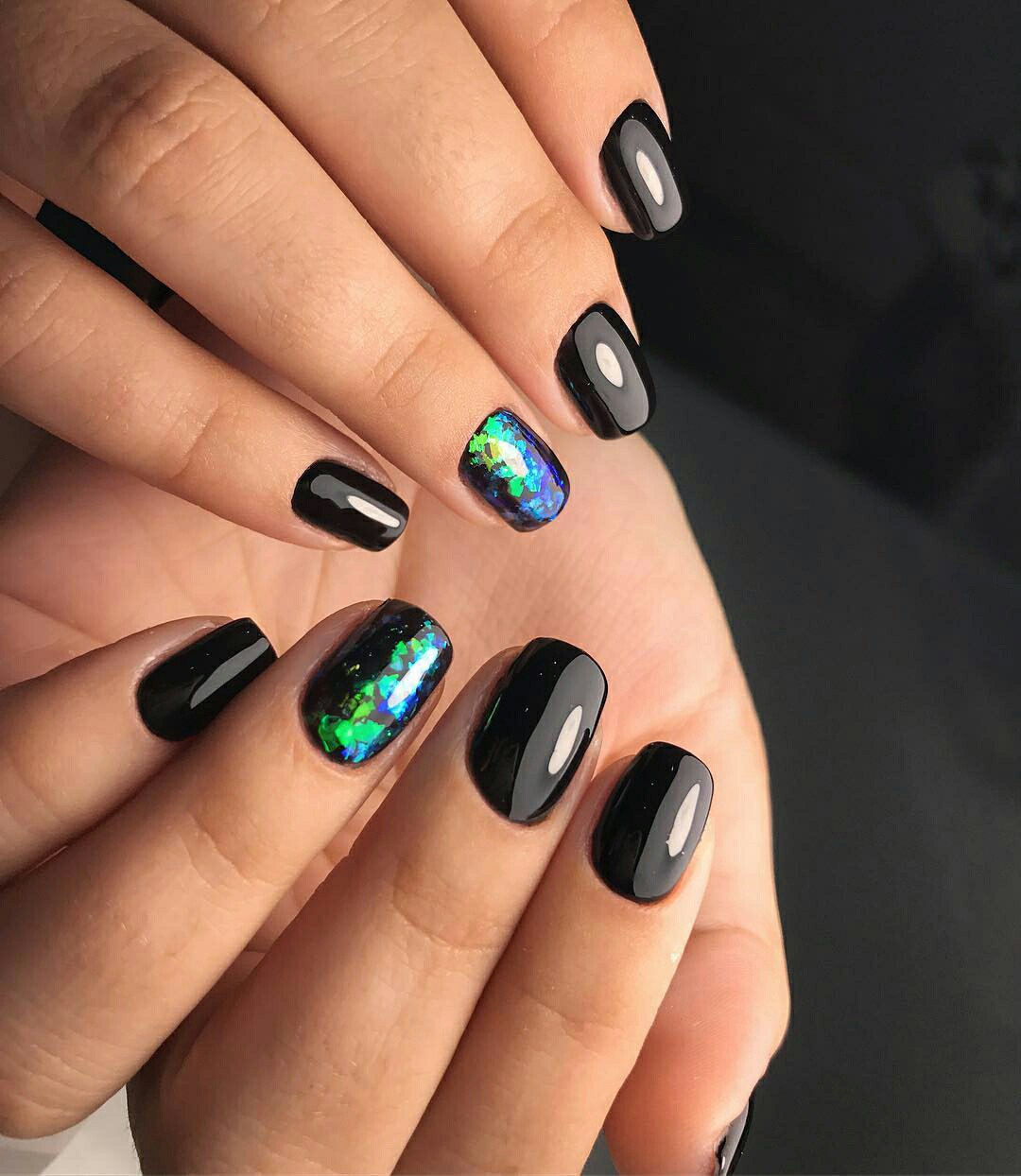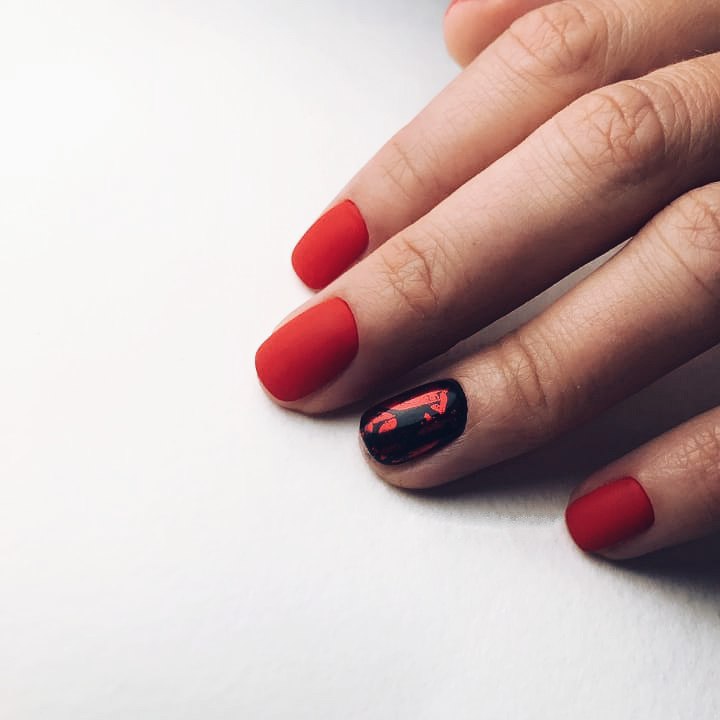 Pieces of holographic cellophane and foil applying on the nail surface in random order will create an effect of broken glass that has been popular for many seasons. Nail designs for January will be even more suitable as silver and blue foil looks like ice pieces and golden foil provokes memories of festive fireworks and champagne splashes.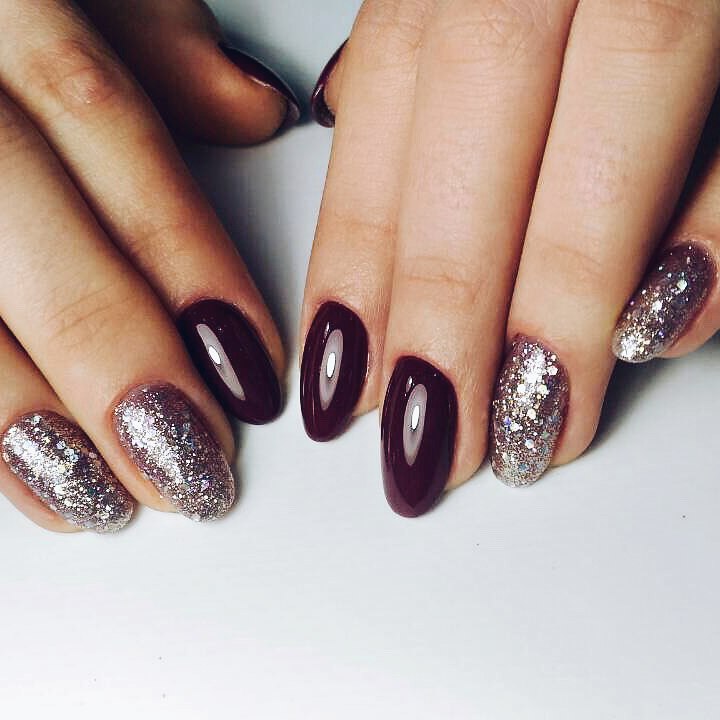 Foil can be distributed along the nail surface or can cover only its part. Try to cut different geometric figures out of foil or create smooth abstract twists.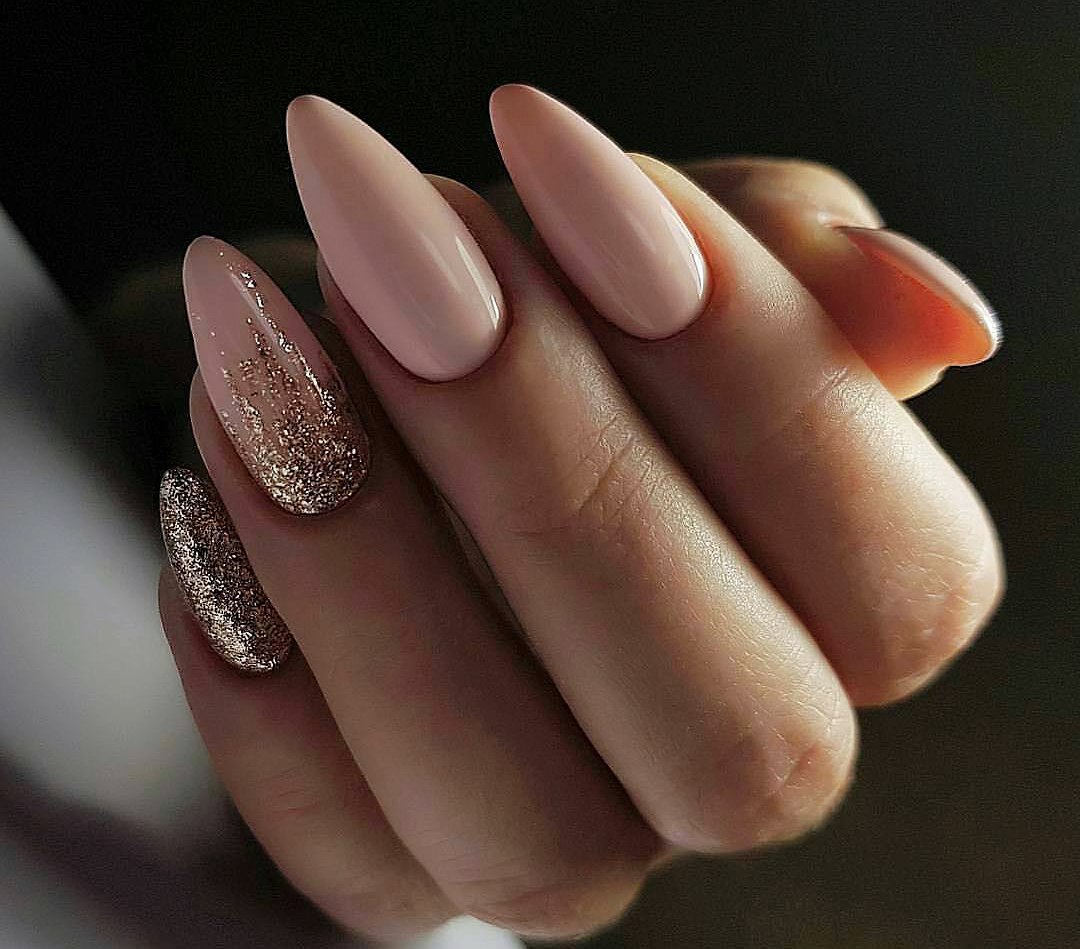 Simply put, mica is ground foil. Winter manicure mica resembles natural semi-transparent material with its properties and its structure creates inbelievably beautiful play of light.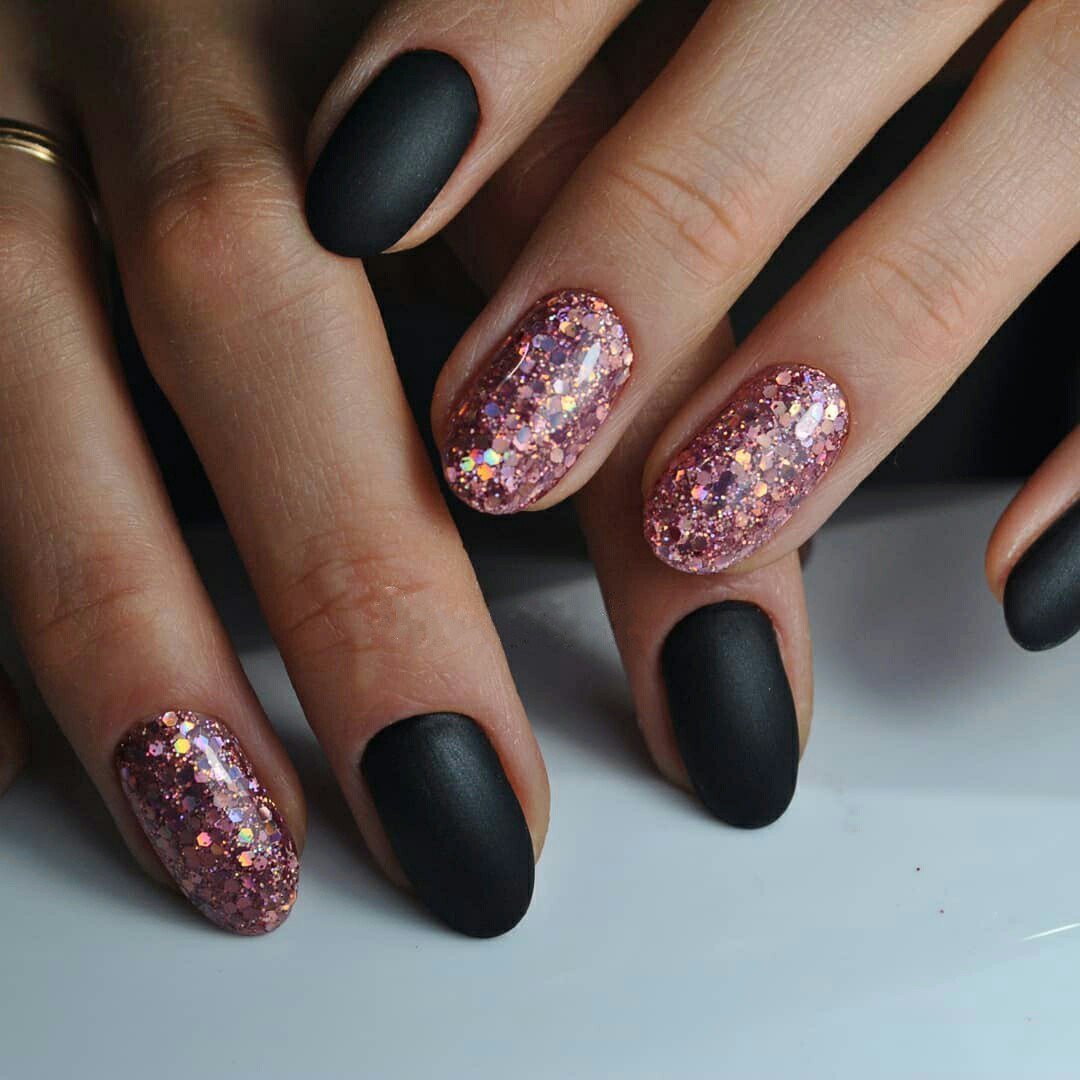 Golden and silver transitions are the most popular options. They perfectly suit winter motifs but in winter 2023 other colors are also of demand. Gentle pink, purple, peach-colored transitions can be an important part of both festive and everyday nail design.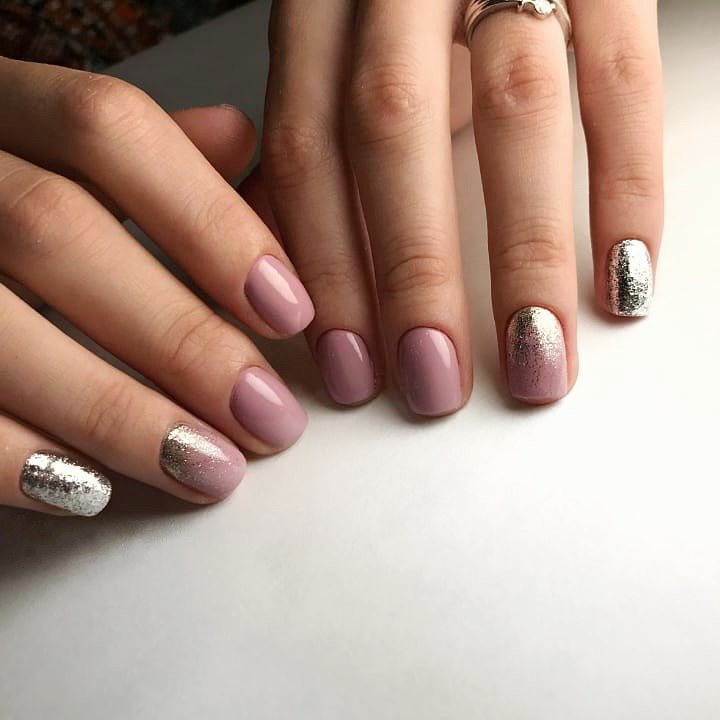 You can cover the whole nails with mica or draw simple patterns, for example, vertical lines or long sharp triangles that can visually lengthen the nail plate and make it more elegant.
The Best Winter Color For Nails
Winter nail designs are notable for a wide color range.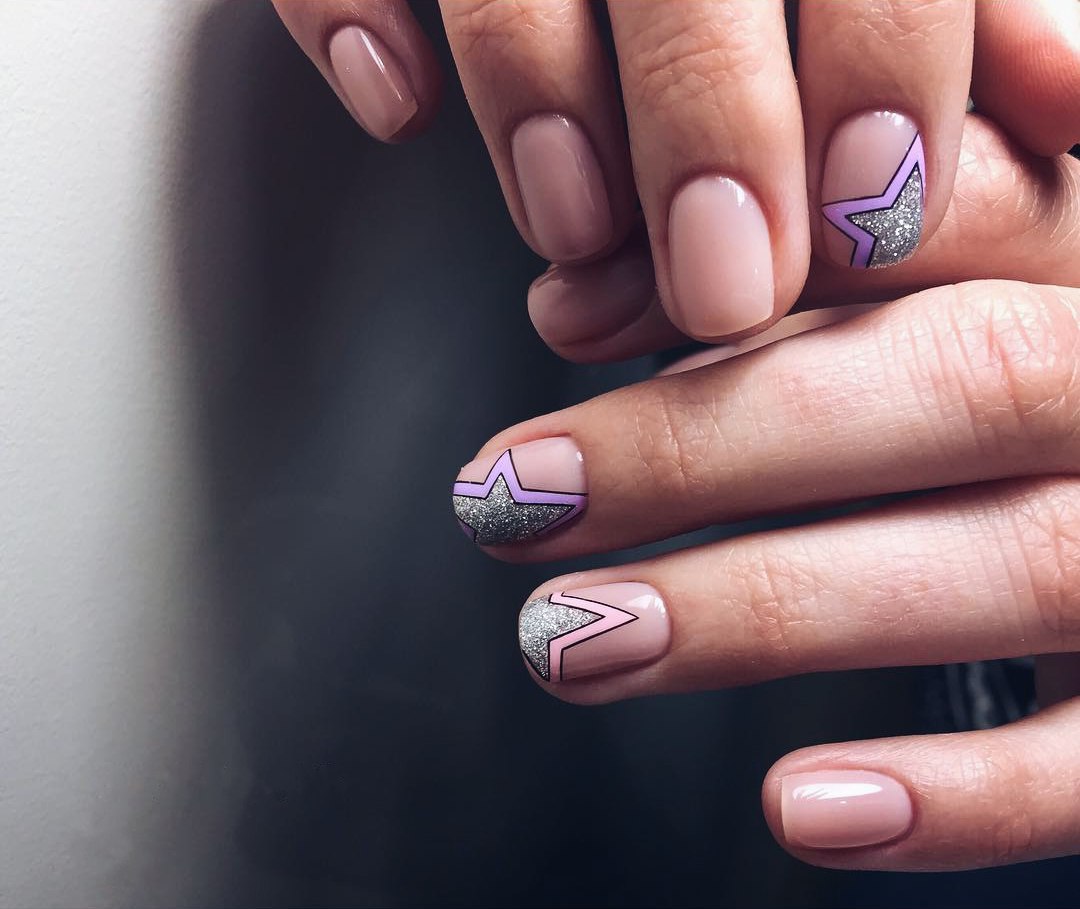 All blue and grey shades, pastel colors, white pallette and other will be good choice for cute winter nail colors.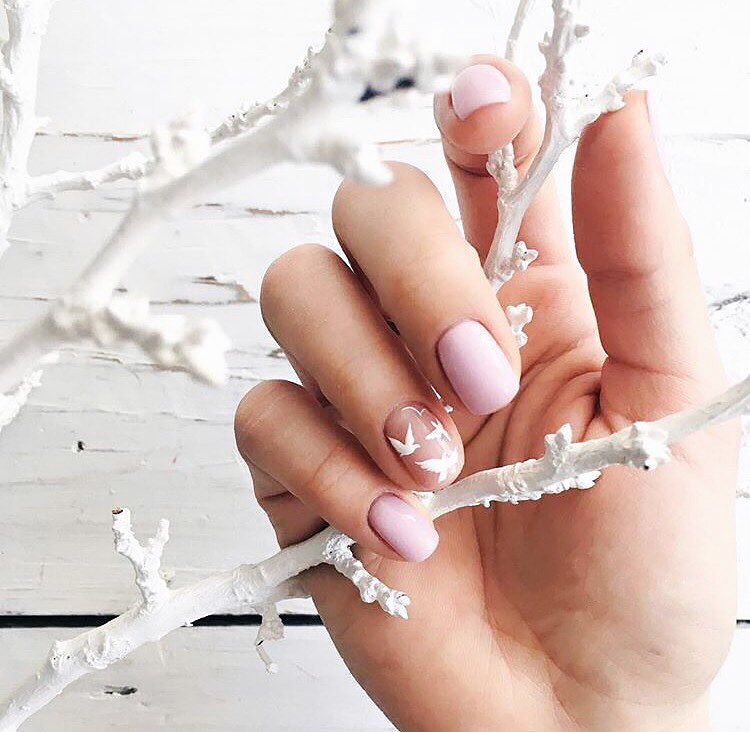 Those fashionistas who miss summer days can choose dark rich colors that will warm them on cold days. Pay attention to wine, chocolate, Marsala and cognac colors.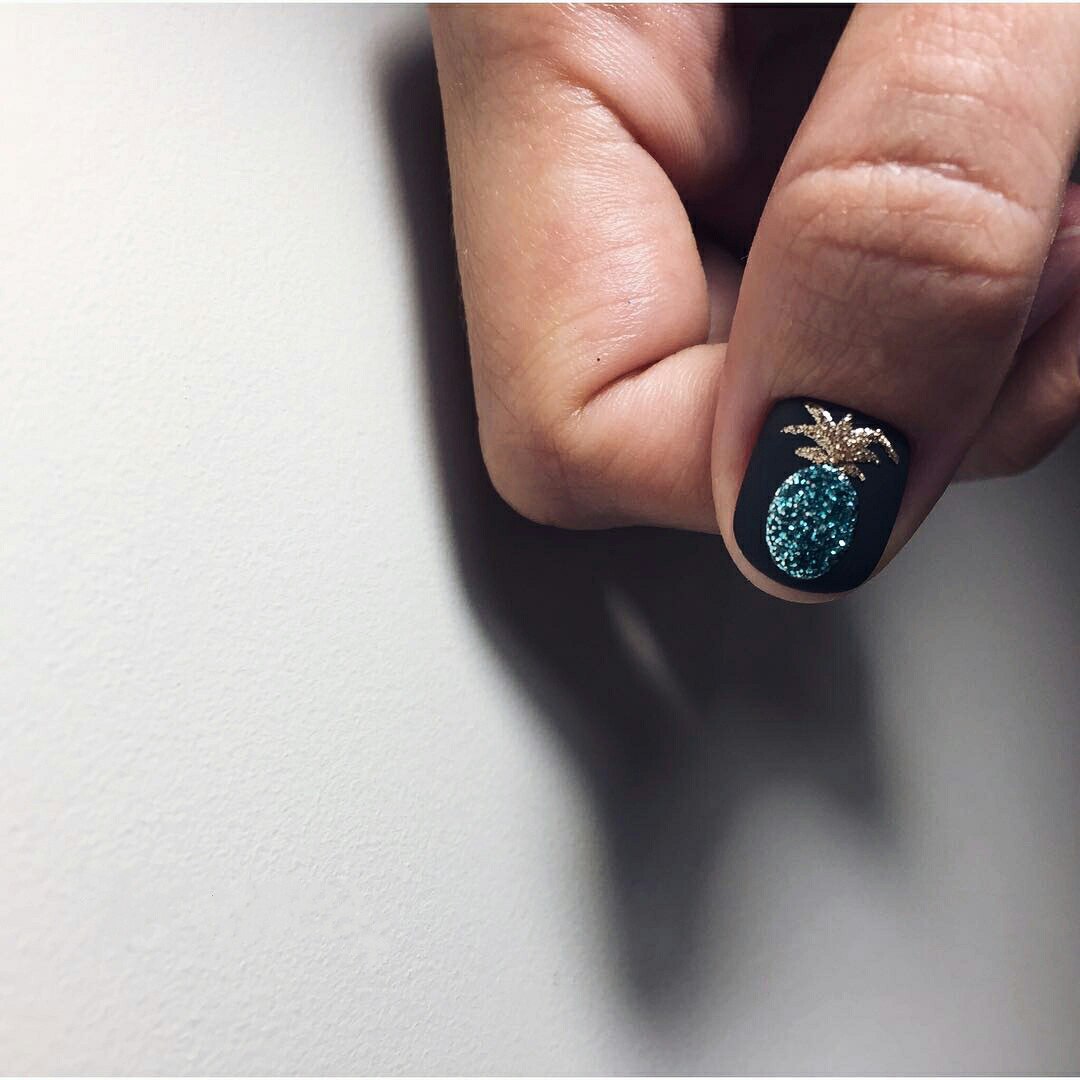 The classical combination of green and yellow will always be the best combination for thematic Christmas manicure.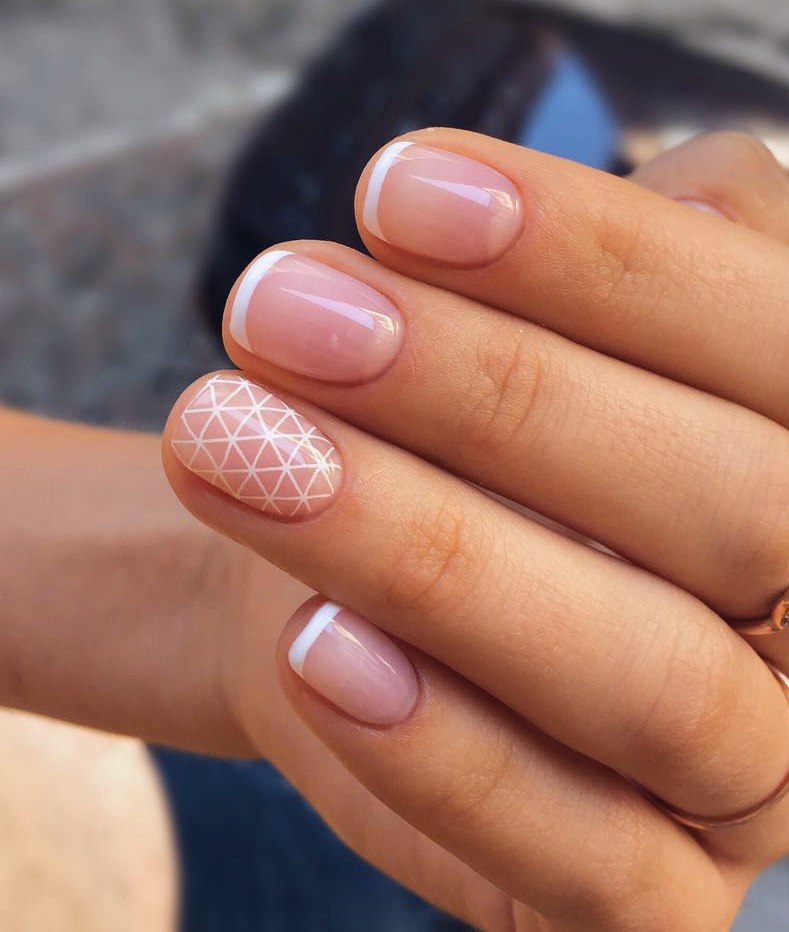 Silver and gold will be in fashion. Combined with pastel shades, they will become an integral part of elegant and gentle nail design that can suit any situation. The combination of black and golden or black and silver will be a worthy complement to the evening dress.
Matte Winter Nail Art and Design
Noble matte surface won't lose its ground this winter and, conversely, will take the highest positions in the rank of the fashion nail trends.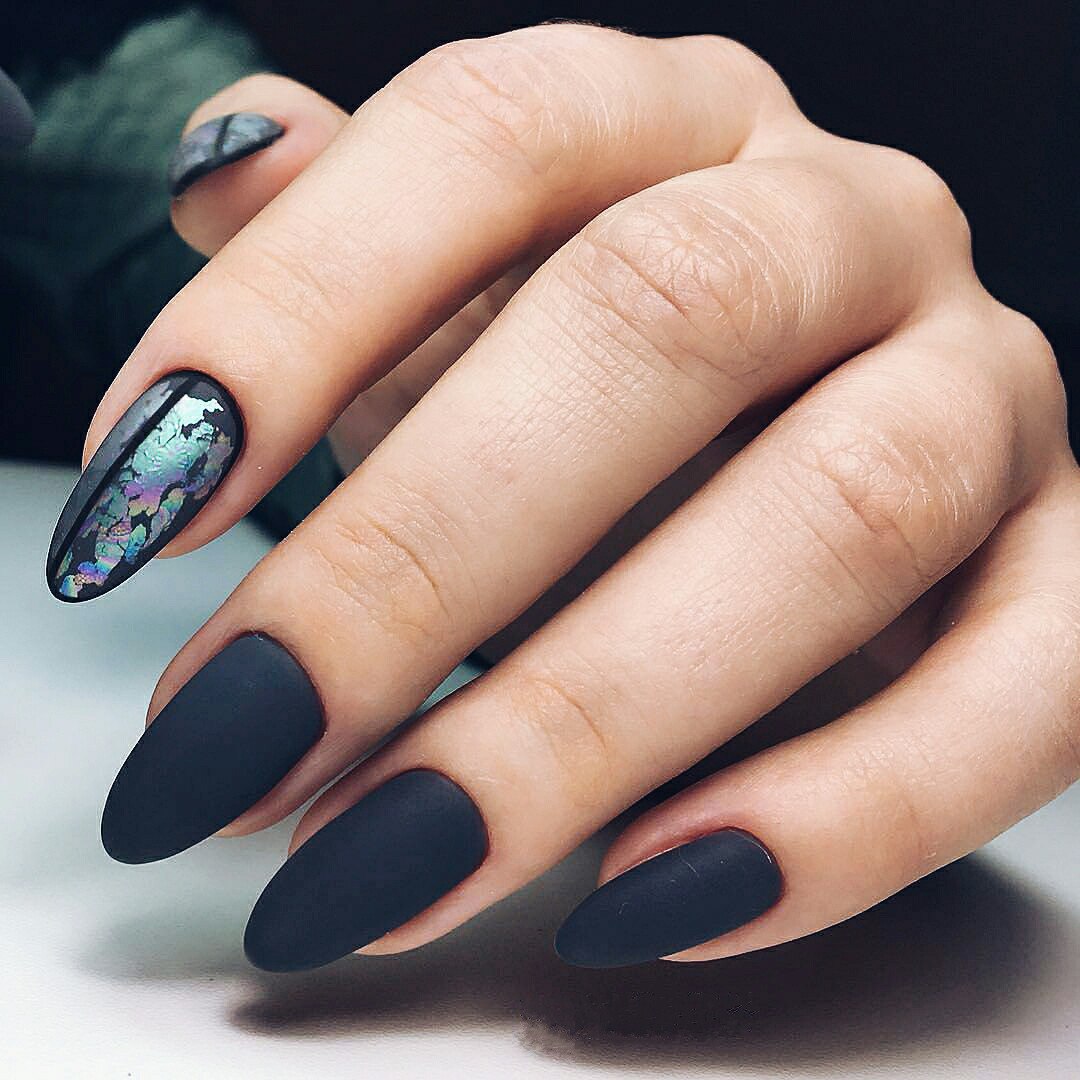 Somewhere matte manicure was performed only in dark colors as it was stated that it looks more advantageous this way. But this pretty winter nail colors (lilac, pale pink, lavender, light blue, peachy, baked milk, ivory and white) take the first position in the rank.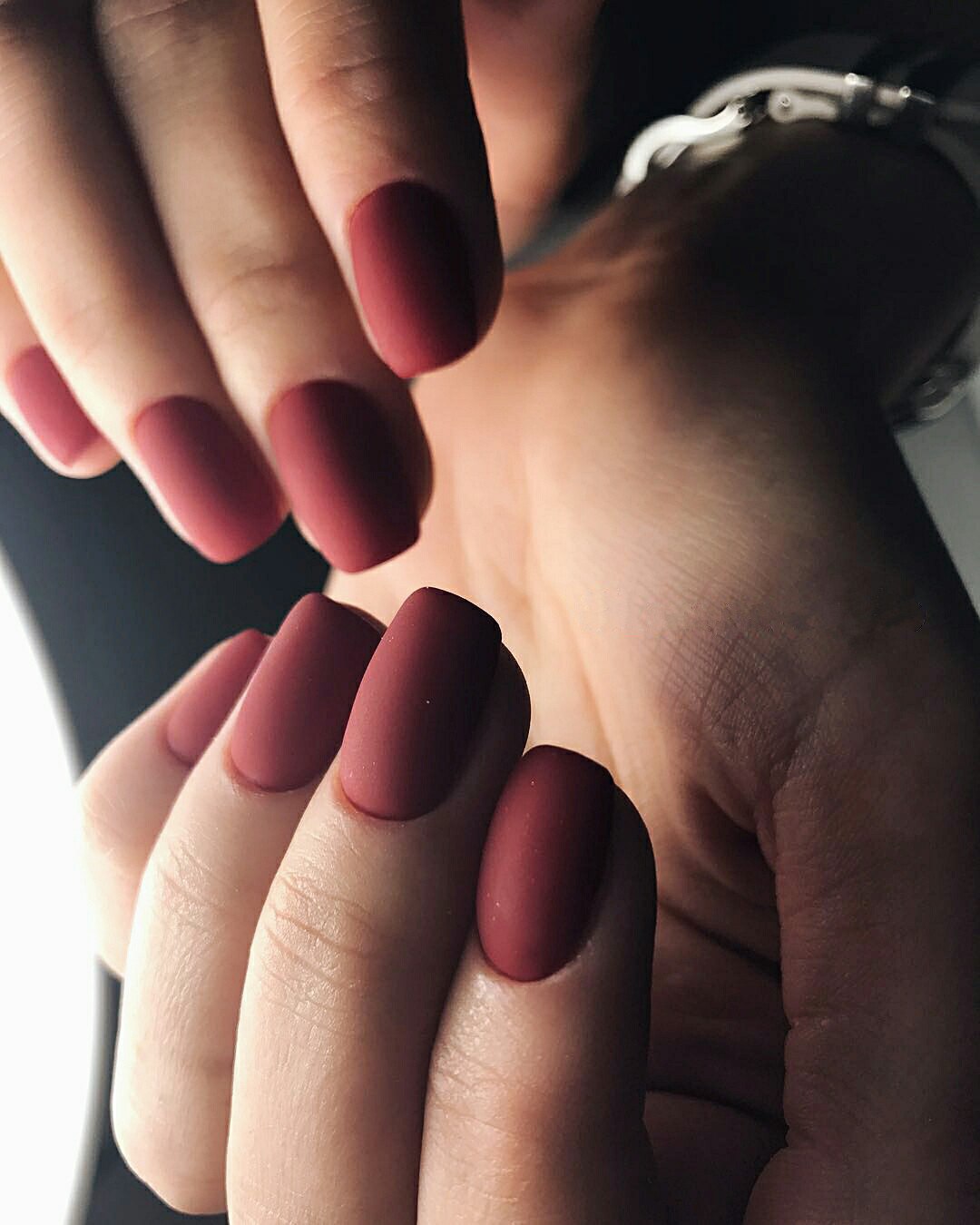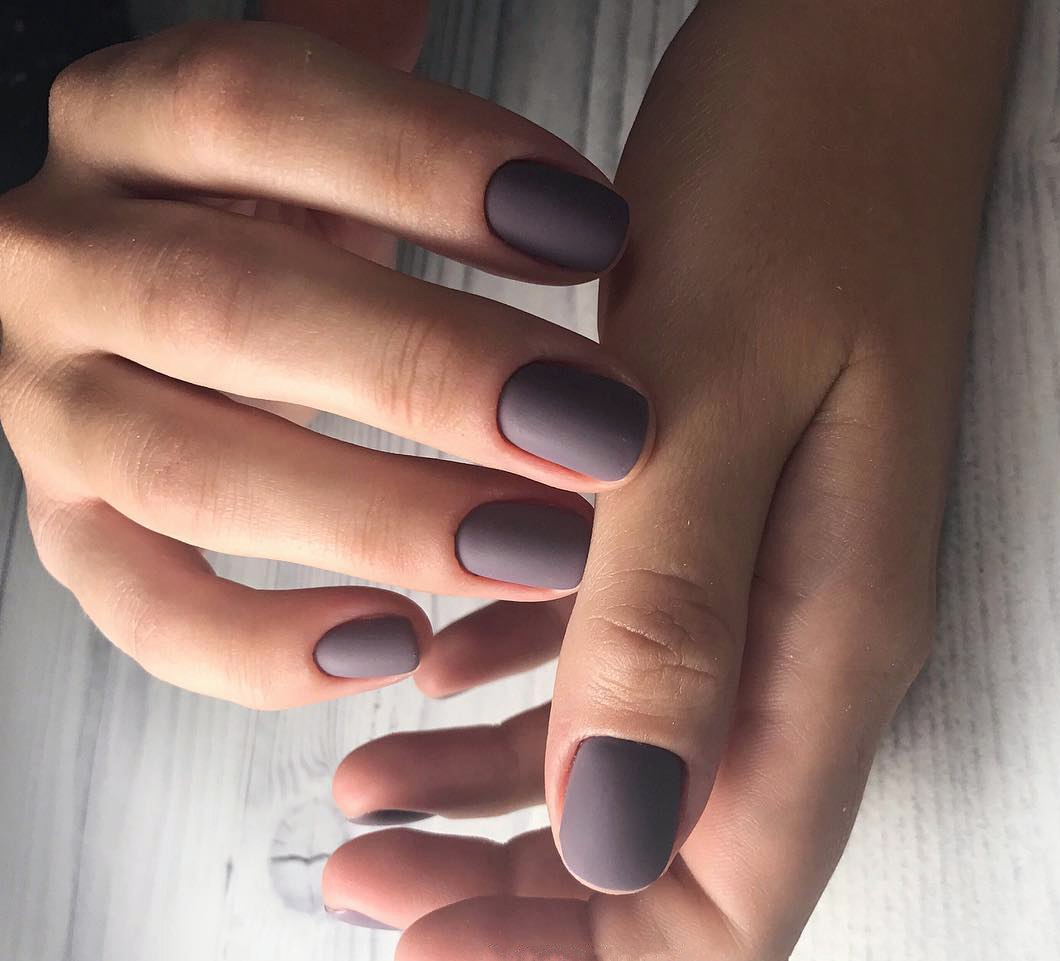 The contrasting gloss will strengthen the velvet effect. Use your imagination and do what you want: make some nails gloss, other – matte or, on the contrary, create the gloss and matte Grech design or paint gloss images on the matter nails. It is only up to you.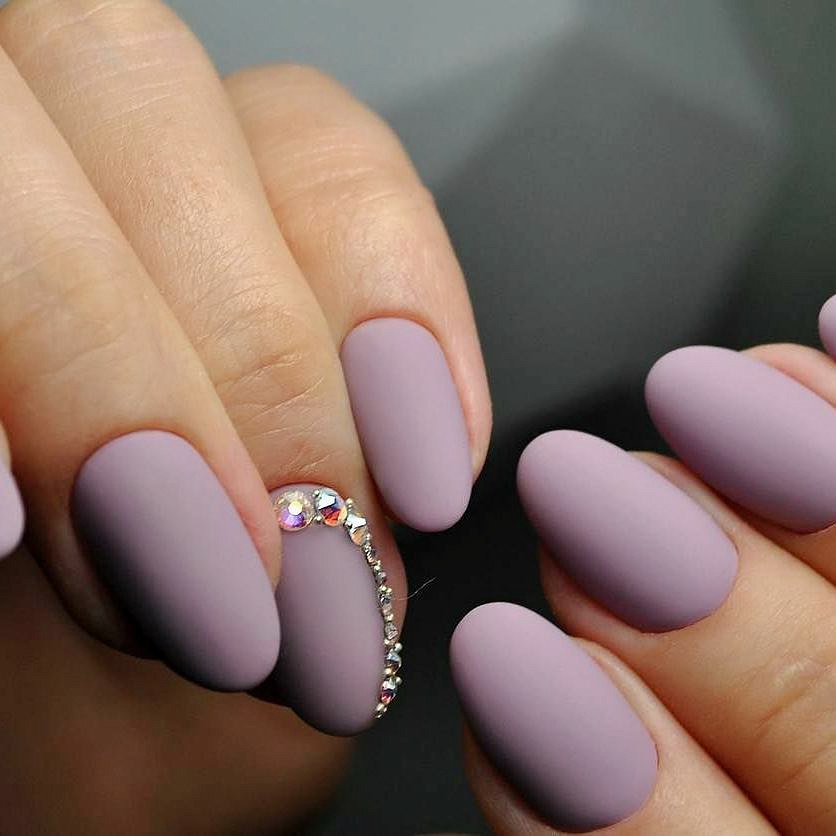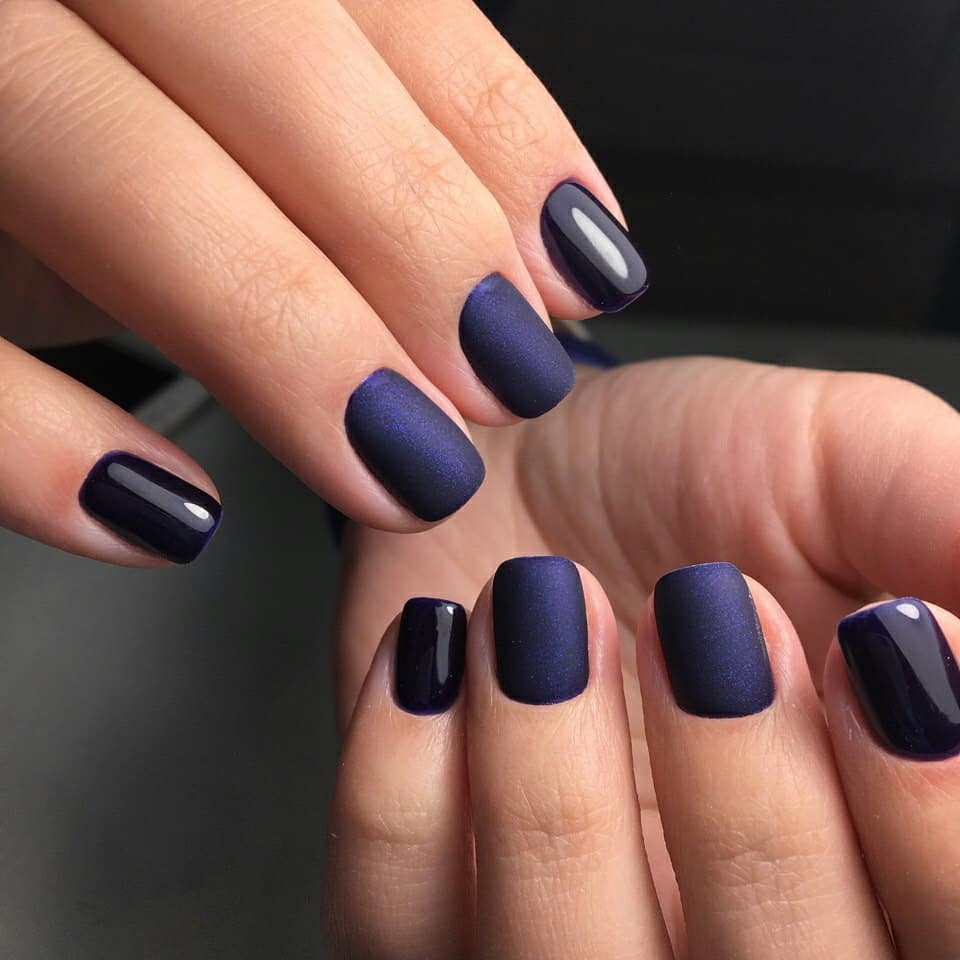 Sparkling decorative elements will only complement the matte design.
Cool Decorative Elements for Winter Toe Nail Designs
No matter what nail polish ideas for winter you've chosen, every fashionista want to decorate it adding some decorative elements.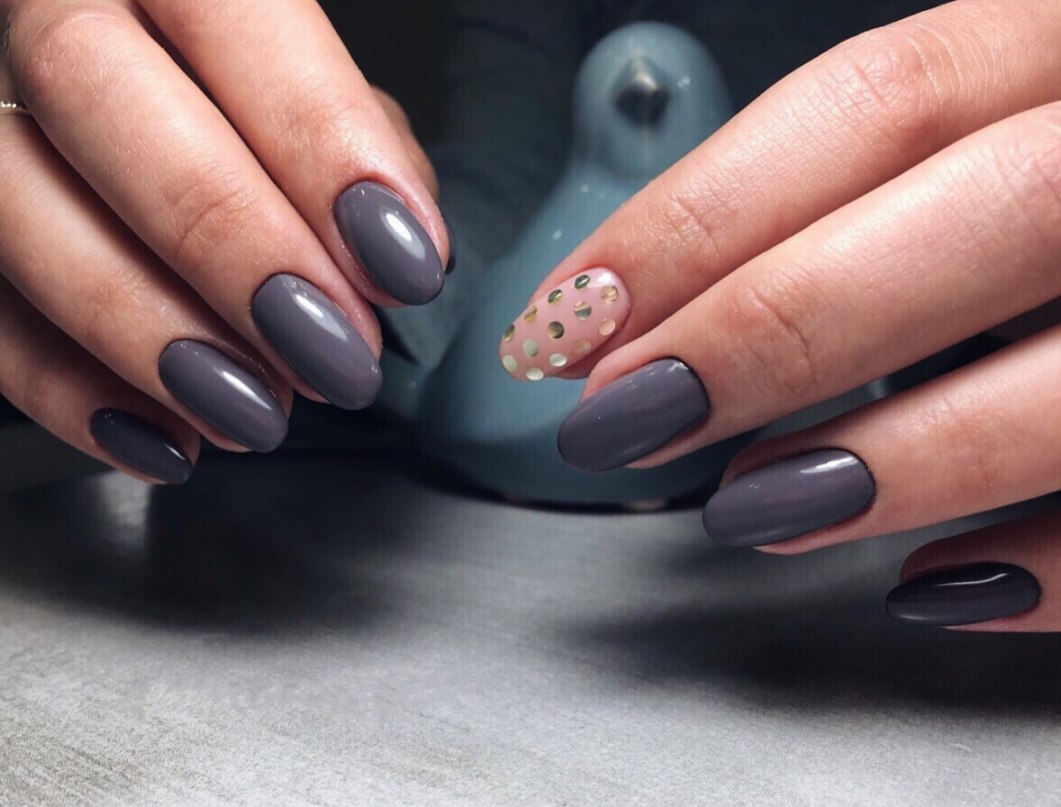 Powder can become a good choice for winter 2023. You can cover some nails with it creating contrasting textures, but convex patterns resembling knitted volume canvas will look much more interesting.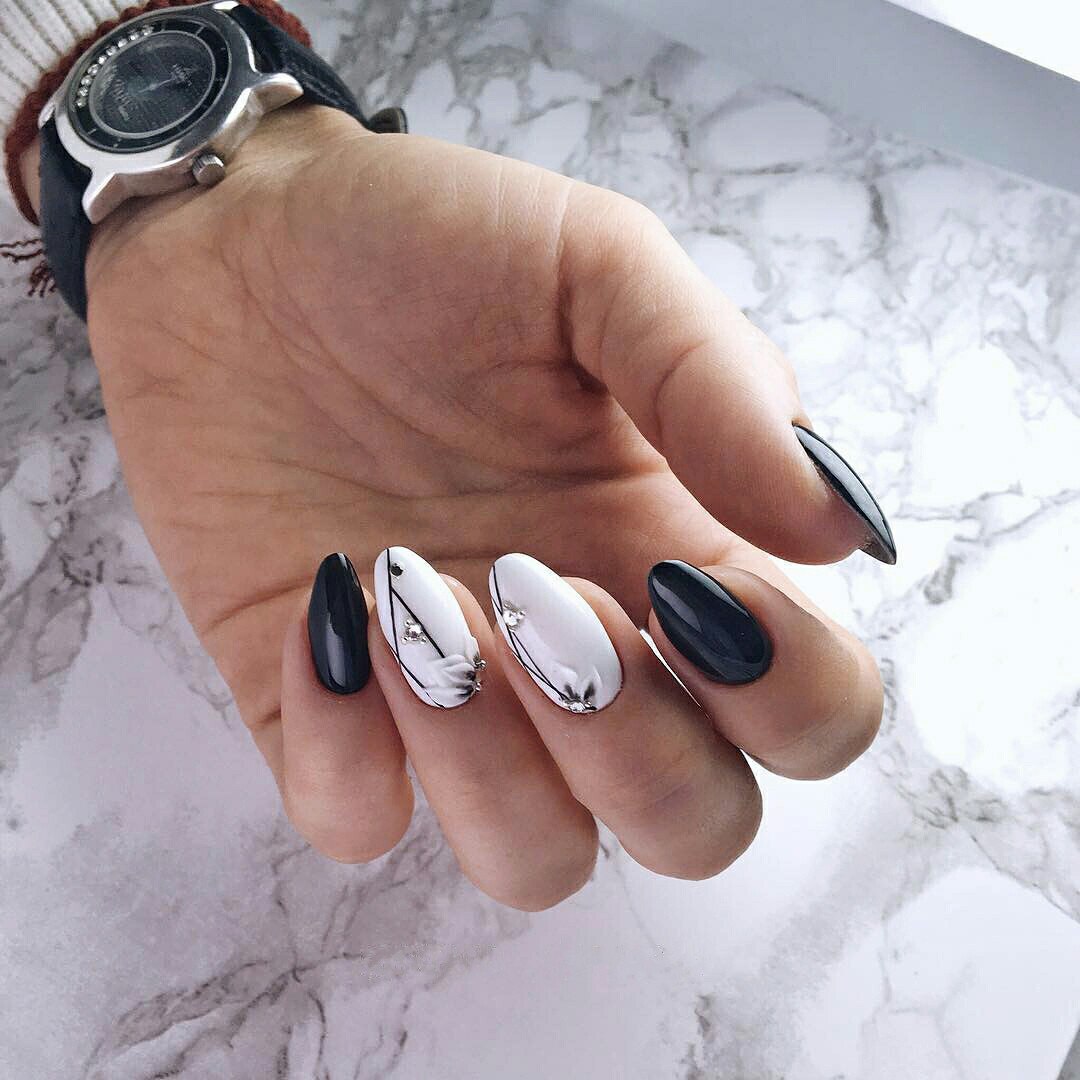 Sequins are "classics of the genre". They will give any nail design charm and elegant glamour. The only one condition is moderation. Add several sequins in the corner of the nail or along the border of the "smile", a simple pattern or bright accent, – and you are compelling!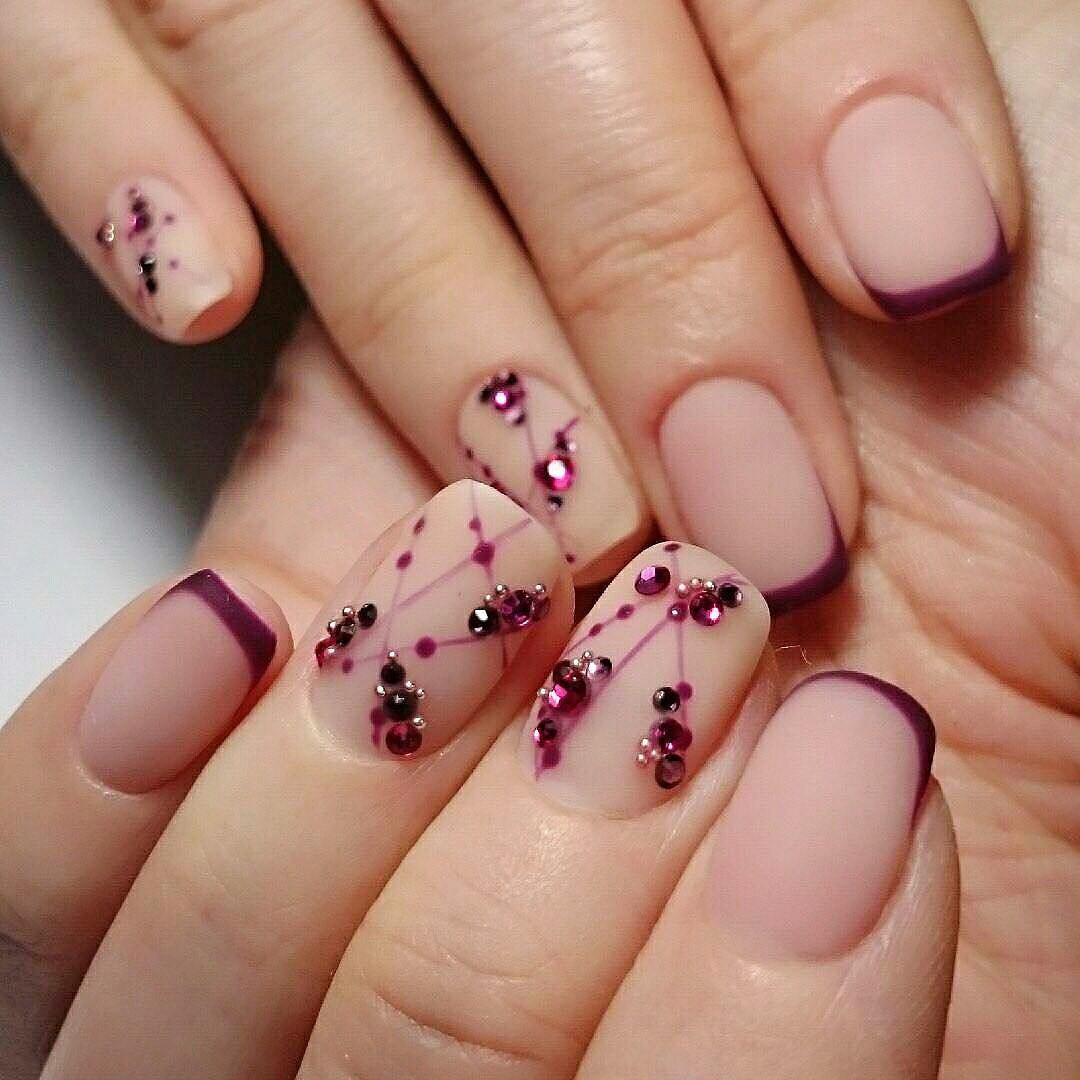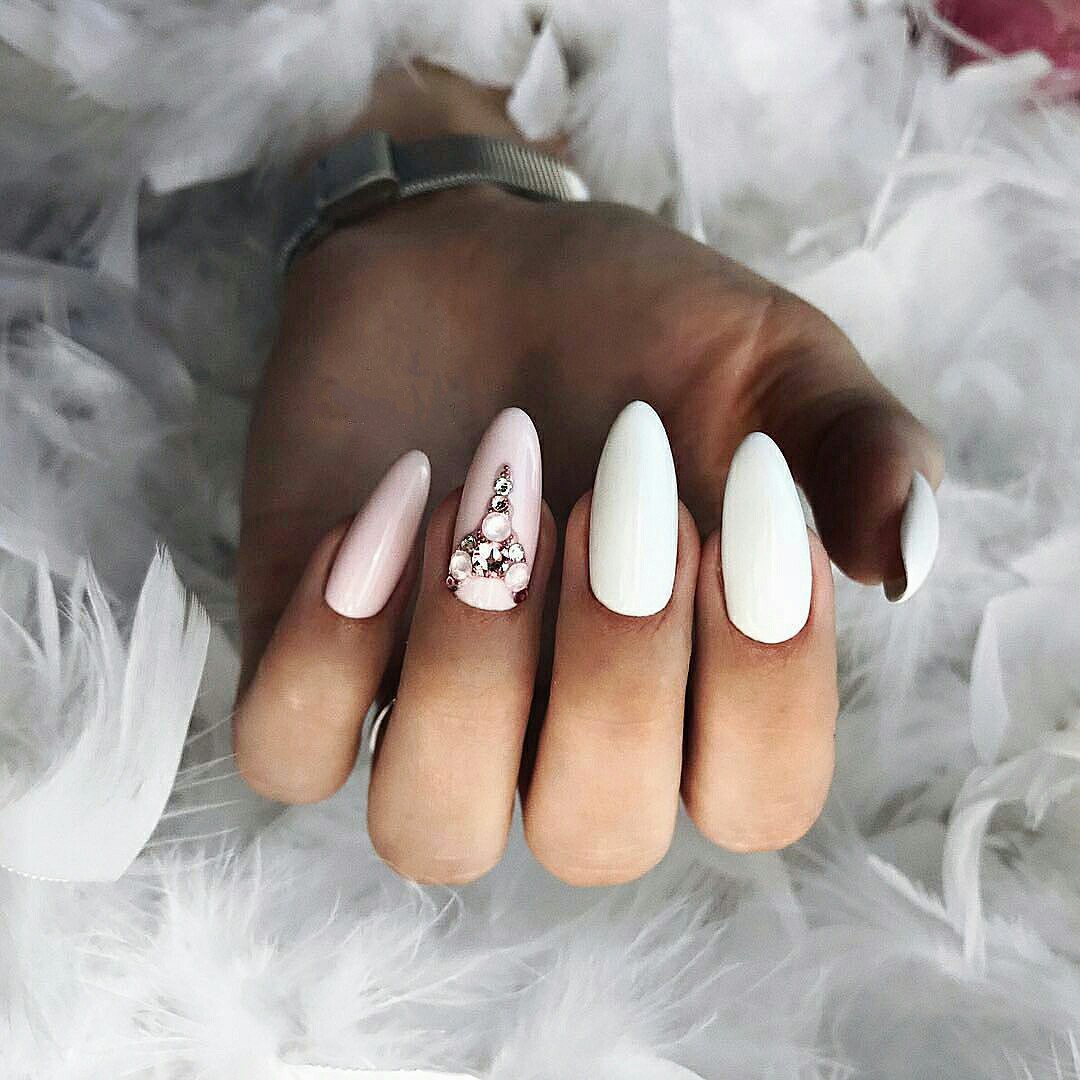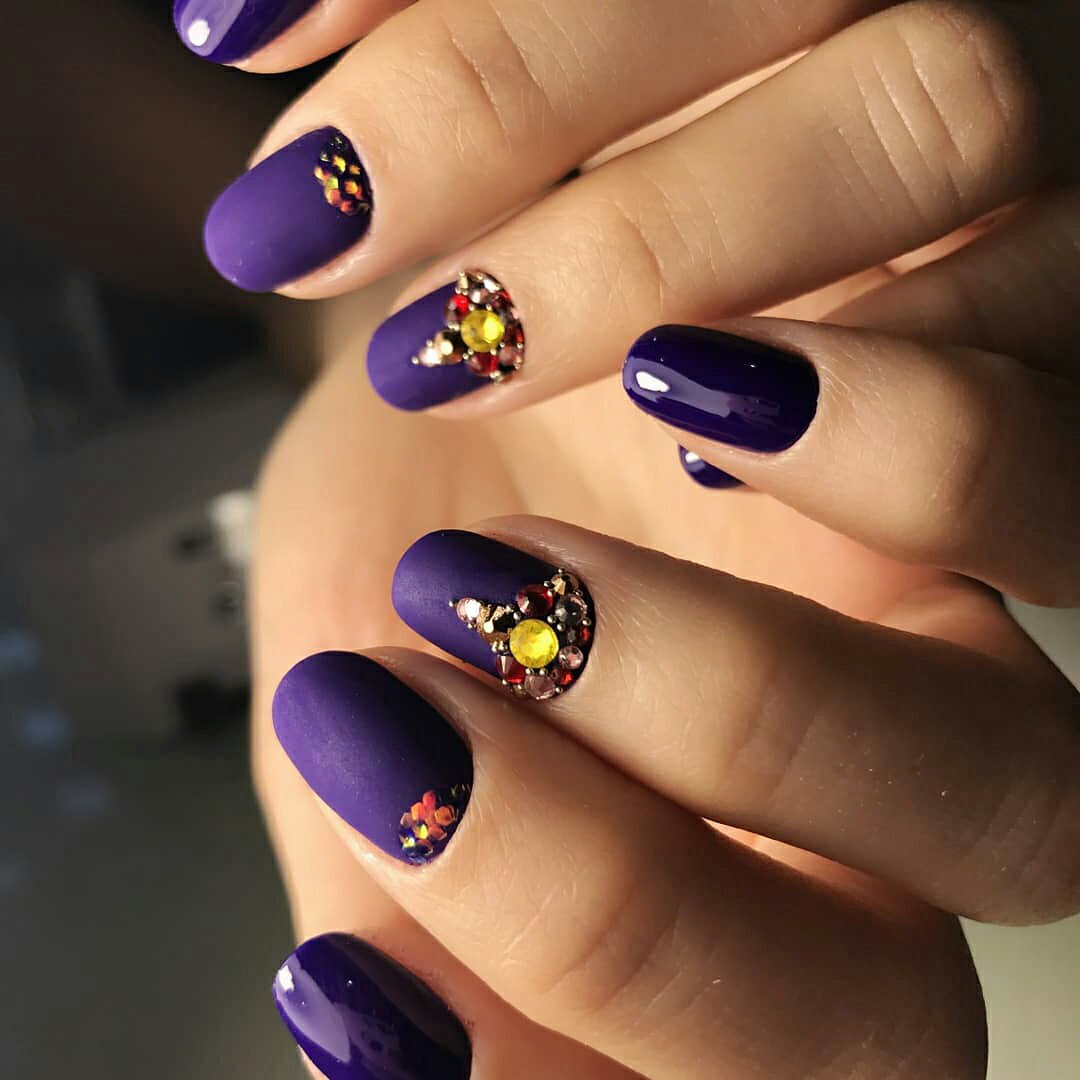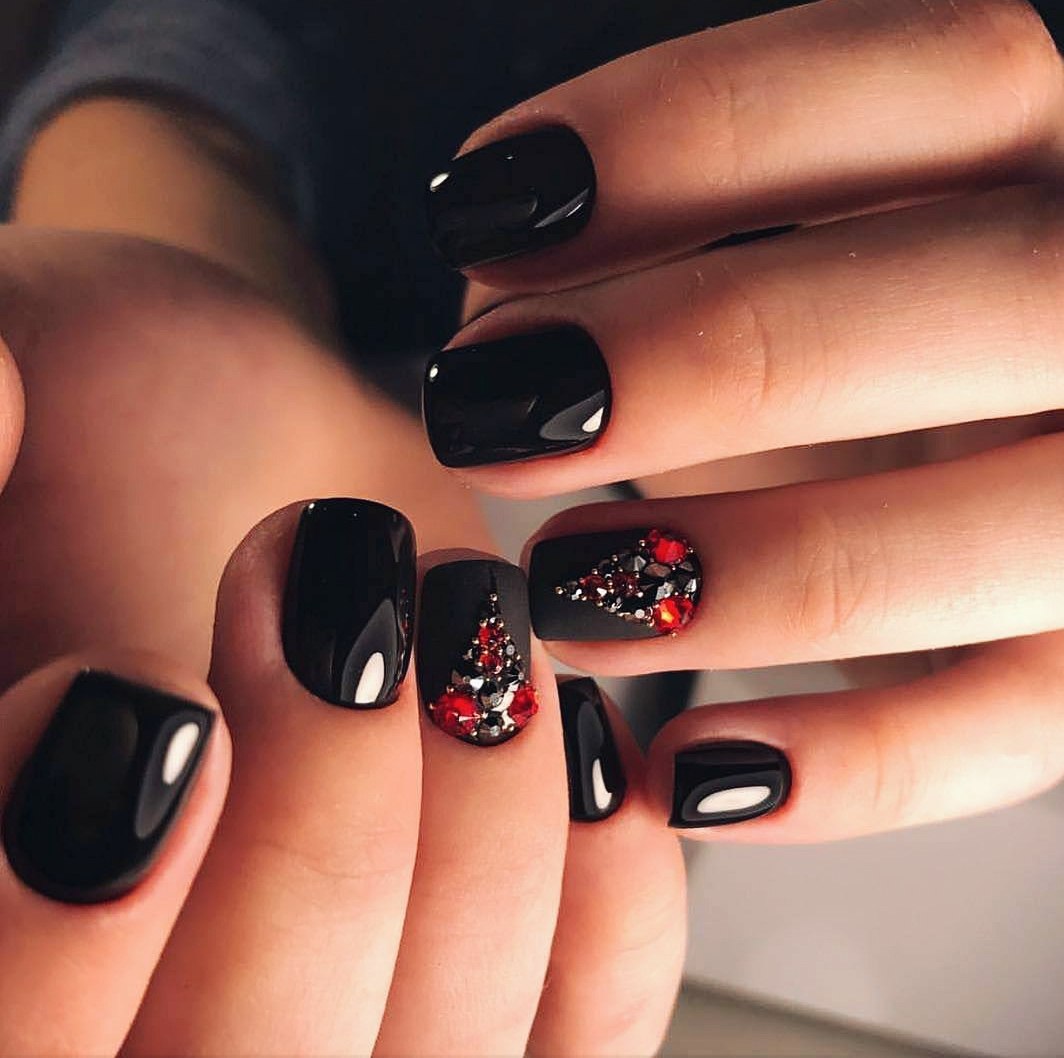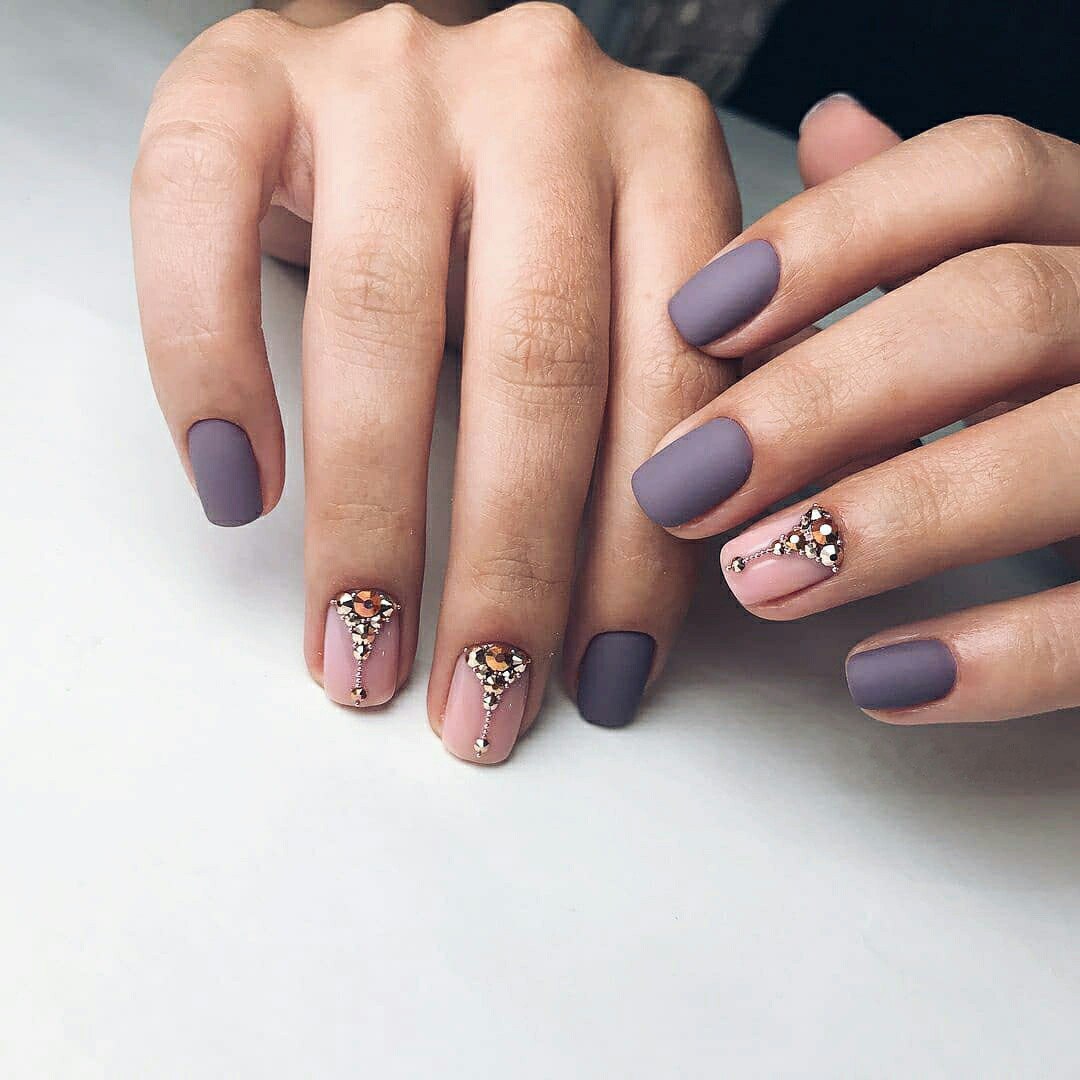 Kami fubuki it a hot trend growing in popularity. These small sequins give an opportunity to create a really unique january nail art and designs.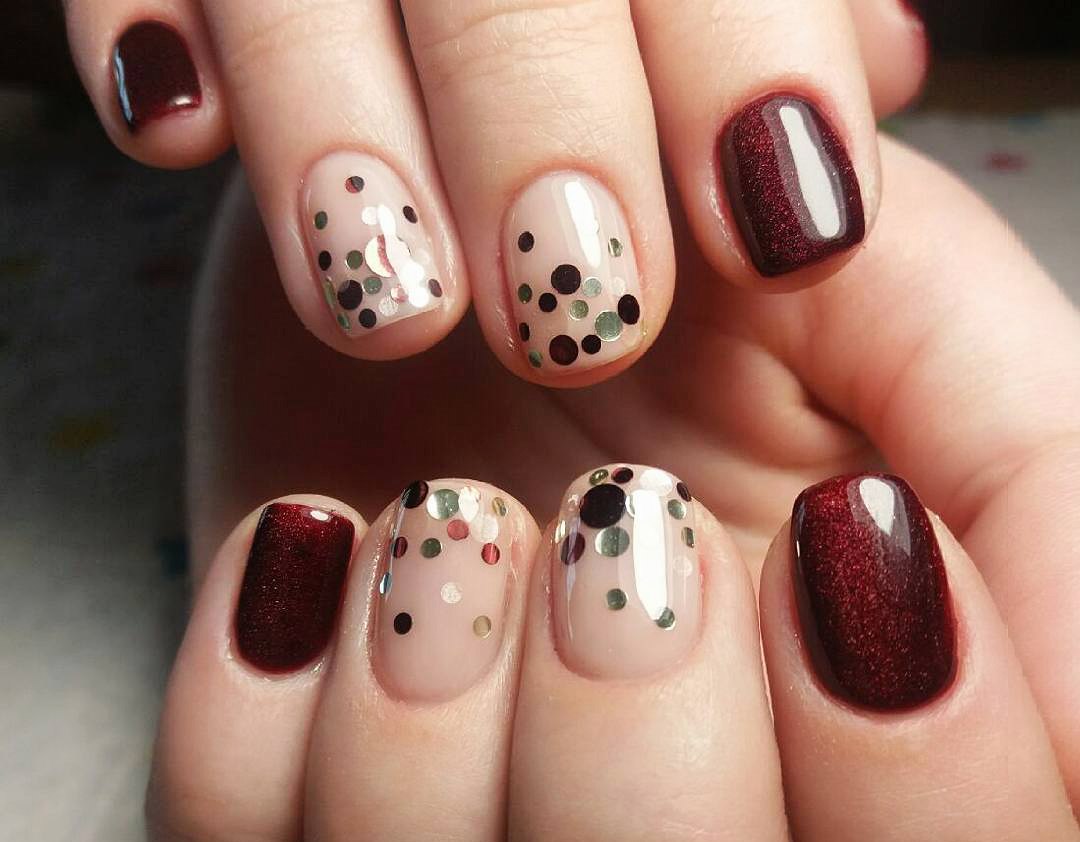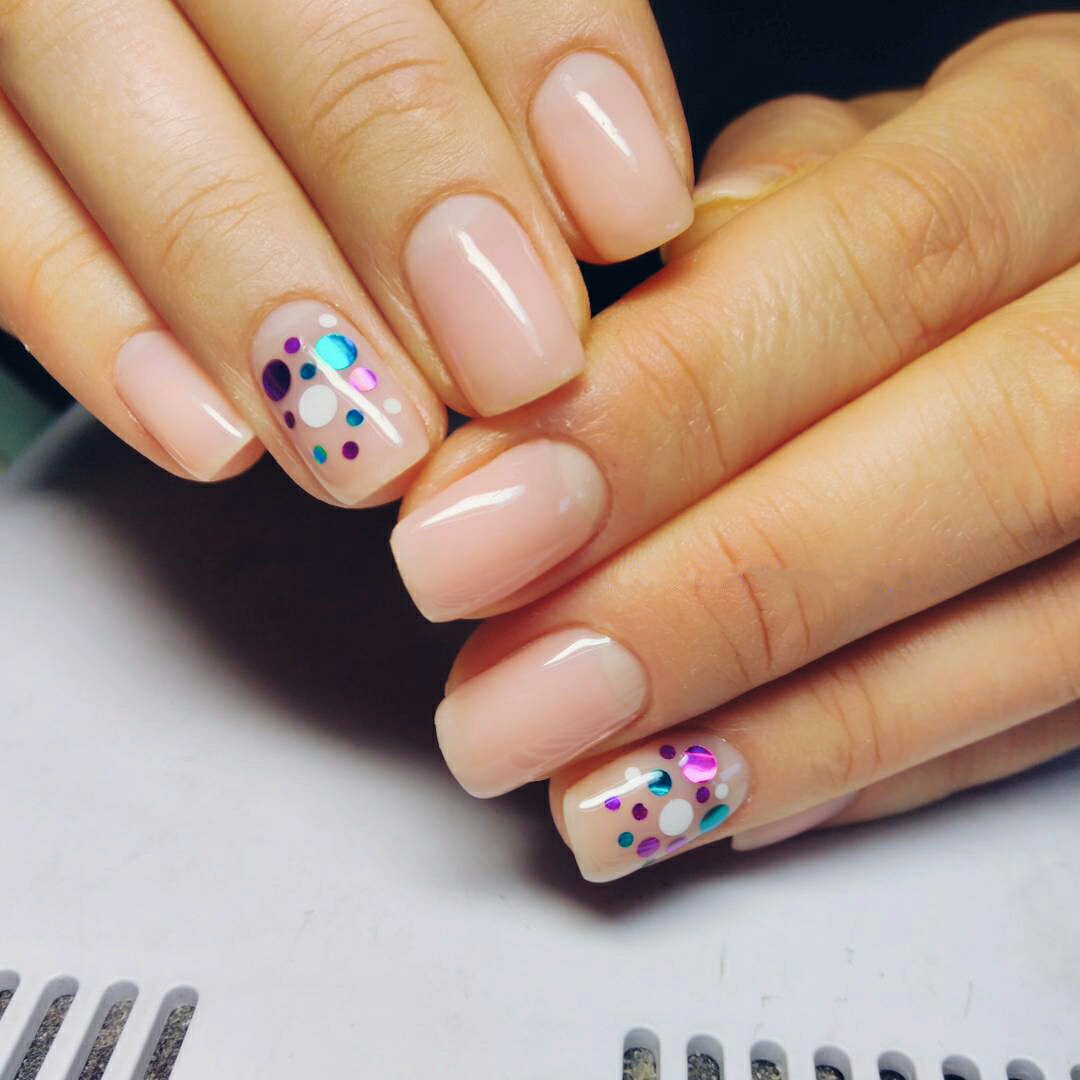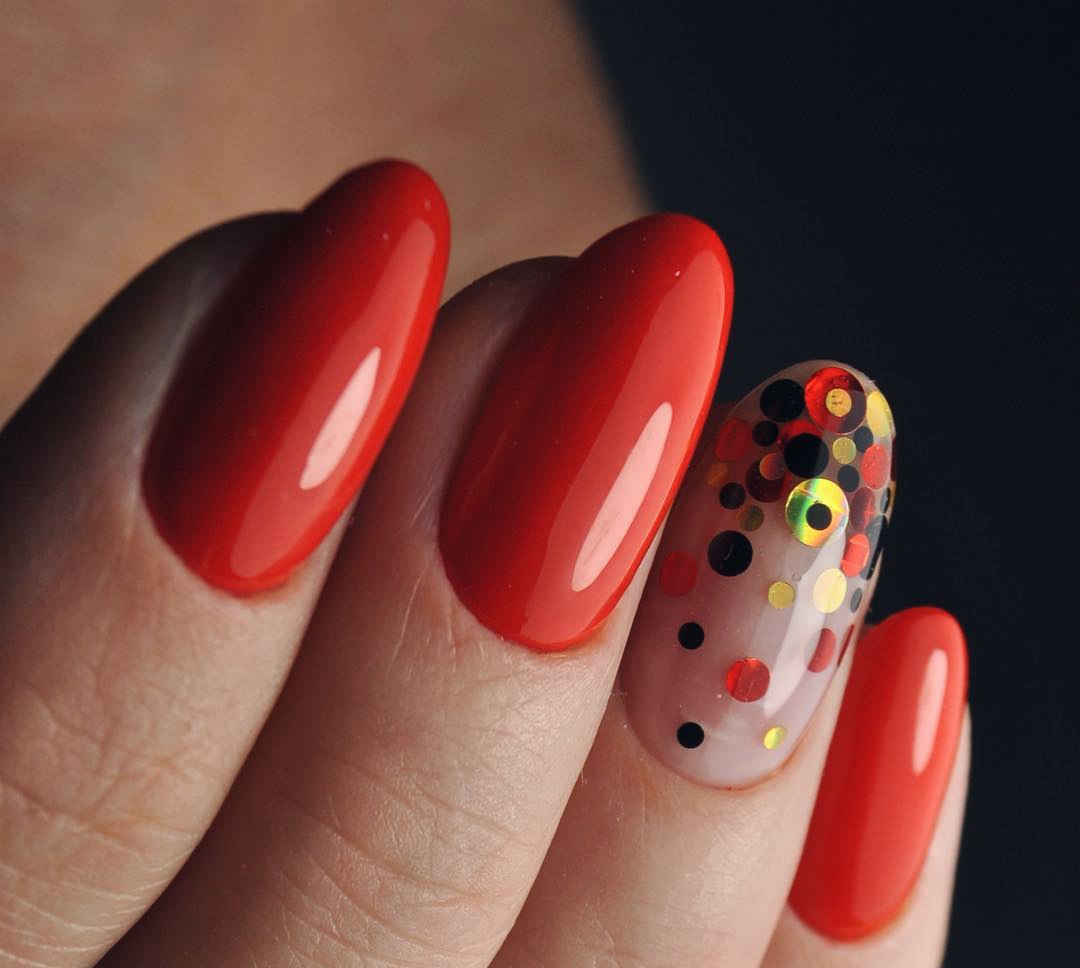 Kami fubuki can differ in length, color and sjape. You can place then in strict or random order covering each nail or only particular nails, horiontally or vertically. There are so many options!
Easy Winter Nail Designs: Best Patterns
The most traditional way to decorate the easy winter nail art and make it more extraordinary is to paint a pattern.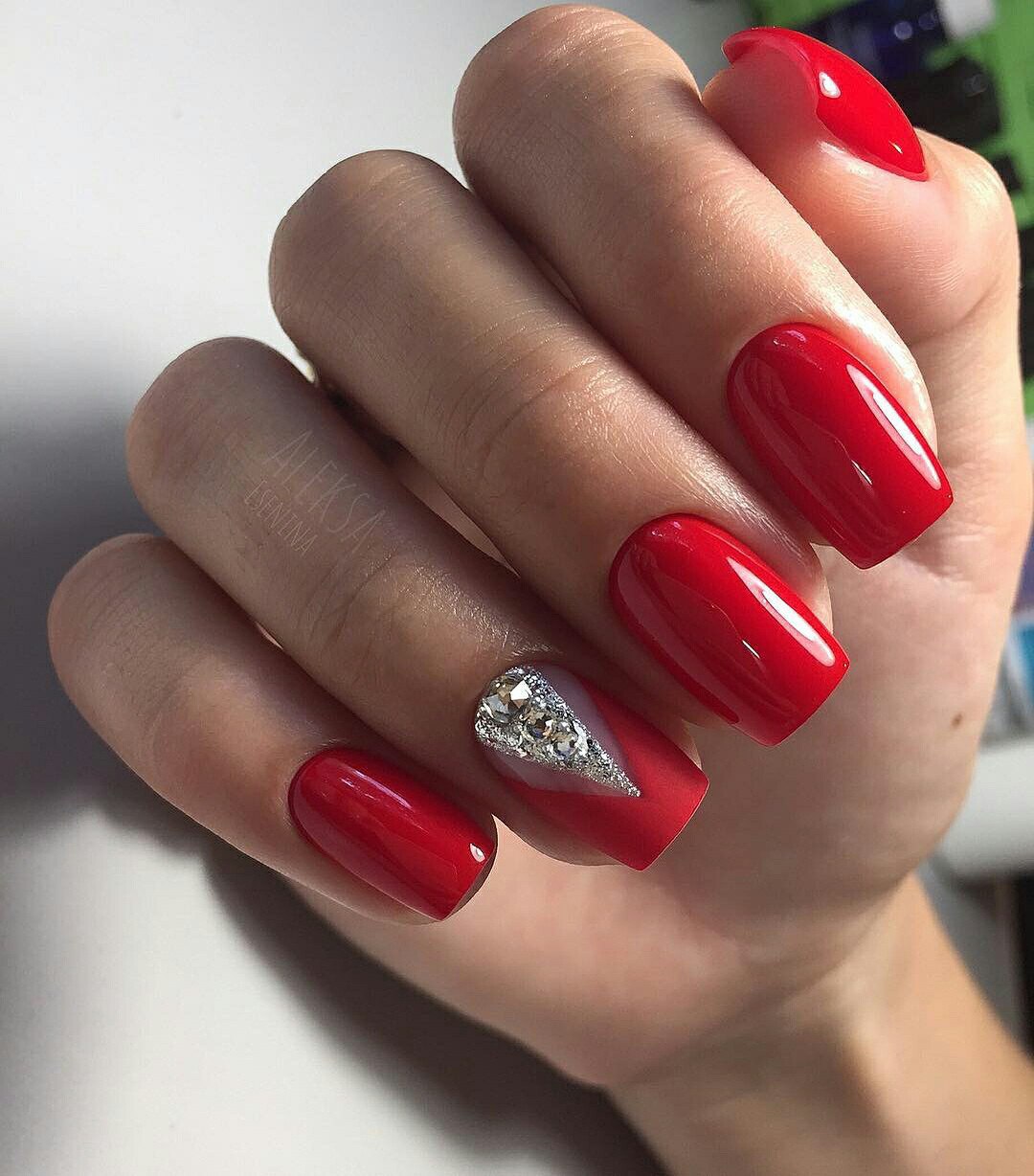 There are two types of thematic patterns for winter nail designs 2023.
It can be winter motifs, such as snowflakes, snowmen, frozen twists, sparkling snowdrifts. The second type is festive New Year and Christmas nail ideas for winter, such as branches of the Christmas tree, crackers, Santa Claus, tinsels, serpentine, confetti, tree decorations and other patterns that are associated with winter holidays.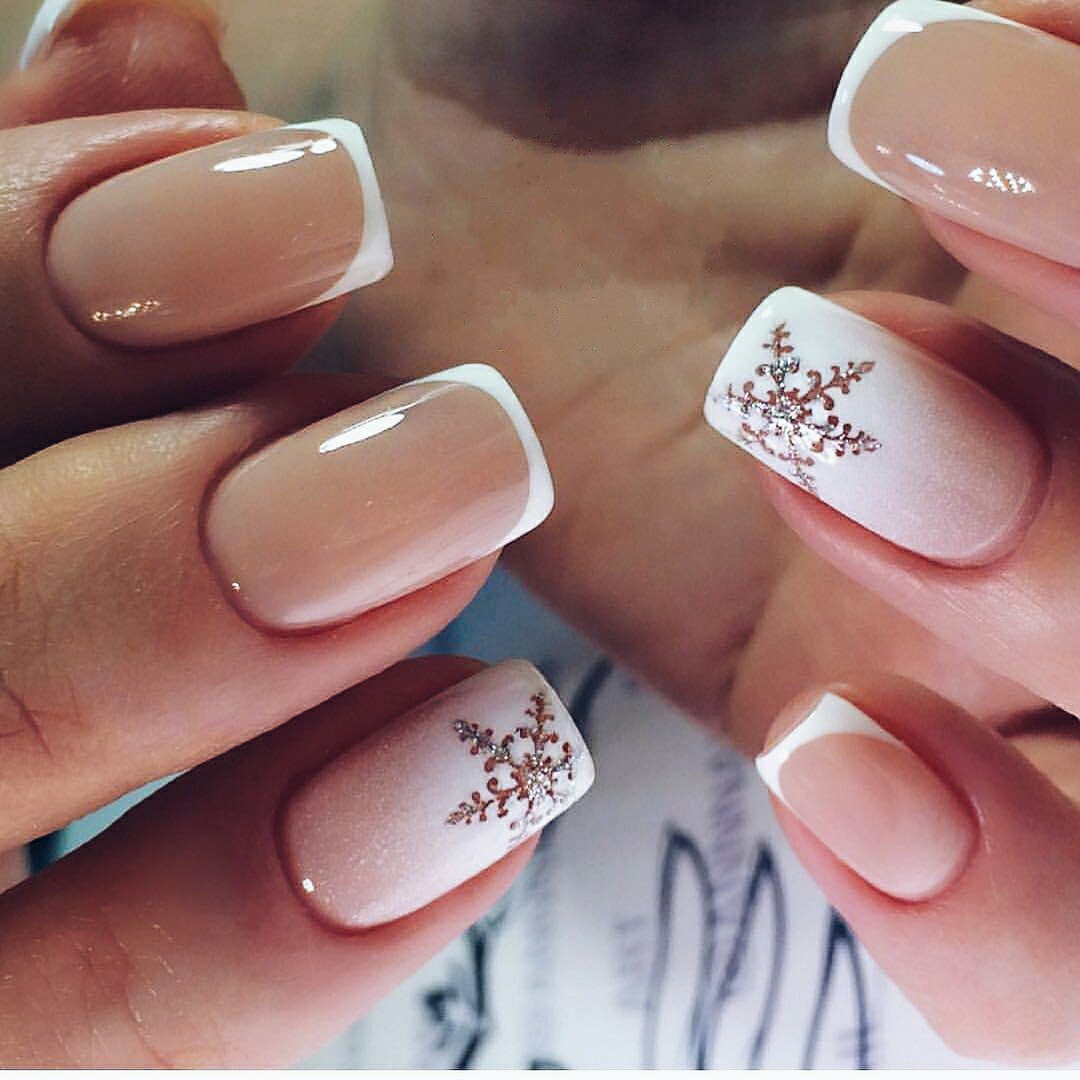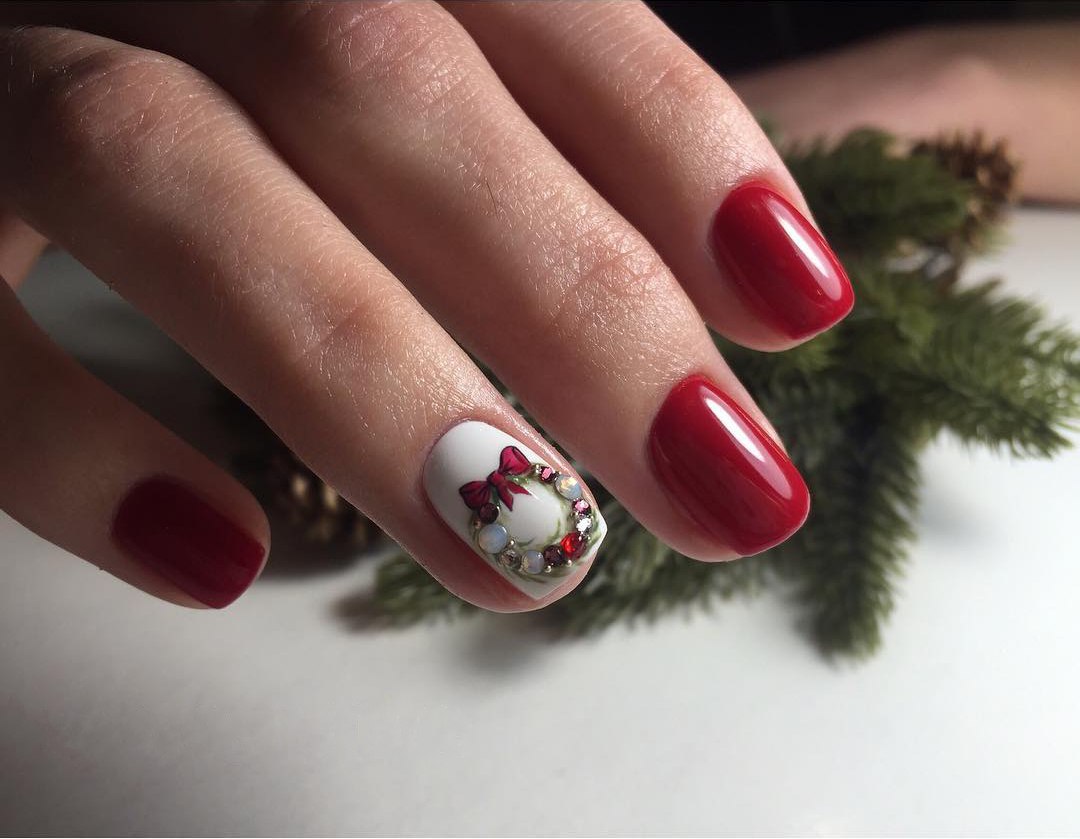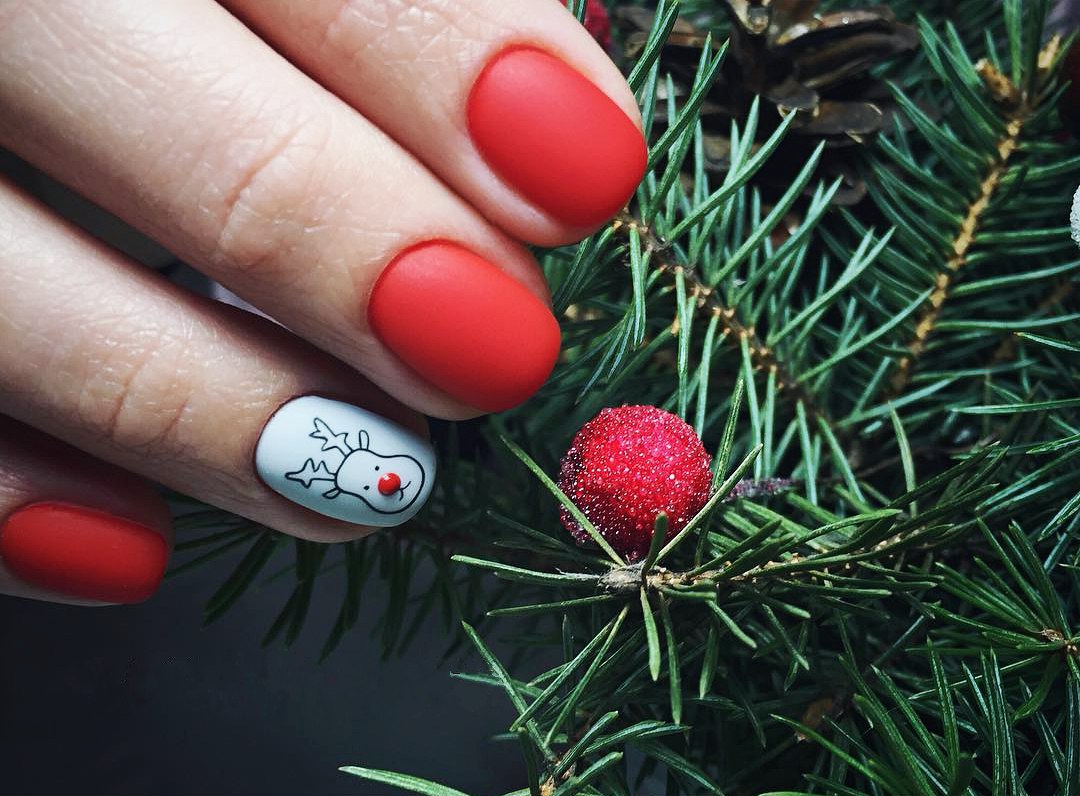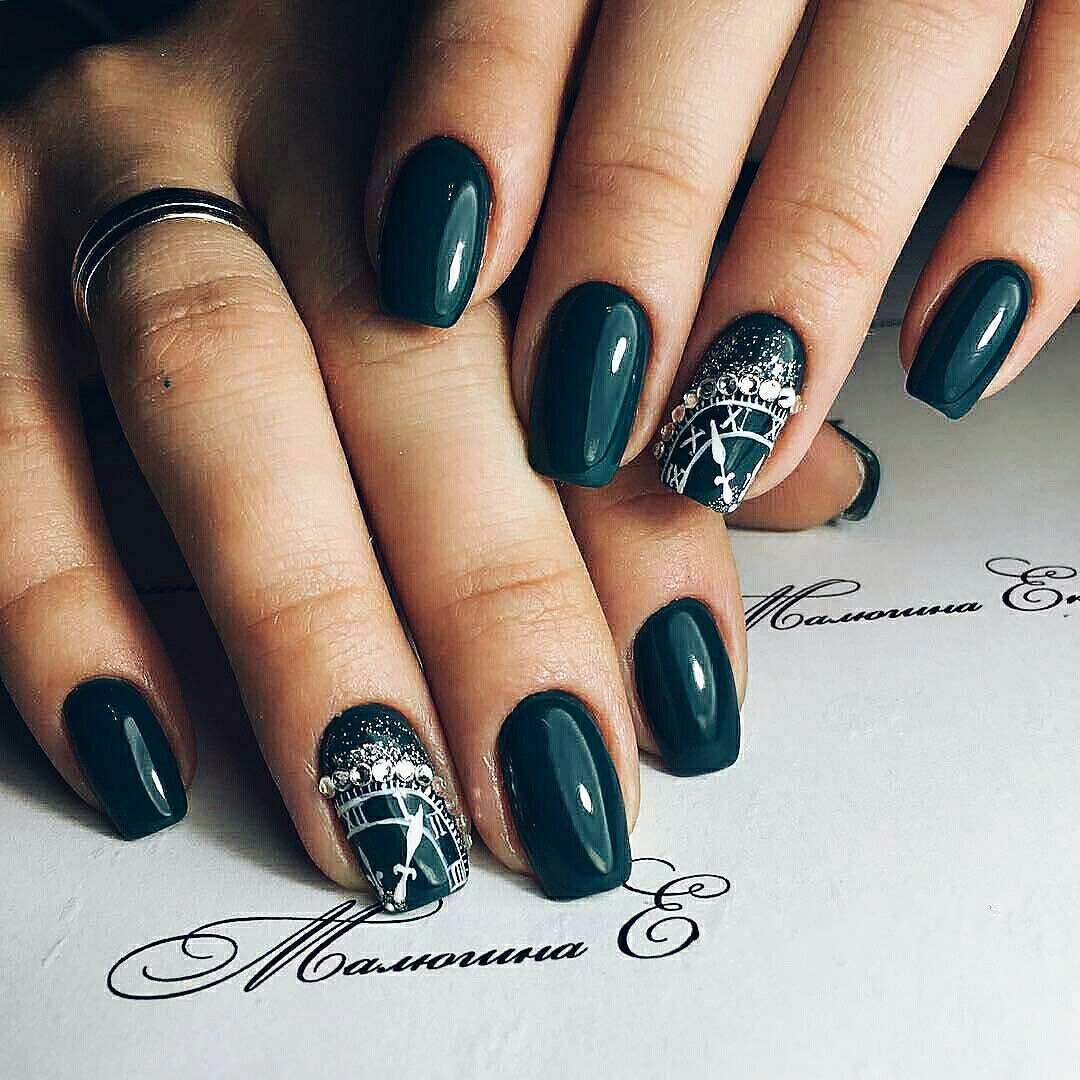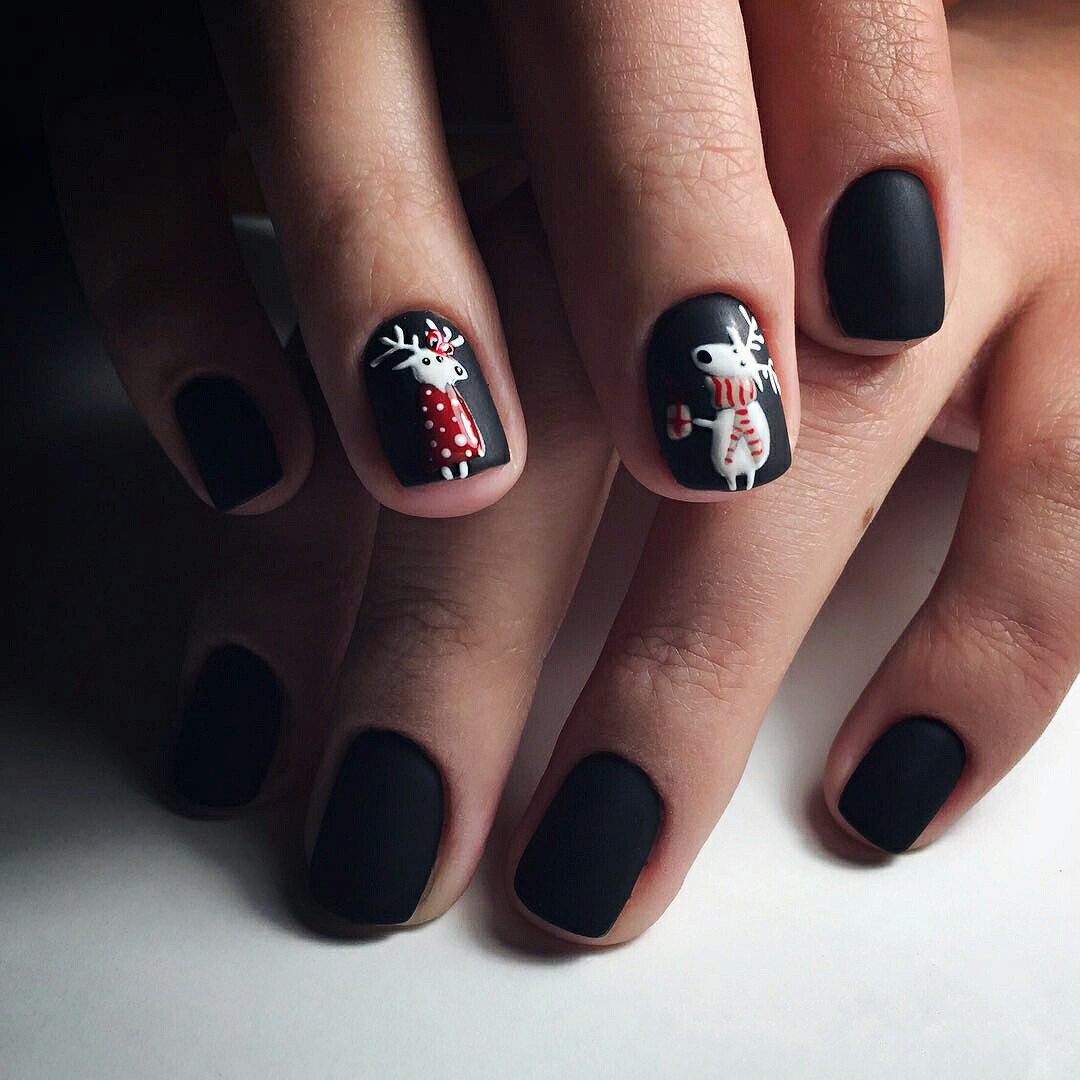 Graphical patterns have been long in vogue too. They bribe fashionistas with their ease of use and effectiveness. Whimsical combinations of different geometric figures create patterns resembling masters' canvases of abstract painting. You can use no only art painting, but also metallized adhesive tape.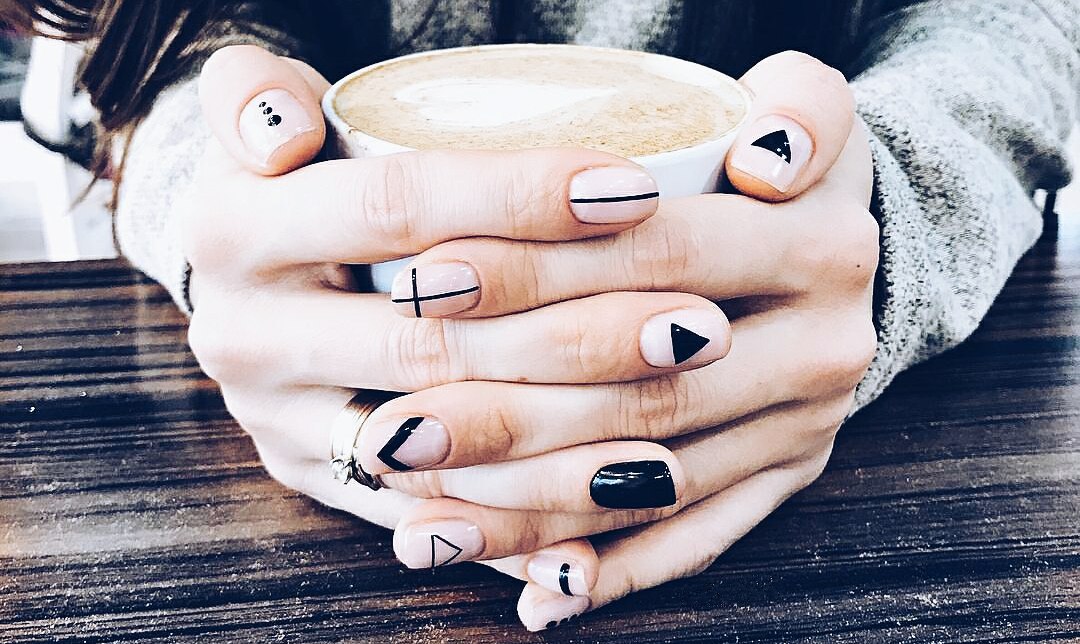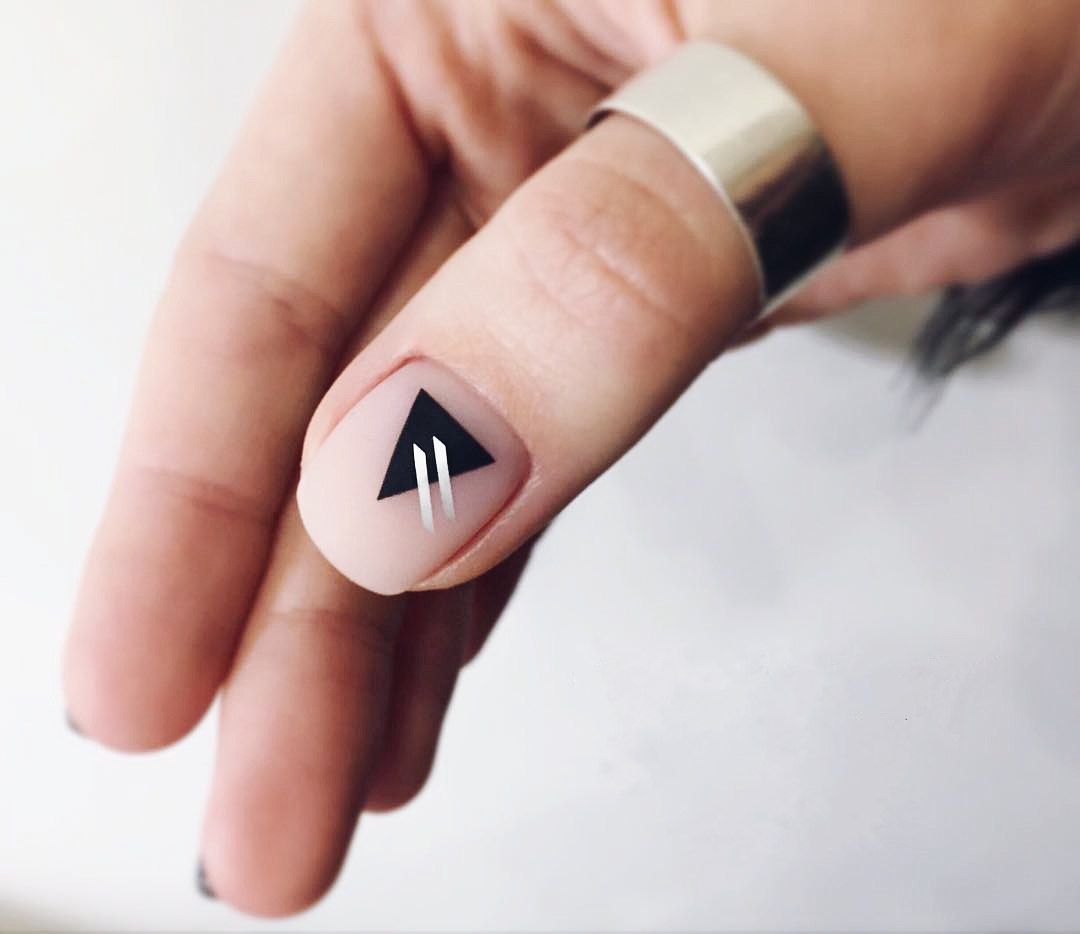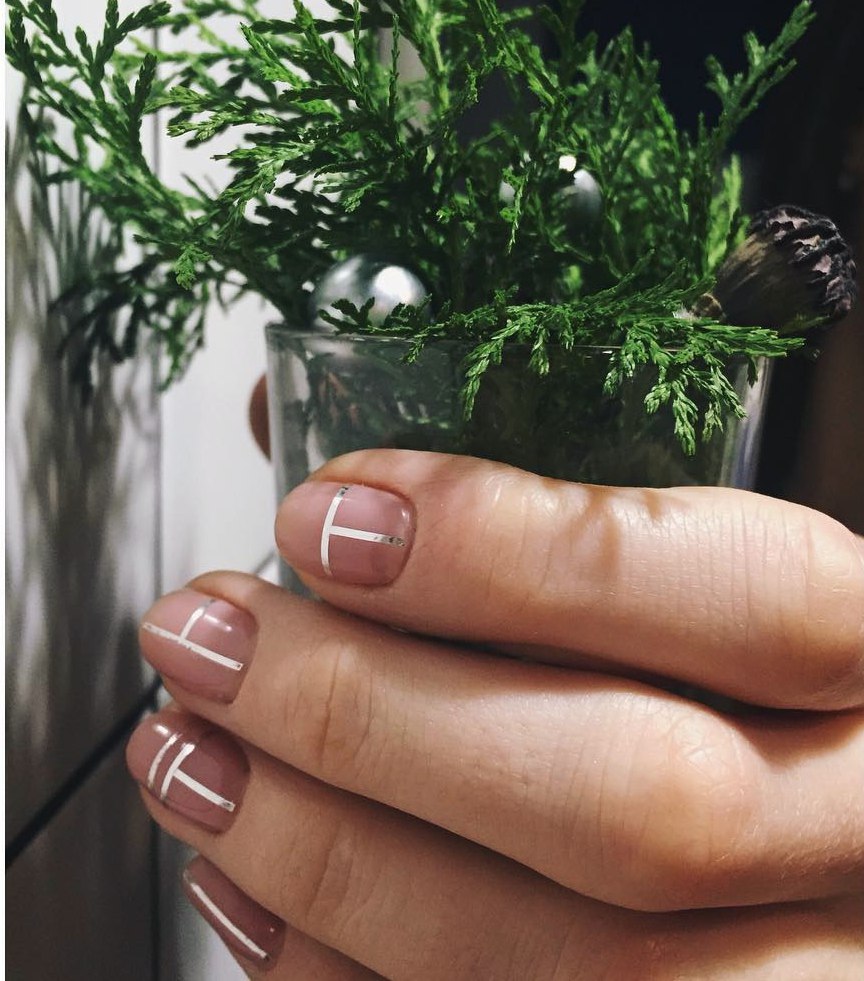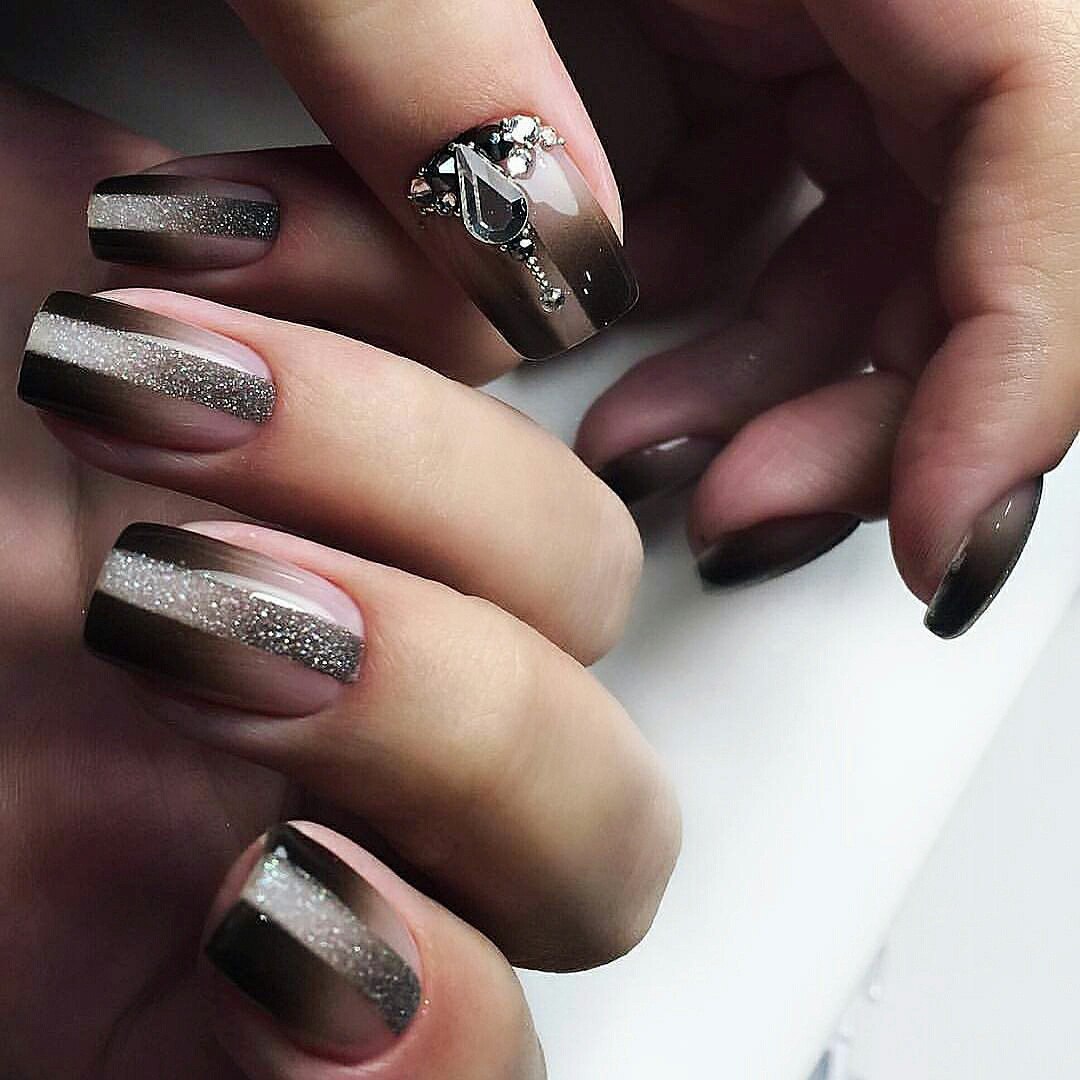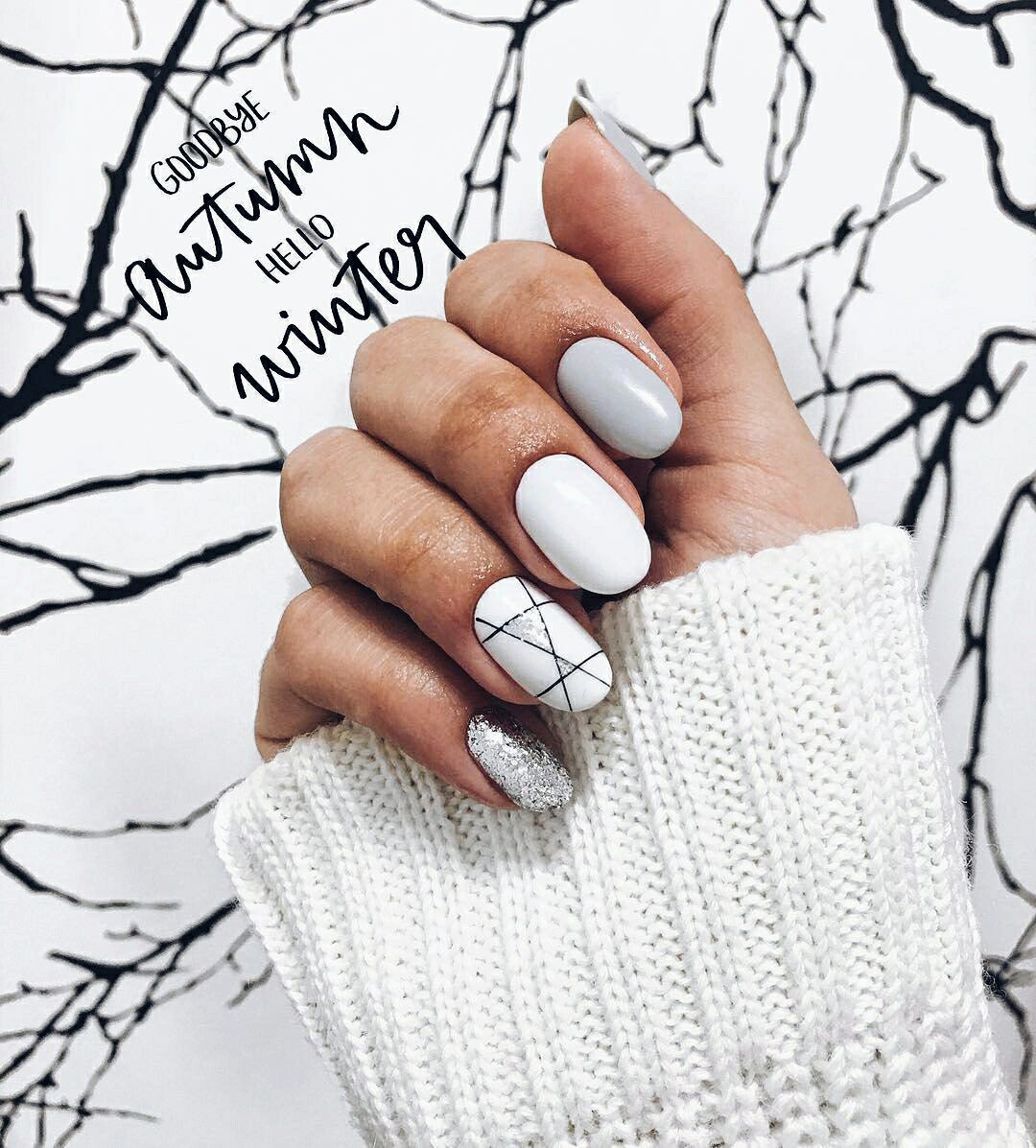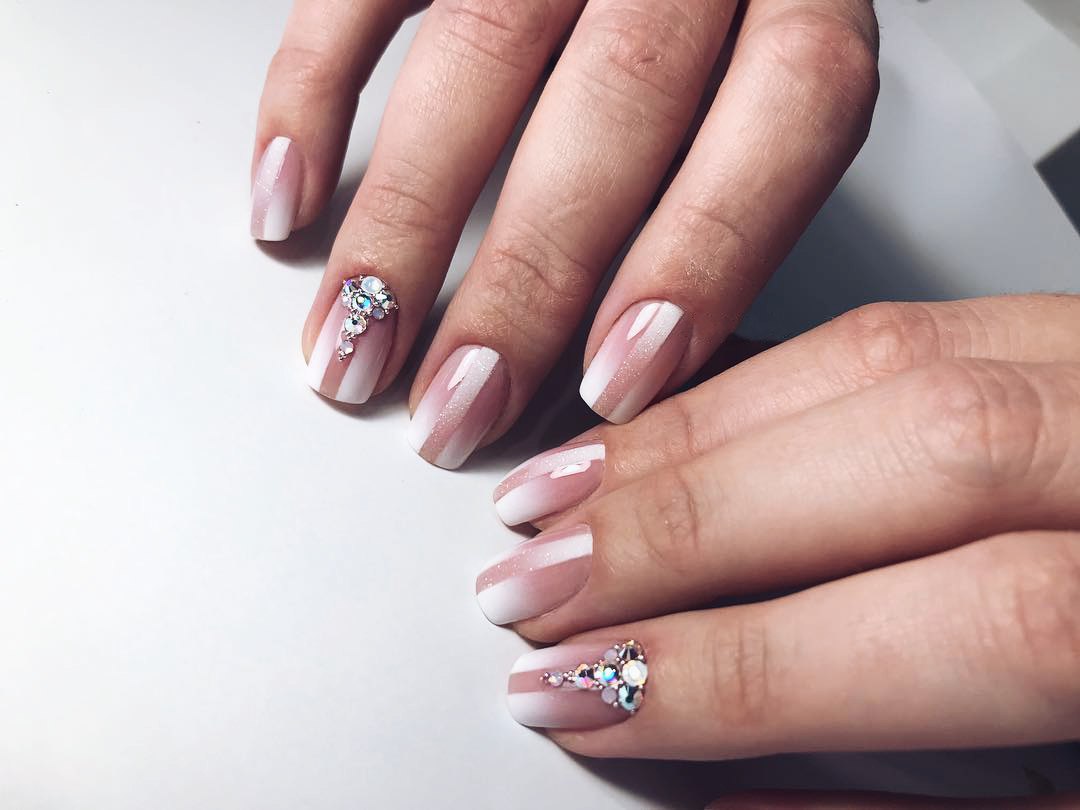 Azure and lace patterns are an embodiment of the femininity. Black lace in the colorful background will make your cute nail design for winter more distinctive, and white azure pattern in the transparent, pink and beige background will make your image more gentle and helpless in a good sense of the word.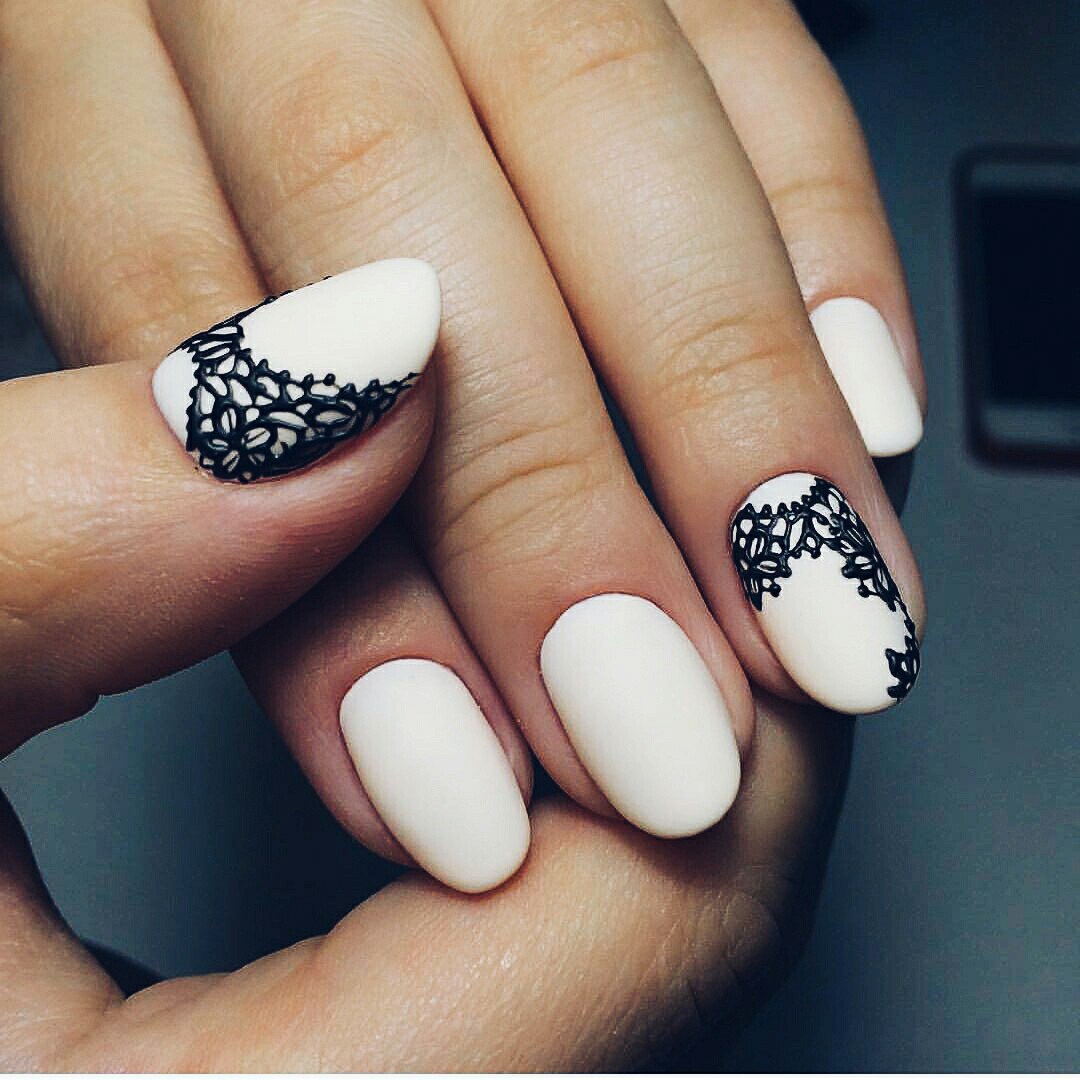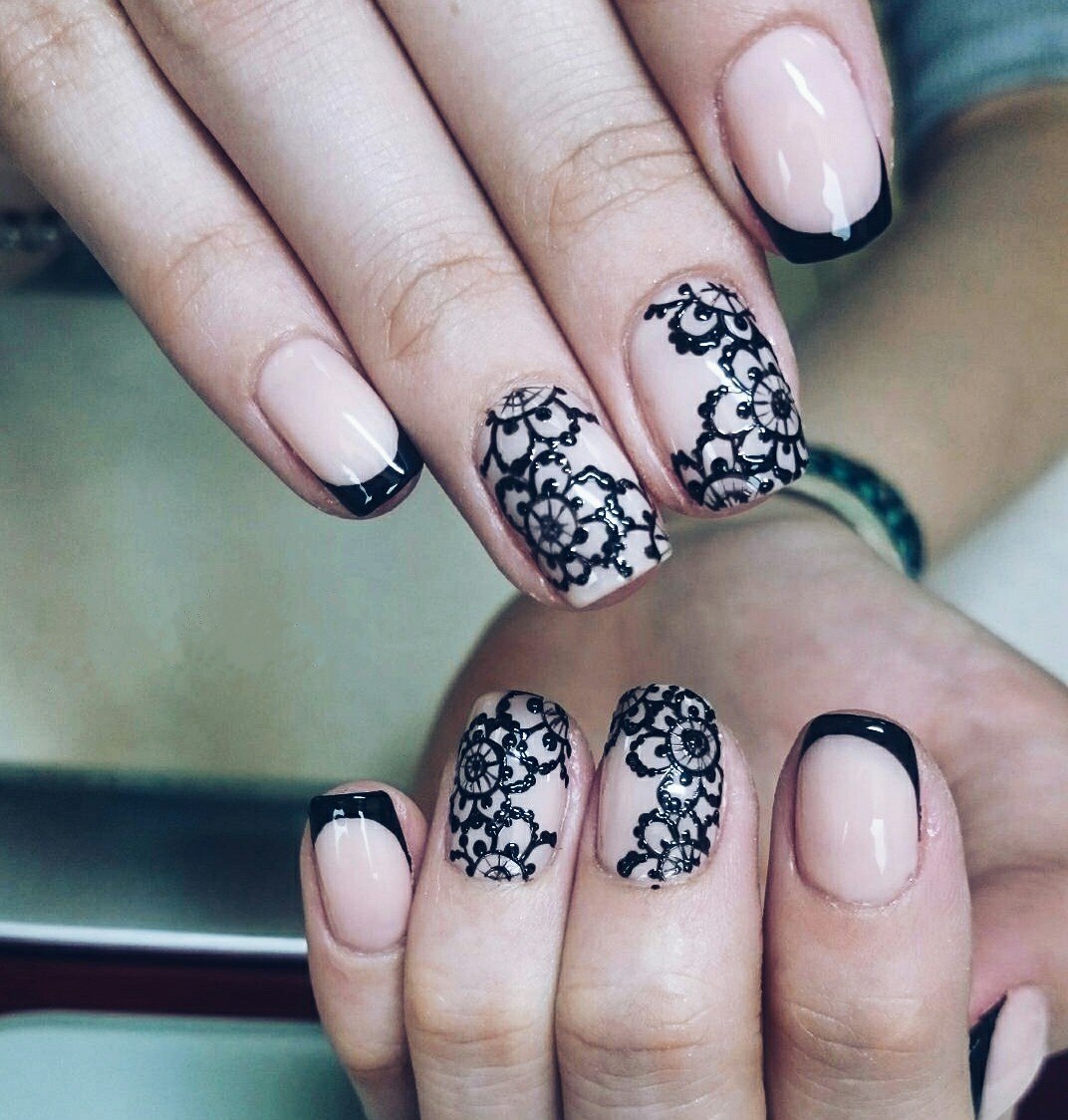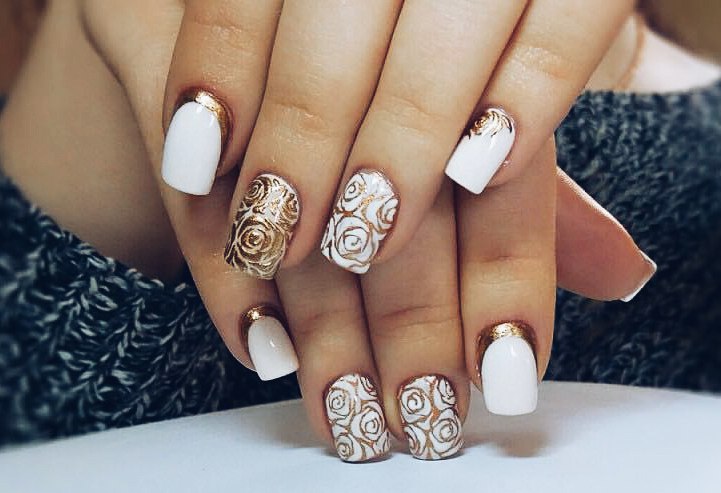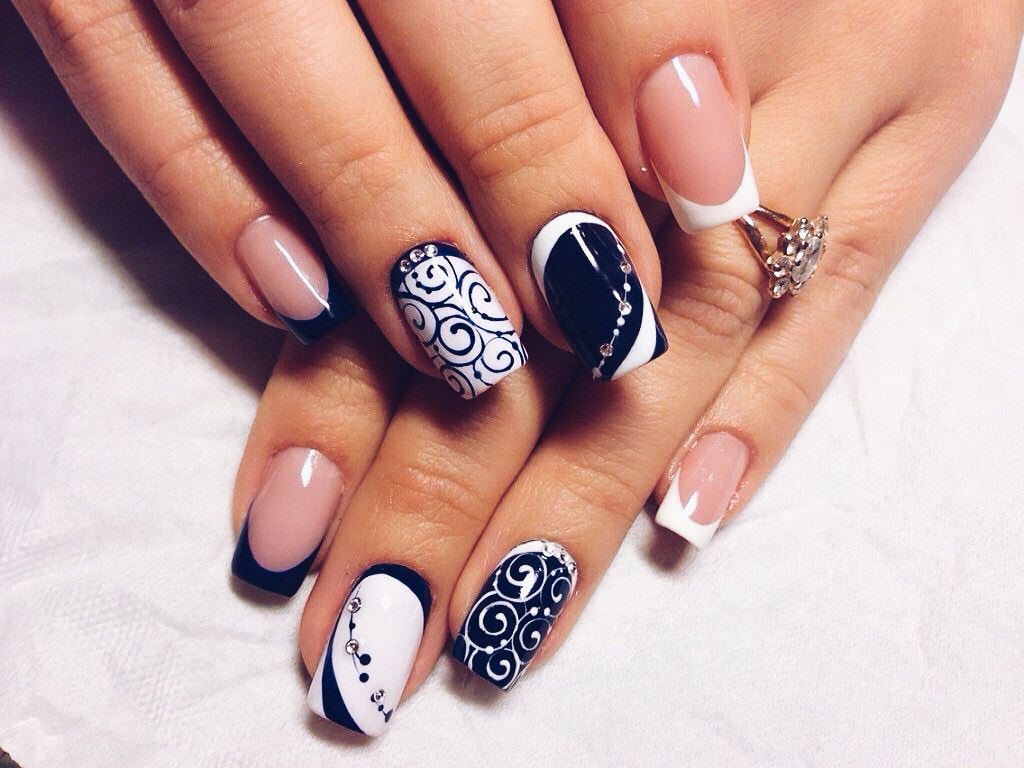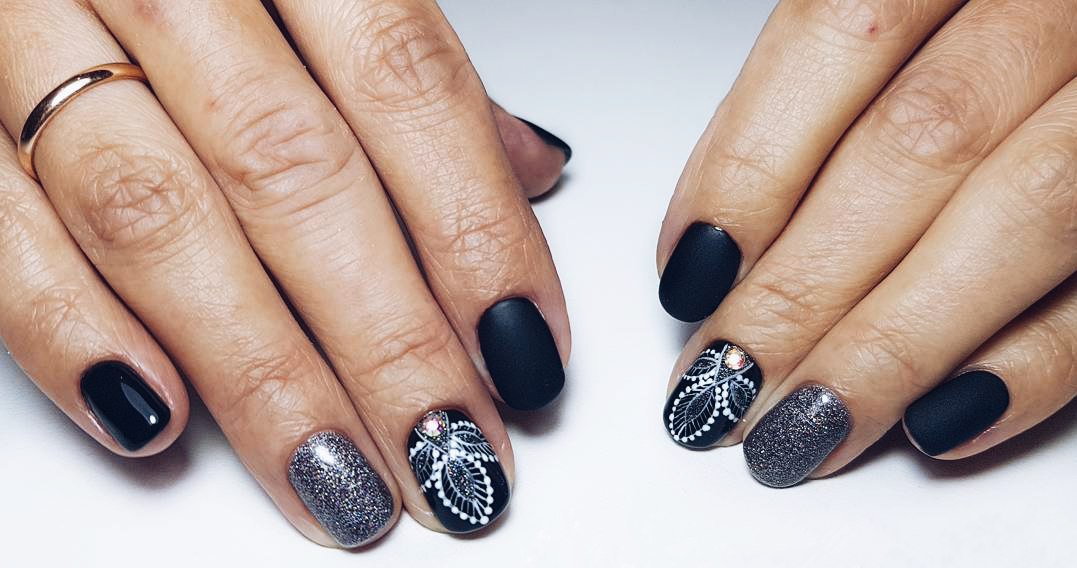 It is not so simple to draw azure patterns. Only people with art skills can do this, but special stickers may help to solve this problem.

As we see, winter nail designs 2023 won't be boring or similar, so each fashionistas can choose an option to her taste and will please not only her, but also people around her with the beauty of her nails.
Simple Winter Nail Designs: Video Tutorial
Photos from Instagram.com