Short layered haircuts are totally in at the moment. With summer just months away, you might be thinking of trading in your longer locks for a simpler style to survive those torrid summer months.
From sexy long layered haircuts to mid-length hairstyles to short layered hairstyles, the sky's the limit! And with explosion of color trends, you can really go wild. Try a colorful ombre, playful balayage or subtle highlights to add some flair to your layered haircut.


Whether you want a longer style or a shorter hairdo for summer, there are plenty of adorable layered haircuts out there.
1. Layered, Tousled Bob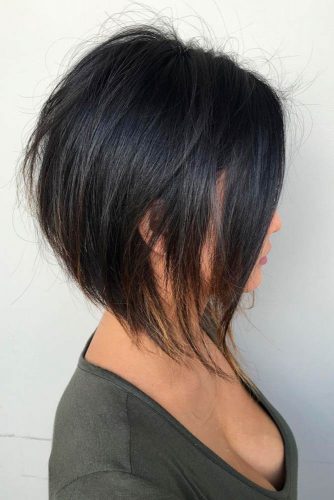 This look is extremely flattering for those with fine hair. The longer side bangs that are set slightly higher will help add height and volume. Some blonde overtones will add depth to the look.


2. Long Layered Pixie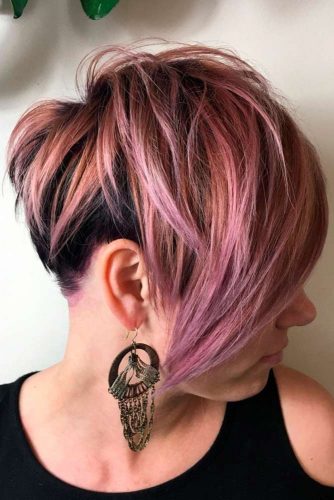 This adorable pixie has enough length in the front to give you some fun styling options. The shorter layers at the crown give it some added height, and the neck length will help elongate your neck.


3. Layered, Curly Bob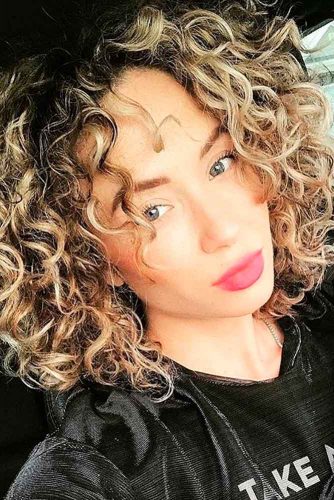 This look is perfect for girls with natural curls. The tousled style is fun and playful. Additional length at the face will add volume and depth.


4. Sassy & Short Layered Haircuts for Women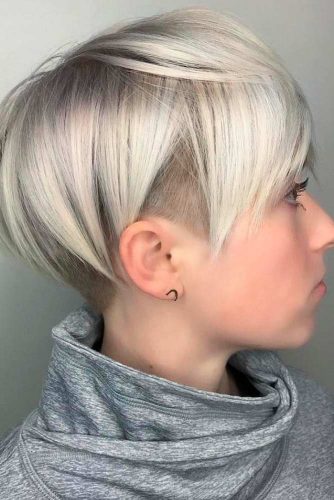 This playful cut has a ton of volume and will add a lot of height, as well. Opt for a deep rich color to add years to your look.


5. Far Out Shag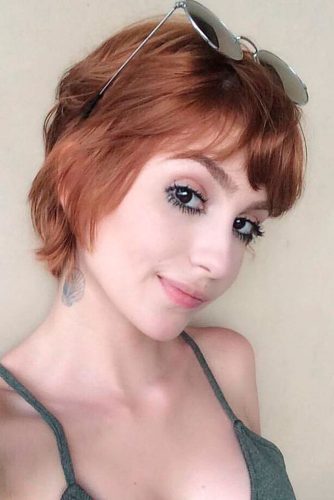 This shaggy, short style with its pink highlights is totally adorable. The shaggy bangs will draw attention to your eyes. Add a few random alternating curls to perfect this sweet style.


6. Totally Grunge Girl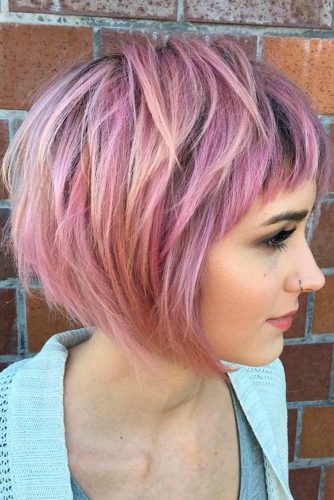 With its stacked-back and longer front, this fun style harkens back to the 90s. If you want to make it look modern, keep the bangs extra long and dye them deep dark blue.


7. Soft Layered Bob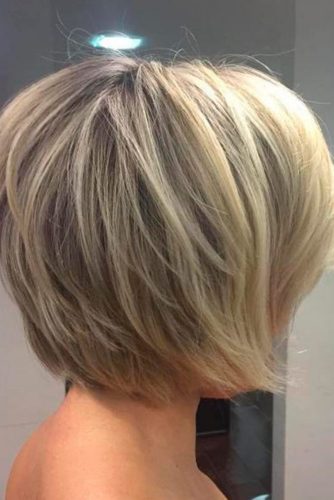 With its soft, feathered layers, this style screams elegance and sophistication. The razored edges will give you a modern, yet totally feminine, vibe.


8. Layered Bob for Thicker Hair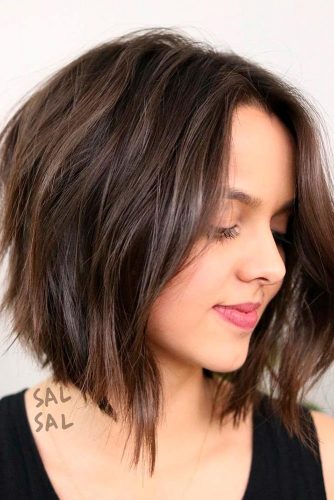 For those with really thick hair, it can be tricky to find the right short hairdo. However, this look with lots of short layers will help lighten the weight of your hair while retaining volume and movement.


9. Short Length Layered Haircuts for Straight Hair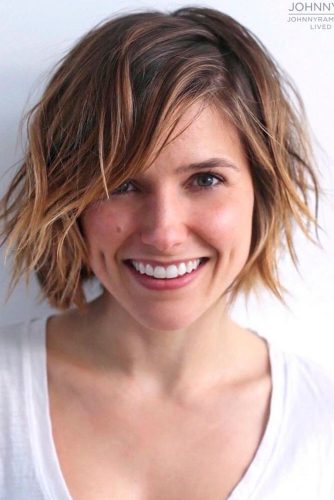 This cut works great for those with straighter hair. If you want to enhance the volume, use a leave in conditioner or volumizing mousse. However, this cut requires a trim every four to six weeks to maintain the short layers. But it's well worth the effort as it is extremely low maintenance.


10. Retro Shag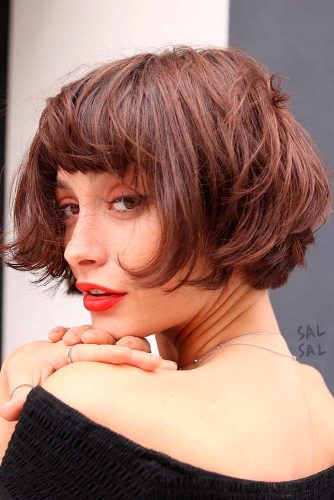 This sexy look with its blue-black color and the feathered bangs is reminiscent of Betty Boop.


11. Low Maintenance Pixie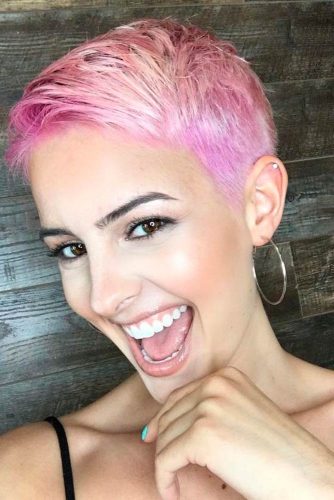 If you want a totally no-fuss look, try this sweetly sophisticated pixie that gives tribute to Audrey Hepburn. This look is made for those who want to just get out of bed and go!


12. Feathered Bob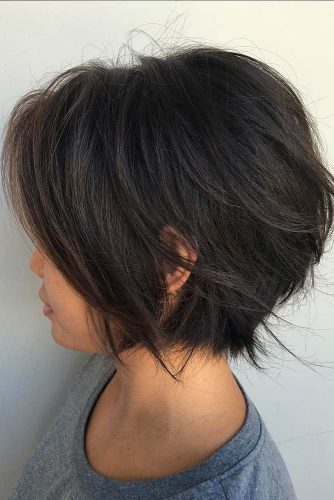 This chic style is perfect for those with thicker hair. The short, feathery waves are sleek and ideal for any occasion.


13. Crop with Piecey Bangs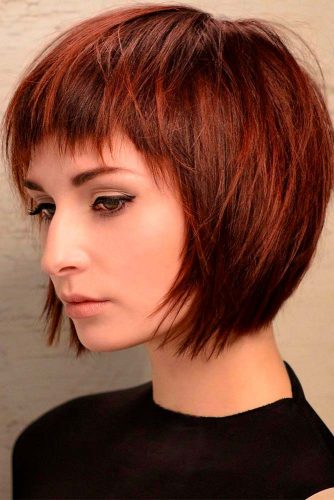 This cut with the funky, piecey bangs is totally hip. All you need to do to achieve these choppy layers is run some pomade gently through your hair. The piecey fringe makes this look fun and playful and adds a youthful vibe.


14. Asymmetrical Crop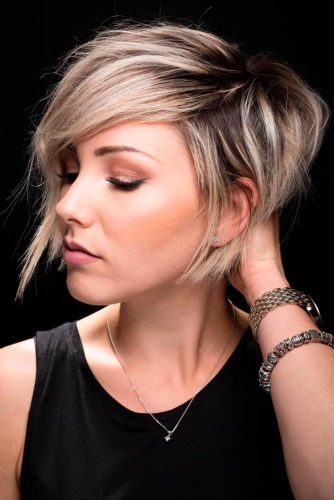 This haircut is easy to style and it is totally adorable. All you need to do is blow dry your hair with a medium-sized round brush for extra volume.
There you have it! Now your task is to pick one of these short layered haircuts and make sure that it flatters your features and personality.


15. Punk Style Pixie for Bright Girls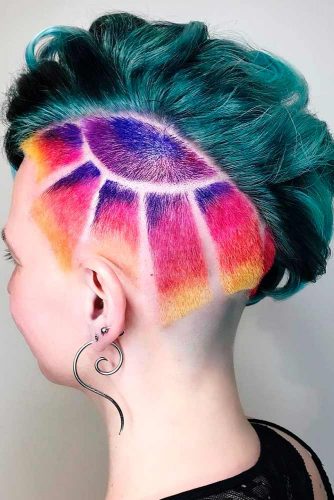 Do you like to shock and surprise others? Then this bold style will suit you as it is impossible. A long asymmetrical pixie and bright colors of your hairstyles for short layered hair will leave an unforgettable impression!


16. Trendy Colored Short Layered Hairstyles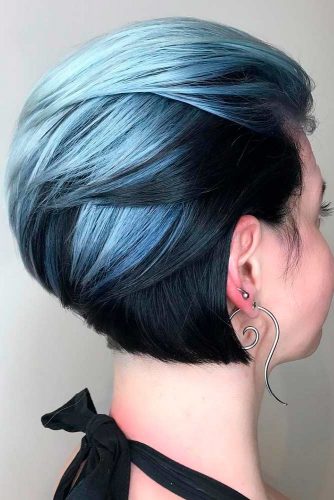 A-cut bob always remains trendy because it is suitable for women of all ages. If you want to make your hairstyle more flashy, ask the stylist to dye your hair in a bright color.


17. Classic French Crop Haircut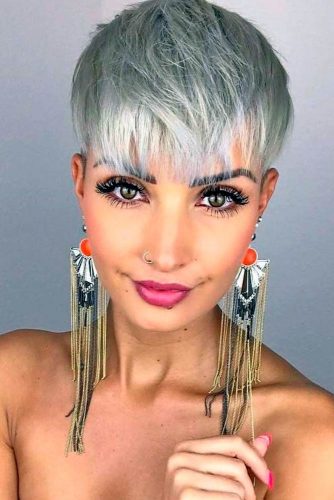 The French crop is a typical men's haircut. But it is suitable for active women who want to look stylish and fashionable with the minimum time spent on styling.


18. Stylish Undercut Bob for Brave Girls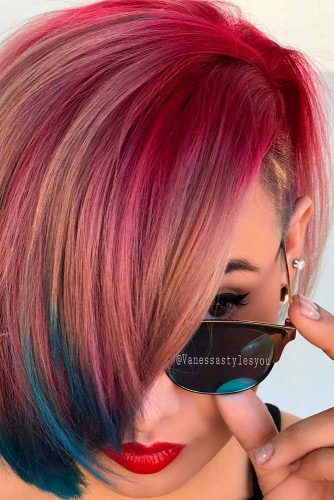 Do you like to attract attention? This cocky haircut is just made for you.


19. Chin Length Bob with Side Bangs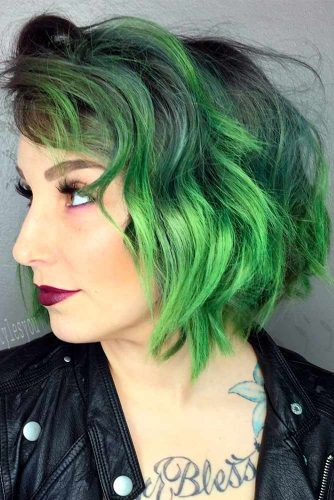 A classic bob can be bright and cocky! Dye your hair in a neon color, use a curling iron, and you're in the spotlight!


20. Elegant Sleek Crop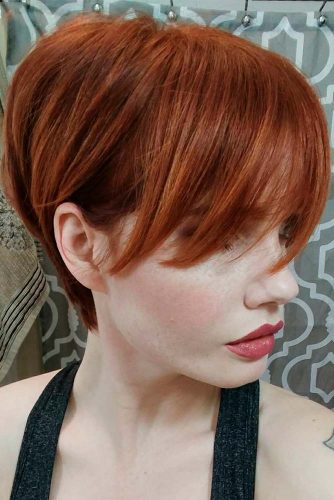 If you want to look stylish but do not like extravagant hairstyles, choose an elegant sleek crop.


21. Classic Textured Lob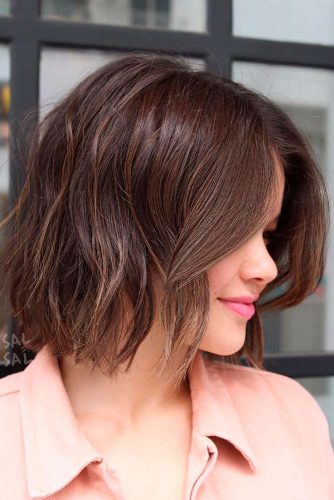 It is another example of an elegant short haircut. A classic chin length bob will look really feminine if you curl your hair a little.


22. Short Layered Haircuts with Bangs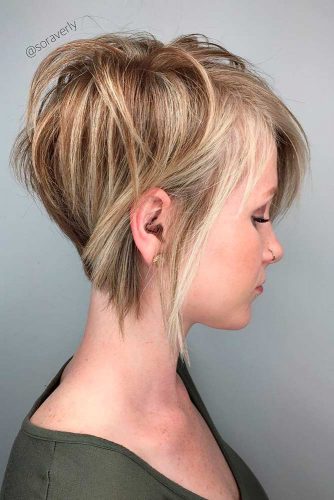 This hairstyle is an excellent option for active and modern women.


How to Do a Short Layered Haircut: Video Ideas
Source:
Glaminati.com