Blue hairstyles is simply gorgeous, there's no ands, ifs or buts about it! If you're going to go for a bold new look, blue is the way to go!
Blue ombre hair is all the rage, but there are so many styling options for blue styles that you don't have to limit yourself to one style! Check out our favorite looks!
From blue and pink hair to blue and purple hair, we have it all!
1. Blue, White, and Purple Streaks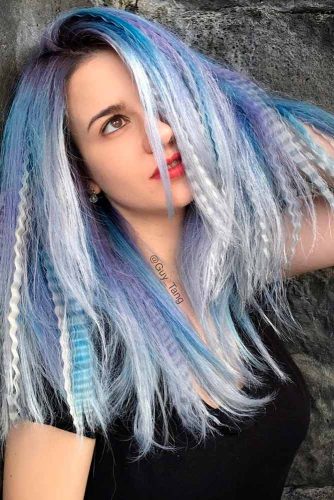 This shoulder-length cut with curly ends and side bangs is super cute. And the thick white chunks with pastel blue and lavender streaks give it a slightly modern edge.


2. Icy Blue Waves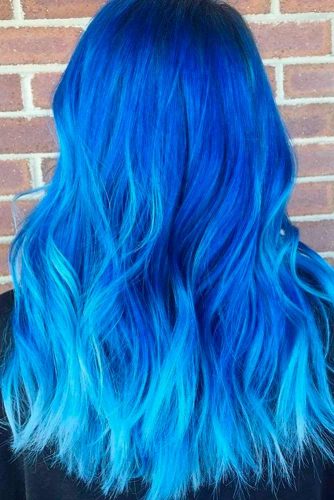 Beachy waves are sexy and flirty but with this dark to icy blue ombre fade, they are super seductive!


3. Blue Bob with Bangs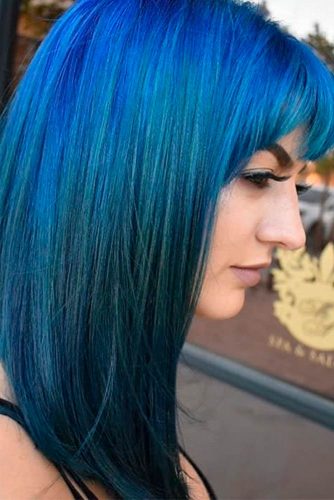 This short bob with blunt bangs is always a cute style, but the bold blue color gives it a bit of an edge. Add some darker blue streaks in the fringe for an additional pop of color!


4. Blue and Teal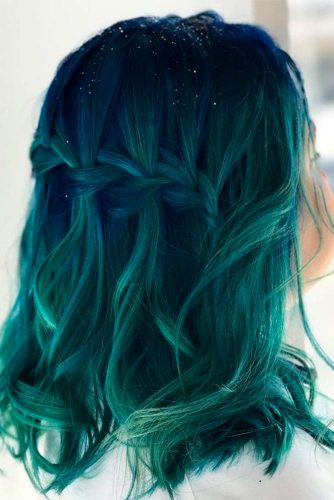 This is another take on the mermaid style. These sexy waves with deep purple and turquoise blue highlights are just breathtaking!


5. White and Blue Ombre Curls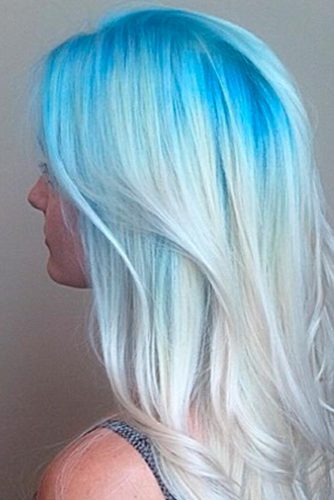 This pretty color combo is reminiscent of a summer sky. The white roots and ends with a soft baby blue ombre fade is lovely. And curly tendrils at the bottom give it a romantic vibe for the look that's both flirty and timeless.


6. Mystical Mermaid Braid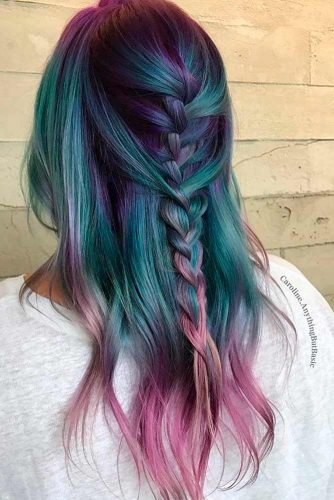 This lovely combo of blue and purple tones is positively gorgeous when woven into a stylish thick mermaid braid. This look is Boho chic with a modern flair thanks to the bold splash of colors throughout.


7. Grey and Blue Hairstyles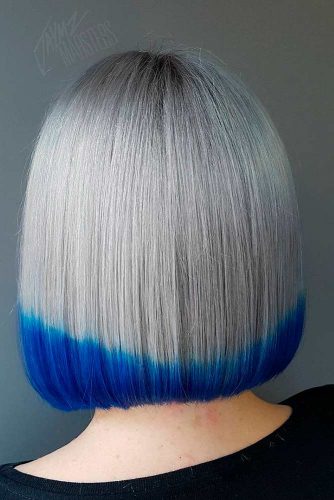 Grey hair is quite stylish these days. And this silver grey and blue balayage combination is pure sophistication at its finest!


8. Blue Hairstyles and Brown Ombre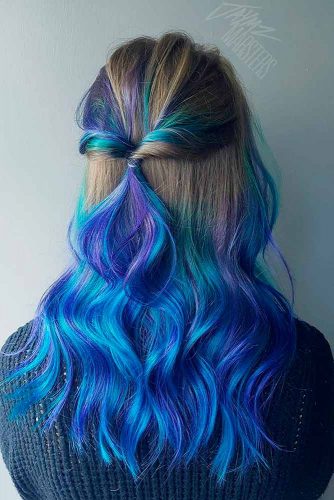 Blue and brown color combos are everywhere these days from home furnishing to clothing! So, why not try this popular combo on your hair? The long, flowy curls with sky blue dipped tips are perfectly stunning!


9. Black and Blue Bob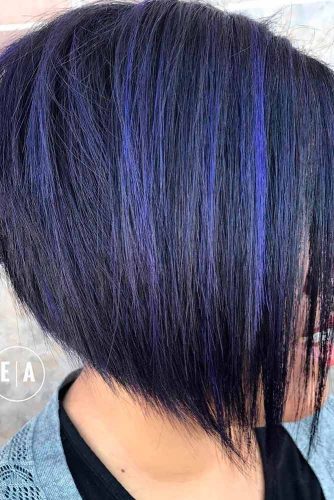 Asymmetrical bobs are great if you want a look that's a bit more daring. These teal and royal blue streaks on a dark black base are simply electrifying!


10. Pink and Blue Spun Silk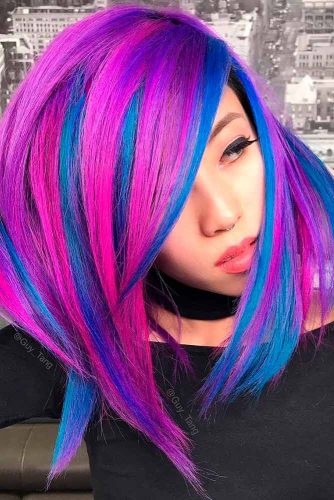 This cotton candy pink and baby blue combo is stunning! If you love pastels, this look is perfect! The big, bouncy curls make it even more fun and just a bit retro!


11. Peek-A-Boo-Blue Hairstyles
If you aren't quite ready to commit to a full head of blue hairstyles, why not try these soft blue undertones? You can wear your hair down to hide the blue during the day. Then if you want to rock your blue locks, you can pull your hair into an updo or half updo.


12. Blue and Green Fade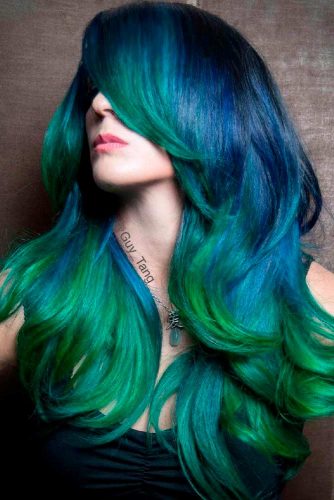 If you love the mermaid look, this teal blue hairstyles and sea foam green ombre fade is pure magic!


13. Baby Blue Hairstyles and Bombshell Blonde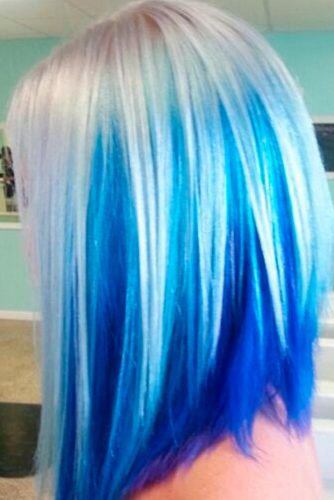 This short platinum blonde bob is sleek and shiny, but the baby blue tips make it look super seductive and playful!


14. Baby Blue and Lilac Ombre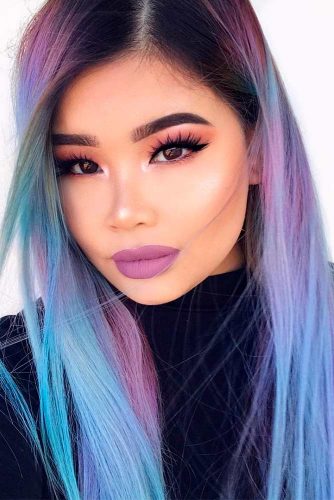 Both of these colors are so delicate and pretty. The pastel blue hairstyles and light lilac look like cotton candy! This look is so sweet and chic!


15. Cobalt Blue Balayage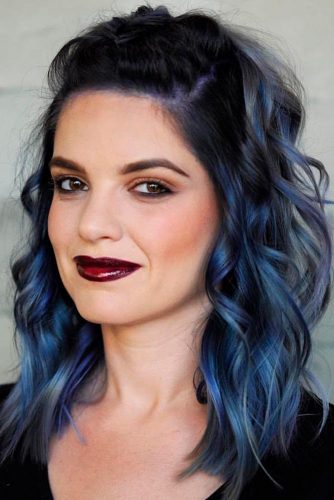 Cobalt blue hair is so chic! This dark brown to cobalt blue fade is also sophisticated and stylish!


16. Unicorn Hair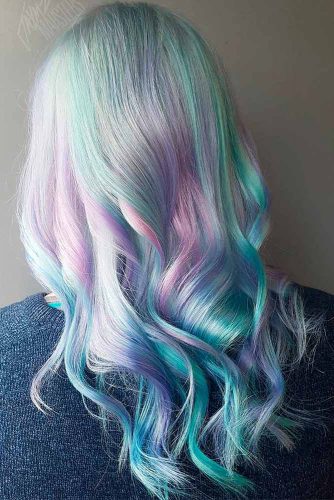 This "reverse" ombre with light blue roots and dark blue tips is magical and mystical!


17. Dark to Light Blue Ombre Fade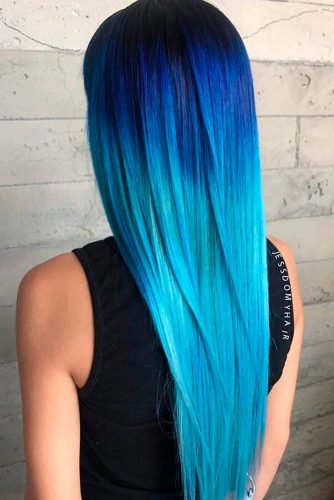 If you can't decide on one shade of blue, why not try them all? We think this fade from dark blue to very pale pastel blue is just darling!


18. Midnight Blue Hair Color Ideas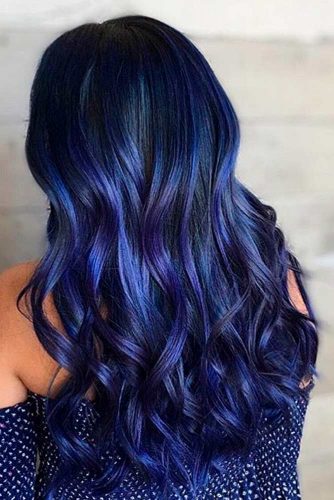 This blue-black color is out of this world gorgeous! If you want a daring color, you can go with this dark shade for a totally edgy, slightly gothic vibe!


19. Denim Blue Babe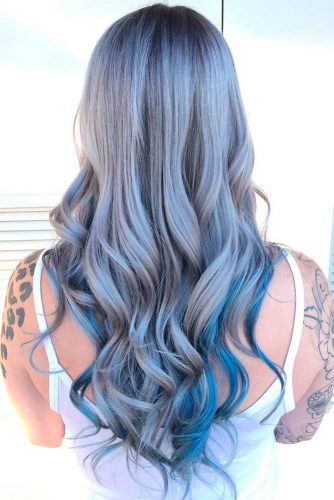 This silvery-blue color is so pretty! If you are feeling bold, why not dye all of your hair with this trendy color and totally rock the blues?


20. Black Hair with Indigo Tips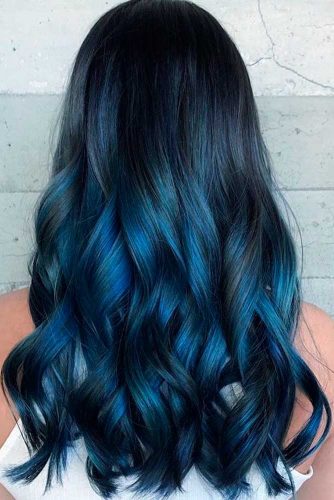 This indigo blue is breathtaking. With the sleek black long hairstyle and just dipped blue tips, you'll be sure to turn heads!


21. Peacock Blue Hair Ideas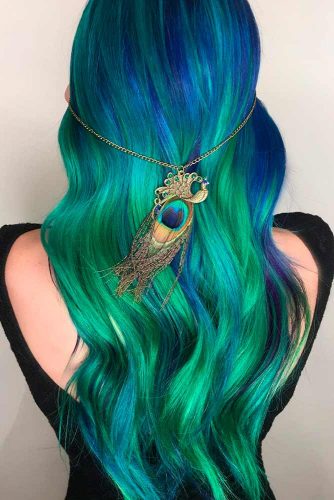 If you're feeling really bold, try this combo with dark green, deep purple, electric blue, and silver streaks that resemble the feathers of a majestic peacock?
Are you feeling bold enough to go blue? We hope these awesome ideas for blue hair have inspired you to try one of these stunning shades of blue!


22. Striped Stencil Design
The contrasting dark and light short blue hair striped hair stencils on ash blonde look really stylish and trendy.


23. Fairy Indigo Short Blue Hair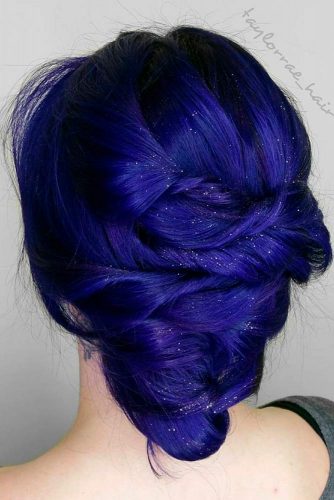 Rich blue with a purple hue looks enigmatic and fascinating. Add some sparkles to make your look absolutely fabulous.


24. Bright Blue and Turquoise Ombre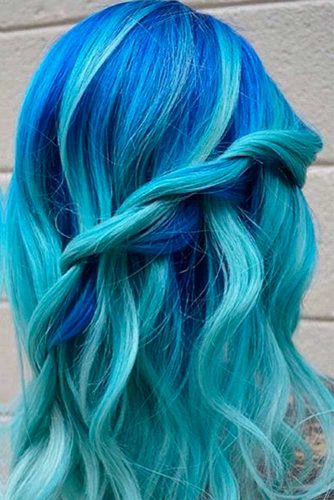 The combination of these two shades of blue looks impressive. A deep color on the roots and light turquoise waves on the tips create a sea-wave effect on your hair.


25. Trendy Short Hairstyle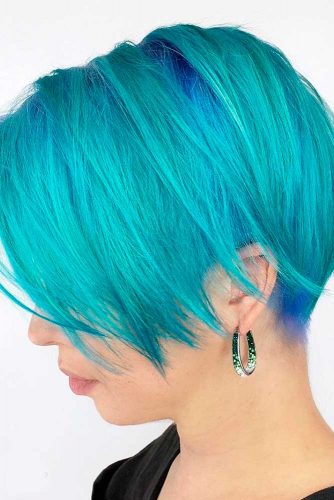 Short haircuts always look fresh and bold. Use bright blue colors to make your look absolutely stunning.


26. Blue Hair with Sparkle Undercut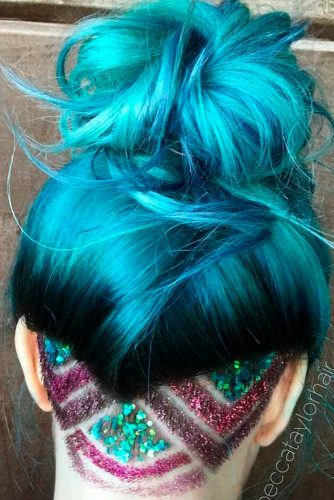 Undercuts are trend of this season. Your loose hair will look elegant and feminine. But once you lift it up, you'll become a stylish sassy girl. Undercuts with glitter are really incredible.


27. Deep Blue with Purple Highlights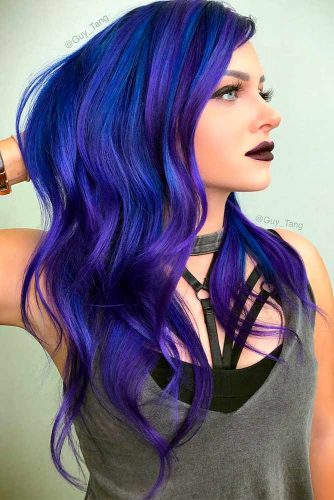 A deep blue color looks really stylish with purple strands. Wave your hair for a prettier effect.


Bonus: Styling Tips to Keep Your Blue Hair Color Vibrant!
Make sure to bleach your hair if you are going from one drastic color to another.
If in doubt, consult a professional stylist for advice or splurge on a professional color. You deserve a treat! And it's always best to play it safe and have our hair colored by a trained stylist.
Make sure to use a sulfate free, color safe shampoo. And don't wash your hair every day. Wash it 2 or 3 times a week to help preserve the color. You can use a color safe, sulfate free dry shampoo between washings if you want.
Hair masks such as coconut oil will help to keep your hair soft and shiny. Also, they will help the color last longer.
Avoid using heat to style your hair as this will dry it out and make the color fade quicker.
Blue Hairstyles for Women: Video Ideas
Source:
Glaminati.com