Halloween makeup is so much fun. You have so much room for creating unique sexy and/or scary Halloween looks. From horror makeup to cute and fun looks, there are hundreds of fun makeup designs for Halloween.


Another look that is becoming increasingly popular is sugar skull makeup. As it started with Día de Muertos, (Day of the Dead), it has become a very trendy look for Halloween.
Crystal Cat Halloween Makeup Idea to Look Perfect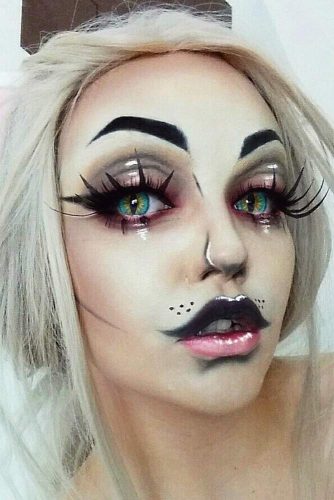 This crystal cat makeup look is super sexy and flirty. We love the thick lashes and sparkly pink eyeshadow and lipstick. Take the sexy kitten look to new heights with this enticing look.


Pearl Sugar Skull Makeup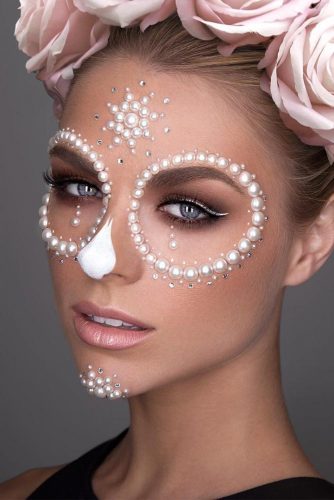 This take on sugar skull art is very feminine and stylish. The pretty pearls give it a feminine mystique. The rose crown is glamorous and chic for a look that's perfect for a Halloween masquerade ball.


Werewolf Smokey Eye Makeup Idea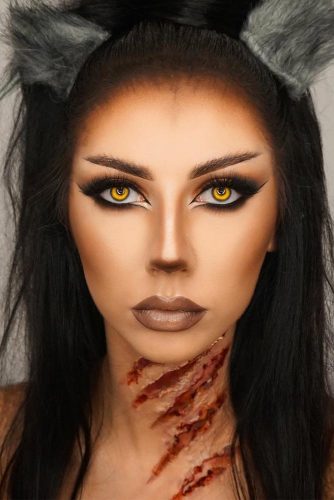 If you want makeup that's both sexy and fierce, this werewolf look is perfect. The facial makeup isn't too complicated but the bloody claw marks on the neck make this look ferocious and unpredictable. The colored contacts and a smokey eye effect will drive men wild.


Simple Wonder Woman Makeup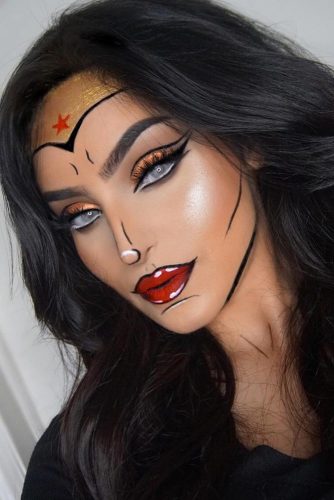 Wonder Woman has been a role model for women of all ages for years. The recent Hollywood blockbuster hit has only made this iconic superhero more popular than ever. This sexy comic book version of the Wonder Woman look will show that you are a strong, sexy, and independent woman.


Fortune Teller Look for Halloween Makeup Ideas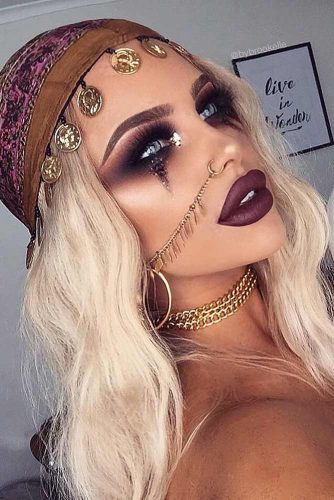 This look is so sensual and mystical. The dark colors give this retro gypsy look a more modern vibe.


Skull Candy Halloween Face Makeup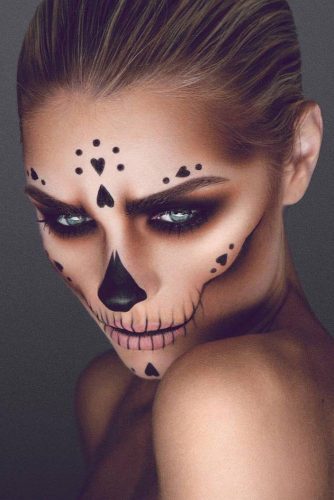 If you want a look that's mysterious with a bit of a darker edge, this skull makeup look is both dark and alluring. This sexy take on skeleton makeup is daring and flirty.


Deer Girl Pretty Helloween Makeup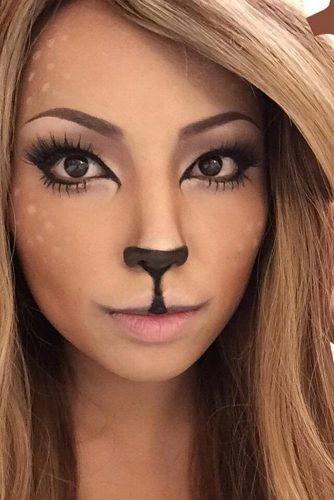 This doe makeup manages to capture both a look of innocence and playfulness at the same time. Let him notice your wild side with this sexual makeup look.


Half-Skull Easy Halloween Makeup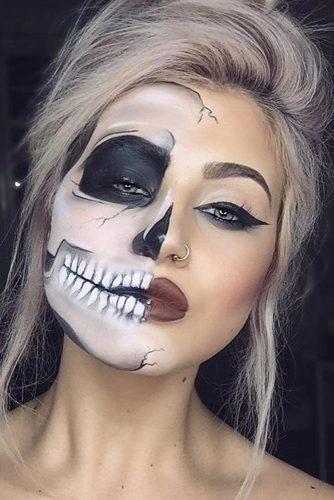 Torn between a soft and feminine look and a more daunting one? This half-and-half glam/creepy skeleton look will reveal both your dark and soft sides to leave 'em guessing.


Spider-Man Inspired Halloween Makeup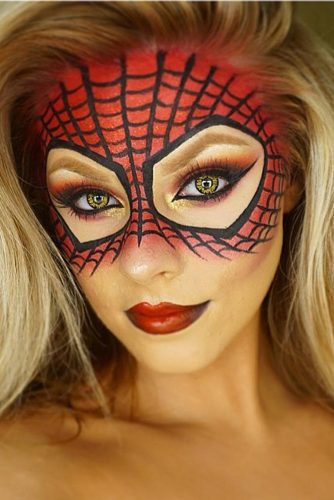 Save yourself the cost of a Halloween mask with this sexy fem Spiderman design. Capture another super hero icon with this trendy Spider man look that will get his Spidey senses go wild!


Skeleton Makeup Look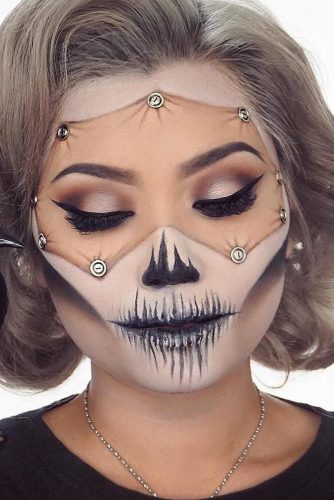 If you want to embrace the darkness within, this skeletal facial art is dark and daring. The gold face eye mask gives it a bit of a sensual vibe but the stitched lips take the creepy vibe to the max.


Leopard Fairy Makeup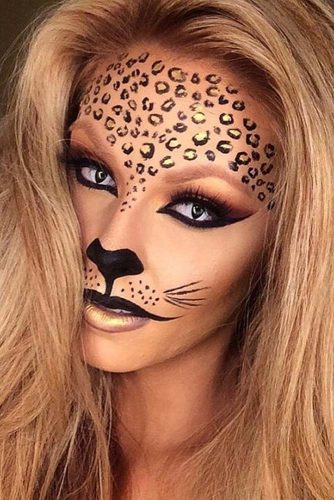 This fairy leopard look is super sensual and ultra glamorous. Show him you mean business both in the sheets and out in the streets with this sexy look.


Ice Queen Frozen Makeup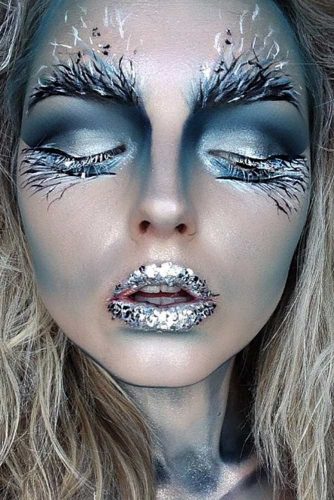 Kick Elsa to the curb with this bad girl Frozen look. Show 'em who the real Queen is with this icy blue facial art.


Cat Makeup for Halloween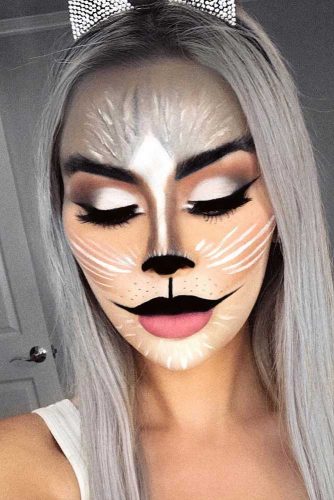 Take the classic cat look up a notch with this sexy face art. The golden contacts will give you a fierce look. Don't forget your sexy cat ears to complete the effect!


Cleopatra Makeup Look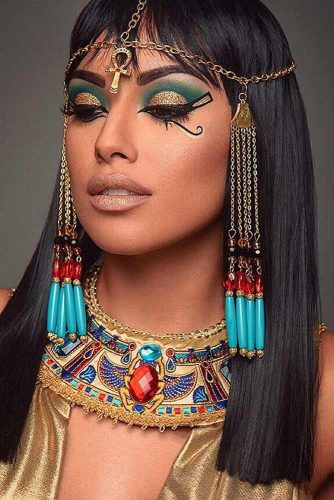 If you take your Halloween makeup art seriously, this look's for you! You'll be sure to win first place (and his heart) with this remake of the classic Cleopatra look.


Bride of Frankenstein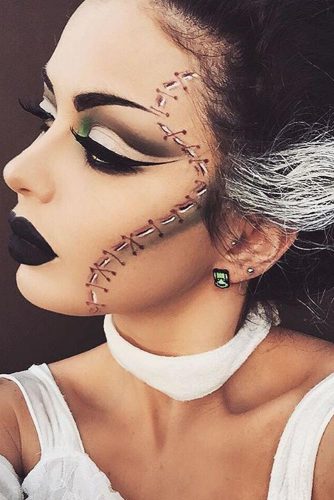 This take on the Bride of Frankenstein look is super sexy. If you want to go for a gory look that will still make him weak in the knees, this look hits the spot!


Mind-Blowing Halloween Makeup Ideas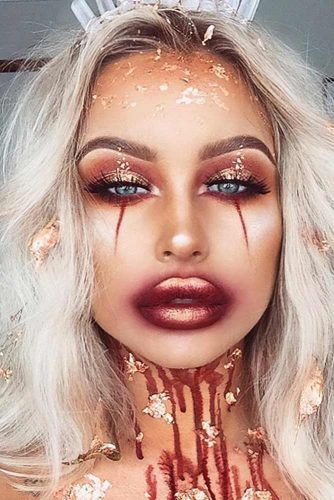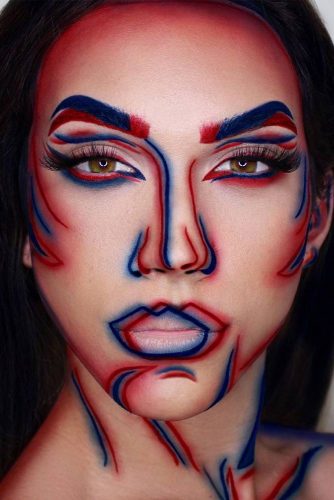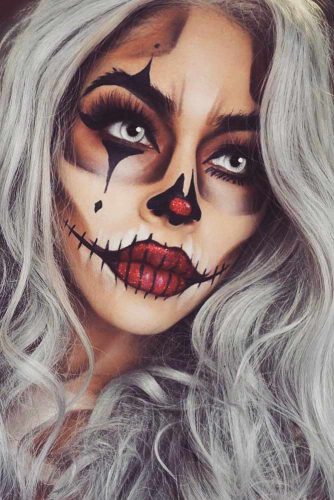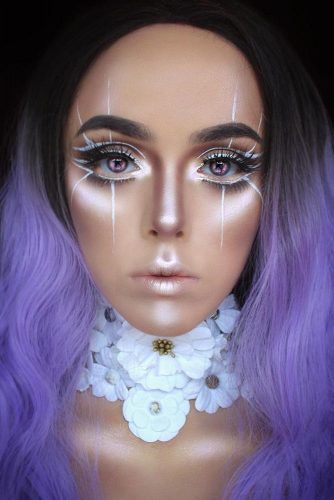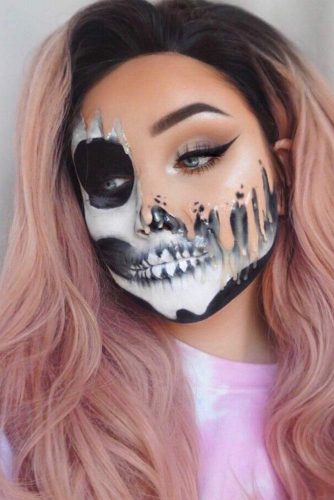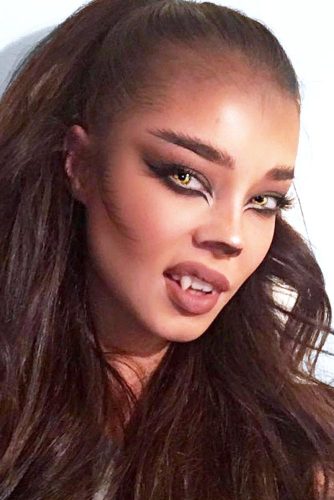 What is your favorite fantasy image? Halloween is the time when you can resemble your favorite character.


Fantastic Halloween Makeup Looks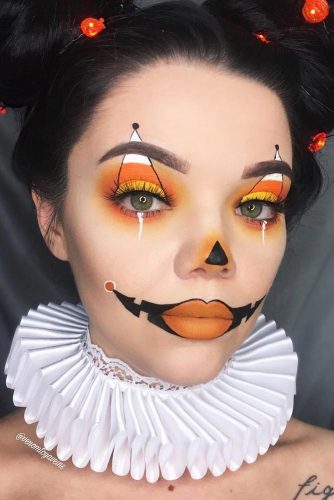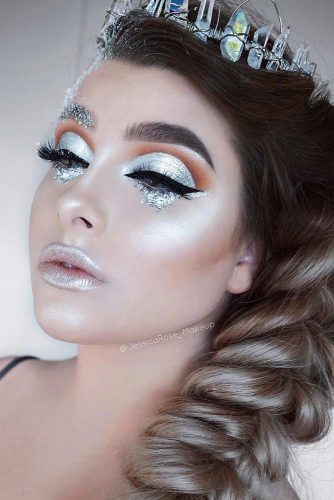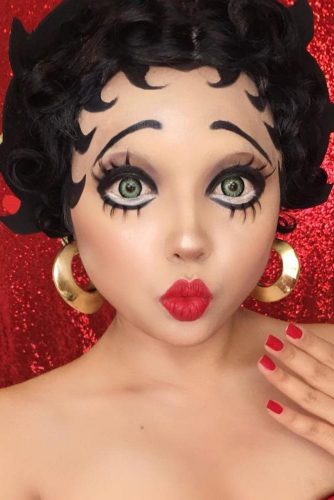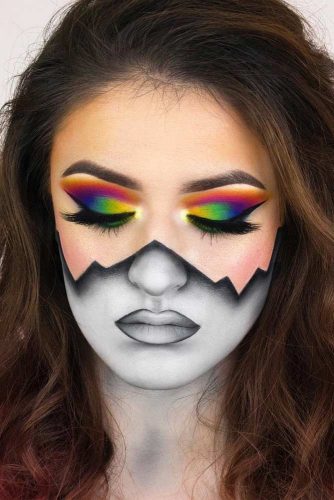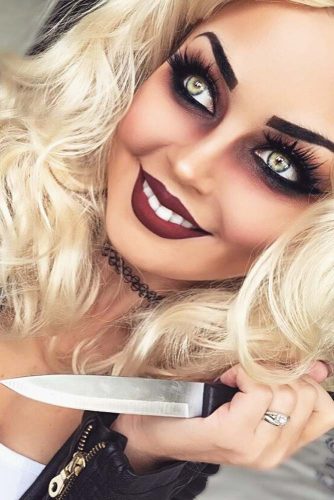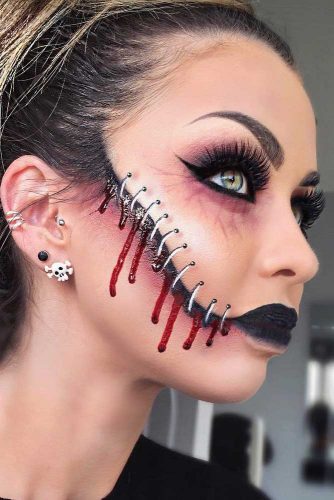 These extremely bright makeup looks will make you stand out at any Halloween party, believe us. All girls will envy and all guys will be mesmerized!


Sexy Classic Halloween Looks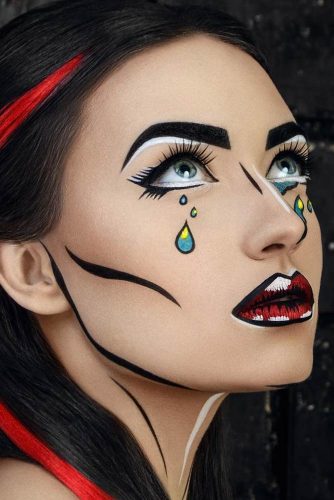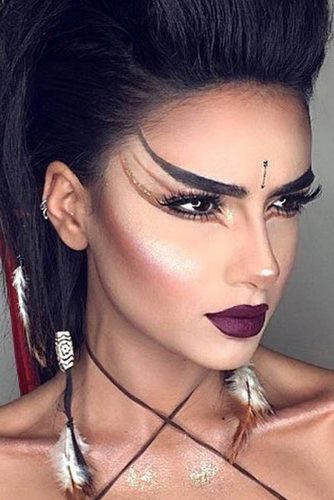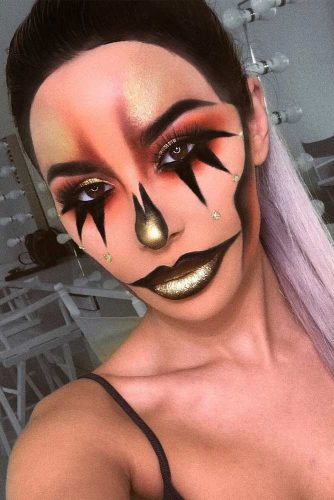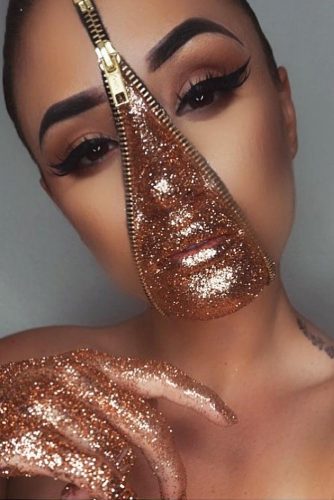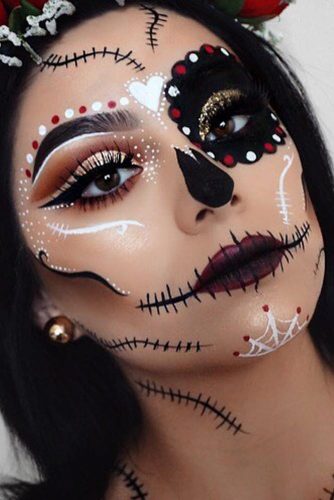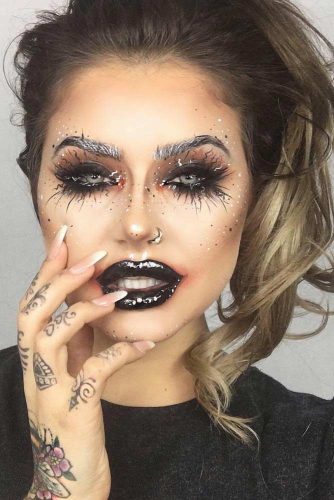 These looks are all-time. If you are a lady who worships classics but respects glam, one of these images is definitely for you.


Halloween is time to be extravagant. Add glow, paint, dramatic lashes, and bright lipstick to your look. Have fun partying!
Pretty Halloween Makeup: Video Ideas
Photos from Instagram.com
Source: Glaminati.com