There are thousands of cute nail designs out there, which is advantageous on the one hand and totally disadvantageous on the other. Yes, the choice is so versatile that you can pick a new cute nail art idea every day. But the problem is that you see all that beauty, and each design seems to be too pretty to pass up this time.


Are you new to nail art or just simply looking for new ideas for cute nail designs? Have no fear, we can give you some advice on what type of designs will work best for you. Keep on reading for some great tips on nail art as well as some really cute pictures of nail designs.
Cute Fun Nail Designs
Cute nails designs are something we all aspire too, but honestly, who wants to spend hours painting their nails every single day? That is why we have consulted expert nail artists for easy nail art for beginners.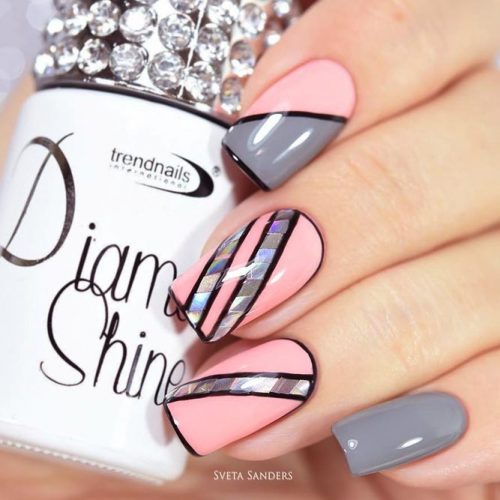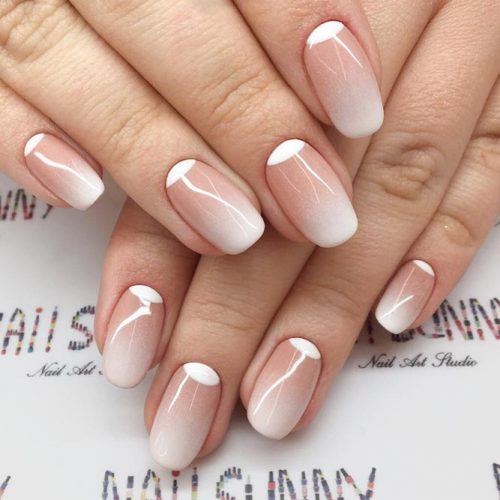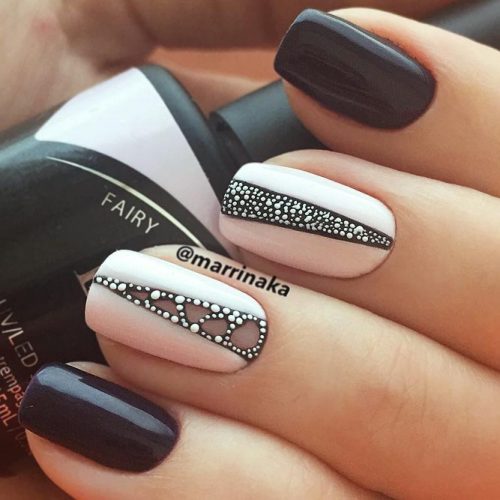 Cute fun nail designs have been popular for quite some time. Gone are the days of solid color nails. Celebrities have been sporting cute nail designs for years, and we can look to them for inspiration. However, one does not have to go to a nail design to copy these adorable nail designs. You can easily duplicate them at home, with a little practice and patience!


Pink Nail Designs for Princesses
When we think pink, we think about being pretty and girly and feminine. But did you know that modern and bold shades of pink can also be used to symbolize a strong and fierce personality? So whether you are feeling especially girly or bold and outgoing, you can find a shade of pink that works for you! Pink nail art has been known to include some of the coolest nail designs and can are suitable for a wide variety of occasions and events!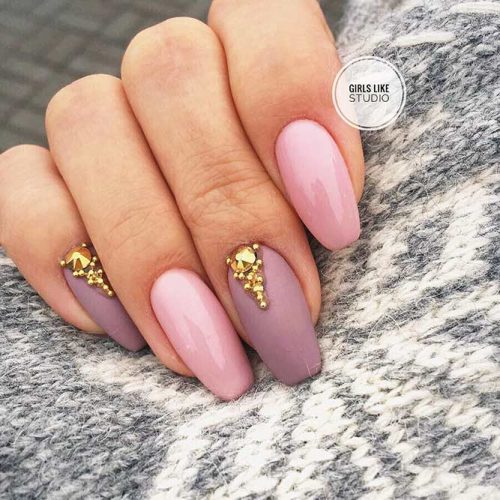 Light pink nail designs are perfect for a special occasion such as a wedding or formal dance. Light pink nails with glitter or light pink nails coffin style have a bit more of an edge if you still want to look chic and feminine but express your individuality as well. However, hot pink nail designs are perfect for summer or a night out with the girls if you want to show off your wild and sassy side, yet still, show that you are a girly girl!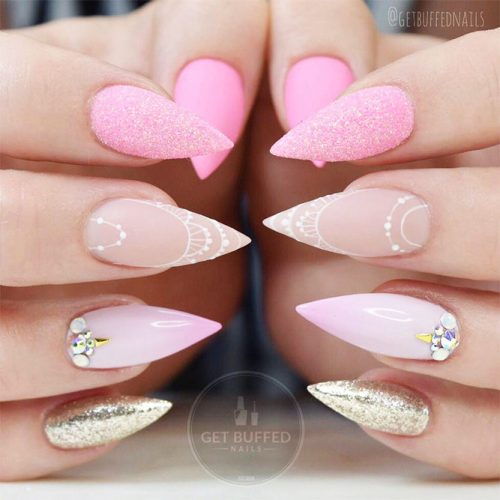 Pink nail designs are always a favorite choice, especially for girly girls! There are so many stunning cute nail designs for those who love the color pink!
So how do you know what shade of pink will best match not only your style and mood, but your skin color. Certain shades could either give your skin a weird glow or make it look washed out. Following is a guide for how to choose the best pink nail color for your complexion.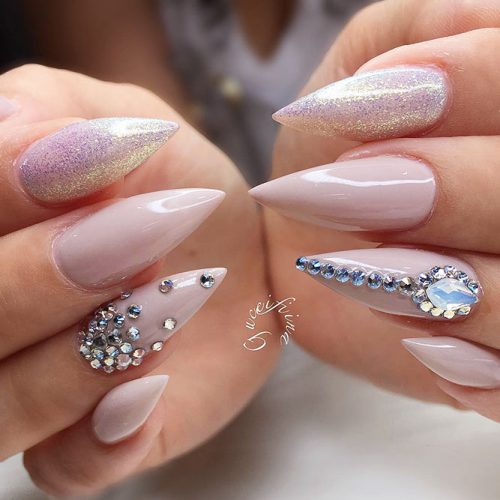 Darker Complexions
If you have a darker skin tone you should choose shades such as Rosy Beige or other warm tones that will compliment your gorgeous dark skin.
Medium Skin Tones
Those with medium complexions should go with a pink beige as it will help brighten up your skin. As well, soft peach shades work best on those with pale olive skin tones.
Pale to Light Complexions
Those with fair skin should stick with sheer pink shades that will enhance your skin color. As well, a creamy blush shade will work well for those with pale complexions.
Pictured above are some stunning pink nail designs in various shades of pink. From coffin nails to stiletto nails, pink nail designs are simply gorgeous, don't you agree?


Bright Glitter Nail Designs
Glitter nail designs have been a huge trend for years, and they don't seem to be losing popularity. Every girl at one point in her life has been obsessed with glitter. Nail designs with glitter tips are quite fashionable right now and can dress up any outfit or look.
Glitter is so much in demand these days as it is everywhere from glittery eye shadows and lipsticks to glitter nail art, glitter is now almost a mandatory accessory for the chic fashionista!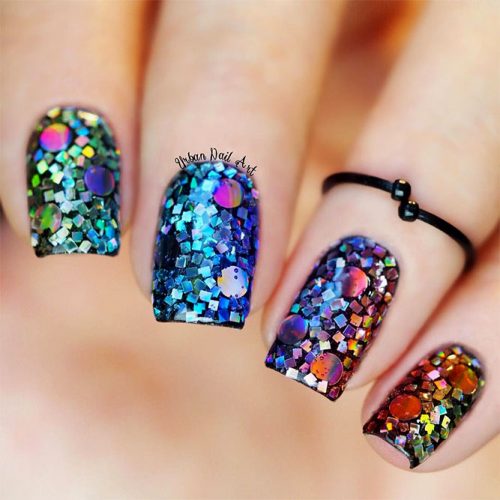 Glitter nails are suitable for many occasions from holidays to special events such as weddings and proms! Red and white glitter nails are perfect for both Christmas and Valentine's Day while gold glitter nails coffin style are perfect for occasions such as a wedding or New Year's Eve!
If you don't want to go all out, there are some very simple designs with glitter that are still elegant and stylish. There are many easy nail painting ideas for glitter nails that you can do right at home. For example, if you want a super easy look, most stores sell glitter nail polishes. Or you can paint all of your nails one color and then paint your accent finer with a sparkly glitter polish! Pink and silver glitter nails are also very easy and perfect for the girly girl.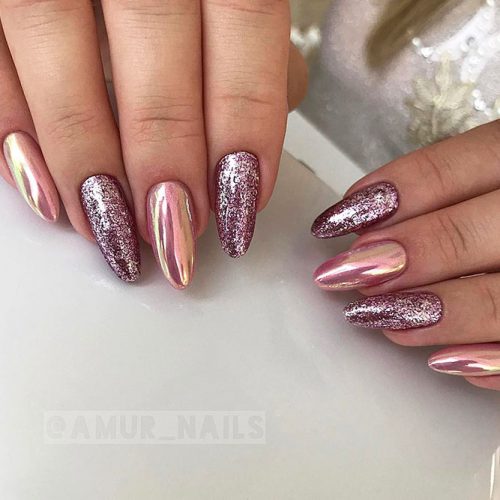 You can also incorporate ombre nails with a clear glitter polish for a look that's ultra chic and trendy right now as ombe is all the rage. Ombre is everywhere from hair to nails to clothing styles, and we think ombre is here to stay so why not try pretty ombre nail art designs with glitter!
Glitter nail art can also be used in combination with other designs. Some very cute ideas for nails include a French manicure with glitter tips or summer nail ideas such as painting your nails with a pretty blue glitter polish, allowing it to dry and then painting cute sea creatures on your nails for a fun beachy look. There are literally dozens of ideas for cute nail designs for glitter nails!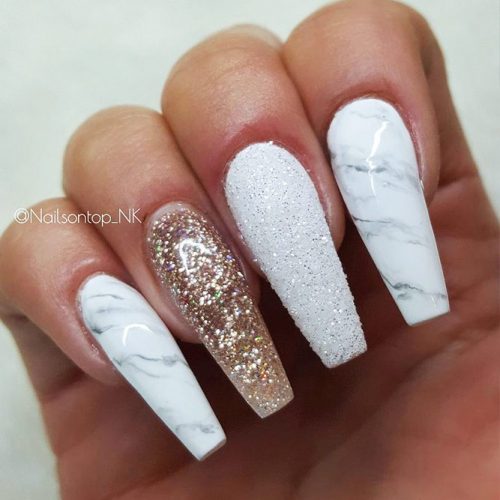 Check out these glitter nail art designs pictures for some inspiration. From shooter nails with gold glitter tips to more elaborate long coffin nails with marble art and a golden accent finger, there is something for everyone!


Food-Inspired Finger Nail Art Ideas
Whether we want to admit it or not, we all love food! And what better nail art ideas than those that are food-inspired and dedicated to some of our favorite foods such as pizza, cupcakes or doughnuts!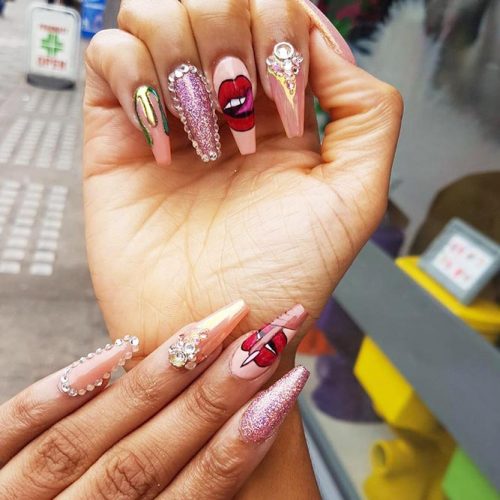 Almost any food can be used as inspiration for nail designs for long nails and short nails alike! Do you have a favorite candy? How about gumdrop nails? Or if you are a fast food junkie, you can adorn your nails with cute designs with tacos or hamburgers and french fries! Love sushi? Why not paint your nails with colorful sushi designs? Or better yet, seek inspiration from your favorite snack foods such as cupcakes, chocolate chip cookies, doughnuts and even ice cream cones? Ice cream nail art is perfect for those looking for nail designs for summer.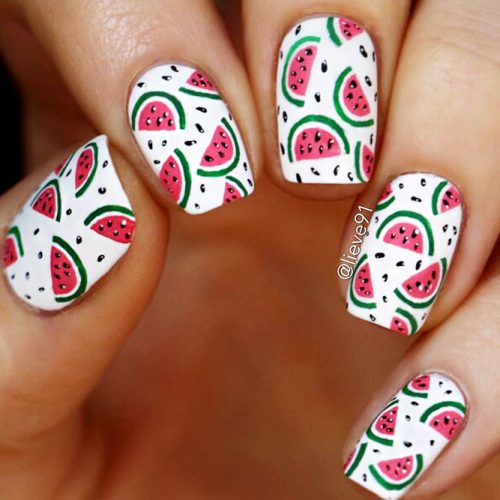 Now if you are wondering about what colors to use for foodie nail art designs the answer is the sky is the limit! You can paint your nails black and then adorn them with yellow candy corns for Halloween, or paint them a pretty pastel for Spring and paint pink cupcakes on your nails. Simply pick your favorite food and then choose the color that best goes with it!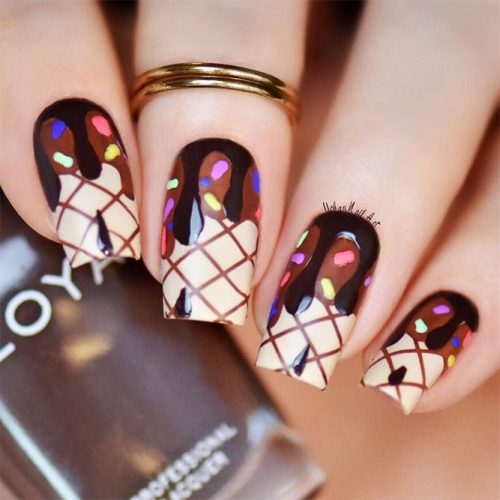 Here are some fun ideas for food inspired nails. You can paint the design on one finger or on all, it's totally up to you! Food and snack inspired nails also look very pretty on acrylic nails as well!
Cupcake Nails
Birthday Cake Nails
Doughnut Nails
M&M Nail Art
Candy Bar Nails
Gum Drop Nails
Taco Nail Art
Sushi Nail Art
Fast Food Nails
Pizza Nails
Cherry Nails
Watermelon Nails
Ice Cream Cone Nails
Ice Cream Sundae Nails
Strawberry Nails
Lemon and Lime Nail Art
Apple Nails
Popcorn Nails (perfect for movie night!)
Starbucks Coffee Nails
Martini Or Wine Glass Nail Art
As you can see, there are tons of ideas for foodie nail art!


French Manicure Cute Nail Designs
Nail art designs seem to come and go as far as style trends are concerned. However, there is one design that never seems to fall out favor and those are French manicure designs.
What exactly is a French manicure? Obviously, it is a nail trend that started in France, mainly Paris, as Paris has always been the center focus of the fashion industry. A traditional French mani is one that consists of a pale pink or nude base with white tips. However, the French manicure has come a long way over the years and is one of the most commonly requested nail styles at nail salons worldwide.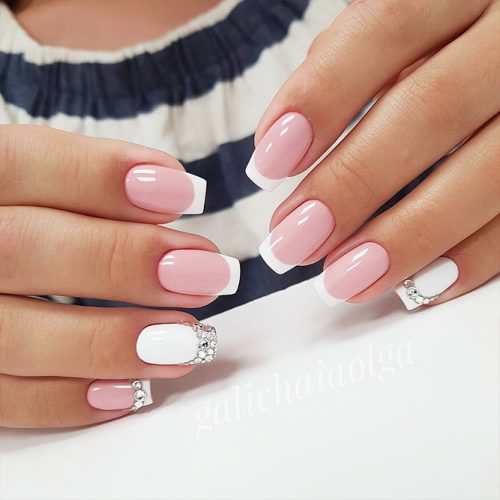 And one of the reasons why French manicures are still popular today is that they are very easy manicures for short nails. Whether you have long nails or short, natural nails, a French manicure is timeless, chic and classy and will work for any occasion from work to play to even the most formal affair!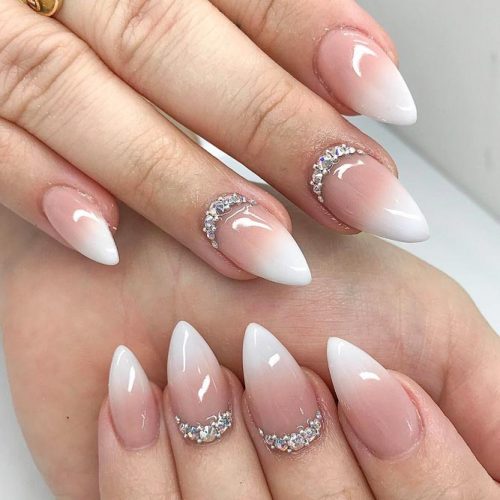 French manicures are extremely versatile and can work with any event in your life from a business meeting to a night out on the town to a luxury cruise! Another plus of a French mani is that they are long-lasting as well as one of the most simple and easy nail designs to do at home!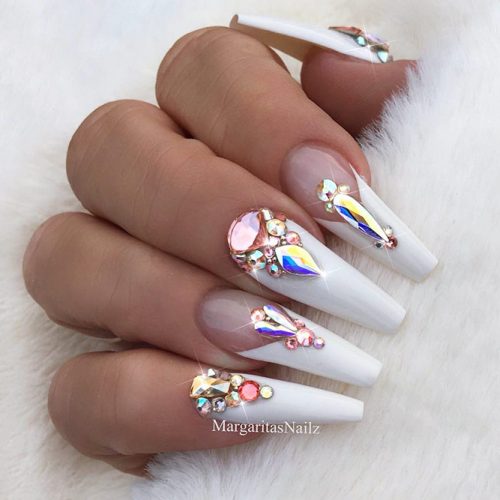 A classic French style manicure with a nude, pink, beige, or cream base and white tips are classy and will work for any event from a company picnic to a senior prom or graduation. And of course, it goes without saying that French manicures are the most popular styles when it comes to wedding nails.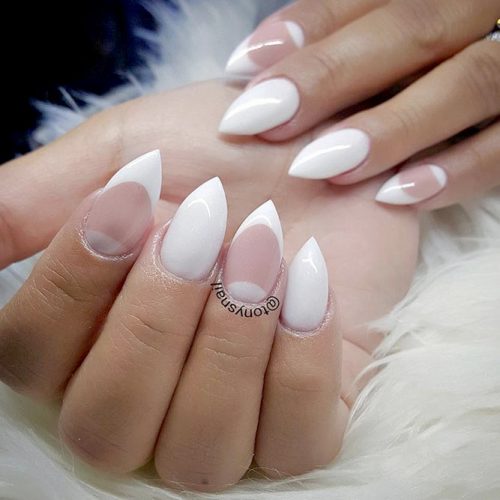 French manicures can be done on either natural nails or you can also go to your nail salon and ask for gel or acrylic nails. As well, you can also find stick on French style nails at your local beauty store. They work well with any style or length of nail from french manicures on short nails to natural nails to long nails such as coffin nails or stiletto nails. There are dozens of styles for French manicures.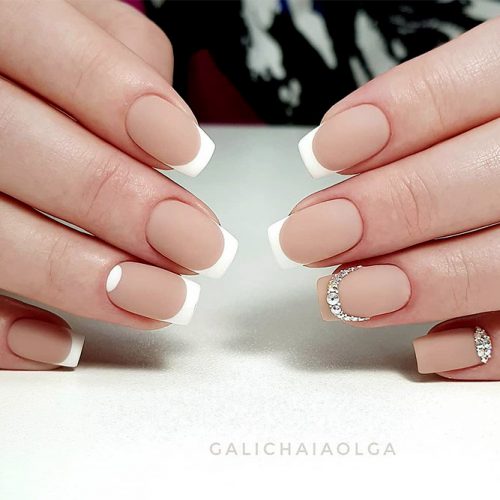 Here are just a few of the most popular:
Pink nails with white tips
Black nails with white tips
Pastel colored nails with white tips
Red nails with white tips
Nude nails with red tips
Nude nails with gold or silver tips
Gold or Silver nails with white tips
Blue nails white tips
Black nails with white tips
As you can see, there are countless options for French manicures! You can pretty much choose any color combination for this timeless look!


Tips for Your Next French Manicure
Now that out have some background info on French manis, here are some useful tips if you are considering a French manicure for your nails.
Practice makes perfect.
If you are hesitant about doing a French mani on your own, go to a salon the first few times.
Take your time!
Nail tape is a lifesaver when it comes to French manicures!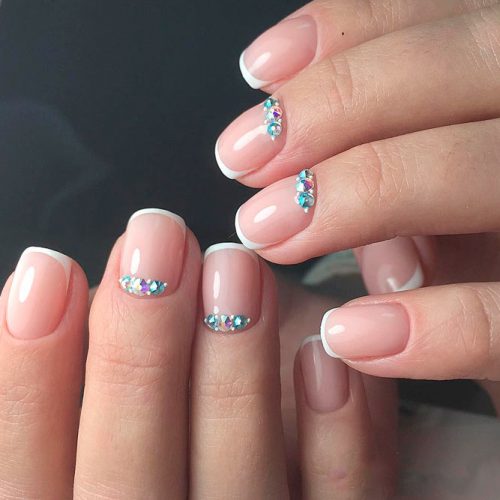 Now here is the fun part. As French manicures are one of the easy nail art designs to do at home, you can take your time and get creative. Here is a quick guide on how to do your own French mani.


DIY French Manicure For Natural Nails
Materials needed:
Hand cream
Cotton swabs
Nail file
Nail polish remover
Clear nail polish for base and top coats
White nail polish for tips (or your color of choice)
Opaque nail color for base (or your color of choice)
Nail tape or pusher (optional)
Steps:
Trim and clean your nails.
Apply a clear base coat and allow to completely dry.
Apply your base coat in three even strokes, starting at the center and then down to the sides (one coat is plenty). Allow drying.
Use nail tape as a guide to paint your tips.
Allow to dry completely and apply a top coat.
Easy Flower Nail Designs
Every girl loves floral nail art. It can work for almost any occasion and it goes well with every season, but most especially Summer and Spring. However, sunflowers are very trendy in the fall and poinsettias are a popular choice for Christmas nails!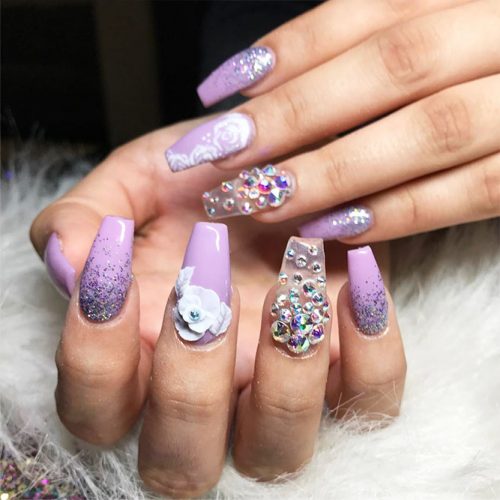 Floral nail art designs are acceptable for a multitude of events from work to play and are very pretty for weddings and dances. Here are some ideas for easy flower nail designs:
Rose nail art
Cherry blossoms
Sunflowers
Poinsettias
Flower art with butterflies
Flower nail designs with bees
Floral nail tips
Tulips
Lilacs
Orchids
Carnations
Tropical floral designs
Pastel floral designs
Matte floral nail art
Neon floral nail designs
Accent finger floral nail art
Flowers and gemstones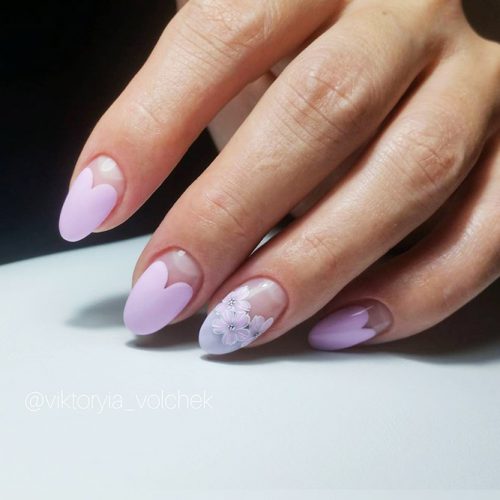 As you can see, there is a wide selection of styles for floral nail art! All you need is your favorite nail polish colors and some inspiration!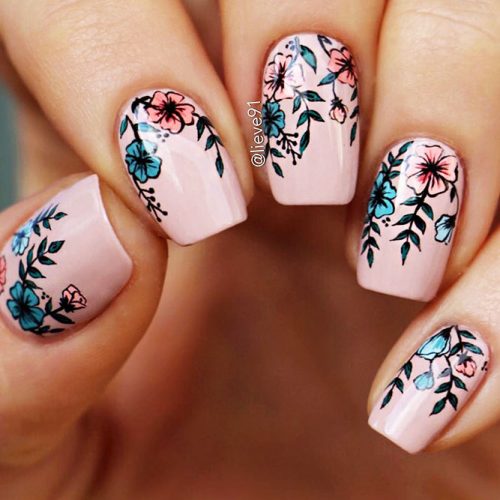 Floral nail designs work great on any length of nail from natural nails to stiletto nails so if you are feeling girly, you will never run out of ideas for pretty flower nails!


Cute Ombre Nail Designs
Ombre nails are one of the most popular cute nail designs that are trending right now. Ombre came out of nowhere it seems and from hair to nails, it seems to be here for the long haul!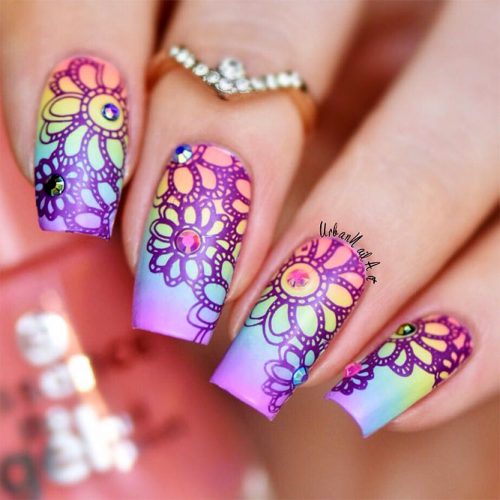 One of the best things about ombre nail art is that there are so many styles from ombre nails french manicure designs to ombre nail coffin and stiletto length nails! Here is a quick list of some of our favorite styles for ombre nails:
Ombre nail glitter fade
Vampy red and black ombre fade
Rainbow ombre fade
Whole hand gradient (where each nail is a different color fading from darkest to lightest or vice versa)
Reverse ombre fade
Diagonal ombre
Horizontal ombre
Vertical ombre
Ombre nails white and pink
French ombre coffin nails
Red and white ombre fade
Christmas ombre nails
Halloween ombre fade
Goth ombre nails
Neon ombre nails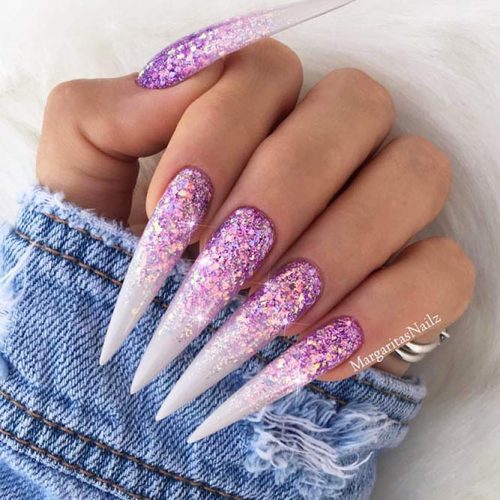 Again, the list is endless. You can pretty much come up with any color combo for ombre nails! And the best thing about them is that they are suitable for almost any occasion! A soft feminine ombre style French manicure would be most suited for a wedding or formal affair while a bright neon or rainbow ombre fade would be perfect for summer!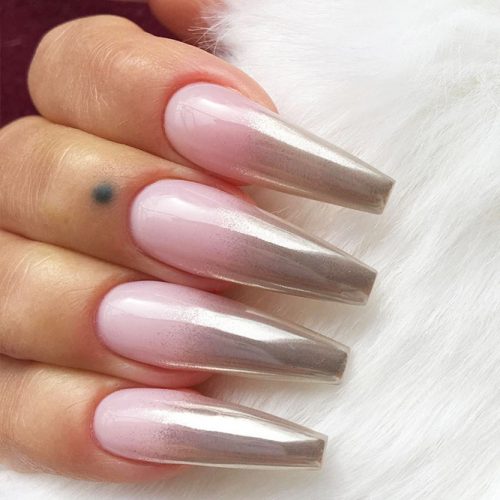 While some of the more complicated ombre nail art can be a bit tricky, there are some easy styles you can do at home.


Season Themed Nails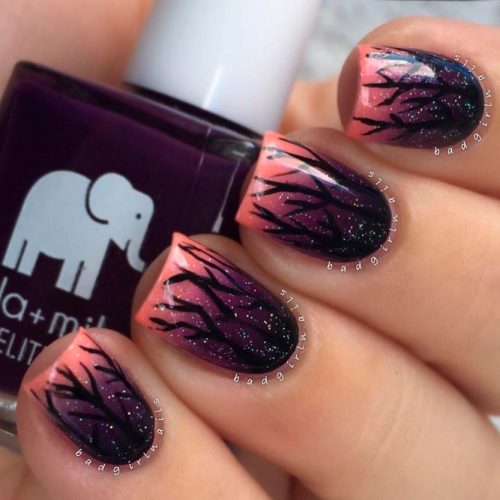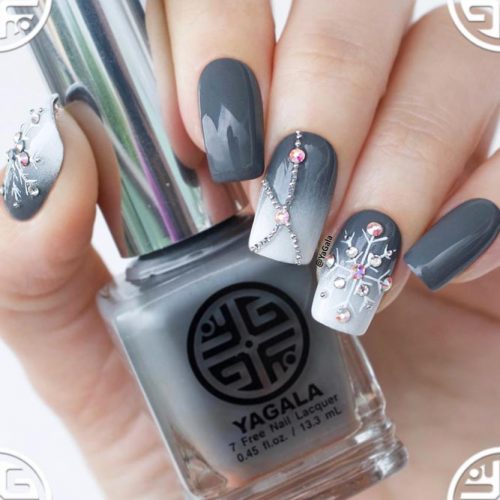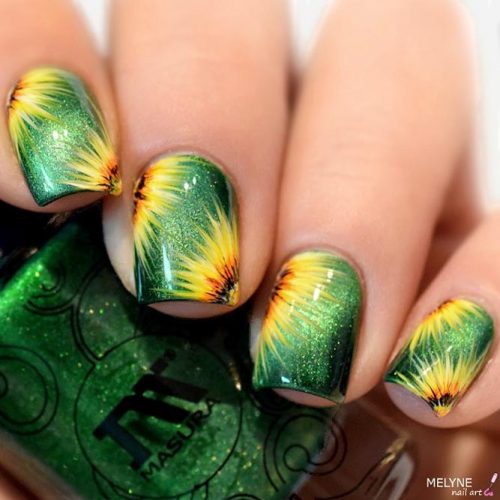 And the best thing about cute nail art is that you can find a design to match any season on special occasion. In the Fall, you might wish to sport a cute pumpkin or leaf design, while in the Spring you might opt for butterflies and flowers. As well, you can choose bats or skulls for Halloween or Christmas trees or poinsettias for Christmas. Celebrate your birthday with cute cupcakes or Valentine's Day with hearts and X's and O's. There is no end to possible of ideas for cute nail art designs for any occasion!


Nail Art For Your Mood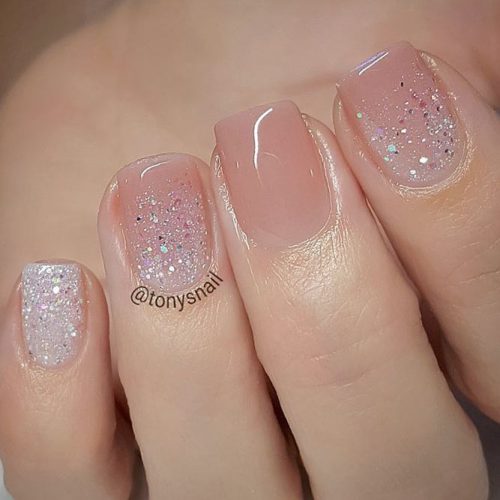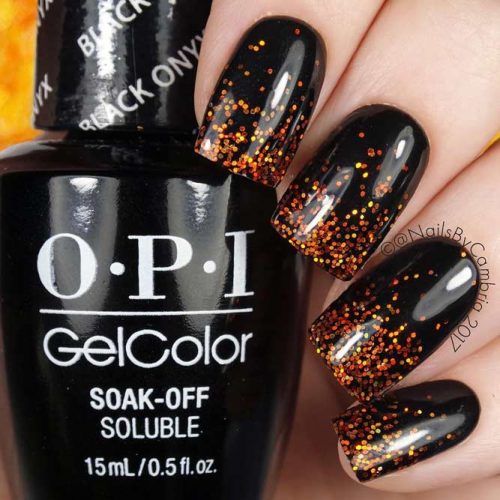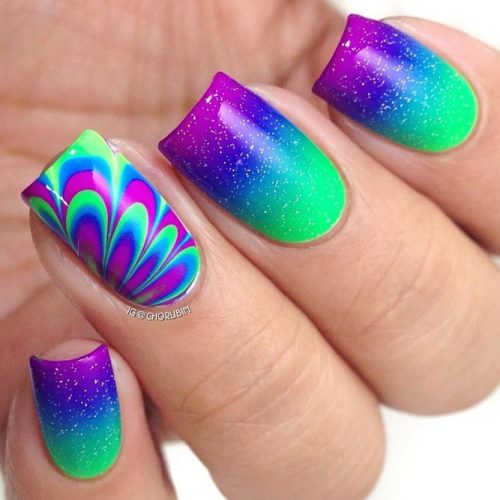 Of course, you will want your nail art design to match your look, from your outfit to your personality to your mood that particular day. If you are in the darker mood and feel like dressing goth that day, you certainly can't wear hot pink nails with hearts and flowers. You would look for a more dark design to match your mood and wardrobe, such as skull and crossbones. Or if you are going to a wedding, you don't' want to show up with cartoon characters on your nails! You would want a more elegant, yet still cute, design, such as lace nail art. It is important to take the time to make sure that your nail art is appropriate for the event but still also matches your style and personality as well!
As you can see, nail art designs are becoming an essential part of your daily look, just like your makeup and hairstyle.
We hope our guide for cute nail designs has inspired you to up your nail game and try some of these adorable and trendy nail art designs!


Cute Nail Designs: Video Ideas
Source:
Glaminati.com