February is the festival of love with Valentine's Day being the center of attention. A whole month dedicated to the purest form of attraction between two people calls for a big celebration. Valentine's Day is just around the corner. The big day when couples celebrate the declaration of their love can be a bit stressful for people who are quite indecisive. A day out with your loved one or a day in with your favorite pizza on the big day, cute Valentine's Day outfits for women are a luxury everyone deserves to enjoy.
The day dedicated to love; Valentine's Day demands you to go all out in preparation. Planning a big day out with your loved ones may be quite stressful and distracting leaving little to no time for styling an outfit for yourself. Not to worry though, for we got you covered with some of the best ideas for the perfect V-Day outfit.
5 Best Valentine's Day Outfits for Women
Leather Jackets
Leather jackets are the very cornerstone of fashion. Their style, suavity, and vibes are unmatched by any other piece of clothing.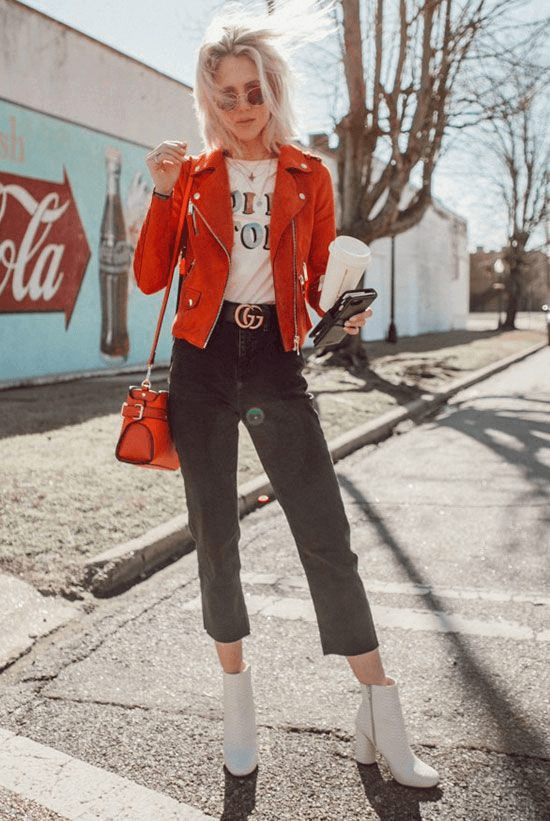 Leather jackets are the epicenter of every winter fashion trend and we will not ask you to take our word for it. Try them yourself and you shall know why leather jackets make the sexiest of women's Valentine's Day outfits. Leather jackets come in a variety of styles however, the best ones for women are truly the biker jackets. These jackets are the true definition of upbeat fashion and give off absolute killer vibes.
Wear a red biker jacket over a white t-shirt, black skinny jeans and a pair of high-rise heeled boots for the perfect outfit. If you want a variety of designs for leather jackets, Yellowstone Clothing is also a great way to style your outfit however you like. Who knows, you might find something that suits your vibe entirely.
Dresses
Planning the perfect day out with your loved one can entail some serious stress and micro-management. If you find yourself short on time and in need of an outfit urgently, wear a dress that you absolutely love.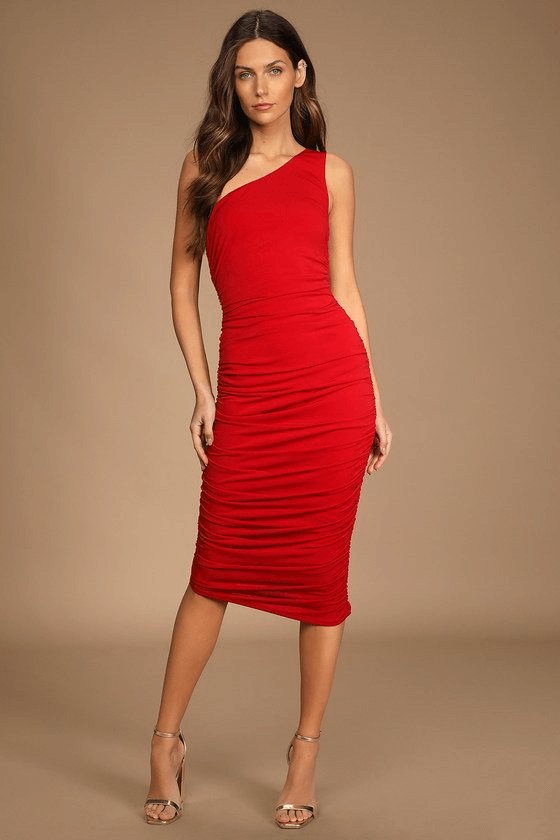 Dresses are the perfect way to get all dolled up for your loved one on the big day, ready to make one of the happiest memories together. Dresses come in all sorts of shapes, sizes, and designs. Choose the one style that suits you best and you automatically have the best outfit ready for your perfect date with your significant other. For the perfect outlook, wear a red slinky high-neck midi sleeveless dress with white knee-high heeled boots.
This outfit is bound to stun your significant other, having them unable to take their eyes off you. In case the weather decides to be merciless on your big day, wear a varsity jacket on top of the outfit to keep you warm and cozy as these jackets are capable of doing wonders. The Houston Astros Jacket goes well with dresses as the jacket itself is quite stylish and fancy.
Suits
Suits are real heartthrobs. The outfit is made for formal events; Suits are the epitome of formal fashion. Who says that suits are only for men to wear? The big day entails a lot of work on everything.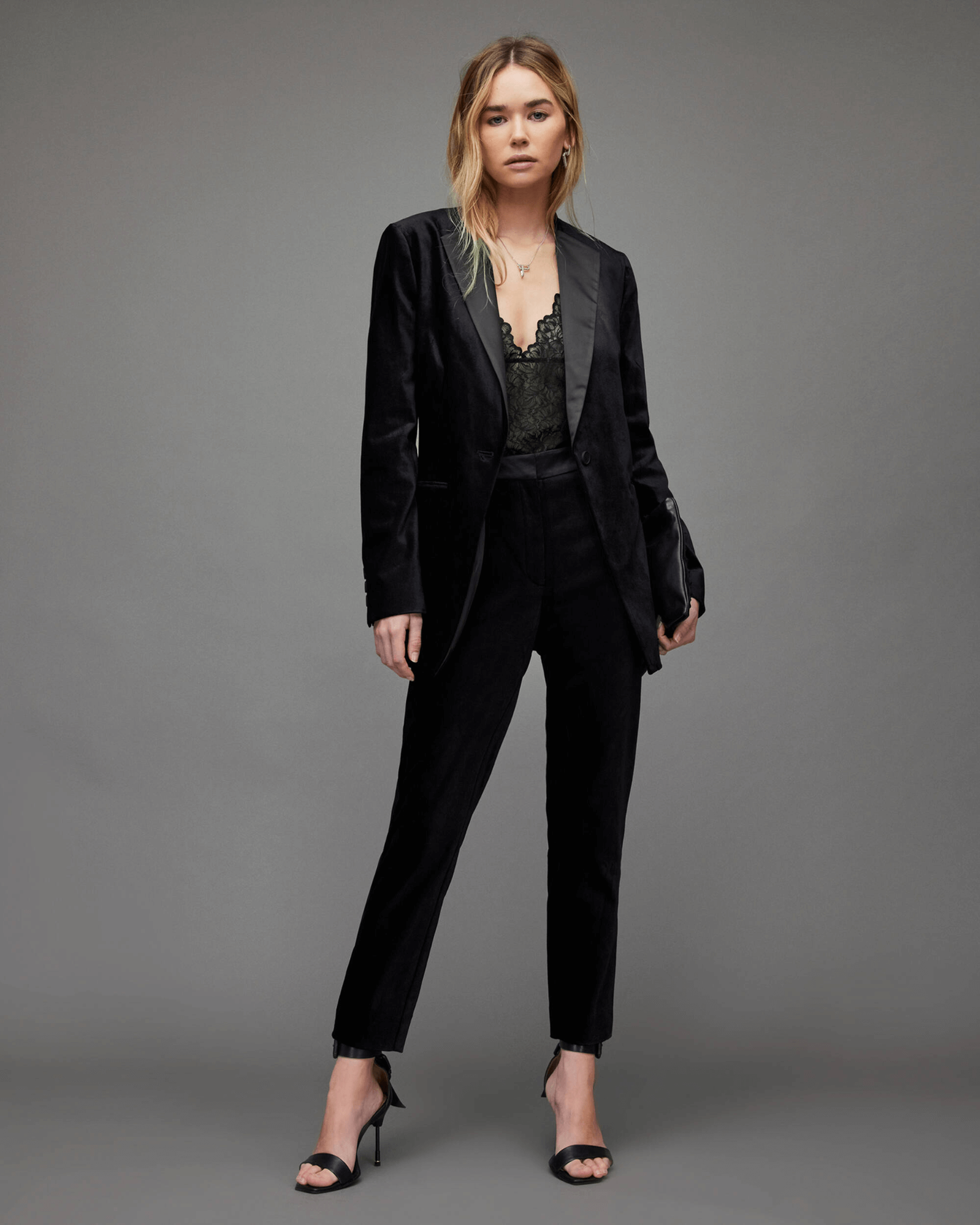 Planning the date, choosing the perfect Valentine's gifts for him, and other minor yet important details can be a bit too much at some times. After all this, the easiest way to put together a sexy Valentine's Day outfit is to wear your best suit from the wardrobe. A suit is a perfect outfit for dinner at some high-end restaurant as those places call for a formal outfit. What better way to style a formal outfit than wearing the best suit people have ever laid their eyes on?
For the perfect outfit, wear a black velvet suit with a black silk slip bralette and Stiletto heels underneath. Perfect for a date, this suit is bound to turn heads all around you, drawing the eyes of your loved one only on you. After all, it is you they're out with. Why give them a reason to look away?
Sweaters
Enough about love and dates. Valentine's Day is not such a lucky day for everybody. We know. However, even if you do not have a date, there is no stopping you from dressing up all fancy and cute for the day.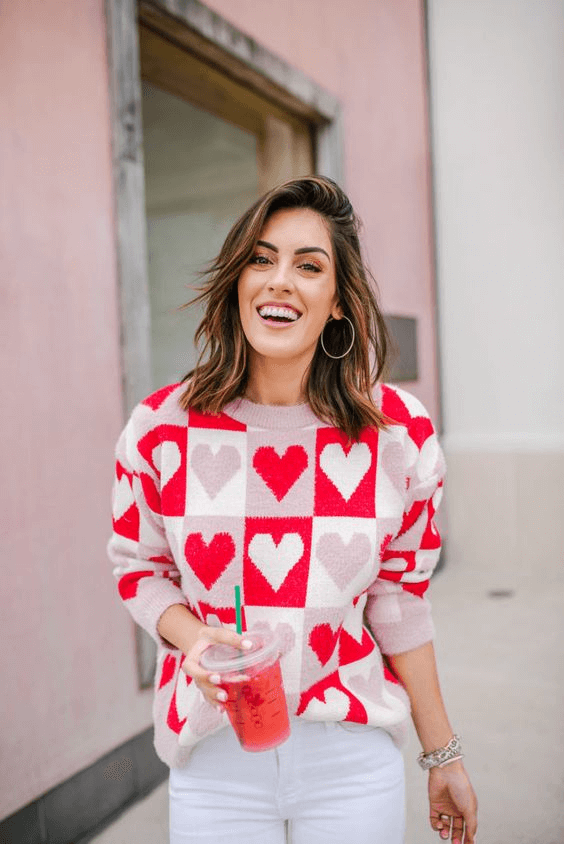 Dress up cute and fancy and go out with your friends or with the one person who loves you the most in the whole wide world (yourself obviously). Wear a cute women's Valentine's Day outfit and treat yourself to a fancy dinner or lunch, or maybe hang out with your friends at the movies or at home. The perfect way to dress for the occasion would be a sweater filled with hearts showing your love for all of them. Wear a heart-knitted sweater with white skinny jeans and a pair of low-cut sneakers for the day out. This outfit is perfect for staying bundled up on the couch all day with cheesy rom-coms running all day on the TV, or for partying out with people. Whatever suits you, this outfit follows you there.
Skirts
No one to spend Valentine's Day with? Not to worry because Valentine's Day is all about spending the day with the one who loves you the most and, well, you are the one who loves you the most in the entire vast world. Wondering what to wear on Valentine's Day? Wear a skirt.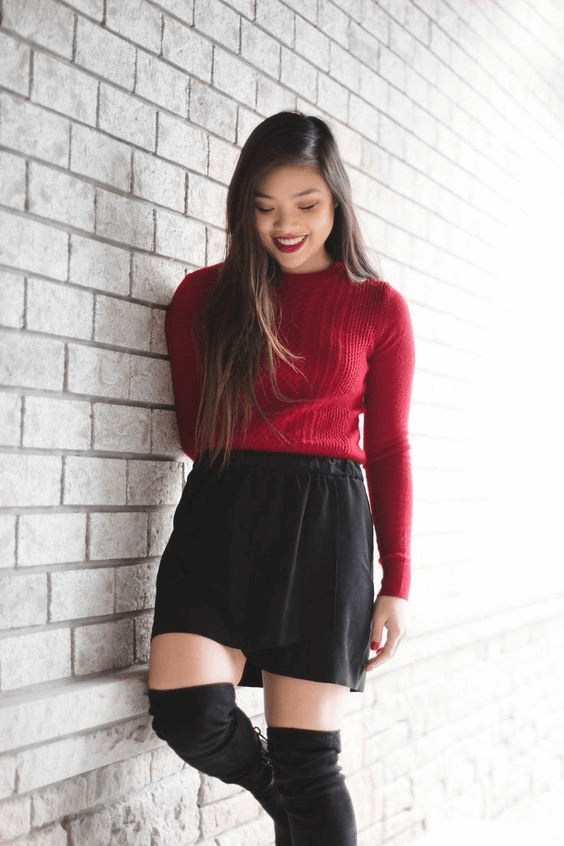 Skirts are quite fashionable and a bit fancy. A date with yourself is a great occasion to dress fancy and, well, you deserve to dress your best. For the perfect day, wear a red knit sweater with a black high-waisted skirt with over-the-knee boots. If those boots are not to your taste, you can try black leggings with boots underneath as well. This sexy Valentine's Day outfit goes best for the day, shining the spotlight that you deserve on yourself, looking all chic and fashionable. Who knows, maybe this outfit is the key to finding someone to spend Valentine's Day with next year.
Conclusion
Valentine's Day is the celebration of love. The day is declared to celebrate the pure relationship between two people. This day calls for a date with your significant other and dressing up for that date is an important part. Luckily, these outfits are the best out there for your big day with your loved one so enjoy and plan the day with ease as we got all the great outfits you shall need for the big day. If you are not so lucky however, to get a date on Valentine's Day, we got the cutest outfits for you as well so that you may be able to enjoy your day to the fullest while looking absolutely stunning.