Do you plan to visit a nail salon but have yet to decide which nail design to choose? Or do you need help with the nail shapes that suit your fashion? Don't worry; we got a detailed guide for different nail styles and popular nail shapes in 2023.
Nail shape and design are essential aspects of personal style and nail care. Choosing the right shapes of nails or designs helps enhance your overall look.
You can find plenty of different nail designs and shapes to choose from, each with its own unique characteristics and feel. From classic shapes like round and square to trendy shapes like a stiletto to the coffin, you can find the perfect option that suits your nails and preference.
So, get ready to explore the different nail shapes and designs that will help you achieve your desired look in 2023!
What is the Most Popular Nail Shape in 2023
Do you want to update your look this year? Then, you can't go wrong with coffin nails? They are the most popular nail shape in 2023!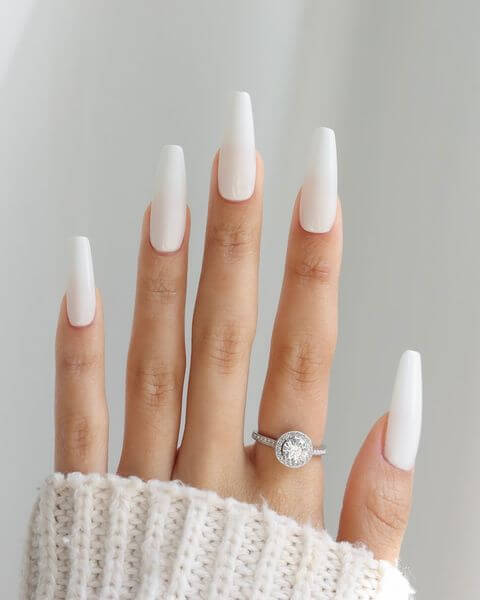 Also known as ballerina's nails, coffin nails are named after their resemblance to a coffin or ballerina slipper. Combining a square and coffin shape, this nail shape features a straight edge with tapered, pointed tips.
One of the reasons for coffin nails' popularity is their versatility. You can wear them in various lengths. Also, they look great in different variety of nail designs, such as glitter, French tip, ombre, and more. They offer an edgy and sleek look. But they are also practical for everyday wear. Their popularity among influencers and celebrities contributes to their continued trend.
12 Different Nail Shapes for 2023
Trying out different nail shapes and designs will undoubtedly keep things fun. It is also a creative way to express yourself. Like experimenting with colors and design, finding the ideal shape for your nails delivers a sense of confidence.
Here are the 12 different shapes you should check out this 2023: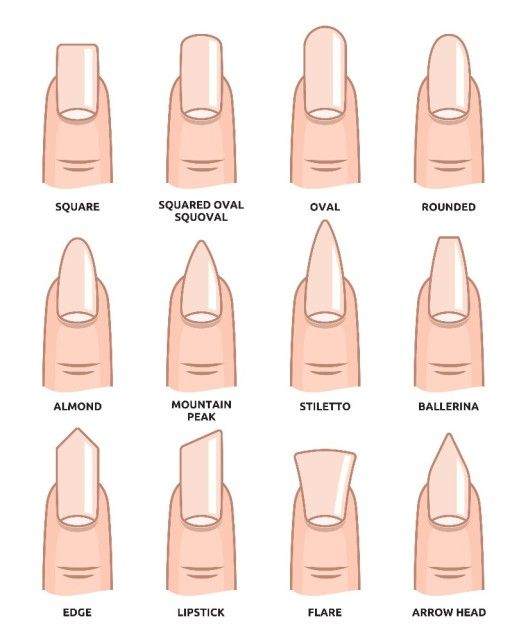 1. Almond Nails
For a chic and glamorous look, you can opt for almond nails. This nail shape exudes sophistication and elegance. It is characterized by a tapered point, resembling the almond's shape.
These nails are well-suited for those with shorter fingers or wider, stubby nail beds. The shape's sharp point can make your fingers look slenderer as it creates the illusion of length. But this shape can also be a nice option if you have longer fingers with wider, stubby, or short nail beds.
You can go for metallic, shiny, or plain nail polish shades. Simple and elegant nail polishes can instantly complement the nails' elongated shape and glamorous look.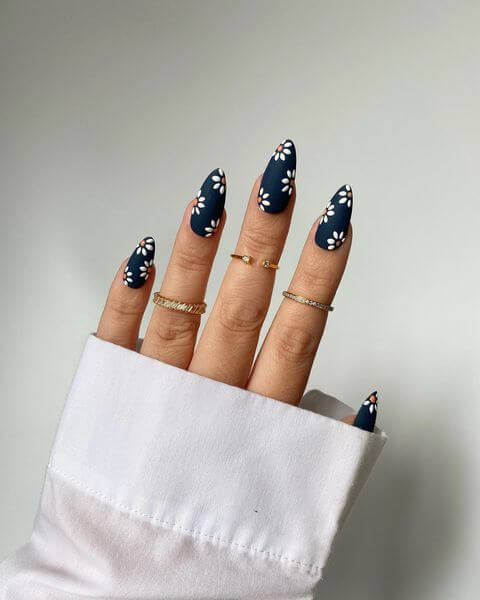 The almond shapeв nails that have been already forgotten are becoming popular again. This name came from the similarity of the nail and these nuts: oval at the base and sharp at the end. The long "almonds" add some elegance and sophistication.
Take into account the fact that it's necessary to choose the color of the coating and patterns carefully, as well as the outfit or image suiting the manicure. The selected almond-shaped acrylic nails should not look defiant.
2. Oval Nails
Oval nails, also called U-shaped nails, are known for their classic and feminine nail shape. They are an excellent option for casual or formal occasions.
This nail shape is particularly well-suited for you if you have wider, stubby nail beds or shorter nails. It creates an illusion of length while making your fingers look slimmer. Besides elongating your fingers, it also creates a soft, elegant look that can complement different styles.
Meanwhile, this shape can also be a great choice if you have longer fingers with stubby or short nail beds. It is versatile, allowing you to pair it with a wide array of nail art designs. It is particularly well-suited for classic French manicures.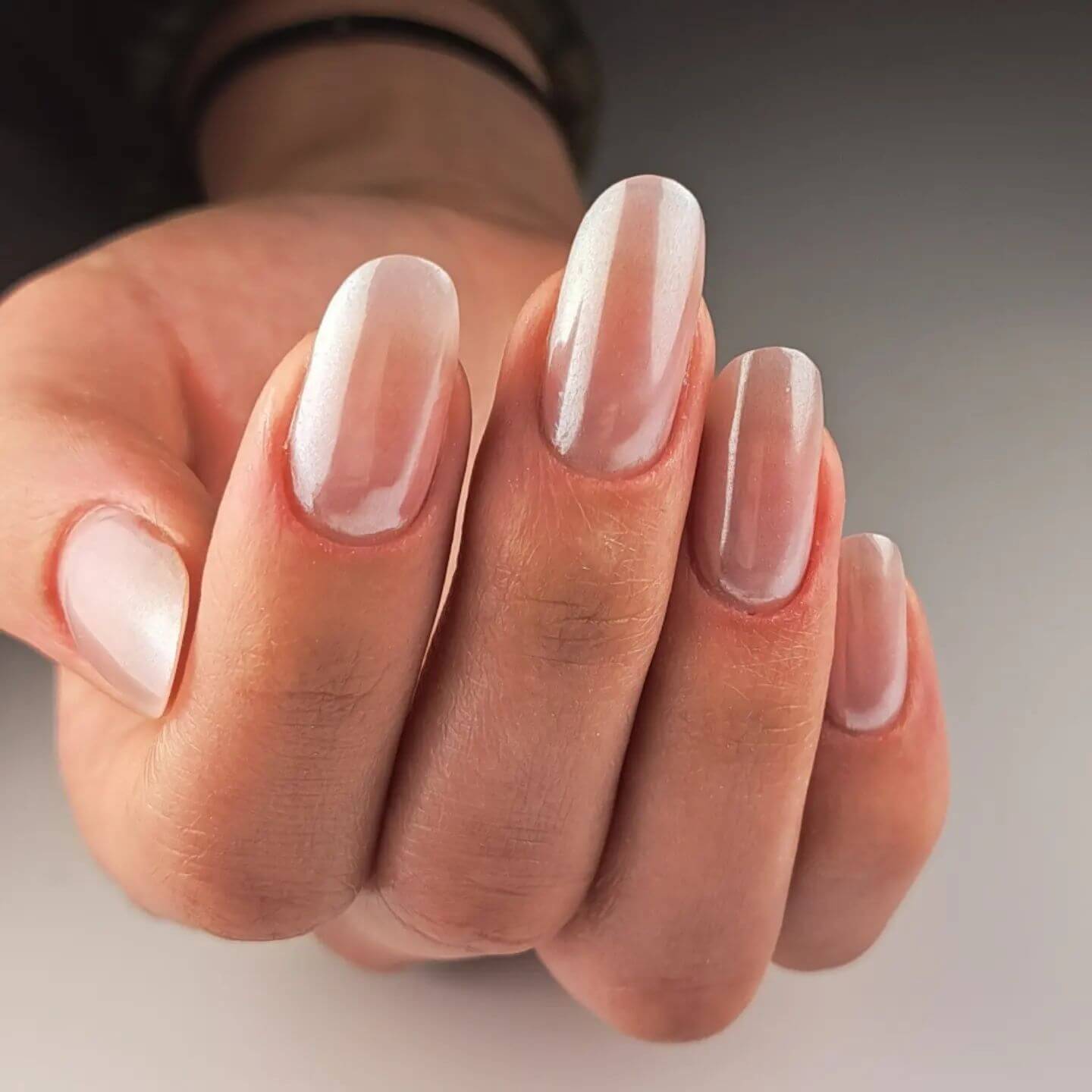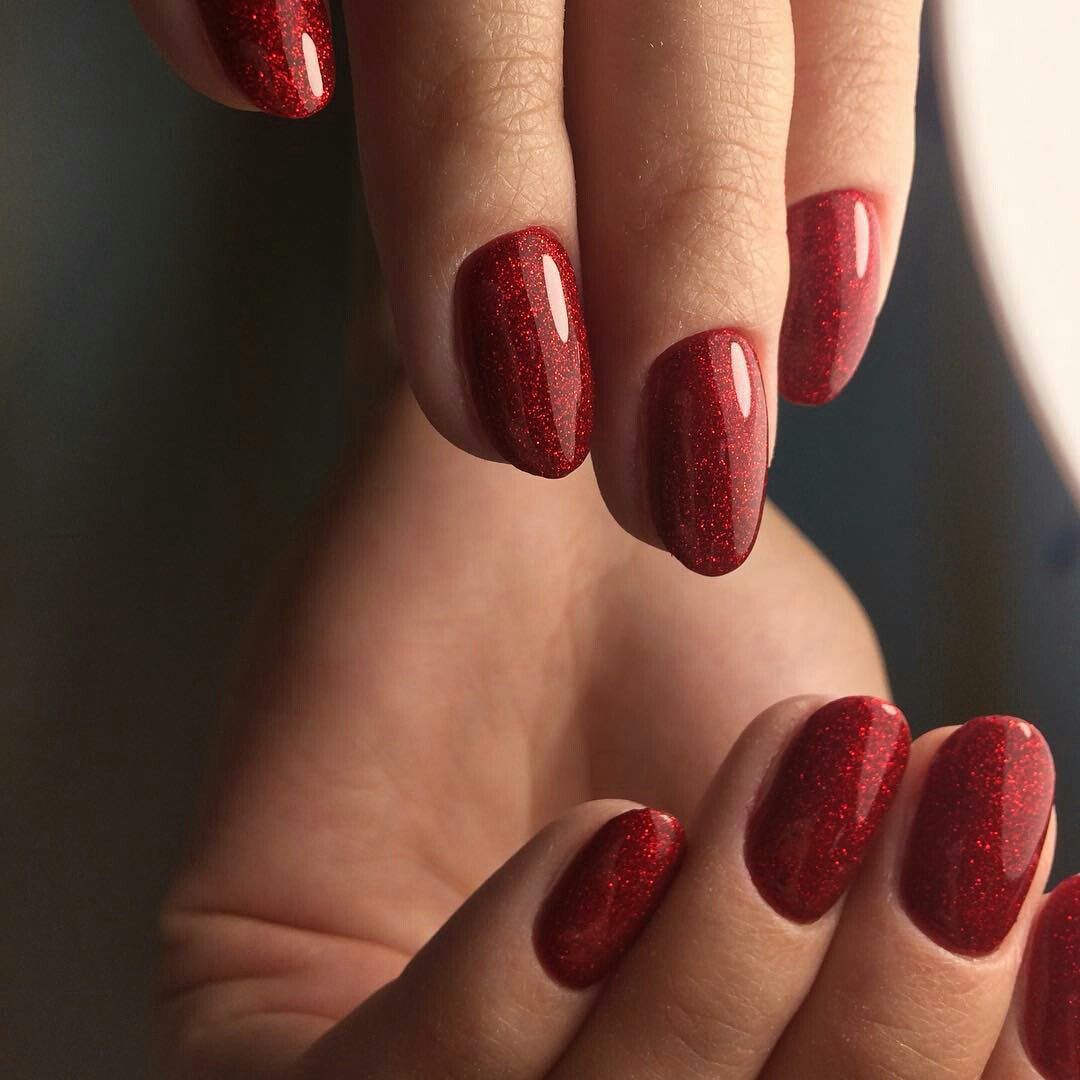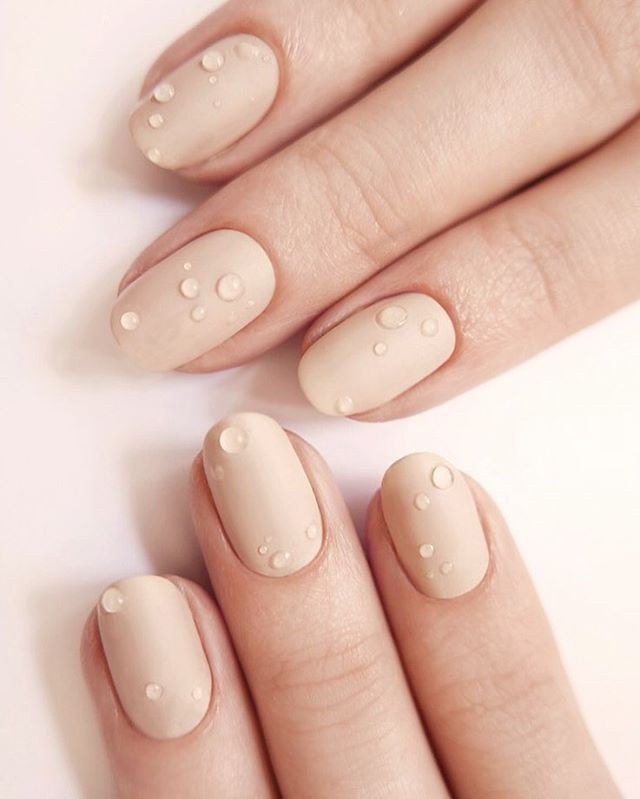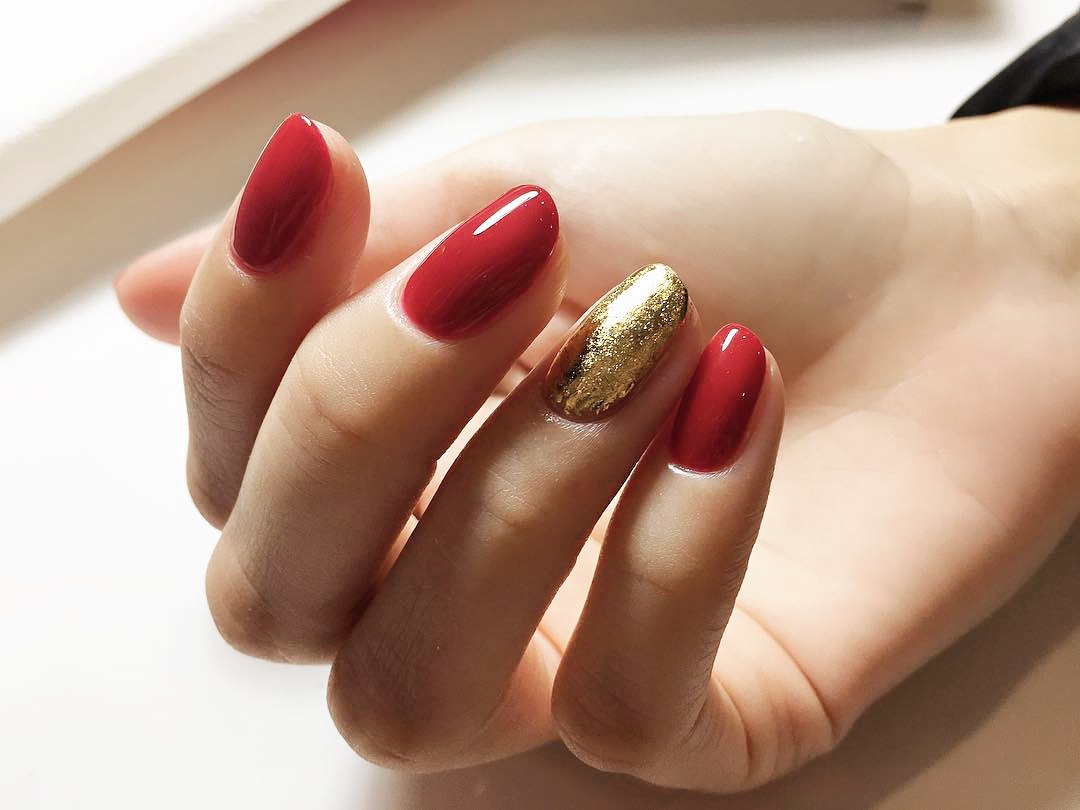 The oval-shaped acrylic nails emphasize femininity and naturalness in the hands, which is now so popular with young girls. And we would like to note that it is the most universal and suitable for each girl of all forms of nails. It looks more harmonious on short and medium-length nails.
3. Square Nails
When achieving a stylish and clean-cut nail shape, this one is an excellent choice. This nail shape has a flat edge with straight sides forming a sharp and angular tip.
Square nails are especially well-suited for those with long, narrow nail beds or long fingers. This is because the flat edge creates an illusion of width. Also, it makes your fingers look more balanced. But it also complements wider nail beds and shorter fingers. It creates the appearance of length, providing a chic and fashion-forward look.
This nail shape looks fantastic with bold block shades. Vibrant and eye-catching nail polish colors add to the nails' modern and edgy appeal, making them famous for those who want to make a statement.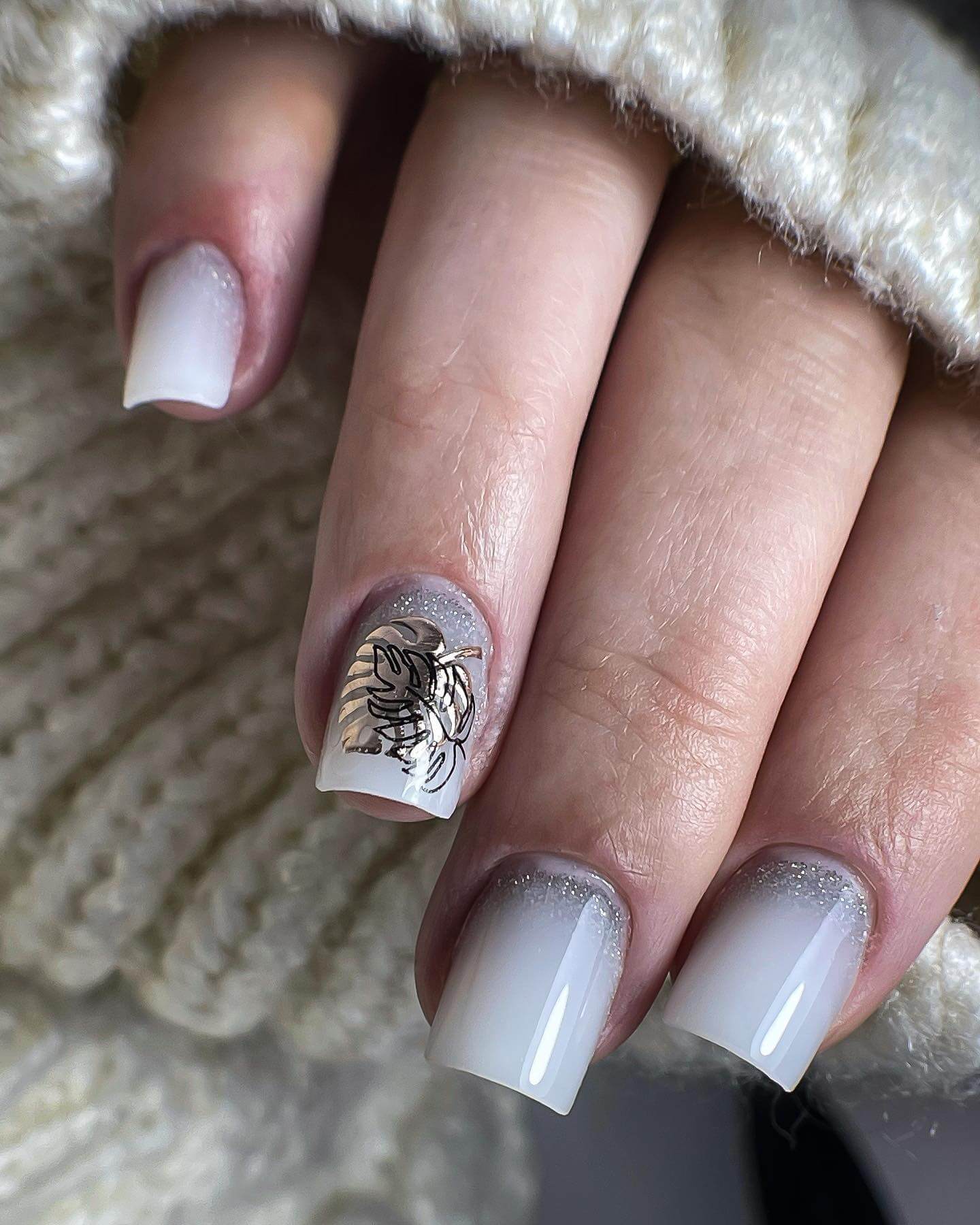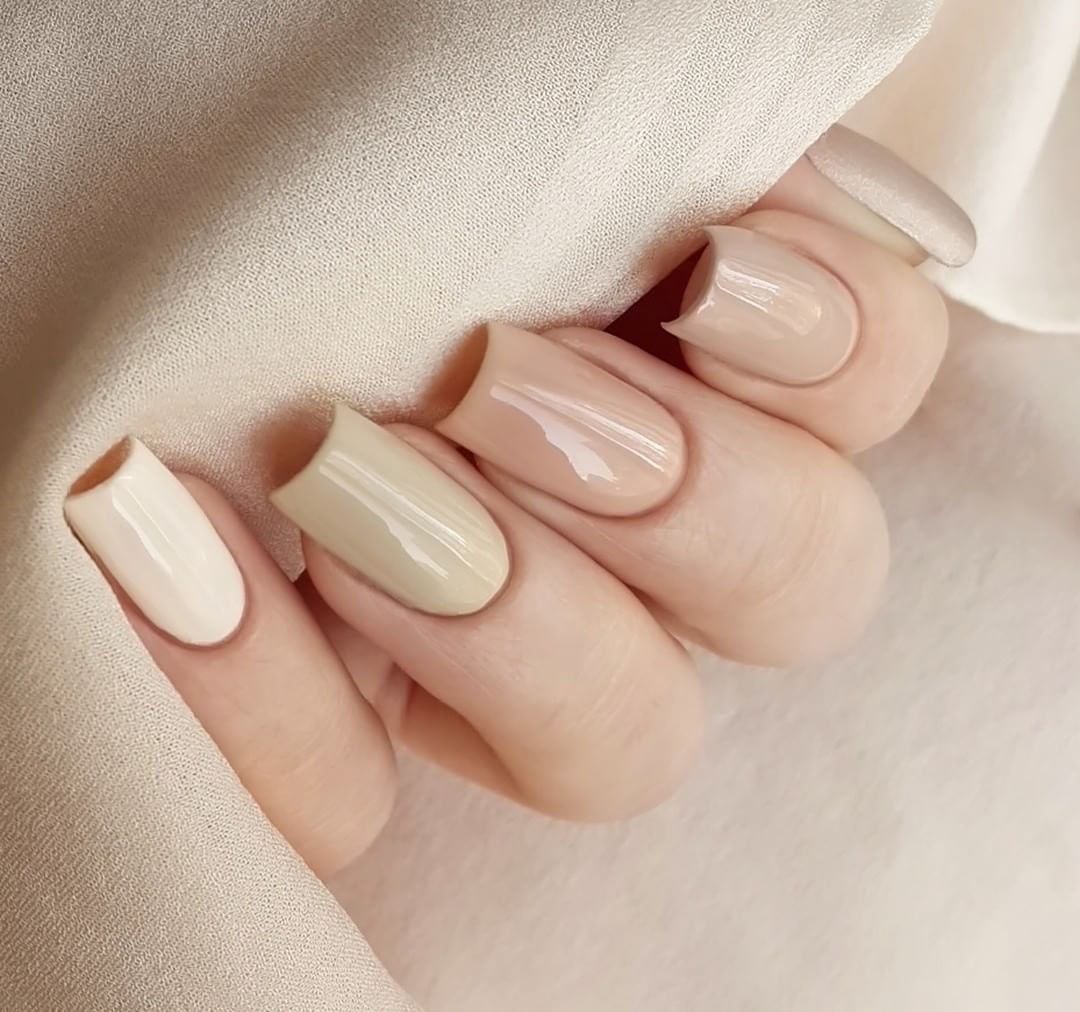 The square nail shape is considered to be classic, but outdated. But despite this, it is still in high demand. Especially the short length will be the most stylish.
But you must be careful and remember that this form will emphasize the beauty of the long and thin fingers but make the thick fingers visually bigger.
Square acrylic nails will look beautiful with all sorts of brilliant ideas and all shades of nail polish. The Internet is rich in photos with different variations of fashionable decorations, and you can choose what you like. The "square" can also be different: clear, soft, and slightly oval.
4. Ballerina Nails (also Coffin Nails)
As mentioned earlier, ballerina or coffin nails feature a tapered tip resembling a ballerina slipper or coffin. The shape helps improve the nail's natural curve. It also creates an elongated and flattening effect.
As with nail polish colors, choosing tidy, unchipped acrylic nails with pale colors is highly recommended. But please note that these nails can be a bit difficult to maintain and need more upkeep compared to other nail shapes.
Ballerina nails are a versatile choice that complements any style, whether you wish for a simple and understated look or embrace a bold and dramatic design.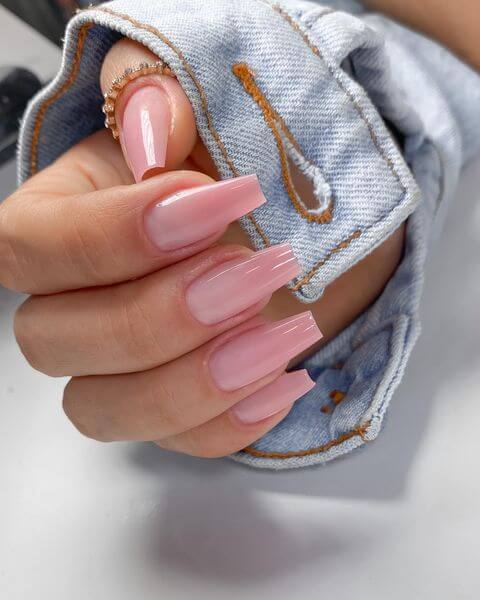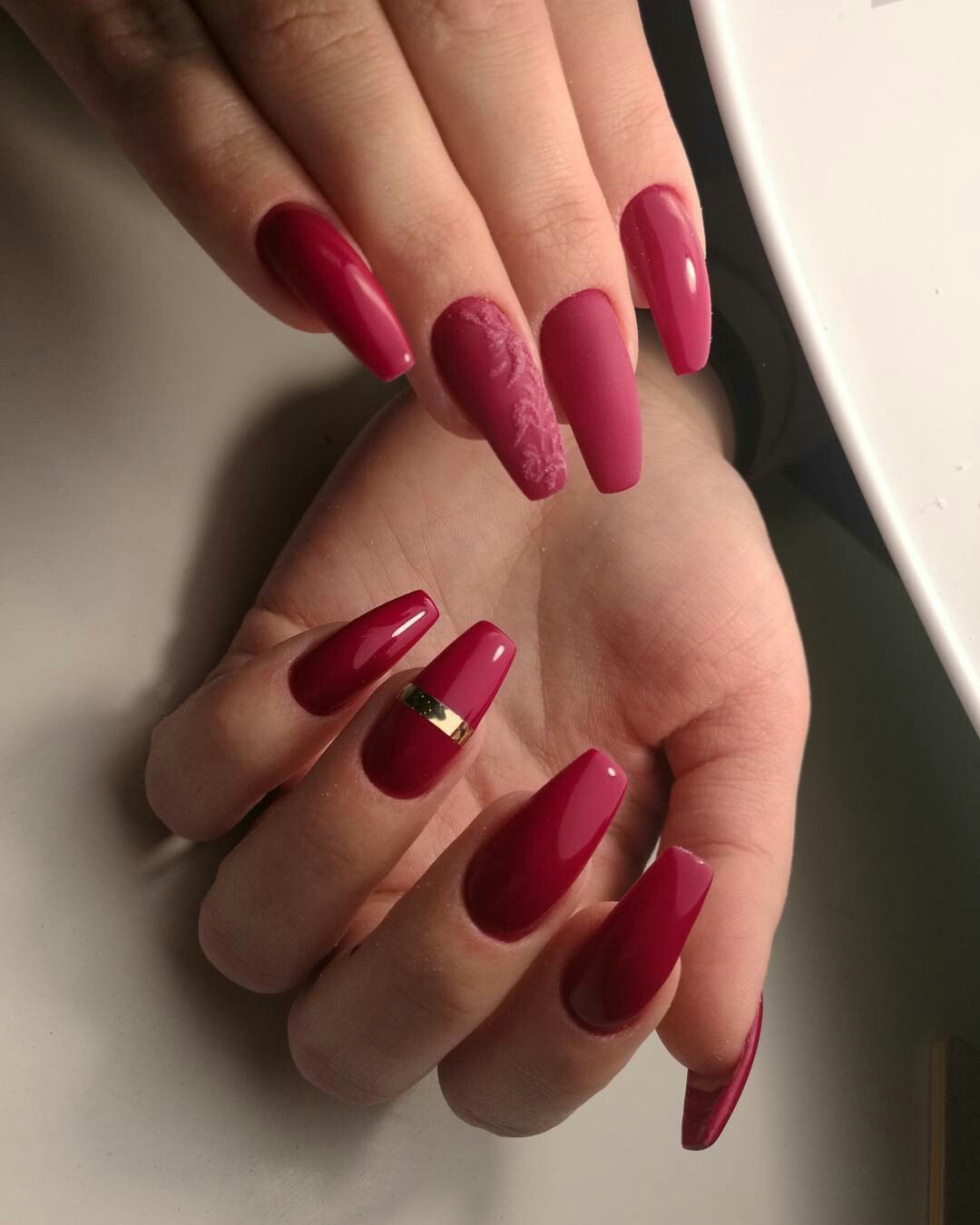 It certainly suits real fashionistas. Ballerina-shaped nails is returned to us from the distant nineties and have become the most urgent even in 2023. It will become more and more popular. She really looks like a ballerina nail shape because of its tapered tips at the end of the square.
It is surprising that these tips reduce the risk of damaging the nail plate. It became famous and popular thanks to America, or, to be exact, western celebrities.
Coffin-shaped acrylic nails look ideal on the average length. Design and pattern can be different, as they depend on your wish and imagination. And you can pick up the idea of the Internet.
5. Squoval Nails
Do you wish for a classic and natural nail shape? Then, go for squoval nails. This versatile nail shape suits all nail bed shapes and sizes. It is characterized by a gentle curve combining the oval and square nail shapes. This creates a rounded edge, offering a modern and elegant look.
While squoval nails can complement all nail bed shapes, they are most suitable for those with wide, long nail beds. This is because the shape improves the nails' natural curve while creating an elongated, flattering look.
As with nail art, we recommend geometric designs. Bold, graphic shapes and patterns go well with the nails' clean lines. As a result, you can enjoy a striking look.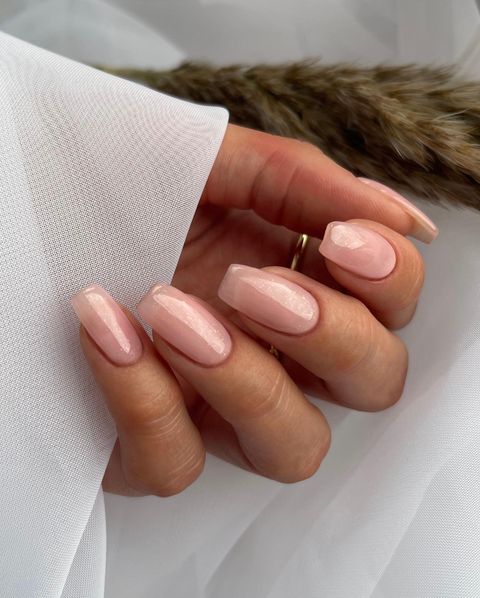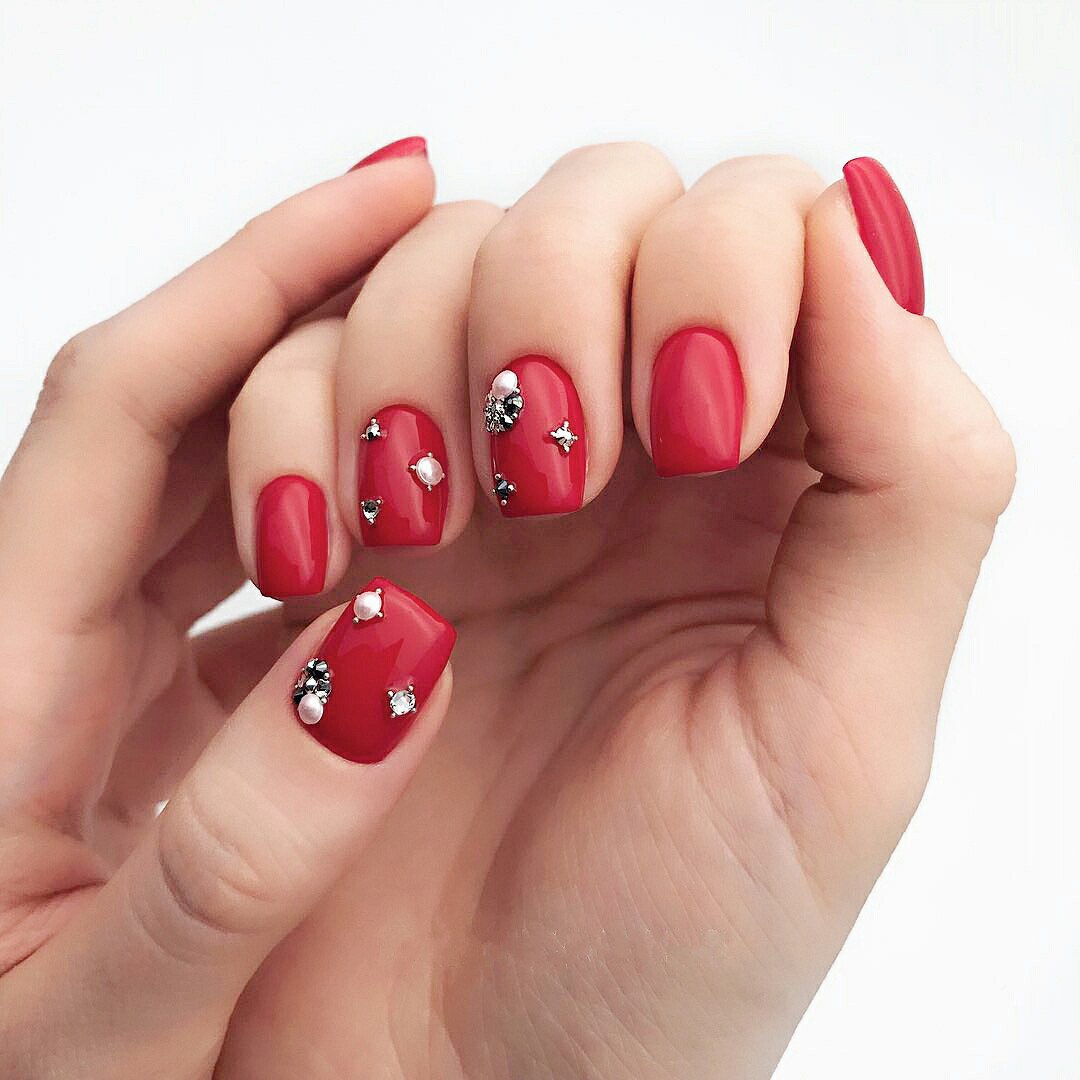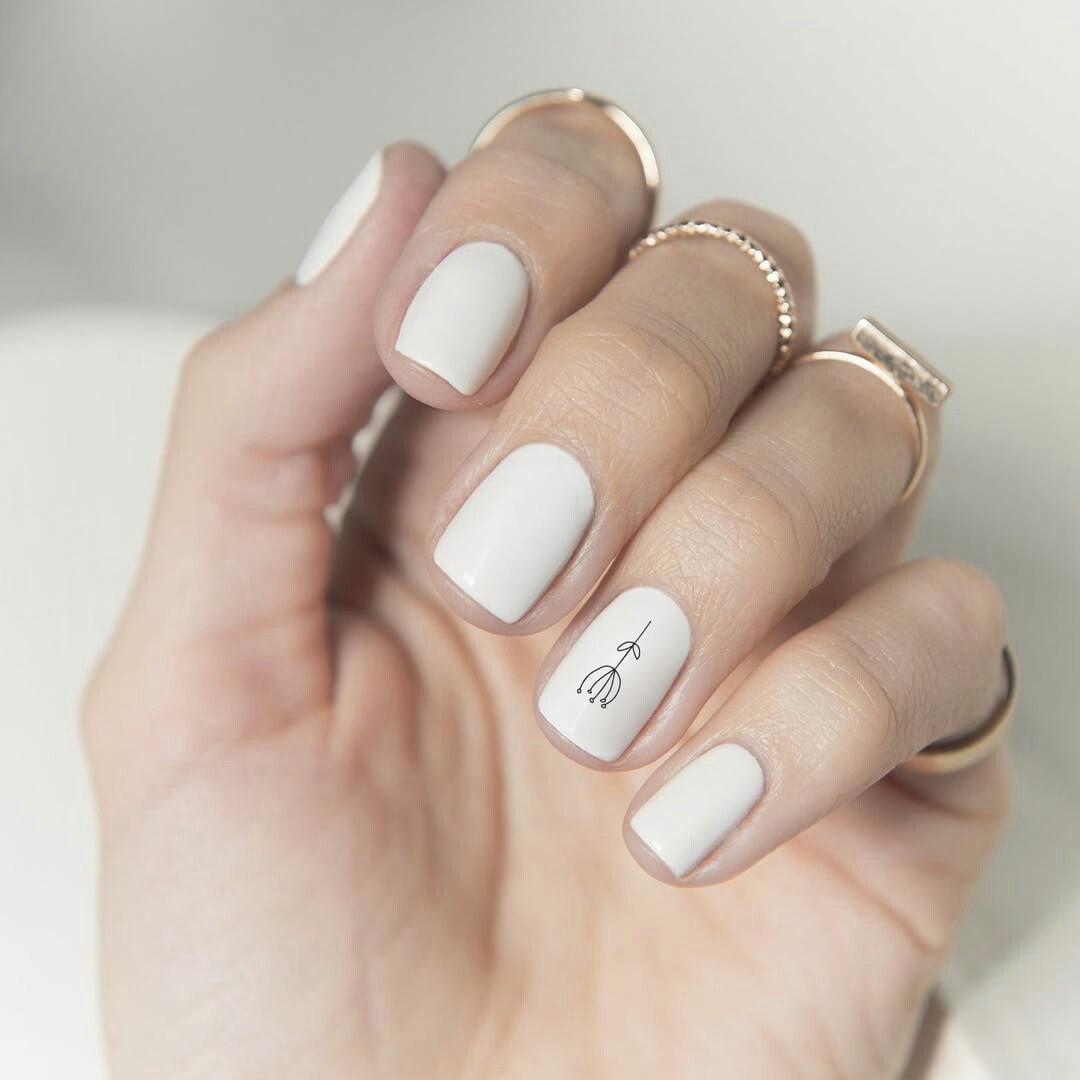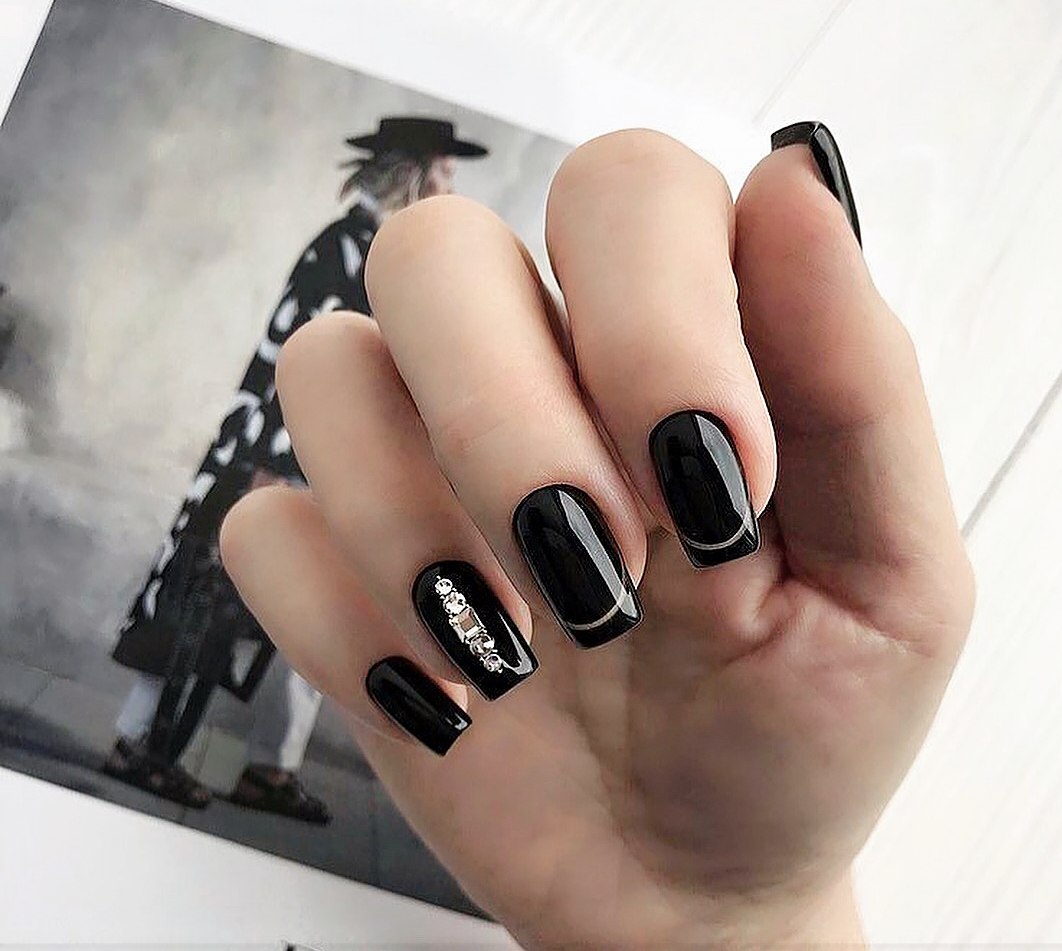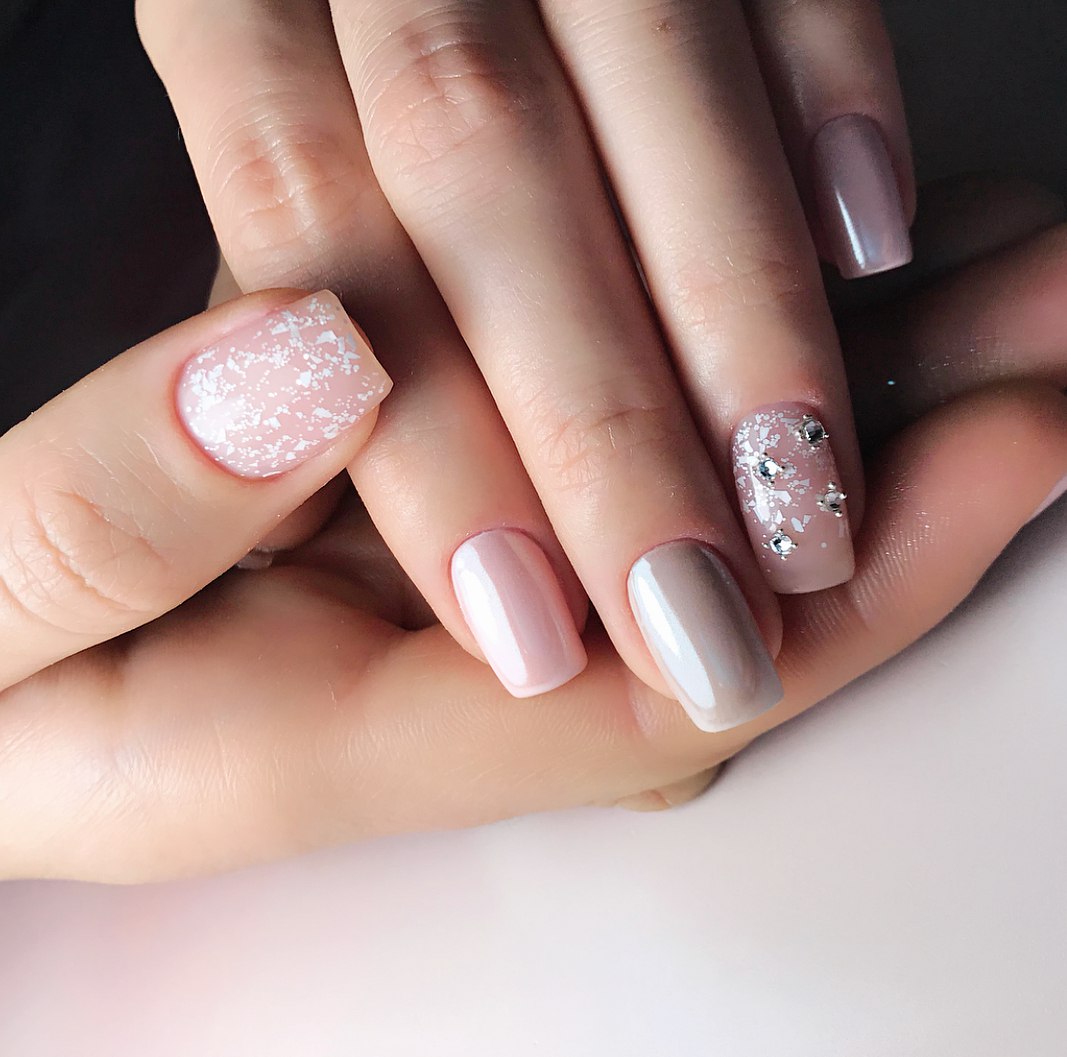 The "soft square" shape is quite universal. It is a square with rounded smooth edges. So, harsh lines are smoothened and the shape resembles a classic oval that suits everyone. Squoval nail shape suits any nail design.
Ordinary shiny or matte polish, fashionable nail art with foil, painting, sequins, or modeling will look harmonious on the soft square nails. Squoval nail designs are considered to be ideal for the classical French manicure.
Although the rounded square shape suits many girls, there are some exceptions. Women having short fingers and wide palms are better to abandon experiments with the square nail shape including "soft square".
These are the nails of the new-age woman, not a pampered creature who's unable to take part in action but a fighting girl, a strong and tough one who also doesn't forget about her attractiveness.
Squoval acrylic nails shape lets play with images highlighting either softness and femininity or determination and strength. For instance, gentle colors will make your look more delicate, and bright dark tints and shiny textures will emphasize the strength of your character.
6. Mountain Peak Nails
As the name suggests, mountain peak nails resemble sharp, pointed peaks. You can get this unique and edgy nail shape by filing your nails to a sharp point at the tip. This creates a triangular shape adding a dramatic element to various nail designs.
If you want to embrace a more experimental style or make a statement, mountain peak nails are an incredible option. The shape works well on short or long fingers. You can also wear it every day.
The nails' sharp and angular shape allows you to enjoy endless creative designs, whether you want to use bold color combinations or geometric patterns. Overall, mountain peak nails are fun and daring manicure nail shapes.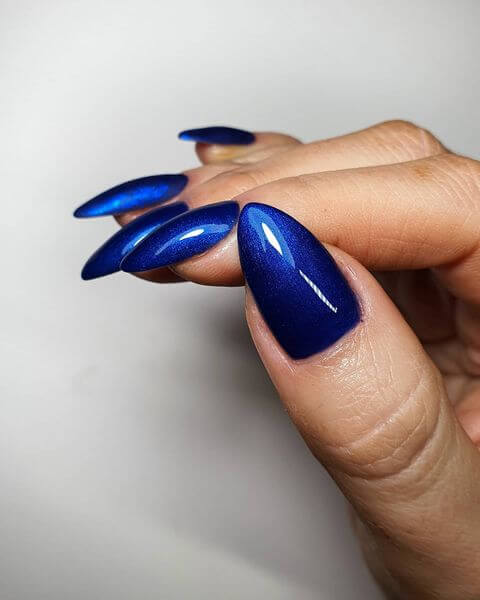 This shape looks sharper than an almond shape. Mountain peak nail designs are an extraordinary style and a bold choice! The too-sharp shape can be achieved only if the girl has artificially extended nails as the natural ones are not strong enough to have distant and sharp edges.
7. Flare Nails
You can't say no to flare nails when it comes to modern and edgy-looking nail shapes. It tapers outwards from the nail base to deliver a wider tip. This results in a flared effect.
Getting this nail shape is pretty easy. All you need to do is file your nails to a wide point at the tip, creating a triangular shape. This will add a bold yet dramatic element to your preferred nail design.
One of the best things about this nail shape is that it works well on both short and long fingers. However, it is especially suitable for short and narrow nail beds. Since it can create an illusion of width and length, you will notice an enhanced natural shape and added contemporary and fashionable twist to your nail design.
This nail shape provides a versatile canvas to try a range of designs. So, there is no way for you to enjoy creative and eye-catching designs.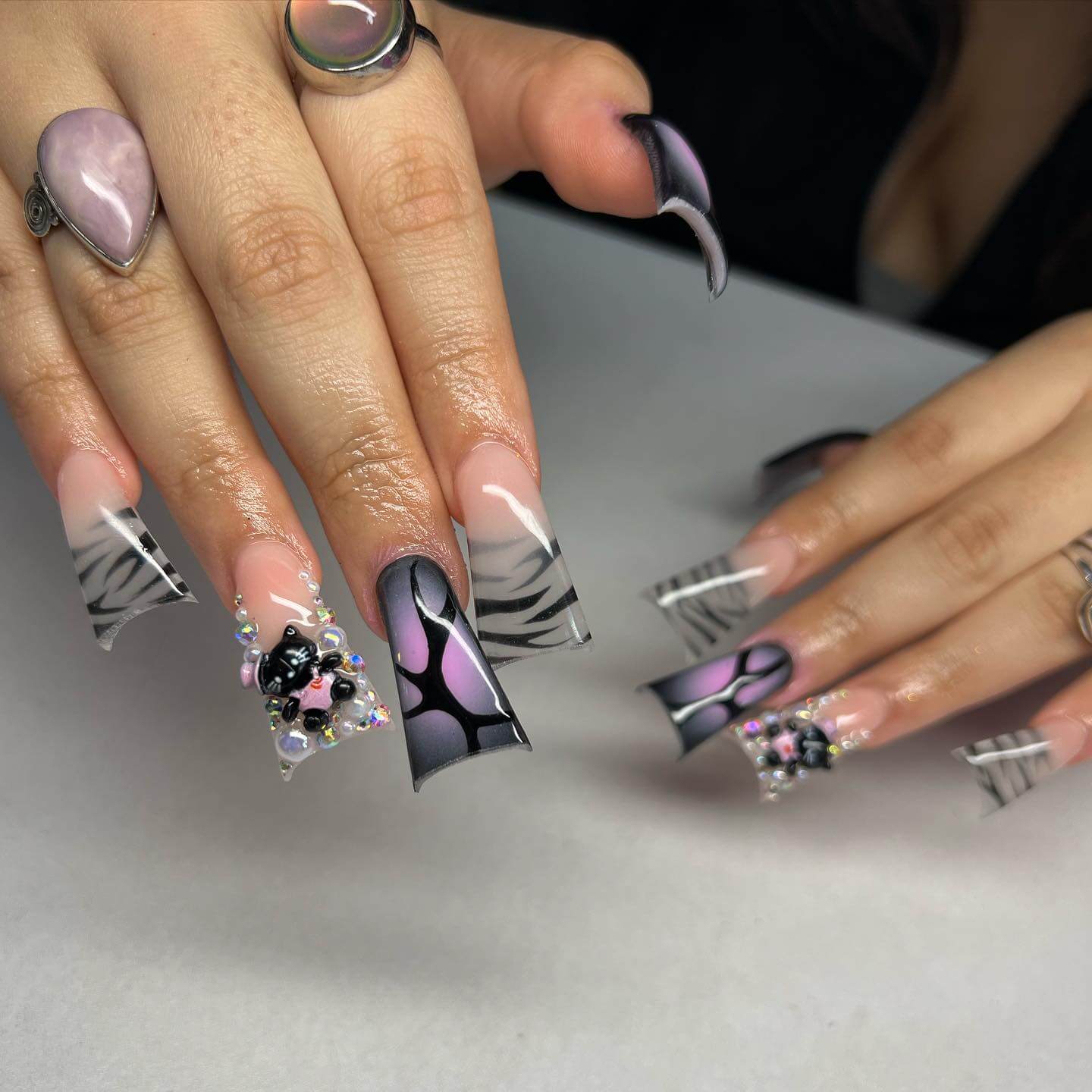 Flared nail shape is one of the most difficult shapes regarding nail correction and the creation of a beautiful design. Flare-shaped nails imply a narrow nail base, a wide fan-like plate between side nail walls, and a wide edge. The cuticle can be round, as well as tapered.
8. Edge Nails
Do you want to try bold and dramatic nail shapes? Edge nails are one of the best options for this preference. This nail shape tapers to a sharp point at the tip, which resembles a dagger.
You can achieve the nail shape by filing your nail to a sharp point at the tip, ensuring to create a triangular shape. Regardless of the nail design, it will instantly add an edgy, avant-garde element.
While edge nails are suitable for both short and long fingers, the shape works better for those with elongated and narrow nail beds. Besides creating an illusion of length, the nail shape adds an adventurous and daring element to different designs.
You can try bold color combinations and intricate designs when applying nail art to edge nails. The nails' sharp and angular shape allows for endless head-turner designs. But please note that upkeep and maintenance are necessary to keep your nails looking their best.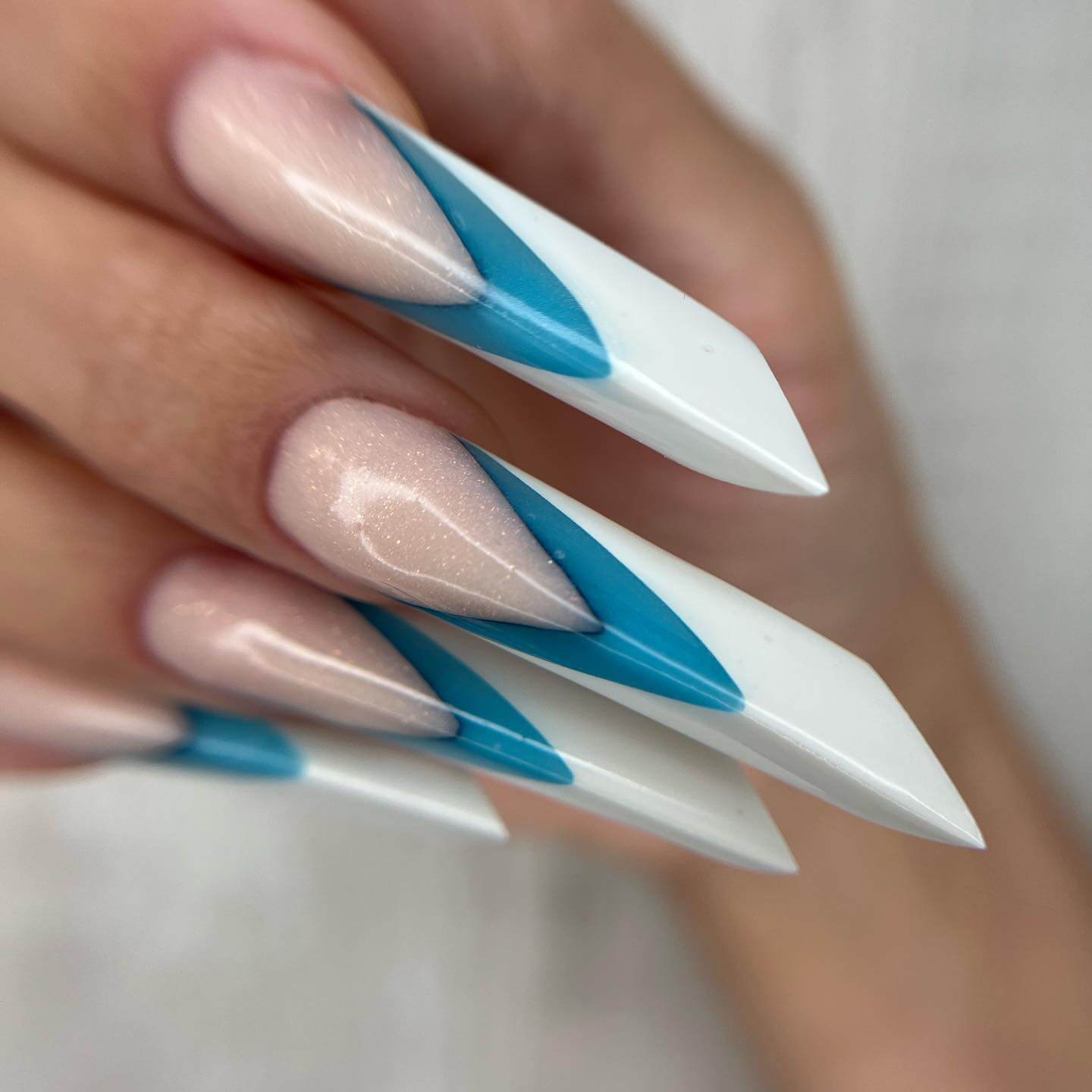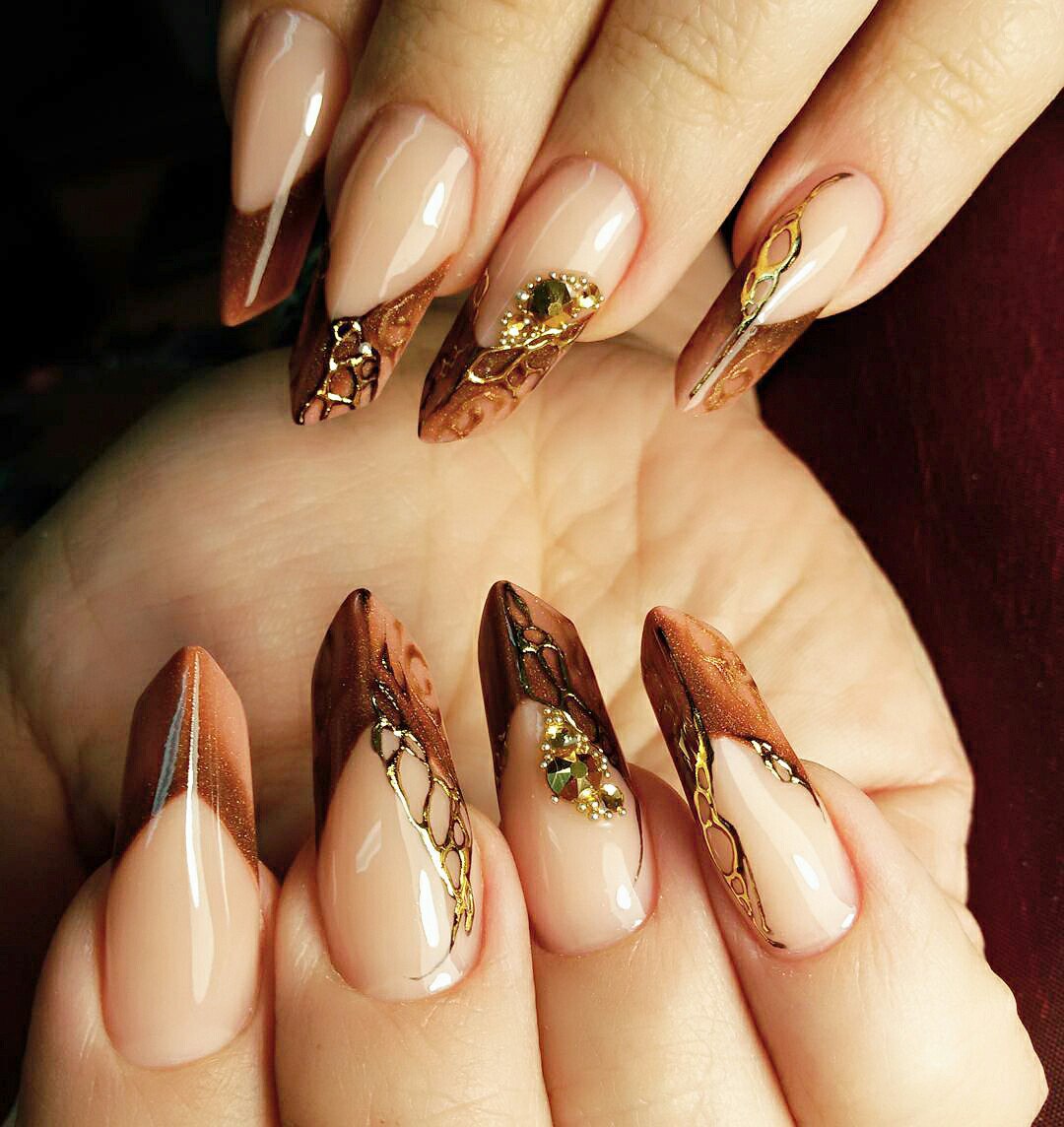 The widening directed to the free nail edge is specific for such a nail shape. Don't square or edge such nails, as oval and almond-shaped nails with a free edge will look much better.
Edge nail designs imply quite extraordinary and interesting designs. A free nail edge consists of two planes forming a V-surface. A "stiffening rib" is formed along the central line of the plate at the free edge. There is a central verge.
If you've chosen the edge-shaped nails, a "smile" of your own plate changes its smooth rounded shape of the artificial free edge for a V-shape with a corner transition called a "crease".
9. Rounded Nails
Now, let's get classic and timeless with rounded nails. This nail shape is famous for its gentle and soft look. When getting this shape, file your nail into a gentle curve at the tip. This creates a rounded shape that is both understated and subtle.
Don't worry if you have short or long fingers; a round shape suits all types of fingers. However, it is more recommended for those with wider nail beds. Aside from visually balancing out wide fingers, the shape creates a delicate, feminine appearance.
As you plan to apply nail art to edge nails, feel free to try different color combinations. You can also stick to simple patterns. The nails' subtle and gentle look welcomes a range of stylish designs.
A round nail shape is a perfect option exactly for women with short fingers. It makes the wide nail plate visually narrower and lengthens short fingers. Rounded nail shape is often chosen by those girls who don't like their nails interfering with working or washing up.
10. Stiletto Nails
Also known as pointy nails, stiletto nails are ideal for those willing to try bold and daring nail shapes. It is characterized by a sharp point at the tip. To get this nail shape, file your nails to a sharp point at the tip. This results in an edgy and dramatic look.
If you have long and slender fingers, having this nail shape is an excellent decision. But those with shorter fingers with narrow nail beds can also enjoy this shape. Besides the illusion of length, the nail shape is about adding a daring twist to different nail designs.
With the creative and versatile canvas that stiletto nails provide, you have the freedom to apply fun and adventurous nail art designs. You can go for traditional colors and textures or embrace intricate patterns.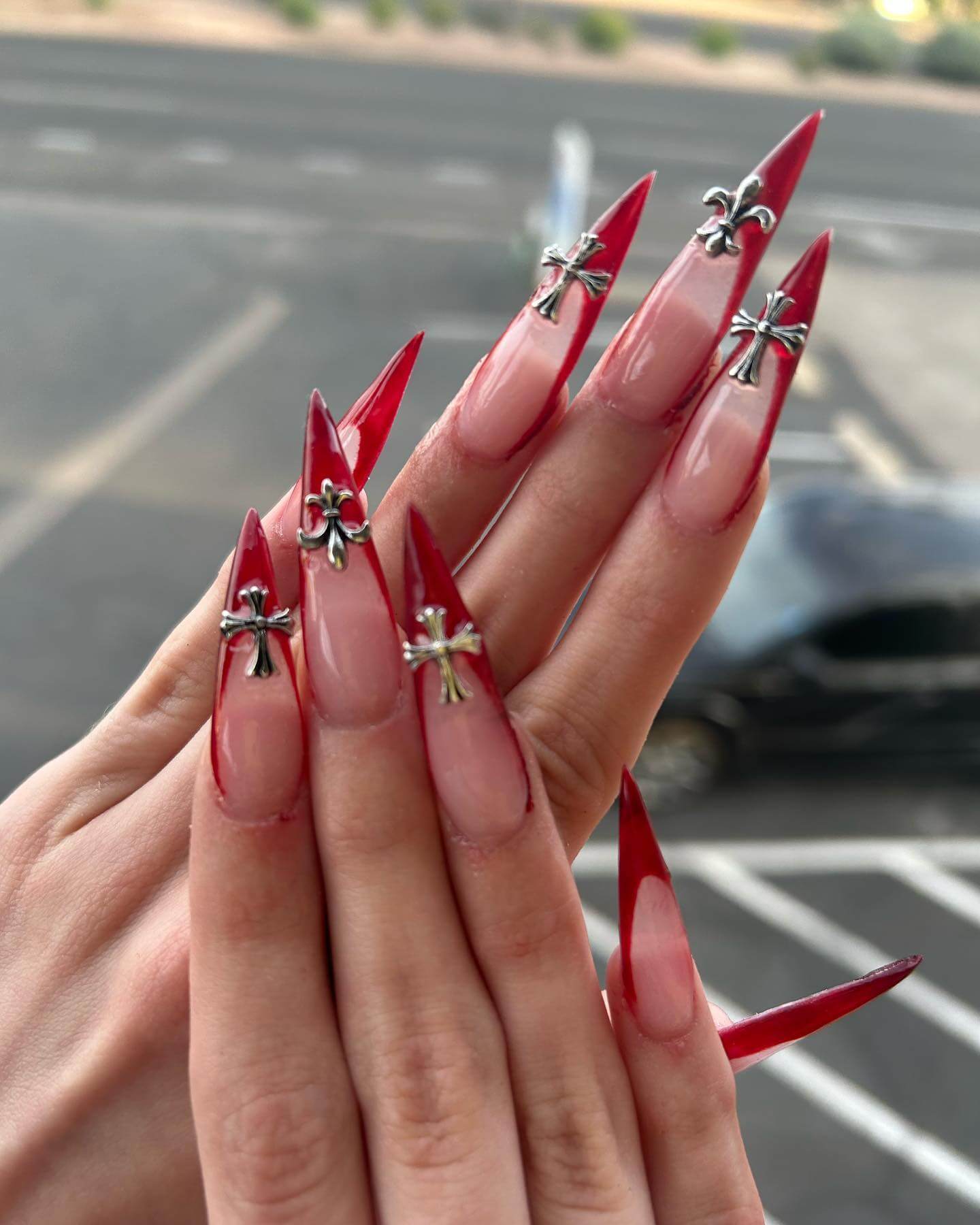 The stiletto is one of the most popular shapes for extended nails for fashionistas and nail artists, as due to the large area of the nail plate the artist can show their imagination and create a unique nail design and the client can become an object of everyone. Well, it is just impossible not to notice such nails! It all depends on the master's skills and professionalism.
Due to its shape and a large area for the design masters in nail extension like this shape very much. Here their imagination is not limited, as thanks to the sharp edge a picture that seems usual at a glance can have a really interesting flowing effect.
Also, the French manicure looks unusual on such nails. It not only emphasizes the beauty and length of the nail plate but also makes your nails irresistible. Short stiletto nails design can be created when the nails are extended, using gel polish, as well as acryl.
11. Lipstick Nails
This is undeniably a unique and interesting nail shape for 2023! Lipstick nails offer a trendy shape inspired by the lipstick bullet's shape. So, it is also popularly known as bullet nails.
Enjoy this nail shape by filing the nails into a rectangular shape with a slanted tip. This creates a look resembling a lipstick bullet. Interestingly, it works well on all types of nail beds and fingers. It immediately adds a touch of sophistication to your favorite nail designs.
If you wish for something unique while staying elegant, don't hesitate to try lipstick nails. The nails' unique shape will let you experiment with a range of stylish and creative looks, including subtle designs to bold textures and patterns.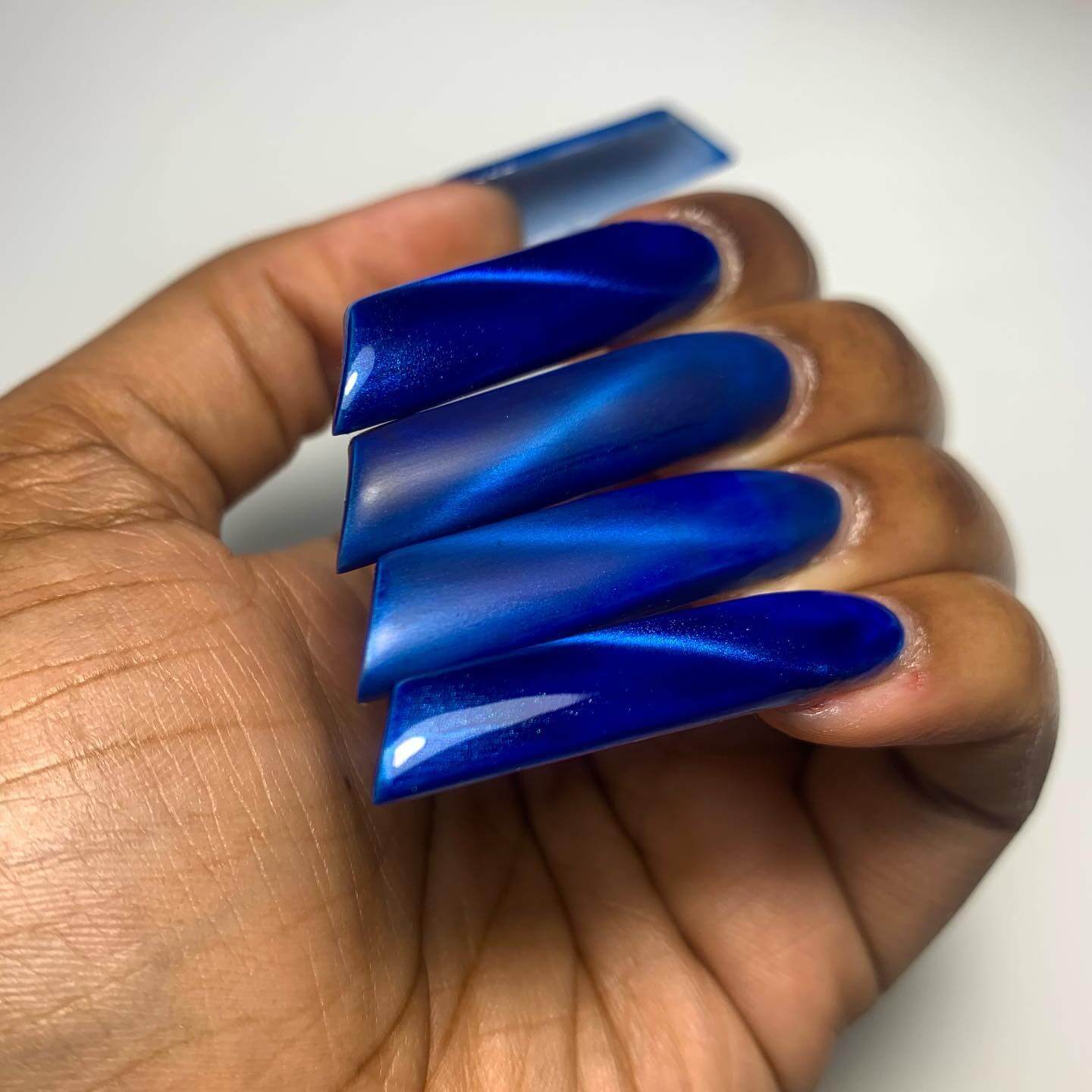 The effectiveness of lipstick nails has already been noticed by many women and is perfect not only as an experiment but also as a main shape and design that can emphasize the advantages of your hands and fingers or hide their disadvantages.
So, tapered nails emphasize elegant long fingers, hide big palms and lengthen short fingers visually. By the way, a wide palm will look more delicate but don't overdo it with the nail length. Ideally, the protruding nail edge in the middle must be one-half of the main part.
As for the bevel, there are no special rules, so it can be made in many ways. The main one is a bevel directed from the little finger to the thumb. The bevel must be even and similar to all the nails. Another version is a bevel directed to the middle of the hand.
12. Arrow Head Nails
We cannot complete the list of popular nail trends in 2023 without mentioning arrow head nails. This nail shape design is inspired by the arrowhead's shape. It is achieved by filing your nails into a pointe shape with a flat base.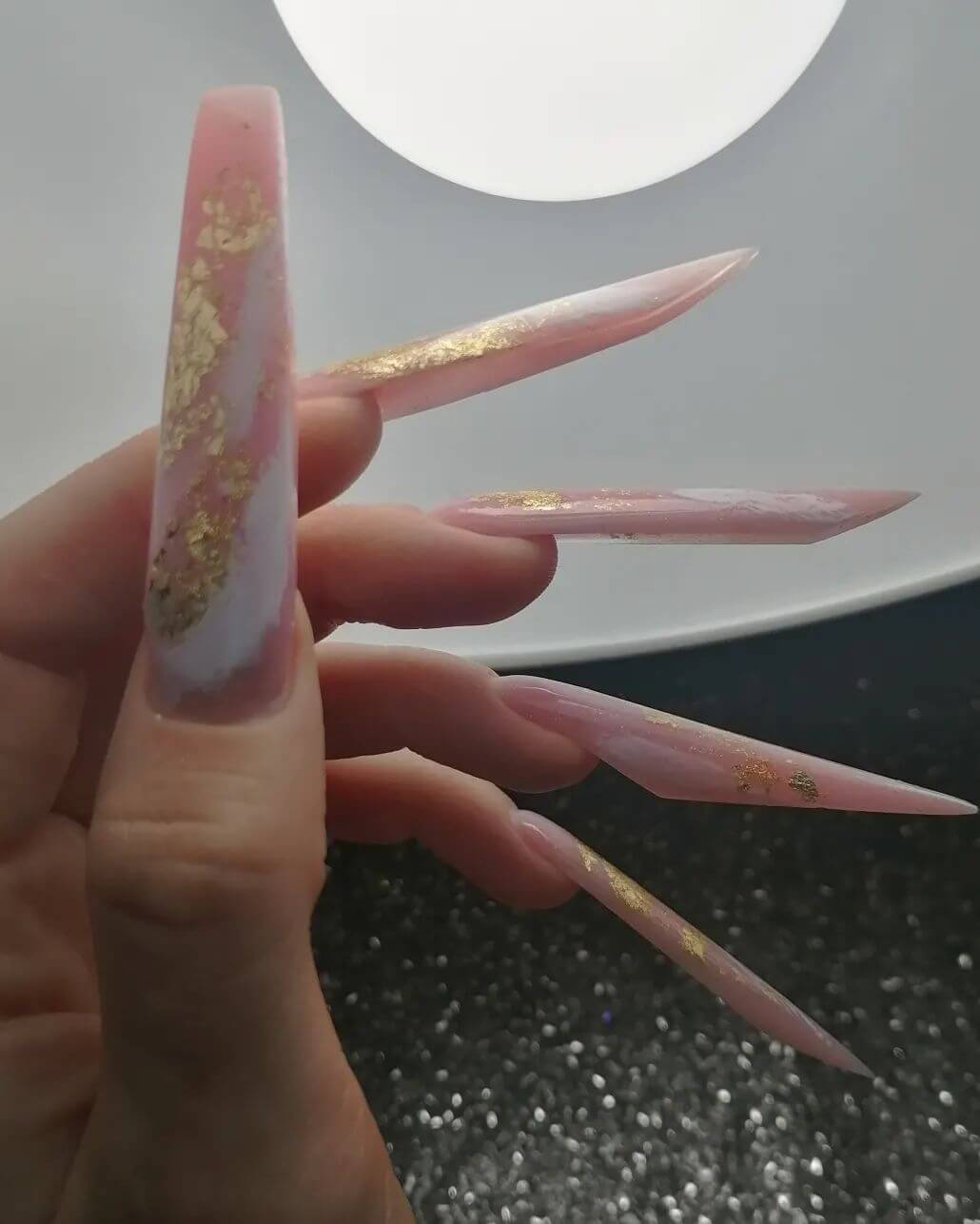 Arrowhead nails suit all types of nail beds and fingers. But they work best for those who want something different and wear a range of nail polish colors and textures.
Short Nail Shapes
Do not feel devastated if you have short nails. They can be as versatile and fashionable as long nails. You can try a variety of nail shapes and designs that perfectly suit your short nails.
Below are some of the famous short nail shapes with recommended nail art designs:
Round nails – look great with French manicures, polka dots, and geometric patterns.
Oval nails – recommended nail art ideas are pastel colors, glitter accents, and floral designs.
Squoval nails – metallic accents, geometric shapes, and negative space designs are some of the few nail art designs.
Almond nails – go for jewel accents, lace patterns, and ombre designs.
The short nail designs 2023 imply not only super short nail plates that ideally must be 3 mm long but also prolonged ones. This is fashionable, as well as comfortable. It is so convenient to use your Smartphone or computer when you have short nails, and no "additional pads" won't interfere with you with pounding the keyboard. And this is really great.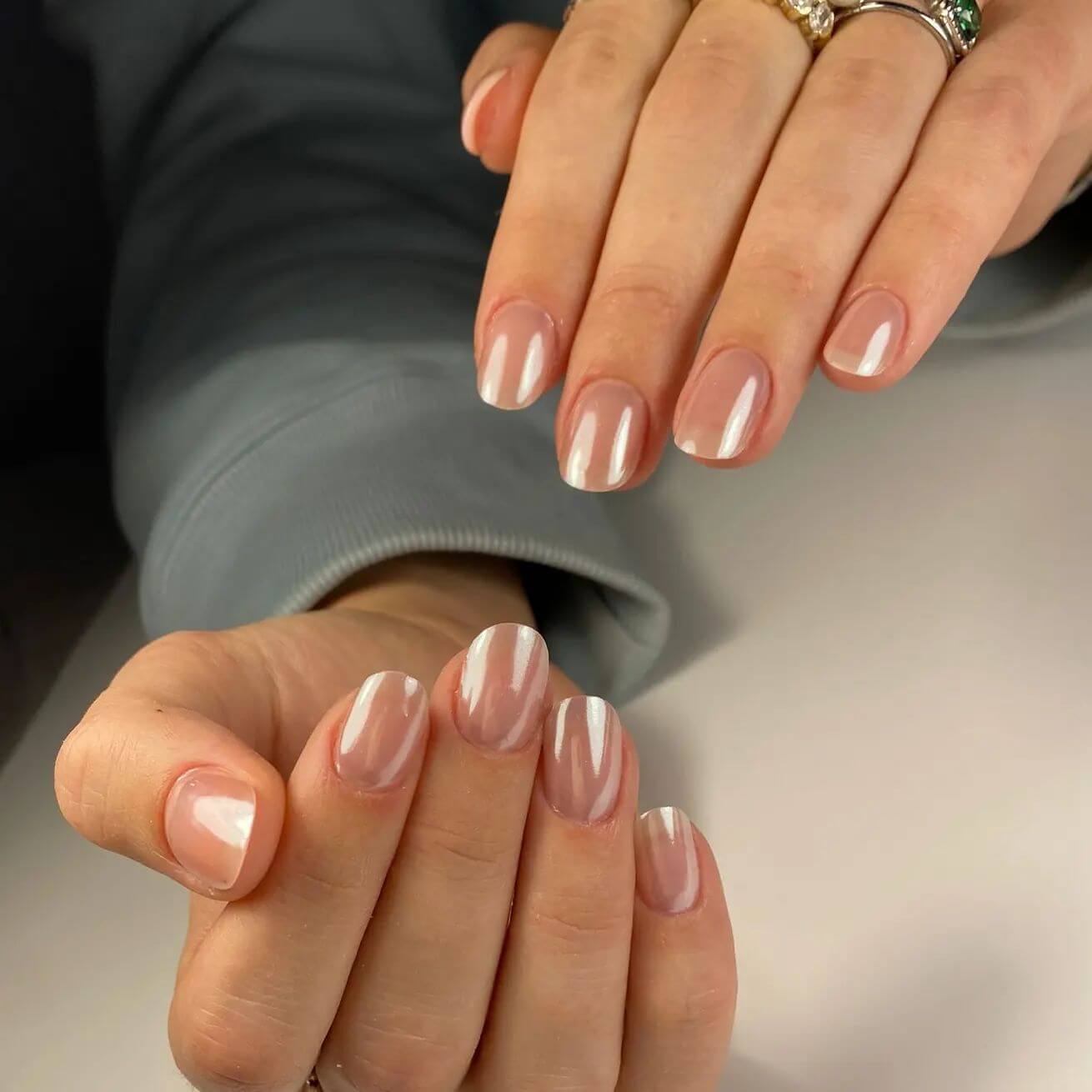 Besides, nail designs for short nails let lengthen your fingers visually due to the "play of contrasts": 5 mm of the nails will make your fingers look longer than the fingers of the most talented pianist.
So, if you have always had short nails, this trend is for you. By the way, you should also forget about long or sharp nails if you don't want to look untrendy.
Acrylic Nail Shapes
If you think it's time to add strength and length to your natural nails, acrylic nails are the way to go. You can choose from a variety of acrylic nail shapes, but here are the top favorites alongside the suggested nail art designs:
Coffin nails – look incredible with intricate patterns, glitter accents, and ombre designs.
Almond nails – jewel accents, lace patterns, and French manicures are the perfect nail art design options.
Stiletto nails – pair with daring nail art designs, like metallic accents, graphic designs, and animal prints.
Square nails – you cannot go wrong with floral patterns, polka dots, and stripes.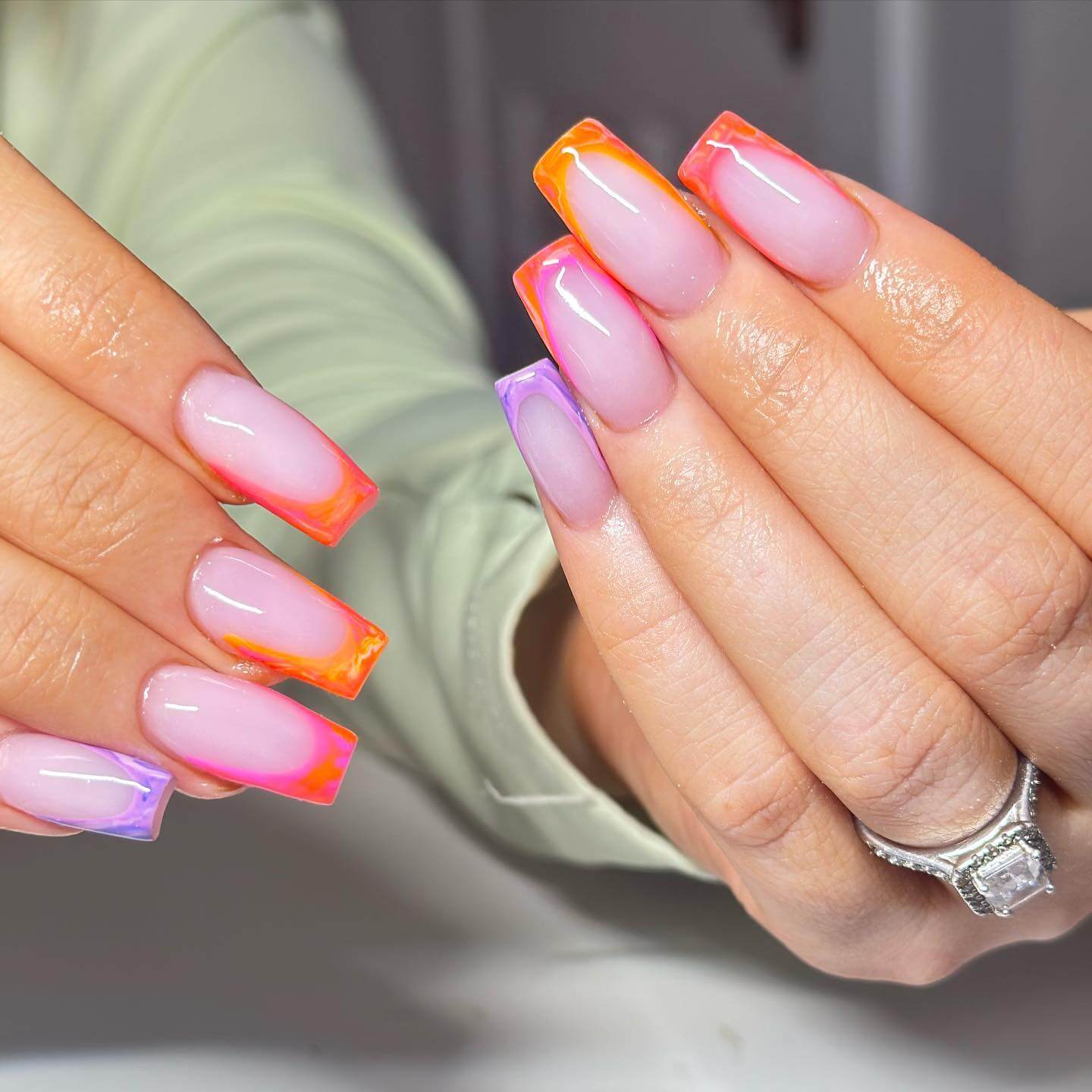 As is known, acrylic and gel are the most common extension materials. The extended nails are very convenient and look like natural nails. That is why most fashionistas choose exactly this way of modeling. A perfect rectangular shape is in fashion now: forget about pointy cat claws as they are in the last century!
Conclusion
With the variety of popular nail shapes in 2023 to choose from, creating a unique look based on your personal style is relatively easy. There are endless possibilities, from classic and feminine almond and oval shapes to the bold and edgy coffin and stiletto nail shapes.
Remember, nail shapes and designs have a critical role in improving the appearance of your hands as well as your overall look. With technology and nail art trends, you can be as creative as possible.
Now you know everything about the main nail trends in 2023. Choose anything you like after studying this article and trying these nail ideas. You can apply gel or the usual polish on your nails of the cute nail shapes listed above. Remember that the new nail shapes chosen properly are the key to a perfect manicure.
Which nail shape is your favorite? Don't forget to check out our other articles and visit our Pinterest account.
See More Different Nail Shapes Ideas Below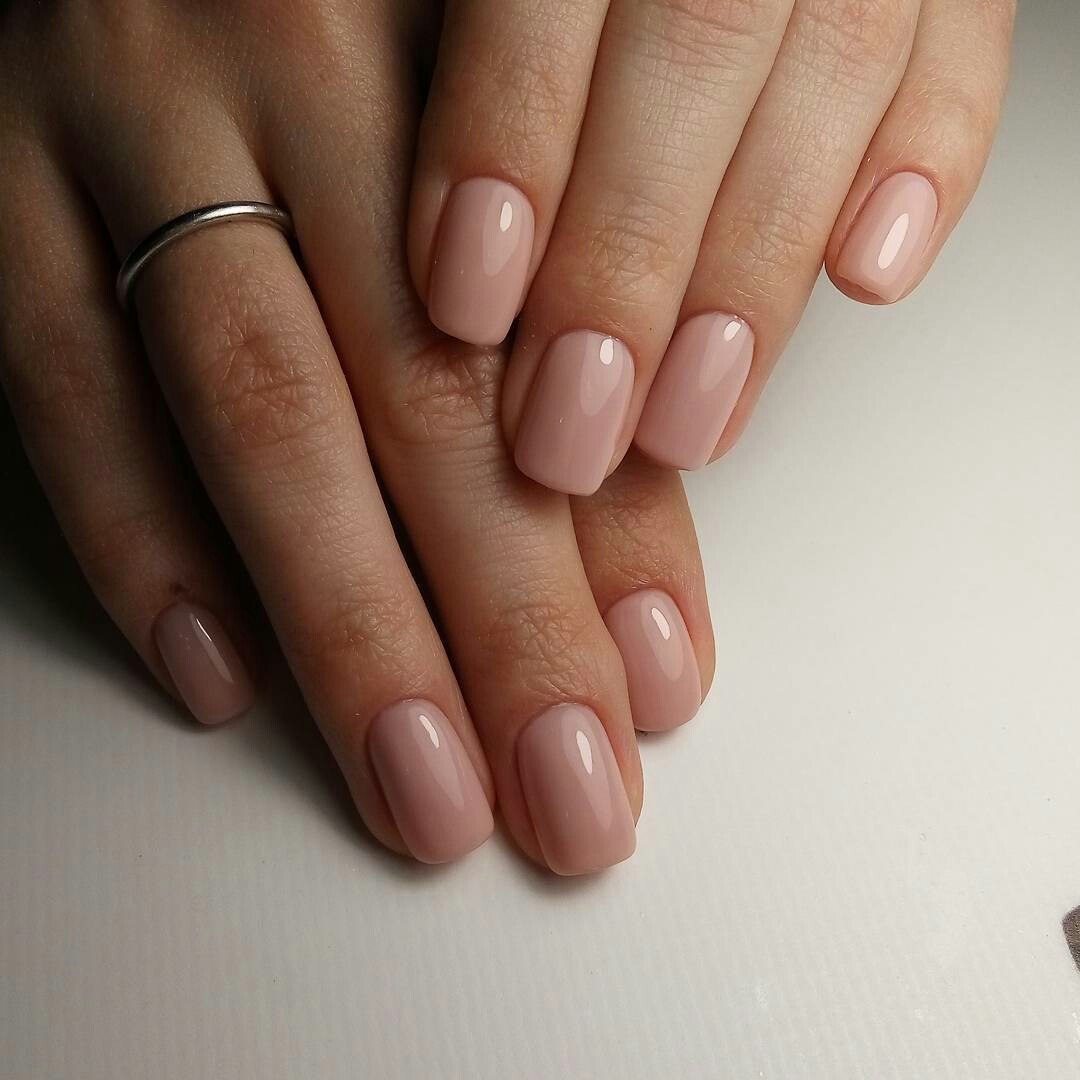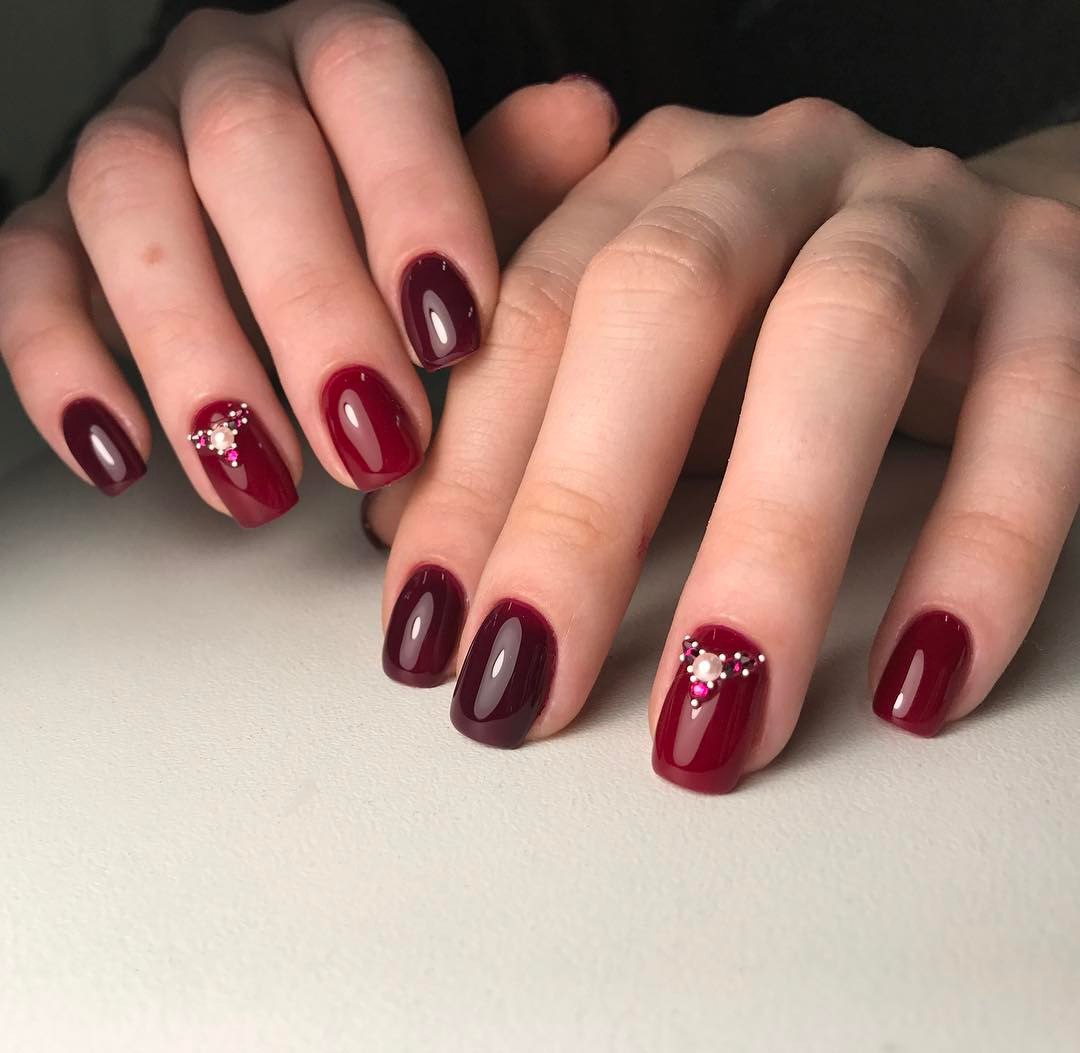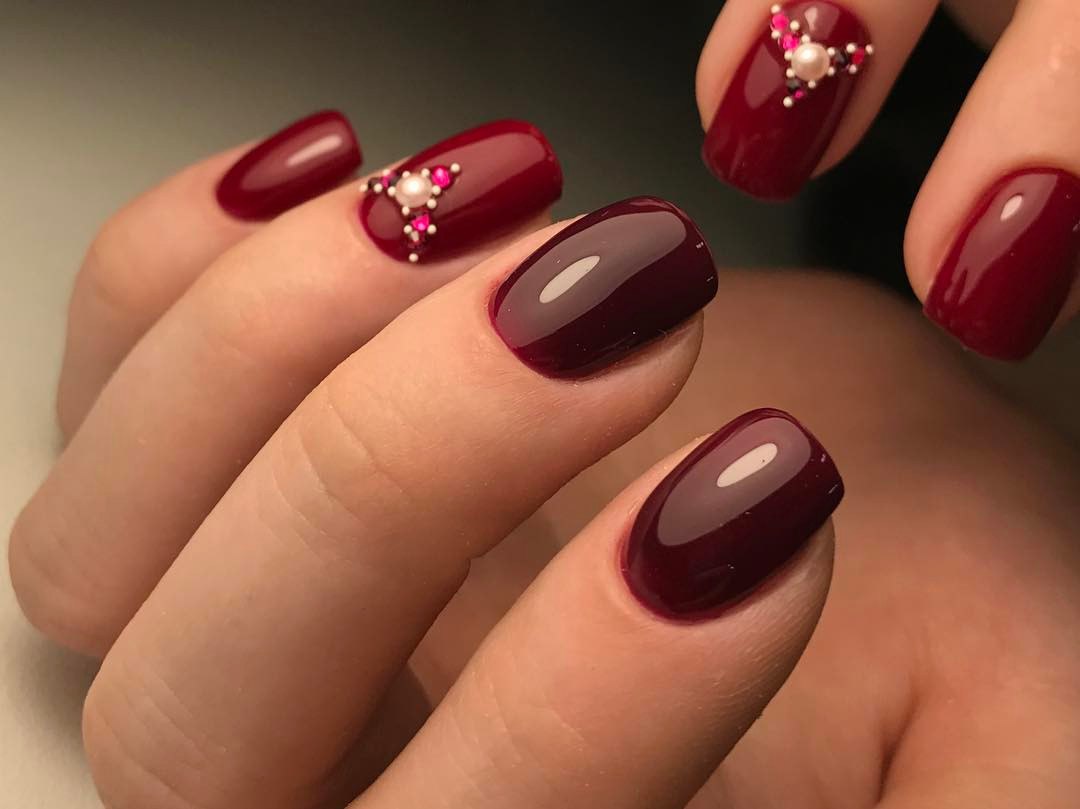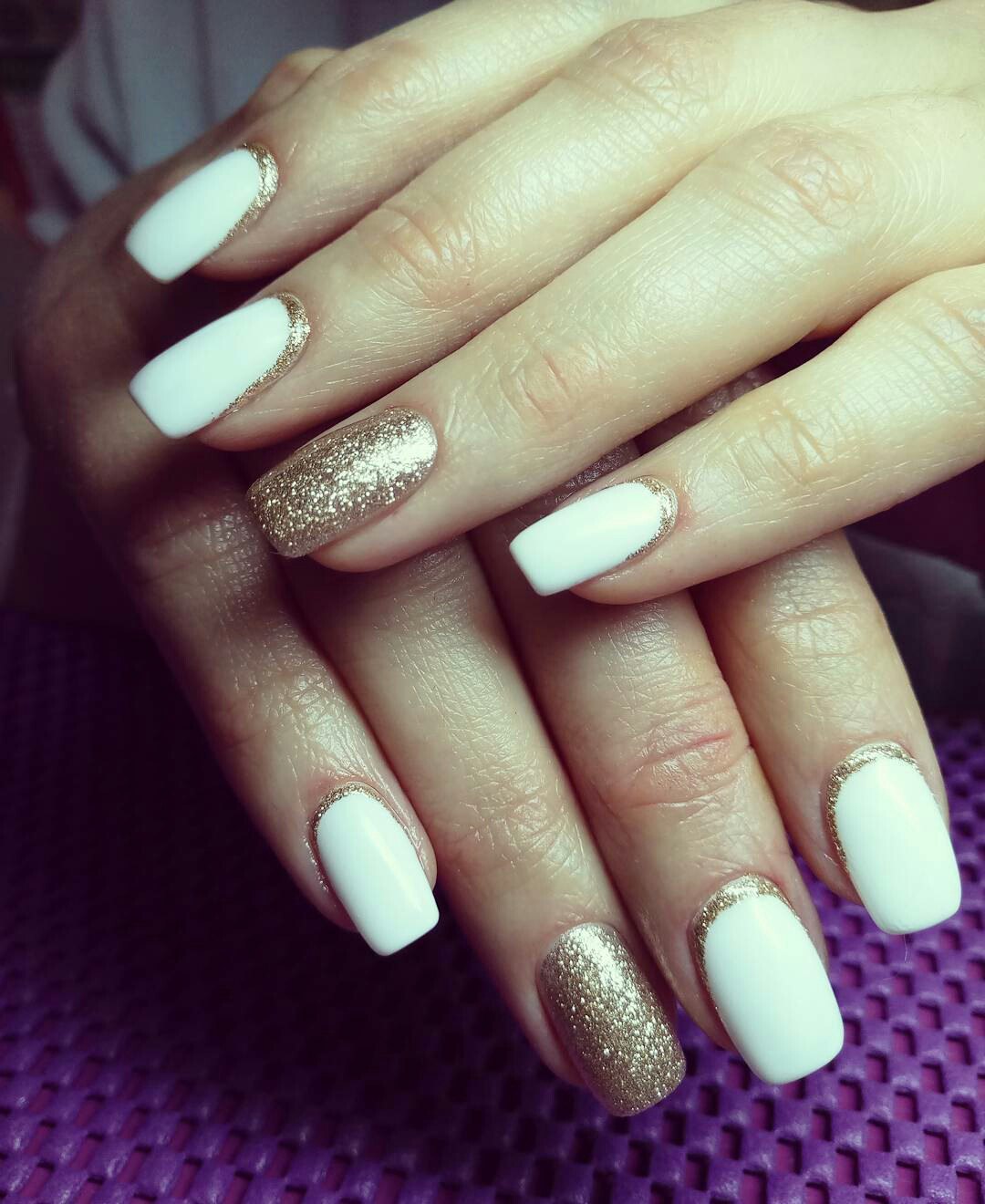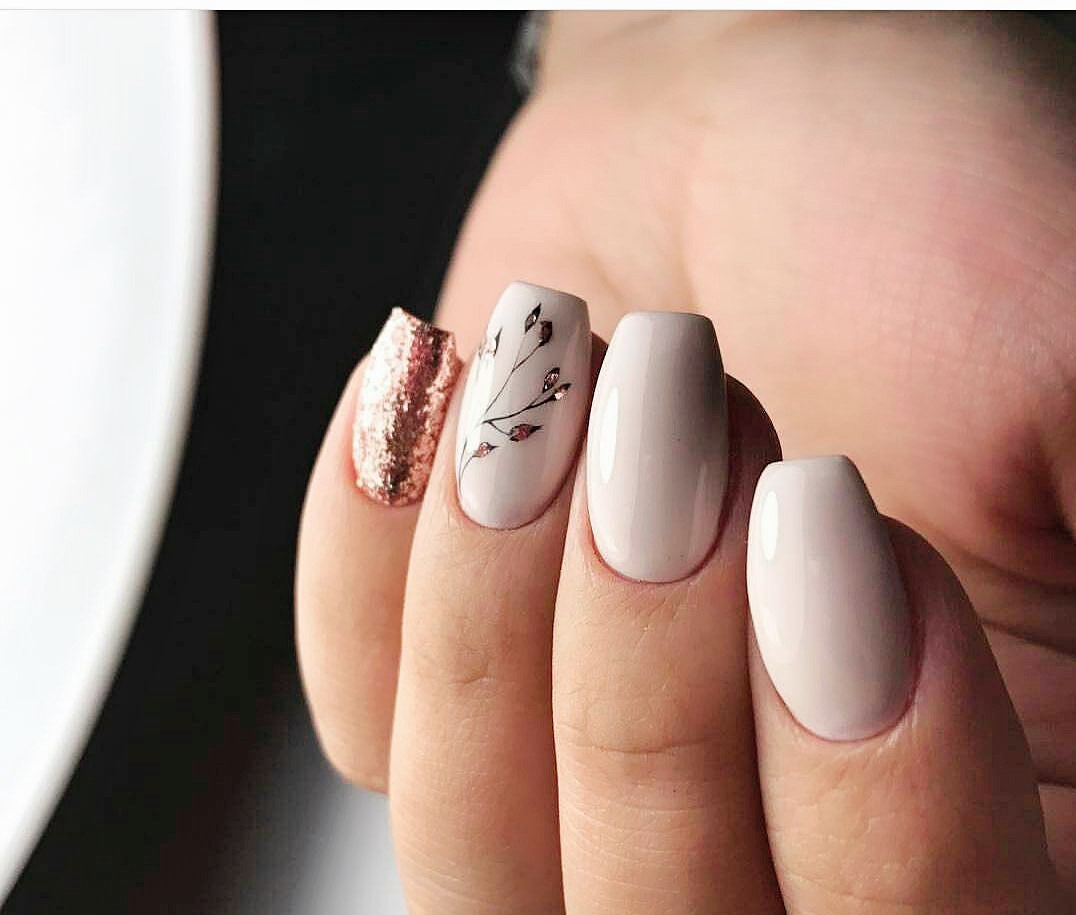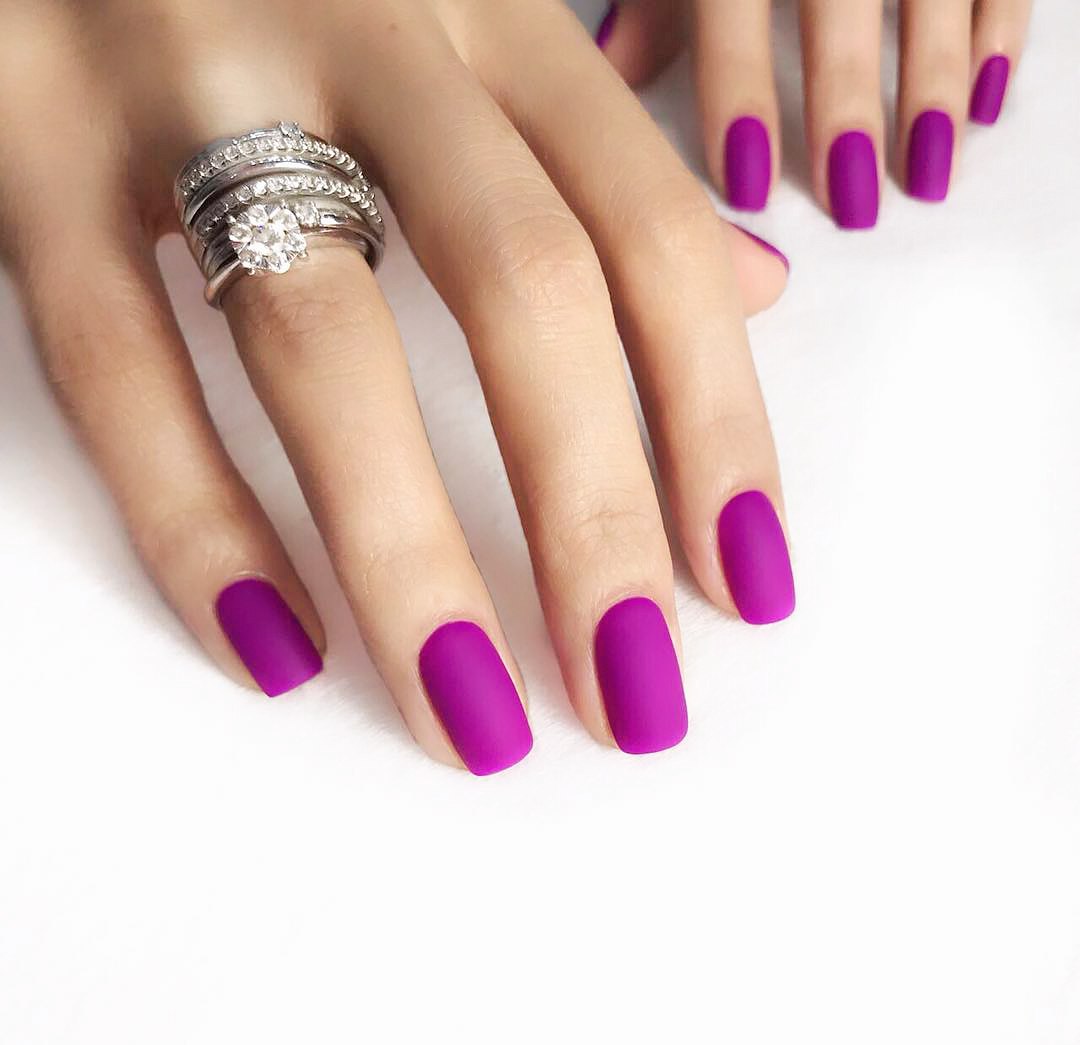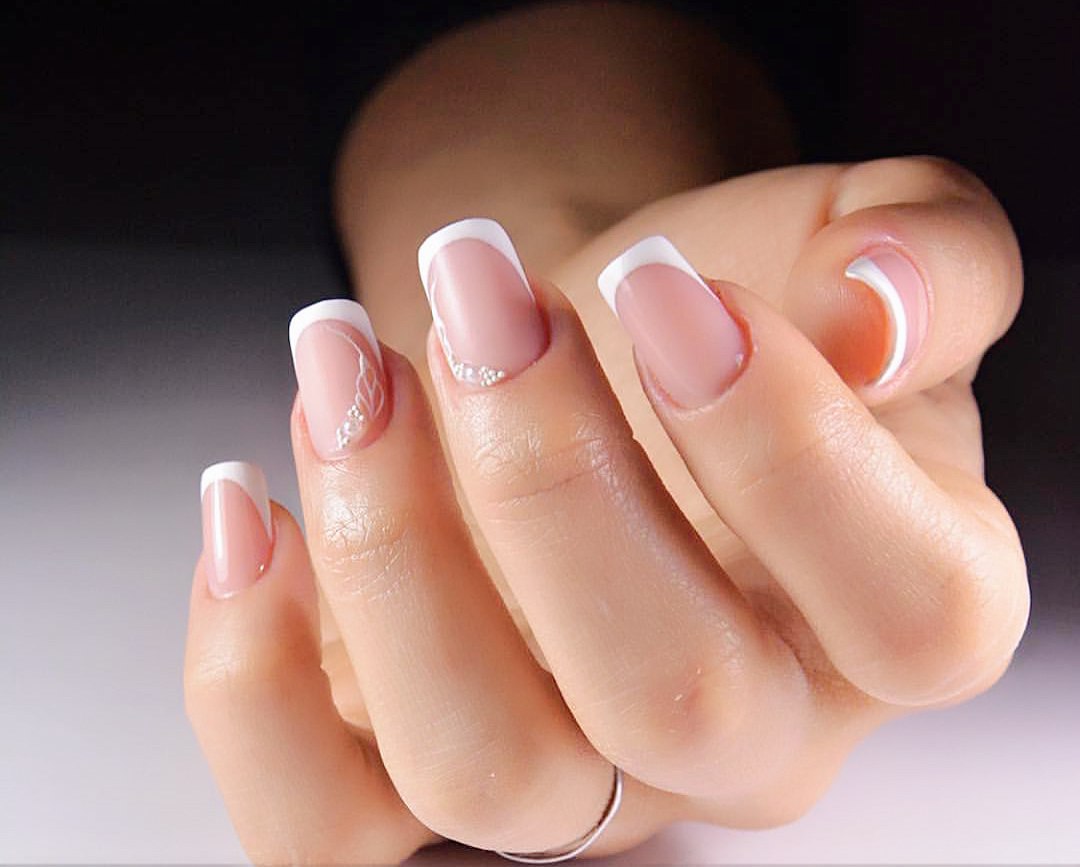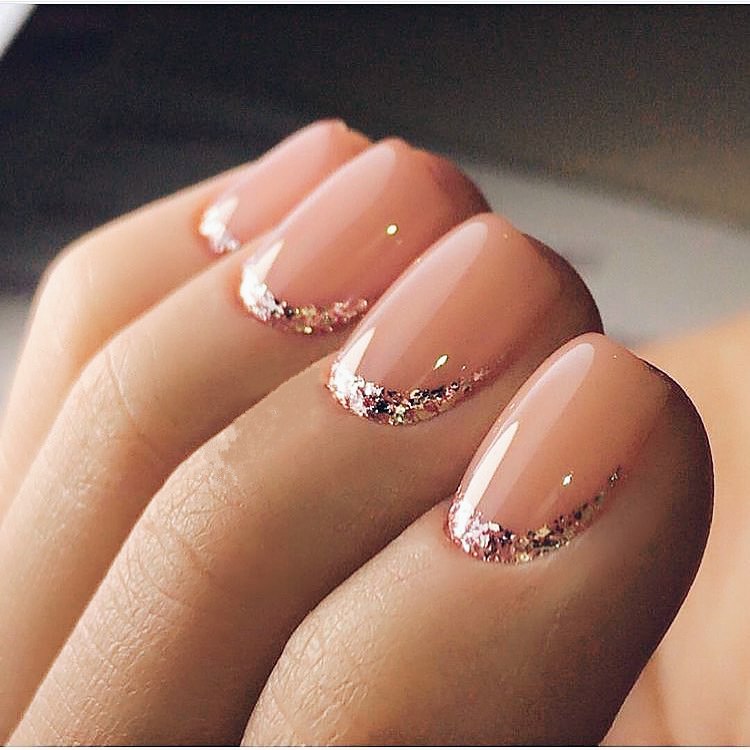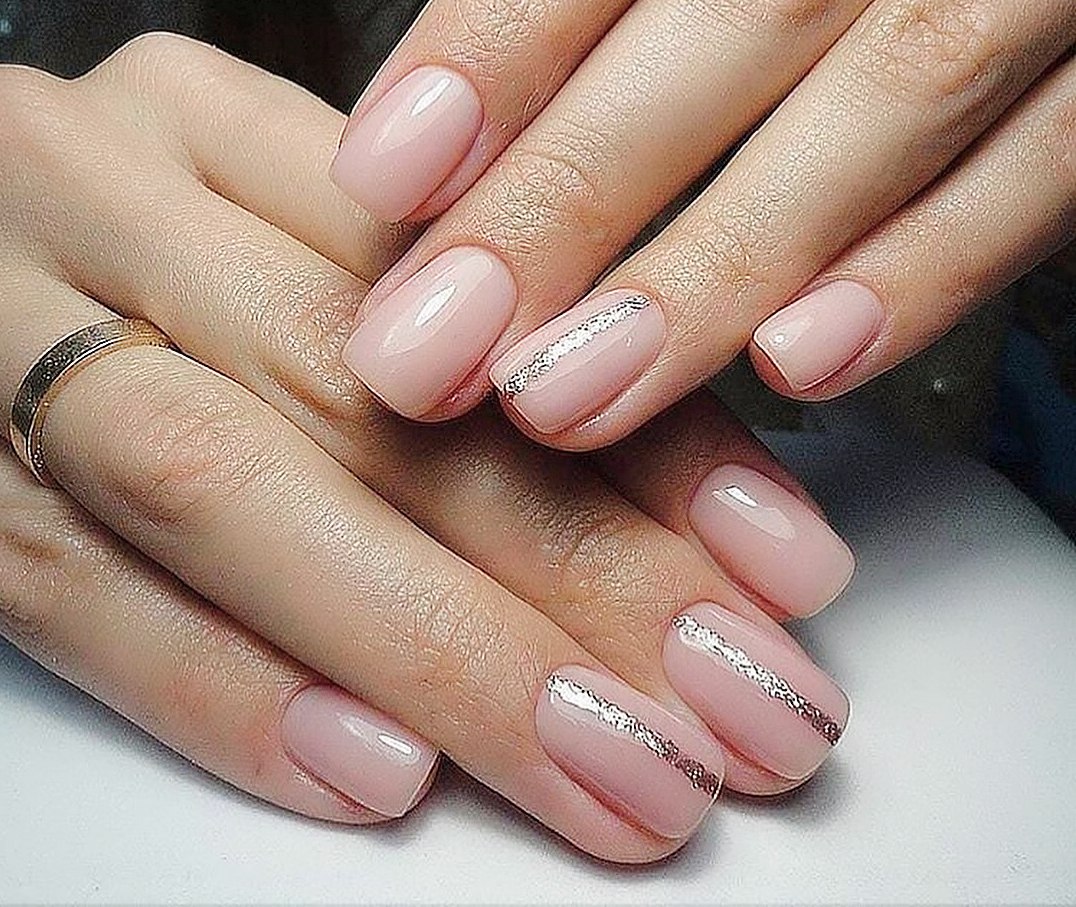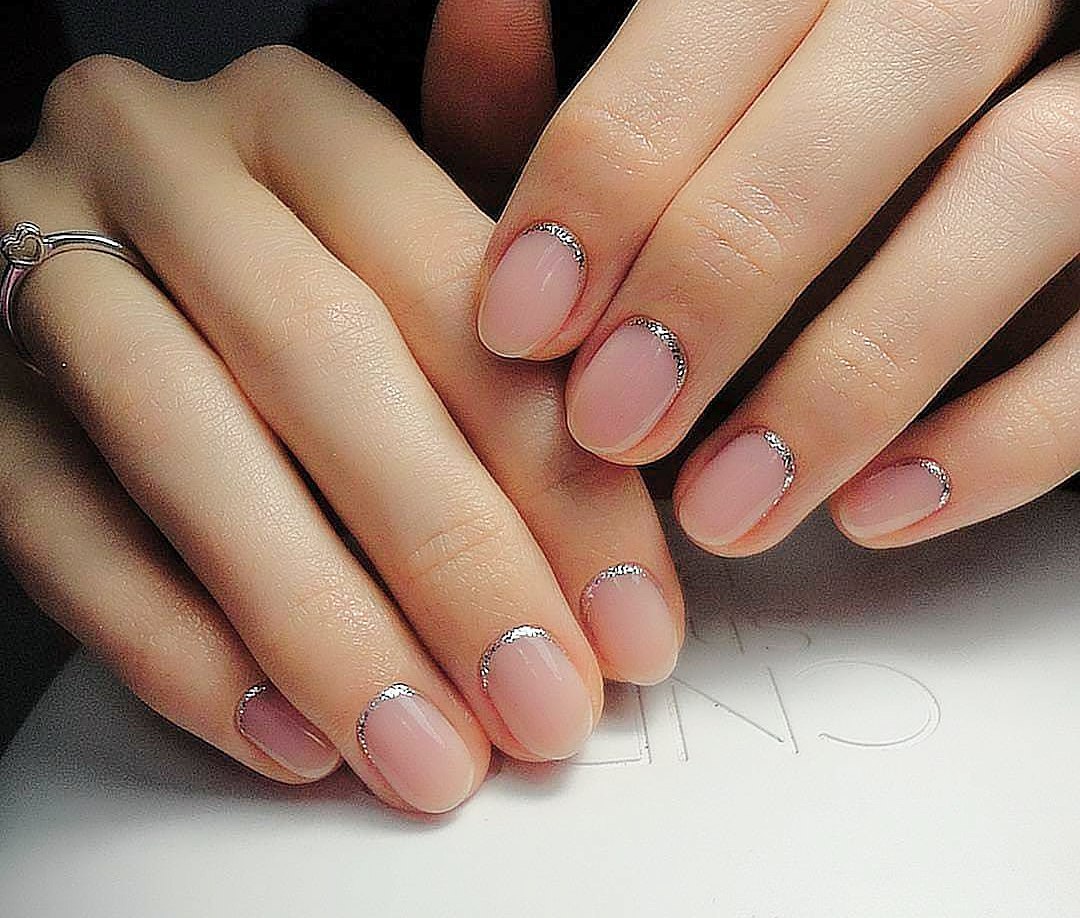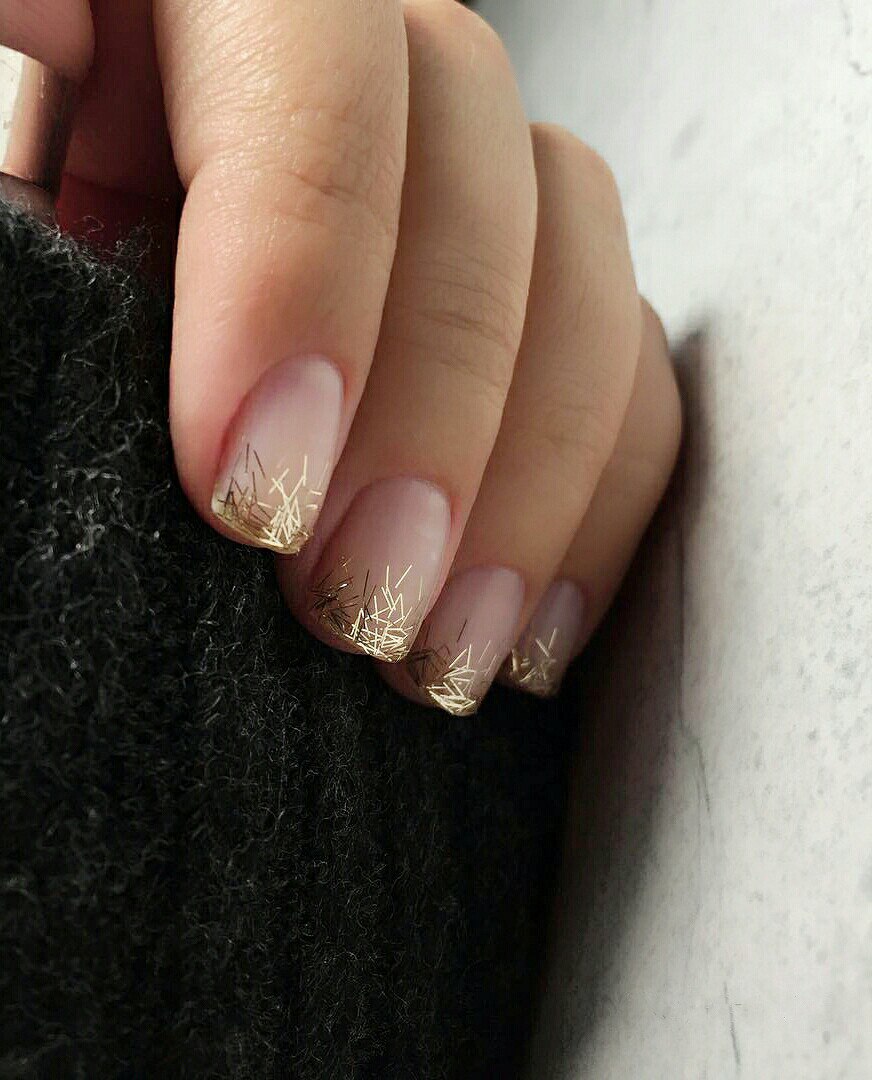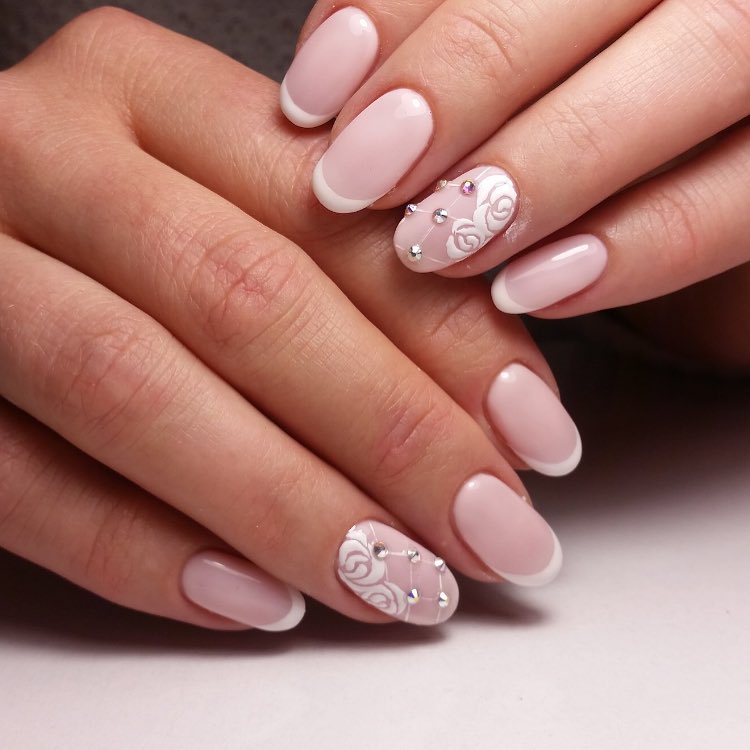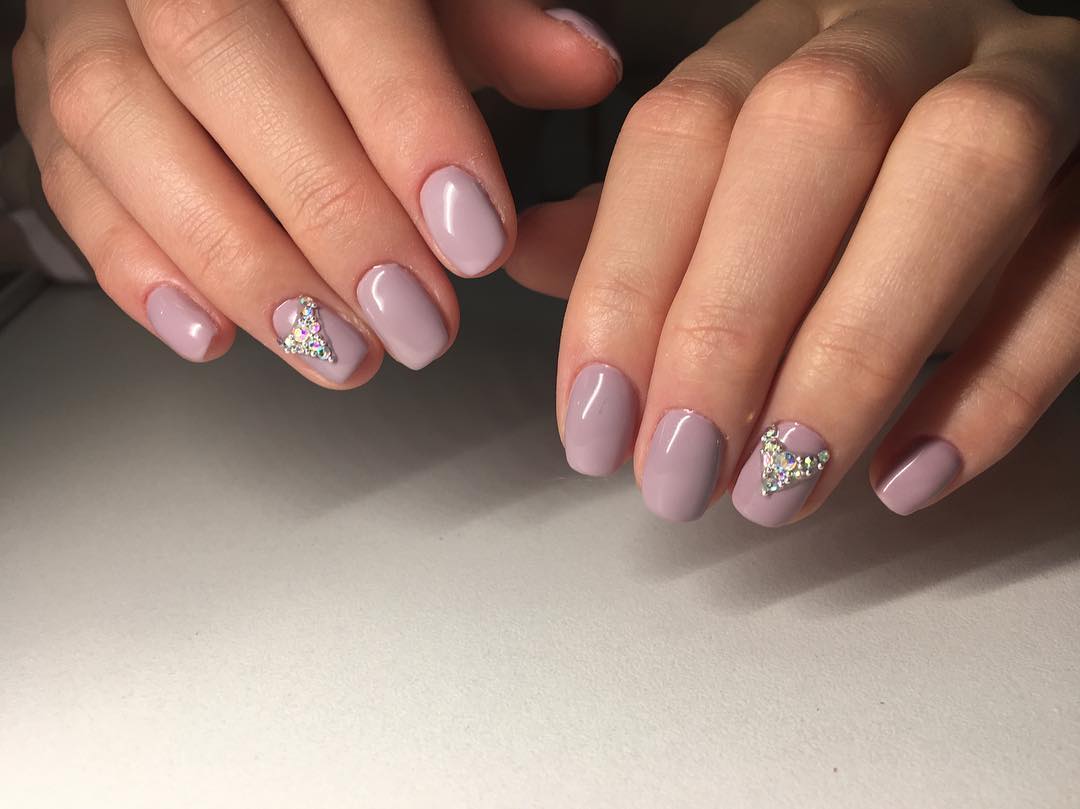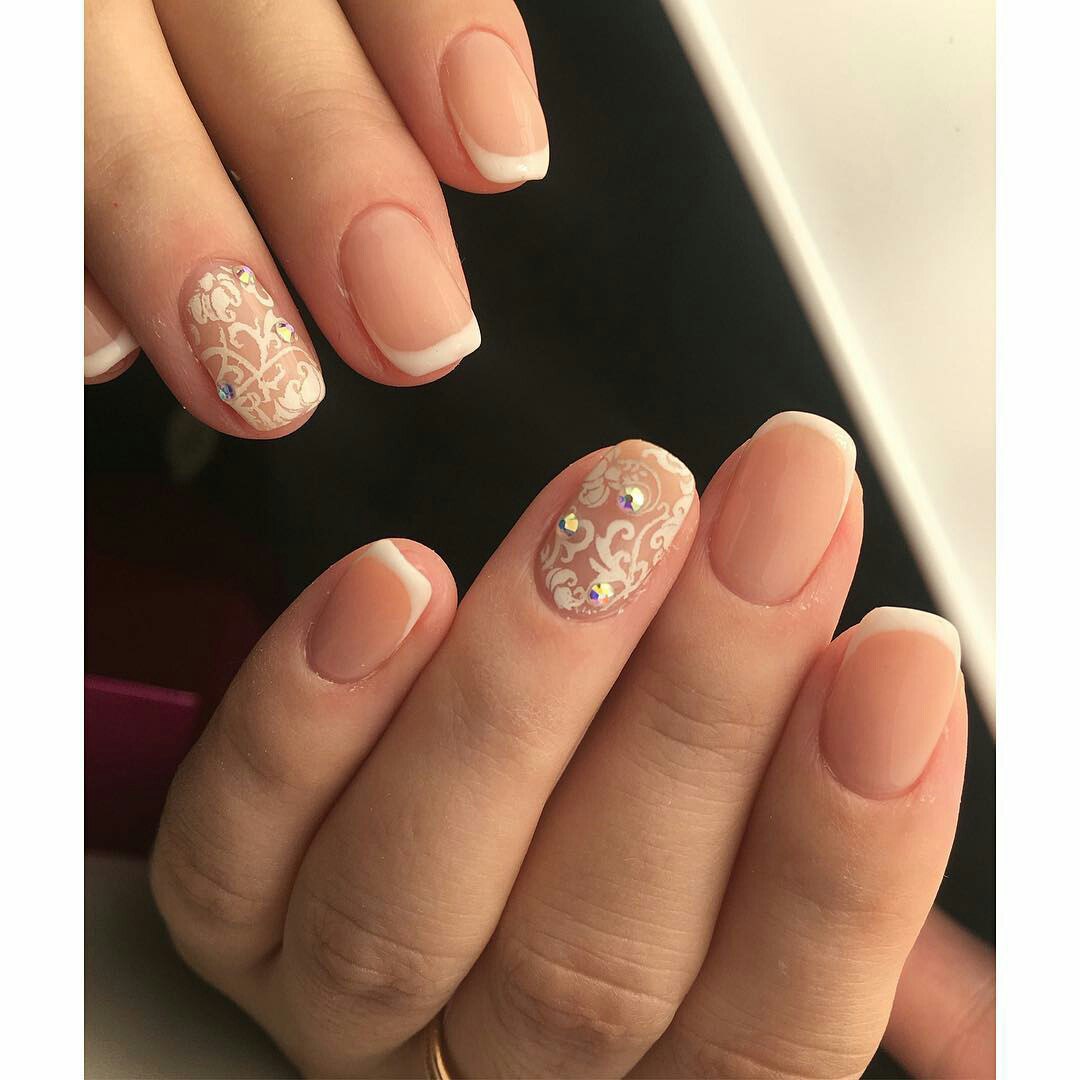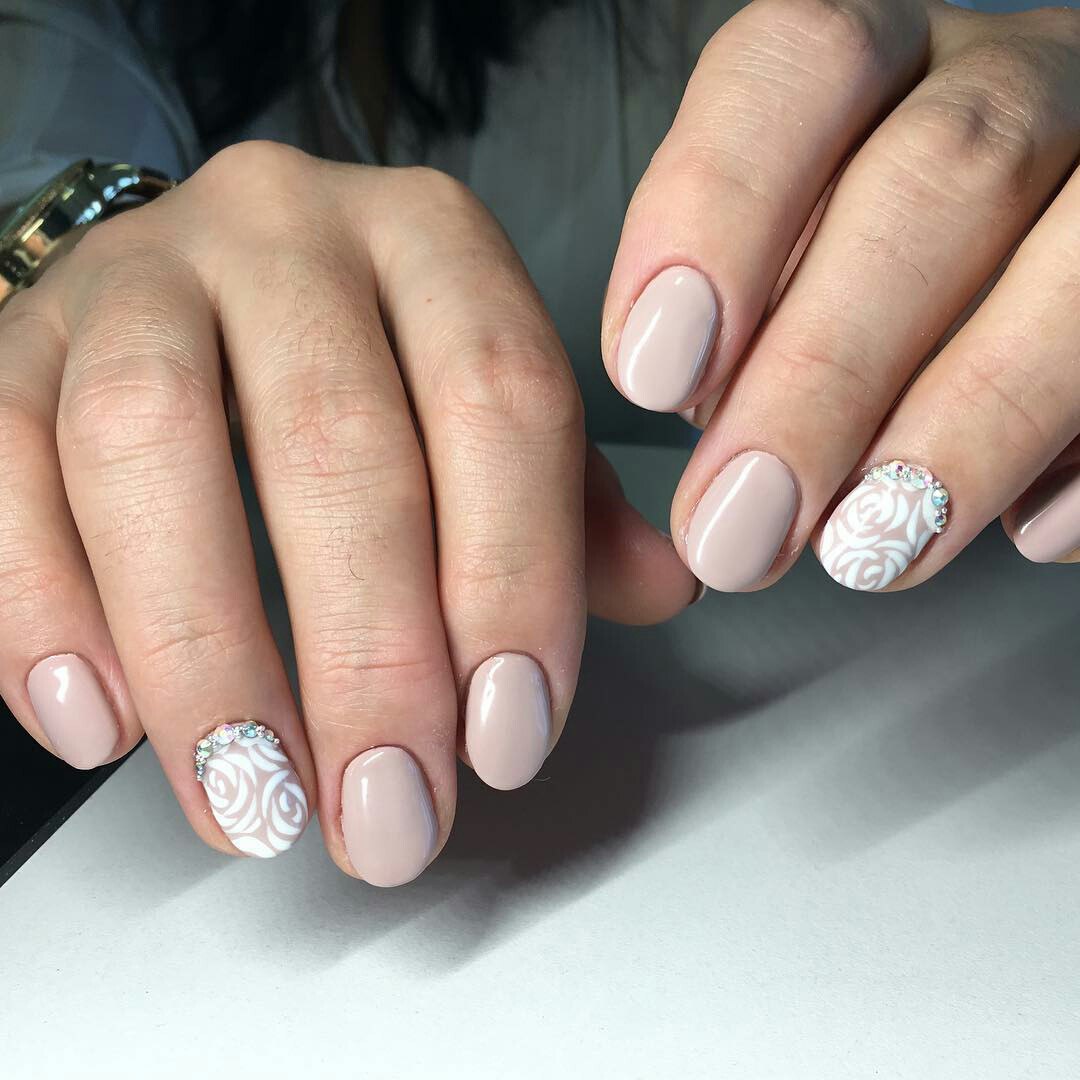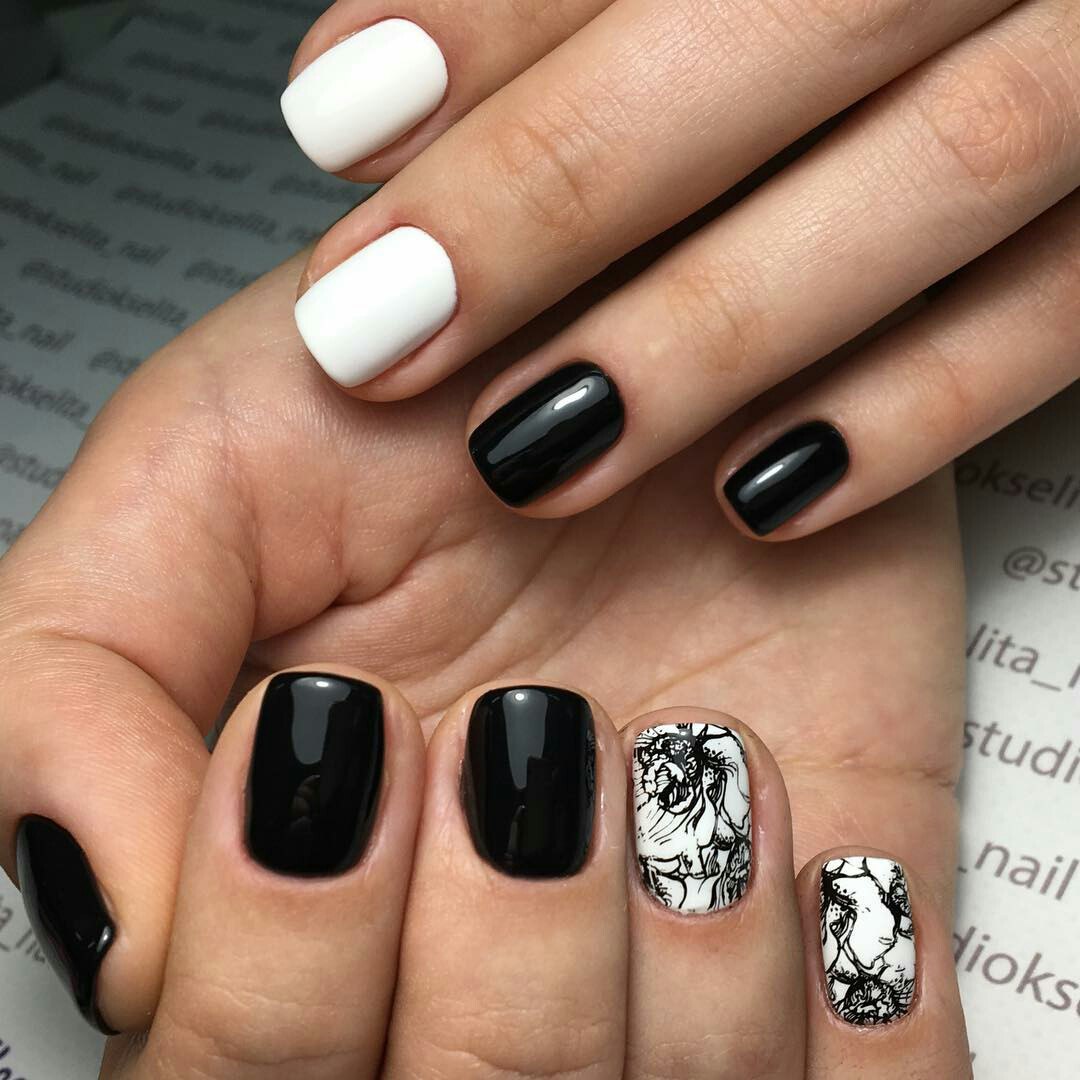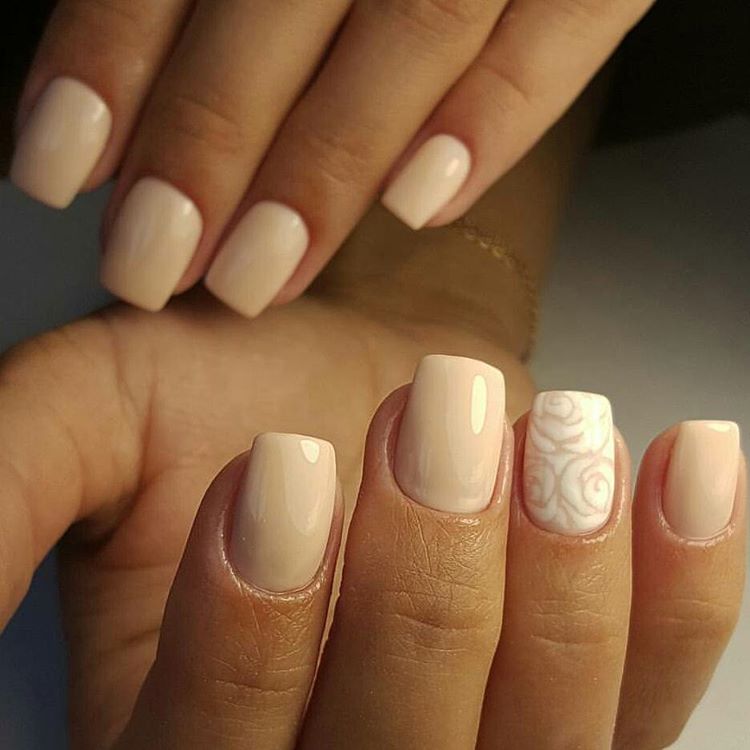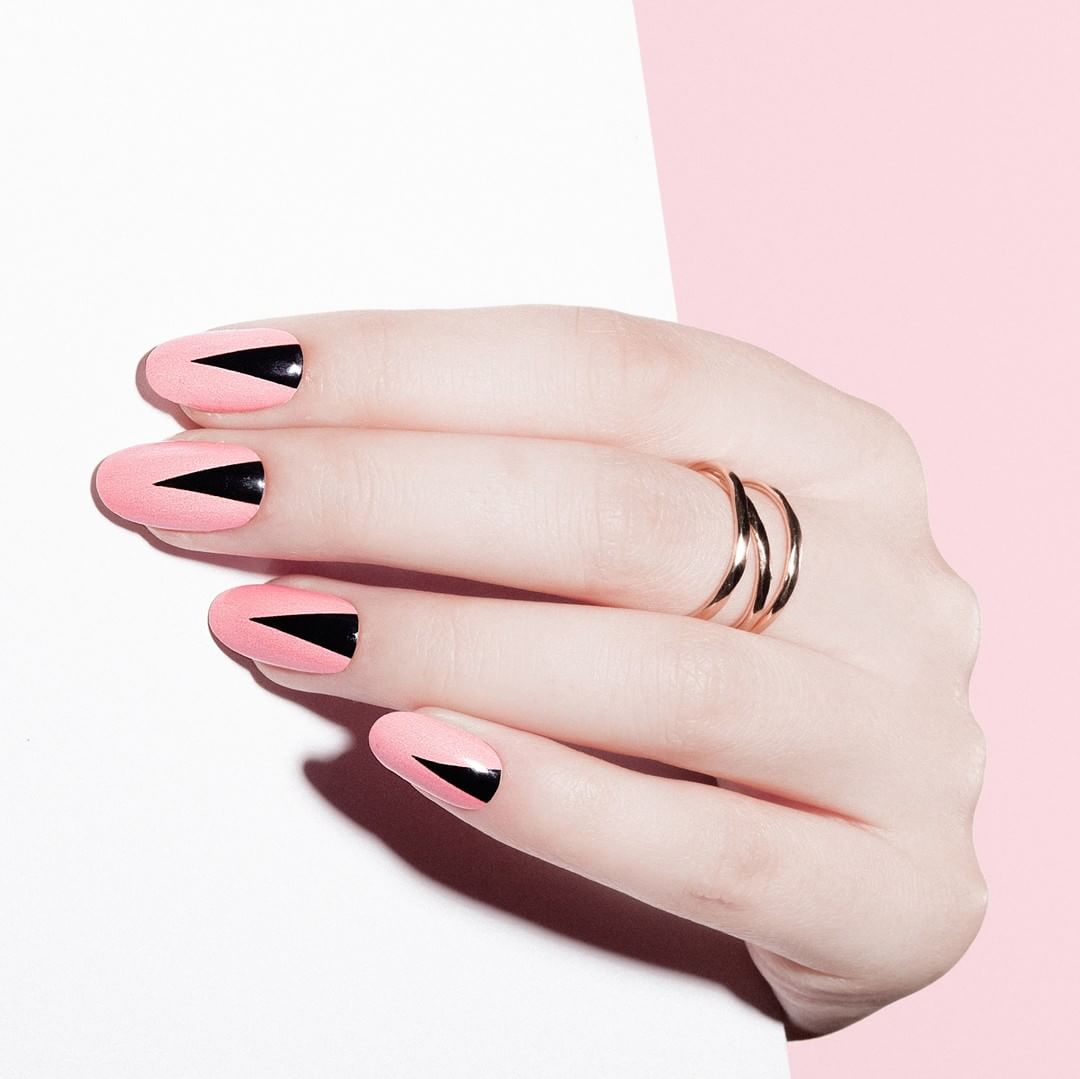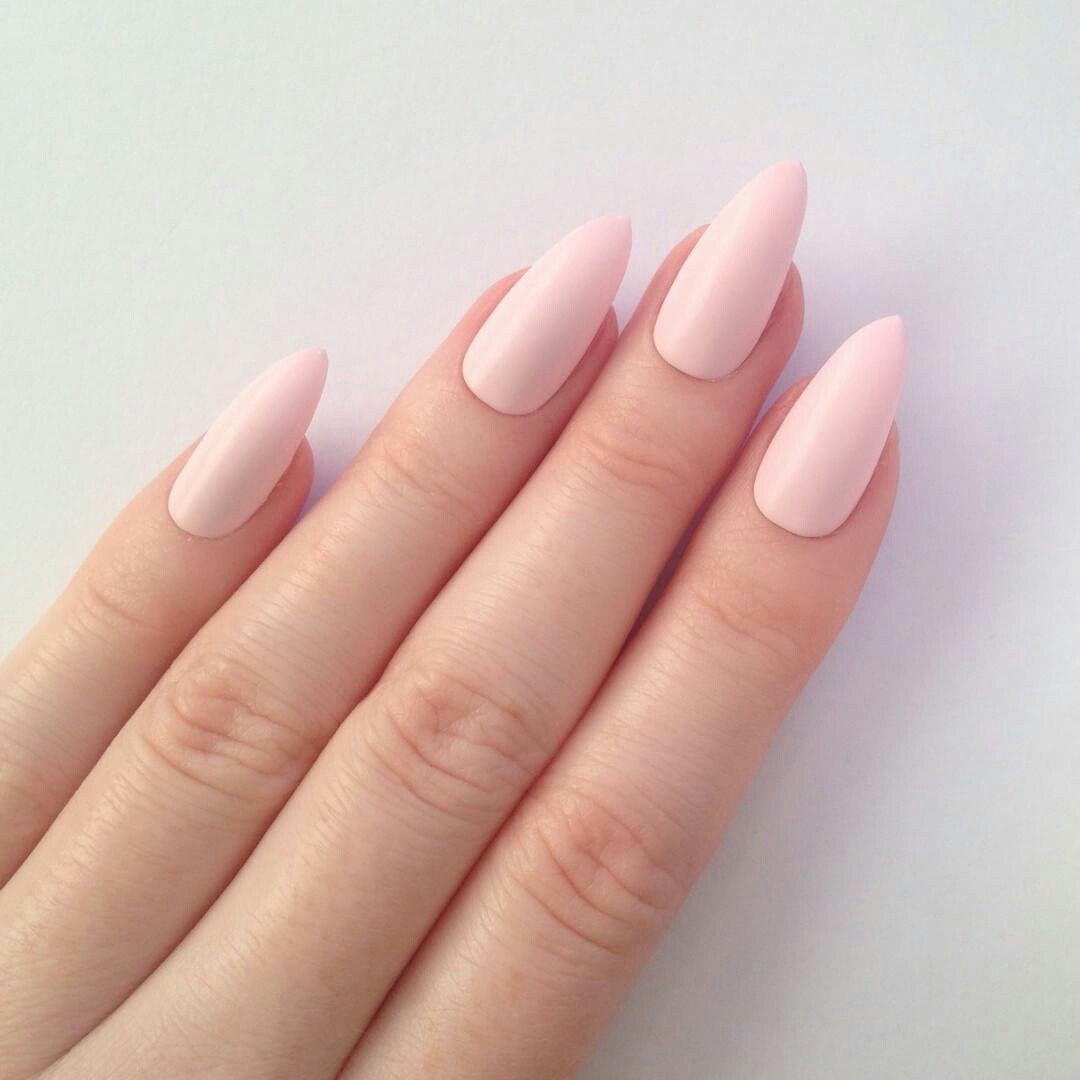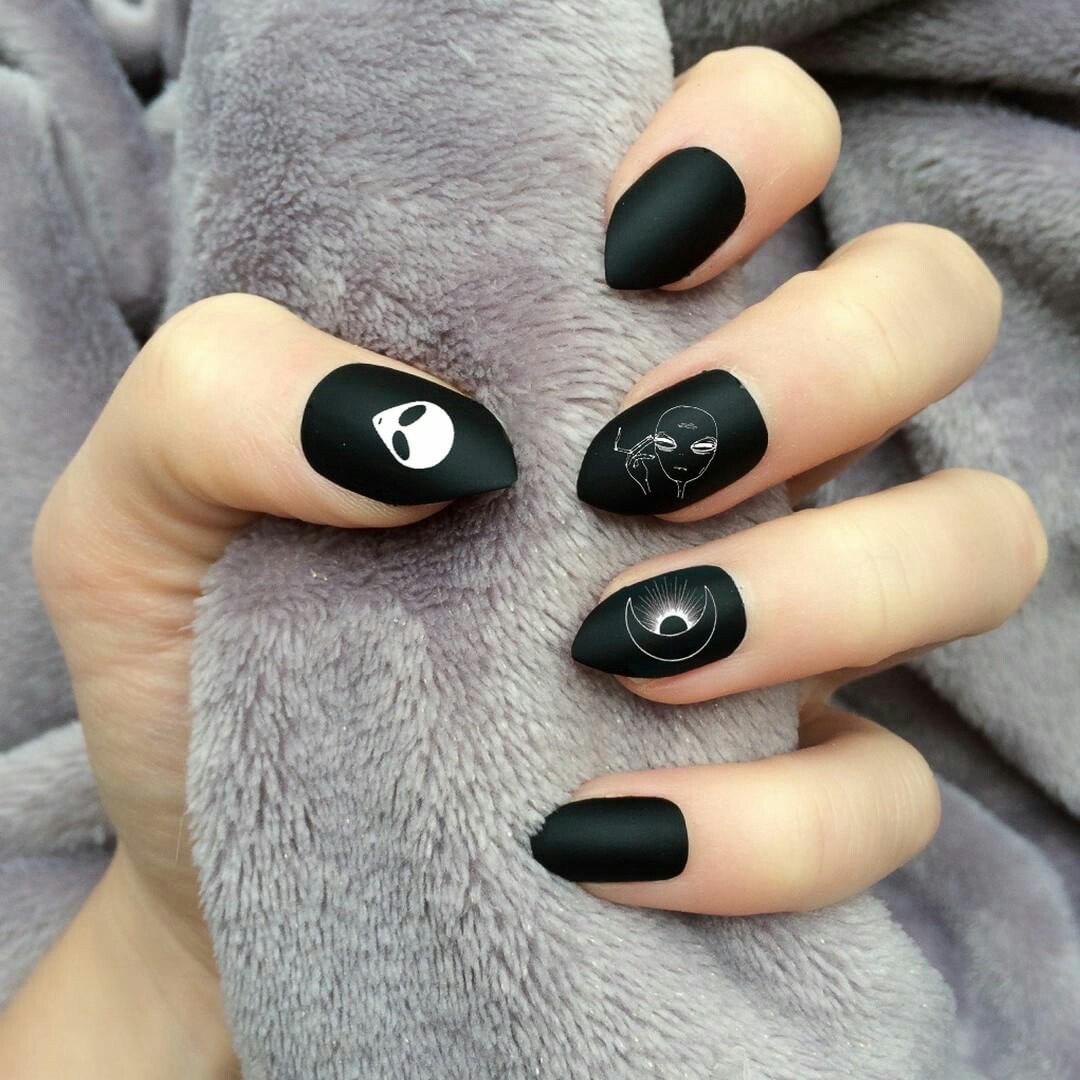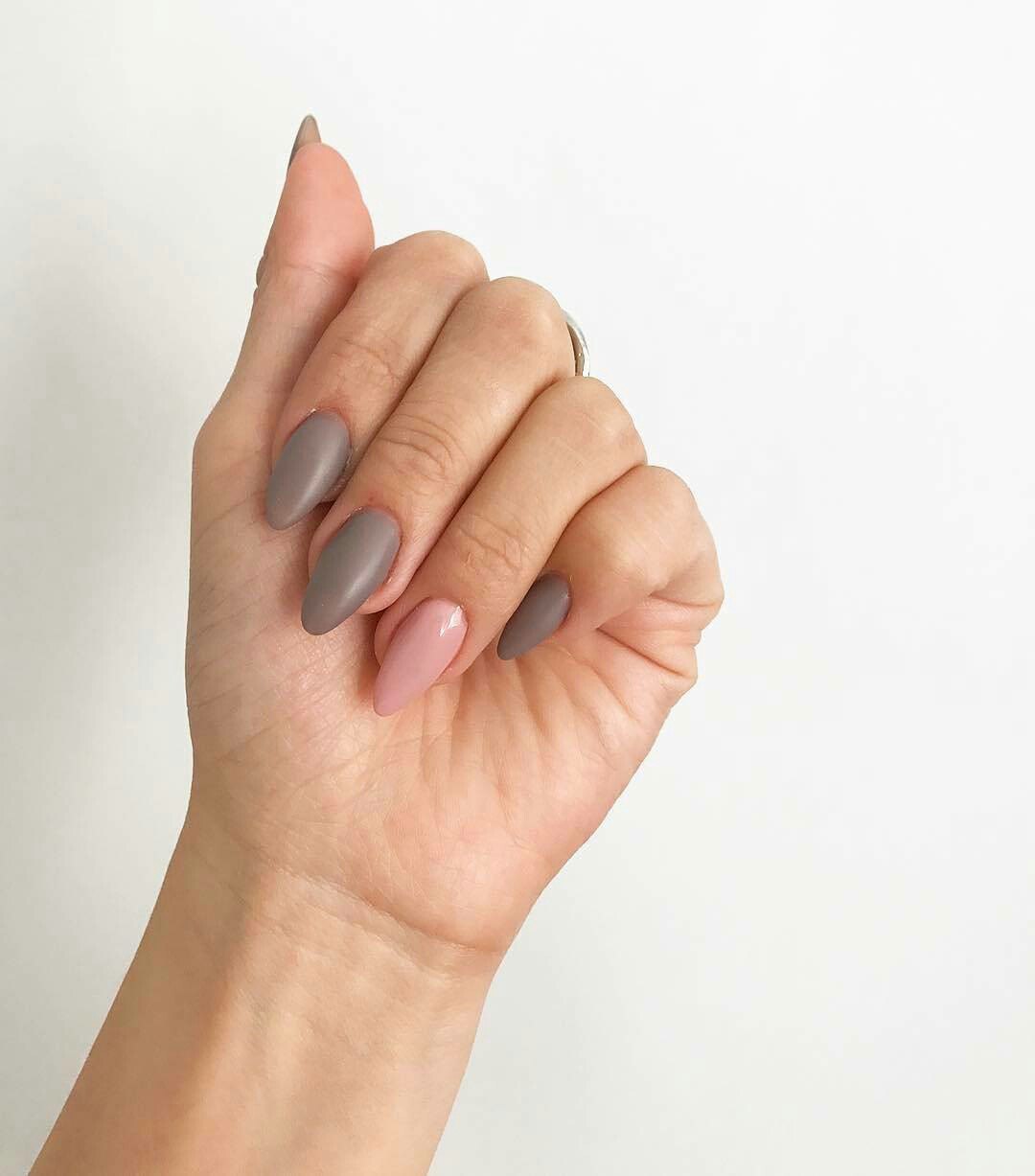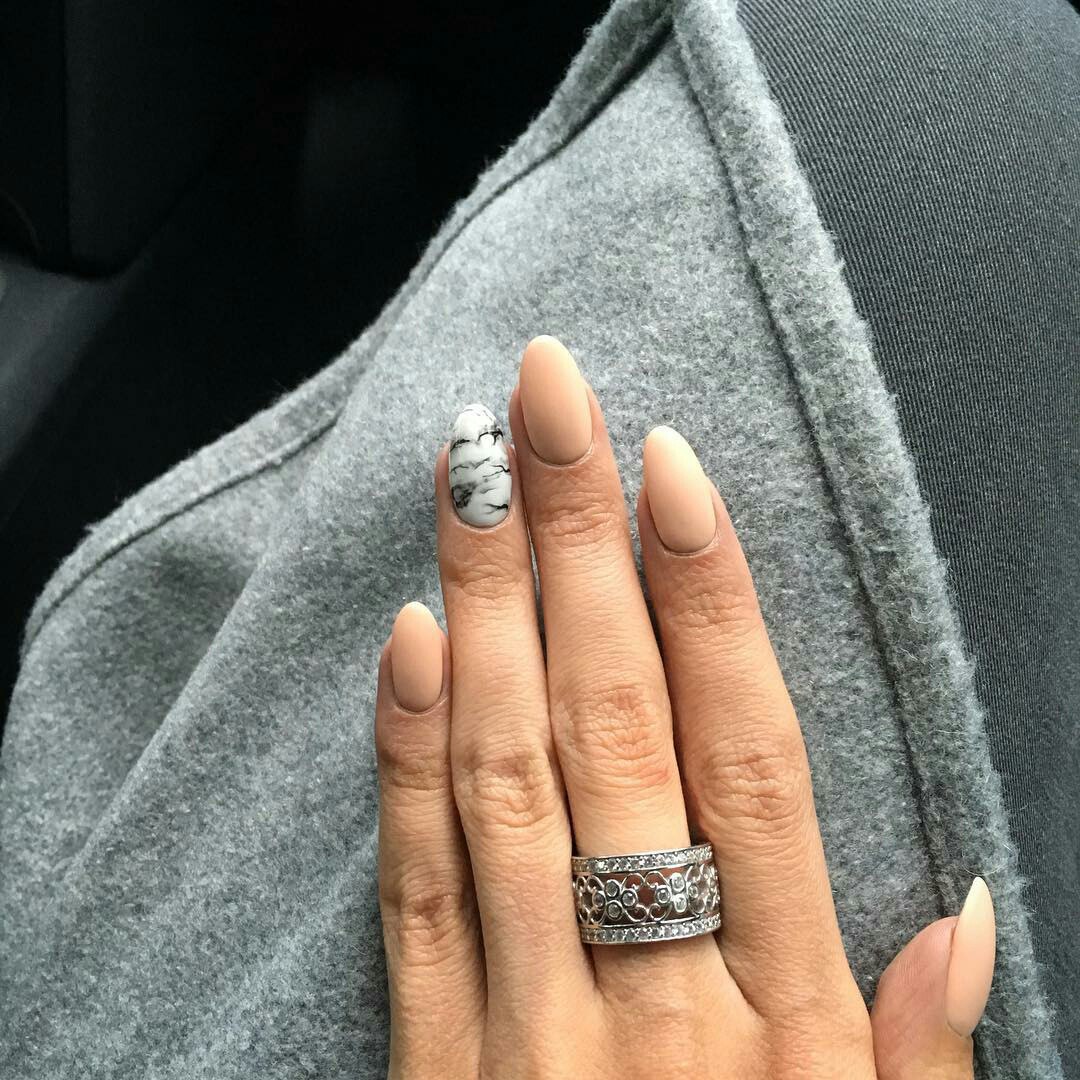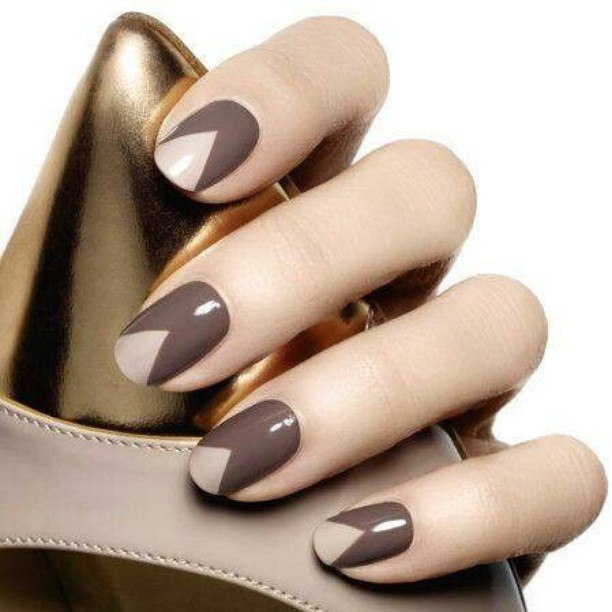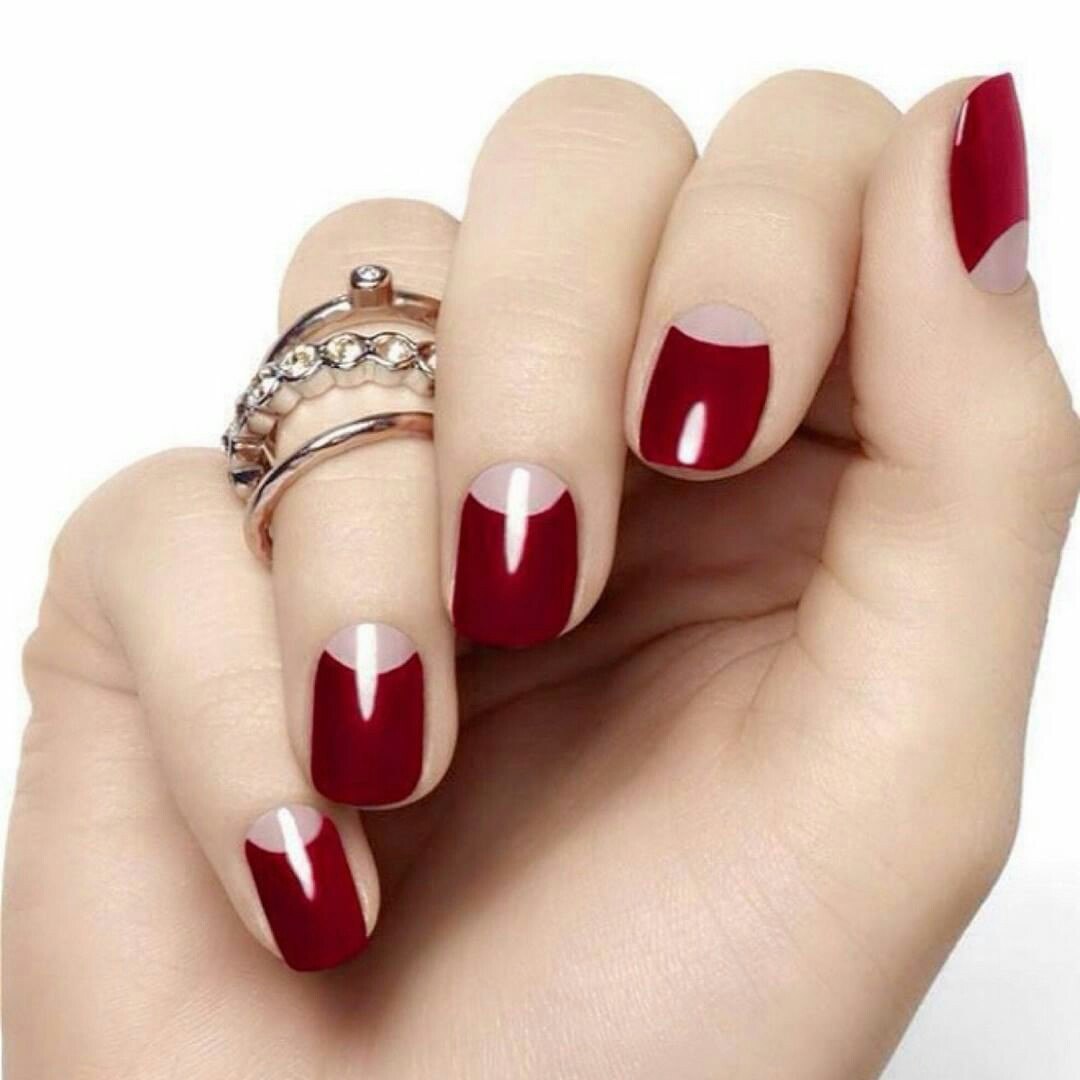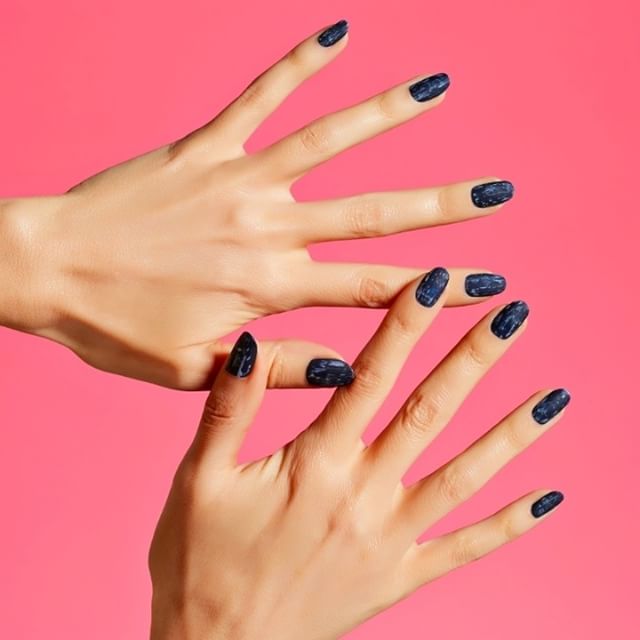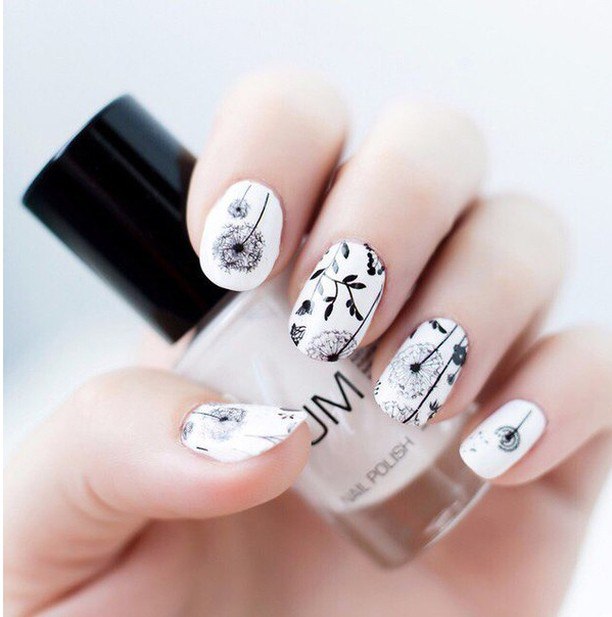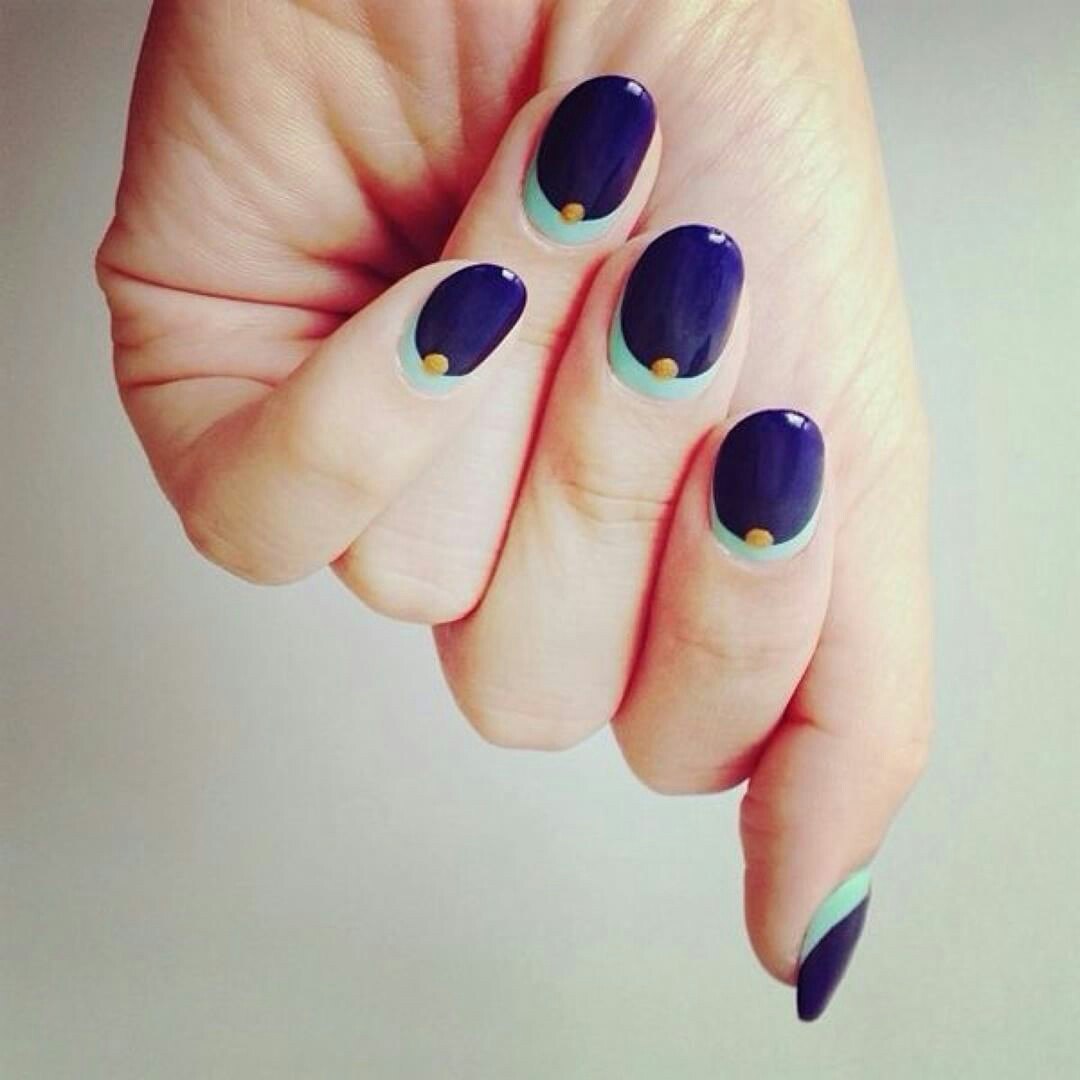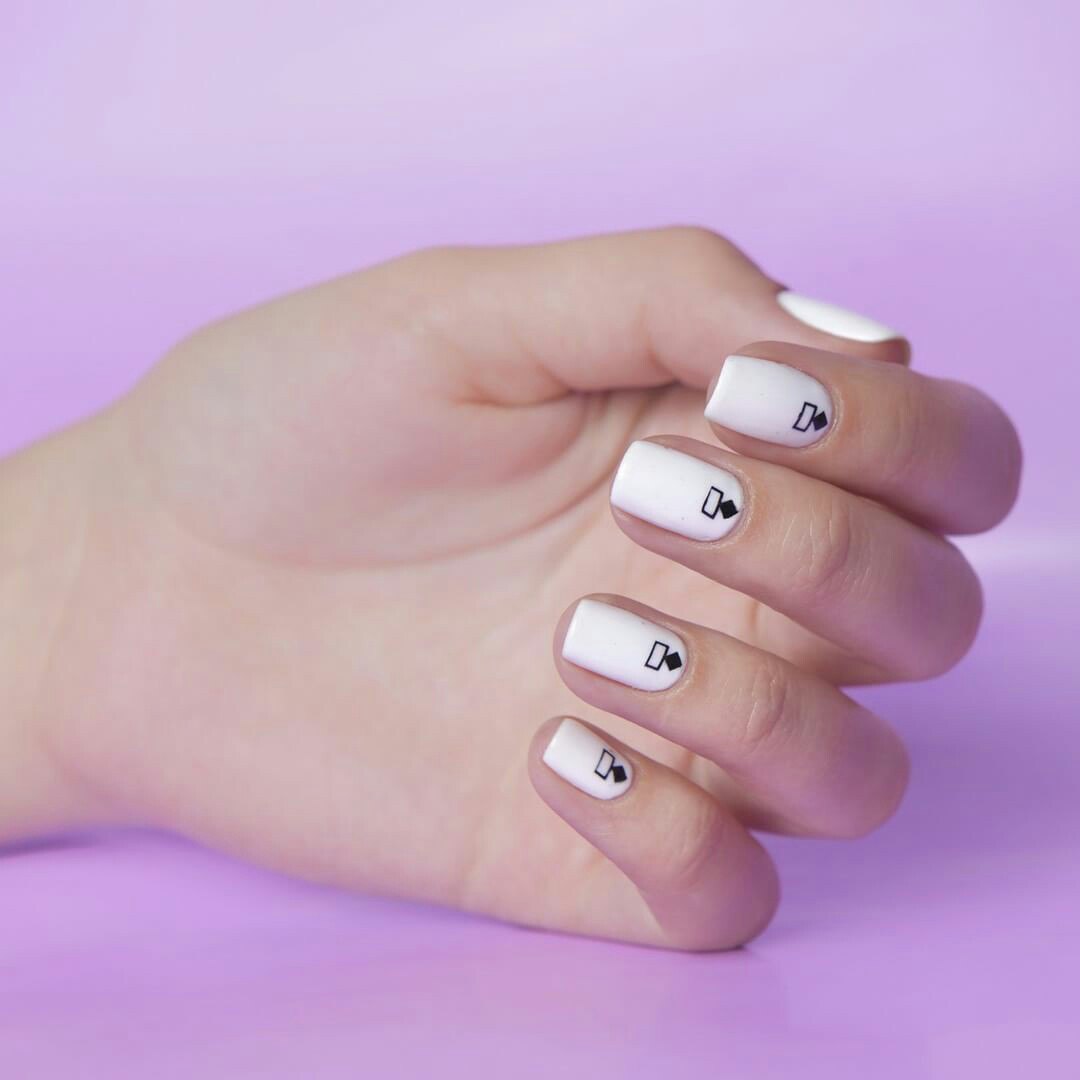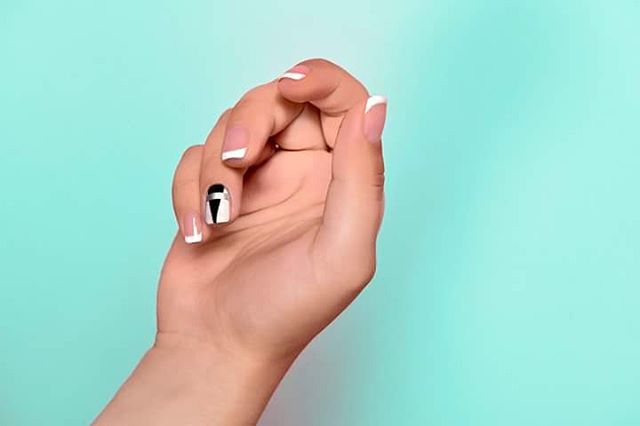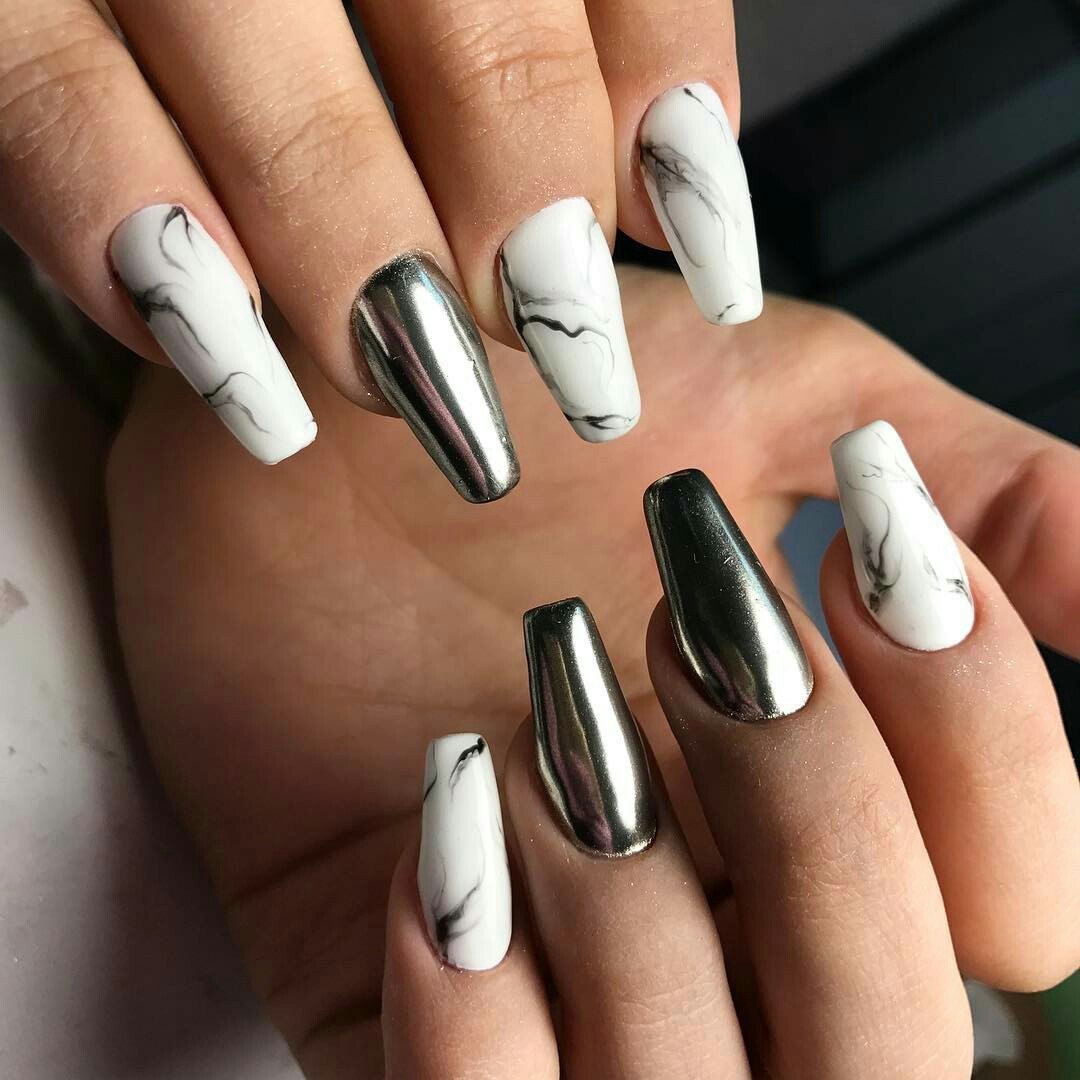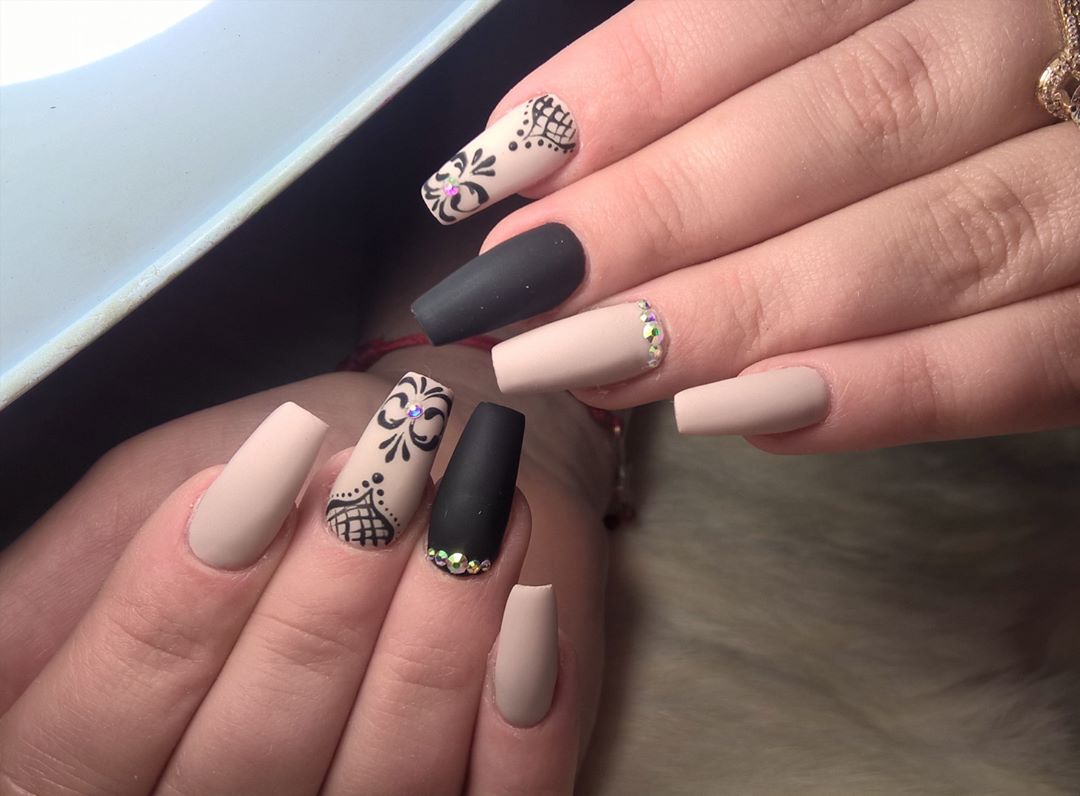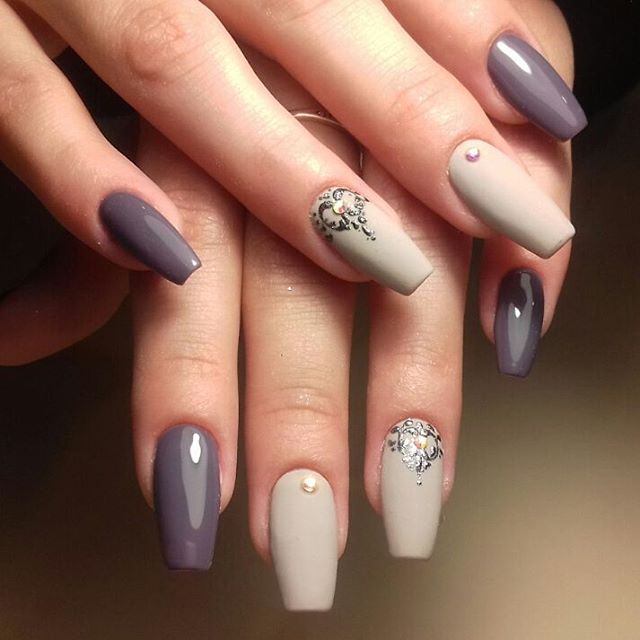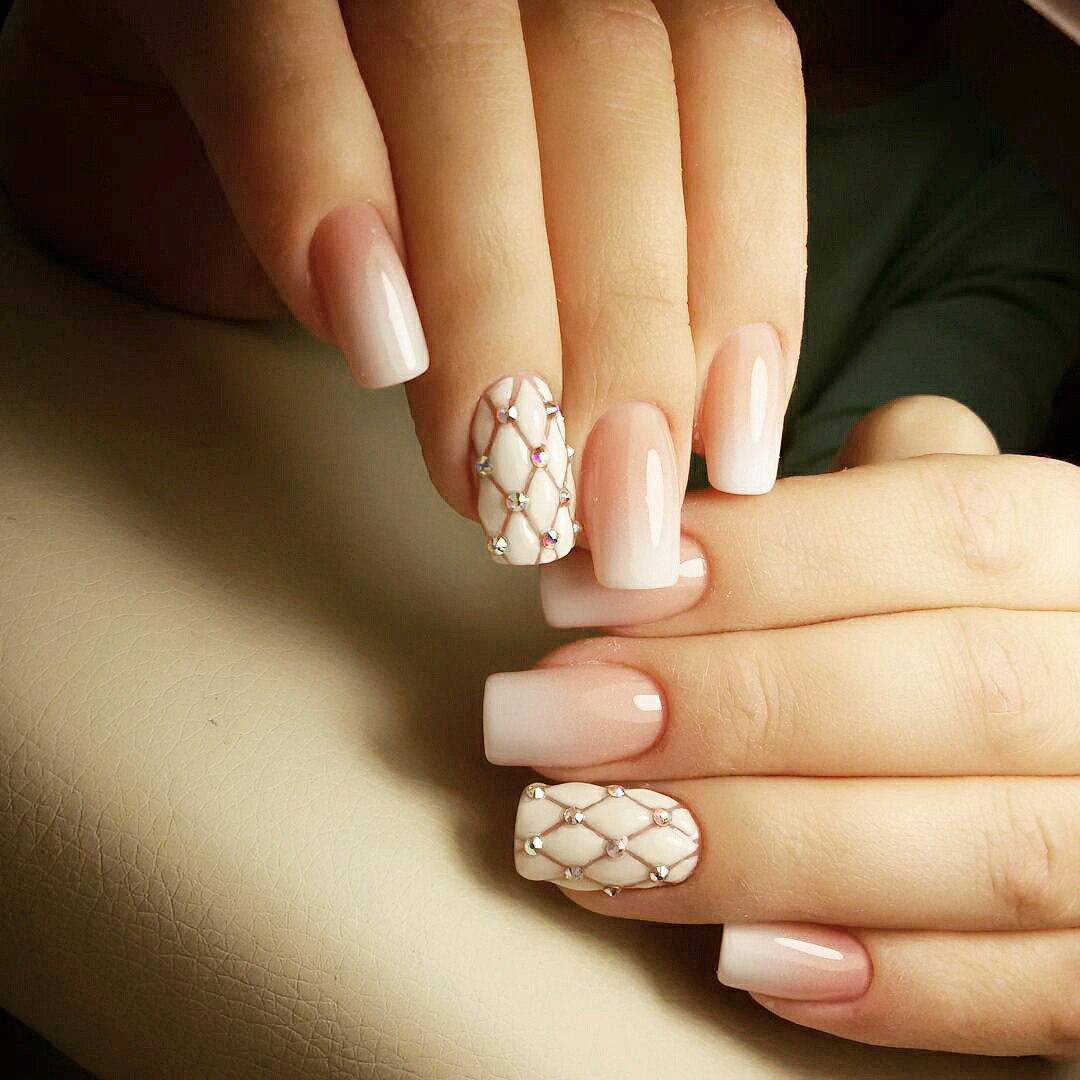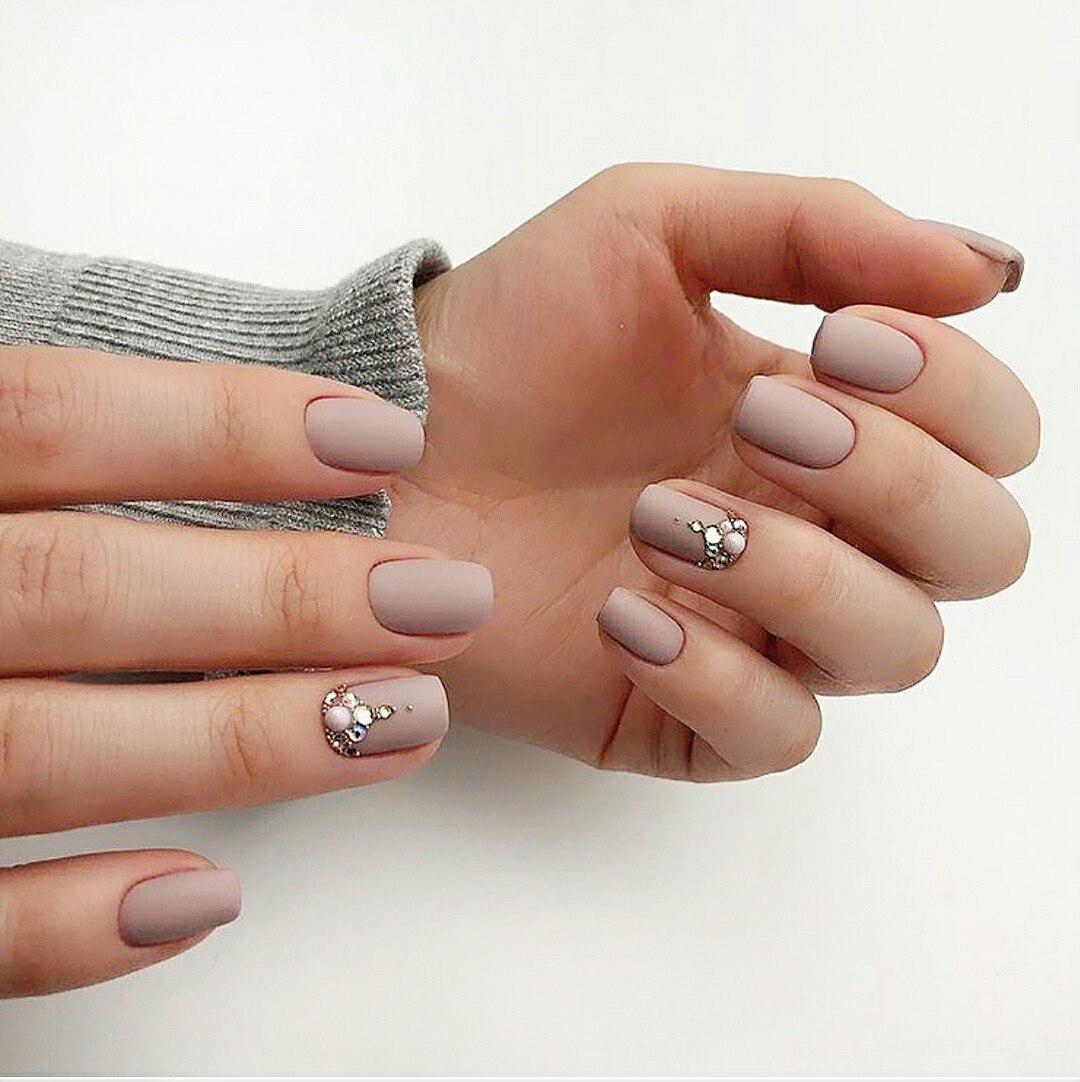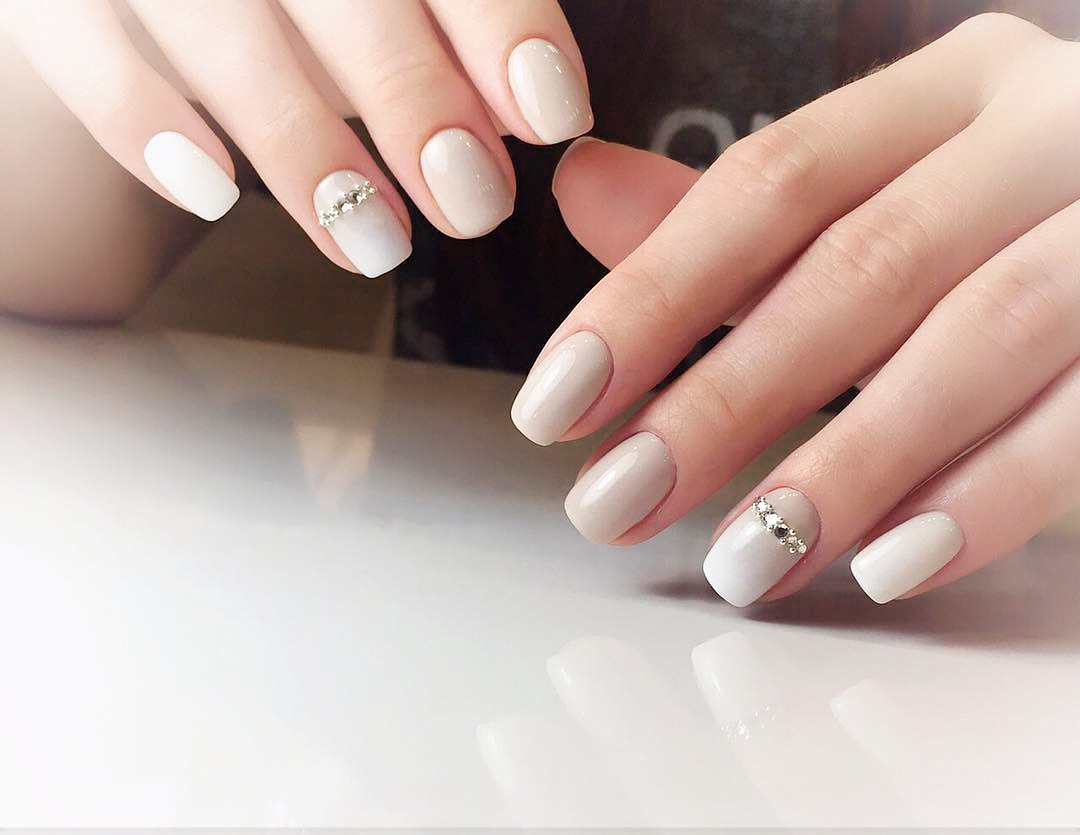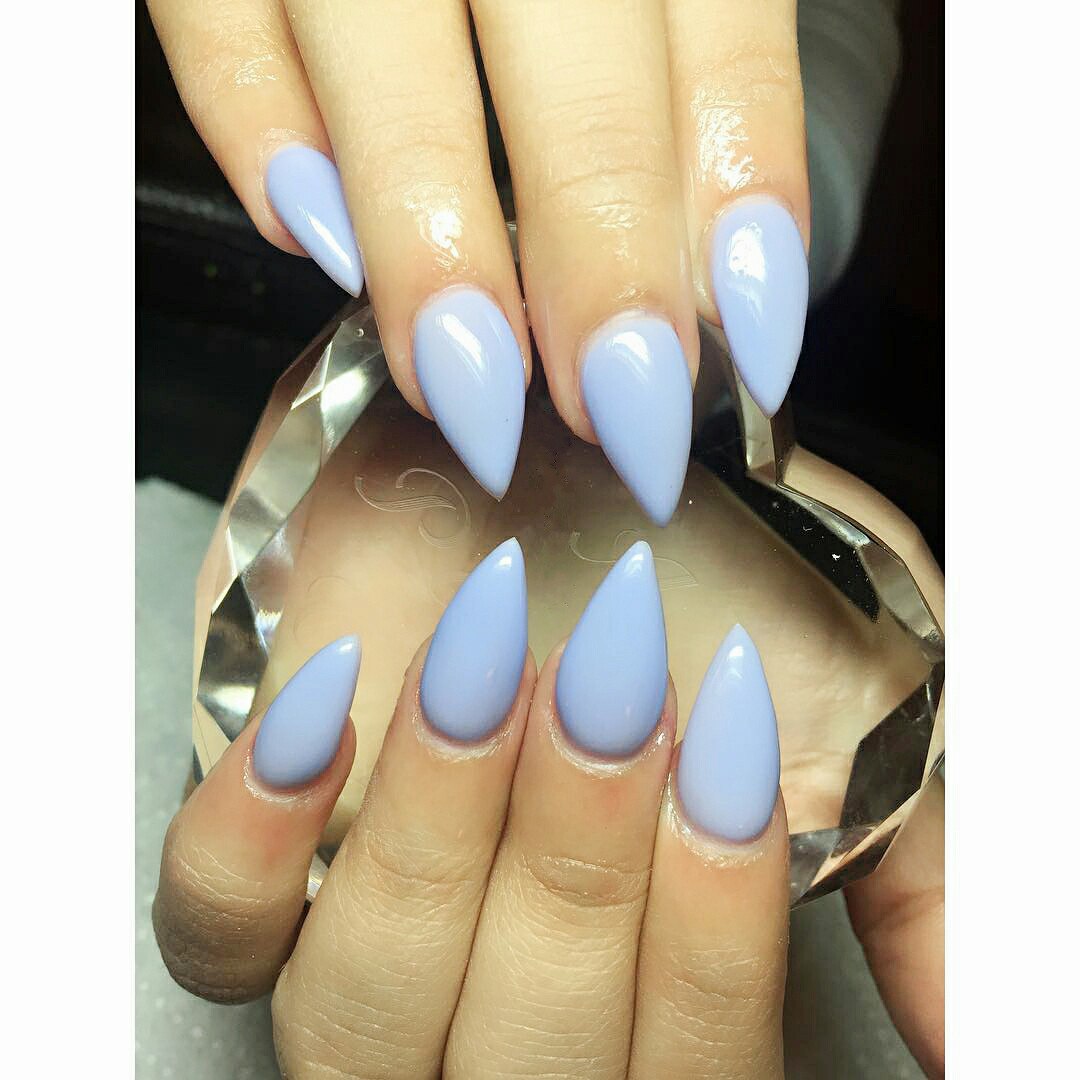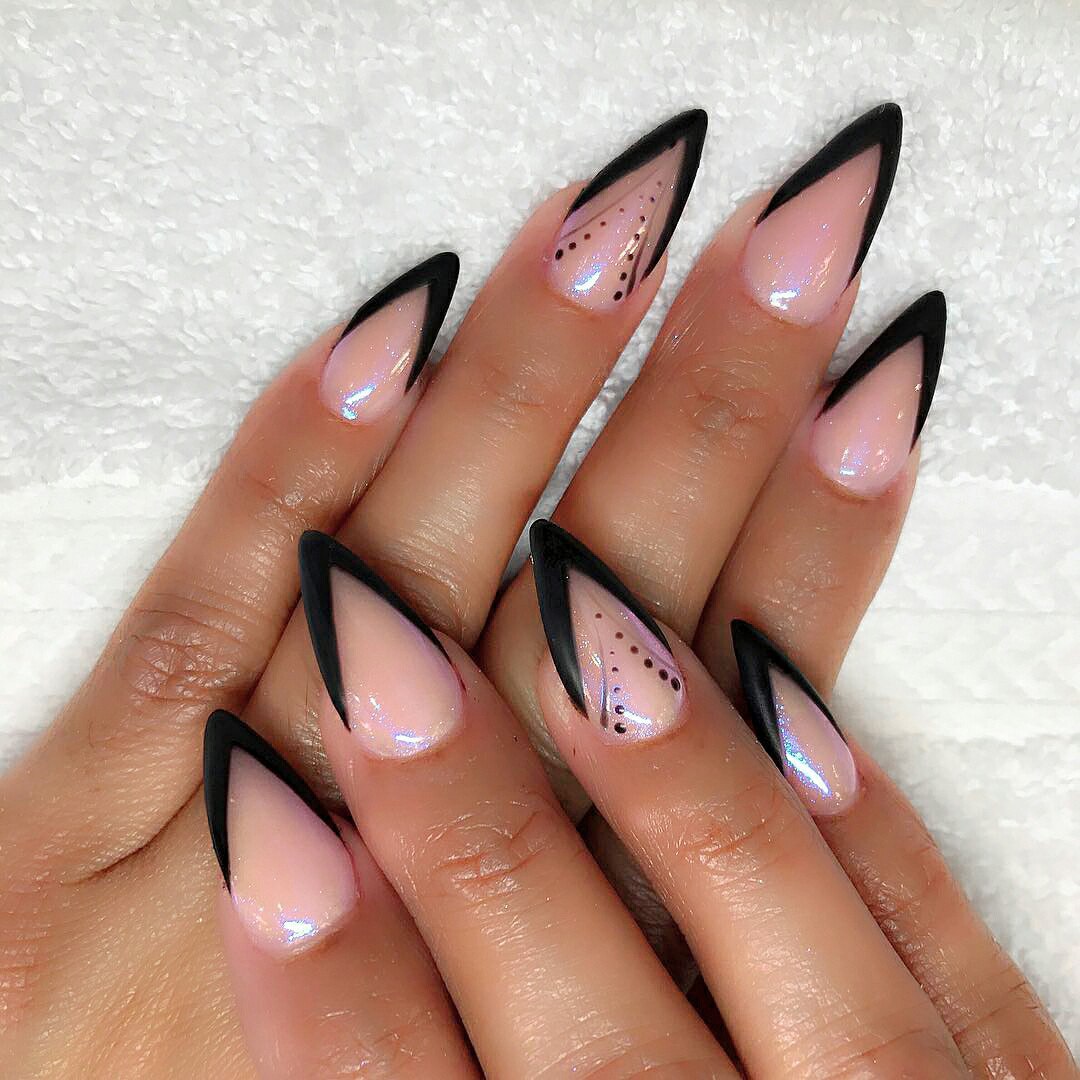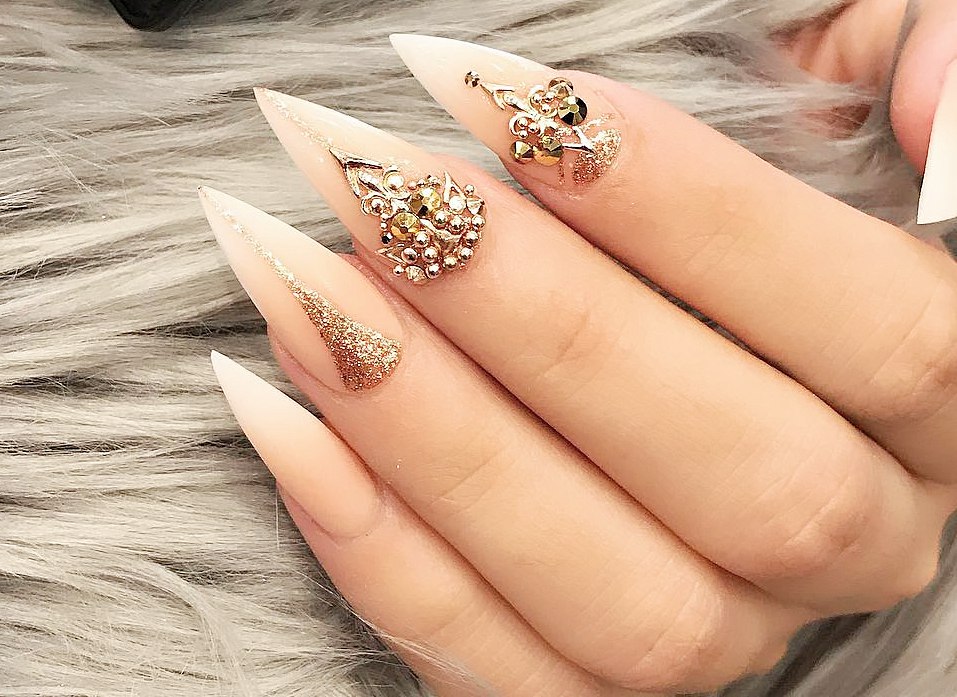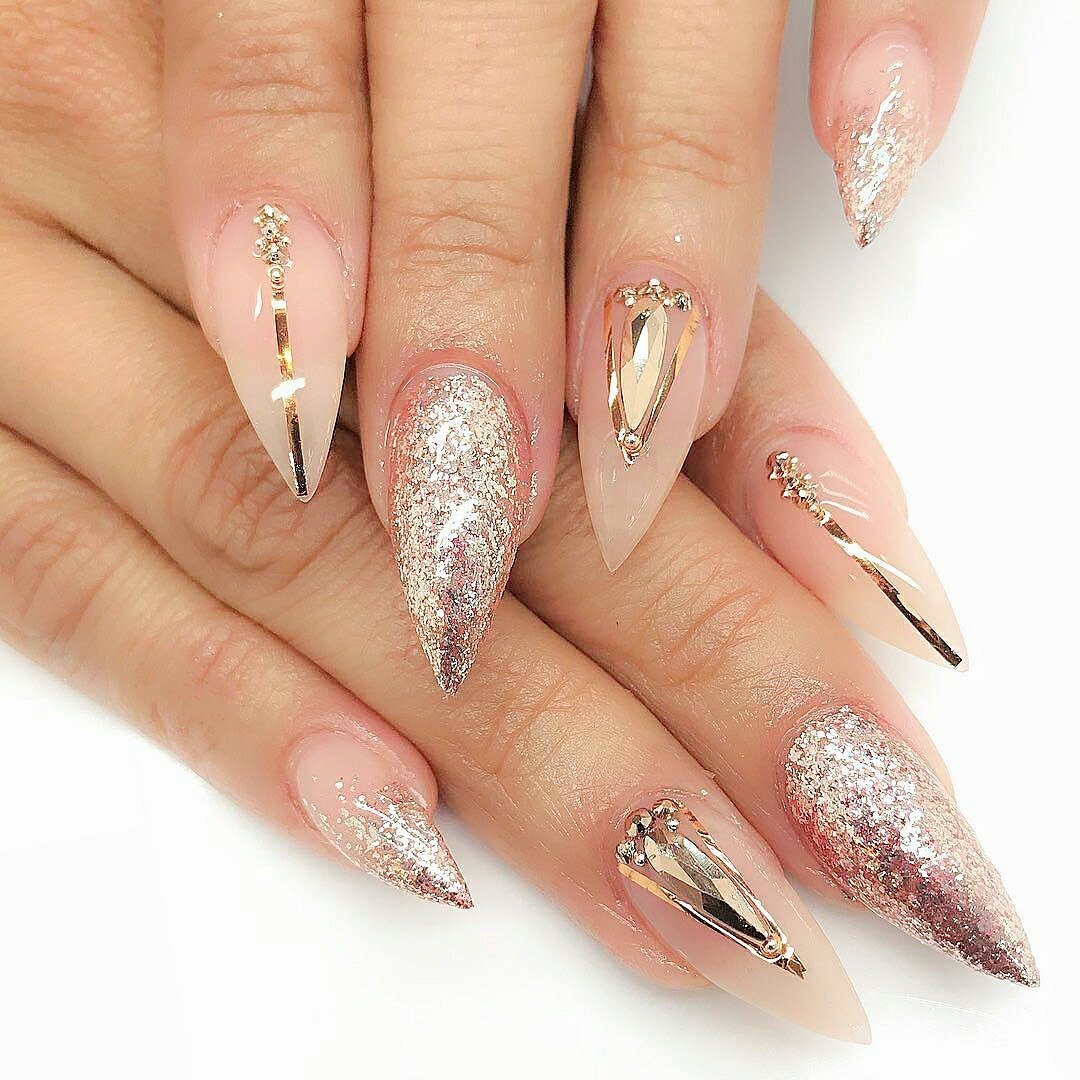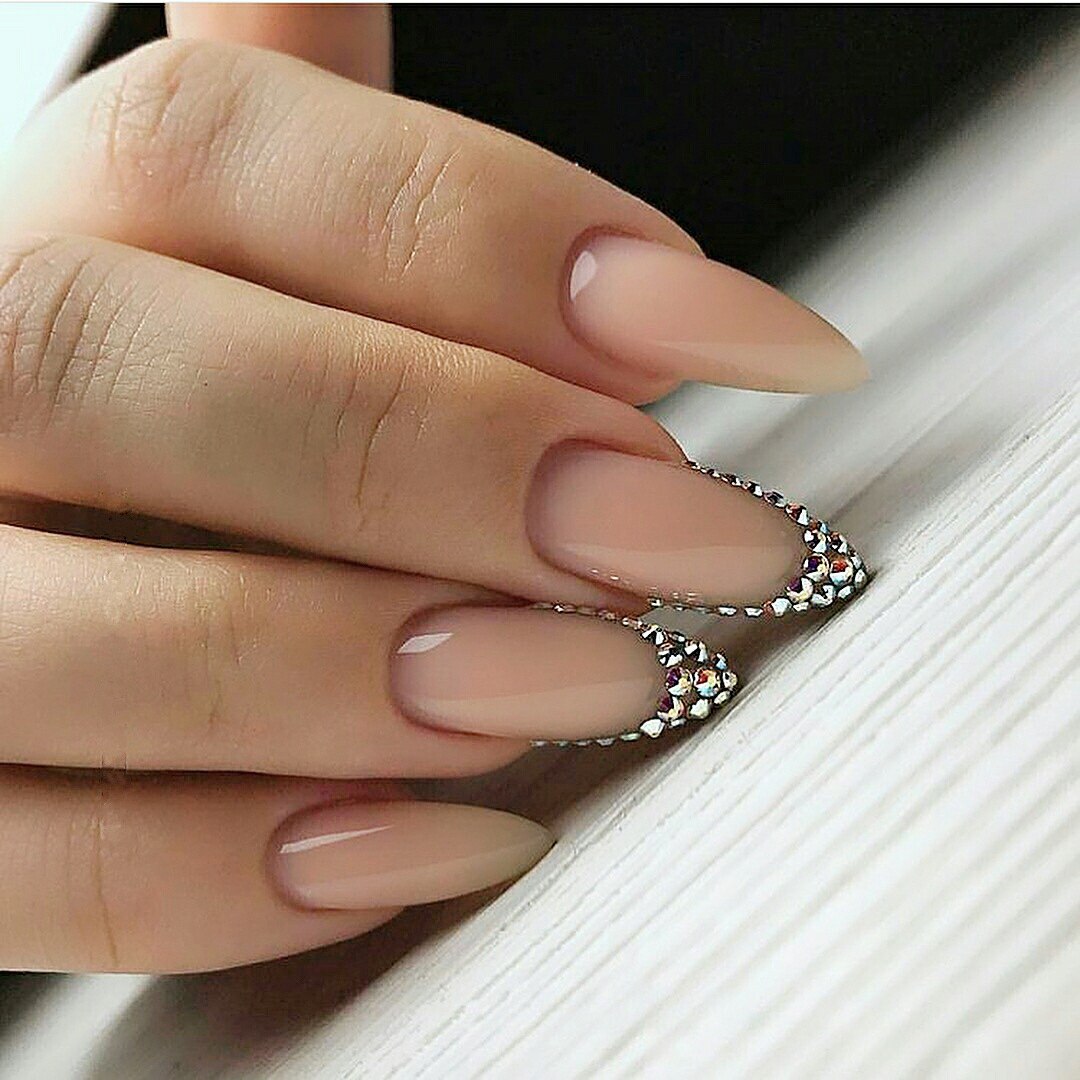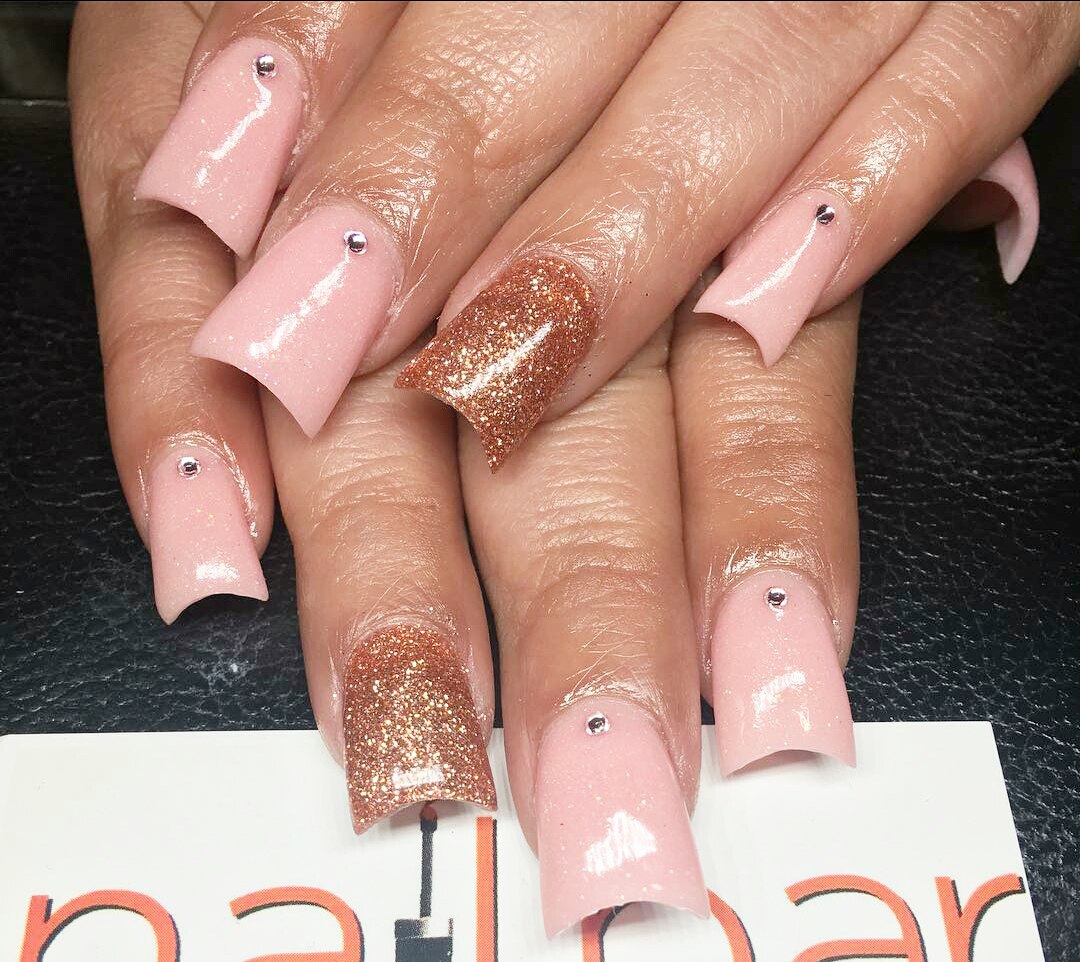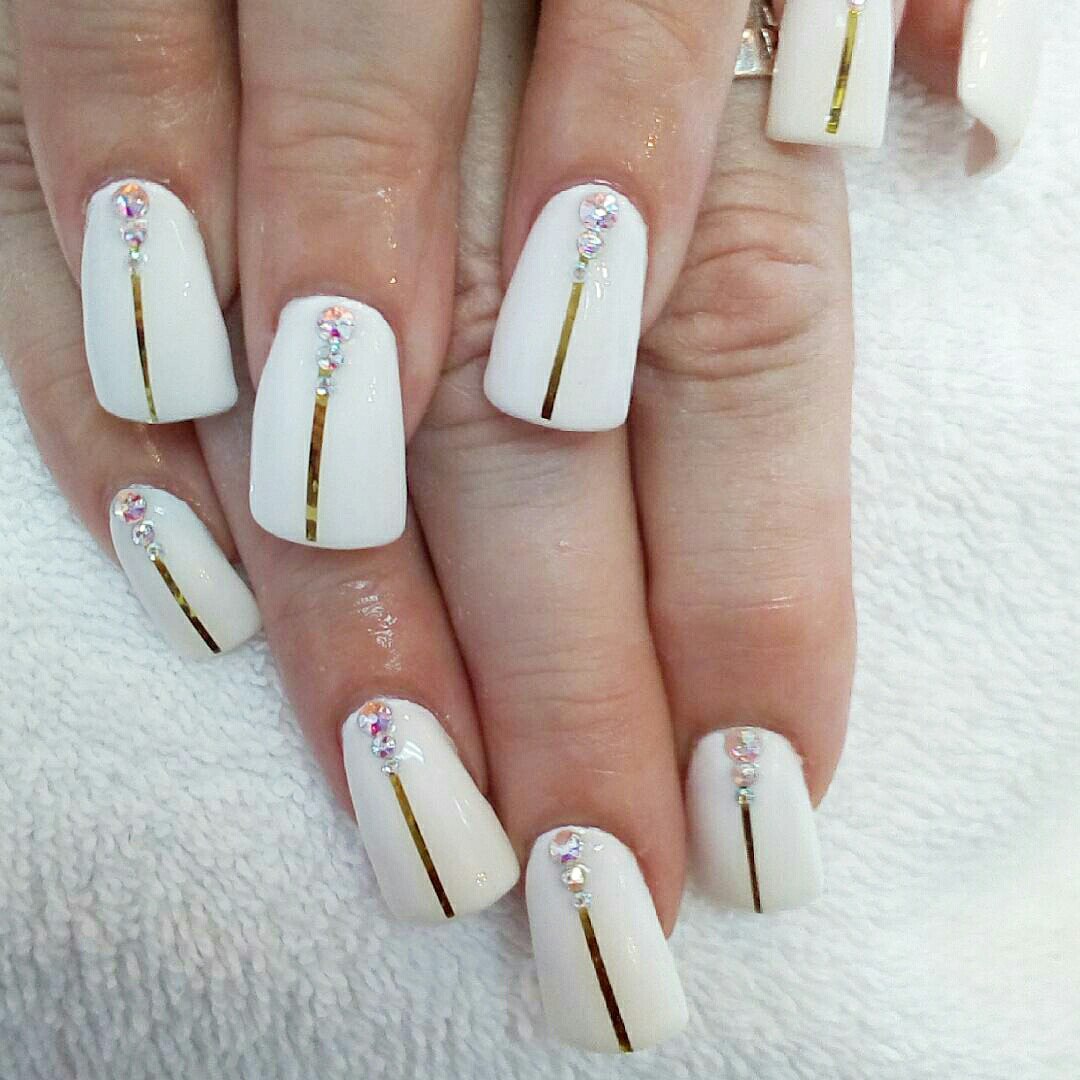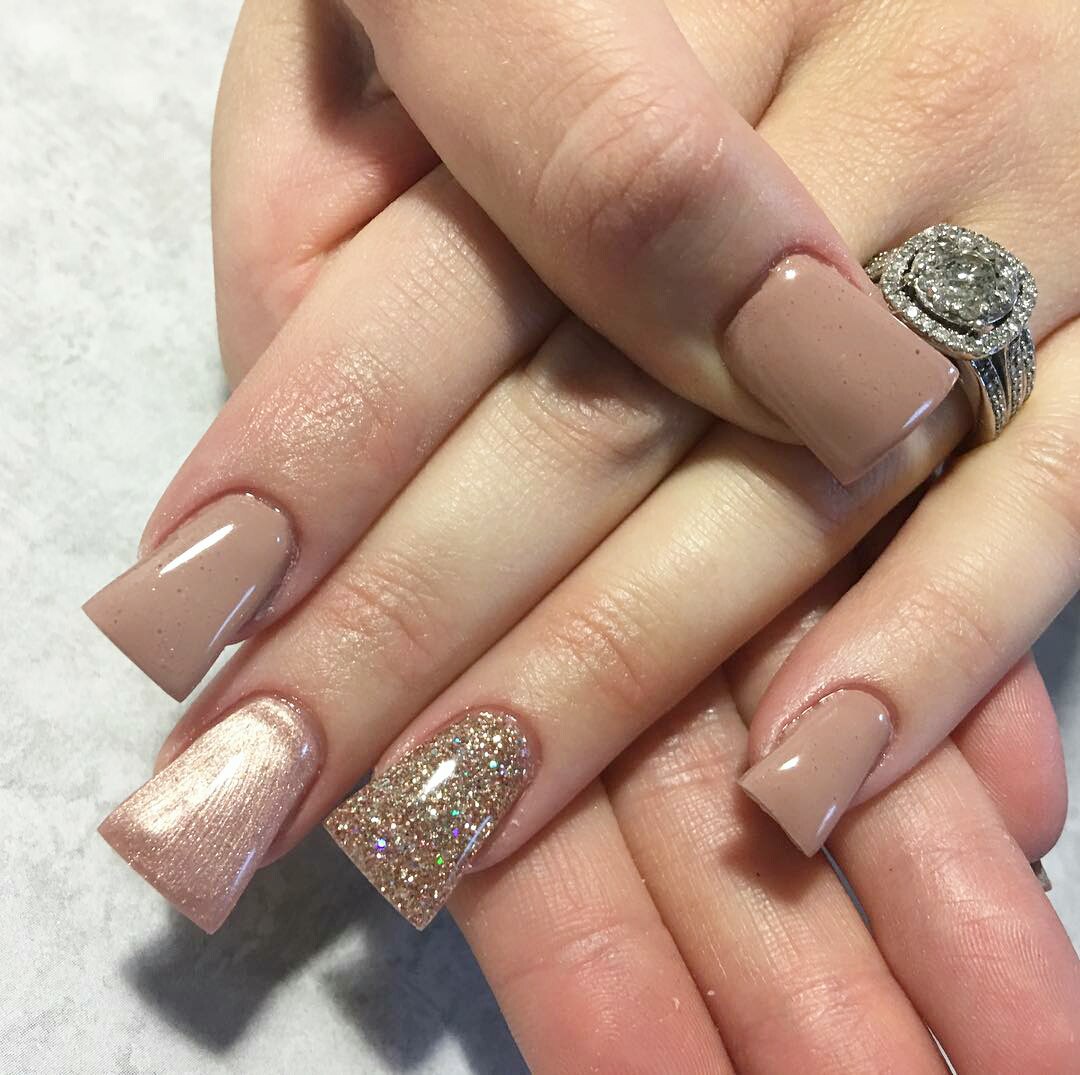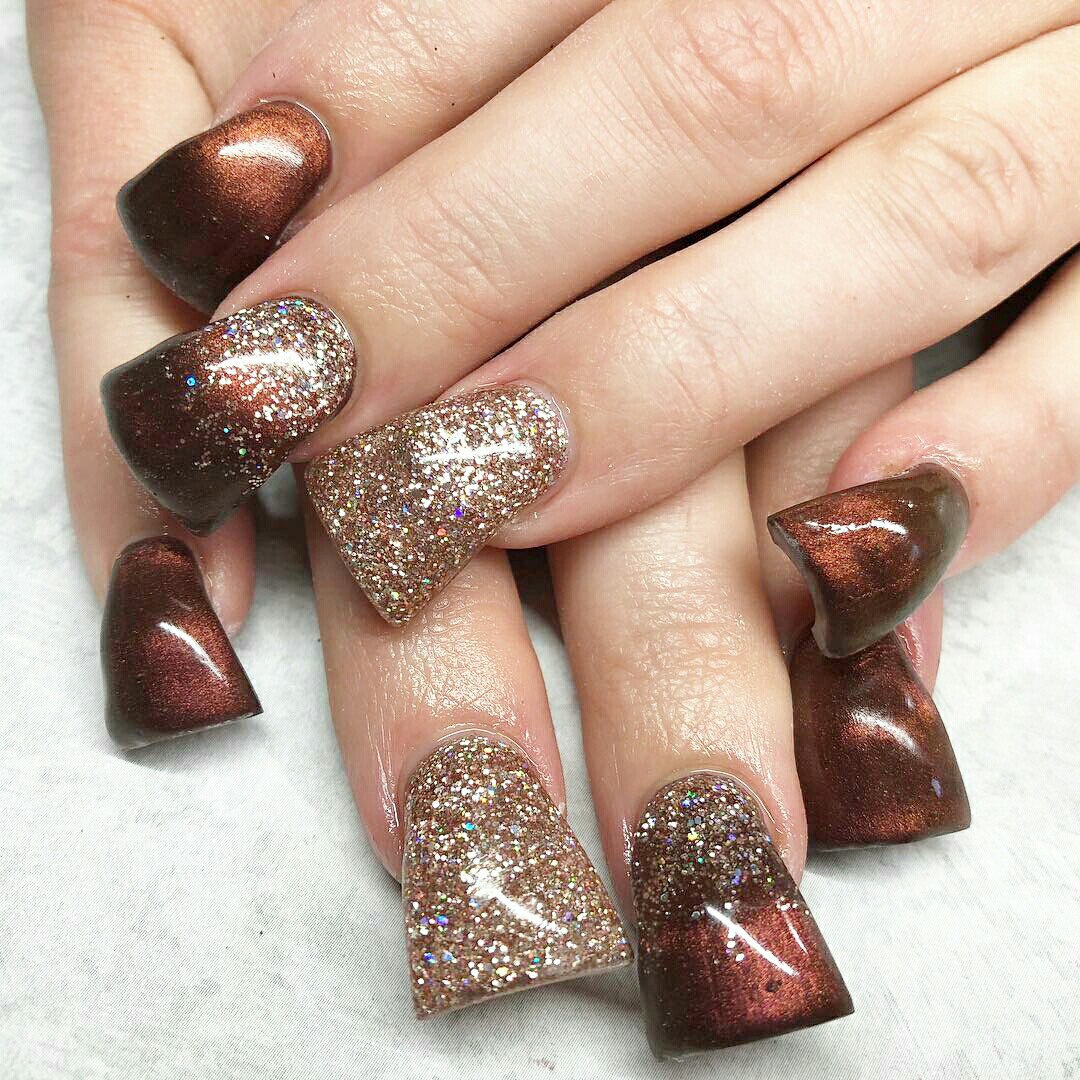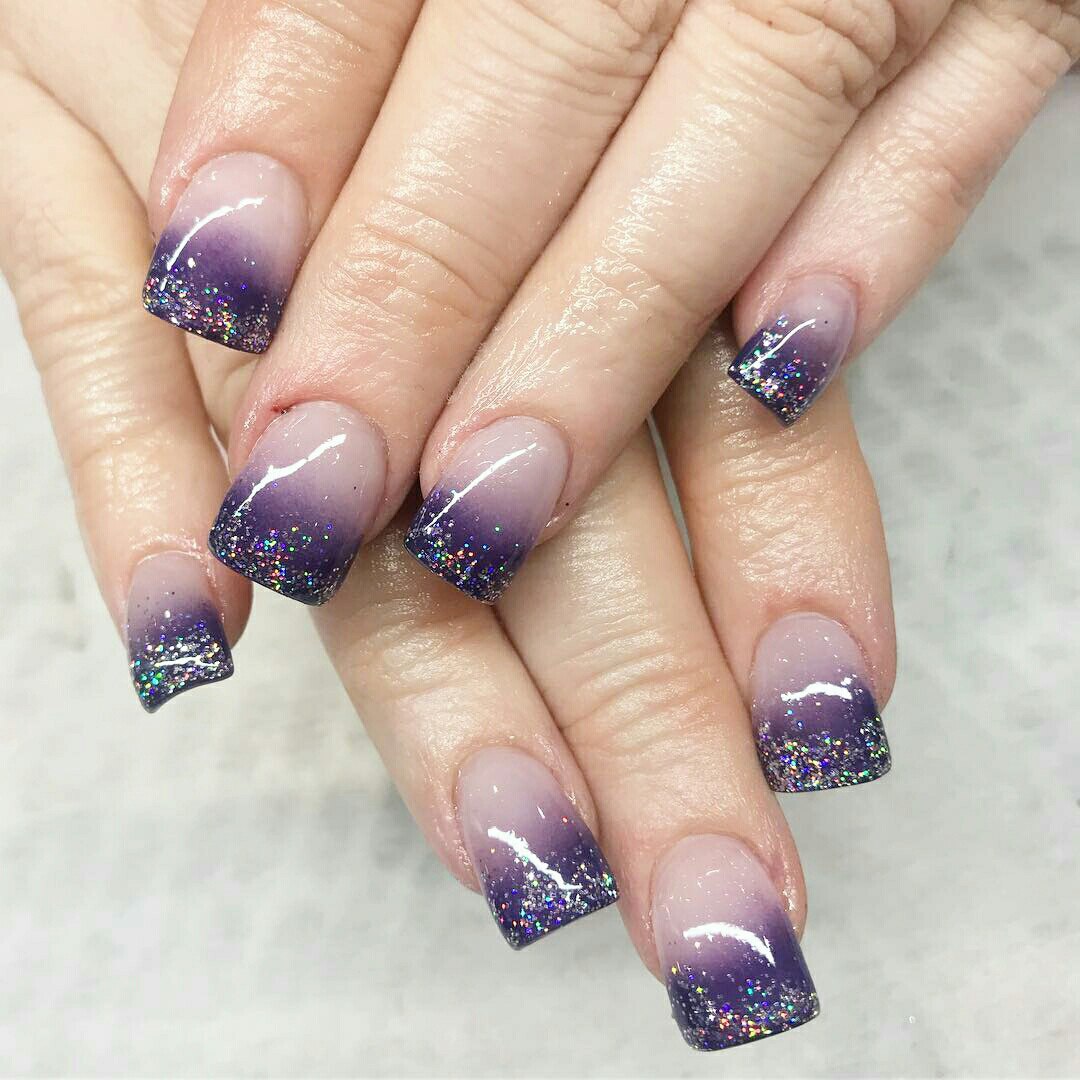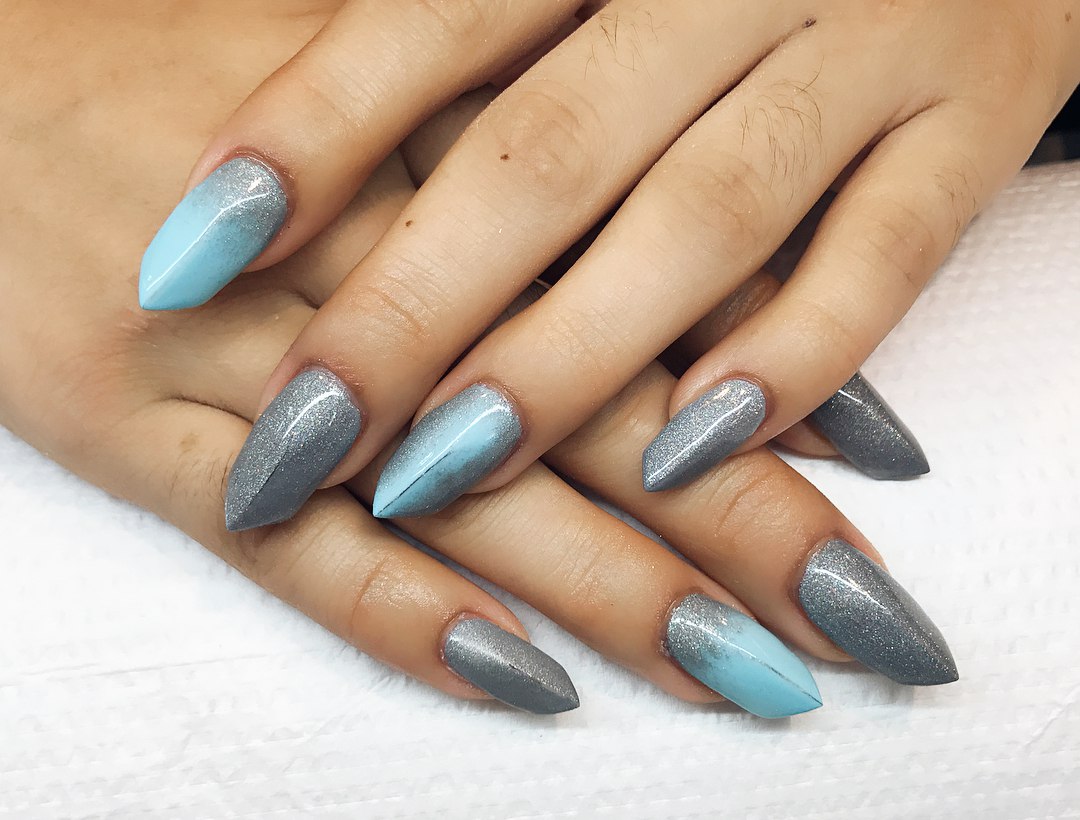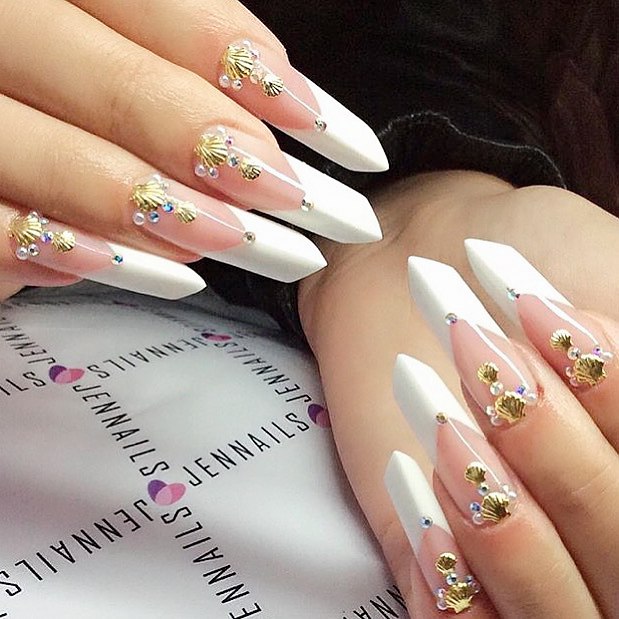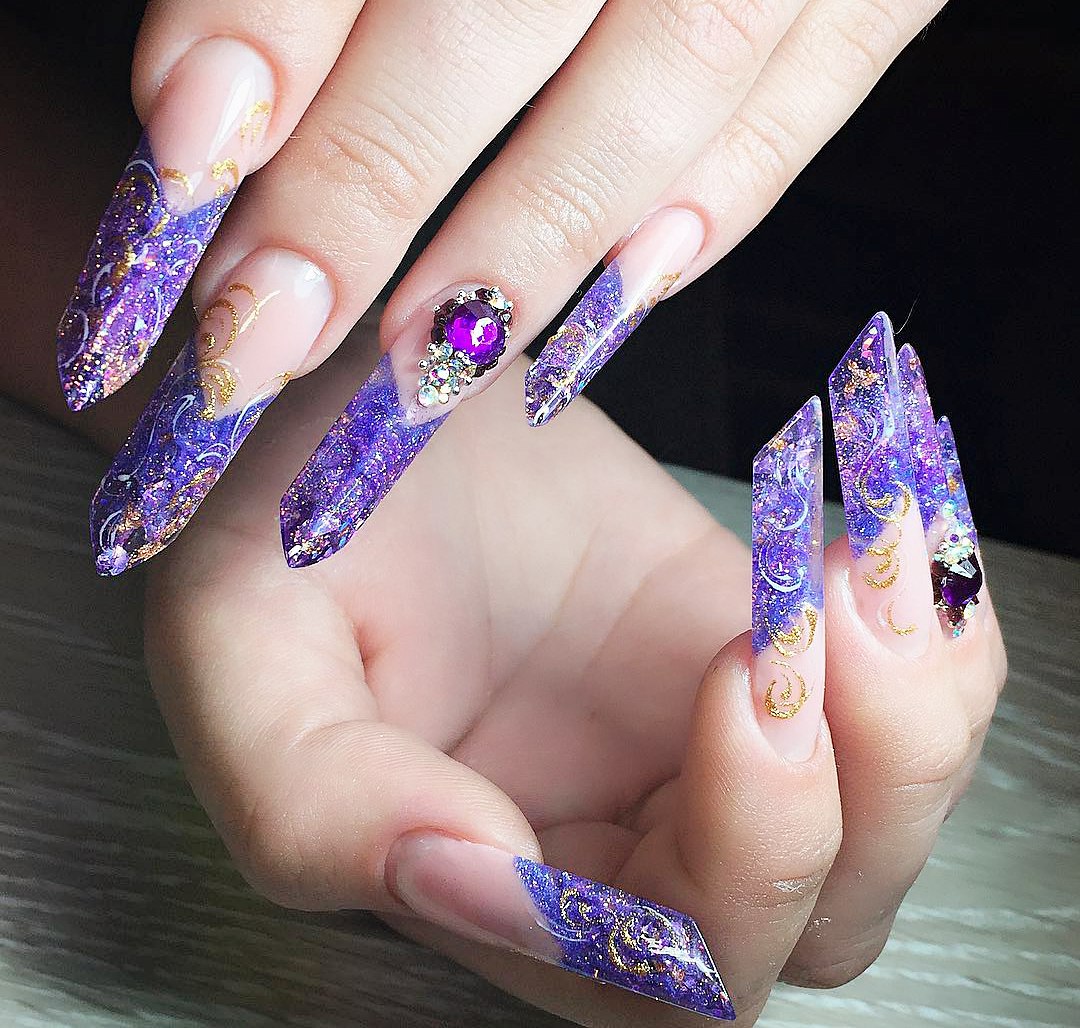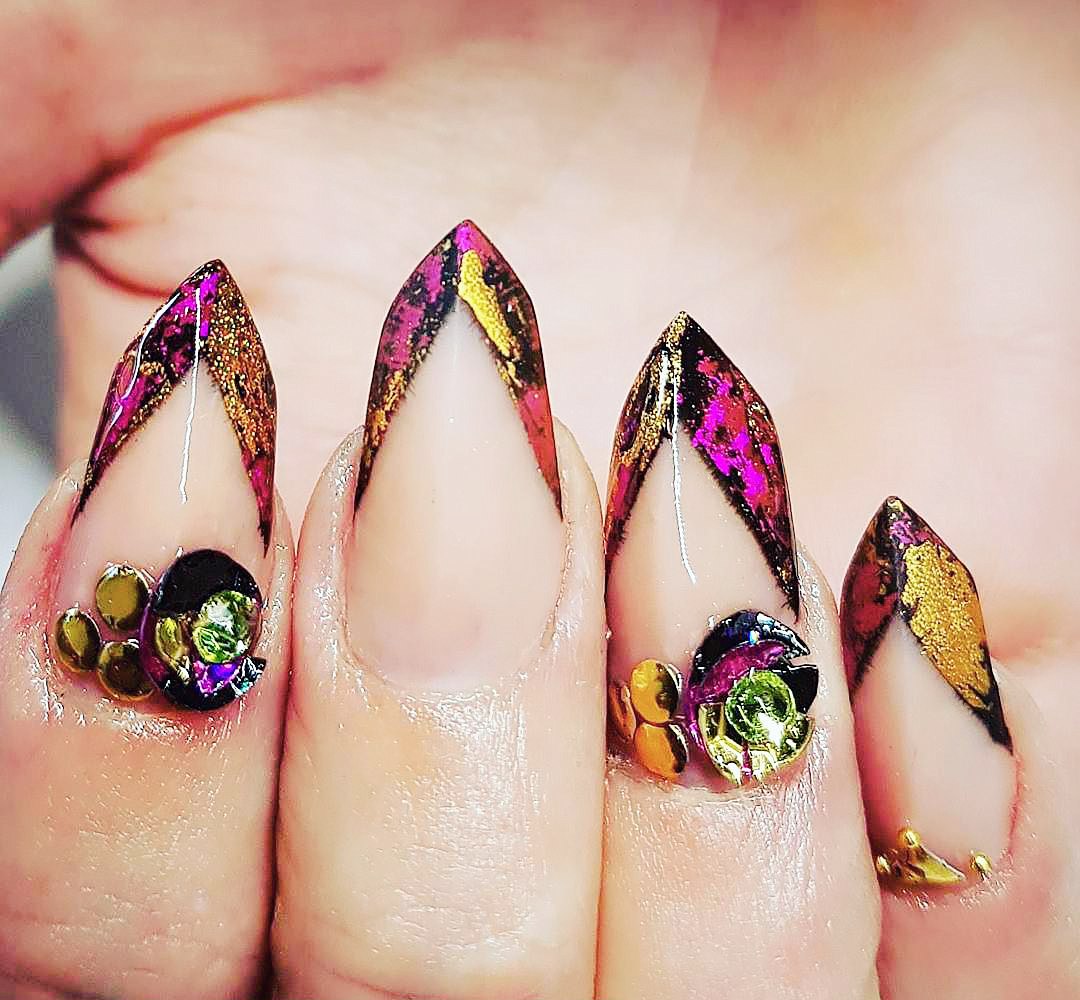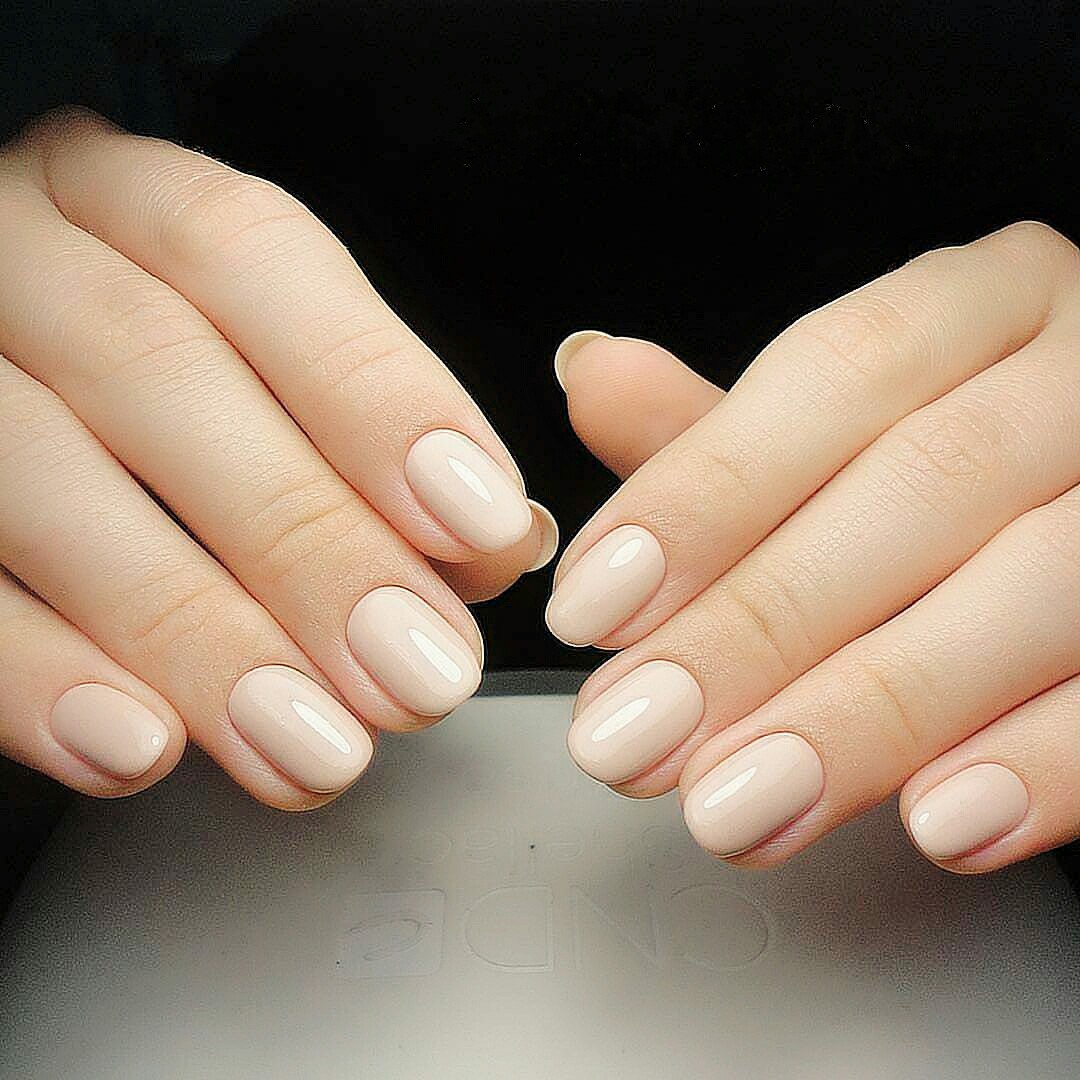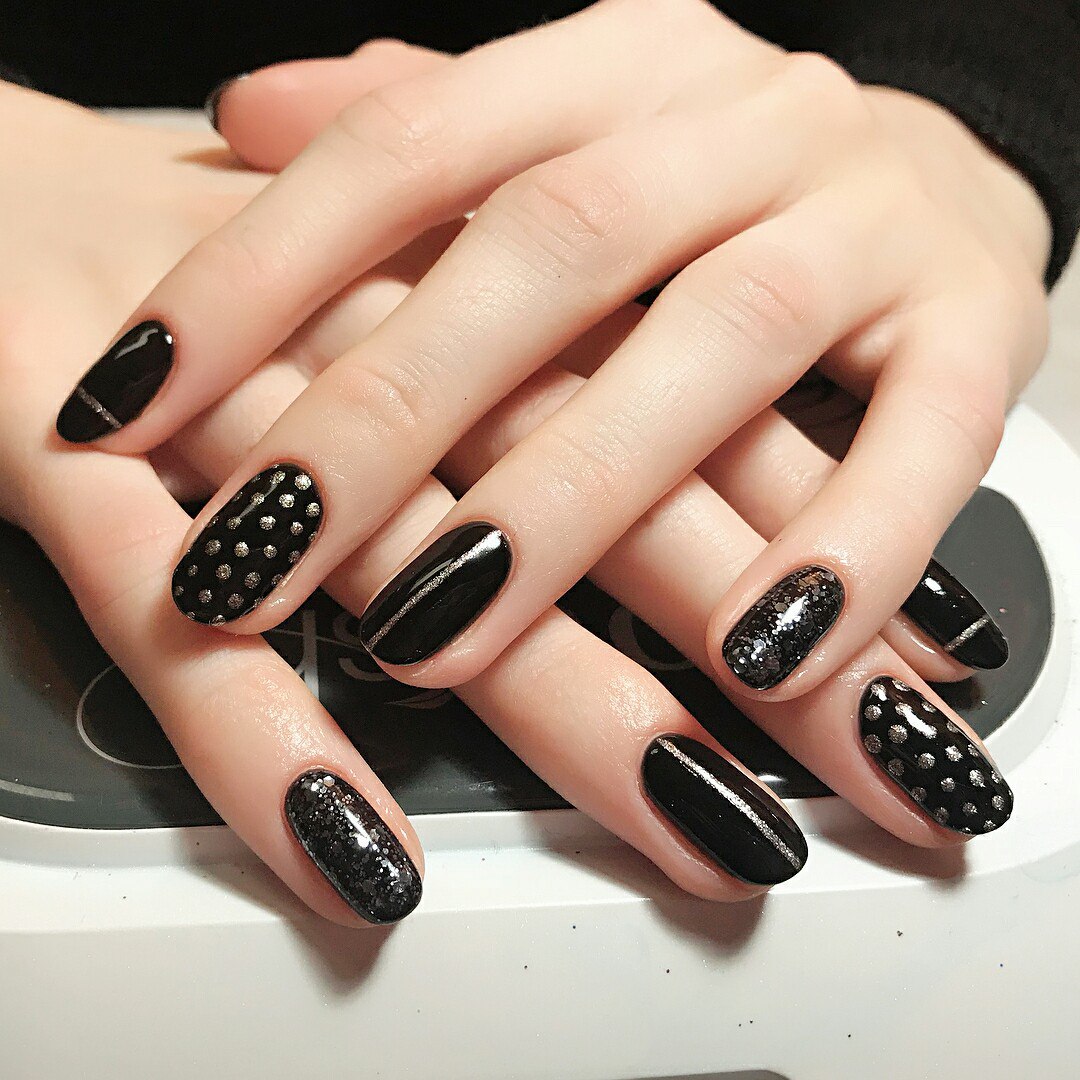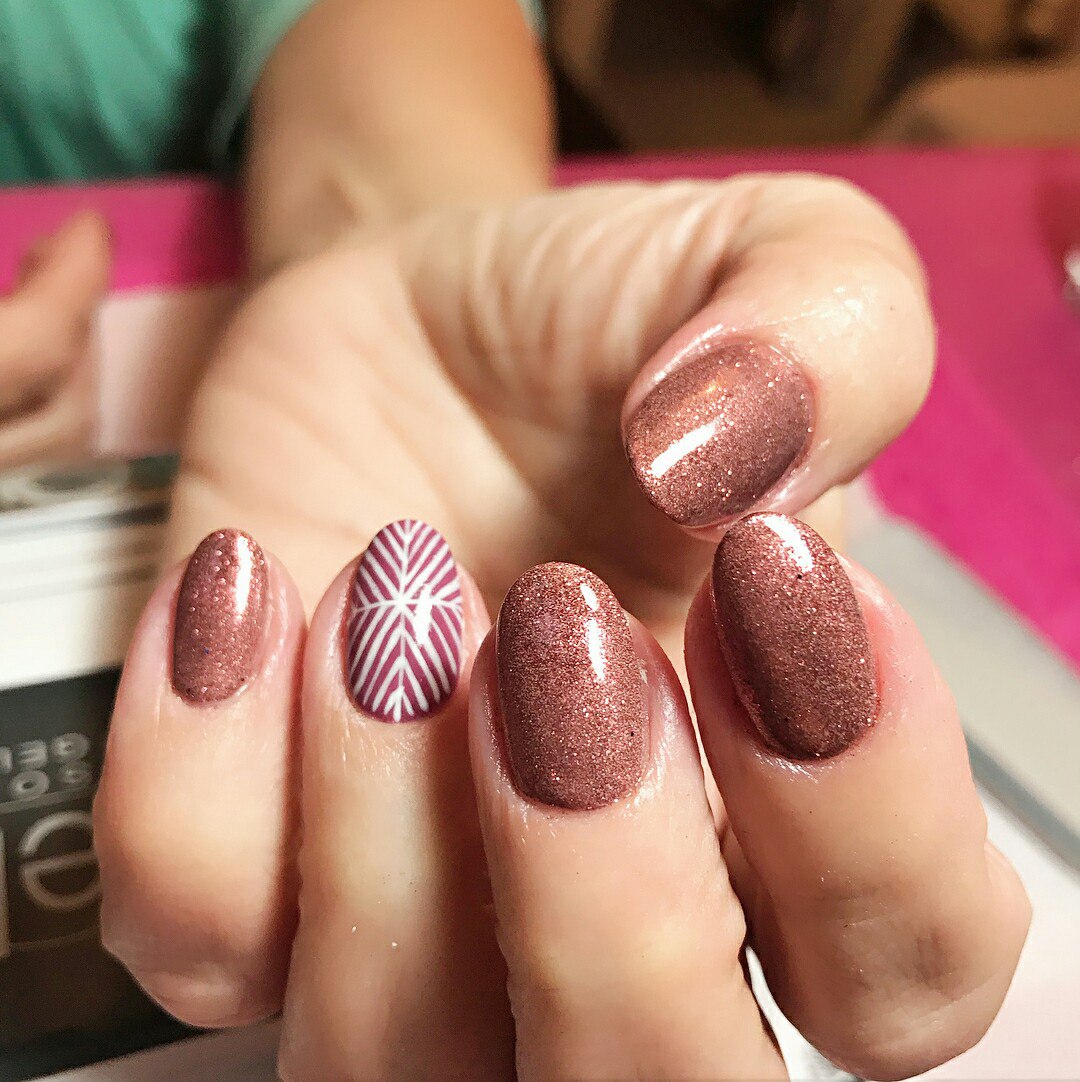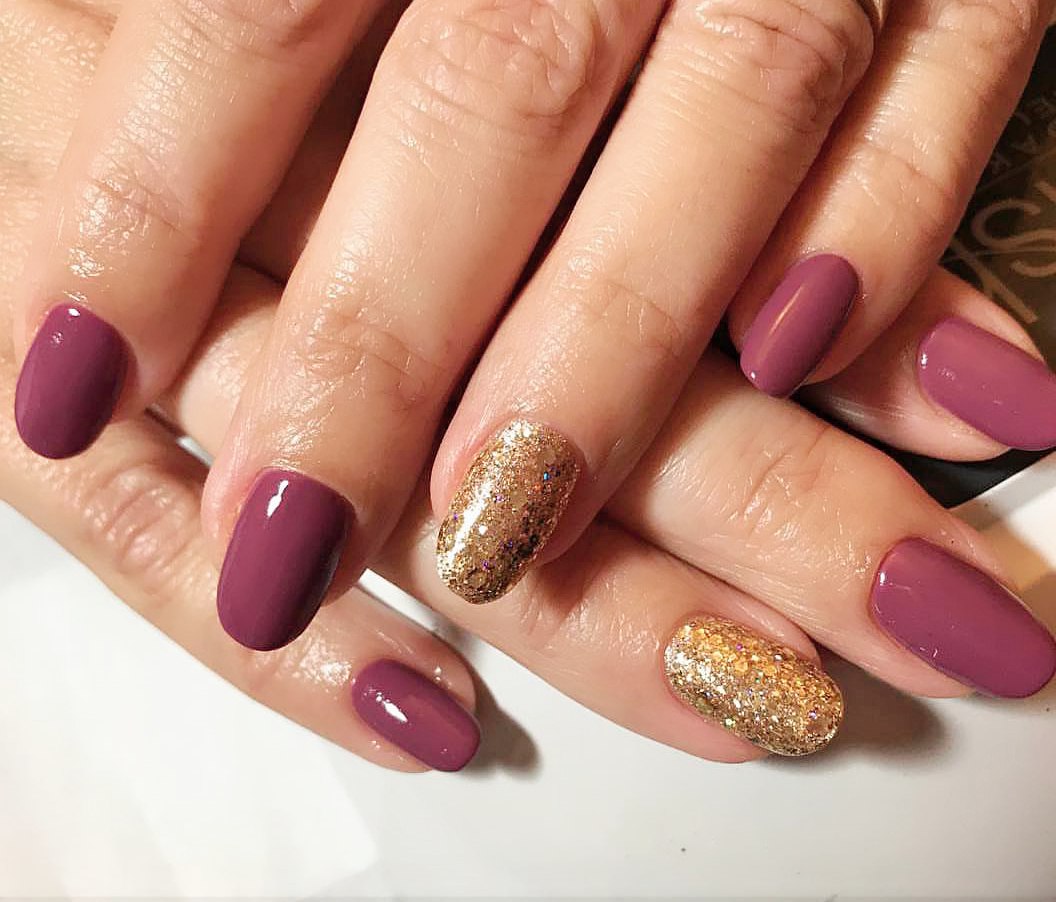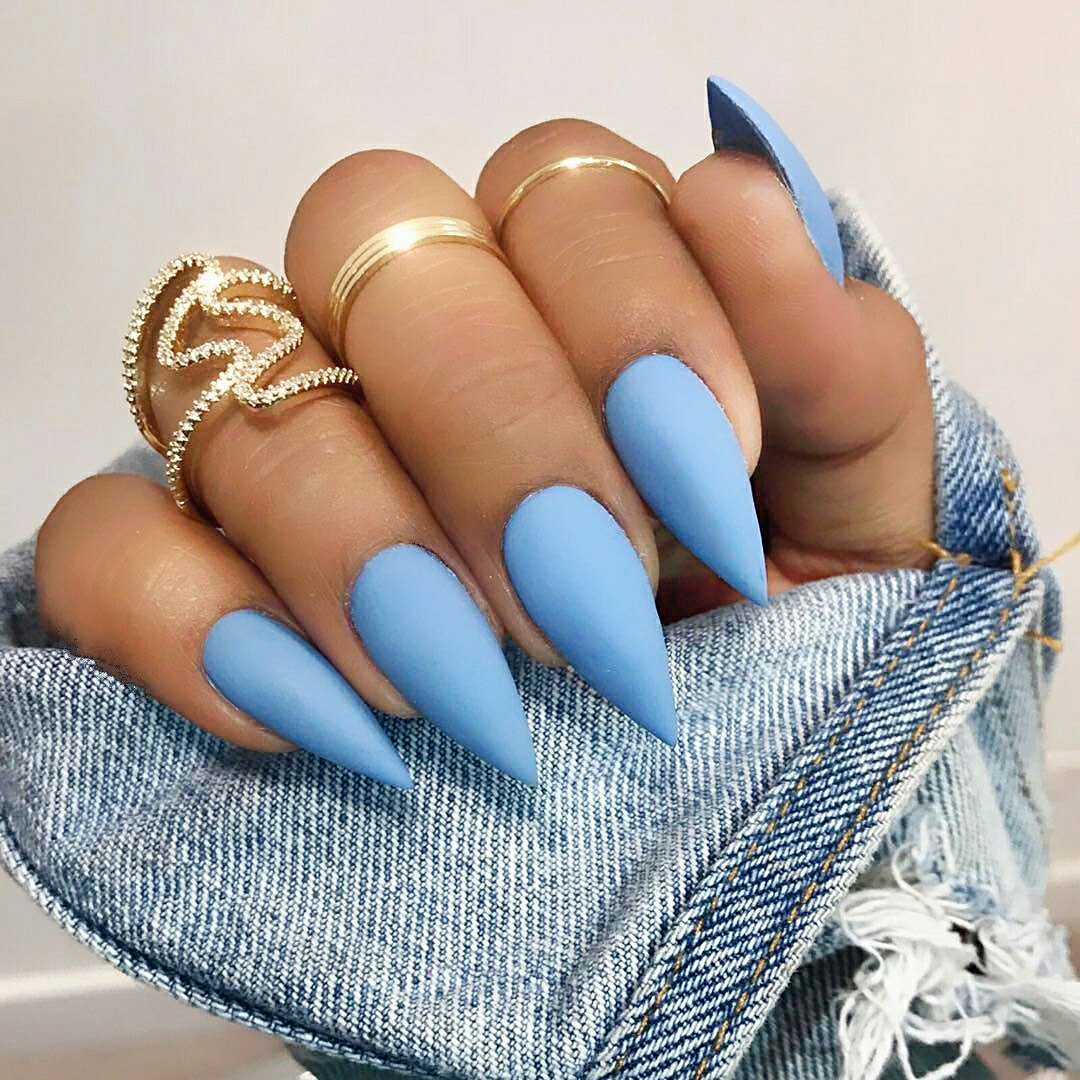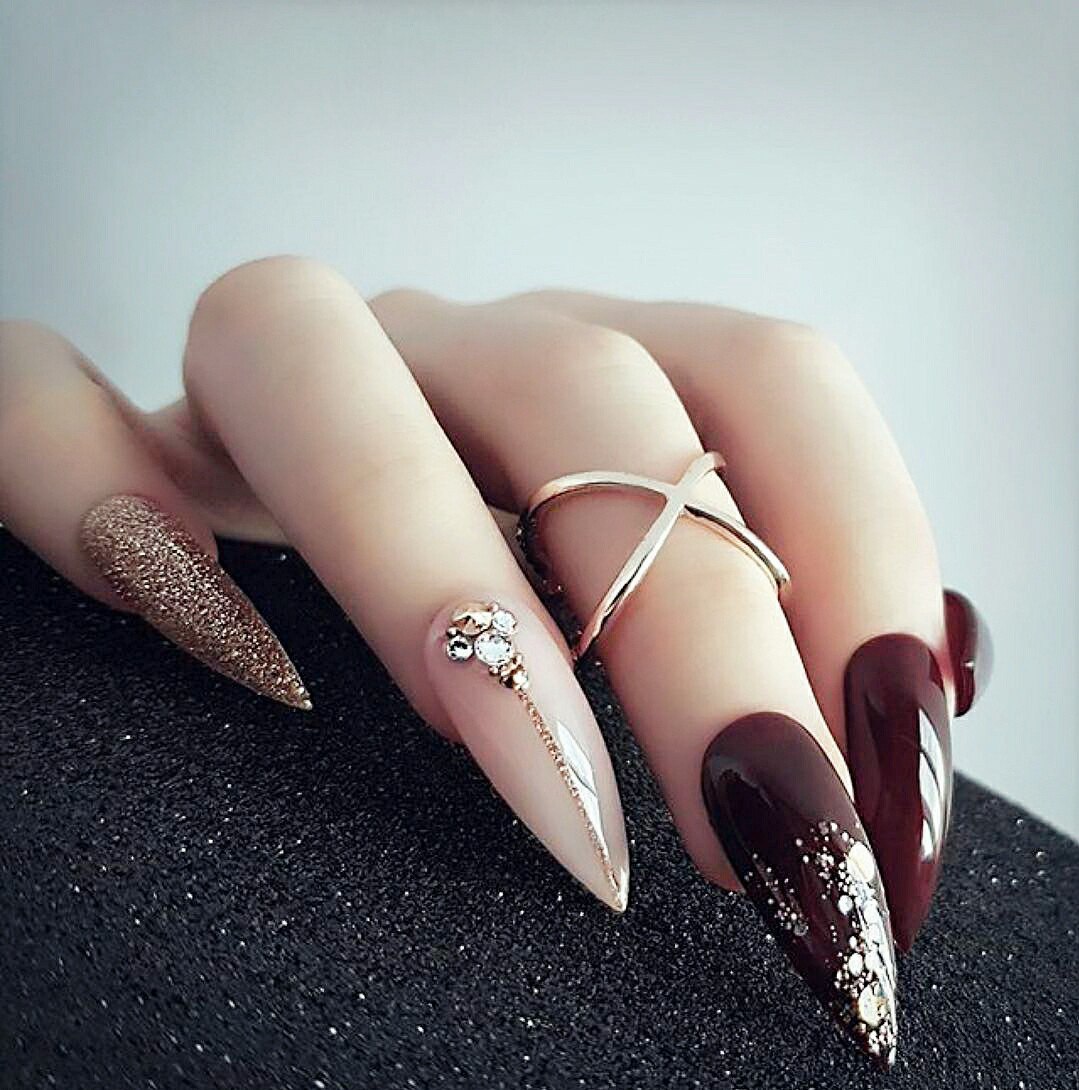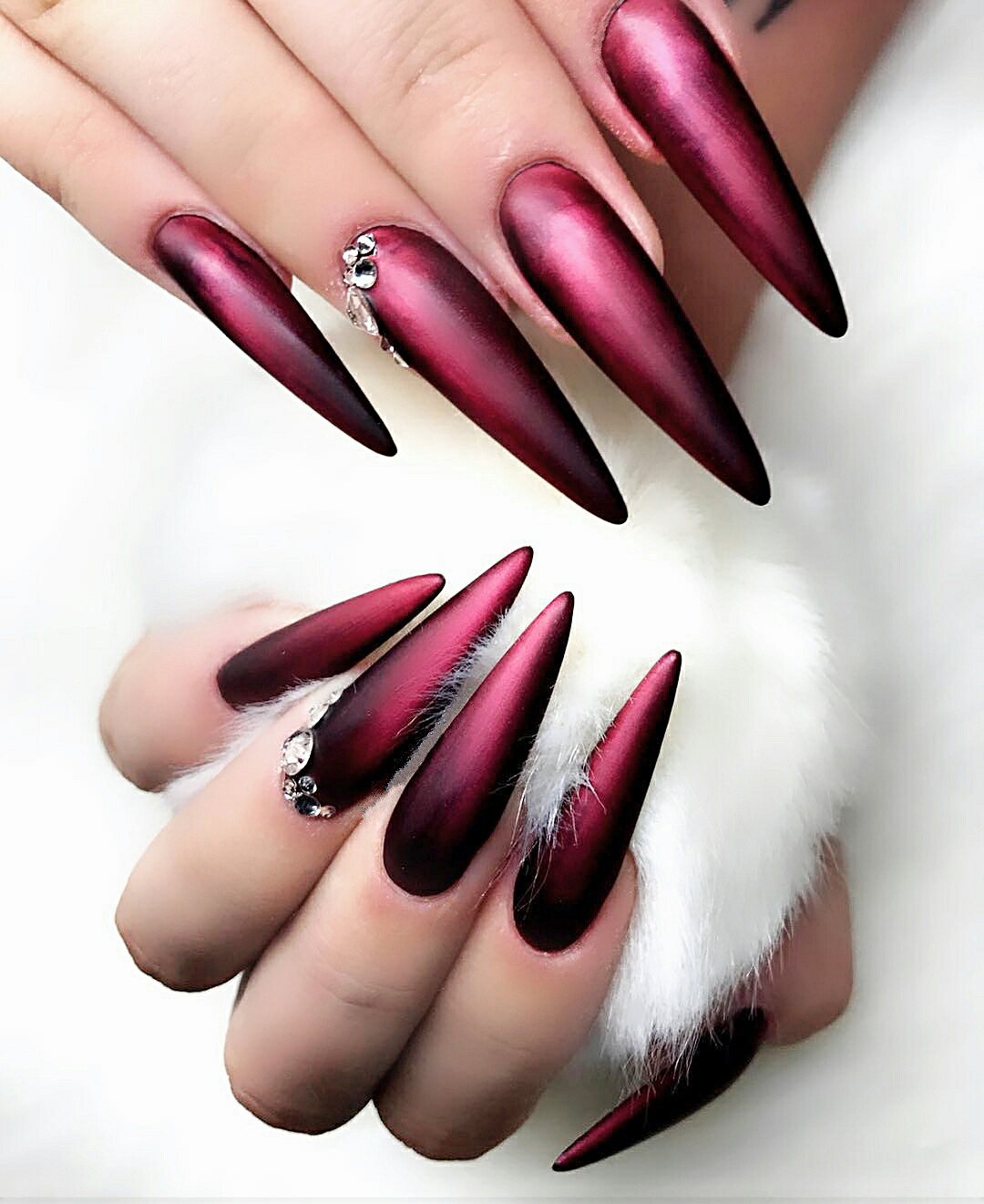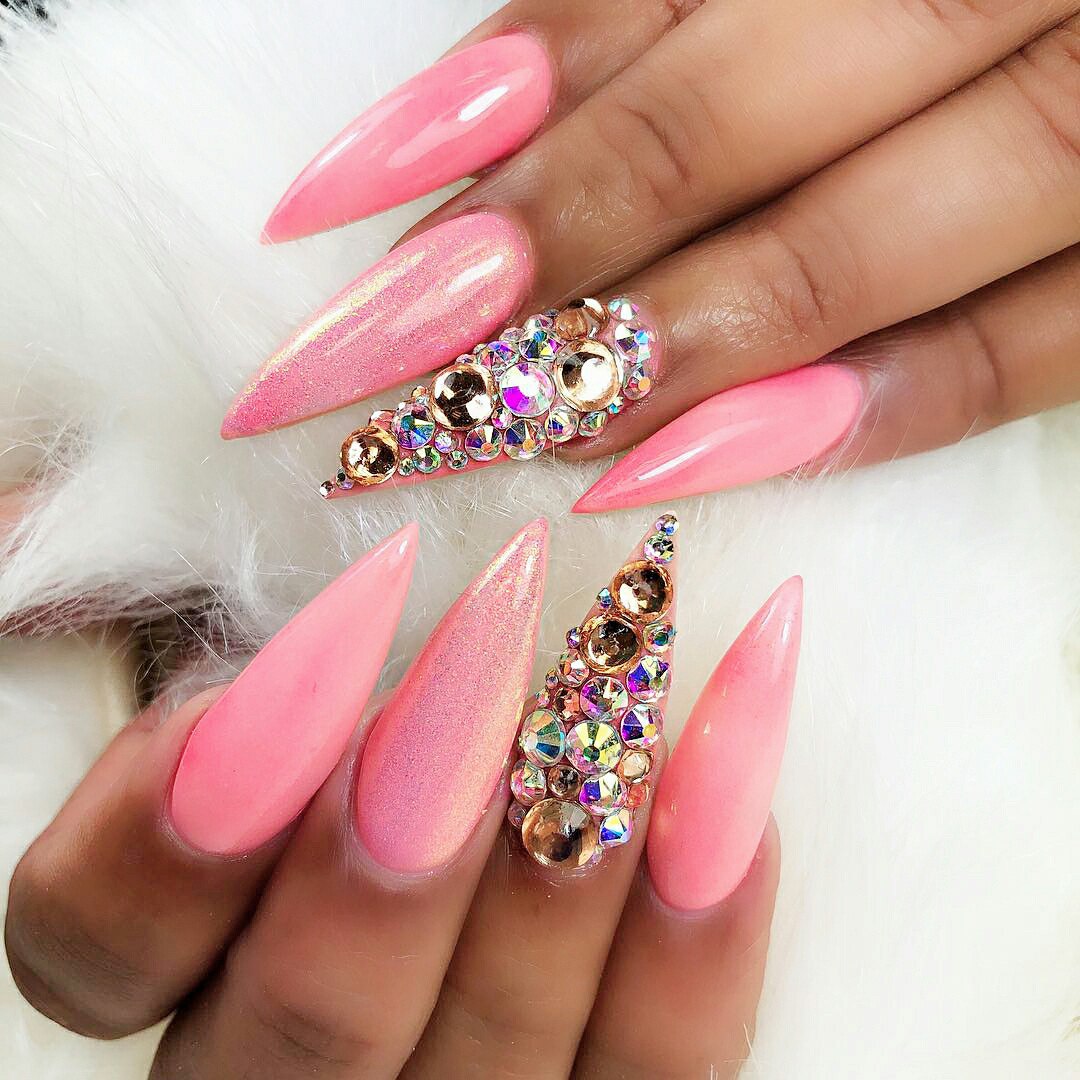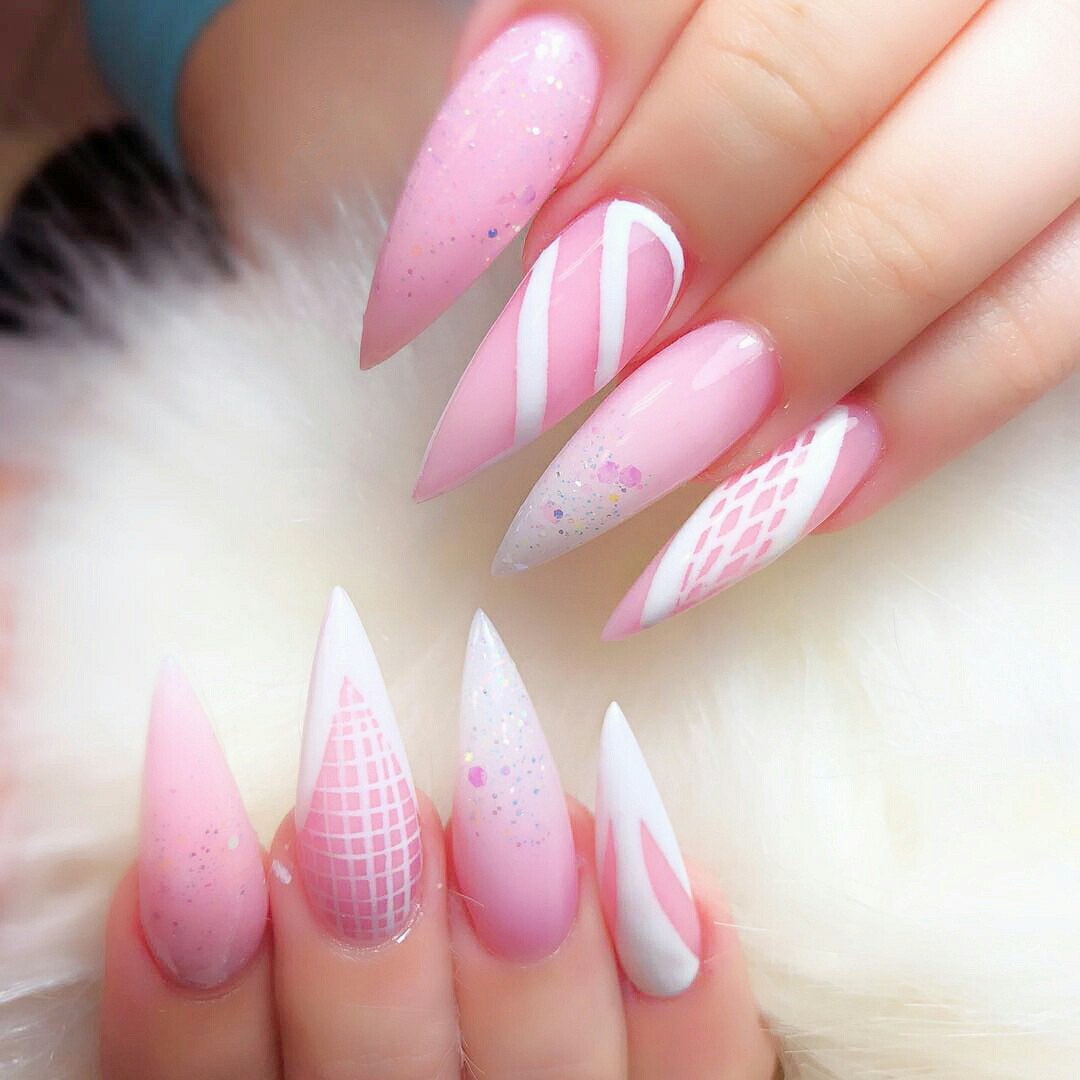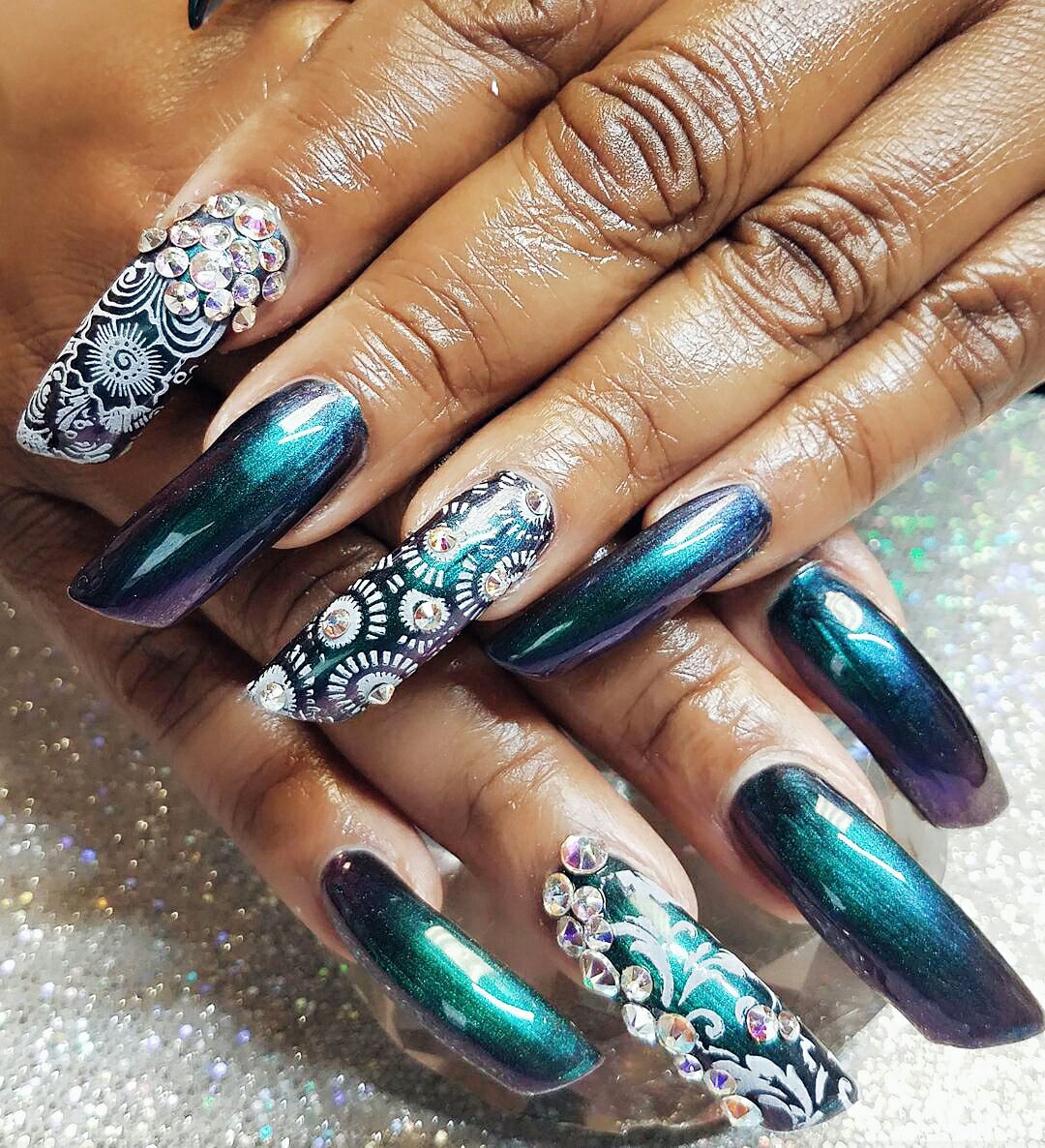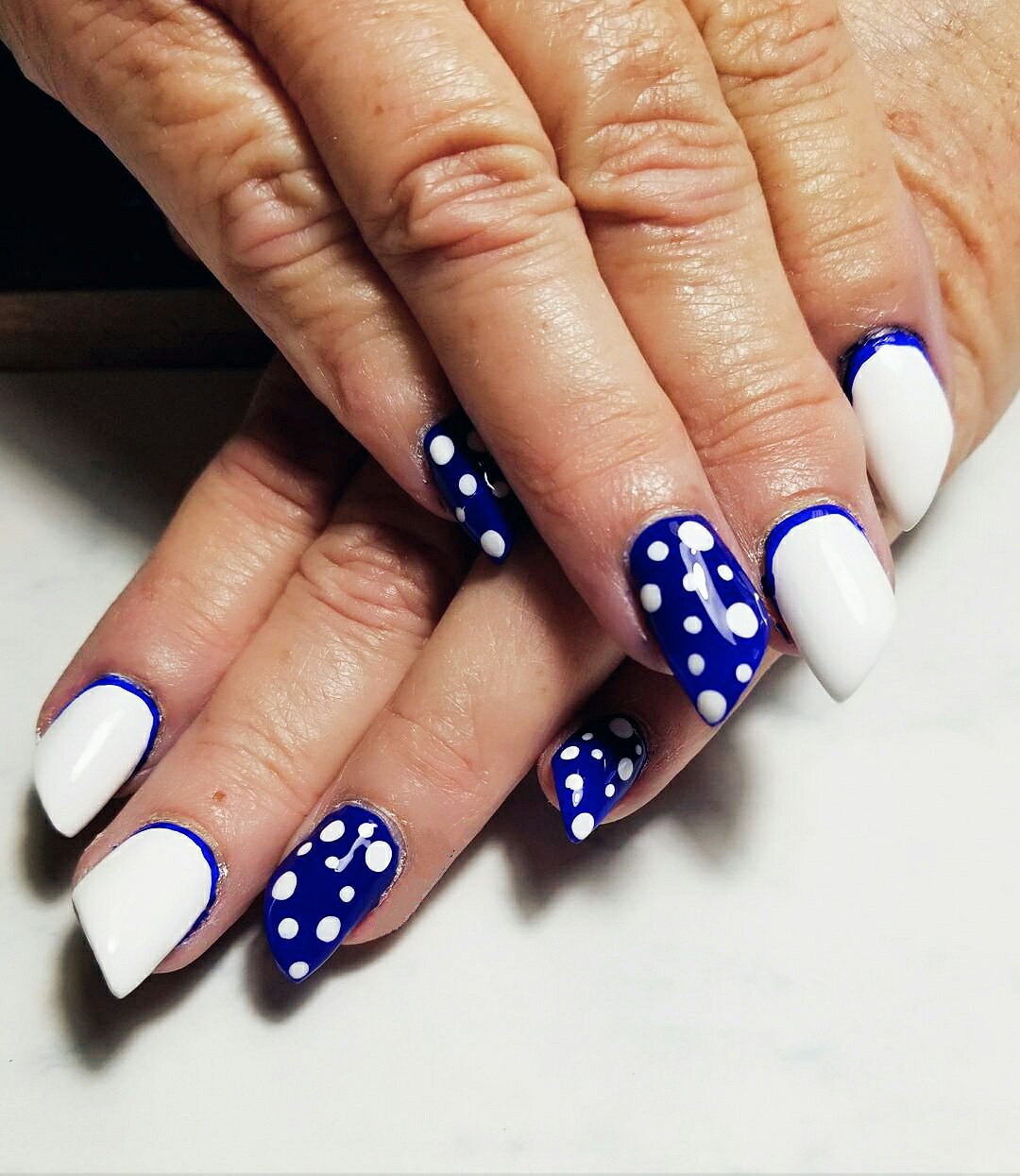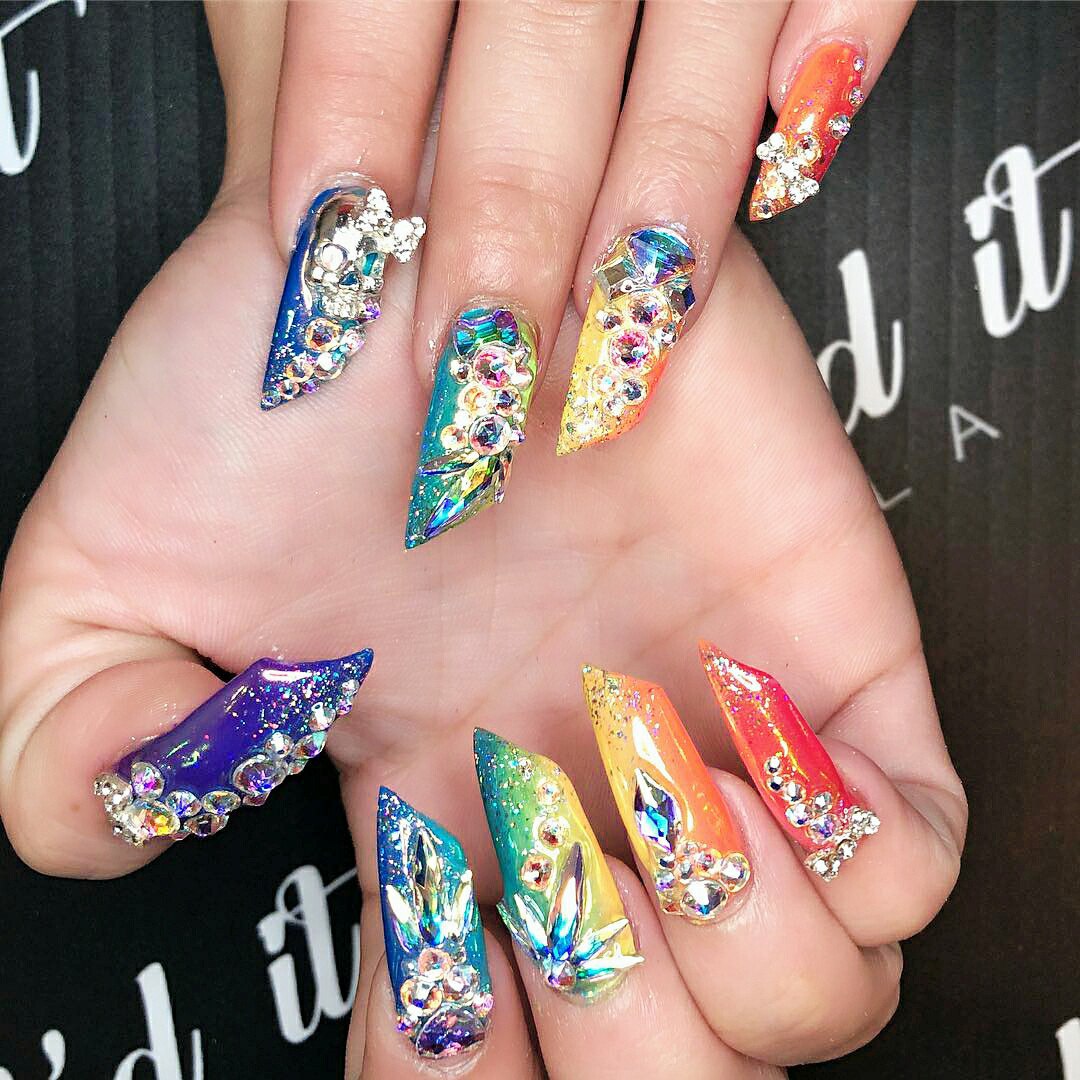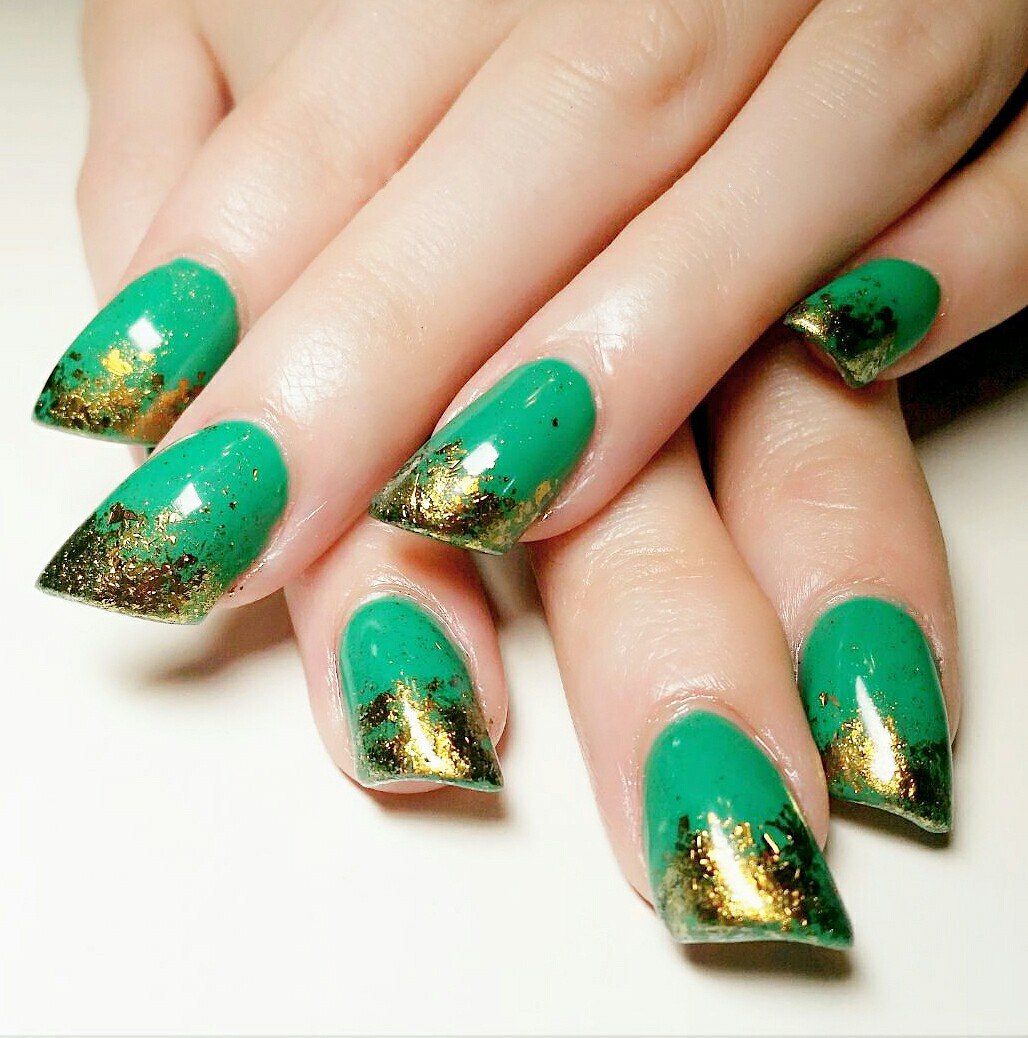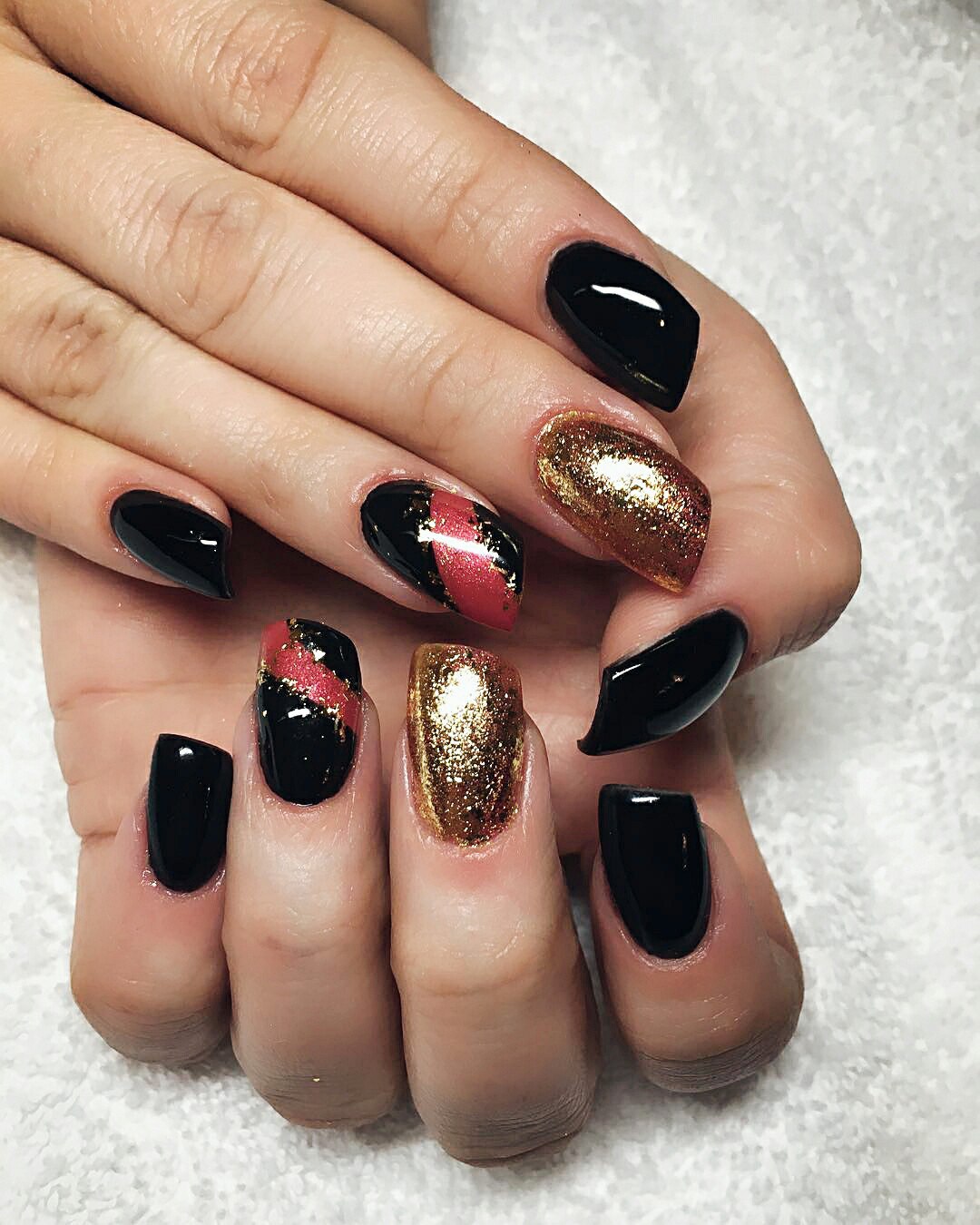 FAQ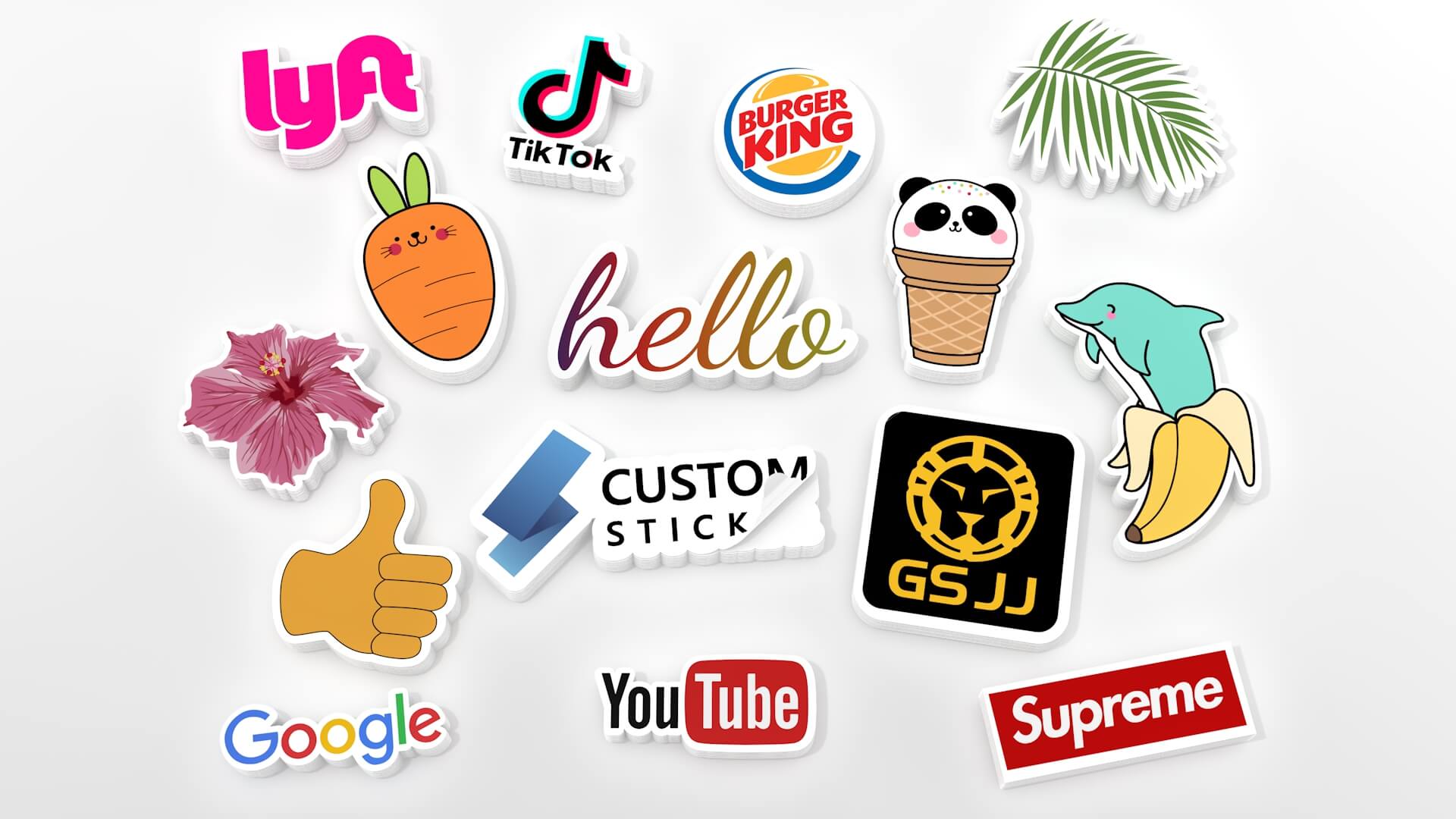 How to Better Promote Your Nail Salon?

One of the most important things to promote your brand and store is to make your business capabilities and good service visible to your customers. Giving away exclusive products around is the best option! For nail salons, you can customize die cut stickers to promote your nail art patterns. Design unique and intricate nail art patterns and customize them into individual whole stickers or sticker sheets. Not only do you let your clients know the specifics of the types of nail art they can choose from, but you can also stick them to promote your brand in everyday life.
Which Nail Shape Is Suitable for Fat Fingers?
An oval or almond nail shape is best for fat fingers as it creates the illusion of length, making them appear slenderer. Avoid square or coffin shapes, as they can make the fingers appear wider.
What Is the Most Feminine Nail Shape?
The most feminine nail shape is often considered to be the almond shape, which is slender and tapered at the end, resembling the shape of an almond. The oval shape is also regarded as feminine and classic.
Which Nail Shape Is the Weakest?
The weakest nail shape is the stiletto shape, which has a thin and pointed tip prone to breaking or chipping. Square and squoval shapes are stronger and less likely to break due to their flat and rounded edges.
Which Nail Art Designs are Best for Short Nail Shapes?
Simple and minimalist nail art designs are best for short nail shapes. This includes French tips, dots, stripes, and small floral designs. Avoid large and intricate designs, as they can make short nails appear even shorter.
Which Nail Shape Is the Easiest to Maintain?
The square nail shape is the easiest to maintain as it has a straight edge that can be easily filed and maintained. It does not require a lot of upkeep compared to other nail shapes, such as stiletto or coffin, which can require more maintenance to keep their shape intact.