There are lots of cool nail designs. From a myriad of color choices to fancy intricate designs, the options are endless. Nail art has become increasingly popular over the years.
Not everyone can afford weekly trips to the nail salon, so we have come up with a list of cool nail designs that you can easily replicate at home. You can have a party with your girlfriends and drink wine while you experiment with some of these cool nail designs.
The best thing about these cool nail designs is that you can change them up to make them your own. Swap out colors, experiment with designs and texture –really personalize your style!
Nautical Manicure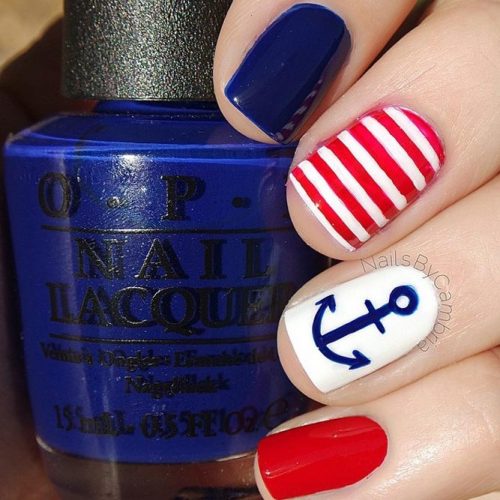 If you're going on holiday to the beach and want to embrace the theme, this nautical nail art is perfect. All you need for this look is nail polish in brilliant red, midnight blue, white polish, and a toothpick or striping brush. With a water-themed background and a colorful anchor on top, this look is fun for the summer days and nights on the beach!


Nail Art Tape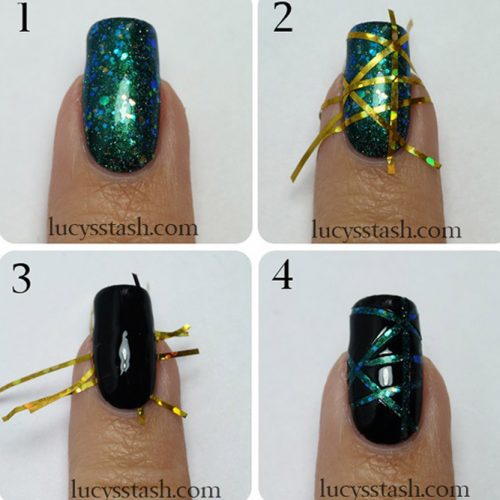 Nail Tape Art is really in right now as all of the major retailers are carrying a wide variety of nail tapes. You will be astonished at the number of awesome patterns and effects you can achieve with nail tape. If you don't have a steady hand and can't draw a straight line, nail tape is a great way to perfect that tailored look you have wanted to achieve!


Splatter Nail Art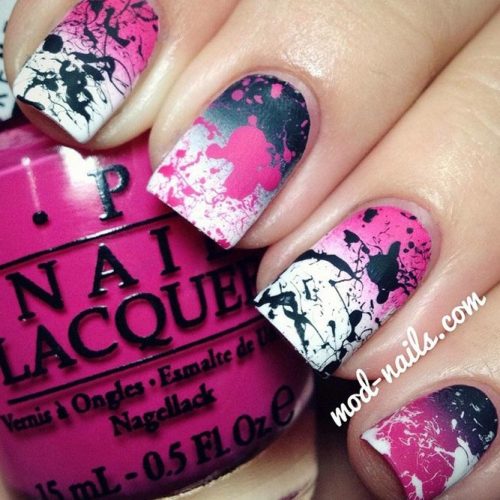 As not everyone has really long nails, this fun look is great for those with shorter nails. For a free-flying, straw-spattered paint effect, simply add random colorful splatters on a white or cream colored base. This simple design is both carefree and playful!


Water Spotted Beach Nails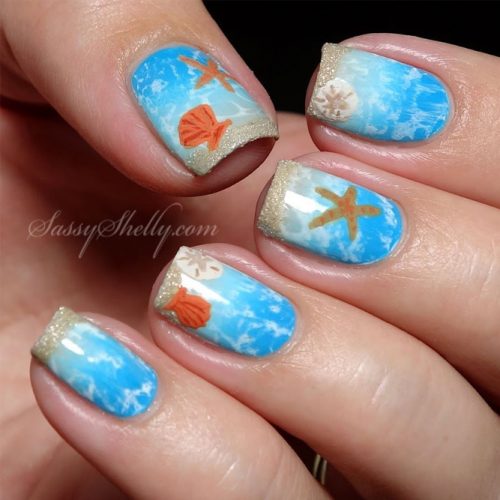 Want to capture the look and feel of the ocean? This fun, water-spotted technique is simple yet stunning and complete with mini starfish. All you need is some nail polish in the following shades: light blue, sandy beige, medium blue, white and orange, a dotting tool, alcohol spray, a cup, and some iridescent glitter. This beach-inspired nail design just takes minutes to achieve and will certainly be eye-catching!


Delicate Lace Stamping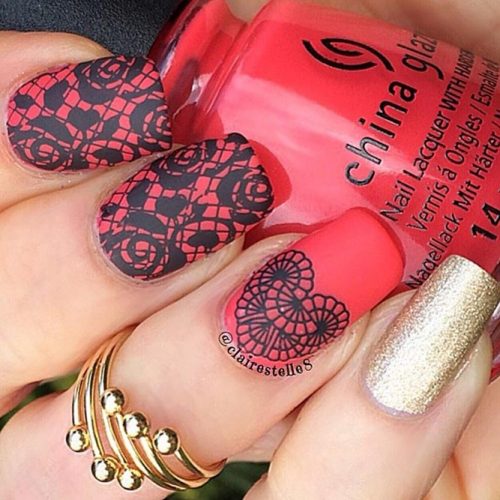 Delicate and feminine is always in style, so this delicate lace stamping look will capture the essence of soft femininity. All you need is a nude base and two different designs from a Konad Plate along with white stamping polish. This fancy and lacy nail art is great for a formal event like a prom or wedding!


DIY Lace Nail Art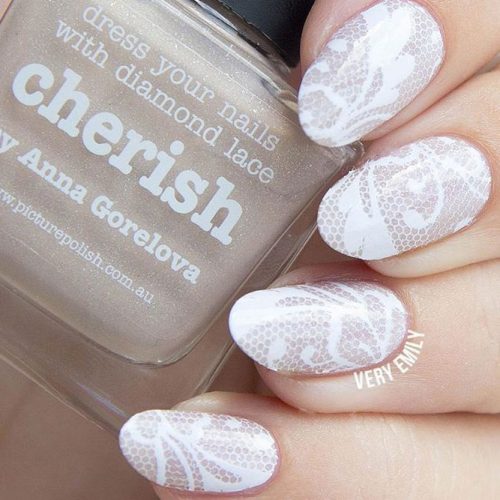 Another fun lace art design is this exquisite pattern. All you need is a delicate base coat, a top coat, white nail polish, a pretty piece of lace and an airbrush. If you want to take it up a notch, add a few rhinestones or gems with nail glue. This cool nail design is great for any special occasion where you want to feel dainty and girly.


Broken Mirror Glitter Nails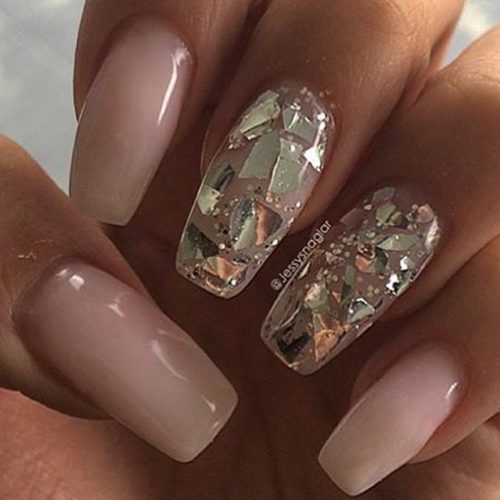 Every girl wants shimmery, sparkling, glittery nails! This broken mirror effect is timeless and elegant and you'd be surprised how simple it is! All you need to do is apply a shiny black base and top it with silver glitter chips. This look will certainly catch everyone's eye, especially if you are in the sun or fluorescent lights.


Lightning Bolt Striped Rainbow Water Marble Nail Art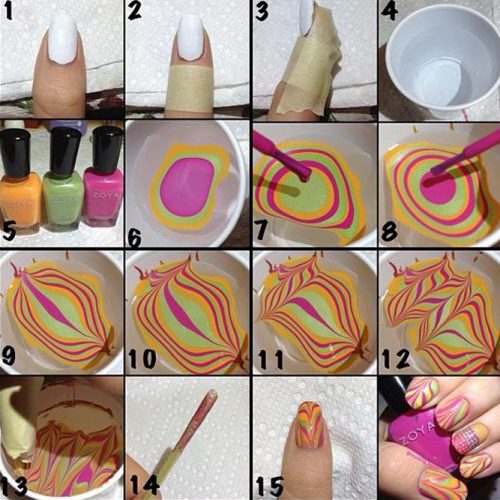 Water Marble Nail Art is all the rage right now and the best thing about this look is that it's not the least bit complicated. With random stripes of moving rainbows, this vibrant nail art is fun and modern. You can easily use your fingertips to turn the rainbow water marble pattern into a bright lightning bolt with nail vinyl and deep black enamel.


Ladybug Nail Tutorial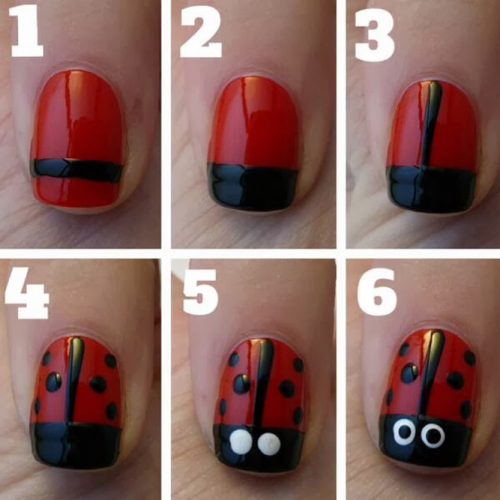 This effortless freehand design is perfect for those who are new to nail art. And ladybugs are always fun and adorable, with their cute stripes and dots. With a few simple steps and some black nail polish, red enamel, white nail polish, a striping brush and a dotting tool, you can pull off this fun look in just minutes!


Heart Nail Art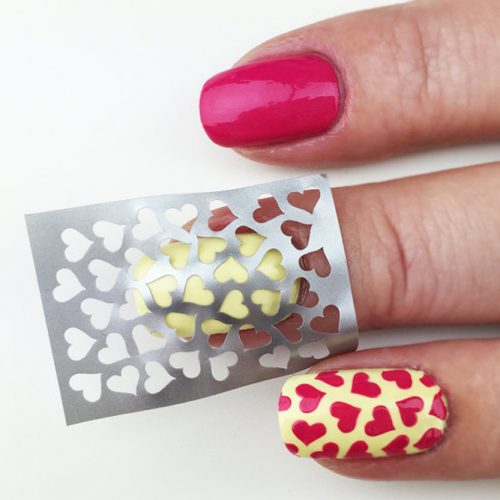 Nail art does usually require a steady hand, but this two-step manicure can be easily duplicated without a skilled hand. With a bright red heart on your fingertips, this look is perfect for a date with that special someone. All you need is a pretty base coat, red nail paint, and a top coat!


Striped Nail Art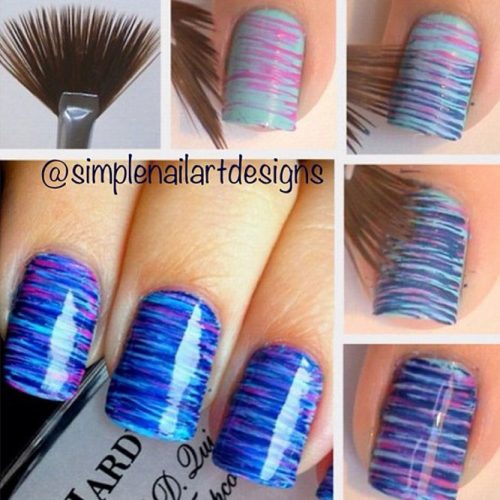 Believe it or not, this gorgeous striped art design was done with bristle fan brush! You can add a multitude of contrasting colors to your nails simply by using bristle fan brush. Thus, you'll achieve that bold and pretty striped look!


Chrome Tipped Manicure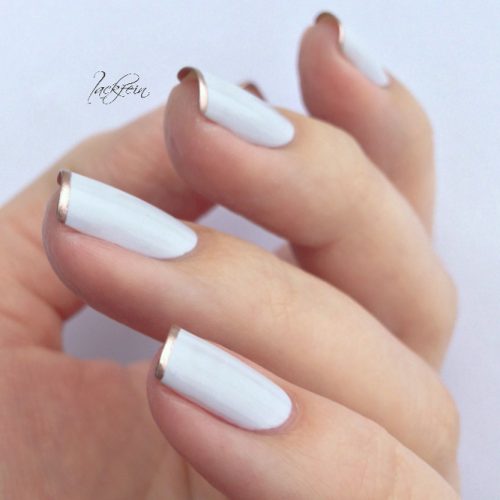 This look is highly sophisticated, yet quite simple. All you need to do is apply your favorite manicure base and compliment it with a thin metallic line atop the tip of your nails. This look will really make your mani stand out and it is perfect for both the office and a special occasion!
We hope you've enjoyed these simple, fun and really cool nail designs. Nail art is something every girl can get into. And with little patience and practice, you can become an expert and come up with your own designs!


Trendy and Cool Nail Designs: Video Ideas
Source:
Glaminati.com