Are you a stylish woman who loves cars? If so, you've come to the right place! Having your own set of wheels is more than just convenient; it's also a reflection of your personality and style. After all, wouldn't it be sad if you ended up behind the wheel of something drab and uninspiring?
Fear not – we've put together a list of the best cars for women that boast sleek lines, reliable performance, and an undeniable cool factor. We promise that any ride from our selection will turn heads wherever you go.
6 Best Cars for Women to Attract Them This Year
So go out and get preapproved for a car loan, and get ready to find out what car you should park in your driveway!
1. Audi S5 Sportback – Sleek and stylish, this car is perfect for the woman who wants to make a statement
You don't have to compromise style when it comes to driving an Audi. The Audi S5 Sportback is a sleek and stylish car that perfectly combines the luxury of an Audi with the convenience of a coupe.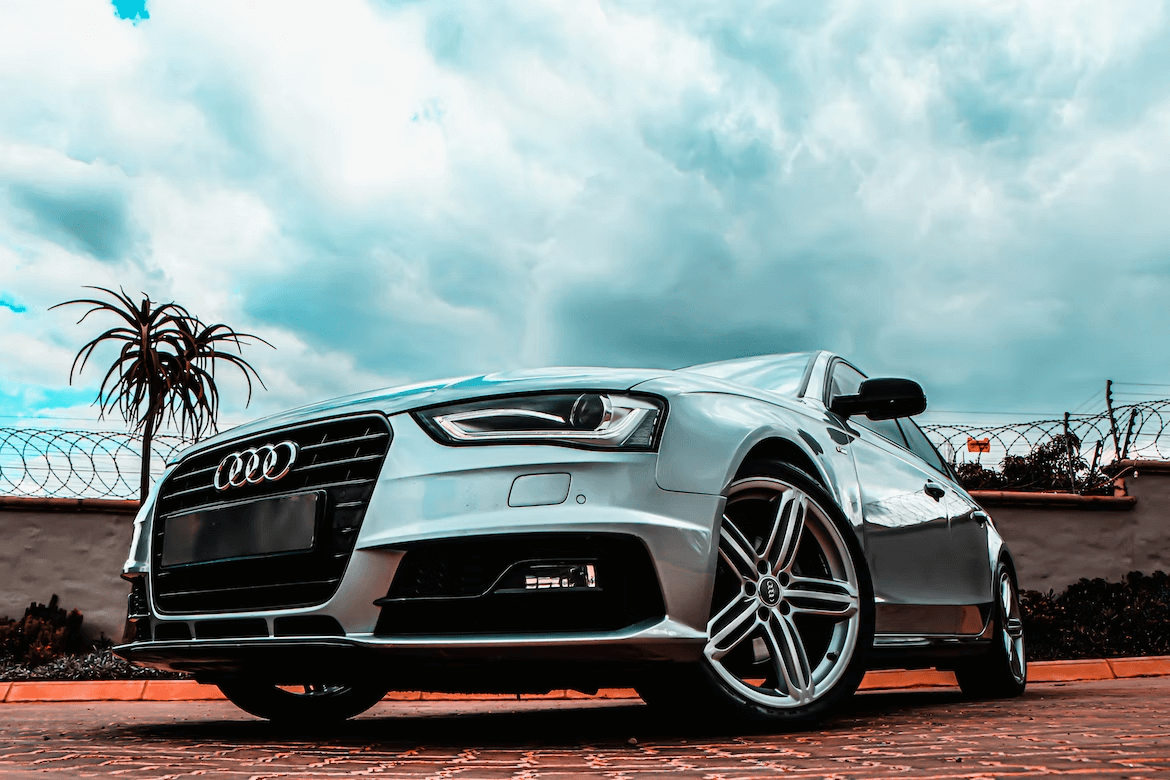 From its signature LED headlights to its panoramic moonroof, this car offers everything you need for a luxurious ride. Let's take a closer look at why the S5 Sportback is perfect for the modern woman who wants to make a statement.
Driving Comfort
The Audi S5 Sportback offers more than just a stylish exterior—it also boasts some of the most advanced driving technology in its class. From its adaptive air suspension system to its Quattro all-wheel drive, this car provides superior handling and maneuverability no matter what the road conditions are like. And with its three-spoke multifunction steering wheel, it's easy to stay connected while on the go.
Interior Design & Technology
The interior design of this car is as impressive as its exterior—it features leather seating, aluminum accents, and an illuminated door sill trim that adds subtle illumination to any setting.
For added convenience, there are also plenty of tech features including Apple CarPlay and Android Auto compatibility, voice control commands, and an MMI touch response system that allows you to access your favorite functions quickly and easily.
Safety Features
When it comes to safety, the Audi S5 Sportback has you covered. This car includes standard features such as lane departure warning systems and pedestrian detection for added protection on the roads. It also offers optional features such as adaptive cruise control and automated emergency braking for even greater peace of mind when behind the wheel.
2. Range Rover Evoque Convertible – A luxurious convertible that's perfect for summer road trips
For those looking for a luxurious and unique ride, the all-new Range Rover Evoque Convertible is the perfect vehicle.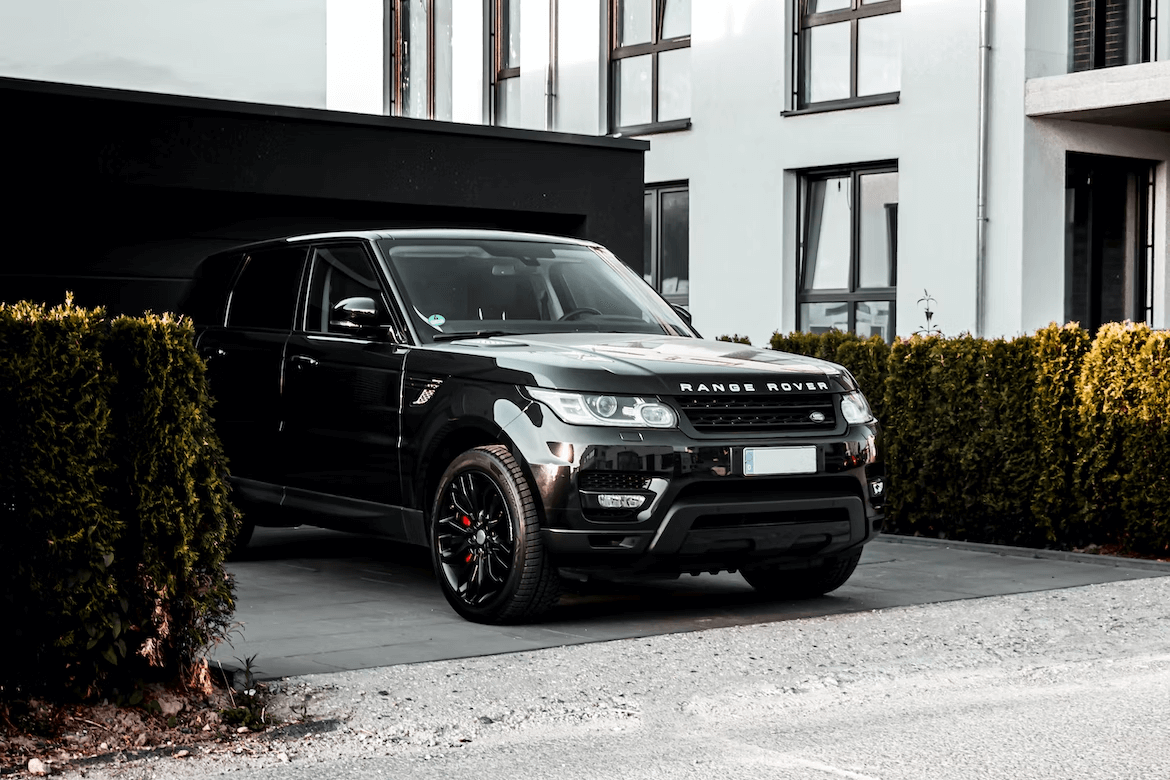 This stylish convertible is packed with features that make it perfect for summer road trips or just cruising around town. Let's take a look at some of the features that make this car stand out from the crowd.
Design and Technology
The Range Rover Evoque Convertible features a sleek, modern design that makes it one of the most eye-catching cars on the road.
It also comes with a range of advanced technology features, including an infotainment system with an 8-inch touchscreen display, Apple CarPlay and Android Auto compatibility, and more. The car also has advanced safety technology such as blind spot monitoring, lane departure warning, and adaptive cruise control.
Performance
The Range Rover Evoque Convertible is powered by a 2.0L turbocharged engine that delivers 246 horsepower and 269 lb-ft of torque. This allows for smooth acceleration as well as great handling on both city roads and highways alike.
The suspension system provides excellent comfort even on rough terrain and long drives, making it perfect for road trips or other long journeys.
Interior Design
The interior of the Range Rover Evoque Convertible is designed to be comfortable and luxurious at the same time. It comes with leather seating surfaces, heated front seats, an adjustable power steering wheel with memory settings, panoramic moonroofs for open-air driving, a dual-zone climate control system to keep you cool in the summer months, and more. There's also plenty of cargo space available so you can bring along all your luggage without worry.
3. Mercedes-Benz C-Class Coupe – A timeless classic with a touch of luxury
If you're looking for a luxury car that has timeless appeal, the Mercedes-Benz C-Class Coupe is the perfect vehicle for you.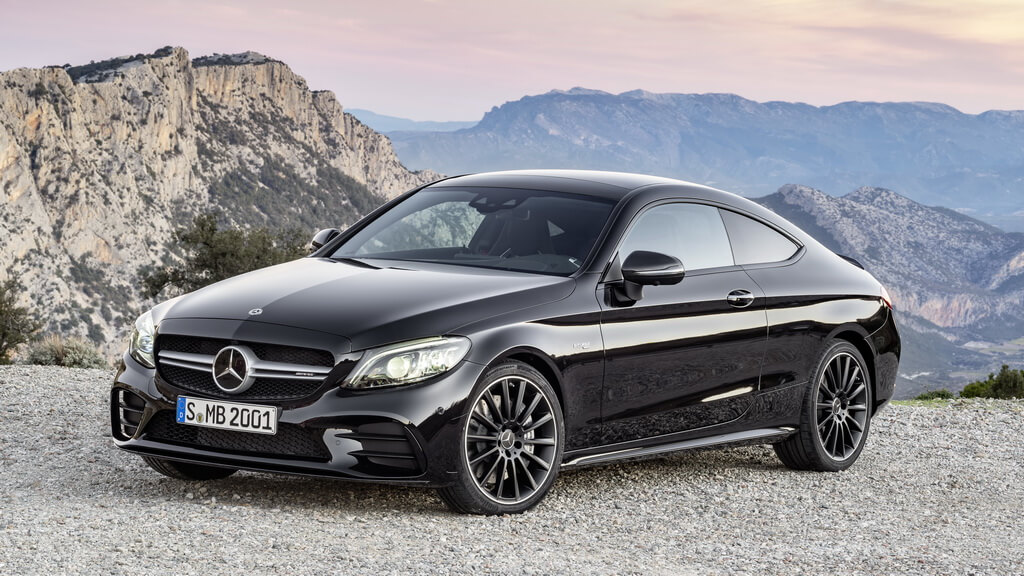 This sleek and stylish car offers all the amenities of a luxury vehicle while still maintaining a classic look. Here's what you need to know about this timeless classic.
The Design of the Mercedes-Benz C-Class Coupé
The Mercedes-Benz C-Class Coupe is designed with both form and function in mind. The exterior features elegant curves, giving it an aerodynamic profile that helps it to glide along the road effortlessly.
Inside, the cabin features luxurious materials such as leather and wood, as well as upholstery with intricate stitching that adds an extra touch of elegance. With its modern technology, including a larger infotainment screen and a digital instrument cluster, this car also allows you to stay connected without compromising on style or comfort.
Performance & Safety Features
The Mercedes-Benz C-Class Coupe delivers superior performance with its powerful engine and responsive transmission. And because safety is always a priority, this car also comes equipped with multiple safety features such as Blind Spot Assist, Collision Prevention Assist Plus, Attention Assist, Lane Keeping Assist and more. These features help to ensure that your ride is safe and comfortable no matter where you go.
4. Ford Mustang GT – The quintessential American muscle car
For over 50 years, the Ford Mustang GT has been an iconic symbol of American muscle car culture.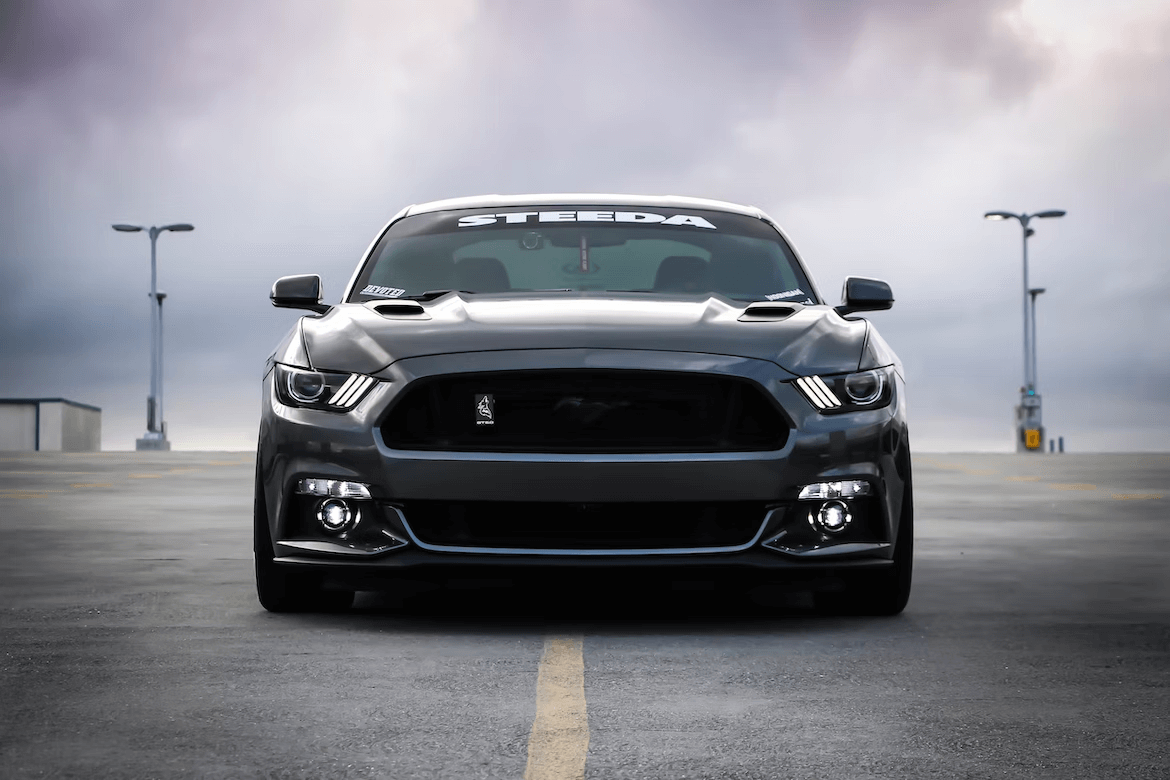 From its introduction in 1964 to today, the Mustang GT has embodied power, performance, and style—all wrapped up in one sleek package. Let's take a look back at the history of this legendary ride and explore why it continues to be a favorite among car enthusiasts.
The Birth of a Legend
The original Ford Mustang was first unveiled on April 17, 1964, at the New York World's Fair. It was an immediate hit with young people who loved its sporty design and powerful engine options.
Over the next few years, the Mustang became even more popular as it started appearing in movies like "Goldfinger" and "Bullitt."
To meet demand from buyers eager for even more power under the hood, Ford debuted the high-performance Mustang GT in 1965. This model featured a larger V8 engine that offered 200 horsepower. More than double what was available with earlier models of the Mustang.
Ford Mustangs Through The Decades
Over its long history, there have been many iterations of the Ford Mustang GT released by Ford's engineers across six decades. Since its debut in 1965, some versions have focused on classic design elements while others have pushed boundaries with daring new styling cues.
Each generation has brought something new to the table while still retaining a timeless appeal that has kept loyal fans coming back again and again.
Today's Models
In 2020, Ford celebrated the Mustang's 56th anniversary with several new models that are sure to become classics in their own right. Fans can choose from four different Shelby Mustangs ranging from 480 horsepower all the way up to 760 horsepower; two special edition Bullitt Mustangs; or any number of other classic and modern designs.
No matter which version you choose, you can count on getting all of that classic American muscle car performance combined with modern features such as advanced safety technology and driver assist features for added peace of mind on every drive.
5. Fiat 500X – With its trendy style and versatile functionality, this car is perfect for city driving
Are you looking for a car that is both trendy and versatile? Look no further than the Fiat 500X! This compact, two-door crossover has been designed with city driving in mind.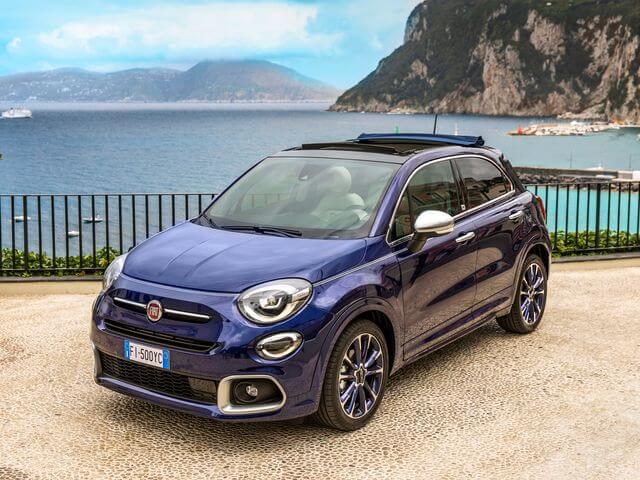 Its small size makes it perfect for tight parking spaces and crowded streets, while its modern styling will turn heads wherever you go. Let's take a look at why the Fiat 500X is the perfect car for city driving.
Design & Style
The Fiat 500X was designed to stand out from the crowd. It has a sleek, modern look that is sure to turn heads on any street corner.
The 500X has been built with comfort in mind; its seats are ergonomically designed and adjustable, ensuring that you and your passengers have plenty of room to stretch out during long drives.
The interior also features plenty of storage space, making it easy to keep all your belongings organized and secure while on the road.
Technology & Safety Features
The Fiat 500X comes equipped with a range of advanced technology features that make your driving experience more enjoyable and safe. It has an intuitive infotainment system with built-in navigation capabilities, so you can easily find your way around town without getting lost.
In addition, it includes driver assistance systems such as adaptive cruise control and blind spot monitoring to help you stay safe on the road. And like all Fiats, it comes standard with an impressive 10 year/100K mile warranty!
Versatility & Efficiency
Perhaps one of the best features of the Fiat 500X is its versatility. This car can easily switch between city driving mode or weekend adventure mode. It offers great fuel economy, so you don't have to worry about spending too much money at the pump!
Plus, thanks to its all-wheel drive system, this car can handle any terrain—from winding mountain roads to snow-covered streets—with ease. And when things get too muddy or wet outside, just flip up the adjustable roof panels and let in some fresh air!
6. Jeep Wrangler Unlimited – Rugged and tough, this SUV is perfect for off-road adventures
Are you looking for an SUV that can take you off the beaten path and onto the roughest terrain? If so, then you need to check out the Jeep Wrangler Unlimited.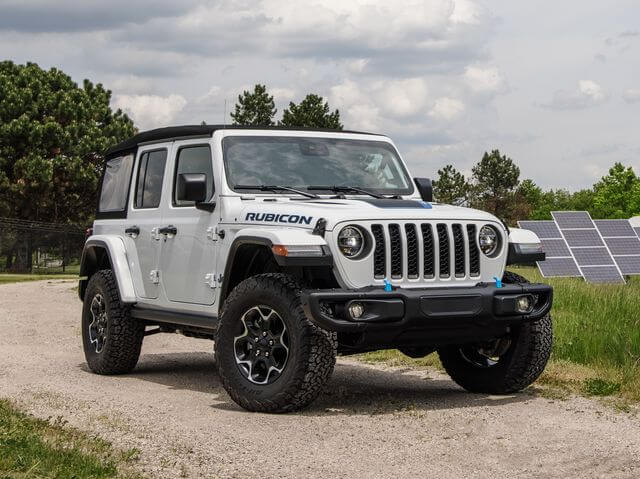 This rugged vehicle is perfect for adventurous drivers who want to tackle trails and hit dirt roads with confidence. Let's explore why this SUV is perfect for your next off-roading trip.
Powerful Performance
The Jeep Wrangler Unlimited is powered by a 3.6L V6 engine that produces 285 horsepower and 260 lb.-ft of torque. This gives it plenty of power to conquer tough terrain and climb over rocks with ease. It also features four-wheel drive, allowing you to switch between two-wheel drive, four-high, and four-low as needed.
To further improve its off-road capabilities, it also has an available Rock-Trac® 4×4 system that provides maximum traction and control on even the toughest surfaces.
Smart Design Features
In addition to its impressive performance capabilities, the Jeep Wrangler Unlimited also features several smart design features that make it perfect for off-roading adventures. For instance, it has an available sky one-touch™ power top so you can quickly switch between open and closed configurations depending on where you're driving.
It also has an available body-color hardtop option if you'd prefer a sleeker look while cruising around town or winding down backcountry roads. And there are tons of other exterior design options to choose from like winch kits and tow hooks so you can customize your ride exactly how you want it.
Safety Features
The Jeep Wrangler Unlimited is designed not only for thrilling off-roading experiences but also for providing peace of mind when behind the wheel.
Its advanced safety technology includes standard Blind Spot Monitoring (BSM) which alerts drivers when another vehicle enters their blind spot zone so they can switch lanes safely and confidently while driving on highways or busy city streets.
There's also an available ParkView® Rear Back-Up Camera which helps drivers see what's behind them before reversing out of tight parking spots or maneuvering around obstacles in rocky terrain.
Choosing the Best Cars for Women: Conclusion
Every woman has a different taste when it comes to choosing a car. Some women like small and economic cars while others prefer big and luxurious ones. However, there are some cars that are always on the top of every stylish woman's list regardless of their personal preferences.
If you're looking for a new car and want to make sure you pick one that will turn heads wherever you go. Take a look at this list of the best cars for women who would love to drive.