Bob haircuts are always popular. They are super easy to style and so versatile. You can experiment with colors and styling products to create a variety of looks to match any mood. We have put together a gallery of our favorite bob styles from shortcuts to medium haircuts to long bob haircut. There is something for everyone!
1. Stacked Short Bob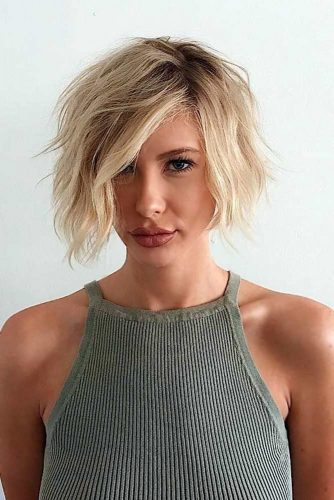 Such short bob haircuts are super cute. They are perfect for those who have an active lifestyle as they are low maintenance. Simply wash, put in a little product and go. It's short but it still has enough length to pull back, if needed.
2. Angled Bob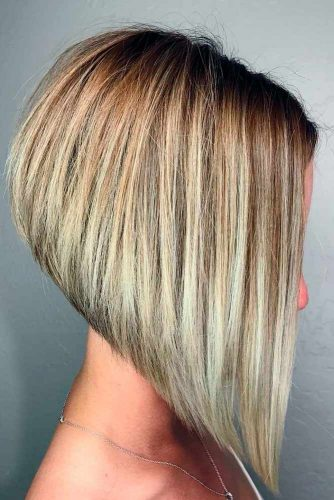 This cut is great for those with really fine hair as it creates an illusion of fullness. The clean straight lines and the longer length in the front will really soften your face features. This style looks especially cute with some high and lowlights throughout for added depth and dimension.
3. Traditional Layered Bob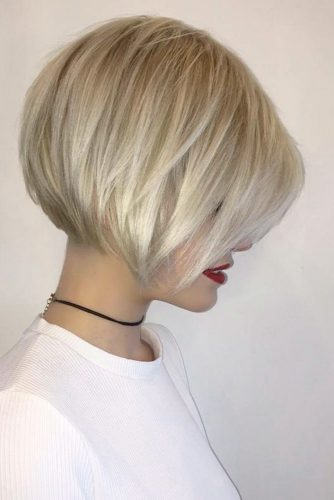 This classic lob is always in style and pretty much anyone can rock this timeless haircut. It looks really nice with naturally wavy hair and some pretty balayage tones.
4. Short Bob with Side Bangs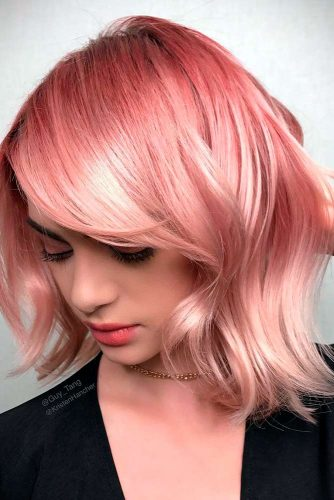 This stylish bob is good for those who want to draw attention away from worry lines and wrinkles. The side bangs draw more attention to your cheekbones. Add some ashy highlights to give your face a youthful glow and appearance!
5. Medium Length Bob with Tousled Layers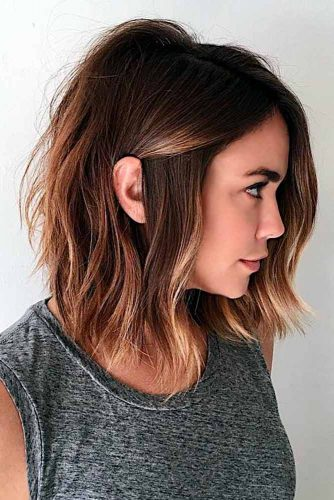 This mid-length cut is just adorable with its wavy, tousled curls. You can rock these locks loose or pin your hair back for a more sophisticated look. This style also looks great in a messy updo.
6. Angled Lob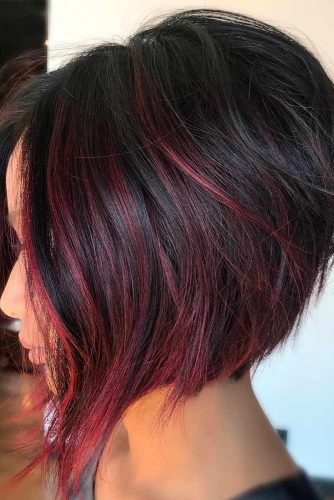 This cut is great as the layers are very sharp. You can also opt for added layers and colorful highlights. The shorter layers in the back with drastically longer layers in the front give it a very modern and edgy vibe.
7. Short Stacked Bob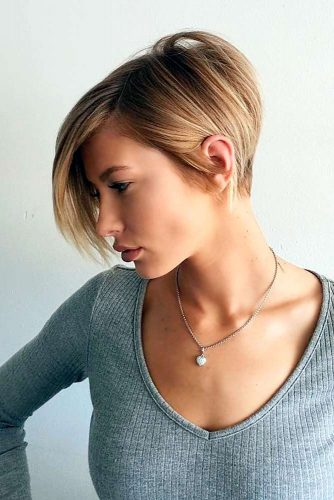 This enchanting bob is a mix between a shorter bob and a pixie with longer layers in the font and shorter in the back. The stacked layers add a ton of volume and leave a plenty of options for bold color choices. If you aren't quite ready to commit to a short pixie, this look is a good compromise!
8. Voluminous Short Bob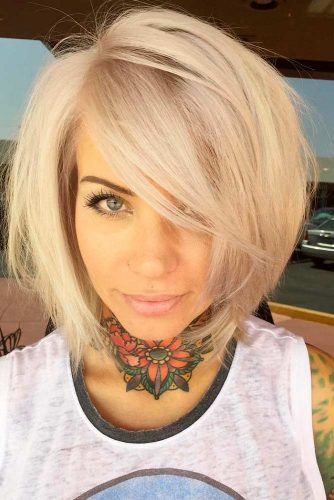 This look is great for those with round faces and thinner hair. With layers starting just above the chin, it adds a ton of volume. You can straighten it for a sleek, sophisticated look. Or use a large curling wand to add loose curls for a ton of bounce and movement!
9. Blunt Bob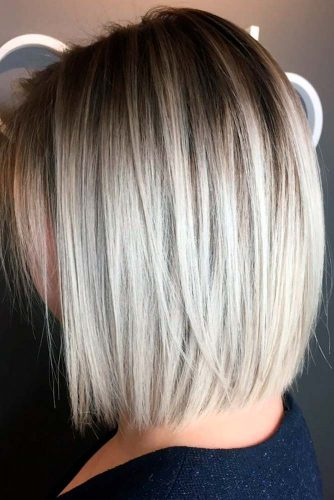 This A-line cut is sleek and stylish and is great if you are growing out your hair. If you want to add some volume, curl the ends in to softly frame your face. This look is classy and chic for a professional look and feel.
10. Choppy Ends with Long Side Bangs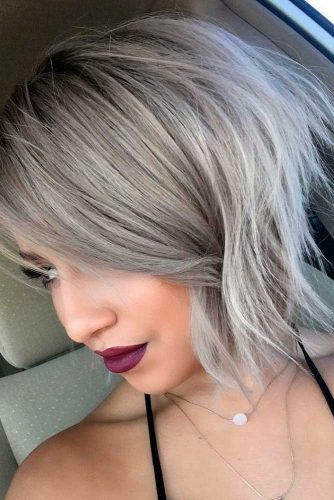 This look is good for those with naturally wavy hair as it is pretty much wash-and-go. The fun bedhead curls are super easy to style due to the choppy ends. Simply spritz with some sea salt spray, style your bangs to the side of your choice, and go!
11. Razored Bob with Side Bangs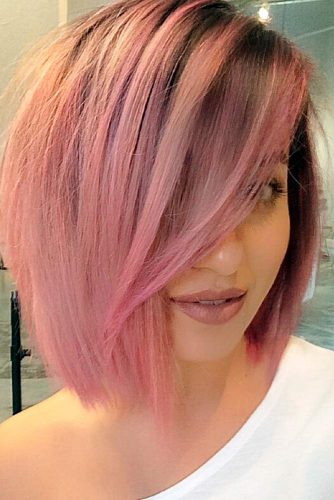 Razored edges are very stylish at the moment and this mid length cut is no exception with its thicker side bangs that create a sexy peek-a-boo effect.
12. Textured, Wispy Bob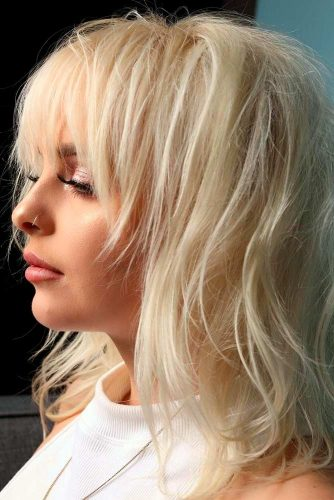 This look is almost ethereal with its wispy, disconnected layers. This style is great for those who want to add a burst of color and give this textured look a bit of an edgy vibe.
13. Short Layered Bob with Blunt Bangs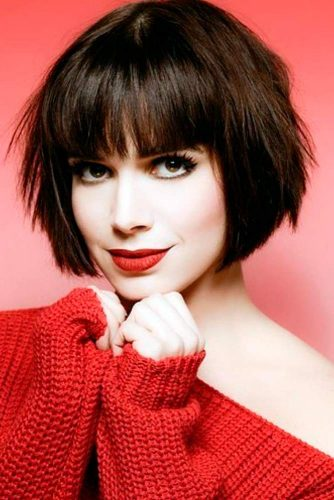 This edgy look is ultra-chic with its random layers. The blunt, straight-across bangs will need to be trimmed every few weeks, but the messy, bedhead look of the rest of the hair is super-low maintenance. Some bright colorful steaks will bring out your inner punk rock goddess!
14. Angled Long Bob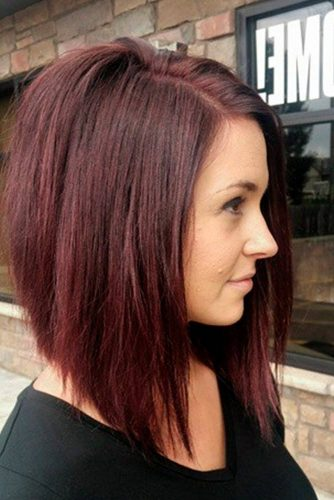 Long bob hairstyles are best for those who want a more traditional hairstyle as the angles are gradual and less dramatic. This look works best on those with straighter hair. However, it can be easily replicated with a flat iron for a sleek and shiny look.
15. Short Textured Bob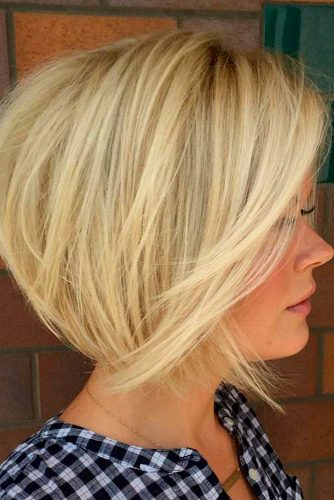 This short bob is super-adorable with its side swept bangs that fall effortlessly across your forehead. The shorter layers add a ton of volume and softly frame your face for a cute and girly look. Simply wash, add some texturizing cream and go for a fun and flirty vibe!
16. Curly, Disconnected Lob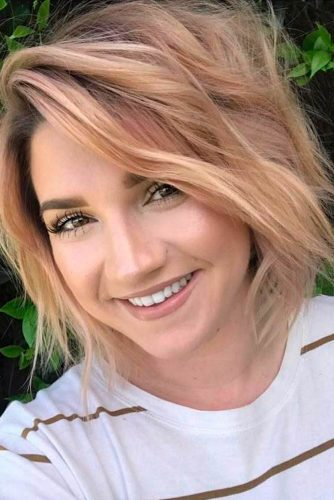 This mid-length lob is soft and romantic. If you have natural waves, it's super easy to style. However, if you have straighter hair, you can create finger waves or use a large barrelled curling iron to create some soft beachy waves.
17. Side-Parted Asymmetrical Bob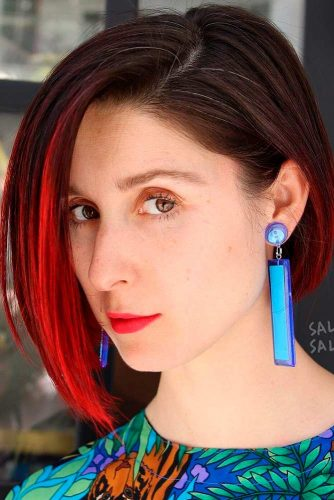 The zig-zag part of this angled asymmetrical bob is spunky but still totally feminine. This style looks great with some multi-tonal highlights.
18. Piecy Layers and Wispy Bangs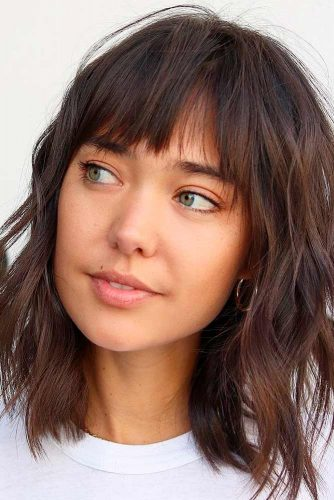 This chic bob with wispy bangs and varying layers is tres chic and sexy! A soft ombre with darker roots and lighter ends will add dimension along with the disconnected layers throughout. The thin, wispy bangs that lightly brush the eyes give it a seductive vibe.
19. California Curls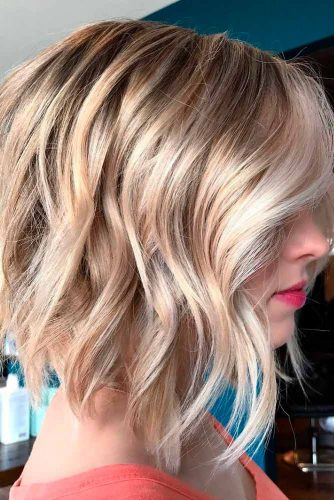 The loose waves of this messy haircut are so carefree. This style is one of the most popular bob haircuts amongst Hollywood celebs as it is super-sexy. Highlights and lowlights will give it a ton of texture and fullness.
Bob Haircuts for Fine Hair: Video Tutorial
Ready for a brave new look? We think these bob haircuts are perfect for those who are looking for a bold new hairstyle. Whether you opt for a shorter bob or a longer layered bob, we think you're ready for a change!
Photos from Instagram.com
Source: Glaminati.com