Are you planning to visit Nashville? Do you want to look fabulous during your stay in the home of country music? Check this fashion guide to learn cute Nashville outfits for different occasions and seasons!
Nashville is home to country music, incredible southern food, Tennessee whiskey, and more. It is known as the "music city." This fun city is also famous for its great local culture. When visiting Nashville, ensure to pack outfits for the concerts, daytime, nighttime, pools, and special events.
A comfortable outfit is key. But remember, Nashville is an excellent place to express your own personal style. So, don't limit yourself. Keep reading to discover Nashville-inspired outfits for a head-turner look!
What is the Clothing Style in Nashville
As a laid-back city, expect a casual vibe with music as the heartbeat. So, Americana is the overall style with some Western flair and a hint of Hipster vibe. Most people wear a nice top and jeans when they go out. In short, focus on casual clothing and forget about the black-tie attire.
But there are some exceptions. If you are going to a show or concert, opt for a little more dolled up. When attending formal events, go for dressier attire.
For the most part, make sure to pack plenty of laid-back clothing items, like:
T-shirts
Jeans
Ankle boots
Sneakers
Fedora hats
Leather jackets
Casual dresses
Denim
Subtle accessories
What to Wear in Nashville by Different Seasons
Nashville experiences all four seasons. Make sure to dress accordingly depending on what time of the year you wish to explore the music city.
Don't worry; here are some cute Nashville outfits by different seasons:
Nashville Outfits for Spring
Springtime calls for Nashville clothes dedicated to warmer weather. But if it gets cooler in the evening, bring along layers. Check out the following Nashville outfits for spring:
Jeans and a cami with a neutral suede jacket
Graphic t-shirt and chic straight-leg white jeans with a pair of western booties
Sleeveless strapped ruffle top and jeans with a medallion pendant necklace layering
Denim shorts and shoulder sleeve bandeau with white high-cut boots
Jeans and sleeve front bouse with white buckle fedora hat
Asymmetrical bodycon with leopard print jacket
Black leather skirt and light cropped sweater with black leather boots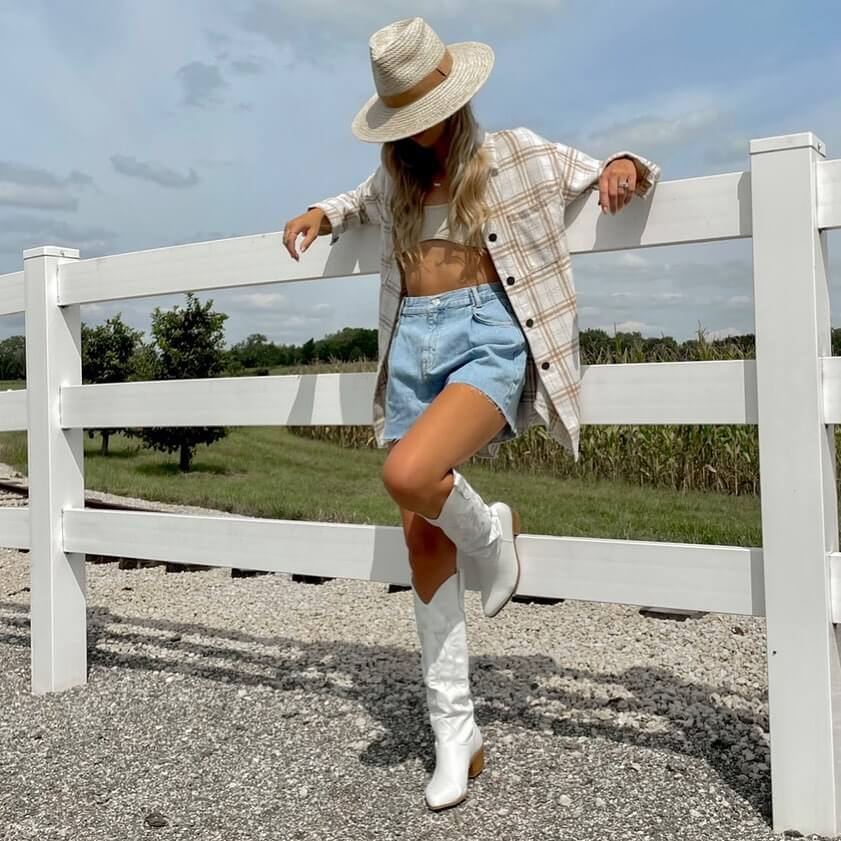 Nashville Outfits for Summer
In the summer months, the city can be sweltering. So, dress in breathable and lightweight like linen or cotton. The season also calls for dresses, tank tops, shorts, and a layer for nighttime.
Denim shorts and puff-sleeve or off-the-shoulder top with sandals and dainty accessories
Leopard slip dress and cowboy boots with an oversized denim jacket
Denim skirt and bohemian-style top with white buckle fedora hat
Ripped jeans and burgundy casual camisole with cream buckle fedora hat
Casual waist leopard skirt and sleeve shirt plunging neckline top with high-cut boots
Blue ripped jeans and ruffle shoulder top with high-heel sandals
Blue romper and knee-high boots
Dark blue ripped jeans and a colorful peplum top with sandals
Boyfriend tapered distressed jeans and white bodysuit shapewear sleeveless with a leather belt
Frayed ripped denim shorts and sleeveless ribbed top with boho fringe cardigan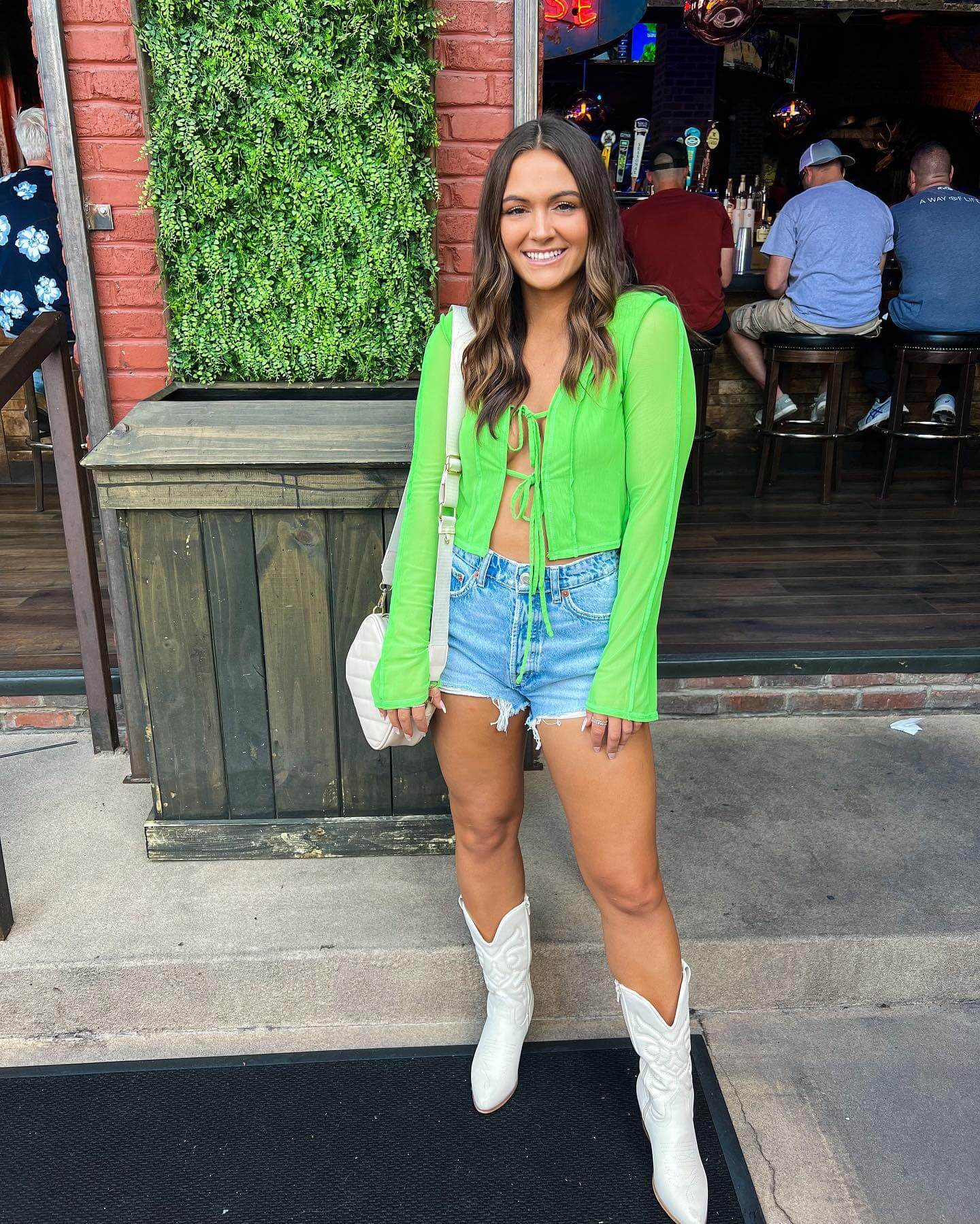 Nashville Outfits for Fall
Do you plan to visit Nashville in the fall? Here are some Nashville outfit ideas to match the cooler weather:
Vintage wash jeans and cami with a classic black leather jacket
Figure-hugging sweater dress and a suede jacket with western boots
Hippie flared bottom and graphic leopard t-shirt with a vintage leather jacket
Bottom tassel stretch jeans and casual sleeve sweater with a fedora hat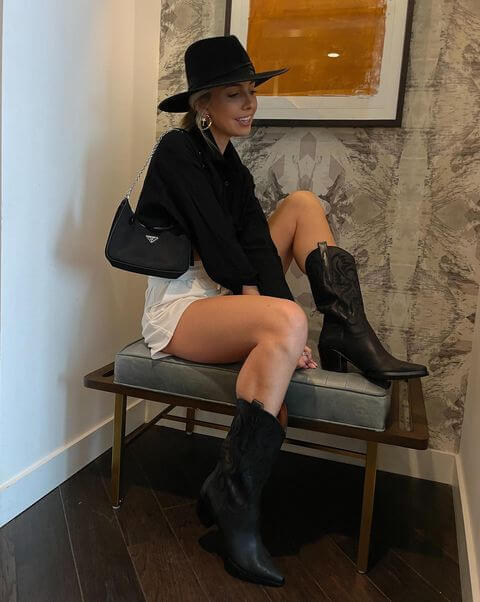 Nashville Outfits for Winter
The city gets snowy and chilly in the winter. This means warm layers are key. Here are some Nashville outfits for winter to keep you toasty and stylish:
Leather pants and a neural long-sleeve shirt with a shearling-lined jacket, fedora hat, and western boots
Off-white denim and soft sweater with cowgirl boots
Jeans and black bandeau with a brown corduroy jacket and black buckle fedora hat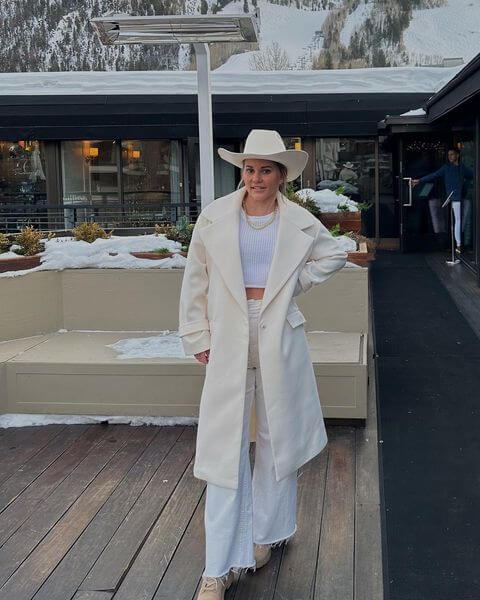 Nashville Bachelorette Outfits
A wild and free vibe, amazing bars, and great music make Nashville an excellent destination for bachelorette parties. Cowgirl-inspired and casual clothing is famous in this city.
Here are some Nashville bachelorette outfits you should not miss:
Sequin dress and a cowgirl hat with metallic accents
Fringe dress and funky cowgirl boots
Plaid skirt and hot pink top with cowgirl hat
Long pants and a long-sleeved top
Jeans and a leather jacket
Mini skirt and Sleeveless strapped ruffle top with white cowgirl boots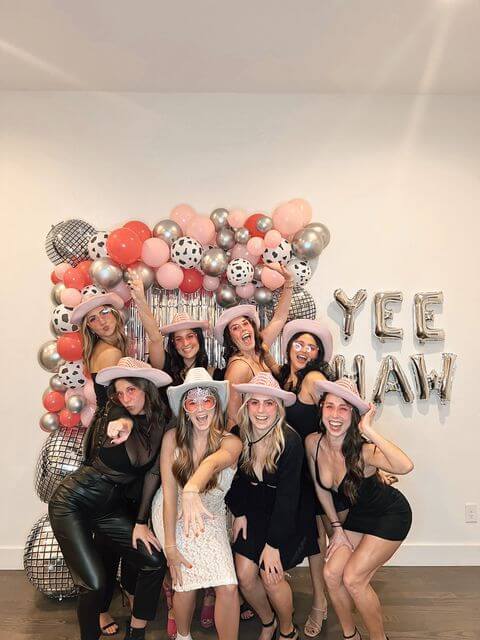 Plus Size Nashville Outfits
Hooray! Plus-size women who want to stay stylish and comfortable during a Nashville trip have plenty of outfits to choose from. You can easily mix and match Nashville-inspired outfits.
Here are some of our favorites:
Plaid dress and wide-brim boater hat with tall suede boots
Floral print shift dress and faux pink fridge jacket with knee-high boots
Graphic t-shirt and long skirt with wide brim hat and ankle boots
Floral shift dress and leather jacket with suede boots and a wide-brim hat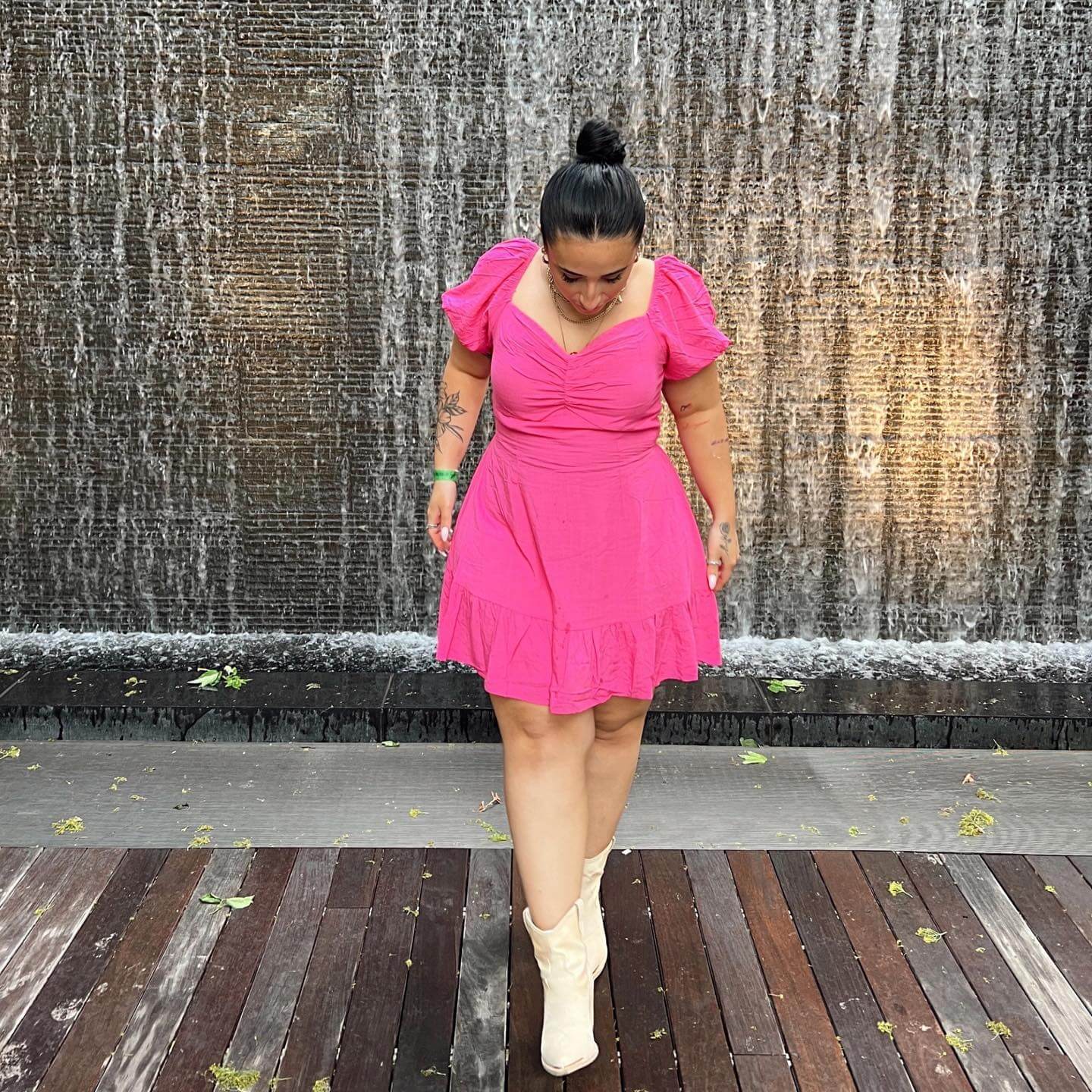 Nashville Birthday Outfits
Nashville is a perfect venue to celebrate occasions like birthdays. Whether you are the celebrant or a guest, here are some Nashville birthday outfits you should try:
Cropped tee and leopard pants with a felt hat
Dark denim dress and cowgirl boots
T-shirt and silk leopard skirt with braided white felt hat
Flowy short floral dress and white combat boots
Short bright pink wrap dress and ankle boots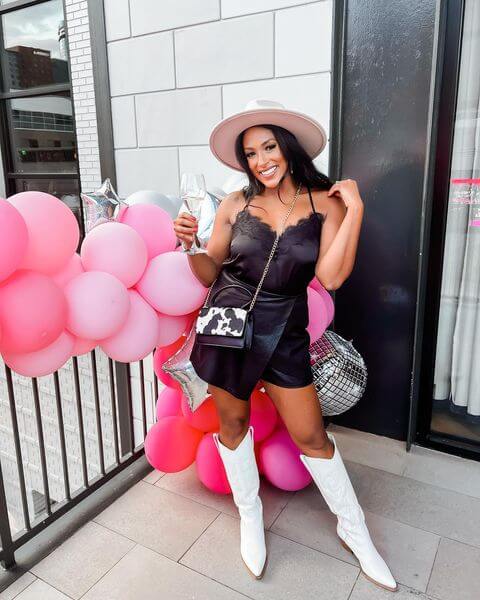 White Nashville Outfits
Whether you are looking for day or night clothing or plan to attend a concert or birthday celebration, you can't go wrong with white Nashville outfits. These outfits can keep your body comparatively cool. Also, you can always look fresh and neat.
Here are the top choices:
White romper with knee-high boots
White button-down and denim shorts
White dress, belt, and sneakers
White t-shirt, feather skirt, and ankle boots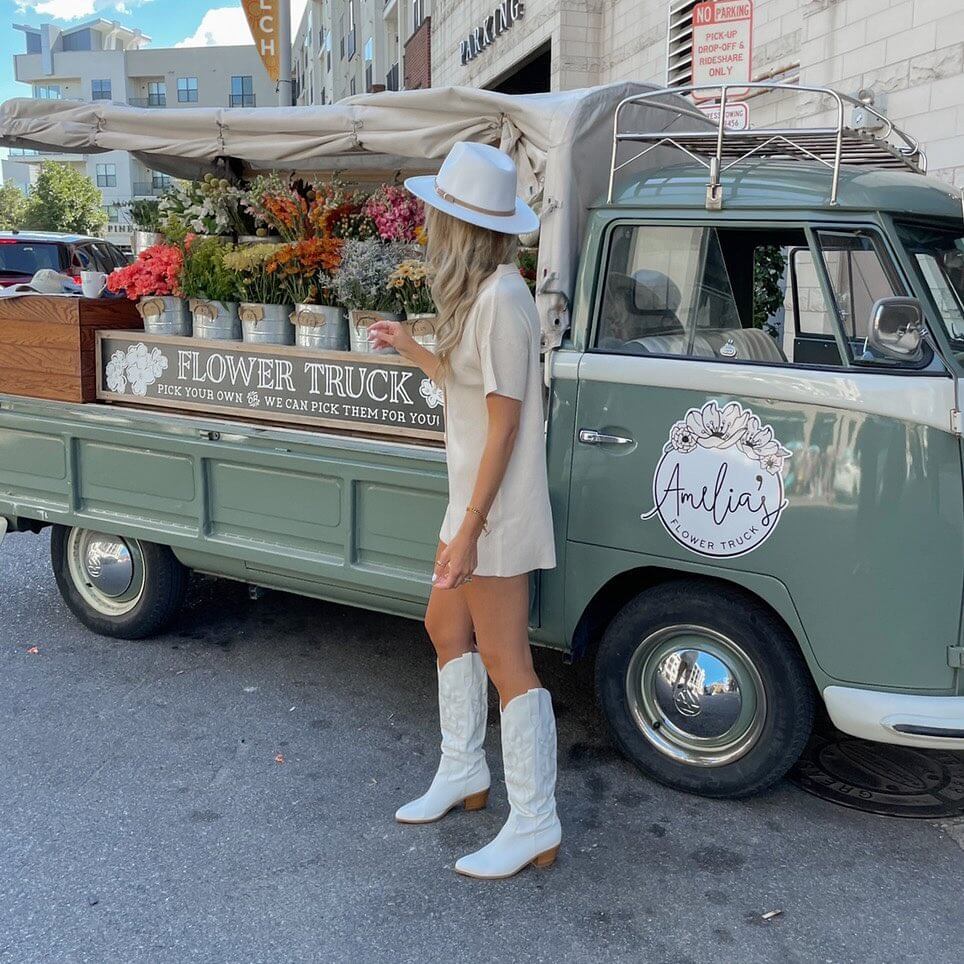 Nashville Tennessee Outfits
Nashville outfits are trendy but casual. You can quickly find the perfect outfit based on your style, budget, or event you will attend. If you are ready to achieve that Nashville, Tennessee look, check out the trendy outfits below:
Nashville t-shirt and leather skirt with tasseled boots
Leopard print skirt and leather jacket with cowgirl boots
Fringe skirt and gold top with high heel sandals
White fringe two-piece mini dress and knee-high boots
Red skirt and crop top with a cowgirl hat and ankle boots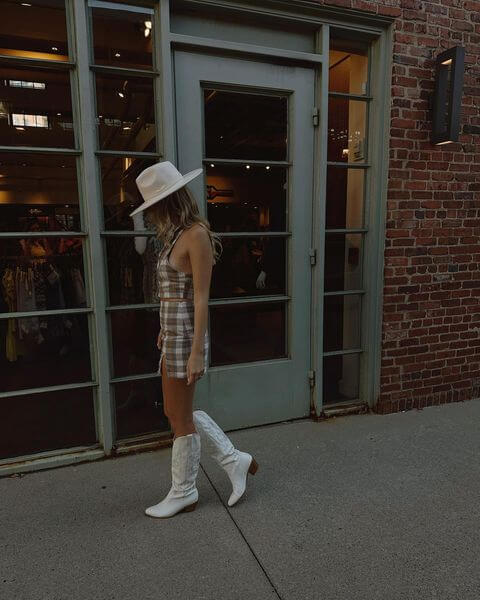 Nashville Concert Outfits
Your Nashville trip is never complete without attending concerts. The concert venue is filled with music lovers and, of course, fashion fanatics. So, be ready to enjoy your favorite country music and look stunning in the following outfits:
Bell bottom and crop top with a fedora hat
Denim shorts and cami with ivory boots
Denim dress and white cowgirl boots
Girly dress and sandals with rattan purse
Leopard print dress and cowgirl boots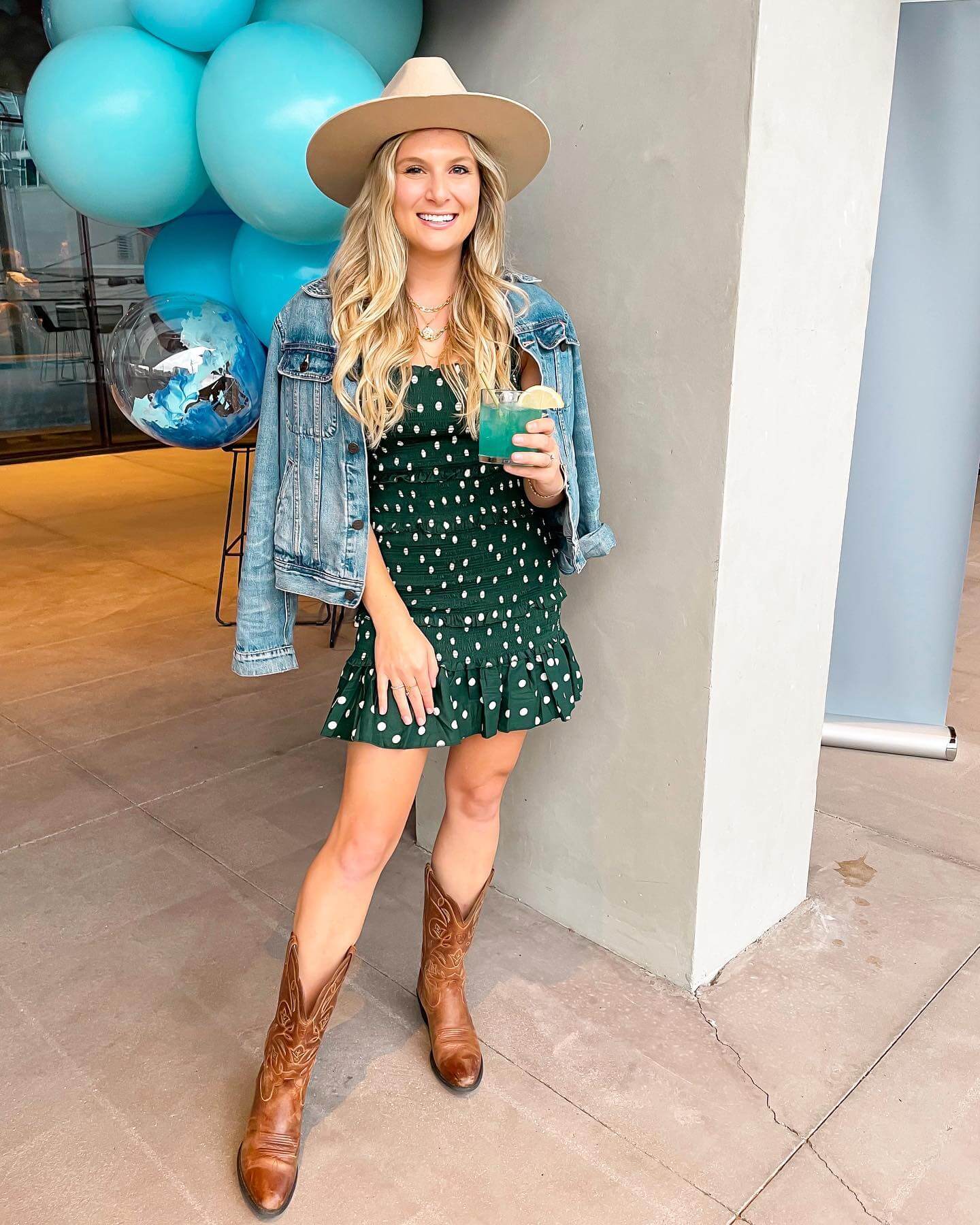 Sparkly Nashville Outfits
Nashville style can also involve metallics, shimmer, glitter, sparkles, and anything that shines bright. Sparkle evokes hope that goods are about to happen and a sense of optimism. Whether you need to attend a girls' night out or want to express fun and style, here are some sparkly Nashville outfits to try:
Lime green sequin button-down dress with knee-length white boots
Silver sequin skirt and sexy party top with black high heel sandals
Sequin fringe mini dress and knee-high boots
Hot pink sequin fringe romper and white cowgirl boots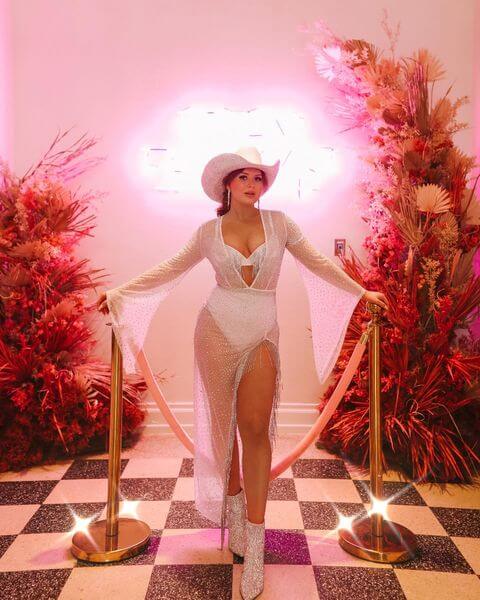 Casual Nashville Outfits
When you are in Nashville, you don't need a super fancy outfit or elegant gown. As mentioned, Nashville style is laid back. Things like blue jeans, sneakers, and boots are widely accepted for a casual look. Here are some popular casual Nashville outfits:
Graphic tee and bell-bottom jeans with white sneakers
T-shirt and jean skirt with cream boots
Cream graphic tee and jean shorts with white cowgirl boots
Dark denim dress and white cowgirl boots, and light pink fedora hat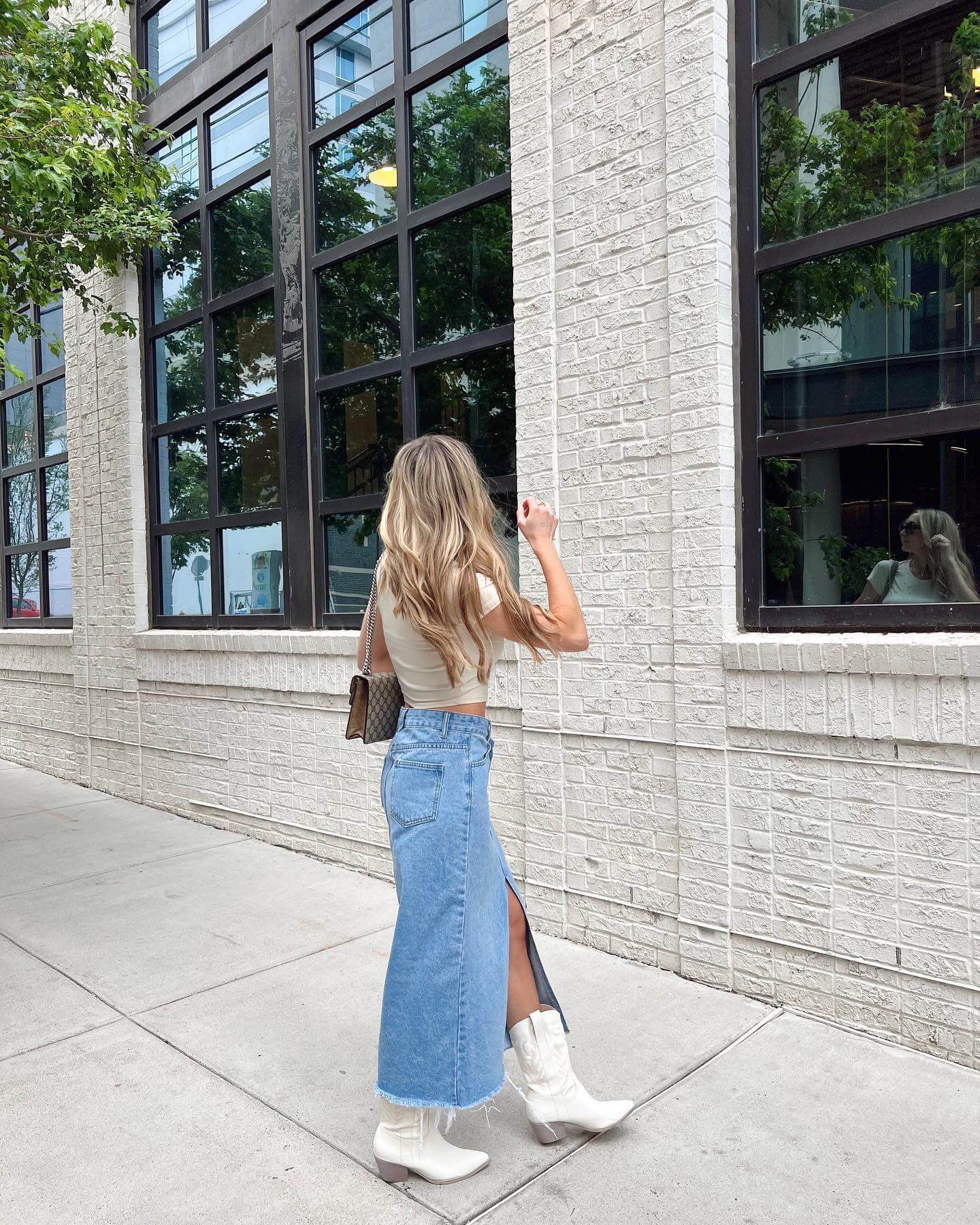 Pink Nashville Outfits
Do you love pink? The good news is that you can try different pink Nashville outfits during your trip. This calming color is associated with being sweet and cute. But pink is also related to femininity, kindness, and love. Here are the top options:
Pink sequin romper and white boots
Pink bell bottoms and white crop top with a buckle fedora hat
Pink floral dress and white sandals
Pink jumpsuit and black cowgirl boots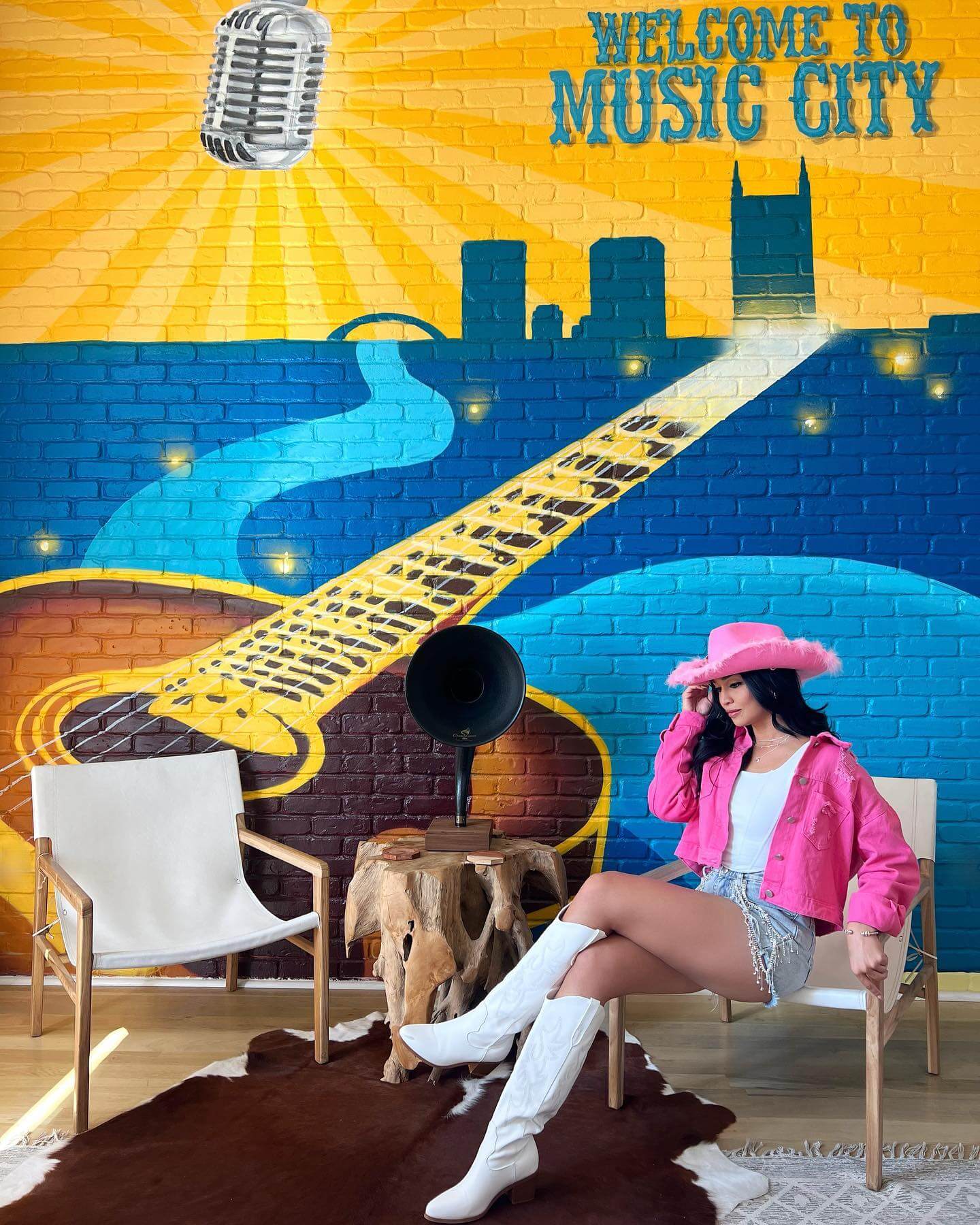 Nashville Fringe Outfits
Fringe highlights the groovy, free-spirited vibe. The playful detailing seems intimidating to style. But that's not the case with Nashville Fringe outfits. Whether you want extended frayed edges, tasseled trims, or shorter strips, the following outfits are easy to wear:
Bohemian-inspired top and leather skirt with black fringe suede boots
Jean skirts and black fringe shirt with brown cowgirl boots
Jeans and fringe shorts, and a black fedora hat
Ripped jeans and sleeveless top with fringe back denim jacket and cowgirl boots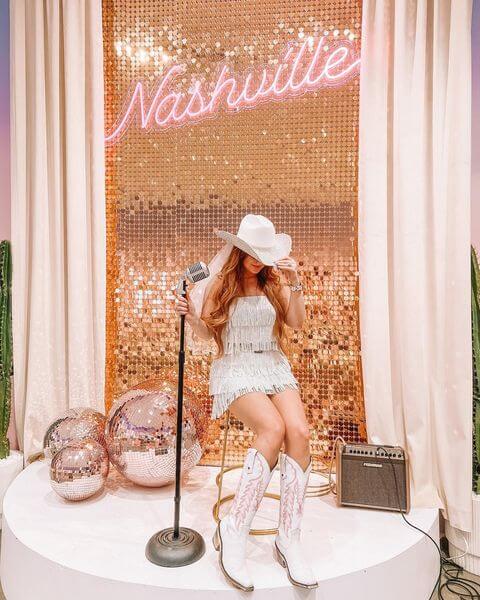 Nashville Broadway Outfits
When it comes to Nashville Broadway outfits, you will not run out of ideas. And here are some of the popular choices:
Black sequin romper and black sandals
Silver sequin bodysuit and white sandals with metallic con purse
Black sequin blazer mini dress and white sandals
Red sequin mini fringe dress and white boots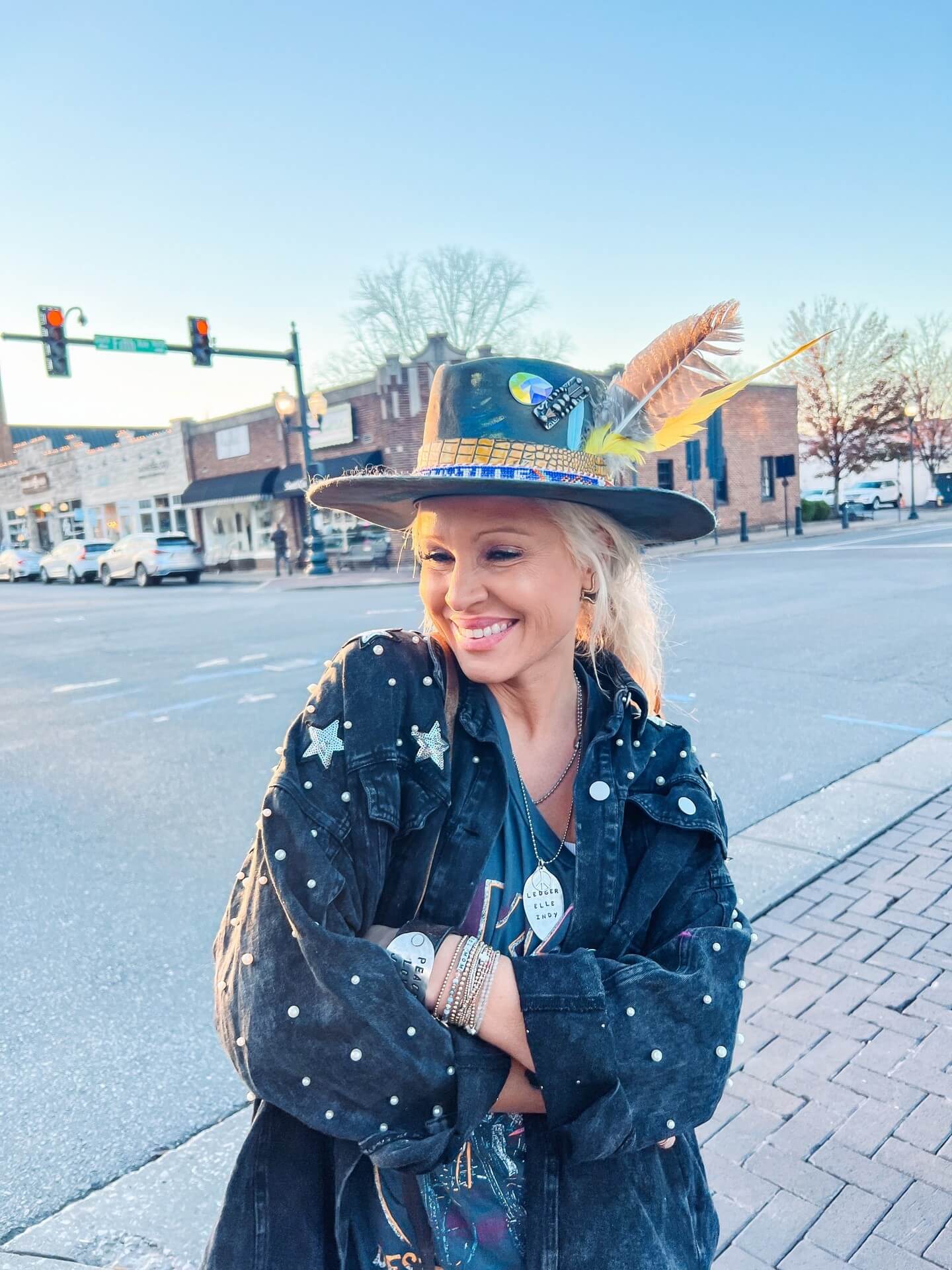 Conclusion
When it comes to Nashville style, women often get a little more dolled up with skirts, denim, mini dresses, blazers, leather jackets, and western boots with heels. The overall style is very laid-back. So, you can leave glitz and glam attire at home unless it is a special event. You should also consider the time of the year you want to explore the city. This is because there are perfect outfits based on the season. Whether you want to achieve a girly, casual, hipster, or cowgirl look, you have a lot of fashion items to try. Don't forget to check out our other articles and visit our Pinterest account.
FAQ
What Is the Clothing Style In Nashville?
The city has a unique clothing style reflecting personality and culture. People embrace their Southern roots, and it is noticeable in their fashion. Most locals prefer classic pieces like denim jeans and cowboy boots. They also pair their outfits with modern items like sneakers and graphic tees.
What is Trending in Nashville?
Embracing traditional Southern style helps truly fit in with the Nashville culture. When it comes to Nashville outfits, it is best to opt for timeless and classics. Some trending fashion items in the music city include western boots, denim, fringe, and floral prints.
How Do I Not Look Like a Nashville Tourist?
One of the best ways to blend with the locals is by dressing like them. For example, you add some hints of Tennessee style to your look by wearing a fedora hat and western-inspired boots. Remember, the Nashville style is casually combined with a hipster vibe.
What Should I Not Wear In Nashville?
While cowgirl boots are associated with country music, avoid flashy boots to fit in with the locals easily. Despite the city's upbeat atmosphere, sporting too much skin in Nashville is a big no. Instead, opt for classic styles, like t-shirts, jeans, khakis, and loafers, when exploring the city.
What to Wear During the Daytime In Nashville?
For a day trip, pack clothes that make you look stylish and comfortable. Breathable, lightweight fabrics are excellent for warm days like cotton or linen skirts and shorts paired with tanks and short-sleeved shirts. If the weather is cooler, leggings and jeans can be dressed up or down with layers, like vests, blazers, and light sweaters.