Two tone hair color ideas are taking the world by storm! Gone are the days of boring hair color!
Ombre hair is really popular right now, but if you aren't ready to commit to a multitude of color, why not try a two-tone color instead?


Rainbow hair is also in style, but not everyone has the time or patience to commit to that many colors. Start with a combo of two colors and go from there when you are ready to take the plunge!
1. Blonde Balayage Tones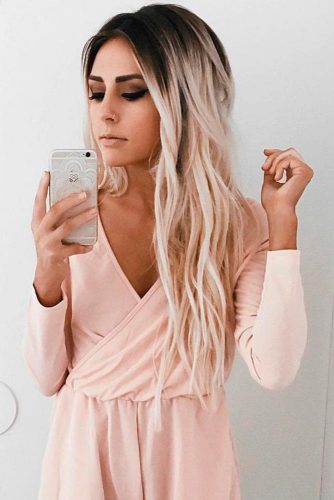 If you aren't yet ready to make a dramatic change to your locks, you can try this blonde balayage style. Those with blonde hair can just mix in some darker shades, while brunettes can add some light blonde balayage tones to soften their look. This way, you still have contrasting colors without going over the top. This look is perfect for those who work in a professional setting.


2. Warm and Cool Combo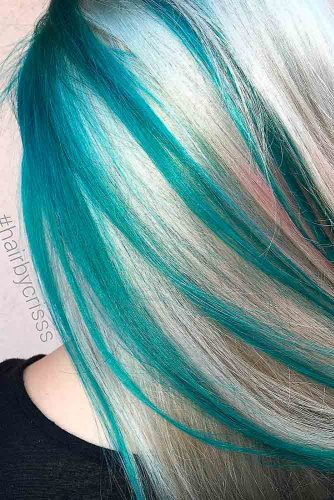 This half-and-half combo of bright turquoise blue and platinum blonde is just stunning. A cool and warm combo is a bit edgy and extremely eye-catching. If you want to stand out from the crowd, try a fun cool to warm fade or half-and-half combo. Pastel shades work just as nicely as brighter shades. And "half-and-half" can mean horizontal, vertical or even diagonal – the look is totally up to you! This look has endless combinations of color for a bold, new look!


3. Face Framing Highlights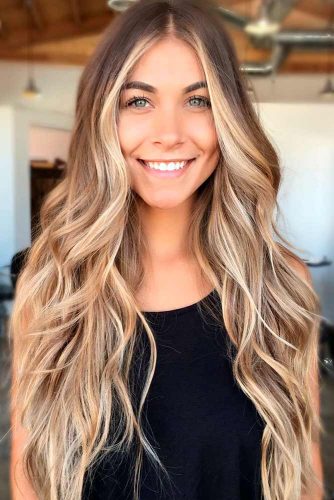 This is another look for those who prefer a more subtle two-tone color effect. You can go bold like these pink streaks that frame the face or you can opt for a more subtle look like honey blonde face framing highlights on auburn hair. Again, there are plenty of options for color with this style. You can go sophisticated and classy or bold and edgy, the choice is yours!


4. Peek-a-Boo Two Toned Colored Hair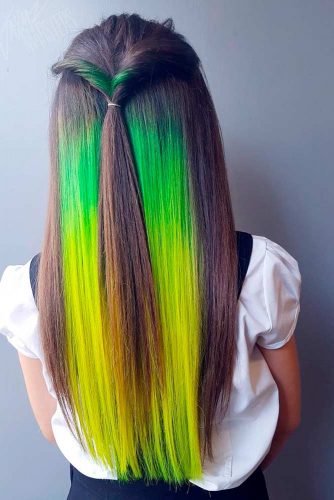 This look is great for those who just want a pop of color in their tresses. You can opt for a subtle balayage a few shades darker or lighter than your natural color if you want a clean look. Or, you can go for bold colors such as this neon pink. You can "hide" you burst of color anywhere you wish, which again, gives you a lot of options. Undertones are easier to hide at work but look great when you wear your hair in an updo.


5. Fringe-Tastic 2 Tone Hair Color Ideas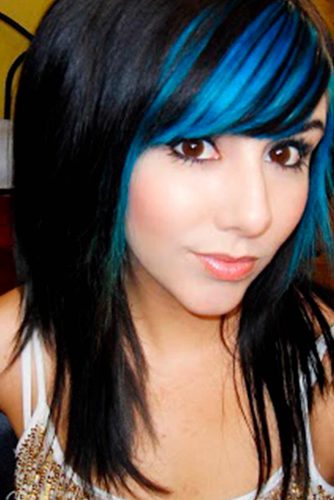 Sometimes just a touch of color to your bangs makes all the difference. A few blue streaks in your brunette bangs will add a fun pop of color without being overwhelming. Also, you can put thin, random streaks throughout your hair. However, fringe highlights are quite trendy and just as stunning. They also grow out quickly, giving you the chance to play around with different color choices.


6. Tip of the Iceberg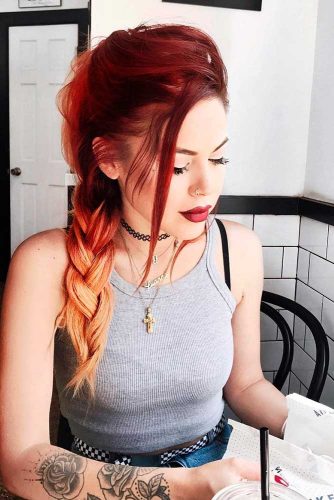 There are a ton of color options if you wish to color just your tips. This is another low-maintenance look and one that lets you express your personality and style! You can opt for subtle balayage tones, an ombre fade or a drastic color choice, the sky's the limits. If you do it right, your hair will look like it was artfully dipped in a bucket of paint! These bright orange tips on a darker shade of red look like a sunset on a summer's day!


7. Magical Mermaid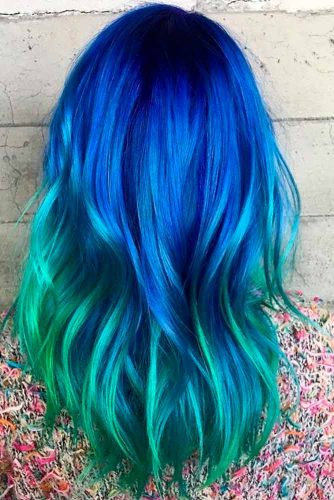 Mermaid hair is super sexy and fun! From bright shades to pretty pastel tones, the options are endless! You can go for an ombre fade from turquoise or sea foam green as pictured here. Or, you could go for a mermaid balayage effect with two colorful streaks blended throughout your natural color. If you've secretly longed to be a sea princess, this look is right up your alley! You will totally make a splash with this fun and flirty look.


8. Silver and Grey Balayage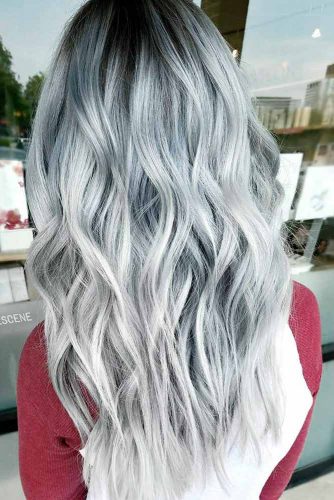 There was a time when grey hair wasconsidered passé, but now it's all the rage. This sexy silver and grey balayage is totally hip and sexy. The silvery streaks on the darker grey base are a perfect contrast. If you are looking for a more sophisticated style, this look is for you!


9. Black and White Two Tone Colored Hair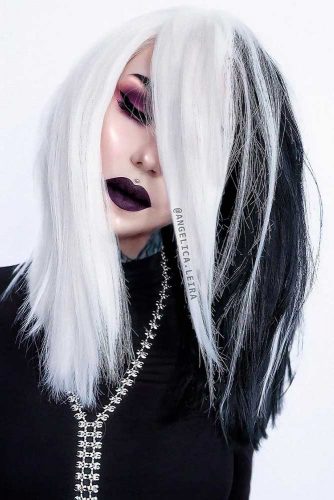 This is another classy look for those who want to keep it a bit more old-fashioned and chic. Black and white hair looks great with smokey eyes and dark shades of lip color for those who want to embrace their inner punk princess!


10. It's Electric!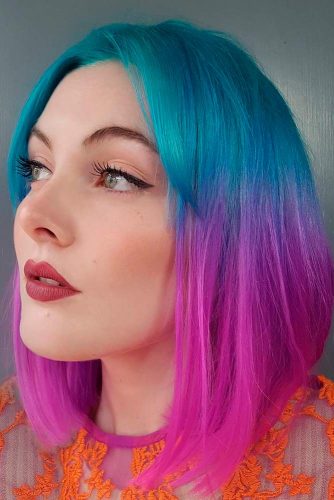 Neon shades are all the rage and are a great way to show off your two tone hair color ideas for brown hair! The best part is that you don't have to worry about placement if you are going for a totally bold look. This combo of neon pink and blue hair is great for those who want to make a dramatic statement and have no qualms about bright and bold colors.


11. Strawberry Blonde Streaks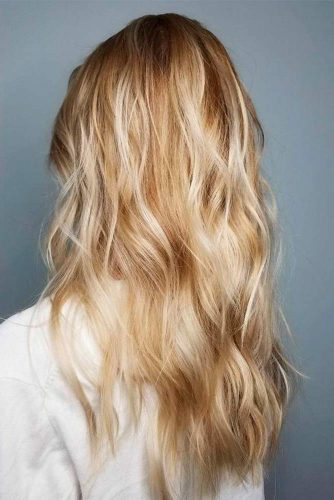 This look is so fun for summer. We think this cute bob with strawberry blonde streaks throughout is just stunning. If you want a more subtle look, you can opt for a blonde and strawberry blonde balayage or ombre effect. Whatever combo you choose, strawberry blonde is a fun and flirty look!


12. Pop of Purple Two Color Hairstyles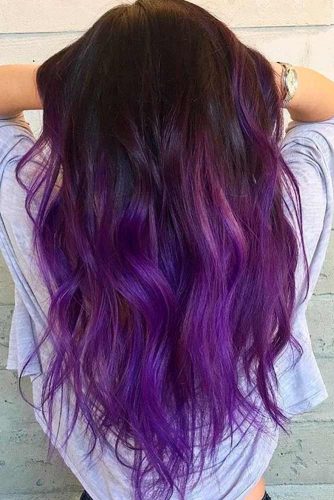 Purple is such a fun color and it looks great on every shade of hair from gray to blonde to brunette! Dark purple shades go well on those with darker hair tones while pastels are simply gorgeous on platinum blondes! However, you don't have to stick to the rules. There are so many gorgeous shades of purple out there that you can choose your favorite and work it into your hair any way you wish!


13. Stylish Red Highlights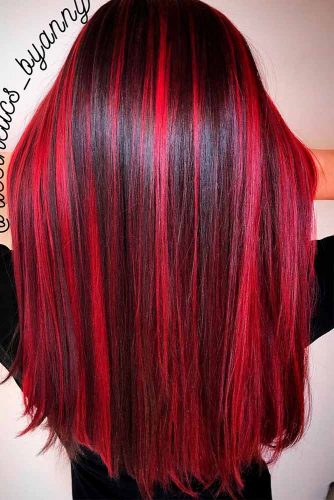 If you love to attract attention, you will like this idea with bright red accents on dark brown hair.


14. Ice Queen Hair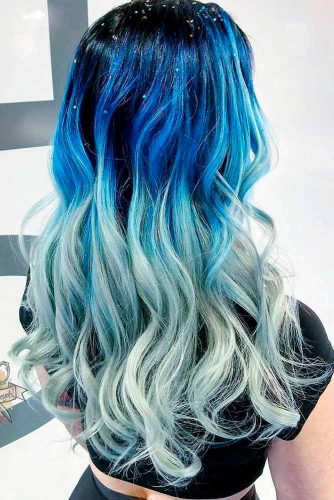 This amazing ombre from cold blue to white tips will make you a fairy-tale snow queen.


15. Sweet Rose Gold Ombre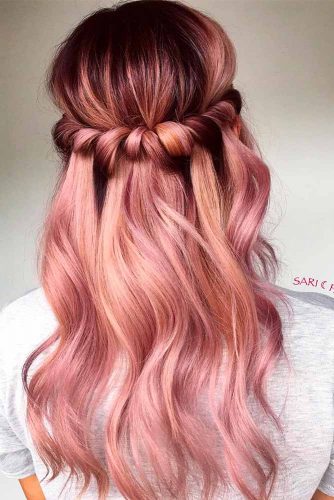 Rose gold hair is popular this season. Soft ombre from your natural brown color will make your look elegant and refined.


16. Bright Colored Ombre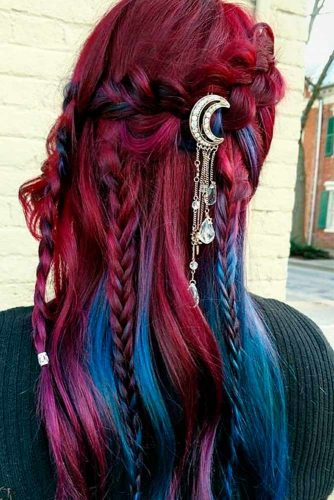 If you want to look bright and stylish, pay attention to this variant of staining. The rich red color of the hair roots and the blue tips look really bold.


17. Cute Light Pink and Lavender Ombre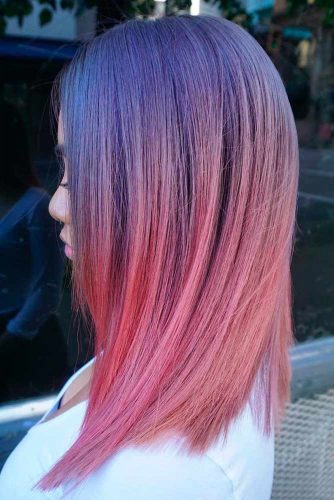 For a sweeter look, ask the stylist to use less saturated colors. For example, a lavender color that turns into light pink will help create a cute but memorable appearance.


18. All Natural Hair Colors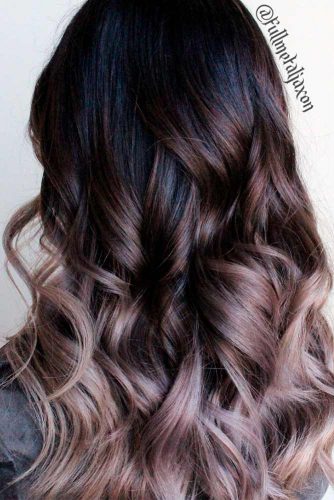 If you are not ready for such bold decisions but want to change the color of your hair, take advantage of this idea. Soft ombre from a dark brown color to ash tips looks natural and it's really trendy.


Two Tone Hair Color Ideas: Video
We hope you are inspired by these fun new two tone hair color ideas! The best part is that eventually the colors will fade away or grow out. This gives you plenty of chances to play around with different color combos! Get ready to embrace your bold new look!
Photos from Instagram.com
Source: Glaminati.com