Nude nails designs never go out, and it is a fact. And this fact makes nail art ideas in nudes our little life saviors as following all those new trends often becomes exhausting and sometimes we need something that will never fail us.
Nude Nails Designs to Complete Your Elegant Image
Nail art in nudes has many perks:
It appears clean and neat;
It makes your mani appear well-groomed and elegant;
Nude shades are excellent at hiding chipping;
Nudes pair well with all nail polish colors;
Manicure in nude will complete practically any image;
A dress code is not your enemy when your nails are nude.
But which nudes are best for you? Let's figure it out.


Experts advise picking nail polish that is one shade lighter, comparing to the skin tone. By doing so, you will make sure that this nude compliments rather than masks the skin tone.
That being said, let's move on and get familiar with the latest trends in the world of nude nail art.
Beautiful Nude Nails Designs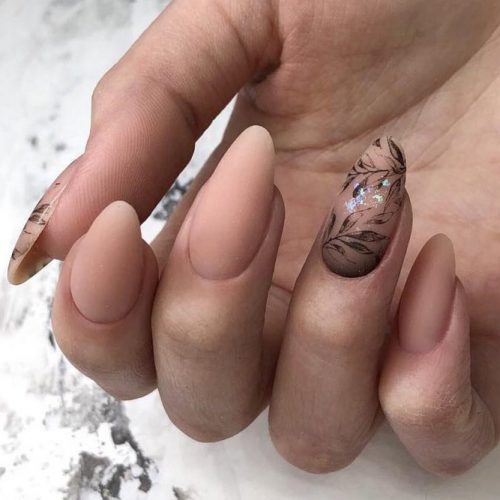 Here we have a beautiful example of nude acrylic nails. The shape of these nails is almond which allows them to be easily maneuverable to allow you to continue with your daily activities and tasks as normally. Adding accent designs can be done to various nails and in various ways. This example has matte nail designs added to the thumb and fourth finger on the hand to spice up what could easily be a boring nail design.


Purple Matte Nails Design With Rhinestones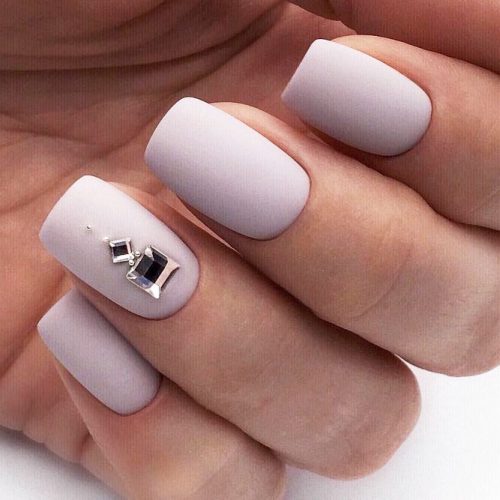 If you have become tired of the nude matte nails design, then you have other options to pursue. These purple nails are one of many options. You may be asking yourself why we used the word purple to describe this shade. It is due to the matte color and the pastel shade of this tone that appears to be almost a shade of white. The addition of a rhinestone to the fourth finger brings flash to the design.
These square nails are preferred by women who have an active lifestyle and do not want to have an encumbering style of nails.


Pink Nude Square Shaped Nails
As previously stated, square nails are popular among women who have a more active lifestyle. These pink nude nails designs are a beautiful addition to your style. The nail art on the fourth and fifth finger adds a new dimension to this design. What could typically be a rather dull yet still attractive nail design goes to a new level with the addition of a couple of well-placed accents. This design also gets points for incorporating rhinestones.


Long Nude Stiletto Shaped Nails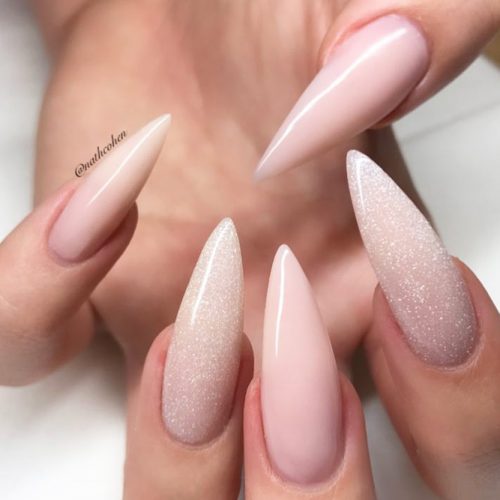 If you're looking for a daring and outrageous design, then these nude stiletto nails are just what you're looking for. This design pops due to the glitter nails on the first and third finger which breaks up the monotony of the design. These cat-like claws can be done in practically any shade that you prefer but appear more realistic when done in a variety of pink shades.


Nude Nails Design For A Coffin Shape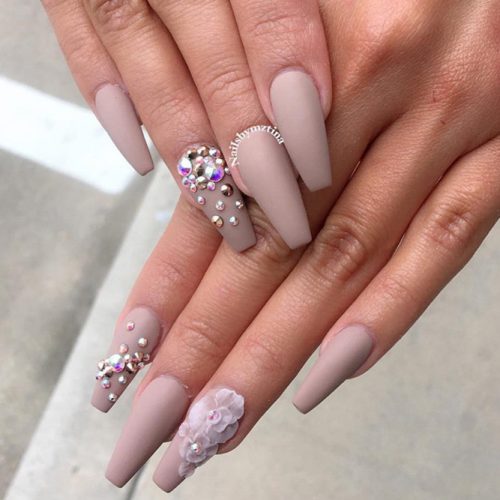 If you are looking for a different type of a design, then you should consider these nude coffin nails. The description of these nails comes from the shape of these nails being similar to an old style coffin. These matte nails are in a gorgeous shade that will go well with most outfits. The rhinestones are placed into a floral design.


Nude Almond Nails Design
These pink nails have a gorgeous nude nail design one should consider. There are additional designs such as the half moon nails that are beautiful embellishments to almost any nail design you can come up with. The almond shape of these nails works for most daily activities.


Nude Nails With A Polka Dot Design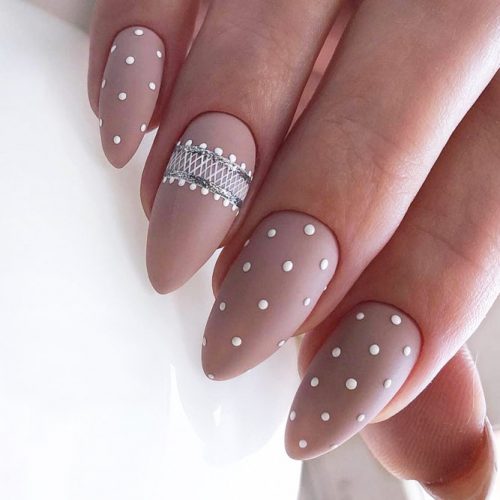 Here is a fabulous nail design that boasts nude gel nails. The matte nails color option is a beautiful choice for almost any occasion. Its high gloss counterpart is high maintenance to keep its glossy sheen. The matte colors are easier to maintain. This adorable polka dot design is a fantastic choice for special occasions.


Nude Nails With An Ombre Design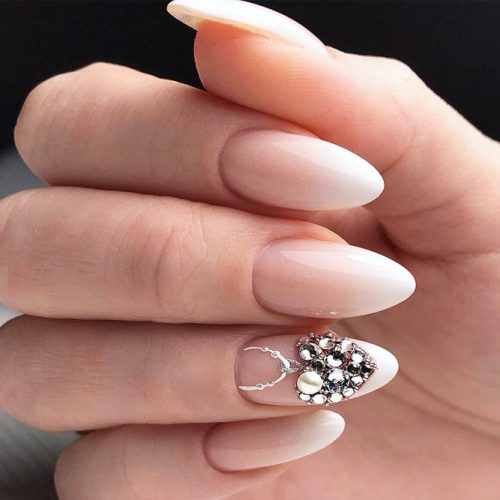 This nail design boasts the French manicure that has been excessively popular for some time. The French design has always carried a look of ombre nails since the color blends, fading subtly from one shade into a complimenting shade. The rhinestones that have been placed for this design create the shape of a heart. The symbolic heart design being on the fourth finger is a great touch since it has been said that the fourth finger, or ring finger, is the only finger on the hand that connects directly to the heart.


Classy Nude Nails Designs With Gold Glitter Ombre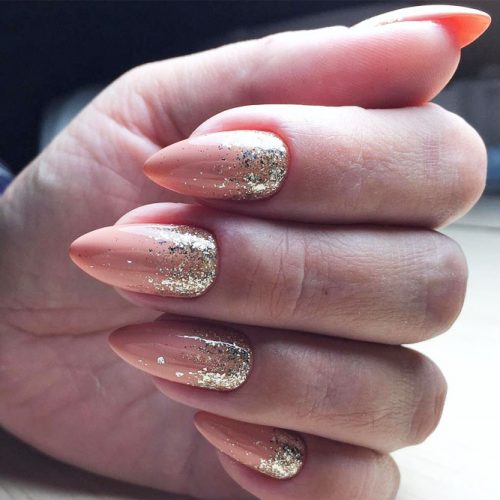 Our next example is this breathtaking nude and gold nails option that really grabs your attention. This nail design has a somewhat sharper shape merging the almond nail design and the stiletto nail design to create this blended design. These glitter ombre nails are suitable for everyday wear as well as for an evening and for a formal event. The gold glitter adds enough sparkle to be eye-catching while not being too overpowering in this design.


Short Nails with a Nude Glitter Design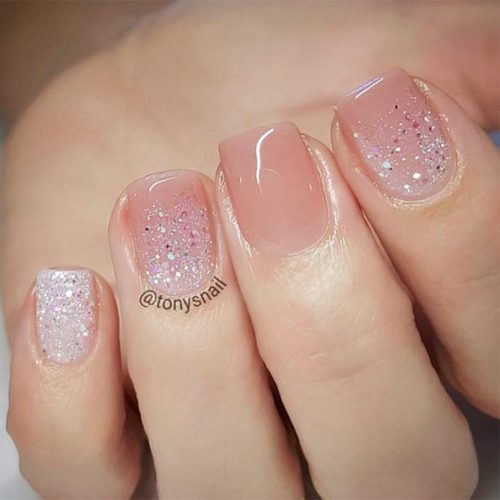 For women with very active lifestyles one should consider this nail design for short nails. Just because you don't desire to have long claws or flashy artwork applied doesn't mean that your nail design can't be just as beautiful as some of the more elaborate designs. These nude glitter nails are versatile and will fit almost any outfit you choose to wear. The varying glitter and solid ombre on the nails keeps the design interesting as well as beautiful.


Long Nails With A Nude Brown Color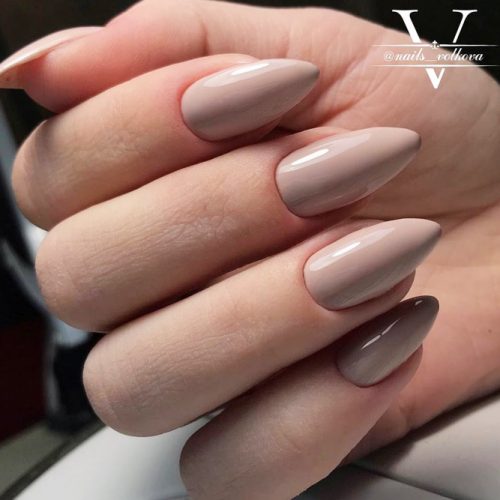 If you're in search of a neutral color for your long nails, then pick these nude color nails. While they may be a little on the sharper side, these nails still fall into the shape category of almond nails. This is one of the most popular designs and length for nails. Although there are some cases in which you will see much longer nails, this does happen to be the most popular length when it pertains to long nails.


White Matte Nails With Flowers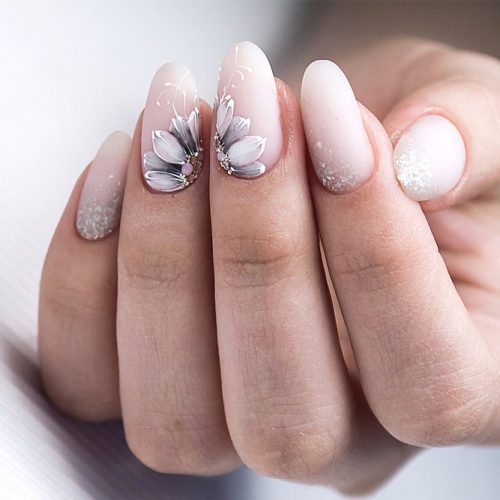 This happens to be one of our favorite nude nail designs. The milky matte color is a uniquely interesting feature that looks absolutely stunning. This particular design may be great for a wedding due to the flower design that has been incorporated into the artwork. The other fingers have slight embellishments as well, which adds to the beauty of the nail design. The matte nails design has become increasingly popular, almost pushing the high gloss look completely out of circulation.


Beautiful Glitter Nude Nails Designs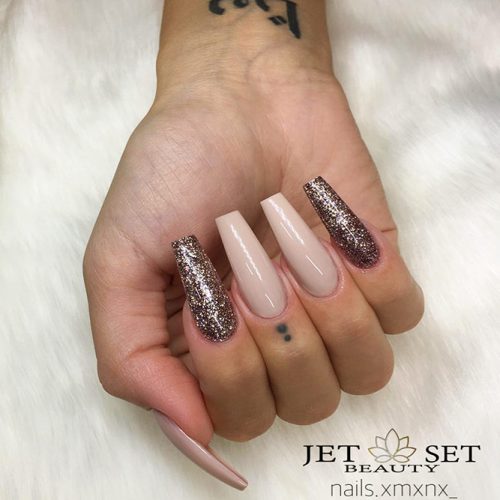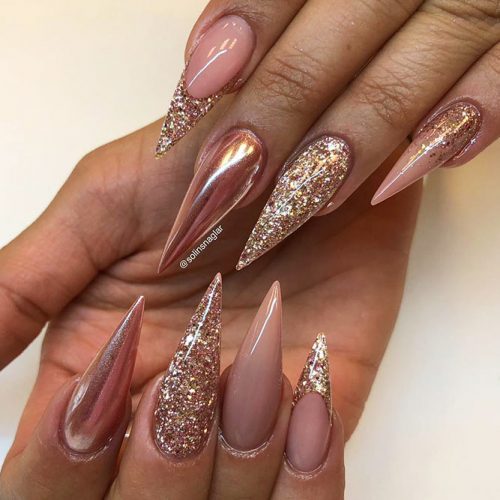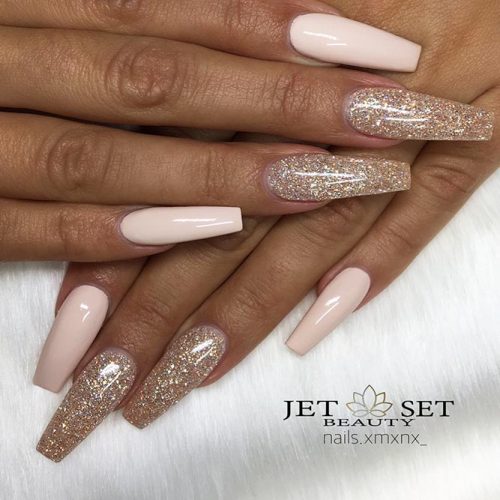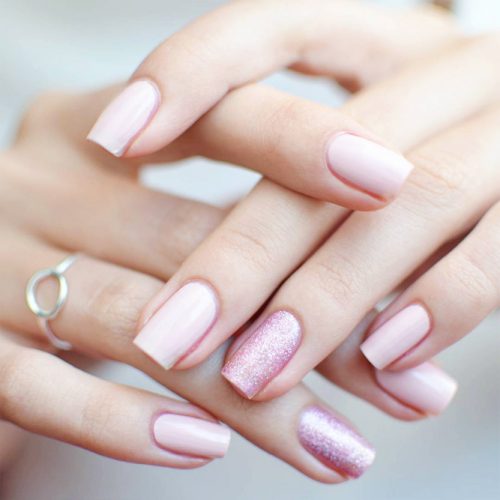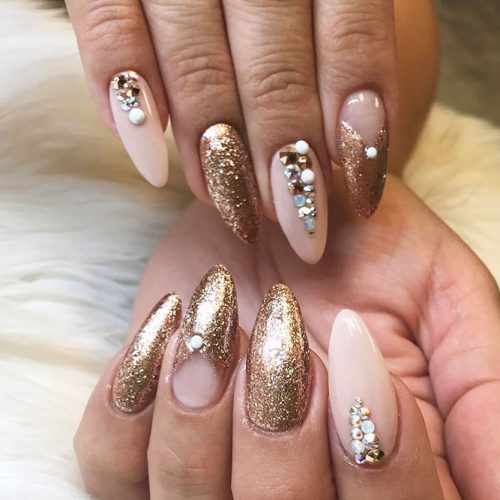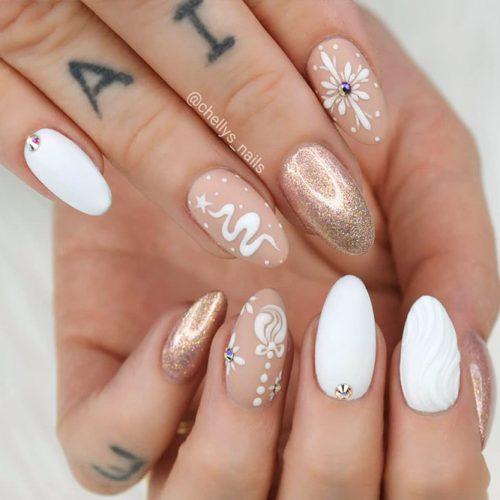 Glitter nail lacquer is your best bet if you wish to spice things up a bit and make your manicure in nudes be a bit more fun. Glitter accents are perfect for this kind of job. Plus, your mani will appear more glammed up.


Nude Nails with Rhinestones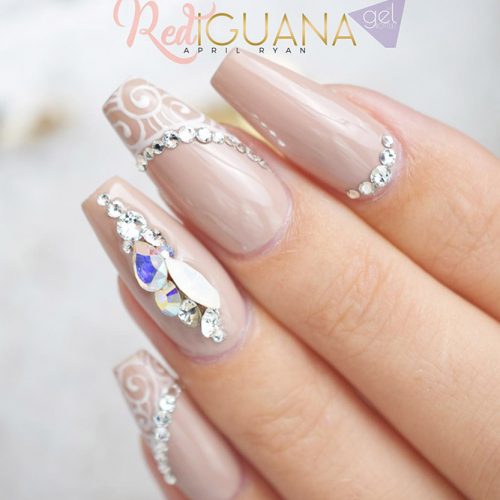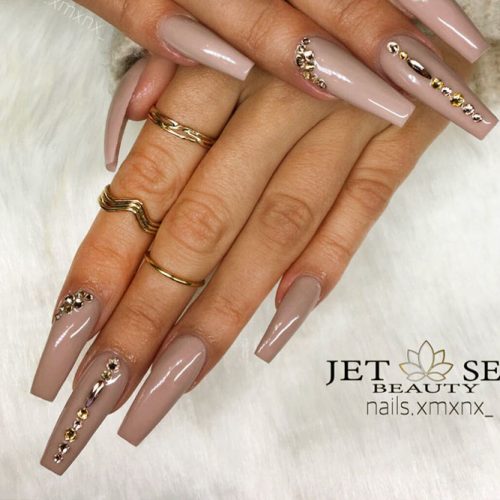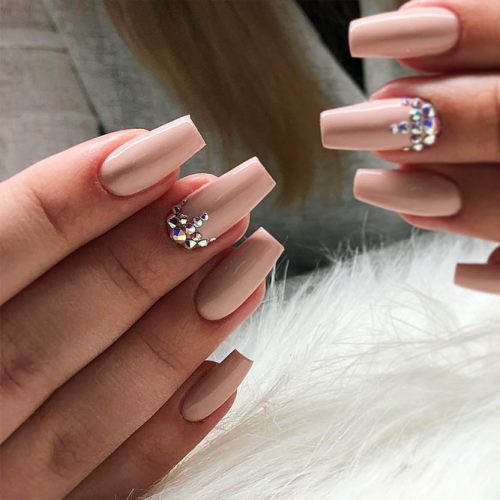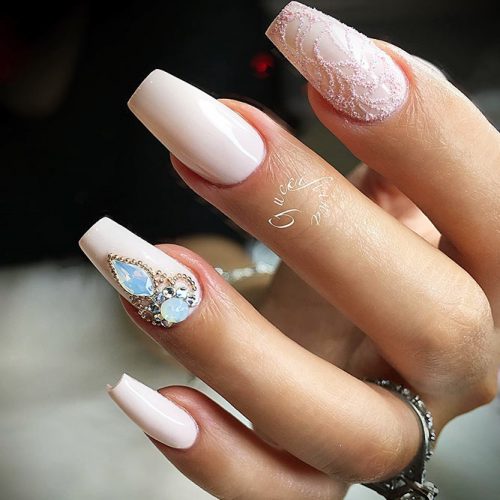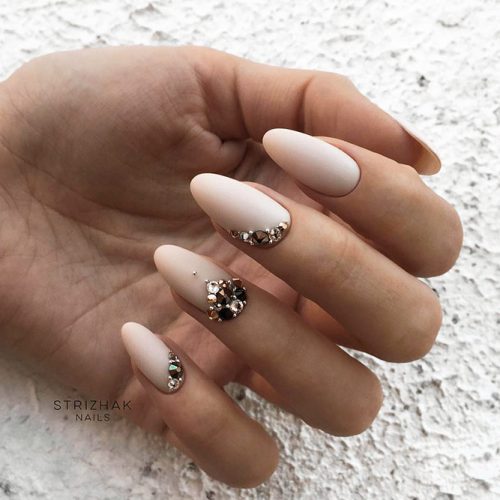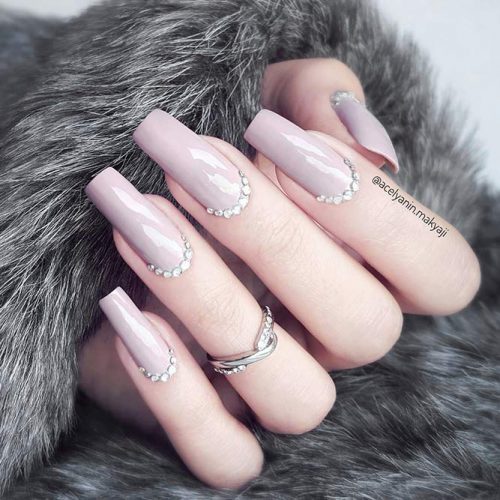 Rhinestones are capable of making your nude nail art sparkle with sophistication and taste. The less formal the occasion is, the more rhinestones and gems can be added for extra shine.


Incredible Matte Nude Nails Designs Ideas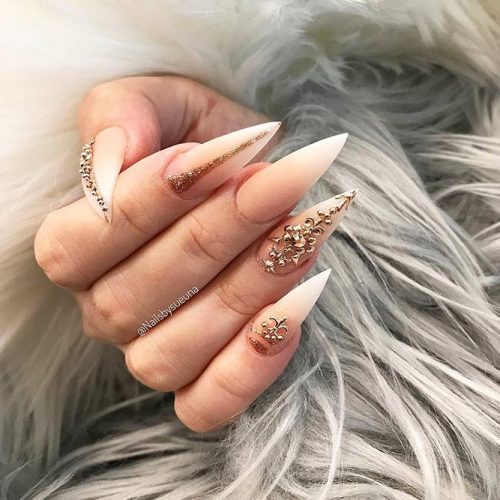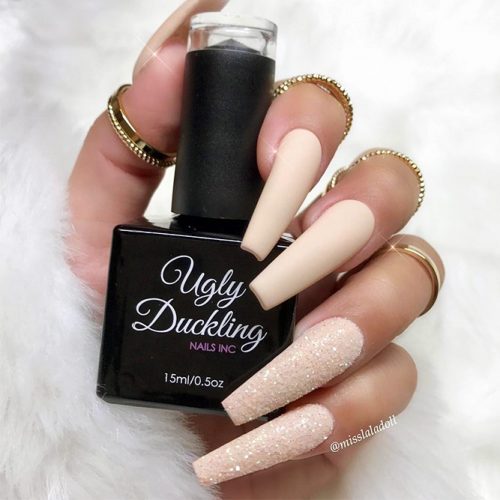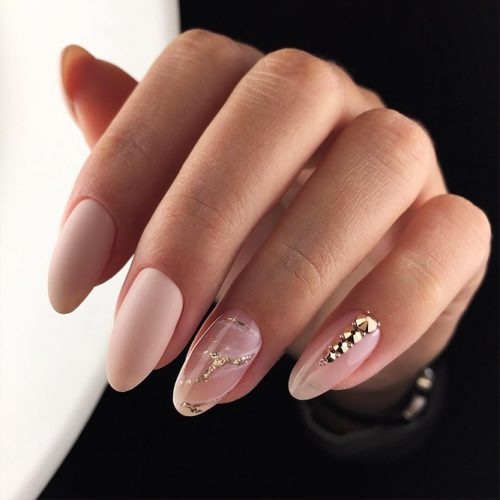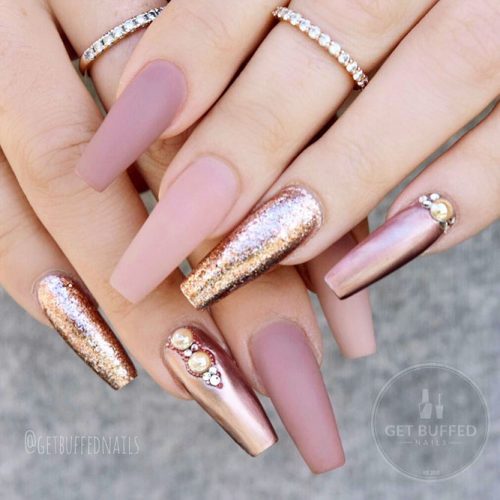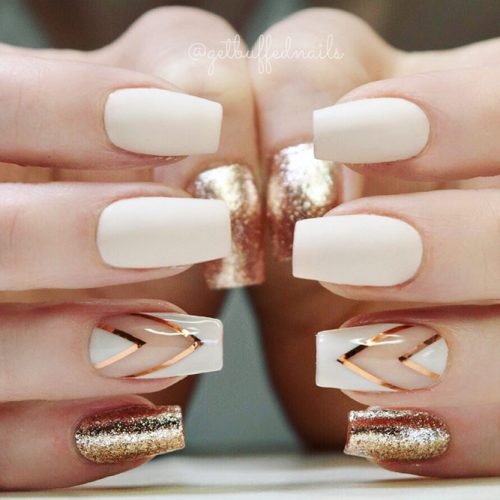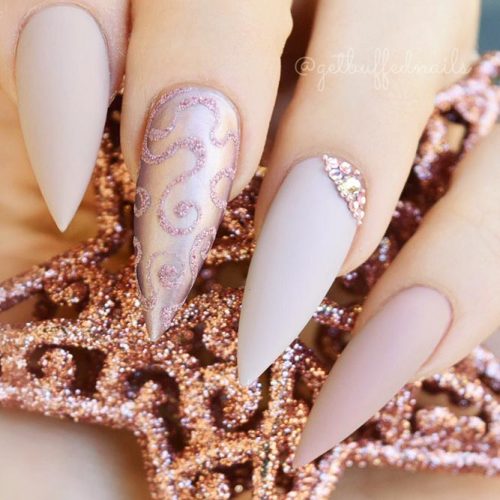 Matte nail lacquer is experiencing a huge comeback, and if you love all things matte, that must be a super pleasant piece of news for you. Add some cute accents for your mani to stand out even more.


Nude Nails with Ombre Design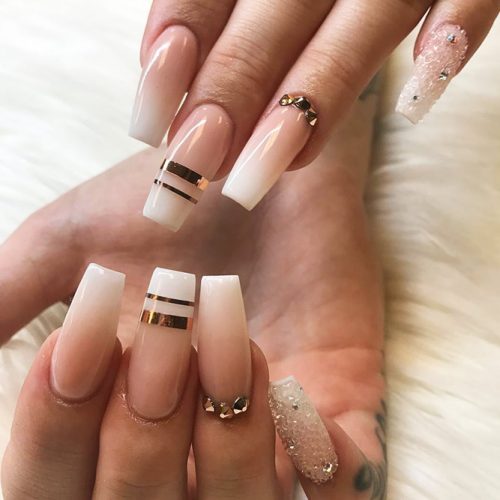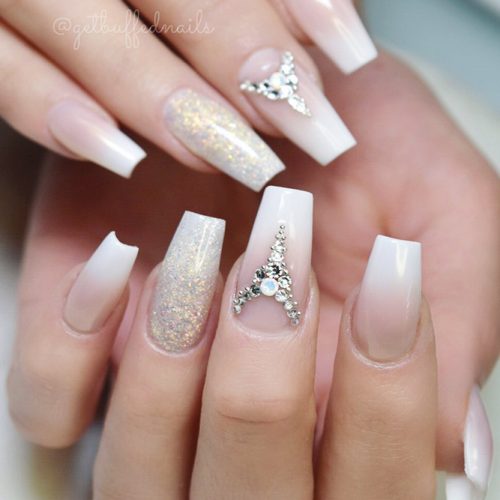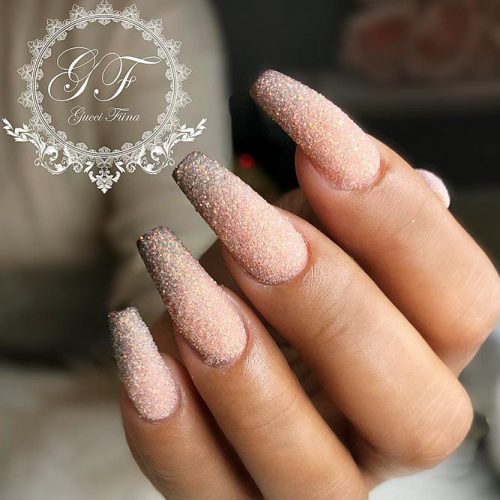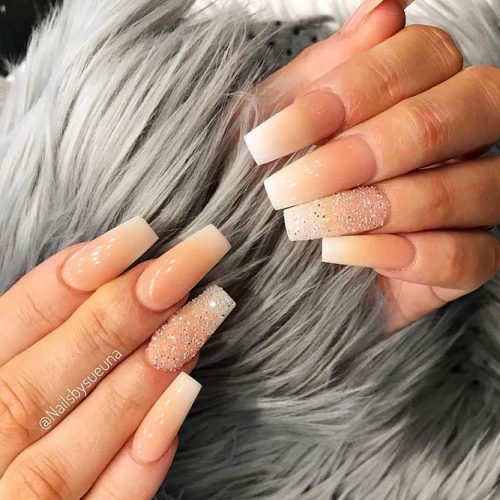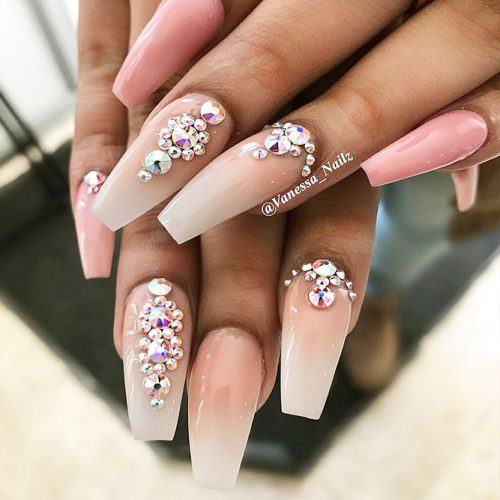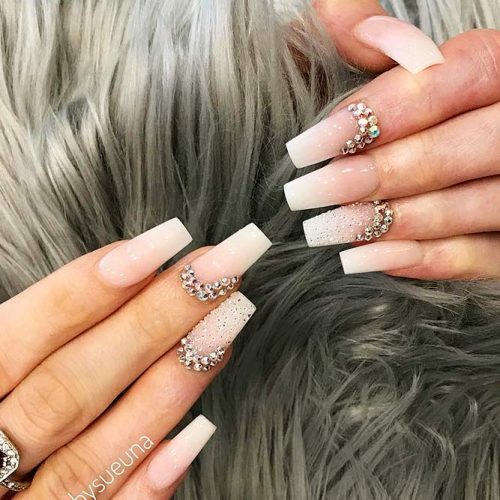 What can be more up-to-date than ombre nail designs in nudes? If you have not noticed, ombre is everywhere today when it comes to the elements of your image, and your manicure is not an exception.


Super Easy Nude Nail Designs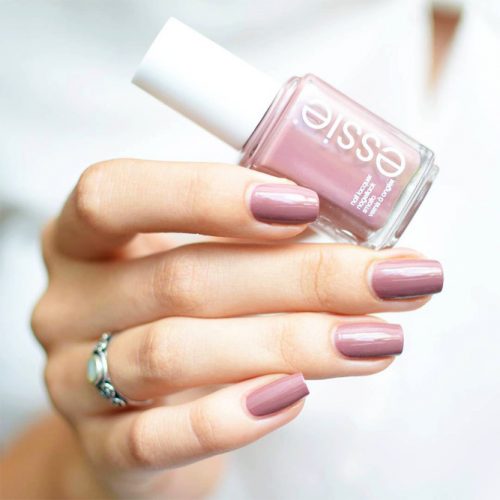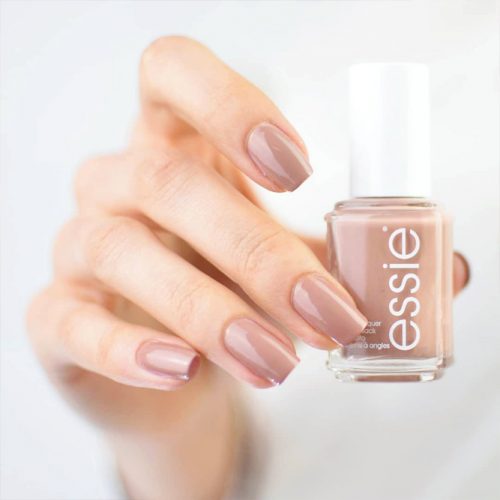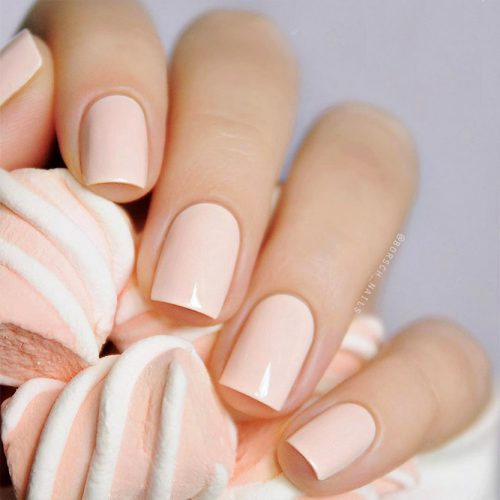 So, aren't these nail art ideas in nudes exceptional? Come back for more inspiration! We always have something for you.


Nude Nails Designs: Video Ideas
Source:
Glaminati.com