Ballerina nails that are also referred to as coffin nails are stiletto nails in their essence, but they have a square but not a pointy tip. People started to call this nail shape 'ballerina' due to its resemblance to a slipper usually worn by ballerinas. And darker souls noticed that this shape looked like a coffin, that is why they commenced using this name.
Ballerina Nails Designs To Enhance Your Manicure
Why is coffin among the best nail shapes? First of all, this shape makes a woman's fingers visually longer. And second of all, this shape is a great canvas for various nail art designs. That is why many women choose to sport coffin nails.
Now let's discover cool and trendy ways of rocking ballerina shaped nails.


Sparkling Ballerina Nail Designs with Stones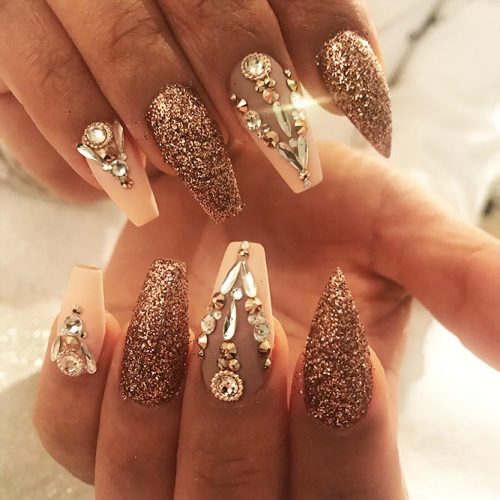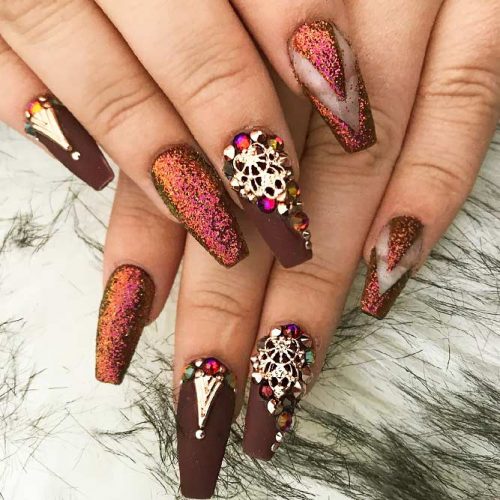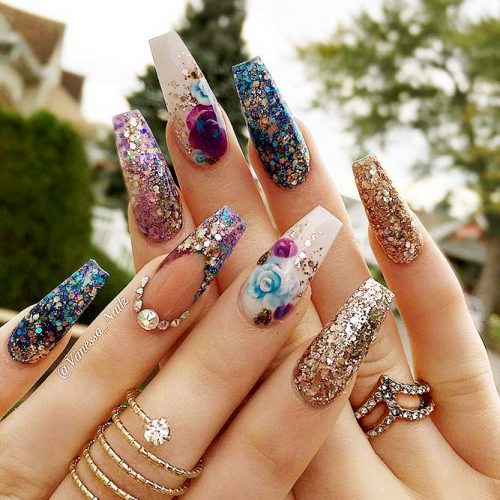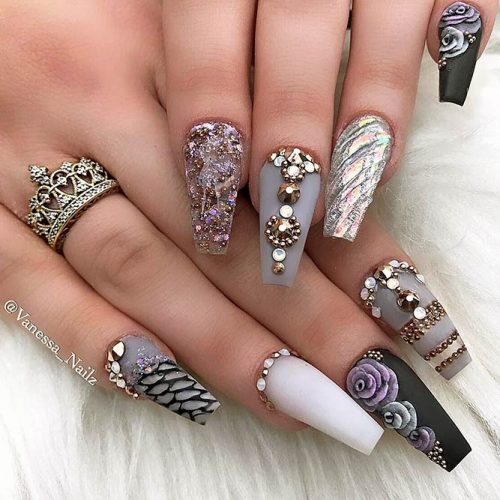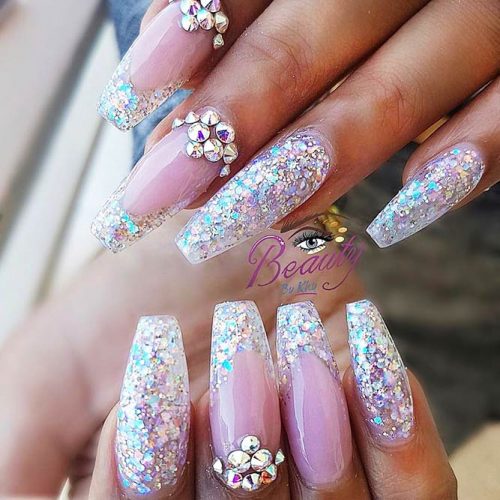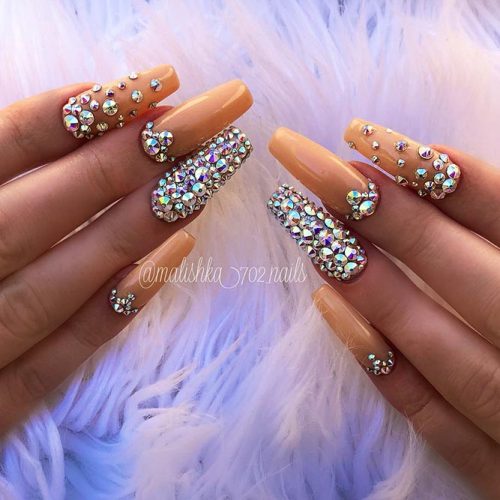 When discussing the ballerina nails shape, it is crucial to start with learning how to get it. And this simple tutorial can help you do that.
To get the ideal coffin shape, you will need acrylic powder, an electric drill for nails, nail lacquer of the color you like, an acrylic brush, a nail file, and lint-free cleaning pads.
Achieve a square. Tilted sides and a flatter top are peculiar to ballerina nails long. To get this look, begin with square-shaped nails. In case your nails are currently short, it is possible to get such a shape with the help of acrylic powder. With acrylic, you can adjust the length of your nails however you wish.
Trim nails on the sides. Considering that tilted sides is what you need, a nail requires trimming on its upper sides. A drill can help you do that (a hint: a drill can be replaced with a special emery board). The drill must be in the low mode and placed at an angle to tilt a nail. For a flat tip to look straighter, trim it too.
Refine the shape, using a nail file. In case you work with acrylic, now your task it to even out it with a buffer. A nail file will help refine the shape of a nail. Mimic the necessary shape when buffing.
Paint the nails. Is the ideal coffin shape achieved? Now wipe off all fragments, using wipes (note that you can replace wipes with cotton pads soaked in alcohol). Massage the nails, using any nourishing oil or special cuticle oil. Finally, paint the nails with the chosen shades.
Here you can see some inspirational ideas how to embellish your ballerina-shaped nails with glitter and stones.


Fast And Easy Ballerina Nails Ideas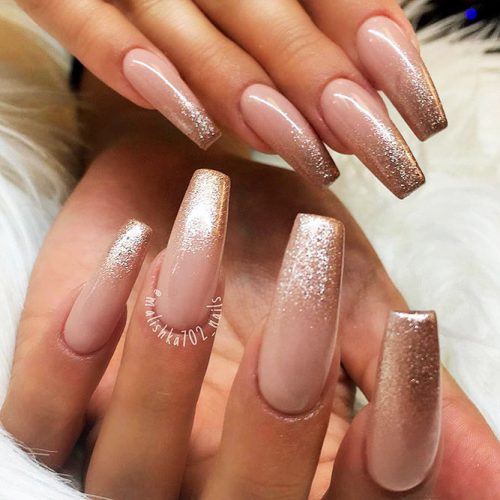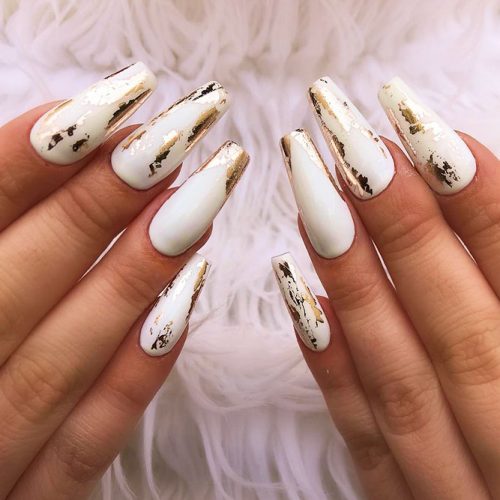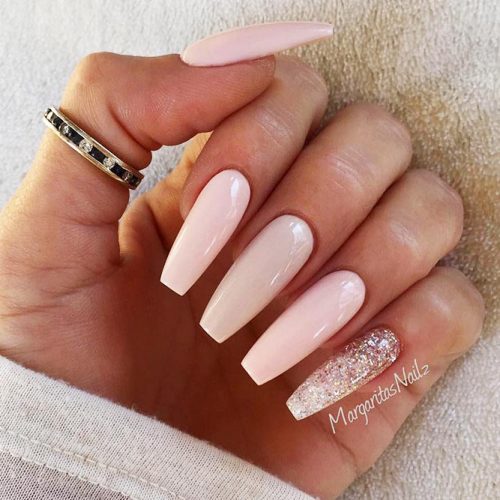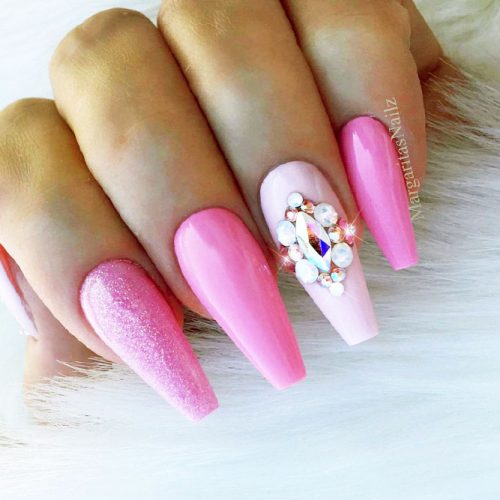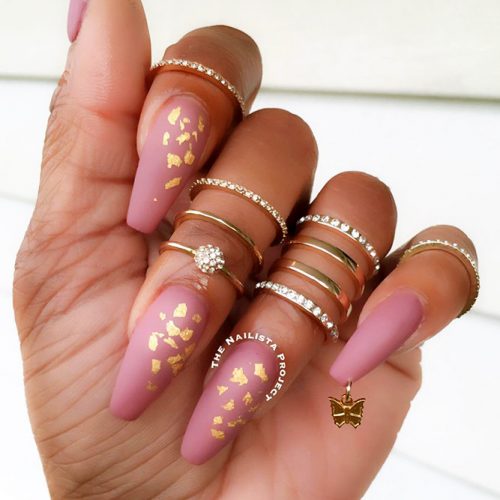 Considering that ballerina shaped nails are already exquisite as they are, you do not have to go for some super extravagant nail art ideas to enhance them. In fact, there are many simpler nail designs that won't look worse. Plus, simple means not time-consuming, so it's a win-win.


Bright Glitter Designs for Ballerina Nails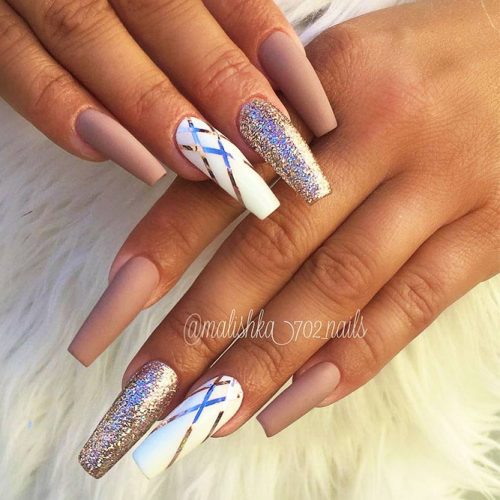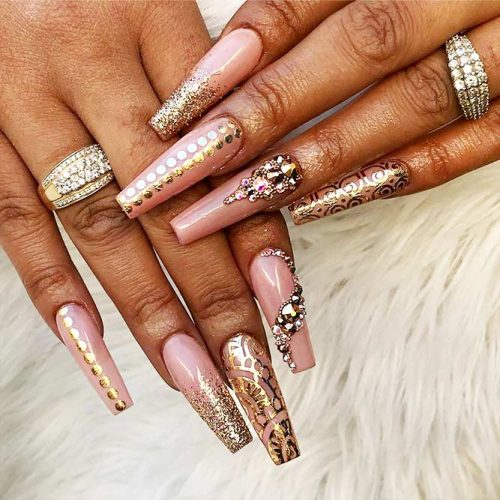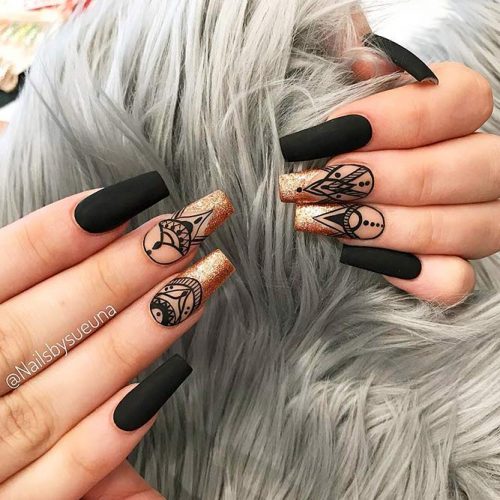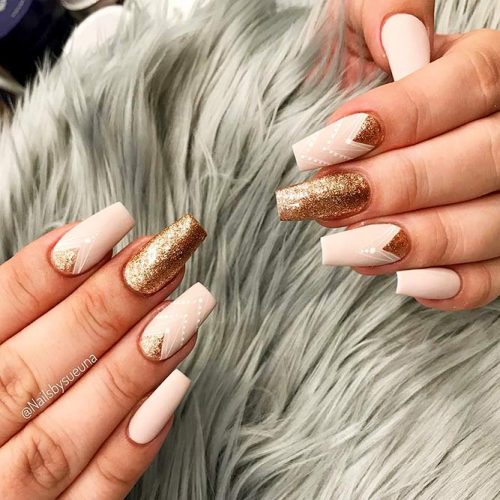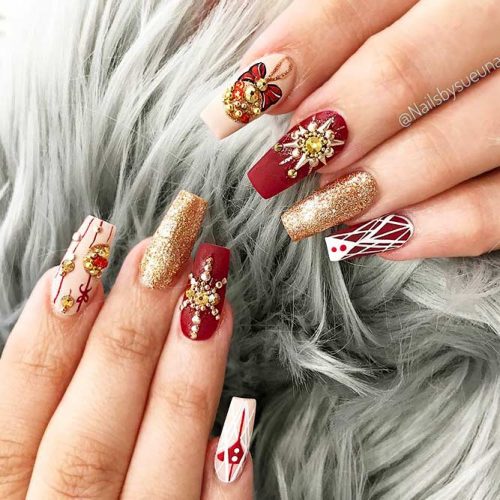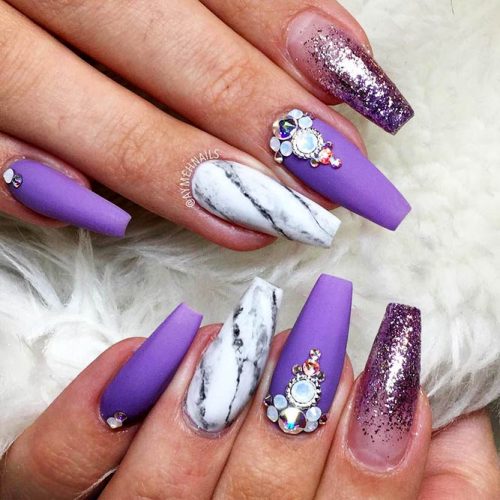 Glitter ballerina nails look quite glammed up and otherworldly beautiful. Glitter can instantly brighten up every move you make. And really, who doesn't adore nail art with glitter? Plus, the glitter application is quite easy. The ballerina nails designs that you can see here are a bit more elaborate, comparing to the designs done with several nail polish shades. While you can always buy sparkling nail lacquer, there are tricks that can allow you to get more shades than simple glitter nail lacquer can grant you.
And here you can see more nail designs with glitter to copy.


Matte Ballerina Nails for a Classy Look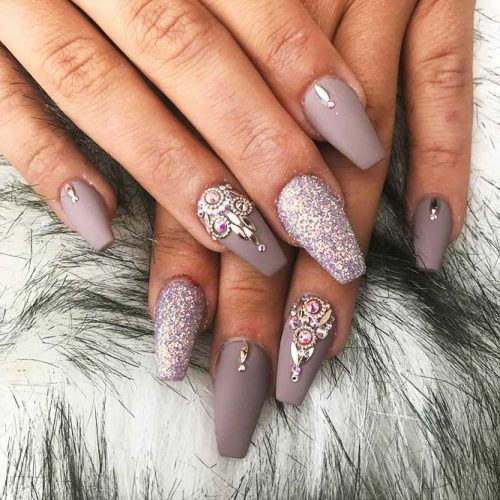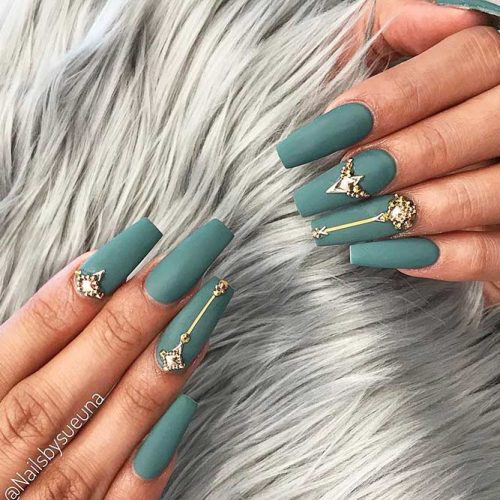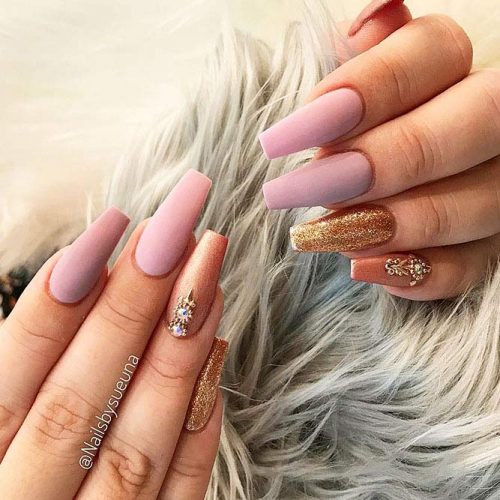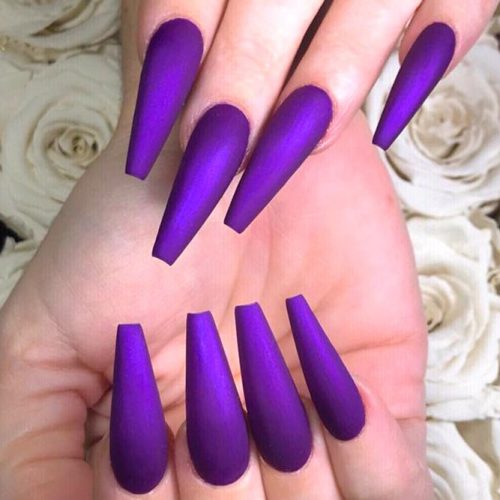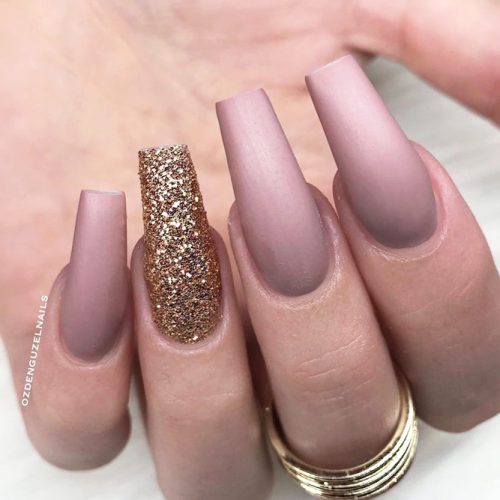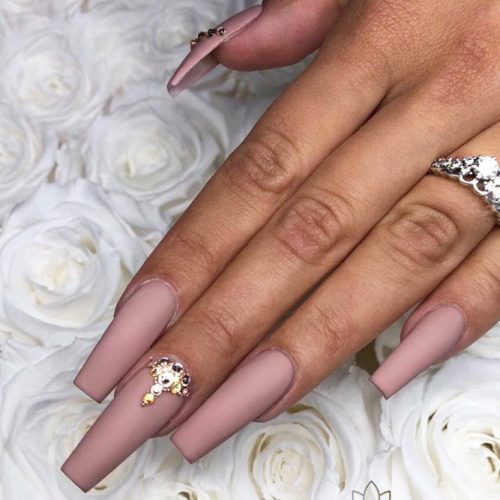 Ballerina nails matte look extraordinarily elegant. Starting from 2009, matte manicure becomes more and more popular. Back then, nail lacquer powerhouses launched the matte variations of the most famous hues. That was the moment when neither casual mani-getters nor obsessed bloggers could ignore this trend any longer. Plus, people adore versatility. Today most nail lacquer powerhouses offer top coats that can mattify any hue, which is much more convenient than having to purchase a bunch of matte nail lacquers in different hues. Sometimes when a color stops shining, it reads more sophisticated, and matte top coat can grant you this effect easily. Manicurists advise applying the mattifying top coat on top of the regular glossy top coat. Thus, you can avoid getting an uneven application. And the great news is that matte finish tends to dry super quickly.


Newest Cool Ballerina Nails Designs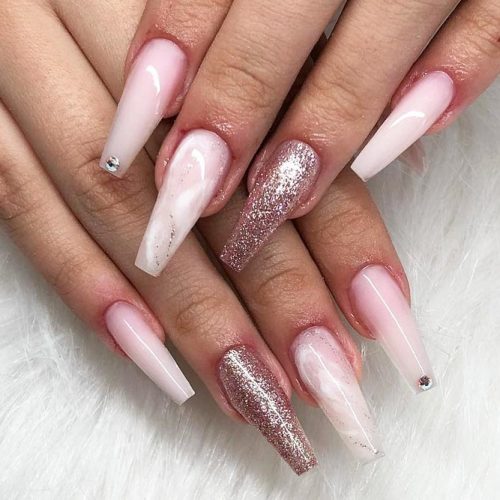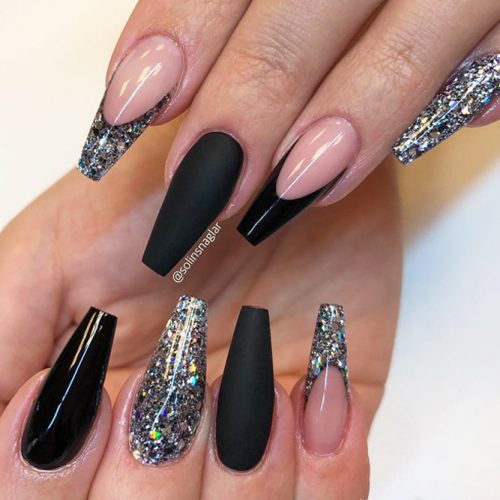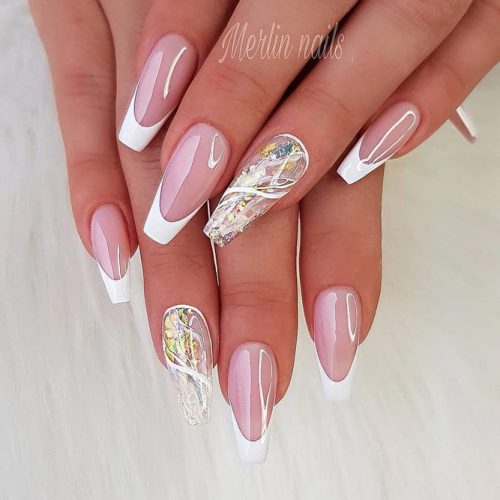 For example, begin with the application of base coat. Pick the shade that won't be seen through top coat. Let it dry and continue on with applying the nail lacquer. Now mix eyeshadow glitter with the nail lacquer for the powder glitter look. Dip a brush into this mixture and apply it midway your nail and towards its tip for a unique glitter ombre effect. Once this layer is dry, apply top coat.
Now you are aware of such a big number of ways how to enhance your ballerina nails that you will never get bored. Come back every time you are searching for something new and inspiring.


Ballerina Nail Designs: Video Ideas
Source:
Glaminati.com