Stiletto Nails are becoming quite the trend for those who love elaborate nail designs! Thanks to celebs like Lady GaGa, Fergie and Rihanna for bringing back this popular style from the 1950's and 60's. More and more women are opting for this bold new look!


And for those who don't want super-long nails, stiletto nails don't have to be extremely long. You can alternate these stiletto designs to suit shorter nail lengths. The best part about this style of nails is that it is extremely versatile.
1. Totally Tie-Dyed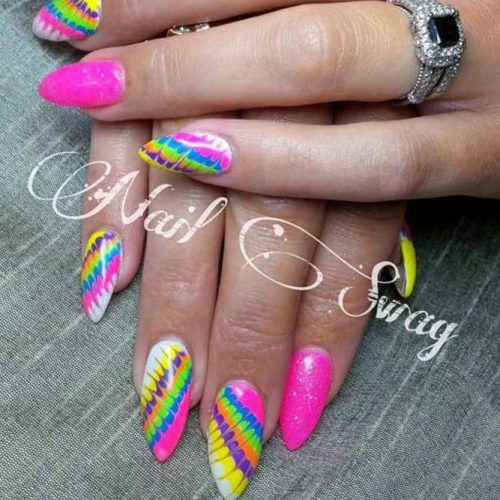 This bright tie-dye design looks totally rad with these nail gems!


2. Princess Glitter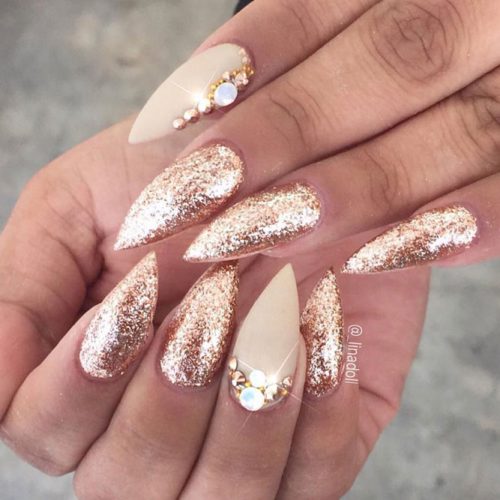 You'll look like you just stepped out of a fairy tale with these pretty nails that look as if they were delicately dipped in a pot of gold glitter.


3. Royally Regal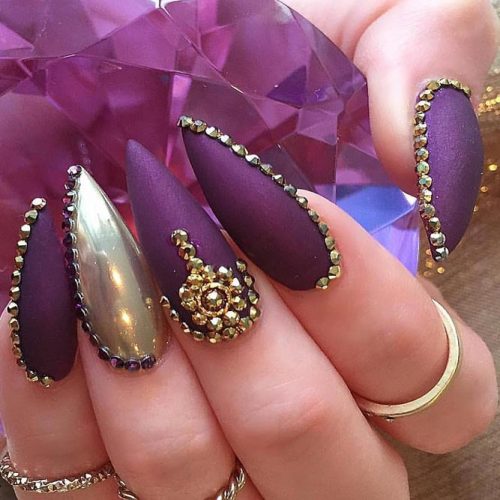 This stunning purple with golden rhinestones will make you look and feel like a queen about to greet her court.


4. Kitty Claws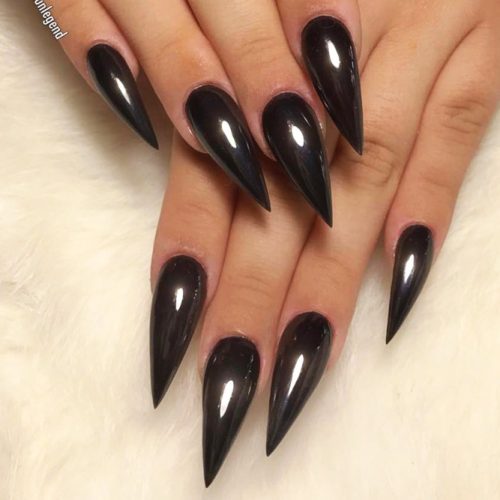 This look is perfect for all those "Crazy Cat Ladies" out there. With this mischievous look, you will be ready to strike your prey at any moment.


5. Pretty In Pink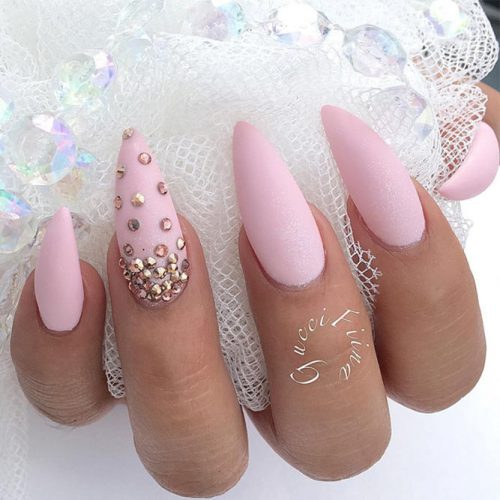 These stunning pink solid nails are perfect if you want to show off your favorite ring.


6. Awesome Ombre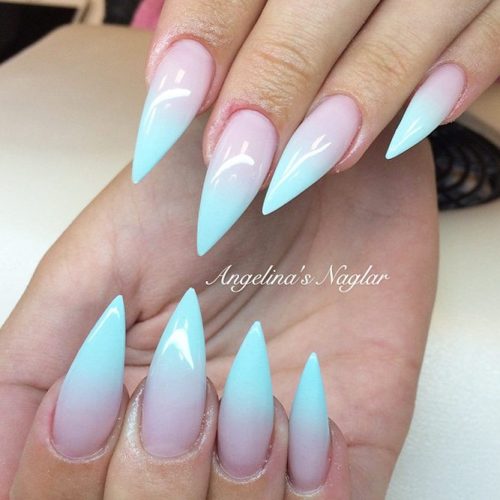 This fading ombre effect looks especially stunning on stiletto style nails.


7. Forever Flowers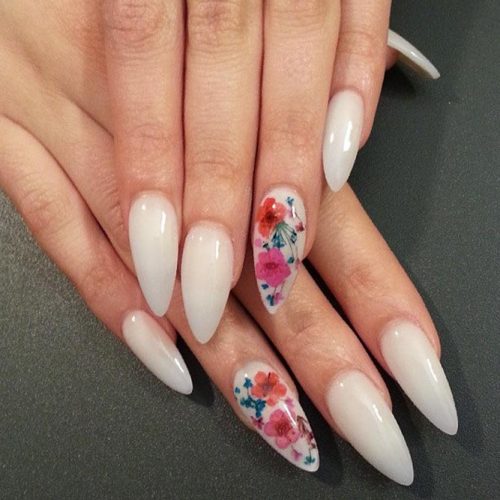 This floral design is perfect for Spring and Summer!


8. Sand Art Long Stiletto Nails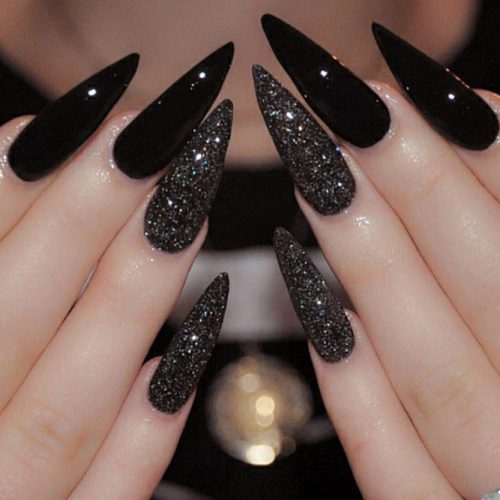 This sand-art inspired design just screams for a day on the beach!


9. Dark and Moody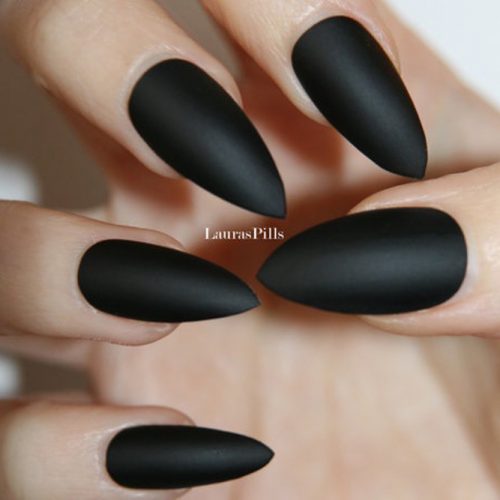 This dark black matte look will show off your innermost feeling of darkness and gloom for a totally emo vibe.


10. Nail Bed Art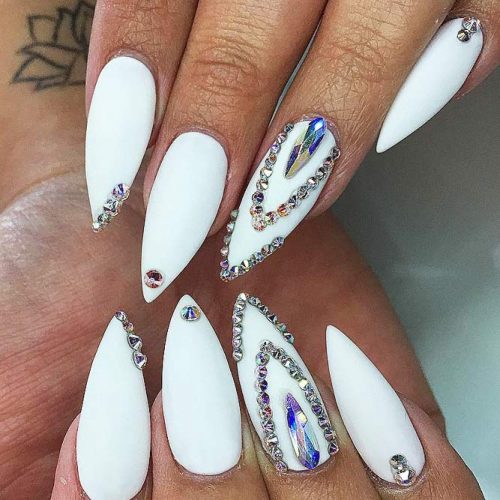 With this stunning cluster of gems at the nail bed, you'll be ready for a fun night out on the town.


11. Simply deVine Stiletto Shaped Nails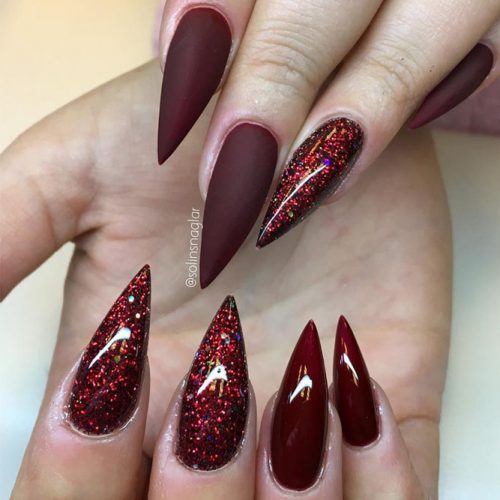 This intricate design of twisting vines is quite impressive


12. Ravishing Red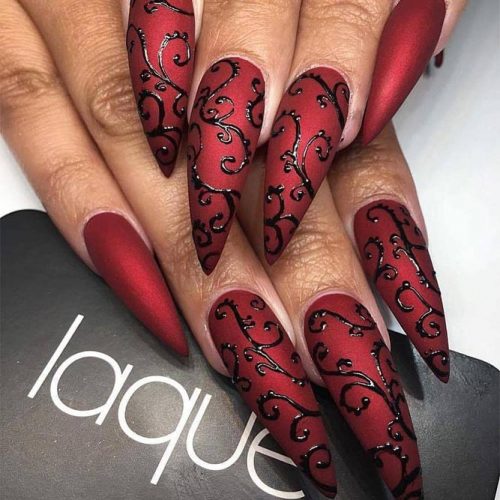 These metallic red nails are perfect for Christmas or Valentine's Day.


13. Halloween Nails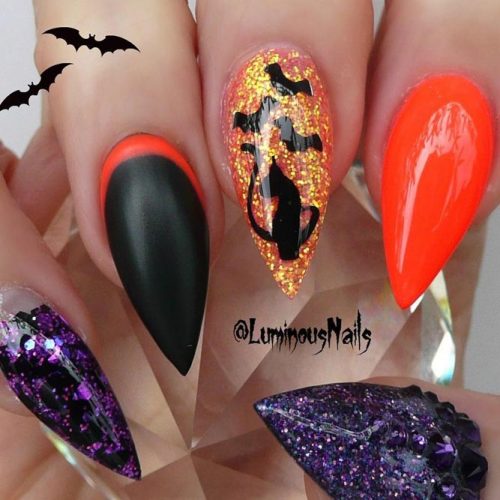 We love this alternating orange, purple and black design, especially the black cat on the ring finger. If cats aren't your passion, opt for a pumpkin, a witch's hat or a ghostly design!


14. Glitter Glam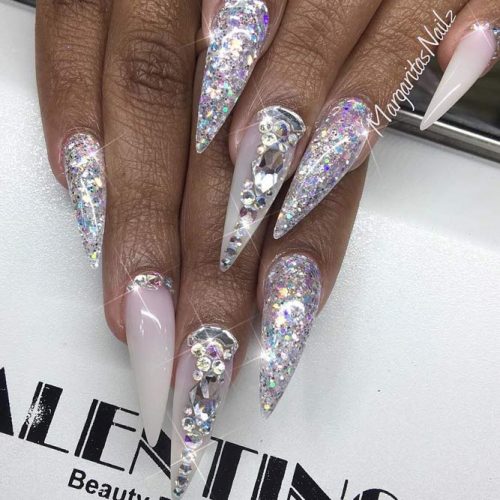 This brilliant metallic glitter design makes quite a statement if you love bold colors.


15. Electric Blue Sexy Stiletto Nails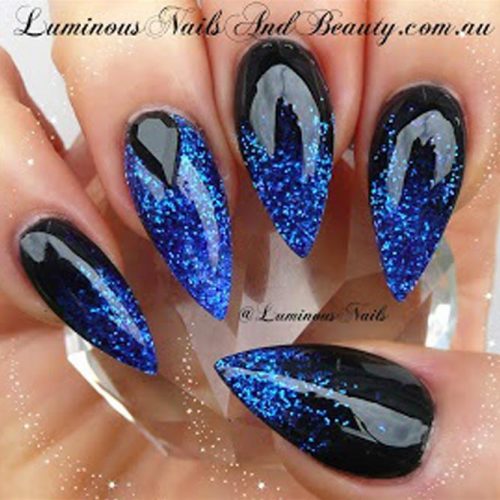 These dark blue tips on a black base are quite elegant and stylish.


16. Pretty Pastels Medium Length Stiletto Nails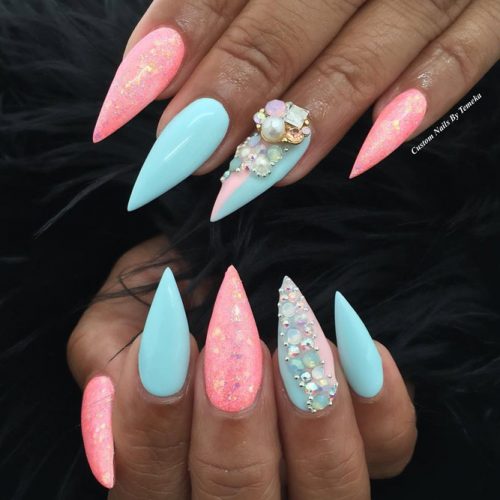 Try a different pale pastel color on each nail for a soft and feminine look that is perfect for summer days.


17. Hearts Abound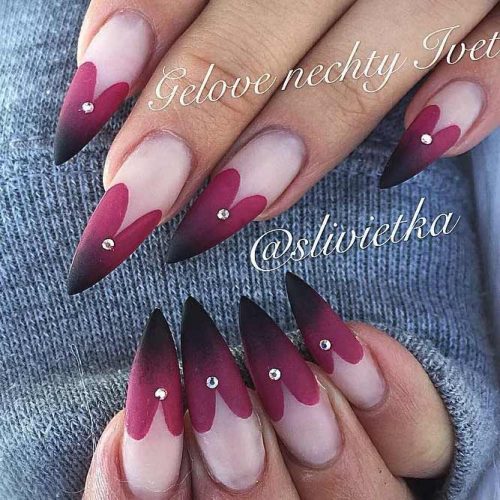 These heart tips on a soft nude base are quite romantic.


18. Leather and Lace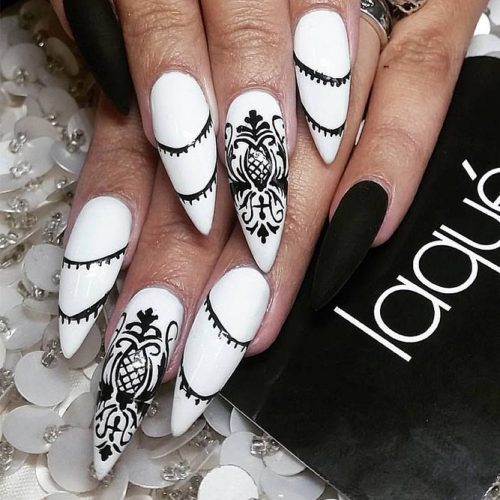 This delicate black lace design on white nails is delightfully demure.


19. Golden Half Moons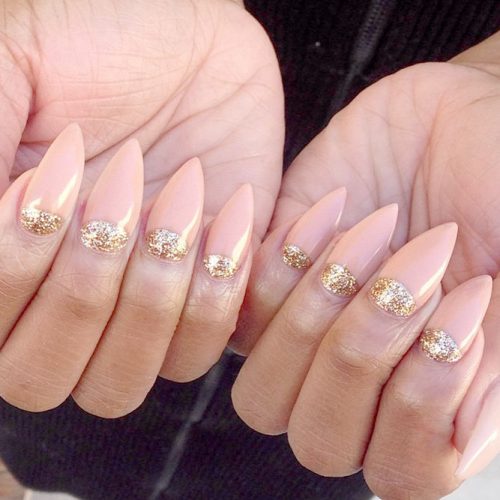 These sparkly gold half moons on a soft pink base are just dazzling.


20. Black and White Stiletto Acrylic Nails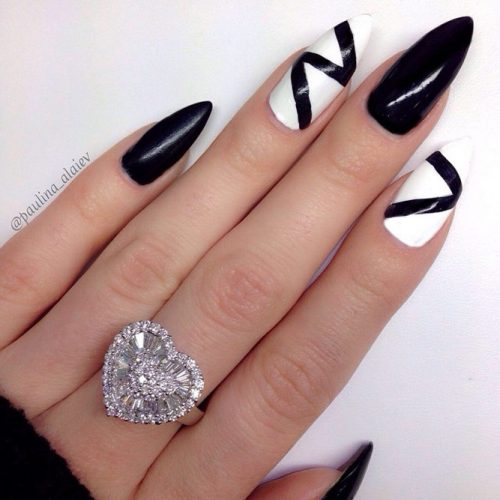 If you want a simple, yet elegant look, these black swirls on a white base are classy and fashionable for any occasion.


21. Purple Chrome Stiletto Acrylic Nail Designs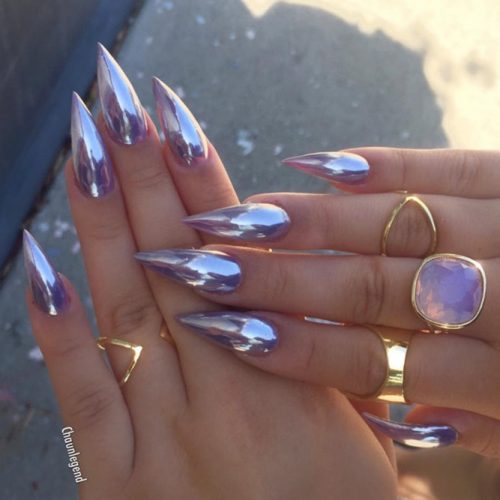 Choose a magic chrome nail design that will demonstrate actual glamour and sparkle.


22. Mix Nail Designs for Stiletto Nails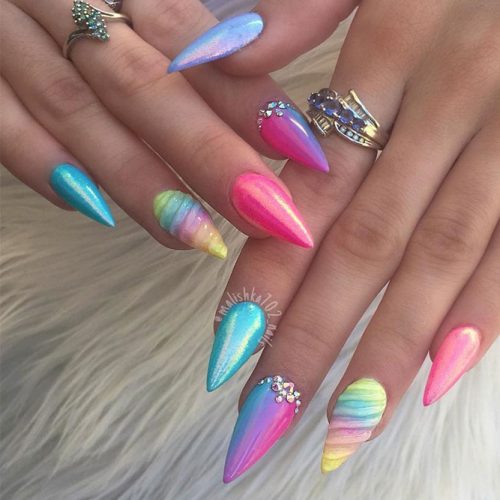 We love this mix of designs. Glitter, rainbow, chrome, ombre, unicorn – all these create the perfect mani for summer.


23. Black Cherry Simple Stiletto Nails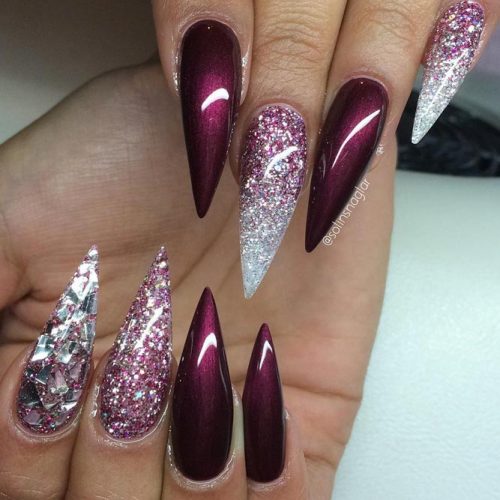 Perfect depp cherry color with blended glitter will make your mani amazing!


24. Glitter Ombre Nail Design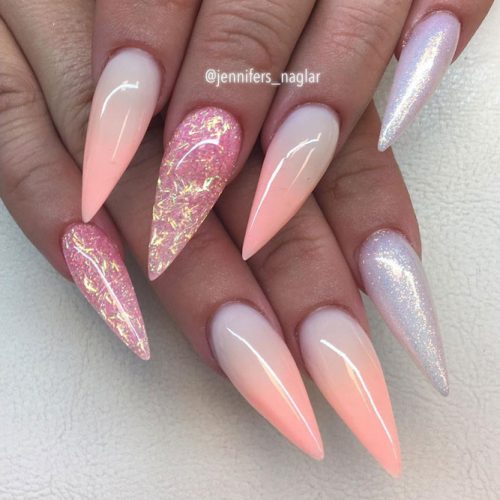 If you like creative ombre nail design, you can add some fresh glitter to your mani. Pink frosted art is super modern this season.
Here are some tips/suggestions for stiletto designs for nails:
1. Solid color stiletto nails are a great starting point for beginners, until you become more experienced with design options. And solid color nails are always classy!
2. Stripes and polka dots make for a fun and playful look.
3. Rhinestones and nail jewels are a great way to make your stiletto designs pop!
4. Mix and match complementary colors on alternate nails.
5. Matte nails are very popular at the moment.
6. Painting a design on one finger only adds a look of sophistication to this trendy style.
7. Add French tips to make any stiletto design stand out. Gold or silver tips are always an elegant look.
8. The "half-moon" look is making a comeback.
9. Change up your stiletto design to match your wardrobe or your mood.
10. Nail art tape is a great way to make all kinds of fun designs.


Stiletto Nail Designs: Video Ideas
Source:
Glaminati.com