Meet almond shaped nails! This nail shape is named 'almond' because it resembles the shape of an actual almond – a delicious nut that has a brown color.
The almond shape is considered to be among sturdier nail shapes because its tip is not too pointy. And this shape is usually done on longer nails, thus creating the real canvas for various nail art.
Now let's discover trendy and eye-pleasing nail designs that will work great for almond nails.
Nail Art Ideas That Work Great For Almond Shaped Nails
Beautiful Nude Almond Shaped Nails
First, let's figure out how to get the almond nail shape.
Find the center point of the nail and mark it. When you begin filing, do it towards the marked point, at an angle of 50 degrees, from one side. And remember that filing in a single direction is a must.
Do the same from another side of the nail.
Go on filing the tip and angular corners to get the U-shaped appearance. Once you get the desired shape, soak your nails in warm water for several minutes, dry with some paper towel, and apply special oil for nails. Now your nails are ready for the nail art application.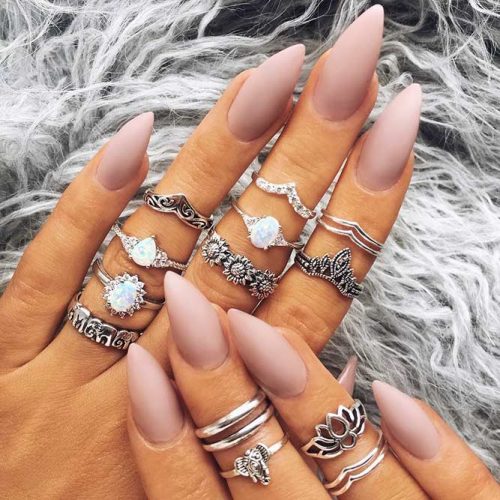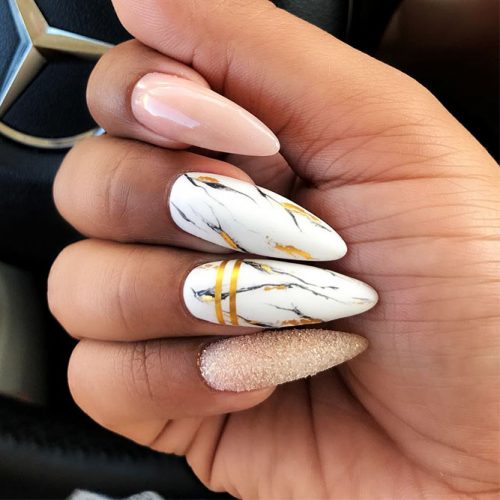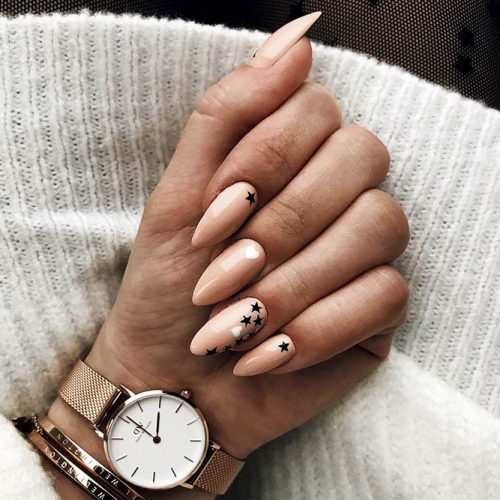 Keep in mind that almond nails long require some maintenance. You might need to get touch-ups often, especially in case your nails grow round or oval naturally. However, if the nails are naturally almond-shaped, then simply file them one time per week for the maintaining of their length.


The great news is that this nail shape makes a woman's fingers appear slimmer and longer, which is definitely a reason to go for it. Is nail filing not your strong suit? No problem! Just get faux acrylic nails in the almond shape.
Here you can see almond nails design ideas in nudes that appear elegant and sophisticated and will certainly be appropriate wherever you go.
Almond Shape Nails With an Accent Design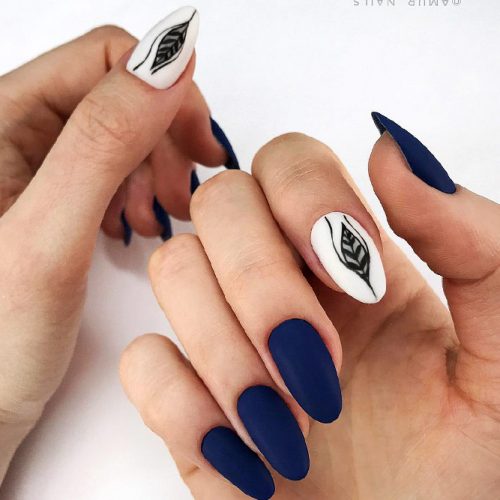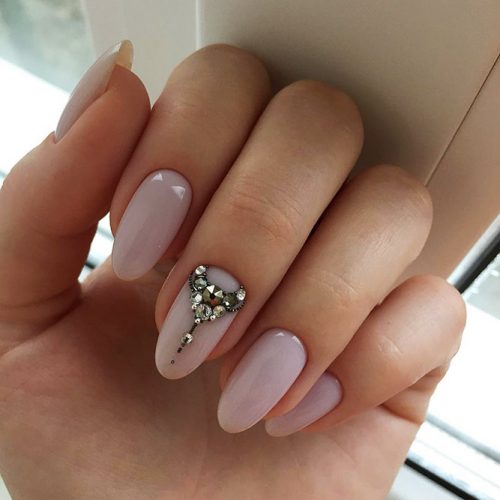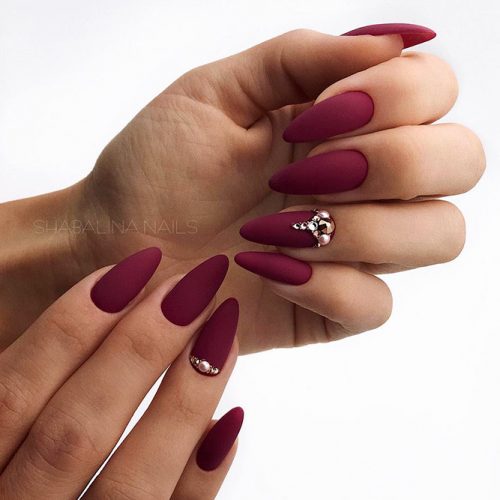 Whether you are getting fake or real nails, your manicurist will ask you about the desirable nail shape and will be very curious about your answer. Do you know why? Because psychologists and especially behaviorists can tell a lot about your personality when looking at your nails. And today this info is easy to access, so many people know what a particular nail shape says about a person. Are you ready to learn the message that almond nails project out there to the universe?
If the almond shape is your go-to, it means that adventurousness is in your blood. However, this urge for adventure is not blind – you never forget about being cautious. Also, this nail shape is a sign of a creative and hip soul who loves standing out and not being like everyone else. Your choices tend to be unique and unusual, yet, rather practical. Your taste is modern, and quality is something that plays a significant role in your life. You will never opt for anything vintage or dated.
Does that sound like you? Well, the debate revolves around behaviorism as a science. So, don't get upset if some of these qualities are not about you. The most important thing is that the almond shape is cool and complimenting. And the nail designs you can see here are simple but look totally awesome when combined with this shape.


Classy French Almond Nails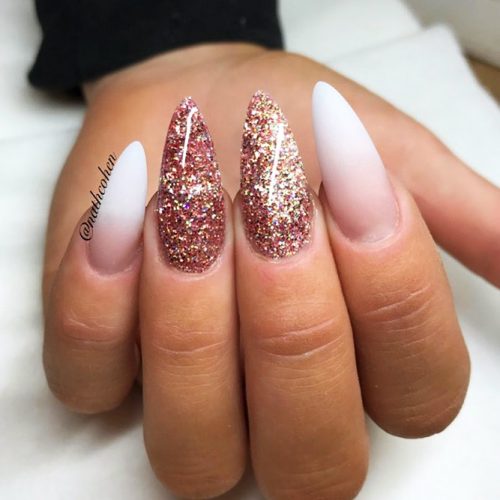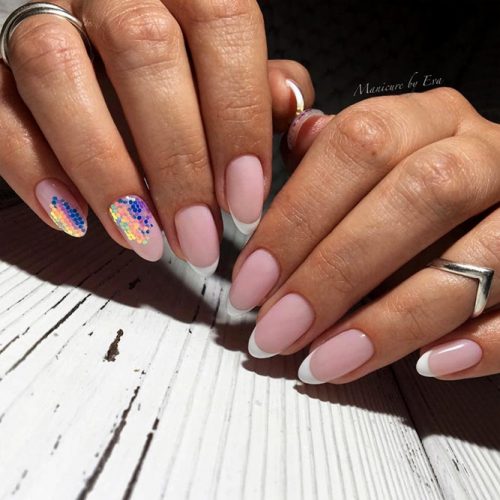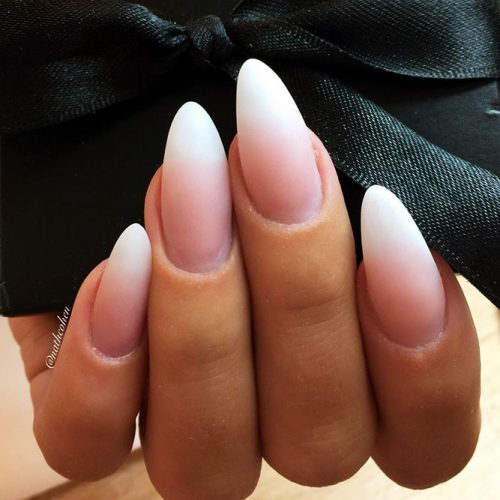 French nail designs are already timeless. Women love them because of their simplicity and ultimate elegance. The classic version is quite minimalistic. However, today there is a huge number of ways how a woman can spice up her French manicure. The traditional French is done in transparent, muted pinks, and soft whites. But you can add the gradient effect or some glittery accents or even bright pops of color – the options have no limits.


Awesome Bright Almond Nails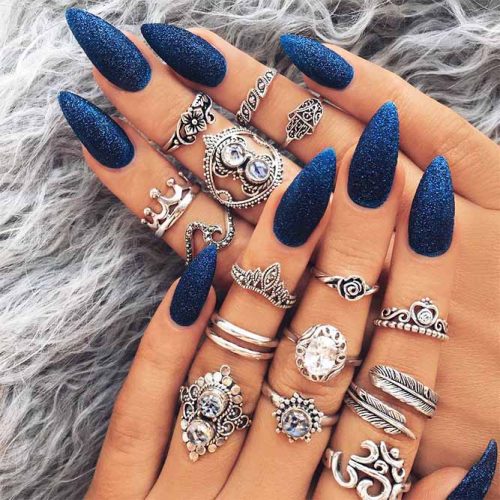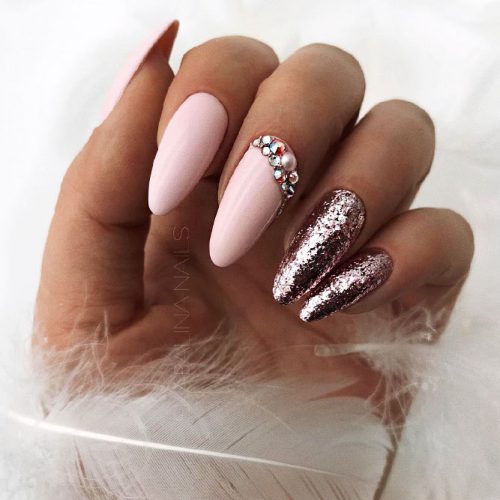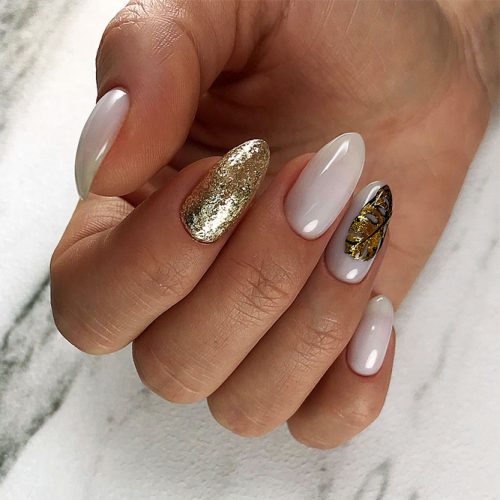 We really love these vivid nail art ideas. They will be ideal for a night out on the town with your girlfriends or for a date with your boyfriend or for a wild partying all night long. That is, you can definitely opt for such mani in case some fun is ahead.
Glitter accents and rhinestones can spice up even the simplest mani. But there is one thing you probably do not know: glitter and studs can help you cover chips and smudges that are, let's be honest here, inevitable. So, you can conceal the imperfections and add some pizzazz to your mani at the same time!


Trendy Designs With Combined Nail Colors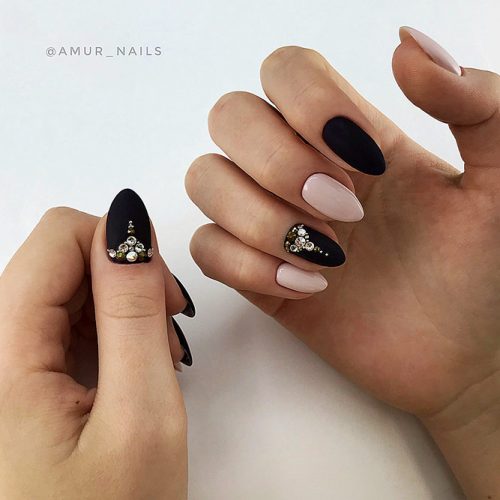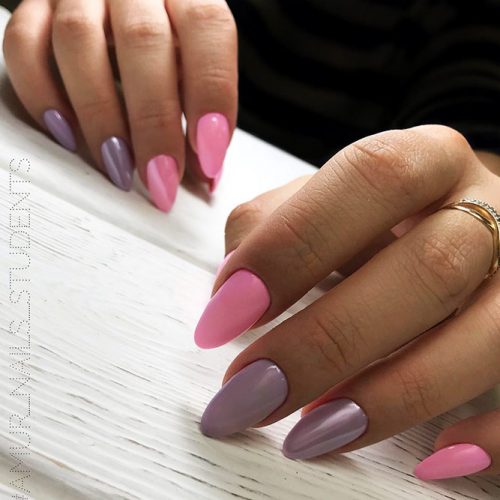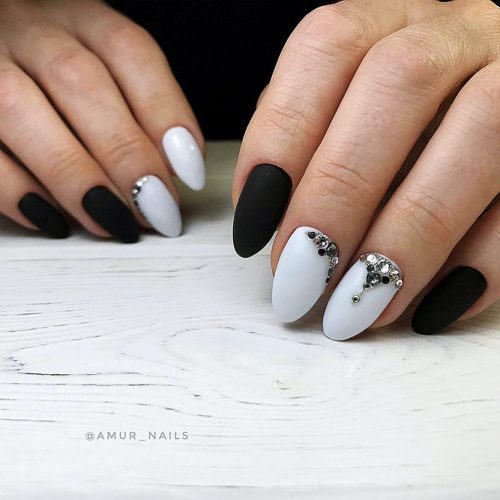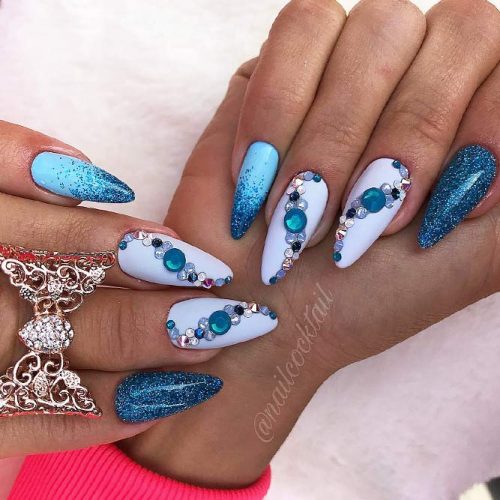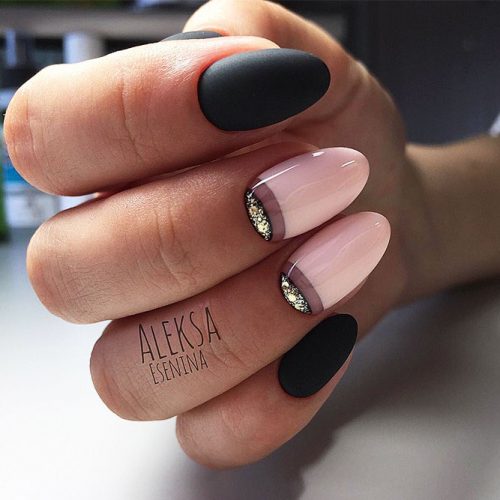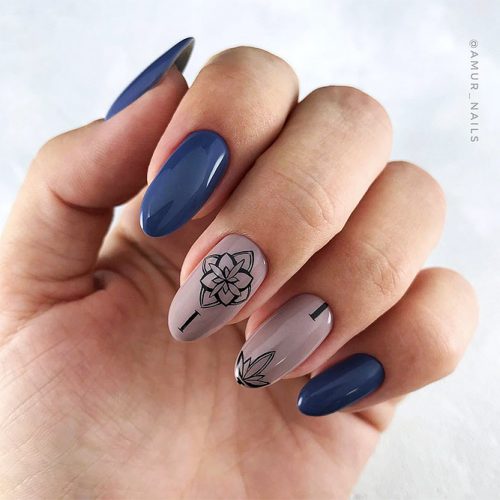 Who says that your mani must be sole-colored? To the contrary, the more colors you involve into your mani, the more outstanding it will look! Although sheer mani is something that never fails to be appropriate, multi-colored nails – it's something heart-warming and eye-pleasing. So, why not enhance the color palette?


Matte Almond Shaped Nails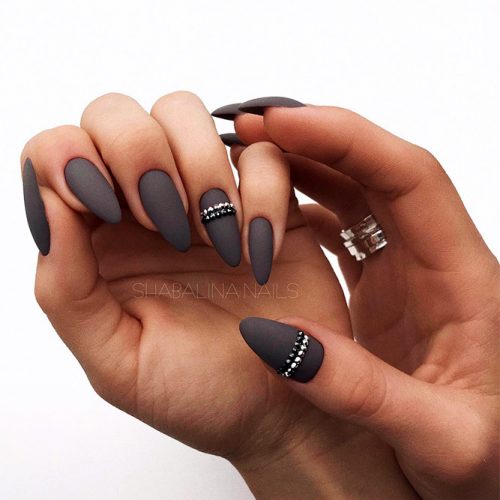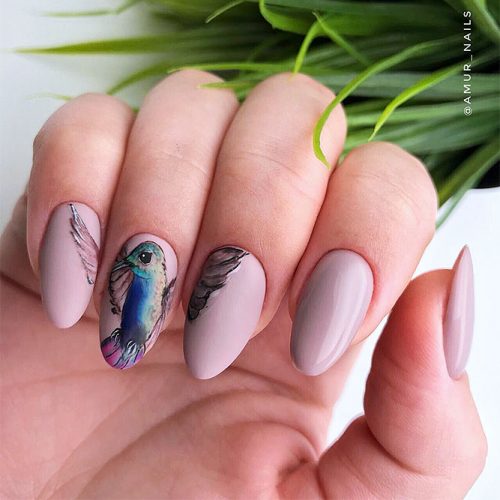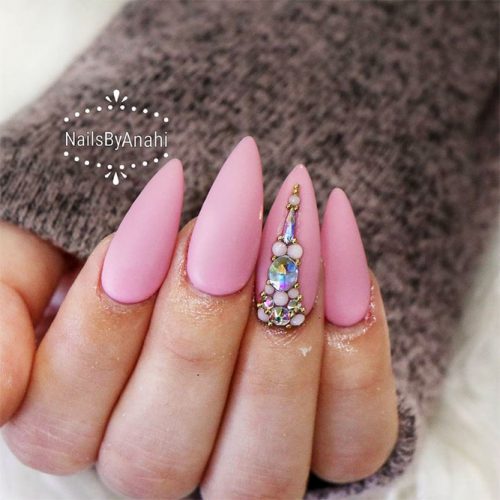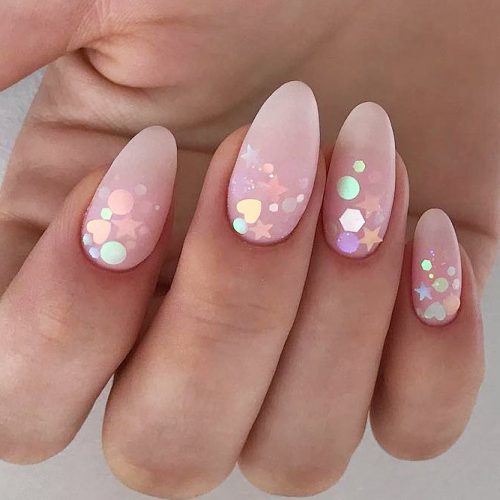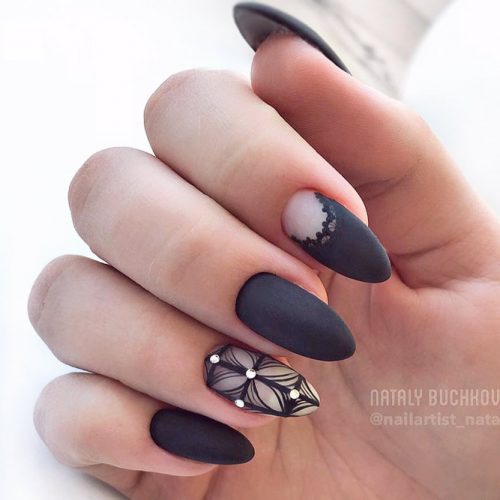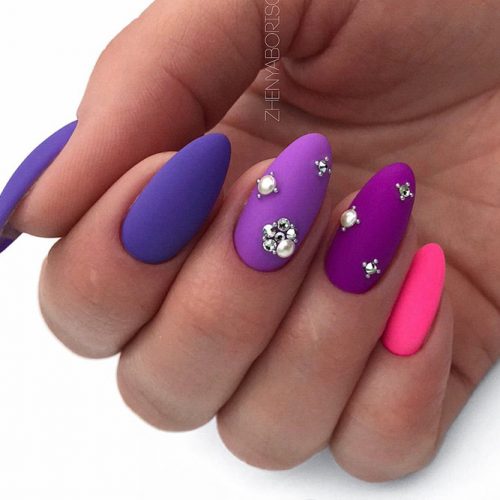 We think that almond nails matte is the mani look that every single fashionista should try at least once! Unlike the more common glossy finishes, the matte finish involves no shine, and it is exactly what makes it so special. Trying a different look is super cool. Plus, all things matte are really in these days.


Freshest Almond Shaped Nails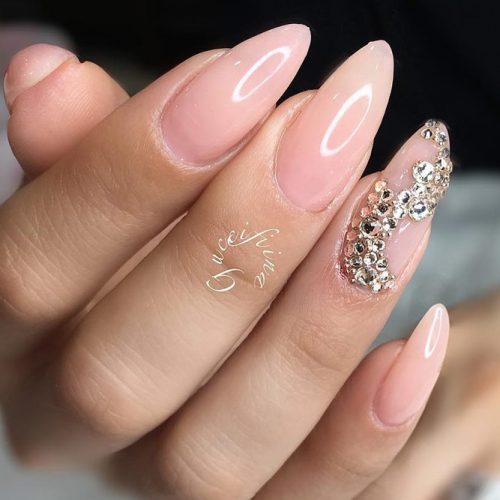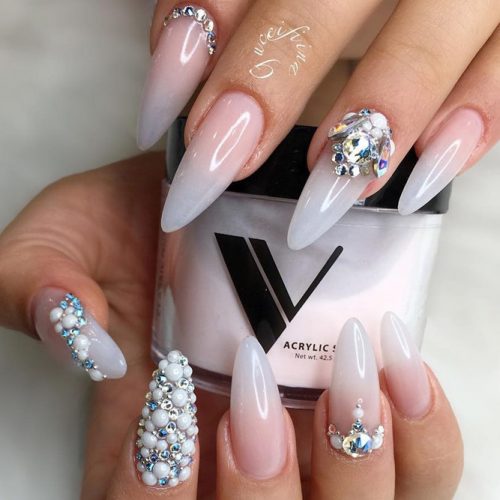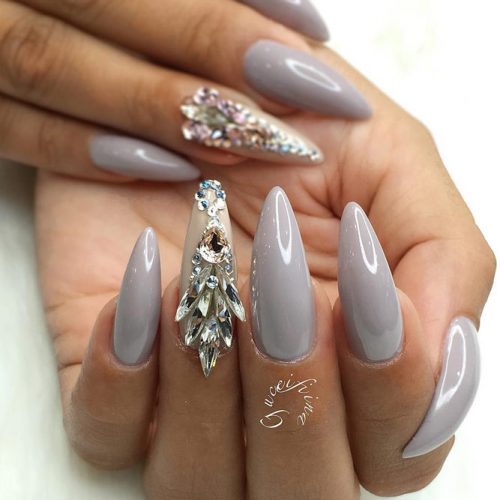 We hope you find some pretty nail art ideas for the almond shaped nails in this gallery. Looking for some more hot beauty-related topics? Our treasury is full of those!


Almond Shaped Nails Designs: Video Tutorial




Source: Glaminati.com